Fitness Fun
You've taken in lovely lake views, sizzled up some meals on the grill, played some fun games and chilled out on the golf course. How about mixing it up a little bit and squeezing in a good workout? Our massive fitness center has all of the equipment you'll need to get that heart and those muscles pumping. Rather stay outdoors? Just head over to one of our woodsy sports courts to get in some cardio.
Fitness Center
It's hard not to be relaxed in this peaceful, woodland setting, but you know you wanna indulge in some fine Texas cooking, so head on over to our Fitness Center so you can do it guilt free! You can hop on the treadmill for a brisk walk or run, do some stepping on the elliptical machine, or pedal up a sweat on our recumbent bike. We've even got a decked out weight machine for you to get those muscles pumped up, too.


Hours: 7 a.m. to 10 p.m.

Location: West side of the property

Equipment available includes:
Treadmills
Elliptical machines
Weight machine
Recumbent bike


*Must be 16 or older to use Fitness Center.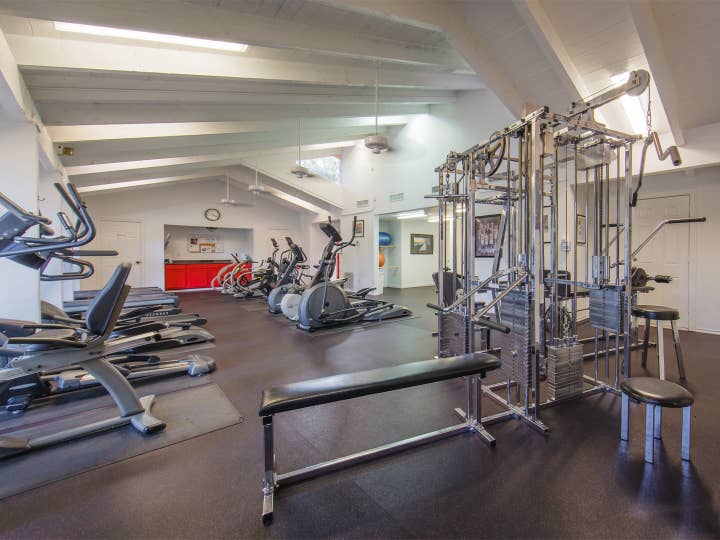 Sports Courts
Up for a family tennis or volleyball match, shooting some hoops or a lively game of pickle ball? Head out to our sports courts and you can enjoy them all! If sports aren't really your thing, take a leisurely walk or a refreshing hike through the forest on one of our walking or hiking trails, where you can get a workout in while you spend a little time in nature.


Sports include:
Basketball
Tennis
Volleyball
Pickle ball
Walking and hiking trails