Alessandra Martinez
Alessandra is a 34-year-old Peruvian mom of 4 beautiful and crazy kiddos: Mia (13), Giana (5), Luka (2) and Tiago (8 months). Originally from California, her family has lived in Arlington, Texas, since 2017 and they're still loving it! Her husband, Ben, works for the Police Department, and Alessandra loves her job as an Influencer: a career that truly helps her value all that life has offered and taken away. Alessandra gets to share what she loves with her friends, family and audience, while spending time with her kids at home and taking amazing vacations together. She believes it's all a huge blessing and doesn't take any of it for granted.
Instagram
Facebook
Pinterest
TikTok
Website
It's fall, ya'll! Is that cheesy? Not if you're from Texas.

Ok, but seriously, am I the only person who's been waiting for the minute the temperatures drop and we get to take a fun fall vacation?

Now, I'm not a big Pumpkin Spice Latte gal, sorry! BUT — I do enjoy all the fall festivities like pumpkin patches, Halloween, fairs and yummy, delicious food.

Oh yeah, and my kids love all these things, too. 😊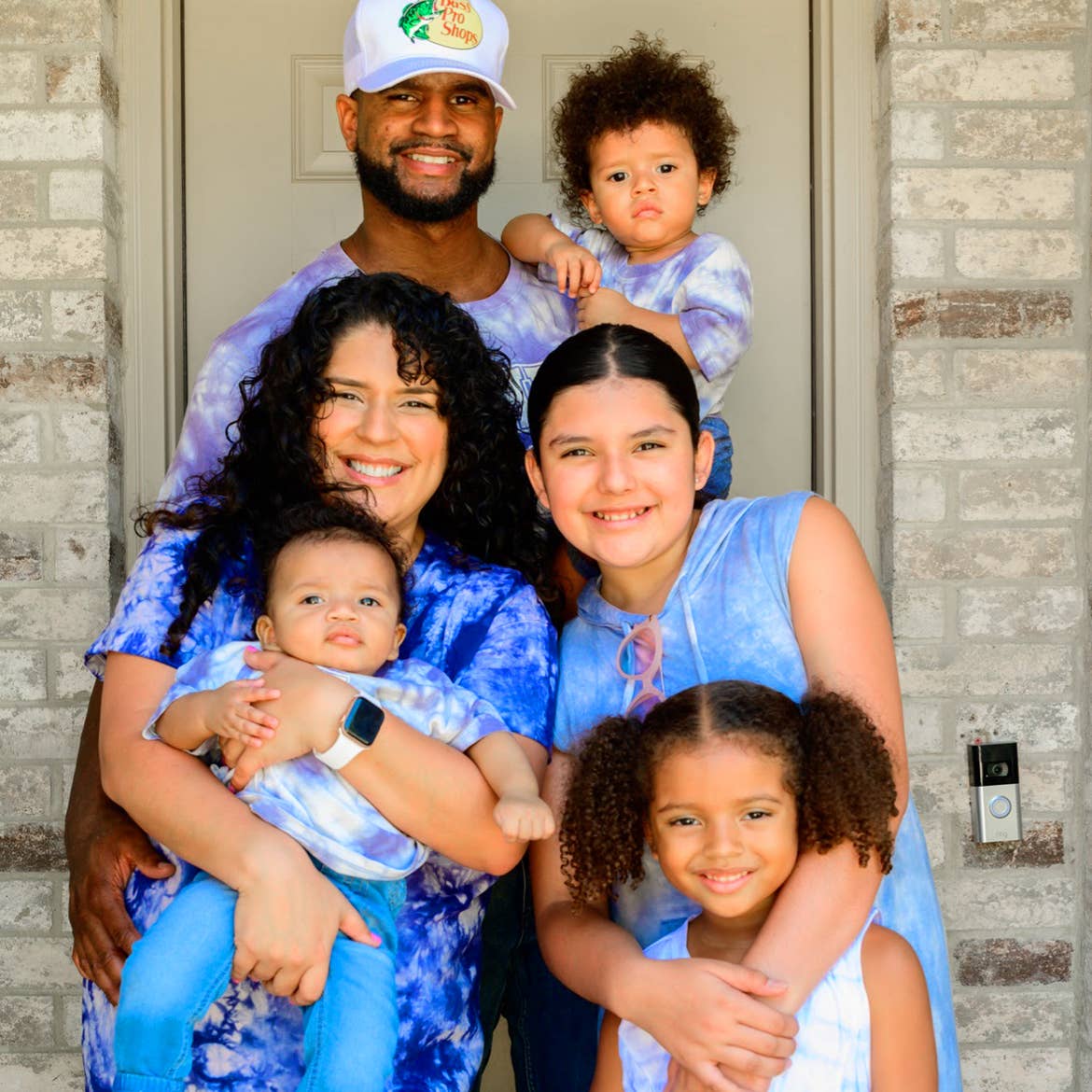 Hi, I'm Alessandra! And here's my crew: Ben (Dad), Mia (13), Giana (5), Luka (2) and Tiago (8 months).

Since we love this season so much, we ABSOLUTELY couldn't wait to see everything there was to do at the beautiful Villages Resort in Flint, Texas.

During September and October, three Holiday Inn Club Vacations® resorts in Texas (Villages, Hill Country and Piney Shores) have been hosting their annual Falladays event.

It has a ton of fun festivities like:
Ghostly Mini Golf
Interactive Trick-or-Treating
Pumpkin Boo-ling
And SO much more
And this is all on top of each resort's year-round activities!

I'm SO excited to share our experience at Falladays and help you plan your next fall vacation!!


Traveling from Arlington to Flint, Texas
Luckily, Ben was able to get the weekend off for our fall vacation, so on Friday, we packed up the SUV with:
Our four kids
Way too many snacks
Two suitcases
Two car seats
One double stroller
One baby walker
And a lot of confidence
(Two hours past schedule 😑)
Our family road trip took us about two hours total to drive from Arlington to Villages Resort in Flint, Texas.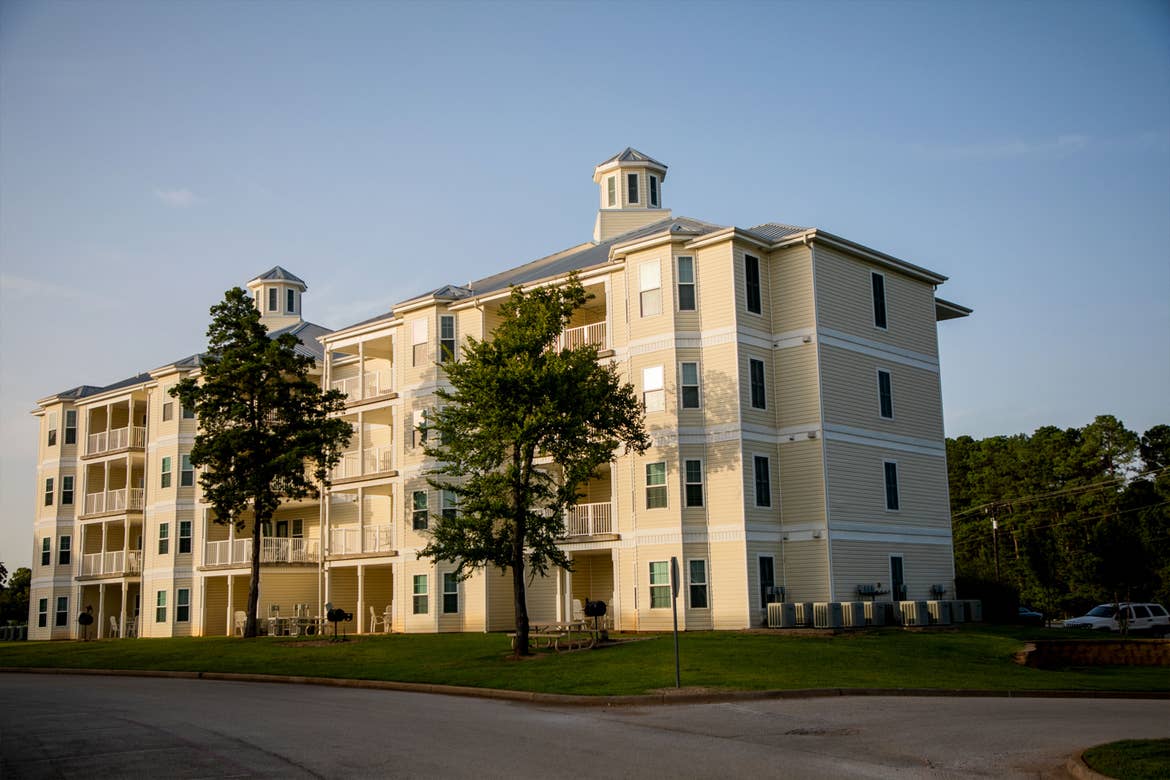 Our "home away from home" at Villages Resort!


Arriving at Villages Resort
Villages Resort was huge, spanning about 24,000 acres! I honestly had no idea until I looked it up.

Because the resort is on so much land, you can spread out and head to the lake, the volleyball courts, the playground, waterpark and so many other places!

Pro Tip: I'd definitely recommend a minimum of four days if you can swing it. This way, you won't feel like you missed out on too much.

When we arrived for our "Texas staycation," I thought the entrance was beautiful and so lush!

I loved the style of the resort with its cabins and cottages. It's the perfect fall vacation destination.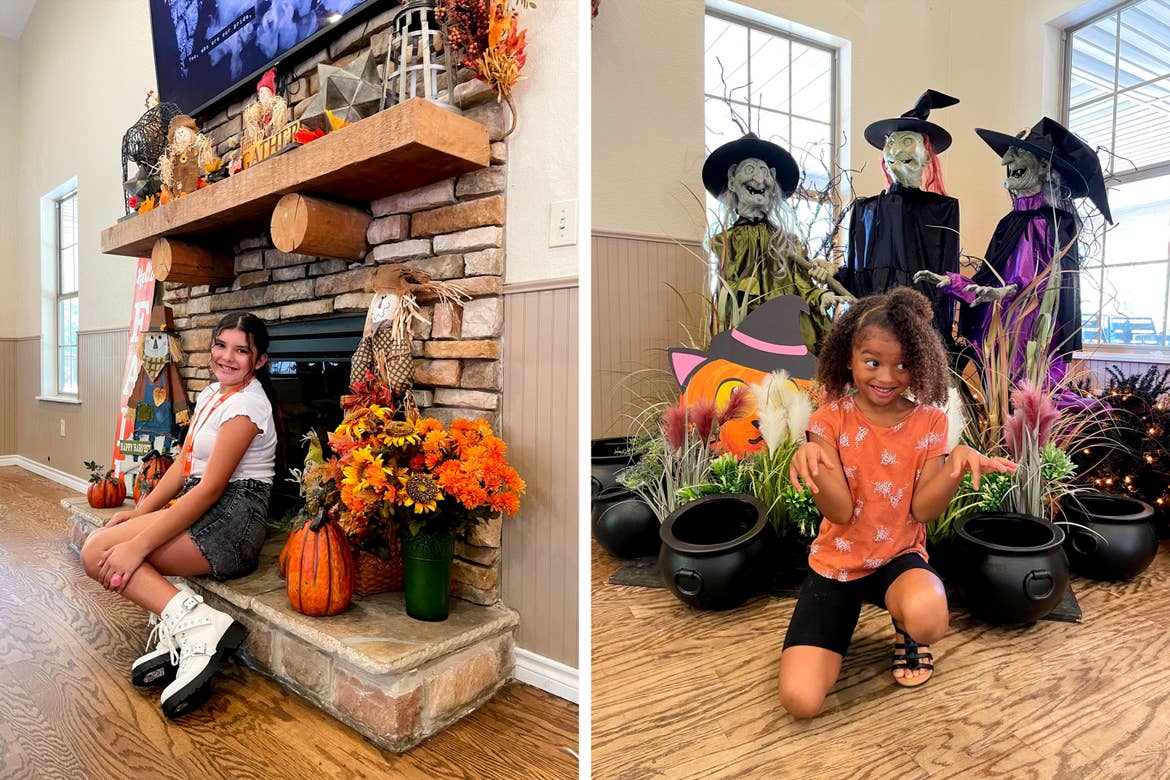 Already kicking off our autumn getaway with some awesome pictures.

As we pulled up to check in, the first thing we noticed was the cute decorations and photo spots!

You really don't want to miss these, so make sure you bring your festive outfits, cozy up to your kiddos (whether they want to or not) and take ALL the family photos!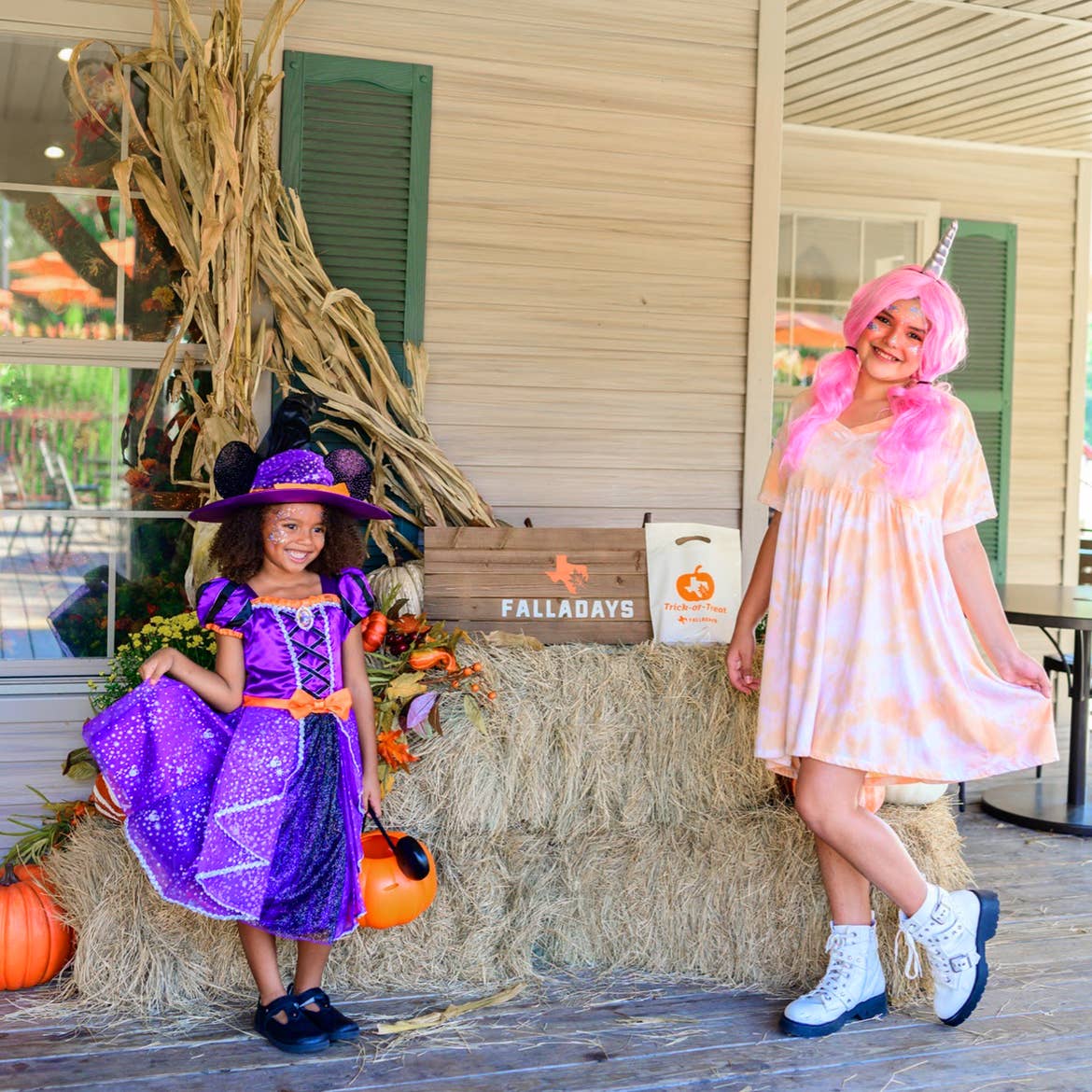 Gotta stop for a photo op at all the resort's fall décor spots!


First Up: Games & Cheesy Goodness at the Activities Center
We decided to enjoy some fun over at the Activities Center first. It offers a variety of games, balls and equipment rentals that are free for all guests!

Before we played games, we had dinner at The Grill inside the Activities Center, and it was delicious.

This year, Falladays is currently offering a super-fun menu in partnership with Kraft Macaroni & Cheese — and let me tell you, it's delish!

10/10 would recommend the BBQ Mac & Cheese and the Mac & Cheese Quesadilla!

Of course, the kids devoured their food, and mommy and daddy left with happy tummies, too. 😋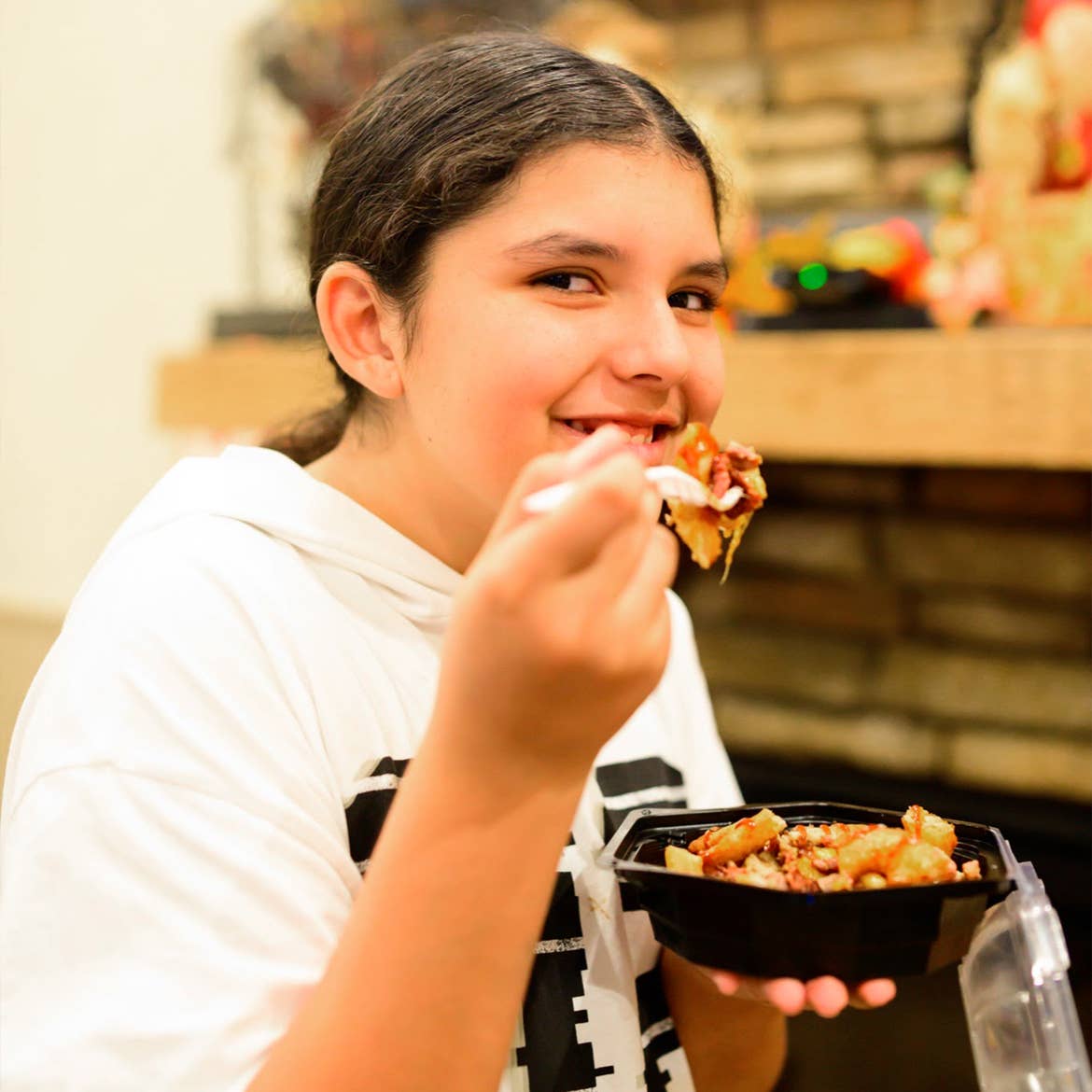 The Falladays menu filled us up with all the gooey goodness we could ever want!

(Holiday Inn Club Vacations also partnered with Kraft Macaroni & Cheese on extra-special activities during "Falladays Fun Days." More on that later!)

After dinner, we played giant chess and watched the end of a movie they had playing outside.

The weather was beautiful, and this resort had so many things to do outdoors. It honestly felt so nice being outside having fun with the whole family.

Gigi, my 5-year-old, could not stop asking how many days we were going to stay and if we were going to do Ghostly Mini Golf.

I told her yes, of course, but it would have to be the next day because we were all so tired. You can imagine how hectic it gets with four kids!


Our Villa at Villages Resort
We stayed in a gorgeous two-bedroom villa in the Beach Villages area, which is connected to Lake Palestine and the marina.

This section of the resort is stunning. It has an outdoor playground, a pool and more!

The marina also offers The Grille for dining, as well as boat and equipment rentals for some lake fun.

Since our villa had a full kitchen where we could cook meals, we brought groceries because our kids are always hungry, lol.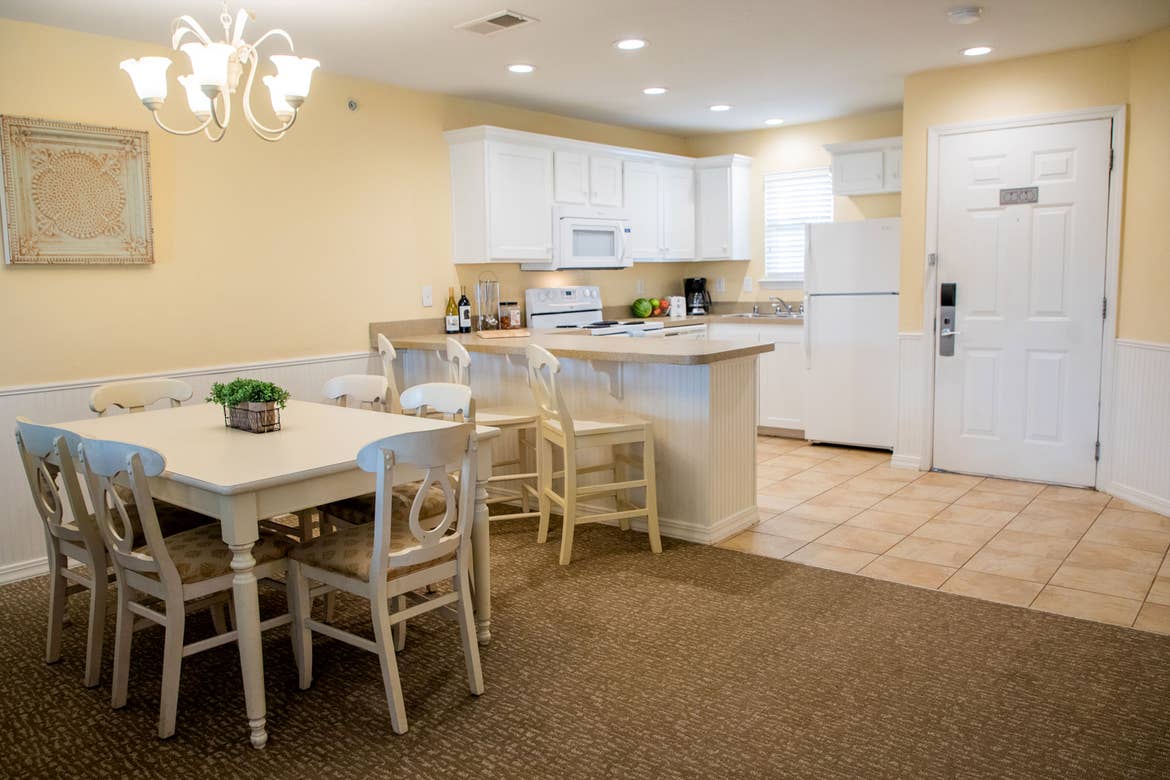 The full kitchen and dining area in the two-bedroom Presidential villa

In the morning, we had microwaveable mini pancakes and orange juice. Easy peasy.

When we're on vacation, I don't like to complicate things too much because I feel like it gets hectic enough with four kids already.


Wagon Rides Around the Resort
After breakfast in the villa, the first thing up on our schedule was a nice wagon ride offered by the resort year-round.

(Rides are weather permitting, and you can sign up for it at the Membership Registration office.)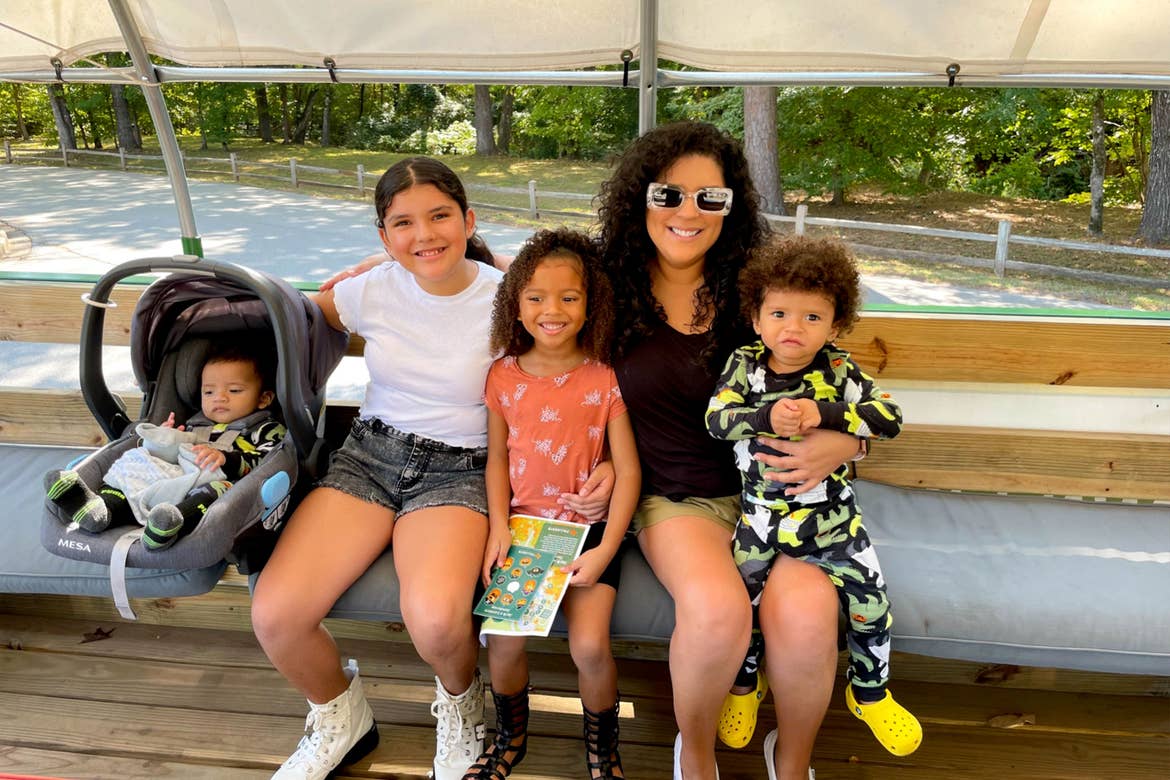 (Mostly) all smiles on our wagon ride at Villages Resort!

It was a slow wagon ride, so I think kids of any age can go on it. During the ride, we explored the grounds and saw some of Lake Palestine.

And they had cool Texas trivia and many of the guests on the ride won fun prizes from Holiday Inn Club Vacations!

I actually had to man the four kids alone because Ben was a sweetheart and drove home to pick up my camera battery!

The battery was sold out everywhere, so it was either that or no photos 😕 Yikes! Good thing he's amazing and was willing to make the two-hour drive for me.


Back to the Activities Center for Lunch, Halloween Tie-Dye & Ice Cream
After our wagon ride, we headed to the Activities Center again for a delicious lunch from The Grill!

This time, we ordered the Mac & Cheese Quesadilla, Fiesta Mac & Cheese, BBQ Mac & Cheese and Loaded Buffalo Chicken Mac & Cheese.

I personally wasn't a fan of the buffalo one because of the blue cheese, but other than that, I loved everything!

These dishes are the perfect size and great for sharing. Plus, who doesn't love some Kraft Mac & Cheese? I know my kids do. 😉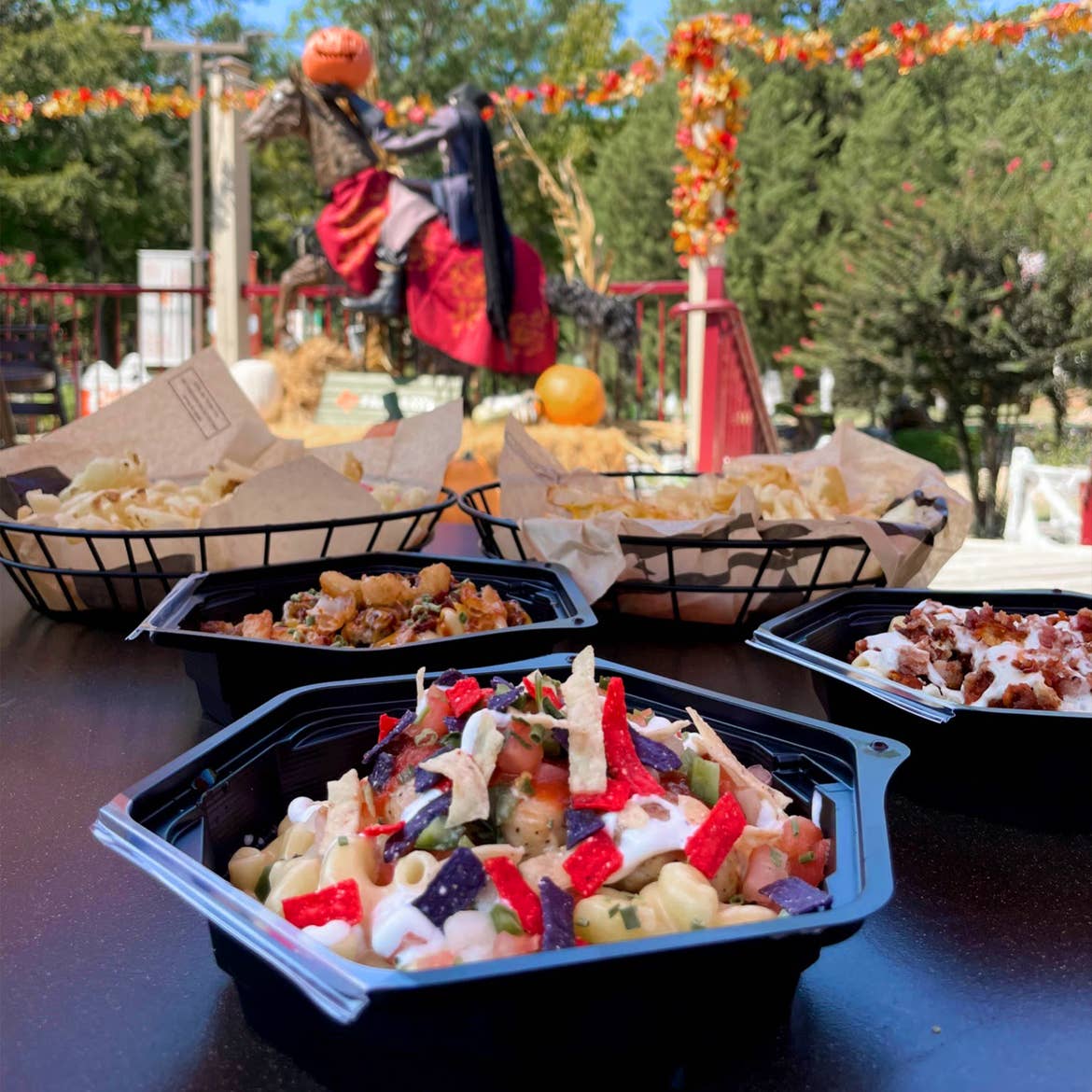 After lunch, we did Halloween tie-dying, which was so fun! The girls loved tying and designing their own shirts.

This is a special Falladays Fun Days activity that you can sign up for at the Activities Center.

Soon after we finished our tie-dye shirts, Daddy was back! Yay!

We had ice cream and then went back to our villa to change into our Halloween costumes.


Falladays Festivities at Fun Field!
On Saturdays, Villages Resort (and the other 2 Texas resorts) host Falladays Fun Days sponsored by Kraft Macaroni & Cheese!

On these special days, guests can enjoy even more autumn activities…

We made it just in time for Spooky Trick-or-Treating from 4–5 p.m. down at Fun Field!

I love that they had multiple Interactive Trick-or-Treating stations, where you play games to win candy.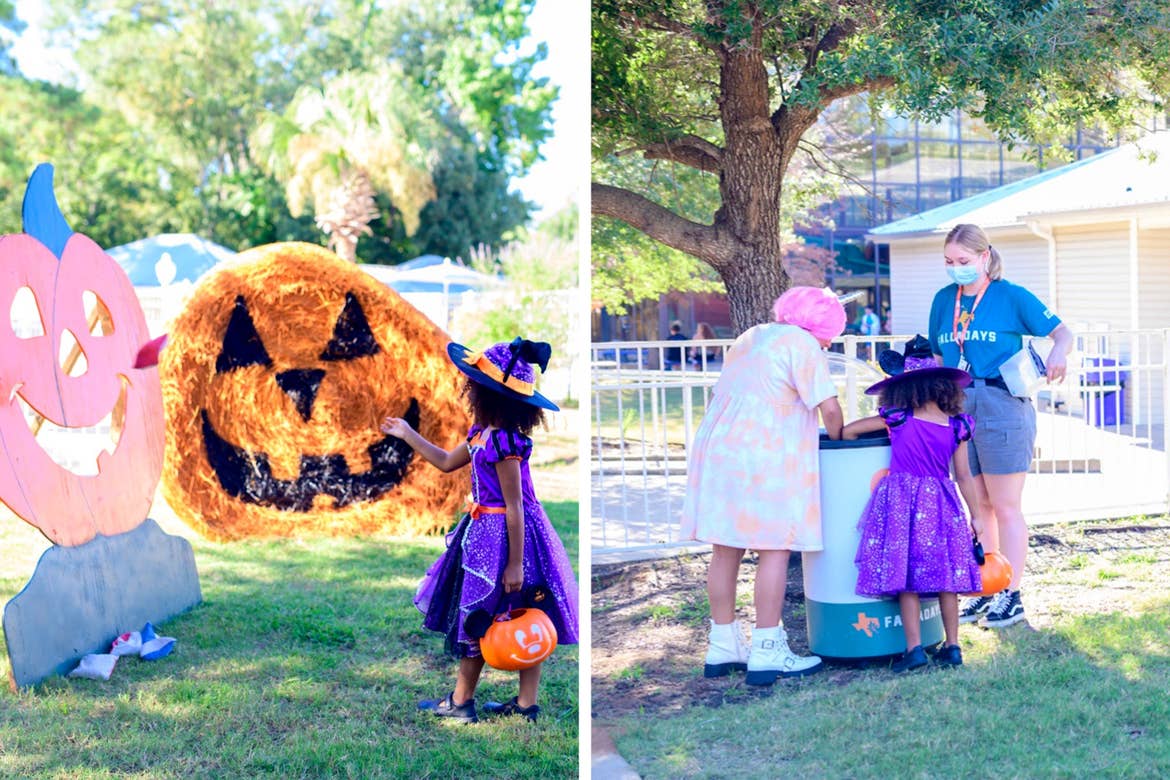 My Unicorn and Halloween Minnie collecting their candy prizes!

Fun Field was definitely the highlight of our Falladays vacation because of the live band and trick-or-treating.

Plus, after 5 p.m., the band keeps playing, and they have a ton of games and fall and Halloween activities set up for the whole family to enjoy!

My kids loved the giant Jenga, hula hoops, Pumpkin Boo-ling and miniature horses! It was such a blast, the kids didn't want the night to end.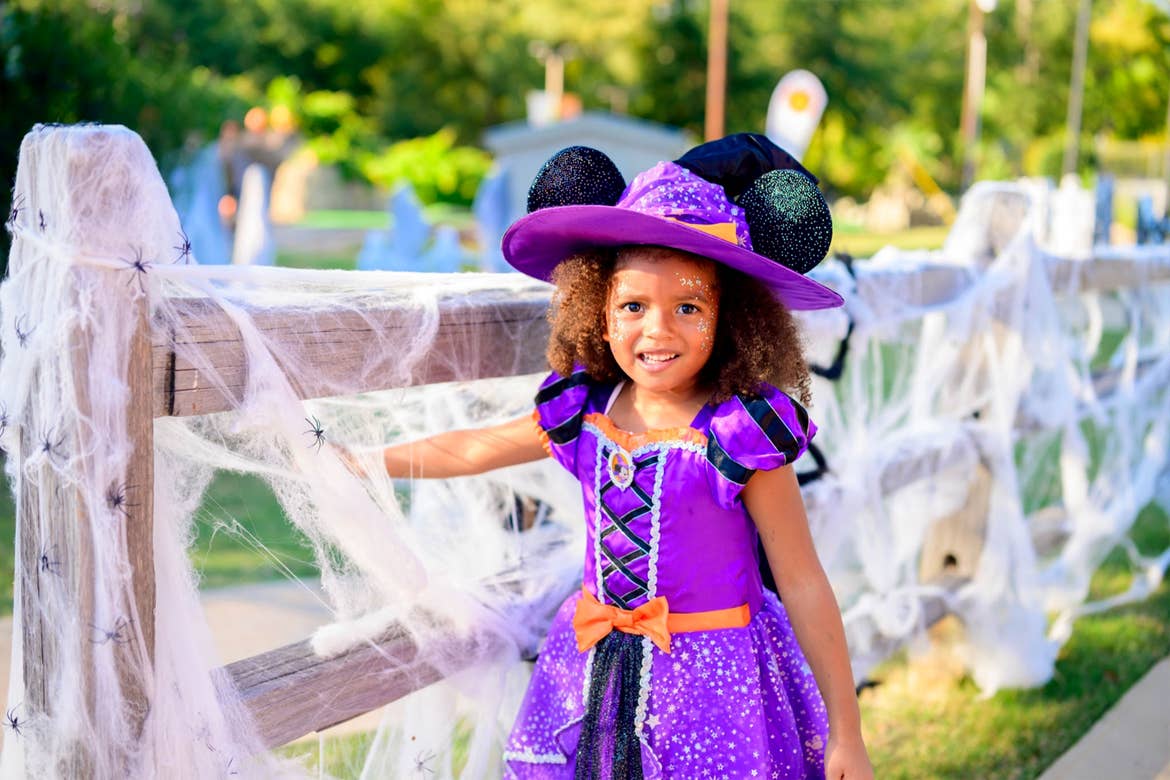 We may or may not have had tears from Luka because he didn't want to stop playing with the new friends he made.

We had to call it a night because there were some meltdowns brewing, but the band was amazing, and the atmosphere was perfect!

Good weather, great music, quality time with friends and family!


Horseback Riding
The following day, we had an early start because my oldest daughter, Mia, and I went horseback riding! (You can book this through the office as well.)

The 30–40-minute ride takes you around the resort on a trail that makes you feel so at peace that it's therapeutic.

It was such a beautiful bonding experience with Mia. She's usually terrified of all animals, which is why we don't own any pets.

But her experiences with the horses from the ranch at Villages Resort were amazing, and now she can't wait to ride again!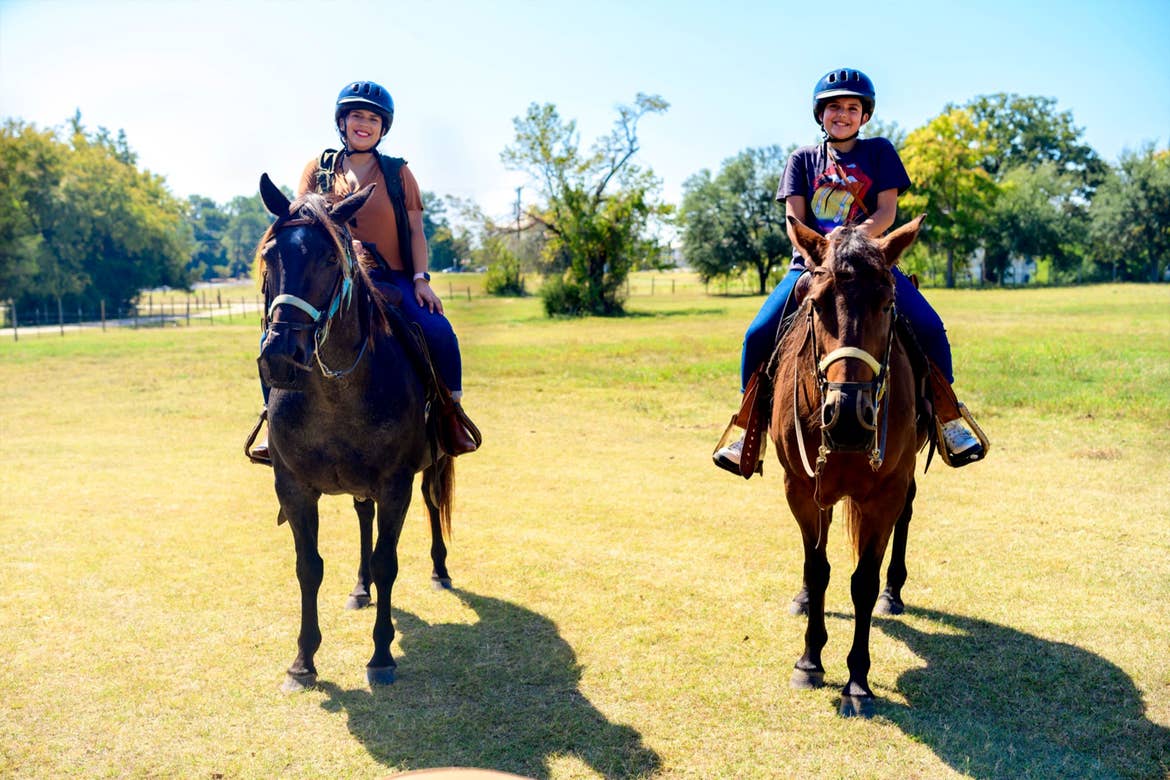 Mother-daughter horseback riding and bonding time at Villages Resort!

Our wrangler, Trisha, was super sweet and matched us up with two lovely and calm horses.

I was so proud of Mia and how she handled her horse! We had so much fun throughout the 40-minute ride, and now we can't wait to go back.


Waterpark at the Villages
Following our trail ride, we took some photos, went back to the villa for lunch and got ready for the Waterpark at the Villages!

Gigi couldn't wait and was ready to go with her swimsuit when we got to the villa.

Because we took a little too long relaxing and having fun in the villa, we didn't set aside enough time for playing at the waterpark … but we still made the most of it!

Before our boat rental reservation, we had about 35–40 minutes to splash around. And because it wasn't so packed, the girls got to do several slides!

Luka loved the small wave pool as well, so it's definitely great for all ages.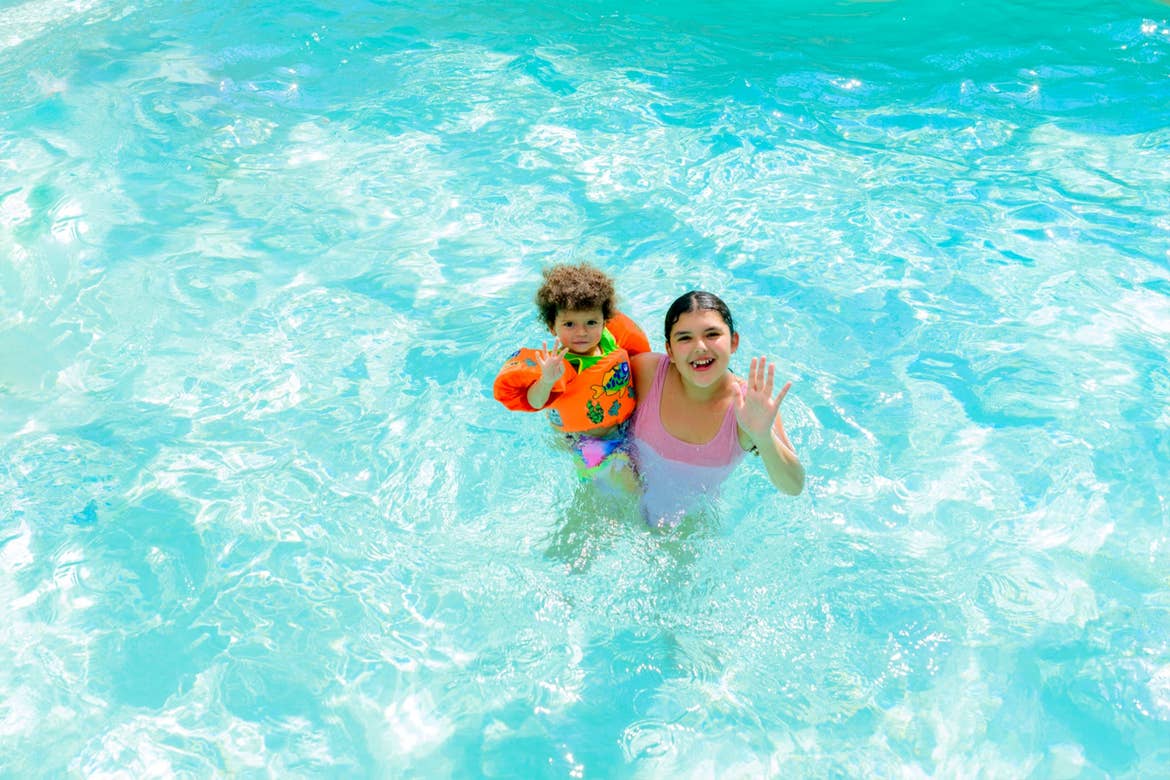 Waving to mom from the wave pool at Waterpark at the Villages!

After the waterpark, we changed, so we could make our next activity!


Pontoon Boat Ride on Lake Palestine
If you're able to, I'd 10/10 recommend renting a pontoon boat from the marina at the resort.

The boat is super easy to drive, and honestly so relaxing! We all loved being on the lake so much. And I never knew how BIG Lake Palestine was.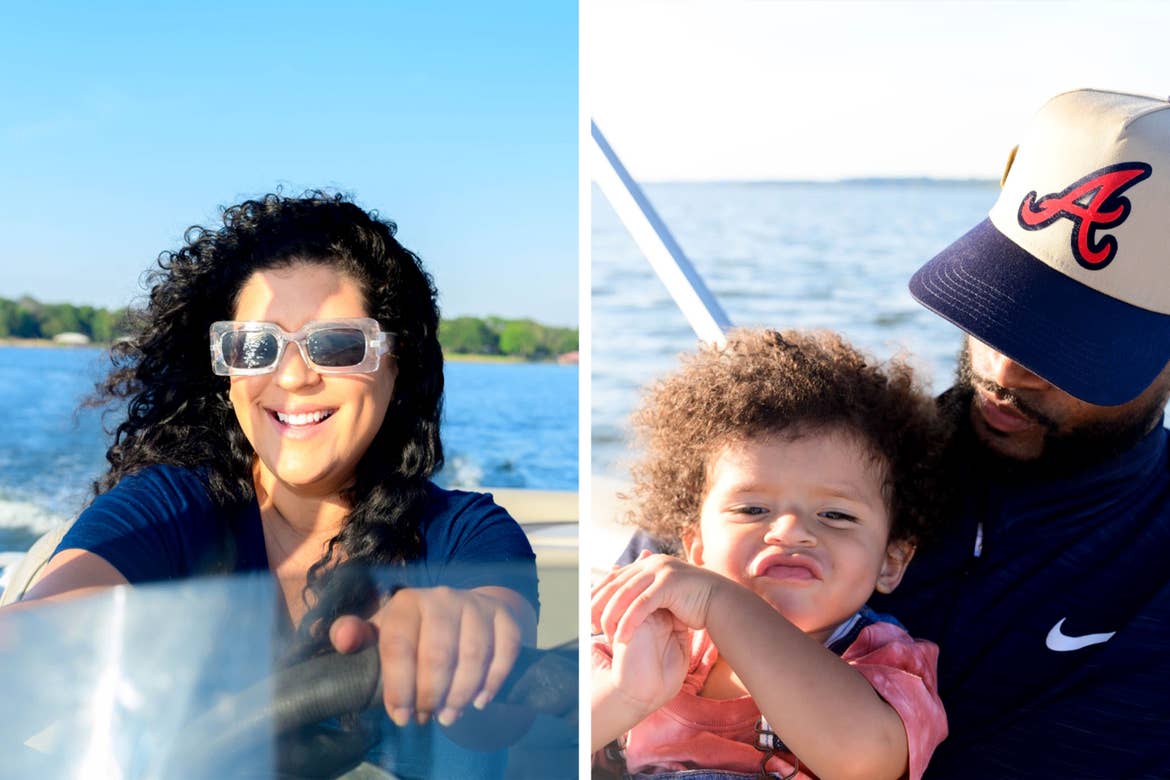 Enjoying our boat ride on Lake Palestine!

Daddy and I both got to drive the boat, and the kids are now asking us why we don't have our own boat, lol!

The marina also has kayaks and other watercraft rentals, so definitely check those out and book what you want to do ahead of time.

We had the boat rental for about an hour, and then we went over to the Activities Center to enjoy more of that delicious Kraft Mac & Cheese menu for dinner.

The dishes were so good, we had to have some again. 😁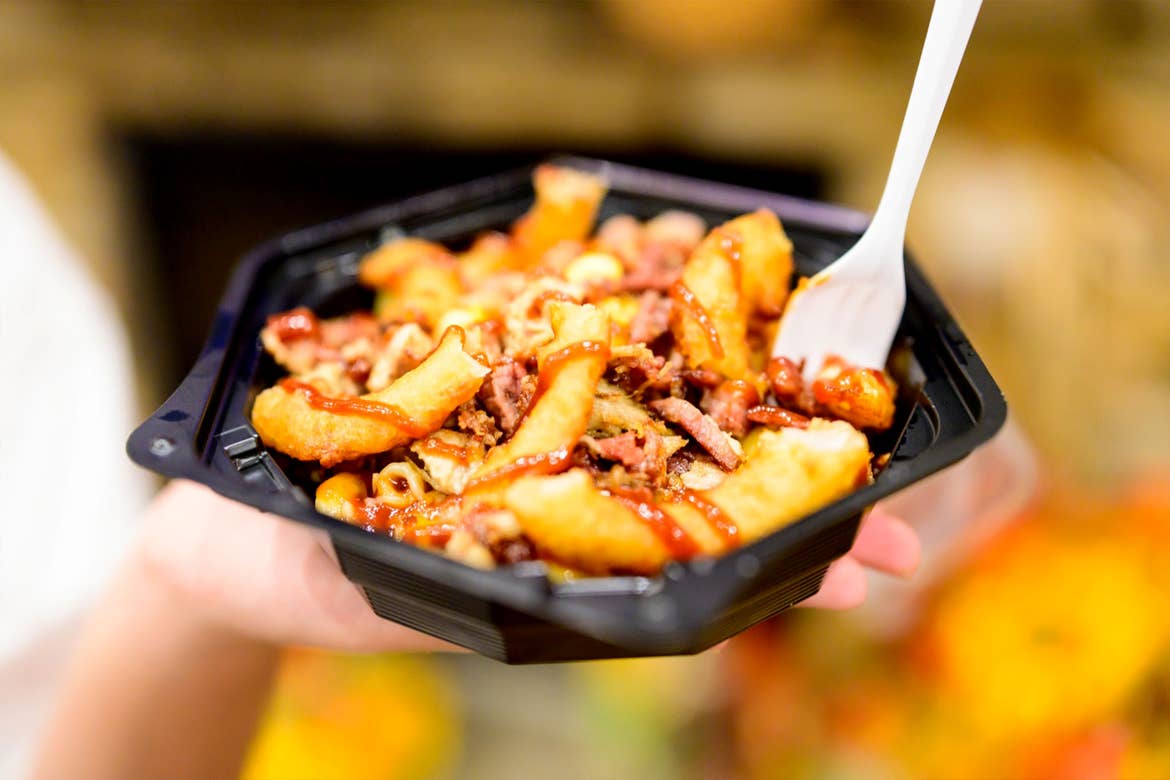 The Barbecue Mac & Cheese Bowl by Kraft Macaroni & Cheese 😋


Finishing Our Falladays Stay with Ghostly Mini Golf
After dinner, we rented golf clubs for Ghostly Mini Golf, which was located right behind the Activities Center. (Club and ball rentals were free!)

Ghostly Mini Golf was another family favorite!

We loved it so much, and I have to say, the decorating was amazing! Sooo stinkin' cute and perfect for pictures. 📸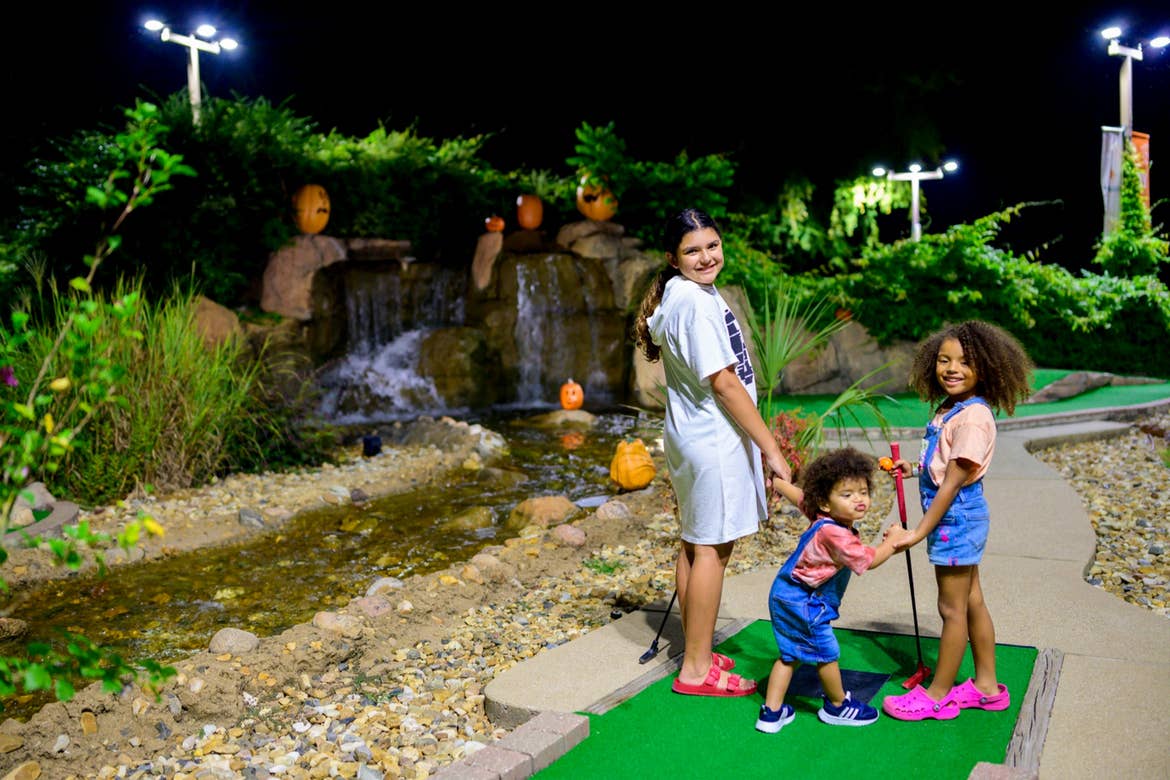 Our Falladays photos had lots of smiles and funny faces. 🤪

If you made it this far, thank you so much for reading! We had such an unforgettable fall vacation at Villages Resort, and we've definitely added it to our annual trips list.

(To see more from our trip and watch our videos, head to my Instagram and check out my "HCV Highlight" for ALL the fun!)


Fall into Falladays Fun
Want your fall vacation to look just like this? Let's make this your favorite fall of ALL with a getaway as sweet as a Pumpkin Spice Latte.

You can find Falladays fun and that yummy Kraft Macaroni & Cheese menu at three Texas resorts:
Book your stay now and Fall into Falladays Fun!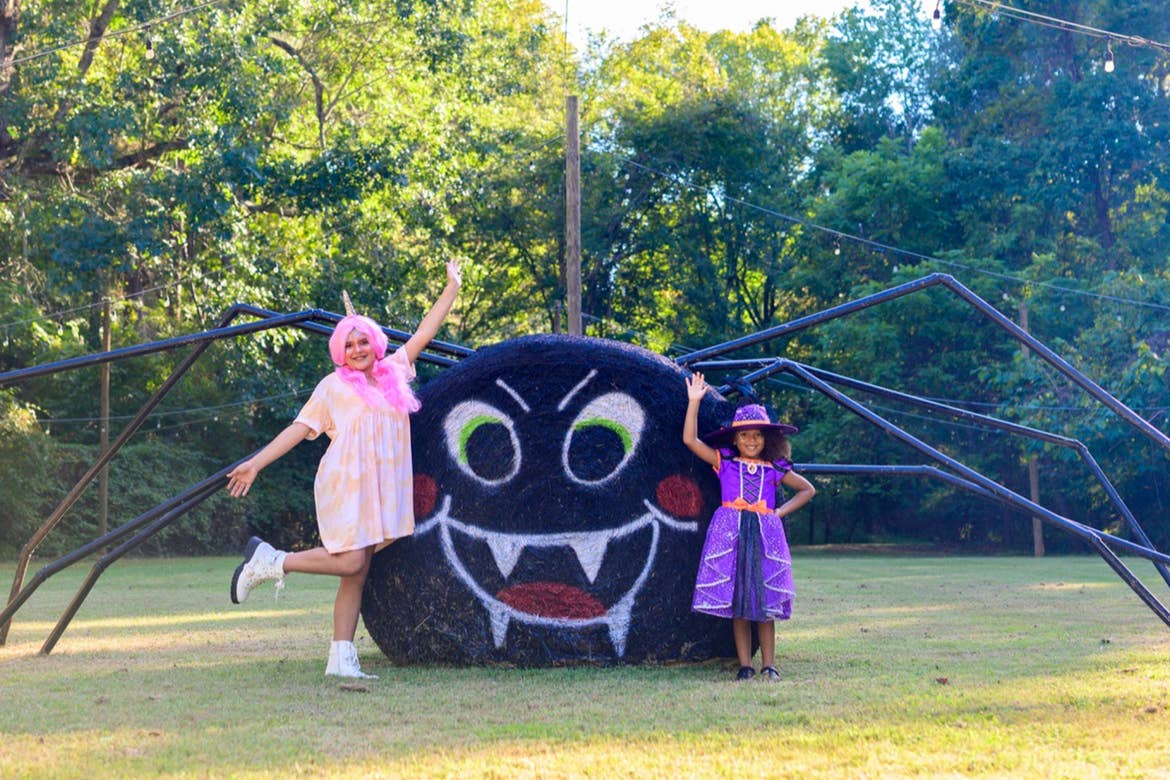 Our guest bloggers are compensated for their writing contributions and honest opinions.

All information is subject to change. This article is a curated guide and is neither sponsored nor considered an official endorsement. Please be sure to check information directly with any/all tours, guides or companies for the most up-to-date and direct details.