Ashley Fraboni
As a Corporate Communications Manager at Holiday Inn Club Vacations, Ashley has the opportunity to work on a lot of exciting projects and announcements, but her favorite part of the role is when she can visit our resorts and experience these fantastic destinations first-hand. A proud Orlando resident, Ashley currently spends most of her free time exploring everything Central Florida has to offer—from its world-famous attractions to local favorites. Ashley also enjoys traveling across the U.S. with her better half and is currently on a mission to visit all the country's national parks.
Situated on the edge of the Chattahoochee National Forest, Apple Mountain Resort is an incredible place to call "home" while exploring the beautiful Blue Ridge Mountains.

The resort is also just a 30-minute drive from Helen, Georgia, the charming Bavarian town that brings German flavor to Northern Georgia.

My fiancé, Nicholas, and I visited Helen most recently in the summer of 2020, and our friend, Xanthe, joined us from Atlanta for part of the trip. We did so many fun things, like hiking, tubing, eating and more..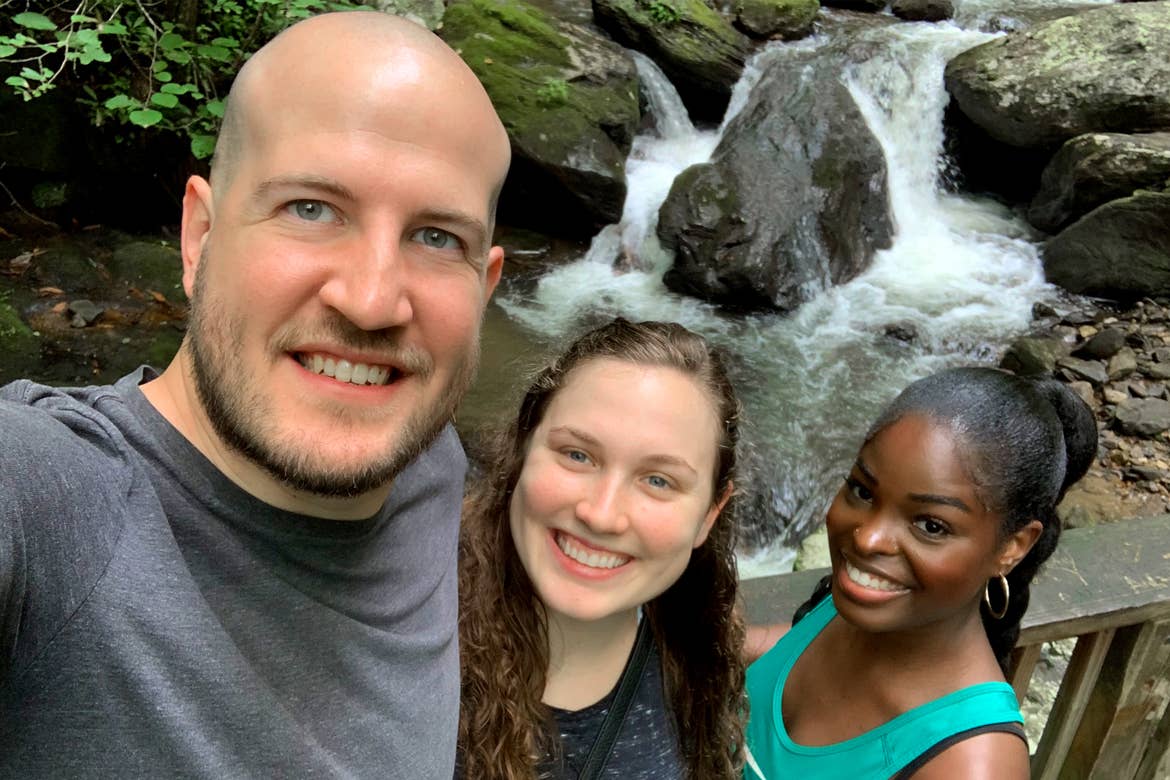 My fiancé, Nicholas, myself and my friend, Xanthe, at Anna Ruby Falls

While the town is small and quaint, there are plenty of fun activities for couples, friends and the entire family, making it a great day trip destination or even a road trip stop.

If you're looking to get the entire experience but only have a day to visit, check out my one-day itinerary for Helen, Georgia!


Go Hiking in the Morning
There are few better ways to start a day than with some fresh air and a scenic hike, especially when you're in a gorgeous mountain getaway destination.

Located just outside of Helen, Anna Ruby Falls is one nearby hiking trail that provides a beautiful view of twin waterfalls. The paved trail is only 0.4 miles each way, making it great for most fitness levels and families with kids.

Seeking a more challenging hike? The base of Anna Ruby Falls also offers a longer trail for advanced hikers.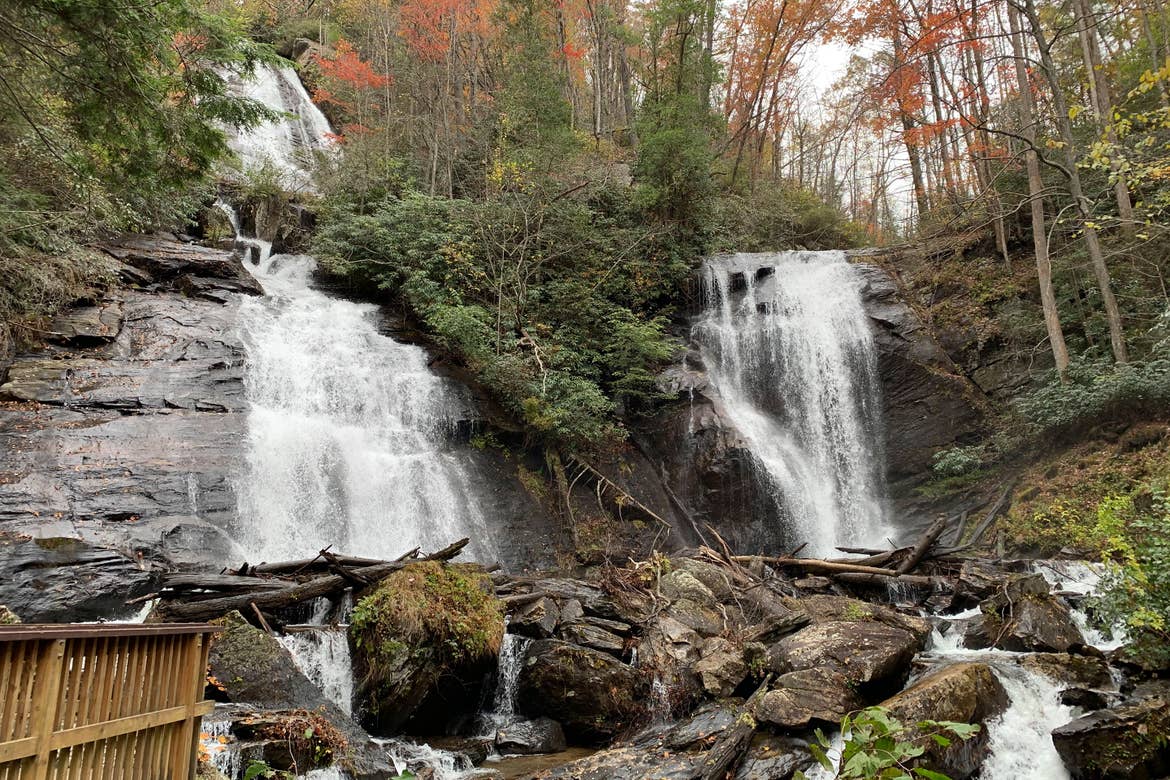 Anna Ruby Falls


Refuel with an Authentic German Lunch
From restaurants and cafés to grills and steakhouses, there are numerous dining options available in Helen, many serving authentic and delicious German cuisine.

With dishes like schnitzel, pretzels and sausages, be sure to bring a hearty appetite when you visit.

We highly recommend going to Hofbräuhaus Restaurant & Pub. The food is incredible, and it's located right on the Chattahoochee River, so you can take in a great view while you eat.

Not a fan of German food? There are plenty of other restaurants in town serving all types of cuisine. We've enjoyed some awesome burgers at Bigg Daddy's Restaurant & Tavern.

And don't forget to save room for dessert! Helen is home to ice cream parlors, candy shops and bakeries that'll satisfy any sweet tooth.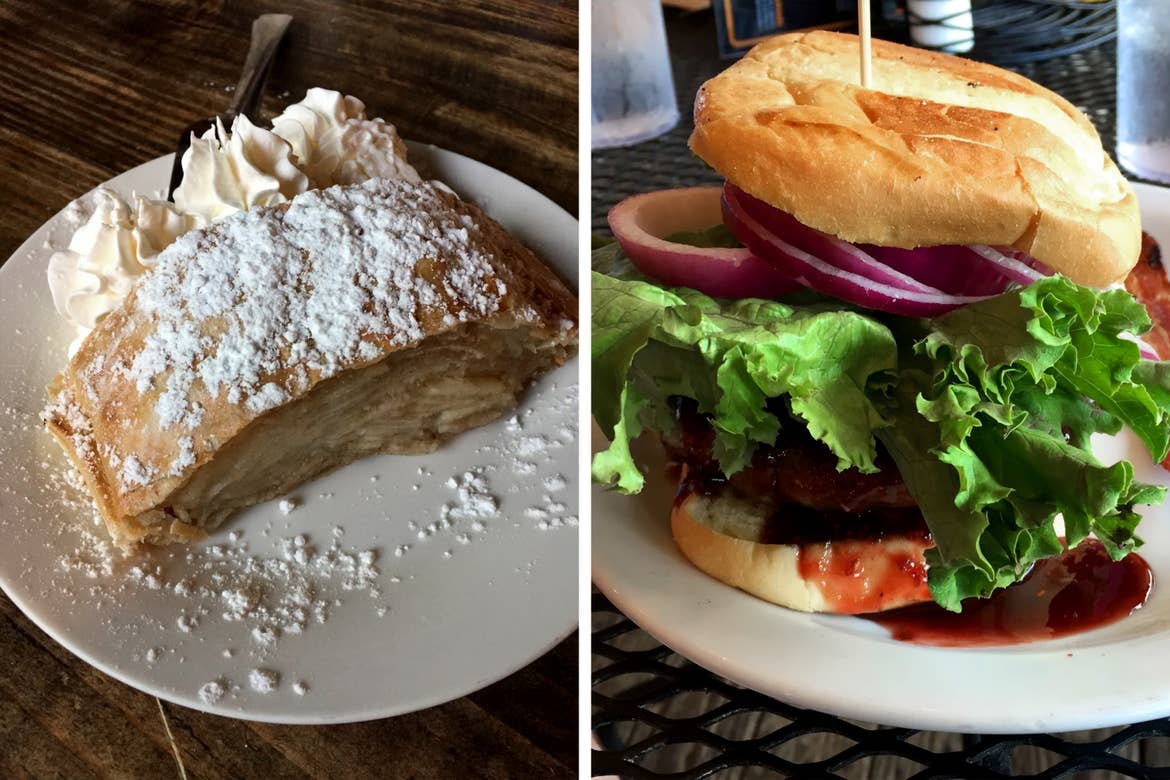 Apple Strudel from Hofbräuhaus Restaurant & Pub (left) and a Bigg Daddy's burger (right)


---
Stay with Us in Clarkesville, GA!
---
Shop 'til You Drop
Helen's Main Street is lined with shops, making it the perfect spot to spend an afternoon with a little retail therapy.

There's something about the town's charm and nearby mountains that remind me of Christmas, even when I'm visiting during the summer.

We always make a point to check out one (or both) of Helen's Christmas shops while we're in town.

Whether you're treating yourself or shopping for others, you'll find something for everyone on your list. And, if you're a fan of window shopping, there are plenty of unique stores to check out.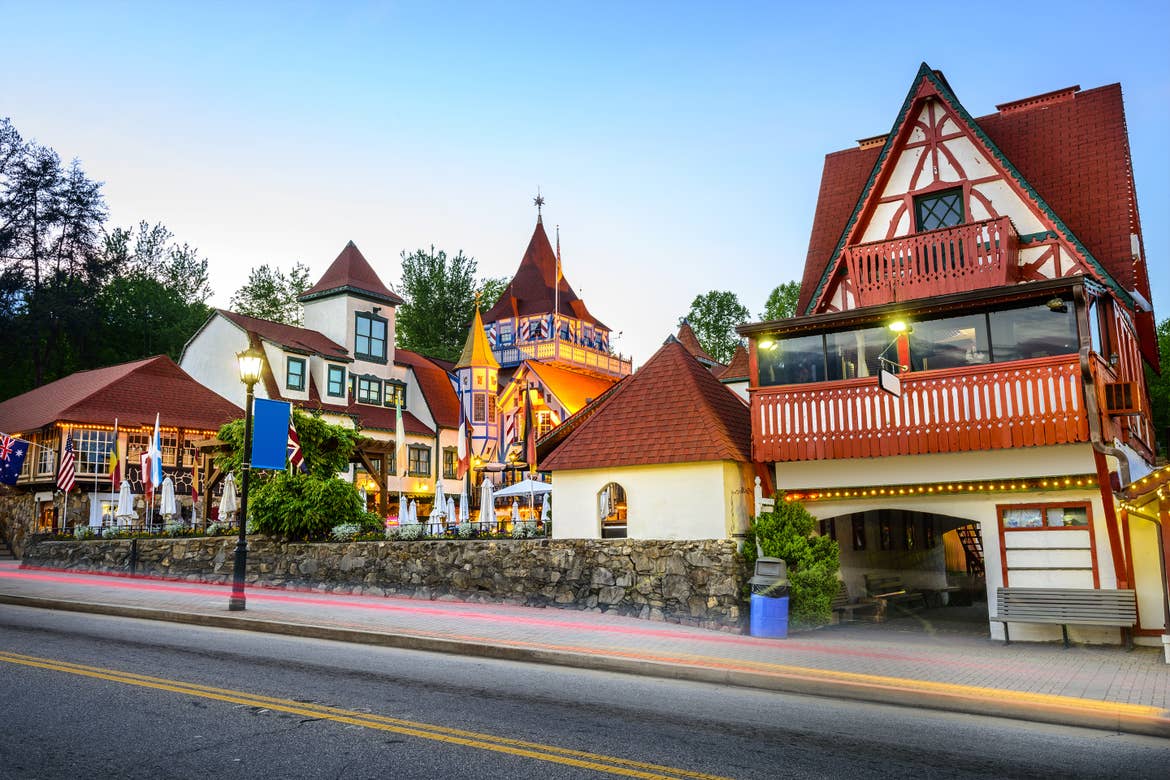 Downtown Helen, Georgia


Enjoy a Wine Tasting at Habersham or Craft Beer at a German Pub
When you think about German culture, you likely think about beer or bier. Unsurprisingly, Helen offers many pubs and taverns that have a variety of German craft beer.

If you're like me and prefer lighter beers, be sure to try a grapefruit hefeweizen.

If you prefer wine, you're in the right place, too! One of Georgia's oldest and largest wineries, Habersham Winery, is located right on Main Street.

There are tons of great wines to try — our favorite was the Cabernet Sauvignon. And you even get a free wine glass with each tasting.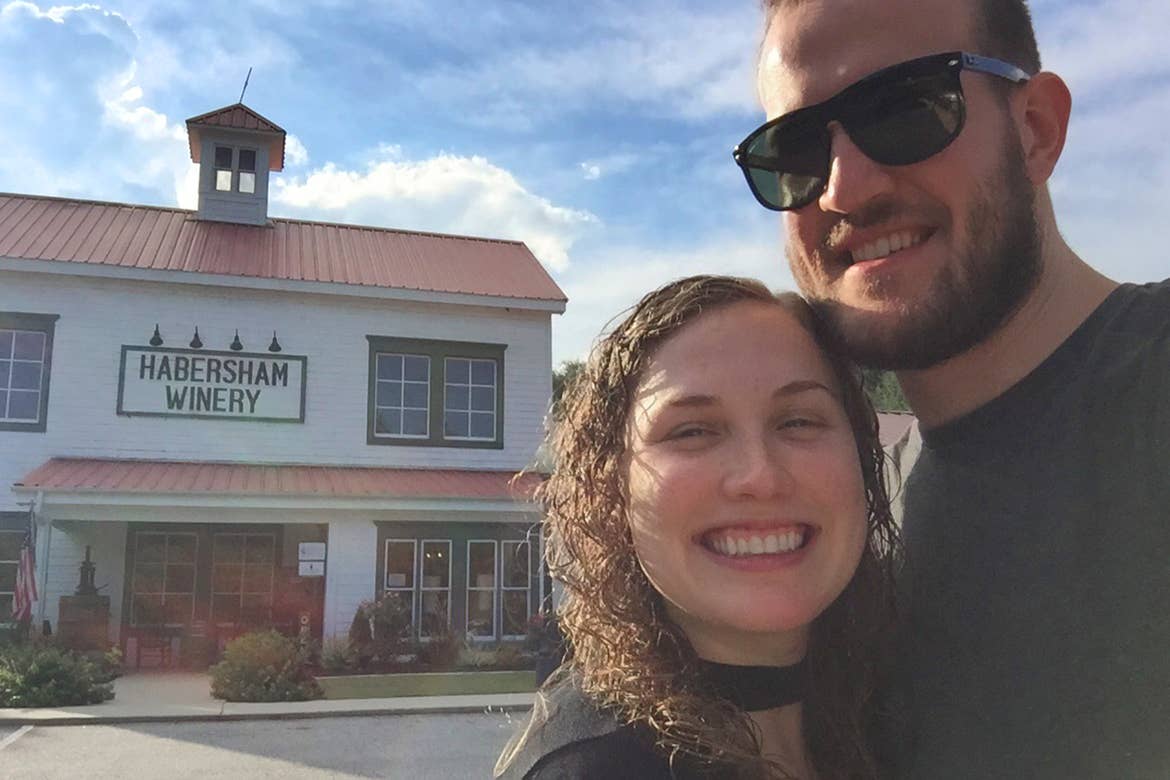 Nicholas and me at Habersham Winery during our 2018 trip!
---
Looking for more unique getaway ideas?
---
For Summer Trips: Tube Down the Chattahoochee River
If you're visiting over the summer, one of the best things to do in Helen is tubing down the Chattahoochee River.

The river runs right through the town and its stream does all the work for you. All you have to do is sit back, relax and soak in all the sunshine and beautiful scenery.

I've been tubing in Helen a couple times before, with my most recent trip in the summer of 2020. Not only is tubing a great way to beat the heat, but it's also a fun way to see the town from a new perspective.

During last year's visit, we booked with Cool River Tubing. The tubing costs are very affordable at about $12-16, depending on the day of the week.

You can even book additional activities, like ziplining and adventure courses, through the same company.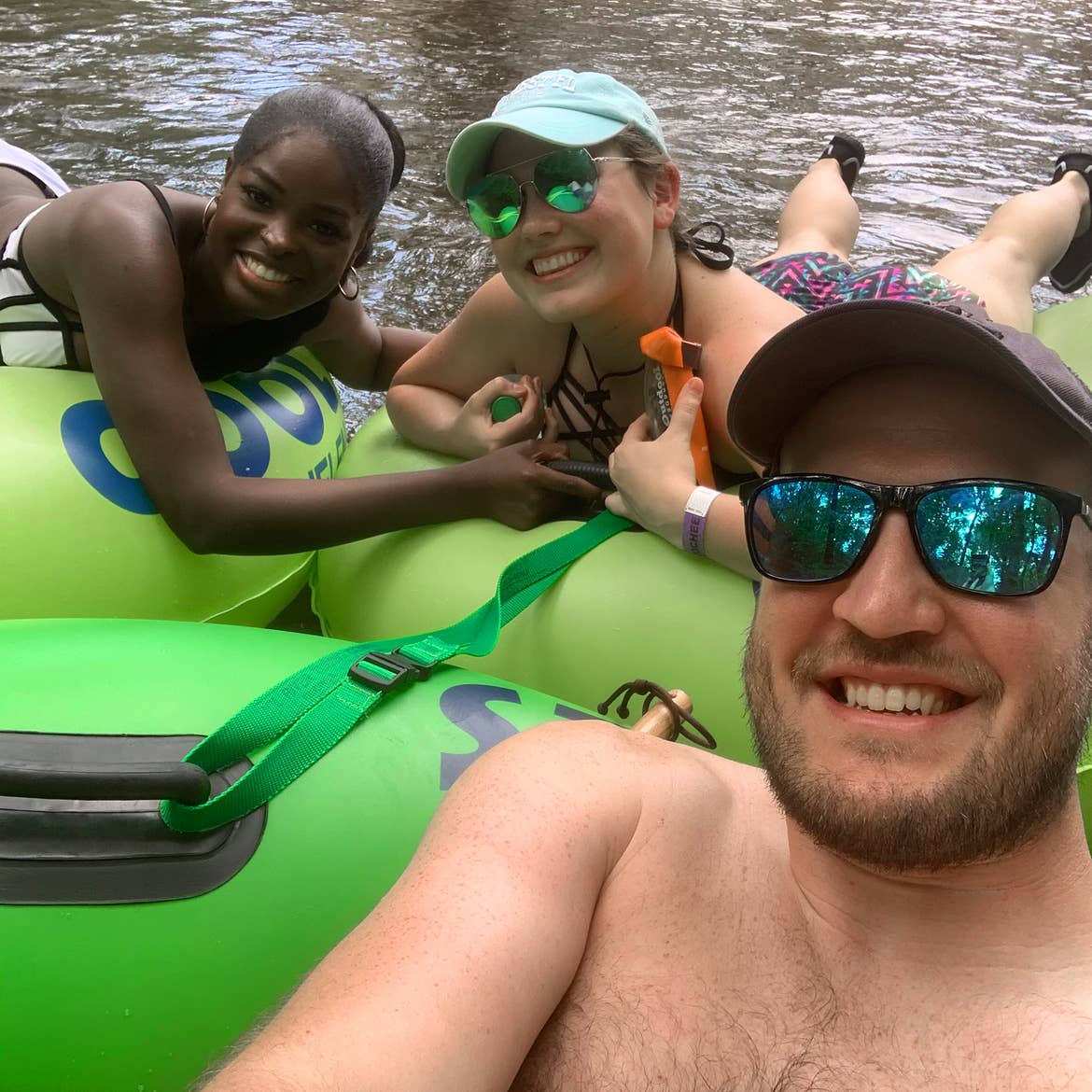 Chattahoochee River tubing fun!

Here are a few of my pro tips for tubing in Helen:


Check the tubing company's website before arriving.
There are a few different tubing companies in the Helen area that offer rentals on all the necessary items, like tubes, push-sticks and lockers.

Review the company's website for info on the ride's start/end points, rental pricing and opening/closing dates. Tubing usually goes from Memorial Day through Labor Day, so you might need to plan accordingly.


Wear water shoes.
While the water level stays relatively shallow throughout most of the tube ride, the bottom of the river is mostly rocks, so be sure to remember your water shoes.


Bring sanitizer wipes.
In case you like to be extra cautious (as we were last summer), bring a few sanitizing wipes to clean the tube before beginning your float trip.

Typically, the tubes are provided right at the entrance, so it's very easy to give them a quick wipe-down before going in the river.


Pack light during the tube ride.
While the ride itself is pretty smooth, there's always a chance of accidentally dropping things in the river.

If possible, try to leave behind non-waterproof cameras and phones for the float trip (which is a great opportunity to unplug for a little and enjoy the outdoors).

You can also buy a little dry bag if you do want to bring anything valuable with you.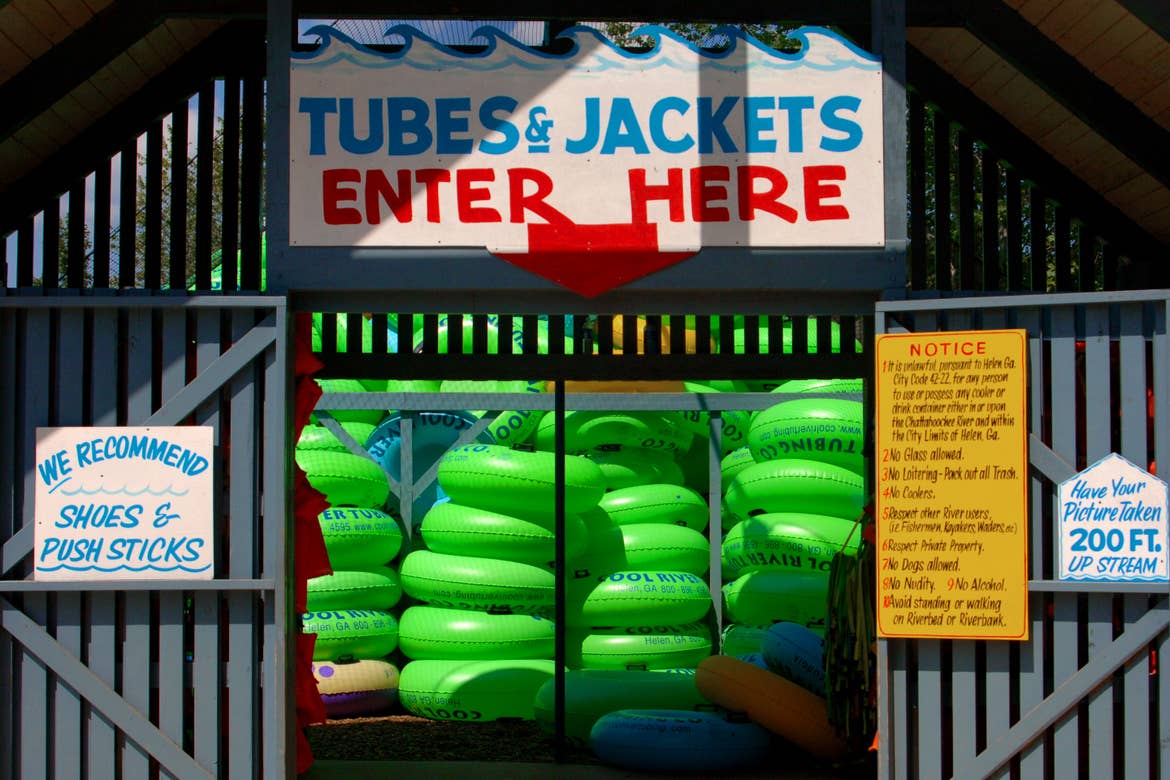 Photo courtesy of Cool River Tubing


Use two cars to avoid the shuttle.
If you're visiting in a group with more than one vehicle, you can skip the shuttle ride by parking one car at the ride entrance and the other car at the outpost where it ends.


Don't forget sunscreen.
This seems obvious, but you can never have too many sunscreen reminders!

Keep yourself protected and sunburn-free by lathering up right before you get in the river with a high SPF sunscreen and wear a hat.


Where to Stay Near Helen, Georgia
A day trip to Helen is just the beginning of the outdoor family fun near Clarkesville, where our Apple Mountain Resort is located.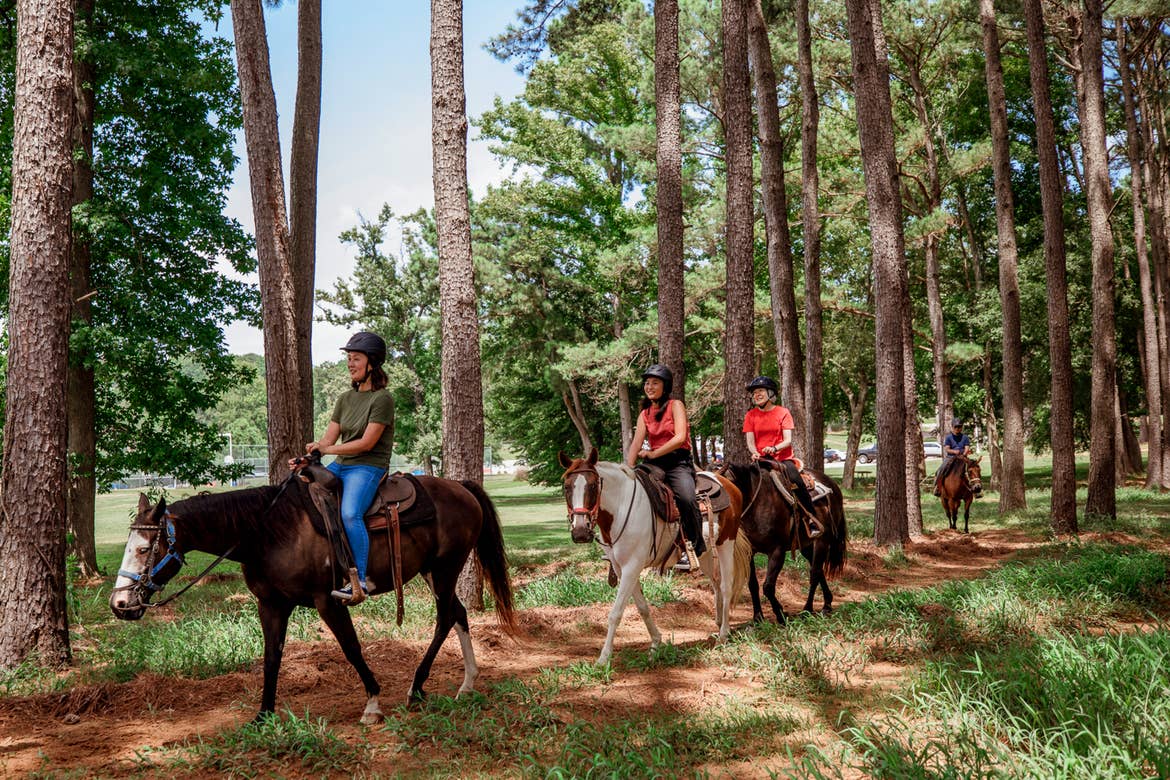 Head to the stables to saddle up for a horseback ride at Apple Mountain Resort.

Even just in terms of resort activities, you can:
Go horseback riding
Get in a round of golf on the 18-hole championship course
Play basketball, tennis and volleyball
Swim in the outdoor pools
Enjoy a few games of mini golf
I hope my one-day itinerary for Helen, Georgia, helps you plan your day trip to this beautiful Bavarian town!

If you're staying at Apple Mountain Resort, be sure to make a stop in Helen. Between all the things to do, places to see and awesome food and drinks to enjoy, this little town will make a big impression on you and your family!


All information is subject to change. This article is a curated guide and is neither sponsored nor considered an official endorsement. Please be sure to check information directly with any/all tours, guides or companies for the most up-to-date and direct details.