The Brute
Don't let the gorgeous tree-lined terrain, immaculately-manicured rolling greens and glistening water hazards fool you. There's a reason this course is called The Brute. It's challenging even for the best golfers! But no matter how fast the greens or tough the downhill putts may be, you'll hardly have a care in the world out here. Known as one of Wisconsin's best golf courses, it's just too pretty not to enjoy!


Hours: Dawn until dusk - open seasonally early spring to late fall

Location: At The Golf Shop at Grand Geneva

Costs: Rates vary but include cart fee, complete use of practice facility with range balls, club storage, GPS storage, GPS yardage system and locker room facilities. Club rental fees are $65 per day or $35 for consecutive days of use during visit.

Lessons:
$75 for one hour
$175 for 9-hole instruction (includes greens fee)
$200 for 3 lessons
$325 for 5 lessons


Reservations: Call (262) 248-2556 or reserve online


There is an on-site golf shop and restaurant with indoor and outdoor seating, as well as an outdoor fire pit.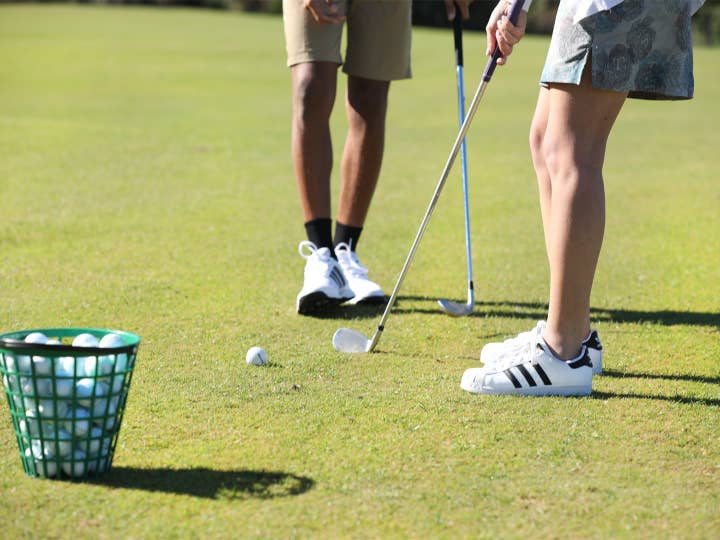 The Highlands
You might be tempted to think you were transported to Scotland when you head out onto this links-style course, and it's no wonder! Surrounded by a winding wall of maple, oak, birch and spruce trees and dotted with flowing streams and creeks, the course features a green, rolling landscape. Be sure to bring your strategic thinking along with your clubs, and get ready to have your short game challenged out here. But most importantly, be prepared to get lost in the beauty of the Wisconsin scenery, no matter how you play.


Hours: Dawn until dusk - open seasonally early spring to late fall

Location: At The Golf Shop at Grand Geneva

Costs: Rates vary but include cart fee, complete use of practice facility with range balls, club storage, GPS storage, GPS yardage system and locker room facilities. Club rental fees are $65 per day or $35 for consecutive days of use during visit.

Lessons:
$75 for one hour
$175 for 9-hole instruction (includes greens fee)
$200 for 3 lessons
$325 for 5 lessons


Reservations: Call (262) 248-2556 or reserve online