Sun, Fun, and Smiles
Ready for some sunny, playful fun that'll put some big ol' smiles on everyone's faces? At our Orlando Breeze Resort, you can putt underneath splashing waterfalls on our mini golf course, grill up some tasty eats on one of our barbecues, enjoy a poolside picnic in the shade or show off your gaming wizardry in our lively, fun arcade. We've got the sun. We've got the fun. You just bring the smiles.
Activity Center
We know it's hard to resist those sunny skies and that gentle breeze outside, but we've got just as much cheery, family fun inside. Just come on over to our Activity Center, and we'll prove it! Challenge the kids to a foosball match and see who can kick in the most goals. Pick up some paddles and duel it out on one of our ping pong tables. Grab some game controllers and race, journey and tackle your way to victory. Need a little break from all of the action? Why not take in a movie in our mini cinema or check out a few DVDs and head back to your villa to veg out? We've got a little something for everyone.


Hours: 8 a.m. to 10 p.m.

Location: Activity Center

Variety of activities available, including:
Arcade games
Pool tables
Ping pong table
Foosball
Air hockey table
Movie theater
DVD rentals
PS4™ games (Megaman Legacy Collection 2, Little Big Planet 3, Song of the Deep, Terraria, Ratchet and Clank, Madden 25, MLB 14: The Show, Need for Speed: Payback, Fifa 19, Okami, Geometry Wars 3:Dimentions, Evolved, Marvel Pinball: Epic Collection, Injustice: Gods Among Us)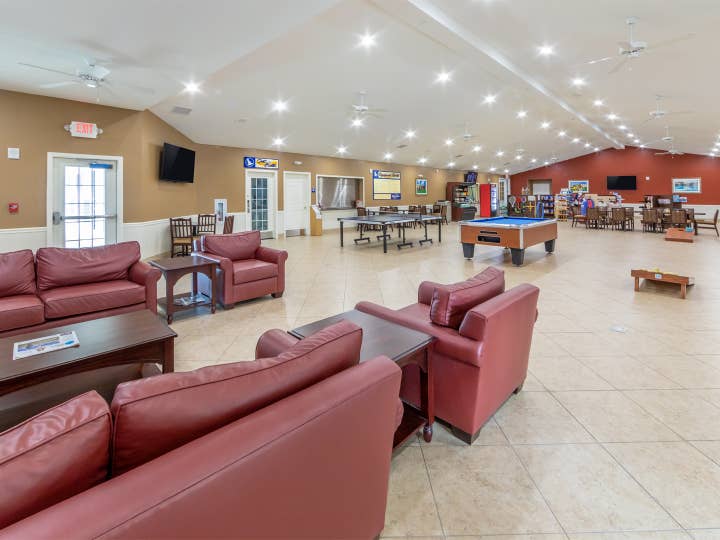 Arcade
If you thought this family vacation of yours couldn't get any brighter, you thought wrong! How's that possible, you ask? Just head on over to our super colorful, lively and vibrant arcade to find out. You can hop on a motorcycle and race your kids to the finish line, see who can hop their way to safety in Frogger or roll your way to the top score in skee ball. It's flashy. It's neon. It's everything a great arcade needs to be, so come on over and get playing!


Hours: 8 a.m. to 10 p.m.

Location: Activity Center

Variety of activities available, including:
Motorcycle racers
Frogger
Basketball machine
Skee ball
Prize machines
Pac-Man™
Storm Stopper
Big Wheel


*Cost varies based on individual, coin-operated arcade game.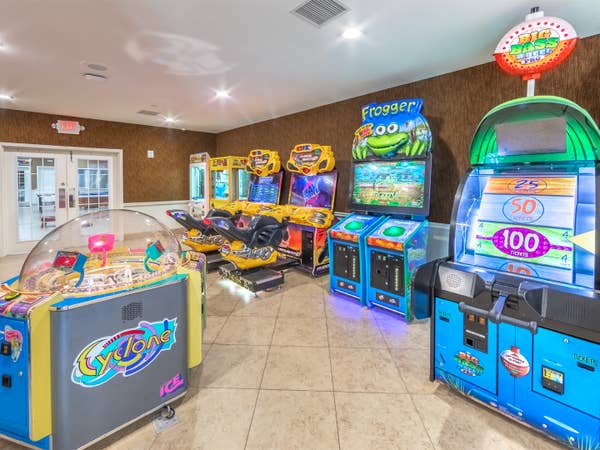 Mini Golf
Is that the call of the wild you're hearing? If it's the sound of the crashing waterfall at our mini golf course, then the answer is yes! Come on out and take a backwoods adventure over a babbling brook, under grotto-inspired falls and right past a large, uncaged gator. Relax, he isn't living or breathing, for goodness sake, but you'll definitely give him a double-take when you putt by him! Don't be surprised if the kids plead with you to play another round. Why not let them? It's free, after all! Come on down to the Activity Center for golf balls, clubs, and score cards and get out there for a wild Orlando Breeze adventure!


Hours: 8 a.m. to 10 p.m.

Location: Side of Building 1

Cost: FREE (Clubs, golf balls and score cards are free of charge and are available at the Activity Center.)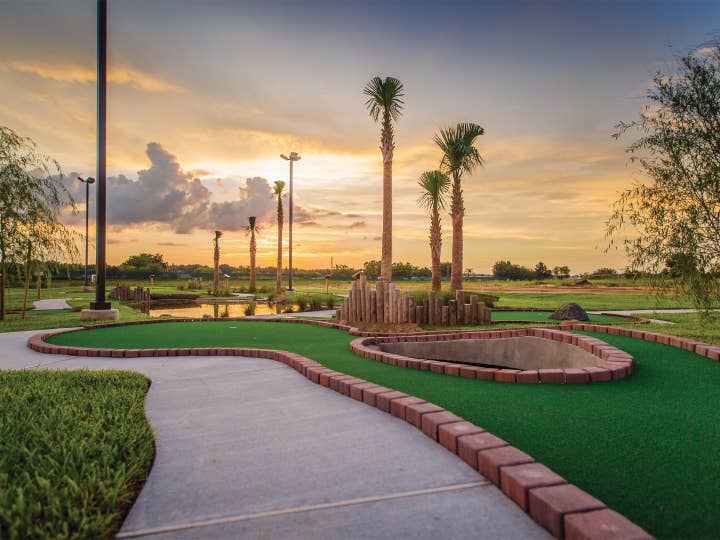 Movie Theater
Ready for family movie night, Orlando Breeze-style? Head on over to our movie theater and enjoy a movie and a bona fide cinema experience. Head up our lighted steps to the second row or find your favorite spot in the front, then settle into our comfy, movie theater-style seats, sit back and enjoy a night at the movies with the family. Our theater is a mini version of the real thing – only better – because it's free!


Location: Activity Center

Showings:* 10 a.m. to 12 p.m., 1 p.m. to 3 p.m., 4 p.m. to 6 p.m. and 7 p.m. to 9 p.m.


*Reservations required. One family per showing.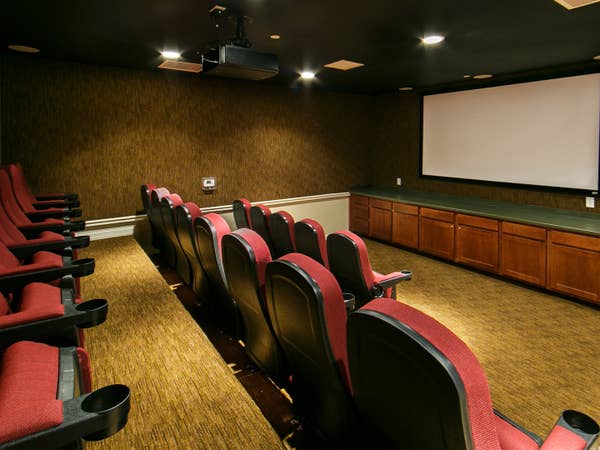 Special Activities
Wanna scratch that Bingo itch, put those bowling chops to good use or show the kids who's boss on the race track? We've got games of the traditional and video game variety, along with some super creative, backyard party-inspired activities designed for you to produce pure fun and hearty belly laughs. Come on down to our Activity Center to check out what we've dreamed up.


Hours: 8 a.m. to 10 p.m.

Location: Activity Center and by the Main Pool

Special Activities include:
Bingo
Junk in the trunk (shake ping pong balls out of tissue box tied onto participant's hip)
Bowling (a soft ball is used to hit pins made out of tin soda bottles)
PS4™ games
Dive in movie


Cost: Free


*Activities are subject to change.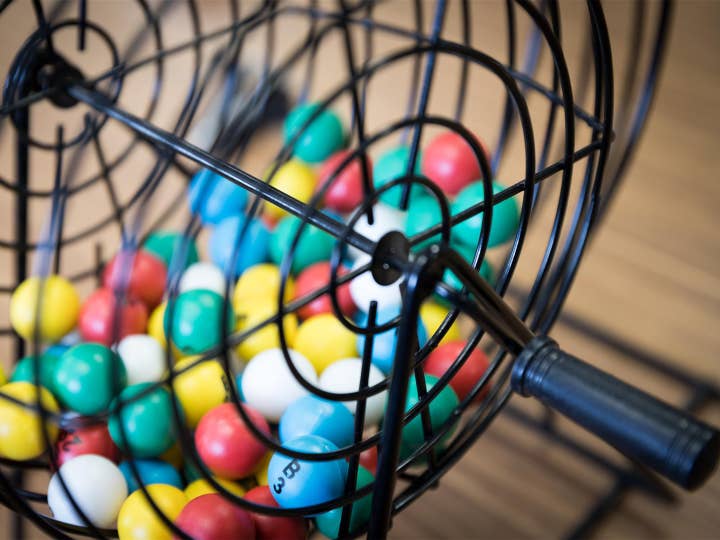 Barbecue Grills
What pairs perfectly with baby blue skies and happy palm trees swaying in the breeze? Having an outdoor family barbecue, of course! Here you can grill up some yummy meats, kabobs or whatever you'd like on one of our charcoal grills and have a cozy picnic on our covered poolside patio. We'll provide the utensils. You just bring those rock star grilling skills. Can't you just smell that grilled goodness filling the air? Now this is an Orlando Breeze kind of day!


Hours: From dawn to dusk

Number of grills: 17 total
2 behind Building A
2 behind Building B
2 in front of Building D/Presidential pool
1 by playground
2 behind Building F
4 by Pavilion
4 by Building 1
Grill utensils and lighters available


*Grills available on a first-come, first-served basis.