Pedal, Run, Shoot, Score
Need to squeeze just a little bit of exercise into that easy, breezy, totally chill and relaxed vibe you've got going? We've got options! You can get in some good cardio on one of our exercise machines in our fitness center or sweat it up on one of our sunny outdoor sports courts.
Fitness Center
Around here, it's impossible not to get into that super laidback, totally relaxed vibe. But here's the thing... you've got to make sure you have enough energy for all of those amazing Orlando Breeze adventures! Our fitness center is the perfect place to get that heart pumping and give those muscles a good workout. Get in a brisk walk or run on our treadmills, pedal up some strength on our stationary bicycle or get climbing on our elliptical machine. You can even get those quads in tip top shape with our leg press, or channel your inner Arnold Schwarzenegger on our Apollo 5 weight machine. We're ready to pump you up!


Hours: 5:30 a.m. to 11 p.m.

Location: Activity Center

Equipment available includes:
Bicycle
Elliptical machine
2 Treadmills
Leg press and pull
Apollo 5


*Guests under 16 years of age need to be accompanied by an adult.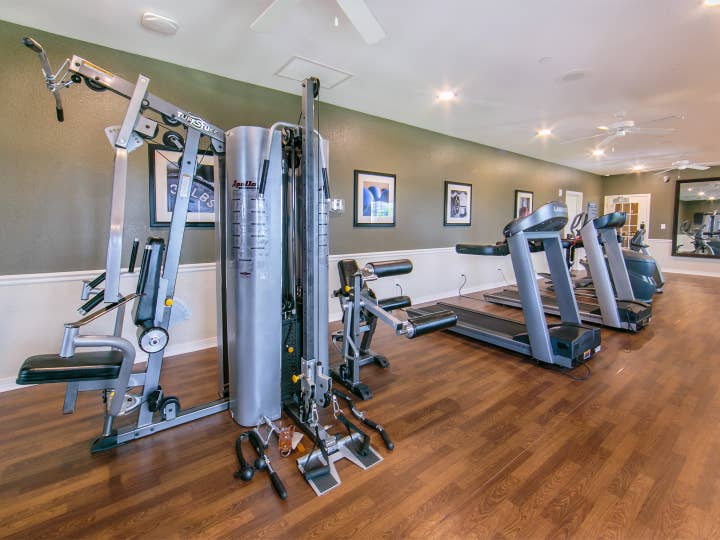 Sports Courts
Wanna take full advantage of that Florida sunshine and do that workout outside in the fresh air? Well come on over to our sports courts, then. You can play a little one-on-one on our half basketball court, fire up that wicked ace on the tennis court or get into the sand and spike your way to victory. You may be working up a sweat, but you'll still be in full-on vacation mode.


Hours:
Basketball and volleyball courts: 8 a.m. to dusk
Tennis court: 8 a.m. to 10 p.m.


Sports include:
Basketball
Tennis
Volleyball
Horseshoe