Sunny Skies, Palm Trees, Soft Breeze
Let's face it, you can't visit Florida without spending some time at the pool or soaking in the hot tub, right? Here you can relax by one of our two outdoor pools, the little ones can have some fun splashing around in the kiddie pool and you can slip into super relaxation mode in one of our hot tubs. Combined with endless blue skies and towering palm trees, they each feel like a little slice of paradise.
Outdoor Pools
Between cleaning it up on the mini golf course, winning big in our arcade and taking on a ton of Orlando area adventures, you need a little vacation from your vacation. And there's no better place to do it than at one of our outdoor pools. Just imagine slipping into our refreshing pools and taking a leisurely swim, lying back in a comfy, poolside lounge chair in the glow of the sun or in the shade of the covered patio and hearing the joy of your kids as their giddy laughs bring a smile to your face.


Hours: 8 a.m. to 10 p.m.

Location:
Main Pool: Near the Clubhouse
Presidential Pool: Across from Building A


*Pool open weather-permitting.
Kiddie Pool
Have little ones who aren't quite ready for the big kid pool? We've got you – and them – covered... literally! Our happy, splashy kiddie pool is shaded from the sun and is zero entry, so your little ones can walk on in, plop down, splash around and play to their heart's content.


Hours: 8 a.m. to 10 p.m.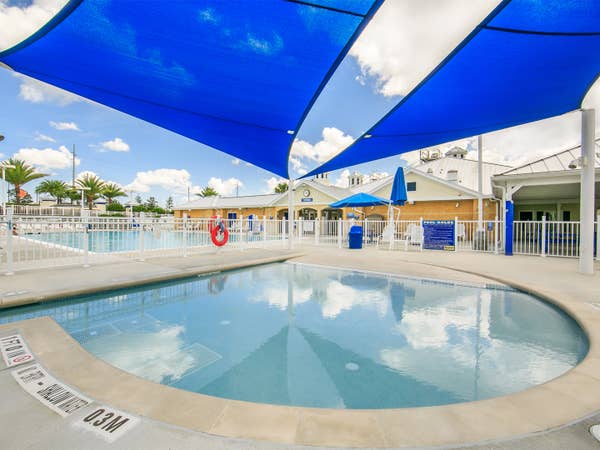 Hot Tubs
As if you haven't had enough opportunities for relaxation on this vacation, we've got one (well, two) more ways to get you into full-on Orlando Breeze mode. Slip into one of our warm and bubbly hot tubs, watch the breeze brush through the tropical palm trees and soak in the total tranquility. Just try not to smile. We dare you!


Hours: 8 a.m. to 10 p.m.