Most Villas are Equipped With:*
Two king-size beds, queen-size bed, two twin beds, plus pull-out sleeper sofa
Fully equipped kitchen with stainless steel appliances and granite countertops
Upgraded kitchenware with espresso machine, gourmet coffee/tea selection and beverage cooler
Premium linens, furnishings and décor
Logo bathrobes in master bedroom for guest use
Four full baths**
Upgraded tubs and/or spa tubs
Premium bath amenities
TVs in living room and all bedrooms
Television behind vanity mirror in master bath (some locations)
Home theater and gaming system
Private patio/balcony
Full-size washer and dryer
Gas fireplace
Private safe
Midweek villa refresh for stays 5 days or longer
Complimentary Wi-Fi
And although each of our destinations is unique, we uphold the quality and luxury cornerstones of the Signature Collection villas wherever they are offered.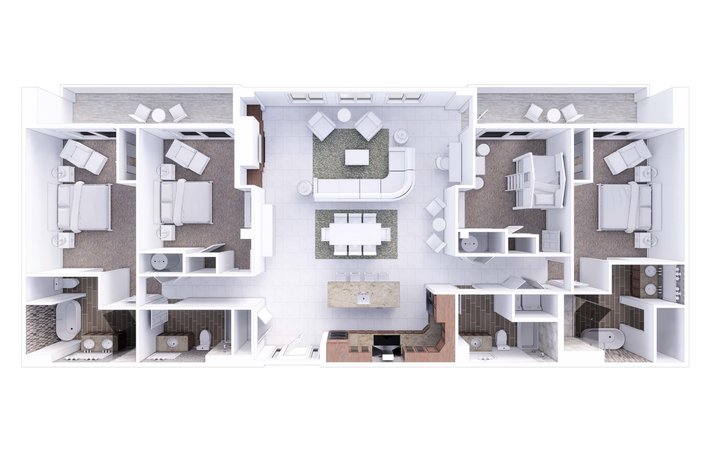 Reserve Extras:
Separate building for all Signature Collection Reserve accommodations
Personalized concierge services
Concierge team contacts member prior to arrival to inquire about any special arrangements for villa
VIP member check-in
Discounted show tickets
Assistance with car rentals and transportation services
Custom-made bathrobes for guest use in all bedrooms
Electronic gaming system and assortment of new-release DVDs, CDs and electronic games available for your use
Complimentary local and national newspapers available
*Some features only available in select villas. Villas shall have furniture appliances, equipment, and all accent furnishing substantially similar to, or of equal or better quality, to those shown or used in the model or descriptive materials.
**Units with physically assisted features: roll-in or transfer-style shower or bathtub with grab bars and seat.