FOR THE HEALTH AND WELL-BEING OF OUR TEAM MEMBERS AND GUESTS, A FACE COVER OVER YOUR NOSE AND MOUTH IS REQUIRED IN PUBLIC SPACES. A FACEMASK IS NOT REQUIRED WHILE YOU ARE IN THE WATER.

Ready to make a real splash? You know the kids have been chomping at the bit for this, so gather up the posse and head over to our massive indoor waterpark for a one-of-a-kind wilderness adventure. You and the kids will have an absolute blast speeding down windy tubes, climbing over rope bridges, and drifting down the lazy river. The little ones will love all of the fun water activities they'll get to experience as they encounter moose, bears, and other woodsy creatures along the way.
Friday to Sunday: 12 pm to 8 pm

Monday to Thursday: Closed

18270 Singing Wood Ln Flint, TX 75762
Wild and Windy Waterpark
Lazy river
Wave pool
2 body slides
2 tube slides
Children's Playscape
3 kid slides


*Some slides have height restrictions. See park rules for more information.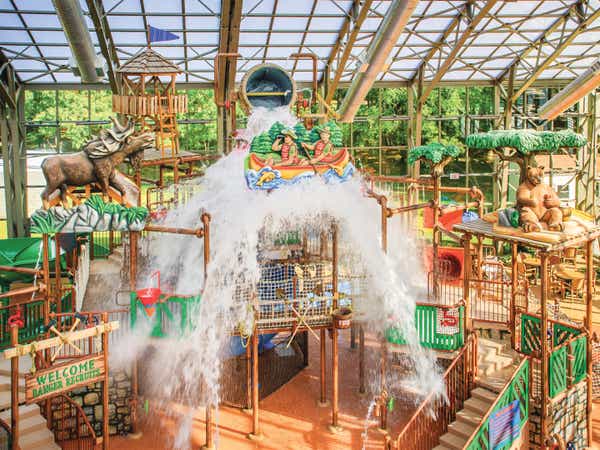 Ticket Prices
All Day - Member Pricing
Over 48": $22.45
Under 48": $19.75
Twilight over 48": $19.75
Twilight under 48": $17.00


All Day - General Public
Over 48": $24.95
Under 48": $21.95
Twilight over 48": $21.95
Twilight under 48": $18.95
*Wristbands that have been tampered with in any way will only be replaced with proof of purchase (valid receipt) and at the guest's expense. A replacement will only be performed for a fee of $12.50 with proof of purchase (valid receipt). Please note: additional entrance fees may apply. Must be placed on the right wrist of every guest.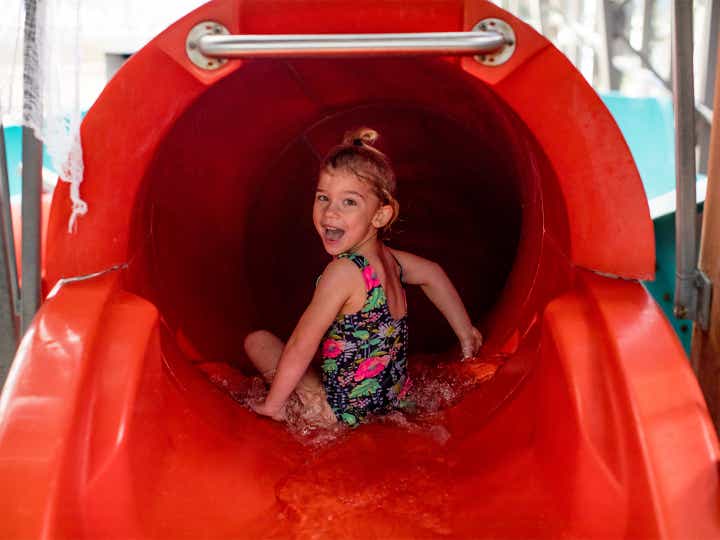 FAQs
How can I purchase tickets?
Visit our ticketing booth during operating hours. Cash, credit cards and gift certificates are accepted. We do not accept personal checks.
My Groupon expired while the Waterpark was closed, may I still redeem it?
You will need to contact Groupon directly to receive a refund or updated voucher.
Do you offer a discount if I'm not going in the water?
Yes, we offer a discounted rate of $10 to visitors who do not plan to use our water attractions.
Can I leave the waterpark and return later in the day?
The wristband you'll receive upon entry allows you to leave the park and return on the same day.
Certified lifeguards are on duty during operating hours. For the safety of our guests, we ask that you obey their instructions. Note: Children 14 years of age and younger must be accompanied by an adult at all times.
Do you have changing facilities?
Changing facilities, with showers, are located in the recreation building.
What type of swimwear is allowed?
Swimsuits are required on all attractions and in our pools. No athletic wear, cut-offs or other clothing not specifically designed as swimwear is allowed. Additionally, exposed buckles, rivets and metal ornamentation are not permitted. Swim diapers are required for all children not toilet trained.
Can I bring food and/or beverages into the park?
Outside food and beverages are not allowed, nor are coolers of any kind. Food, beverages and snacks can be purchased at the waterpark.
Do you provide tubes? May I bring my own?
Tubes are available for both adults and children; no outside tubes are allowed.
Are lockers available for use?
Lockers are free to rent, and locks are available for purchase. Please note The Waterpark at Villages Resort is not responsible for lost or stolen items.
Are there height requirements on any of the rides?
Yes. Rules are posted by each attraction and information can also be found here.
Do you have life jackets for guest use?
Yes, you can pick up a jacket at one of the life jacket stands located throughout the park. You may bring your own U.S. Coast Guard-approved jacket.
Please plan to leave your furry friend at home.
My Waterpark pass/Family Four Pack expired while the WaterPark was closed, may I still redeem it?
All passes that expired from March 22, 2020 – November 6, 2020 will be accepted.
Are birthday party packages available?
Party Packages are not available at this time.
Are group rate tickets available?
Group rate tickets are available on a first-come first-serve basis. They cannot be reserved or purchased in advance. They must be purchased in a single transaction, and observers do not count towards group swimmer totals.
Are you limiting capacity of the Waterpark at this time?
The Waterpark is limited to a 50% occupancy. Tickets are available first come first serve, and occupancy of the Waterpark is monitored throughout the day. All swimmers and observers are included in the occupancy count. This includes the outdoor patio area, but not the lobby.
Do I have to wear a face mask inside of the Waterpark?
For the health and well-being of our team members and guests, a face covering over your nose and mouth is required in public spaces. This includes observers inside of the park, and swimmers that are not currently in the water. A facemask is not required while you are in the water.
Are Subway and Mama Deluca's open?
These are no longer available at the Waterpark, but we do have bottled drinks, snacks, and grab n go items available to purchase.
Are towels provided at the Waterpark?
We do not provide towels for rental. They are sold in the novelty shop or you may bring your own.