One Small Step for Mankind
Your heroes of space experience begins at Kennedy Space Center℠ Visitor Complex with a guided tour of the Space Shuttle Atlantis® by a former astronaut. During your tour, you can stand nose-to-nose with this 151,315-pound spacecraft, a view only previously afforded to astronauts in space. Following your guided tour, you'll be escorted to Heroes and Legends, featuring the U.S. Astronaut Hall of Fame®, for a private dinner reception. While enjoying a full premium bar and gourmet cuisine prepared by an award-winning chef, you'll be able to explore interactive exhibits and see real artifacts from the program. At the conclusion of your evening, you'll depart in awe of mankind's most impressive accomplishments.


Transportation will be provided to and from Cape Canaveral Beach Resort and our experience. Please note some walking will be involved with this event (4 on a scale of 1–10), which may include steps.


Call (888) 213-9990 to start booking your VIP Experience!


*Event pricing does not include accommodations.
One-hour timeshare tour required

Must be at least 16 years of age

90,000 points ($450) per person*
Monday, Feb. 7, 2022 – Check-In & Welcome Party
7:00 p.m. Members arrive to Welcome Party for dinner and cocktails


Tuesday, Feb. 8, 2022 – Heroes of Space Experience
8:00 a.m. Grab-n-Go Breakfast. Members are on their own for the day
5:30 p.m. Transportation departs for Kennedy Space Center℠
6:00 p.m. Members arrive, enter through security check and start a walking tour of Space Shuttle Atlantis® alongside an astronaut
7:00 p.m. Private tour concludes, members enter Heroes and Legends featuring the US Astronaut Hall of Fame® to have a plated dinner
9:00 p.m. Transportation departs for resort


Wednesday, Feb. 9, 2022 – Personalized owner update sales presentation in the morning and afternoon


Thursday, Feb. 10, 2022 – Event check-out date (but you're welcome to stay longer!)


Participants in the VIP Experience have the option of signing a photo/video release form.


Details subject to change. Final itinerary available upon check-in.
Accommodations
Please note accommodations are not included in your event pricing and will need to be booked separately. Accommodations at Cape Canaveral Beach Resort are required in order to participate in this VIP Experience. A $99 transaction fee applies to the resort reservation. Ask about accommodations when you book by calling (888) 213-9990.

Membership Points

Utilize your vacation ownership to take a unique trip this year! You have the option of booking your experience accommodations with your membership points (depending on how many you own).

Buy Additional Points

Already used your annual points or don't have enough to cover the event stay? No worries! You can reserve accommodations for this incredible, guided experience by purchasing additional points.
About This Destination
When you're not out enjoying our guided experience, you'll have time to explore Cape Canaveral Beach Resort. We offer a variety of amenities, such as:

Spacious accommodations
Two pools and a lazy river
Mini golf
Cape Grill & Bar
Marketplace


Learn more about Cape Canaveral Beach Resort!


Get Directions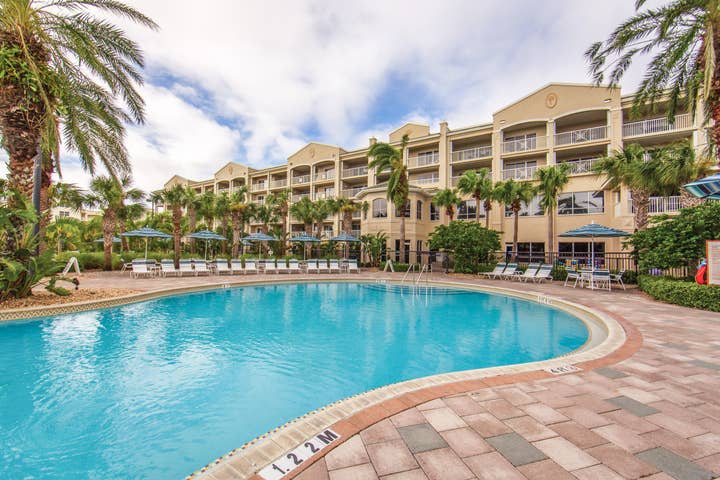 Safe Travels
Holiday Inn Club Vacations is committed to providing a safe resort experience for both guests and team members. Our Safe Travels program adds extra cleaning, even more space to spread out and ways everyone can do their part to safely enjoy our resorts.


Safe Travels Operates in Compliance With:


To fulfill the terms of this offer, you are required to attend a one-hour timeshare presentation.
Details of Participation