Old-Fashioned Vibe, Modern Contraptions
We're known for some pretty amazing southern treats around here, from mouthwatering biscuits and gravy to delicious pecan pie. How about getting in a good, solid workout in between all of those yummy eats without feeling guilty? We've got everything you could need to work up a sweat and work off some calories here in our modern fitness center or on our outdoor sports courts.
Fitness Center
Head on over to our modern fitness center and take a brisk walk or jog on one of our treadmills, do some stepping on our elliptical machines or do some lifting with our dumbbells. If you'd rather work up a sweat without moving a muscle, climb into our steamy sauna!


Hours: 5:30 a.m. to 11 p.m.

Location: Behind the Activity Center next to the pool and hot tub

Equipment Includes:

Treadmills
Ellipticals
Dumbbells
Sauna


*Children under 16 must be accompanied by an adult.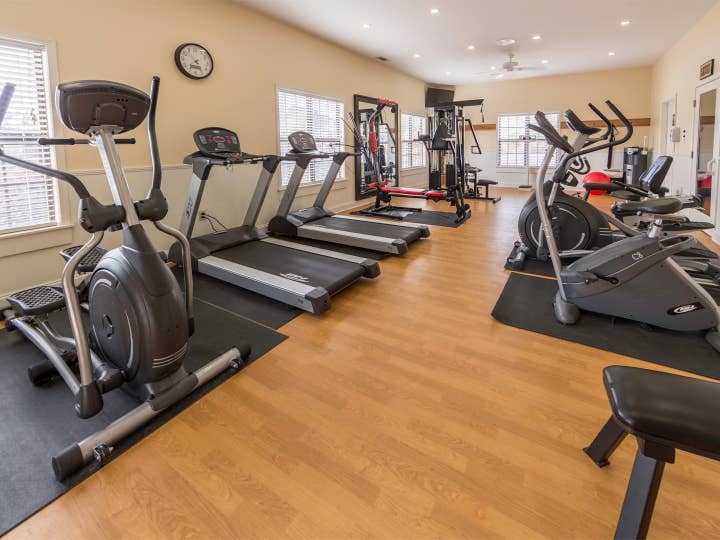 Sports Courts
If you'd like to get in some exercise out in the fresh air with pretty hillside views as the backdrop, we've got the perfect place for you, and it's outside on our sports courts. You can play a little one-on-one with the kids, have a family tennis match or try your hand at disc golf. You won't even notice you're working out because you'll be too busy having fun! Equipment is available at the Activity Center.


Hours: 8 a.m. to 10 p.m.

Location: Next to the Activity Center

Courts include:
Tennis courts
Basketball
Disc golf