Frontier Fun
Ready for a fun family adventure with some western flair? At our Piney Shores Resort, you can hit the trail for a trek on horseback, have a wilderness adventure of the mini golf variety, grill up some tasty morsels on one of our barbecues, show off your artistic side or head inside for some modern day fun. We've got everything you need for cowboy utopia.
Stables
Ready to hit the dusty trail for an adventure of the four-legged or the four-wheeled variety? Mosey on down to our stables where you can meet and greet our "mane" attraction: Cricket, Ginger, Zoey and the rest of our friendly horses. Take a peaceful horseback ride down a shaded trail that cuts through the sunlit woodlands and along the rippling tumbleweed, or go on a fun and bumpy tractor ride that's sure to produce a whole lotta belly laughs. We've got the horses. We've got the trails. Now you get a wiggle on and get on down here!


Hours: 9 a.m. to 3:30 p.m.

Location: At Registration Building

Cost: $40 for horseback riding, $5 for tractor rides, $15 for pumpkin patch

Special Activities include:*
Horseback riding
Tractor riding
Pumpkin patch (seasonal)


*Age and weight requirements. Reservations required.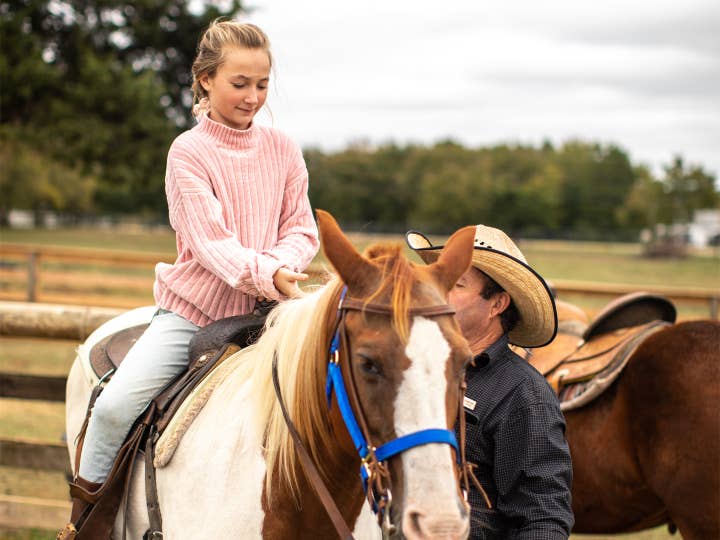 Mini Golf
Get on out onto the wild frontier for a woodsy, western mini golf adventure. Trek into a shaded wilderness and putt under a covered wooden bridge and around tin roof cabins, pass by a thatched roof wishing well and a babbling brook and look out over the towering green pine trees. Oh, and watch out for those spouting geysers! You might think you ventured out into Huckleberry Finn's backyard, but it's just ours. Enjoy!


Hours: 9 a.m. to 10 p.m.

Location: At the front of the Registration Building

Cost: Free (Clubs, golf balls, and score cards are free of charge and are available at the Activity Center.)


*$25 for unreturned items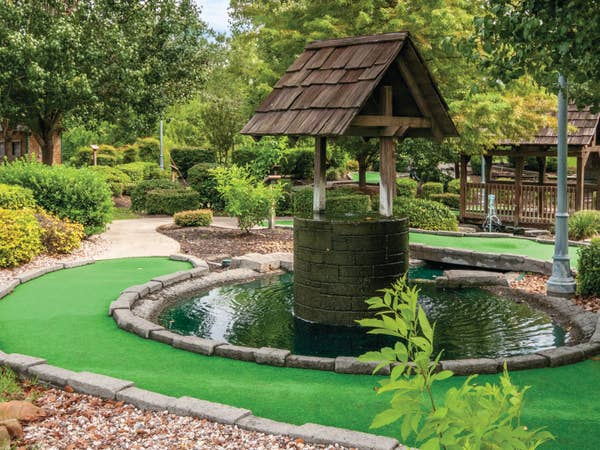 Activity Center
If you thought this family vacation of yours couldn't get any brighter, you thought wrong! How's that possible, you ask? Just head on over to our super colorful, lively game room to find out. You can hop on a motorcycle and race your kids to the finish line, see who can hop their way to safety in Frogger® or roll your way to the top score in skee ball. It's flashy. It's neon. It's everything a great game room needs to be, so come on over and get playing!


Hours: 7 a.m. to 10 p.m.

Location: Activity Center

Variety of activities available, including:
Air hockey
Pool tables
Basketball games
Ping pong
Prize machines
iPads


*Cost varies based on individual, coin-operated arcade game.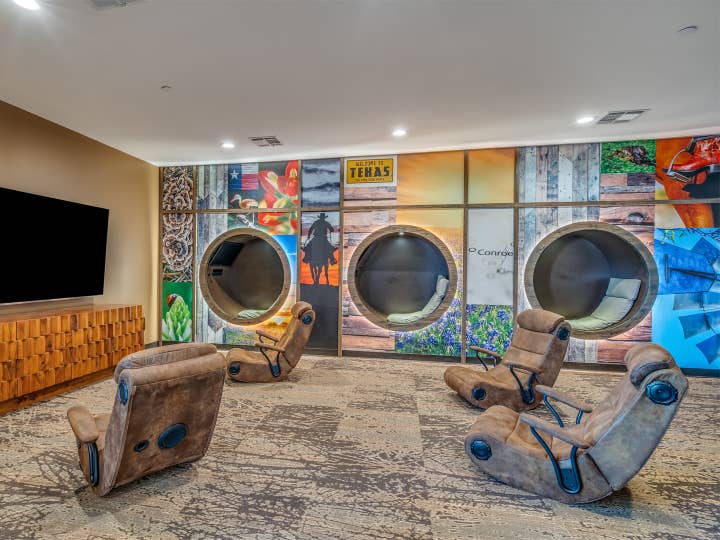 Barbecue Grills
Gather the family 'round the chuck wagon for some yummy grub. Sorry, we get a little carried away with our cowboy-speak around here. What we mean is, get the whole family together and head out to one of our barbecue grills for a cookout. We've got 100 grills around the property where you can get out in the great outdoors and cook up a feast. You don't even need to worry about the utensils because we've got them here for you. Just get yourself on out here and get grillin'.


Hours: 24 hours

Number of grills: 100 total


Outside every building
Grilling utensils available at Front Desk


*Grills available on a first-come, first-served basis.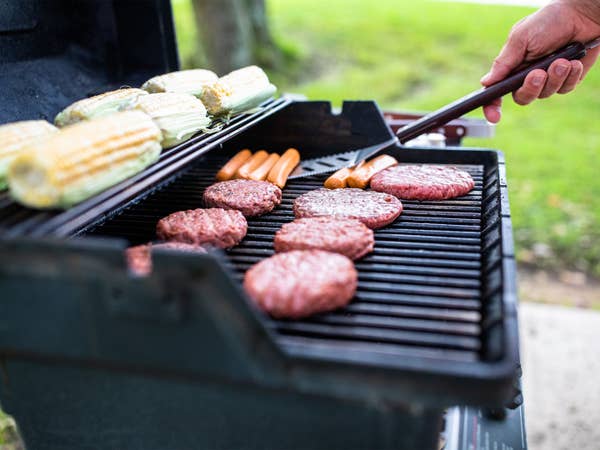 Special Activities
Have a kid with an artistic side? Wanna have a fun family duel? We've got lots of fun stuff to do around these parts, so check your welcome packet you got when you checked in or the flyers we have posted around the property for details. You'll get to do stuff like water balloon shootouts and creating and painting, and we're not just talking about landscapes and portraits, but pots and rocks, too. And on the weekends, we've got fun themes and cute crafts for you to do.


Hours: Weekend hours vary. Guests can check for information upon check-in and see flyers around property.

Location: Activity Center and by the Main Pool

Cost: Free

Special Activities include:*
Painting pots, rocks, paper
Water balloon toss
Pumpkin decorating (Fall)
Themed weekends and crafts
Dive in movie