Wrangle Up Some Family Fun
Ready to explore the great outdoors without having to rough it? At our Villages Resort, you can grill up some meat and taters on one of our charcoal barbecues, set out on the open range from our horse stables, or set afloat on Lake Palestine from our marina. Best "uncamping" camping trip ever!
Activity Center
Head over to our Activity Center and get your vacation started right. With a giant game of chess, fun arcade games, tasty lunch and dinner selections at The Grill, snacks and drinks at the Marketplace, and a ton of activities, you may never want to leave. Did we mention there's also ice cream? In case you needed any more reasons to go check it out.


Hours: 9 a.m. to 8 p.m.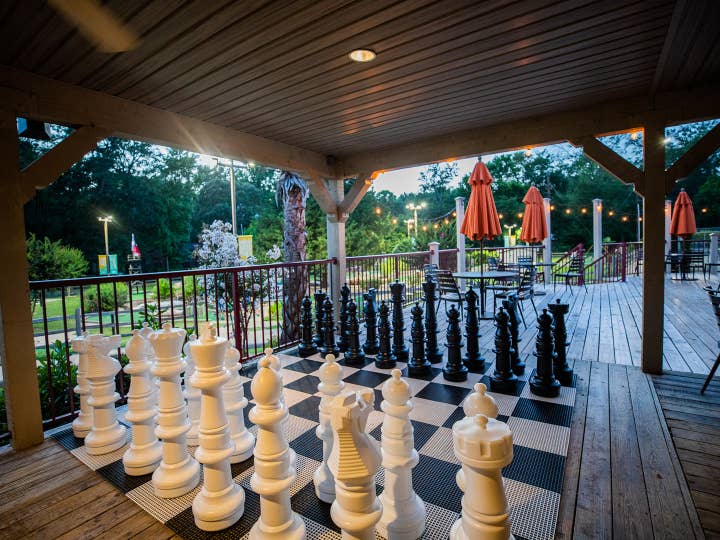 Stables
Ready for an adventure of the four-legged kind? Head over to our stables and saddle up! You'll travel on horseback along a trail that's hugged by pine trees, oaks, and dogwoods and along the edges of beautiful Lake Palestine. That view of the blue waters merging with rolling green hills may look like a painting, but it's the real deal, so take it all in. Life doesn't get much better than this!


Hours: Saturday - Tuesday 9 a.m., 10:30 a.m., 12 p.m., and 3 p.m.
Friday 10 a.m., 11:30 a.m., and 1 p.m.

Location: Stables

Cost: $40 per person

*Reservations required. Must be at least 8 years old and 48" tall. Weather permitting and closed toe shoes required.
Wagon Rides
Want to explore the resort but have little ones that aren't quite tall enough for a horseback ride? We have you covered! With our on-site wagon rides, you and the kids can hop on and enjoy a 30- to 40-minute ride exploring the backwoods of Texas from the comfort of a bench seat in a covered wagon. And best of all, you can just sit back and enjoy the views!


Hours: 11 a.m. and 12 p.m. on Saturdays and Sundays

Location: Activity Center

Cost: $5 per person (free for children 24" and under)


*Weather permitting. All riders must be present to complete waiver, reserve time slot and pay. Group must be at Activity Center 30 minutes prior to ride. Rides on first-come, first-served basis.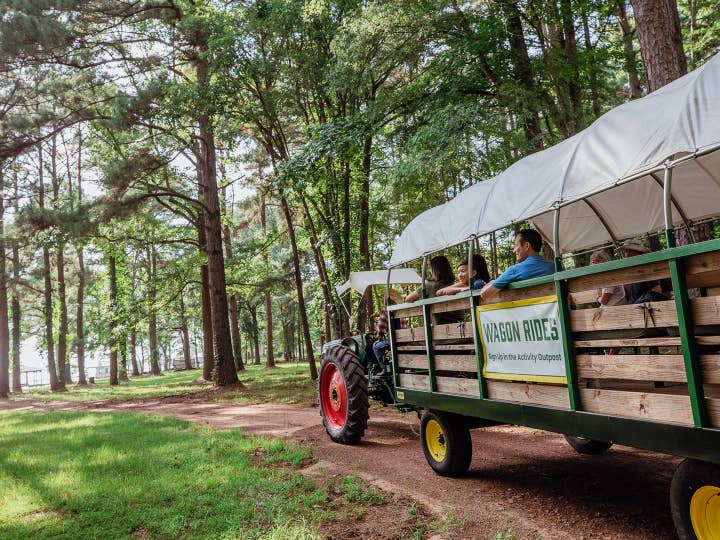 Arcade
Wanna add a little high-tech competition to your wilderness getaway? Head over to our arcade for a family game night showdown. Channel your inner Jimi Hendrix in a round of Guitar Hero®, score the winning goal on one of our air hockey tables, or battle your way to victory on one of our arcade games.


Hours: 9 a.m. to 8 p.m.

Location: Activity Center

Variety of activities available, including:

Jurassic Park™
Boxing
Cruis'n Blast
Super Bikes 2
Pinball


*Cost varies based on individual, coin-operated arcade game.
Mini Golf
Hear that? It's the call of the wild, and it's got your name on it, so head on over to our "backwoods" mini golf course and make some fun mini golf memories with the whole family. With its split-rail fences, cute wooden cottages, trickling creeks, and canyon waterfalls, you'll feel like you wandered into an old timey woodlands hideaway. Just don't lose sight of why you're there... to sink those putts, of course!


Hours: 9 a.m. to 8 p.m. daily

Location: Next to Activity Center

Equipment Rental: Activity Center

Cost: Free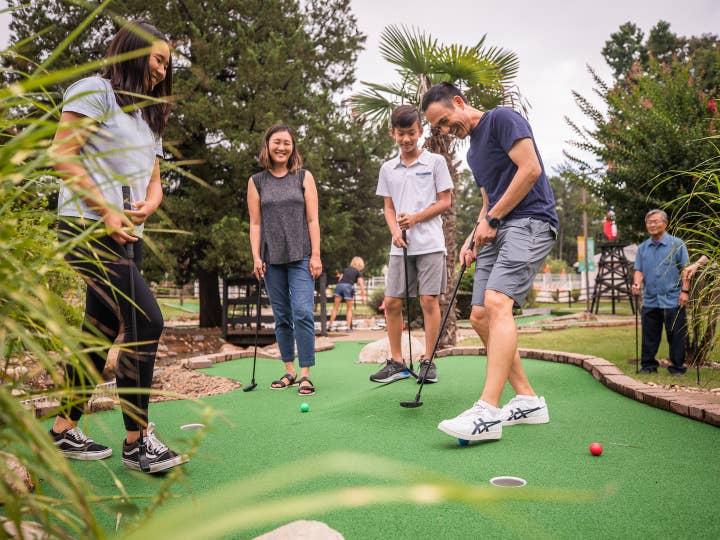 Playground
Let the kiddos run around and have fun at our on-site playground located next to the Activity Center.


Hours: 9 a.m. to 8 p.m.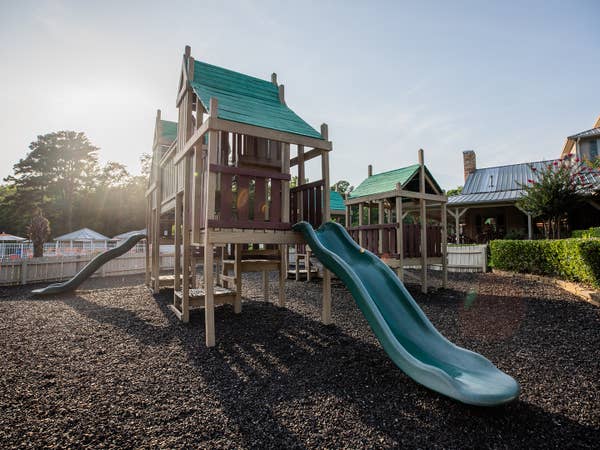 Barbecue Grills
Wide open spaces, towering pine trees, and that view of Lake Palestine... now that's paradise! All that's missing is the sweet smell of meats a'cookin' on the barbecue. Oh wait, that's not missing, because barbecue grills we've got, and plenty of 'em. You just bring along the burgers, steaks, and ribs, and you'll be grilling up a tasty meal in no time.


Hours: 8 a.m. to 10 p.m. daily

Number of grills: At least 4 per building

Charcoal grills
Ash buckets and grill brushes available