Soak it Up
Swim some laps, get refreshed, or just relax in our indoor salt water pool or one of our outdoor pools. Whether you need a little breather or the kids have been chomping at the bit to play Sharks and Minnows, our pools are a great setting for chilling out and having fun.
Indoor Salt Water Pool
So you've just spent the whole day exploring Colonial Williamsburg, and now your feet are throbbing and you're exhausted. Our indoor salt water pool is calling your name! Kick back, relax, and let the warm water soothe your aches and pains while the kids swim, play, and get out even more of their never-ending energy.


Hours: 7 a.m. to 10 p.m. daily

Location: Town Square


*Reservations required. Limited capacity (16 guests).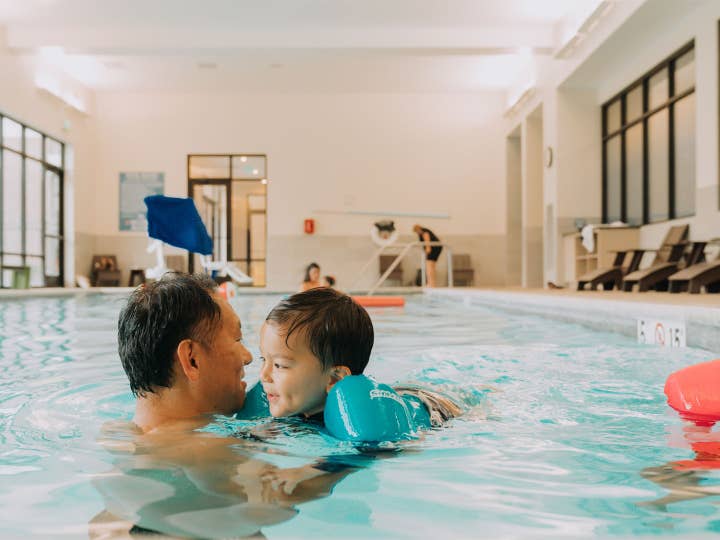 Outdoor Pools
If you're a nature buff and you like to swim, you'll love our outdoor pools. Whether you head to the one located at our Clubhouse or Town Square, you'll feel like you're in a woodland sanctuary – with a colonial twist. The kids will love how much space they'll have to splash and play. Forgot the pool toys? No worries. *We've got goggles, inner tubes, floats, and lots of other fun stuff for the kiddos available right at the Marketplace.


Hours: 7 a.m. to 10 p.m. daily

Location: Clubhouse and Town Square
Clubhouse Outdoor Pool (limited capacity: 52 guests)
Town Square Outdoor Pool (limited capacity: 36 guests)


*Opened seasonally. Reservations will required in summer 2021.


*Pool toys, accessories, and sunblock are available for purchase from the Marketplace.
Children under 16 years old must be supervised by an adult over 18.