Find On-Site Family Fun
A vacation just isn't a vacation without some fun things to do for the whole family, right? At our Williamsburg Resort, you can grill up a feast, knock down some pins, fire off some goals, or relax by the pool while you take in nature.
Bowling Alley
We'll admit it, our bowling alley doesn't exactly scream "colonial". It's modern, fresh, and bright. We figured we'd leave the history part to what you and your family can make together. (See what we did there?) Whether you bowl strikes, gutter balls, or something in between, you and your family will have a ton of fun. *Just stop by the Town Square Activity Desk to make a reservation.


Hours: 8 a.m. to 10 p.m.

Number of lanes: 4 (currently limited to 2)

Location: Town Square

Cost: $20 per hour + $3 rental fee for shoes


*Reservations required. Limit 8 players per lane.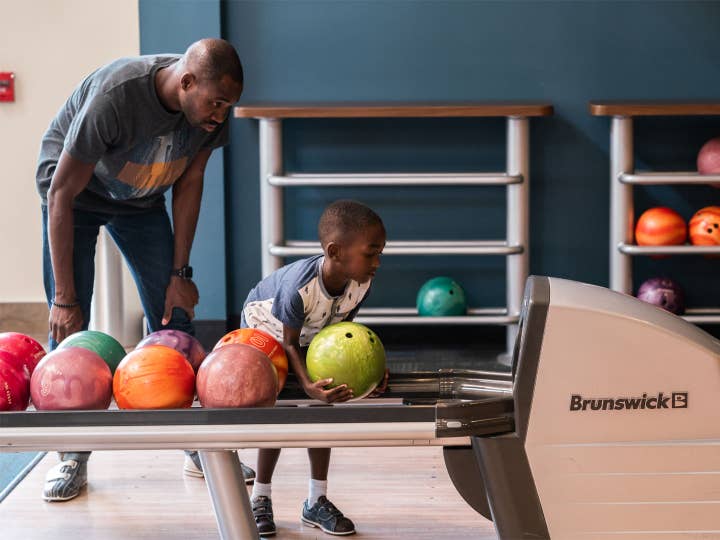 Mini Golf
Meet up in the backyard for a round or two of mini golf. No, really! Our mini golf course is located in our Town Square Backyard, smack dab in the middle of a Virginia forest. You may be tempted to let the woodsy backdrop and the sweet smell of pine trees hypnotize you, but you've got to stay focused. You've got putts to sink and kids to beat!


Hours: 8 a.m. to 8 p.m.

Location: Town Square Backyard

Cost: $5 per player (includes clubs, golf balls, and score cards, available at the Town Square Activity Desk.)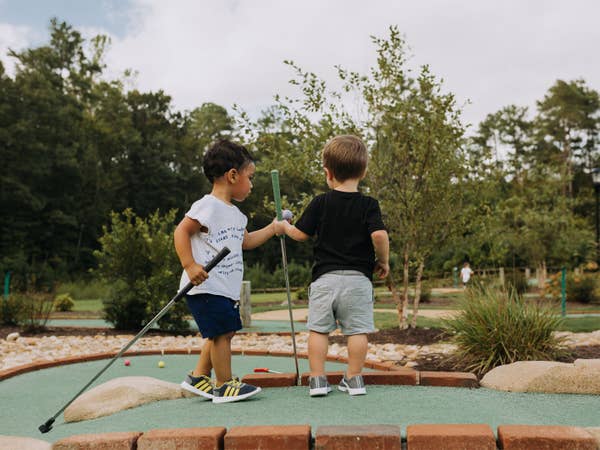 Arcade
THE ARCADE IS TEMPORARILY CLOSED.


How in the world did Colonial parents entertain their kids? Lucky for you, you won't have to find out. We've got an arcade that has so much to do the kids will never get bored. And the best part is... you can join them. (We've got Ms. Pac Man™, so get those fingers ready!) Challenge the kids to a ping pong match, take them on in foosball, or see who can snatch up the most prizes with the claw machine. You and your family will have a blast together.


Hours: 8 a.m. to 10 p.m.

Location: The Clubhouse

Variety of activities available, including:

Ms. Pac Man™
Air hockey
Claw machine
Prize game
Motorcycle game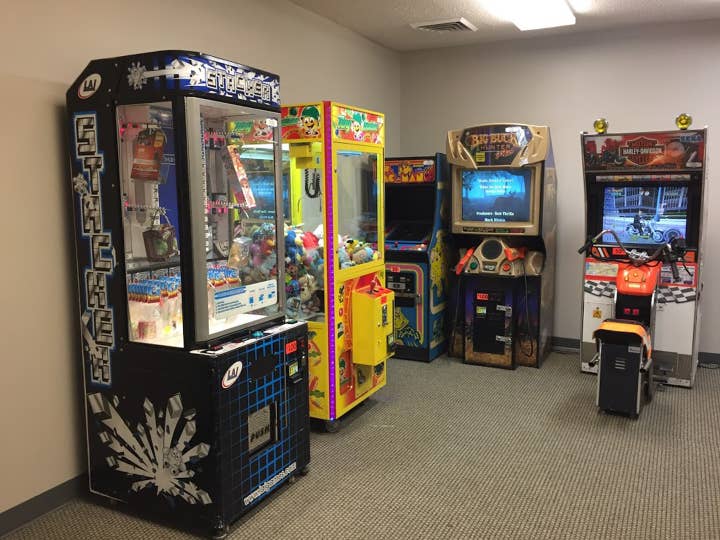 Special Activities
Got a singing star in the family? How about an aspiring artist or sculptor? Or, maybe you know someone who's into beer and wine tasting? (Bet that got your attention.) We've got lots of fun activities designed for everyone in the family, whether you're a trivia buff, a tie-dye expert, or a bingo champ.


Hours: Days vary: 9 a.m. to 7 p.m.

Location: Town Square

Activities include:

Poolside karaoke
Poolside bingo
Pictionary™, trivia and bingo
Beer & wine tasting
Arts and crafts


*Limited seating, reservations required.


*There is a cost to participate in some activities. Price range is $3 - $10. Activity schedule is subject to change. Children under 16 years old must be supervised by an adult. Adult activities are for 21+ only.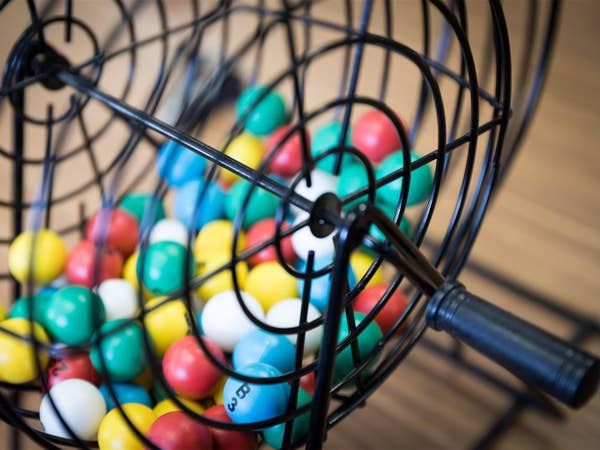 Barbecue Grills
Head over to one of our charcoal grills and breathe in the fresh pine air while you cook up a tasty meal for the family. And don't worry, just because history's our thing here, we didn't skimp on modern conveniences to help you cook up your feast with ease. We've got the charcoal, lighter fluid, and utensils. Now get grillin'!


Hours: 8 a.m. to 10 p.m.

Number of grills: 2

2 charcoal grills between Buildings 200 & 300
Utensils, charcoal, lighter fluid available at the Town Square Activity Desk*


*There is a cost to purchase charcoal and lighter fluid.