Rona Gindin
Rona is a travel writer who explores the world, yet she's most at home enjoying Orlando's natural, quirky and cultural attractions.
Website
As an Orlando local, I hear this question all the time: What's it like at Universal Orlando™ Resort these days? My answer? Pretty terrific! With … some items to watch out for.

Employees wear masks, guests mostly do, Purell stations abound, and in my opinion, Universal Orlando is doing a pretty good job with distancing on rides and at restaurants to keep strangers away from each other during this "new normal."

Wait times and crowds are lower than usual and as a whole, Universal is a fun place to spend the day … once you get in. The downside? I'll be honest. The crowds and entry process in the morning made me uncomfortable. I'd say that's the biggest thing I hope they'll continue to improve as 2020 progresses.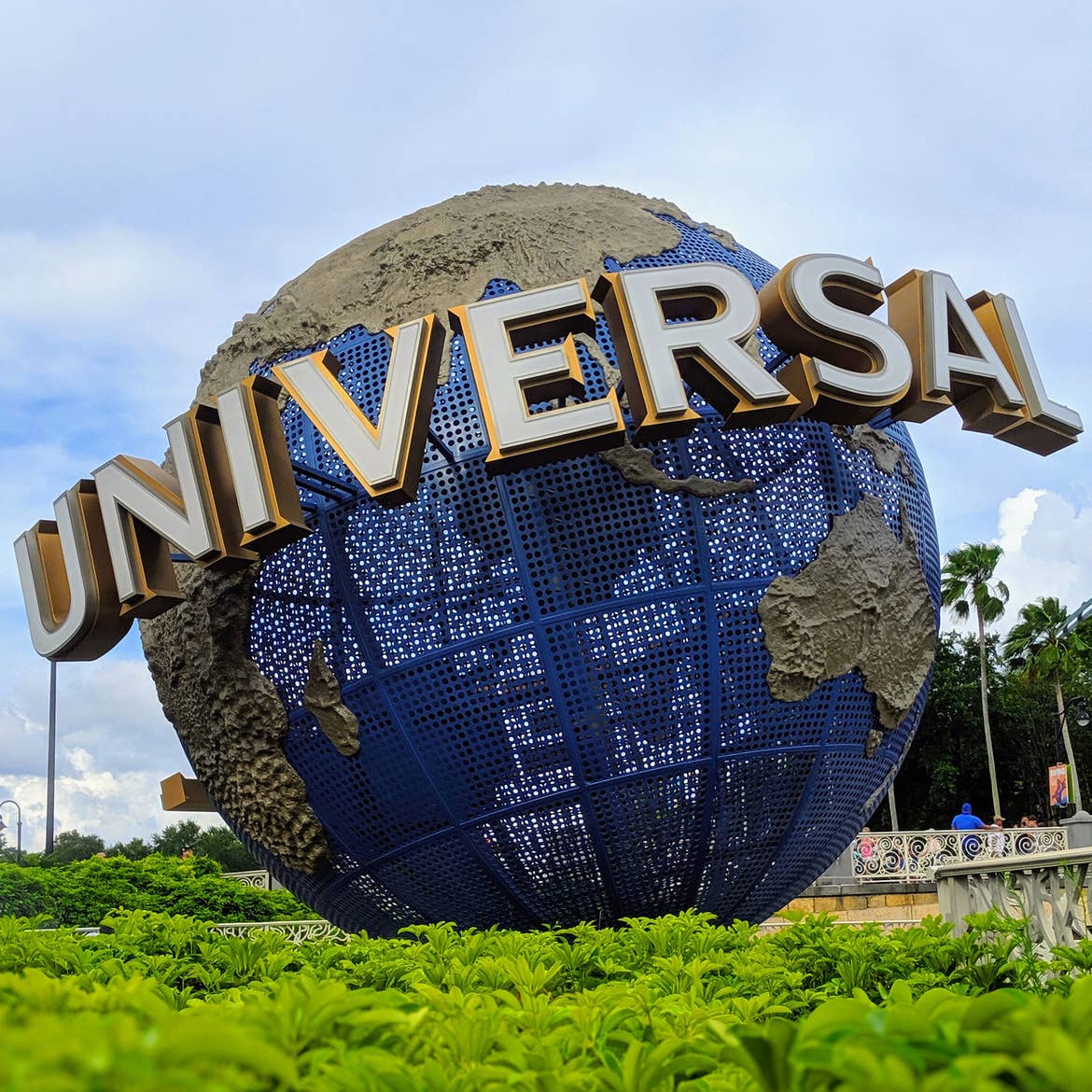 My take overall? Go now, while crowds are thin and the weather is cooling down. Wear a mask and be smart and safe. And if you're especially nervous about theme parks, crowds and safety, wait until later in the day to arrive and avoid the morning rush of guests entering all at once.

For more info, and to help see if a Universal trip right now is right for you, check out my recap below of my full Universal experience. It was my very first trip back since it reopened and I checked out CityWalk, Universal Studios and Islands of Adventure.


First, a Little Background
I live in Orlando, and I'm a travel writer, so theme parks are intertwined with my life. Going with the "When in Rome" flow, my work has included a lot of in-depth attractions reporting over my 20+ years of living just 12 miles north of Disney's Magic Kingdom® Theme Park. If I can reach any Orlando theme park from my home in 20 minutes, why not become an expert?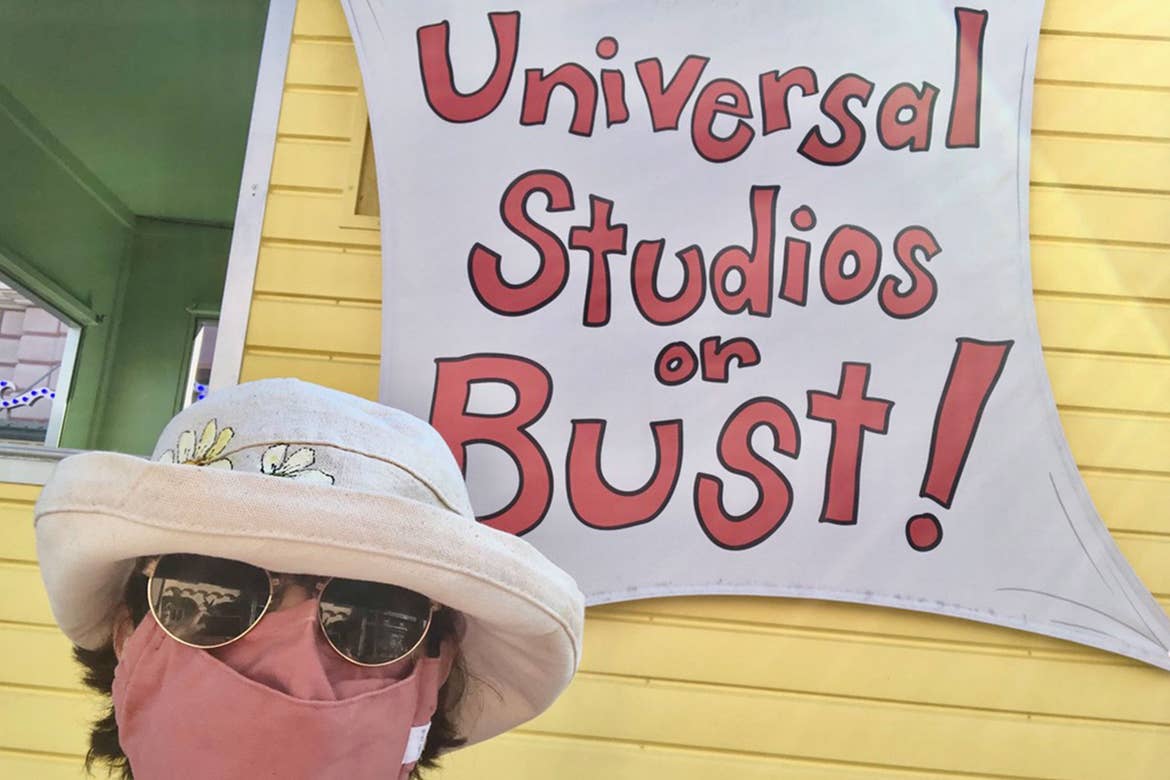 Even as a theme park expert though, when Holiday Inn Club Vacations® asked me to see what it's like at Universal Orlando these days … I gulped. I hadn't so much as eaten inside a restaurant since mid-March 2020, much less returned to the parks yet. But I'd heard glowing safety reports from friends since the Universal parks reopened on June 5, 2020. So, I took the leap! I packed antiseptic wipes and three masks and headed over on a late September Saturday morning.


Getting into Universal Orlando
Remember that downside I mentioned? It really comes before all the fun starts.

When I arrived at 8:30 on a Saturday morning, I encountered a long wait to get through the parking lot toll booths ($26). It probably took a solid half-hour. But I was safe in my car, so that wasn't a problem.

(For getting a jump start on these kinds of early morning theme park wake-ups, consider staying just down I-4 with my friends at Holiday Inn Club Vacations. Their Orange Lake Resort is just a hop, skip and jump away at less than 20 miles from Universal. And their Orlando Breeze Resort is about a half an hour's drive away, give or take with traffic, of course.)

Once in the lot, I was delighted to see guests parked in every other spot so we wouldn't get close to each other while leaving our seats. Nice! No accidental face-to-face encounters for us.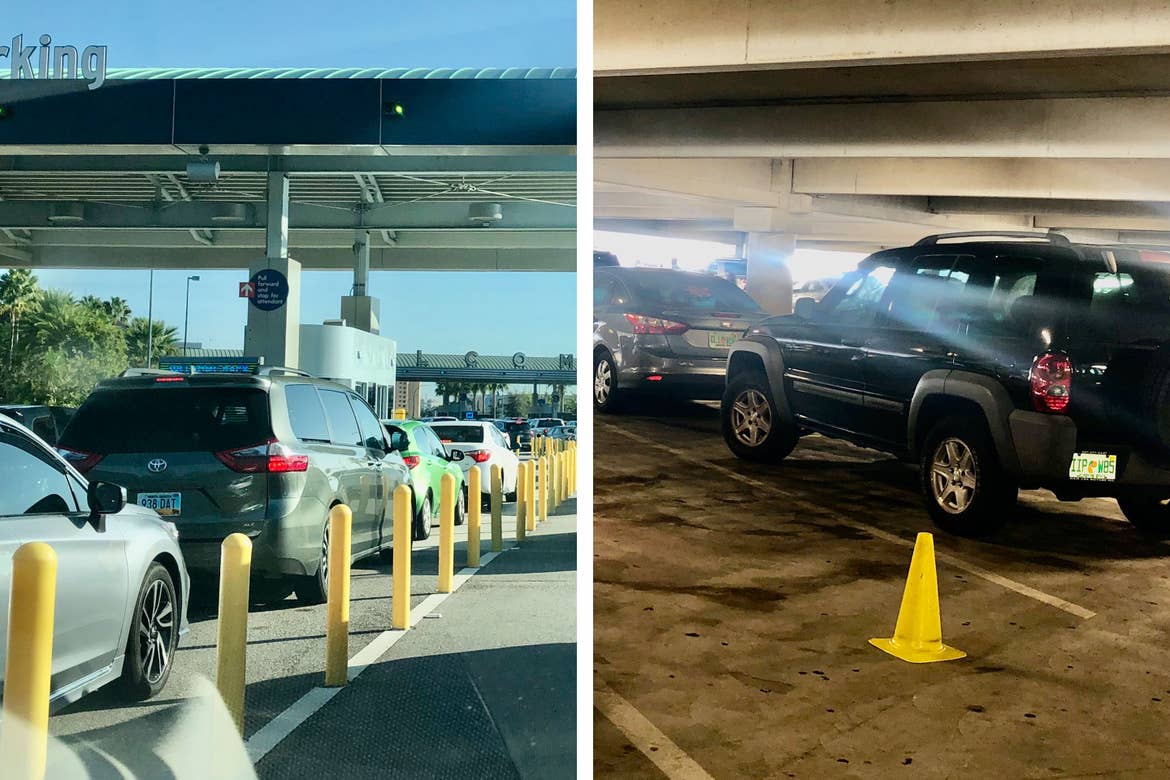 Once I got up the parking garage stairs though: LOGJAM. Eeek! A mass of people essentially stood still and closely clumped together, despite recorded announcements in a friendly yet firm voice asking us to be socially distant.

The well-marked floor signs showing us how to stand six feet started a little farther up. That went pretty well, but I think it would've gone more smoothly if one or two employees were motioning and making sure people were staying apart and wearing their masks.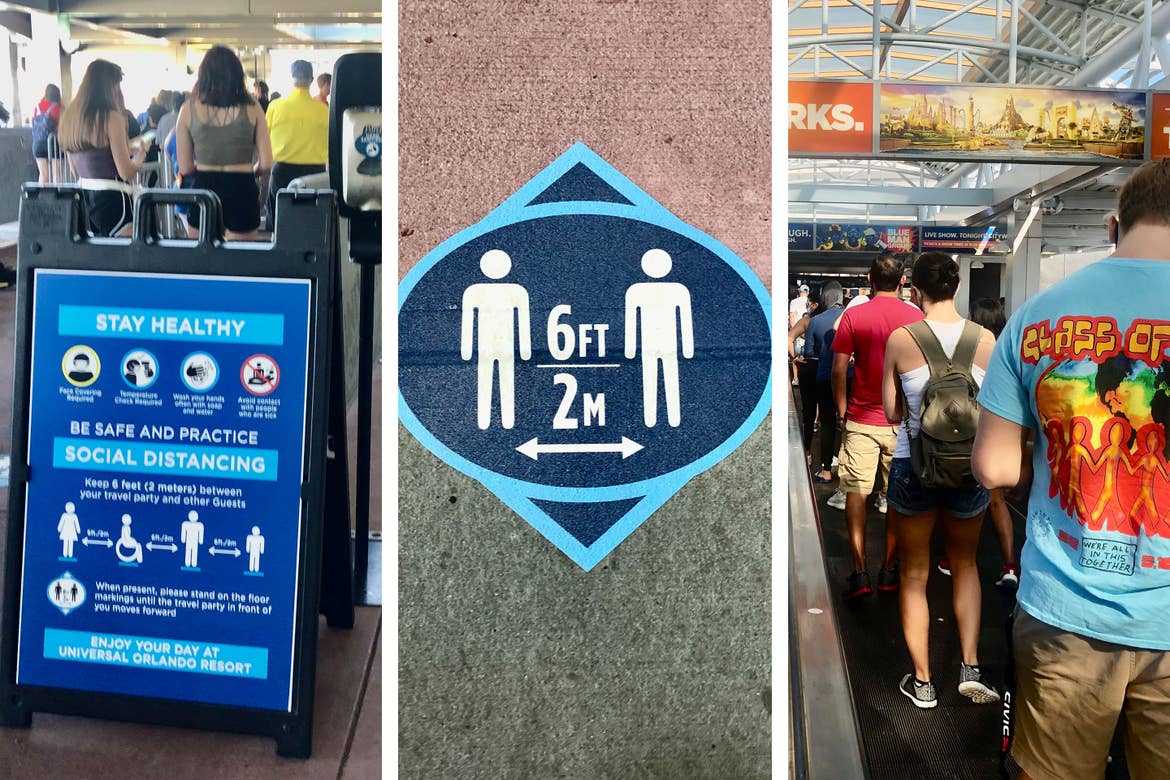 Once we reached the temperature check station, the process went MUCH more smoothly, and staffers were around to monitor the situation more closely. (Whew! Thank you, Universal!)

So, really—that was my biggest point of "uncomfortableness" of the whole day. Just that morning "rush" of people all in the same place at the same-ish time together. From there, it was much, much better smooth sailings in the social distancing department. (I noticed it did get better later in the day as I was leaving.)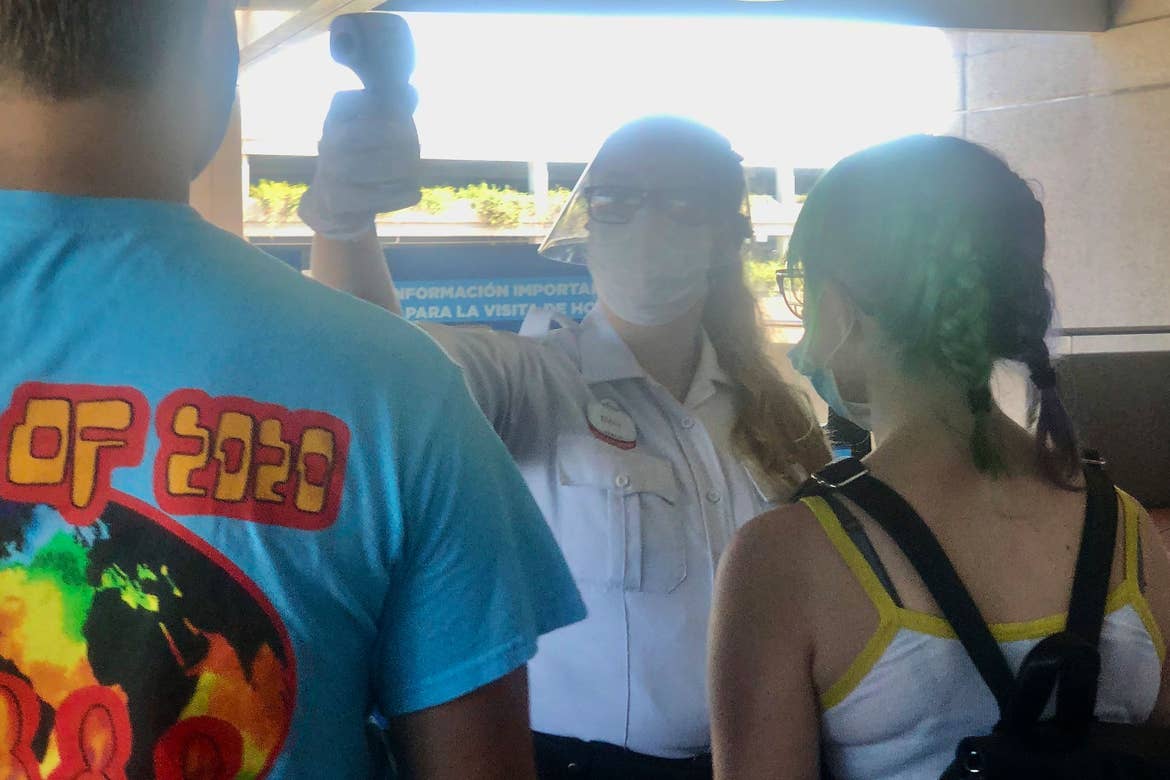 From there, I was off! I went through CityWalk toward Universal Orlando Studios, the Hollywood-themed park. (A little note: CityWalk was empty. It's typically emptiest in the mornings, even pre-COVID. It tends to fill up once the parks start emptying in mid-afternoon and gets its biggest crowds at night.)


Arriving at Universal Orlando's Parks
I power walked right past the Universal Studios ticket windows and customer service areas, both with barely any lines, then strolled right up to the entrance. The team member did have some trouble trying to scan my phone's QR ticket code from the mobile app, but overall, I was so pleased to have a "touchless" entry option with no one around me! (My advice would be to take a screenshot of your ticket code, instead of trying to have them scan it while in the mobile app, to avoid this.)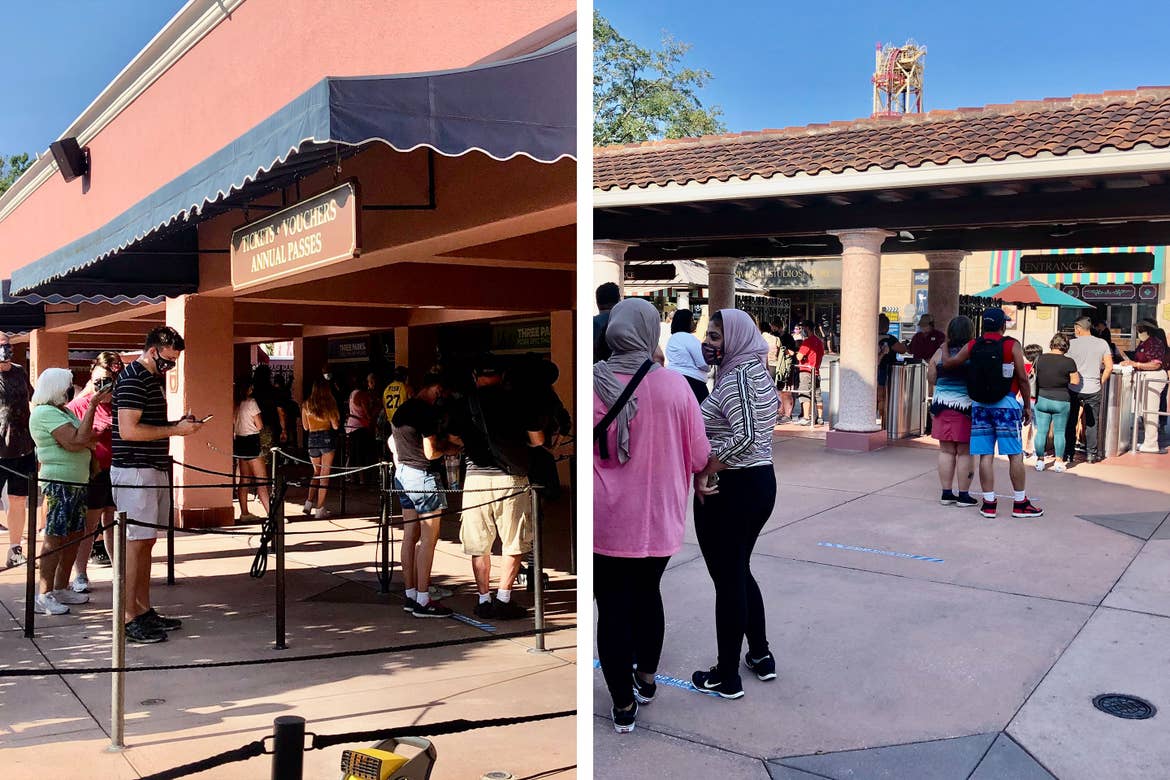 About the Parks Themselves
Once I got through the gates of both Universal Studios and Islands of Adventure, nearly everything about the day was wonderful! I entered around 9:30 a.m. and some streets were entirely empty. The park is limiting capacity right now, and September tends to be off-season for Orlando's theme parks anyway, so it was easy and enjoyable to spread out.

The lines outside most rides were run well; each group of guests stayed to its own marker six feet apart. Inside each building, lines continued to be socially distanced. The spacing-out of people continued on the actual ride cars, too. On coasters and flumes that zoomed past me at both parks throughout the day, I saw empty rows between populated rows. That may slow down ride loading and unloading a bit, but #safetyfirst.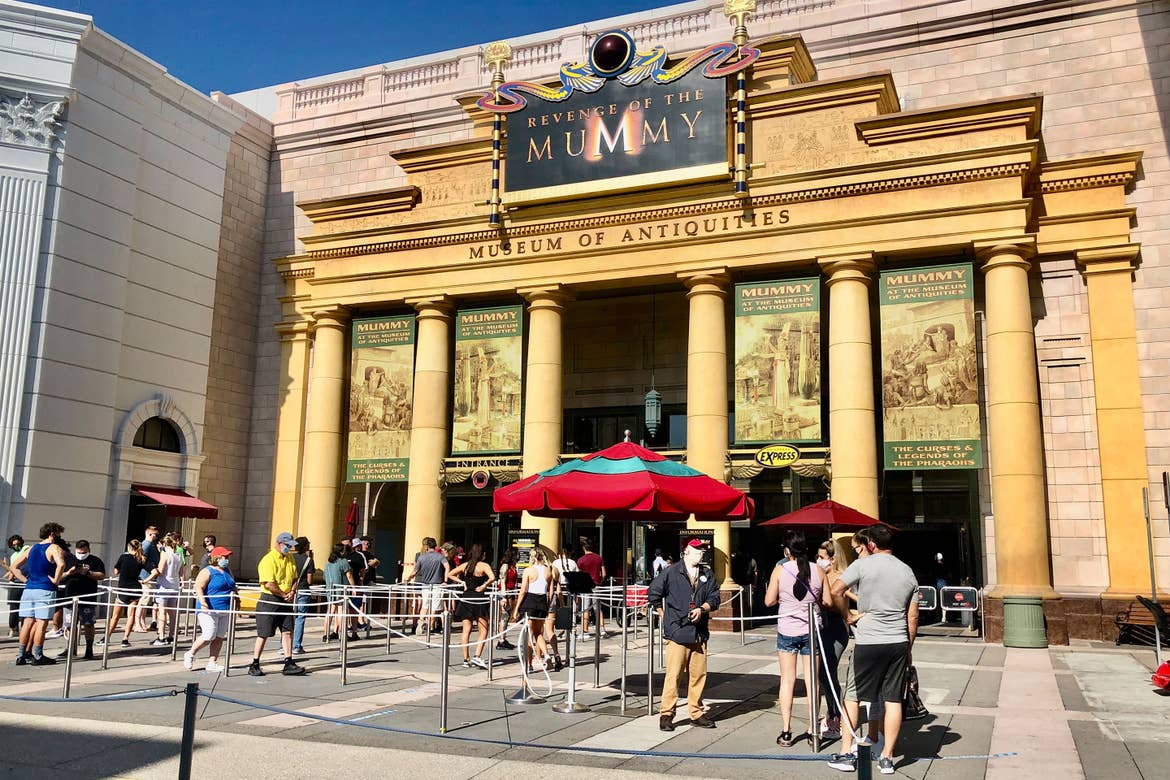 The rides that always have virtual lines continue to have virtual lines. The virtual lines—available on the Official Universal Orlando Resort™ App—allow you to enjoy the rest of the park while you wait and then show up at a reserved time slot. If I'd thought ahead, I could have finally nabbed a spot on Hagrid's Magical Creatures Motorbike Adventure, which I'm told is a game-changer.


Signs of the Time
In addition to regular kind-yet-respectable audio announcements reminding us park-goers to mask up and keep away from others, both Universal parks had loads of signs. Signs and more signs, to keep the safety rules top of mind. They were constant, classy nudges to play nice and remind everyone to do their part in enjoying the parks safely.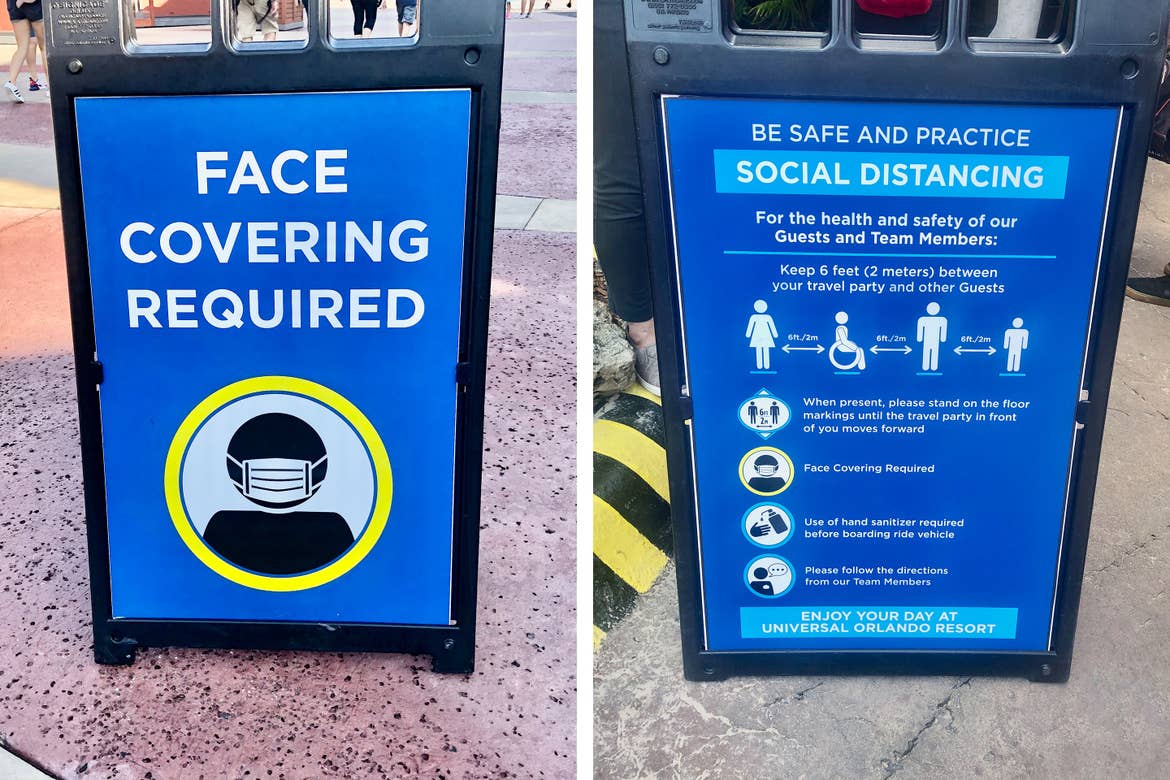 Playing it Safe with Characters & Other Extras
Photos with Spiderman, SpongeBob or The Cat in the Hat are a fun part of any Universal visit. Right now? They're on hold (same as Disney's character meet and greets). Makes sense. This just isn't the time for hugging others, even if it's those big, beloved characters. And yet characters I did see! They were cleverly removed from the crowds, but still very visible via a move called "Up and Away."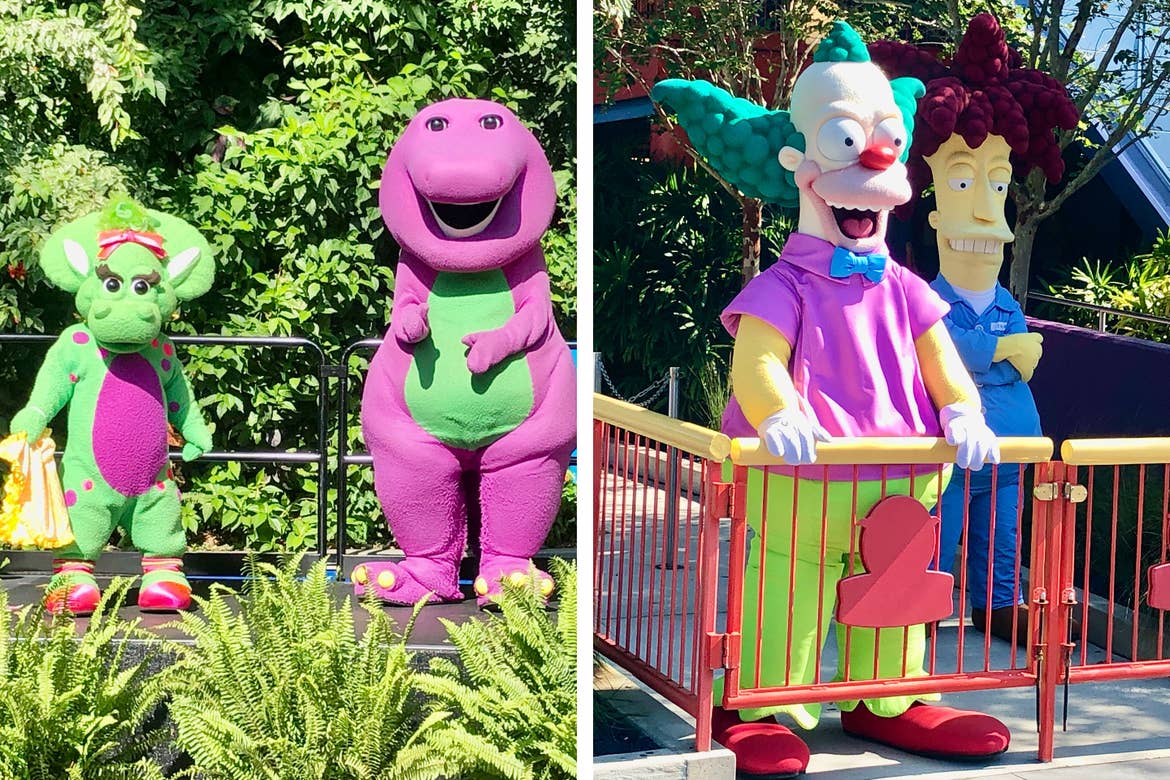 While the Barney area was closed, BJ rode around on a scooter, then joined Barney and Baby Bop up on stage as cheerful music played. SpongeBob and Patrick semi-hid behind an oversized anchor. On the faux streets of New York, the Beat Builders musicians performed with their signature trash cans high up in scaffolding. The Simpsons' Krusty and Sideshow Bob stood behind a fence. Even without the hugs, I got to see plenty of characters and entertainers!


All Aboard the Train
I nixed all other indoor activities but did take the Hogwarts Express from Universal Studios to Islands of Adventure. This behind-the-scenes train trip that connects the two Harry Potter-themed lands is more fun than walking out one front gate and into another. Plus, I wanted to revisit the place where you appear to walk through a brick wall to enter Platform 9 ¾. It's such a hoot.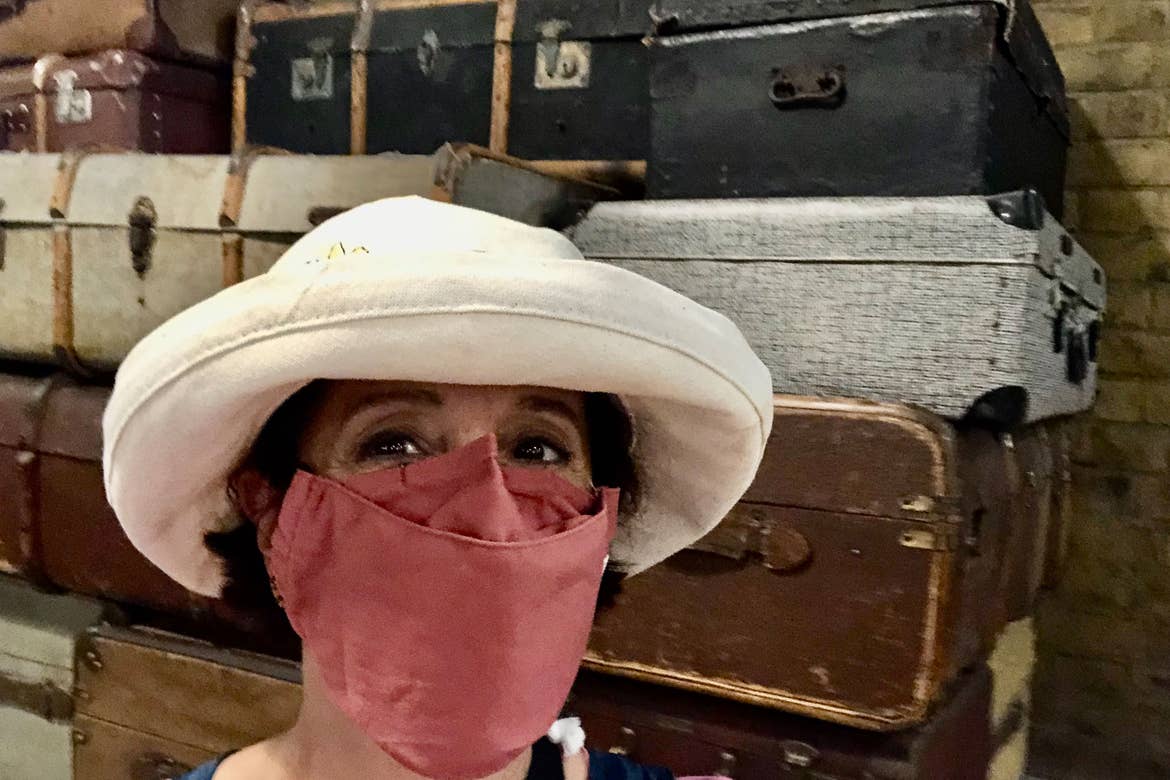 I entered Kings Cross Station and had quite the (spaced out) wait to get on the train. That's because of safety, though, so I credit Universal. The terminal is enormous and well air-conditioned, a gift on a sweltering day. Each group of guests spread out during the entire wait, and nearly all were good about masking up and keeping on their distancing floor markers.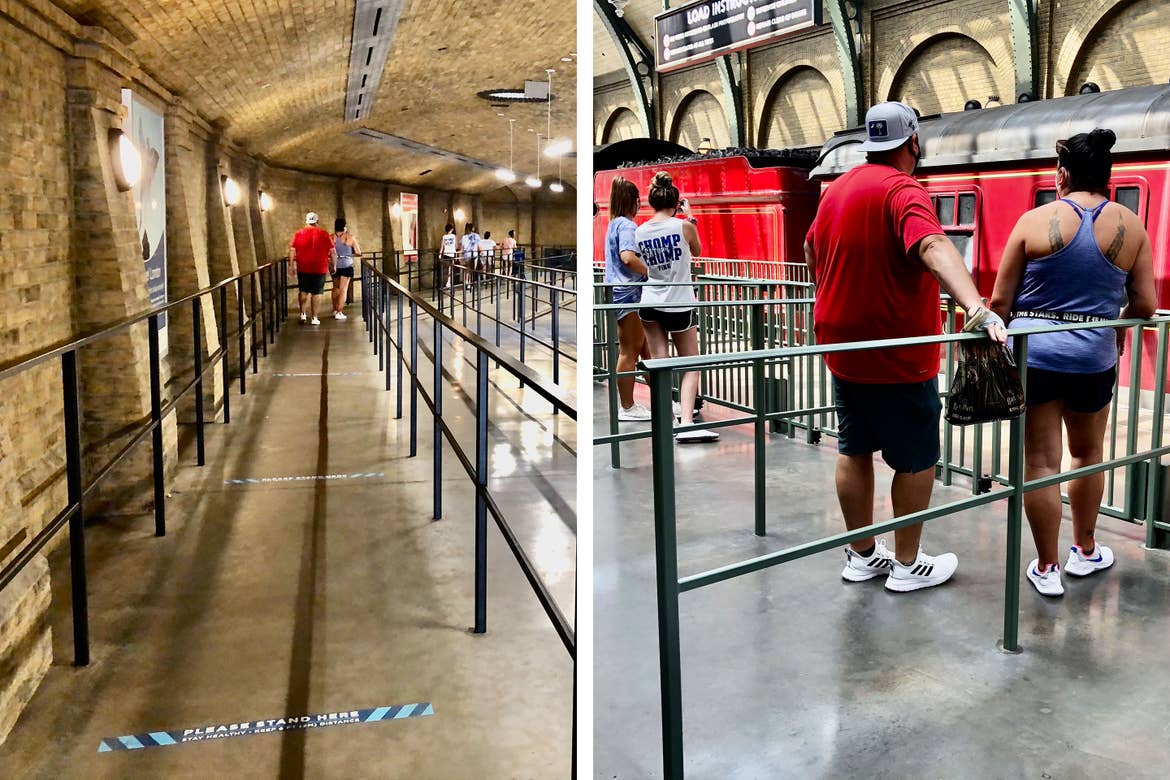 Once we arrived on the platform, we were told to wait in every other space, so we weren't next to each other. Then each party was given its own compartment car. As a solo traveler, I got my own! Now, that's safe. Definitely worth hanging around the terminal for.


Eating at Universal
Both Universal parks offer up a bunch of interesting and awesome dining choices; serious chefs go beyond burgers and fries here (although those are big sellers, of course!) I had two factors dictating my personal lunch plans: 1) my safety-conscious desire to eat outside and 2) my quest for a healthy meal.

Throughout the morning, I scoped out kiosks with healthy and enticing options rather than chips and donuts, and I looked at quick-service and table-service restaurants with outdoor seating. I was happy to find some and see that Universal has added additional socially distanced outdoor tables and chairs across its venues for mega-germophobes like me.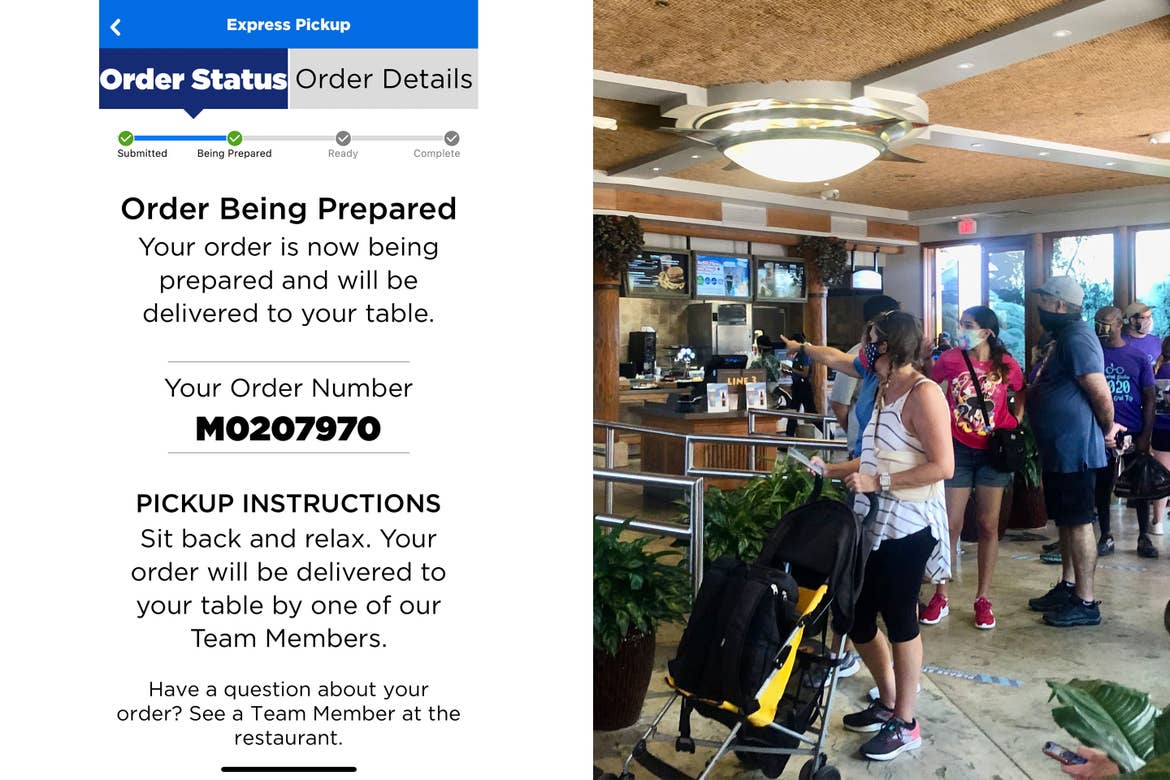 An Excellent Lunch Solution … Almost
In Islands of Adventure, I happened upon The Burger Digs. It's quick-service with indoor seating, but a sign outside mentioned mobile ordering. (Mobile ordering is one of many forms of contactless payment at Universal.)

Long story short, I ended up with a fresh and tasty entrée salad and outdoor seating. Yes! However, there were definitely some confusing learning curves and hoops to jump through to get my salad. Hopefully, my experience can help you.

Even though the app said my order was being prepared, I spent an hour waiting outside when I was actually supposed to go inside and be seated by a host for them to start making my order. I think a posted sign with clear steps and tips would definitely be helpful for the future.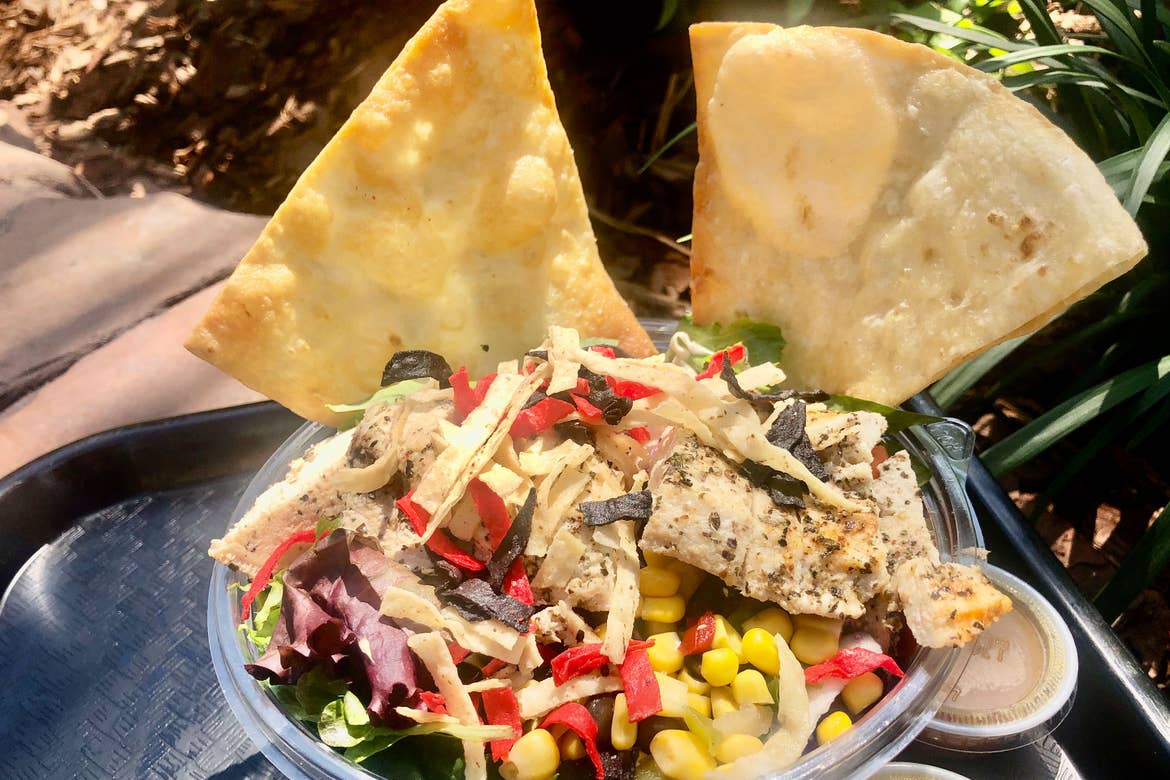 Once I got my order, the experience was just terrific! The Spring Salad is a fresh bowl of greens with fire-roasted corn, black beans and a tangy pineapple vinaigrette. I chose tender, flavorful chicken on top. A great, healthy, fresh meal for a theme park day indeed.


When You Can't Stand the Mask Another Minute
We can all get a little cranky about our face coverings on a hot day, and Universal provides for that. Scattered throughout both parks, quiet sections labeled U•REST invite guests to slip into an outside seat and slip off their masks at a safe distance from others.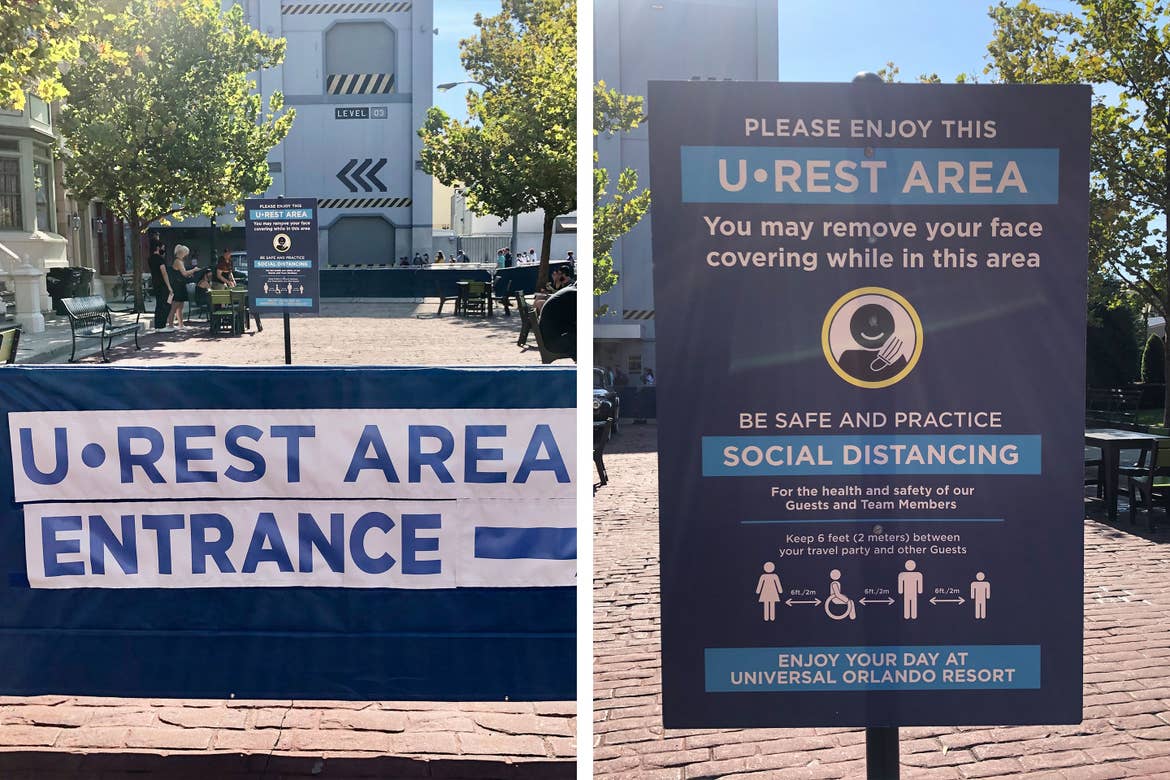 New Fall 2020 Features at Universal Orlando Resort
Universal Orlando masks a plenty
Kiosks and stores sell a variety of fun Universal masks. They're wrapped in plastic, presumably for safety reasons, and I spotted the masks on many guests' faces.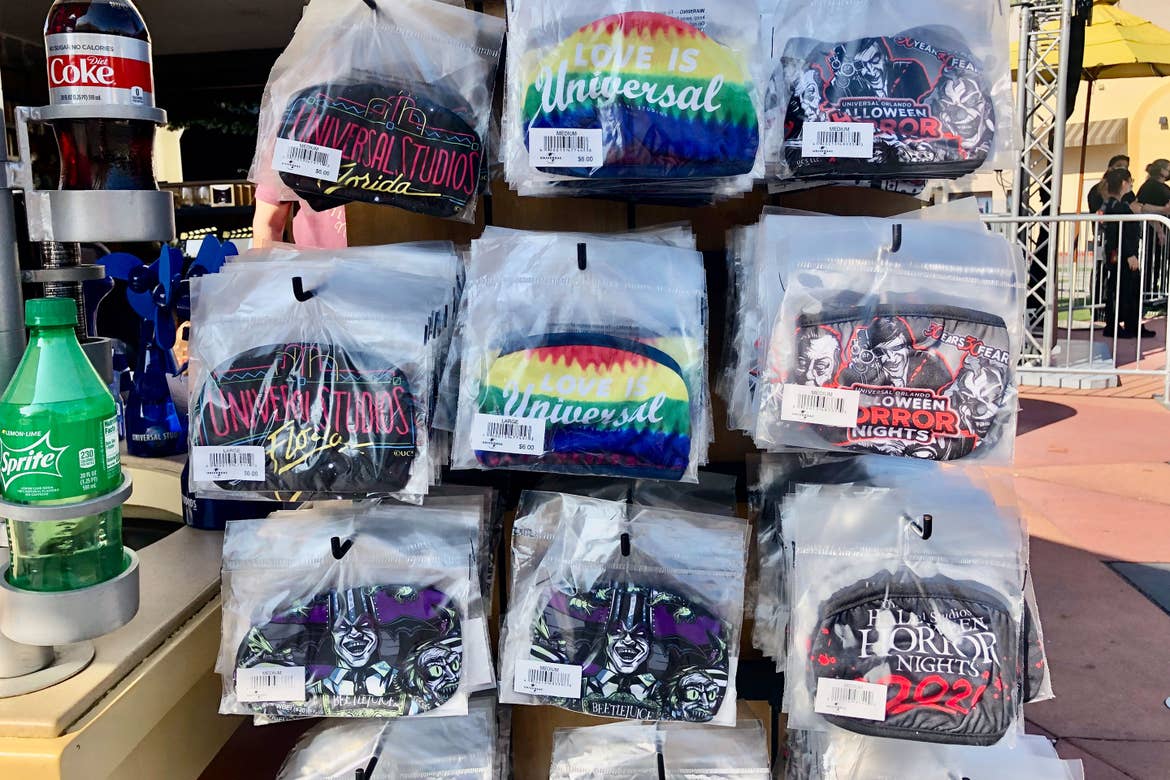 Halloween here and there
It was very, very sad news for Orlandoans and visitors alike that Universal's uber-popular Halloween Horror Nights was canceled this year. (But definitely for good [safety] reasons.) Usually, it's a local and fan favorite, as a mega after-hours event with haunted houses and other eerie offerings, that runs for several weeks each fall.

You can still get some themed merchandise here and there though. The biggest collection is inside the Tribute Store, near the entrance to Universal Studios.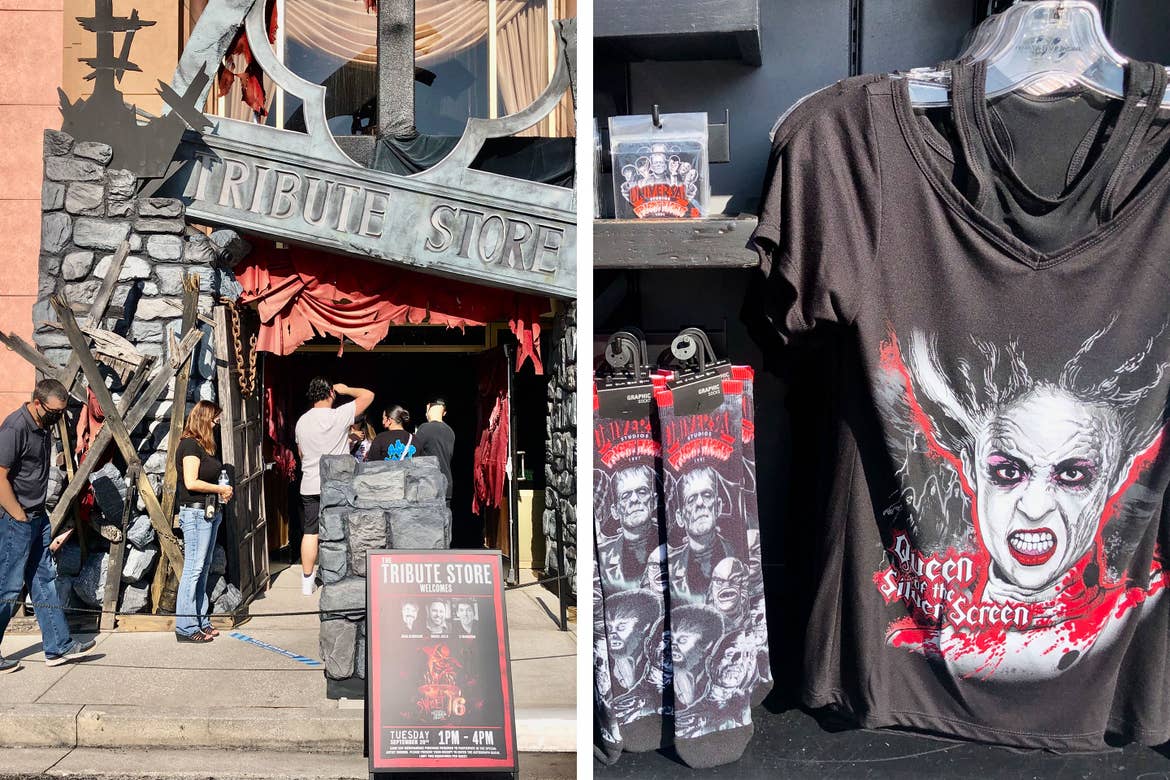 Also, Universal is compensating with two haunted houses, so you can still have a "taste" of Horror Nights. From October 3 to November 1, 2020 (plus the weekend I was there), guests can visit The Bride of Frankenstein Lives and Revenge of the Tooth Fairy, both in the Studios park.

On those dates, Islands of Adventure will also have trick-or-treating for children 12 and under; just look for the pumpkin signs.

Themed Halloween food and beverage are always a frightfully fun way to get into the spirit, too, so seek out a Skeleton Bar drink, Frozen Candy Corn, at Café La Bamba.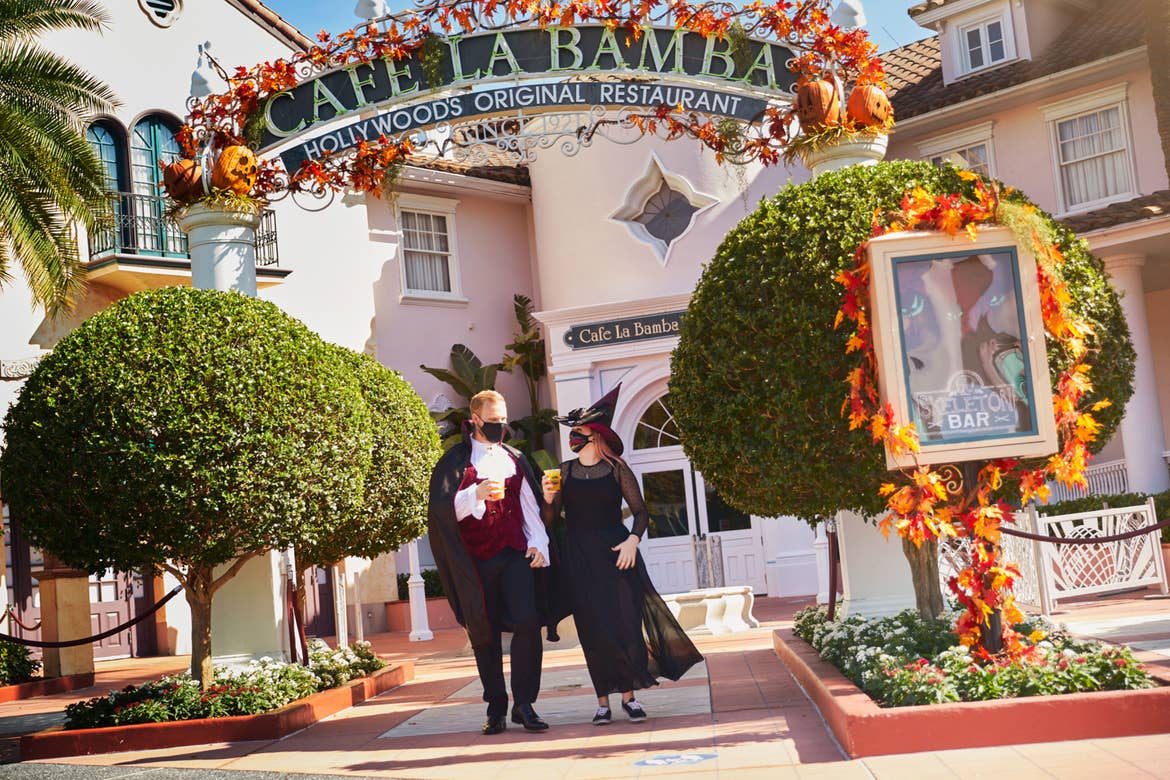 Photo Courtesy of Universal Orlando

Near the haunted houses, new food trucks sell cleverly named items such as Franken Fried Chicken & Funnel Brains. You've gotta love that. Voodoo Doughnut at CityWalk has Pumpkin Spice donuts, but personally, I'd rather indulge in one of its more creative sweets like the Guava Colada (it's topped with a paper umbrella) or the Voodoo Doll, which is inherently Halloween-ish. Order on your app and pick up the donuts on the way to your car.

If you're big on Halloween, be sure to check out the full list of seasonal extras.


What's closed at Universal?
And so, the parks are alive and well, but lower crowds do mean a few restaurants, stores and attractions remain temporarily closed for now. You can get an up-to-date list on the website and app, and there are plenty of park signs to indicate what's available nearby if/when something's closed.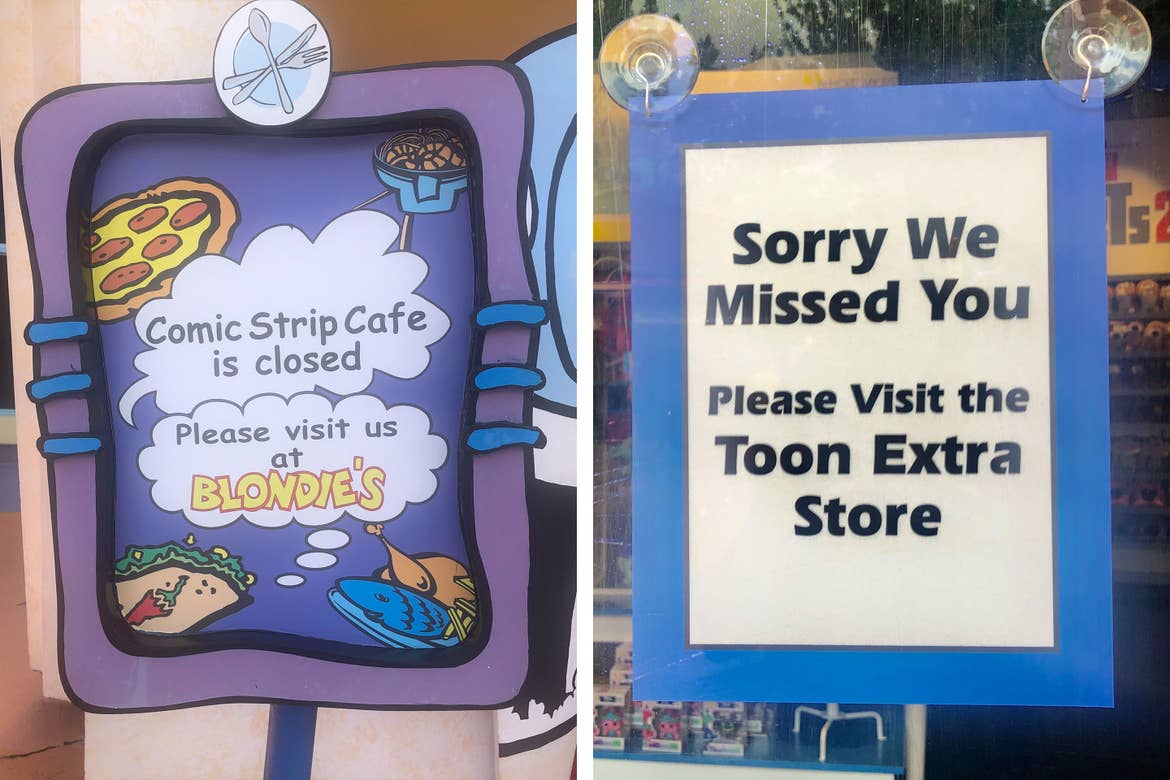 What's the story with Universal CityWalk?
CityWalk is a mammoth complex of restaurants, stores, kiosks, show venues, entertainment, movie theaters and way more that you pass through on your way in and out of the theme parks. For now, most of the restaurants are open with socially distant seating. You can see what's open on the app.

Parking fees are waived for everyone from 6 p.m. on., so this might be a prime time to finally try Cowfish, the trendy burger/sushi restaurant or the wildly fun Toothsome Chocolate Emporium & Savory Feast Kitchen. Or stop in for a burger in paradise and cold beer at Margaritaville's Porch. The stores are emptier and the crowds are thinner, so again, this is a really nice time to visit.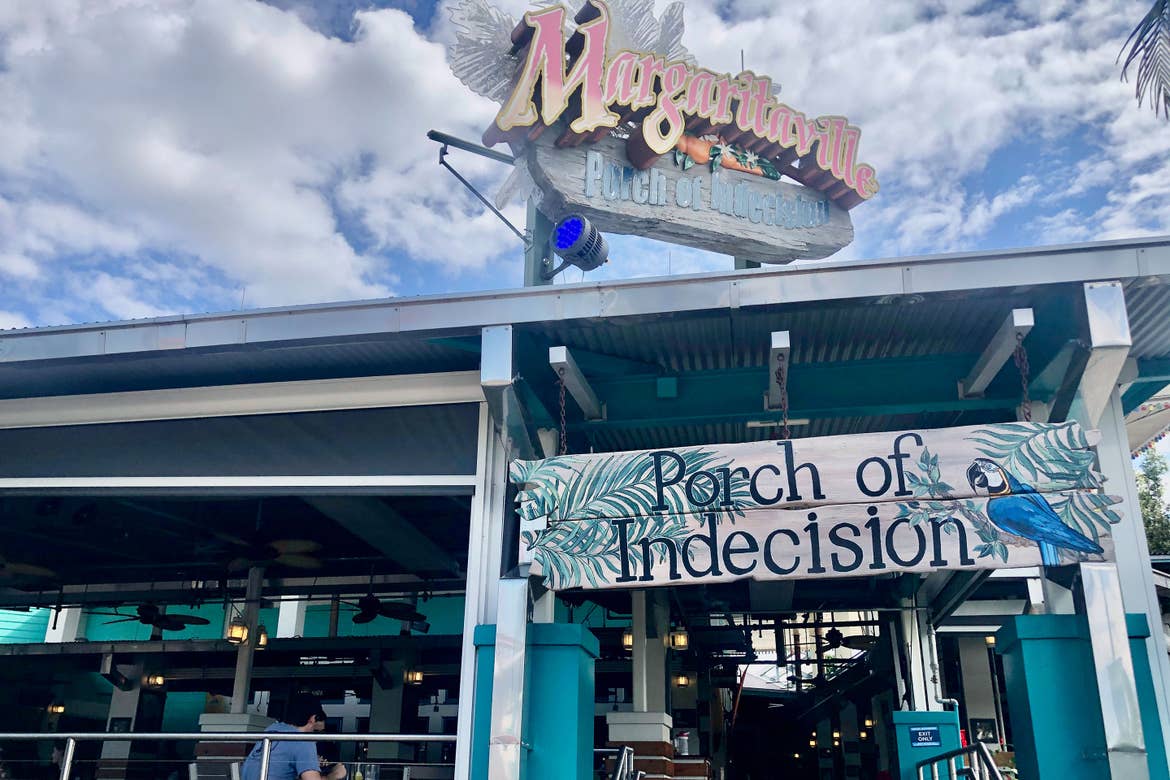 Leaving Universal Orlando
I headed home in late afternoon and saw that the morning rush of crowds and people had disappeared into a much emptier arrival area. Newcomers walked straight to the temperature-check station with barely any lines at all. #problemsolved. So, if you're wary of crowds, again—my advice is to skip the early morning arrival to let the rush calm down before you head into the parks. Once you're in, it's empty and easy breezy.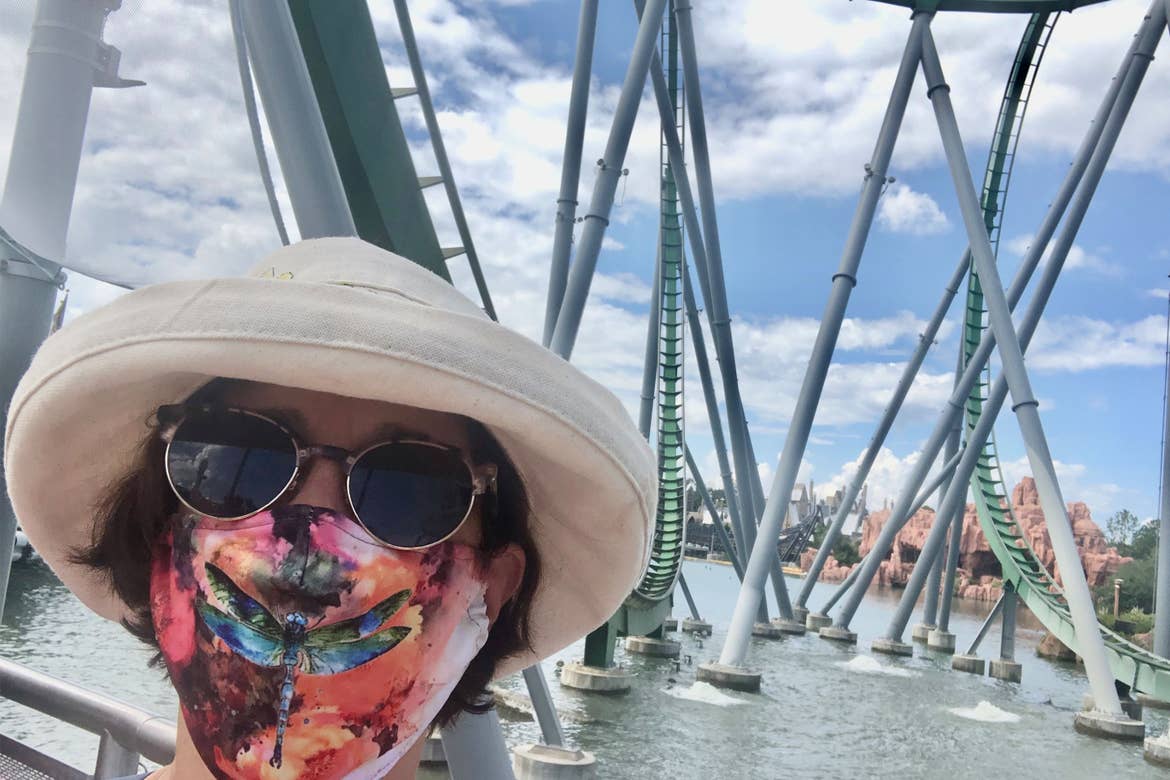 So what is it like at Universal Orlando these days?
It's pretty great. Arrive after the morning crowds. Reserve virtual seats on the most popular rides in advance. Expect to play night and day with light crowds. Wear your mask. And have fun!

Looking for a place to stay for your next Universal Orlando adventure? Stay near Orlando's theme parks with this Holiday Inn Club Vacations offer.


All information is subject to change. This article is a curated guide and is neither sponsored nor considered an official endorsement. Please be sure to check information directly with any/all tours, guides or companies for the most up-to-date and direct details.

Our guest bloggers are compensated for their writing contributions and honest opinions.