Jennifer C. Harmon and Jessica Salina
Jennifer and Jess have teamed up to share their passion for all things Disney World! Our editor-in-chief, Jennifer, is a former Disney Cast Member, loves sailing with Disney Cruise Line, ran the full Disney World marathon once for a Coast-to-Coast medal, and considers the Haunted Mansion to be her all-time favorite ride. Jess, our social media specialist and blog contributor, prides herself on knowing a ton about all things Walt Disney World, enjoys whipping up a great Disney-inspired costume, and likes finding international travel inspo at Epcot with her husband. Both Jennifer and Jess love exercise, coffee and bringing vacation stories to life here at Checking In.
Since Walt Disney World® Theme Parks reopened, our team has been super eager to get back to our favorite parks, rides and characters.

After doing our research on the new safety measures to expect, many of us made our reservations and ventured back to Disney World during COVID-19.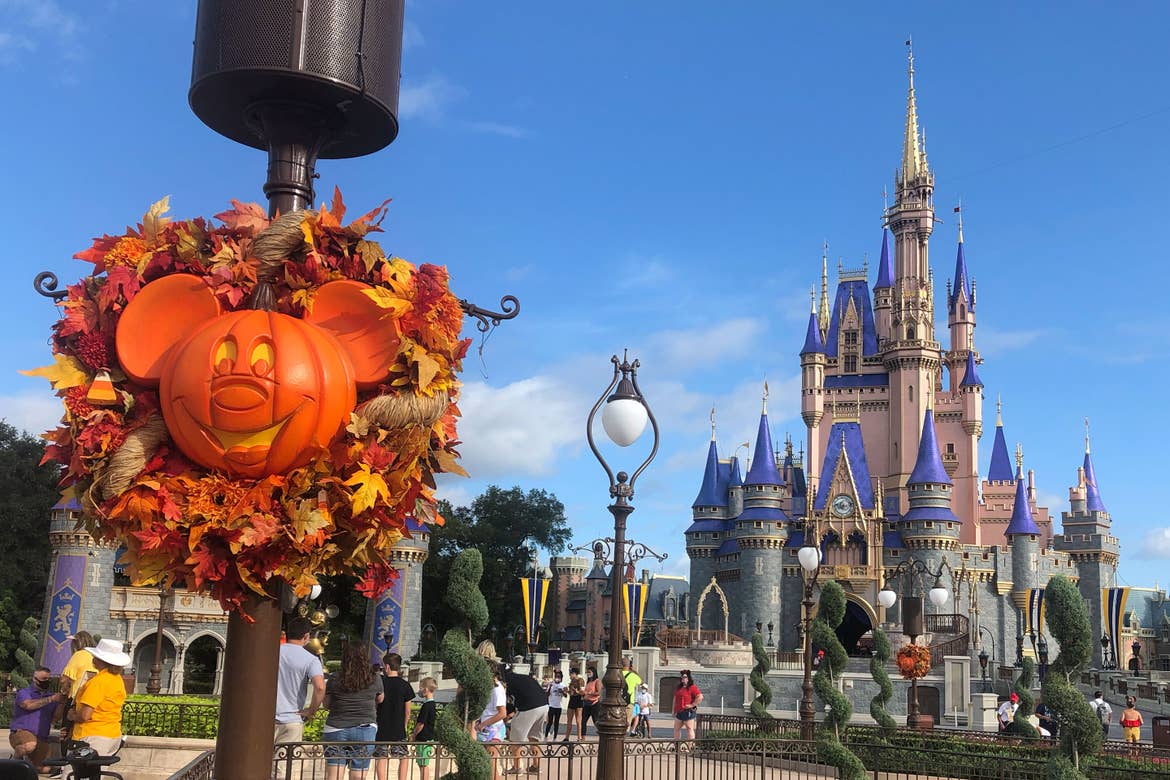 If you're wondering what Disney World is like right now, you've come to the right page. Check out Jennifer and Jess' recaps of their first trips back to Magic Kingdom® and Epcot® Theme Parks below!

And be sure to read all about Ben and Kelly's Disney experiences at Animal Kingdom® and Hollywood Studios®, too, to get the full picture.

(Need a place to cool off after your theme park adventures? There's no better place to do just that than our Orange Lake Resort. Lazy river, anyone?)

2020 deserves a little pixie dust of magic, right? So, let's do it!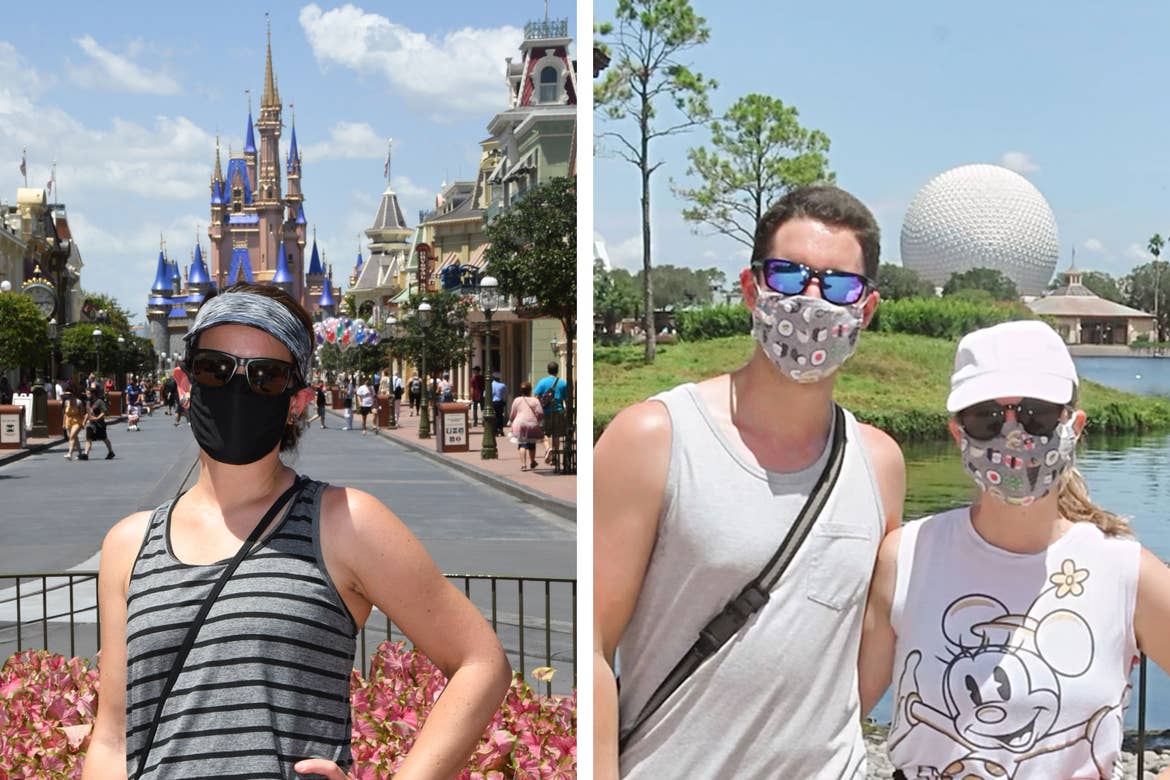 Heading Back Down Main Street USA at Magic Kingdom
Hey, Jennifer here. As editor-in-chief here at Checking In, I choose which travel stories we share and when. And while I love all of our guest bloggers and posts, I could not be more excited about our theme park recaps!

This might be a bit shocking to some of my friends and family though, as I was firmly on the uber-nervous end of the spectrum during the early months of COVID-19.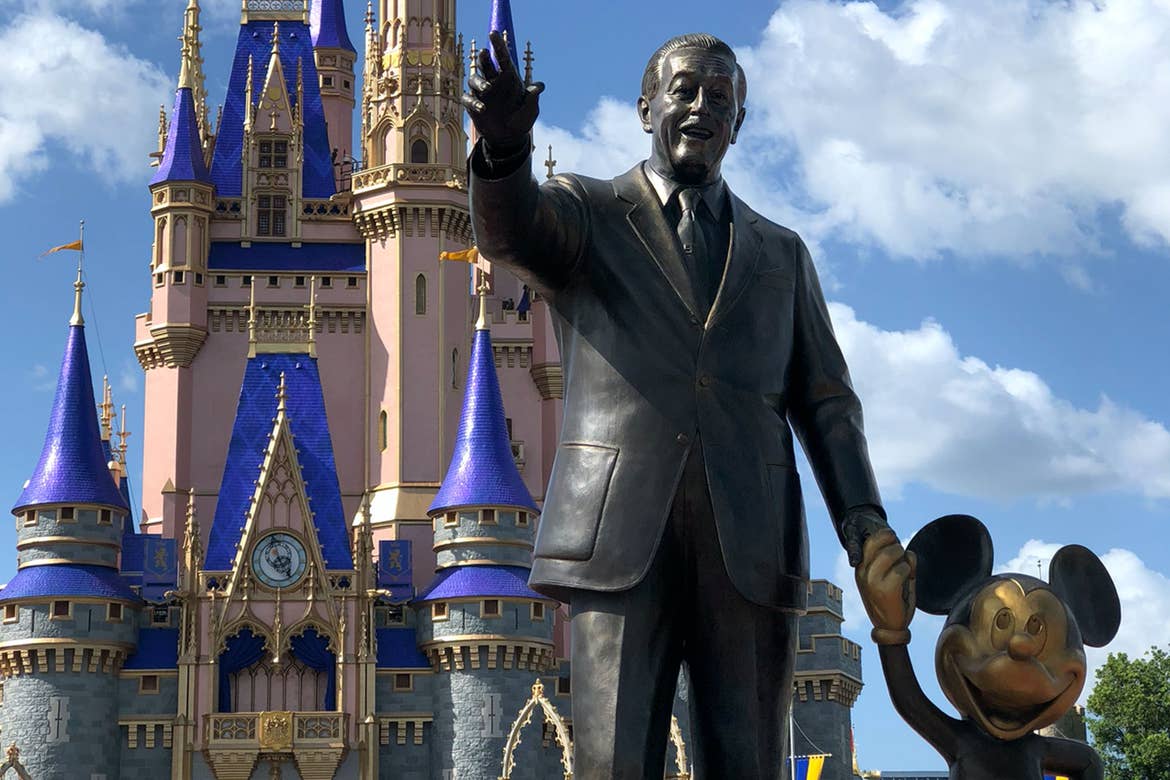 To Theme Park or Not to Theme Park?
First things first: Deciding when you and your family are ready to go back to a theme park is a personal choice that only you can make. I should know.

When Disney World reopened, as an Annual Passholder I was invited to a special passholder-only preview at Animal Kingdom. And I was super torn.

As a former Cast Member and Disney World nerd, I couldn't wait to go back. One of my favorite things to do is simply walk around the parks and take in the sights, sounds and atmosphere, even if just for an hour. I even had a leopard print mask ready for the outing...

But I was also still mega nervous about COVID-19. I was "that person" who refused to leave the house even after orders started to lift, ordered grocery deliveries and held my breath passing people on evening walks. I didn't even want to elbow bump.

And while I know Disney is immaculate in normal times and had heard they were doing SO much to be safe, I just didn't want to risk it. So, I ended up not going to the preview.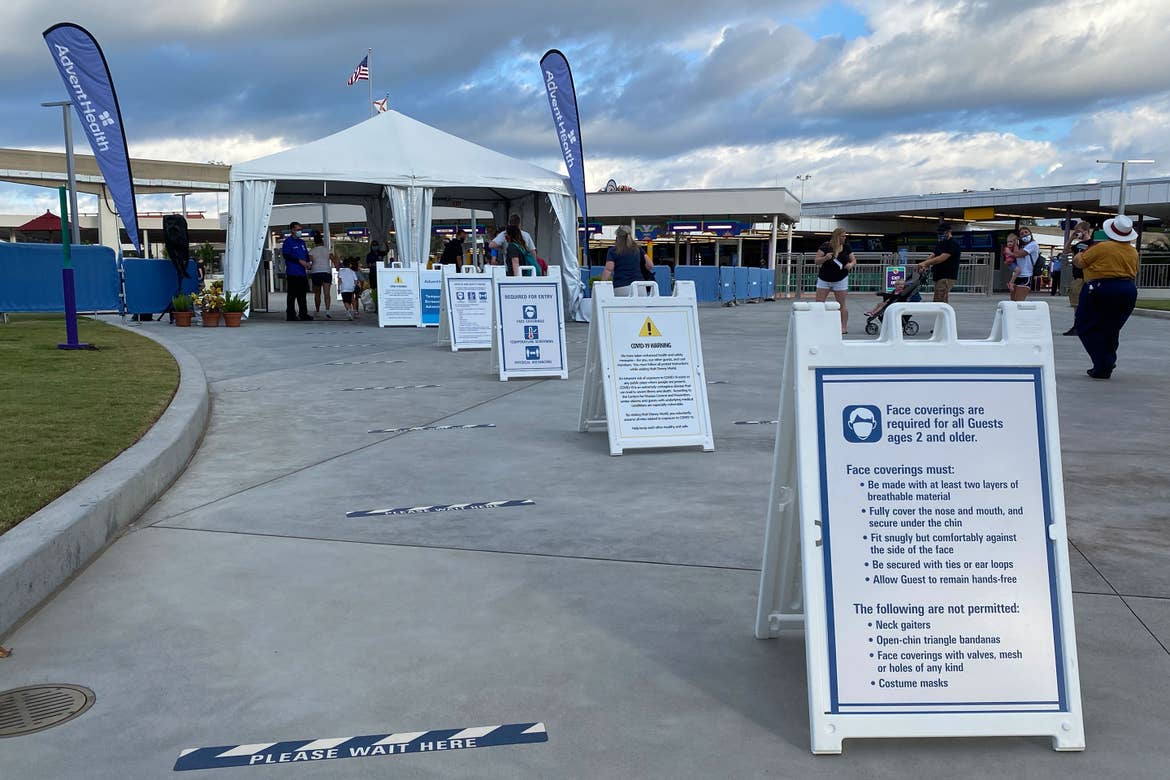 A Magical Return to Magic Kingdom
A few weeks later, after seeing and hearing so many positive and safe reviews from my friends, former colleagues at Disney and online, I decided to mask up and head to Magic Kingdom, armed with hand sanitizer and ready to maintain my 6-feet-away personal bubble of space.

And guys, it was so great. I was blown away by the efforts Disney has taken to keep visitors and Cast Members safe, especially the reduced capacities. (This is in no way shape or form sponsored, by the way.) I almost turned around and went back home once parked. That was how nervous I was going in.

But on my way out, I can honestly say I never once felt unsafe, save for one family that crept a little too close to me in a ride line (and who happily eased back off when I asked them to stay on their markers. YES. I. DID.)

Driving home, I even called my husband and told him I felt less at risk at Magic Kingdom than in the crowded, narrow aisles of our small neighborhood grocery store. I'd give my experience a big A+.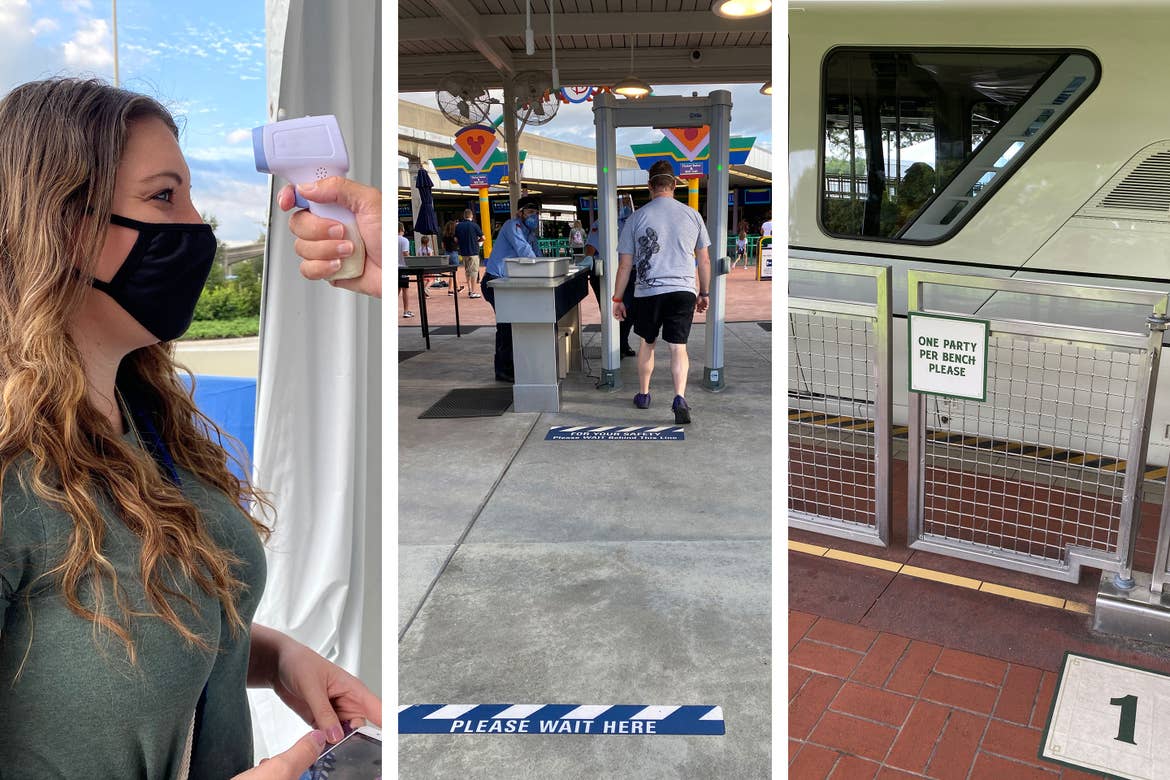 What It's Like to Enter the Park
My biggest source of anxiety was about just getting into the park. Happy to report it was super smooth. I had my annual pass, my park reservation, my mask and plenty of hand sanitizer as I went through the following new process on a Saturday afternoon:


Parking
Spaces were spread out to every other spot. The parking lot tram wasn't running, as it's a pretty tight squeeze to ride that, so Disney allowed us to park very close to the entrance in what's usually reserved for VIP parking.


Temperature check
When I imagined the "tents," I was kind of scared people would be lined up and in close proximity for this step. That was not the case.

The temperature check tents are open-air and had plenty of social distancing markers on the ground leading up to it, had there been more people waiting. I was the only person going through at the time though, and the AdventHealth workers quickly took a forehead scan and sent me on my way, donned with masks and face shields.


Security check
Usually, Disney security guards open up and go through alllllllll the items in your bags. Nowadays, this is a touchless process with X-rays.

Again, there were plenty of social distancing markers on the ground everywhere, even though I didn't personally need them while entering alone.


Transit
From the parking lot and Ticket and Transportation Center, Magic Kingdom can only be accessed by ferry boat or monorail. The ferry boat is open-air and looked nearly empty.

The monorail WAS legit empty though, and it's air-conditioned (ahhhh), so I chose that. As someone that's been to Disney hundreds and hundreds of times, it was surreal—and a relief—to have the usually-crowded train completely to myself.


Entry turnstile
Walking up to the entrance, it was strange to see this area so empty. It's usually super full all day, every day. The few people that were there were all wearing masks.

With my Magic Band, entering the park was touchless and quick. And all of a sudden: Boom! I was in. All in about 20 or so minutes from the time I parked.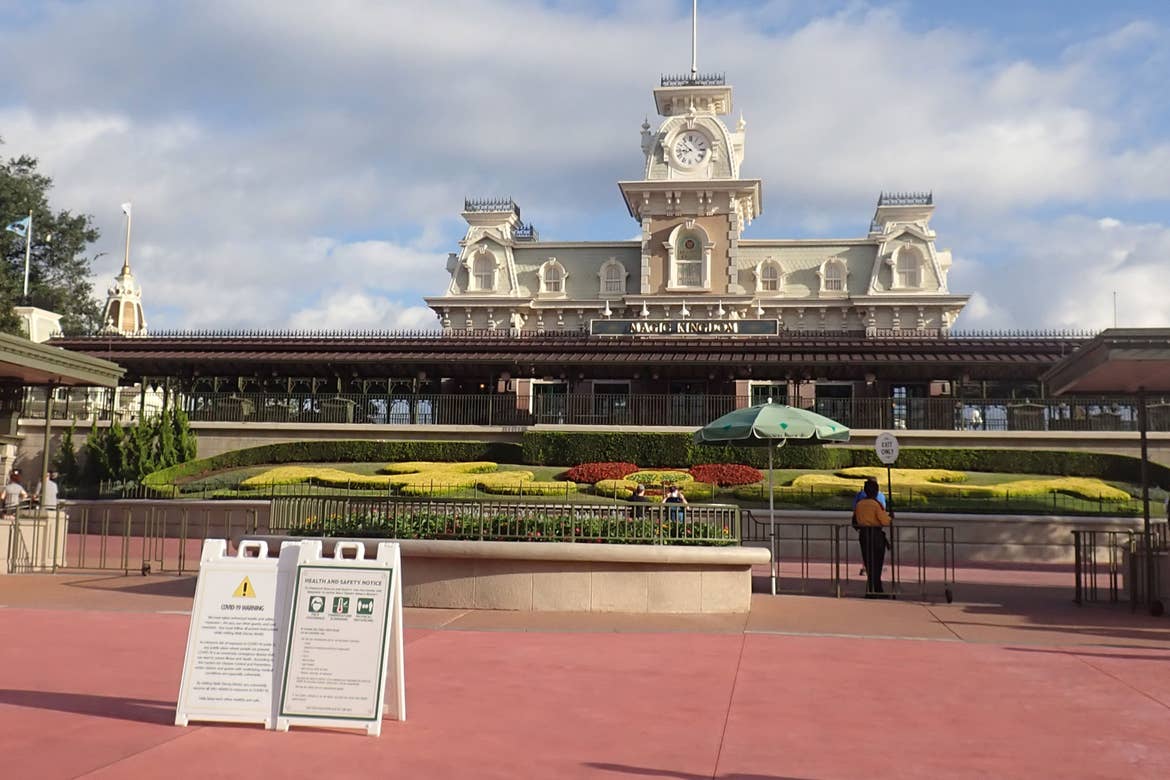 About the (Lack of) Crowds, the Castle & Characters
Walking back into Magic Kingdom after the longest stretch of closure in history was a bit emotional. I was so happy to see this happiest place on earth—and its awesome Cast Members—back to doing what they do best. Making magic, smiles and memories.

It was quite surreal seeing the path leading to Cinderella's Castle so empty, but I'm not gonna lie: I loved the feeling of having the park to myself (despite the serious reason why). I even stopped for a quick PhotoPass and took plenty of pictures of the castle's recent makeover.

I happened to arrive right as Mickey Mouse, Minnie Mouse, Pluto, Goofy, Donald and Daisy Duck were having a little dance party up on the Train Station balcony.

They don't usually do that, so it was really neat to see them so close, but at a safe distance, especially knowing Character Meet and Greets are on hold for now.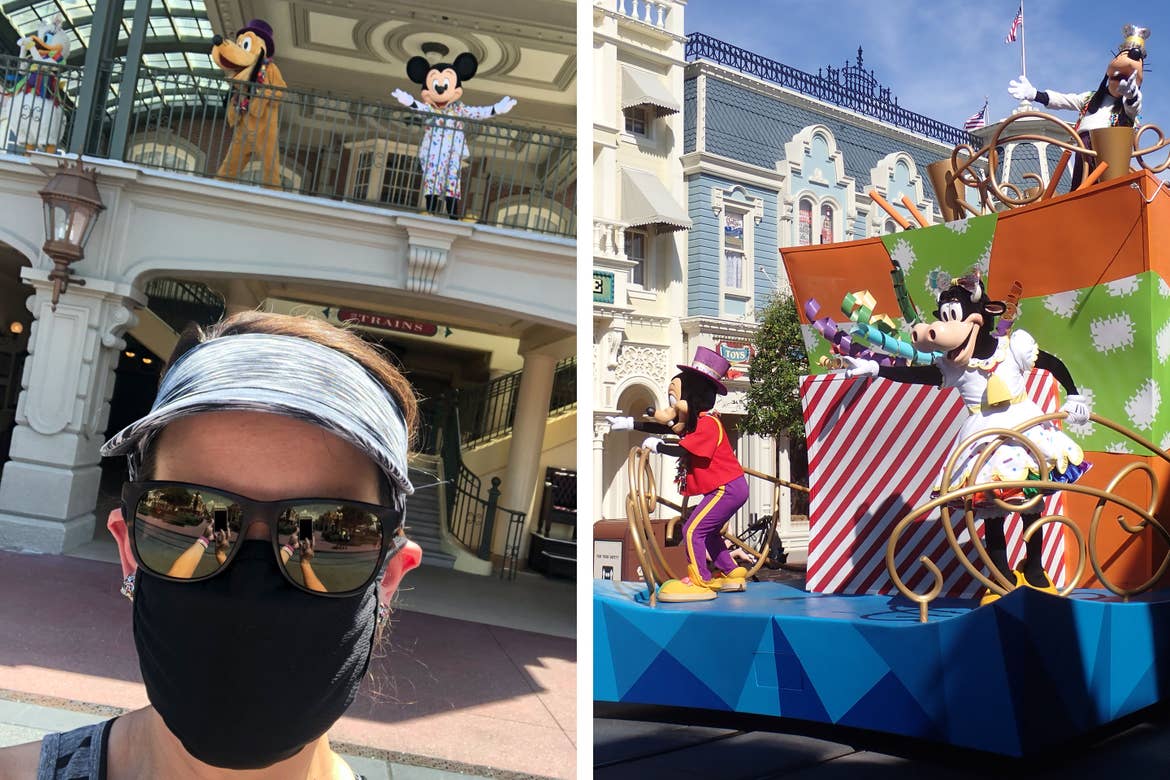 This was the first of many pop-up surprise Character sightings, or "Character Cavalcades." Normally, you'd have to wait in a meet and greet line or until a parade or castle show to see all these fan favorites.

You won't find Cavalcade info on the mobile app or park schedules though—they're truly random and you'll happen upon them when you least expect it.

Between the low crowds and seeing so many characters just walking around and waving, I've gotta say that I actually had one of the most enjoyable days at Magic Kingdom ever.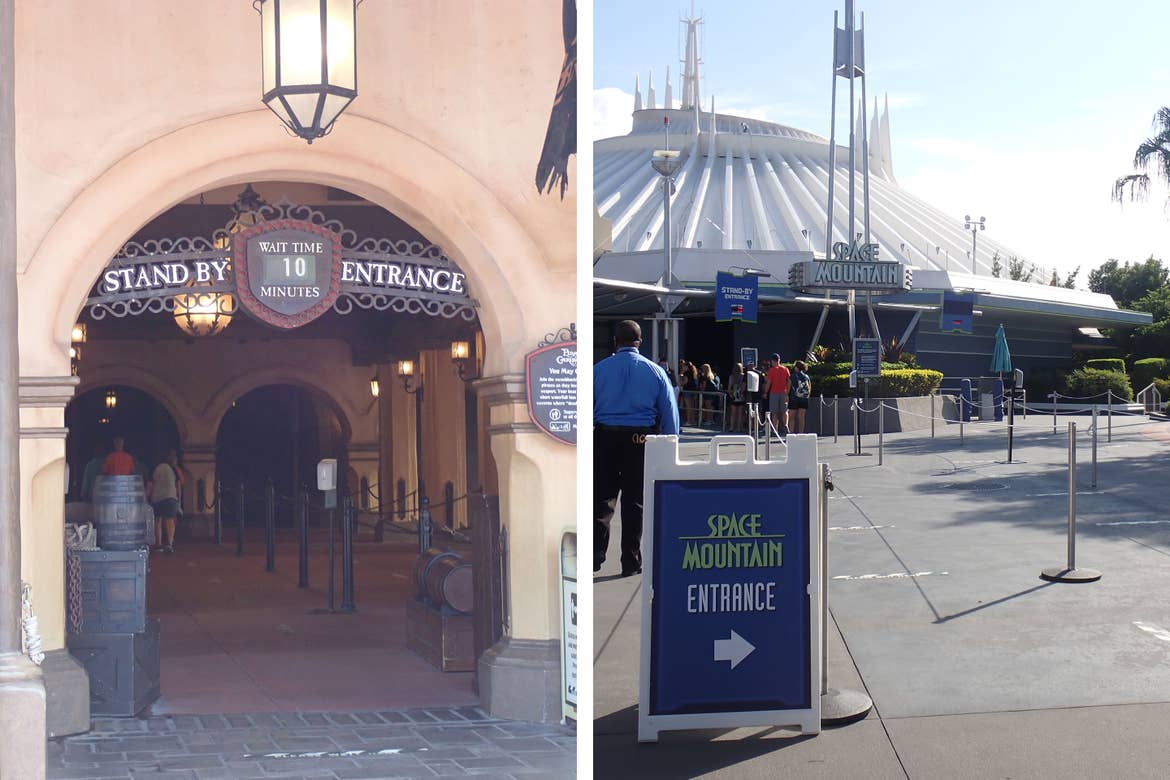 About the Ride Wait Times & Lines
Throughout the 3 to 4 hours I spent at the park, I noticed the ride wait times were all very low and the queues were very spread out and monitored by Cast Members, with all using distancing markers on the ground and some using plexiglass.

The only attraction I did go on was Splash Mountain. While I'm SUPER excited for The Princess and the Frog reimagining of this log-flume ride, I always make it a point to go on original rides "one last time" whenever they're about to be redone. (Like the legendary Norway trolls ride in Epcot that is now Frozen Ever After.)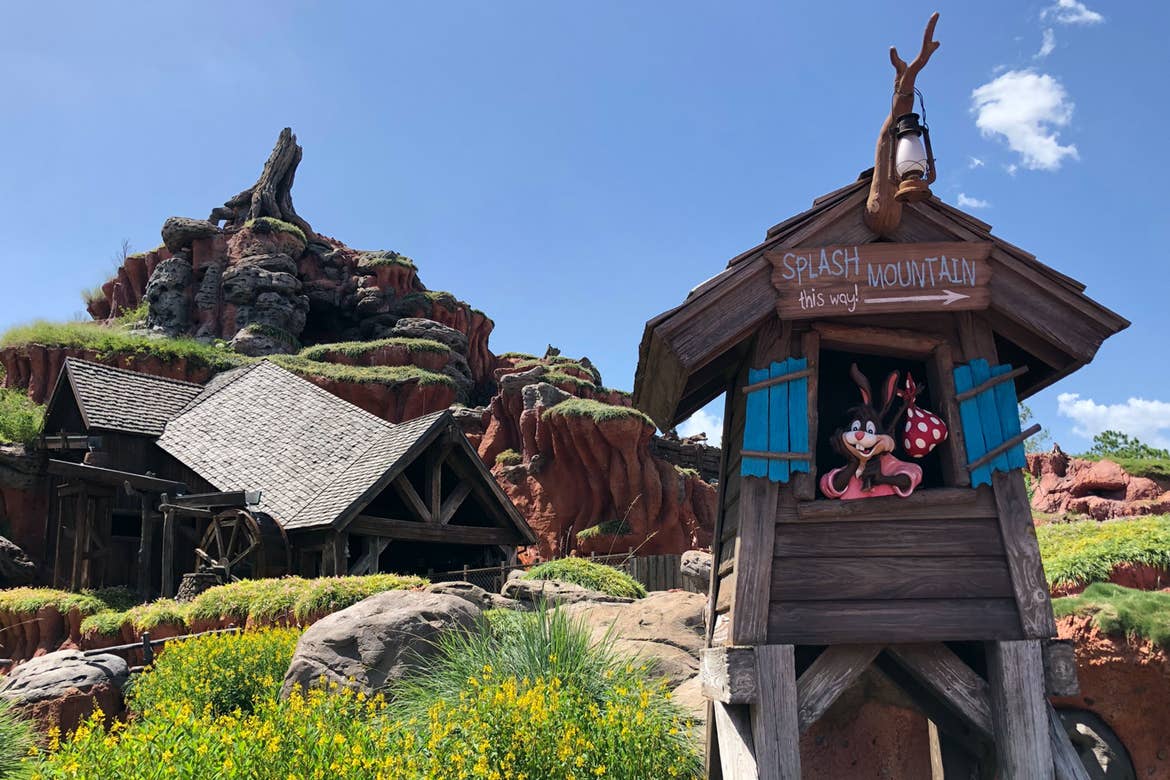 The listed wait time was 45 minutes, but it ended up only taking about 25. There were social distancing markers throughout the entire ride queue, and while I did have to ask the family behind me to back off a bit, otherwise it was fresh air and masks everywhere.

I was pleasantly surprised to find that Disney was timing the ride so that guests were sent down the one indoor (somewhat claustrophobic) corridor part of the ride queue one party at a time, as well.

And when it came time to getting on, every other row was left empty (and I scored a front-row seat!).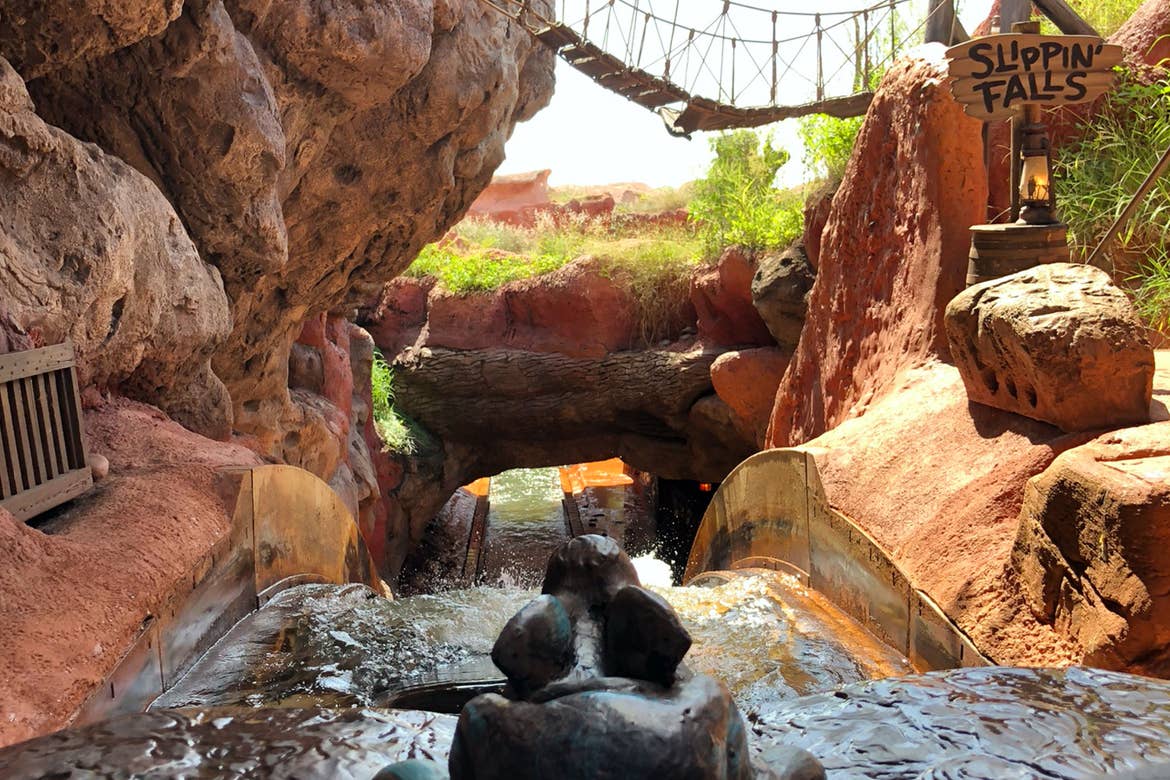 About Masking Up & Where You Can Go for Masks Off
Honestly? The least pleasant part of the day was just wearing a mask in the hot, humid Florida summer heat. But I was so happy to never see anyone not complying with this rule.

Disney has several "Relaxation Stations" throughout the park where you can safely take off your mask away from other families, so this was a must for me.

And when it's time for a chilly Dole Whip or cold bottle of water, you can take your mask off for food or drinks as long as you're stationary while enjoying your churro or turkey leg treats.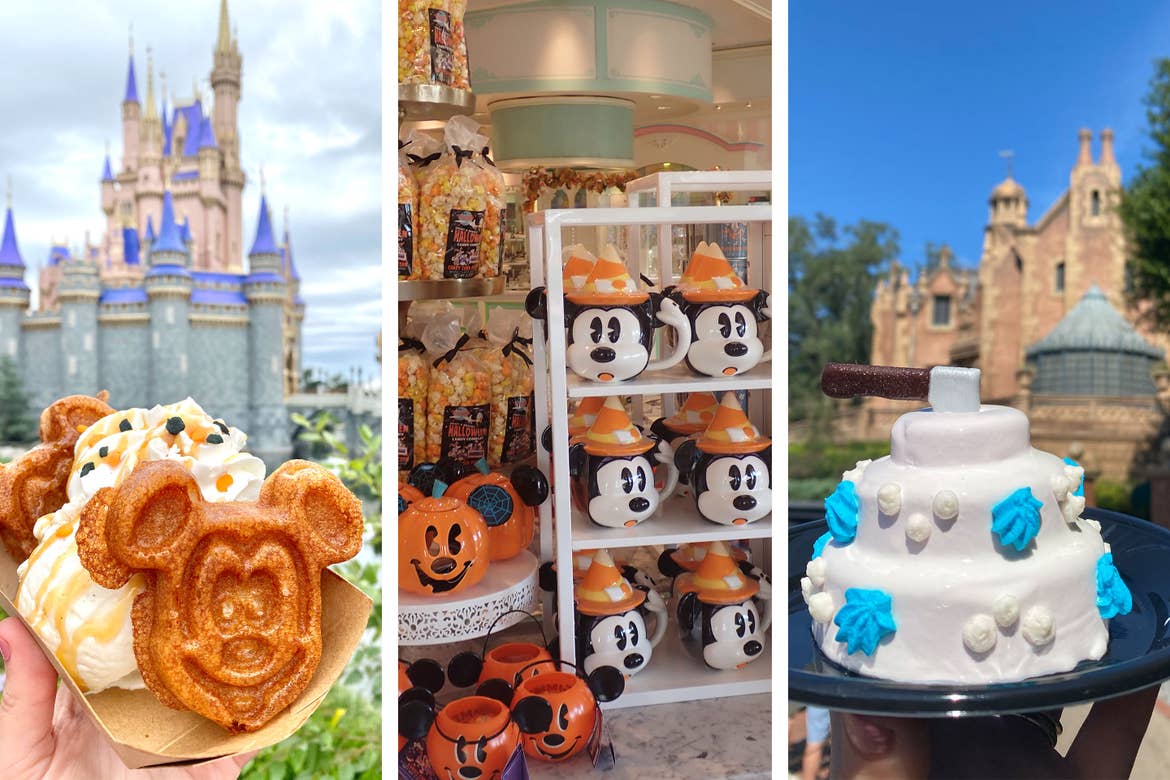 All Decked Out for Fall Festivities
My first visit back was before the fall décor was up, but since then, Magic Kingdom has been decked out with all things orange and autumn.

Even though Mickey's Not-So-Scary-Halloween Party was (sadly!) canceled this year, there's still Halloween costume fun to be had. Typically, a Disney World "no-no," adults and kids alike are invited to wear Halloween costumes in the parks this year, now through October 31. (A few Characters have gotten new costumes for 2020, too.)

There's also still plenty of festive décor and lots of fall- and Halloween-themed food and drinks, with classics and fan-favorites like the Pumpkin-spiced Waffle Sundae, Cinnamon Donuts and Constance's For Better or For Worse Wedding Cake.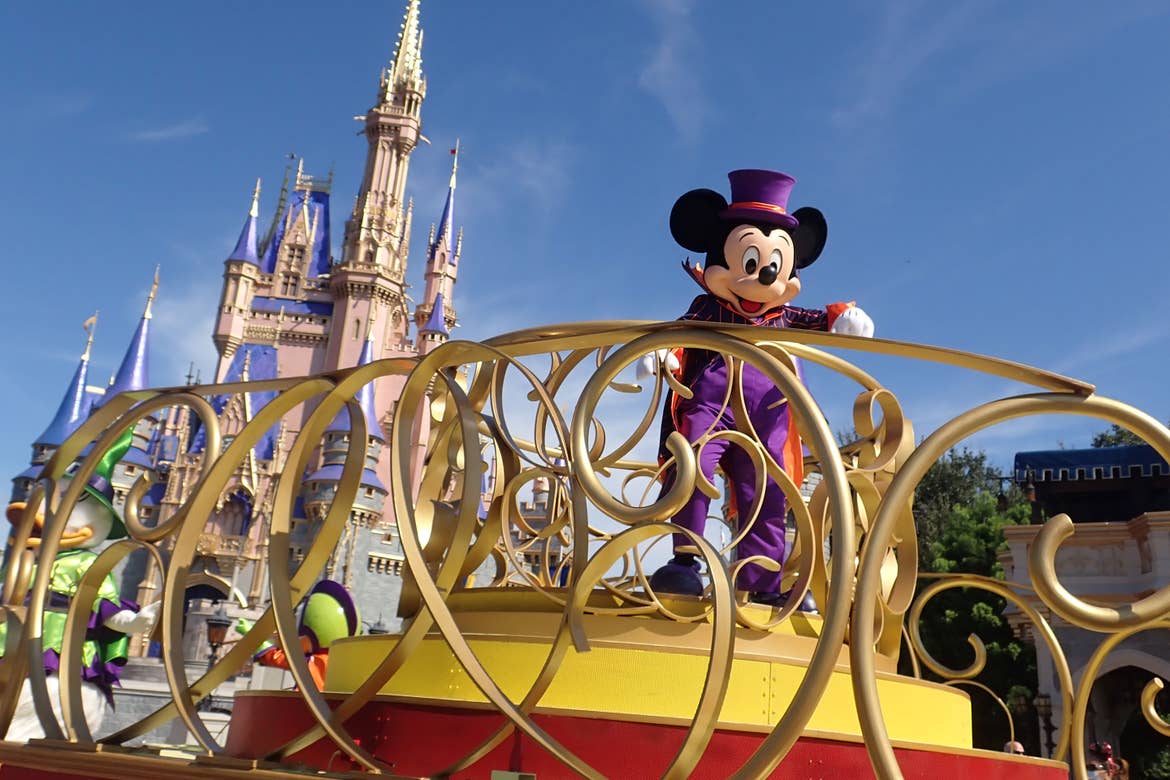 My Magic Kingdom Recommendation
If you are feeling nervous, as I was, when considering a theme park visit, I would recommend taking a look online at other peoples' experiences and doing your research (including our Guide and upcoming recaps this week).

In fact, I had such an amazing time at Magic Kingdom, I ventured a visit to Epcot soon after, too. Give me all the Spaceship Earth selfies, Minnie Mouse Buns and grapefruit beer in "Germany!"

(And speaking of, you can hear all about Jess' Epcot experiences below.)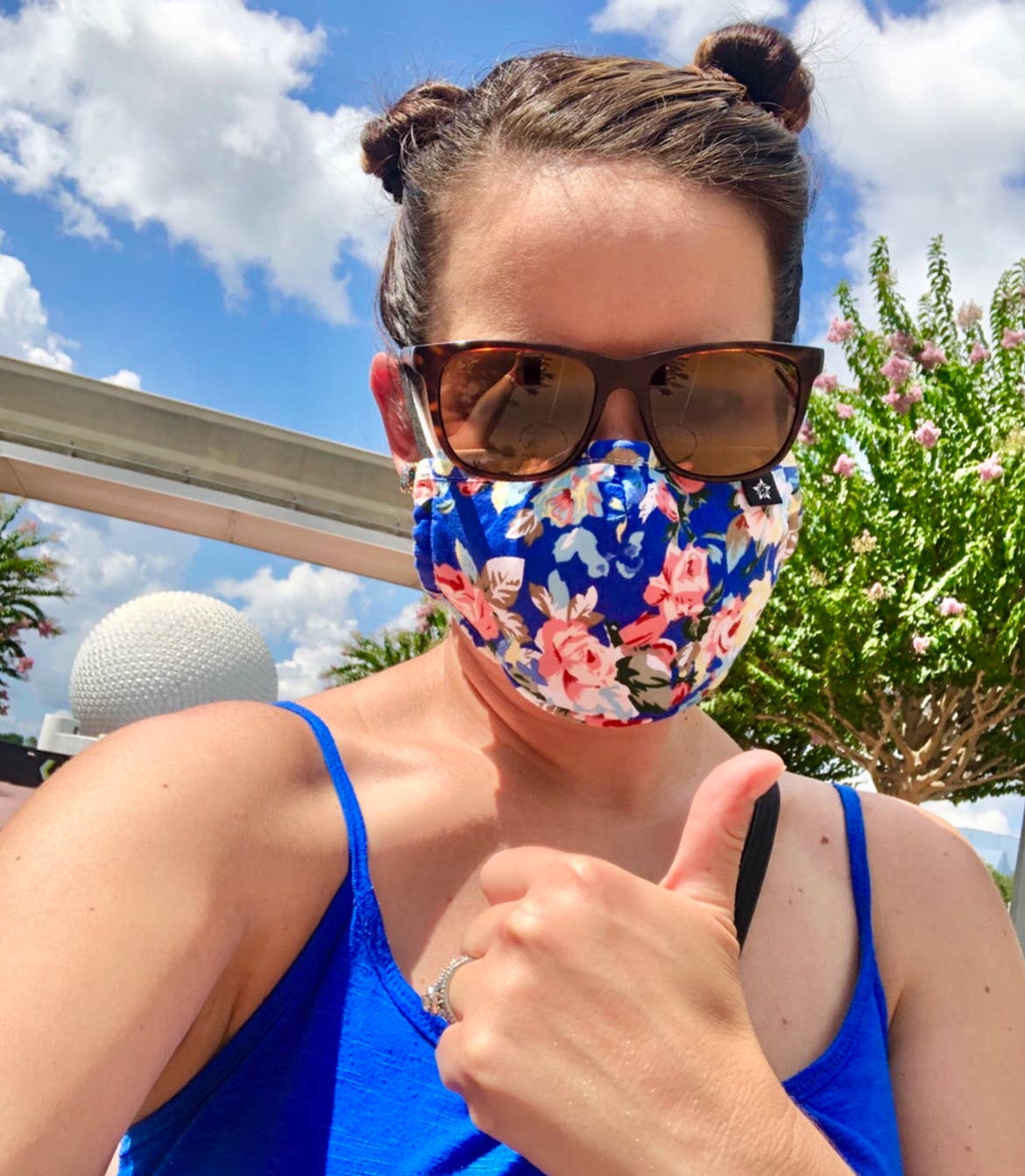 A Trip Around the World at Epcot
Hi, I'm Jess. I'm a mega-fan to say the least and think it's a pretty cool fun fact that our Orange Lake Resort sits right in the "backyard" of Animal Kingdom.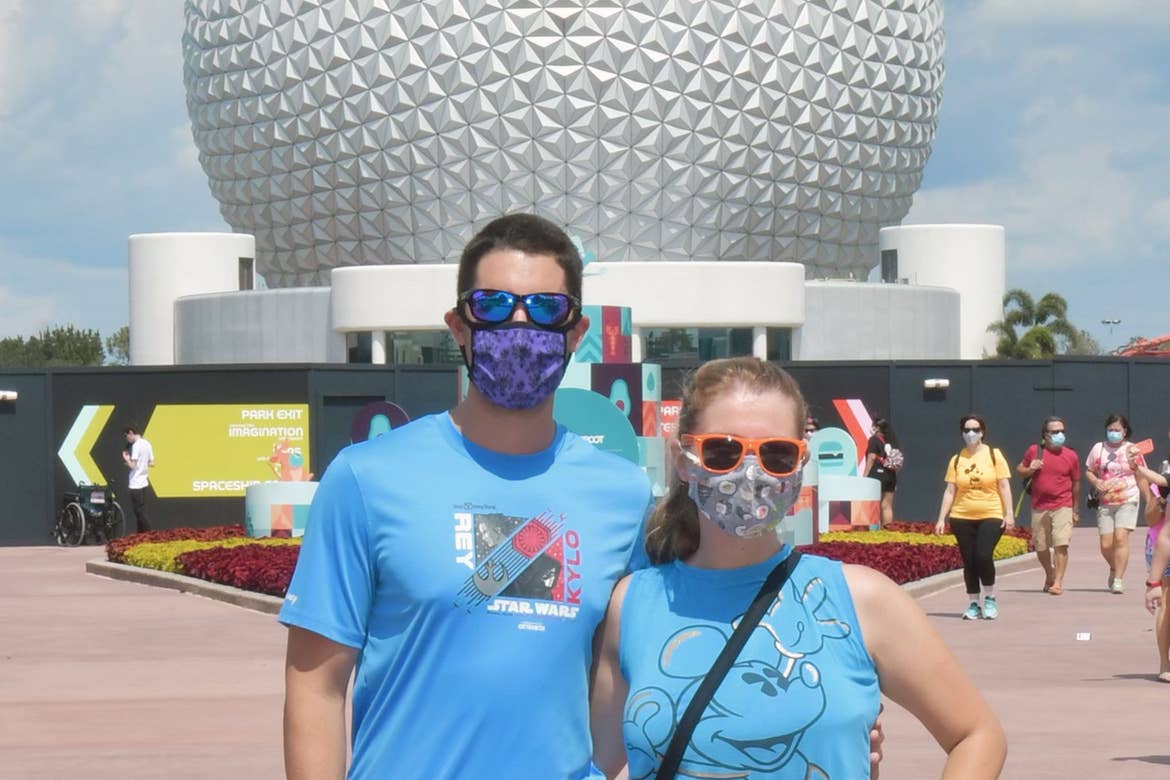 As annual passholders who live very close to Disney World, my husband and I would go to the parks often pre-COVID, even if just for going on walks. Once the parks re-opened, we were invited to a passholder preview.

I figured I'd book us for the second day to wait and see how the first day went "on social." After hearing good things online and from my friends, and then having a really great and safe experience at the Magic Kingdom preview ourselves, I felt good about the parks re-opening for non-passholders (at limited capacity, of course).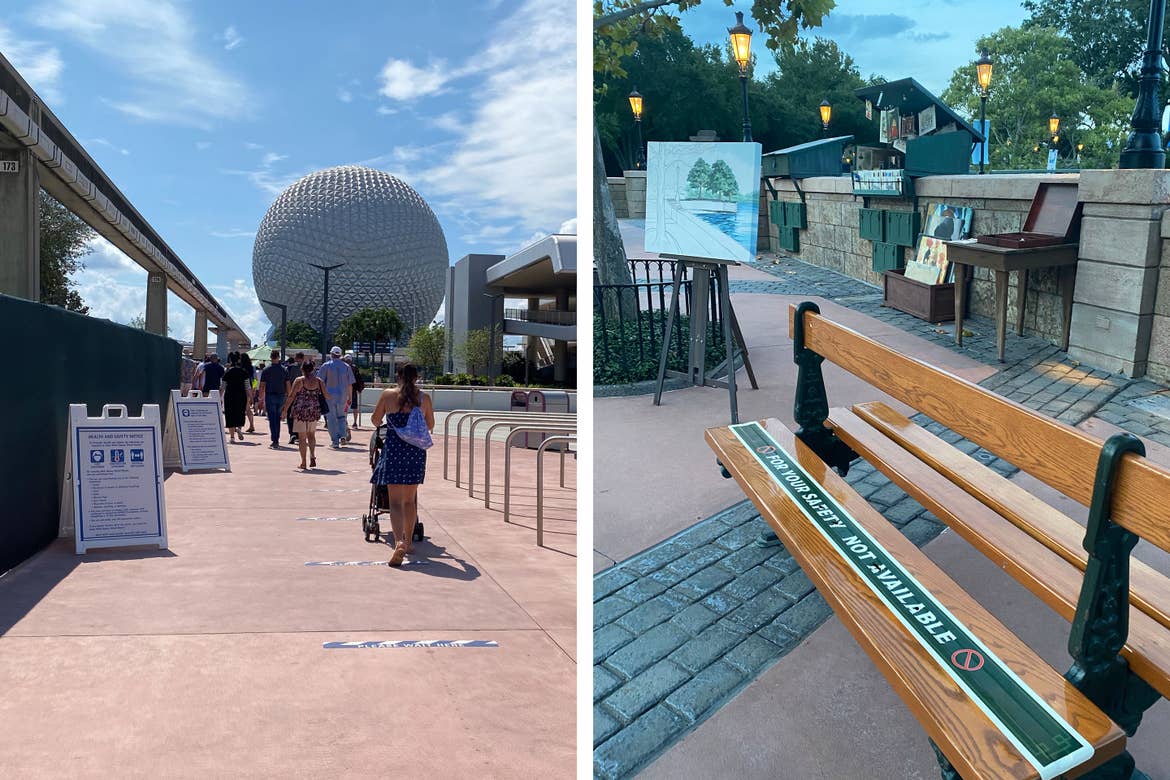 What Epcot is Like These Days
I've been back to all four parks now, but Epcot is my favorite park. My first trip back went so smoothly that we've gone twice again since and will definitely be back soon.

They aren't operating trams in the parking lot, but the parking lot is pretty small, so it's a super short walk to the front of the park. They have social distancing markers on the ground that tell you exactly where to stand as you wait for your turn for a temperature check (AdventHealth has a tent with some contactless thermometers) and for security.

You don't need to unload your bags or pockets these days—just remove anything like umbrellas, stainless steel water bottles or metal that might set off the detector.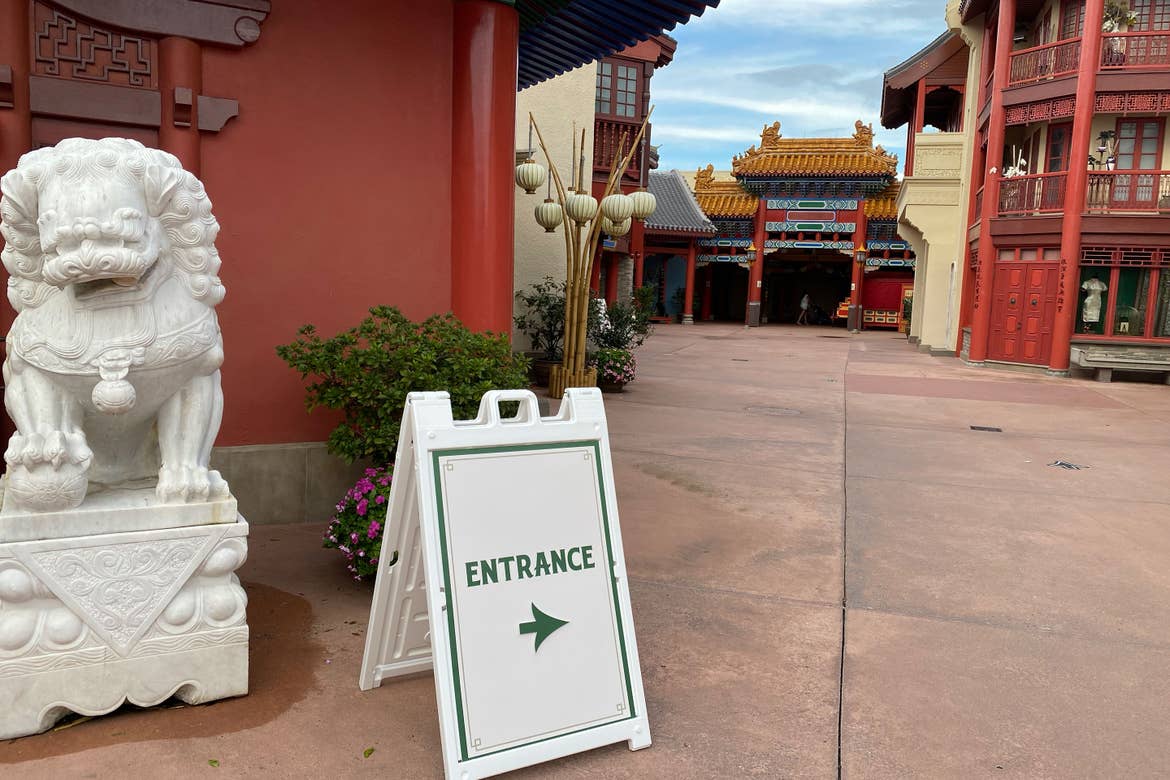 Not all of the shops, stalls and restaurants are open quite yet, but we've been noticing new ones reopening with each visit back.

We've found the lines for most Epcot rides to be kind of long, but if you time it right (especially right before closing, in my experience!) you can walk right on to Spaceship Earth or Soarin'.

There are plenty of social distancing markers in the ride queues and hand sanitizer at the entrances and exits.

Plus, when we rode Soarin', there were these plastic dividers at the part where the line split into three separate queues right before you board the "plane" for your flight around the world.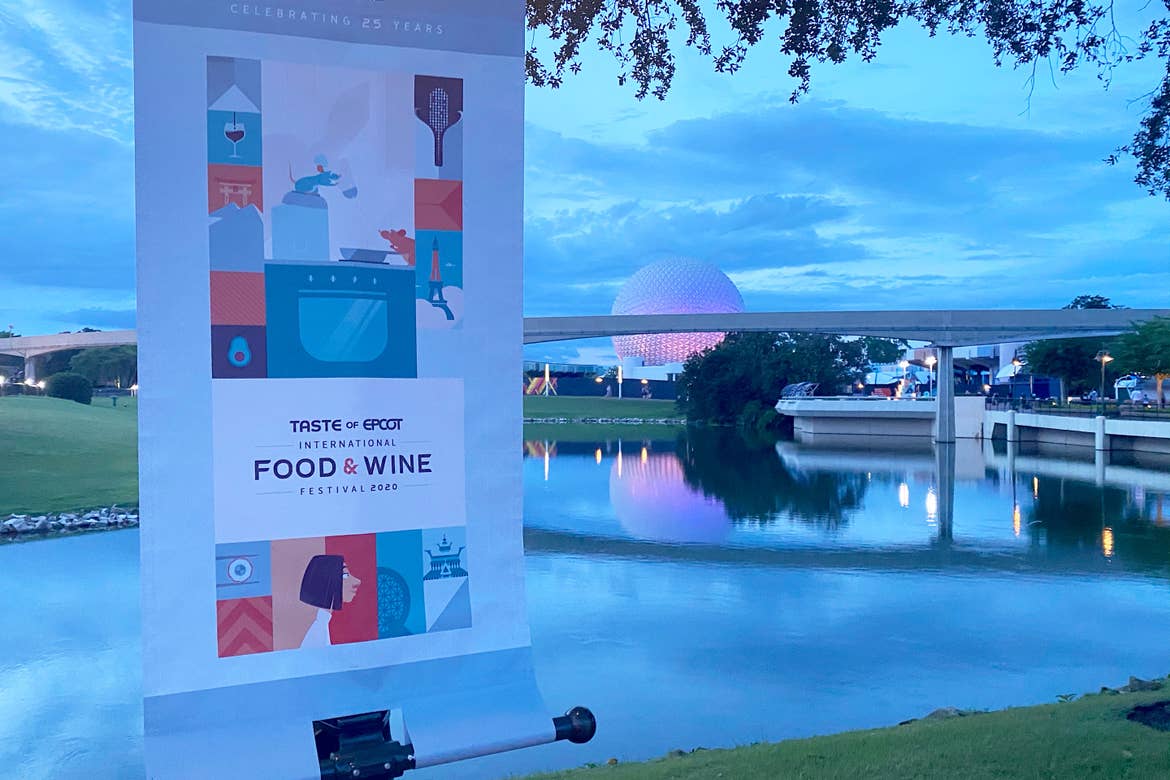 About the Food & Wine Festival
Every fall, there's a (super popular) Epcot International Food & Wine Festival. We found that this year's offerings aren't really all that different from the "normal" Food & Wine Festival.

The main difference, which has been lovely, has been the significantly lower crowds due to Disney's limited capacities and social distancing markers for COVID-19 safety measures. (You've got to have a park reservation in addition to valid admission these days.)

Normally (unpopular opinion alert), I hate how crowded the Food & Wine Festival can be (it's a fan favorite, for sure!), but with the social distancing markers and fewer daily guests, it has been a fantastic experience and something I've really enjoyed this year!

While some of the booths are still in the process of opening (and some have limited hours, like the Islands of Caribbean booth only being open on Saturdays), most of them are available now.

I would recommend visiting the Appleseed Orchard booth for some delicious autumnal pairings. Disney has yet to announce a closing date on this event, so be sure to get your foodie fill while it lasts!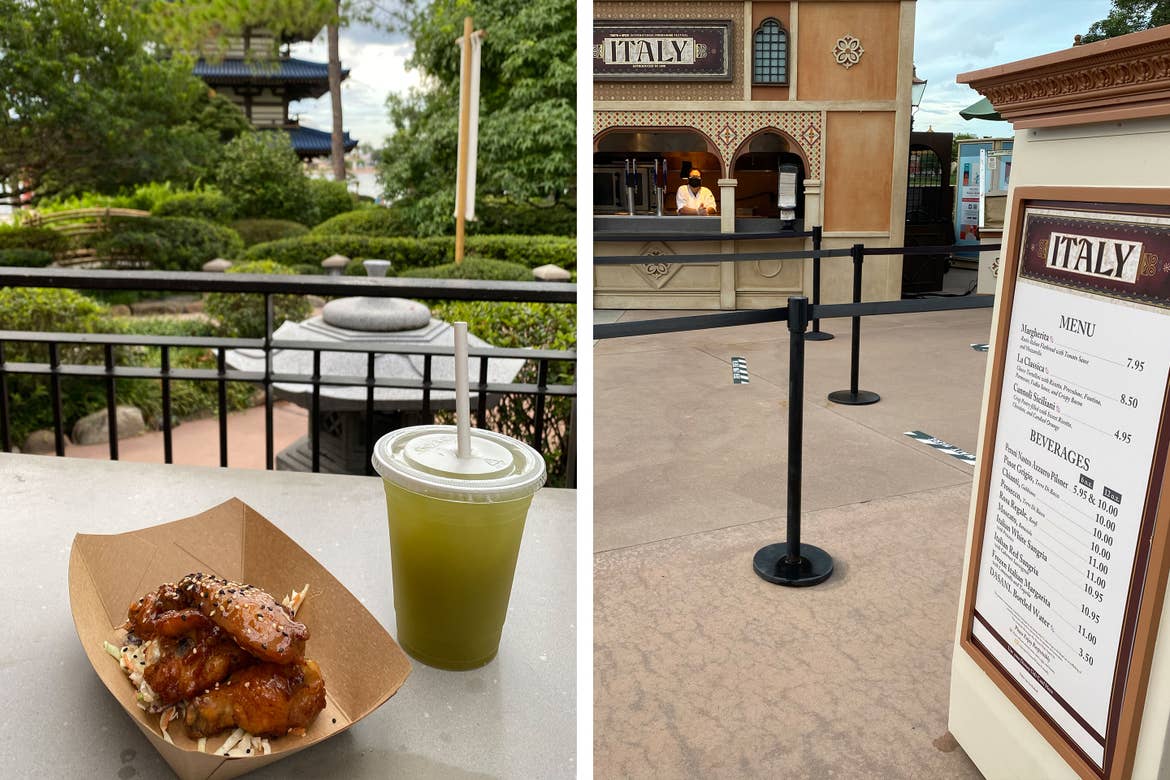 How to Eat & Drink with Mandatory Face Masks
You have to be stationary when eating or drinking, so that you—and other guests—can remain safe when you remove your face masks. There are tons of places to stop and they've added some high tables near the festival stands so you can set down your food and drinks. There are also many benches you can use throughout the park.

Plus, if you want a break in the air conditioning, there's plenty of spaced out tables—and some more food stalls—at the World Showplace. (This is the building tucked between Canada and France.) Inside, they're monitoring how many people are in the building at once, so it doesn't get too crowded.

Pro tip: If you're near the America Pavilion, take your grub and grab a seat by the America Gardens Theater. The JAMMitors and the mariachi band (that normally plays in the Mexico Pavilion) now play here throughout the day, so you might catch a show with your food and drinks!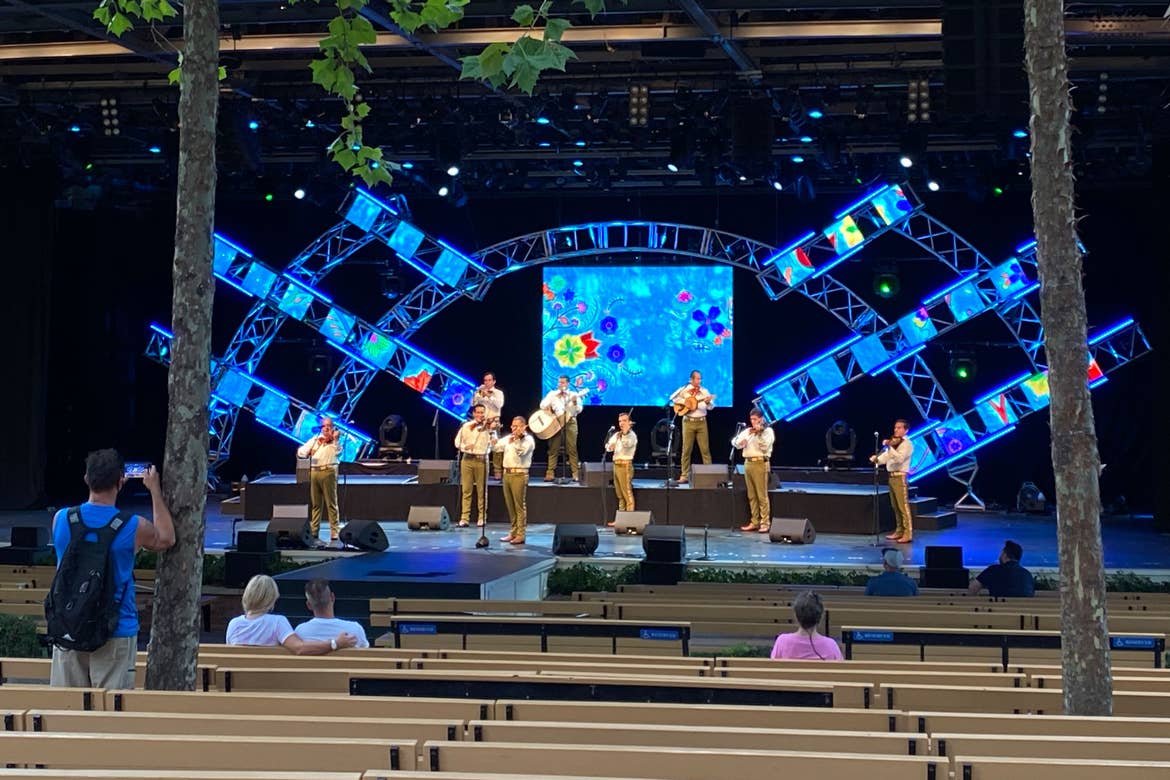 Other, Non-Festival Dining Options
While not all the formal dining restaurants are open yet, most of the quick-service locations are. Many have outdoor seating, in addition to indoor dining rooms, so you can really spread out.

Plus, where needed, they've added some dividers at different tables, like at my favorite place to eat, Katsura Grill in the Japan Pavilion. Not only is the food delicious, but they also have beautiful gardens tucked away in the back behind the restaurant.

You get gorgeous views of the pagoda, Spaceship Earth, the lagoon and some koi fish ponds. Plus, they have some really peaceful music playing so you can totally relax and get away from the (significantly-now-smaller) crowds.

There are also Halloween- and fall-themed food and beverage offerings throughout Epcot right now. A few desserts are even being offered exclusively on Halloween at select restaurants, but you can also get your themed popcorn buckets throughout the park all season long.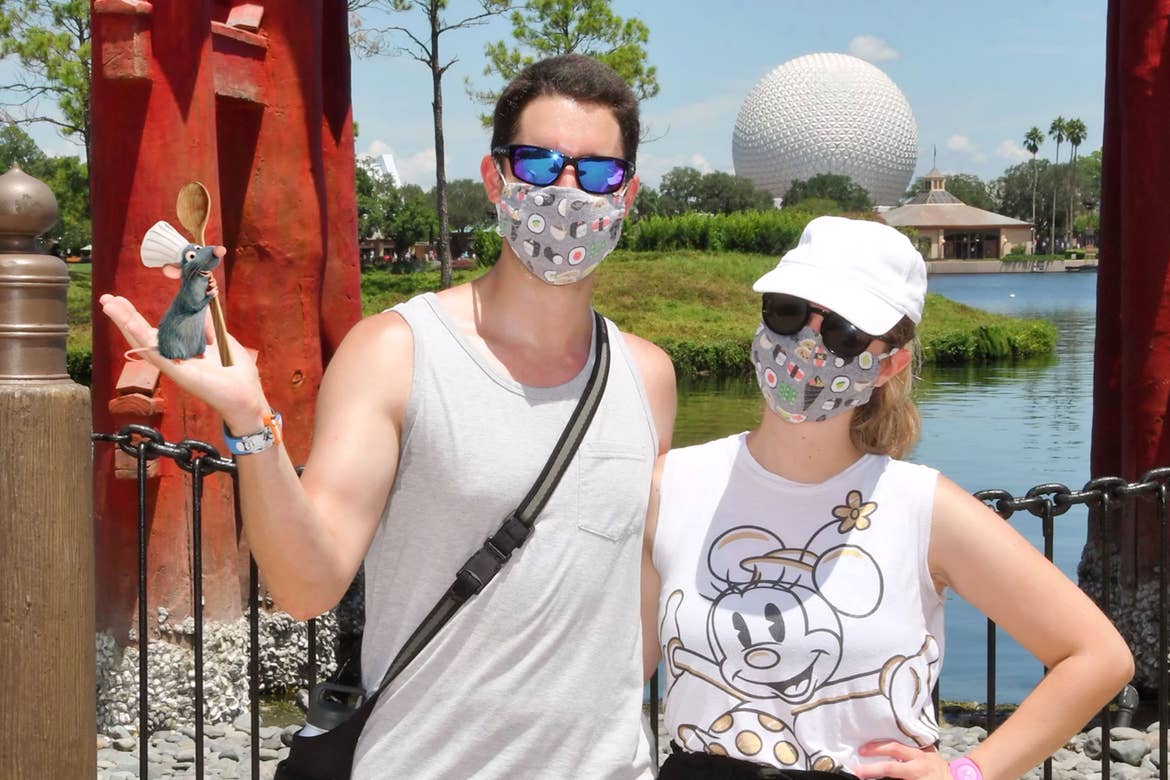 My Overall Epcot Experience
Overall, I feel super safe at Epcot. I frequently feel like I have the place to myself when I'm there nowadays.

One thing I will say, too, is that the cast members are very much empowered to enforce the new safety rules (which I'm super grateful for). This makes a huge difference in making sure people follow social distancing and mask guidelines and gave me peace of mind.

All that being said, if you need me, you can probably find me in the Japan Pavilion seeing how many orders of yuzu-miso wings my husband can eat (spoiler alert: it's a lot).

Whew. Who's ready for a dip in the pool at Orange Lake Resort?


All information is subject to change. This article is a curated guide and is neither sponsored nor considered an official endorsement. Please be sure to check information directly with any/all tours, guides or companies for the most up-to-date and direct details.