Jennifer C. Harmon
Jenn is the Editor-in-Chief of the Checking In travel blog. She loves coffee, wine, writing, traveling, working with all of our amazing guest bloggers, and getting to tell our guests', owners' and team members' vacation stories. Jenn and her husband, Anthony, have mastered the art of the long weekend couples' getaway (sans kids). And while it's too hard to pick just one type of "favorite vacation," her three-way tie would be: a snowboarding trip, going to Hawaii or sailing with Disney Cruise Line.
After visiting Disney's Magic Kingdom® and Epcot® Theme Parks since reopening due to COVID-19, and checking out each one's safety measures for myself, I was excited to see what SeaWorld® Orlando is like right now, too.

If you're like I was, you might have a few important questions on your mind about visiting SeaWorld during COVID-19.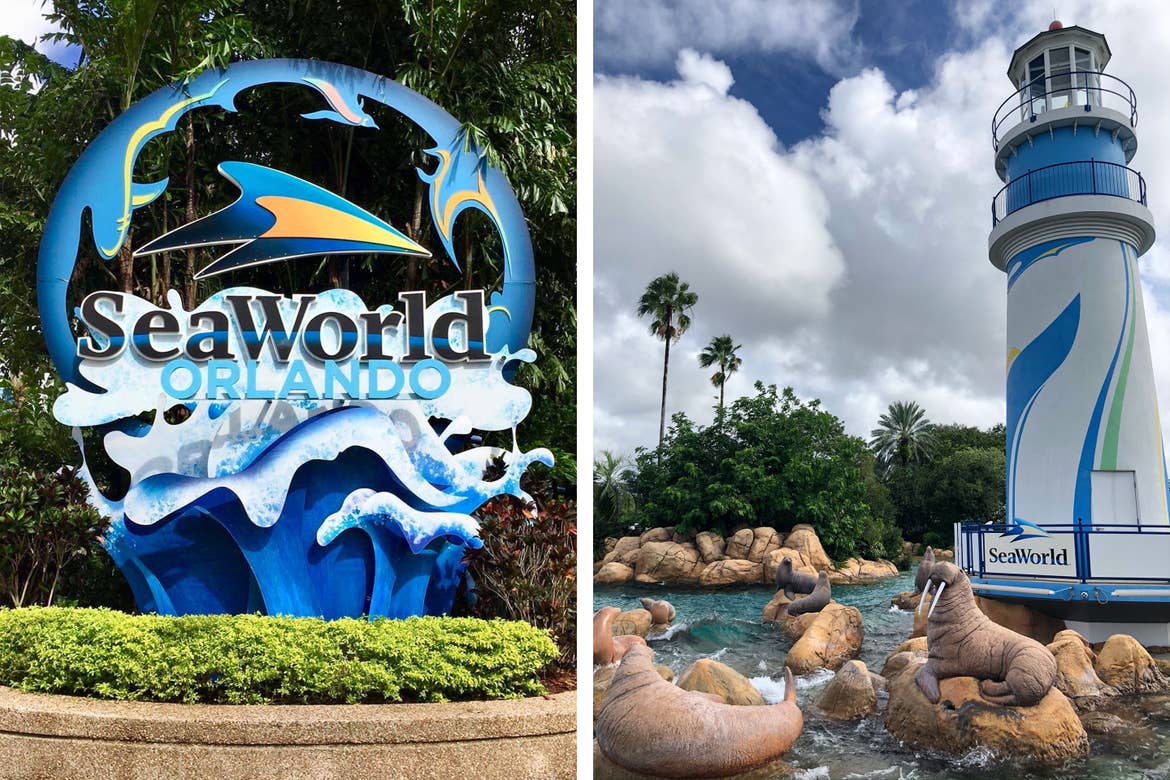 Along with my sister-in-law Theresa, below I'll be answering some questions about safety measures, the brand-new Sesame Street Land, planning your trip and more.

SeaWorld is actually Theresa's top favorite place to go, and since she's a single mom to a two-year-old toddler, I wanted her to join me in writing this story to get her unique, parental perspective on all things SeaWorld.

Now let's dive in!

Editor's Note: Since this trip took place, SeaWorld Orlando has updated its safety and capacity policies. Be sure to visit its website for the most up-to-date info.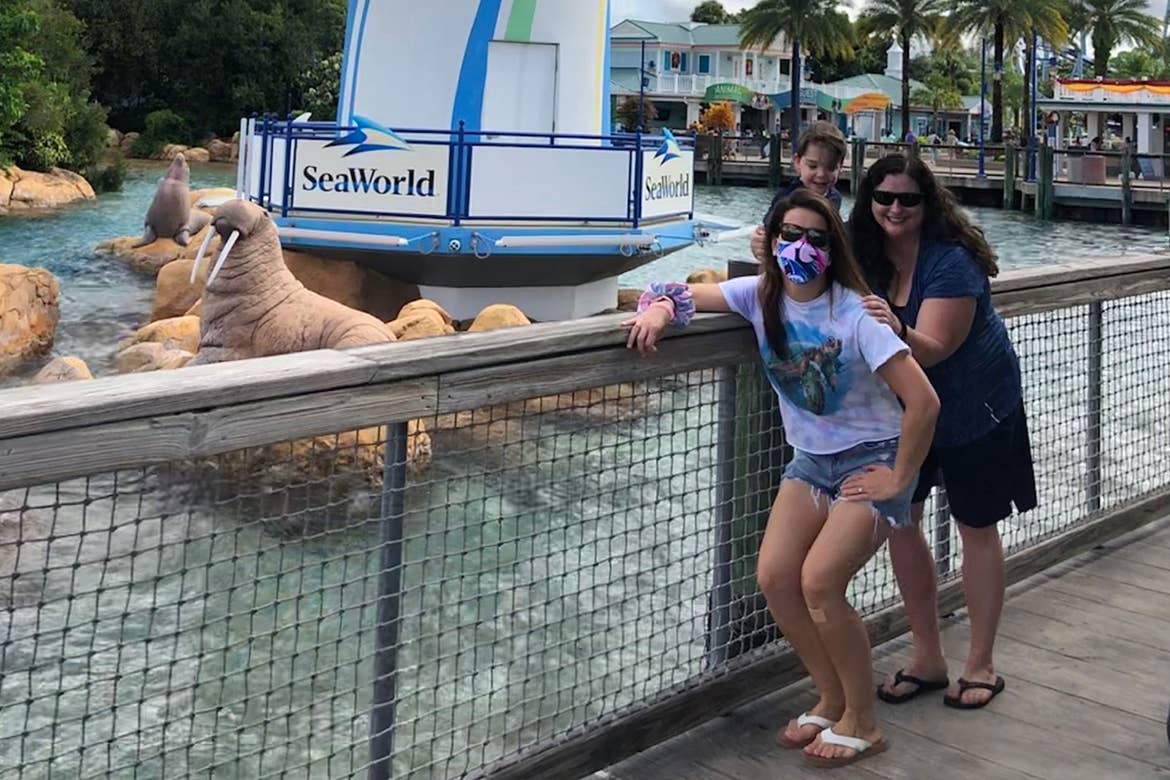 Why is SeaWorld your favorite park to visit?

Theresa says…
While I don't enjoy roller coaster rides, I love seeing sea creatures in SeaWorld's various aquariums, learning about the ocean, and especially, watching the animal shows with dolphins, orcas, sea lions and otters. I also couldn't wait to see my favorite park through my son Dakota's eyes for the first time.



Jennifer says…
I'm truly a Disney World girl through and through, but I always really enjoy a nice stroll through SeaWorld Orlando, especially when it's decorated for Halloween or Christmastime. I'm not big on their roller coasters either, but sign me up for the Splash Zone at their shows any day!


What are SeaWorld's COVID-19 safety measures like?

Theresa says…
This was the first time I've been back to any theme park since the pandemic began, so while I have nothing else to compare it to, I felt really safe throughout our visit. There were plenty of precautions taken, especially during the animal shows with spaced out seating.

We saw SeaWorld team members going up to guests to remind them to keep masks on even when seated far from others, and they were strictly enforcing the social distancing measures of closing off every other row and making sure everyone was seated on the 6-feet-apart bench markers.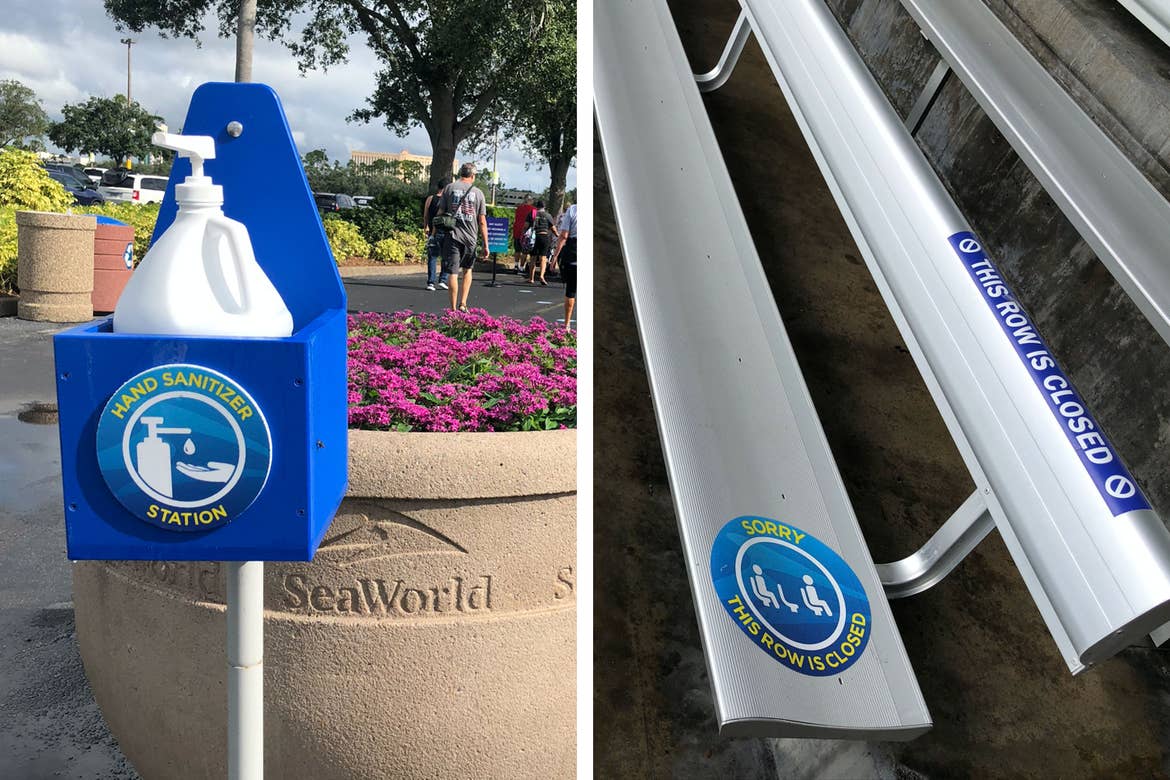 I was particularly surprised and impressed by the exit process after the animal shows. The SeaWorld operations teams had an organized exiting process where they asked everyone to stay seated until particular rows and sections were told to exit by the use of flags and loudspeaker directions.

This prevented guests from getting too close to each other or any crowding on the way out. Now, of course, a few people just got up and left before their "time" but overall, we were pleased to see mostly everyone complying and being patient.

There were also plenty of hand sanitizer stations throughout the park, we didn't see anyone not wearing masks and there weren't any large crowds.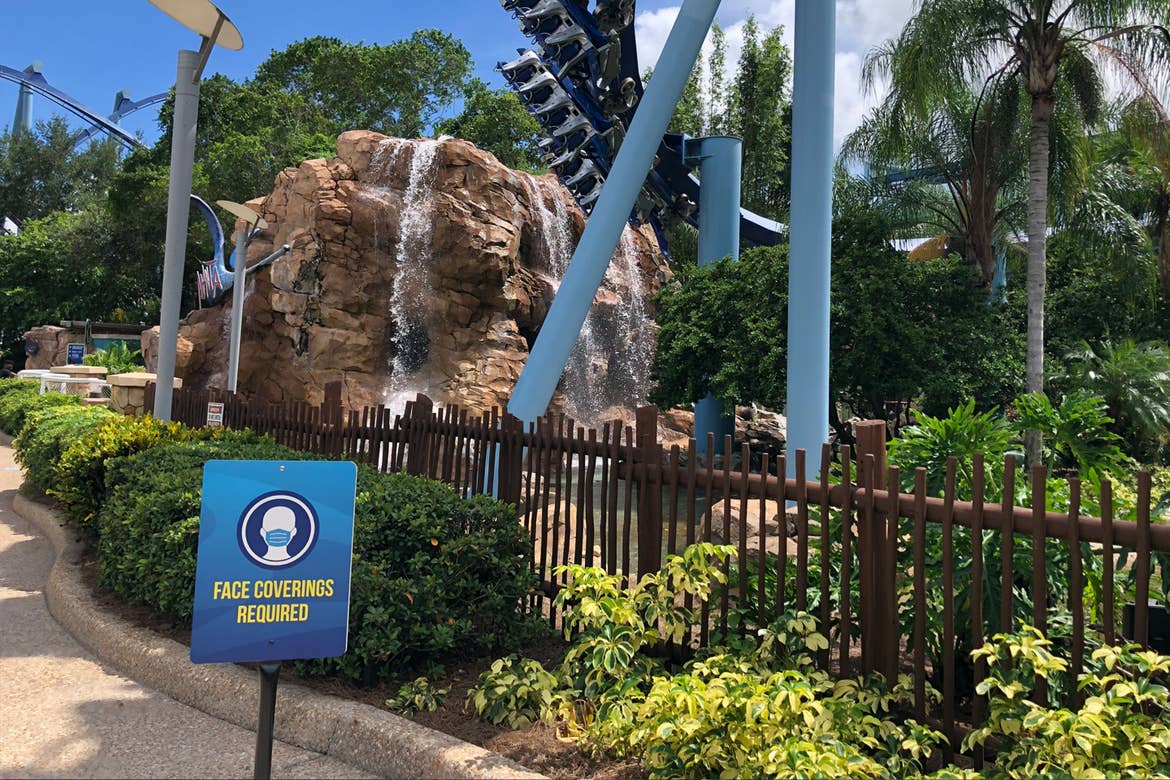 Jennifer says…
Overall, SeaWorld Orlando had significantly fewer people and crowds than normal, similar to what I experienced during my visits to Disney's Magic Kingdom and Epcot.

SeaWorld also had social distancing markers on the ground starting all the way out at the parking lot and throughout the park, ride queues, shows and dining locations. Lots of hand sanitizers and signs to remind guests of rules everywhere you looked.

One surprising thing about SeaWorld's pre-entry temperature screenings? They were not done by a healthcare worker holding a scanner up to the guests' foreheads like all the other parks and doctors' offices I've experienced elsewhere so far.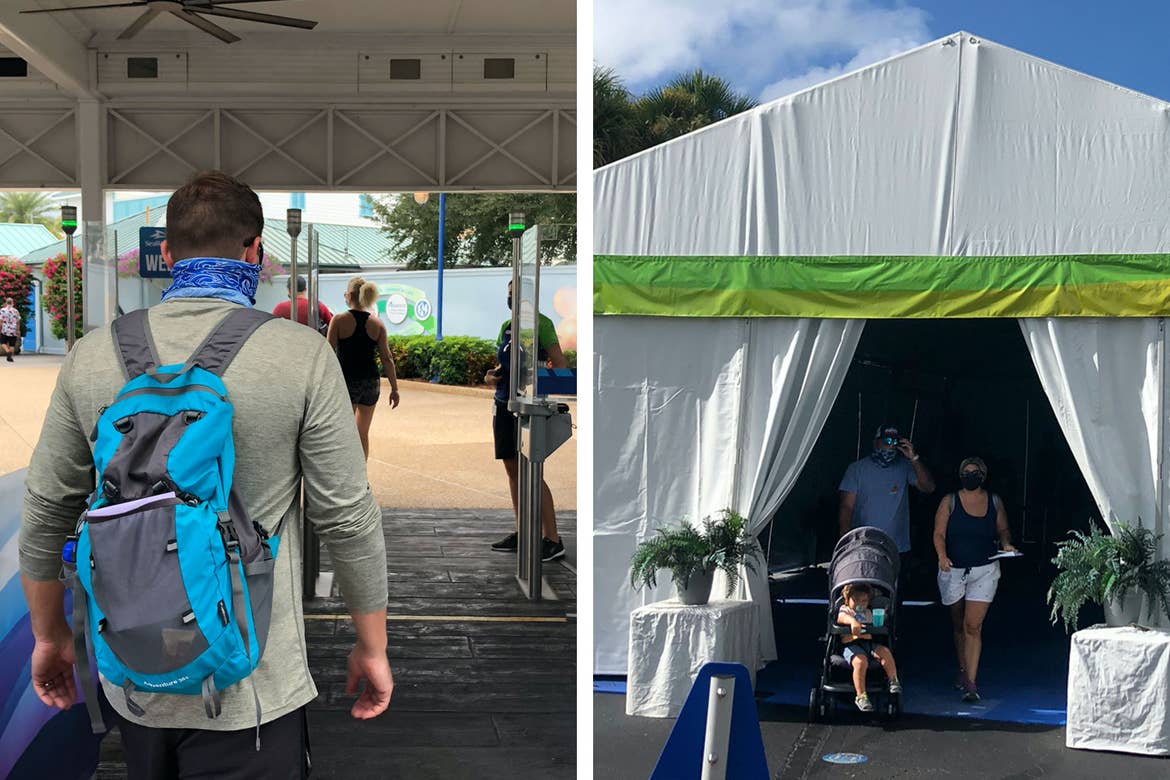 When you enter the SeaWorld temperature screening tent, you wait on socially distanced markers until it's your turn to stand on a special spot in front of what looked like a television crew of team members huddled around screens?

Apparently, they take your temperature from some kind of special technology from afar … This left me legit wondering how it was done? (Or if it even was done?)

You won't find extra details about this on their website (which even features an icon of a person's temperature being taken by a forehead scanner?) unless I missed them…

One extra positive thing I noticed at SeaWorld, in particular, was what I'd describe as teams of mask enforcers (for a lack of a better term?).

They had team members walking around carrying flags, specifically reminding and ensuring everyone was wearing their masks properly. That really put me at ease, knowing they were going around and policing this important rule.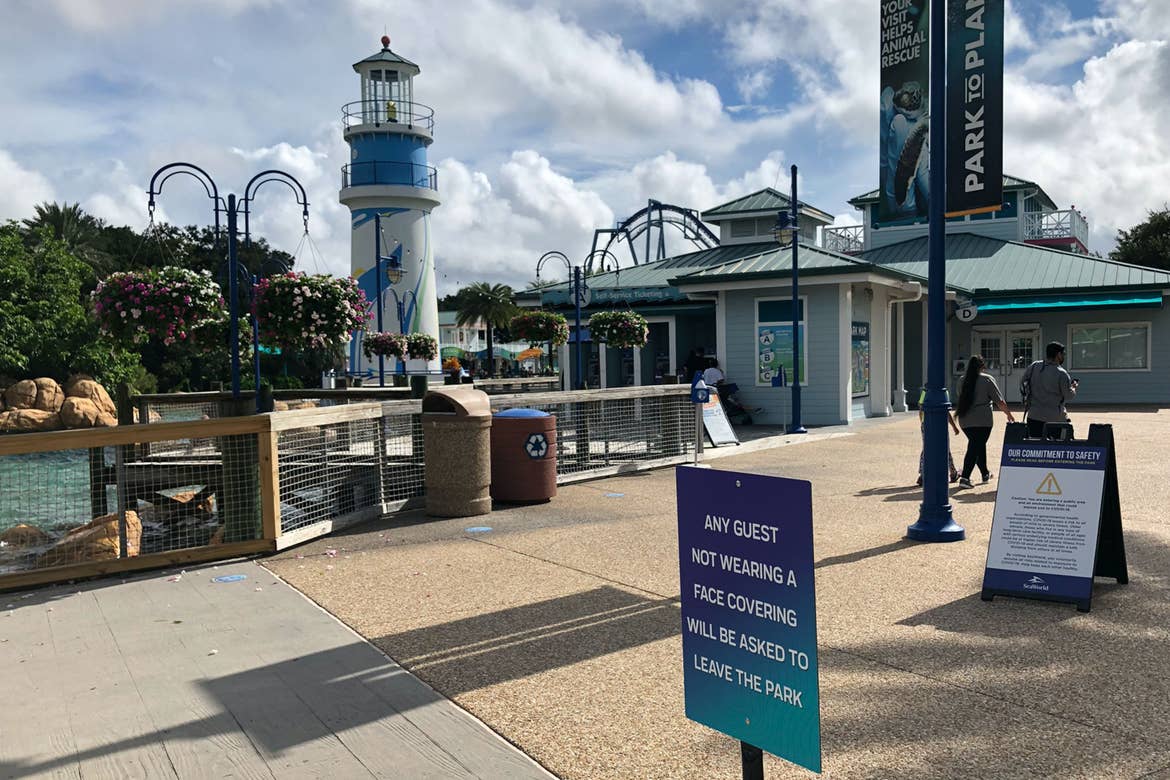 The only part of the day that made me feel uneasy, to be honest, was the seating at Orca Stadium. Even though SeaWorld team members were super vigilant about making sure people were leaving every other row empty and sitting on the social distancing markers, I still felt like I was a little "too close for comfort" when another family sat down next to our party right before the show started.

Those 6 feet just felt pretty close, even outside … even with masks on… (insert shoulder shrug and anxious face emojis here).


How did you plan out your day at SeaWorld Orlando?

Theresa says…
I've probably been to SeaWorld well over a dozen times in my adult life as a previous pass holder, but I still like to do my research ahead of time and make a plan right when I arrive at the park.

Right now, it's worth noting that not all of the SeaWorld shows, rides and exhibits are currently open due to safety measures, so I wanted to be sure to look up what all was and was not being offered before arriving.

Three of the animal shows—Orca Encounter, Dolphin Days and Sea Lion High: The New Class—were being offered during our visit and since the animal shows are my favorite things to see, I make those a priority to plan everything else around.

Upon entering, I always ask for a list of showtimes, decide which times I'd like to see each one, and then look at the map to see which activities or exhibits are nearest to each show stadium or area, and go from there!

Otherwise, my only other "must-do" this time was taking plenty of time to check out the new Sesame Street Land since Elmo is my toddler's favorite character!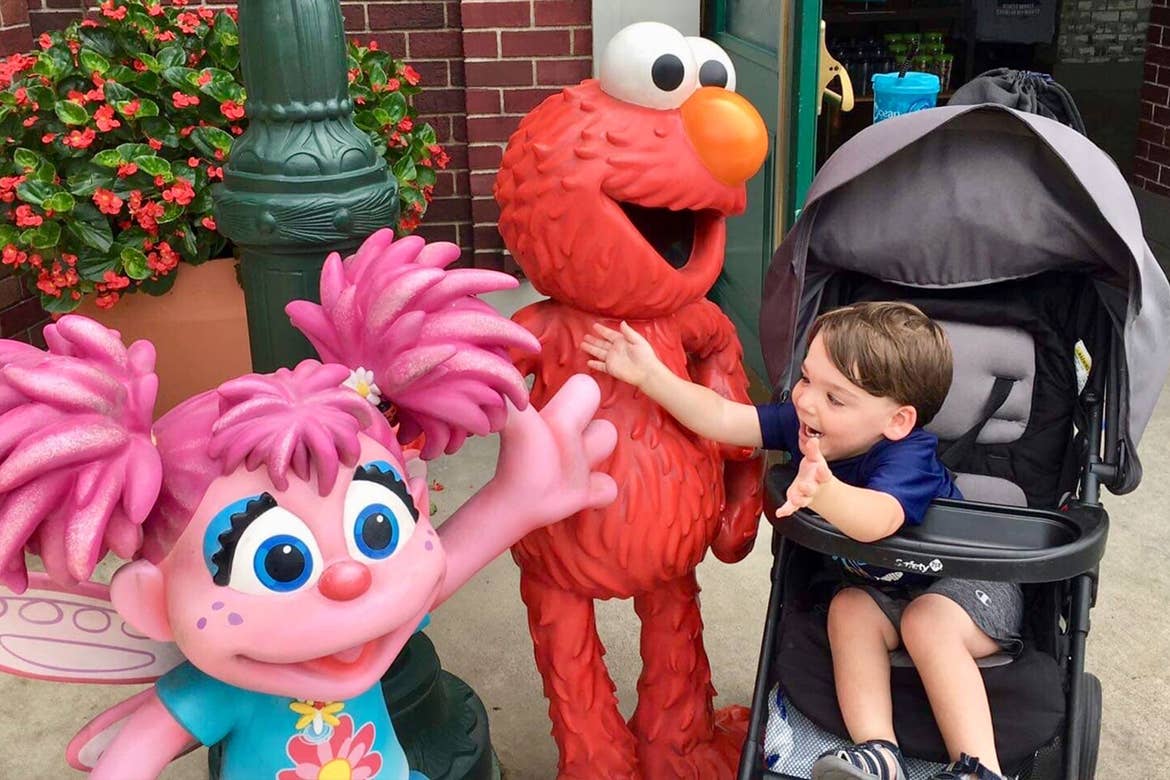 Jennifer says…
Just a quick note about those showtime lists and maps Theresa mentioned? Right now, everything is paperless and touchless.

You'll enter the park using a scannable mobile or paper ticket. All showtimes are posted on signs or available via QR codes. And maps are 100% on the mobile website or mobile app only. Not only great for safety, but for the environment, too!

I agree with Theresa though. For a park like SeaWorld, be sure to prioritize your plans around the shows if you want to be sure to see all three of them—especially nowadays when there may be a reduced number of showings while other ride and attraction lines and wait times are very, very low throughout the day with reduced capacities right now.

Typically, there are only one or two offerings per day of each of the three animal shows, and sometimes they can even overlap with multiple shows happening at the same limited times.

Make sure you take a look at the schedule early in the day to avoid missing one of your family's "must-see" attractions!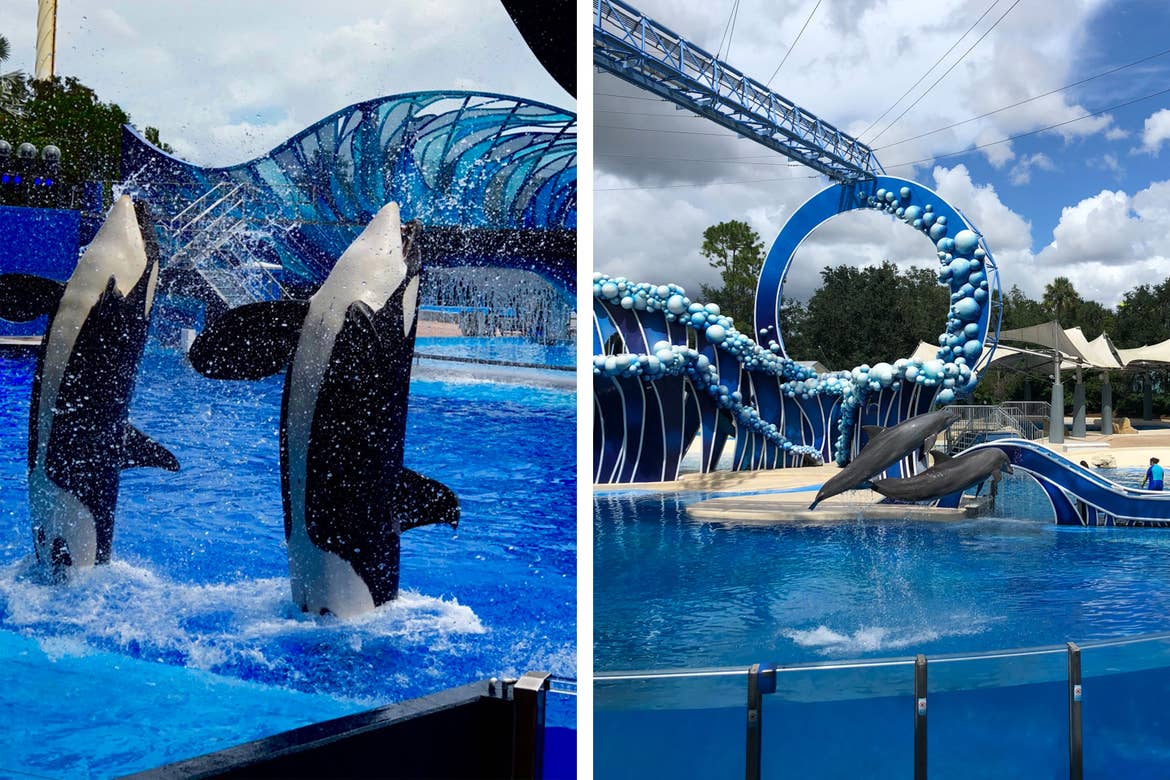 How was Sesame Street Land?

Theresa says…
This place looks just like Sesame Street! I think they did an incredible job. The attention to even the littlest of details was awesome. We LOVED it!

Dakota watches the Sesame Street TV show every morning and was Elmo for Halloween last year. He even had a Sesame Street-themed second birthday party, so when I found out that they'd added this land to SeaWorld Orlando, I was so excited to share this place with my son. As a two-year-old toddler, he absolutely loved it.

He wasn't very into the rides, but he did enjoy Elmo's (slow-moving) Choo Choo Train, loved meeting Big Bird in his nest, looking around at all there was to see and the highlight of the entire day was meeting his favorite character, Elmo … from a safe distance and with zero lines or wait times.

His only tears of the day were when we finally said goodbye and left the Elmo meet and greet area.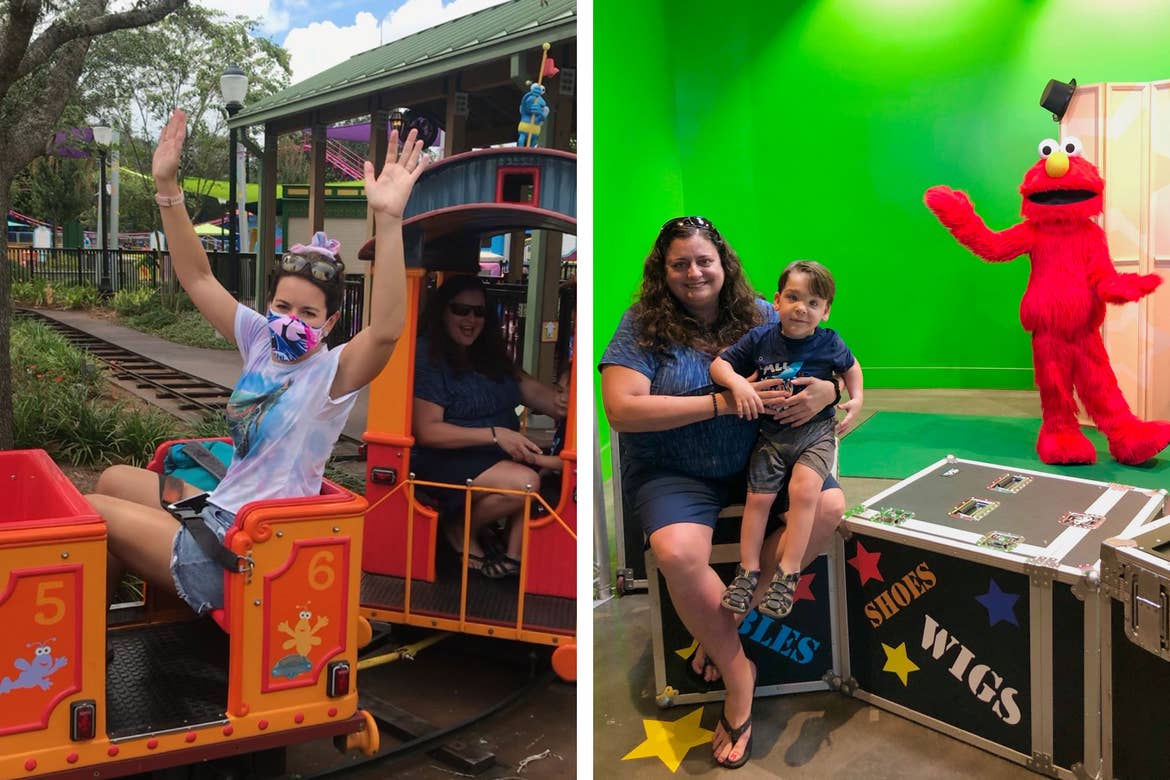 Jennifer says…
One of my favorite parts about working in the travel and tourism industry in Orlando is checking out new theme park areas and attractions. Sesame Street Land did NOT disappoint.

While I'm not a mom, like so many, I grew up watching Sesame Street and it was like walking right through the television set and down the New York City neighborhood, including Hooper's Store and those oh-so-familiar front door stoops.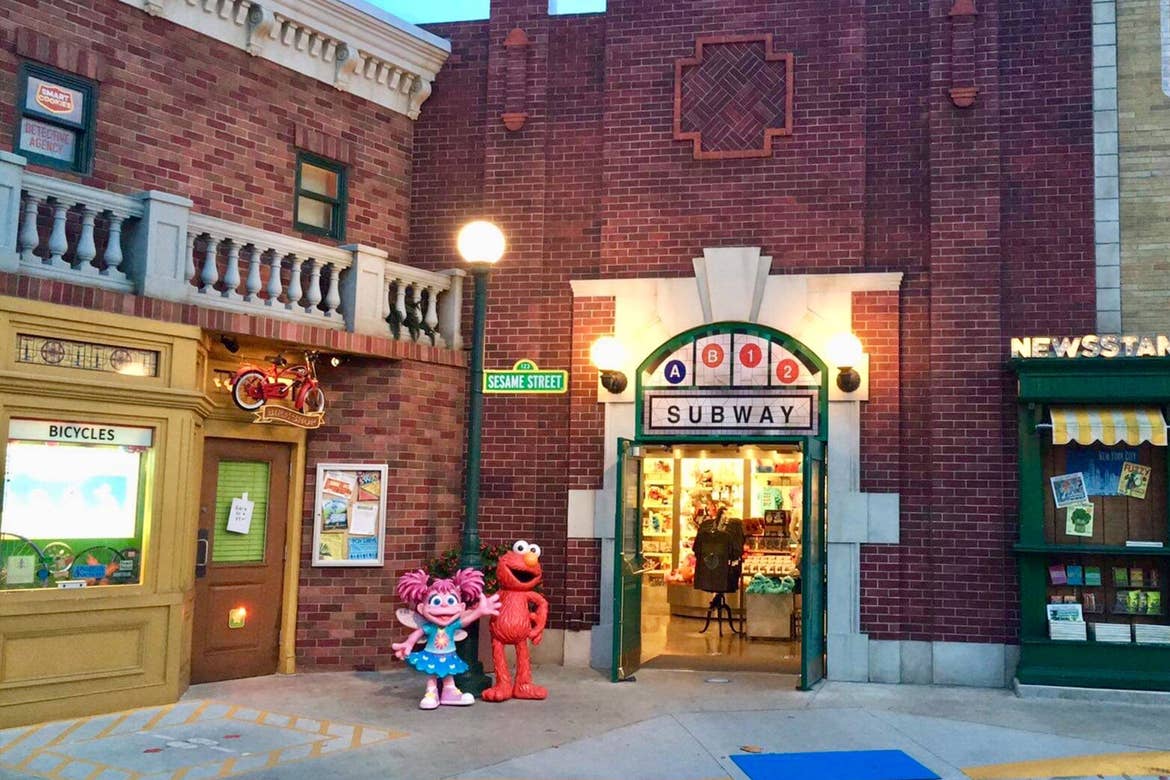 This place was SO adorable and like Theresa said, the attention to detail and theming was best-in-class. Even without the parades and with the playground closed due to COVID, the kid-friendly rides were adorable, lots of littles were enjoying the themed splash pad with a reduced capacity in place, and everything felt colorful and perfectly pint-sized.

Big Bird's meet and greet nest was especially impressive, although note: During COVID, you cannot get into the nest for a photo like guests were able to do previously.

Due to the reduced capacity and very low crowds, kids like my nephew really got to take as much time as they wanted with waving and saying hello to Elmo & Friends (including Abby Cadabby) and Big Bird.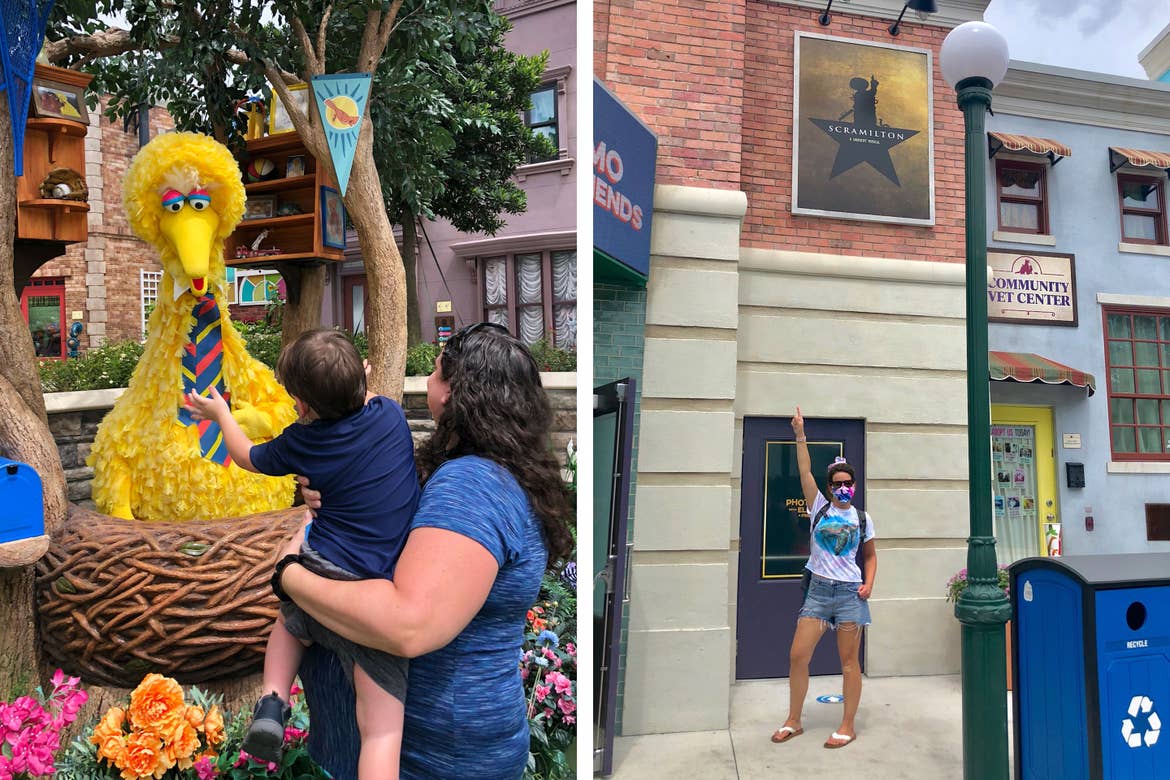 My favorite part? As a huge Hamilton fan, I appreciated the nods to NYC Broadway musicals, including the Oscar the Grouch spin on "Scramilton: A Grouchy Musical." It was a fun element for us grown-up guests!


Did you ride any rides?

Theresa says…
Just Elmo's Choo Choo Train this time around. However, we noticed either low or zero wait times posted for the rides throughout the park.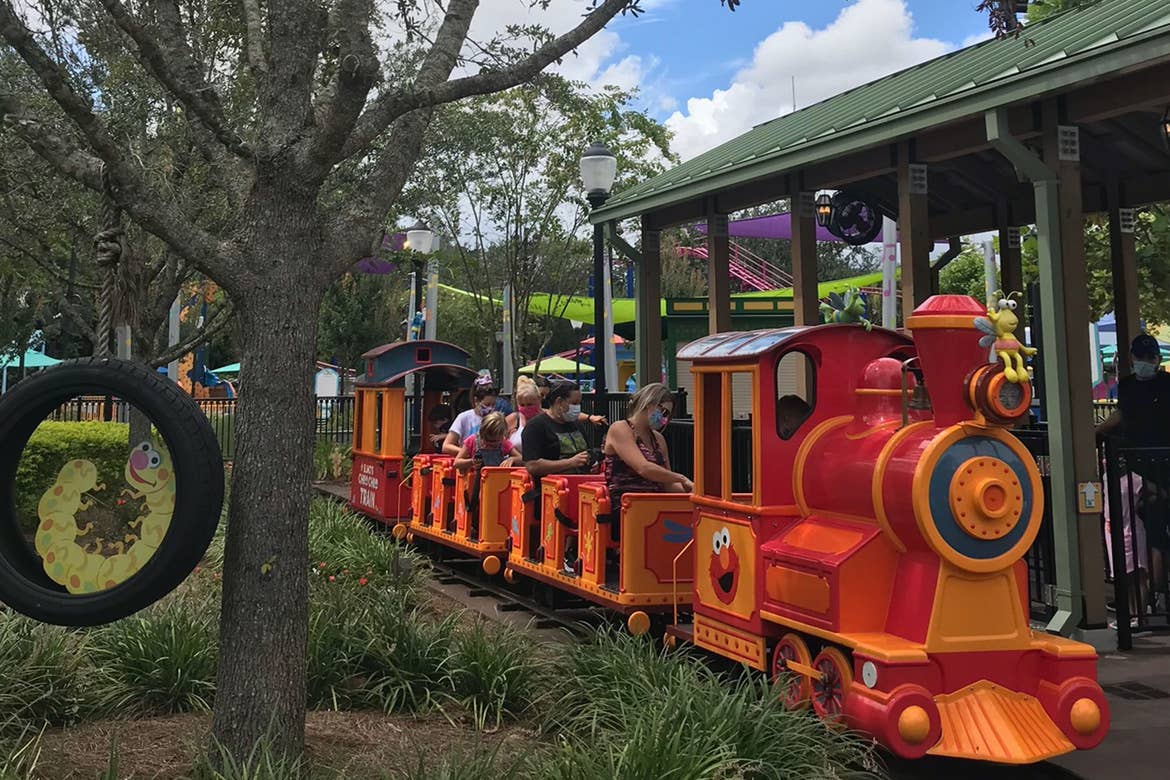 Jennifer says…
Same. And sadly, the top "to do" on my list was the relatively new penguin ride, Antarctica: Empire of the Penguin and it was … closed. Sad face!

I'd only been on it once back when it opened with a multiple-hours-long wait and was looking forward to hopefully a much lower wait this go-round.

I will say, I wish SeaWorld Orlando's website had been a bit clearer about this ride's closure. While I 100% understand and support any ride closures due to safety reasons right now (safety first!), they list this ride under a website header that says, "The following rides and attractions are available." And then in teeennnnyyyyyy tiny letters that I completely missed pre-park visit, it says, "Closed. Habitat is open."

It was a bit confusing and disappointing when we walked up to ride it. But we did get to see the penguin habitat, which was cool (no pun intended).


How are the food and beverage offerings at SeaWorld?

Theresa says…
Thanks to the lower number of park guests, and to the fact that Orlando's Magical Dining Month was happening, I finally got to eat at Sharks Underwater Grill® and Bar!

It's been on my list for a long time but it's usually pretty popular as far as reservations and wait times go and can be a bit pricey. But this ended up being a birthday dinner treat for me!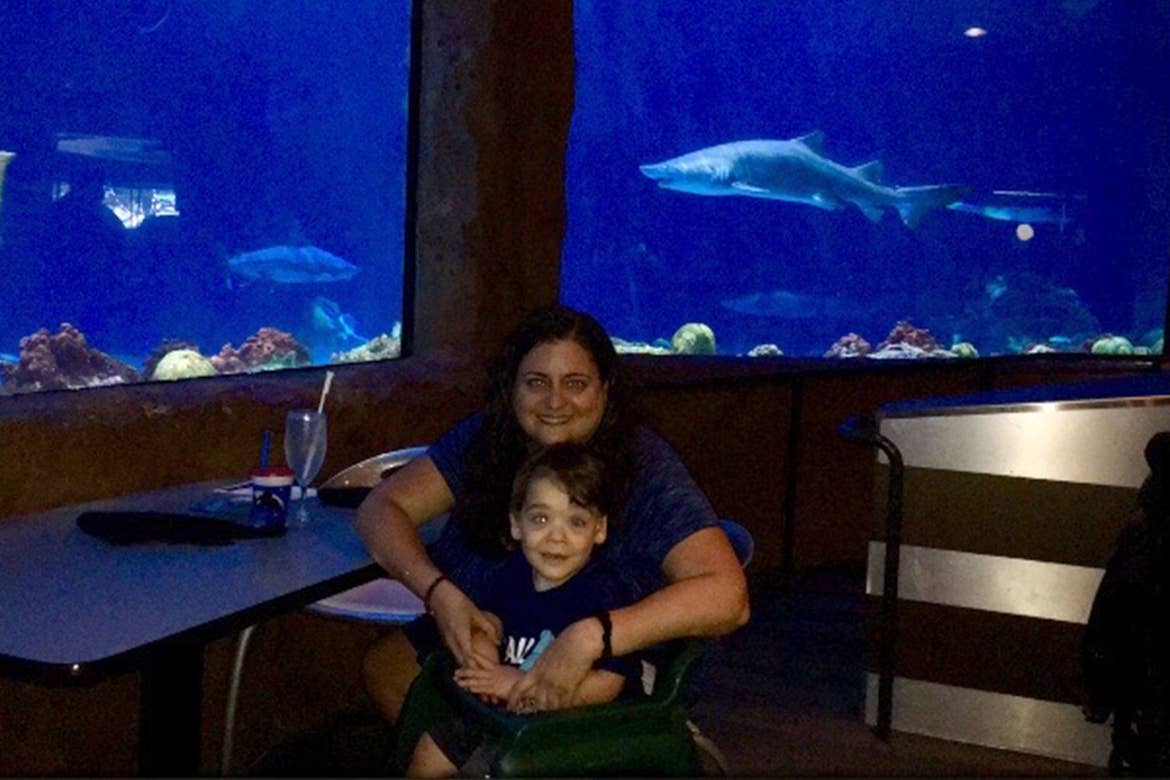 We were seated right up in front of the restaurant's large shark tank glass with no reservation and zero wait, and the dining room was mostly empty.

It was such a neat experience to get to watch the sharks and other sea creatures swimming around while I enjoyed my dinner (and while Dakota enjoyed napping in the dark, air-conditioned dining room).

And since it was Magical Dining Month, this experience was budget-friendly. From now through (an extended date) of October 31, 2020, at participating Orlando restaurants, you can choose an appetizer, entrée and dessert off a special prix-fixe menu for just $35 per person.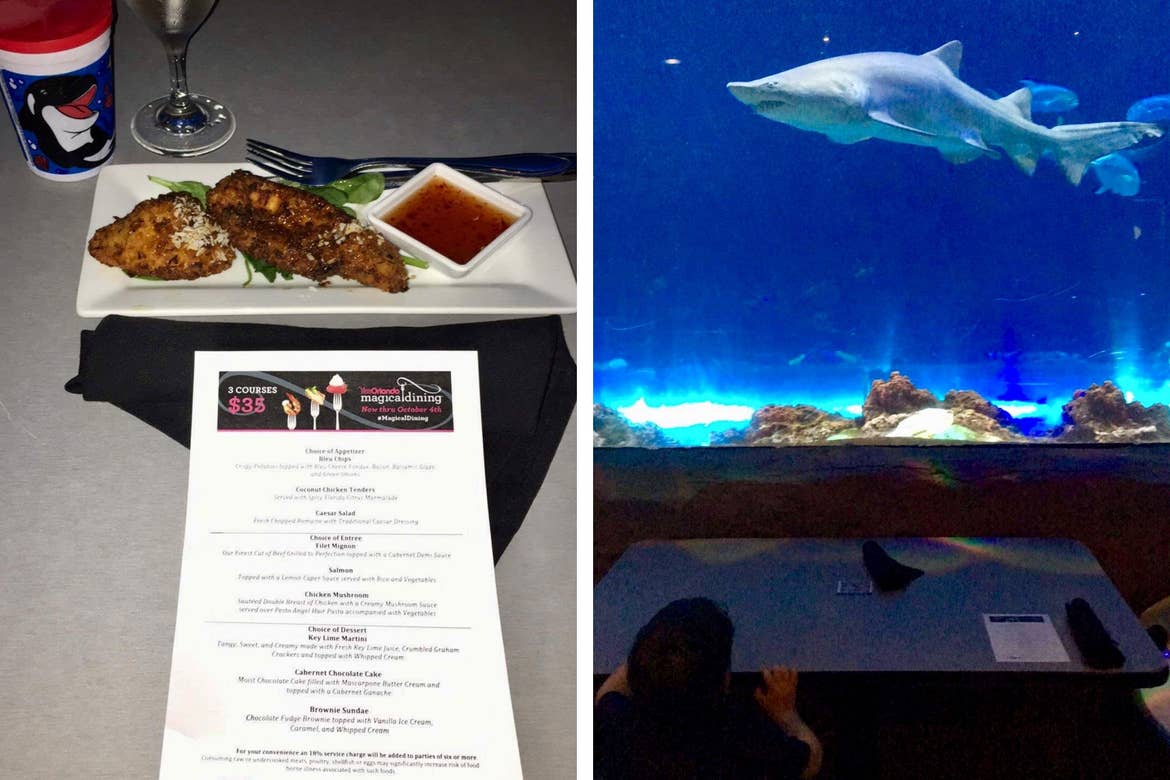 I chose the coconut chicken tenders starter, chicken mushroom meal for dinner and the key lime "martini" for dessert. It was excellent food with an amazing view of the sharks, and the servers were all very nice and helpful.

I've always wanted to eat here and never had the chance to previously, and I'm so glad we went! They even packaged up my dessert to-go so we could take it with us to enjoy during the final nighttime Orca Show before we called it a (full) day.



Jennifer says…
I said my goodbyes to the birthday girl and my nephew long before dinnertime (as a Central Florida resident, half-days at the parks are much more my jam).

But we enjoyed casual mid-day lunch at Mango Joe's. Social distancing and plexiglass dividers were in place, as were the super-spaced-out outdoor patio tables.

I usually have a hard time finding healthier options at theme park quick-service restaurants, so I was pleasantly surprised to find an Impossible burger on the lunch menu!, with options of side salads, fresh grapes and cups of cold strawberries for sides. It was all delicious and safely handled.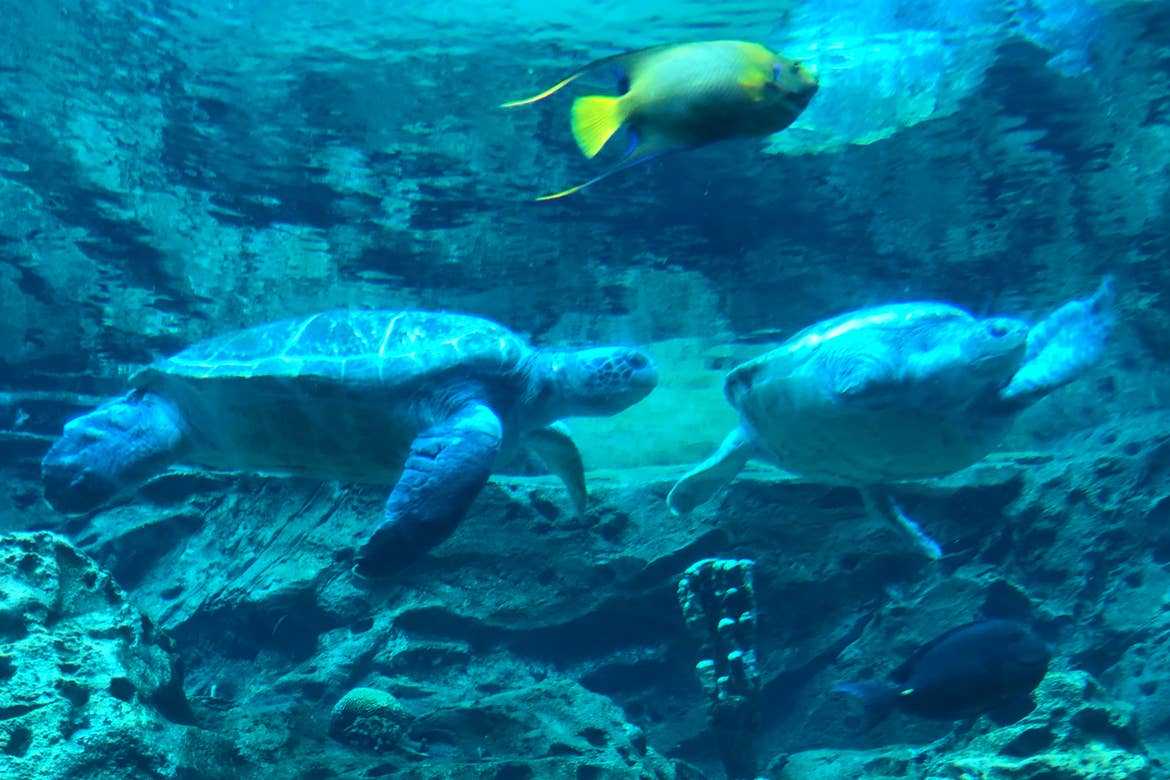 My only other observation was that right now, probably due to the lower crowds and safety measures, many of the dining options throughout SeaWorld Orlando were closed either all day or at least until mid-to-late afternoon, including the seasonal Craft Beer Festival stands.

We had a hard time finding any breakfast options beyond pastries, so definitely be sure to eat and grab coffee before you arrive!


What can guests expect from SeaWorld this fall and Halloween?

Jennifer says…
We saw plenty of signs during our visit about the return of SeaWorld's Spooktacular event this year. Its Halloween celebration is taking place on Saturdays and Sundays, now through November 1, with décor, a trick-or-treating candy trail, Sesame Street characters, and "spooky upgrades," including a Count von Count's Spooktacular Breakfast or a Sesame Street Cookie Decorating bookable activity.

All with the promise of including "all-new safety procedures."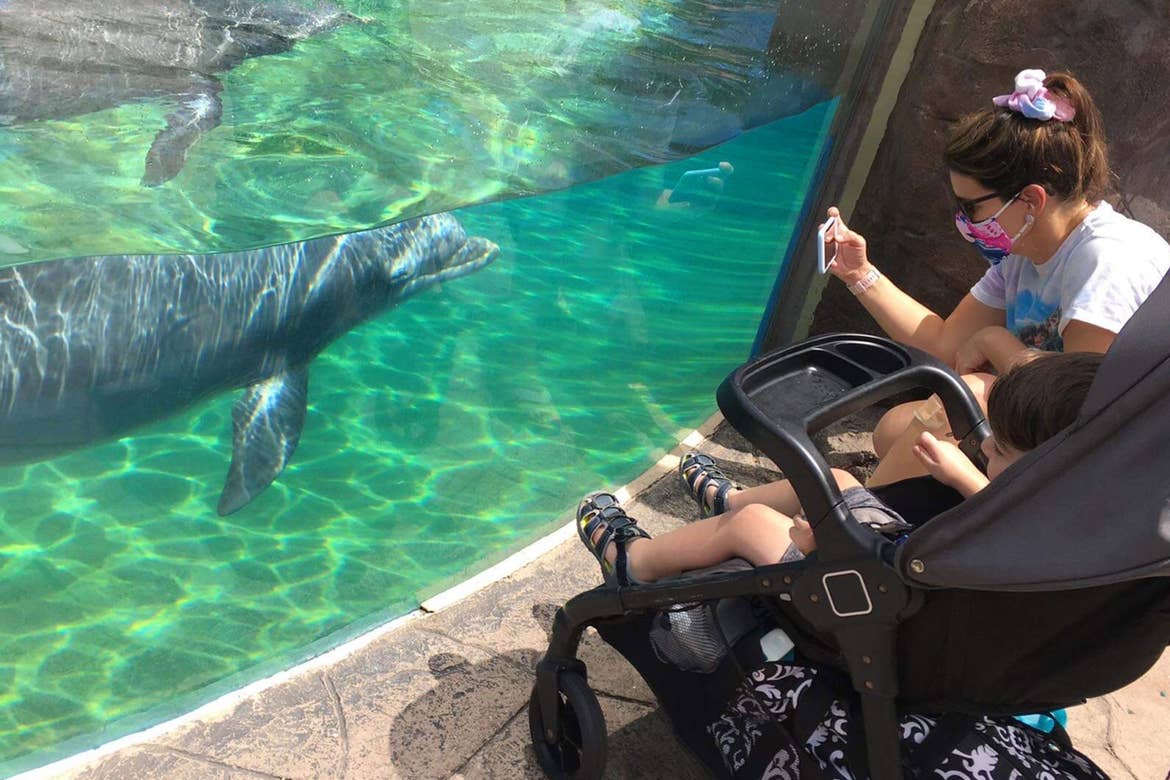 Would you recommend a trip to SeaWorld nowadays to your friends and family?

Theresa says…
Yes, I'd definitely recommend SeaWorld, even if you're "on the fence" about going "mid-pandemic." I felt safe and we actually really enjoyed how empty the park was and how it felt like we had it mostly to ourselves.

If you are worried, I'd definitely recommend going during a weekday versus going over the weekends. I think the fact that we went on a Friday really helped ease me back into the world of theme parks.



Jennifer says…
I've said it before, and I'll say it again: Figuring out when the time is right to return to theme parks following COVID-19 is a personal family decision only you can make.

Personally, I am an overly cautious person and can say that I felt very safe at both Disney World and SeaWorld Orlando, and I especially loved experiencing the parks with significantly fewer people and crowds around me.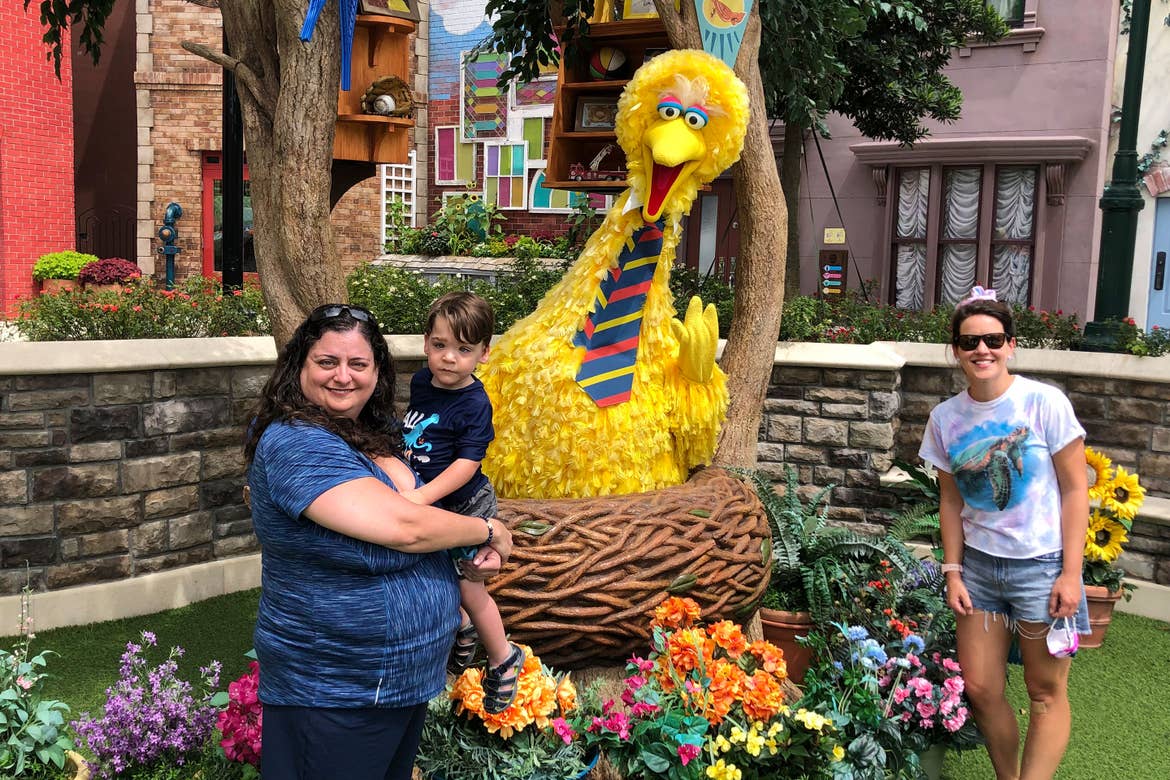 If you go, I think you'll have a really great time enjoying lower wait times, more space, and time to just stroll around and soak up the sights, sounds and details you might have missed previously when rushing from ride to ride.

Just wear your mask. Follow the rules. Sanitize and wash your hands often. Wear your sunscreen. Maintain your personal bubble of distance and space—even if, like me, that happens to be well beyond the standard 6 feet. Use common sense and otherwise, enjoy!

Oh! And if you're looking for a nearby place to stay, look no further than our Orange Lake and Orlando Breeze Resorts. They're both just about a 20-25 or so minute drive to SeaWorld Orlando and are perfect for drying off from that Soak Zone, cooling off with a dip in the pools or just relaxing and drifting off to sleep with that oh-so-nice air-conditioning of your villa.


All information is subject to change. This article is a curated guide and is neither sponsored nor considered an official endorsement. Please be sure to check information directly with any/all tours, guides or companies for the most up-to-date and direct details.