Ben Henderson and Kelly Nelson
Holiday Inn Club Vacations team members, Ben and Kelly, both love spending time in the great outdoors and at Walt Disney World. Ben is our director of brand design and in his downtime, you'll often find him with a sketchbook in hand and a guitar within reach. Whether hiking, biking or even kayaking, seeking new adventures is his "happy place." His favorite vacations are always the ones that are filled with the shared laughs of family and friends. Kelly, our social media and influencer relations manager, has a passion for travel and viral videos, which are two things that make her job so much fun! When she's not scouring the internet for the latest Instagram trends, you'll find her out for a run, headed to the beach, or visiting the best foodie and coffee spots in Orlando. Her #1 favorite vacation destination is Asheville, NC, where her fiancé recently proposed.
Curious about what Walt Disney World® Theme Parks are like these days with all the safety measures in place?

Four of our team members here at Holiday Inn Club Vacations® have actually ventured back to Disney World since it reopened, and they're giving you an inside look at what it's like at Disney World during COVID-19.

Jennifer and Jess already shared their first trips back to Disney's Magic Kingdom® and Epcot® Theme Parks.

And now, Ben's taking a walk on the wild side at Disney's Animal Kingdom®, and Kelly's becoming one with the Force over in Hollywood Studios®.

Plus, we're sprinkling in a little look at what Disney is doing at both parks this fall.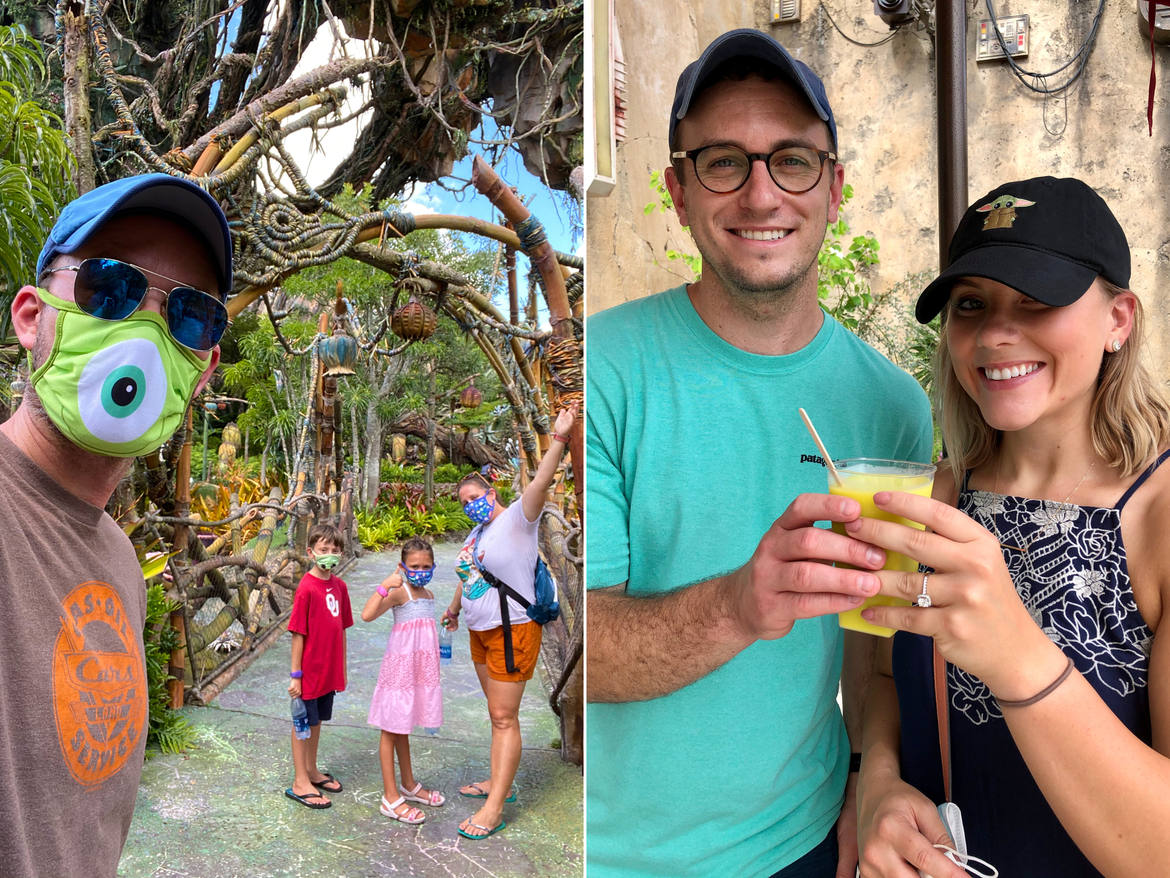 (Fun Fact: Did you know our very own Orange Lake Resort is so close that it's practically in the backyard of Animal Kingdom? It's true!

Take a look at our current Orange Lake offers to explore ways to save on your next Sunshine State getaway.)


A Family Trek into Disney's Animal Kingdom
"Adventure is out there!" I often say this to my kids when we spend a day at Animal Kingdom exploring the trails and checking up on our favorite animals (like the adorable prairie dogs!).

Hello! I'm Ben, director of brand design here at Holiday Inn Club Vacations, Disney World Annual Passholder and resident Pixar mega fan. While my family typically visits the Disney parks often as passholders, we've always had our own rhythm and pace for hitting the parks.

You can often find us popping into one of our favorite parks on a weeknight for dinner and just a ride or two when the weather is a bit cooler.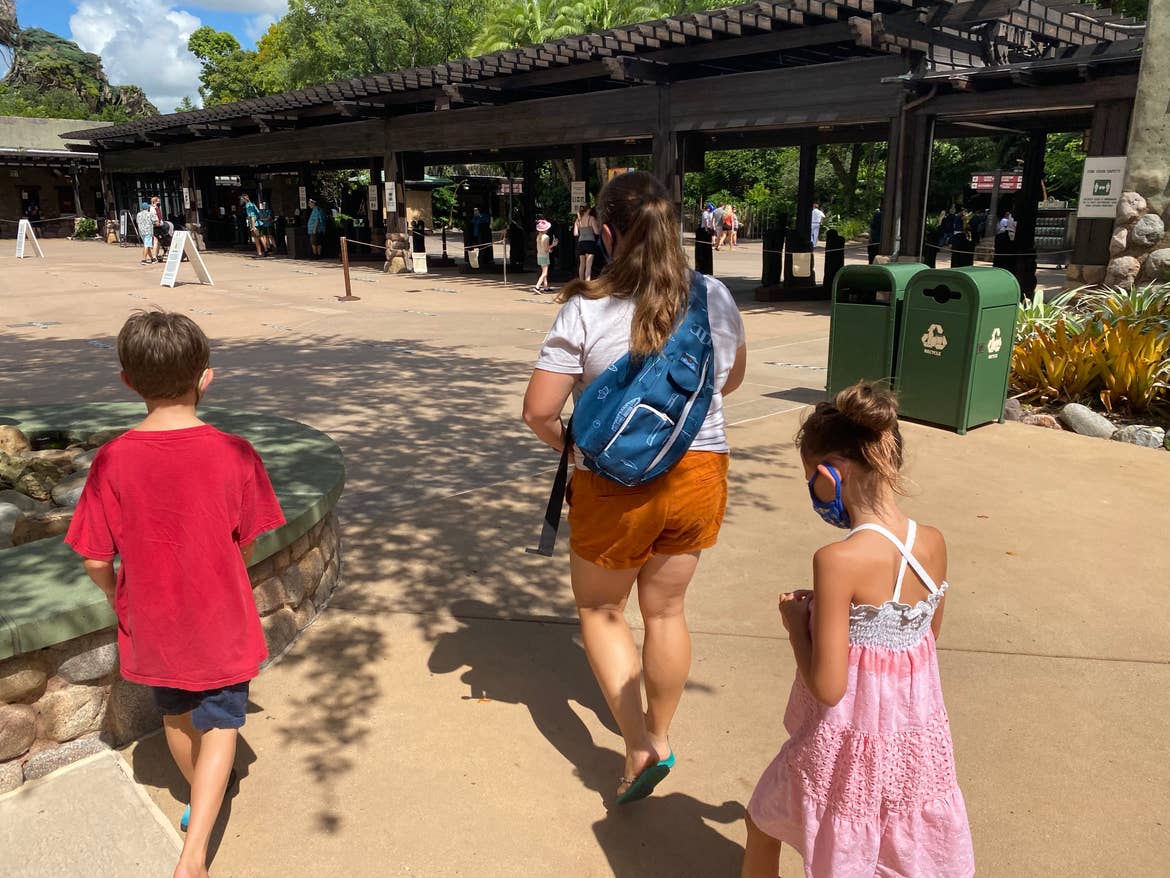 Although it had been a while since our last visit due to COVID-19 and Disney's unprecedented park closures, we recently decided that it was time to have a fun and safe family Disney trip, so we made our first park reservation at Animal Kingdom.


Arriving at the Picture-Perfect Park
The temperature screenings, mandatory face mask rules, ample hand sanitizer stations and touchless security and park entries are all in full effect at Animal Kingdom.

While we were really ready to use our Annual Passes again, I'd be lying if I said we weren't a little nervous about being out and about during a global pandemic.

But from the moment we arrived, our worries were eased by seeing how thorough and diligent Disney was being about safety. They didn't mess around!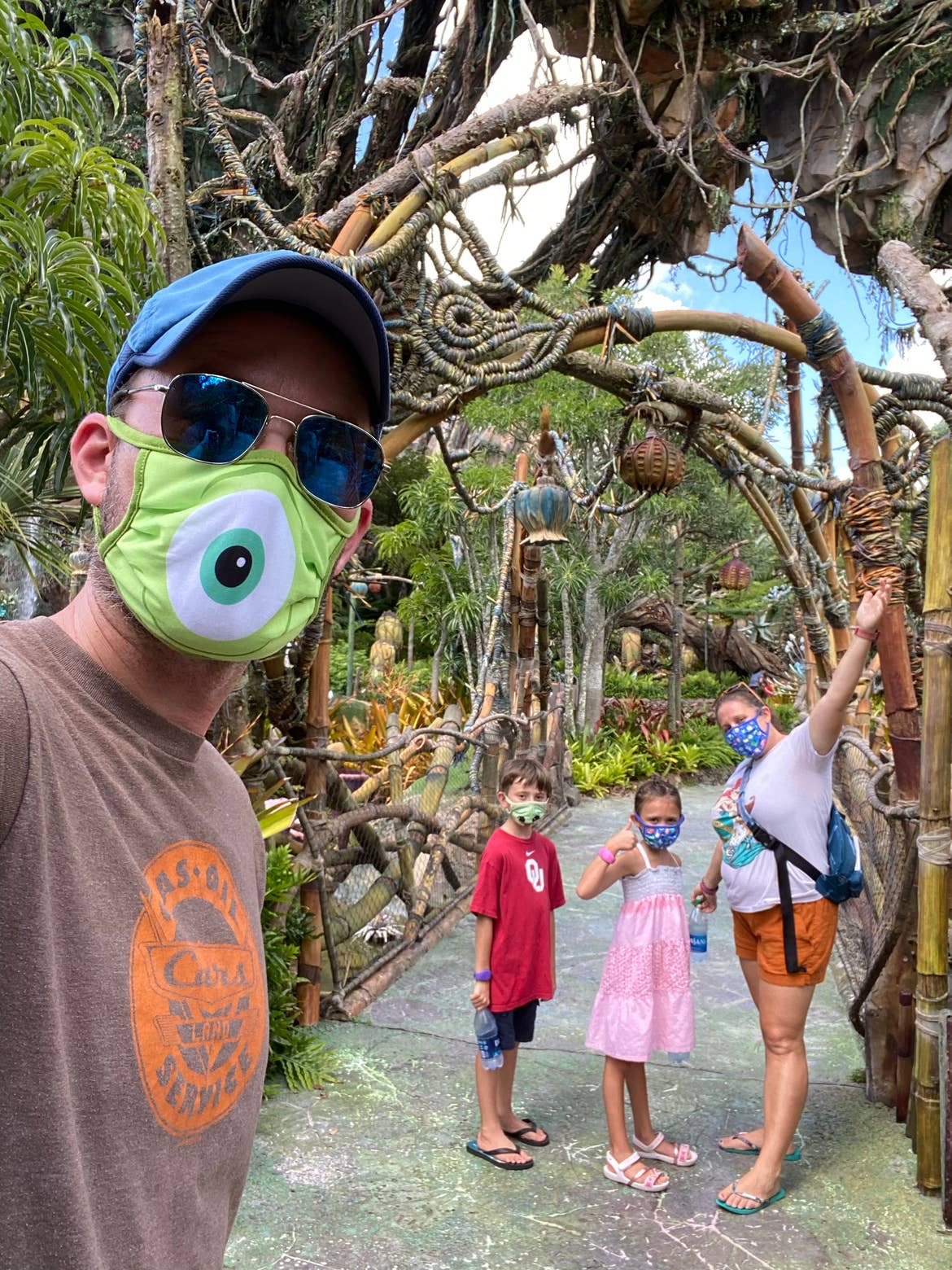 As a creative director and photographer, Animal Kingdom is one of my favorite photo-taking playgrounds with an endless number of colorful backdrops, detailed architecture and up-close animal encounters to capture throughout the day. And if you've always wanted an amazing shot in front of the iconic Tree of Life, on the streets of Nepal or in Pandora, now is the time.

Since Disney is limiting the number of guests allowed entry each day with their new park reservation system, we found little-to-no crowds while we were there.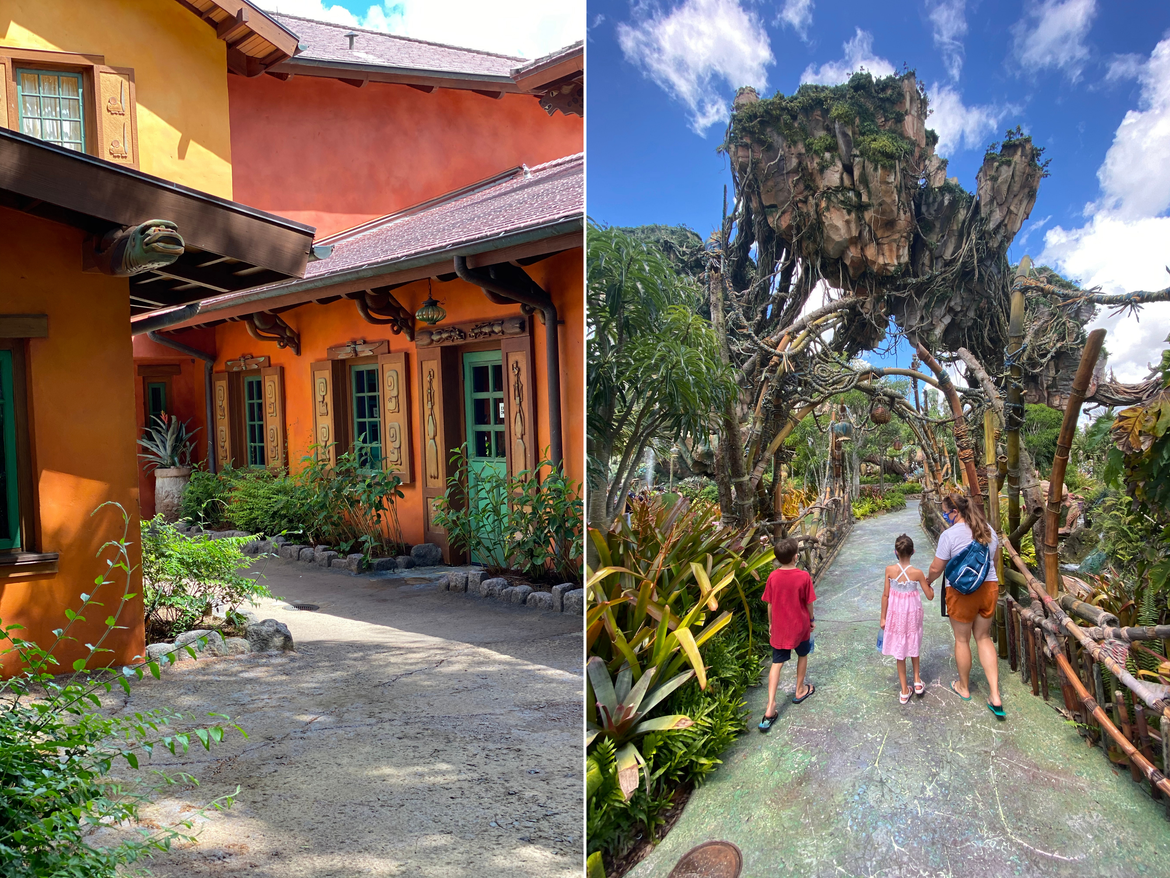 Less Crowds & Wait Times
After we entered the park, we journeyed off to Pandora where, for the first time, it actually felt like we had arrived on a distant world. Usually Pandora – The World of Avatar, the newest "land" at Animal Kingdom, is extremely crowded, especially in the morning hours as guests rush to ride Flight of Passage with hopes of avoiding a multi-hour wait.

This time? The paths around the land were quiet and inviting, allowing us plenty of room to distance ourselves from other guests. With less crowds, we could really immerse ourselves in the land's native sights and sounds that are so often overlooked. We paused to take some photos that would have been difficult to capture on busier days.

Now is really the perfect opportunity to take your time in the parks. Instead of rushing to attractions, pause to appreciate and capture these special moments.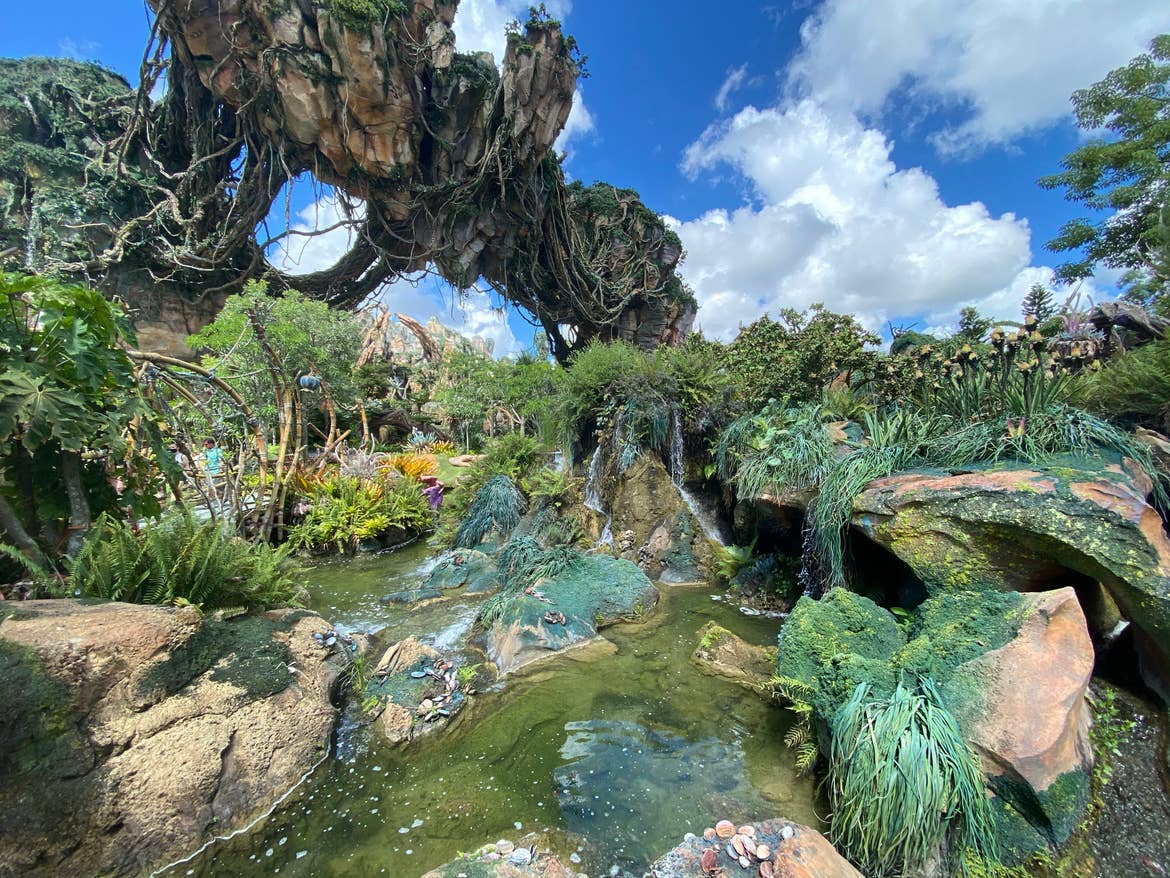 Without a Fast Pass, Flight of Passage can easily average a wait time of over 1-2 hours. On our first trip back after COVID-19, we only waited 25 minutes.

We were happy to see that guests in the line queue were safely spaced out with floor markers and plexiglass dividers throughout the wait. Even once we hopped on our Banshee, the Disney Cast Members did a great job keeping our family of four together and spaced apart from other guests.


Mobile Ordering Munchies
After Pandora, we moved toward DinoLand USA. With stomachs starting to growl, we were ready to grab some lunch at one of our favorite spots, Restaurantosaurus.

What we didn't know was that quick-service restaurants are only allowing mobile ordering, and many have limited menus right now as part of Disney's safety measures during COVID-19.

Upon arriving at the restaurant, we placed our mobile order, found a shady bench nearby and waited about 15 minutes before we were pinged through the My Disney Experience app that our food was ready for pick-up. After receiving the alert, we simply showed the confirmation to a Cast Member posted outside of the restaurant and they directed us inside.

Overall, the process went pretty smoothly. Now that we know, I'll offer up a pro tip: Place your order before you arrive at the restaurant, so you don't have to wait outside as long.

(Or, if you're staying at our nearby Orange Lake Resort, you could always head "home" and grab a bite for lunch, cool off at the pool, and go back for more Animal Kingdom fun in the afternoon.)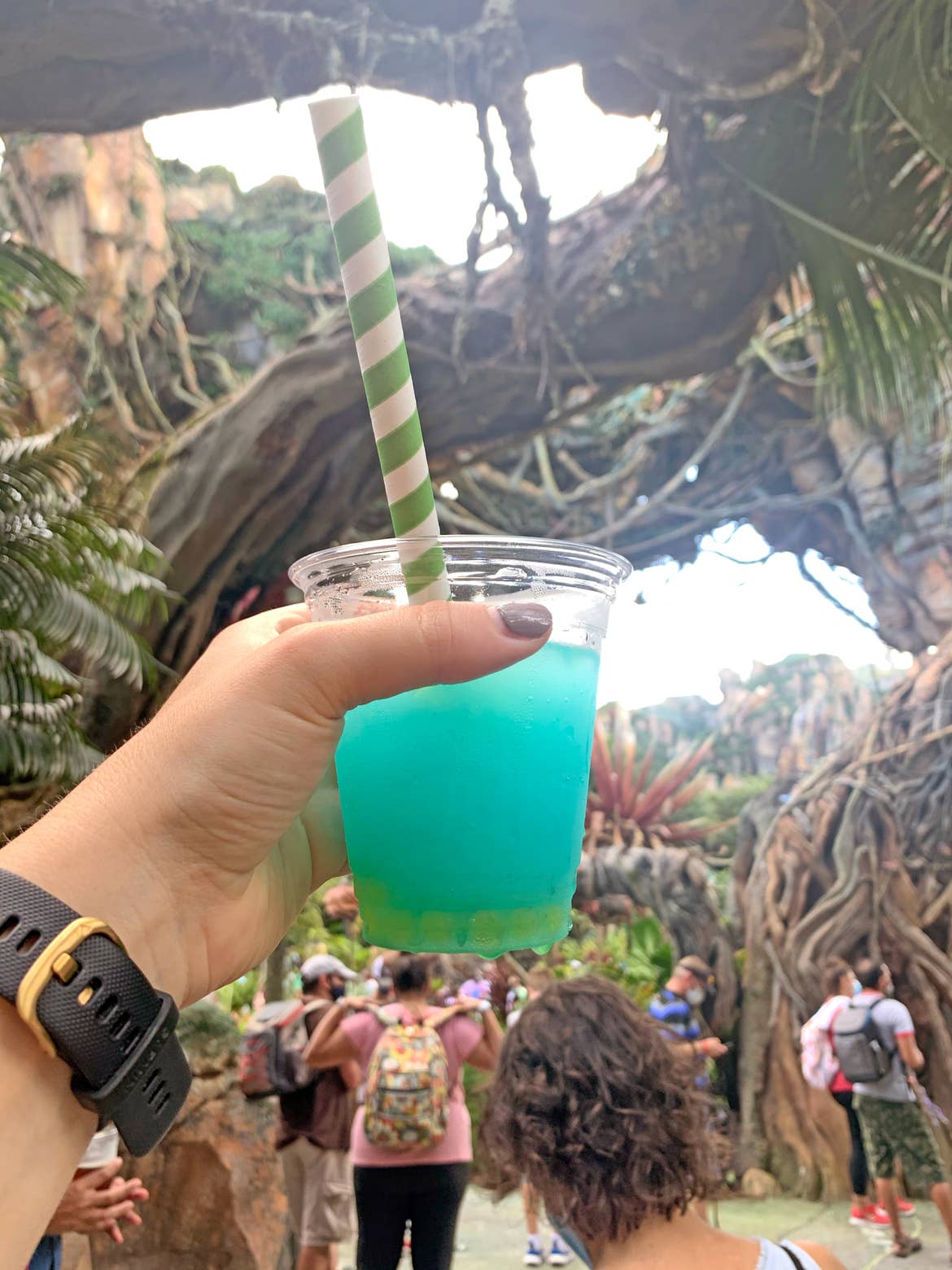 Calling All Fall Foodies
To get your fix of fall foods, Animal Kingdom is also offering up some spooky desserts and drinks (some for kids and some for adults) to help get you into the Halloween spirit!

Some staples that caught my eye included the Scar Cupcake (available at Creature Comforts, Flame Tree Barbecue and Restaurantosaurus), the kid-friendly, non-alcoholic Spooky Apple Punch (available at Flame Tree Barbecue and Isle of Java), and the Rotten Apple Punch (this one does include some "spirits" and is available at Flame Tree Barbecue).

And if your family is big on collecting the special, seasonal "novelty" Disney World popcorn buckets, head over to Trek Snacks to snag a Purple Cauldron Premium Popcorn Bucket or Halloween Base Popcorn Bucket.


Maximizing Rides & Skipping Pre-Shows
After lunch, we took advantage of the low wait times and quickly hit some of our other favorite rides, including Dinosaur Countdown to Extinction, Expedition Everest and Kali River Rapids.

With social spacing in each attraction queue, the lines may appear to be longer than they actually are. Don't let this discourage you from riding, as they move pretty quickly. We were able to walk right onto Dinosaur without a wait.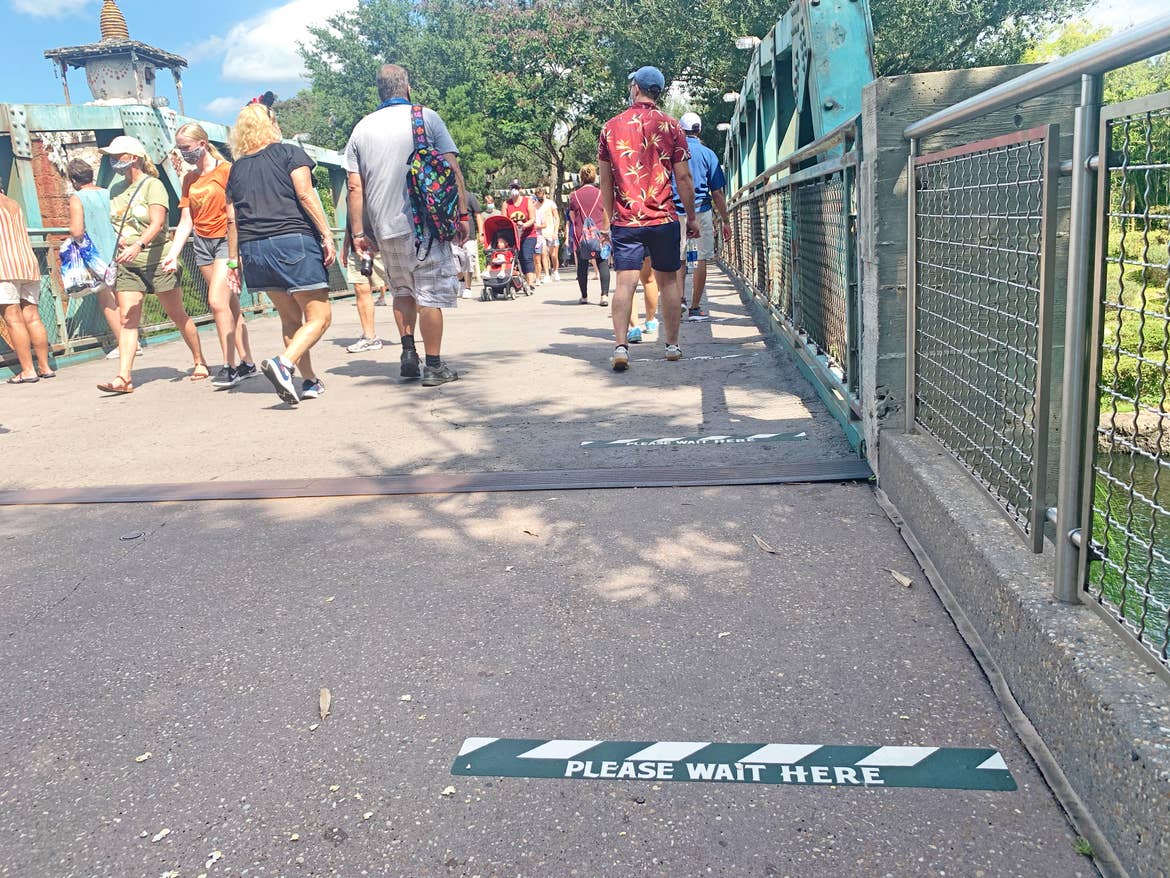 It's worth noting that attractions that have pre-shows where guests would gather in a room to watch a presentation have changed. Queue lines now pass straight through pre-shows which also lessens the wait times.

If you've never experienced some of these, I can see how this would be disappointing since you don't get the full attraction experience. However, as Annual Passholders, it was nice to move through it.


Surprise Magic on the Move
On our way out, it's our tradition to stop for ice cream to wind down for the day. While waiting in line, a boat featuring Rafiki and Timon, complete with jungle beats, glided past us along the river that weaves throughout the park and around the Tree of Life.

Earlier in the day, we even spotted John Smith and Pocahontas just around the river bend.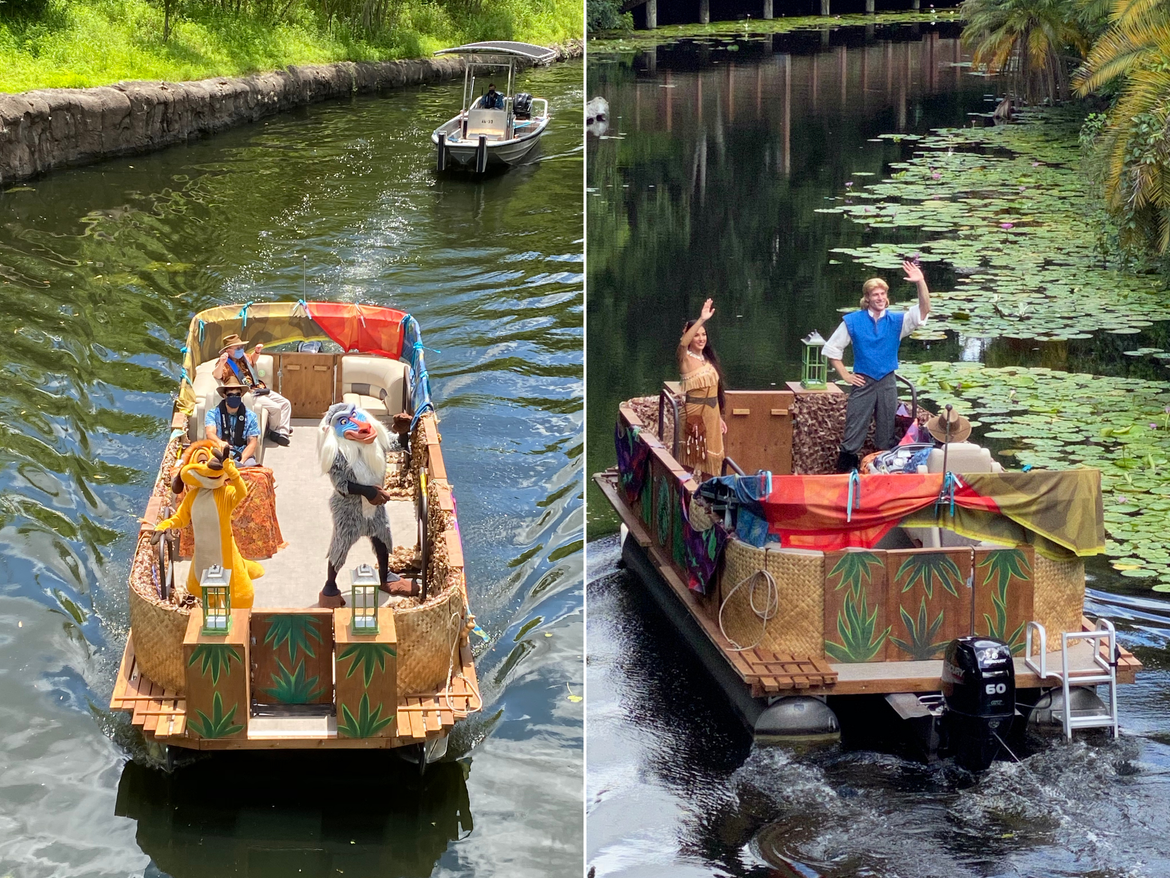 These new, surprise character moments really gave the day an extra sprinkle of Disney magic. Because Character Meet and Greets are on hold right now due to COVID-19, each Disney World theme park has its own new and unique way of bringing the characters to guests … so be on the lookout for boats, motorcades and parade floats!

You never know when and where you'll spot a favorite friend these days.

But back to that ice cream! When you eat or drink in the parks, you're permitted to remove your masks (as long as you stay stationary versus walking around with your treats with your masks off). We were a little hesitant at first as we wanted to ensure we were very much separated from everyone else when we ate.

We walked a little ways away from the ice cream stand and sat down on the ground in a little nook. This helped put us at ease and we noticed many other families doing the same.


Wild About Safety
On our way out of the park, we started to evaluate and chat about how safe we felt throughout the day. Disney did a great job of ensuring that all guests were wearing masks and staying socially distanced.

Most impressively, they truly do have hand sanitizer stations everywhere and we made good use of them. Entering and leaving each attraction, we were sure to clean our hands and never came across one that was empty.

Since this first visit back, we've now gone to all four Disney parks and continue to feel safe during all of our visits. As a Disney family, we're happy to be back in the parks enjoying time together in one our favorite places.

So, if you're feeling up for outdoor exploration and fun, it really is a great time to visit Animal Kingdom right now. After all, adventure is out there!


What It's Like at Hollywood Studios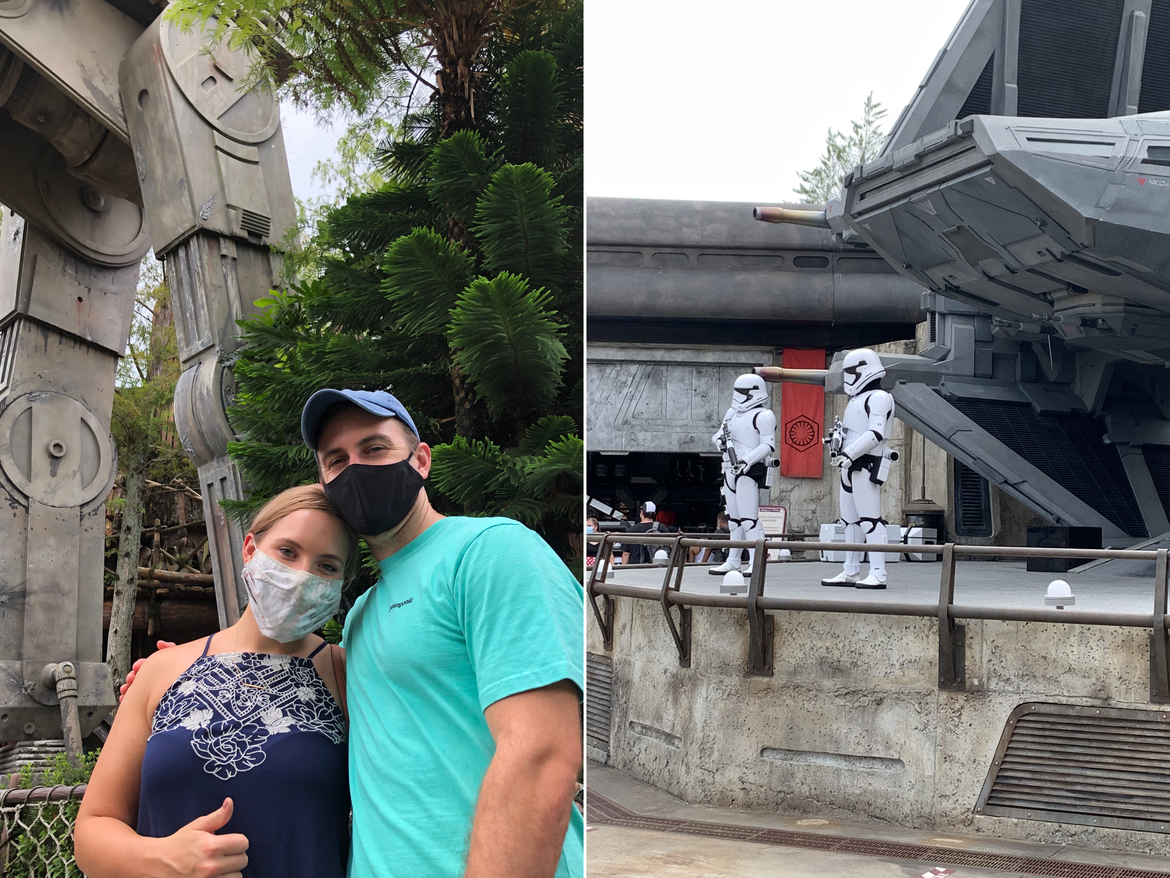 Hi, I'm Kelly, social media manager here at Holiday Inn Club Vacations and big Star Wars (and Baby Yoda) fan in particular.

Every year, my fiancé James and I take advantage of Disney's special Florida Resident offer. (Sometimes it feels like we're the only people living in Orlando without annual passes!)

This has become something of an annual tradition for us because we get a great deal for a four-day park pass that's usually valid for a few months. We usually have plenty of time to use all four days, but obviously, this year has looked a little different with COVID-19.

After our first visit in February, COVID-19 hit, the parks closed, and we weren't sure when we'd be able to go back before they expired at the end of September.

So you can imagine how excited we were when Disney finally announced they were re-opening the parks! We were torn though.

We definitely wanted to go and use the remainder of our passes as soon as possible, but we also wanted to wait a little bit so we could hear what other people had to say about the new safety measures…


Deciding We Were Ready to Go Back to Disney
Once the parks reopened, we were constantly researching and scouring the internet to hear what people were saying about what it was like to visit the parks during the pandemic.

Between the depths of Instagram and YouTube vlogs, the online response was really positive, and a lot of people were raving about what an amazing job Disney was doing to make them feel safe.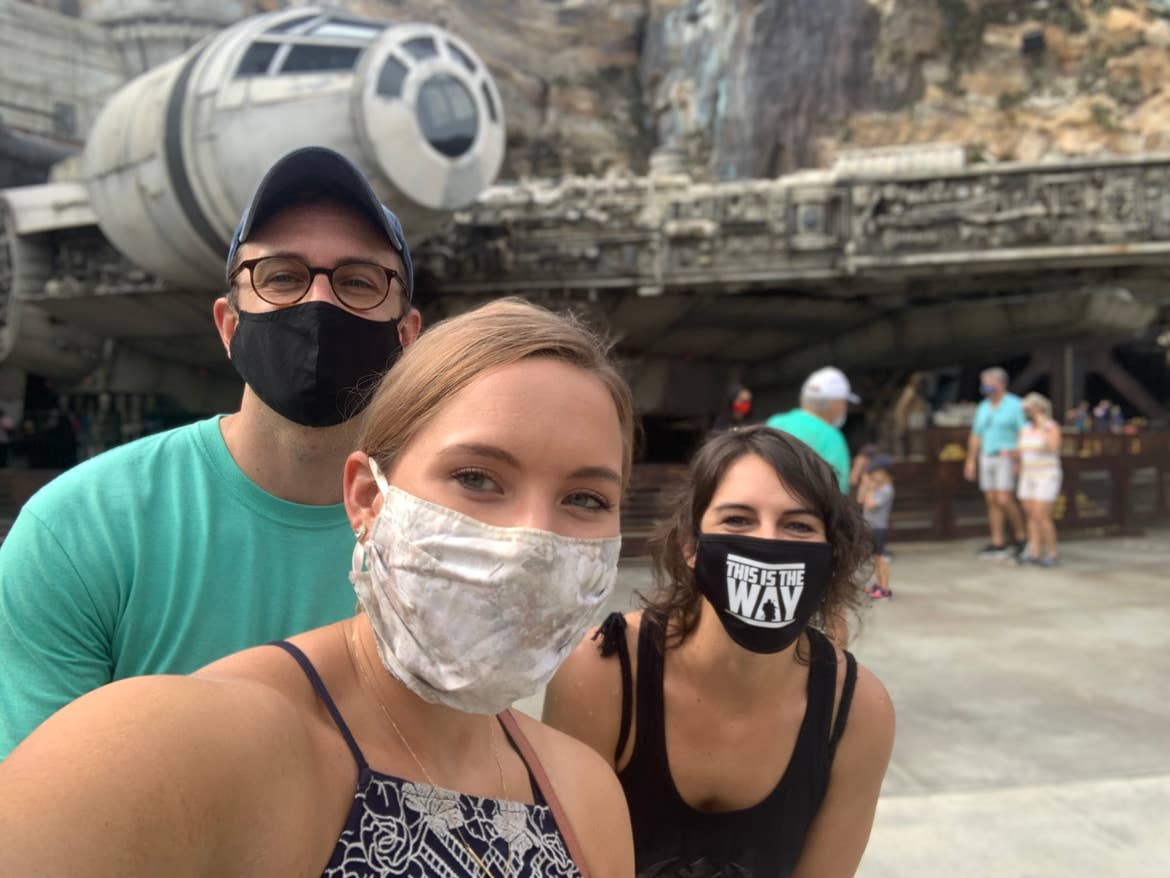 This was enough for us to start planning our next visit to Hollywood Studios because we LOVE Star Wars and were so excited to go back to Galaxy's Edge.

We invited James' sister to come with us, too. She hadn't been to the planet of Batuu (aka Star Wars Land) yet, so we were really excited to reunite (with masks!) to experience it with her.


Planning Our Trip
We decided it would be nice to make a weekend-long 'Disney Staycation' out of it. We planned on doing Hollywood Studios on Saturday, staying in a hotel Saturday night, and then doing Epcot with our friends for the International Food & Wine Festival.

While we live pretty close to the parks in Downtown Orlando, it was really nice being at a hotel that was less than 10 minutes away. We stayed at the Holiday Inn Orlando-Disney Springs Area, which is within walking distance to Disney Springs.

Staying there let us feel like we were finally getting a little vacation time out of 2020 (and we got to sleep in just a little longer for our second park day, which I'll never complain about!).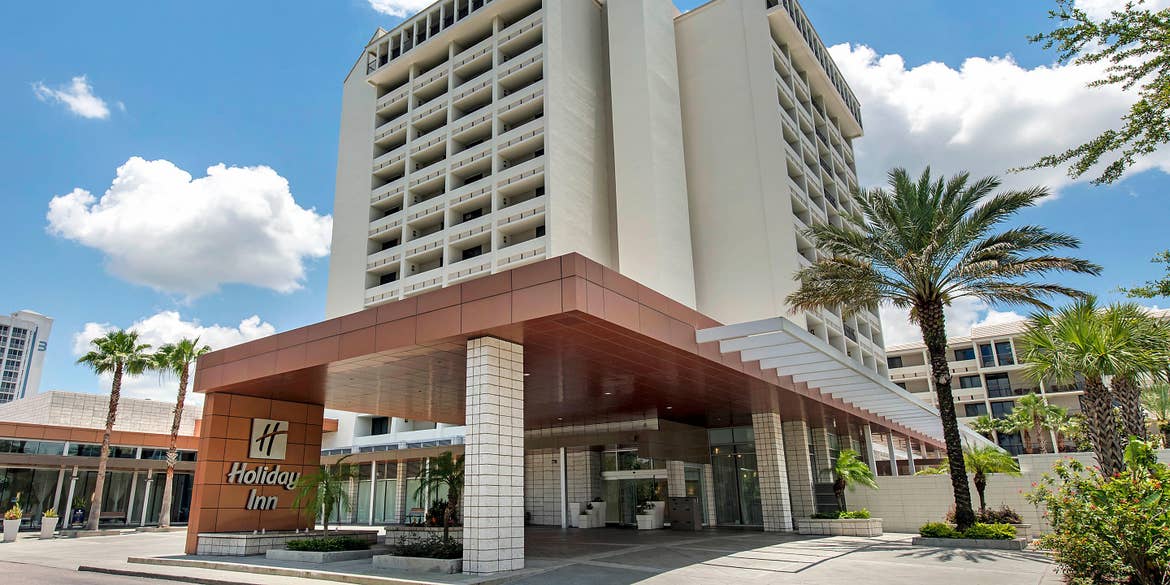 Photo courtesy of IHG


Making Our Online Park Reservations
Right now, in addition to having a valid park ticket, you also have to make a park reservation for the day. (This is Disney's new measure to make sure there are not too many people at the park at once, safety and social distancing-wise.)

We made our reservations about a month prior to visiting the parks and I was surprised at how easy the process was!

Once we knew the dates we wanted to go, we visited Disney's online reservation portal to check the availability and made our reservations for both parks in less than 15 minutes.

Disney also compiled all their new safety regulations and standards on this page, so we had everything we needed to know all in one easy-to-find spot.


Our First Impression When We Arrived
When we first got to Hollywood Studios on Saturday, I'll admit: It felt a little more crowded than I expected given the reservations and new safety protocols. We were shocked that it took us about 30 minutes to get through just the parking toll booth.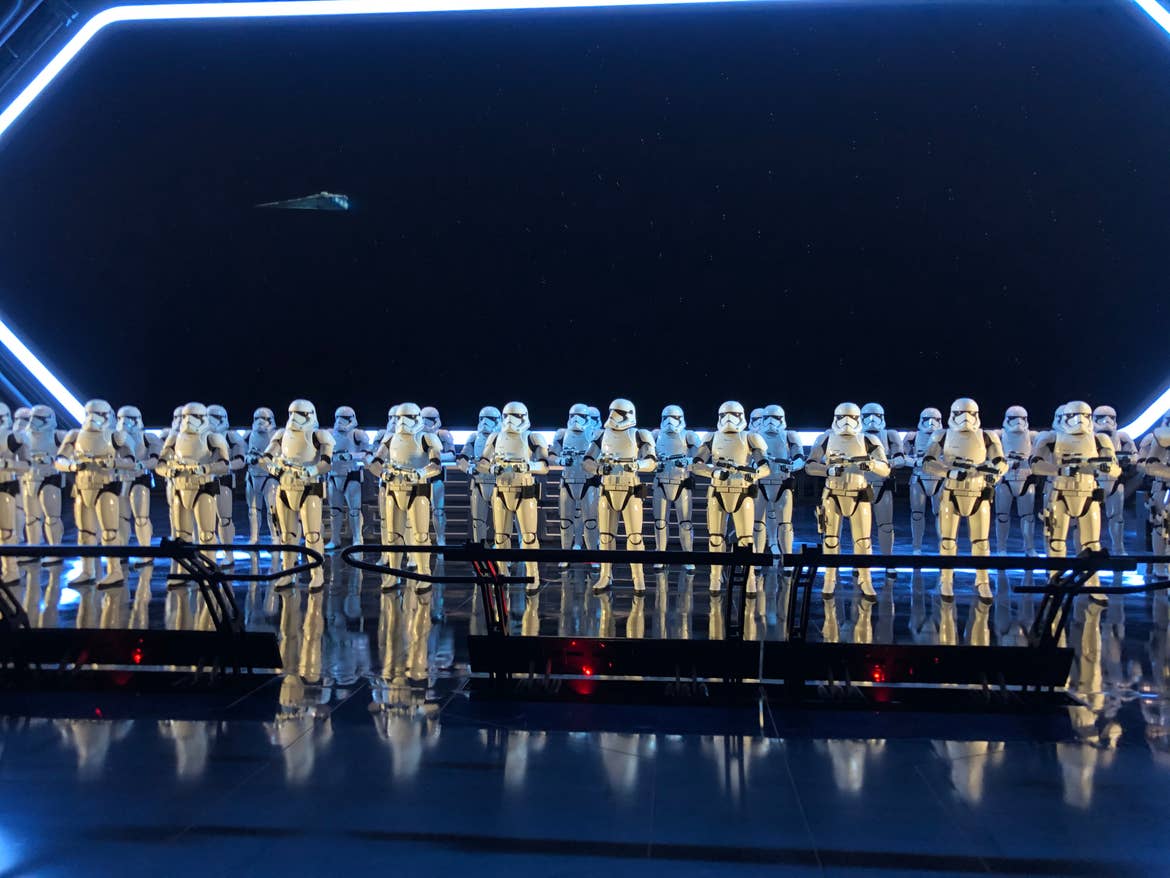 After getting through security and into the park pretty quickly, I realized the early crowds were due to so many people arriving early and waiting to enter the virtual queue for Rise of the Resistance.

(This new—and amazing—Star Wars ride is so popular, you can't wait in a standby line for it. You've got to enter a virtual queue at either 10 a.m. or 2 p.m. for a chance to get a boarding pass. It's kind of like a ride lottery.)
My suggestions:
If you're a bit nervous and don't want to be near a lot of people congregated in one spot right now, I would not suggest getting to Hollywood Studios right when the park opens in particular.
If you REALLY want to get on Rise of the Resistance, I'd recommend getting there at least 15-30 minutes before the park opens. You can still keep a safe distance from others while you wait, especially if you stake out your spot early. Since we didn't expect such a long line for parking, a huge bummer from our trip was that we missed the 10 a.m. virtual queue despite being in the park right as it opened. (And the ride was down for part of the day, so we didn't get into the 2 p.m. queue either.)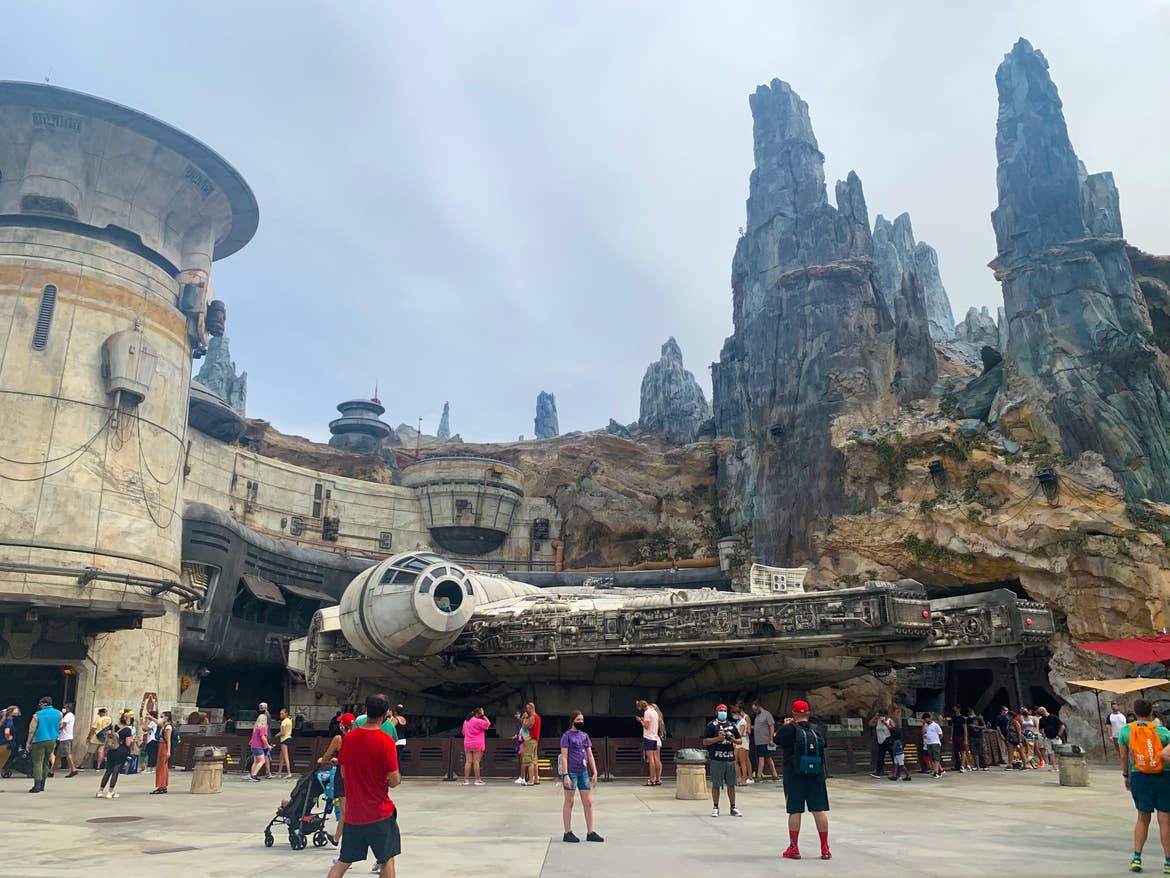 Short Wait Times for Rides
Even though we didn't get to ride Rise of the Resistance, we actually got to ride everything else in the park because the lines were so much shorter than normal with the park's reduced capacity.

The brand new Mickey & Minnie's Runaway Railway is so cute, and we got to ride my favorite, Millennium Falcon: Smugglers Run, twice. Score!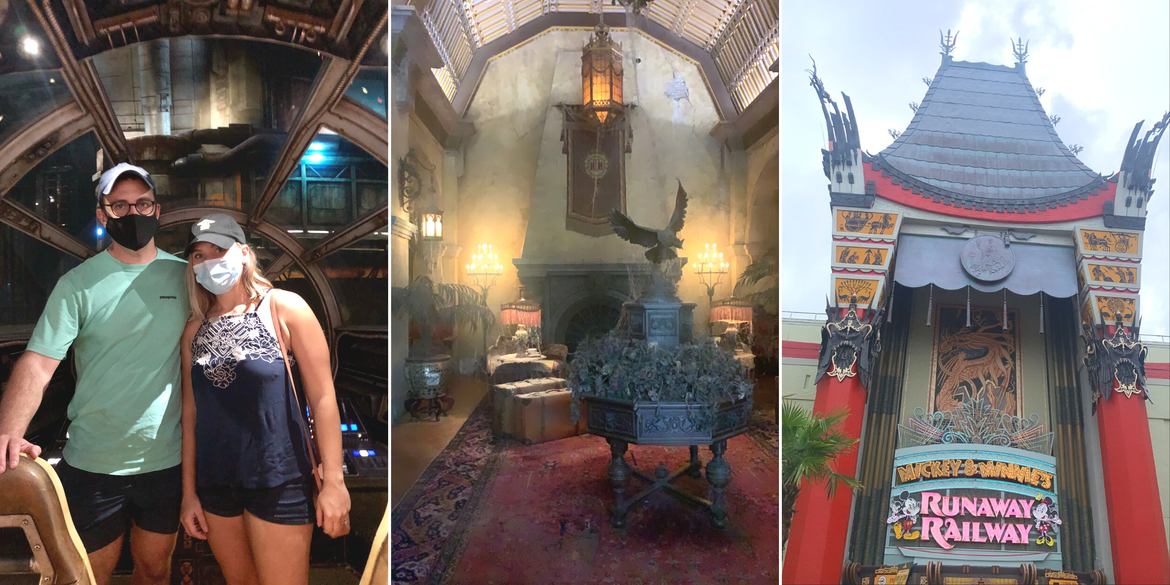 A Pumpkin Lover's Paradise
I'm not gonna lie: I lean pretty heavily into #PSL season and all things fall. And right now, Hollywood Studios is leaning into the fall season, too, with tons of pumpkin-flavored foods and seasonal beverages.

Some of the most fun fall offerings I noticed at the park were the Pumpkin Cheesecake Cannoli (available at PizzeRizzo) and the Pumpkin Tiramisu (available at Rosie's), both of which I think would probably pair pretty perfectly with some Frozen Apple Cider available at Rosie's All-American Café, Backlot Express and PizzeRizzo. (Adding some Crown Royal Regal Apple is an adult-friendly option for this one, too!)


Our Overall Impression on Safety
Disney really did a great job at making us feel safe while we were there, and I would 100% go back while their new safety measures are in place.

Everyone was in masks, and Cast Members were really enforcing guests wearing their masks the entire time (except while eating or drinking in place).

We also felt like other guests were respectful of our space, and we tried to be very respectful of theirs, too. The ride lines were all socially distanced using markers on the ground.

And when we wanted to eat, all the restaurants were using mobile ordering, so you weren't standing in line waiting for food. That made it easy for us to quickly and safely grab snacks on the go.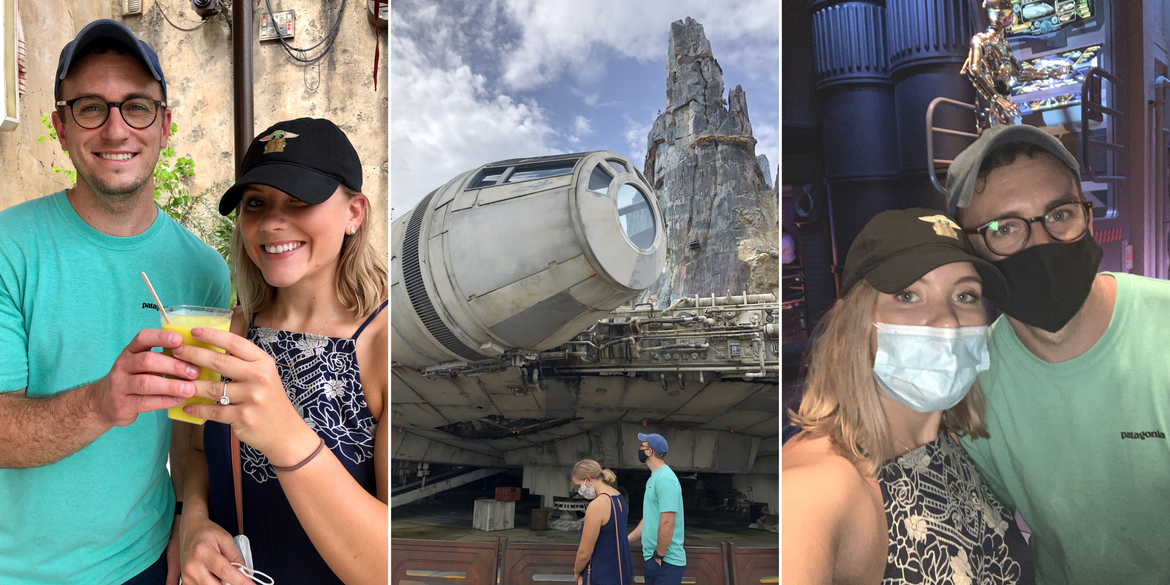 The Verdict
I recommend anyone who's missing the Disney magic right now to read about all the new safety standards and regulations, research what other people are saying, and decide if you're ready to go back like we were.

Personally, we felt really safe, loved getting out of the house and enjoyed how relatively empty the parks were in comparison to the regular summertime crowds and lines. I do think it's worth it to make a reservation and go before the year is over.

There's still a little magic left in 2020, I promise!


All information is subject to change. This article is a curated guide and is neither sponsored nor considered an official endorsement. Please be sure to check information directly with any/all tours, guides or companies for the most up-to-date and direct details.