Fitness Break
We hate to interrupt the full-on relaxation mode you're enjoying, but you've still got to stay fit, even on vacation. Good thing for you we've made it super easy. Our bright and spacious fitness center is filled with lots of exercise equipment for you to get that heart rate going. Or, if you'd rather keep that beachy vibe going, head over to our sand volleyball court or outdoor basketball court for some cardio out in the sea air.
Fitness Center
You must be tired of all of that lounging and relaxing with the warm sun and soft sea breeze on your face, right? Not! But here's the thing... you've still got to stay healthy, and we couldn't have made it any more convenient. All you have to do is head over to our light, bright and super roomy fitness center where you can walk, jog, pedal, stretch or lift your way to a sweat. Trust us. You're gonna feel even better when your workout is done!


Hours: 5 a.m. to 11 p.m.

Location: Next to the Front Desk

Equipment available includes:
Treadmill
Stationary bike
Universal machine
Free weights
Yoga mat


*Children under 16 must be accompanied by an adult.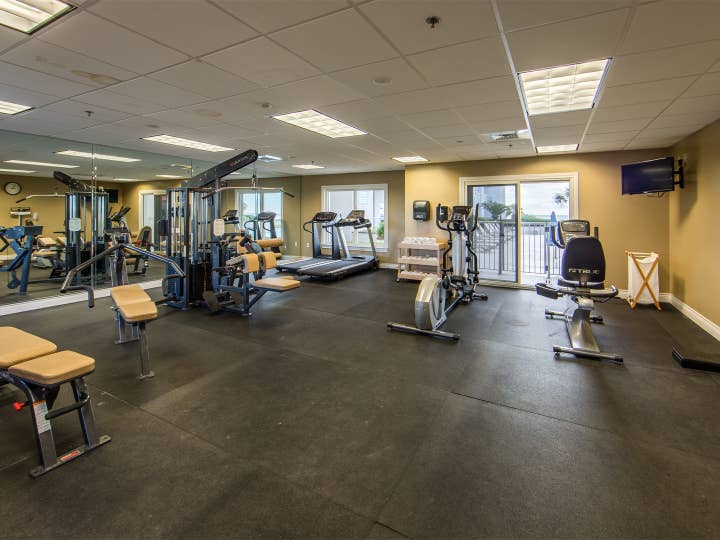 Sports Courts
So you refuse to be pulled away from those gorgeous ocean views and calming salt-misted air? No problem! You can still get in a great workout outside! Just head over to our fun outdoor sports courts. Bring your best shot to our basketball court and play a little one-on-one with the kids or have a family volleyball match out on the sand. Didn't bring a basketball or volleyball, you say? Not to worry. We've got those waiting for you at the Front Desk. Did you really think we wouldn't have thought of that, too? So come on, now. Get on out there and get your game on!


Hours: 8 a.m. to 10 p.m.

Location: East and west side of the pool

Sports include: