Have you ever thought about how much your life would change if you went from zero to three kids in less than a year? Well, that happened to us!

Hi, I'm Raffinee and my wife Micaela and I had three children within 7.5 months. We're from the Bay Area, have three three-year-olds and love to travel. So if you're wondering how to potty train while traveling, we've definitely got you covered on that topic.

(Editor's note: This trip took place prior to COVID-19.)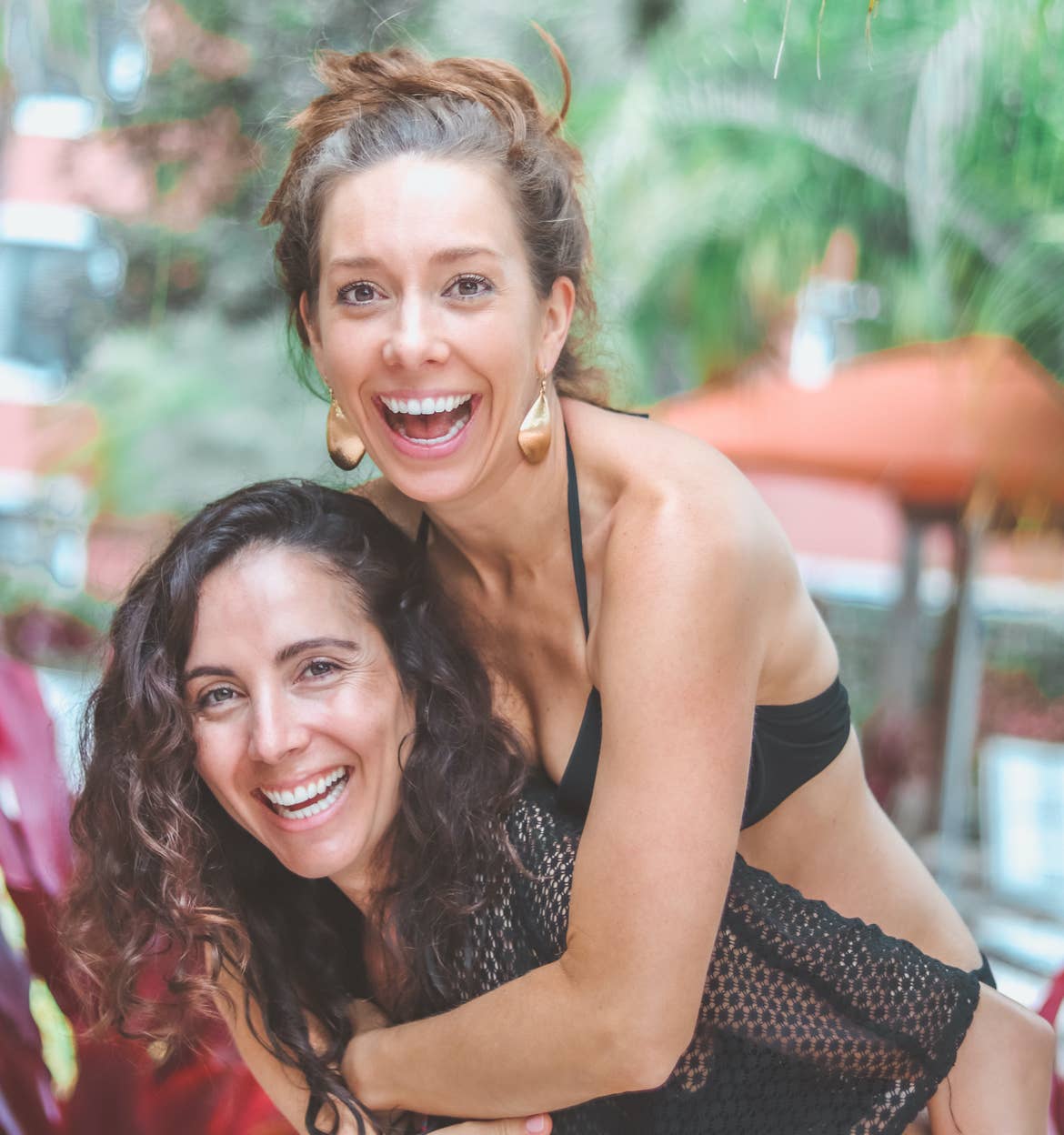 Raff and her wife, Micaela, enjoying their Orange Lake Resort family vacation


Thoughts on Potty Training (With Three Three-Year-Olds!)
Having three children this close in age has come with an abundance of magical moments—but also, for obvious reasons, it comes with its challenges. Potty training is definitely one of those challenges!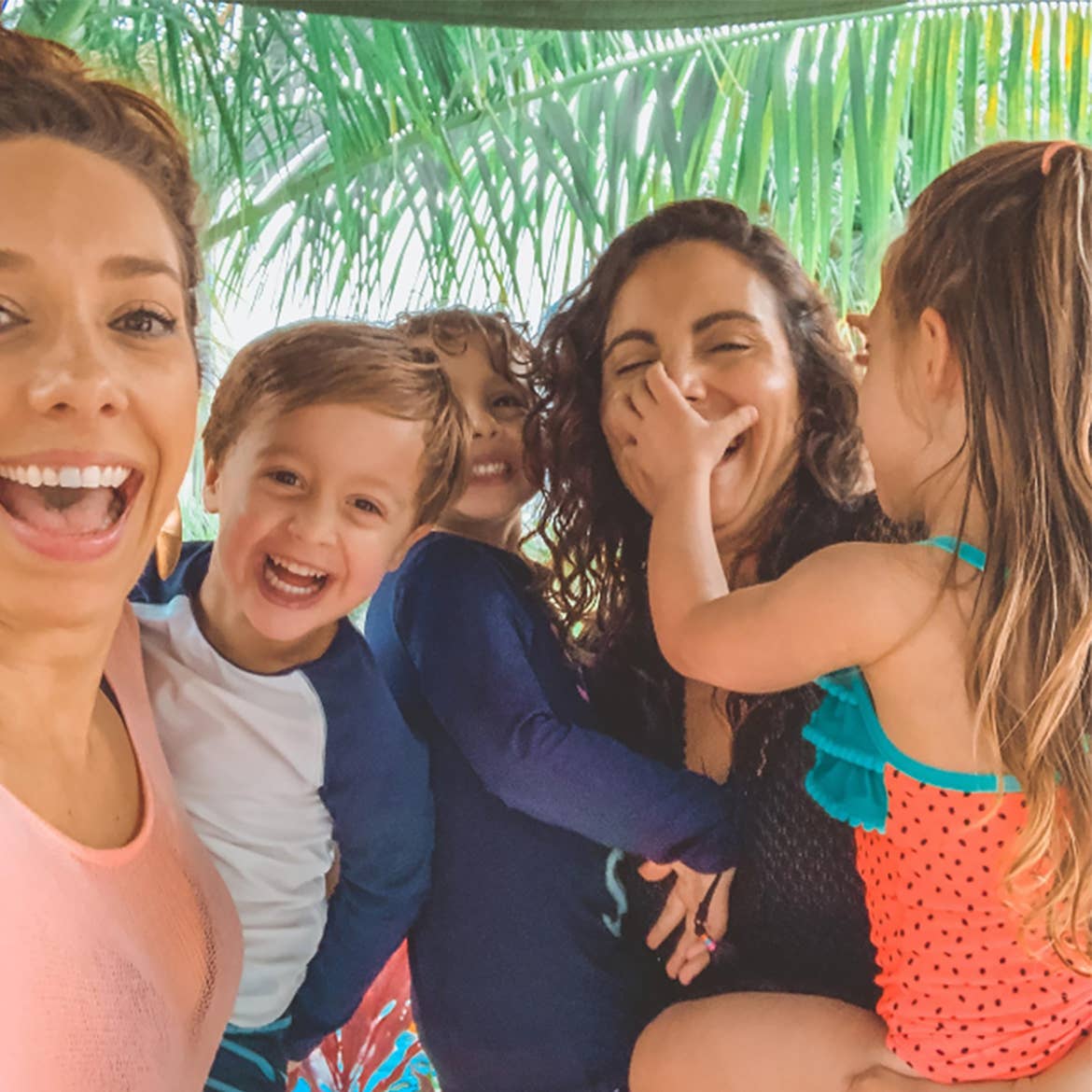 We thought that they would be potty trained all at once, that they would watch each other, and all want to get on board. However, just like their different personalities, they each had different timelines for when they were ready.


Potty Training on a Cross-Country Flight
On our recent vacation to Orlando, the first challenge to tackle when traveling with potty-training kiddos was the process of getting there: We flew from the Bay Area and had two flights to endure. Before we left for our cross-country trip, we had been working on potty training for several weeks by encouraging our trio to visit the potty every couple of hours.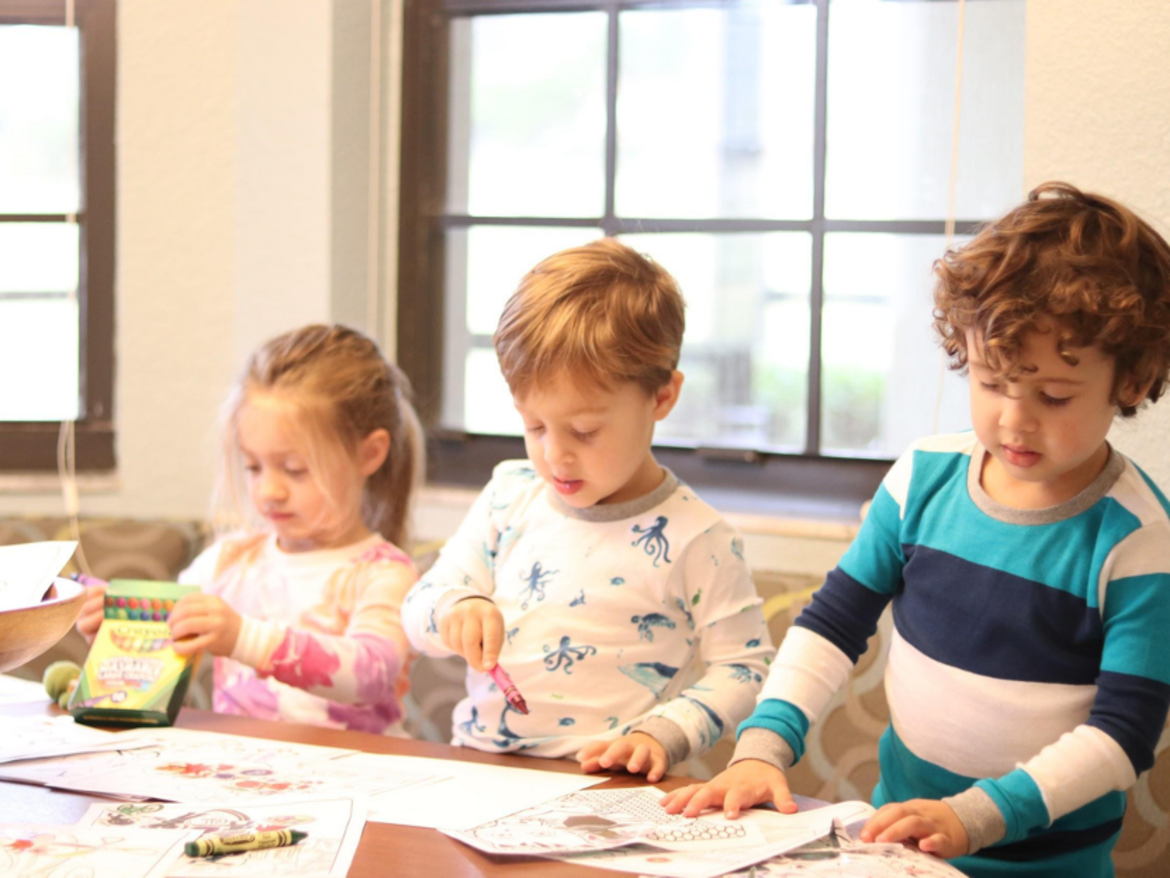 From left to right: Lola, Luca and Mateo

Two of our three found their groove and were basically potty trained before we left. About two weeks prior, we made the big transition from Pull-Ups to underwear and it felt like a HUGE milestone. (You do not want to know how many diapers I've changed in the last three years between the three of them.)

We were excited about their development, but unsure how they would do on the flight, so we decided to put them in Pull-Ups on our way to Orlando as a safeguard. We continued to suggest the bathroom, like we did at home, but figured the Pull-Ups would be good just in case we got caught in a long security line, had a tight connection, or if we had a bumpy flight and couldn't get access to the facilities.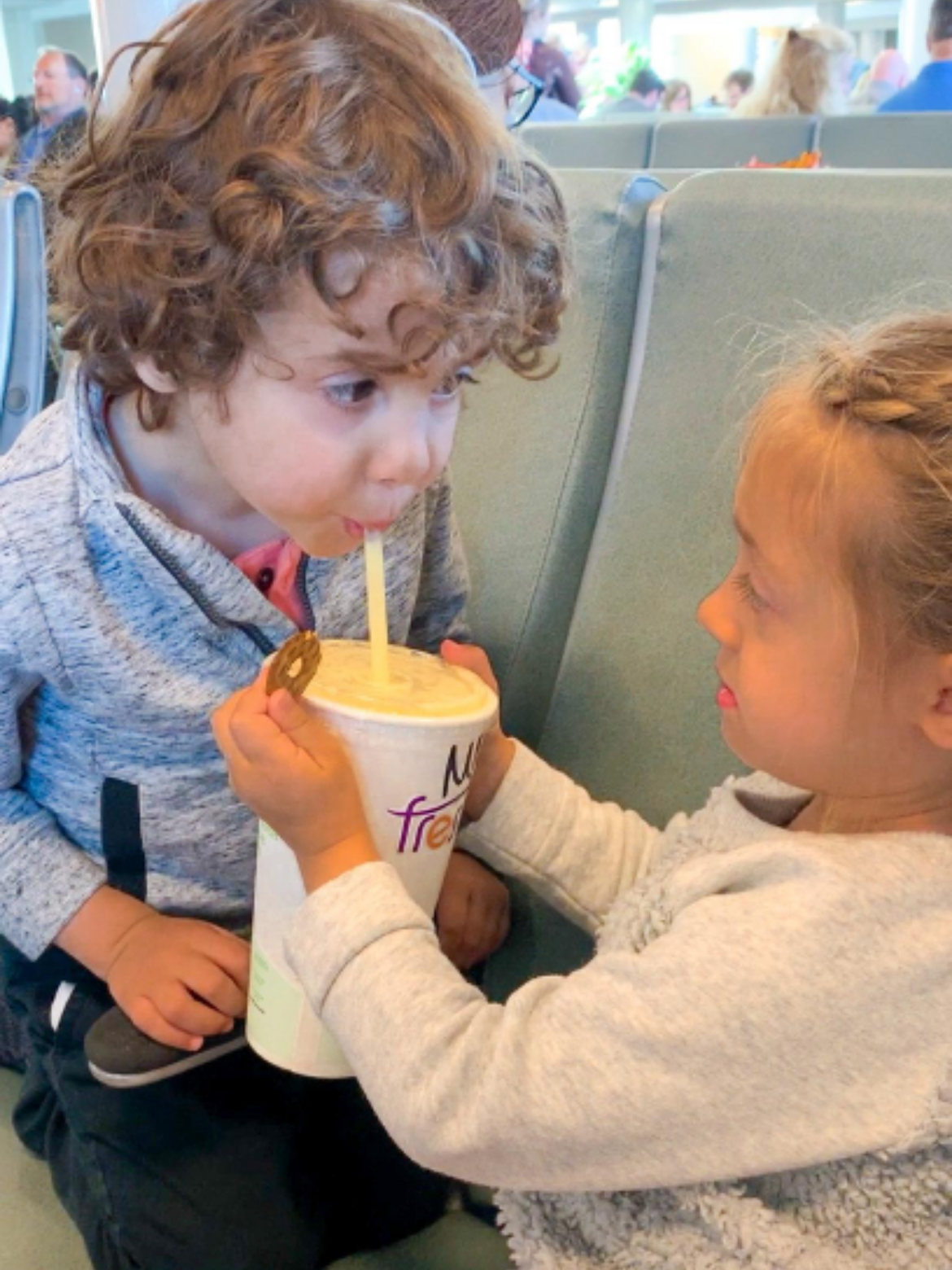 Snack time at the airport

Thankfully none of that happened and our two continued to use the toilet during travel like champs! I questioned using the Pull-Ups because I didn't want them to get confused about where they should "go," but that didn't seem to be an issue, as they continued to prefer using the toilet over their Pull-Ups during our travel day (SUCCESS!).

By the time we got our luggage, signed off for our rental car, drove to Holiday Inn Club Vacations® at Orange Lake Resort, and arrived at our villa, all three kids were passed out! They had a massive travel day and were wiped. We changed them into their PJs, and this was when I was SO GLAD we used Pull-Ups on them because they were ALL wet!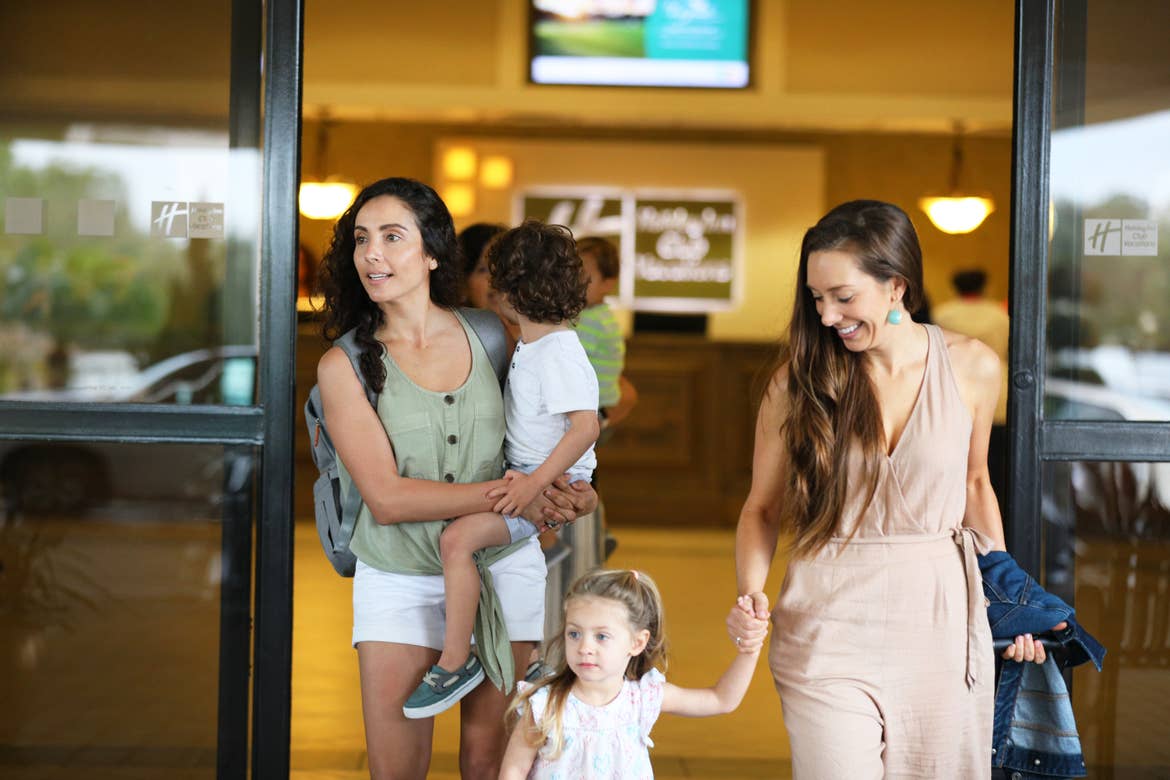 Handling "Oops" Moments at Your Vacation Destination
One of our kids actually soaked through their pants. Ugh, such a nightmare when you're traveling, right? It's always a question of: Do we just sacrifice the clothes? Or, do we rinse them in a sink and hope they air dry before we have to pack them again!?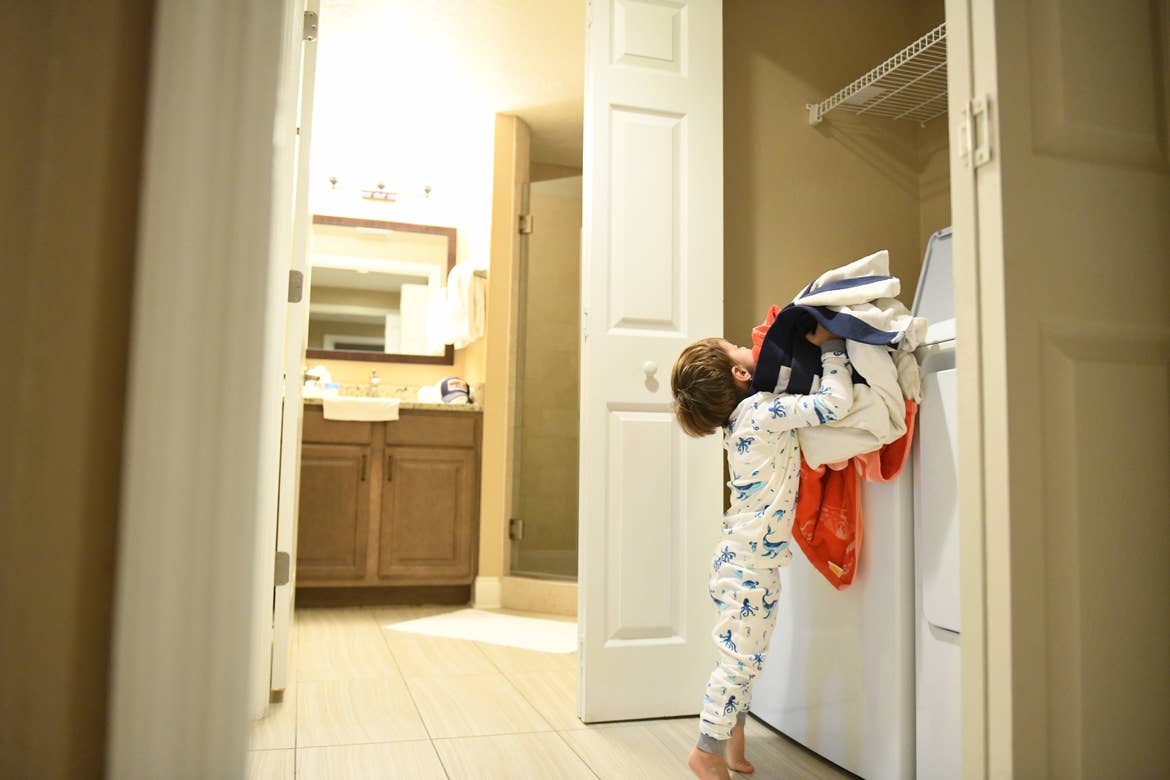 This time, we didn't even have to worry about that, because our villa at Orange Lake was equipped with a full-size washer and dryer, which was absolutely perfect for situations like this. Knowing we could come home and throw in a load of laundry also took the pressure off trying to keep the kiddos clean during the trip. We could relax and let them be their delightful, messy selves.


Enjoying Pools and Water Play While Potty Training
Our Orlando vacation days were filled with lots of exploring around the property and pool sessions, thanks to the amazing kid-friendly activities on-site. The 1,200-foot lazy river was a family favorite, and even though we only made it there once during our stay, we could have easily gone back multiple times.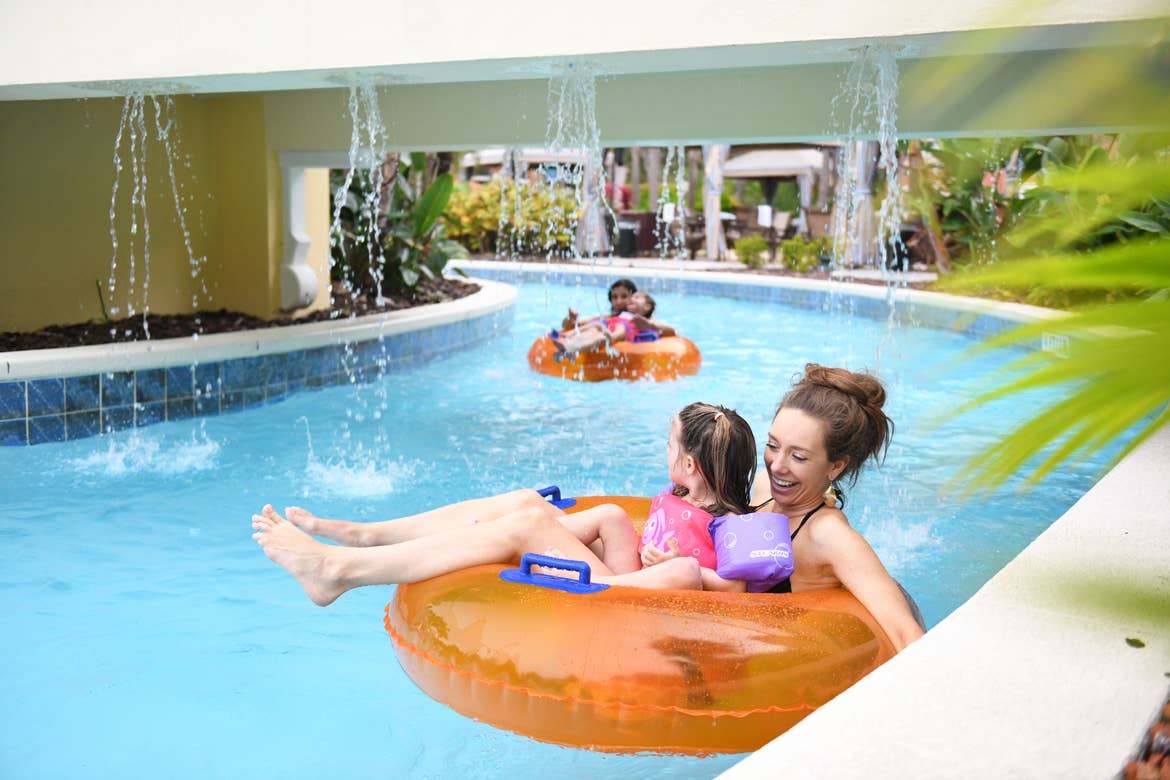 Floating down the lazy river at River Island

Our kids got such a kick out of us getting soaked under the waterfalls and trying to avoid the water cannons. It was such a highlight for us, and it will be the first stop we make when we come back!

We made sure the kids knew to tell us when they needed to go, and if we felt at all suspicious about their willingness to tell us, we had some back up swimming-style Pull-Ups just in case. We wanted to continue the lesson of potty training, while not ruining the day's fun.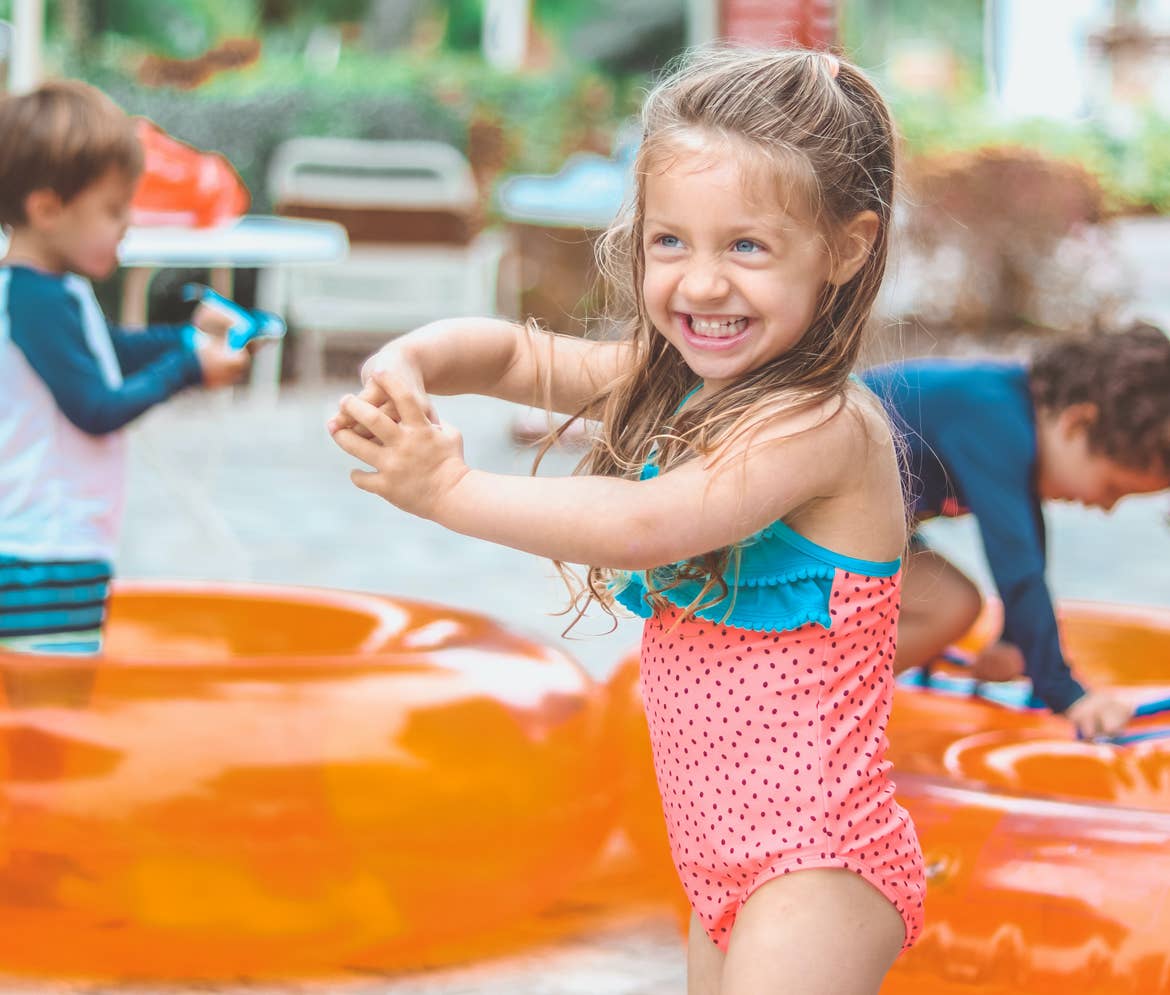 Other Amenities for Kids
There was truly something for every age and stage at this resort! I could definitely see how all kinds of families can enjoy the pools, sports courts, golf, and amazing selection of dining options. Our littles were particularly enchanted with Swampy's Adventure Club, a kids' center which offered activities that are perfect for toddlers, as well as the arcade.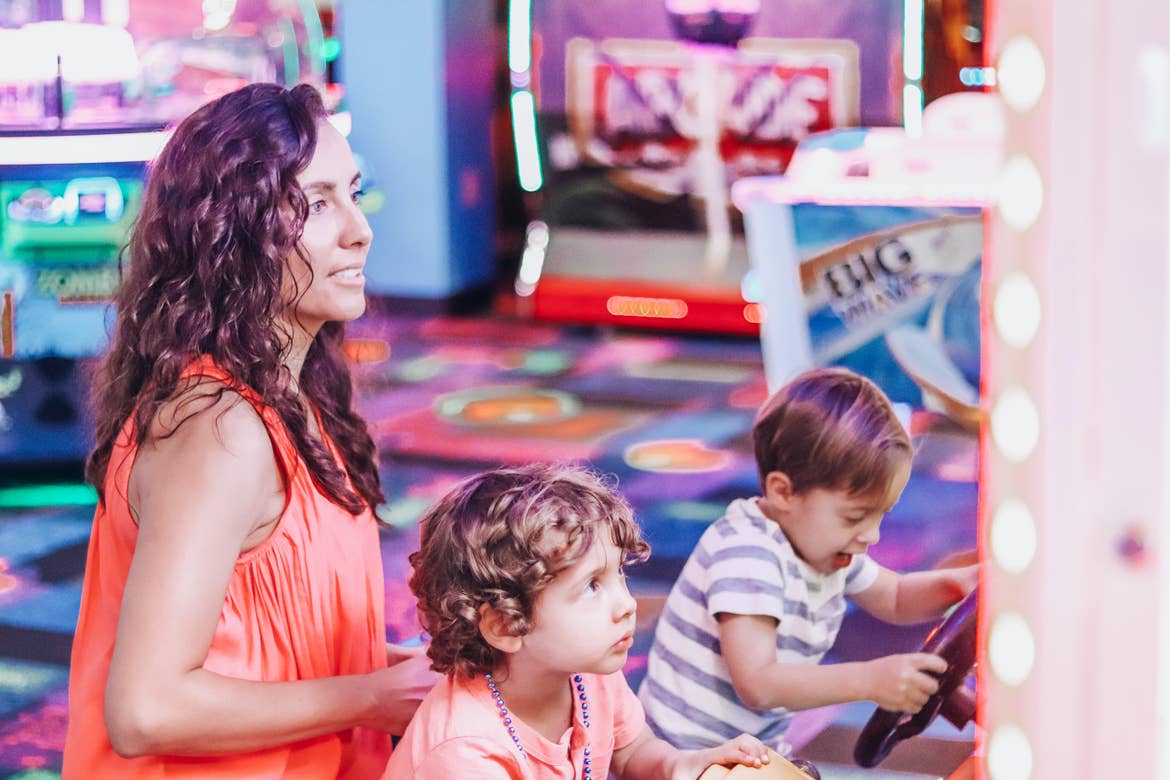 Playing the afternoon away at the kids-approved Water's Edge Arcade in West Village


Tackling Walt Disney World Theme Parks
Our last day, we decided to venture off the Orange Lake Resort property and head to Walt Disney World. We wanted to be there before the park opened, so we were happy we could make a quick breakfast in our villa. It was so convenient to have what we needed for a fast meal in our very own full kitchen. This was our first time going to Disney and we wanted to make the most of our day!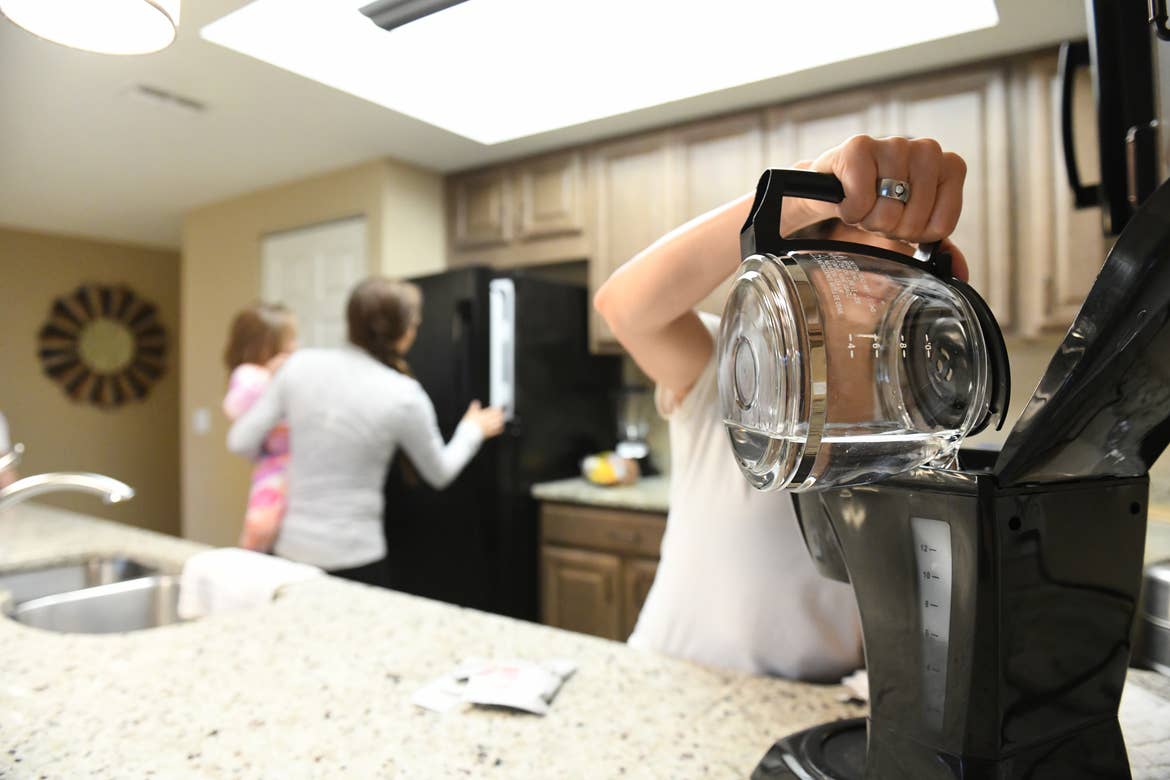 We were pleased with how quickly we were able to get there from the resort. It just took us a quick 25-minute drive from our villa to the Epcot® parking lot. And lucky for us, we had no potty-training accidents before we arrived! We had Pull-Ups on hand in case restroom lines were too long, but luckily there wasn't a need for them. We decided to do both Magic Kingdom® and Epcot in one day and started the morning off with the Frozen Ever After ride at Epcot.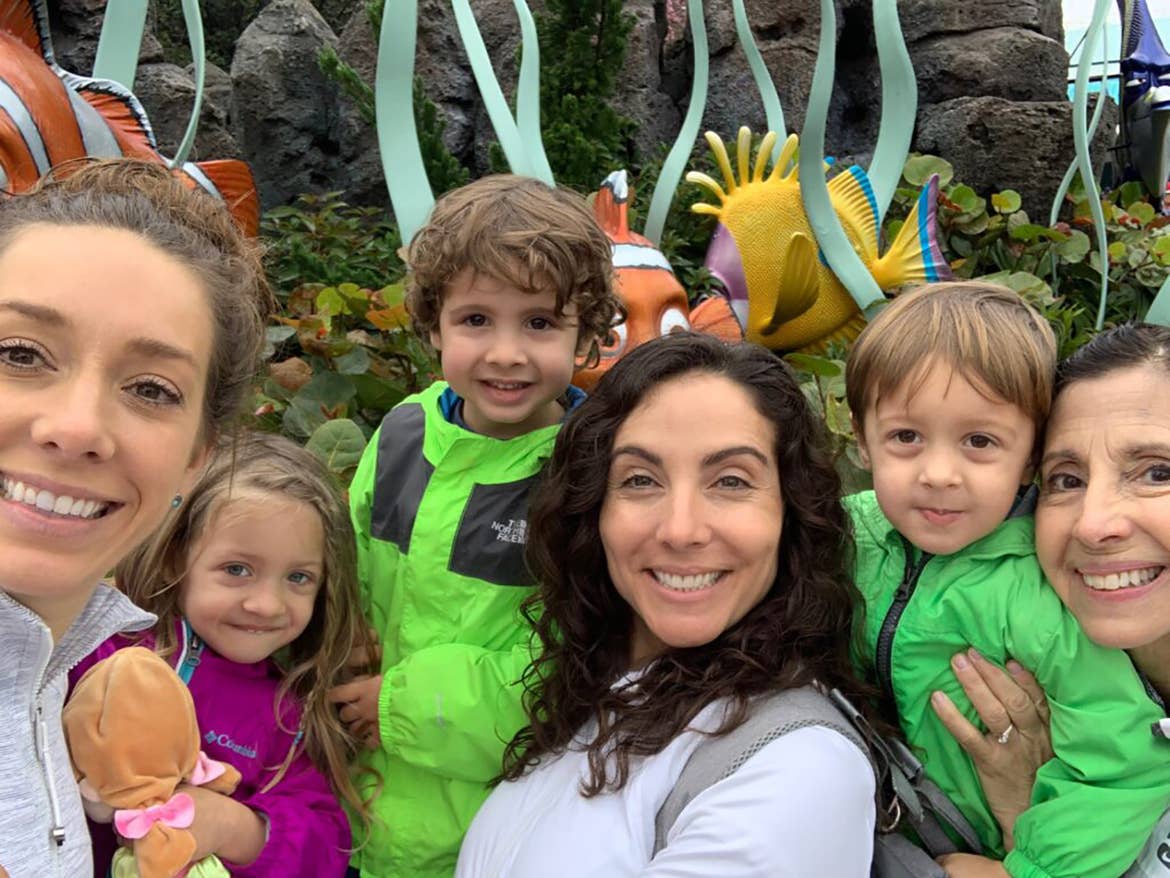 Enjoying The Seas with Nemo and Friends attraction at Epcot

After we met Elsa and Anna in "Norway," grabbed a snack, and went on the Seas with Nemo and Friends ride, we took the monorail over to Magic Kingdom. I was surprised at how easy it was to get between the parks as they seemed so far away, but it didn't seem to take much time at all! It probably also helped that our kids thought that the monorail itself was a ride.

We made it to Magic Kingdom just in time for a parade and it was the perfect way to kick off the afternoon before we set out to explore our second park of the day. The kids loved seeing their favorite characters in action, and their favorite attraction was actually the Swiss Family Robinson Treehouse, which didn't even have a line!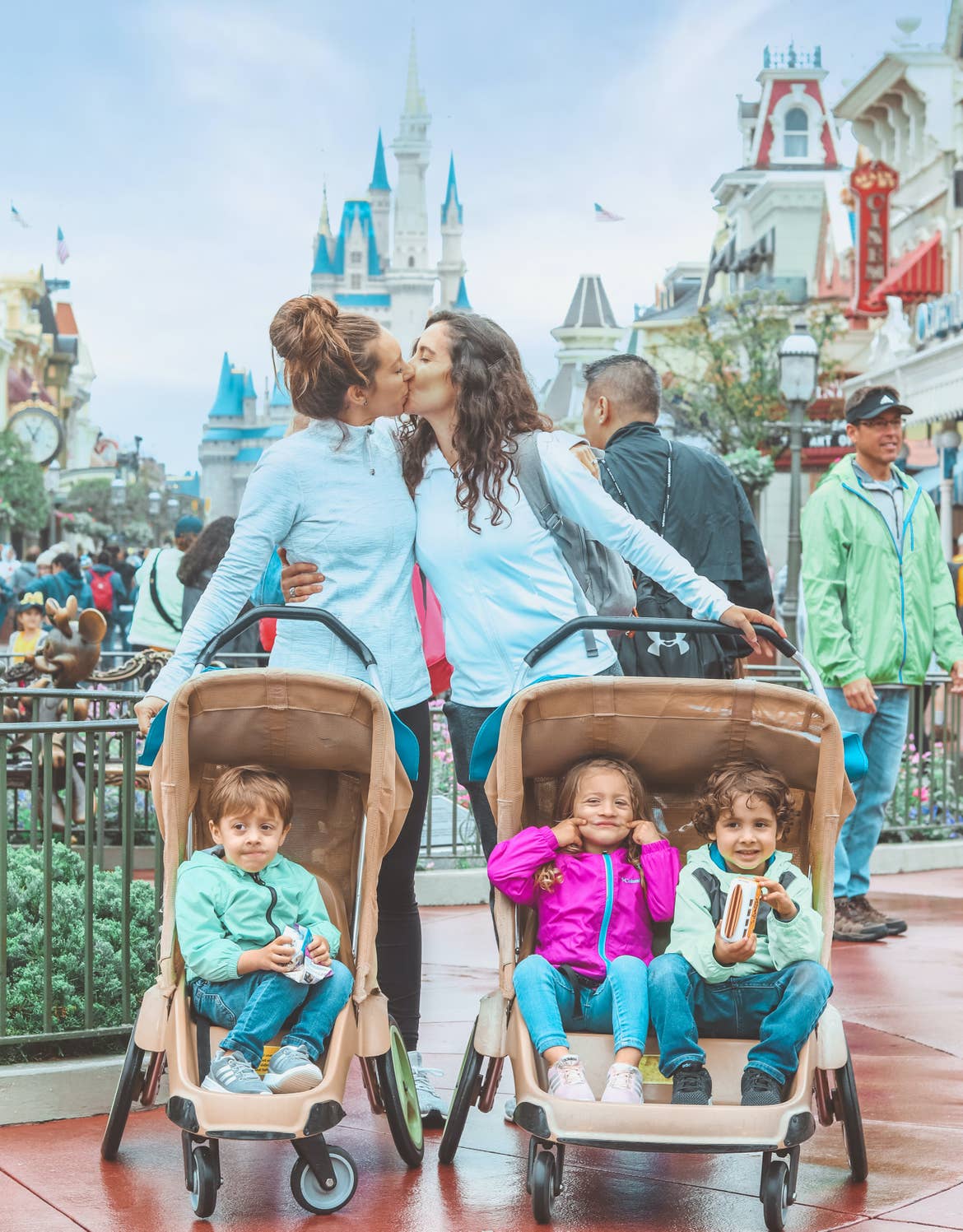 It's just not a family day at Magic Kingdom without a photo of Cinderella's Castle!

I was honestly so impressed with the number of bathrooms that were available (and sparkling clean) around both parks which made going to Disney with potty-training toddlers much easier than I had anticipated! Still, we did pack back up clothes for the kids just in case.

Pro Tip: If you have multiples that are the same age like we do, bring universal clothes to save room in your day pack. Universal meaning clothes that would fit any of your children. This will save you from having to bring an extra outfit for each kid specifically.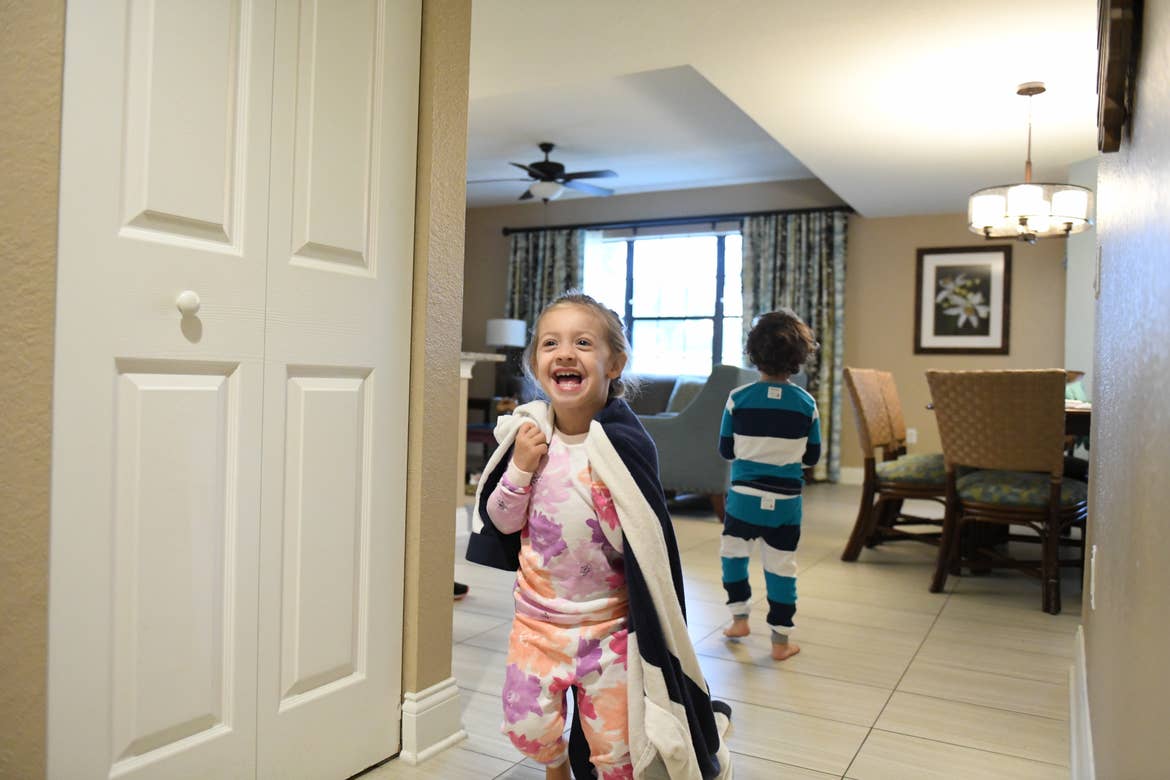 How We Did with Overnights
At the end of each day in Florida, our kids were so exhausted, which is the sign of a day well spent, right? After (a somewhat) quick bedtime routine, we decided to use Pull-Ups here again as a "just in case" since the kids weren't in their own beds, and we wanted to be careful. Luckily, all the hard work is paying off and we had no overnight accidents! We know that won't always be the case, but that's why they call it "training," right?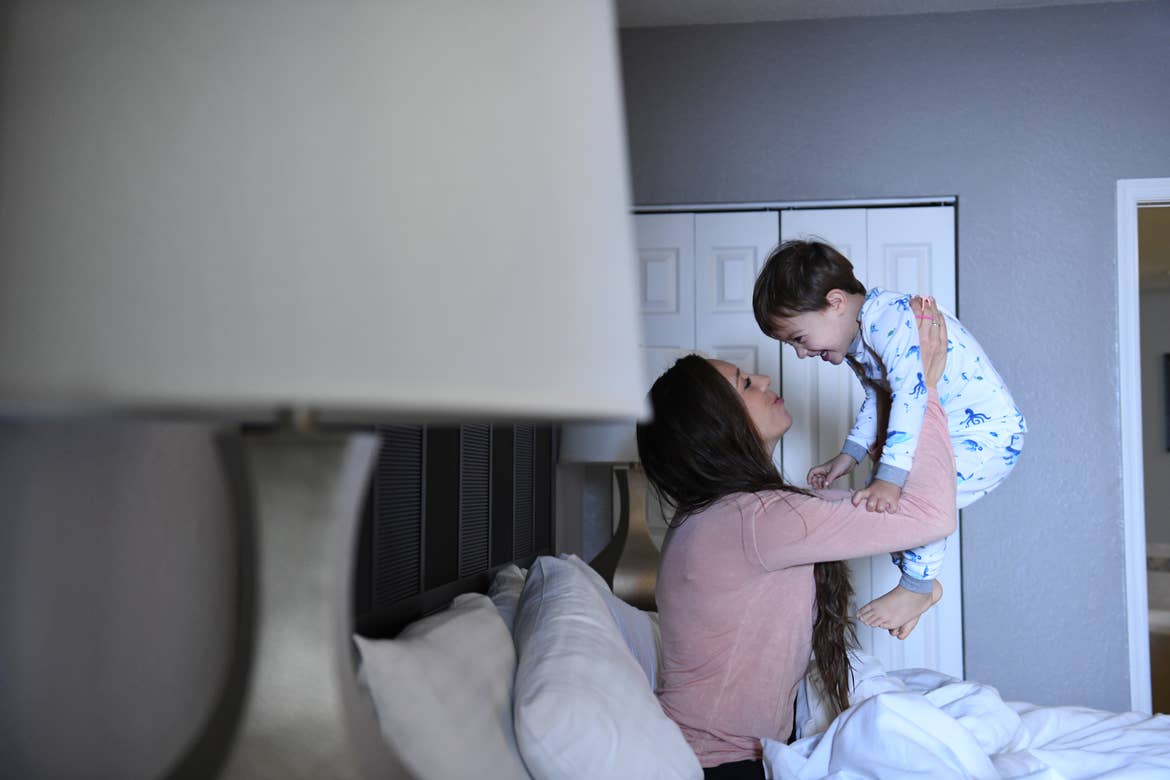 Every night our kids would fall right asleep, which gave us ample time to relax and unwind from the day together. This was when we really appreciated having a living room and kitchen in our villa! Who needs to go out when you can have wine and snacks in the comfort of your own place, just like home?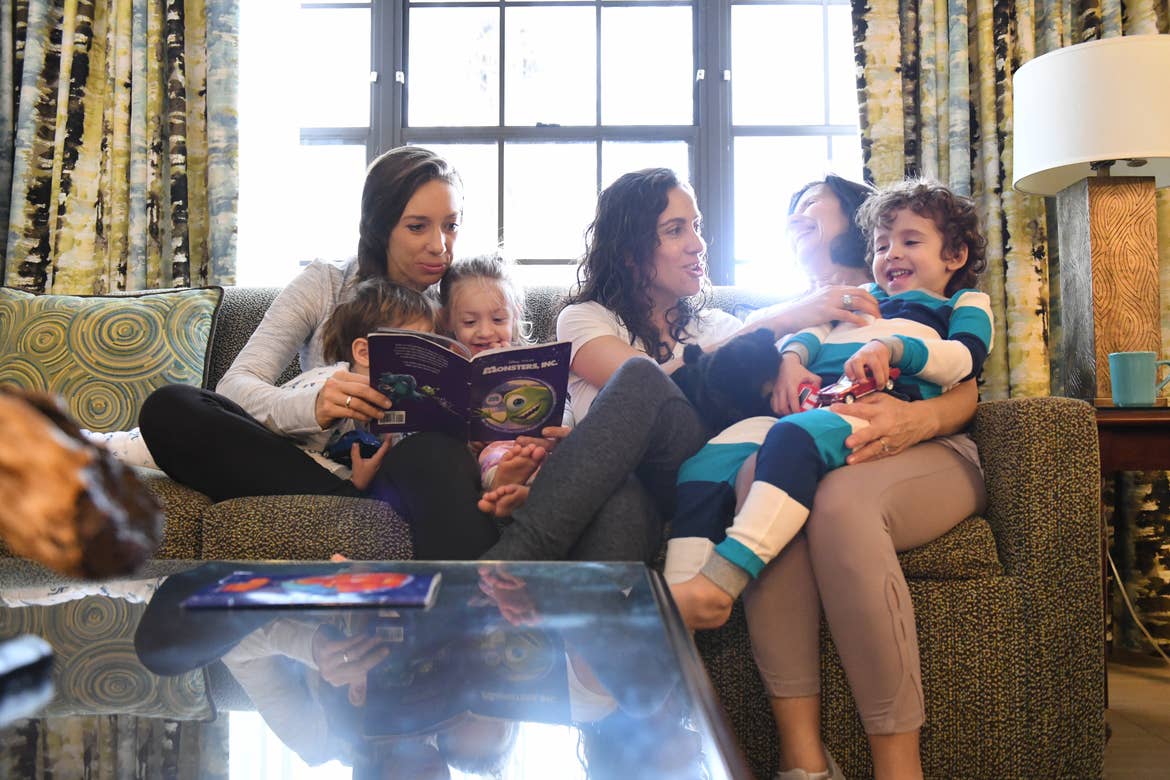 Enjoying some snuggle story time in our North Village villa at Orange Lake Resort

We truly felt like we were in a home away from home at Holiday Inn Club Vacations at Orange Lake Resort. It made traveling with three toddlers seem not only doable but enjoyable! We had time as a family, time for just the two of us, time out exploring and time to relax. It was such a balanced vacation and we can't wait to return! (Next time, hopefully with ALL of our kiddos in underwear!)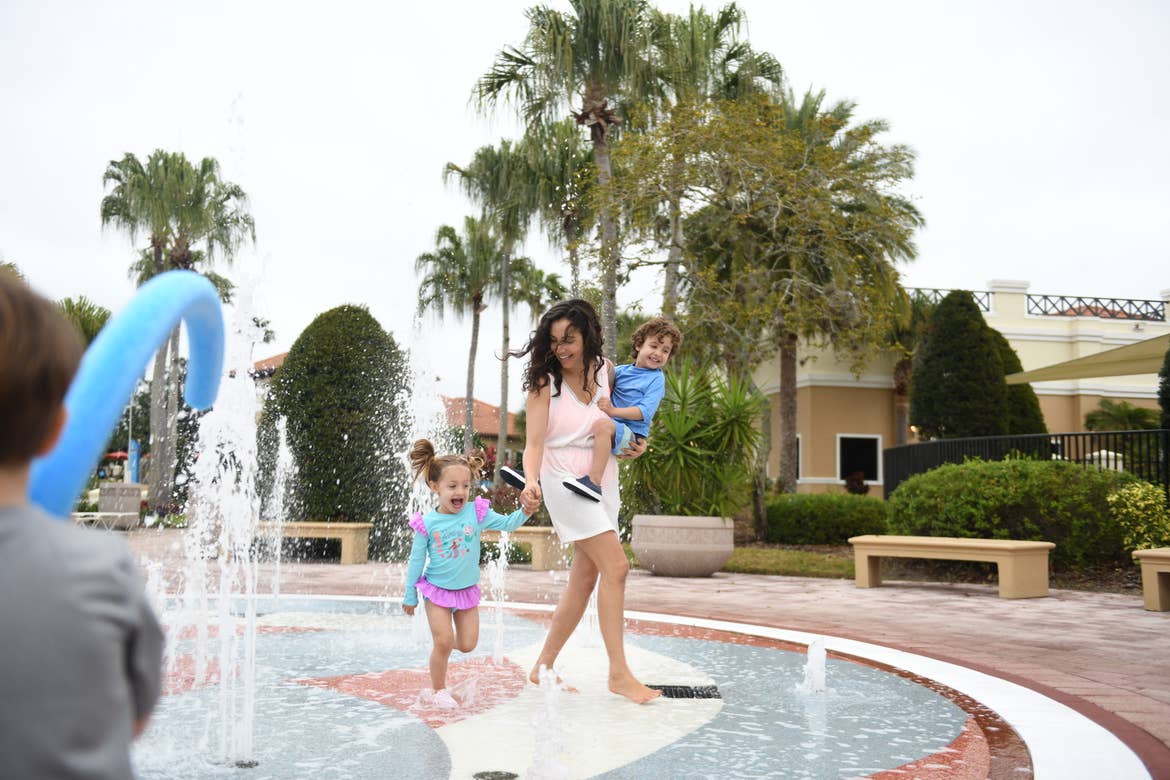 Traveling with toddlers sometime soon? Here are our take-home tips on how to potty train while traveling:
If you have long travel days, it's definitely worth it to put them in Pull-Ups. They won't regress after using them again for just one travel day.
Stay at a place where you have access to laundry facilities.
Bring hand sanitizer for the public restrooms.
Pack an extra set of "universal clothes" in a large bag—just in case!
For longer travel, dress them in clothes you wouldn't be devastated throwing away if you absolutely had to.
Our guest bloggers are compensated for their writing contributions and honest opinions.