Tori Ferrante
Tori is a writer and editor for the Checking In travel blog. She's a wine lover, dog mother and adventure seeker who revels in finding those little-known, hidden gem spots. Her travel niche includes super budget-friendly, couples weekend getaways, and her absolute favorite vacations are the ones where she gets to explore new places with her husband, Brooks, and her fur son, Deagon.
Even though summer, spring break and Christmas are super popular times to visit the Sunshine State, a fall Florida vacation is a great time to enjoy beach days and cool pool waters without the super high temps.

And if you're wondering what Orange Lake Resort is like in the fall, you're in for a real treat. (There's a reason this resort is a Club member favorite!)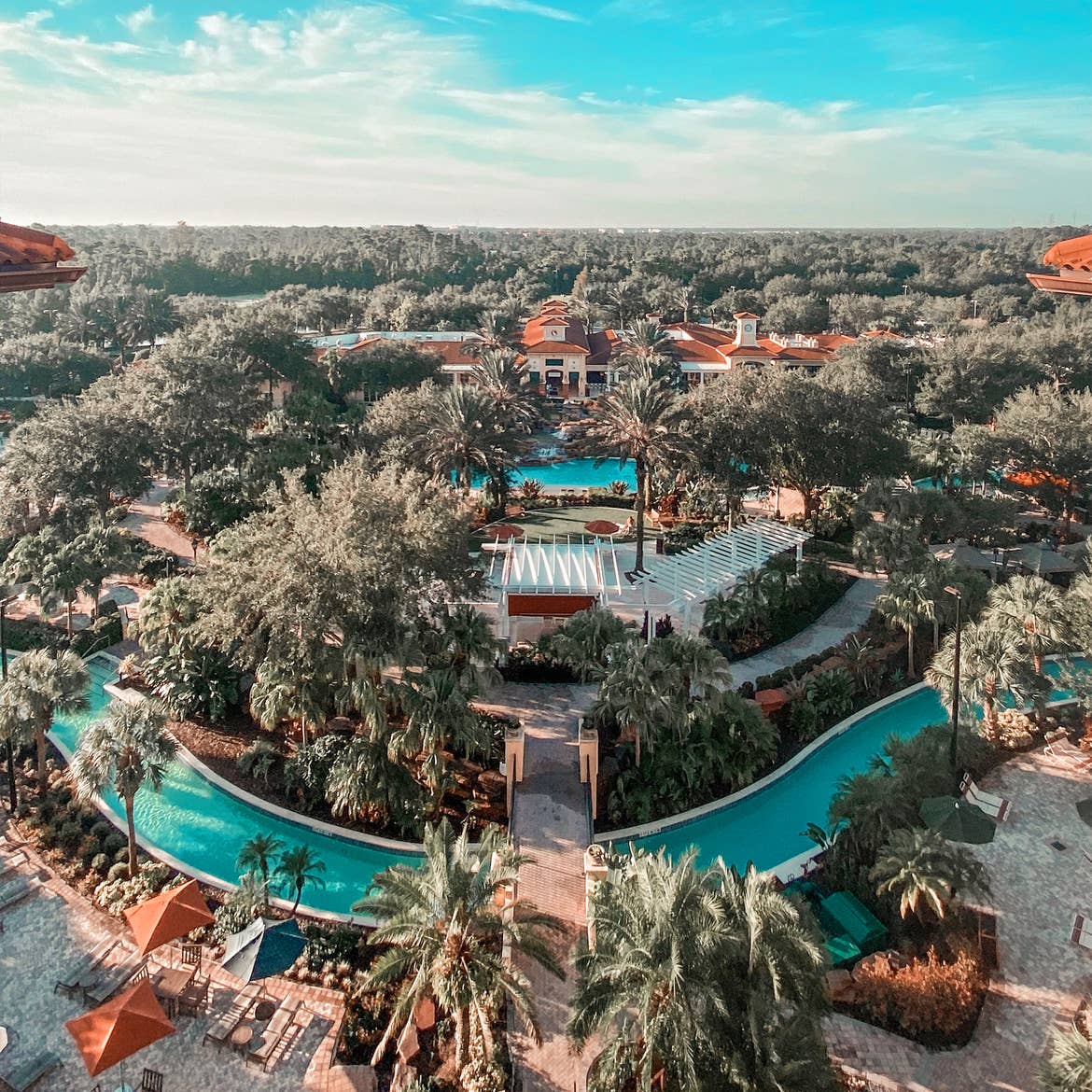 The 1,200-foot lazy river in River Island

With champion golf courses, watersports, a lazy river, seven pools and more, there are so many ways to enjoy a warm-weather autumn escape at the resort — all with our Safe Travels program still firmly in place.

Looking to ride some coasters? The theme parks are open and ready with safety measures for your safe and fun Orlando vacation.

Plus, you can enjoy special fall events in Orlando, like:

Epcot® International Food and Wine Festival at Walt Disney World Resort®
Brick or Treat at Legoland® Florida Resort
SeaWorld® Spooktacular
Halloween Horror Nights at Universal™ Orlando Resort
The Disney After Hours Boo Bash
Not ready to ride just yet? There's a bunch of other cool, outdoorsy things to check out, too.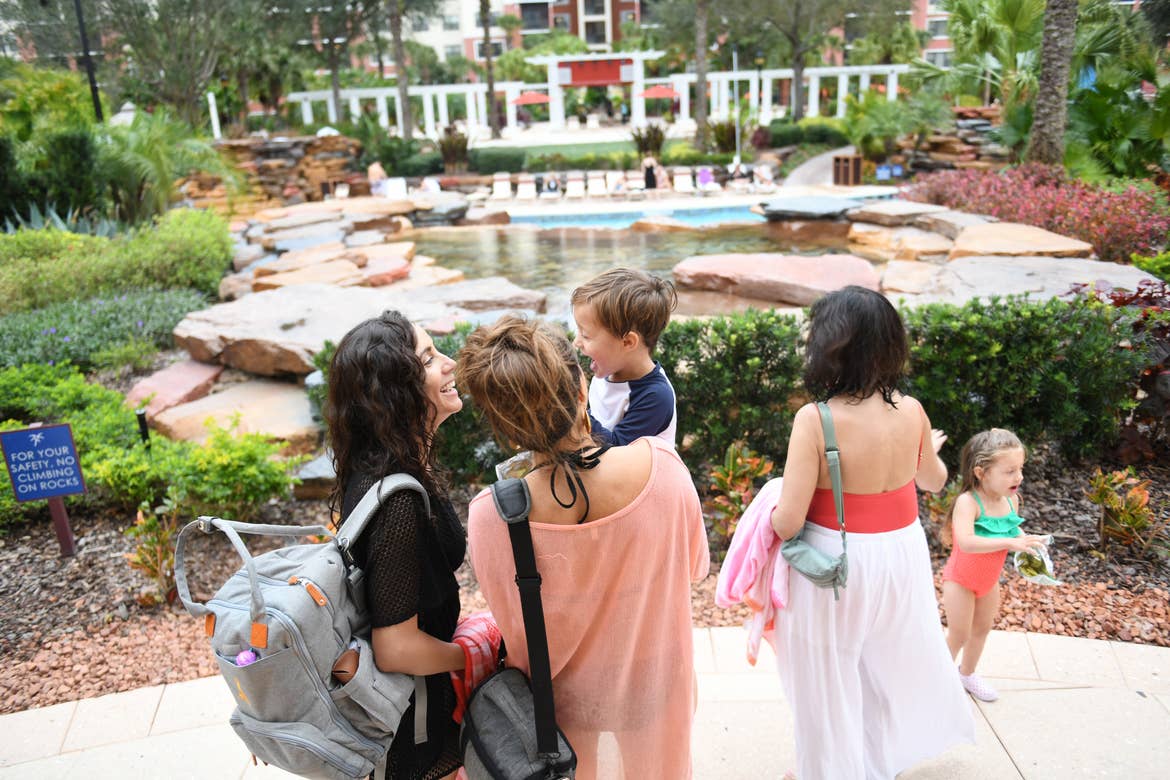 Get ready to explore Orange Lake Resort (and hop in that lazy river!).

So, if you're ready for a fun-filled Florida vacation, check out these seven ways to fall in love with Orange Lake Resort this fall, and see if you can check them all off your list!


1. Soak up the sun and splash the day away.
The fall weather at Orange Lake Resort is literally perfect for pool time. It's still warm and sunny during the day, but the temps drop a bit at night.

Here are some ways you can soak up all the sun-baked, splash-filled fun at Orange Lake Resort this fall.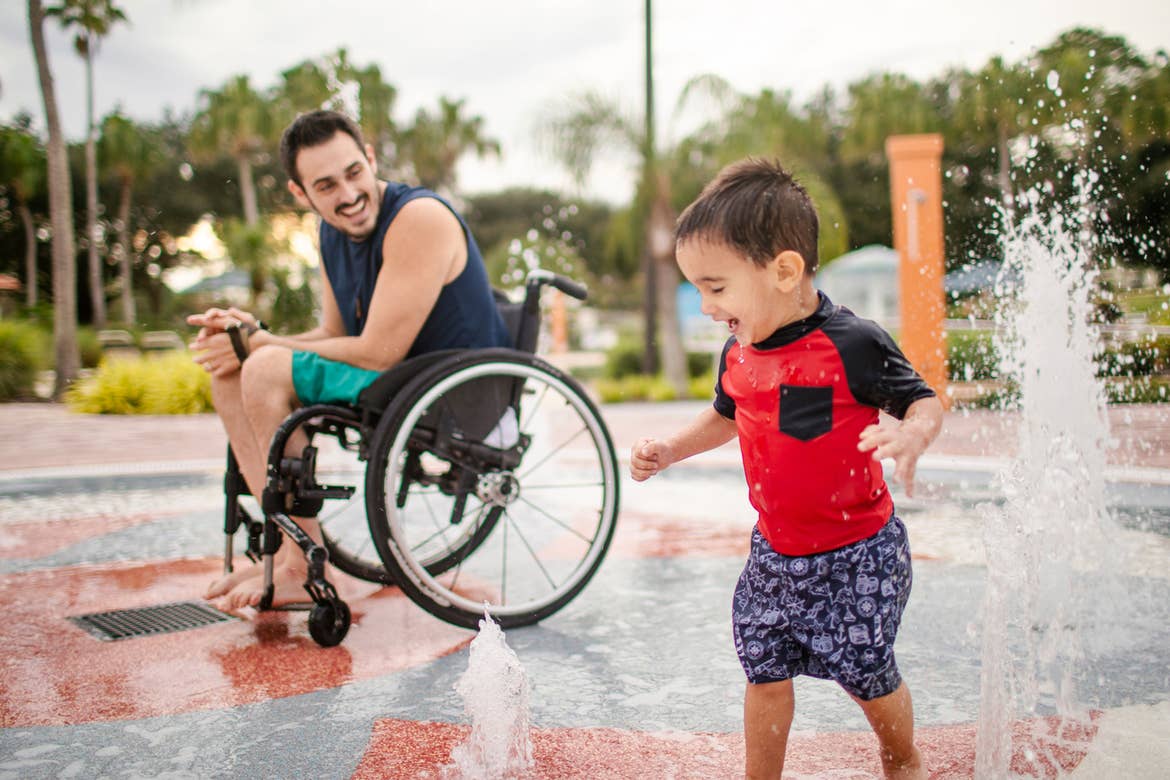 The splash pad in North Village


Lounge & Swim in the Pools
Settle down on the loungers and relax right by one of our seven pools.

Splash Lagoon Pool in North Village is great for families, especially those with kiddos because it features a kiddie pool, fountain and slide.
The lush and tropical pool and 1,200-foot lazy river in River Island are a must during your Orange Lake stay. You can grab your lazy river tubes from The Splash Shack for $9 and then float the day awayyyy.
The Stage, Southern Magnolia & Water's Edge pools are located in West Village, and Water's Edge offers fun poolside activities throughout the day.
And finally, the two beautiful, crystal-clear pools in East Village are both ideal for a little peace and quiet.
Splash Pad & Kiddie Pools
Watch the little ones have a blast at the splash pads in River Island and North Village and at several of our kid-friendly and zero-entry pools.


Waterslides
Zip down the waterslides in River Island and North Village.


Cabanas
This fall, treat yourself to a private family cabana rental (for a small booking fee) next to our River Island, Splash Lagoon or Water's Edge pools. You'll have your own personal mini-fridge, TV, snacks and water.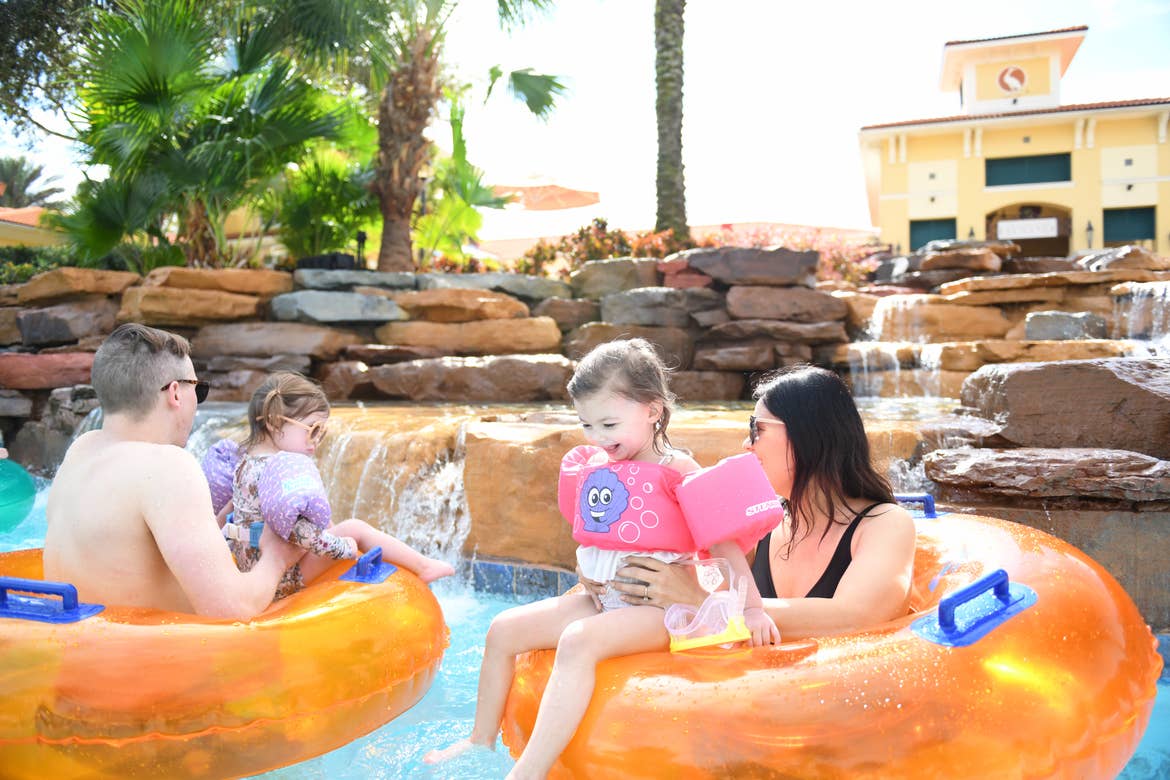 The lazy river in River Island

Quick note: Pool towels will be provided in your villa for use throughout your stay. Be sure to bring your towels to the pools with you — they won't be offered in the pool areas — and put that in-villa washer and dryer to good use when you need to freshen them up.


2. Go wild with watersports on the lake.
Head over to Water's Edge Beach Club in West Village for watersports on our 80-acre lake that'll spice up your fall family vacation!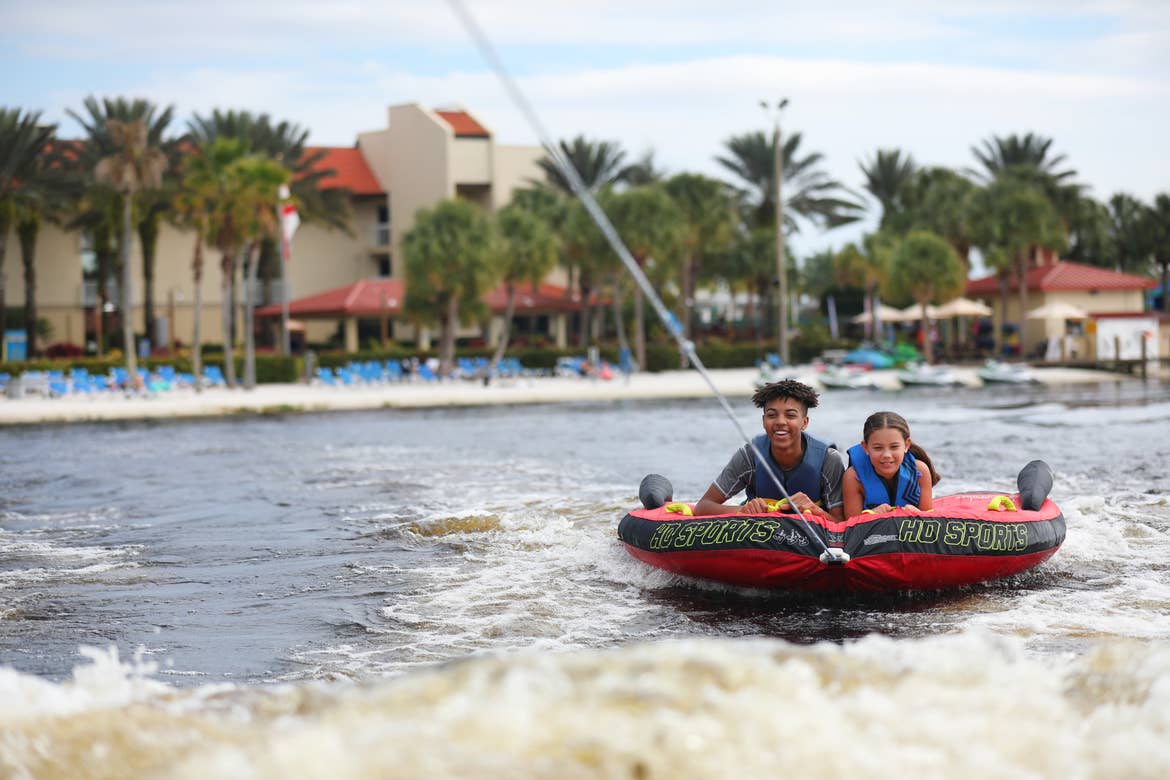 Lake adventures start at Water's Edge Beach Club in West Village.


Jet Skis
Zip around the lake on a jet ski!


Swan Boats
Take a spin on a serene swan boat ride.


Tubing
Have a blast tubing and jumping over the waves.


Paddleboarding
Try your hand at stand-up paddleboarding.


Kayaking
Take out a kayak and paddle your way across the waters.


Pontoon Boats
Round up the whole family for a pontoon boat ride.

Another quick note: There's an additional rental fee for all of these fun watersports.


3. Have a little friendly family competition.
From mini golf to air hockey, see who will leave your Orange Lake Resort vacation victorious! (Winner picks what to do next. 😉)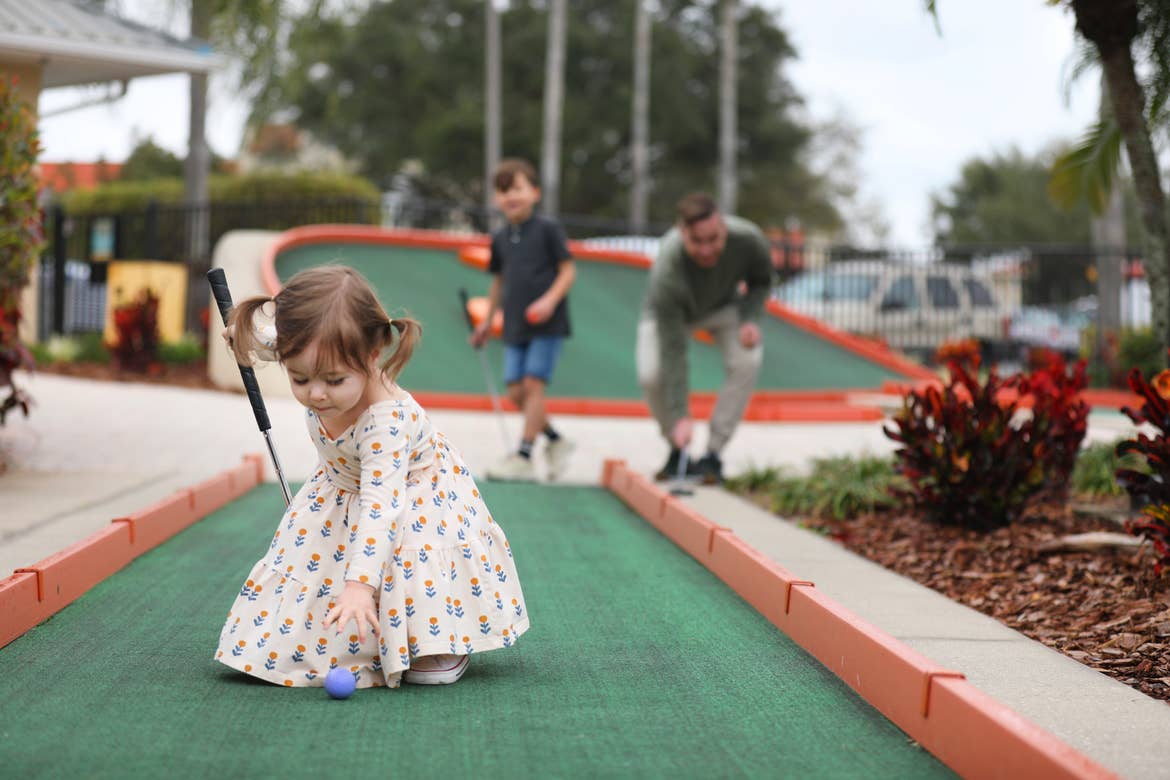 Putt-Putt® course in West Village


Mini Golf & Putt-Putt®
Play a game of mini golf at Island Golf in River Island or Putt-Putt® over in West Village.


Championship Golf Courses
If you're a Florida golfer, you know how wonderful it is to play golf during this time of year.

You're spending a few hours outside and the cooler autumn weather (and those fantastic views) could definitely help make your golf game better.

Our four courses include Legend's Walk, The Reserve, Crane's Bend and The Legends.

Legends Walk is a lighted 9-hole, par-3 walking course in North Village that's kid-friendly!
In West Village, we have The Reserve, an 18-hole championship course.
Also in West Village, Crane's Bend is our 9-hole executive course featuring three par-4's and six par-3's.
The Legends in East Village is our 18-hole Arnold Palmer Signature Designed championship course, which also has a driving range.
Sports Courts
Looking to stay active on your vacation? Whether the weather's warm and sunny or crisp and breezy, the fall is a great time to hit up the resort's sports courts for a game or two.

Visit the Marketplace near the West Village Clubhouse to rent sports equipment for any of the activities below — free of charge.

Serve up a friendly game of sand volleyball at River Island!
Go for a slam dunk during a game of basketball.
Perfect your backspin playing tennis.
Ace a game of pickleball!
Arcades
Play to win at the Water's Edge Arcade in West Village and Treasure Cove Arcade in River Island (both great spots for a rainy-day activity).


4. Take part in special activities scheduled throughout the day.
If you couldn't tell by now, Orange Lake Resort is wayyyyy more than just a place to stay for your fall getaway.

It's a place to fall into fun! And with these special activities, you might just want to fall into winter fun, too.

Be sure to check your activities guide for current offerings, locations, dates and times as they can all vary.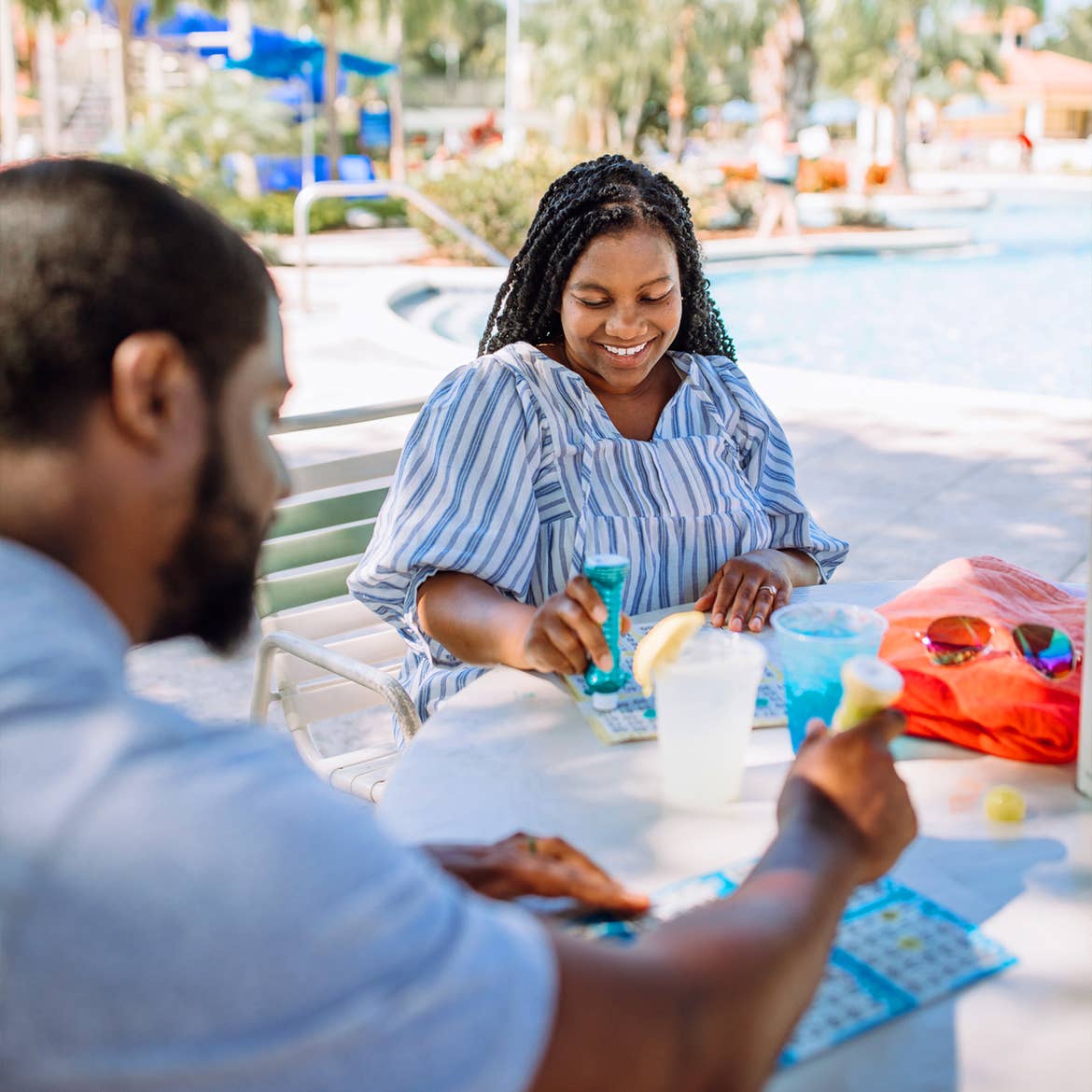 Poolside bingo at Water's Edge Beach Club in West Village


Poolside Bingo
Play bingo by the pool (and shout your heart out when you win!) at the Stage Pool in West Village. (Just know our poolside bingo is weather permitting.)


Sand Art
Create sand art in River Island! Pick a special container, fill it with vibrantly colored sand and bring your creation home with you as a special Orange Lake souvenir.


Hair Braiding
Let the kids get their hair braided with their favorite colors in River Island.


Trivia
Test your family's smarts with a fun-filled game of resort-hosted trivia.


Poolside Music & Games
Catch live music and fun games by the pool at the Water's Edge Beach Club in West Village.


Swampy's Adventure Club
Located in the West Village Clubhouse, Swampy's is a super-fun retreat for kids and teens. It has video game consoles, games, arts and crafts, tournaments and muchhhhh more.

Check out the activities schedule at the front desk!


Karaoke
Show off your singing talents, or sit back and just enjoy the show, during an entertaining night of karaoke at Breezes and live band karaoke at the Stage Pool, both in West Village.


Movie Night
Get the family together for a poolside movie at the West Village Stage Pool.

Again, just be sure to check for days, times, weather and what's being offered when you arrive.


Family Photo Ops
Between all those scheduled activities, don't forget to pencil in some time for a little memento from your autumn oasis!

Take a family photo with our bright new mural or even the River Island waterfalls. It might just be the perfect pic to use for your holiday card this year.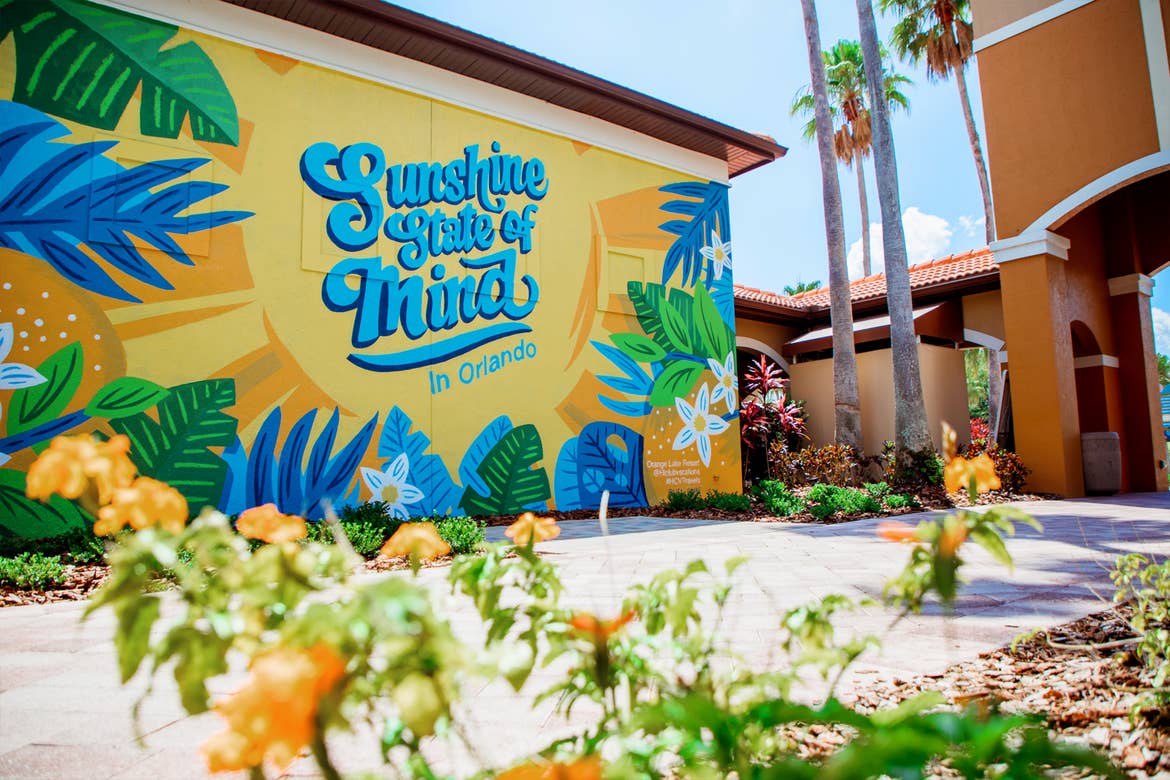 The best spot for a sunny photo op in North Village


5. Spend some quality family time together back at the villa.
Your super spacious villa is a fall-tastic place to bring the spirit of the fall season to Florida.

In addition to the fun activities below, throw a fuzzy blanket in the dryer to warm it up, put on a spoOoky movie and whip up a warm, home-baked apple pie in your full kitchen.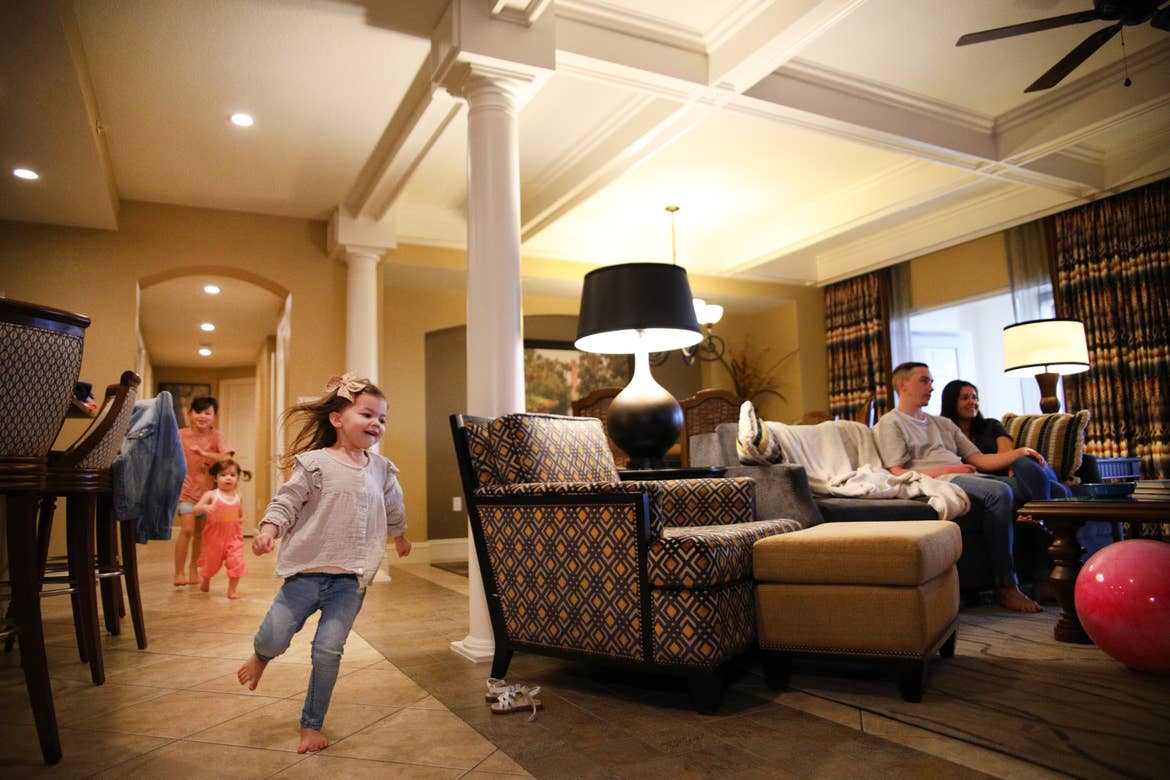 A three-bedroom Signature Collection villa in River Island


Games
Have a family game night (Yahtzee!).


Home-Cooked Meals
Try your hand at recreating some resort-inspired villa recipes and your fall-inspired favorites in your kitchen.


Take-Out
Give cooking a rest and gather 'round your dining room table with some yummy local take-out or a to-go pizza from Paisan Pizzeria.

Pro Tip: You can get Paisan delivered directly to your villa, too!


Sunsets
Watch the sunset on your villa's patio or balcony, and keep an eye out for our Insta-famous resident sandhill cranes.


Kids' Activities
Set up the kids with coloring activities while mom and dad enjoy a little R&R time.


Movies
Cuddle up and watch a fall family flick together in the living room (anyone up for Harry Potter?).


6. Stay active and energized.
There are so many ways to get some physical activity at the resort, especially if you're wanting to exercise on your vacation before the holidays come around.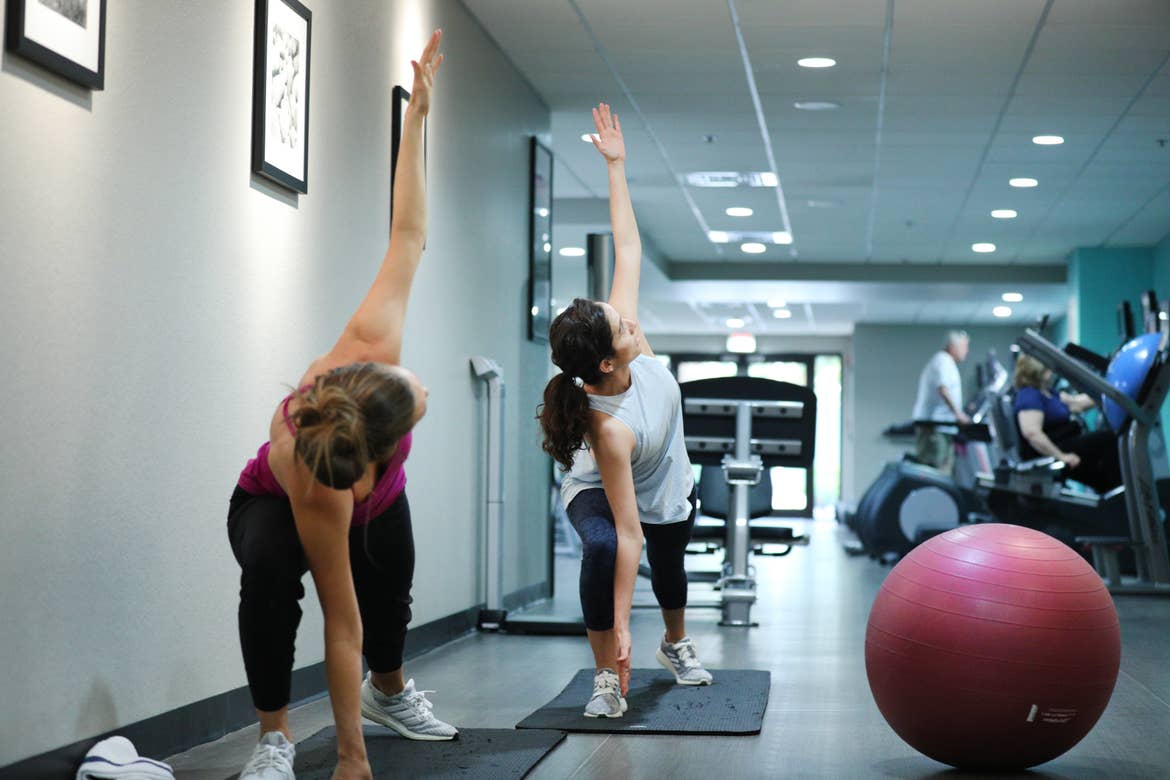 Water's Edge Fitness Center in West Village


Go for a Walk
Take a lap around the property and get those steps in!


Yoga & Pilates
Practice yoga or Pilates at Mussels Fitness Center in River Island.


Water Fitness
Start your morning with our beginner Splash & Stretch class in West Village (weather permitting).


Virtual Classes
Work out with a free trial of Peloton's virtual running classes on your mobile phone or tablet using the treadmills at the West Village fitness center.


7. Fuel up with yummy food and drinks (and caffeine).
Hungry? Need a quick pick-me-up? We've got you covered with these on-site dining options. 😉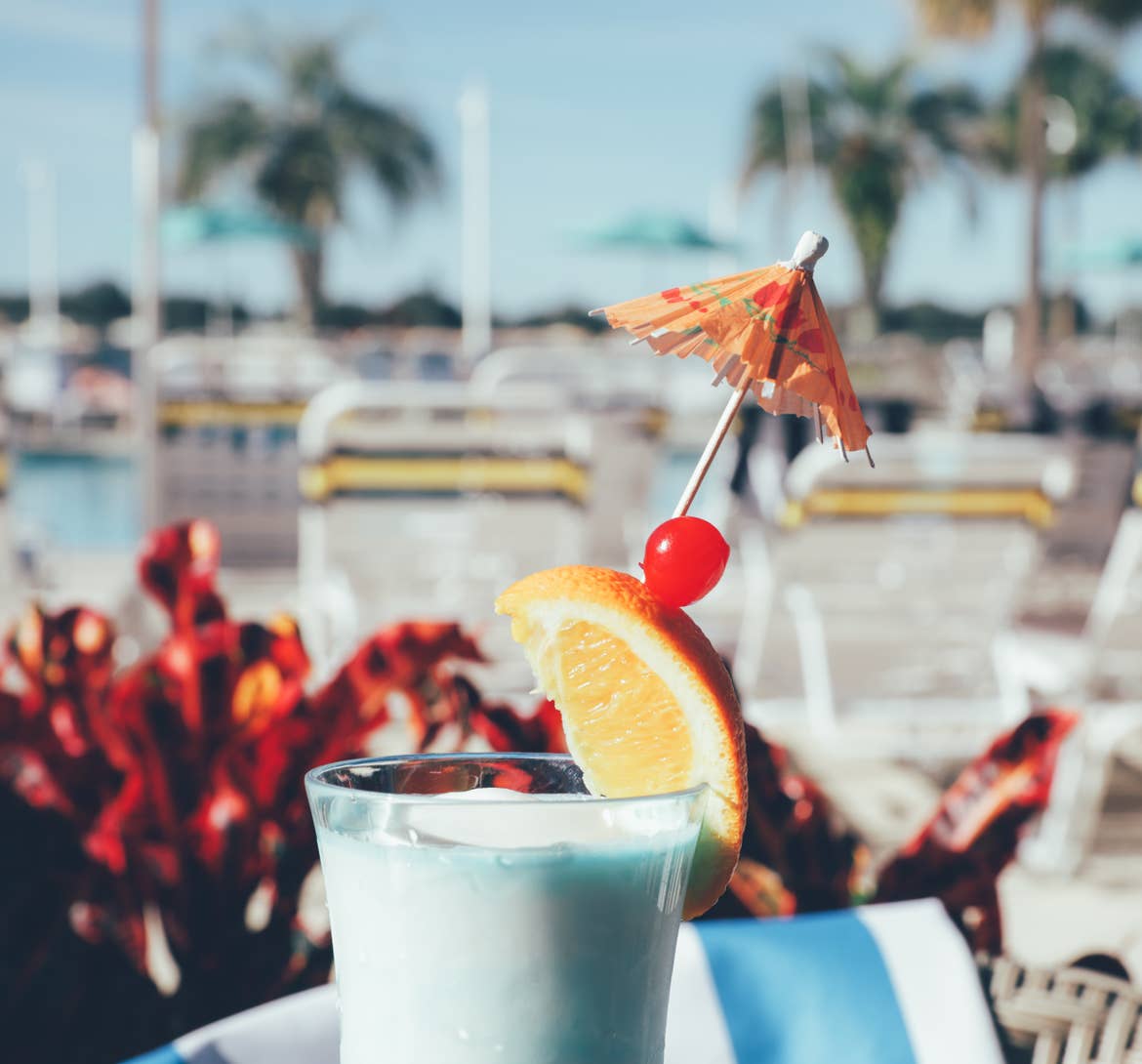 The perfect pair: fruity drinks and poolside views.


Starbucks
Is a Pumpkin-Spiced Latte calling your name? Head over to River Island to enjoy some "me-time" with a Starbucks coffee from Currents Café.


Quick-Service
Grab some quick sandwiches from Anchors in River Island, and enjoy your meal poolside.


Signature Cocktails
Try a signature cocktail, like the Lakeside Lemonade or Gulf Coast Hurricane, from River Island's Leeward Bar.


Seafood & Sandwiches
Get a taste of the Florida Keys with seafood and sandwiches from Breezes Restaurant & Bar in West Village. (The fish tacos are a member-favorite!)


Fresh Off the Grill Favorites
Head to River Island for hot pancakes, eggs and bacon for breakfast, and for dinner, grab burgers, seafood and more grilled goodness.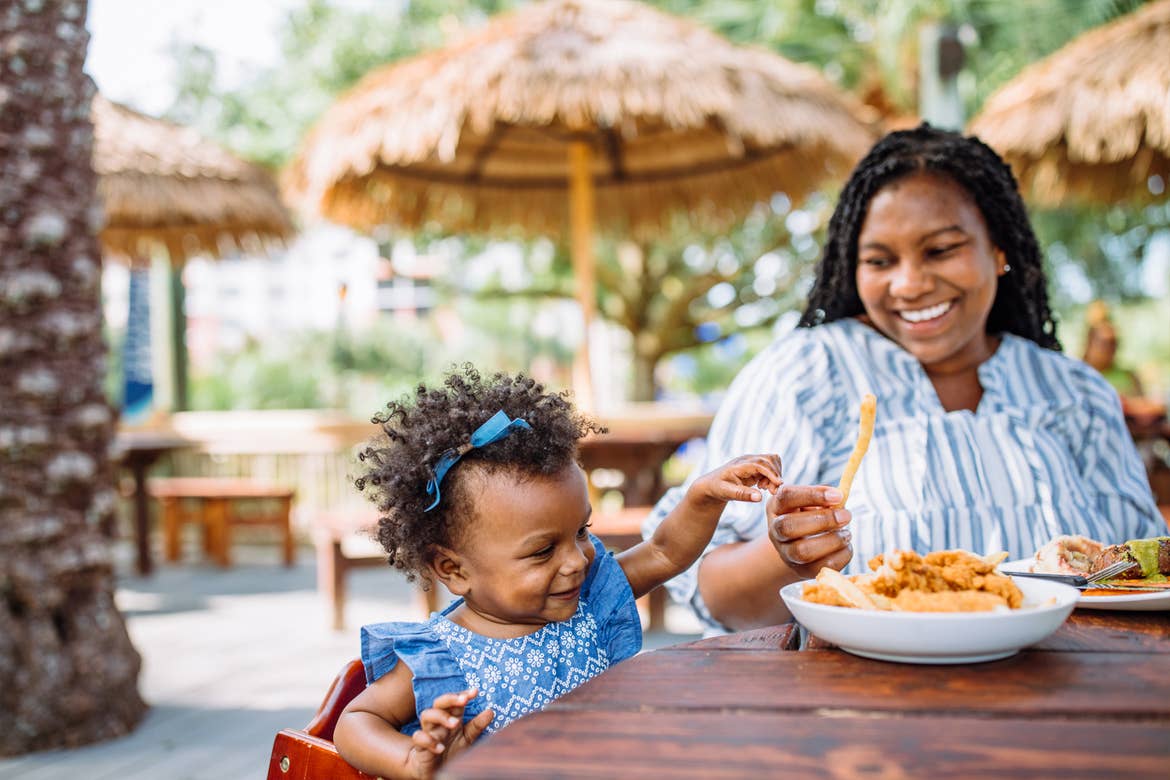 Tradewinds Bar & Grill in River Island


Beer
Take full advantage of daily specials on ice-cold beer buckets at Windward Pool Bar in River Island.


Drink of the Day
Head to the West Village Water's Edge Bar and order the "drink of the day" from our legendary veteran bartender, Miriam.


Sunsets & Pizza
Watch the sunset over the pool and listen to live music underneath beautiful market lights, while eating a delicious pizza from Paisan Pizzeria.


Ice Cream
Treat yourself to an ice cream cone from Currents Café in River Island.


Live Entertainment
Go back to Breezes Restaurant & Bar during the evening for a night filled with good food, live entertainment, performers and karaoke.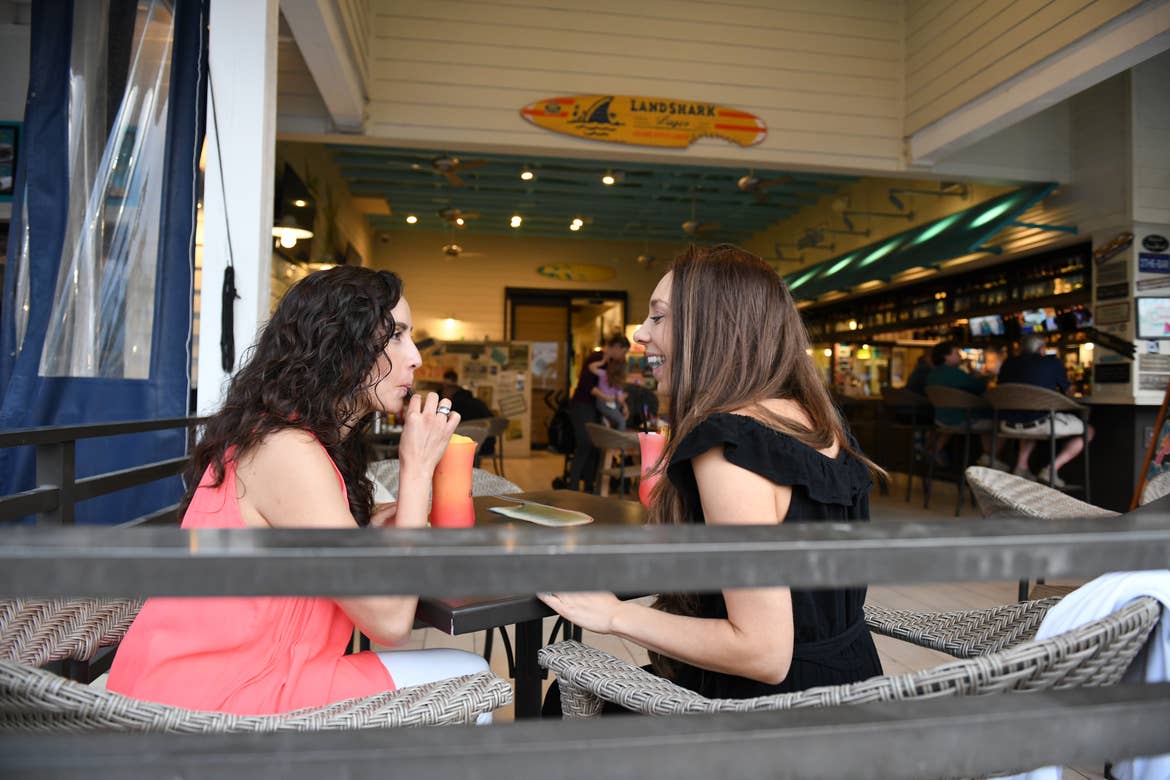 Breezes Restaurant & Bar in West Village

Phew! I can safely say there are a ton of fun, active and relaxing things to do both at Orange Lake Resort and in Central Florida.

(Plus, our nearby Orlando Breeze Resort is another great option for an Orlando getaway, too!)

Two things I know for sure?

Your warm-weather autumn escape will be filled with so many amazing activities both on and off property.
It'll be very hard not to fall in love with Orange Lake Resort this fall.
All information is subject to change. This article includes curated local things to do and is neither sponsored nor considered an official endorsement. Please be sure to check information directly with our resort and/or any/all listed off-property tours, park, guides or companies for the most up-to-date and direct details.