Tina Meeks
Tina is a wife, mother, sister and content creator who aspires to encourage women and young girls to live every day being happy and confident in their own skin. With a passion for her family life, food, travel and style, Tina uses her creativity to tie together the core pieces of her world. Always looking past what we can see and reaching for more of what the heart can feel, Tina shares life through an authentic, more relatable perspective, one filled with warmth, humor and true personal beauty.
Instagram
Facebook
Twitter
Pinterest
YouTube
Website
Our family has taken spring, summer and even winter vacations, but somehow, we never get out and celebrate everything fall has to offer. So last fall, when the opportunity came up to take a quick family fall getaway to the Holiday Inn Club Vacations® Villages Resort to experience a weekend full of Falladays fun, we jumped on it.

The Falladays event actually takes place at two Texas resorts—Villages Resort in Flint and Hill Country Resort in Canyon Lake—but we chose to do our "staycation weekend" at Villages Resort since it was a closer drive for us.

As it turns out, this visit was just what our family needed. For anyone looking to get the most out of fall in a comfortable, delightful environment, I can't recommend Falladays enough.

(Editor's note: This trip took place in fall of 2019 pre-COVID-19.)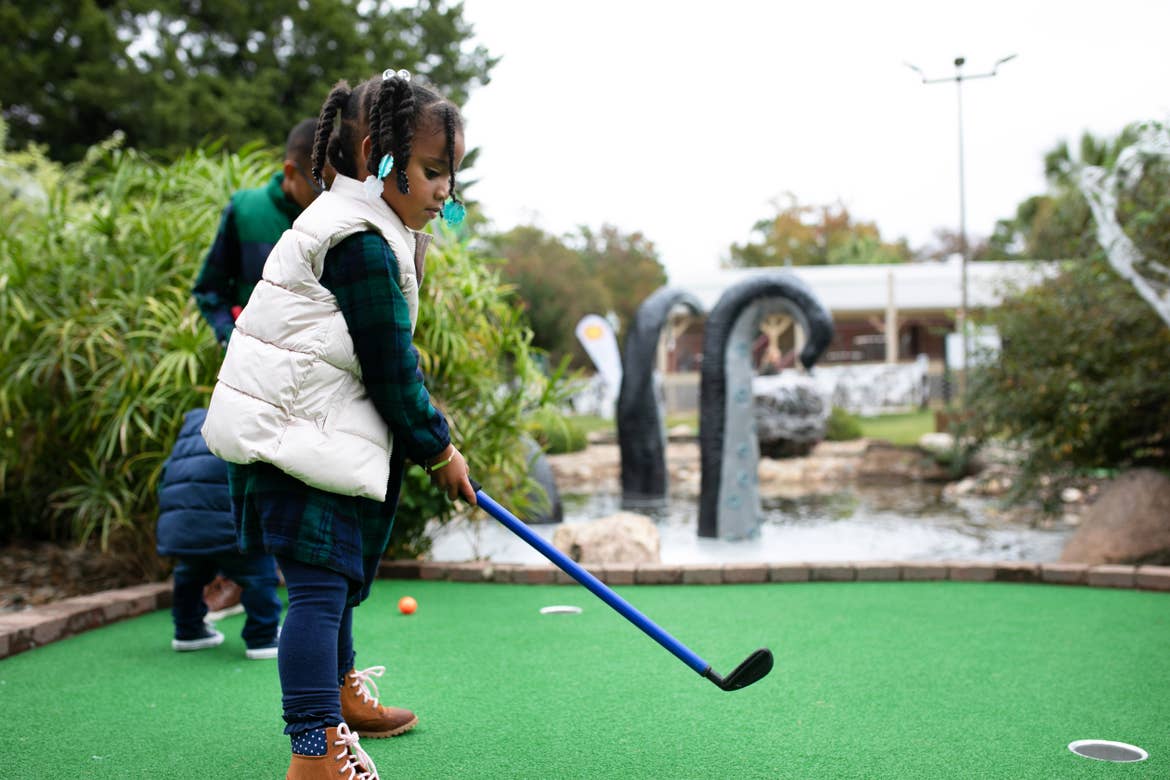 Traveling from Dallas to Flint, Texas
Prior to this vacation, our family had never taken a road trip before, so we didn't want to drive too far. Luckily, Villages Resort is a quick two hours from our home in Dallas, Texas. That was the perfect amount of time for our first family road trip. The kids had barely finished a movie in the car and we were there. My favorite part? We didn't have to listen to them ask, "Are we there yet?" for 5+ hours.

When we arrived at the resort, the kids were SO excited to see the Halloween-themed décor all over the property. We were first greeted by a weirdly delightful hay spider—that is, a bale of hay painted to look like a spider with leg extensions to boot.

Upon entering the lobby, we got all the warm, fuzzy feels. The resort staff was so welcoming, and the fireplace was surrounded by beautiful chrysanthemums and pumpkins; it was the first of many perfect autumn settings around the resort for an adorable fall family picture.

(Editor's Note: This year, as part of our Safe Travels program, we've got a new check-in process in place to ensure there's plenty of personal space for all arrivals.)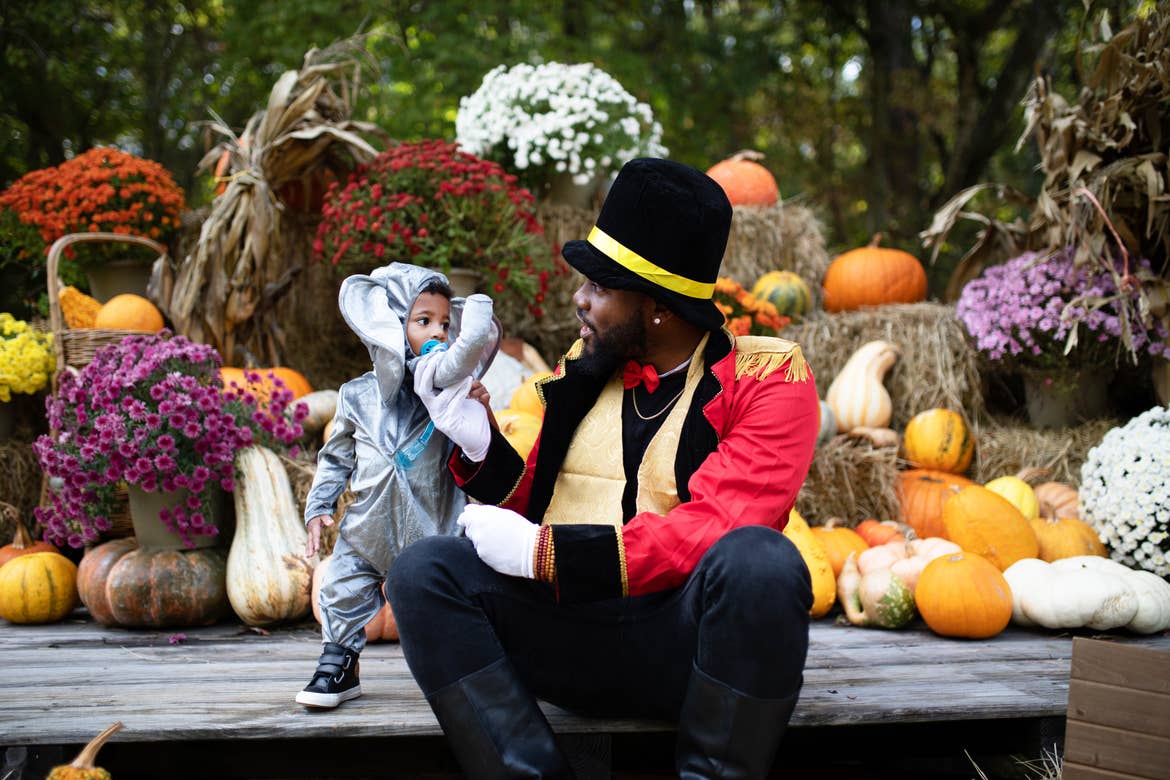 Our First Impressions of Villages Resort
This was our first time staying at a Holiday Inn Club Vacations resort, so we didn't know what to expect in terms of our villa—but we were pleasantly surprised. Our villa had a fully stocked kitchen—with a refrigerator, stove, oven, microwave, plenty of cabinet space, pots and pans, dishes, you name it—which was so great for families like us with tons of diet restrictions.

Our villa also had two full bedrooms with big, comfy beds, two bathrooms (VERY important to a family of five), and an entire living area for just relaxing, watching movies and playing games. The kids instantly made themselves at home with a movie and a bowl of popcorn before snuggling into bed.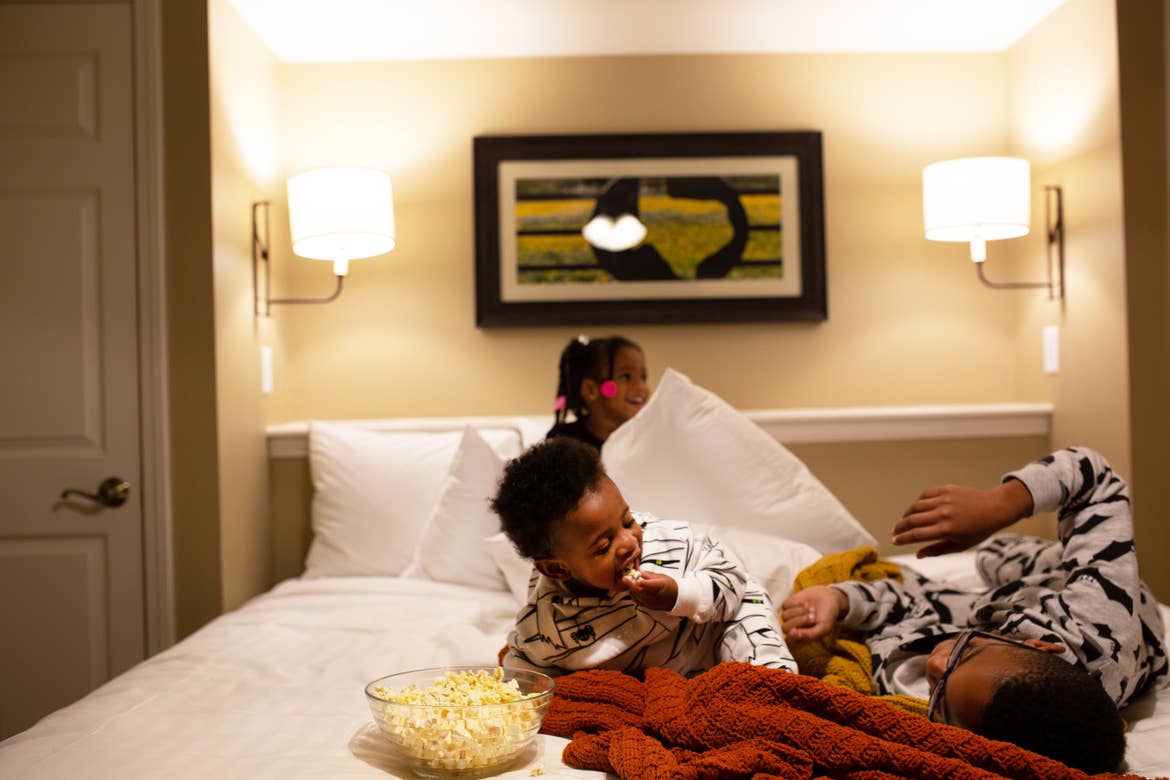 Reason for the Season: Falladays Fun
Before arriving, we had gone over some of what the Falladays festivities would include, and if I'm being honest, the list of activities truly made me want to be a kid again! From trick or treating and pumpkin "boo-ling" to Ghostly Mini Golf and taking cute fall photos of the kids, it was the perfect autumn getaway to get in the spirit of the season.

To say that they delivered on fall-themed fun would be an understatement because everything was amazing.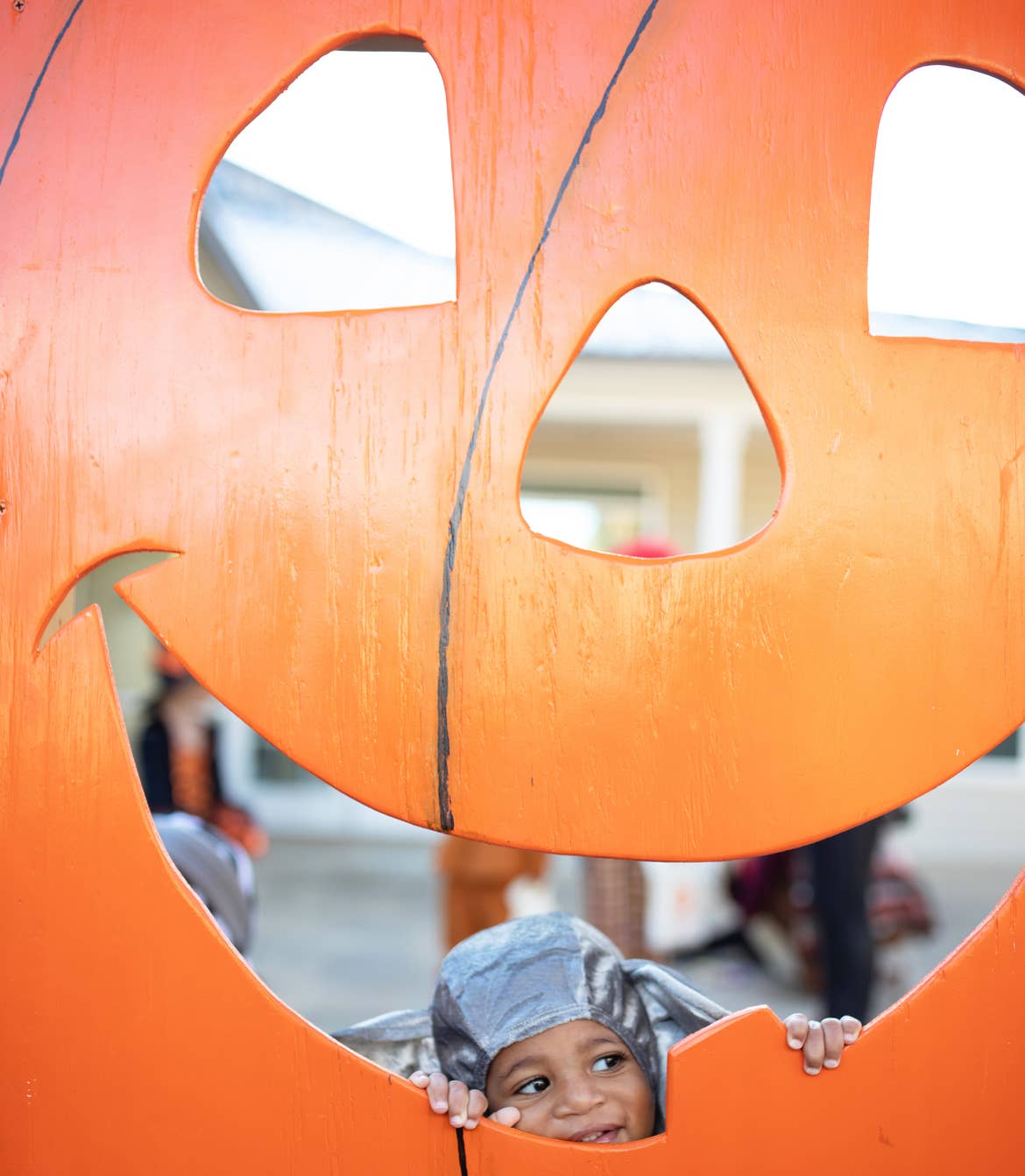 Whether you live in a place where fall is a big part of your yearly celebration, or it comes and goes without much by way of a seasonal change, an event like Falladays is such a great way to feel every bit of what autumn has to offer. Our family made a fall bucket list when the seasons changed, and we crossed so many items off our list during our stay here.

We started with spooky mini golf. It was such a fun environment as the course had spider webs, ghosts, a skeleton horse and mini graveyard. Not so spooky that the kids were afraid, but it really put us in the Halloween spirit. There were great family photo opportunities at every turn!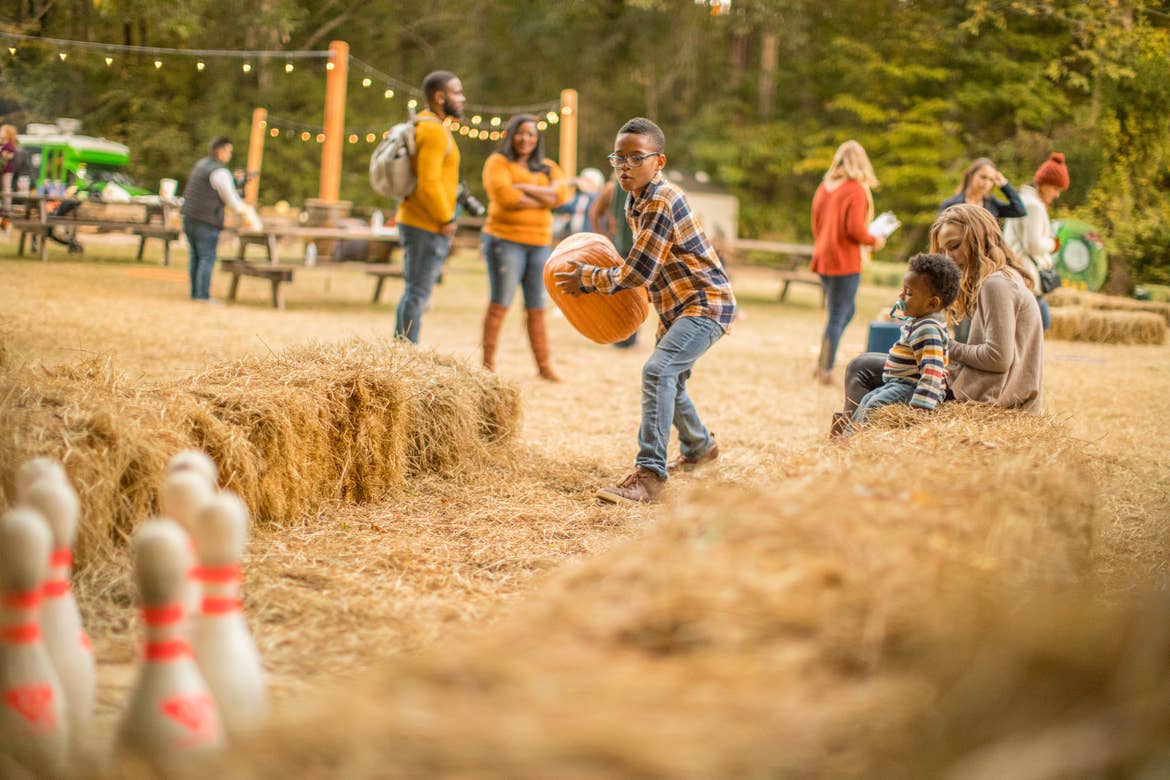 Next, we tried our hand at "pumpkin bowling" (also known as Pumpkin Boo-ling), which was so much fun. And we even got to go trick or treating all over the property! It was our first trick or treating experience as a family of five because our youngest was a newborn last Halloween, and it was so great that there wasn't anything too spooky that might scare him.




We ended our day watching movies on the lawn with popcorn and cozy blankets. Days like that are what fall dreams are made of.


Resort Features & Activities
The Waterpark at the Villages
We spent our last day at The Waterpark at the Villages, and even with all the great Falladays entertainment, it was probably everyone's favorite day. We splashed and played all morning.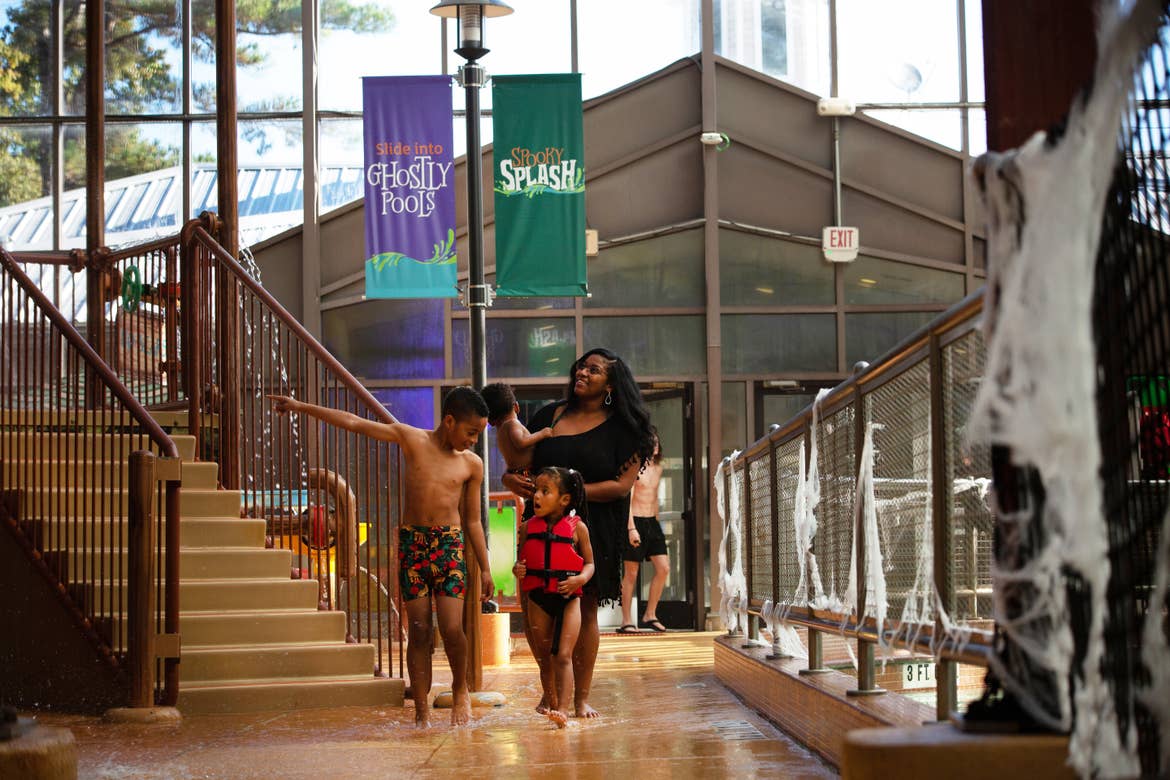 The best part was that we didn't need to worry about the crowds that come with a traditional indoor waterpark, so no long lines for rides or fear of too many kids horse playing in the wave pool. Oh, we had such a good time!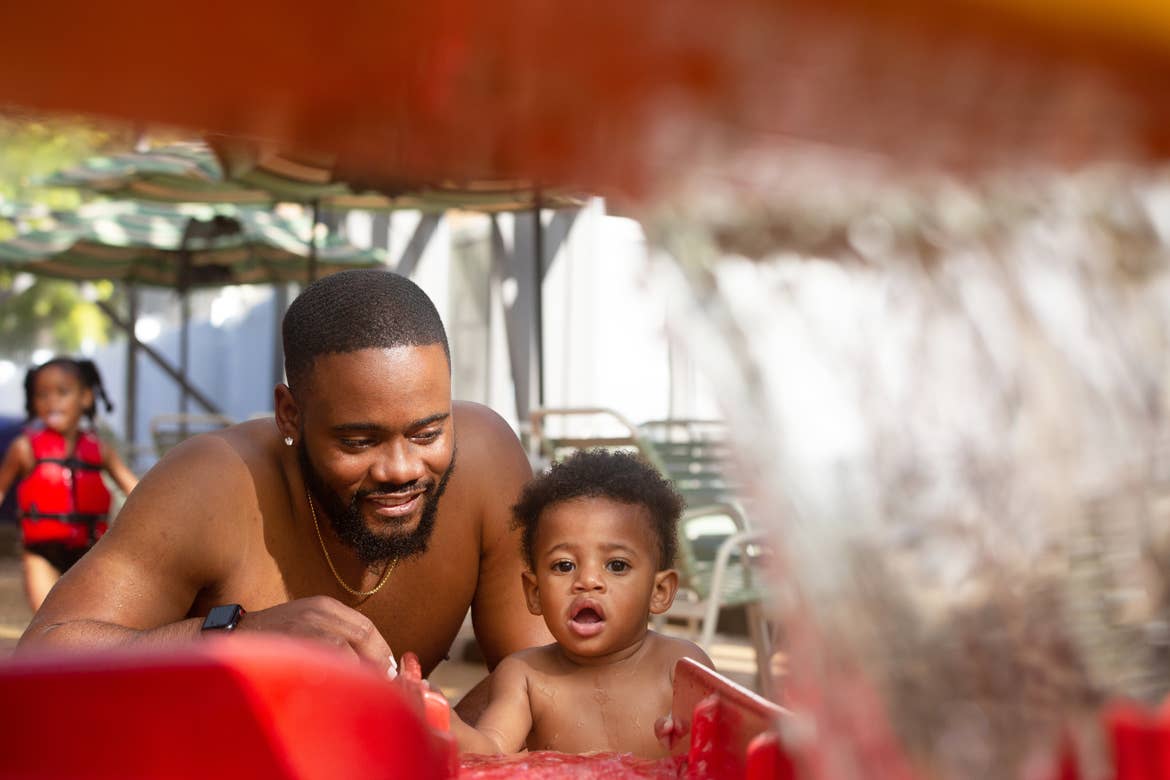 Horseback Riding
Another memorable part of our trip was the horseback riding experience. It was an extra special moment for my oldest son James (10) and me. He had never been horseback riding and I didn't tell him beforehand, so it was a complete surprise … It could've gone one of two ways, but he was super excited!

When we arrived, they had instructors give us a mini-lesson on what we should and should not do before they allowed us on the horse. James was so calm about getting acquainted with and mounting his horse. Once everyone was loaded up, we snapped a few pictures and then we were off.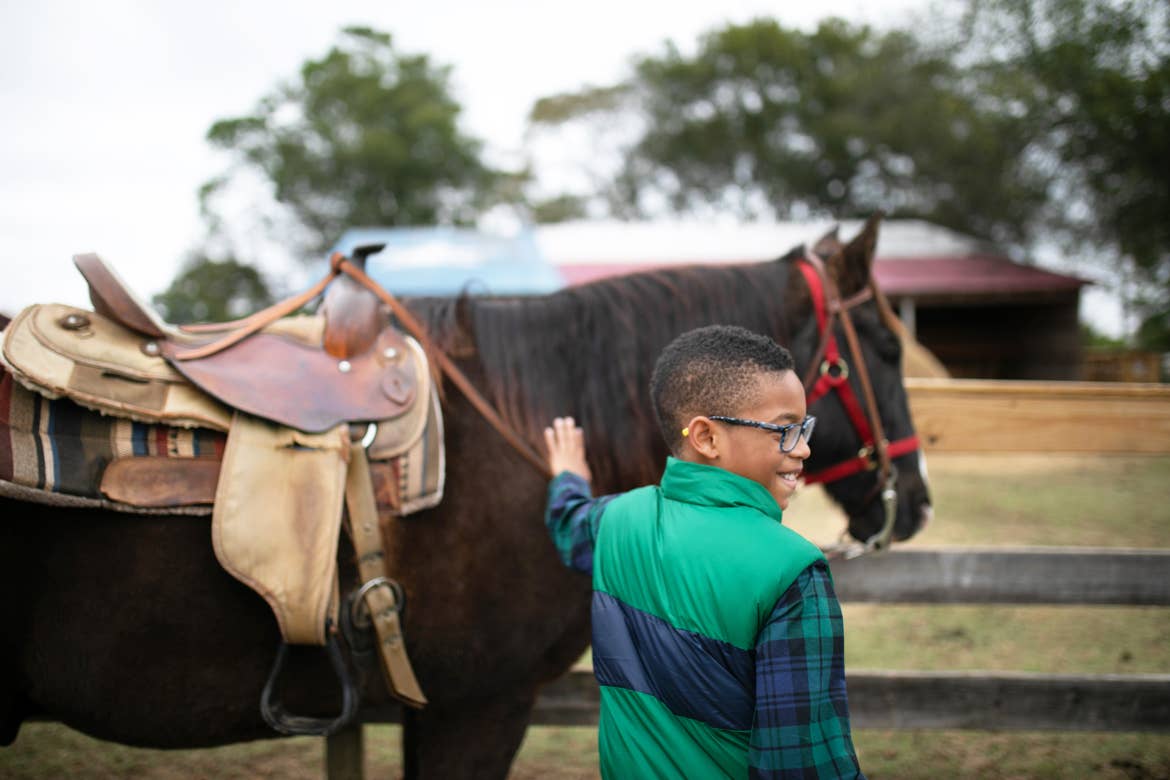 The route that is used for the horseback ride is so dreamy, almost like something out of a movie. We followed a quiet path that was surrounded by large, beautiful trees. Their leaves had already begun to change, so it was like a small piece of fall heaven.

As soon as you catch your breath from how amazing the trees look, the path opens up to a beautiful view of the lake. It's one of those moments that I wish I could have captured on my phone, but I'm glad I didn't so I could truly live in the moment. The horseback riding experience was definitely James' favorite part of the trip; when we got home, he told all of our family and friends.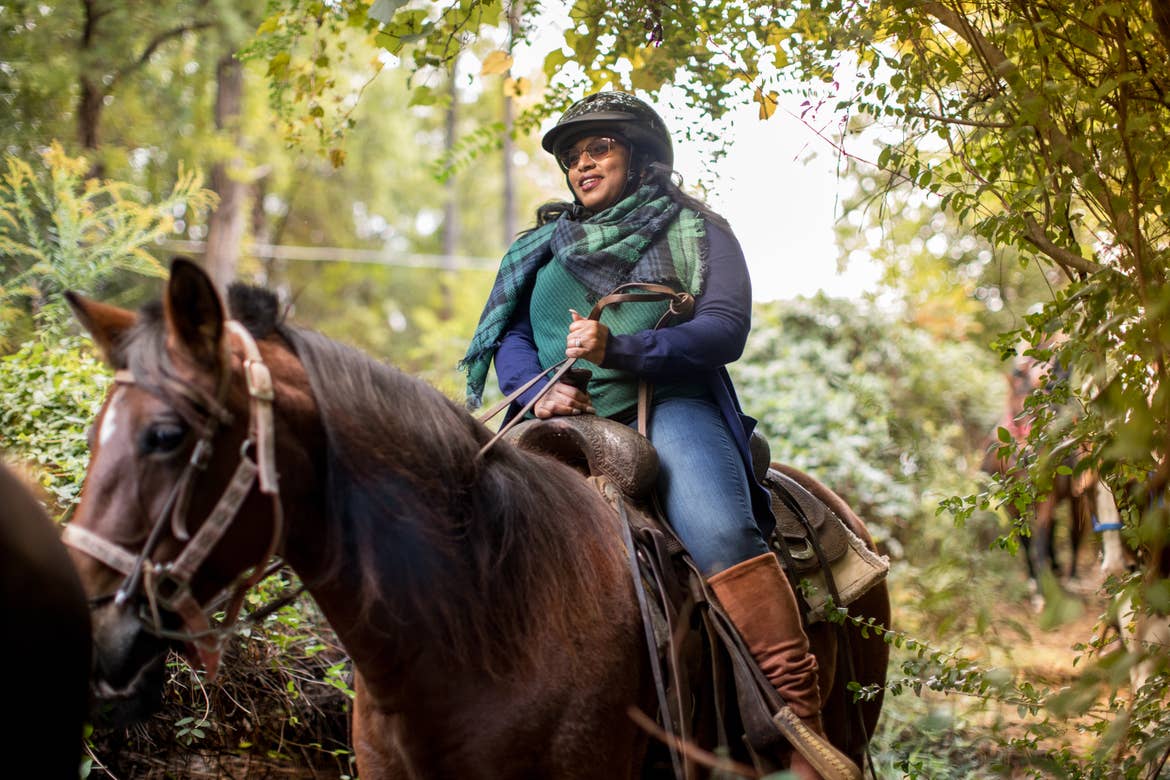 Even More Fall Fun
While we chose to spend our second "staycation weekend" day at the Waterpark, there was so much more to do during Falladays that we didn't even get to! (Maybe we'll head back this year…)

There are wagon rides, a meet and greet with Pearl the pony, and fun fall and Halloween-inspired hay bale characters scattered throughout the resort. And if you love trying seasonal food and drinks, you can also grab some yummy fall staples like pumpkin spice pancakes, caramel apples and s'mores sundaes! Falladays is seriously full of fall fun. (You can find out more about this year's event on the Falladays site.)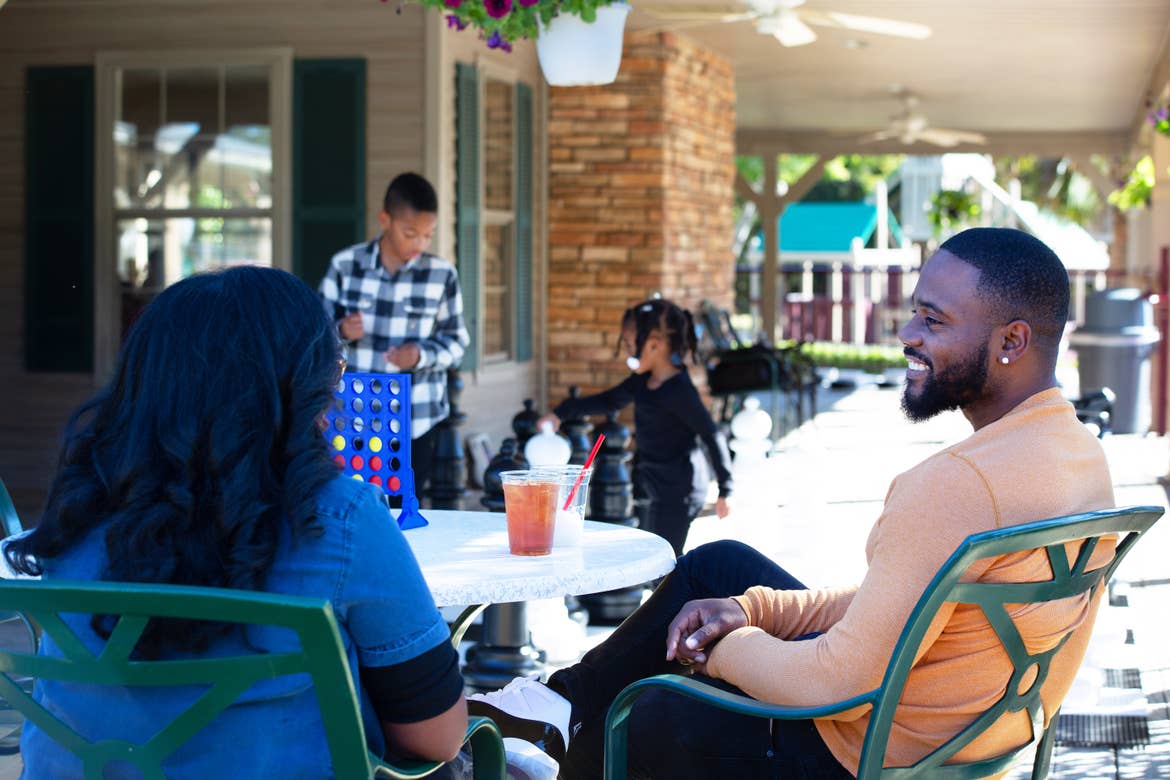 A Fall Family Vacation We'll Cherish for Years to Come
This weekend was the perfect little break from the busyness of life and an ideal way to spend time together (without the distraction of cell phones and other electronics).

We celebrated so many firsts as a family, and the kids even asked if we could come back this year! I may have told them that my husband and I were going to take a couples' road trip back without them because I know we could have just as much fun on a parent-only vacation...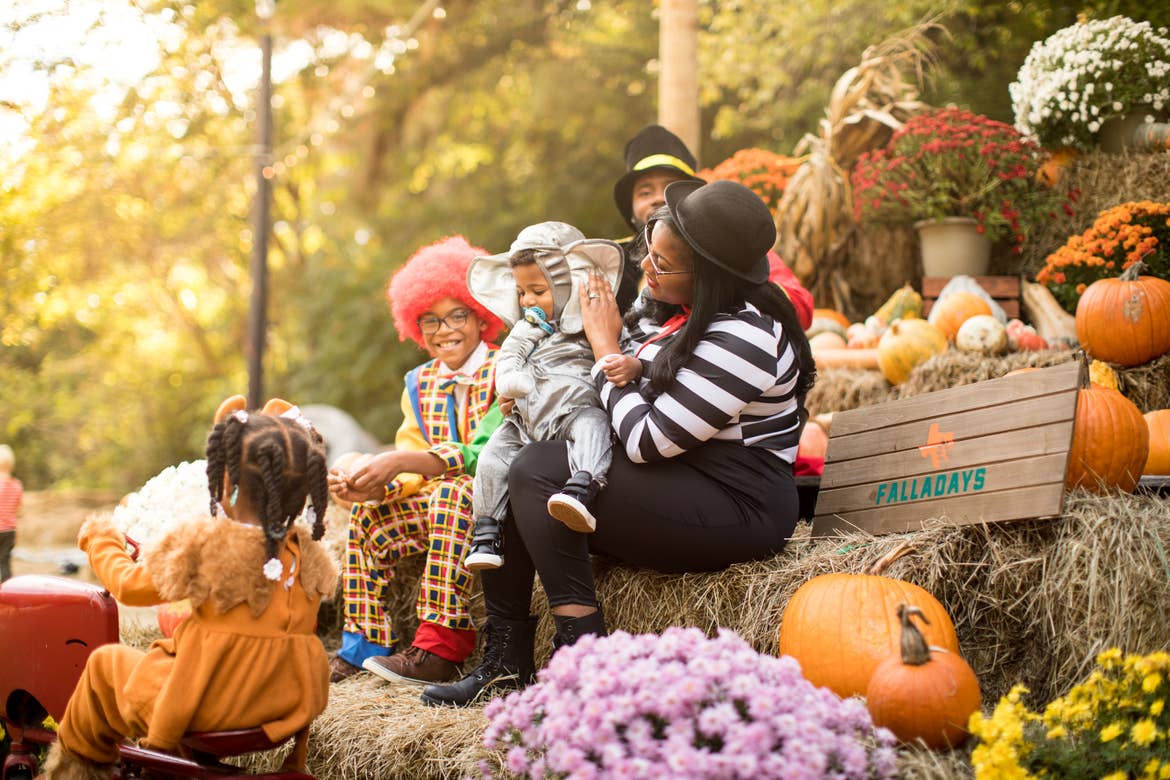 But all kidding aside, we look back on our fall family memories at Villages Resort and Falladays fondly, and hope you have a fun visit to Flint, Texas, too!

Happy Falladays!


Our guest bloggers are compensated for their writing contributions and honest opinions.