Tori Ferrante
Tori is a writer and editor for the Checking In travel blog. She's a wine lover, dog mother and adventure seeker who revels in finding those little-known, hidden gem spots. Her travel niche includes super budget-friendly, couples weekend getaways, and her absolute favorite vacations are the ones where she gets to explore new places with her husband, Brooks, and her fur son, Deagon.
Wanting to see snow this winter? There are so many incredible, cold-weather vacation spots out there for your next "snowcation." From an epic ski destination like Vail, Colorado, to cozy and relaxing retreats in New England, deciding where to go for a winter wonderland really depends on your winter vacation personality.

Are you a ski-all-day-every-day kind of person? Or more of a hotty-toddies-and-smores-by-the-fireplace seeker? Maybe you're wondering where you can get a little of both… If (like me) you like those Buzzfeed-type quizzes, you'll love finding your snowcation self below!

See which of these eight snowy getaway spots are perfect for your winter travel personality—and your next trip. Plus, some tips, stories and favorite things to do for each.


Find Your Winter Vacation Spot Based on Your Personality
1. If you like skiing all day every day and coming back to the finer, fancier things in life, like a steak that's bigger than your face or a relaxing Swedish massage at an upscale spa, your snowcation destination is: VAIL, COLORADO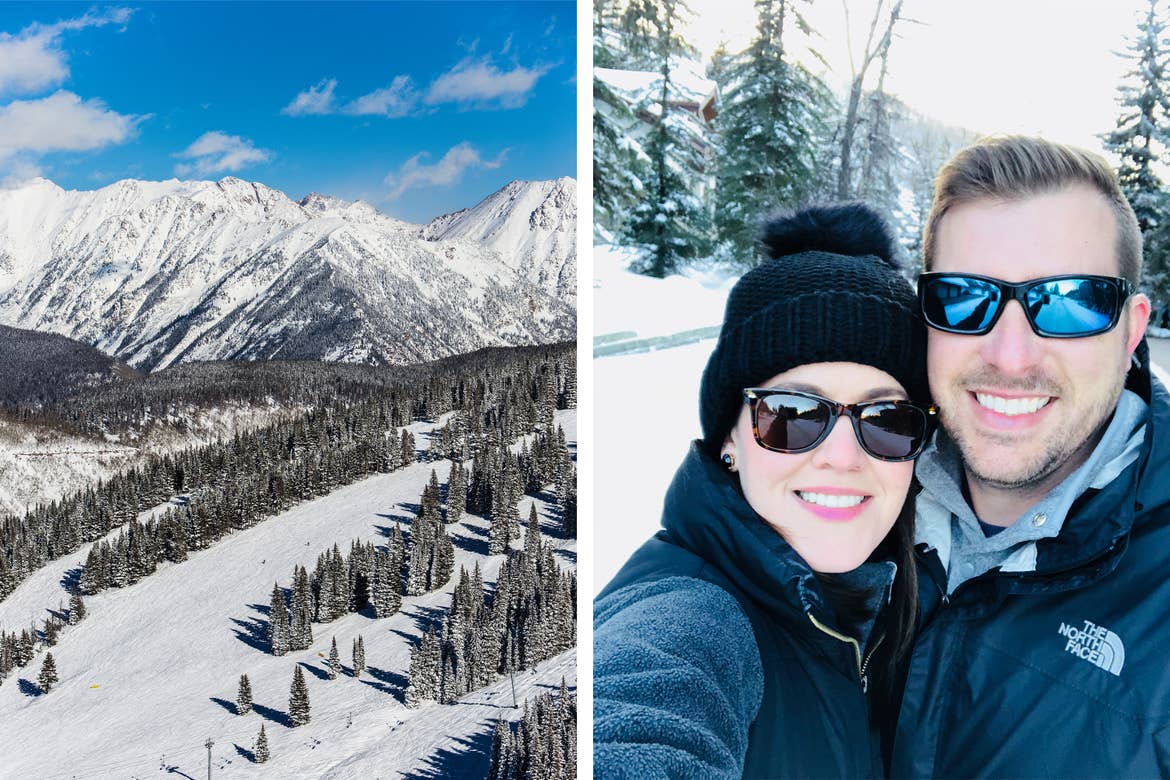 As one of the most popular ski resorts in North America, Vail is a king among kings (and its neighbor, Aspen, ain't too shabby either). Vail Resort has nearly 200 ski trails across 5,289 developed acres, making it a great vacation choice if you want to mix things up on the slopes.

Aside from the towering mountain and winter sports, Vail is super well-known for its luxury hotels, high-class spas and high-quality restaurants. (Don't skip out on getting some delicious German fare at Pepi's!)

More on Vail:

"Vail is a grown-up's paradise. I didn't get the pleasure of skiing at Vail very often during my college years at the University of Boulder, but getting to spend time in Vail as an adult is MAGICAL (with plenty of vacation day pennies saved as prep—it's not inexpensive!).

I did a couples' trip here with my husband a few years back and we loved the primo, groomed trails, walking around Vail Village and its storybook-esque buildings for drinks, dinner, shopping and people (and dog!) watching.

One of our favorite parts of any snowboard trip is always getting a spiked hot chocolate at the bottom of the mountain each day—I vividly remember there was one with crushed Butterfinger toppings in Vail. YUM!

Several years back, I also helped plan a "Veil in Vail" bachelorette party and girls' trip, and it was the BEST with lots of time skiing, snowboarding, vegging at the cabin, and going out for dinner and drinks in town. Plus, it's just so much fun getting dolled up with boots, scarves, hats and fuzzy sweaters as a Florida girl!

My pro tip? If you're renting gear, get it from Vail Sports. They've got locations in Vail Village, Lionshead Village and, most importantly, right on Vail Mountain, so it's mega convenient.

It might not be the best deal, but if you run into an issue on the mountain—or just want to avoid lugging stuff all over the place—you just can't beat having them 'right there.'"– Jennifer C. Harmon, Director of Digital Content & Engagement, Editor-in-Chief of the Checking In blog, part of the Holiday Inn Club Vacations corporate family since 2019


2. If you're all about city life, world-class shopping and super unique bar scenes with specialty cocktails, your snowcation destination is: CHICAGO, ILLINOIS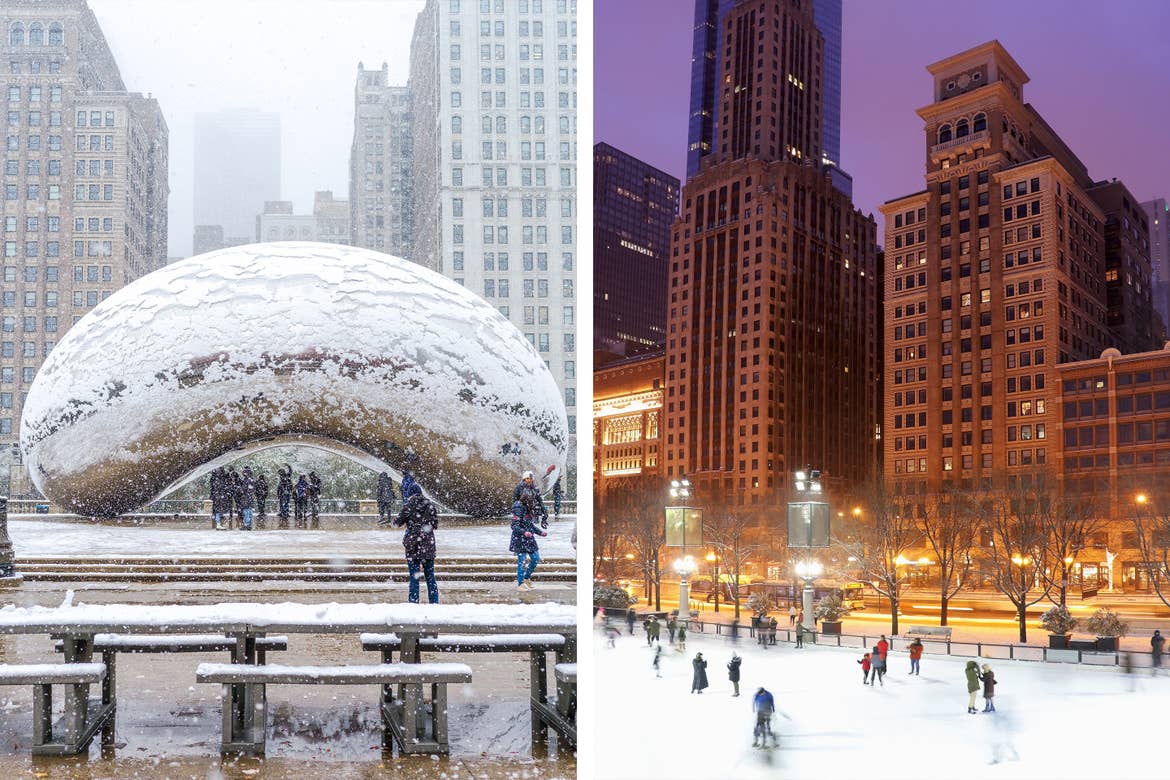 When snow sprinkles over the city of Chicago, skate rinks open, cold-weather zoo animals come out of hiding and you can hear the sweet clinkity-clink of spiked hot chocolates being stirred up. Chicago's iconic bar and restaurant scene is absolutely transformed with heated snow globes on rooftops, personal greenhouses and more.

One thing you won't want to miss? The Christkindlmarket from November–December. It's an annual, German-inspired, Chicago tradition that features delicious foods (like fresh pretzels and brats), hot, spiced wine, cheery music and local shop vendors (perfect for finding that extra special gift for a loved one).

Plus, our Fox River Resort is a quiet escape for cross-country skiing (or maybe some snow angels?) when you've had your fill of the city, at just about 90 minutes away.

COVID-19 Safety Note: As of the time of publication, Chicago's bars and restaurants are currently open with outdoor seating only, so be sure to bundle up, mask up and grab a spot by the heaters to enjoy your experience.

More on Chicago:

"No matter how cold it may be walking down the Magnificent Mile, the streets of Chicago have always managed to warm my spirit. From the decorative windows of Macy's that feature popular Christmas stories to the hustle and bustle of the Christkindlmarket as you sip on hot cocoa, Chicago is a true winter wonderland that you can enjoy with all your loved ones.

One of the newest traditions (and my personal favorite) is renting a pair of skates for a winter date night at Maggie Daley Park's ice-skating ribbon. My fiancé and I went the year it opened for our first date, and it has such a special place in our hearts. We cannot wait to share it with our own little family in the future." – Nicole Cihock, Digital Media Designer, part of the Holiday Inn Club Vacations family since 2020


"When you're looking to warm up while in the Windy City, Chi Town doesn't disappoint. Some of my favorite indoor spots to hit up when in Chicago, snowy or otherwise, include getting high tea at the historical Palmer House, eating brunch at Girl & The Goat, catching a Broadway-style show in the Chicago Theater District and exploring the Field Museum of Natural History." – Jennifer C. Harmon

COVID-19 Safety Note: At the time of publication, the Chicago Theater District is temporarily closed.


3. If you're looking for the most epic skiing of your life located right near an Instagrammable, winter wonderland village with lots to do, your snowcation destination is: WHISTLER BLACKCOMB, CANADA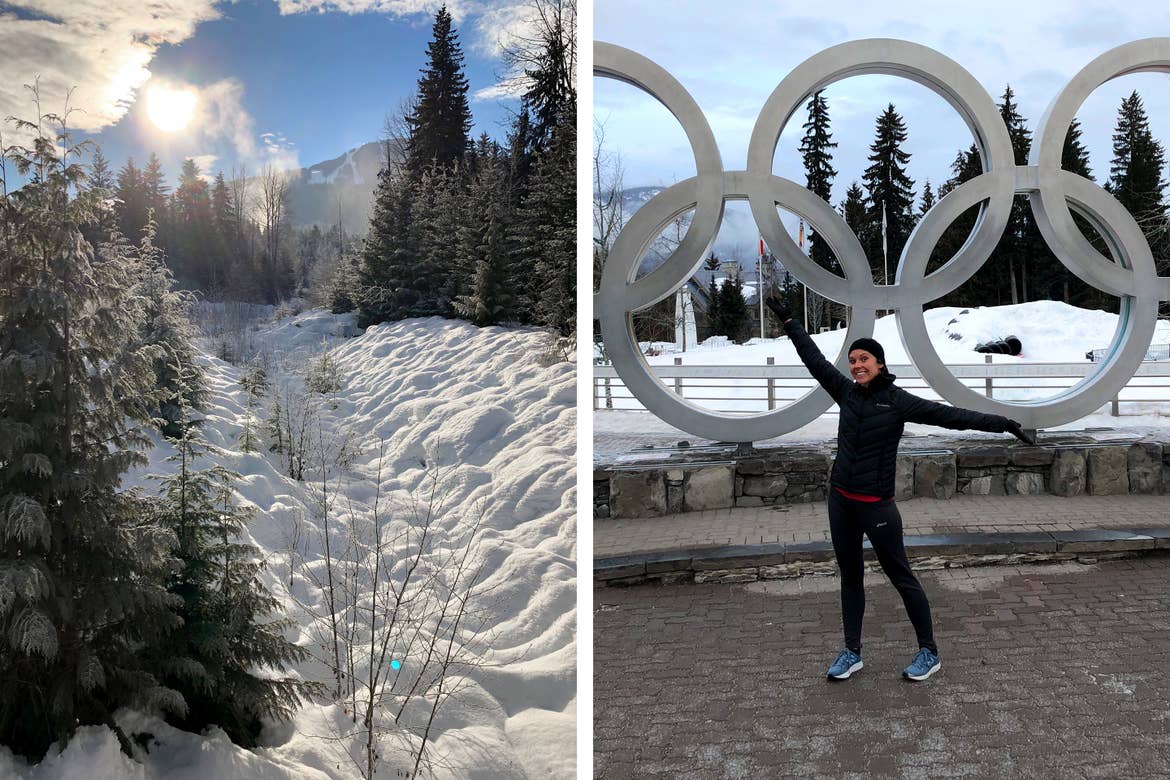 British Columbia's Whistler has not just one but two(!) ginormous mountains—Whistler Mountain and Whistler Blackcomb—at its ski resort. They're connected by the PEAK 2 PEAK Gondola, which is the world's largest lift of its kind with an 11-minute ride across three miles of gorgeous scenery. (No driving from mountain to mountain needed over here!)

Combined, Whistler Resort has over 8,000 acres of skiable area and 40 different lifts, and it was voted the #1 overall resort in North America by SKI Magazine due to its consistent, reliable snow, which truly makes all the difference on a ski or snowboarding trip (especially if you're visiting for spring break skiing).

Plus, it's a great ski town outside the resort, too, offering sleigh rides, snowmobiling, restaurants, art galleries, local shops, spas and more. The 2010 Olympic Games were also held here, and the Rings are a Whistler must-see. They're located right by the Whistler Olympic Plaza in the village.

More on Whistler:

"I loved the diversity of things to do in Whistler. With everything centralized in the Village area, there's shopping, delicious dining and more mixed in right at the base of the mountain.

The ski school was great, too, and I'm so impressed by the conveyor belts that have replaced the old-fashion rope-tows (although I feel like that's still a rite of passage for anyone learning to ski!).

My advice is to check out the Olympic rings both at the bottom and the top of the mountain! Some of my favorite memories included running around the village to find the Olympic rings.

Definitely plan to spend a few days there and make sure to do the gondola between Whistler and Blackcomb; it's breathtaking." – Sarah Conroy, Checking In travel blog contributor



"My husband and I waited till December to do our honeymoon so we could go to Whistler over Christmas break. It was the most magical place both to snowboard on very very snowy and very very steep trails and to check out the Olympic sites.

We saved a TON of money because we stayed at a really nice ski in/ski out resort right BEFORE Christmas peak. (It literally quadrupled in price once you hit 12/24, 12/25, and the week between Christmas and New Year's.) And we saved on flights because we flew home on Christmas Eve, which is typically an annoying time for families to travel.

It was also really romantic; our accommodations had in-villa fireplaces, full kitchens for cooking, and beautiful snowy hot tubs overlooking the ski resort. We even saw SANTA ON SKIS on the slopes on Christmas Eve Eve!!" – Jennifer C. Harmon


4. If you want to spend your vacation time doing a little skiing, a little snowshoeing, a little ice skating, a little this and a little that in a cozy, little town, your snowcation destination is: WATERVILLE VALLEY, NEW HAMPSHIRE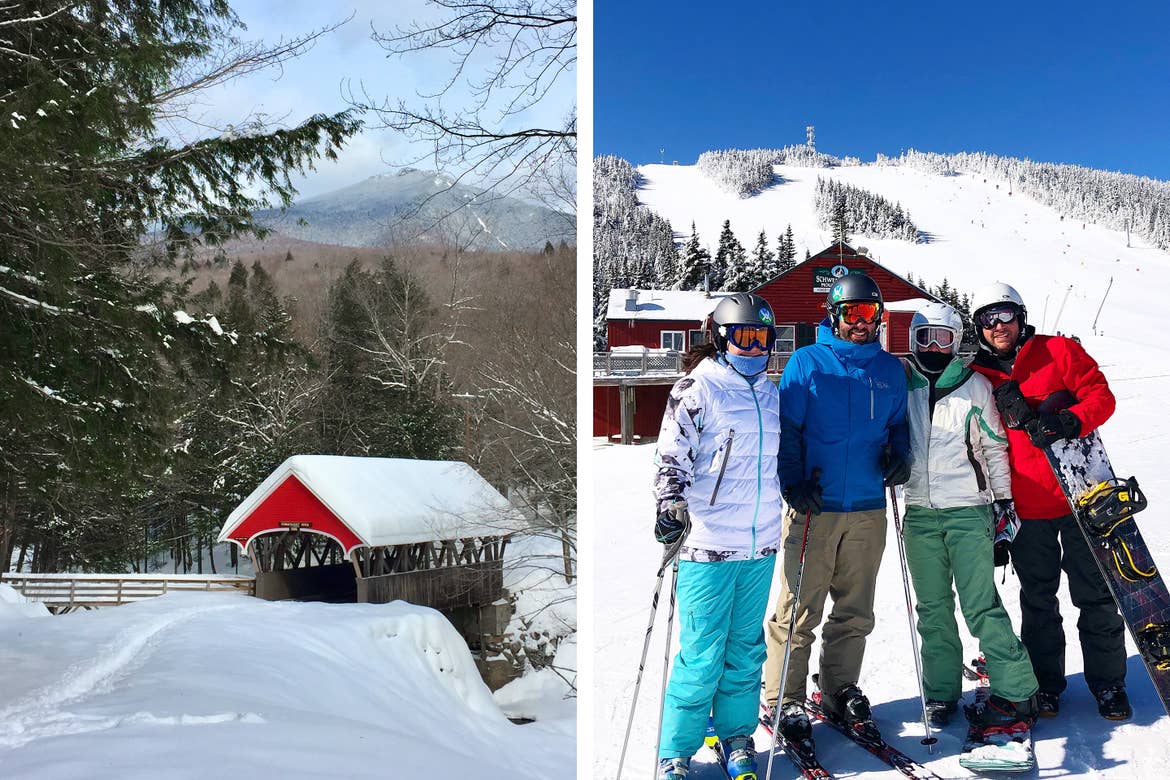 Located just about two hours from Boston, Waterville Valley offers the perfect winter vacation retreat in a lesser-known, but just as snowy and fun, town. Popular activities here include alpine skiing (of course), cross-country skiing, snowshoeing, fat biking, ice skating, tubing, hiking and more.

When you want to escape the cold, they also have an escape room, winery, cute shops, an arcade AND the Curious George Cottage where H.A. and Margret Rey wrote many of this famous little monkey's adventures.

COVID-19 Safety Note: As of the time of publication, the Curious George Cottage is temporarily closed. Be sure to check with any activities to make sure they're open before your visit.

More on Waterville Valley:

"I had never heard of Waterville Valley before my best friend invited my husband and I for a weekend visit at her new ski condo there. After just three days, I vowed to come back every single year!

Waterville Valley is a hidden gem where you can downhill ski and snowboard, cross-country ski, hike and bike—all in one cute, Hallmark-ish little town. It just has everything. We did snowboarding on a Friday, cross-country skiing on a Saturday and snowshoe hiking on a Sunday—all with lots of delicious lunches, dinners and drinks throughout.

The ski resort, Waterville Valley Resort, is super-duper family-friendly and offers enough amazing views and black diamond trails for this former Colorado girl. Seriously, if you don't typically like East Coast skiing, you might love it here just as I did (and I'm a ski snob).

Plus, they have a brewery at both the bottom and top of the mountain with delicious lunch options—a must for a great ski/snowboard day. If you go often, you can even join the beer club and have your own personalized stein sitting and waiting for you and your (discounted) drink order behind the bar.

ALSO: THEY HAVE A WAFFLE HUT AT THE BASE OF THE MOUNTAIN!!!!!!!

As an avid reader and daughter of a Pre-K teacher, I especially loved stumbling upon the Curious George Cottage aka the Margret and H.A. Rey Center. It was the summer home of the authors, and as such, is where many of Curious George's adventures were written!!!

It's now a little museum with weekly storytimes and kids' activities, among other events and offerings, and it's just a real sweet little tribute to that little monkey.

Pro tip: I had THE best sandwich of my entire life at Mad River Coffee House. I still dream about it. Great, cute place for coffee, breakfast and pastries, too. Try the ham and spicy apricot chutney wrapini (omgggggg), the sweet and spicy BLT or really ANY of the specials." – Jennifer C. Harmon


5. If you're looking for a super romantic, super unique winter vacation with experiences that are NOT ski-related, your snowcation destination is: NEWPORT, RHODE ISLAND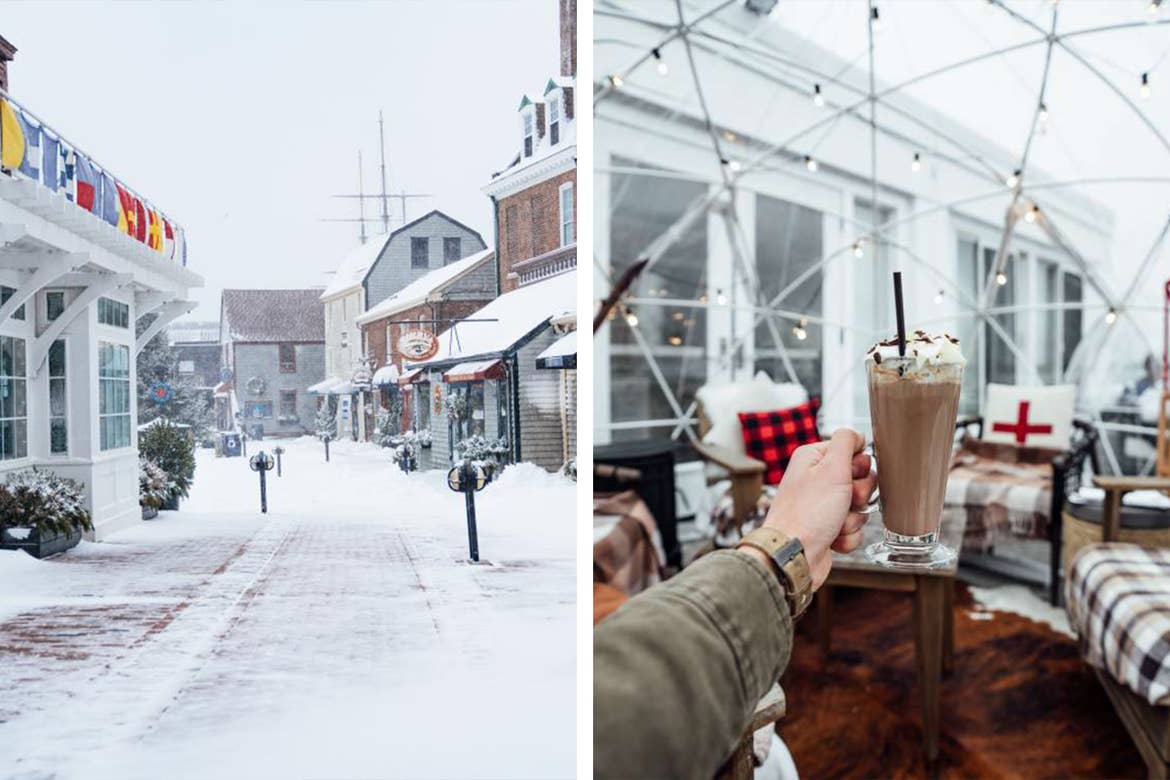 Photos courtesy of Discover Newport

You might know this town for its summer seaports, but the snow-capped seashores of Newport are filled with original experiences that are kicked up a notch in winter.

For example, my personal bucket list includes warming up in a heated, themed igloo that overlooks Newport Bridge and Narragansett Bay. (You've probably seen these igloos on Pinterest before.) You can find them at Gurney's Newport Resort & Marina.

Other unique adventures? Goat hikes, hot chocolate bars, ice skating on the bay, seal tours and more. Oh, and did I mention it's a New England foodie paradise?

More on Newport:

"This is truly a great spot for people who want a really pretty, scenic, I'm-dreaming-of-a-white-Christmas moment without snowboarding and skiing. Some of my favorite things to do in Newport in the winter include ice skating at Gurney's, hanging out in one of its heated-up igloos and going seal watching with Save The Bay.

You also have to visit some of the mansions on Bellevue Avenue; every year we'd go to see their Christmas decorations since they all decorate so elaborately. The Elms and Belcourt Castle were always my personal favorites.

And in Downtown Newport, you can find the White Horse Tavern (the oldest tavern in America and 10th oldest restaurant in the whole world).

Pro tip: Dress in layers and bring your favorite snow-friendly boots! When it snows, it's usually more of a wet snow, so you definitely don't want wet socks if you're exploring downtown/historic Newport." – Jessica Salina, Checking In blog contributor


6. If you're looking to fill your days with a variety of winter sports, followed by a variety of après-adventure drinks in an oh-so-cozy setting, your snowcation destination is: STOWE, VERMONT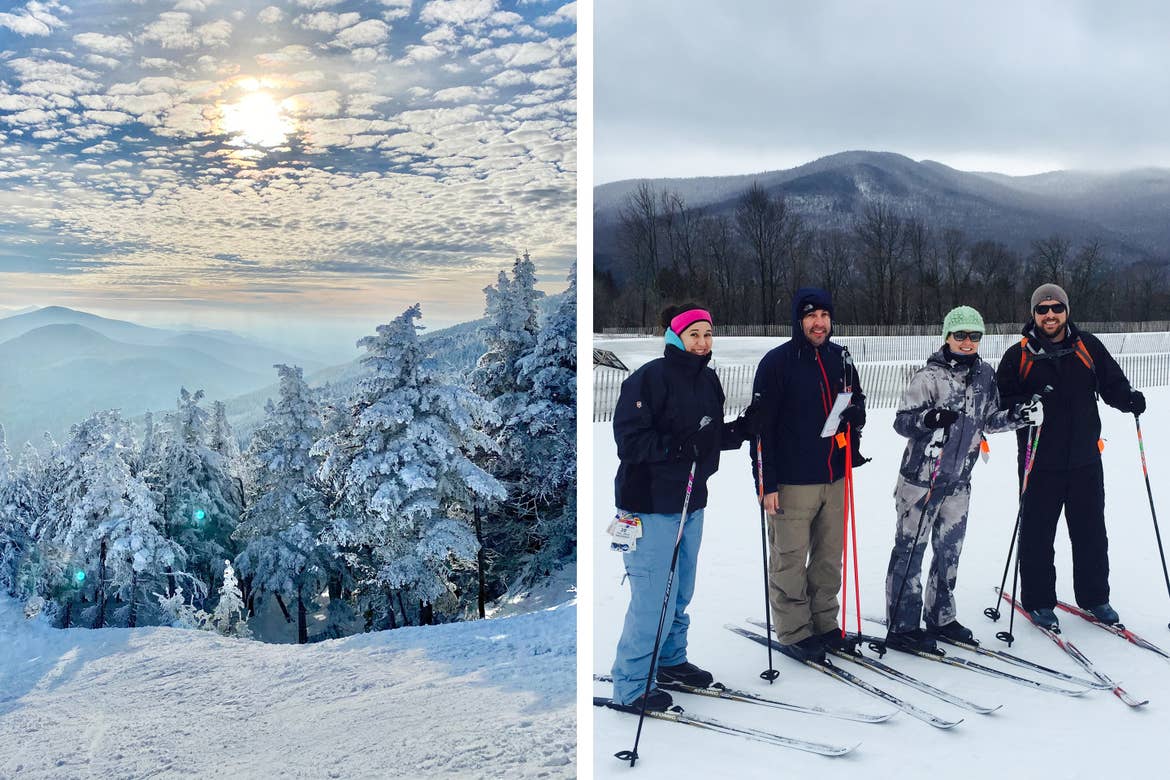 Stowe is a picture-perfect mountain resort town with picture-perfect views of Mount Mansfield. It's a Hallmark-worthy hot spot for winter sports and activities, including everything from skiing, snowshoeing and sleigh rides to dogsledding (yes), ice fishing (sure) and, if you're feeling really brave, ice climbing (that's a no for me, thank you).

Aside from all the outdoor winter activities your heart desires, Stowe is also home to a wonderful après-ski scene with craft breweries, wineries, distilleries and cider-houses everywhere (sign me up!). Oh, and lots of Vermont cheese and maple syrup, of course.

(And even though it's best known for its ski trails and slopes, Stowe is also a great place for a fall getaway to see the leaves change colors, too.)

If you need a place to call "home" during your snowcation, our Mount Ascutney Resort is a great option with spacious villas, a farm-to-table restaurant, arcade, fire pits and more—all just about 90 minutes away in Brownsville, Vermont.

More on Stowe:

"Stowe has great snowy slopes, cute cabins and pretty picturesque towns, and you can also eat a lot of cheese, maple syrup and Ben & Jerry's ice cream (and tour the Ben & Jerry's factory).

Further out, there's also a Vermont Teddy Bear Factory and nearby, you can legit visit, drink beer and cross-country ski at the von Trapp family's Austrian-inspired lodge! (It's literally the Sound of Music kids/family-owned!!!)

Pro tip: I did feel like we made a (huge) mistake during our one and only visit to Stowe. Not knowing really anything about the area and not doing much research before we went, we figured that the surrounding area's (much, much cheaper) ski resorts would be just as good as Stowe.

They're all in the same area, so probably pretty similar and comparable, right? FALSE!!!

We had a pretty lackluster, slushy, bummer of a snowboarding day the first day of our visit. Honestly, it sucked. And THEN, we visited Stowe Mountain Resort—just for the gondola ride up for lunch—and IT WAS SO AMAZING.

You know that sinking vacation feeling you get when you know you made the wrong choice but there's no time left in your trip to fix it?! We were SO SO SO upset we didn't do our ski day at Stowe even though it was WAY more expensive. It would have been epic. Lesson learned!

If you don't ski or snowboard, I'd still highly recommend taking the Stowe Gondola SkyRide up for lunch and/or for drinks at Cliff House. The views are AMAZING, as is the service and menu offerings. (It does cost a fee but is way less than the cost of a day's ski lift ticket.)" – Jennifer C. Harmon


7. If you're bringing the whole family along for a fun-filled, snow-filled holiday vacation, your snowcation destination is: ST. LOUIS, MISSOURI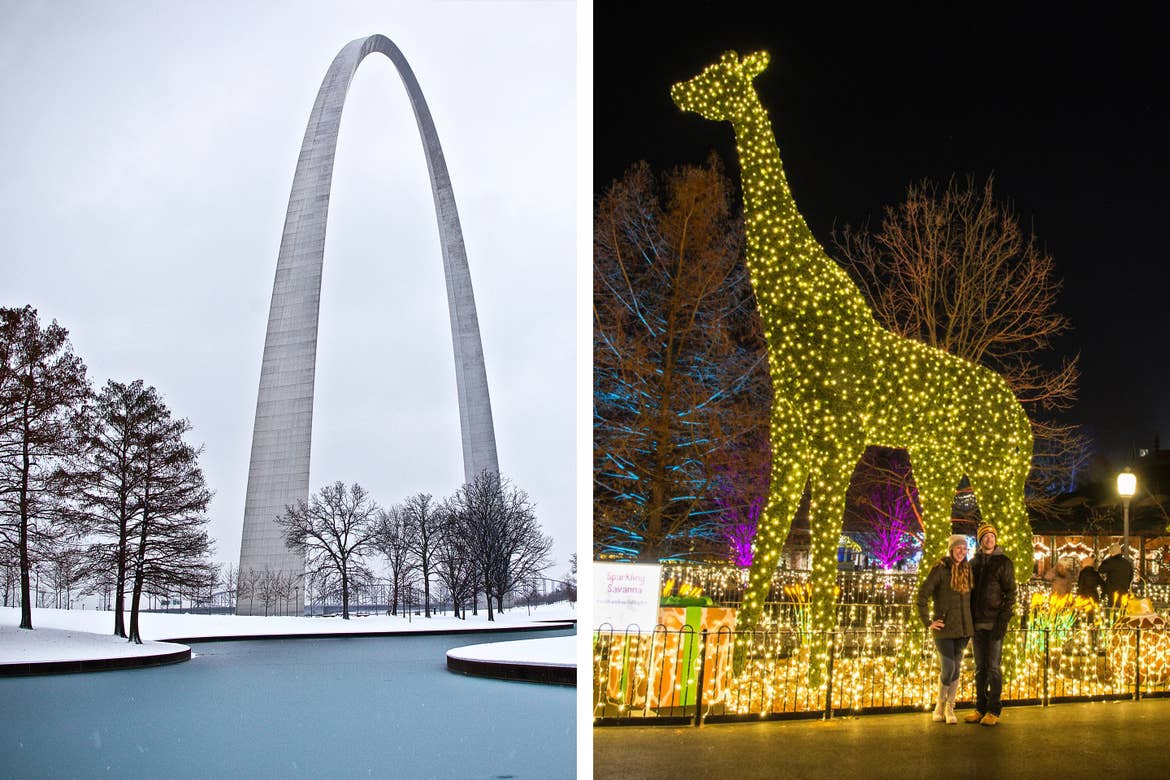 Photo courtesy of Saint Louis Zoo (right)

St. Louis is another big city that gets decked out with winter activities the whole family can get in on. If you've never strolled through a zoo that's lit up with a million holiday lights at night, that's the perfect place to start in St. Louis.

More fun St. Louis family attractions include Winterfest, which transforms Kiener Plaza into a winter wonderland that families can drive through, and the St. Louis Wheel at Union Station, which is a 200-foot-tall Ferris wheel that has climate-controlled gondolas.

More on St. Louis:

"When I first visited my fiancé in St. Louis, Missouri, I never imagined a city that could rival Chicago during the holiday season. With only 24 hours to explore during my stay, we managed to cover some seasonal staples that would eventually become part of our favorite memories.

We began the day walking through the Saint Louis Zoo, which was decorated in string lights and displays for its 'Wild Lights' nighttime event. We watched various animals playing with Christmas trees while drinking hot cocoa, and it was such a unique and stunning experience.

After the zoo, we were advised by locals to warm up in a beautiful greenhouse called 'The Jewel Box.' Inside the glass, vaulted ceilings, we found ourselves surrounded by red, pink and white poinsettias in honor of the holidays. It was the perfect rest stop after walking around town.

In between those locations, we were met with carolers performing holiday songs and unique shops and cafes decorated for the holidays." – Nicole Cihock


8. If you're an adventurous family looking for some epic winter action with outdoor sports and gorgeous lake and alpine views, your snowcation destination is: LAKE TAHOE AREA, NEVADA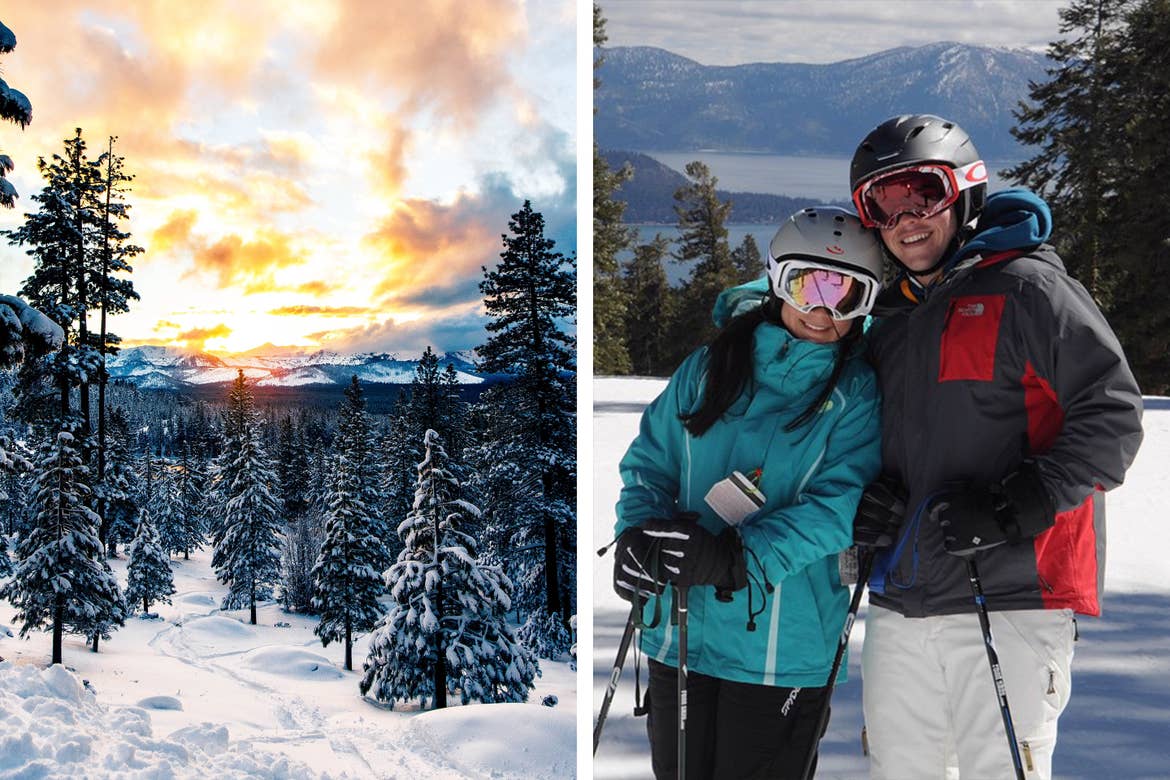 While Lake Tahoe has plenty of things to do in the summer, this alpine destination is widely known for its skiing trails in the winter. What makes Lake Tahoe different from all these other ski destinations? The area is huge with Heavenly Ski Resort, 14 other ski resorts nearby and so much else to do while in town.

You've got your go-to winter activities: skiing, sledding, snowshoeing, ice skating. And then you've got snowmobiling through trees and forests, zipping around on a UTV tour and riding the Ridge Rider Mountain Coaster, an exhilarating, gravity-powered alpine coaster that zips through the forest and natural rock formations. And even if you don't ski, riding the gondola at Heavenly Resort is a must for the views alone.

When you get hungry, we highly recommended grabbing some pizza, drinks and live music at Base Camp Pizza Co., located in Heavenly Village, for a great family meal.

If you're looking for the perfect spot to unwind from those legendary winter adventures with some cozy après-ski cocktails, hot tubs with mountain views and maybe even your own villa fireplace, check out our Tahoe Ridge Resort and David Walley's Resort, both on the Nevada side.

Our Tahoe Ridge Resort even has a direct Skier Express gondola that connects you right from the resort to Heavenly Mountain's Stagecoach Lift! (Pretty much a ski-in/ski-out dream.)

More on Lake Tahoe:

"Lake Tahoe holds a very special place in my heart.❤️ I've been going skiing there since I was a little girl with all of my family. We used to stay at Northstar and eventually my uncle got a place there.

It was actually the last trip I took with my grandpa, and then a few years ago, I was able to go with my husband and share the experience with him. For us, it was literally just ski, eat, sleep, repeat. And now and then, we did ice skating and fireside time.

In my opinion, it's a great spot for all ages, especially if you're planning your first family ski trip. When they were super tiny, my brothers both went skiing, and we also had my small cousins taking ski classes. I remember my grandparents would take the gondola up to the top of the mountain, have lunch with us and then go back down, too.

Pro tips for Lake Tahoe in the winter:

Pack for SUPER cold/snowy weather, but also pack for lighter weather. It can get super "hot" during the day while skiing, so if you had a bulky sweater that day, you would probably need to go back and change. Same for the other way around.
Bring your own ski gear. Everything ski-related is more expensive there, so I would recommend renting the skis, helmet and poles and trying to buy your own gloves, pants, boots, etc.
If you're thinking of staying more than 2-3 days, consider buying a week pass/season pass. It ends up being cheaper than paying per day, even if you don't plan to ski every day." – Maria Leal, Brand Strategy Associate, part of the Holiday Inn Club Vacations corporate family since 2019
Did you find your perfect winter vacation spot? We hope these super snowy destination ideas and tips helped inspire you to book your trip, splurge on some extra warm-and-comfy snow boots, pack up your fuzziest parka and let it snow!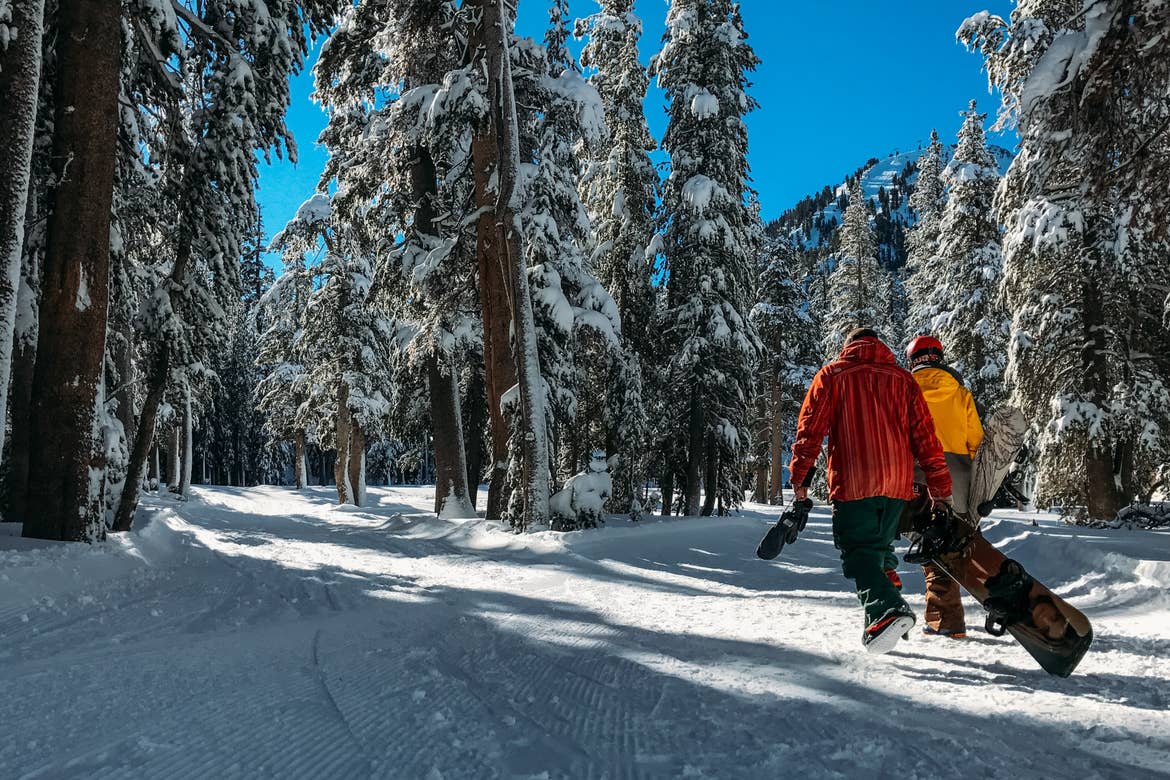 All information is subject to change. This article is a curated guide and is neither sponsored nor considered an official endorsement. Please be sure to check information directly with any/all tours, guides or companies for the most up-to-date and direct details.