Jessica Salina & Tori Ferrante
Jess and Tori are both key contributors to the Checking In travel blog. Jess serves as our go-to expert on all there is to know about Walt Disney World Theme Parks (her top favorite park being Epcot), and Tori specializes in finding those hidden gem adventures and travel spots during couples' getaways with her husband. Tori and Jess both stay energized through running, lots of coffee and being outside in the great outdoors.
Get ready to break out your favorite boots and leggings, hit up the drive-thru for an afternoon Pumpkin Spice Latte and cozy up on the porch to feel that crisp autumn air (or turn the A/C wayyyy down to make it feel like crisp autumn air).

Lately, we've been dreaming of taking a fall getaway to see the leaves change to vividly colored reds, oranges and yellows and to enjoy pumpkin-flavored everything.

If you, too, have been thinking about a fall family getaway, we've got all the cool-weather, leaf-peeping travel inspo you'll need.

From mountain towns and spooky stays to seasonal festivals and sip-worthy cideries, we've rounded up some of the best places to travel in the fall to see the leaves change colors and get a true autumn-inspired experience.

(Note: These destinations aren't in any order — they're all lovely options.)


1. Stowe, Vermont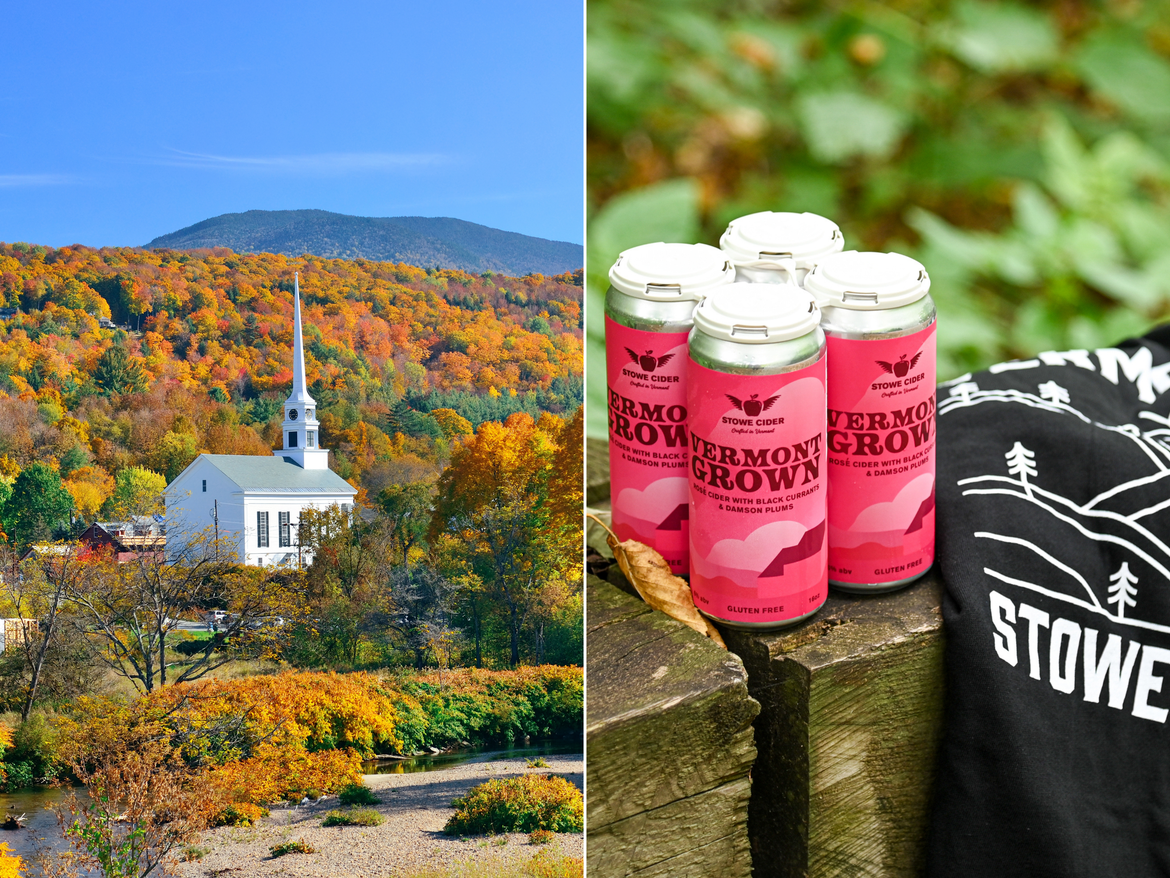 On the left, Stowe's famous Community Church, and on the right, a local cider to try this fall (photo courtesy of Stowe Cider)

First up: Stowe, Vermont, which is aptly nicknamed "Fall's Color Capital."

Just picture it: You're strolling through the quiet streets of this quaint New England town that's lined with the most brightly colored trees you've ever seen.

For the full fall travel experience, take a family hike or ride your bike through Cady Hill Forest, which is right smack dab in the middle of the village.

And afterward? Treat yourself to Stowe Cider, where fresh-pressed hard cider is always on tap.

If that's not enough and you want even more fall scenery, drive the Green Mountain Byway, which will take you through Stowe and Waterbury, and features Vermont's highest peak.

While in Waterbury, be sure to take a tour of the Ben & Jerry's factory and grab some ice cream, too.


When it's best to go:
Mid-September to mid-October


Cool places to stay:
The charming, historic and elegant Green Mountain Inn (which dates all the way back to 1833!)
The Austria-inspired Trapp Family Lodge, owned and operated by the von Trapp family (Sound familiar? It's the family from The Sound of Music.)
Our Mount Ascutney Resort, which offers a quiet, mountainside retreat that's perfect for hiking, skiing, relaxing and taking a two-hour day trip to Stowe
2. The Berkshires Near Lenox, Massachusetts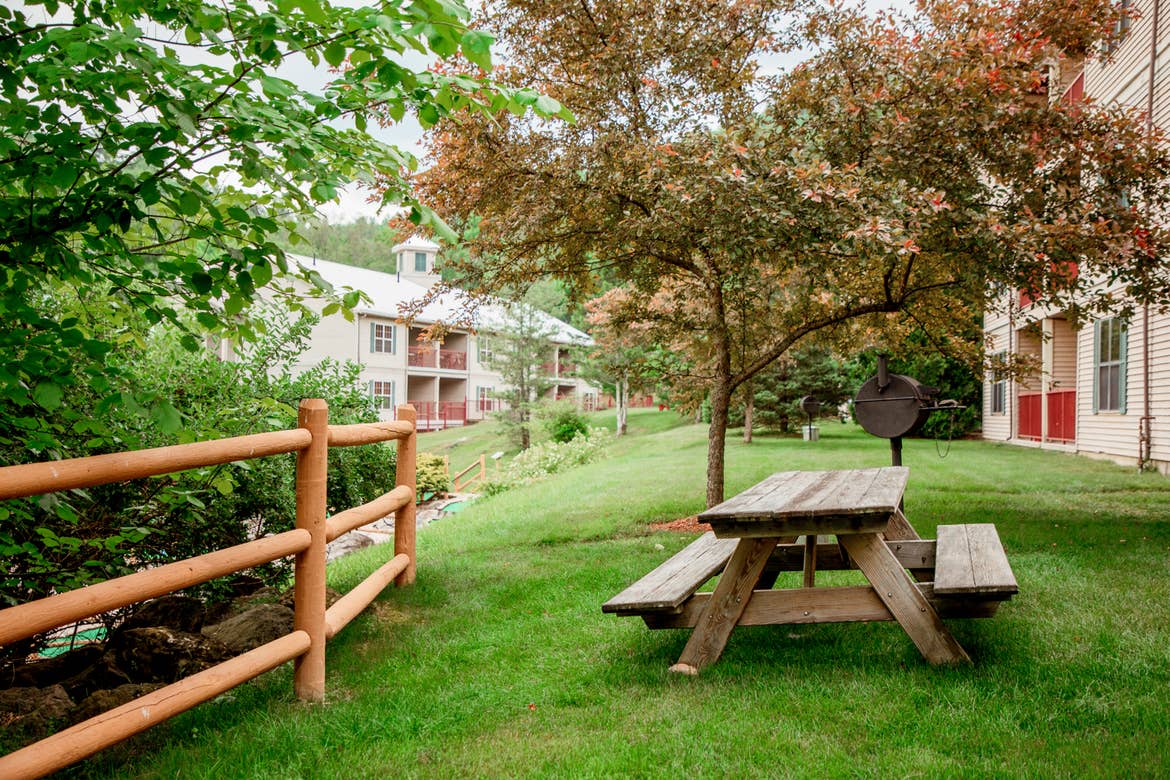 If you're staying at Oak n' Spruce Resort, you'll find it hard not to "fall" in love with this area.

When you're not busy hiking, skiing, boating, rafting or enjoying the dazzling fall leaves of Massachusetts, The Berkshires host plenty of autumn festivals to keep the fall fun going.

Some include:
For some of the best views of foliage, take a visit to Pleasant Valley Sanctuary, a 1,100-acre wildlife sanctuary along the slopes of Lenox Mountain that has seven miles of hiking trails.


When it's best to go:
Late September to mid-October


Cool places to stay:
3. Mount Ascutney State Park in Vermont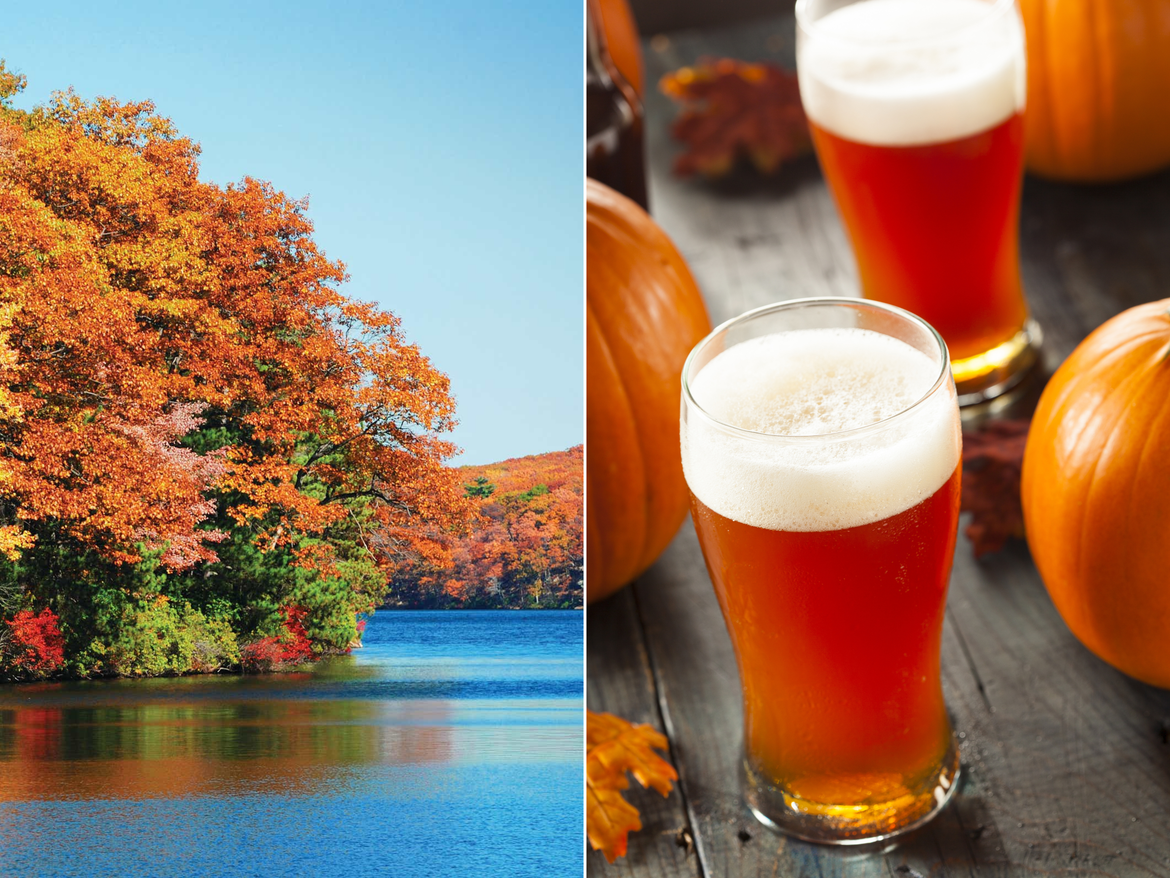 After hiking in Mount Ascutney, treat yourself to a nice, refreshing pumpkin beer.

Round out your Vermont trip with a visit to Windsor and Mt. Ascutney State Park.

It's one of Vermont's first state parks and has over 12 miles of hiking trails for you to get an up-close and personal experience of the beautiful changing leaves.

Or, ditch your hiking boots and enjoy a relaxing car ride on the nearby 4-mile parkway along Route 44A that's filled with loads of fall foliage.

Windsor is also home to Harpoon Brewery, and trust us: A full-bodied pumpkin beer pairs perfectly with those stunning fall leaves.


When it's best to go:
Mid-September to mid-October


Cool places to stay:
A spacious villa that'll fit the whole family at Mount Ascutney Resort, which is tucked right behind Mt. Ascutney State Park and West Windsor Town Forest (so cool we featured it twice!)
The centrally located Holiday Inn Express & Suites White River Junction
4. The Catskill Mountains in New York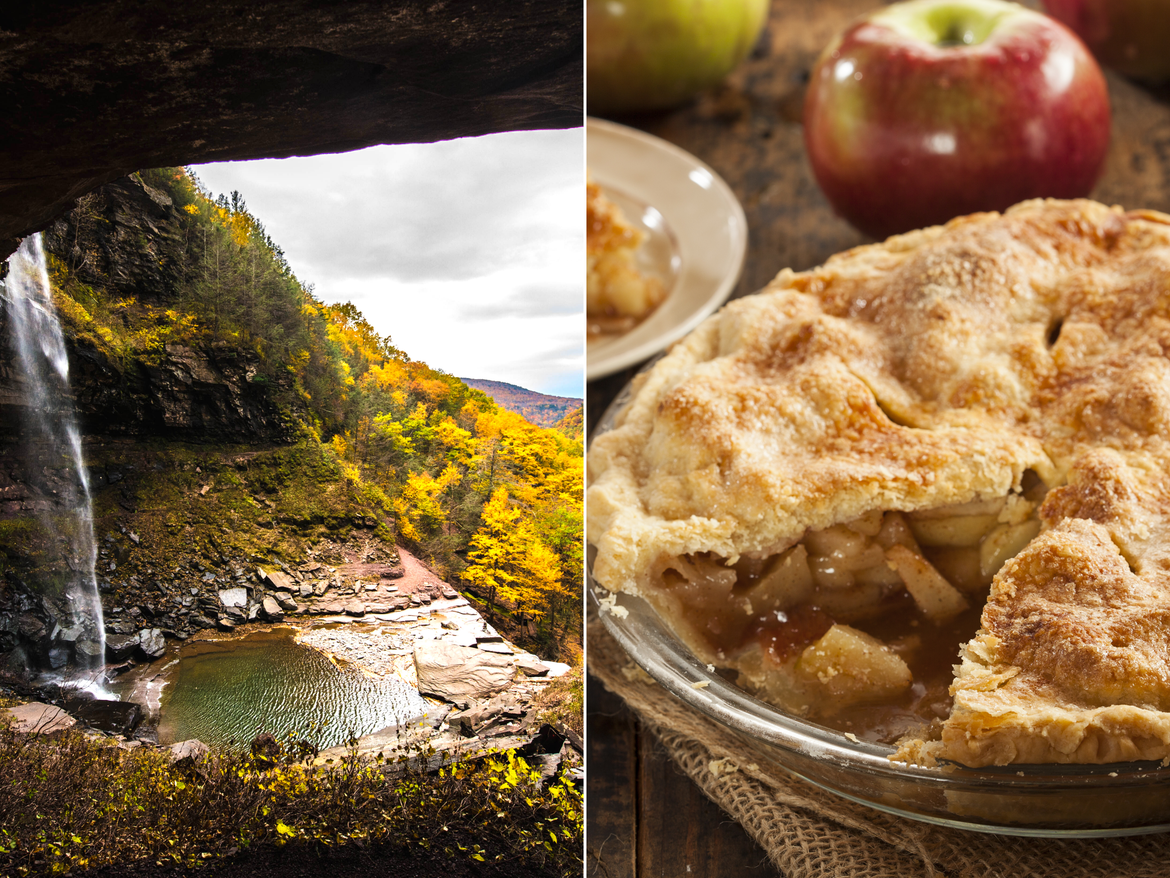 You just can't beat those beautiful views at Kaaterskill Falls and a post-hike, fresh-baked apple pie.

The Catskills offer 6,000 square miles of rivers, mountains and thickly wooded hills with vibrant hues of yellows, oranges and reds.

And fall is the perfect time of year for visiting the many historic villages that host craft fairs, farmers markets and festivals, including the fall-favorite Taste of the Catskills.

Definitely don't miss out on the quintessential fall family activity of plucking your own apples right from the tree (anyone else craving apple pie now?).


When it's best to go:
Late September to late-October


Cool places to stay:
The super eclectic Roxbury Hotel, which features themed rooms, including "The Noir Boudoir" inspired by The Addams Family (Halloween's right around the corner, after all…)
The centrally located Holiday Inn Express and Suites Kingston Ulster, the perfect home base for exploring the Hudson River
5. Michigan's Upper Peninsula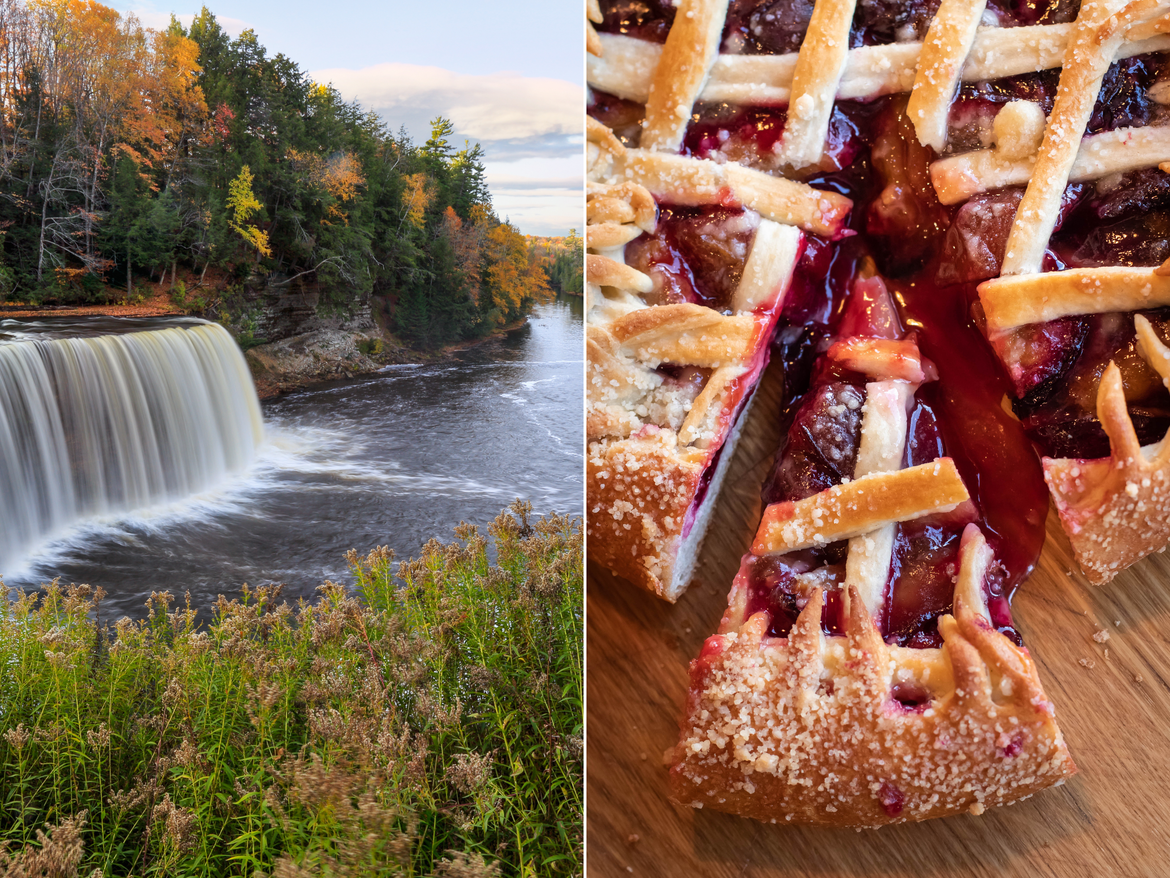 Head to the breathtaking Tahquamenon Falls and follow it up with a fresh cherry pie, Michigan's state fruit.

Michigan's Upper Peninsula has a state forest system covering nearly 4 million acres, so you can take your pick of more than 20 state parks to see some gorgeous fall foliage.

The vibrant reddish colors are all mirrored by the crystal-clear turquoise and dark navy waters of the three Great Lakes that surround them.

It's the perfect backdrop for a little fall photoshoot with the kids (dawning their cutest sweater vests and jean jackets, of course).

The best spots to snack on a yummy cherry pie (the state fruit of Michigan) and sip on some warm apple cider include:
The viewing platform at Kitch-iti-kipi
The waterfall at Tahquamenon Falls
Stops along the scenic Brockway Mountain Drive
When it's best to go:
Mid-September to mid-October


Cool places to stay:
6. Skyline Drive in Shenandoah National Park, Virginia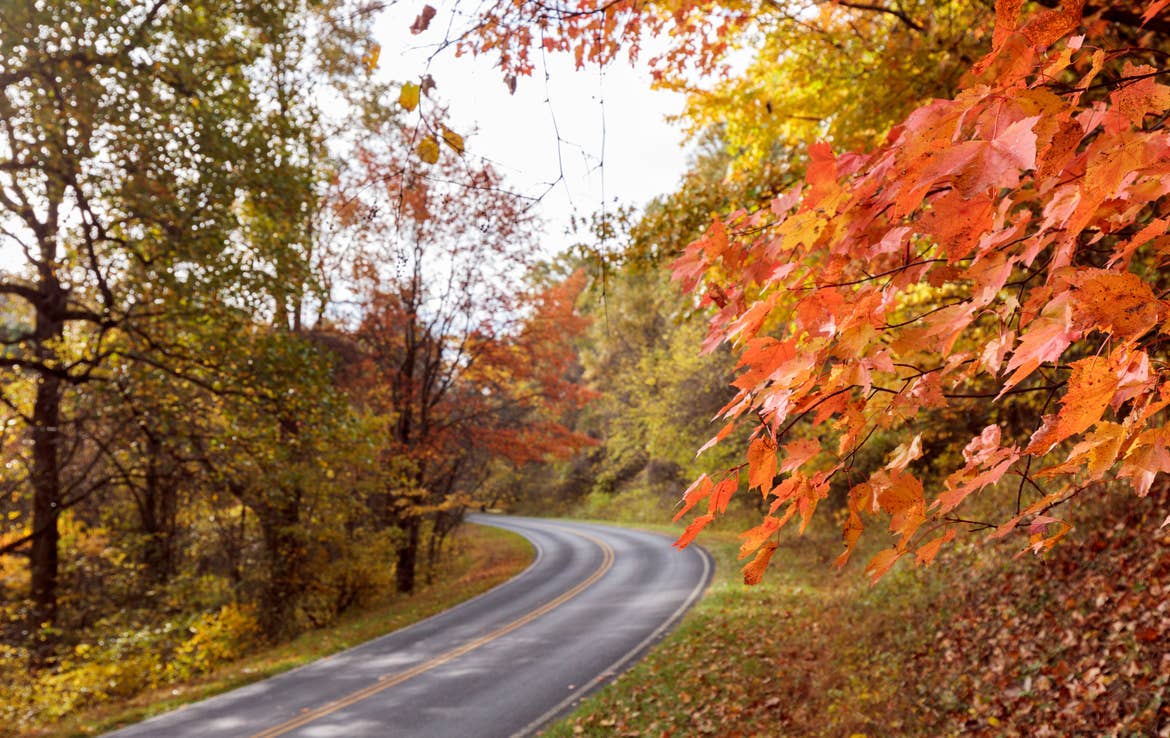 Photo courtesy of Shenandoah National Park

Winding along the crest of the Blue Ridge Mountains, Skyline Drive was named one of "America's Best Fall Color Drives" by Travel+Leisure Magazine.

As you drive along this byway and roll down the windows to feel the cool autumn air, be sure to stop at one of its 70 overlooks to take some stunning photos.

Since fall leaves can be a bit unpredictable from year to year, check out the scene before you leave home with these live webcams.


When it's best to go:
Mid-October to mid-November


Cool places to stay:
7. Great Smoky Mountains National Park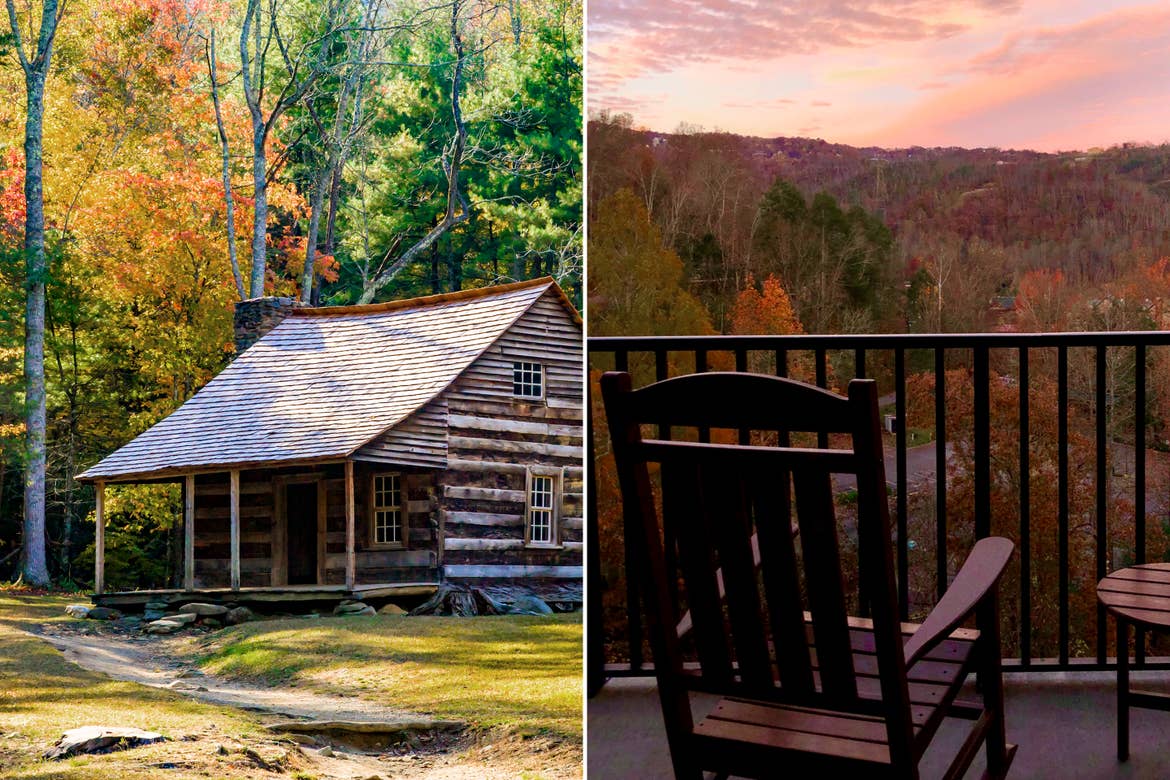 Explore Cades Cove and then head to your Smoky Mountain Resort balcony for more fantastic foliage.

Great Smoky Mountains National Park is one of the absolute best places to visit in October, especially for fall foliage viewing.

While this incredible national park straddles both Tennessee and North Carolina, we're partial to the Gatlinburg, Tennessee, area since there are so many fun things to do, as well as nearby day trips you can take.

In the fall, Gatlinburg's got cool temperatures that make it perfect for outdoor adventures like exploring nearby hiking trails, fishing, checking out the four historical districts in the park and venturing out to a local theme park.

The Clingmans Dome observation tower is the tippy top highest peak with the most scenic views of the misty mountains.

Another great thing about Gatlinburg in the fall is how the area truly embraces the season with festivals and fairs. The town celebrates with:
When it's best to go:
Late September at higher elevations, mid-October to late-November in lower elevations


Cool places to stay:
8. The United States National Arboretum in Washington, D.C.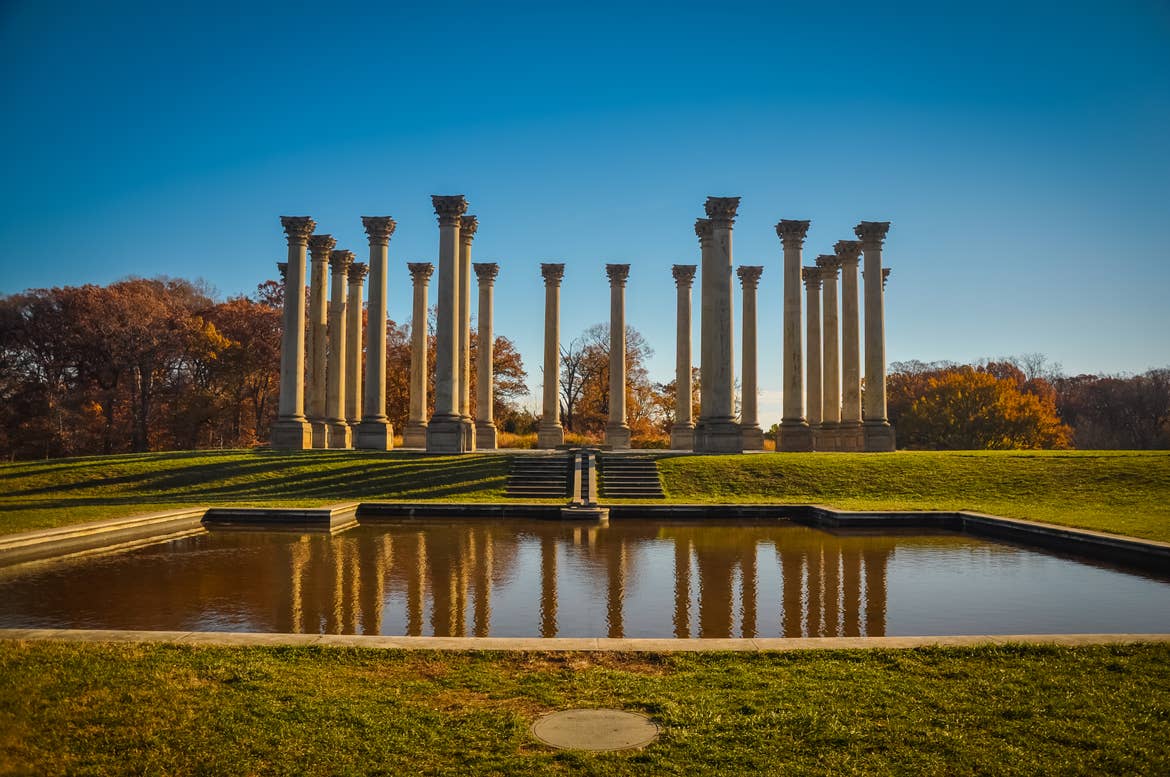 The National Capitol Columns at the U.S. National Arboretum

A fall trip to D.C. isn't complete without seeing the National Arboretum's 446 acres of colorful foliage! This spot is the best for taking those Insta-worthy family photos for your next holiday card.

You can tour by foot, car or bicycle or by taking the narrated tram ride. You might just love D.C.'s fall leaves even more than its quintessential cherry blossoms in the springtime!


When it's best to go:
Mid-October to mid-November


Cool places to stay:
9. Aspen, Colorado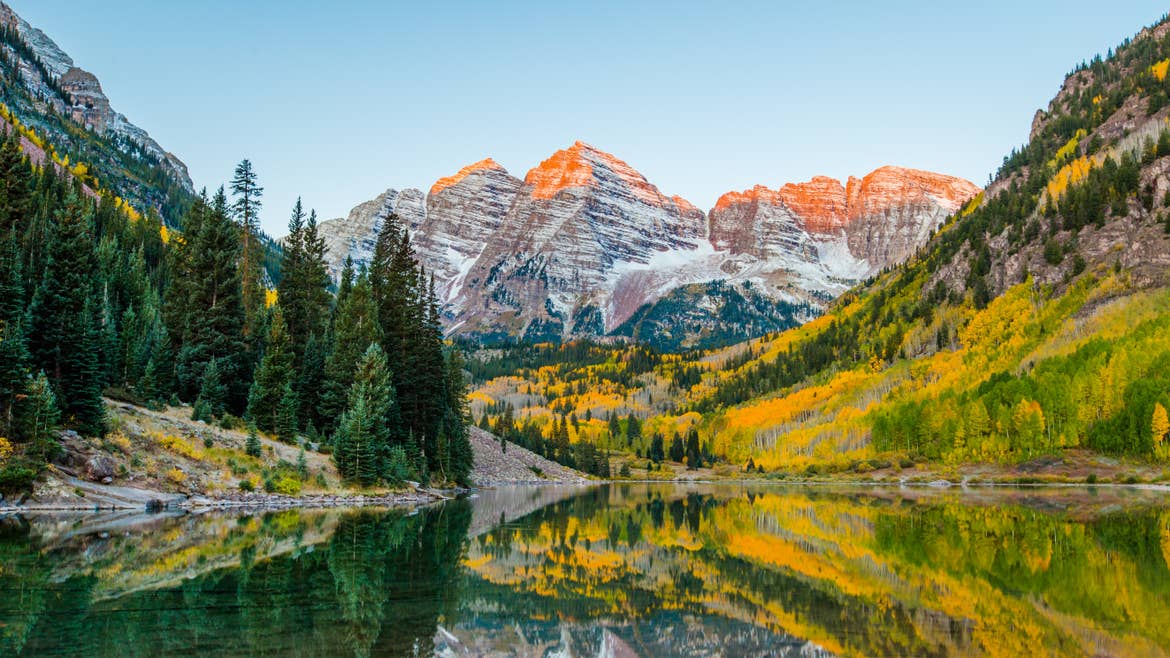 The monumental Maroon Bells mountain peaks in Colorado

We could not write a fall article without including one of Colorado's most gorgeous landscapes.

Here, instead of oranges and reds, the treetops and foliage literally turn to gold. It doesn't get more picture-perfect than that.

Some of the best places to see these stunning Aspen views include:
Maroon Bells
The chairlifts at Aspen Mountain and Snowmass
Castle Creek Road and Independence Pass
If you tap into your adventurous side, you can even take a paragliding flight right into the sea of gold.

And for something spoOoky to do with the kids, explore the historic, paranormal buildings in Ashcroft Ghost Town.


When it's best to go:
Mid-September to early October


Cool places to stay:
The modern and historic Hotel Jerome, which is rumored to be haunted
The Holiday Inn Express Glenwood Springs, literally within walking distance to nearby hot springs
10. Lake Tahoe National Scenic Byway in Nevada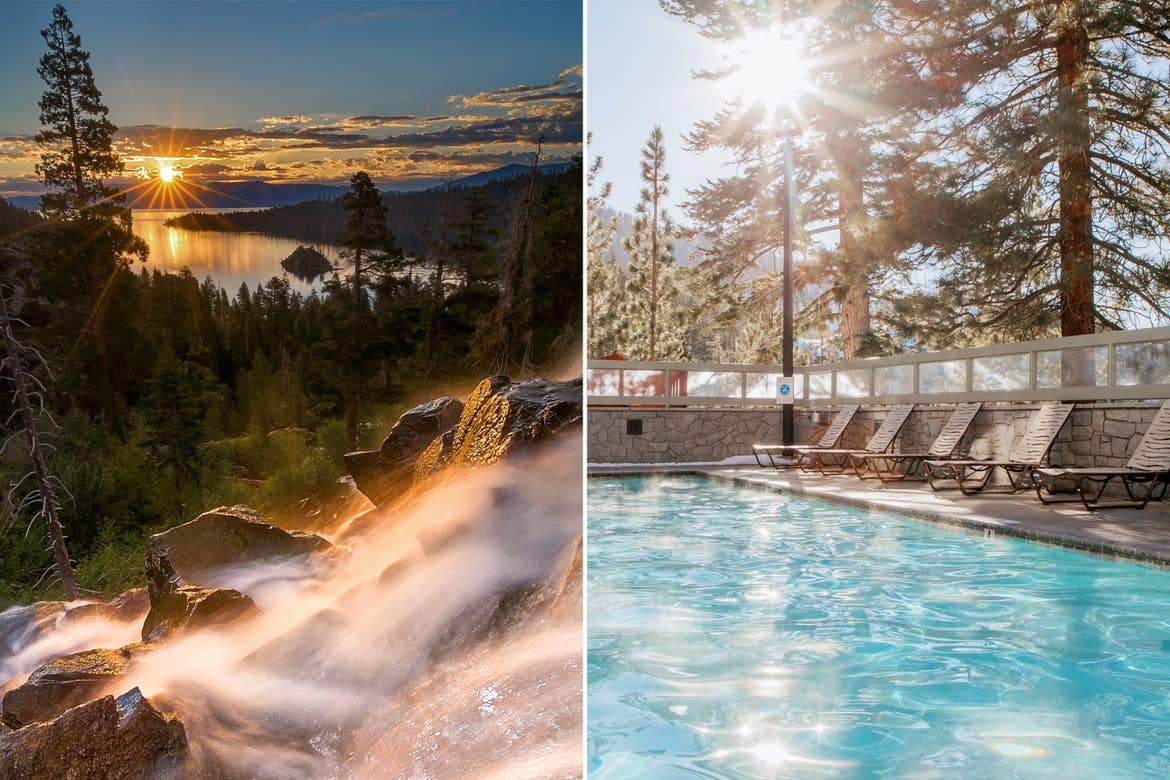 Take in those Tahoe views by car, hiking trail or the (heated) pool at Tahoe Ridge Resort.

Experience the fall season in all its golden glory by stopping along the Lake Tahoe National Scenic Byway, known as "The Most Beautiful Drive in America."

You'll see why with its dramatic views of the alpine lake and all the rich, vibrant colors surrounding it.

There are also so many things to do in Lake Tahoe, and October really brings out the festive spirit of the area with events like:
Camp Richardson Oktoberfest
Fall Fish Fest at Taylor Creek (where you can watch the spawning salmon)
South Lake Tahoe Food & Wine Festival
One other thing you won't want to miss? Emerald Bay Lookout. It's one of the most photographed places in the world (guaranteed to get plenty of "likes").

Oh, and if you're visiting in the super cold months, there are tons of snowy, outdoor adventures you should check out, too, like experiencing some of that renowned Lake Tahoe skiing.


When it's best to go:
October


Cool places to stay:
A spacious villa at Tahoe Ridge Resort, which has mountain overlooks, spectacular views, a heated outdoor pool, game room and more
Another one of our Tahoe gems, David Walley's Resort, with its 5 geothermically heated mineral hot spring tubs and heated outdoor pool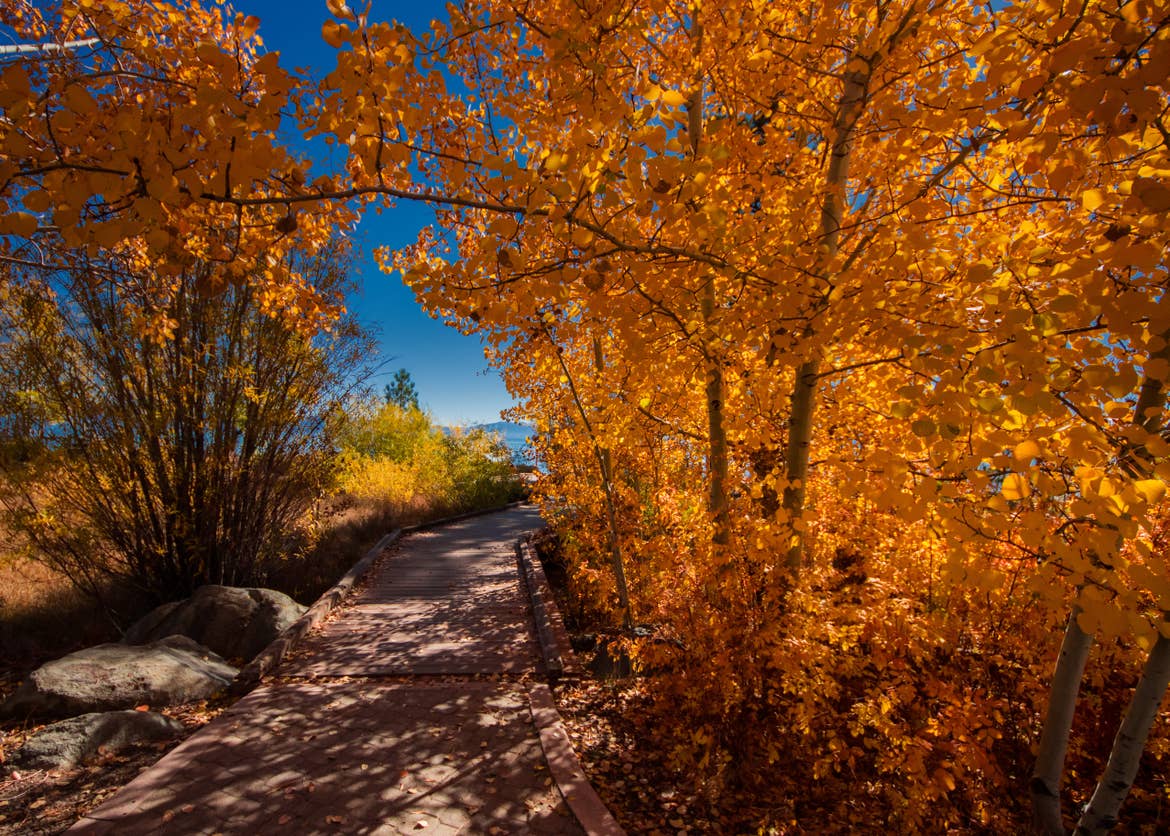 Well, there you have it: a glimpse into some of the best fall getaways to see those stunning leaves change colors.

So go ahead, pick the destination that's calling your name, pack up the car, put on some of our vacation-inspired Spotify playlist tunes and hit the road for a fantastic fall getaway (and maybe stop for another Pumpkin Spice Latte along the way…).

Your family and your Instagram feed will thank you.


All information is subject to change. This article is a curated guide and is neither sponsored nor considered an official endorsement. Please be sure to check information directly with any/all tours, guides or companies for the most up-to-date and direct details.