Jessica Averett
Jessica is an adventure-loving mom to five kids. She and her family have a serious case of wanderlust and are constantly exploring to find the best travel experiences for families. You can follow her writing and adventures at Bring The Kids, where she shares how to get outside and live an adventurous, travel-filled life with kids in tow.
Instagram
Facebook
Pinterest
Website
After a challenging six months in 2020, our family decided that it was time to press reset and start fresh. We sat down together and came up with a plan to help us finish off the year strong and to be more intentional about how we spend our time together. It's no wonder that after taking our kids to nearly 40 countries, they decided that we needed to kick off our family reset with a Scottsdale vacation.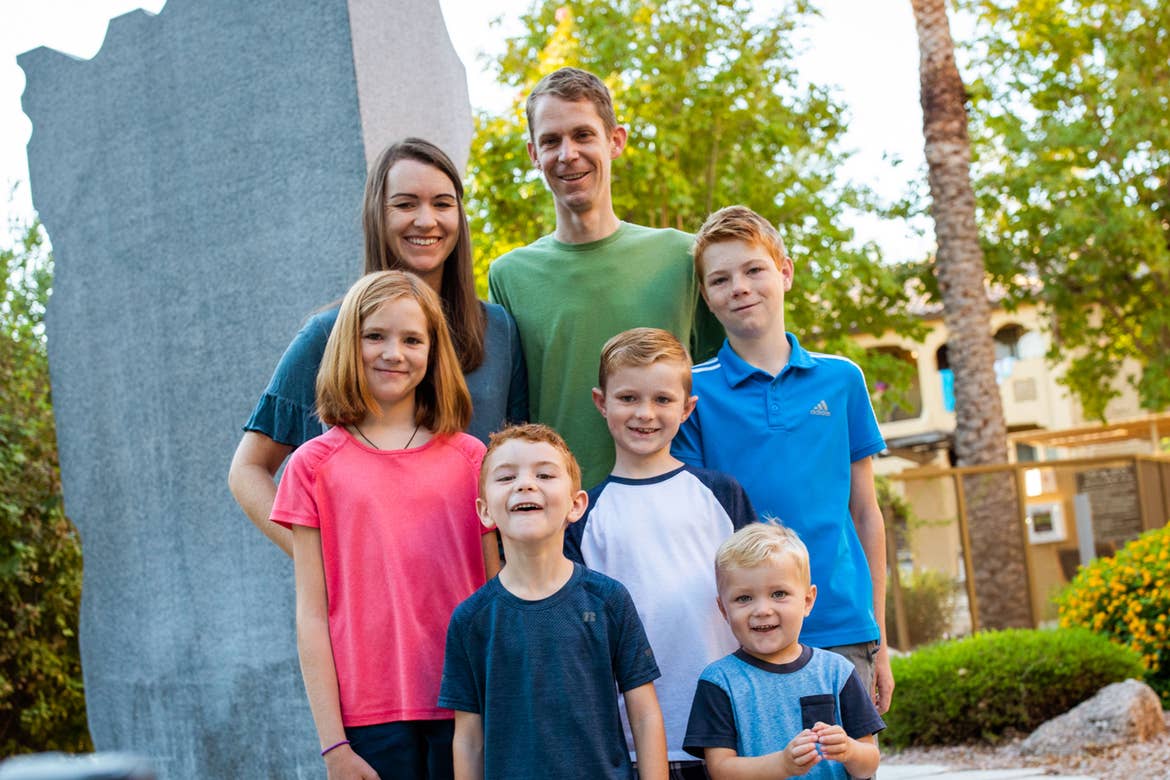 Thankfully, our kids don't know that right now vacations look different than they did a year ago, and they were incredibly persistent, so I knew we had to figure out how to make this trip work. However, as a mom, I had my concerns and a whole list of things that would have to align in order for this vacation to happen.


Planning a Scottsdale Vacation During COVID-19
Once we knew we were more than ready for a family vacation, we made a list of 2020-centric things that could be critical for us, both for feeling safe and still having fun.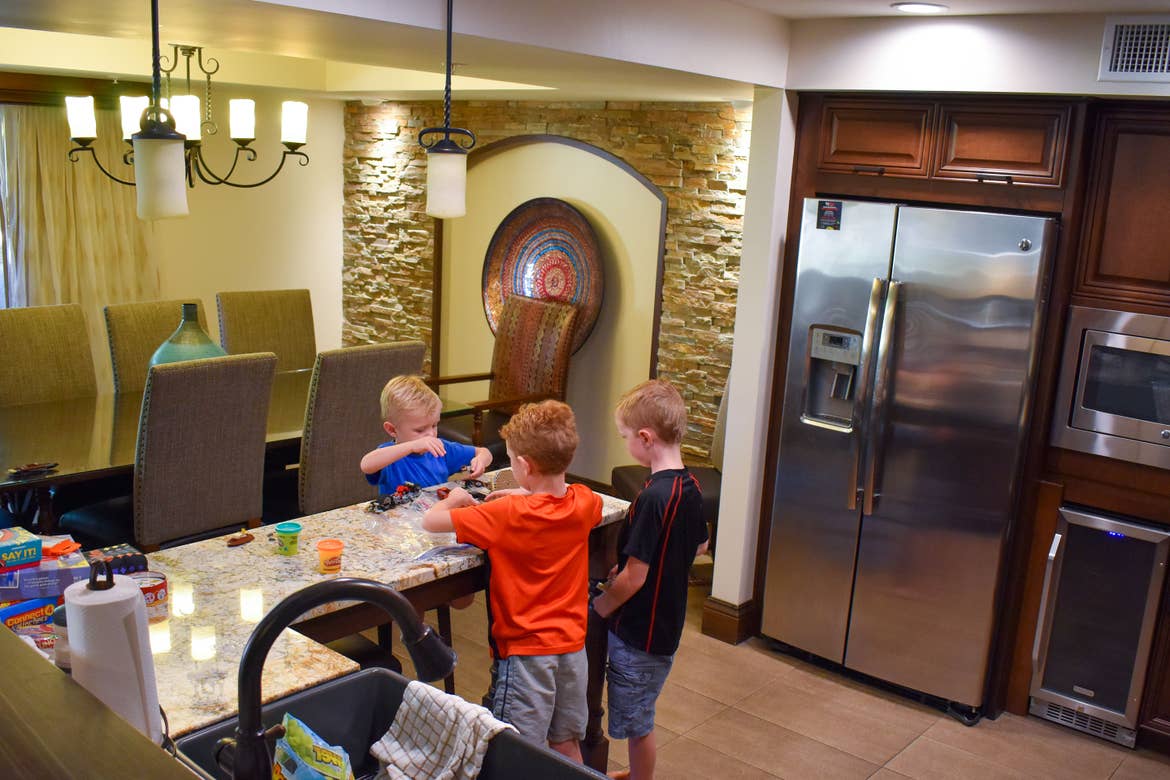 On our list of must-haves were:

A good-sized place to stay with a full kitchen (so that we didn't have to eat out) and beds for all seven of us
A place that had a thorough and detailed list of COVID-19 safety protocols (so we can be as safe as possible)
Somewhere with lots of outdoor activities nearby
The kids were definitely very interested, in particular, in finding a resort with a pool
Oh, and to top it all off, it had to be within a day's drive of our home in Utah
Why a Scottsdale Vacation?
Since we had already spent most of our summer camping in Idaho, Montana and Wyoming, we decided that we'd head south for a desert vacation. The Phoenix area quickly made the shortlist, and from there, we decided Scottsdale, Arizona, was the best place for us to stay.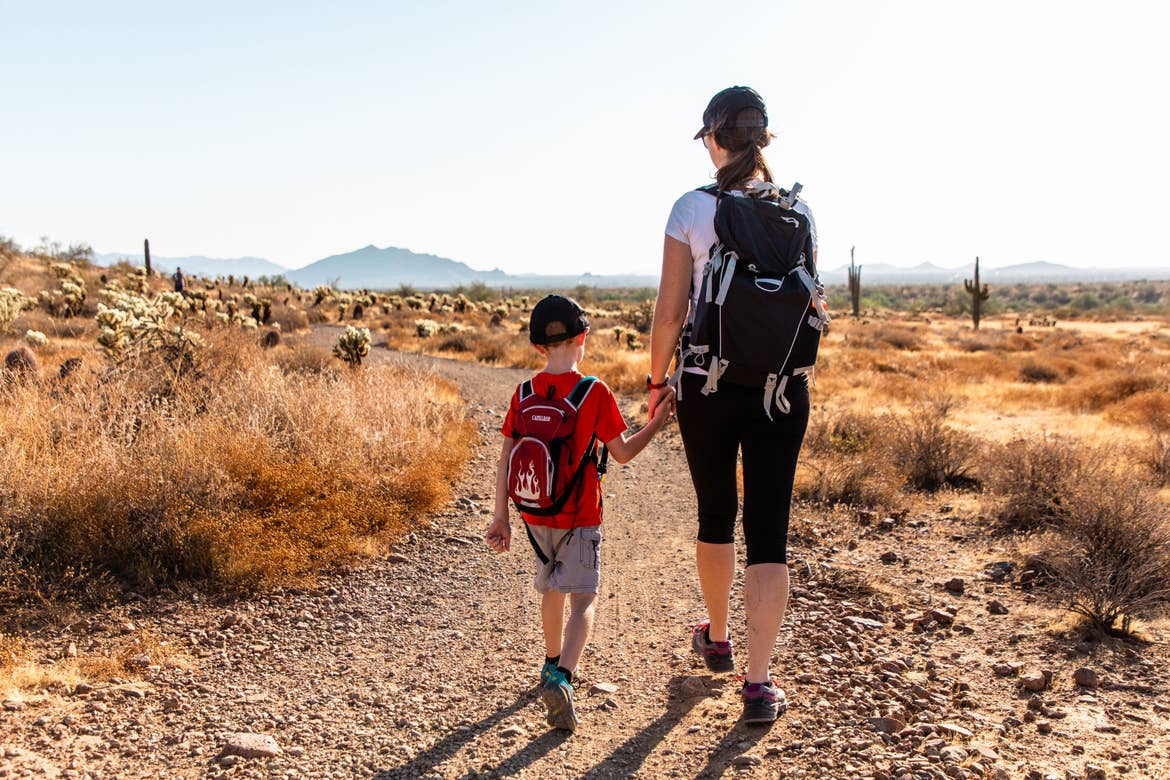 Why? Well, my family loves active adventures and Scottsdale has great access to lots of outdoor recreation (more on that below). It's also kid- and family-friendly, and the Holiday Inn Club Vacations® Scottsdale Resort checked all my boxes for safety and comfort.

If you're thinking about an Arizona desert vacation, too, read on to learn more about our recent 2020 stay, all about the resort and villa features, and, of course, some of the very best kid-friendly, outdoor things to do in Scottsdale.


What's it like to stay at a resort during COVID-19?
While we were visiting Scottsdale, we had several people reach out to us and ask what it was like to stay at a resort during COVID-19, since everything feels so uncertain right now. Honestly, it was fantastic.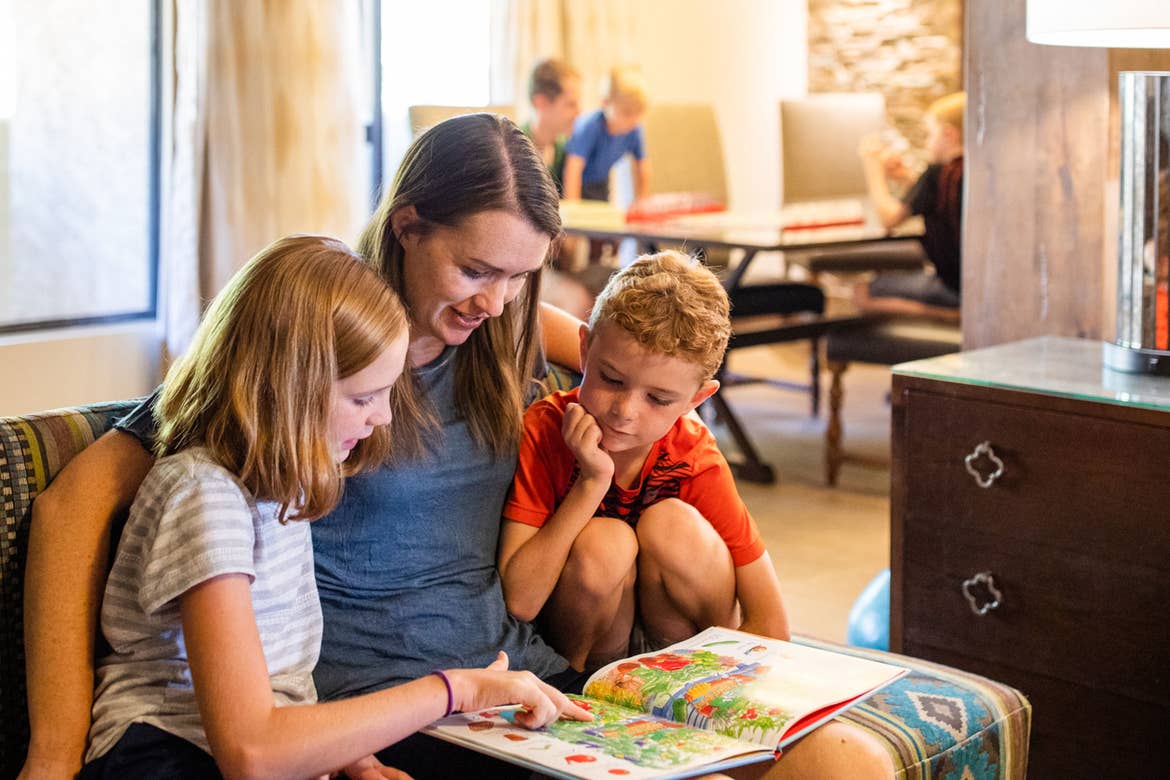 When we vacation, we typically travel in our RV or rent houses since they tend to work much better for our large family than hotel rooms. However, with the pandemic still a pressing concern, we wanted to stay somewhere with strict cleaning procedures and policies in place to keep us safe.

Holiday Inn Club Vacations did not disappoint. Before we left, we looked into its Safe Travels program, which gave me the peace of mind I needed to know that our family would be safe and comfortable staying there. That way, instead of worrying about getting sick, we could just enjoy our vacation.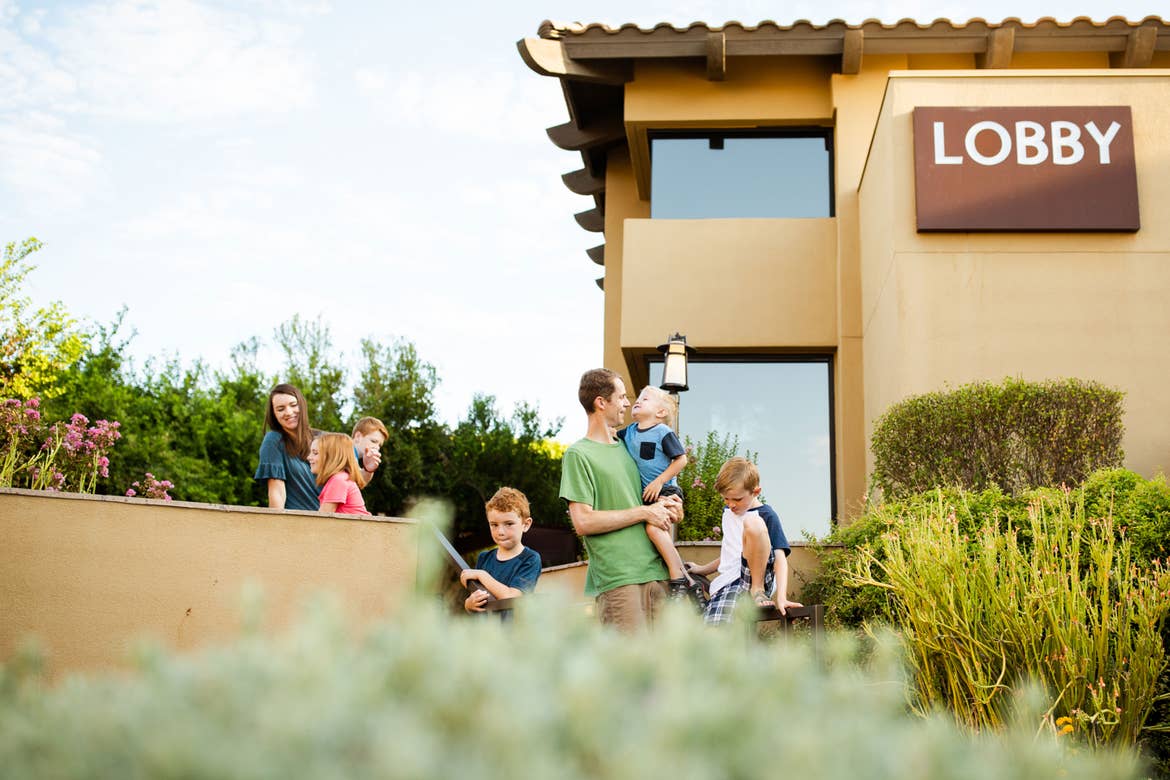 And we were impressed from the very beginning. At check-in, they came out to the car, so we didn't have to go inside. The staff was constantly disinfecting touched surfaces, and they were always smiling (so big that we could tell even through their masks).

There was never a moment when we felt unsafe. Even at the pools, where we spent several hours every day, the lounge chairs were spaced far apart, and the fact that there were four pools made it really easy for us to socially distance ourselves while swimming.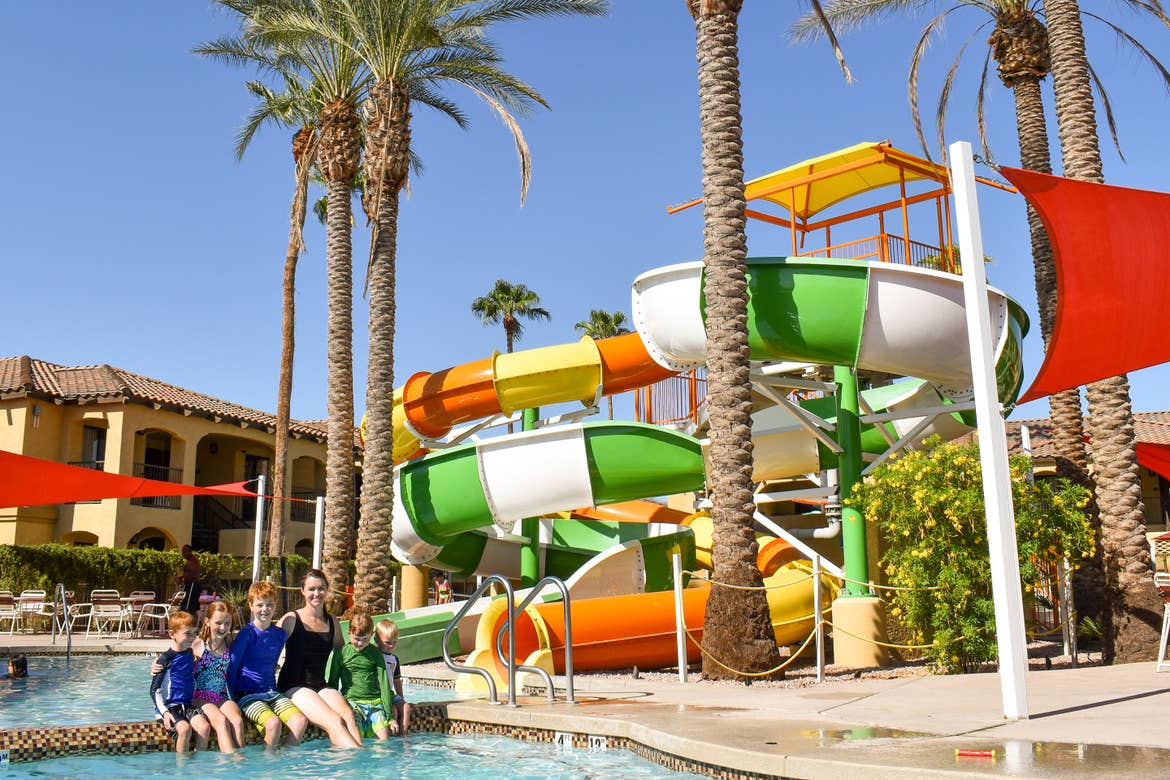 At the end of the day, we came away convinced that places like Scottsdale Resort made perfect sense for traveling right now because it let us have as little or as much interaction with others as we wanted.


Best Kid-friendly, Outdoor Things to Do in Scottsdale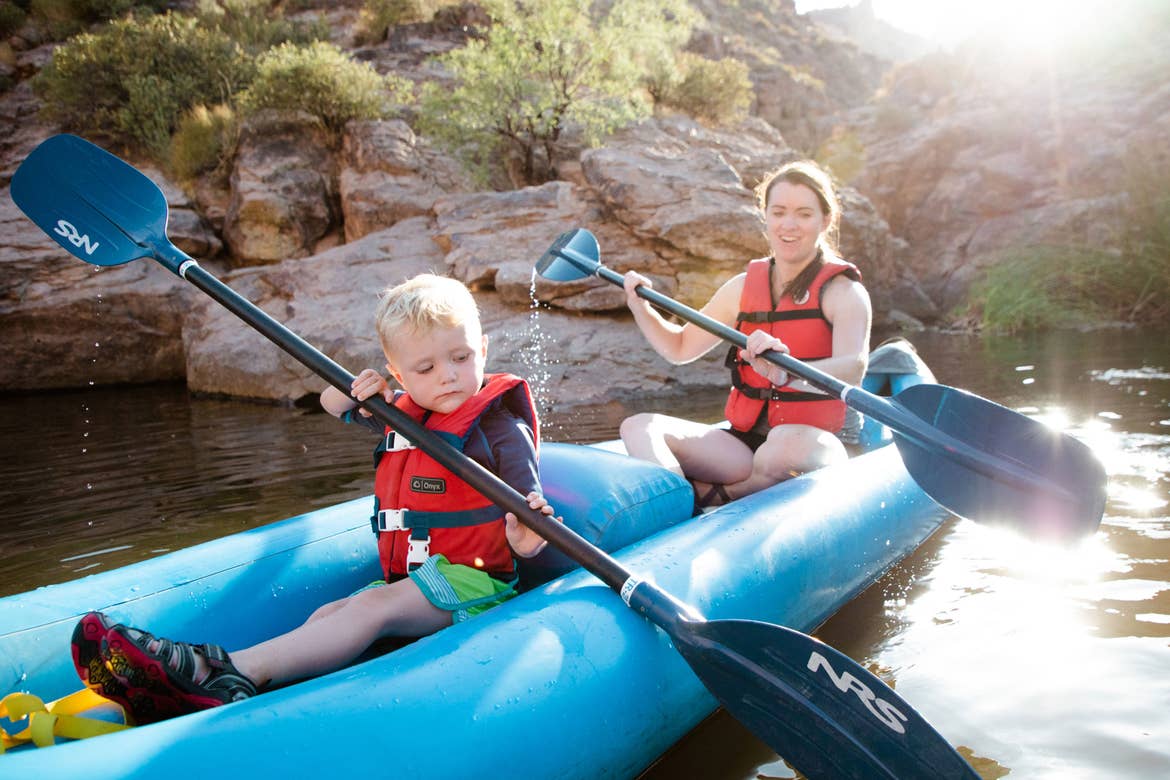 So, what were we up to when we weren't at the resort? When it all came down to it, the best part of our stay in Arizona really was everything we did at Scottsdale Resort, but outside of that, the true beauty of Scottsdale lies in the deserts that surround it.

So the best things to do in Scottsdale with kids all happen to be outside. And it was reassuring to know that even when COVID-19 is (hopefully) less of a factor in the future, the sheer volume of active adventure options for families is still waiting for you to enjoy!


1. Visit the McDowell Sonoran Preserve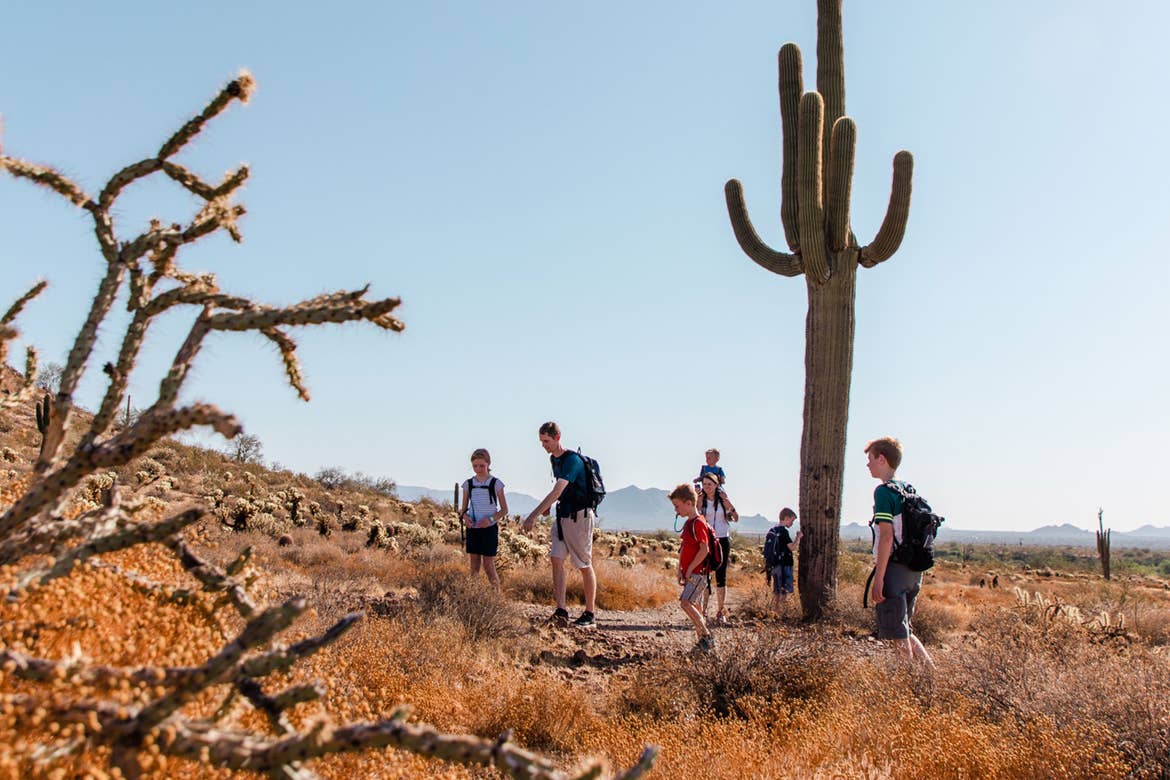 Located just a short drive from Scottsdale Resort, the McDowell Sonoran Preserve is wild desert at its finest. Featuring over 30,000 acres and 225 miles of trails, this is a great place to visit and get a true appreciation for the beauty of the desert.

Our kids loved hiking the trails and were simply amazed by all the different cacti they saw, as well as how unique the desert plants in Arizona were from the plants that we have in the high deserts of Utah.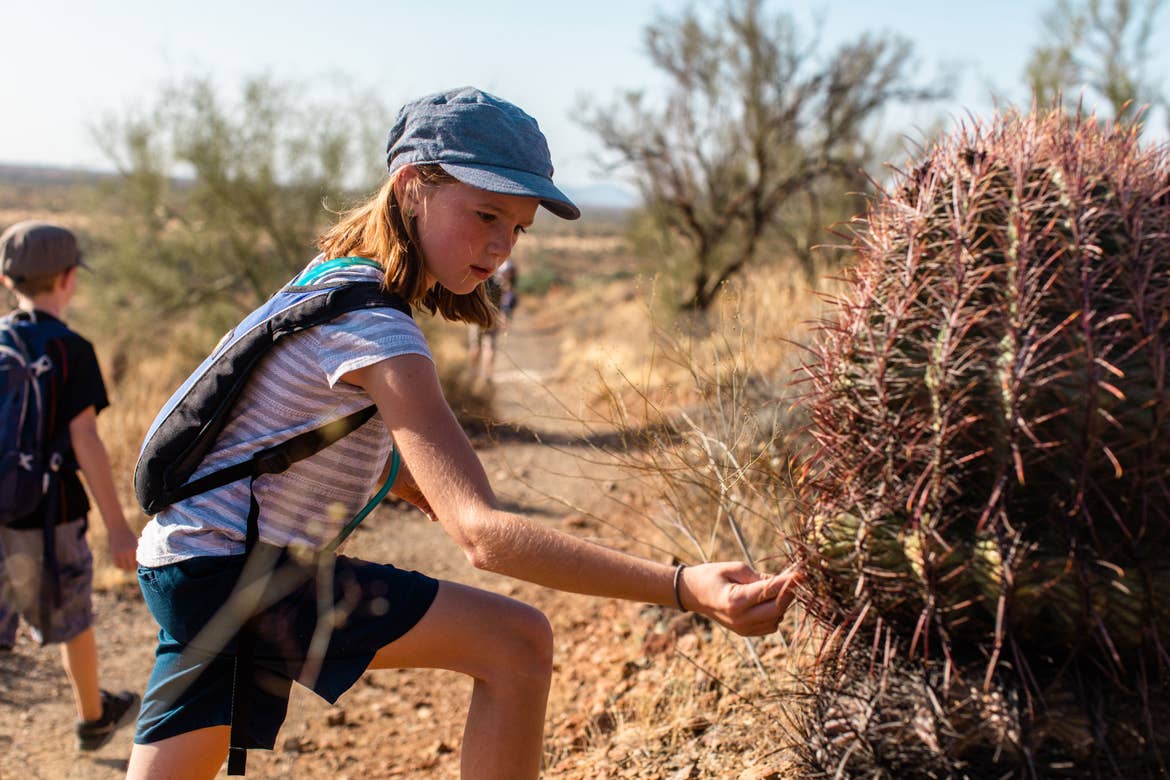 The McDowell Sonoran Conservancy has several amazing education and recreation programs, which would have made the visit even more memorable (but right now, unfortunately, all programs are temporarily closed until 2021). Knowing that, we took our phones and let the kids identify plants and animals on our Seek and Leaf Snap apps, which they absolutely loved!


2. Paddle & Swim at Canyon Lake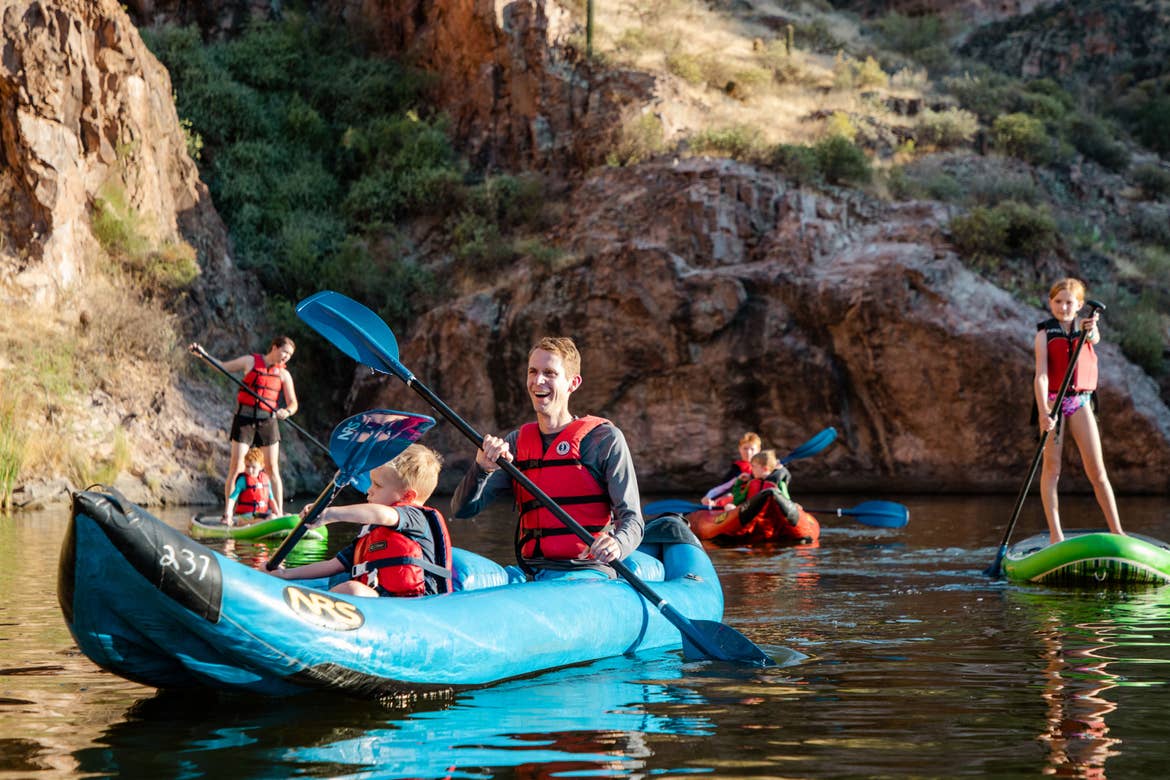 Our family is pretty obsessed with water recreation, so when we heard about Canyon Lake, we knew it was exactly what we were looking for. First of all, the drive up there was incredibly windy, but the giant saguaro cacti and massive desert cliffs made up for the rough road.

Once we got to Canyon Lake, our jaws dropped. The lake is set deep into a canyon, with steep cliffs and jagged outcroppings all around. After we got our boats down to the lake, we loved it even more because the water was really warm, so the kids were constantly wanting to jump in and swim.

We took a couple of paddleboards and inflatable kayaks with us, and they were perfect for exploring the lake as a family. Of course, by the end of our time there, the kids had found all sorts of cliffs to climb and jump off of, and they were having so much fun, we had to bribe them to get out of the water.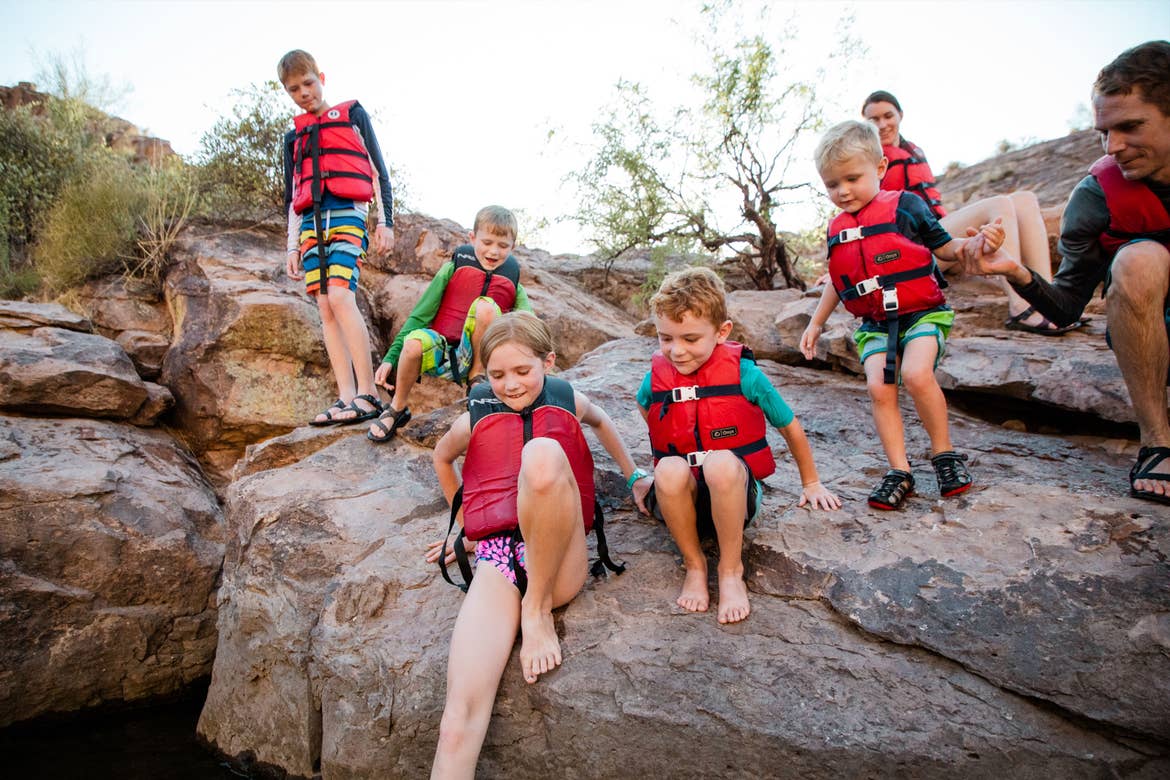 The drive is about an hour from Scottsdale, but there weren't many people there, so it was absolutely worth going a little farther to visit this great Arizona lake.

Pro tip: If you want to visit the lake to swim or paddle, head to the Boulders Recreation Site; motorized boats aren't allowed there.


3. Hike & Bike at Papago Park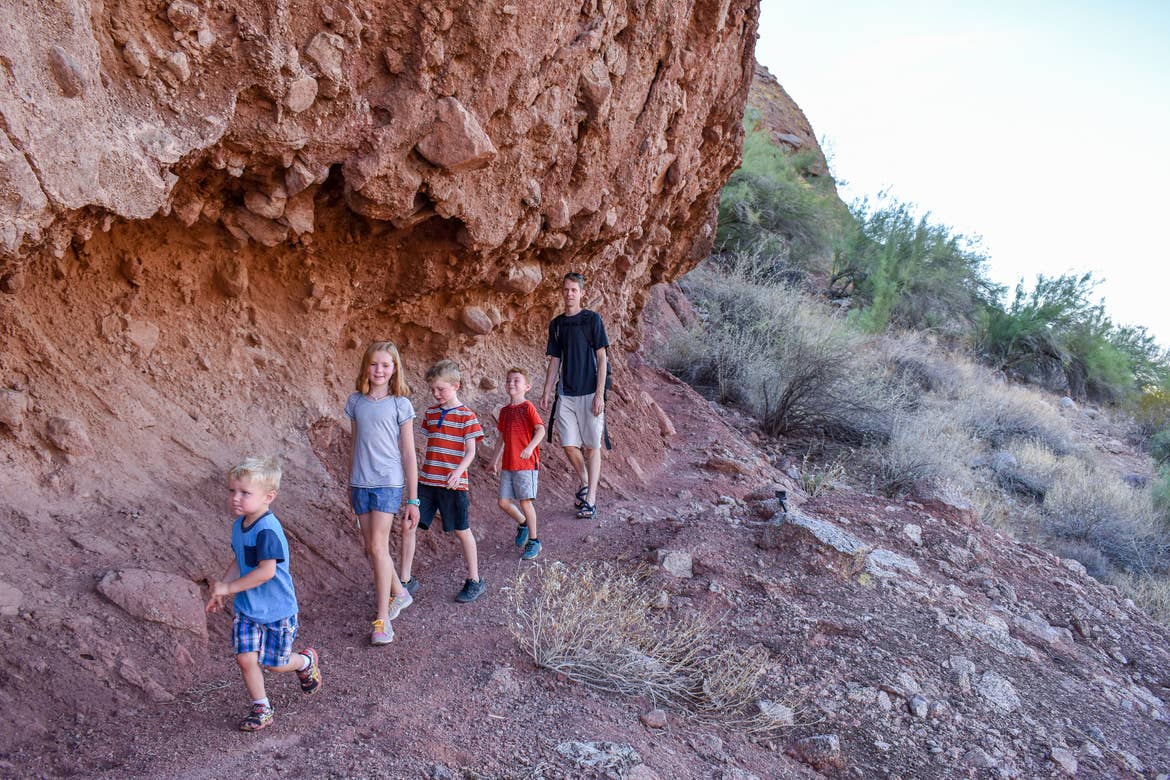 We love when we can find natural areas tucked into the city, and Papago Park was an amazing place to explore, located right nearby Tempe. We took the kids for a short hike up to Hole in the Rock, where we had a breakfast picnic and watched the sun come up. The kids had a blast scrambling around on the rocks and especially loved that they could get entirely different views of the city on each side of the hole.

After that, we unloaded our bikes and let the kids go mountain biking on the western side of Papago Park. There are tons of interconnected little trails that are great for mountain biking, and we found something that fit everyone's skill level.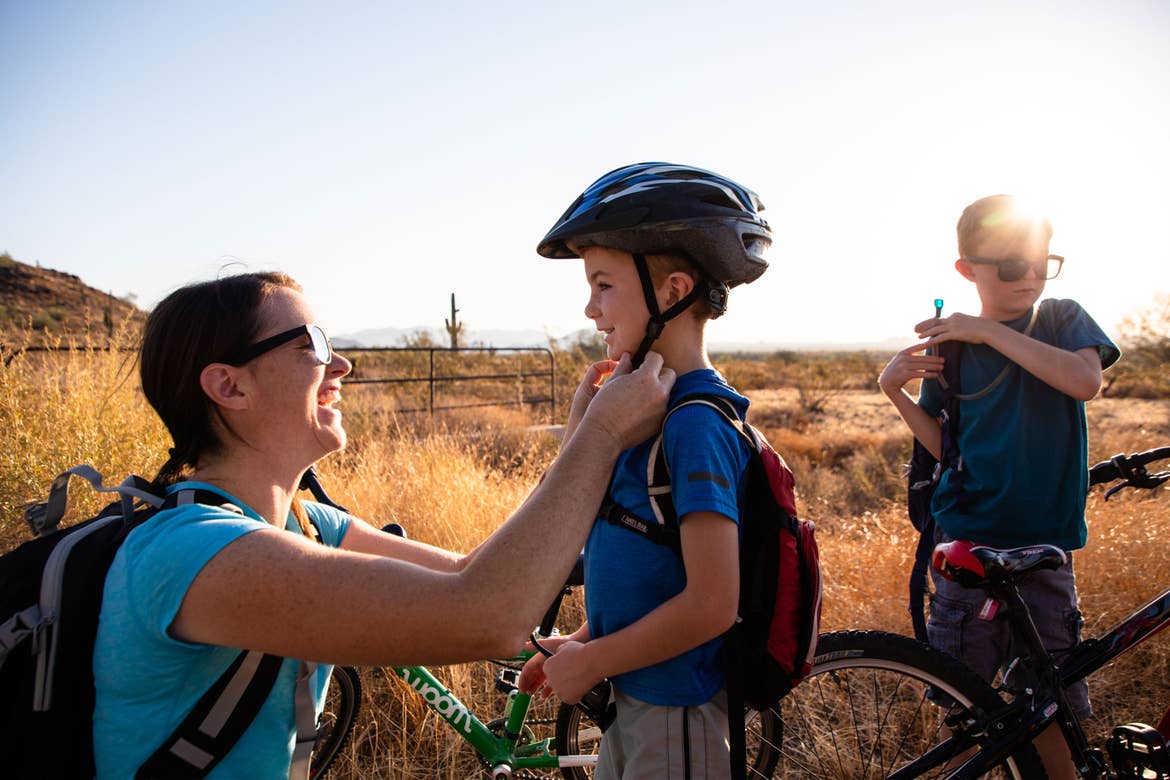 The lower trails were perfect for our six-year-old and had a few little jumps to keep him happy, but the higher you got on the hillside, the more difficult the trails became. Naturally, our teen was usually as high up as possible.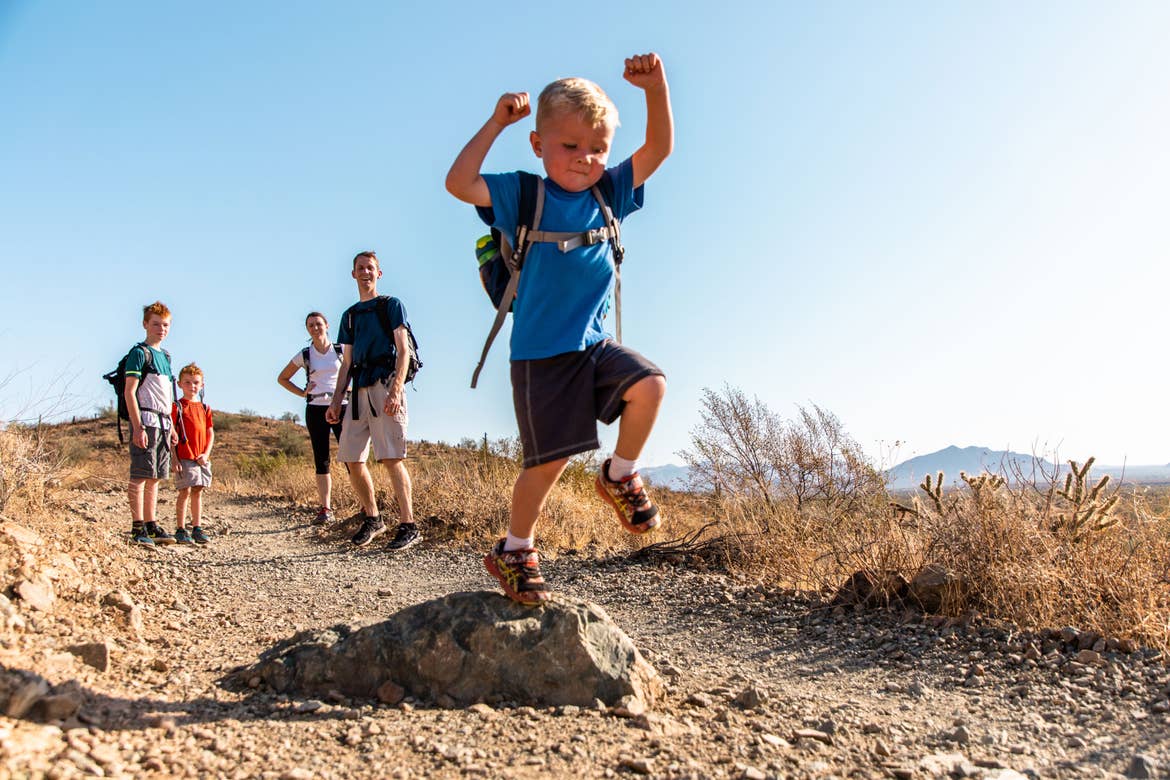 The best part was that we would all be riding different little trails at once, but because they're all so close together, it still felt like we were riding as a family. Close to the parking lot, there are even several trails that were suitable for our toddler on his balance bike.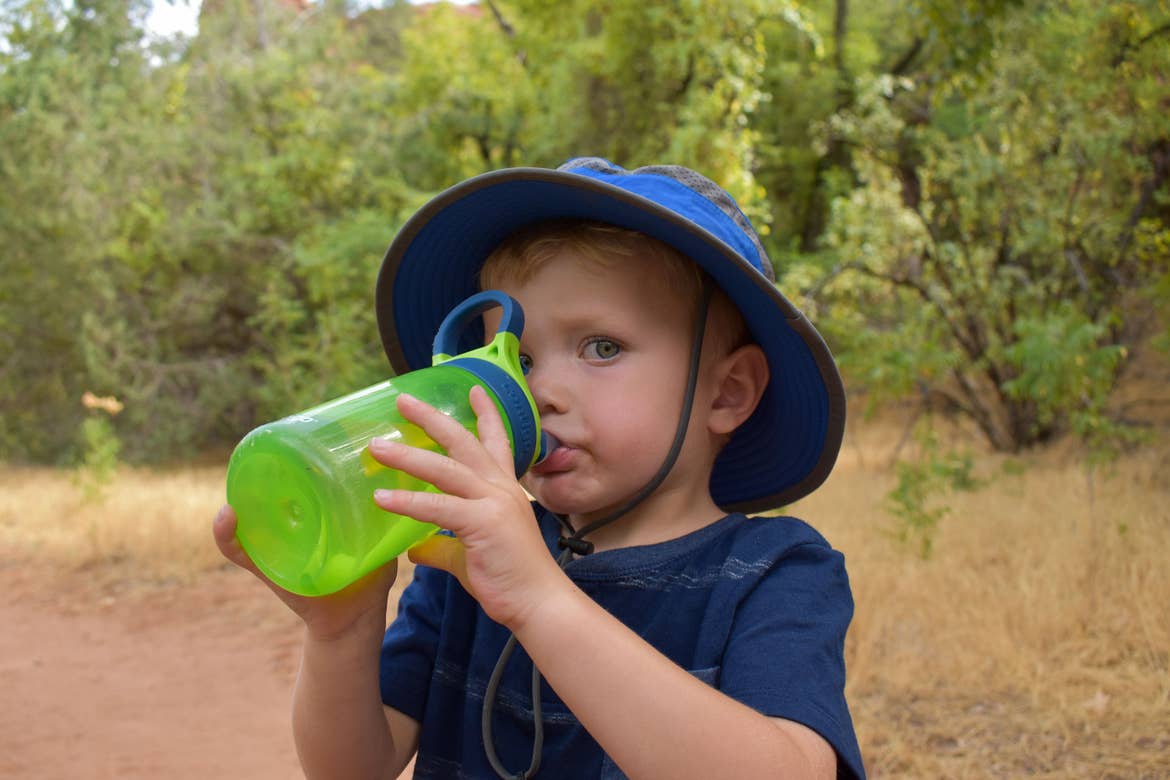 Pro tip: If you're traveling between April and October, know that the temperatures in Scottsdale can be really hot during the middle of the day, so it's best to avoid being outside then (unless you're swimming). We found it worked well for us to get up early and go explore, come back to our villa and swim, and then have an early dinner and explore more until the sun was down.

(Want more ideas for things to do around Scottsdale? Read more about the best outdoor adventures and day trips in this area.)


All About Scottsdale Resort's Villas & Activities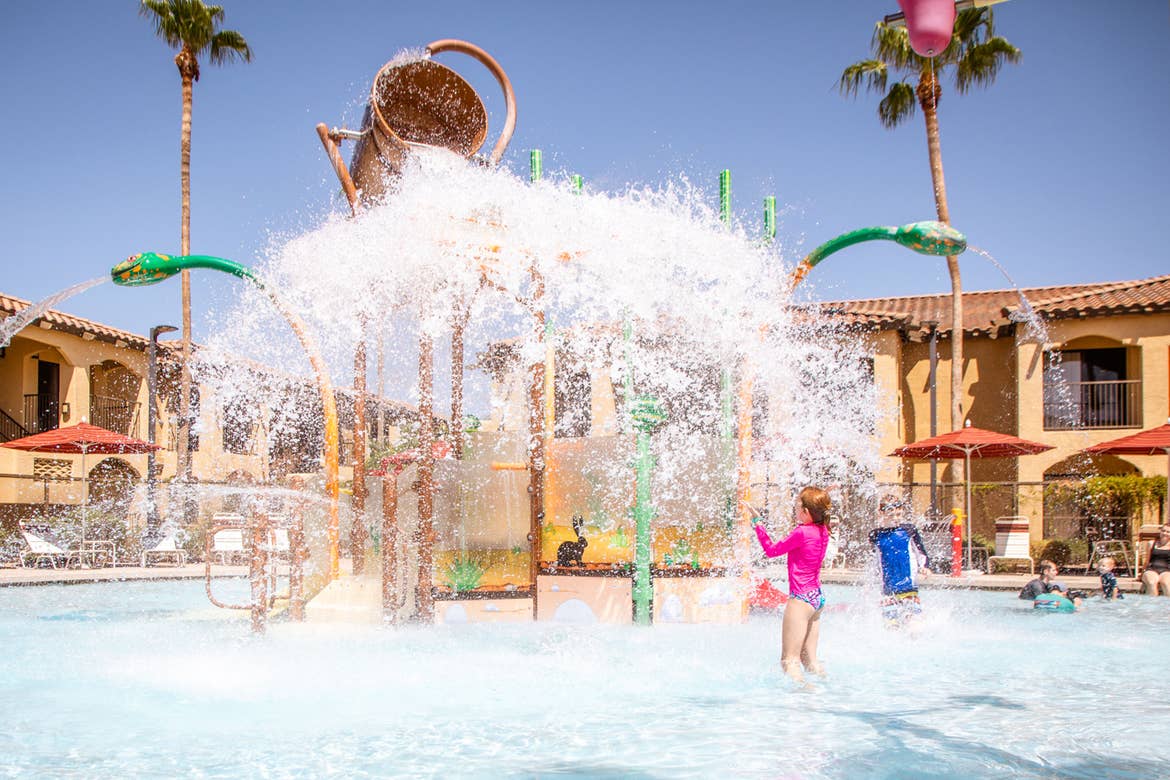 After all of that active Arizonian exercise (and hot, sunny weather) we loved coming back to Scottsdale Resort to cool off by enjoying the four pools, fun, splish-splashy features of Splash Canyon, and the very best part: our air-conditioned villa. Our accommodations were everything we were looking for and more, and it made traveling during these uncertain times feel comfortable and safe for us.

Here are some things we loved most about our stay:


1. Plenty of indoor villa space for everyone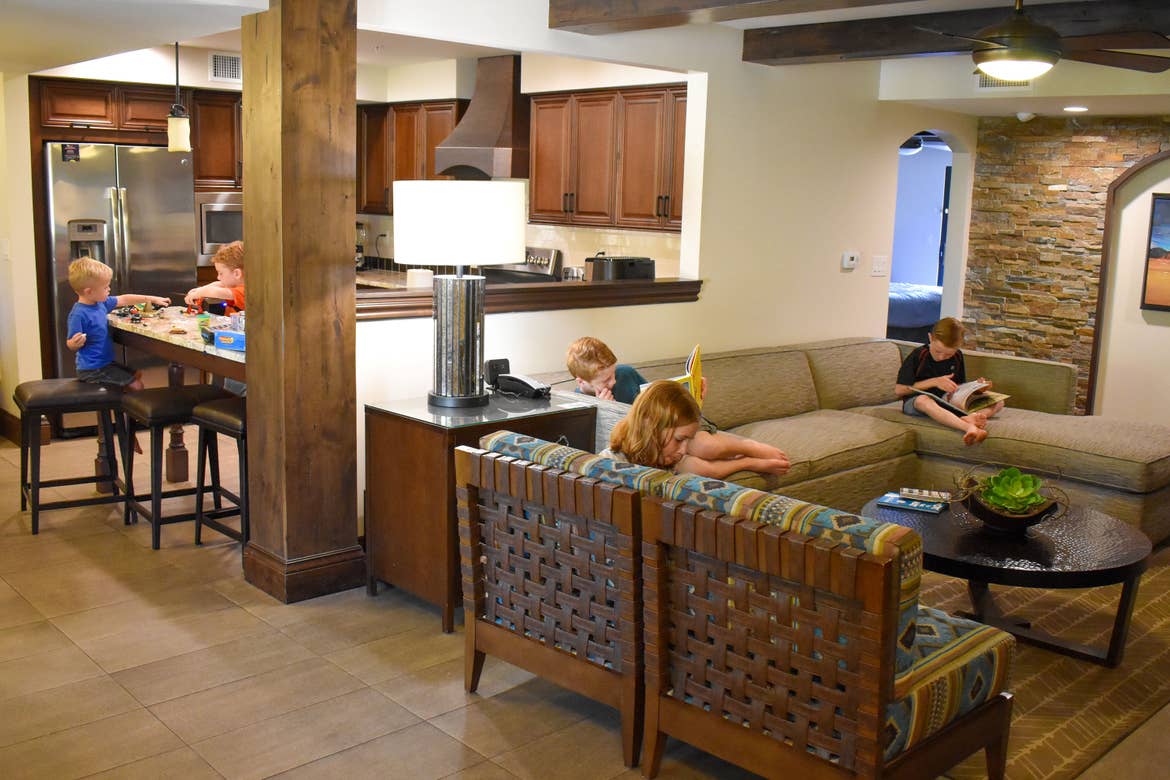 While we normally spend most of our vacations out exploring, we knew that this trip would be different. Even though we had a blast hiking, biking, picnicking and paddling, many other Scottsdale attractions that we were interested in weren't fully reopened yet, so that wasn't an option. And with our September trip falling right during a heatwave, being outside in 115-degree temperatures during the day wasn't an option for us either.

Staying at Scottsdale Resort gave us the flexibility to go explore in the mornings and evenings, and then spend the hours in the middle of the day playing games in our villa and cooling off in the pools.


2. A full kitchen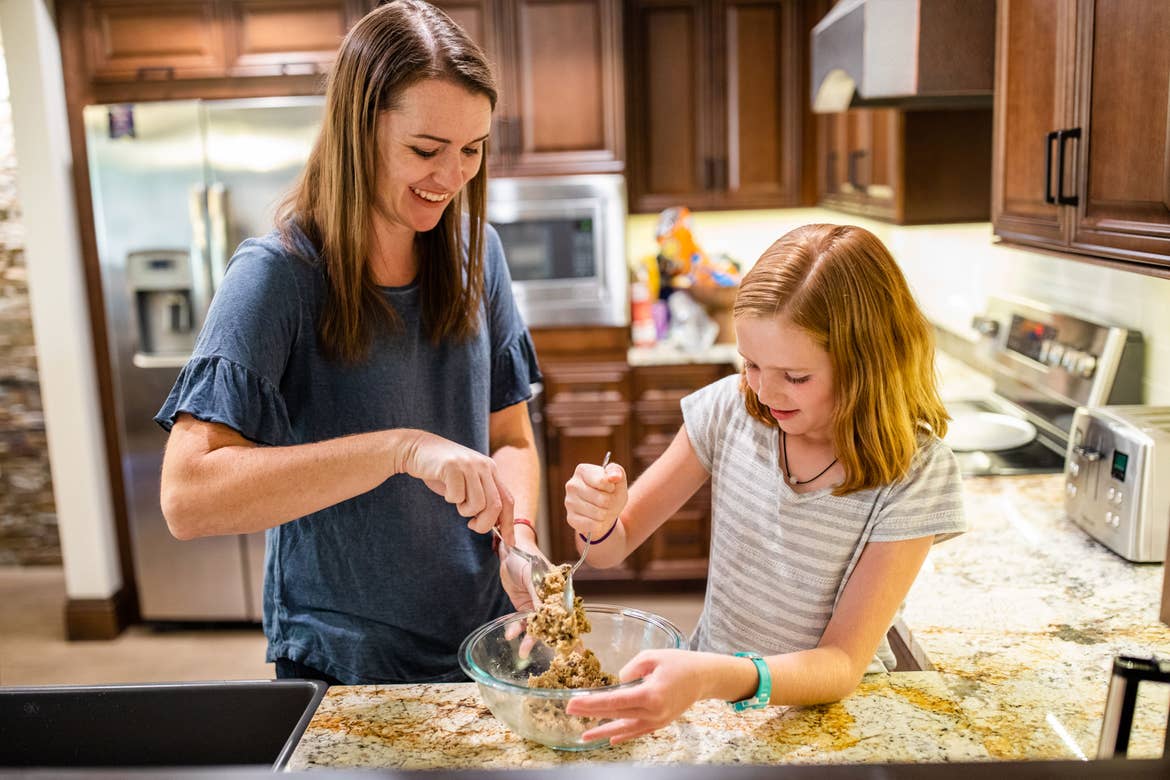 When we visited, many restaurants in Scottsdale weren't offering dine-in, so we planned to eat in our villa from the start. A full kitchen gave us the option to cook some of our favorite fast meals, and we had space to get the kids involved in the cooking as well.

Luckily, Scottsdale Resort is incredibly close to two of our favorite grocery stores, Trader Joe's and Whole Foods, so it was easy to grab groceries and feed the whole family back in our villa.


3. Laundry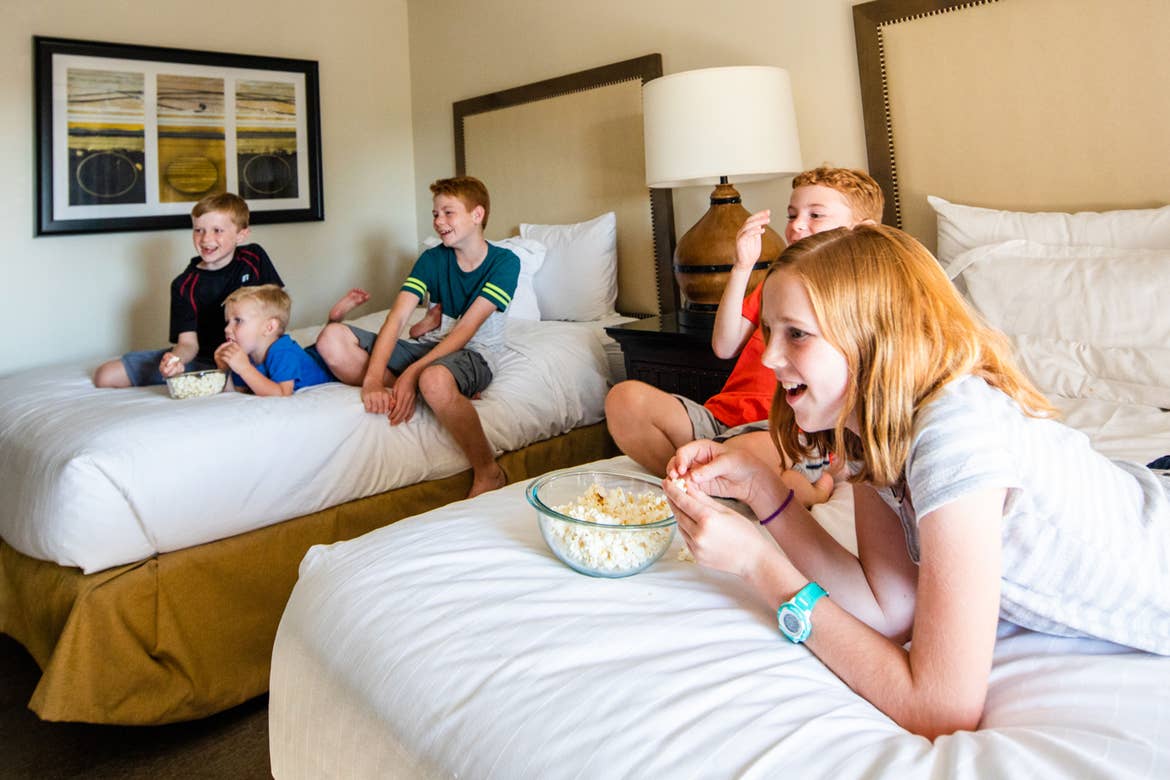 As a family of seven, we rack up quite the piles of laundry on any given day. But add in our active adventures in the super-hot Arizona sun and about ten million trips to the pools, and we had quite the mountain of dirty laundry to deal with.

I loved having an in-villa washer and dryer. Not only did it help us get the most out of the specialty gear we brought, like long-sleeve SPF sun shirts and biking shorts, but there's also nothing better than not having to put dirty clothes back into your suitcases and car.

We were able to do several loads before we headed home, and it was a relief to know that all I had to do when we got home was to unpack and put our already-clean clothes away.


4. Great pools!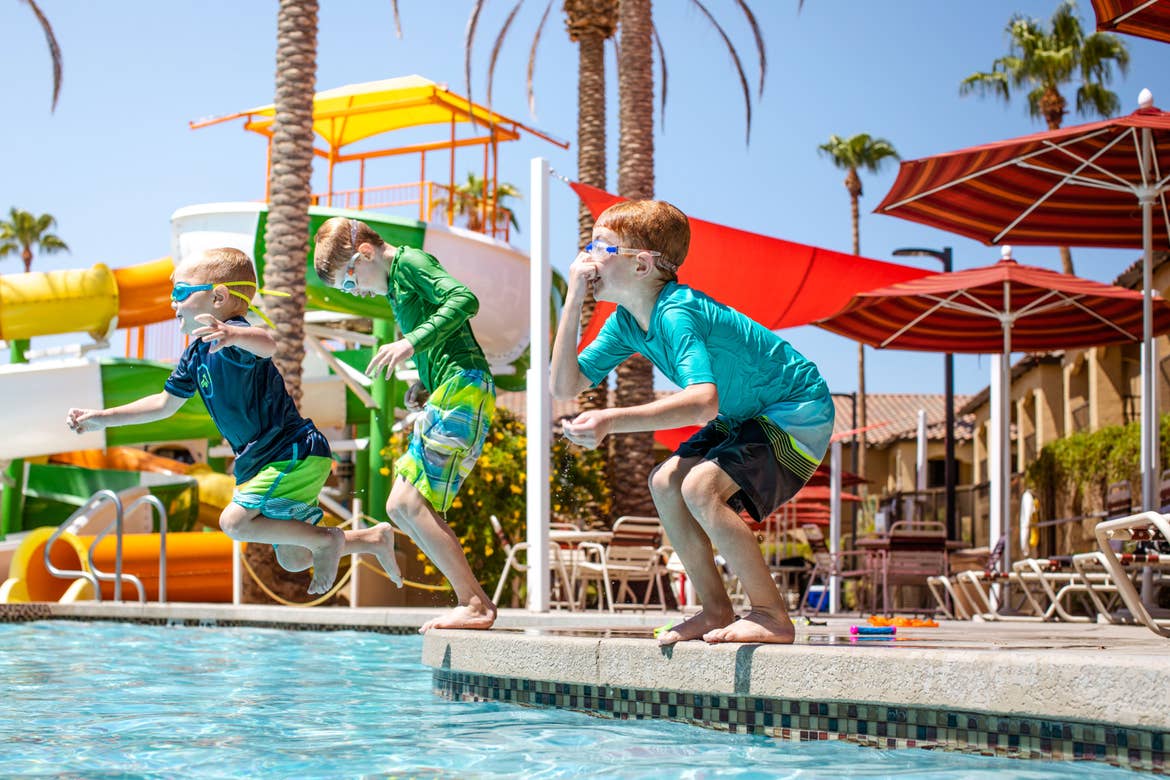 Our kids' major request for this vacation was to stay somewhere with a pool. Well, the resort allowed us to really overdeliver in this category.

Once we arrived, we were thrilled to find four different pools as well as Splash Canyon, which features not only a pool, but also a splash pad area for younger kids and two giant waterslides for older kids. All the pools were really family-friendly, and since there were so many of them, none ever felt very crowded, which helped us feel safer. And yes, we tried out every single one!


5. Knowledgeable team members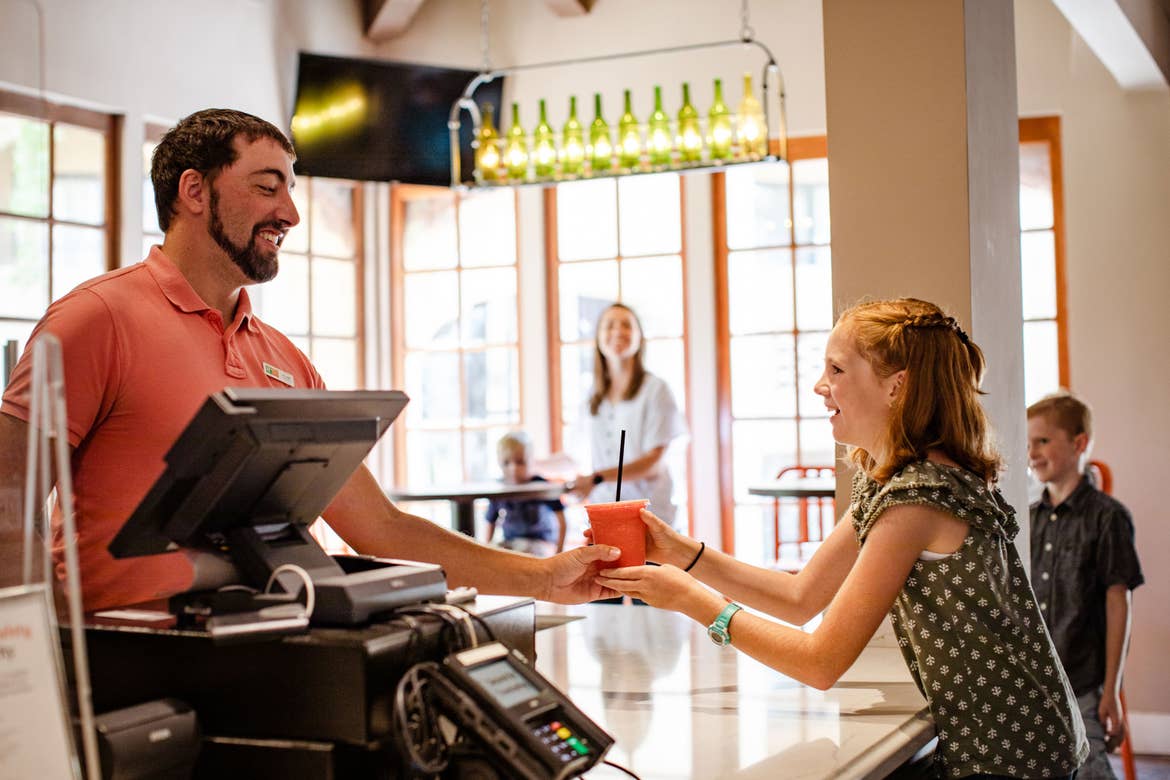 Even though we're really big on planning and creating our own family adventures, we were impressed by the staff and team members at Scottsdale Resort. The resort team had great tips on local things to do in Scottsdale and when best to check out certain activities around the sun, temperatures and weather that we could layer onto our own experiences and expertise.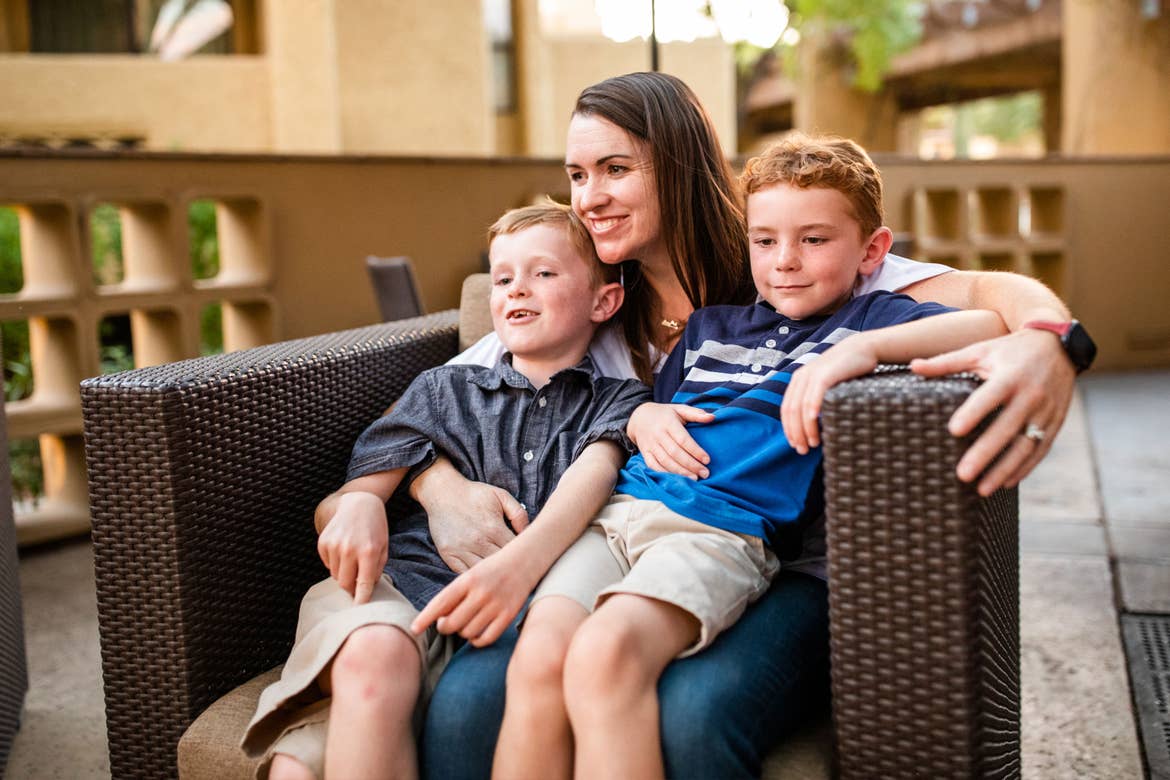 As we drove home at the end of our vacation, we sat in the car and chatted about all the things that we'd been able to see and do in Scottsdale. The trails we hiked, the mountains we biked, the shenanigans on the paddleboard and, of course, the hours and hours we spent at the pool.

This is why we had come. We always feel the closest as a family when we're out adventuring together, so this outdoor Scottsdale trip was exactly the reset we needed right now to end 2020 strong and intentional.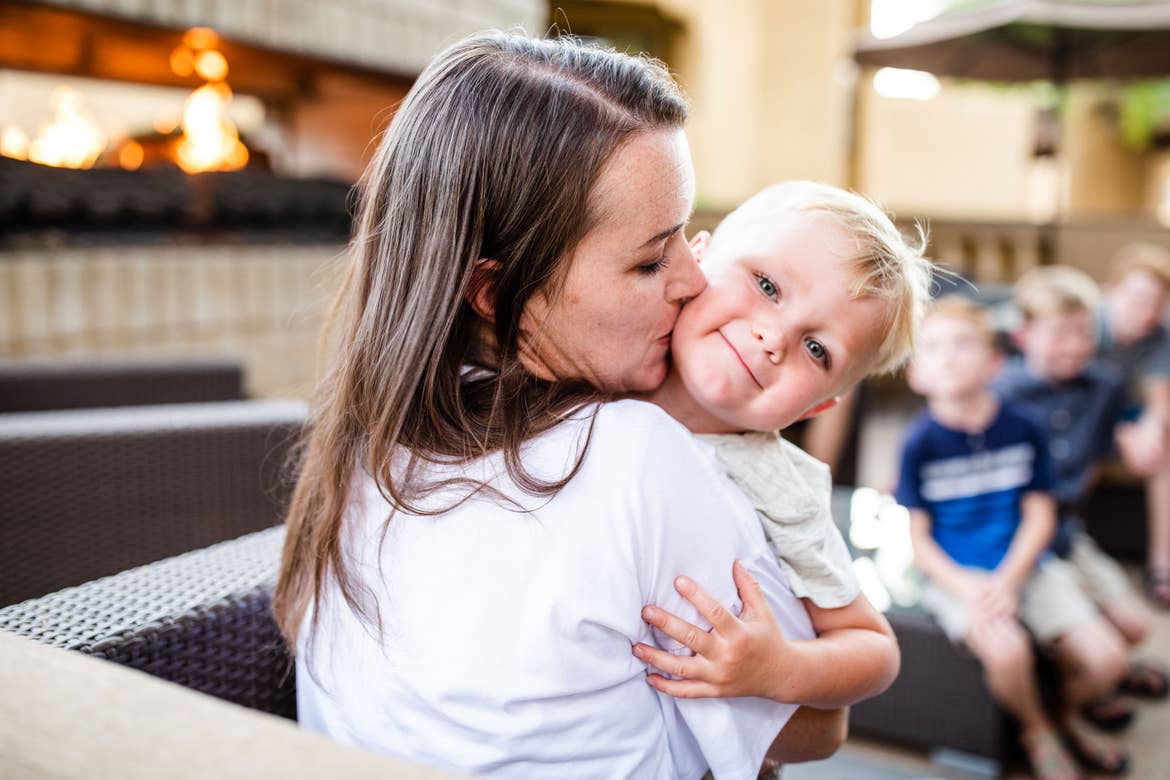 Our guest bloggers are compensated for their writing contributions and honest opinions.

All information is subject to change. This article is a curated guide and is neither sponsored nor considered an official endorsement. Please be sure to check information directly with any/all tours, guides or companies for the most up-to-date and direct details.