Kelly Nelson
Kelly is the social media manager at Holiday Inn Club Vacations. She's got a passion for travel and viral videos, two things that help make her job so fun. When she's not scouring the internet for the latest Instagram trends, she's probably out for a run, headed to the beach or basically doing anything else outdoors. She's an Orlando local and can probably recommend some of the best foodie or coffee spots in the Downtown Orlando area. Her absolute favorite vacation spot is Asheville, NC, and since it's where her fiancé proposed, it certainly has a special place in her heart.
There's just something about the holiday season that's so magical! The music, décor, festive treats … I'm such a sucker for all things Christmas and getting into the holiday spirit.

That's why I was especially excited to visit Walt Disney World® Theme Parks to experience all the holiday magic they're offering guests this year. Huge thank you to the Disney team for extending such a special invite to me and our editor-in-chief, Jennifer C. Harmon.

As the social media manager for Holiday Inn Club Vacations®, I head over to our Orange Lake Resort in Orlando pretty often for work, so it was a nice change of scenery to spend a few days with our neighbors over at Disney's Magic Kingdom® and Disney's Animal Kingdom® Theme Parks. Did you know you can actually see part of Animal Kingdom from certain areas of our resort?! So. Cool.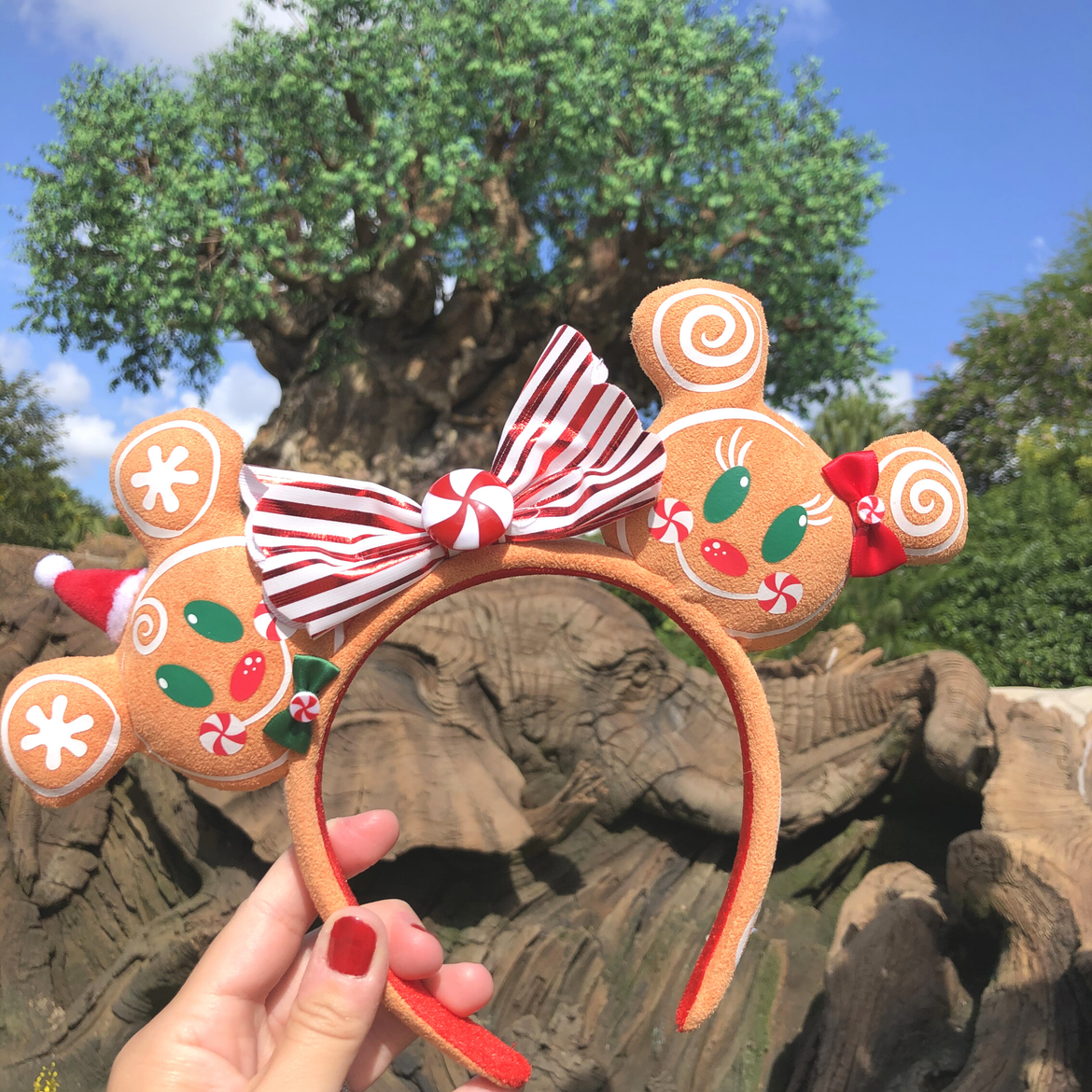 How is Disney World Celebrating the Holidays This Year?
Well, they're doing a lot—all from now through December 30, 2020. From holiday décor, Disney characters and all the sweet and savory treats you could ever ask for to all the holiday merch and multiple Santa sightings, Disney World has really gone out of their way to bring some truly magical holiday cheer to end 2020. Because I think we could all use some holiday cheer every year, but especially this year, right?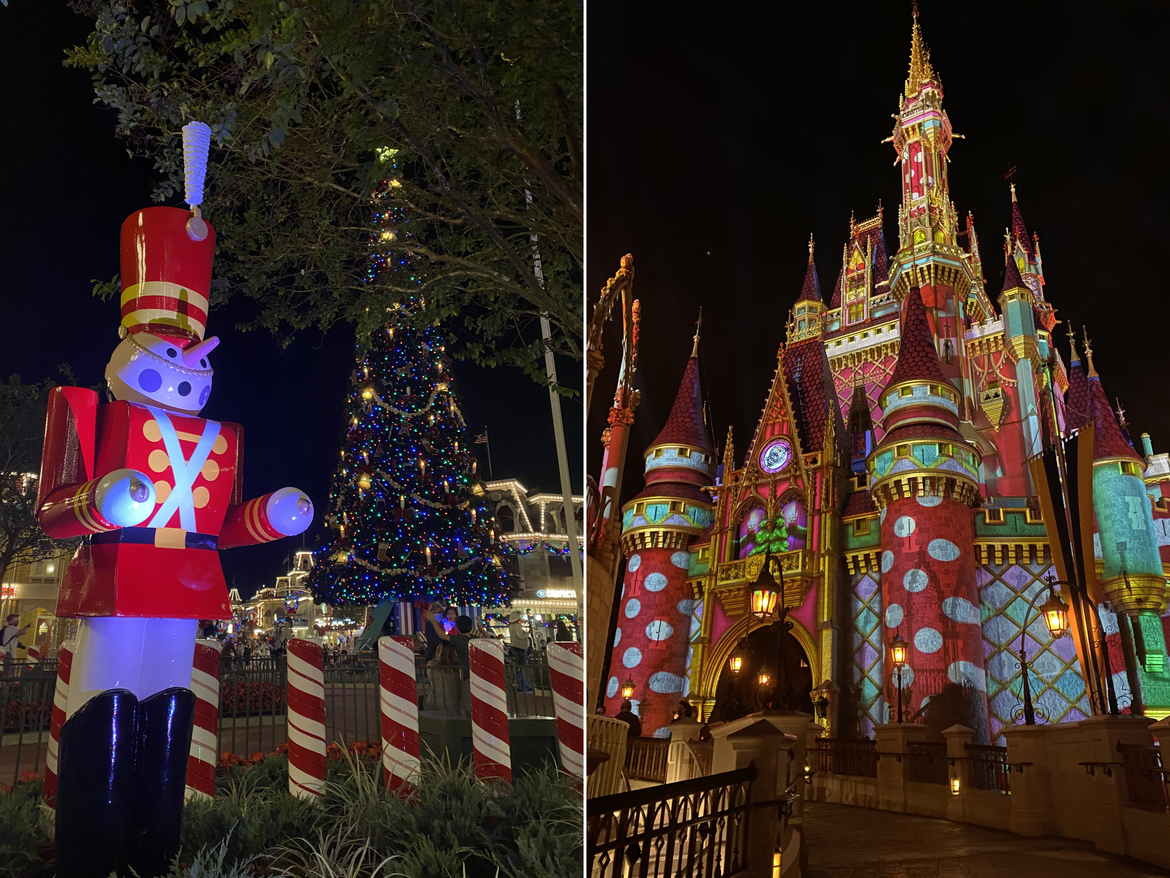 And while there are holiday celebrations happening at Disney's Epcot® and Disney's Hollywood Studios® Theme Parks, as well as the Resort's hotels and Disney Springs, Jennifer and I spent our two days exploring all the festive fun at Magic Kingdom and Animal Kingdom. Below I'm sharing 16 of our very favorite holiday happenings we saw while we were there to #DiscoverWDWMagic!


At Magic Kingdom
1. The beautiful Main Street Christmas Tree
After you've made your way through the temperature check and ticket gates, you can't miss this big, beautiful Christmas tree as soon as you enter the park. I loved seeing all the unique ornaments hanging from the tree. Plus, it's surrounded by the life-size legendary Toy Soldiers! (P.S.—They're always ready to grab a selfie with you. 😉 )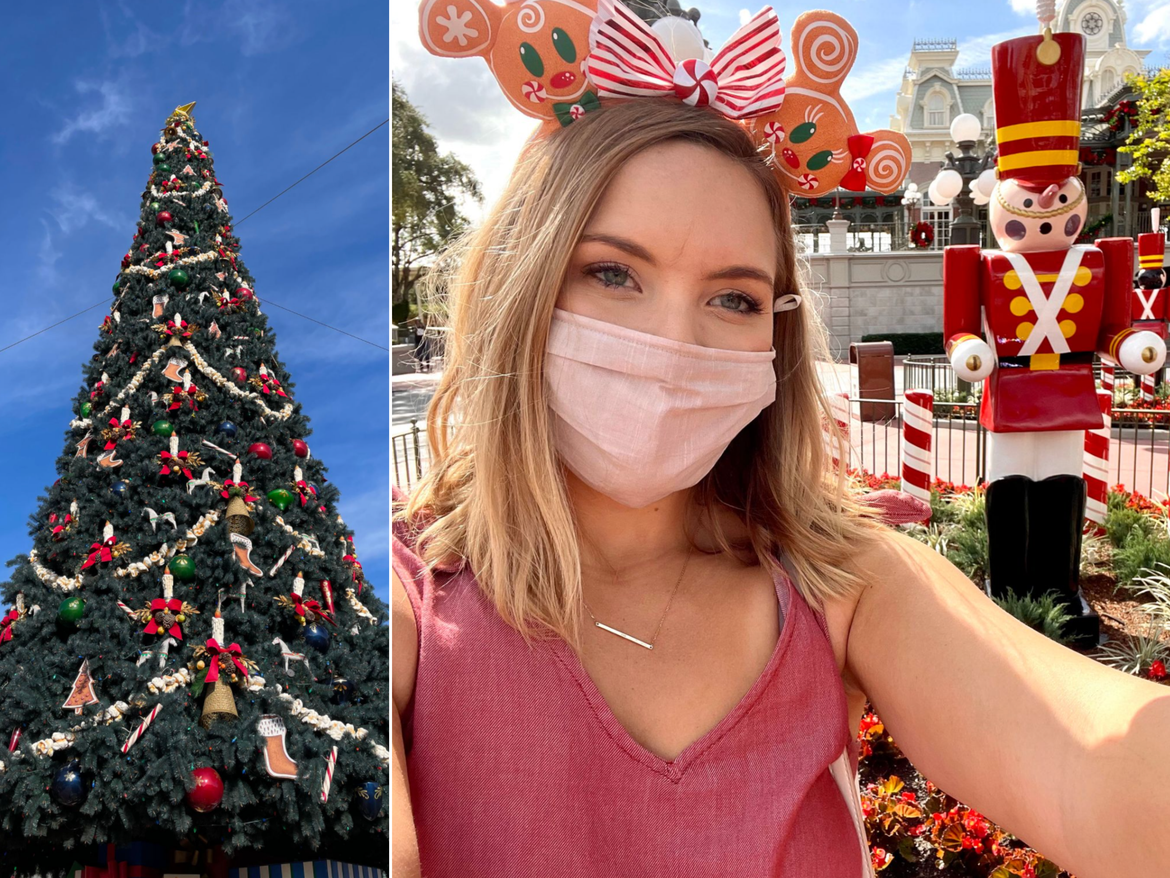 2. The holiday décor down Main Street USA
There's nothing quite like taking a stroll down Main Street and seeing Cinderella's Castle waiting for you at the end! Add in some holiday garland, ornaments and lights, and it's even more magical than usual.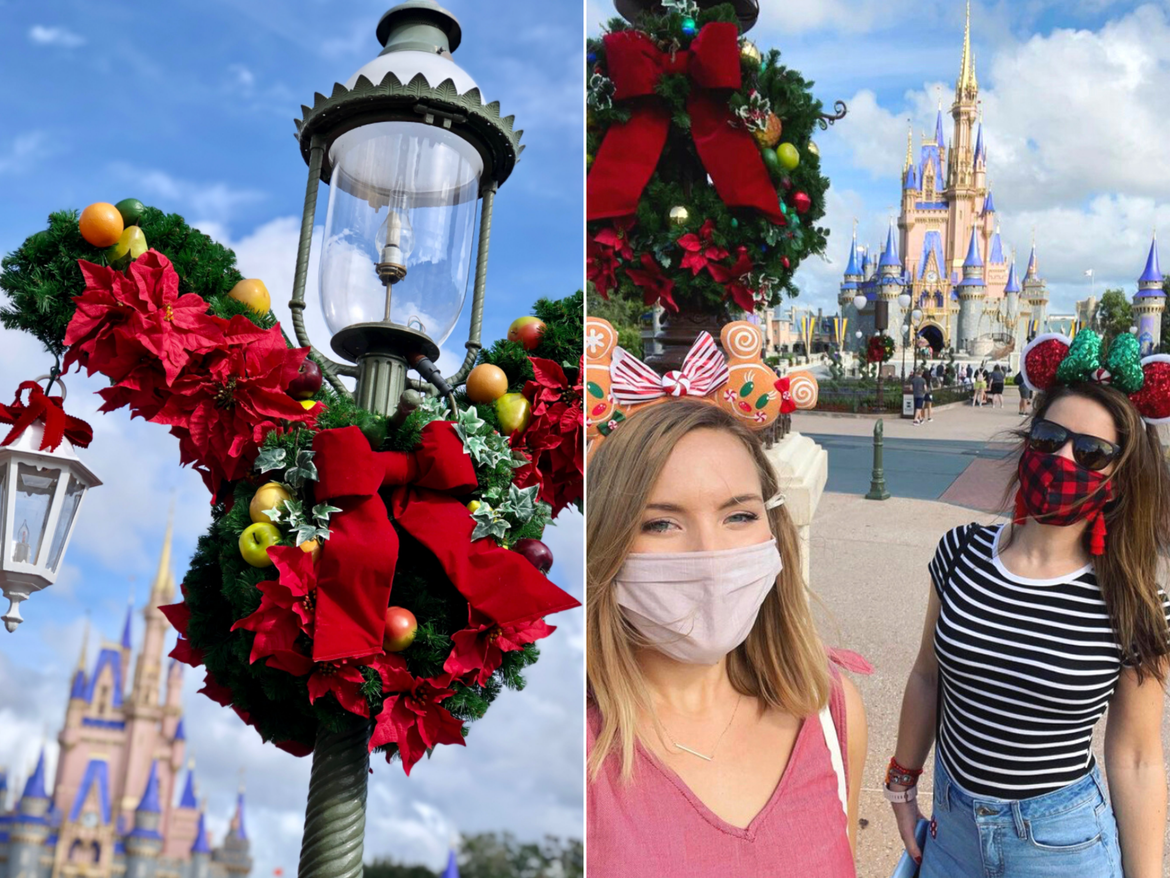 3. The cheerful (and frequent!) holiday Character Cavalcades
While there aren't regularly scheduled parades or Character Meet and Greets right now, you can still expect to see a BUNCH of festive, friendly faces around the park pretty often. Once you hear the holiday music playing, head on over and try to get the best (socially distanced) spot you can to wave at your favorite Disney characters. They even had one trolley with The Dapper Dans singing Christmas Carols on Main Street!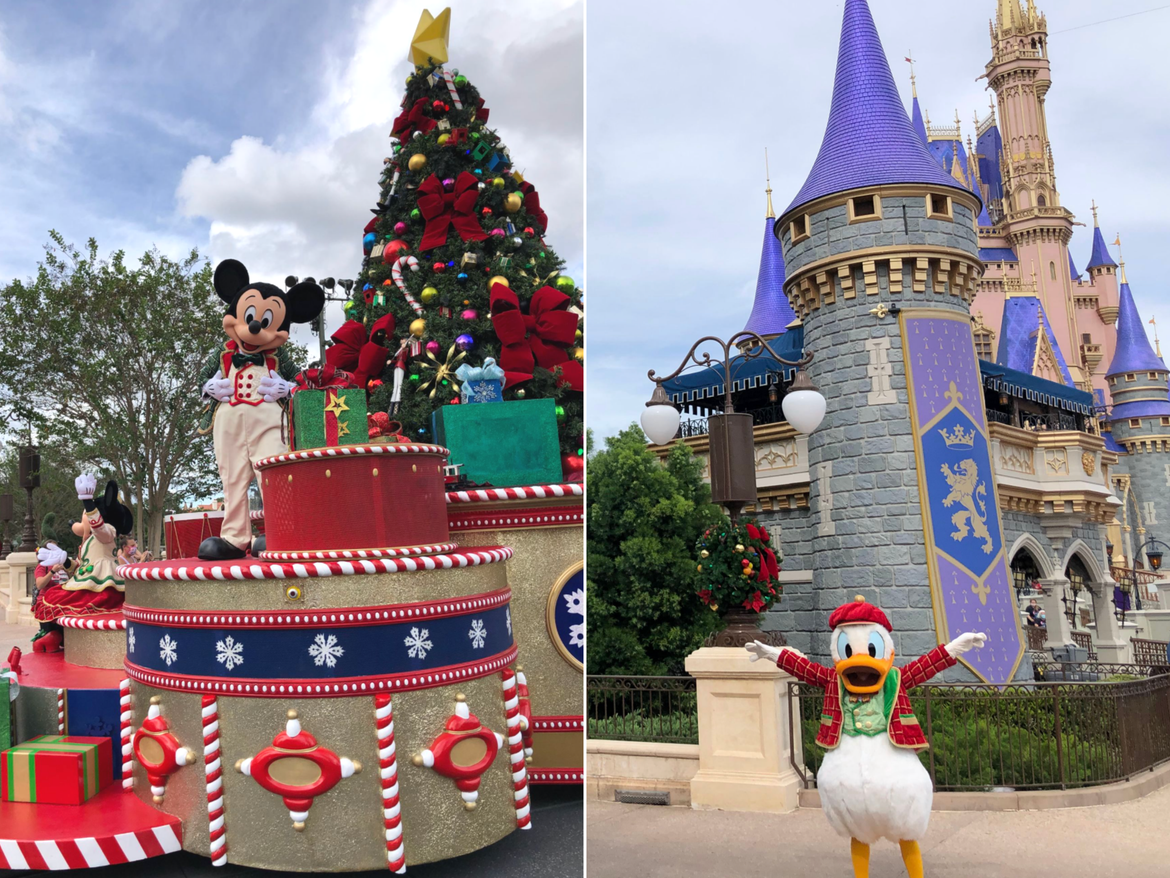 4. All the sweet and savory holiday treats you could ever want
Seriously, there are so many different holiday snacks and beverages to choose from.

We tried Minnie's Merry Cherry Cookie Sundae, which in Florida, you need to eat quickly before it melts! You can find this at Storybook Treats (right across from the entrance of Mine Train). It features a chocolate peppermint lava cookie topped with soft-serve cherry ice cream, all with an oh-so-sweet Minnie Bow on top!

Jennifer doesn't have a sweet tooth, so we were looking for something more savory and decided on some classic Magic Kingdom freshly popped popcorn. This time of year, it comes in two different adorable Christmas Tree Popcorn Buckets. We couldn't choose between green and white, so we got both! ('Tis the season to treat yourself, right?)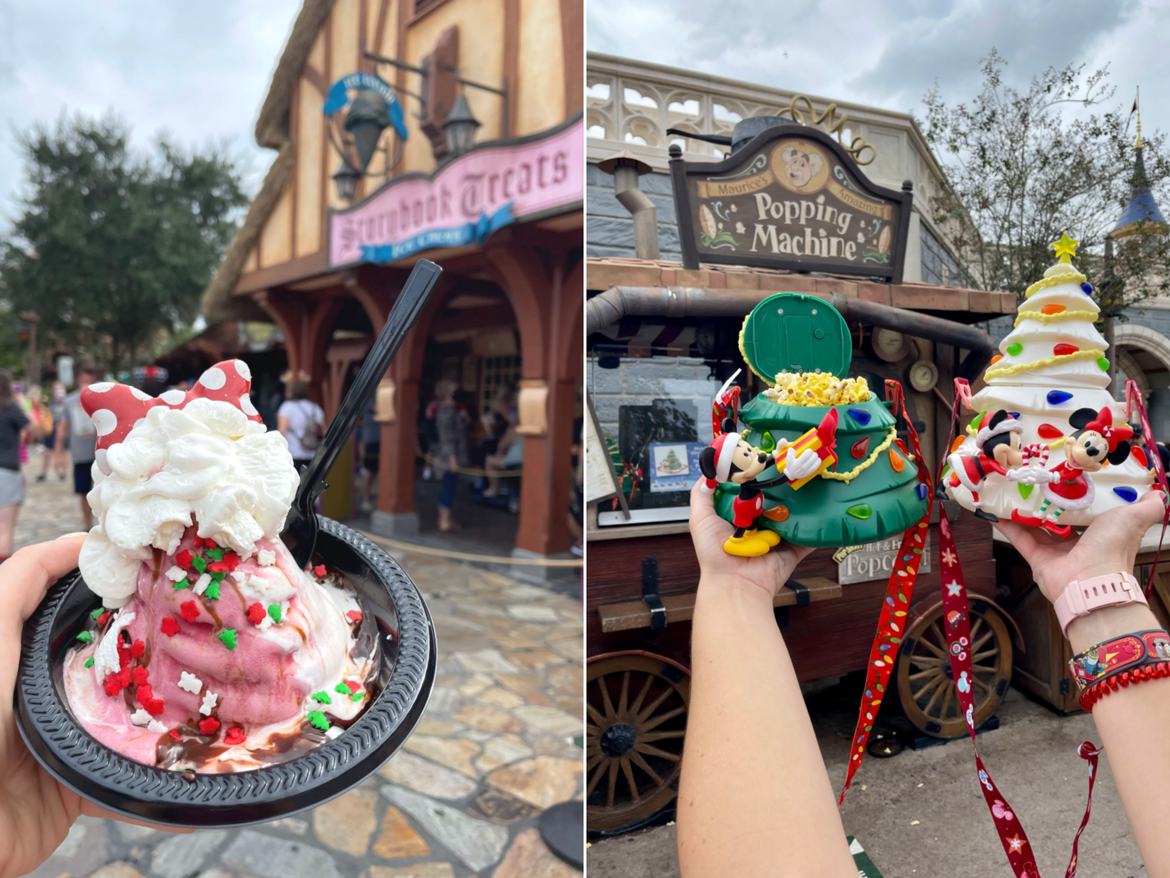 My personal favorite treat from the whole Walt Disney World holiday weekend was definitely the Twice Upon a Cupcake. This confetti-flavored cupcake was so cute and Instagrammable with icing shaped like a Christmas tree (and a hidden Red Velvet Mickey inside!).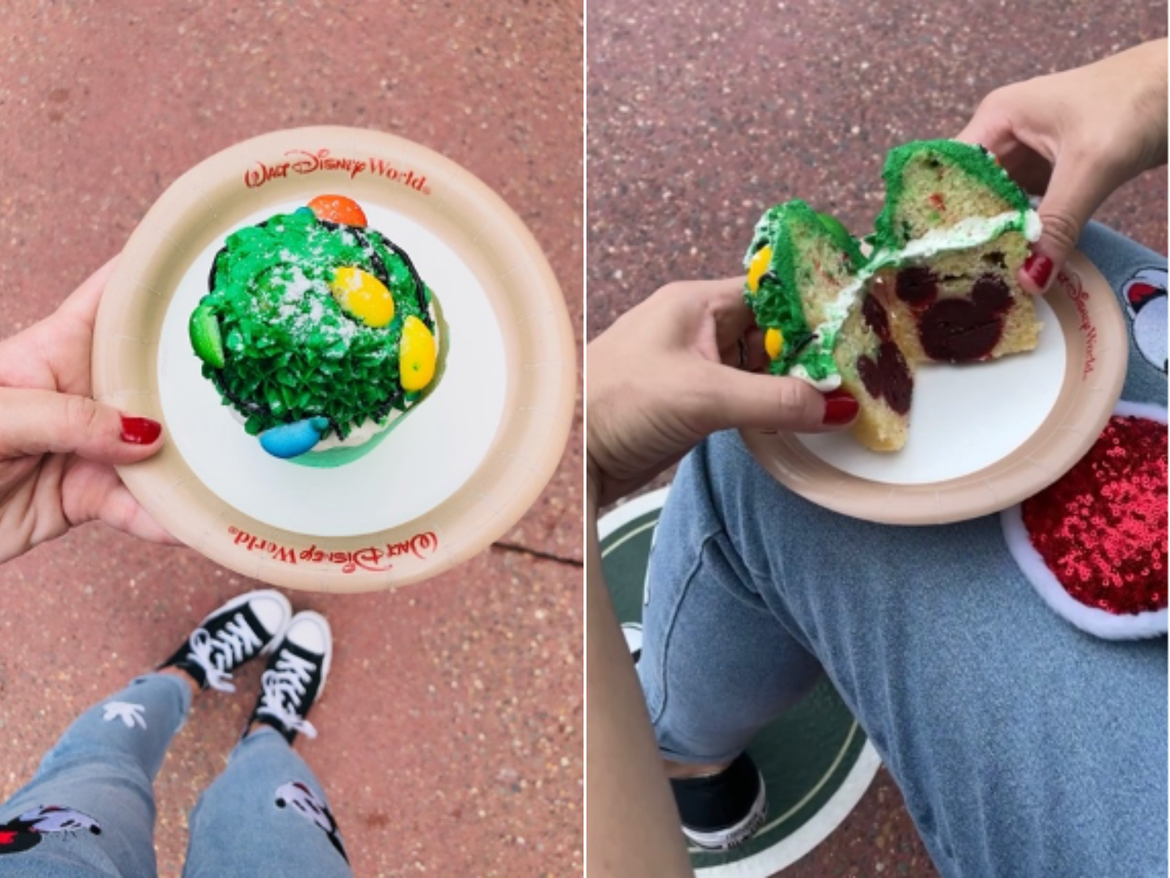 5. Walt Disney World safety measures
Because this is still 2020, it was so nice to see Disney still enforcing all its special safety measures, like requiring park reservations for each entry ticket (to limit capacity), temperature checks upon entry, social distancing markers throughout the park, requiring masks from both guests and cast members, plexiglass installations on many ride queues, and hand-washing and sanitizing stations all throughout the park.

Walt Disney World has recently increased capacity in its parks, so there are still crowds (more so than our first visits back to Magic Kingdom earlier this year, for sure), but cast members are doing what they can to help make you still feel safe while you're there.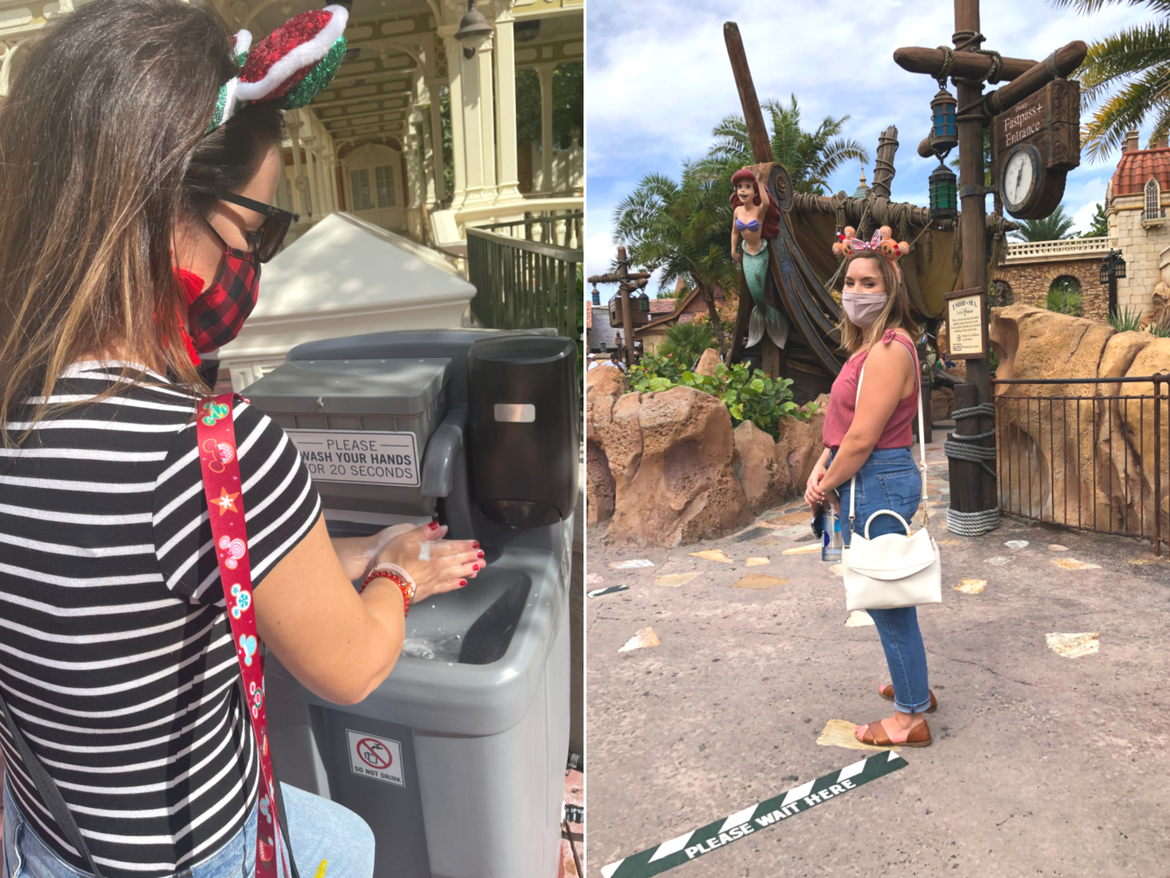 6. All the Magic Kingdom holiday merch
Jennifer mentioned that for her and her mom, a day at Disney just isn't the same without a little bit of shopping. And Magic Kingdom did NOT disappoint with their specialty holiday merchandise this year.

You might have to pack an extra carry-on for your way home (or buy one of their Loungefly Ugly Sweater Mini Backpacks?) because we saw everything from the Scented Gingerbread Mickey and Minnie Mouse plushes, ornaments and Mickey Head wreaths to festive kitchen towels, mugs and the Adult Holiday Spirit Jerseys.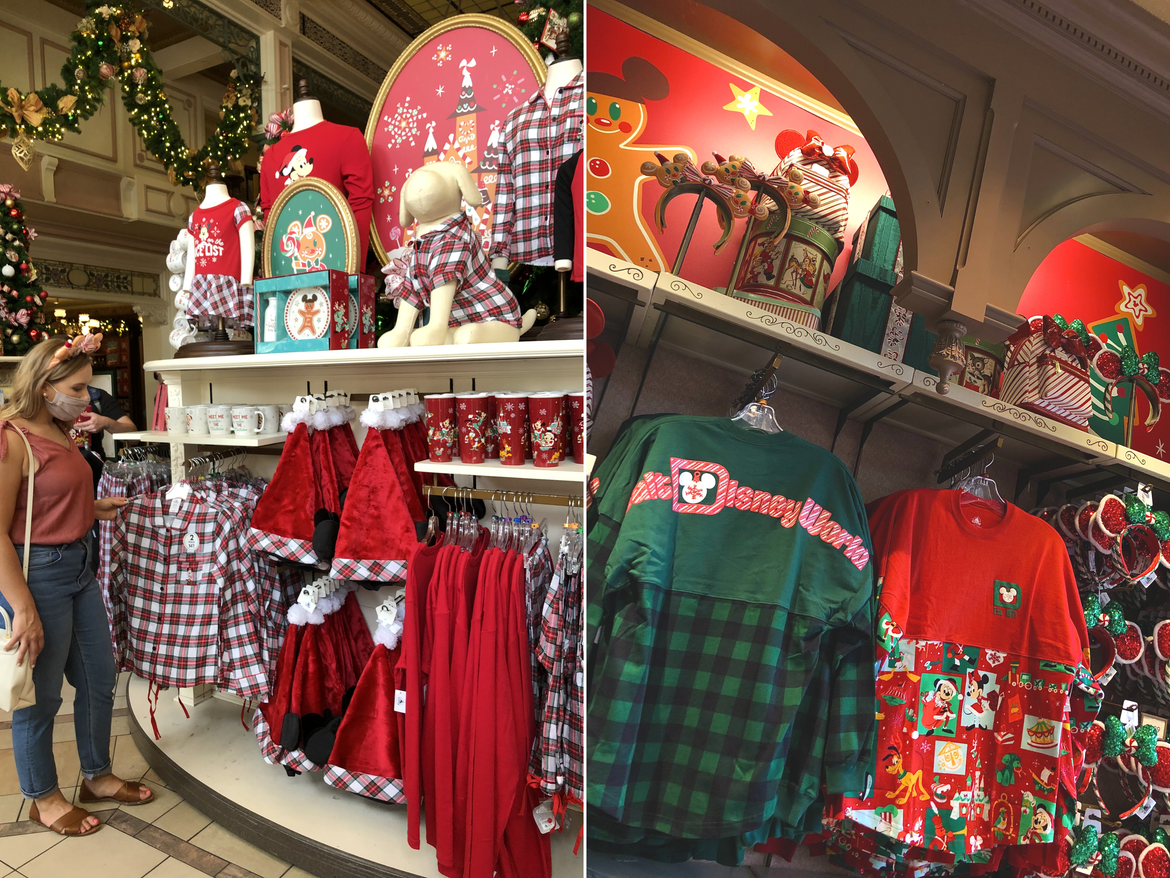 Our favorite part? Picking out new holiday ears first thing in the morning for rocking the rest of our day! It was a hard choice, but I went with the Gingerbread Headband, while Jennifer chose the Peppermint Minnie Headband.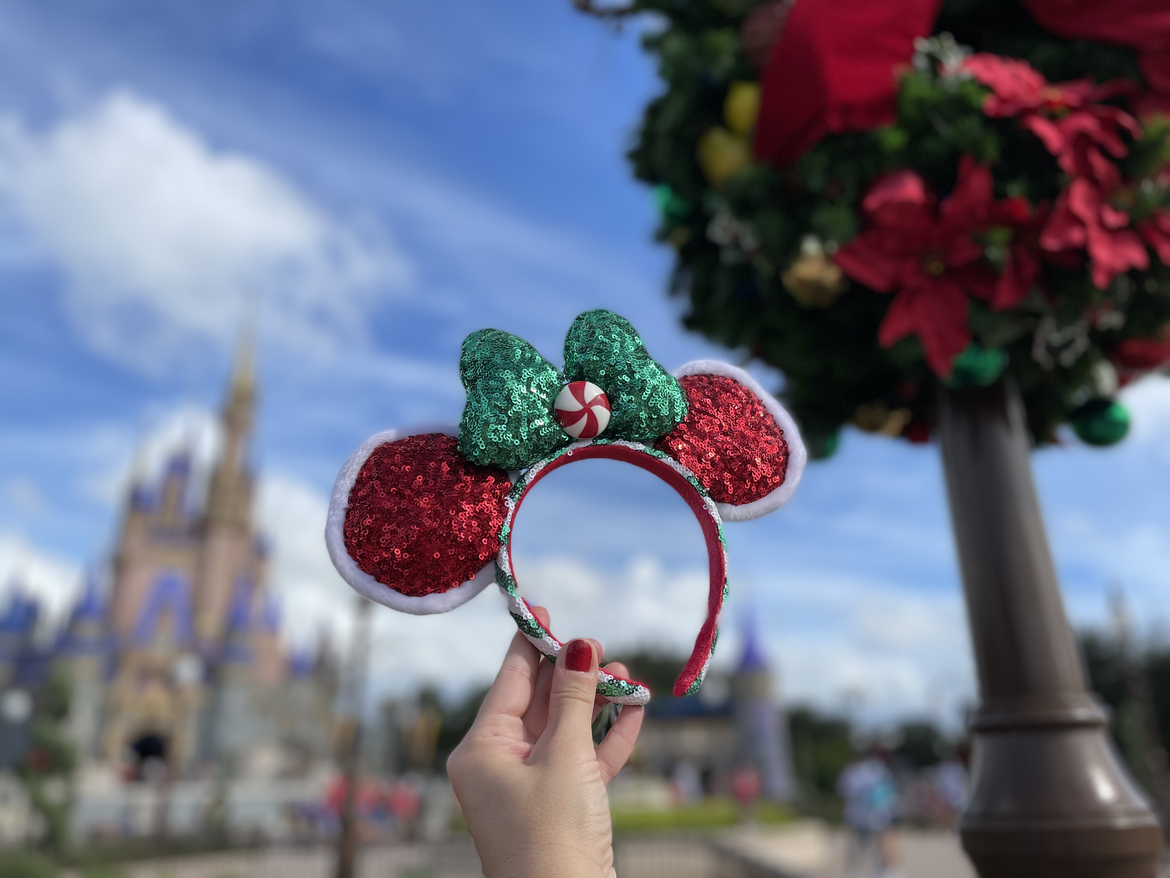 7. SANTA!!!
Yes, we even saw Santa before the clock on Cinderella's Castle even struck noon. We were enjoying some Main Street USA Starbucks coffee and our Twice Upon a Cupcakes when he surprised us by making his jolly way over to us in his sleigh. It was hard to wave with icing on our fingers, but it's safe to say we were VERY excited to see him!
At Animal Kingdom
8. The themed Christmas tree at the entrance
This tree was amazing! It's the first thing you see as you walk up to the park, with beautifully themed ornaments and décor full of animals and worldly artwork to really bring it to life. You can't help but pose for a picture in front of it!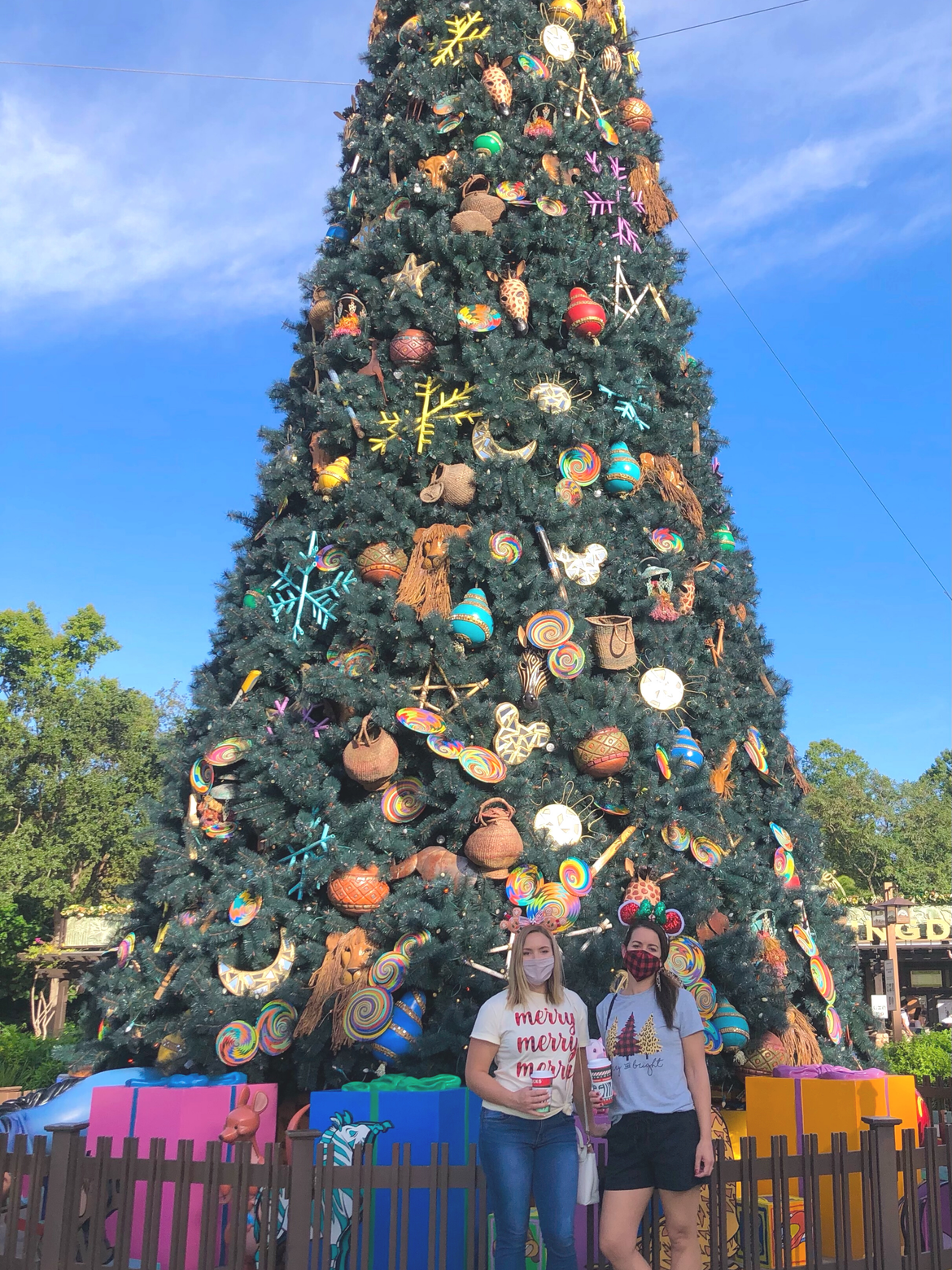 9. Taking a holiday ears selfie with the other tree (of life!)
Remember those holiday ears we bought at Magic Kingdom? We just had to get another day of them in, coupled with festive t-shirts, in front of Animal Kingdom's most iconic part of the park: The Tree of Life.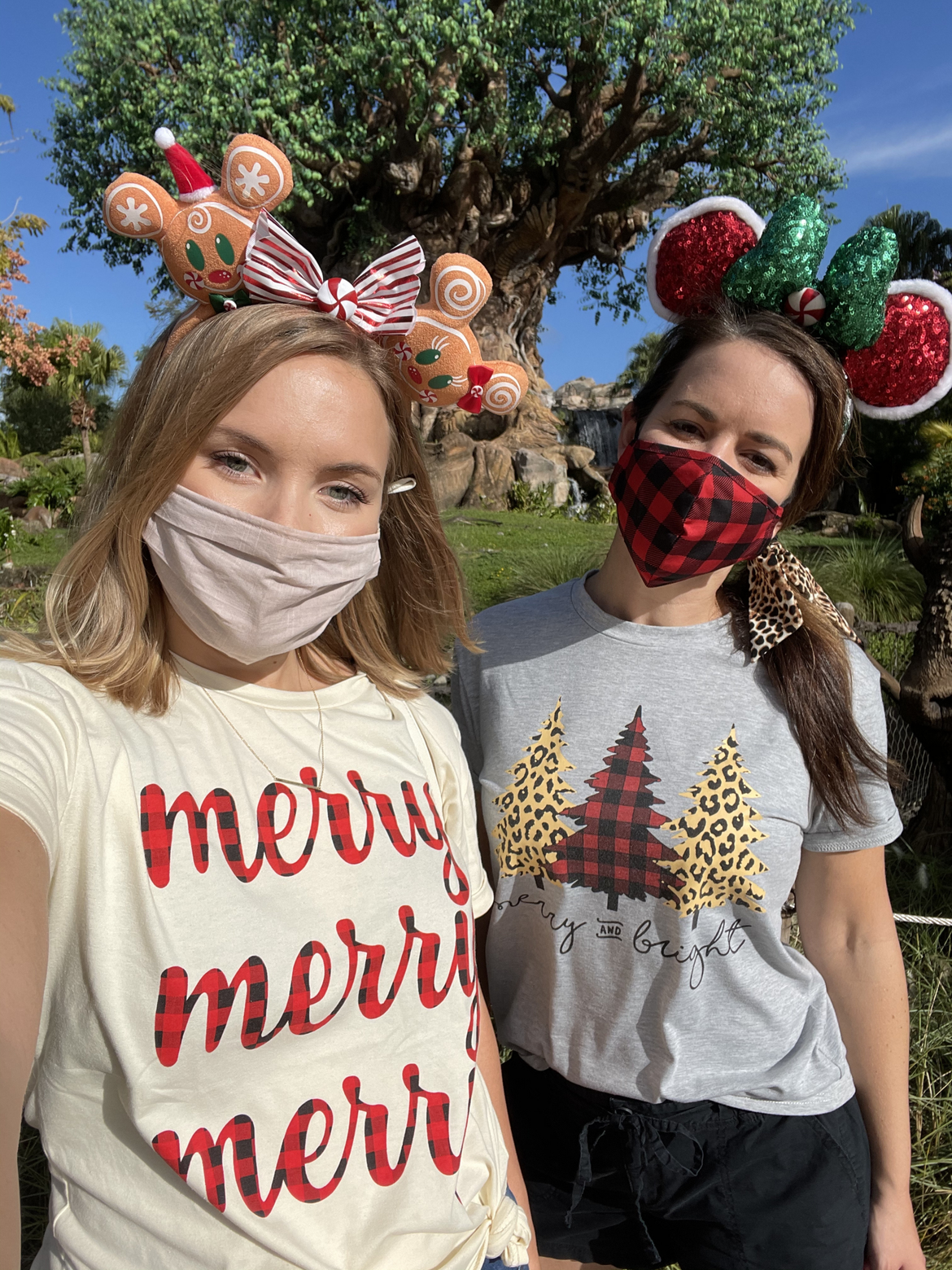 10. Sweet samplings of holiday hot chocolates
At the Isle of Java, you'll find a delicious array of different holiday-themed hot chocolates. Who needs coffee when there's s'mores, salted caramel AND peppermint hot cocoa?!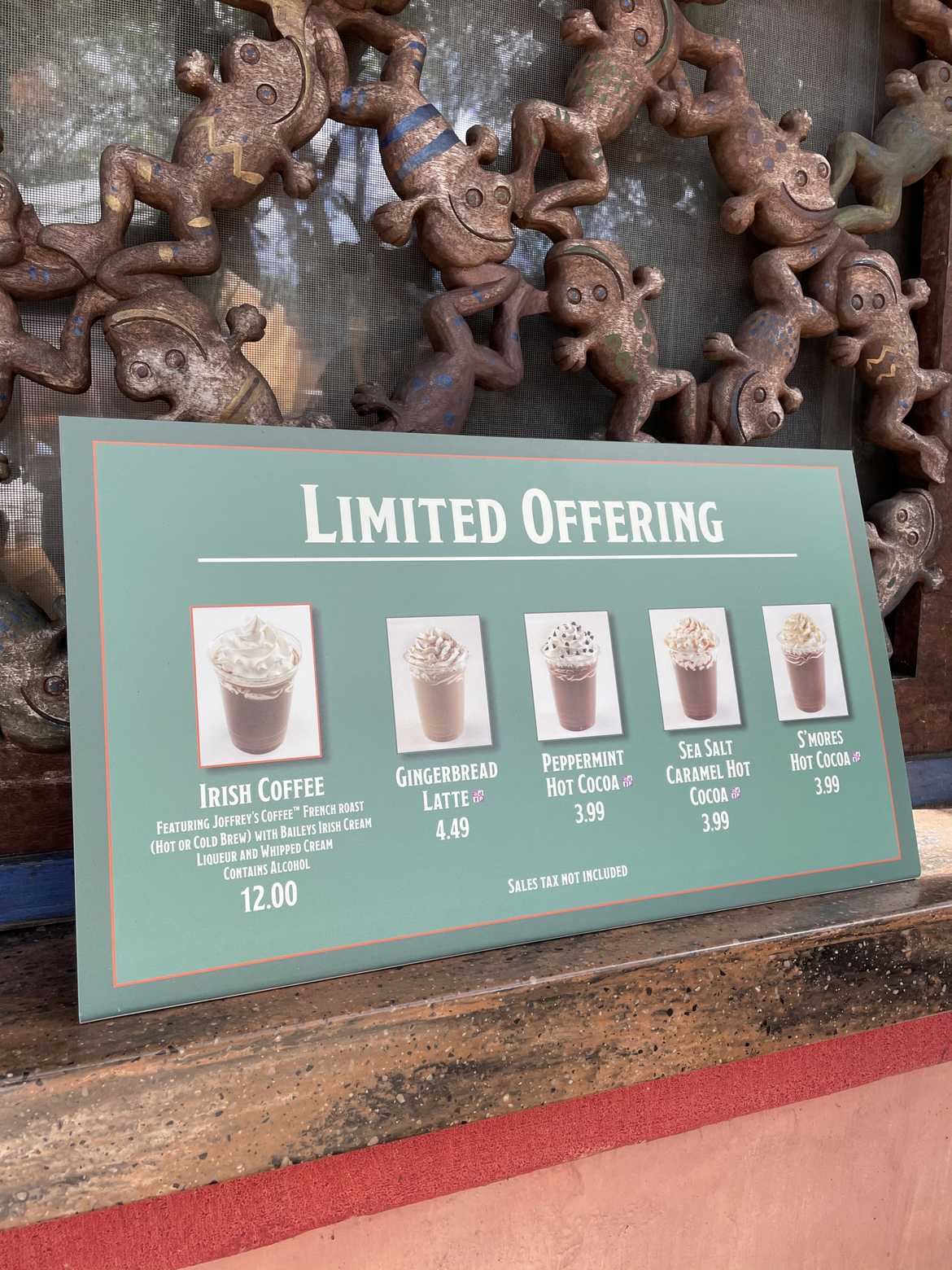 11. The Character-filled festive floatillas
Just like Magic Kingdom, you can expect to see some friendly faces floating through the park on a regular basis. Mickey, Minnie, Chip and Dale, Pocahontas and Meeko, and so many more will give you a big wave to put a smile on your face!

Keep an eye out especially when you're crossing the bridge into Africa. You never know who might cruise on by on Discovery River Boats. I actually like seeing these Disney characters pop-up like this more than waiting in line for a "real" meet and greet.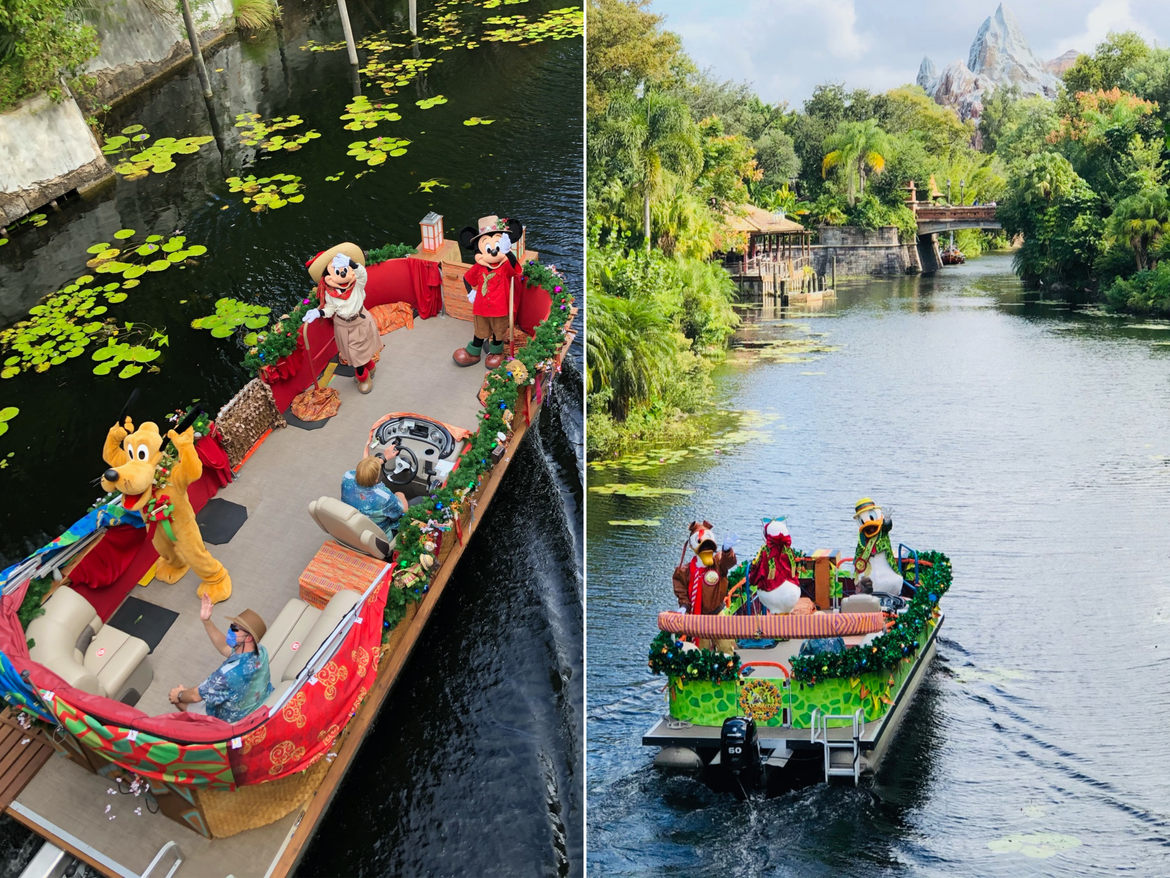 12. Even more holiday shopping
We could've spent hours looking at the merch here! Jennifer and I both have some fellow Disney-lovers in our families, so we were definitely taking notes for holiday shopping ideas (and inspo for holiday décor).

A few of our favorites were the holiday pajamas (including ones for dogs!), the hilarious Ugly Sweater Crocs, the retro red cardigan and all the adorable plushes!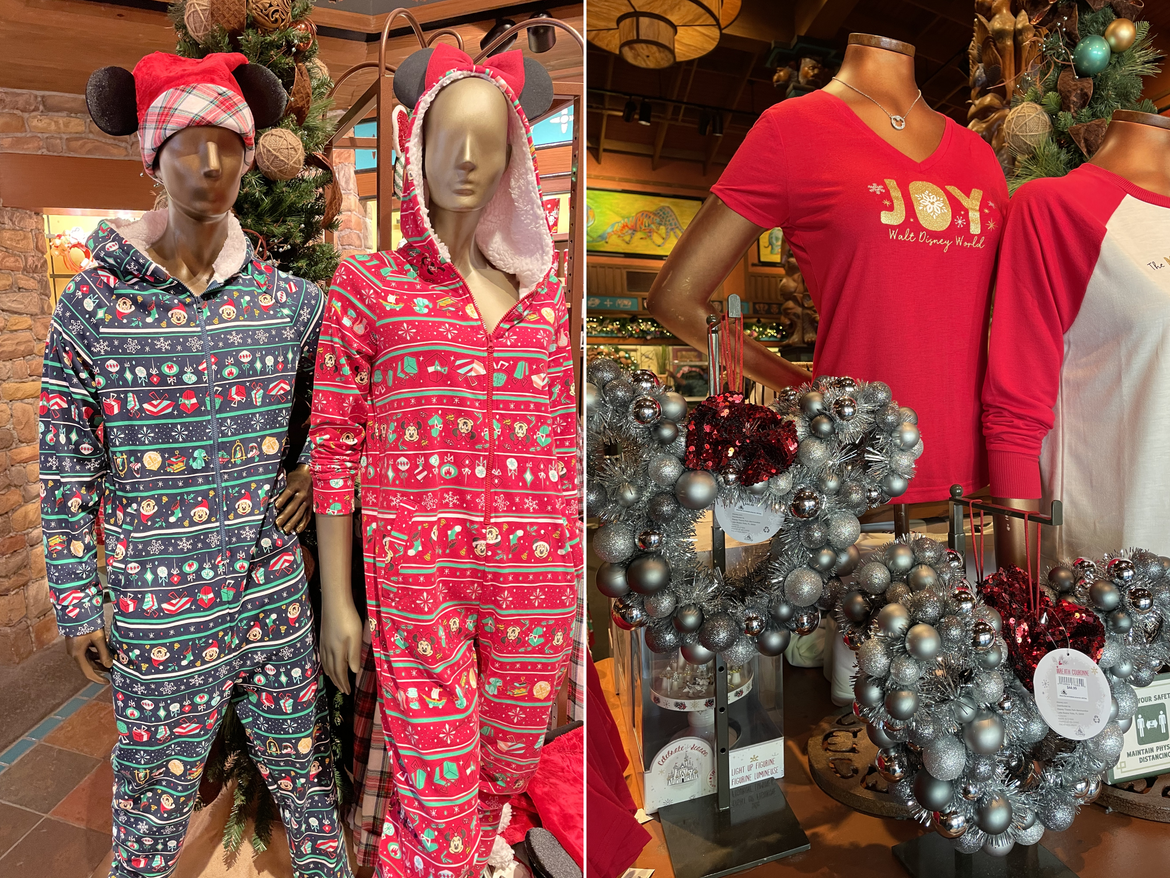 13. Ways to cheers
While you can only enjoy alcoholic beverages at Be Our Guest in the Magic Kingdom Park, at Animal Kingdom there are plenty of ways to say "Cheers!" to Christmastime.

Neither of us has ever checked out the new Nomad Lounge at Tiffin's before (guess we've always been in a rush to get in line for the nearby Flight of the Banshee attraction in Pandora). We really appreciated that they had a COVID-friendly to-go counter and found the Graham Beck Sparkling Rosé to be perfectly refreshing on what was still a warm November Florida day.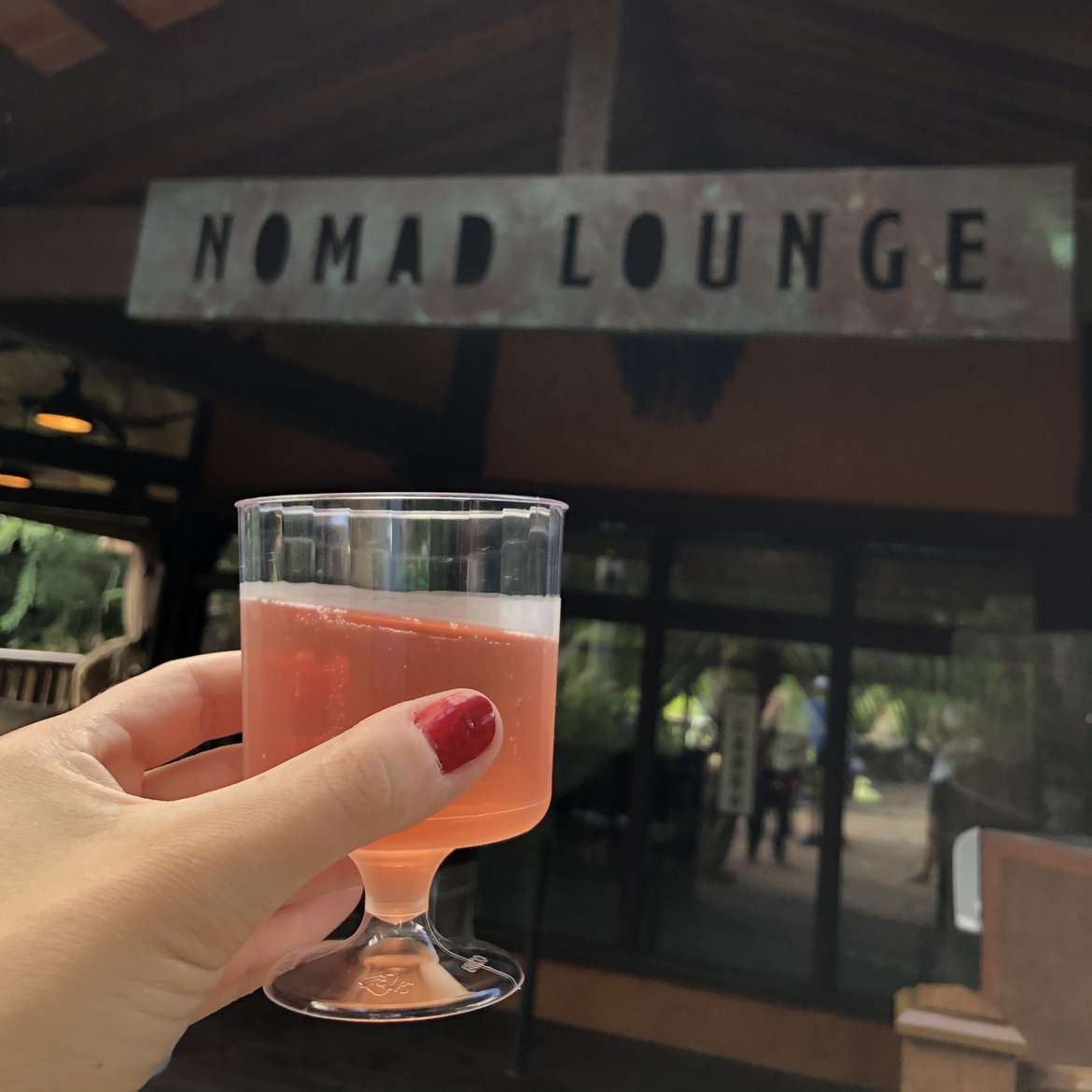 14. Again: safety, safety, safety
I'm happy to report we found the same safety measures here as when we visited Animal Kingdom earlier this year. We were especially impressed with how Cast Members are still hard at work to keep rides as safe as possible.

We rode Kilimanjaro Safaris early in the morning with just about a 15-minute wait. We found there to be social distancing markers to stand on, plexiglass dividers, hand sanitizers, and Cast Members and guests alike all wearing their masks. We were also pleased to find we even got our very own row, as we and other families were seated separately from other travel parties.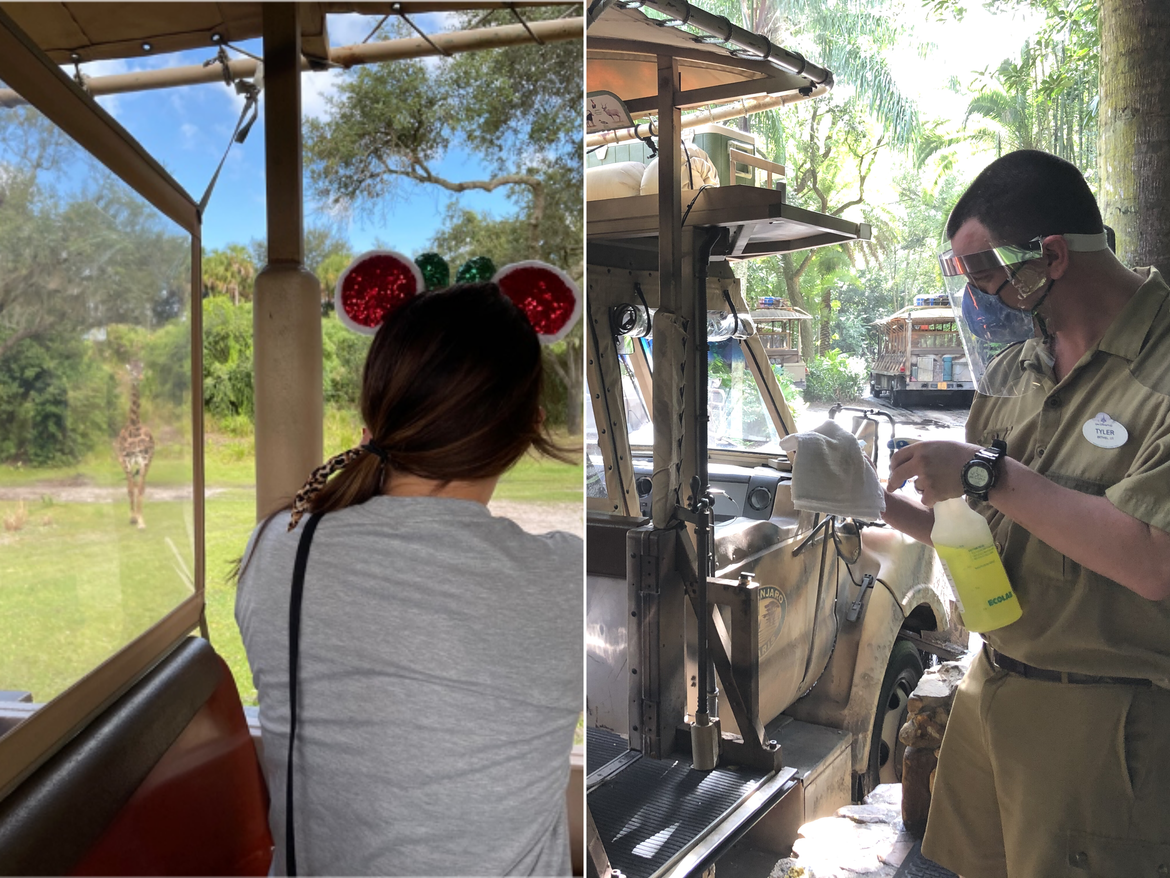 And when we said our last "Jambo!" they actually pulled our safari ride vehicle from the tracks for a thorough cleaning and sanitizing. That made us feel really good about what we had just sat on and held onto while looking for my all-time favorite animal: the giraffe!

Now, to be honest, it IS more crowded nowadays than it was when we first returned to Animal Kingdom with increased capacities for the holidays and with Florida's easing of COVID phases. But the safety measures they have in place are thorough and consistent, and it was still NOWHERE near the crowds you'd USUALLY see in a Walt Disney World park around the holidays.



15. SANTA!!!!
We felt so lucky that we got to see Santa at BOTH parks! At Animal Kingdom, he came floating down the river on yet another floating floatilla, and he was just as jolly as ever. It always puts a big smile on our faces when we get to see him!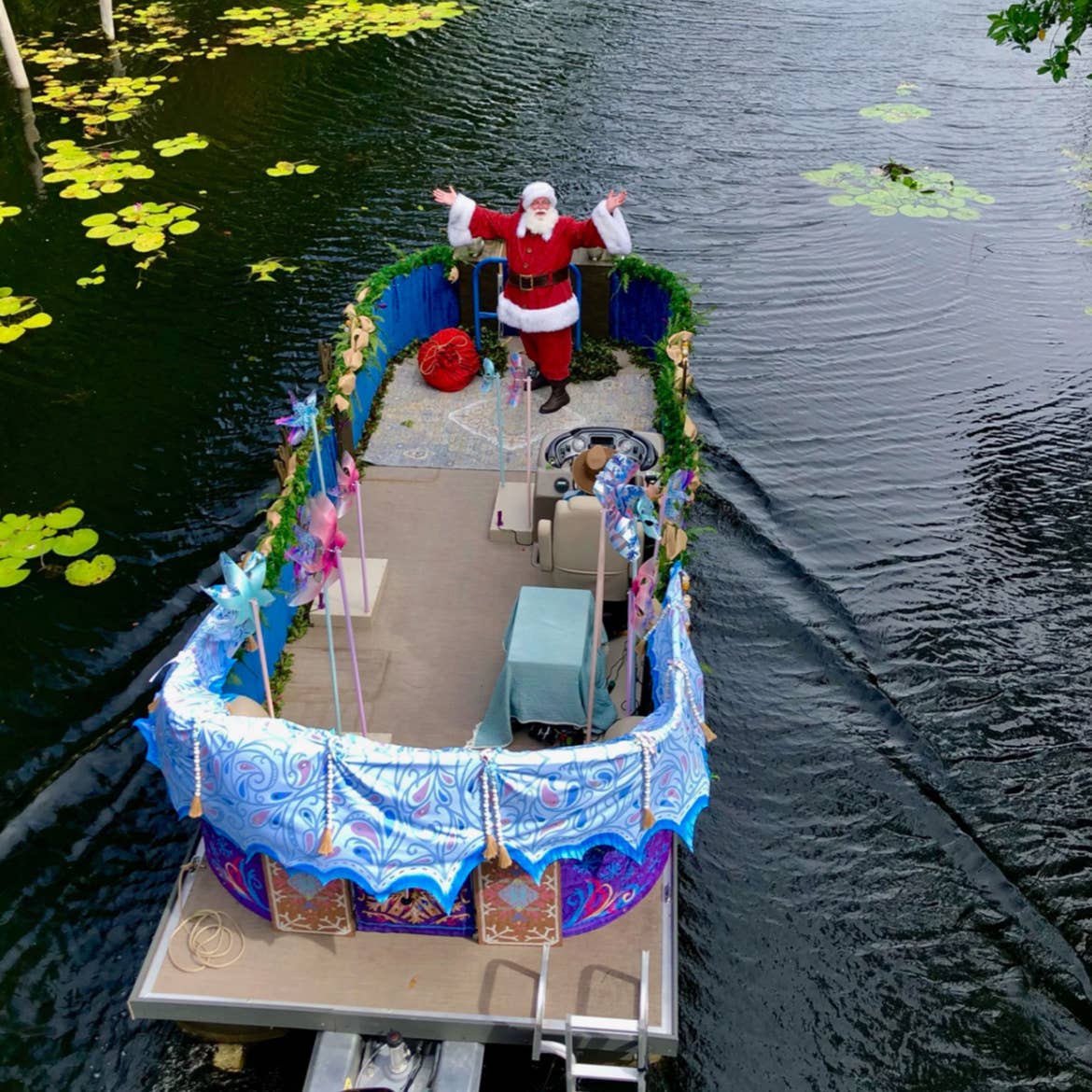 16. Being close to "home"
We may be a little biased but … our VERY favorite thing about both days at Walt Disney World was staying at Orange Lake Resort! It's so close in proximity to the parks. And each morning, we had a hearty breakfast right in our villas' full kitchens.

Then after a long day walking around the parks, we definitely took advantage of cooling off and relaxing by floating down the lazy river.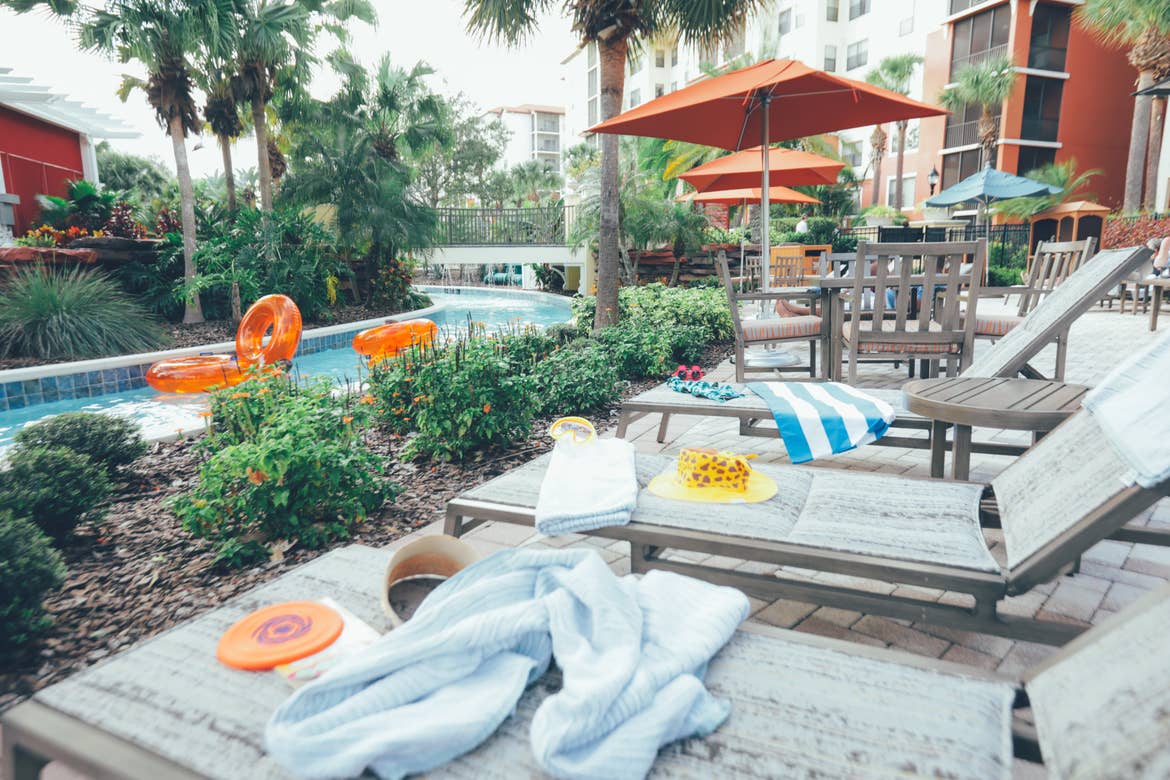 The best part? Orange Lake Resort has a full washer and dryer right in our villas, which we definitely took advantage of. They're especially great if you're packing for a longer, cross-country trip, so you don't have to go home with suitcases full of dirty laundry!

It's just the perfect place to kick back and relax after a day of exploring the parks. Pro tip: You can actually book now and pay later for your next vacation at Orange Lake Resort for stays between 11/23/20 and 1/4/21.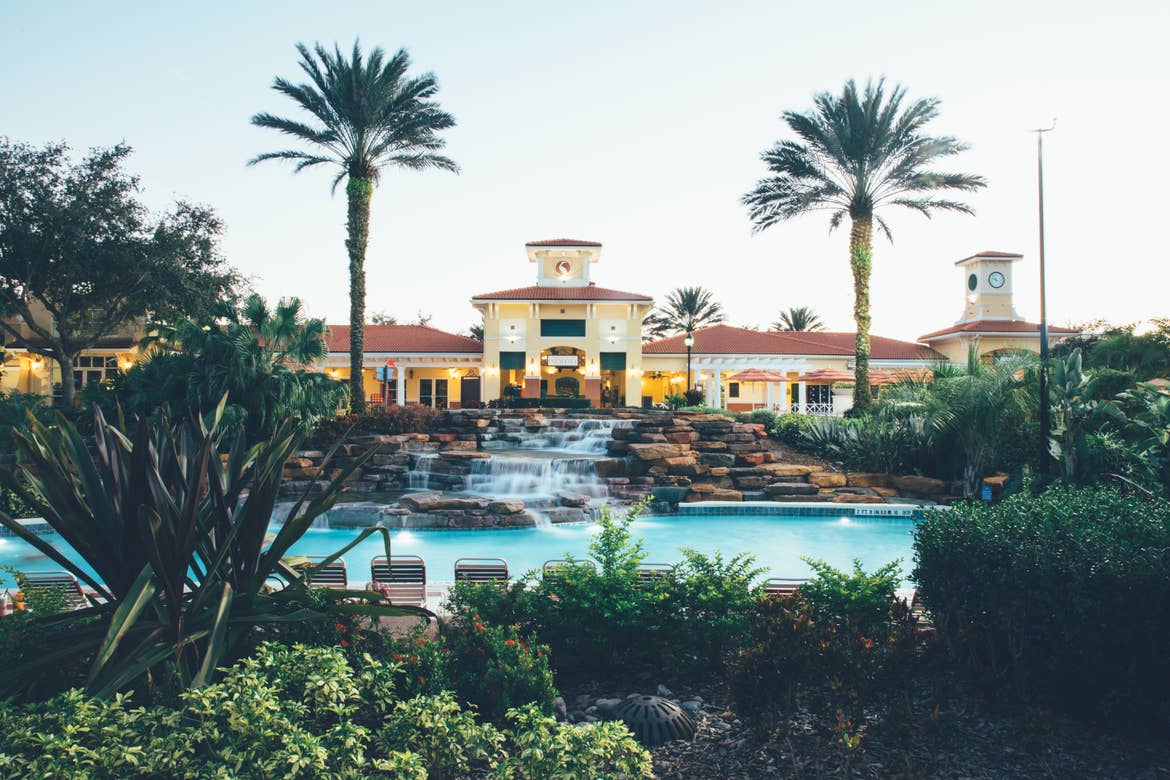 We Can all Use Disney's Holiday Magic to Finish 2020 on a High Note
2020 has definitely been a whirlwind, but it felt so special to be at Disney surrounded by all the holiday magic they're offering this year. From the parks being transformed to winter wonderlands to the sweet treats and jolly Disney characters, the holiday happenings at Disney are all waiting for you.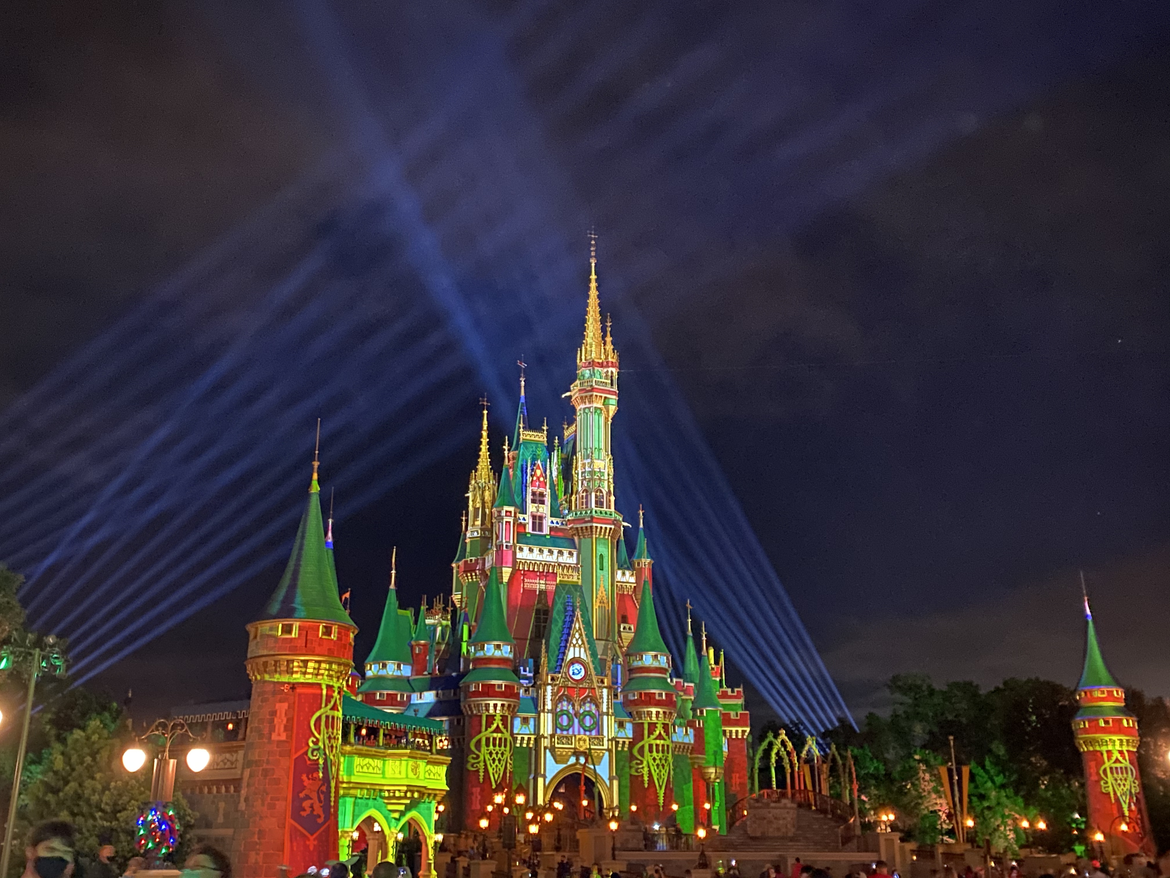 There are also some special offerings at Hollywood Studios and Epcot as well, in case you'd prefer to go to one of those instead! (Or maybe all four?) You can learn more about all their holiday offerings by visiting their website.

We'd also be happy to answer any questions you have about Walt Disney World these days on our Facebook and Instagram accounts. We've been back to all four parks now since COVID-19, some multiple times (and even SeaWorld Orlando and Universal Orlando, too). You'll find we've added a Theme Park Highlight to our Instagram stories, which has a ton of 2020-specific tips and tricks.

From our entire Holiday Inn Club Vacations family to yours, happy holidays!


All information is subject to change. This article is a curated guide and is neither sponsored nor considered an official endorsement. Please be sure to check information directly with any/all tours, guides or companies for the most up-to-date and direct details.