Amanda Nall
Amanda is a wife, mother, blogger and Etsy shop owner. She loves being with her family, having girls' nights with her friends and finding great deals. She has an affinity for audiobooks and Real Housewives, hates to cook (but loves to eat), and strives to inspire and be inspired on a daily basis. Amanda likes to keep things relatable and authentic as she shares her life, fun finds, books, entertainment, travel and everything in between.
Instagram
Facebook
Pinterest
Website
Daily Deals Group
Etsy Shop
I just love Christmas. Don't you? I love everything about it. All the twinkling lights in the trees, the smells of cinnamon and gingerbread wafting from the kitchen as you decorate for the holidays, "It's the Most Wonderful Time of the Year" floating out of stores as you walk by, the Christmas Eve service at church, feeling the holiday spirit with Hallmark movies and hot cocoa, and the excitement and anticipation that comes with the countdown to Christmas.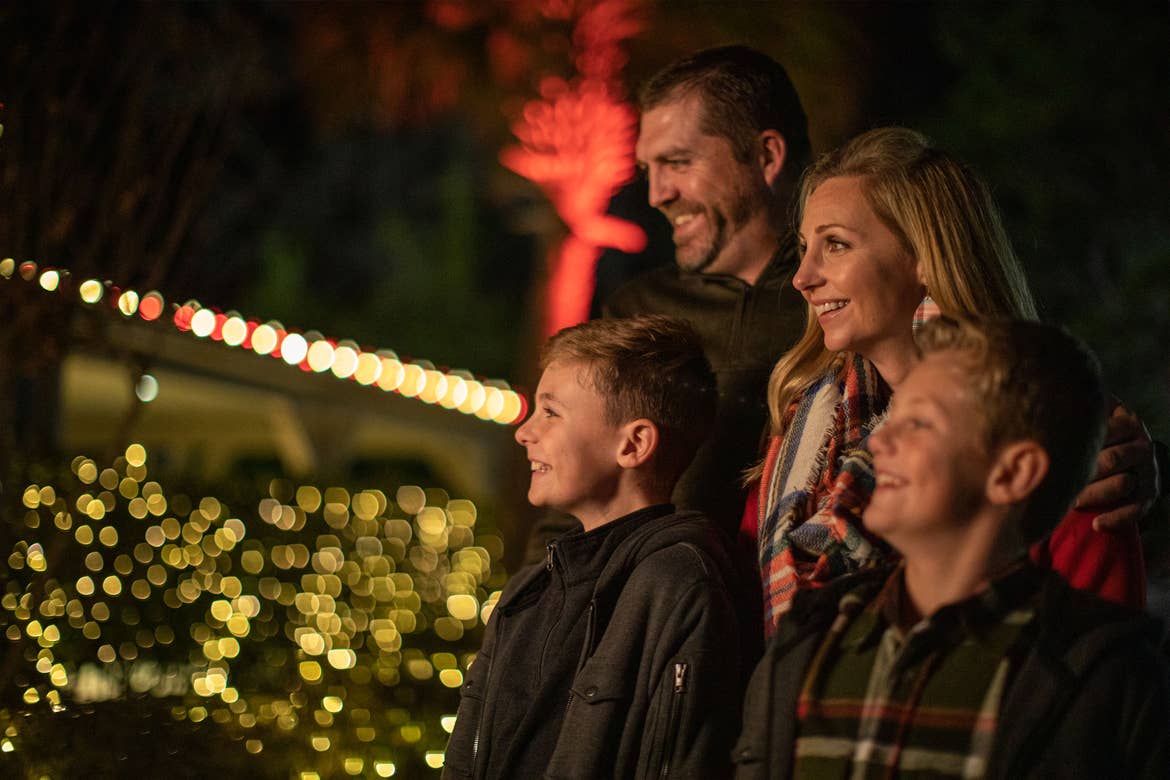 But what I love most are the memories that we make each year as a family. Cheesy, but so very true. That is my very favorite part of the season. And sometimes, that includes making some festive family vacation memories, too.


About Me, My Family & Our Love for the Holidays
My name is Amanda Nall. I live in McKinney, Texas, with my husband, Craig, two sons, Matthew (12) and Mason (10), and our rescue pup, Charlie. I'm a blogger, I run a fun Daily Deals group on Facebook and I have an Etsy shop that all keep me very busy! I love audiobooks, all things Bravo, late nights with my girlfriends, the beach ... and decorating my house for Christmas. I am #obsessed.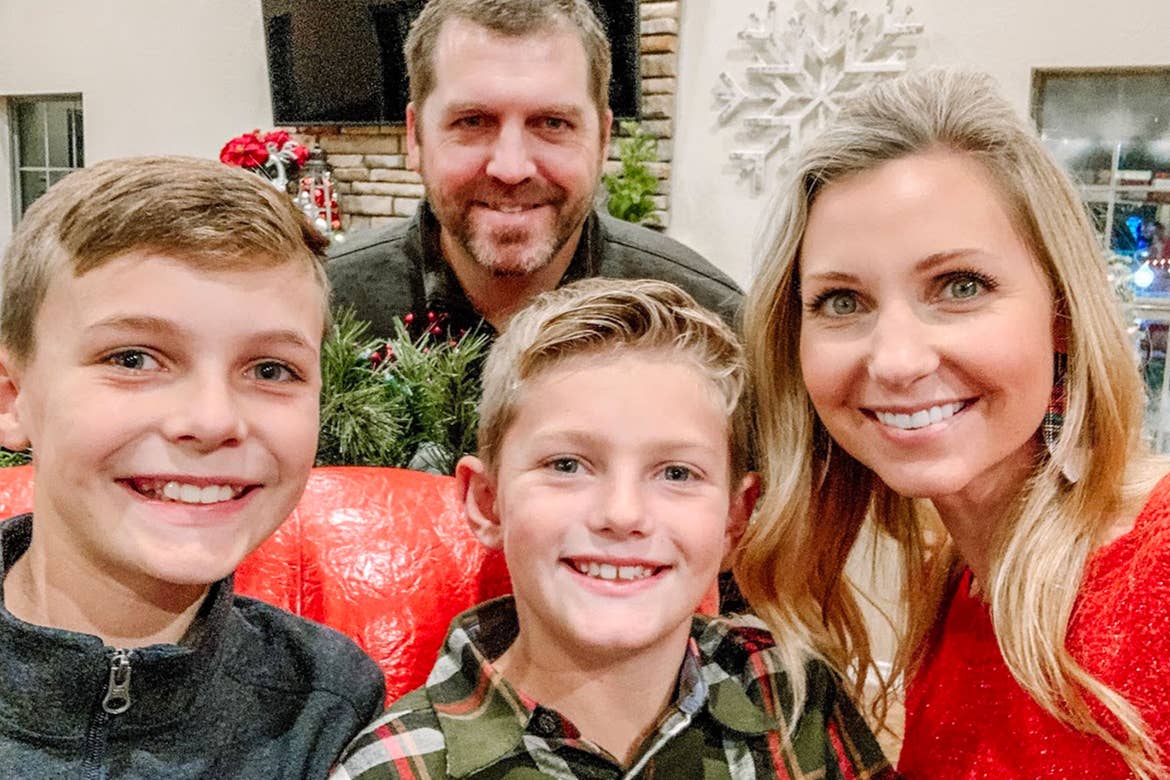 The other day, I was pulling down my Christmas decorations from my attic (and trying not to break my neck in the process). Once everything's down, I always go back and look at pictures from the year before to see how I decorated certain areas. It helps me figure out a starting place for my decor process. For me, it is most definitely a process because … I go all out!

I'm not content until it looks like Santa's workshop exploded in my house. My kids may make fun of me for being super "extra" about all this, but they love it just as much as I do. I want Christmas to be as magical as it can be for my kids while they actually still believe in magic.


Reminiscing About Our Texas Christmas Staycation
So, as I was searching for decor pictures, I found all the photos from our Christmas vacation at Villages Resort in Flint, Texas, from last December in 2019 ... and let's just say I fell down a rabbit hole. I loved the way Villages Resort decorated everything for Christmas and their Jollydays event, and my family just had the best festive little weekend filled with lots of quality family time.



This photo was taken in December of 2019, before COVID-19. This year's Jollydays hot chocolate offerings are not self-serve and have different safety measures as part of the Safe Travels Program.

Since I know there are a lot of you who travel during the holidays, I thought it would be fun to share a few ideas on how to make your villa, condo or hotel room more festive during your stay!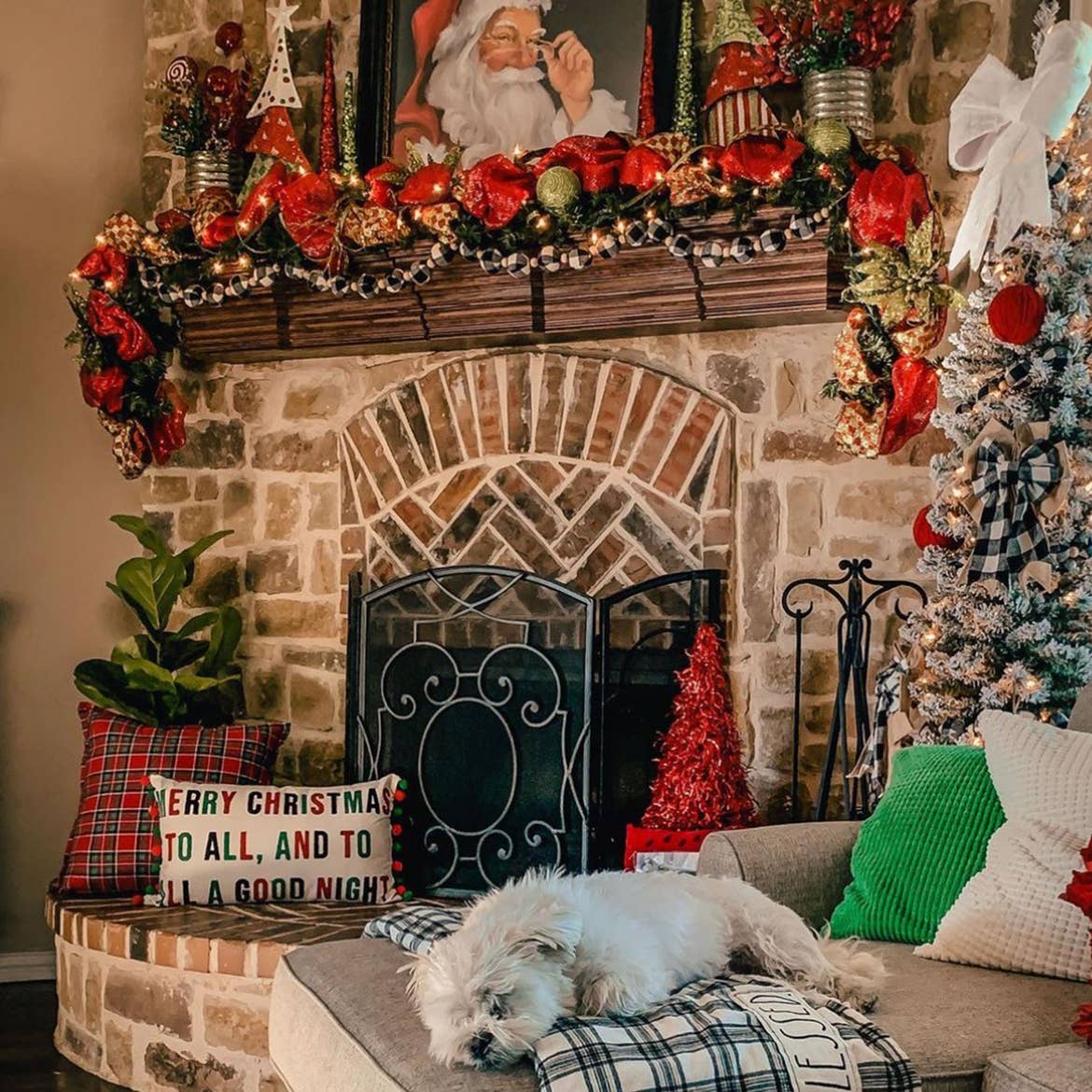 5 Easy Ways to Decorate for the Holidays While on Vacation
1. Light it up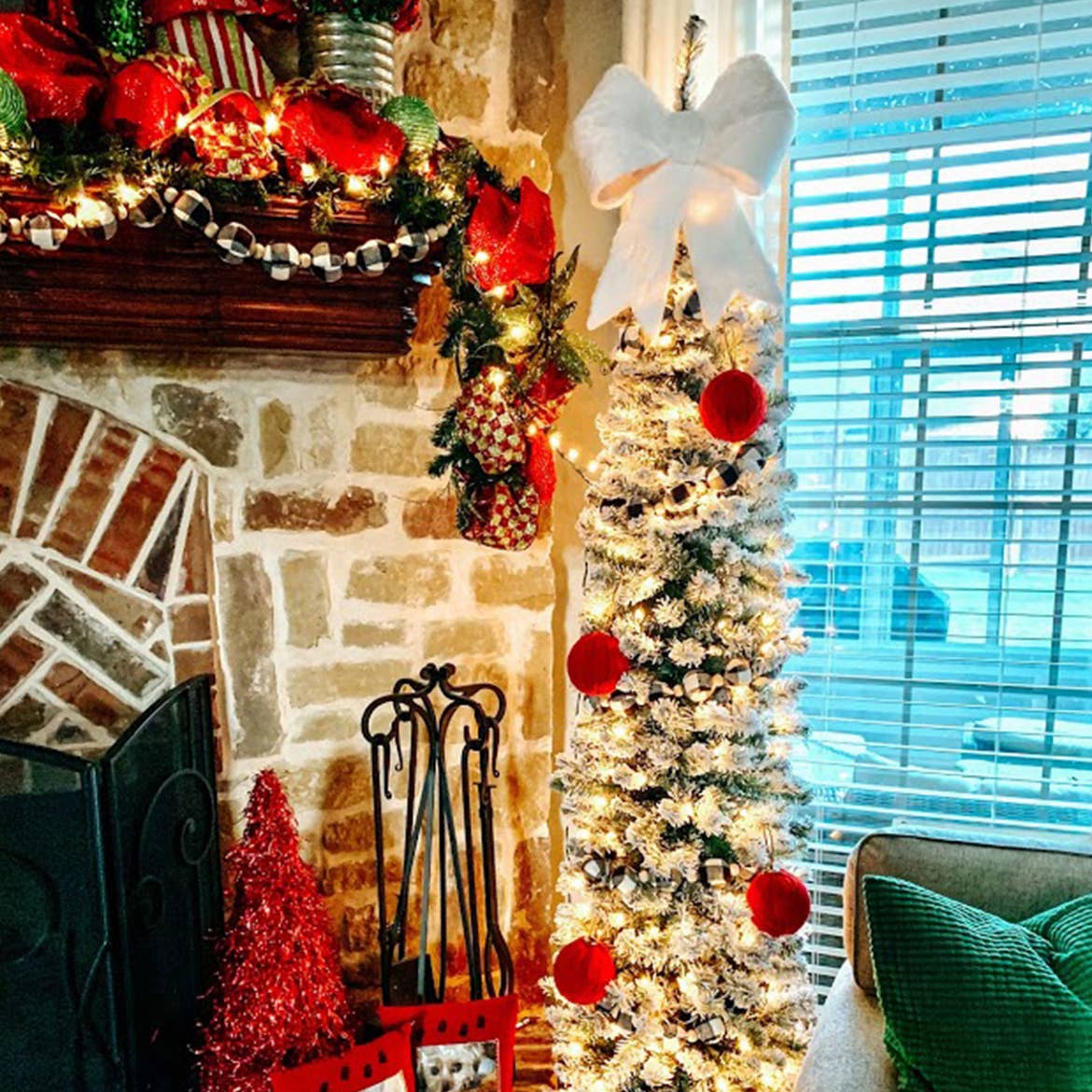 Pack some twinkle lights, friends! Christmas lights are the heart and soul of holiday decor. So when in doubt, just add some lights. You'll feel merry and bright in an instant!

Battery-operated lights are super easy to throw in your suitcase and you can set them on a windowsill in the living room spaces, string them along the dresser, or wrap them around a balcony railing for a touch of cozy holiday spirit. (Just be sure to bring them in if it might rain!)

Going on a road trip? Save some room for a tree! This 7-foot pencil tree was $59 on sale (and the green ones are even cheaper!) and comes in a box that can be easily tucked into a trunk. Plus, they take up very little space once they're set up, and they pack a big Christmas-y punch!

At Holiday Inn Club Vacations® resorts, you always have full living room spaces, so it's easy to set your tree up in this area where your family spends the most time together.

Tabletop trees are even easier to stow away, too! Either way, if you're driving to your destination, leave room for a tree. It'll go a long way in terms of spreading that Christmas cheer in your vacation spot!


2. Ship it out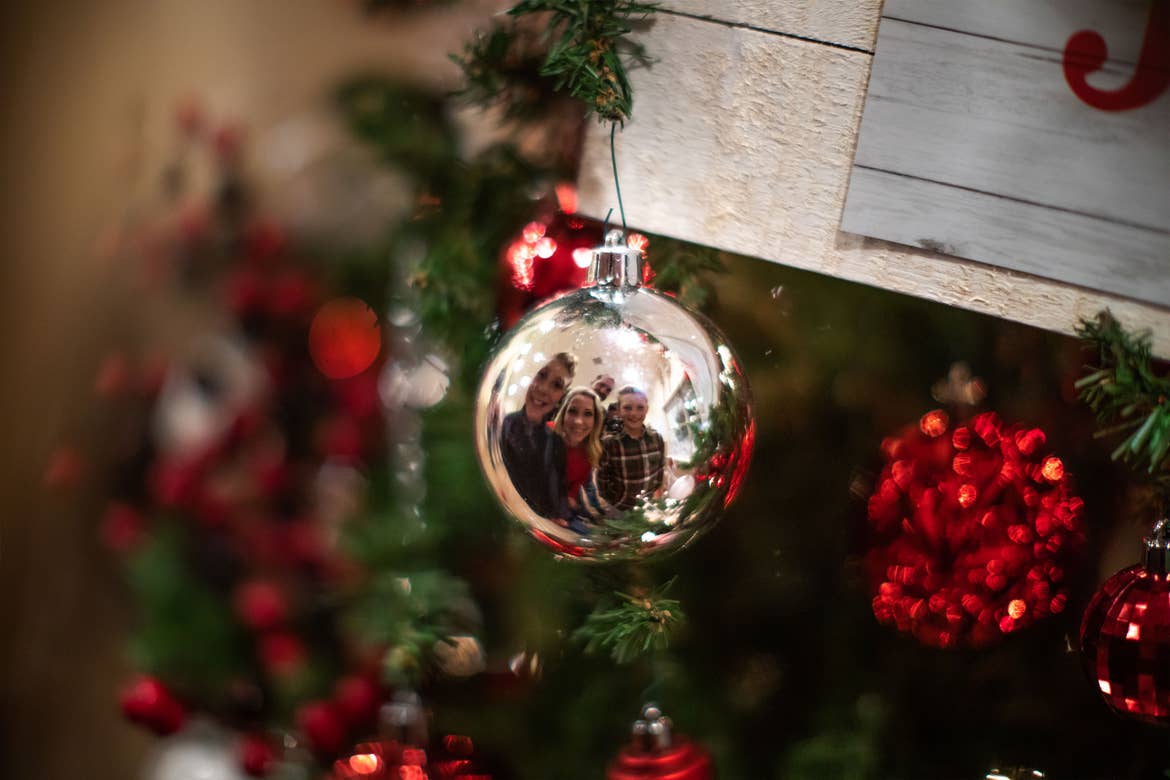 Road tripping not an option? Or no room in the car? Maybe you're going on an extended vacation and want to go all out with a full-size tree!

Consider shipping items directly to the hotel or resort. Amazon is always a great way to do this. Some resorts are so happy to help make your stay as amazing as possible. Most of them will have no problem with this, but make sure to call ahead of time to let them know your plan, double-check that you have the correct address and get everything squared away. It'll be one less thing you have to worry about.


3. DIY it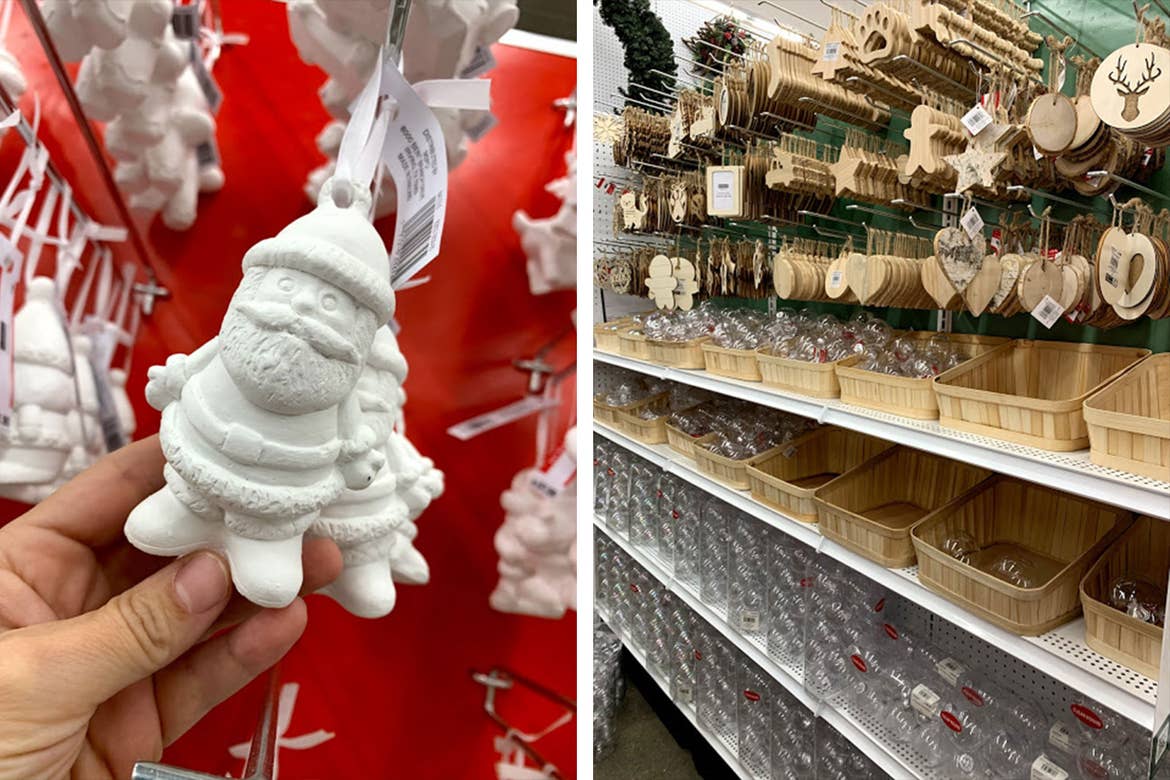 So, you've got some lights and a tree now; don't forget the ornaments!

There are a thousand ways to make DIY Christmas tree decorations, but when you're on vacation, you don't need anything too complicated. Check your local craft stores for these super easy DIY tree ornaments!

These are a great way to give the kids something to do during some downtime when dad needs a nap and mom wants a little time to herself. 😉 They can use paint, markers, glitter ... whatever you have on hand...

But let's be real here. Markers are SO much easier for everyone involved. I highly recommend grabbing a couple of packs of new washable markers when you buy your ornaments. If you're a mom, you know kids love new art supplies. They'll be so excited to see them! Throw them on the table and let them have at it. Then you go sit on the couch and post those cute vacay pics to Instagram, mama!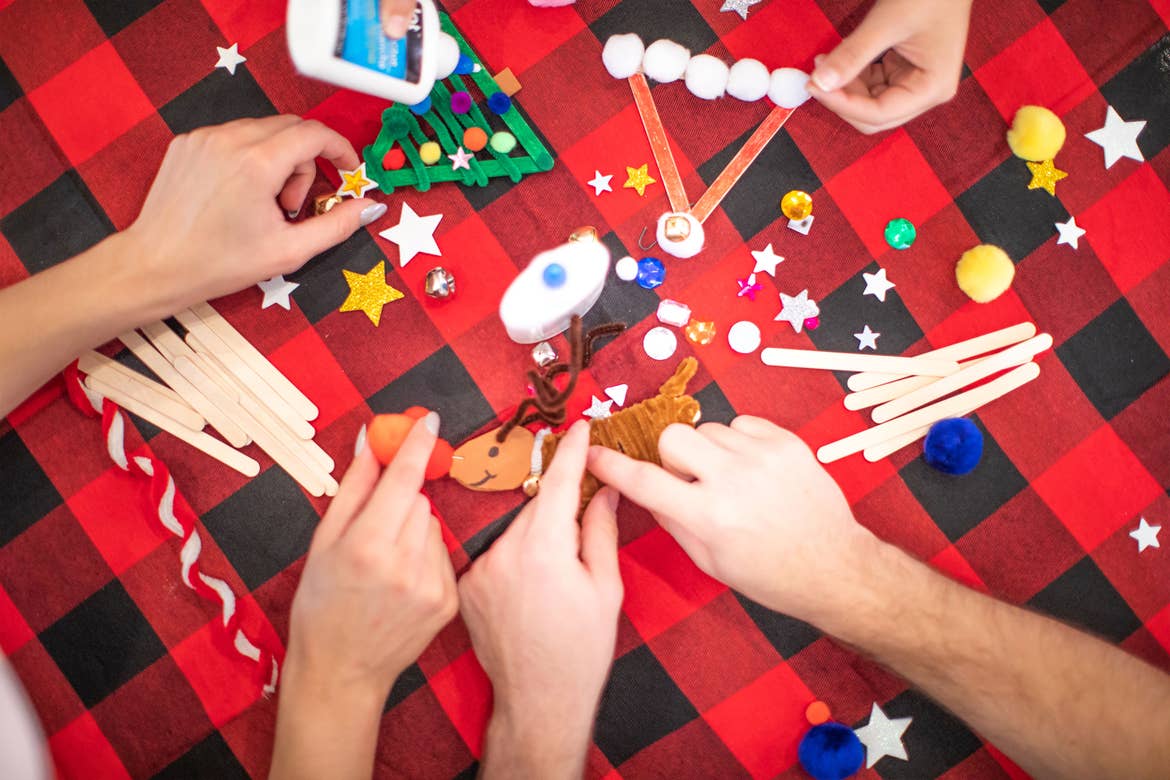 I found all of these Christmas tree decorations at Michaels, but they've also got a million more on Amazon as well. These DIY ornaments would be a great reminder of your Christmas vacation year after year! Remember to add the name, date and location to them, too, so you have a little memento from your holiday getaway!

Pro Mom Tip: You can also save yourself the mess and planning and check your resort's activity guide. You may find this kind of fun is already provided by the activities team where you're staying. Villages Resort, for example, offers activities and arts and crafts, including special Jollydays festive-themed ones.

You can also venture out past ornaments and grab some really cute (and simple!) Christmas crafts that the kids will love and can display when they're finished. Amazon and craft stores have such great options for kits that could slip easily into your suitcase.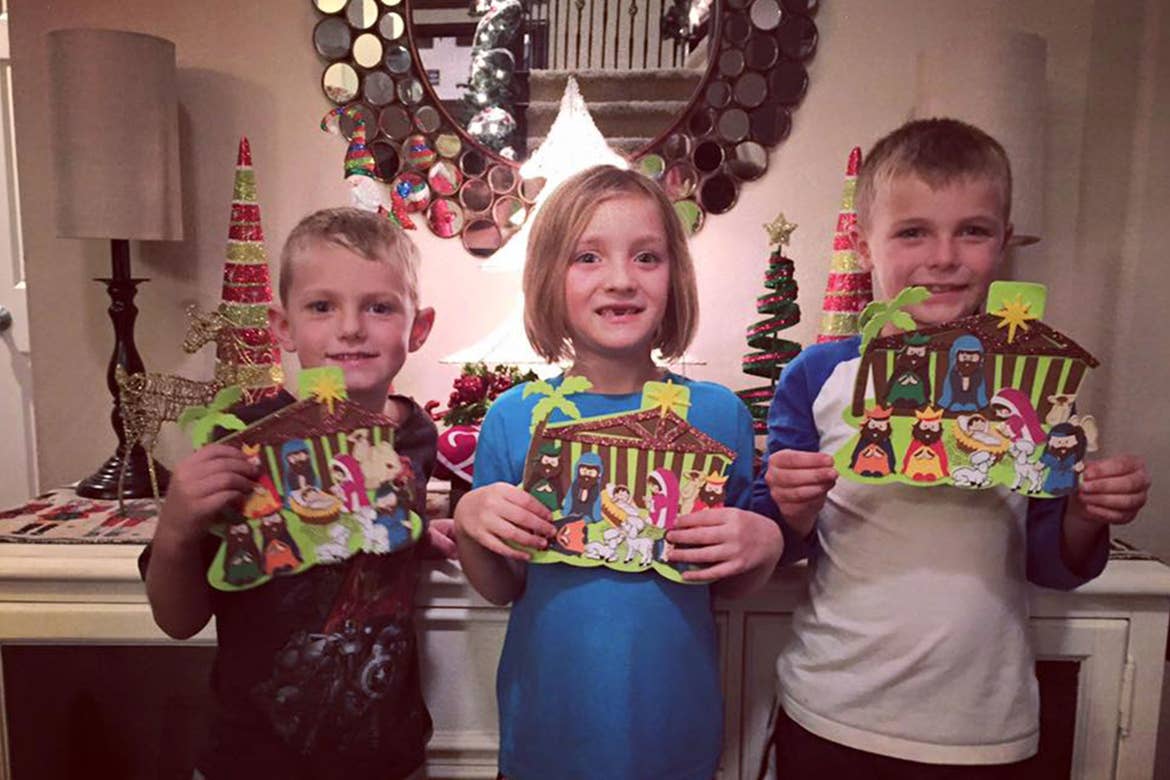 BONUS TIP: Wrap them first and bring them out as a surprise gift! The kids will be thrilled to score an early Christmas present.


4. Bake it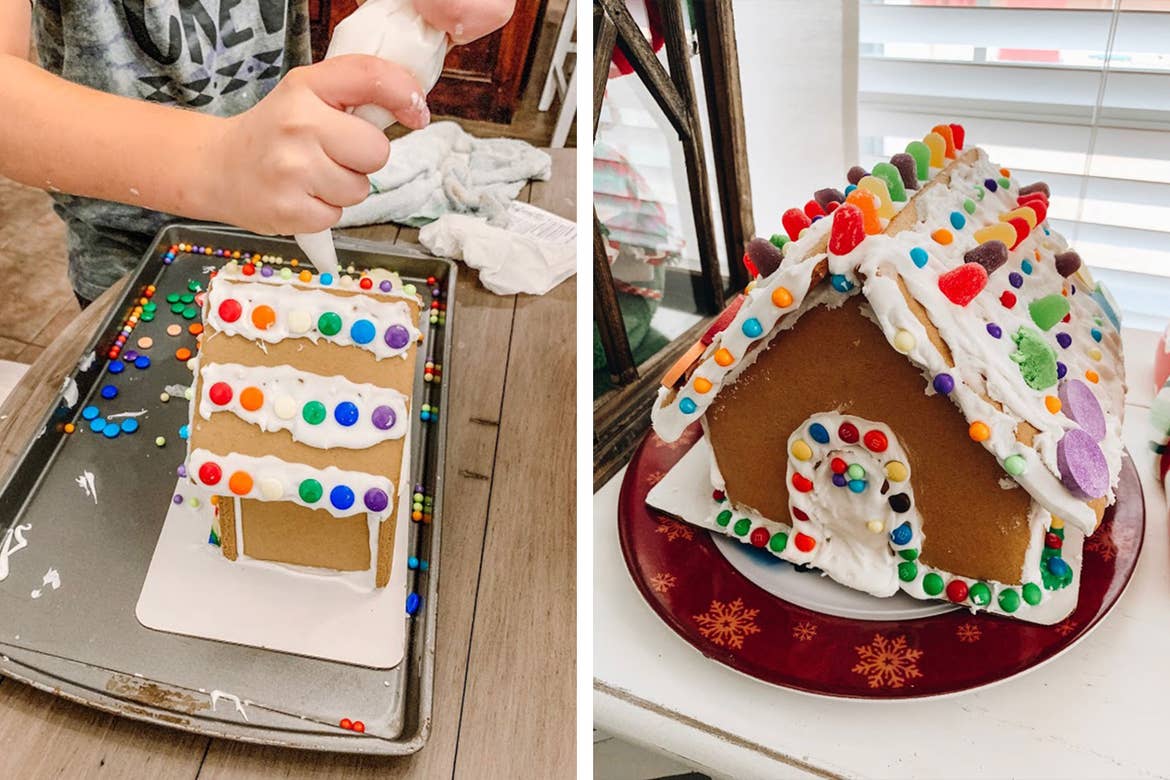 If you ask my kids what their favorite Christmas tradition is, they'll probably say decorating cookies. Baking cookies? Not so much.

They just want to slather on the icing and sprinkles and see what they can create. One of the best things about the resorts at Holiday Inn Club Vacations is that many villas have full kitchens! Yes, that means full refrigerator, stovetop, oven, microwave and all the cooking utensils you need. When you head to the store to stock your villa's fridge, you can grab some ready-to-bake cookies, icing and sprinkles, and bake them in your villa.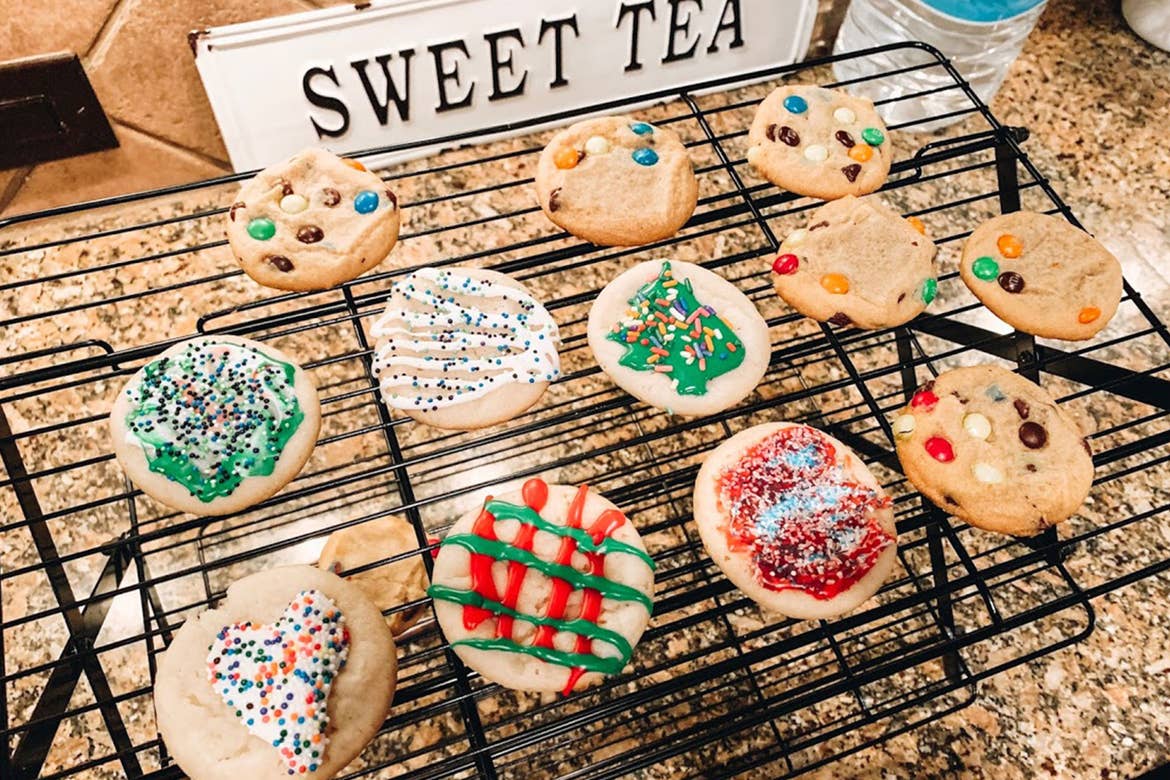 Is it even Christmas without a gingerbread house?! This is another fun, albeit messy, activity that adds some pretty Christmas decor when finished! Pack them in your suitcase or get them locally once you arrive. The kids will love decorating them, and they'll also add even more Christmas decor to your villa.

Pro Tip: Decorating on a cookie sheet is highly recommended in order to control the mess! Your villa should be stocked with at least one of these.


5. Stick it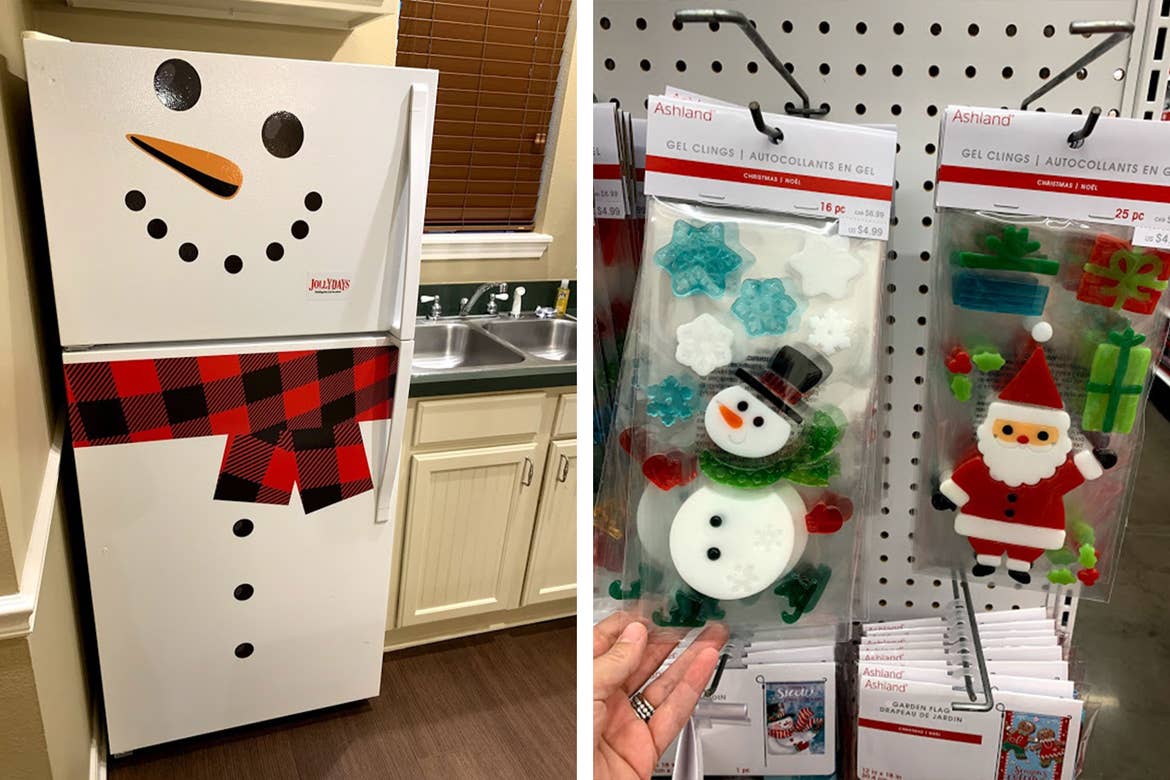 Our villa at Villages Resort was so cute, but one of my favorite things was this fun magnetic snowman stuck to our fridge! This would be such a cute and easy way to add another festive touch to your space. There are so many other cute options, too.

Gel and window clings are also a fun and easy way to decorate for the holidays while on vacation.


Festive, Fun & Safe Holiday Activities
Let's be real. The holidays are looking a little different this year. So, if you really want to get into the holiday spirit (while avoiding crowds and other people altogether), try some of these fun (and safe) Christmas activities:


Take advantage of your roomy villa! Change into festive PJs, heat up some hot cocoa in the kitchen and put on a Christmas movie in the living room (Noelle on Disney+ is so cute if you haven't seen that yet. Elf, Home Alone and The Polar Express are all favorites in our house as well!)
Pack a couple of cozy holiday throw blankets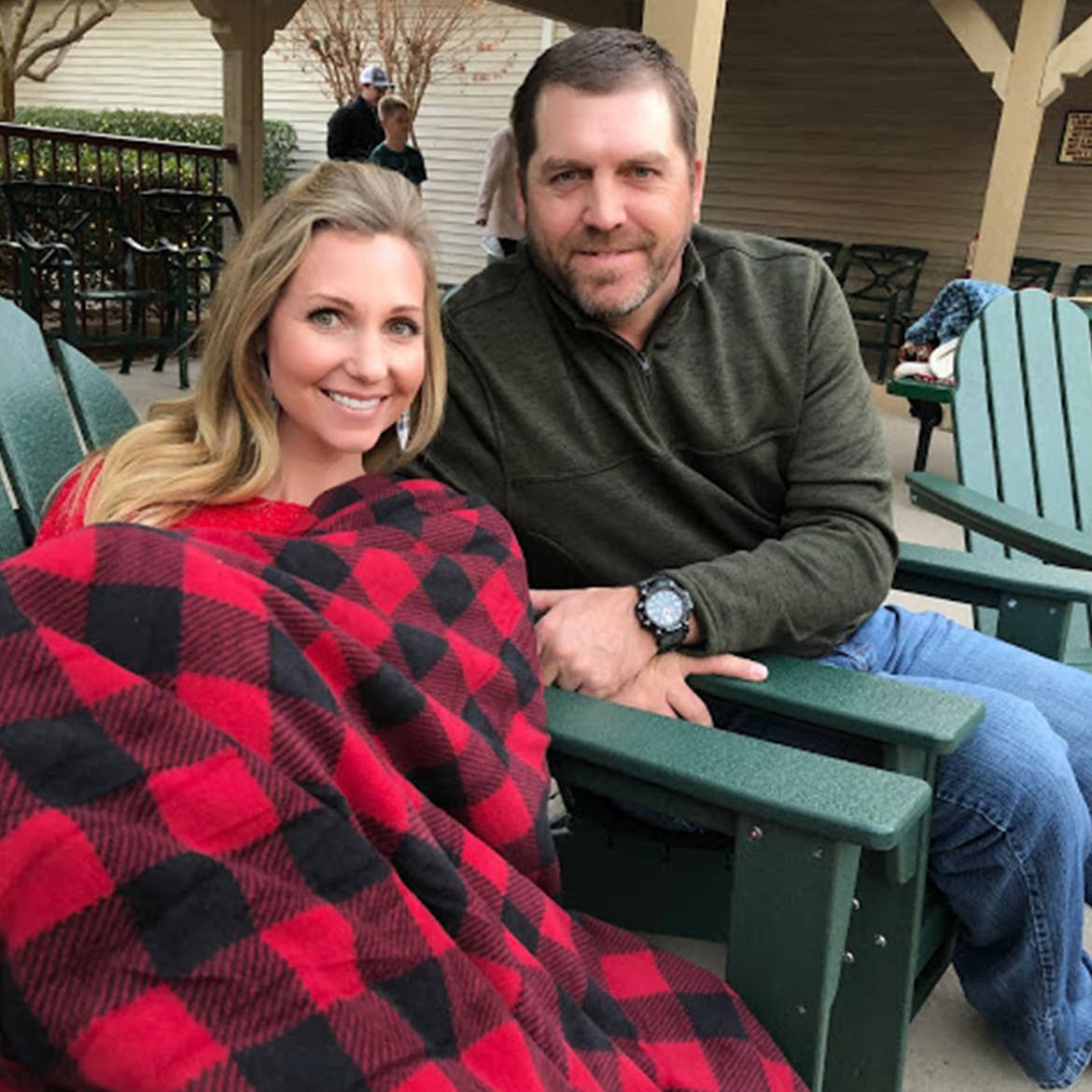 Break out your ugly Christmas sweaters when you go to grab take-out or eat dinner
Put on your own Christmas music with your phone and a portable Bluetooth speaker
Hop in the car and go look at the lights (and if you really want to go for it, add hot cocoa, festive PJs and Christmas music to your drive-around adventure)
How We Added Holiday Spirit to Our Vacation at Villages Resort
There are so many ways to safely incorporate Christmas into your travels during the holidays! But what I loved so much about our trip to Villages Resort last December was that we didn't have to try very hard to make our own Christmas joy!

Every year, they host a Jollydays event, so it was built right in. (I've heard they also have a Falladays event during Halloween that might just need to be added to our 2021 travel wishlist…)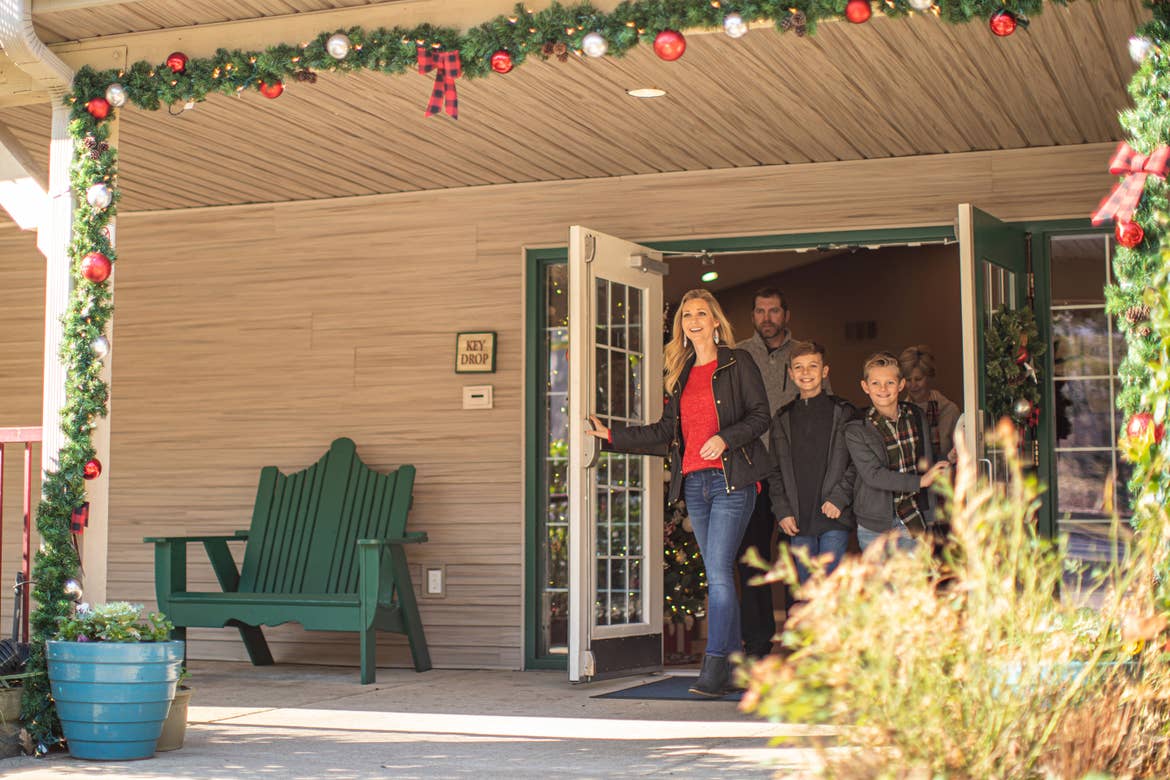 (Editor's note: This trip took place prior to COVID-19.)

My parents were able to drive in from Texarkana, Texas, to meet us there and spend the weekend, which was so fun! Flint is in East Texas and was just an hour and a half drive for all of us.

We loved everything the resort had to offer, and we especially loved our villas! My parents stayed in one right next door to ours, so that was really convenient. We each had two bedrooms, living room spaces, a full kitchen and dining area, a balcony and two full bathrooms. You just felt right at home there.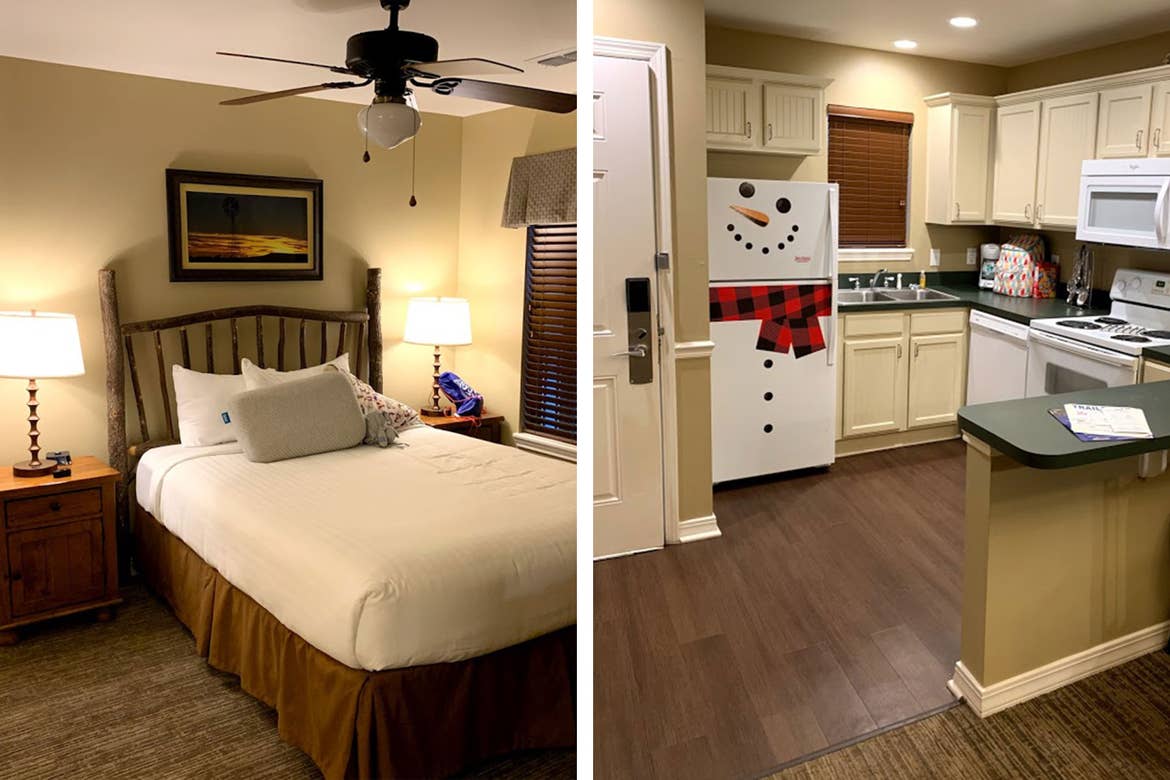 During Jollydays (which is happening this year, too!), everything was decked out in lights and Christmas décor. There were hot chocolate stations, smores by the fire, live music, Christmas songs playing on the mini-golf course ... it was magical. There was literally something to do at every turn.

Cornhole is one of our favorite games to play as a family, so when the boys saw this setup, they were (clearly) eager to play!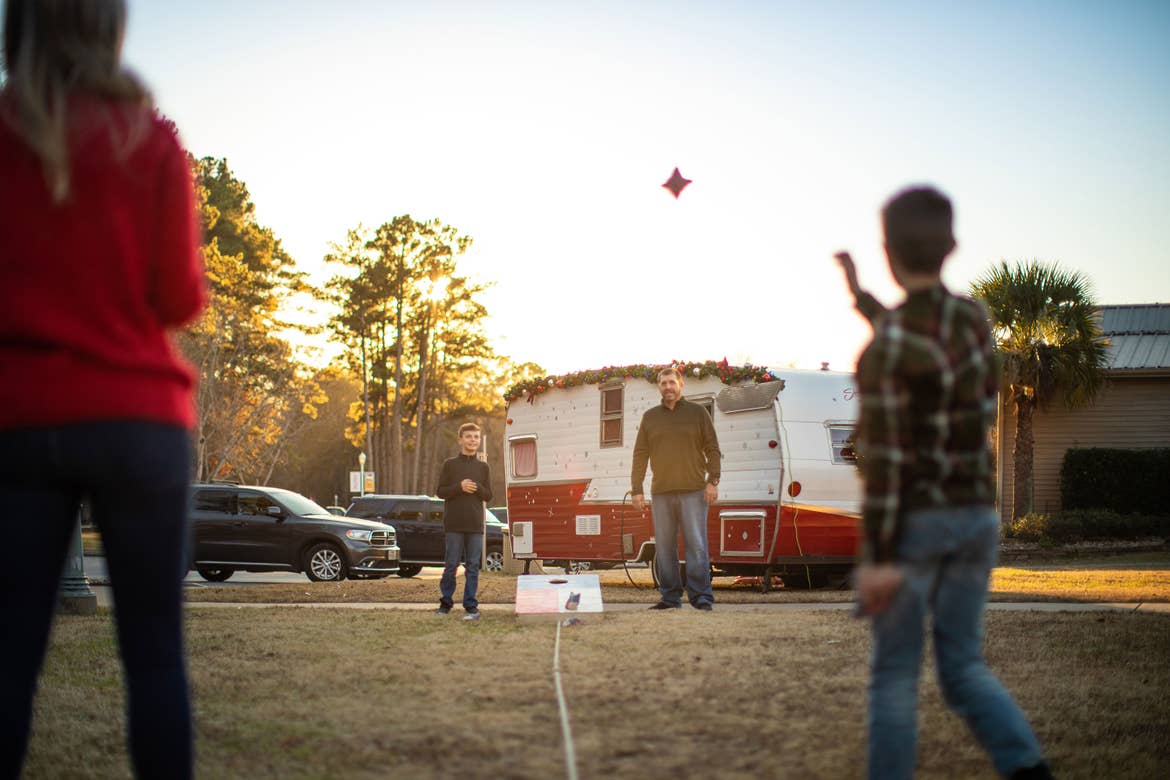 We also played several games of giant checkers ... and pretended like we knew how to play chess. (We don't.)

But we are pros at mini-golf! The 18-hole mini-golf course was right in the middle of the resort, which was so convenient! We played several times over the weekend, and it was so easy to grab a mini-golf club from the activities desk and walk straight outside to the course.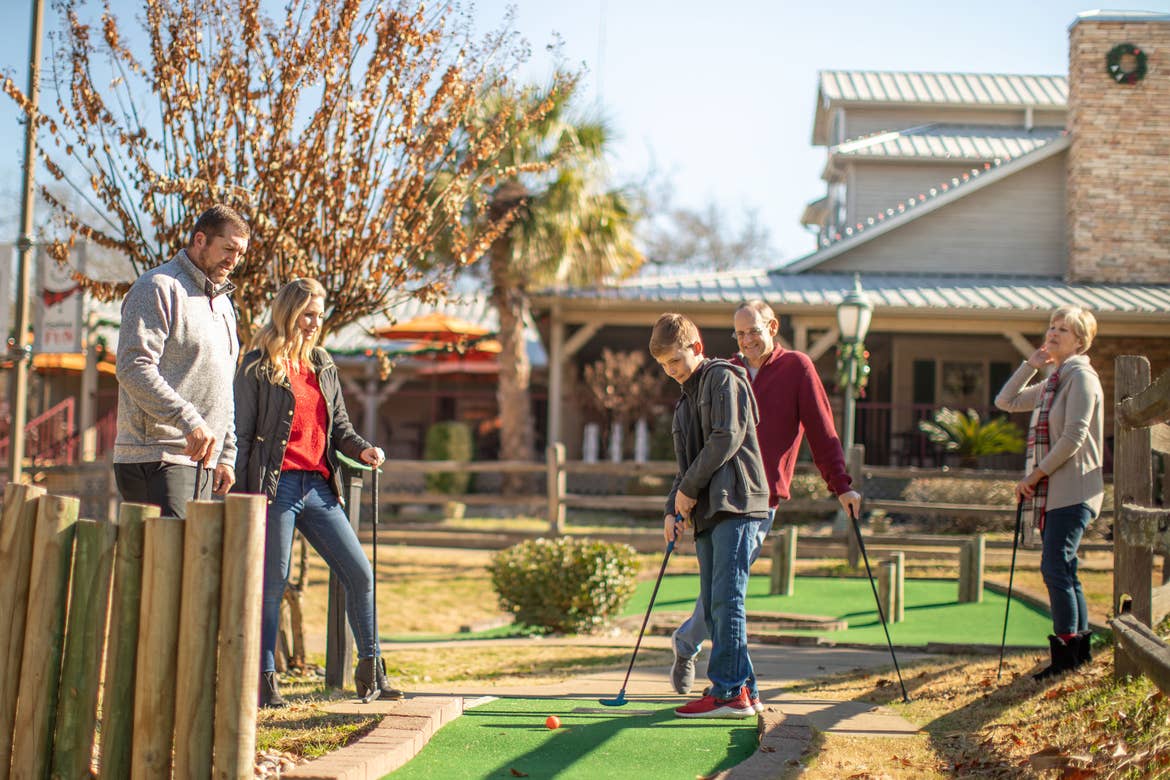 Another one of our favorite parts of the weekend was horseback riding! It was a first for all of us, and we had the very best time! The boys have talked about it (and this whole trip) all year long.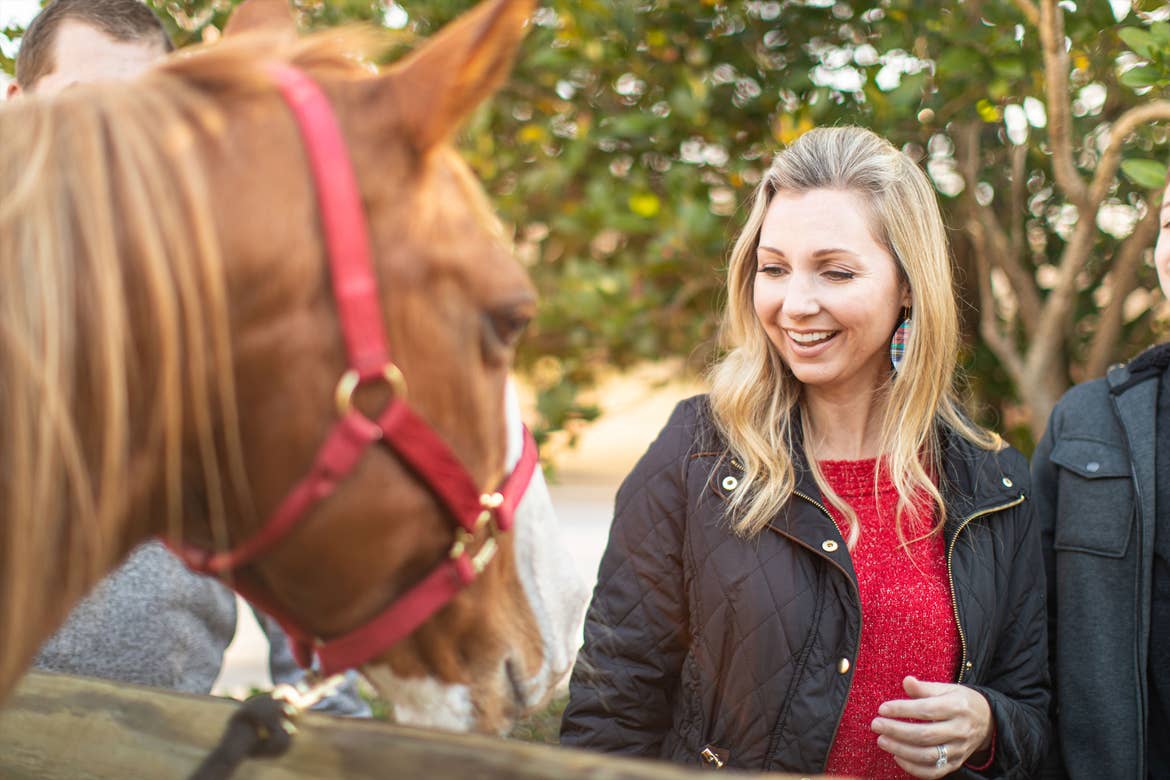 If you ask my kids, no vacation is complete without a game room of some sort. And Villages Resort did not disappoint. The game room had pool tables and even a small arcade. My dad helped Mason perfect his skills at pool while the rest of us ate cookies and relaxed in the lounge area.




Later in the afternoon, we roasted smores under cozy blankets and listened to some live music.

And then we came back inside to grab some hot chocolate from the cocoa bar that had been set up. (They do still have a cocoa bar this year, but it's not self-serve like ours was.) It kind of felt like wandering around the North Pole, but Texas-style with weather in the 50s and 60s. 😉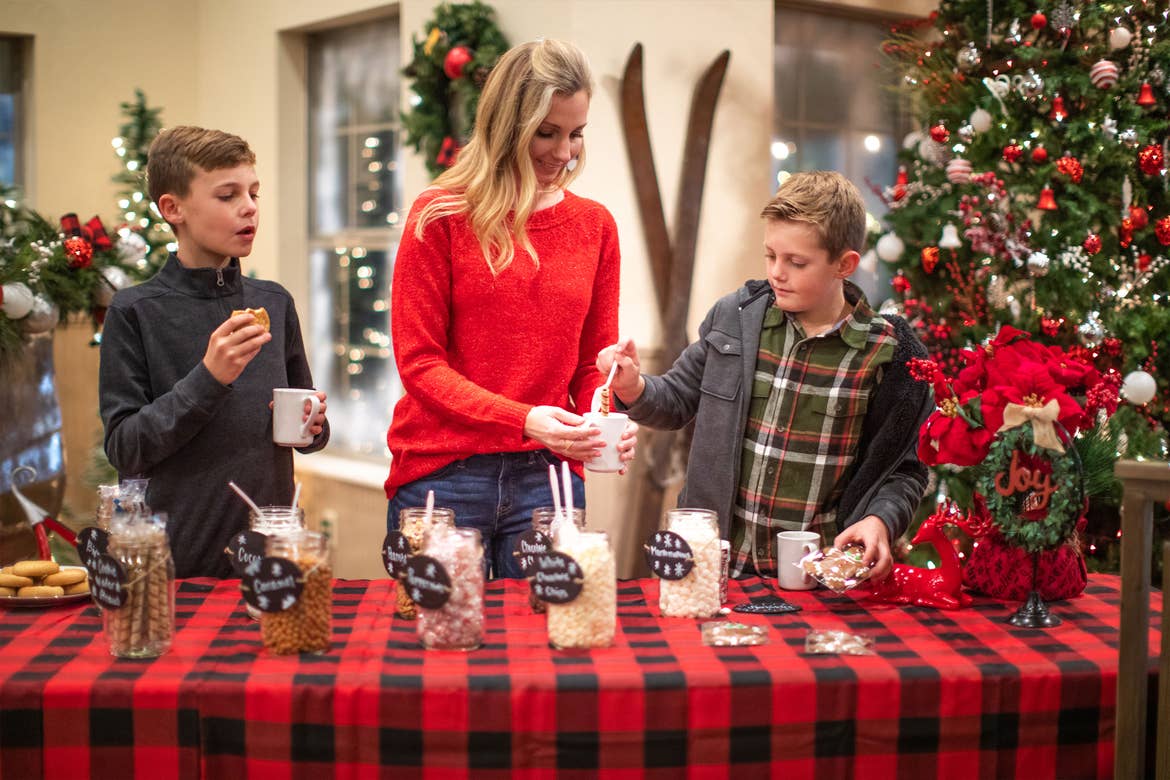 This photo was taken in December 2019, before COVID-19. This year's Jollydays hot chocolate offerings are not self-serve and have different safety measures as part of the Safe Travels program.

We also took full advantage of the adorable setup they had arranged and snapped a ton of pictures in this cute sleigh with the pretty trees in the background. Perfect for Christmas cards!

At the end of the night, we all sat around the fire pit for a while just enjoying the sights and sounds of Christmas all around us.

And then we peeked our heads into the indoor waterpark to prepare ourselves for what the next day would bring! How fun is this?!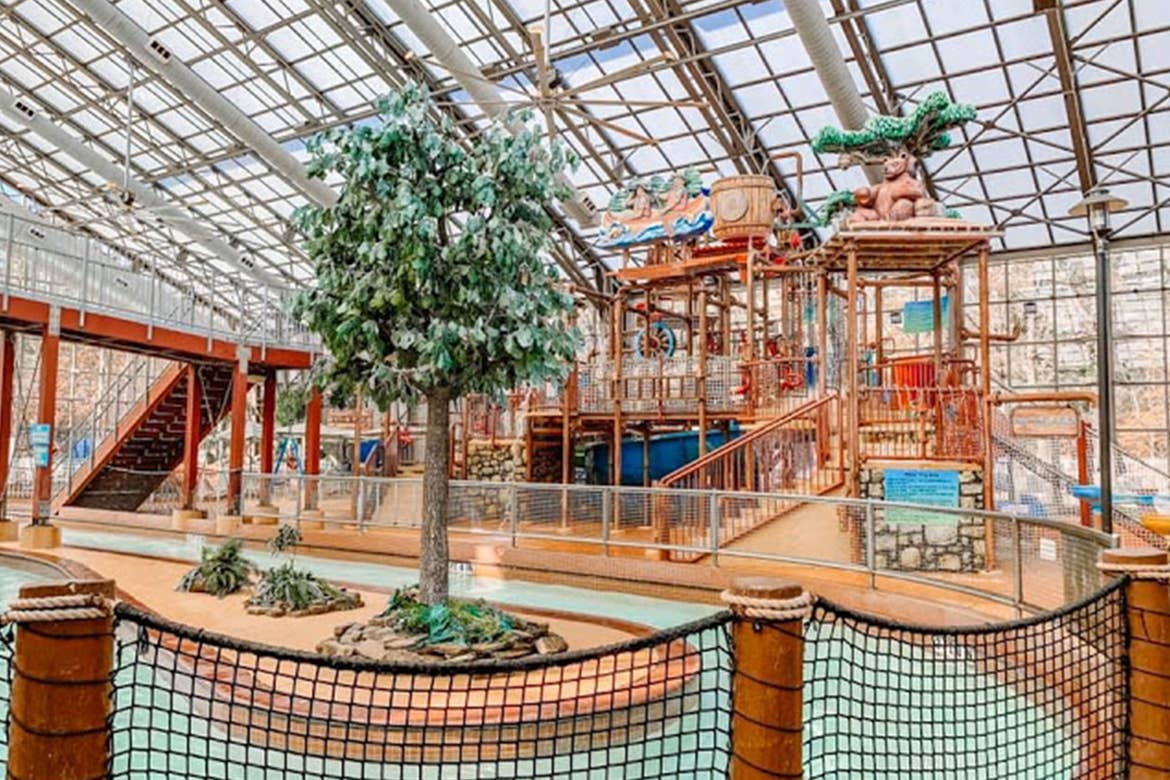 We all had an absolute blast at the waterpark the next day. There were some fun waterslides, a lazy river, wave pool and splash pad. It had everything we needed and it's open year-round since it has a retractable roof!

It's fun for kids of ALL ages. 😉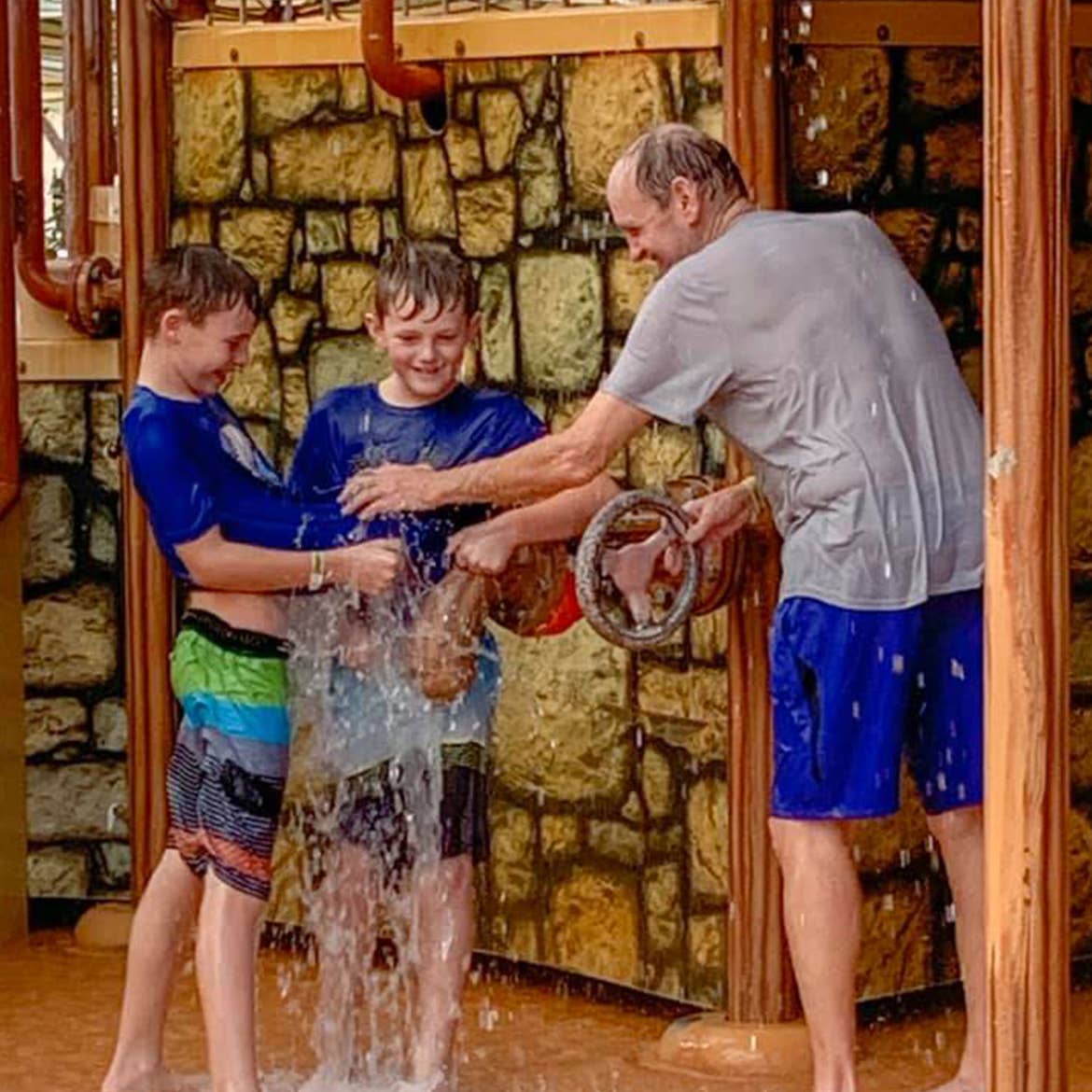 Our little Christmas vacation was exactly what we needed. We don't always travel at Christmas. In fact, this was our first time, but it won't be our last! We will definitely be back. The memories we made were priceless!

If you're wanting a vacation full of holiday spirit, definitely consider Villages Resort during Jollydays this year. We've stuck close to home in 2020 but are making plans to visit Orange Lake Resort in Orlando, Florida, in 2021. I'm also planning a girl's weekend for January or February (but which resort to choose?!). There are so many great options here in Texas, but we're also considering some of the ones in Florida because … why not?

But until then, we'll be enjoying all the magical things the Christmas season has to offer!

Happy holidays!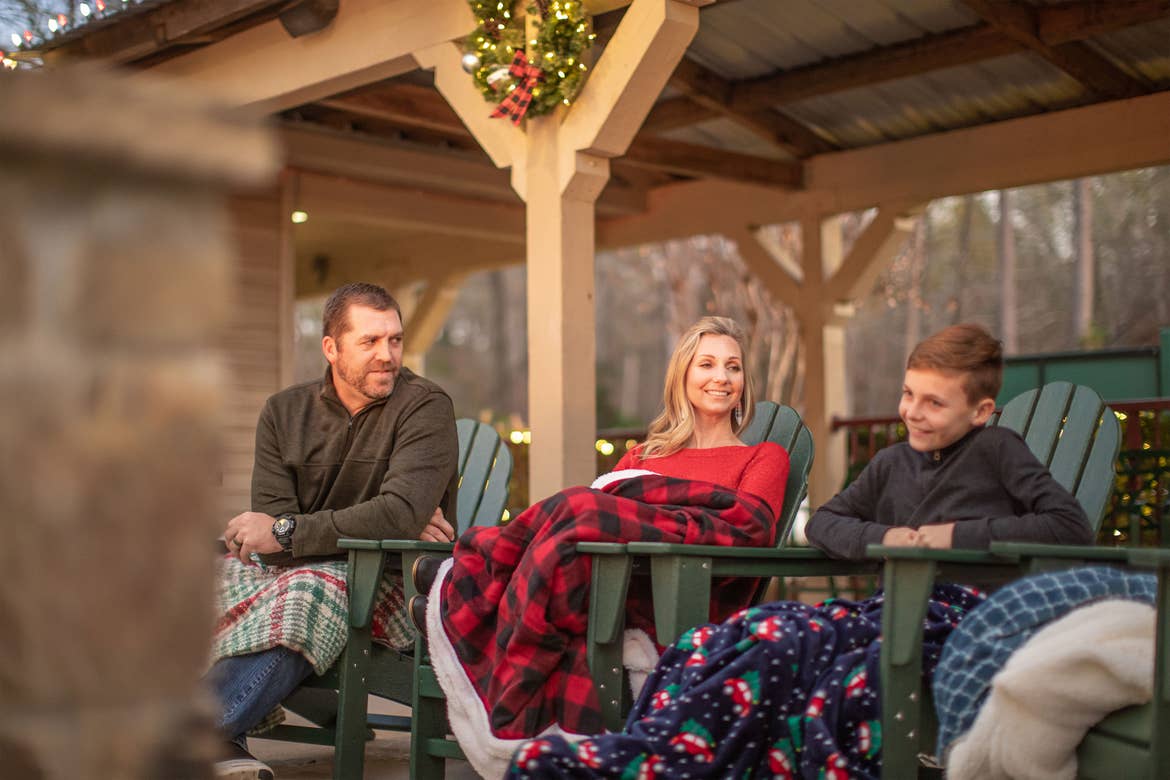 More About Jollydays 2020-21
Our Villages and Hill Country resorts are both fully decorated for the holidays and have tons of fun, festive and exciting activities going on for Jollydays, which takes place from November 27, 2020–January 3, 2021! From Snowman Drawing Contests, Holiday Bingo and Reindeer Ring Toss to a Holiday Scavenger Hunt, Instagrammable photo ops and other fun weekly activities, Jollydays is the best way to make the most of your stay this season. Book your vacation at Villages Resort or Hill Country Resort today to experience all the holiday fun (and so much more).*


Our guest bloggers are compensated for their writing contributions and honest opinions.

All information is subject to change. This article is a curated guide and is neither sponsored nor considered an official endorsement. Please be sure to check information directly with any/all tours, guides or companies for the most up-to-date and direct details.