Amanda Nall
Amanda is a wife, mother, blogger and Etsy shop owner. She loves being with her family, having girls' nights with her friends and finding great deals. She has an affinity for audiobooks and Real Housewives, hates to cook (but loves to eat), and strives to inspire and be inspired on a daily basis. Amanda likes to keep things relatable and authentic as she shares her life, fun finds, books, entertainment, travel and everything in between.
Instagram
Facebook
Pinterest
Website
Daily Deals Group
Etsy Shop
Two words, friends: GIRLS TRIP!

Followed quickly by two more words … who's in?!

Listen, I'm always in. I will move mountains in order to make a trip with my girls happen and so will my friends.

So that's what we did! After lots of planning (and hyping each other up!), we decided to take a little Galveston weekend getaway by the beach together.

And spoiler: We LOVED it.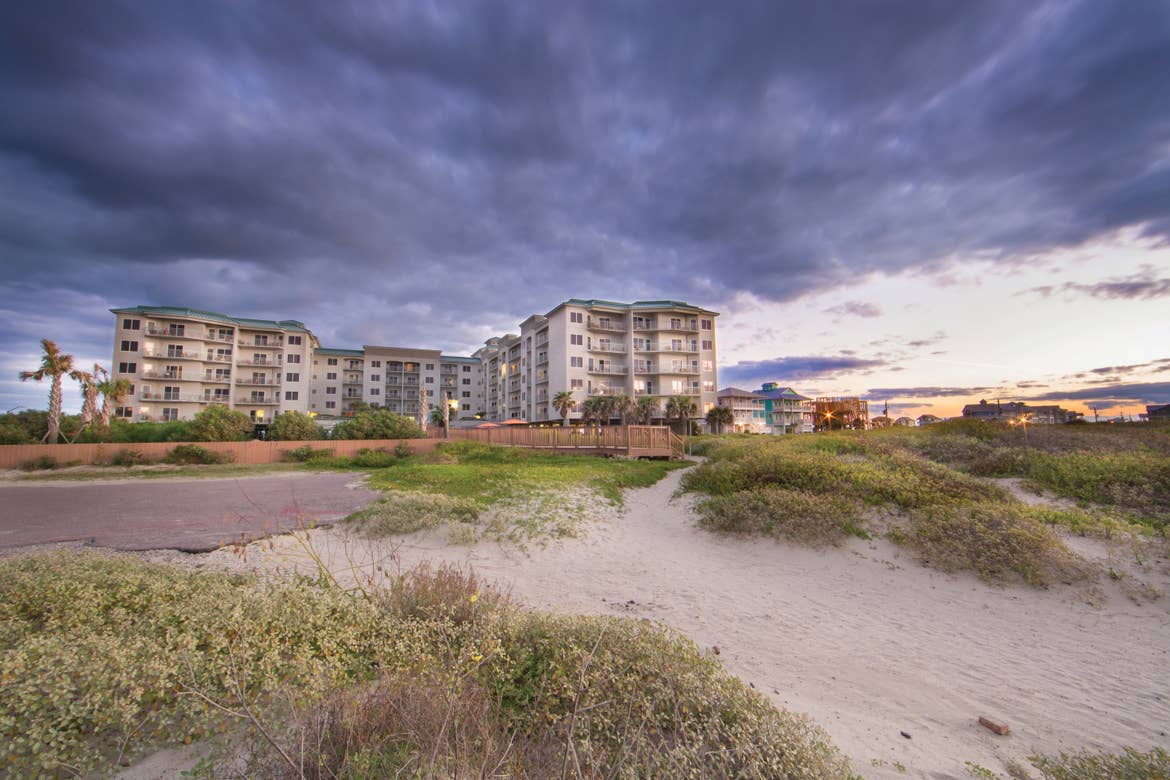 If you're considering Galveston, Texas, for a weekend vacation, I've got the inside scoop on this super fun spot on the Gulf Coast.

Read on to hear about some awesome things to do in Galveston, where to stay, how to make the most of your time together and more.


About Us
Dani, Pam and I have been best friends since our oldest kids were in a two-year-old preschool class together. We hit it off instantly and realized we'd found friends for life. It's been 11 years since then and now those babies are 13!!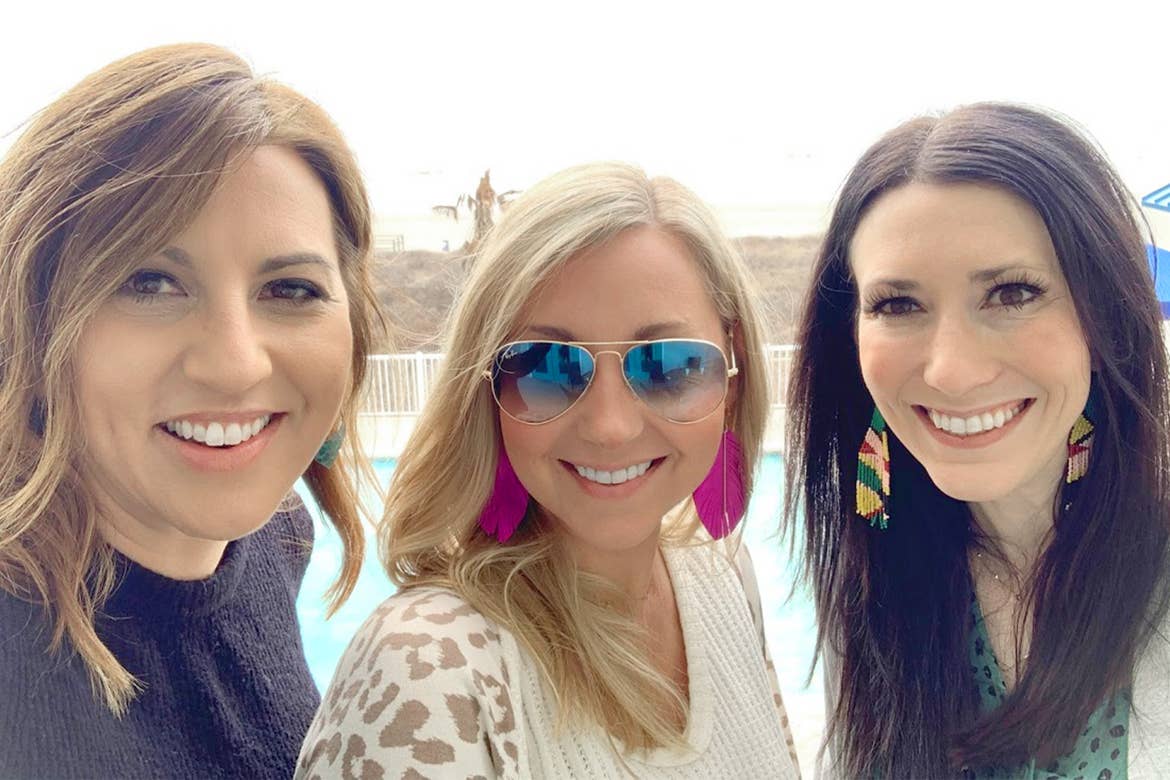 My girl tribe: Pam, me and Dani

We all live in the McKinney, Texas, area right outside of Dallas. Pam owns Matlock Real Estate, and Dani, one of the most invested teachers I've ever met, is now an Instructional Coach with Frisco ISD.

And then there's me. I'm Amanda—boy mom, wife, blogger and entrepreneur.

The three of us together means comfortable, fun and easy. We are all very laid back and up for anything, so I knew they'd love the idea of heading down to Galveston for a few days!


Planning a Girls' Trip
We are all busy mamas, and sometimes you just need to grab your besties and GO. Of course, that sounds easy, but if you are a busy mom yourself, you know that it's not so simple.

We need to plan, make sure someone can hold down the fort, squeeze it in between dance recitals and baseball tournaments, and basically overthink the heck out of it until we've talked ourselves out of trying altogether, right?

Let me tell you a secret. You will never regret the memories you make or the time you take when you do these trips with your friends.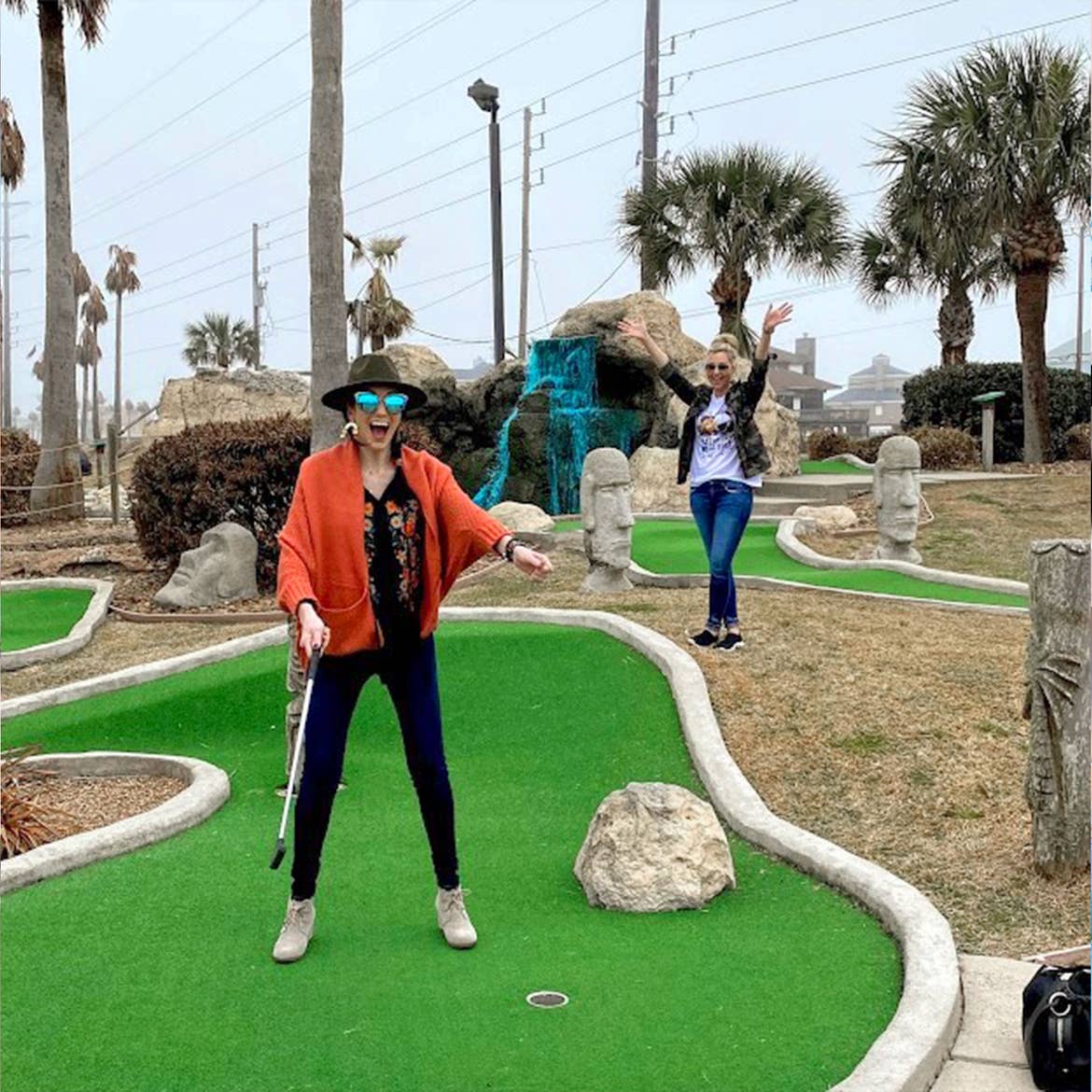 We had an absolute blast playing mini golf at Galveston Seaside Resort!

So, work out the kinks and put that plan in motion! You will be so glad you did.


Kicking Off Our Galveston Weekend Getaway
After our 5-hour drive from Dallas, we arrived at our home base for the weekend: Holiday Inn Club Vacations® Galveston Seaside Resort.

We were starving and ready to just veg out and enjoy our beautiful villa, so we decided to grab a few movies from the lobby, which was super easy to do, and then order take-out from an Italian restaurant that was suggested to us when we checked in.

(It's called Gino's, and the food was amazing and arrived piping hot! Highly recommend!)

All we wanted to do was sit in our PJs, have a cocktail, watch a good movie and dive into a plateful of carbs. 😉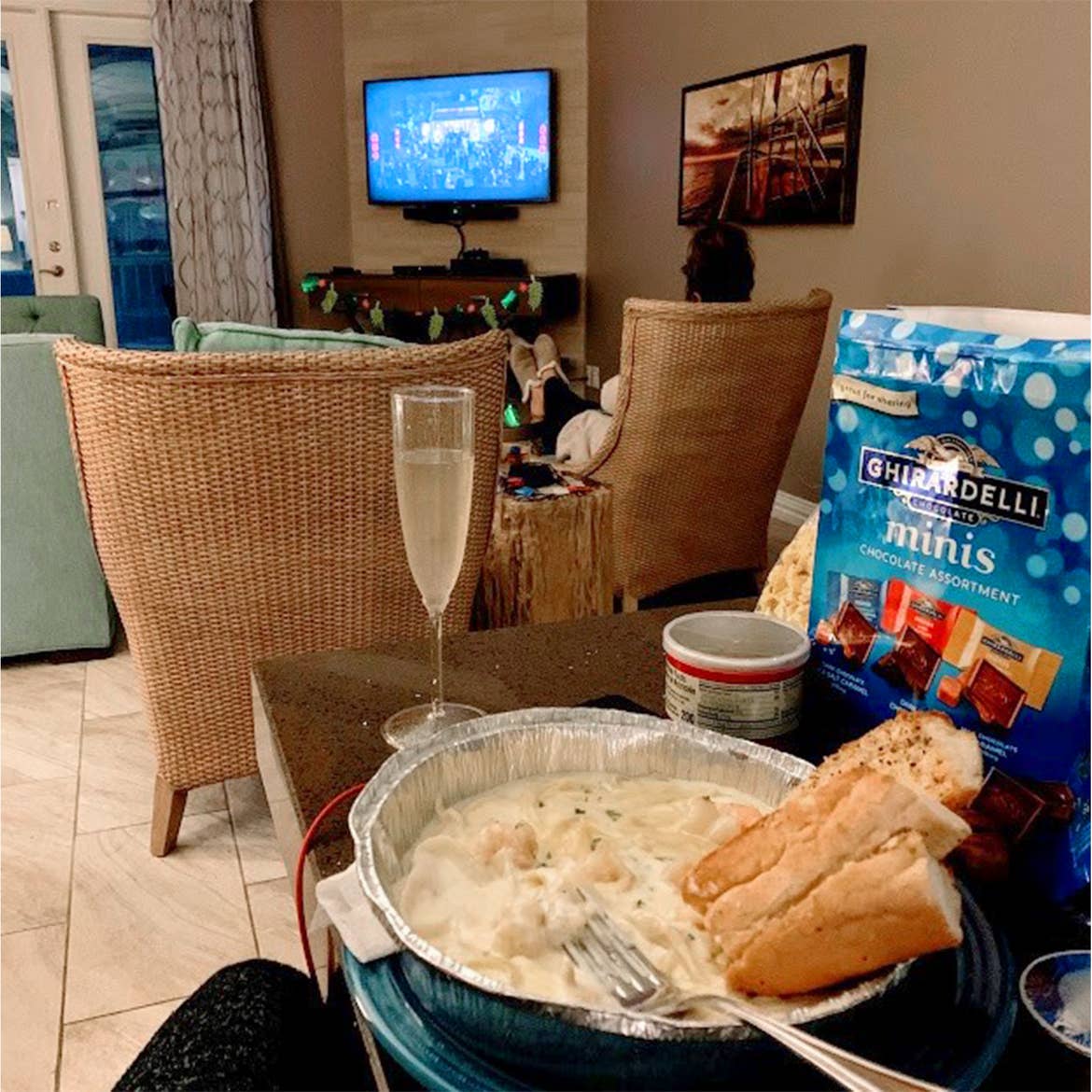 Enjoying our super spacious villa and carbing up before Galveston weekend adventures!

It was the perfect way to kick off our Galveston weekend!

Dani ended up falling asleep on the couch, so after the movie, Pam and I decided to go exploring for a bit.

We walked down to the pool area and thought about going back upstairs to change into swimsuits so we could enjoy the hot tub, but it was about to close so we just wandered around instead.

There was a lot of fog during our stay, so our pictures weren't the best, but the pool was heated and glowing a beautiful blue, and we could hear the waves crashing down the pier. Heavenly, I tell ya.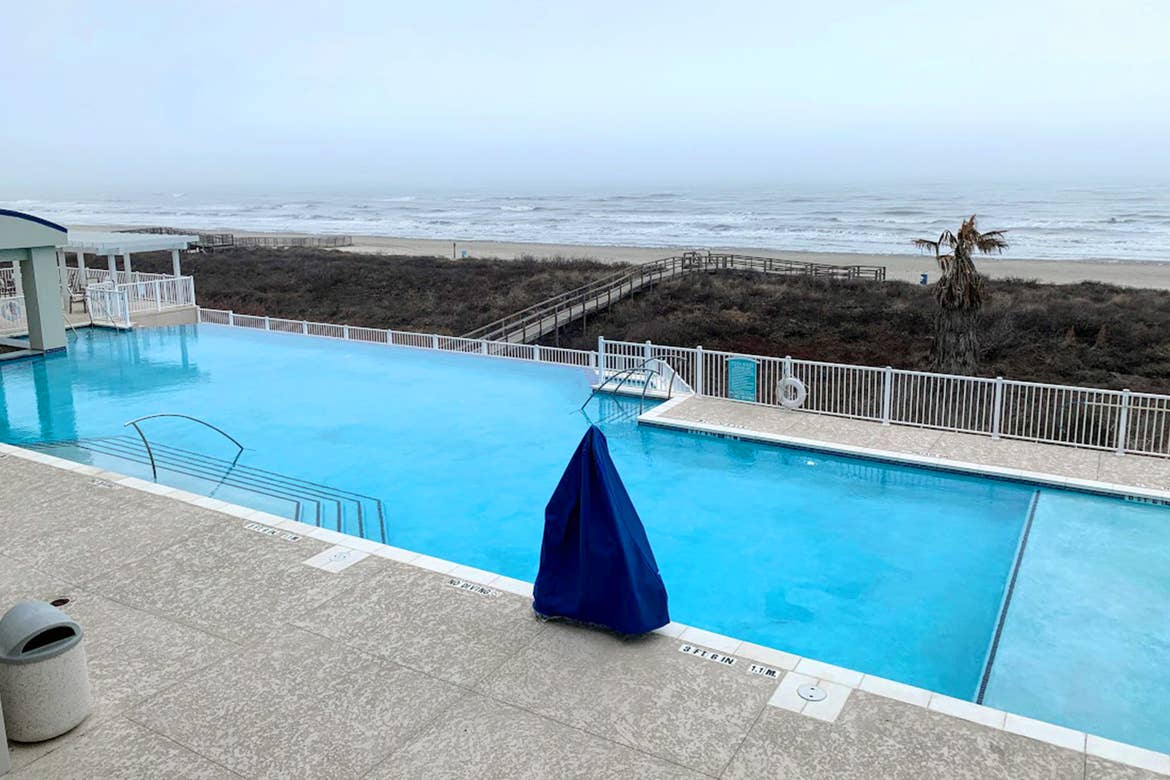 We were there in February, so it wasn't exactly pool and beach weather (although the high was in the mid-60s). But I can only imagine how fun the infinity pool would be when the heat hits!

There were convenient stools in the water if you wanted to just sit, hang out and enjoy the swim-up bar. It was big enough for people to spread out, too.

I'm already itching to go back during a time when we can take full advantage!


Things to Do in Galveston
Now going into this trip, I had so many things on my list for what all we could do. The list was long.

There were aquariums, old mansion tours, Duck Tours, shopping, restaurants, amusement parks—so many things. But we ended up deciding to wing it and see where each day took us.

But first … coffee. The resort had a great assortment of yummy treats, coffee and even a full bar downstairs. Even though we were on vacation, we decided to just stick with coffee and muffins for breakfast. 😉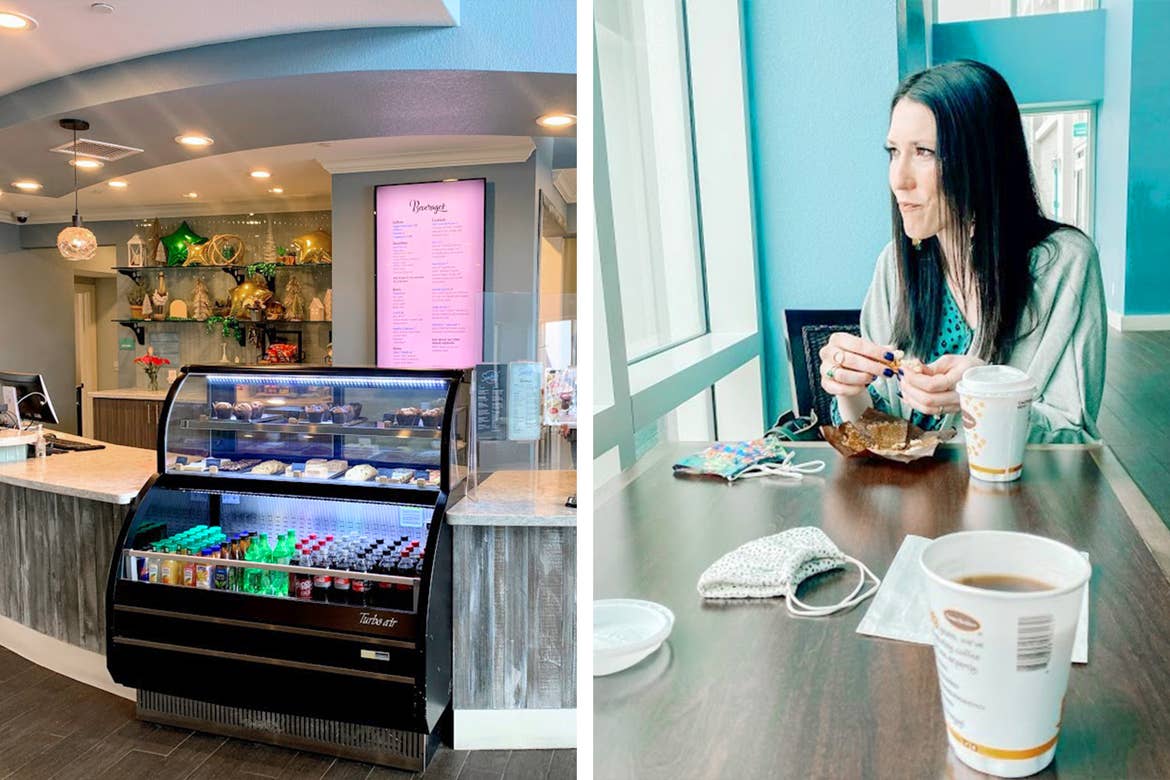 Seaside Café was our go-to spot for caffeine and yummy muffins..

After we were all caffeinated and ready to go, we hopped in the car and headed out for Galveston adventures. These are some of the things we did, and I would recommend any of them for your own Galveston weekend getaway.


1. The Strand in Historic Downtown Galveston
The Strand was by far the most recommended thing to do in Galveston when I asked around before we left.

I've only been to Galveston once as a child, and all I remember is playing in the sand on the beach. Dani and Pam had never been at all, so were all newbies and wanted to go with some of the most recommended places.

The Strand is a strip in historic downtown Galveston that is full of fun shops, dining and live music—and it's great for people watching!

We grabbed lunch at The Playground Patio Bar & Grill, and sat outside listening to the band play and enjoying burgers and fries. We also started realizing we had severely underestimated the humidity in Galveston.

Note to all you ladies: Bring something to pull your hair back with! Our hair was getting bigger, frizzier and stickier by the second. It was a running joke the whole weekend.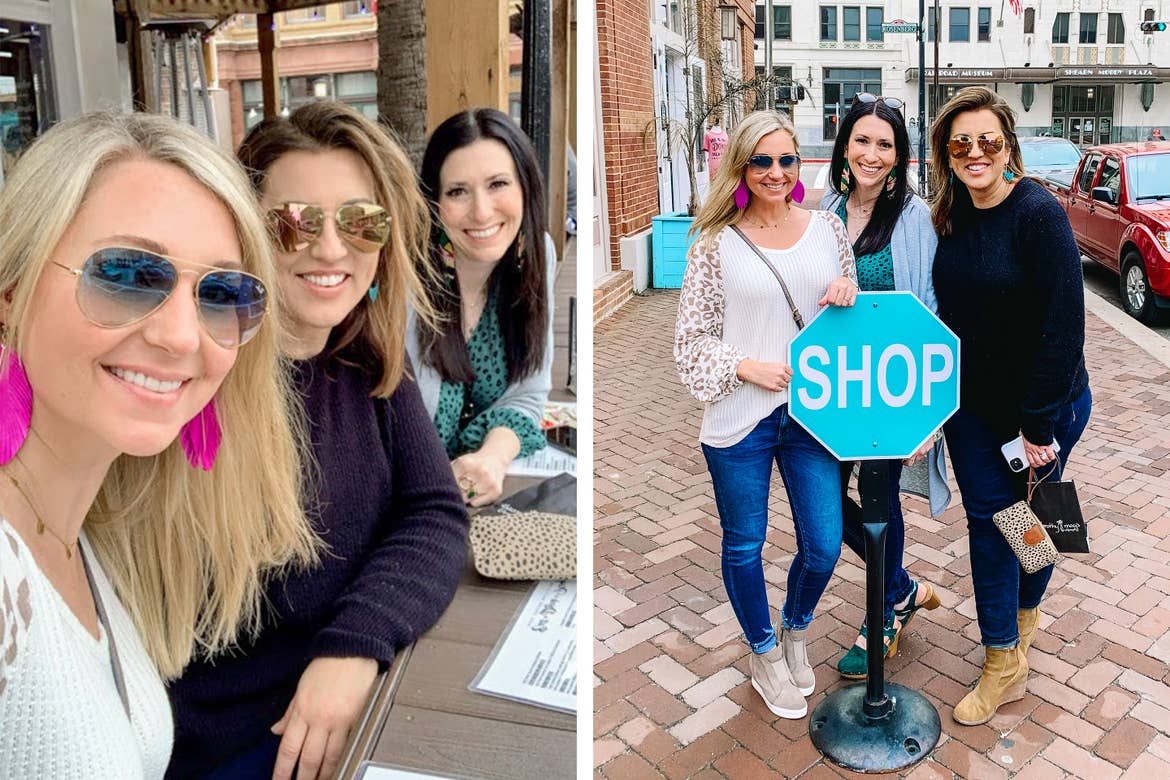 We ended up walking all the way up one side and back down the other so we could hit all the shops that called to us. (There were many!) Some of the ones we stopped into were:


Dorothy May's: We loved this one! It was our first stop on our stroll, and I scored some cute Kendra Scott earrings for 20% off.
Blu Boutique: This was a cute and quirky boutique! Dani and I grabbed matching slouchy cardigans.
LA King's Confectionery: This is THE place to take your kids. They have a guy who makes saltwater taffy right there in the store (although we missed him). But they have chocolate-covered everything and so many fun candies!

We all walked out with a little something. I got cotton candy for the boys, in addition to a bag filled with fudge and chocolate-covered graham crackers and potato chips to dig into on the car ride home.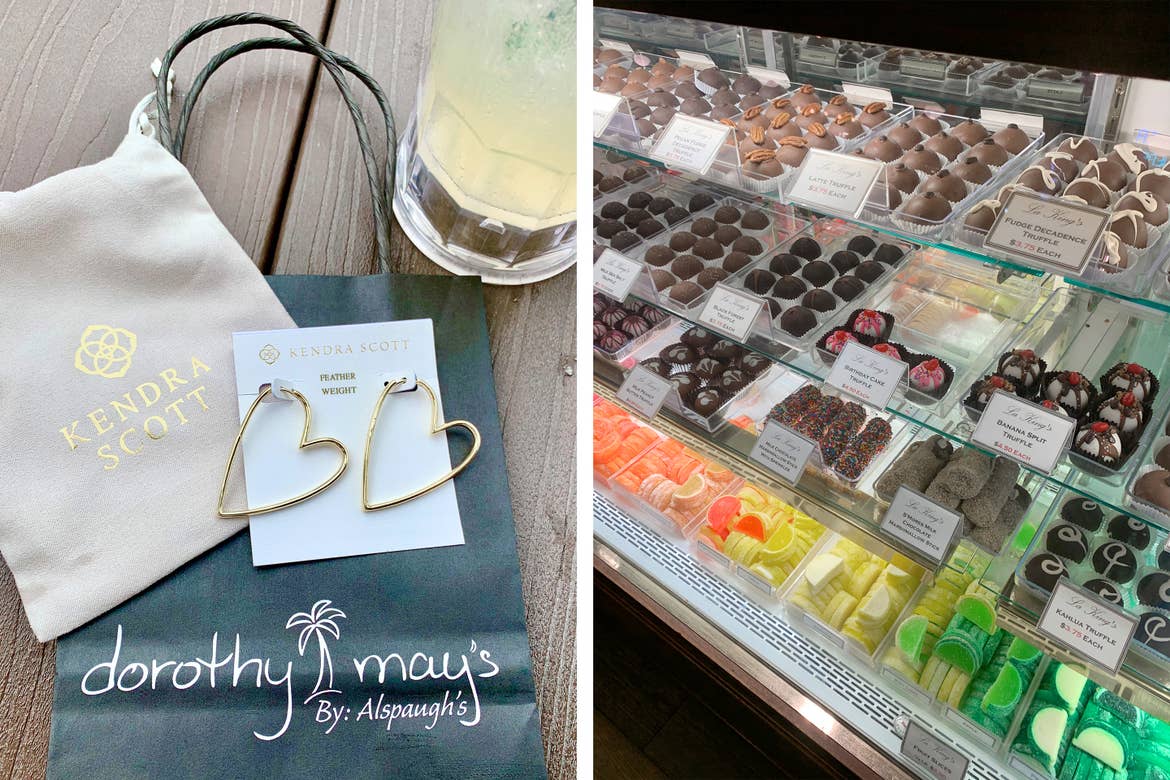 2. Pleasure Pier
Our next stop was Pleasure Pier, which was just a quick drive down the street from The Strand.

Pleasure Pier is home to Bubba Gump Shrimp and 15 amusement park rides, including a roller coaster, giant Ferris Wheel, a log ride and kiddie rides. It feels like a small fair packed onto one long pier.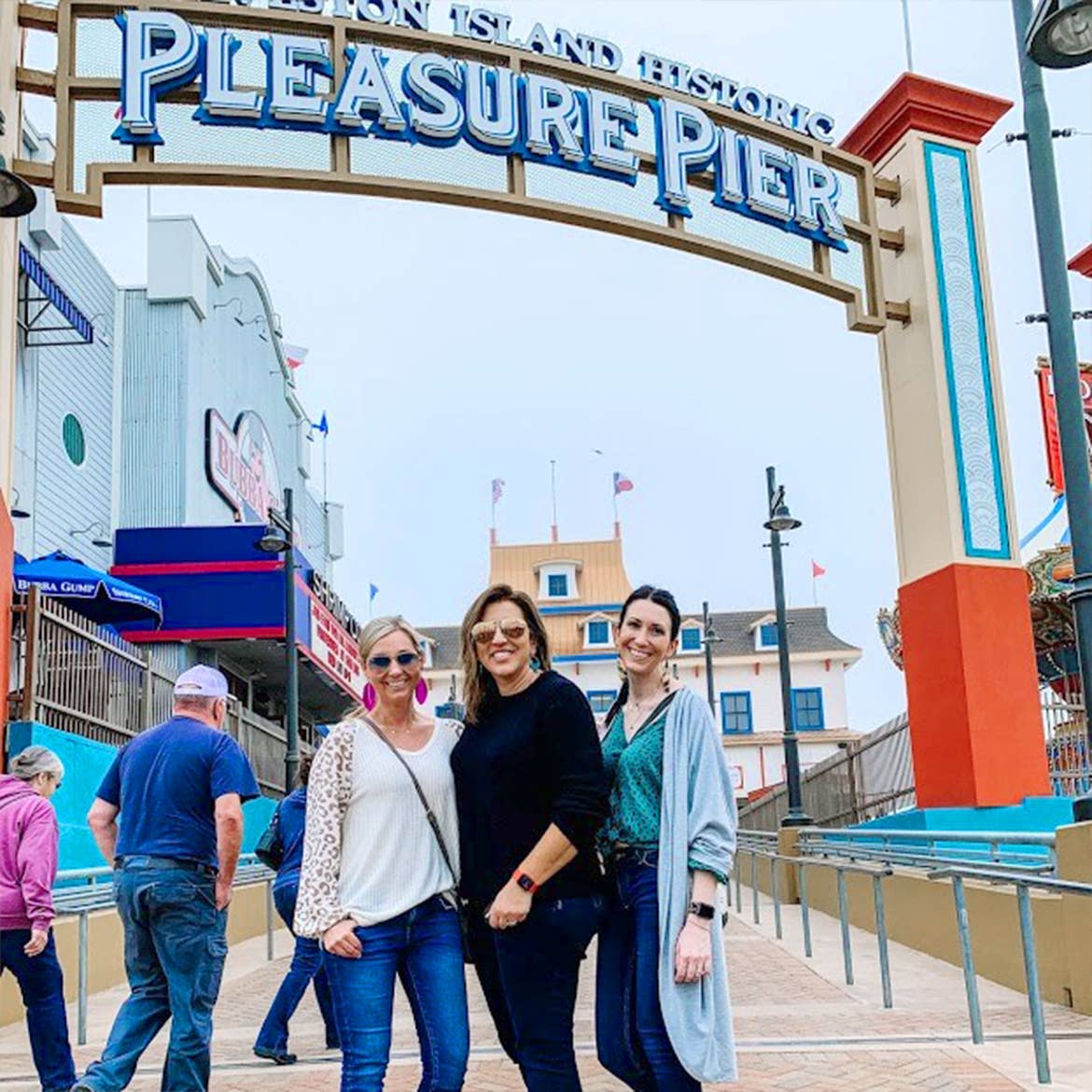 The fog was so thick and heavy over the water, it made for an interesting challenge when it came to enjoying the views, but what can ya do? Mamas on vacay aren't picky.

We rode the Ferris Wheel and, while it was fun to be up there, we couldn't see much of anything because of that fog. We moved onto some of the thrill rides and loved those (although Pam might disagree…).

But again, I can only imagine how much fun it would be on a clear day! This would be a great place to take kids of all ages.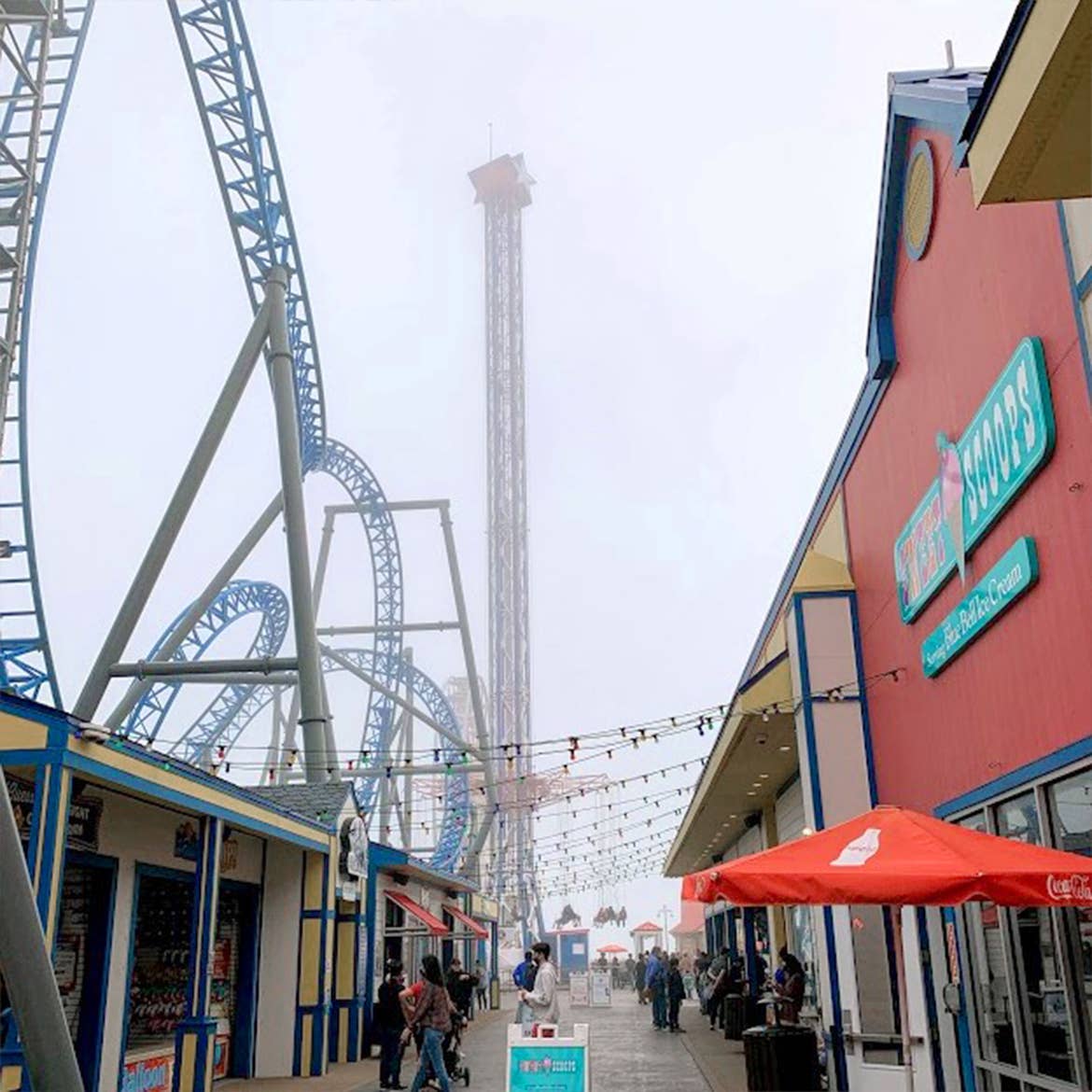 On our way out, we stopped to watch surfers attempt to find a wave, and then decided it was time for dinner.

(COVID-19 Note: Masks are required once you're on the pier.)


3. Pleasure Pier 5D Theater
We were going to check out Fish Tales for dinner, which was highly recommended to us and since it was directly across the street from Pleasure Pier, it was an easy choice.

They told us the wait was 45 minutes though, so we got on the waitlist and walked a block over to the 5D Theater. Our tickets at Pleasure Pier included access to the theater, so it was the perfect time to check it out.

There were two "attractions," and both came with our Pleasure Pier/5D Theater combo tickets.

If you're just strolling by and want to stop in and quickly do one of these, the Mysterious Underworld ride is lightyears better than the Shark Attack one.

They are $7 each, but I'd definitely recommend spending your money on the Mysterious Underworld if you want some real 5D action. It's much more along the lines of something you'd find at Walt Disney World® Theme Parks or Six Flags®.

Also, get on the front row! Way better.


4. Dinner at Fish Tales
Dinner that night was amazing. We enjoyed everything about this place!

We had a great server and a beautiful view, and we loved the atmosphere; it wasn't too loud, but it was still lively and fun.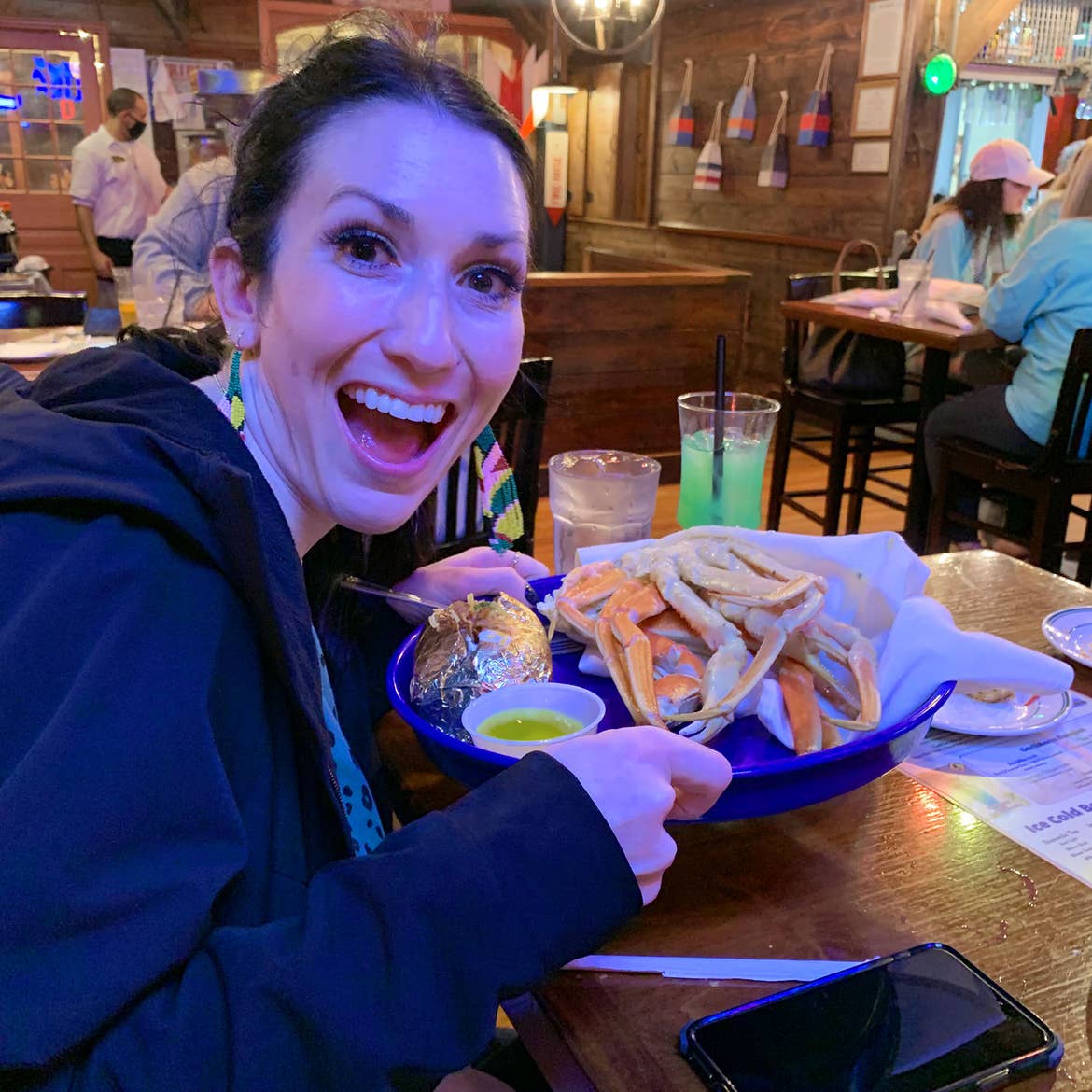 We started with the Hot Trio, which had crab balls, seafood-stuffed jalapeño and shrimp kisses (which are shrimp stuffed with cheese, wrapped in bacon and fried ... yummm).

For my entree, I ordered the New Orleans, which was similar to a thicker jambalaya or gumbo. It was delicious. Dani ordered the crab and Pam had the crispy chicken sandwich.

We had big, yummy cocktails, giant plates of seafood and a view of the pier. It was exactly what a girls' trip should look like!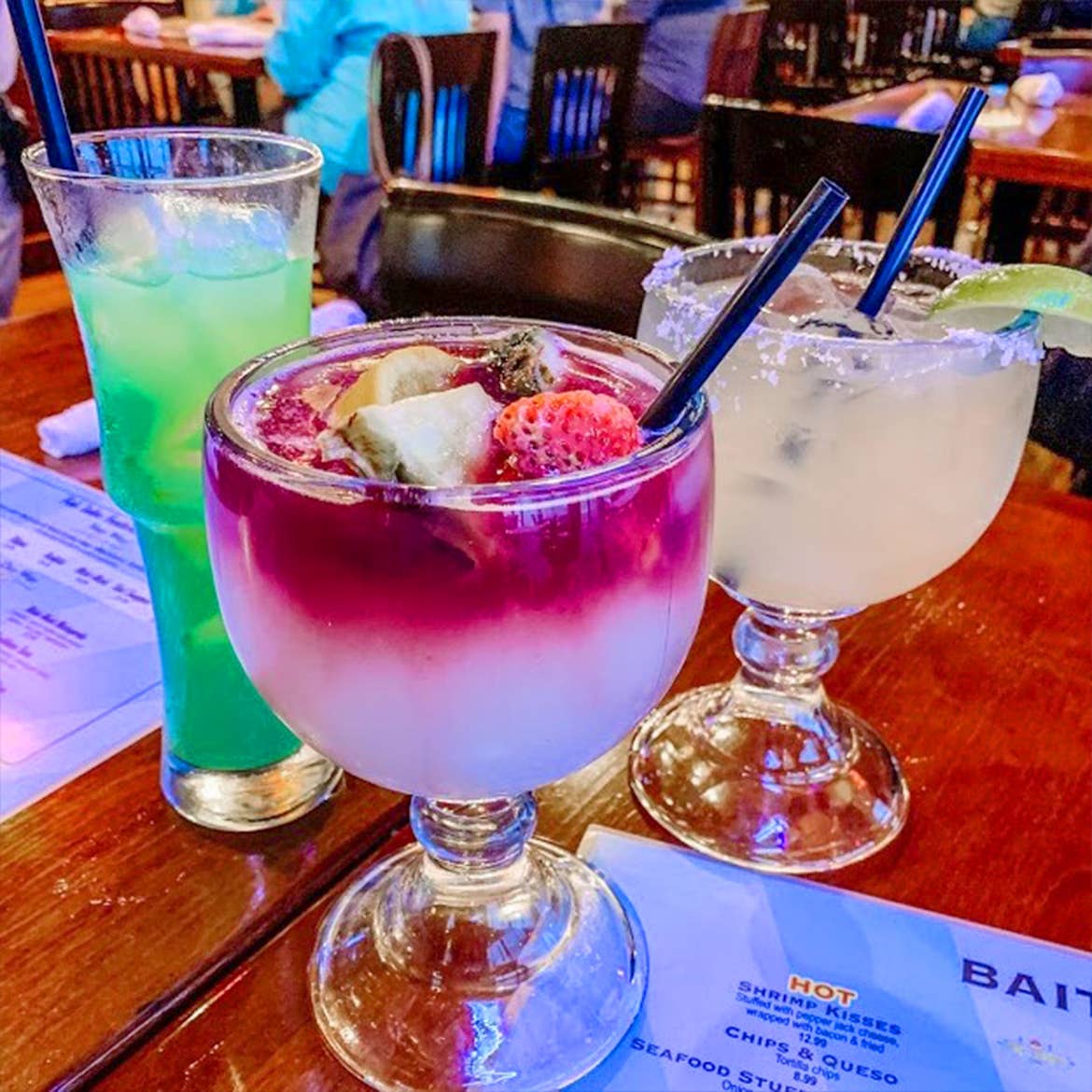 Where to Stay in Galveston
Holiday Inn Club Vacations has so many amazing resorts right here in Texas. One year, my family and I stayed at its Villages Resort in Flint, Texas, for a holiday vacation, and we had the best time.

So I had total confidence that any other resort we chose with them would be great. I ended up deciding on Galveston Seaside Resort for several reasons, the main ones being the proximity to the beach and gorgeous accommodations.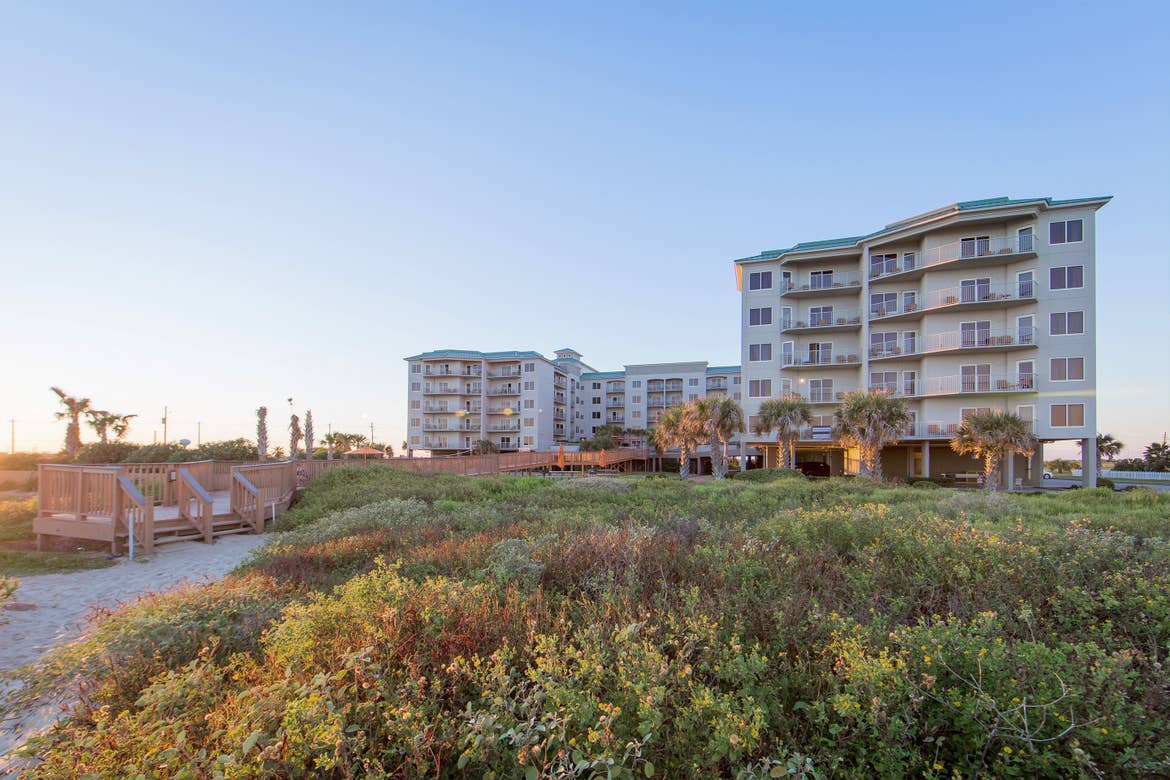 Galveston Seaside Resort is truly "seaside" and right on the beach.

(If you're looking for more of a mountainy girls' trip destination, definitely check out Gatlinburg, and if theme parks are more your speed, consider a group getaway in Orlando.) .


Safety First!
When we arrived, check-in was a breeze and we noticed plenty of COVID-19 precautions in place through its Safe Travels program, which included mask requirements, clear partitions at the front desk and hand sanitizer stations everywhere.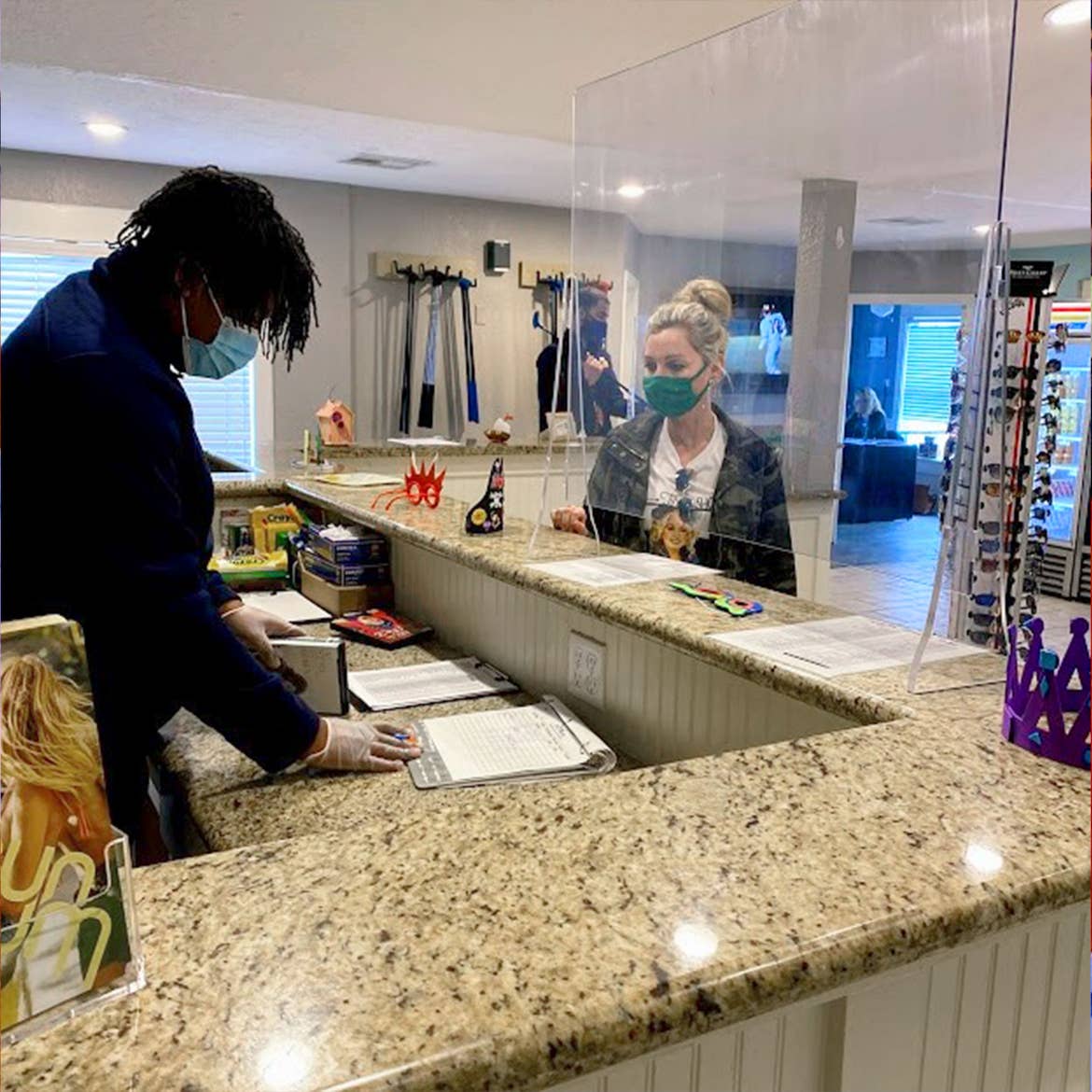 The staff was also super friendly and helpful, and they directed us across the street to the building where our villa was located—right on the water.


About Our Big, Beautiful Villa
We stayed in a Signature Collection villa, which consisted of two bedrooms (both king beds), two bathrooms with giant showers and a big tub, a washer and dryer, a full kitchen, beautiful living room and balcony overlooking the pool and beach.

If you're looking for a villa that puts you right on the water so you can hear those waves crashing, this is it.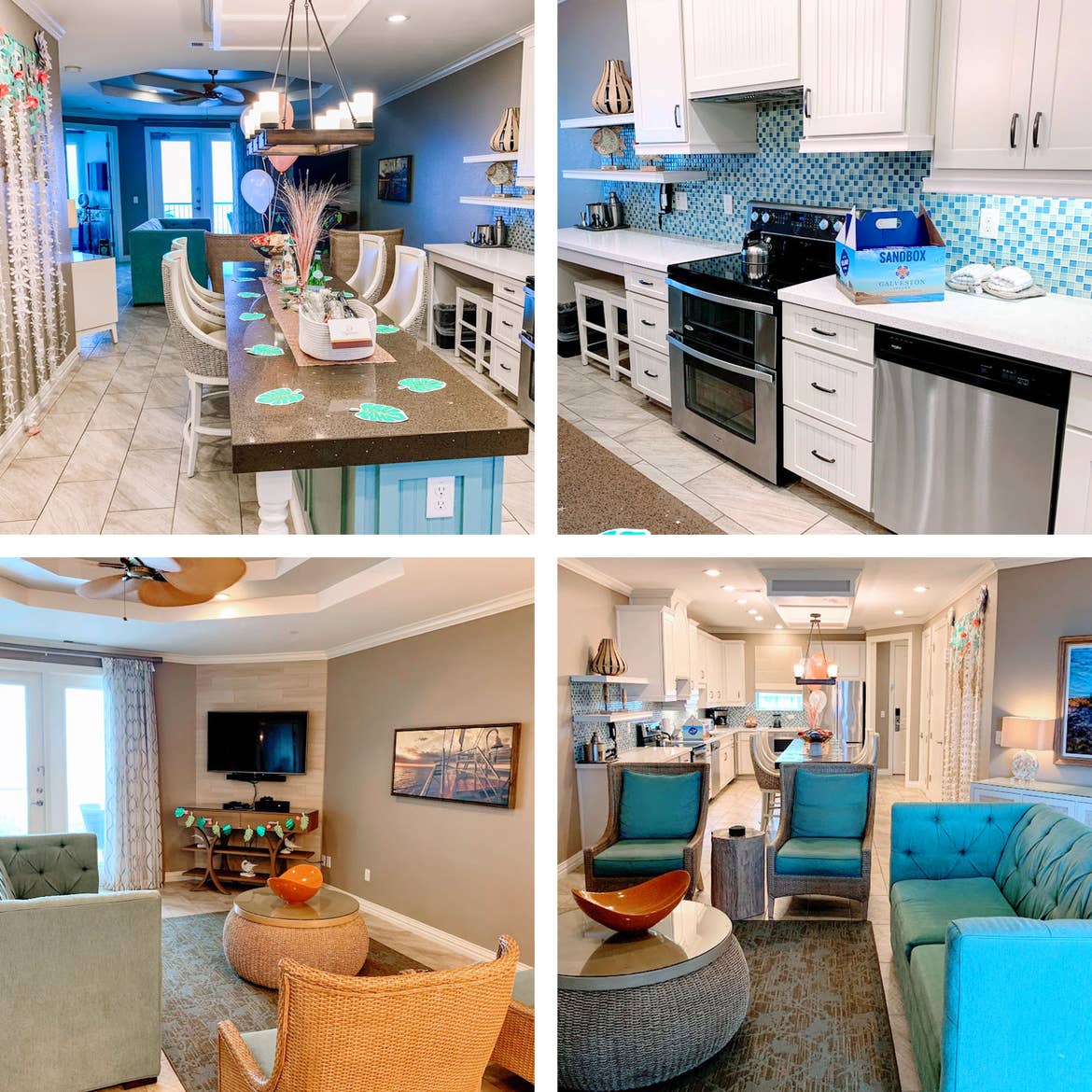 Check out how roomy and gorgeous the Signature Collection villa is!

I've got to show you this … they really thought of everything! A remote for the fan and light switch right next to your bed, along with a little shelf for your water, and outlets and USB ports for your phone! It really is the little things, y'all.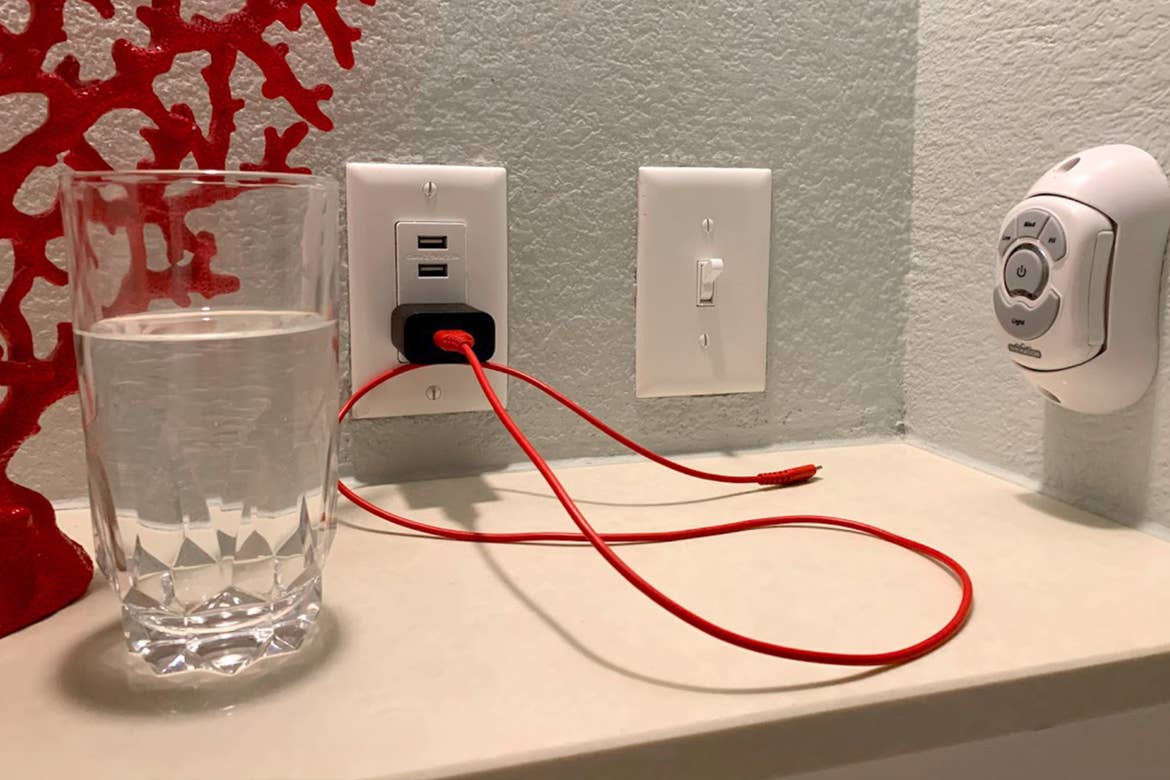 Relaxing & Enjoying the Resort
On our last day, we decided to take advantage of our resort a little more before it was time to head home.

We realized there were foosball and ping pong tables in the loft above the coffee bar, so we gave those a try before heading downstairs where the delicious smells were coming from!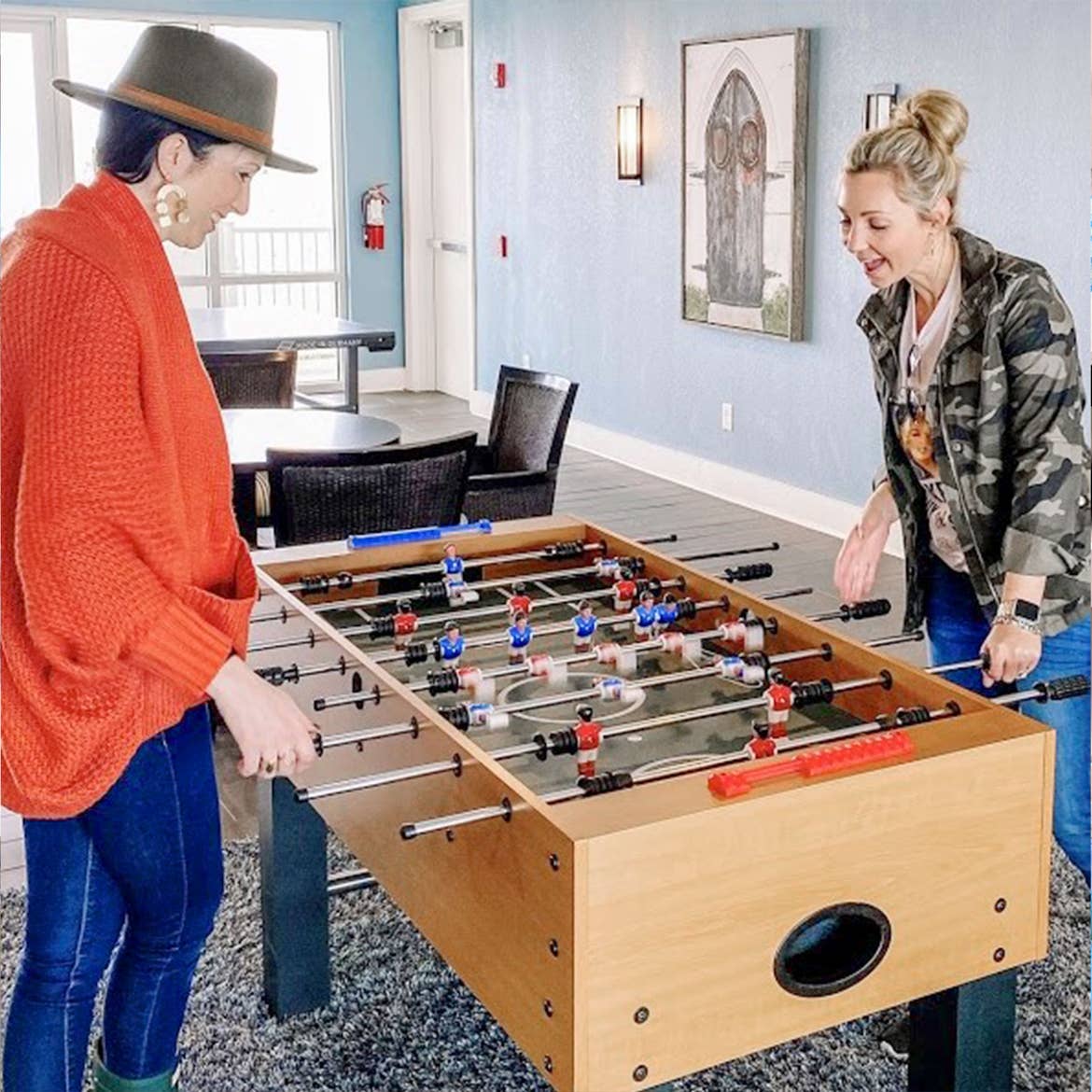 A little friendly game of foosball at the loft above Seaside Café. Can you guess who's winning?

More coffee and muffins were on the menu, and I was so thankful for the convenience of this!!

We still had not been out on the beach because of that darn weather, so we made sure to get out there before we left. We Facetimed our kids so they could see the waves (sort of) through the fog.

And the sun even tried to peek out for a minute!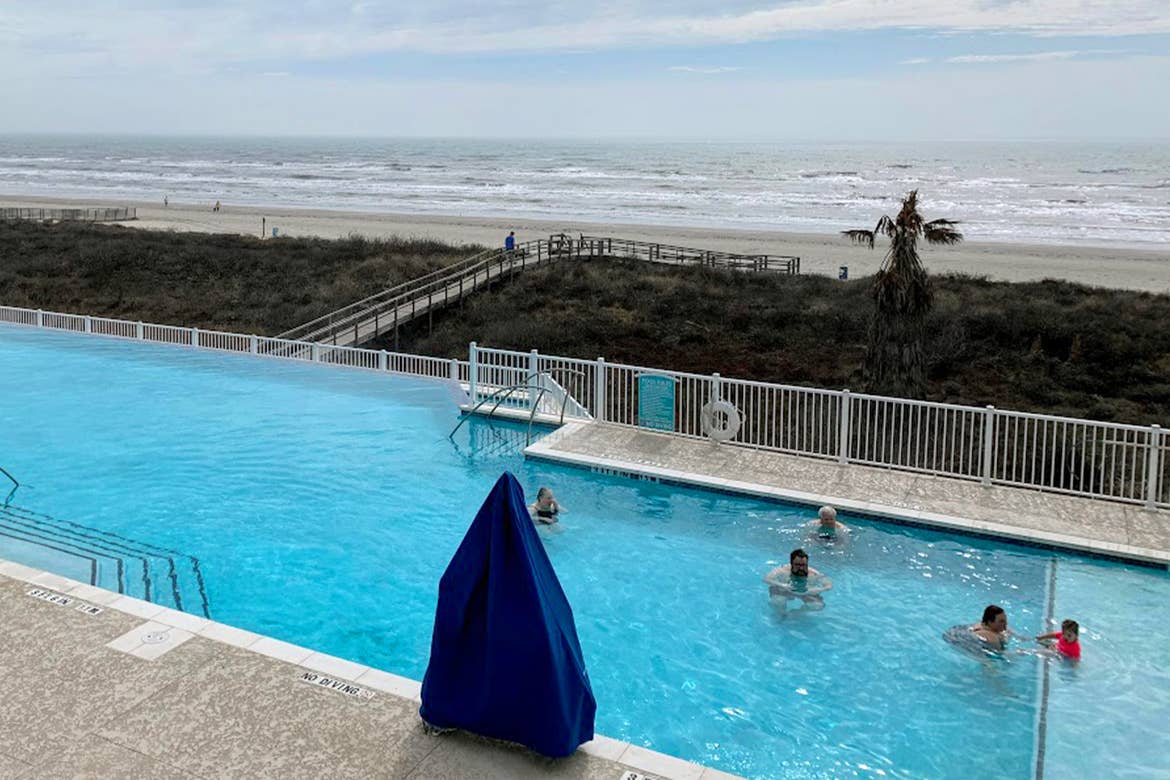 We got in the car and drove across the street to return our movies and grab equipment to play a little mini golf!

This was so much fun! They have an 18-hole mini golf course right on the grounds, and you can check out putters and balls easily at the front desk. (This would be an awesome activity for families!)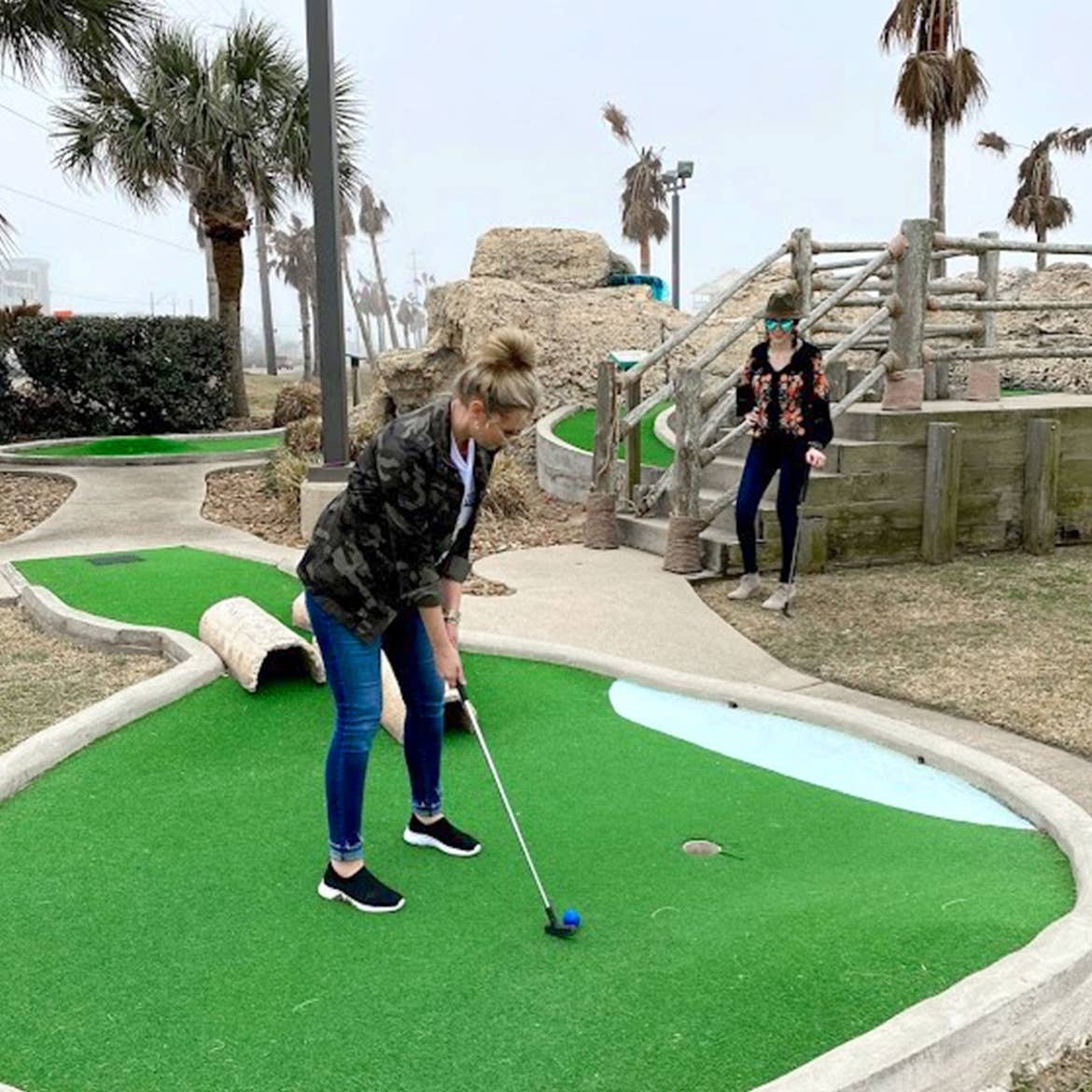 My Overall Impressions
Even though there was a heavy fog that covered the town almost the entire time we were there, we really did have the best time and the resort is fabulous!

It's a bit far away from downtown Galveston (about a 30-minute drive from the center of everything), which is where we ended up spending a lot of our time shopping, eating and walking the pier since we didn't get great beach weather.

The distance was our only negative, but that was easily overshadowed by the gorgeous villa and all the amenities.

We were blown away. And if you're looking to specifically get away from it all with something more peaceful and quieter on the beach, this is your spot.

We loved every single minute of our stay here, had ZERO issues and it was everything we'd hoped for and more. And we hadn't even pulled out of the parking lot before we were planning our next girls' trip!

We all agreed we'd come back to Galveston Seaside Resort in a heartbeat in the spring or summer so we could take advantage of the beach and pool this time!

We would have loved to stay longer, but we were grateful for the time we did get to spend together during our Galveston weekend. Getting away with your besties is just good for the soul!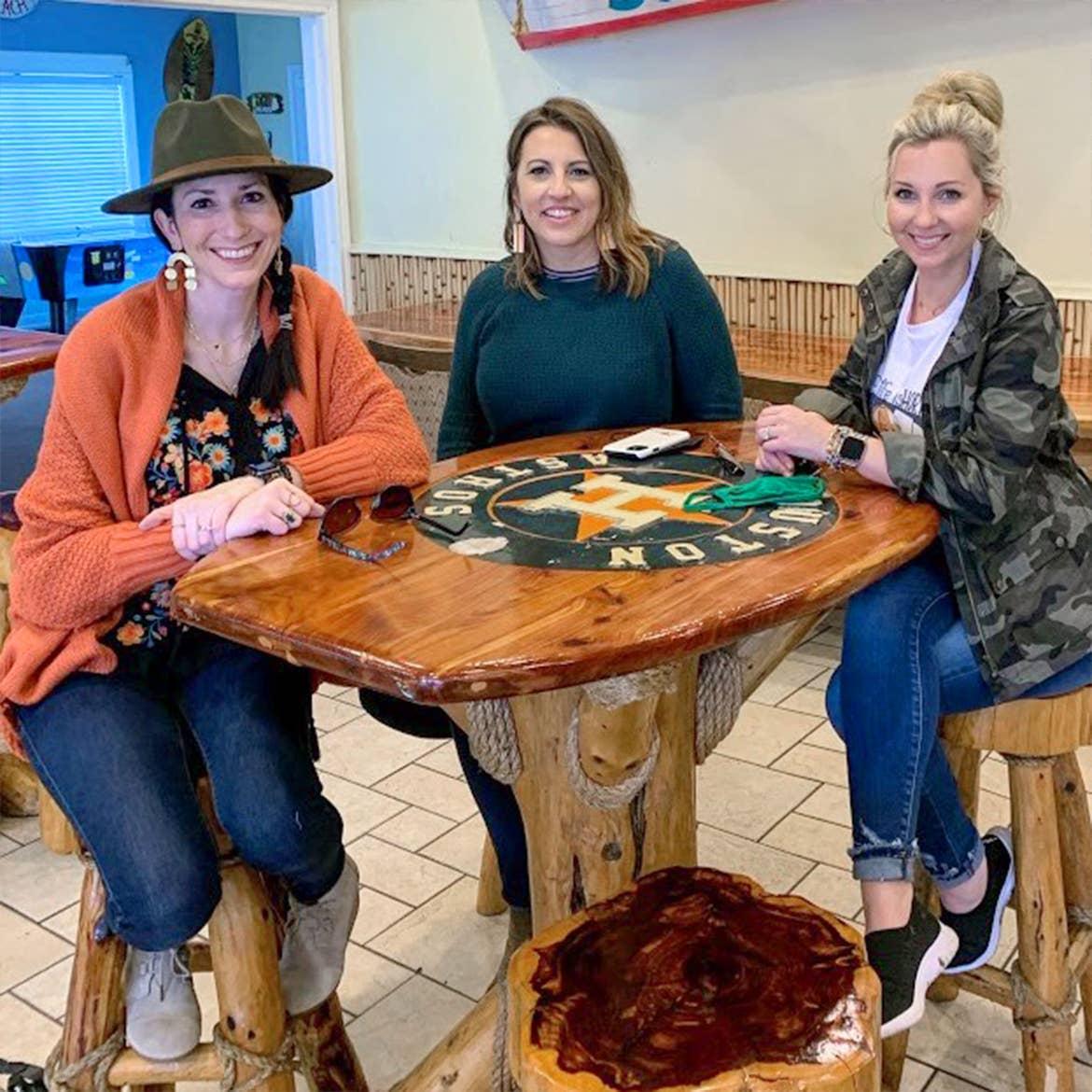 If you're looking for a beach weekend destination, Galveston is such a great option!

And don't forget to book the Signature Collection villa. You can't beat it!

A HUGE thank you to Holiday Inn Club Vacations for hosting us and allowing us to check out this beautiful resort. We will be back!


Our guest bloggers are compensated for their writing contributions and honest opinions.

All information is subject to change. This article is a curated guide and is neither sponsored nor considered an official endorsement. Please be sure to check information directly with any/all tours, guides or companies for the most up-to-date and direct details