Jennifer C. Harmon
Jenn is the Editor-in-Chief of the Checking In travel blog. She loves coffee, wine, writing, traveling, working with all of our amazing guest bloggers, and getting to tell our guests', owners' and team members' vacation stories. Jenn and her husband, Anthony, have mastered the art of the long weekend couples' getaway (sans kids). And while it's too hard to pick just one type of "favorite vacation," her three-way tie would be: a snowboarding trip, going to Hawaii or sailing with Disney Cruise Line.
Last fall, I took a Gatlinburg girls' trip, and it was just what my soul needed.

With hiking, beautiful mountain views, good food, great friends and a cozy villa fireplace to come "home" to each night, I couldn't have asked for more from what was my very first travel experience—and first time flying during COVID-19.

(The wine and belly laughs helped, too!)

I typically travel at least once a month, so after being strictly at home for 9+ months, even just being in the same room with my girlfriends—doing absolutely nothing—would have been a perfect change of pace and scenery.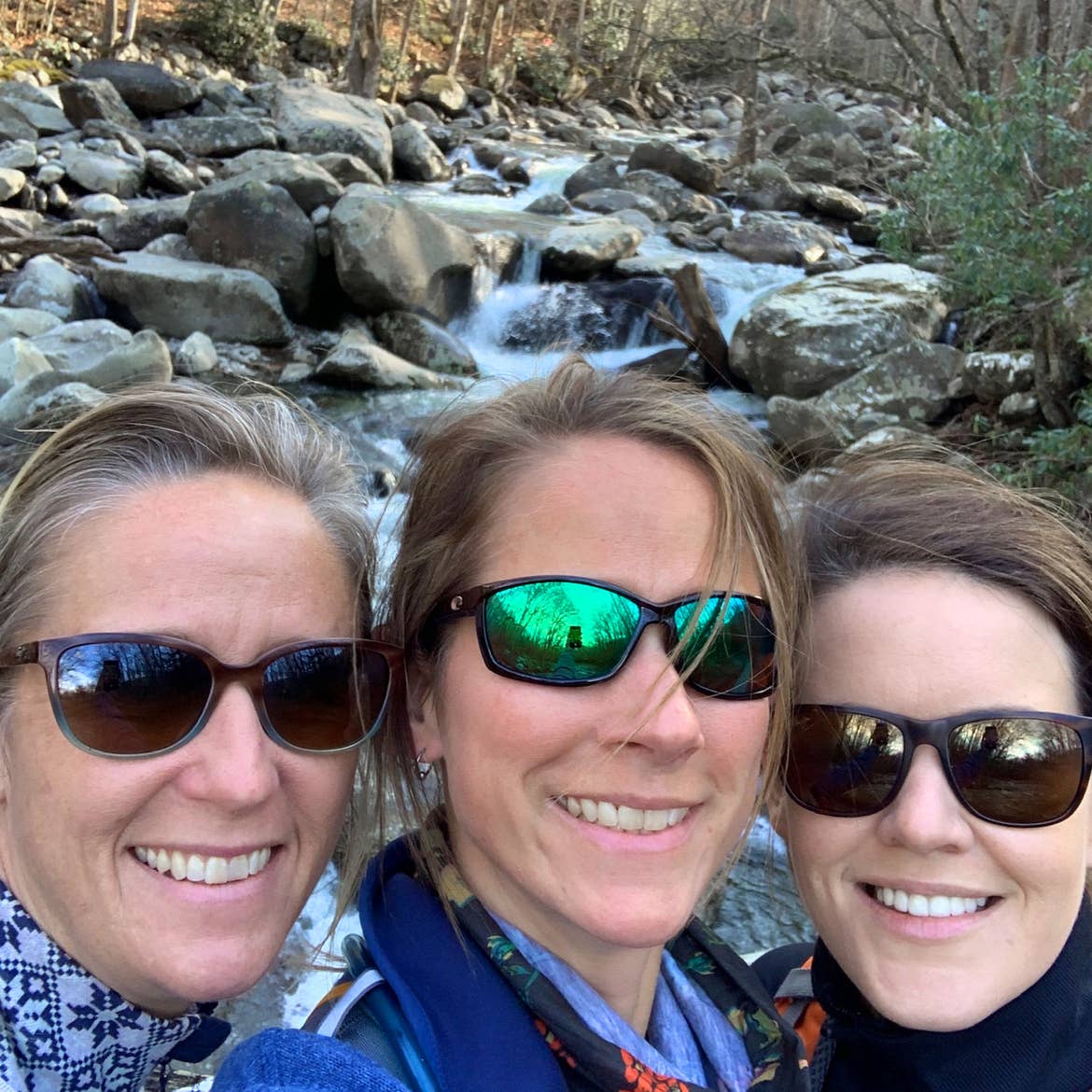 Angie, Michelle and Jennifer on their girls' trip

And while we did spend a good bit of time around the dining room table at our Smoky Mountain Resort villa, we did so much more! And all in just a quick ~36 hours or so escape.

(Plus, since I was already there for work, I also tacked on a few solo adventures.)

If you're looking for some fresh air, nature-filled and beautiful "friends trip" destination inspiration, here are 9 things to do during a Smoky Mountains weekend in Gatlinburg, Tennessee.


1. Hiking in the Smoky Mountains
Lots of families enjoy Gatlinburg for its downtown area and many nearby daytrips, but the biggest draw in my opinion is its super-close proximity to Great Smoky Mountains National Park and tons of hiking trails and nature paths.

And our resort is nestled right at the base of the gorgeous Tennessee mountain range.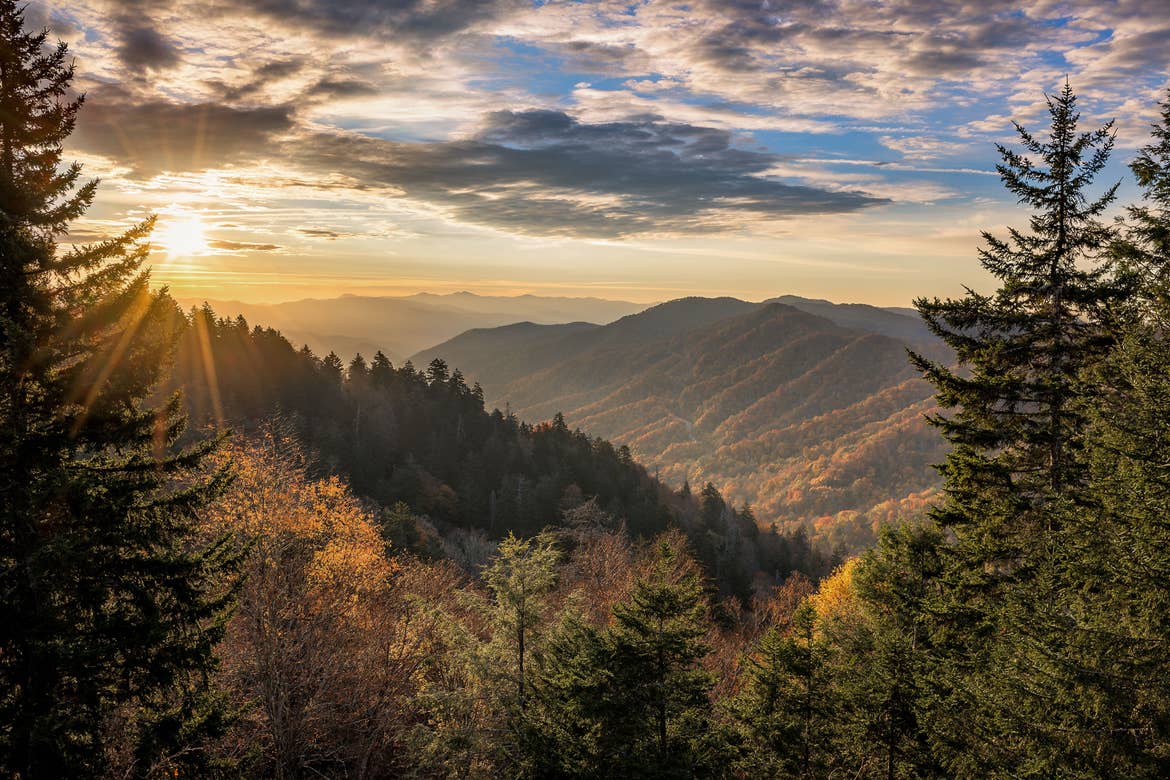 I could see Ober Gatlinburg's lights and ski lifts running to the top of the mountain from my villa balcony and better yet: it only took about 5 minutes to drive to the Historic Nature Trail "loop" of several national park trailheads.

Before my friends arrived for our girls' trip, my work group enjoyed the beginning portion of Rainbow Falls Trail.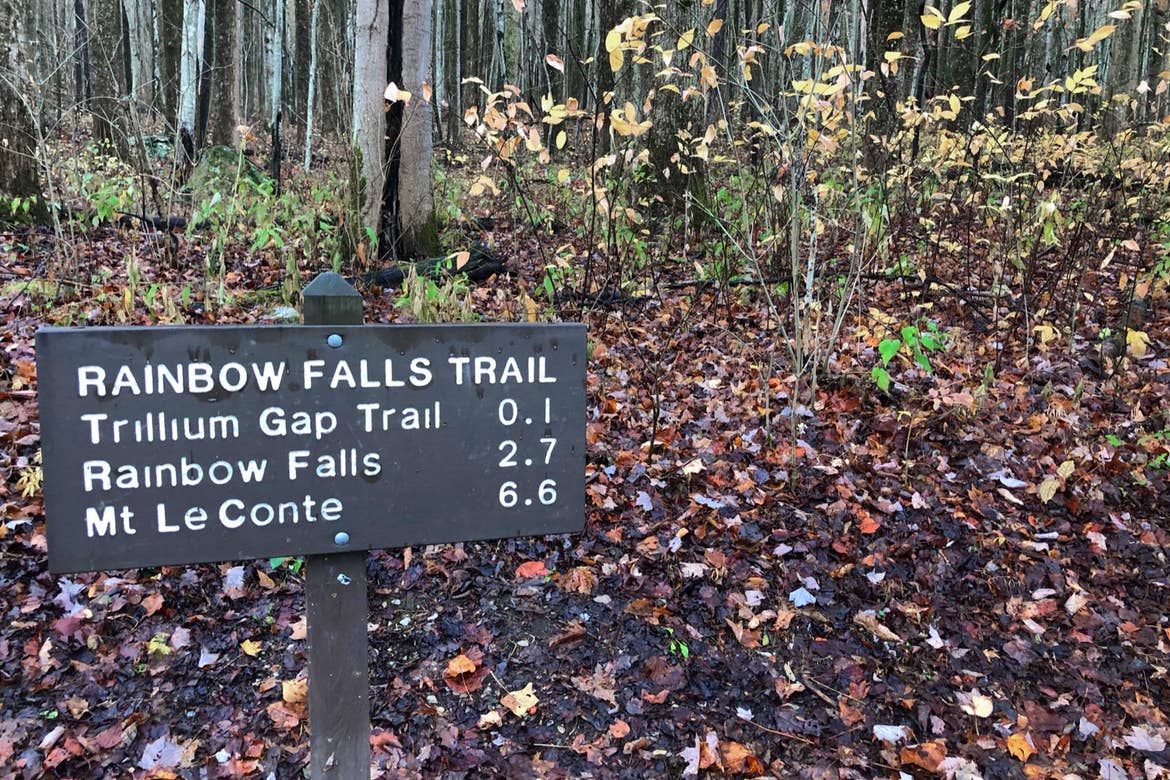 It was a gentle, much more of a beautiful nature walk than a "hike," but it does get more strenuous if you do the entire 2.7 miles.

And it even connects to Mt. LeConte Trail, which offers an additional 6.6 miles to a summit.

We had a family of four with young kiddos with us, and they loved exploring the Trillium Gap Trail and Rainbow Falls path, while collecting red, orange and yellow fall leaves, and relishing in the sights and sounds of the waterfall and streams.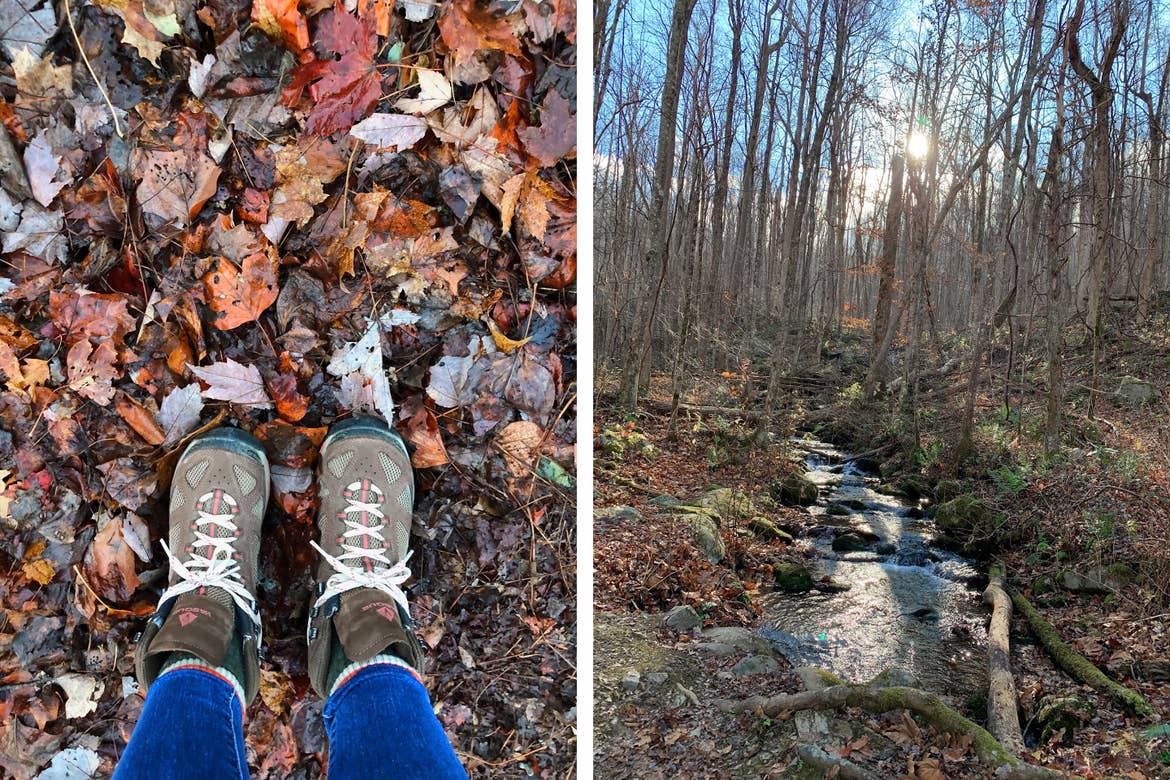 Once the weekend—and my friends—arrived, we were (much) more ambitious and hiked the Ramsey Cascades Trail. It was a further drive out, about 20 minutes each way, and listen: it was HARD.

Not so much for my marathon-running friend, but for the average, somewhat-fit person, it's certainly a challenge.

(I know I've been more sedentary, and a little more inclined to eat Tate's cookies, while working from home and quarantining, so it definitely kicked my butt.)

However, I HIGHLY recommend tackling it if you can—the entire hike was GORGEOUS, but the summit and its waterfall were SO, SO WORTH IT.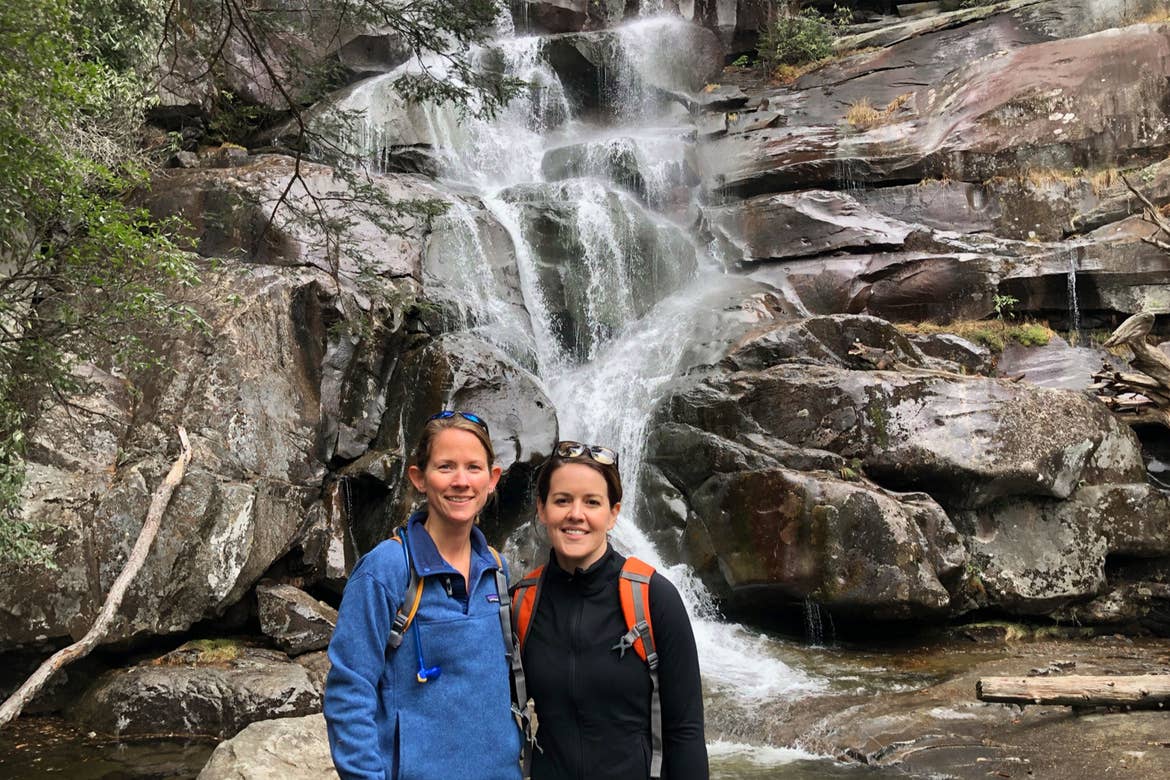 Michelle & Jennifer enjoying the summit!

There were times I didn't think I'd make it to the top, but we pushed through, encouraged each other and made it for some amazing moments of awe, wonder and, yes, photos at the top.

At 8 miles total, four up and four down, it was about a 4.5-hour trek (including a few breaks), full of steep inclines, rocks and several skinny log bridges over rushing water.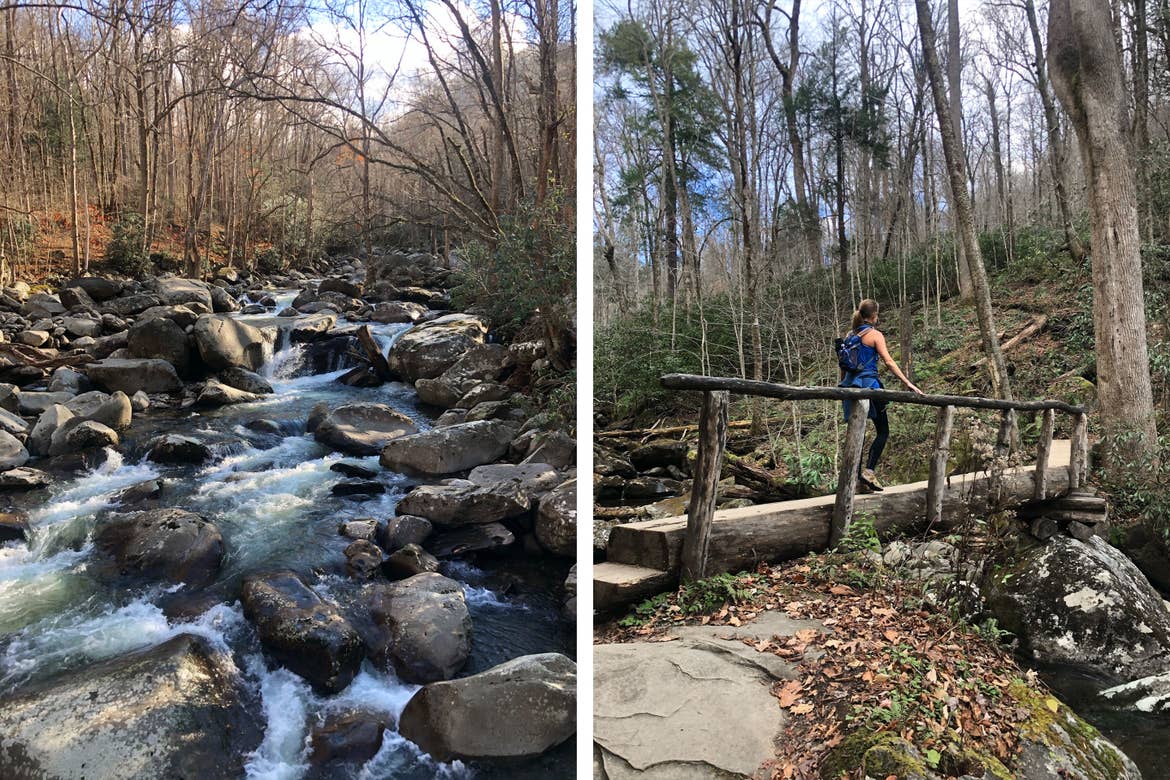 Just bring lots of water, a snack and a raincoat—all things we underestimated in our rush out the door.


2. Ordering Pizza from Mellow Mushroom
After our hike, we were STARVING, sweaty, and, honestly, pretty dirty and probably stinky.

We didn't feel like showering and getting ready to dine out, so we ordered take-out from Mellow Mushroom on our drive back from our Ramsey Cascades hike.

If you've never been, you're in for a treat. Mellow Mushroom is a relatively small chain, located in just 20 states. So, while it's not unique to Gatlinburg perse, it's SO delicious.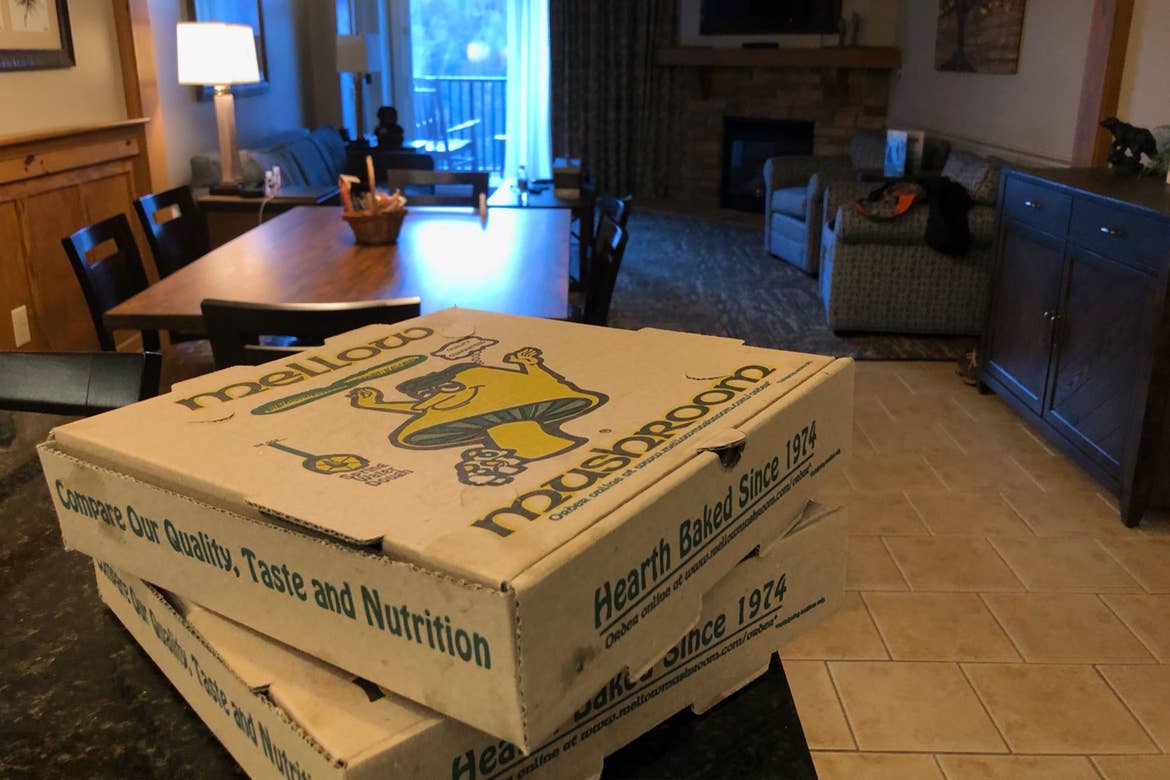 I try to eat locally and avoid chains on vacation, but hot, carby, cheesy pizza was calling our names after all the calories we'd burned.

Centrally located right in downtown Gatlinburg on the main 903 Parkway across from the Gatlinburg Convention Center, it was a two-story establishment with a partially open-air bar downstairs and a dining room and second bar upstairs.

Our order was ready right on time, and it felt pretty safe, with all servers and bartenders wearing masks and several hand sanitizer stations.

(If you're looking for places to eat in Pigeon Forge, there are Mellow Mushroom locations over there, too!)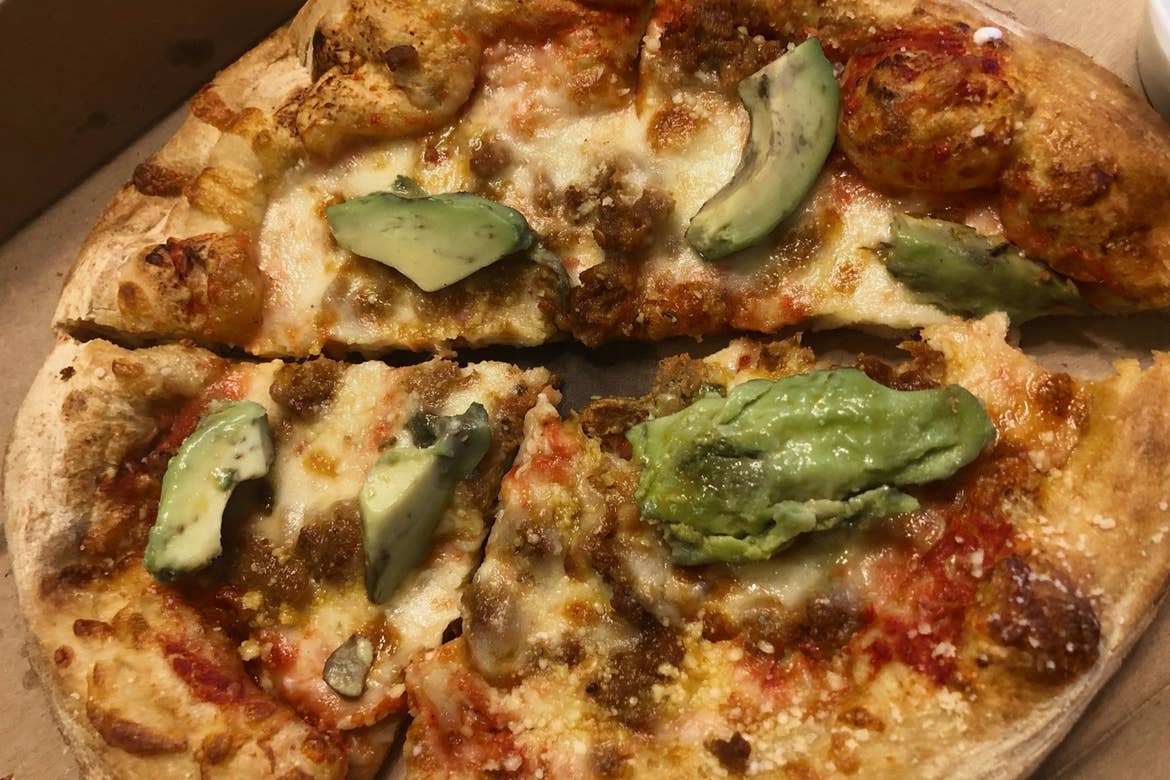 We all got individual pizzas and salads to bring back to and enjoy in our villa. The villa has a full kitchen, so we had all the plates and utensils we needed.

I luckily got to keep all the leftovers in my fridge when my friends headed back home from our little Gatlinburg girls' trip.


3. Visiting Anakeesta by Gondola
I'll be honest: I personally find areas of downtown Gatlinburg to be a bit too touristy. (No offense to Ripley's Believe It or Not or Sir Jimmy Buffet's Margaritaville.)

It was just more crowded than I expected during COVID-19, and I'm not interested in taffy or t-shirt shops.

But Anakeesta? It's the total opposite of a crowded tourist trap. I LOVED it! (So much so, I visited Anakeesta three times during my stay.)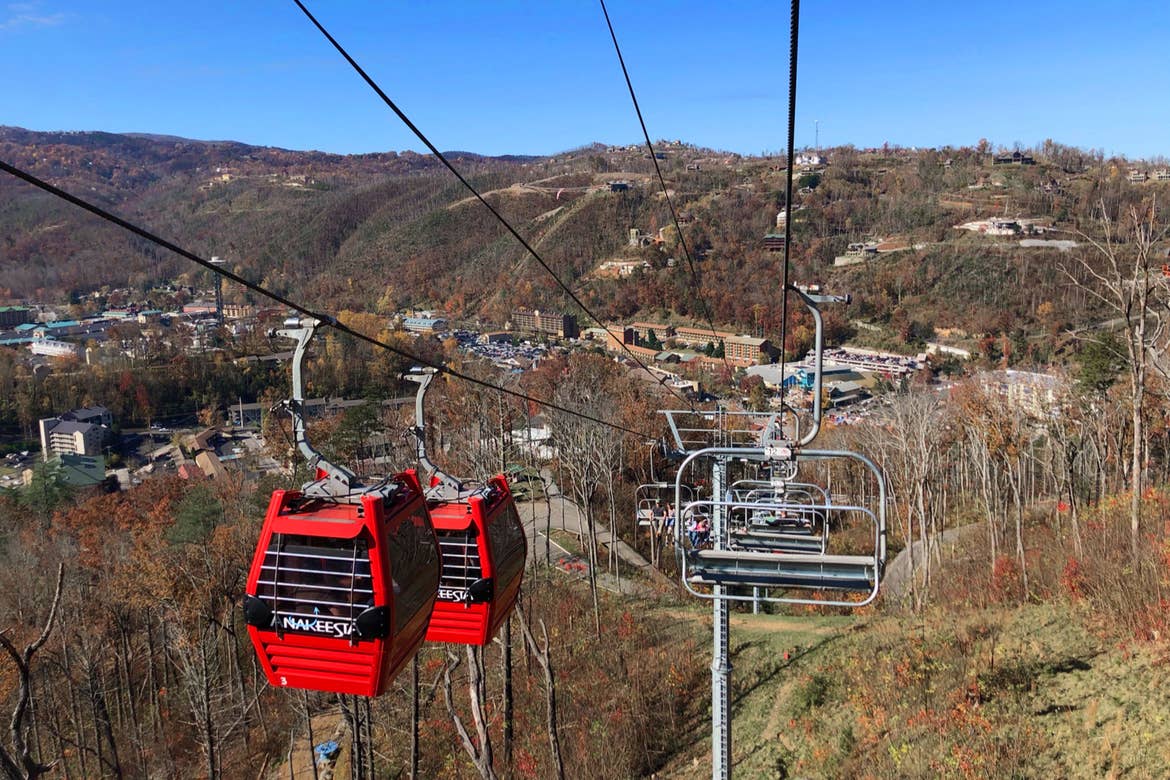 And it's the perfect Gatlinburg girls' trip (and family fun) activity that everyone will enjoy.

I'd been to Ober Gatlinburg before, but I hadn't heard of Anakeesta until this trip. It's hard to miss; you can't get in or out of town without seeing its chair lifts and enclosed gondolas (or "Chondolas") taking families up the mountain.

The ride up and down is half the fun as you look out on the entire town and the Smokies. (I especially loved spotting our resort on the way down!)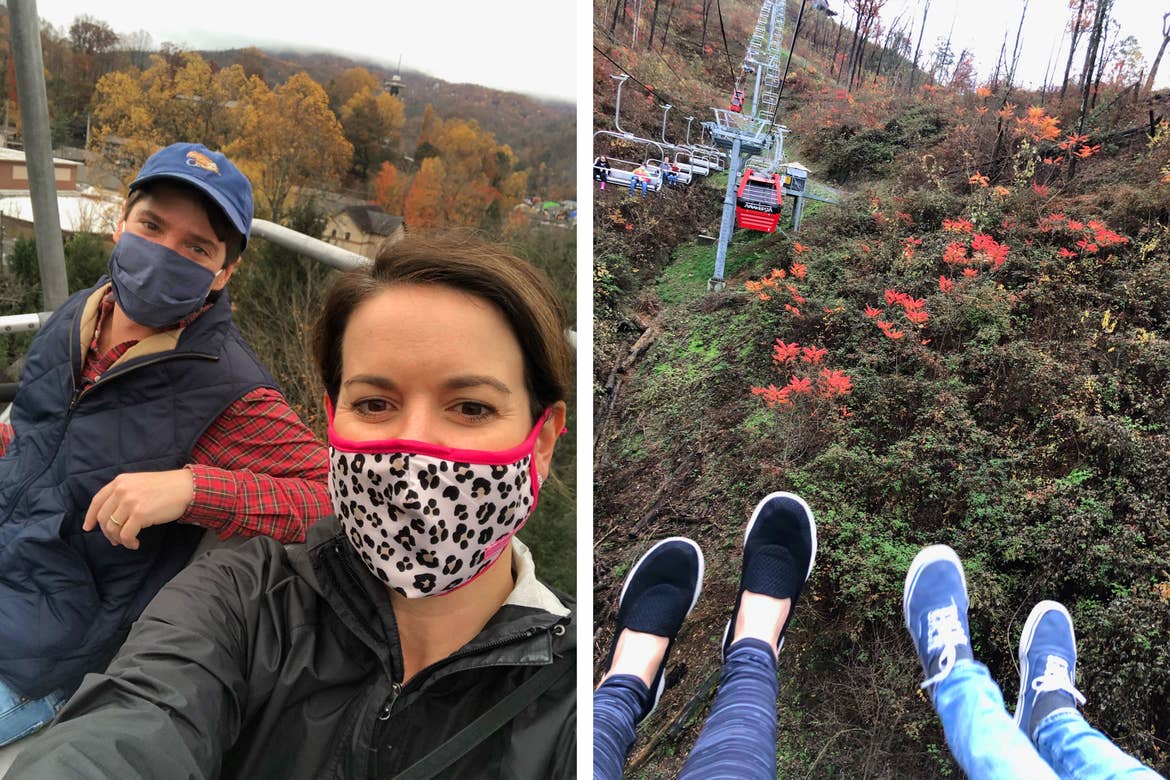 Jennifer and her production partner, Edwin, enjoying the Anakeesta chair lift ride

It's $25 per adult, $18 per child and $22 for seniors admission (and extra if you choose the Express Pass option to avoid waiting in line).

You can choose to ride up over 600 feet to the top on an open-air chair lift with a lap bar or enclosed gondola.

I did both and preferred the openness of the chair lift, but parents with young ones might like the added safety of the Chondolas.

(Huge thank you to the team at Anakeesta for comp'ing our admission for both our marketing videos and blog/social content.)

My advice? Go during the daytime and enjoy the picture-perfect mountain views, the Treetop SkyWalk (wow!), lunch venues and shops.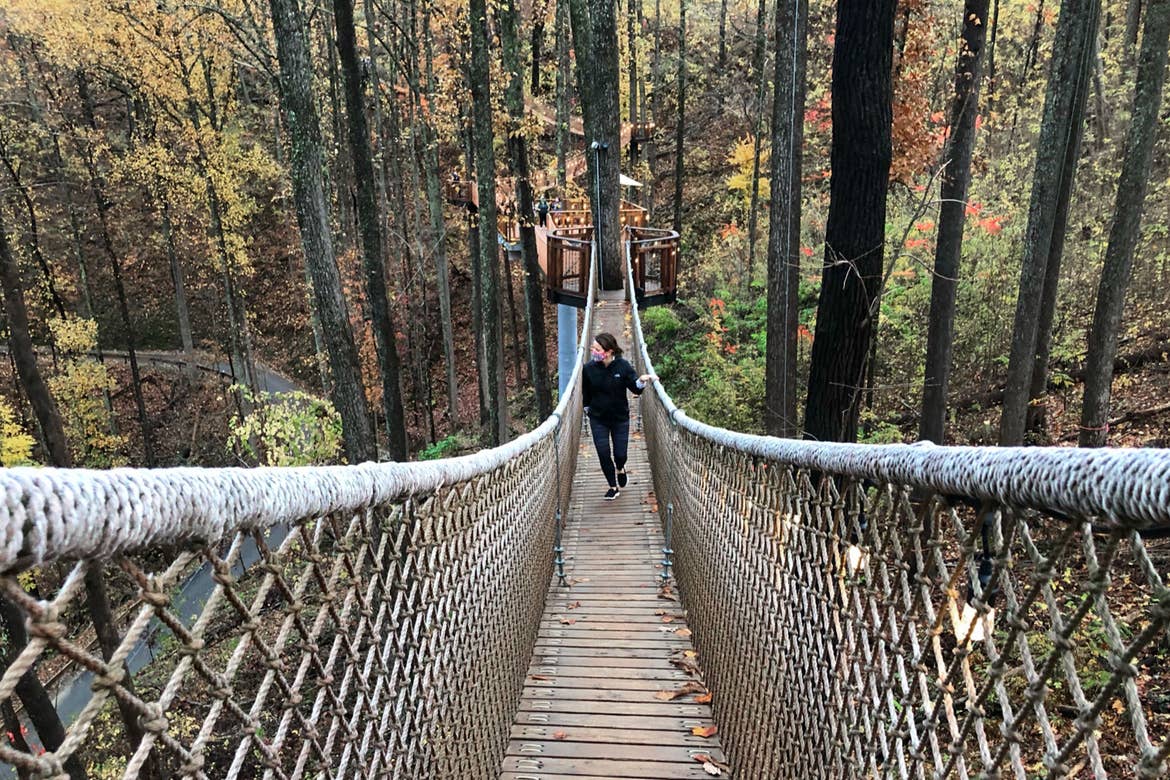 Jennifer exploring one of several amazing Treetop SkyWalk bridges

While we didn't do everything (next time!) they also offer zip lining, an Observation Tower, a challenge course, gem mining, play areas and even a mountain coaster.

And then go back at nighttime. We got a super special treat during our visit as it was all lit up for Christmas with thousands of lights.

It was a really magical feeling to walk around under twinkle lights on a mountaintop with Christmas music playing and a nip in the air.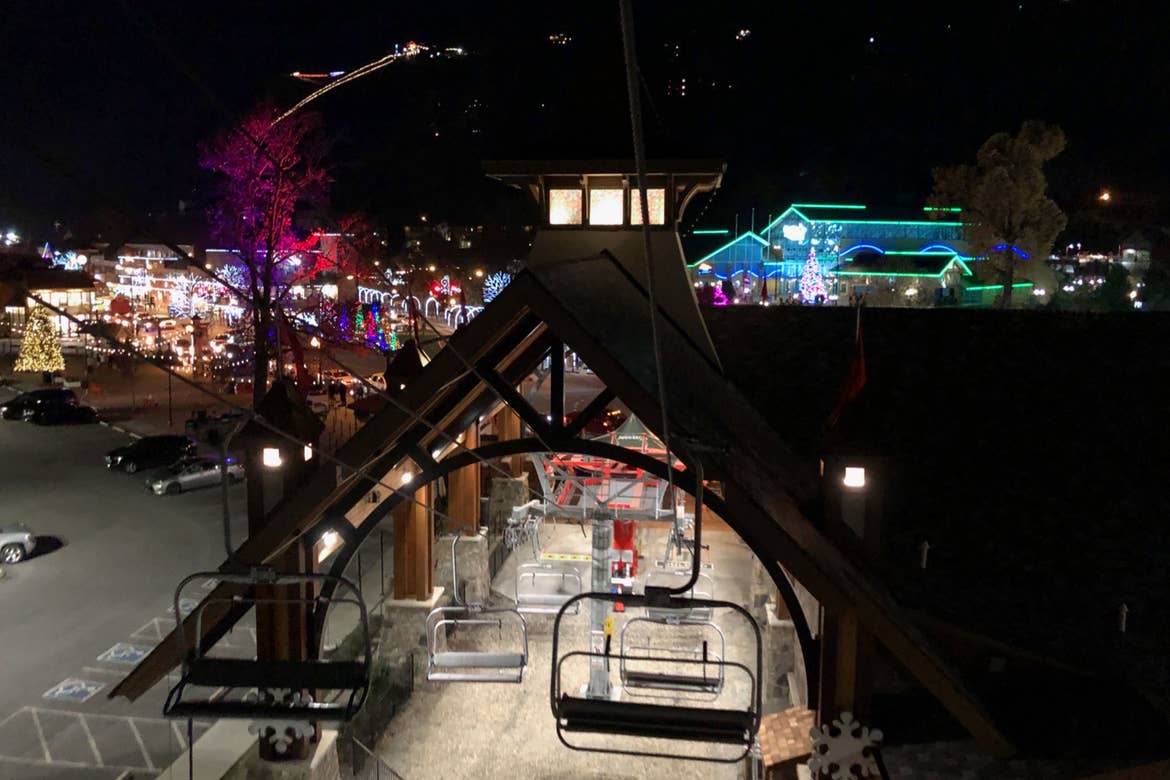 But even year-round, it's just got a cool, different vibe after sundown with firepits and places to (safely) gather in Adirondack chairs, and it offers great dining options.

Speaking of which...


4. Dining Out
I only had two nights where I dined out for dinner instead of cooking in my villa kitchen and ... both of those dinners were at Anakeesta's Cliff Top restaurant in their Black Bear Village.

It was that good and that cute, with floor-to-ceiling windows with gorgeous mountain views! (Note: You do need admission to dine here.)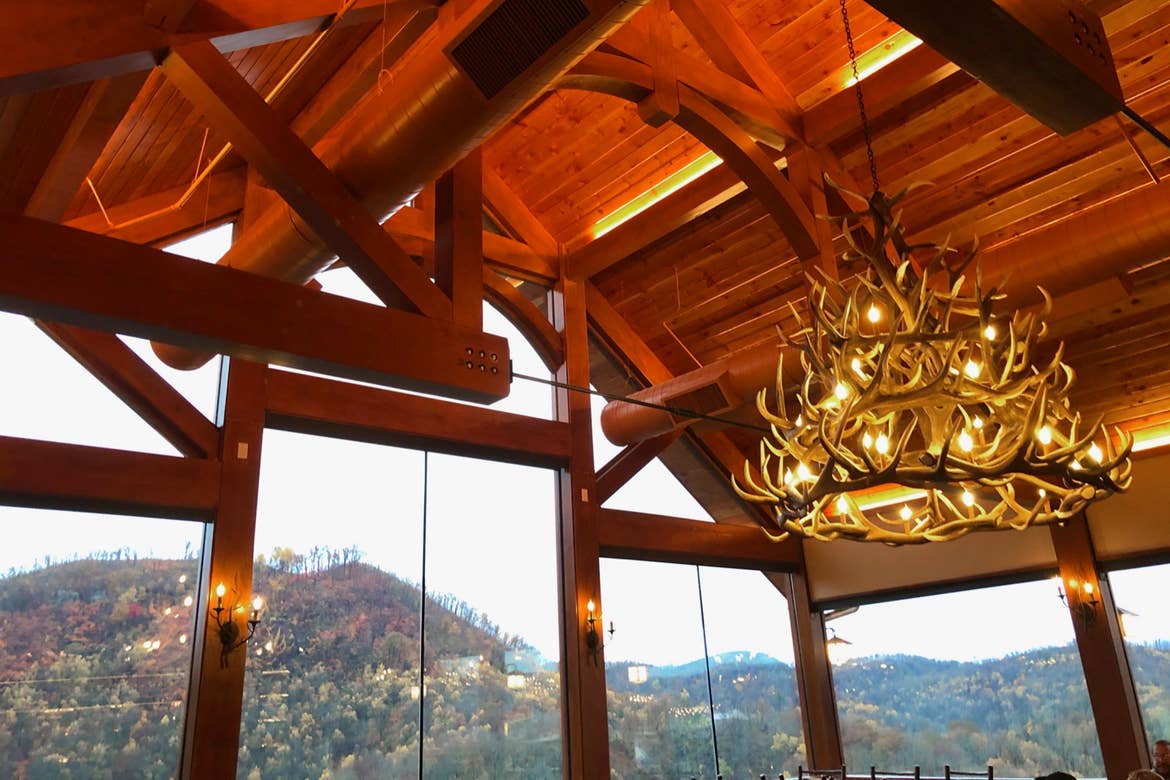 At Cliff Top, we were disappointed that they had outdoor seating but weren't serving out there (at the time, they were understaffed).

As my very first indoor dining experience since COVID-19, I felt pretty good safety-wise; all the servers wore masks, they spaced out parties with empty tables in between, and guests were good about wearing masks to and from their tables.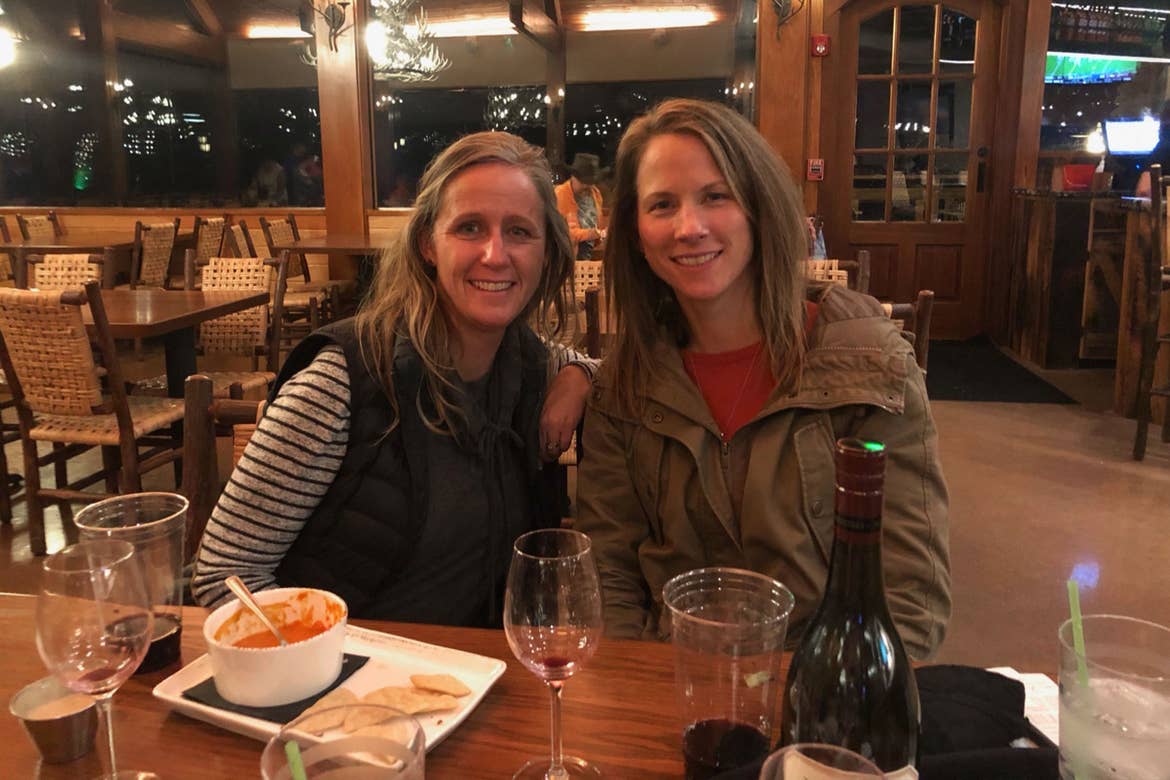 The dining room was gorgeous, as were the views, and everyone really enjoyed their meals on both occasions.

My girlfriends and I split a bottle of Meiomi Pinot Noir and appreciated that it wasn't completely overpriced.

I personally loved the hot French Onion Soup and Greenbrier Salad (filled with greens, apples, caramelized pecans, cranberries, lemon vinaigrette and GOAT CHEESE).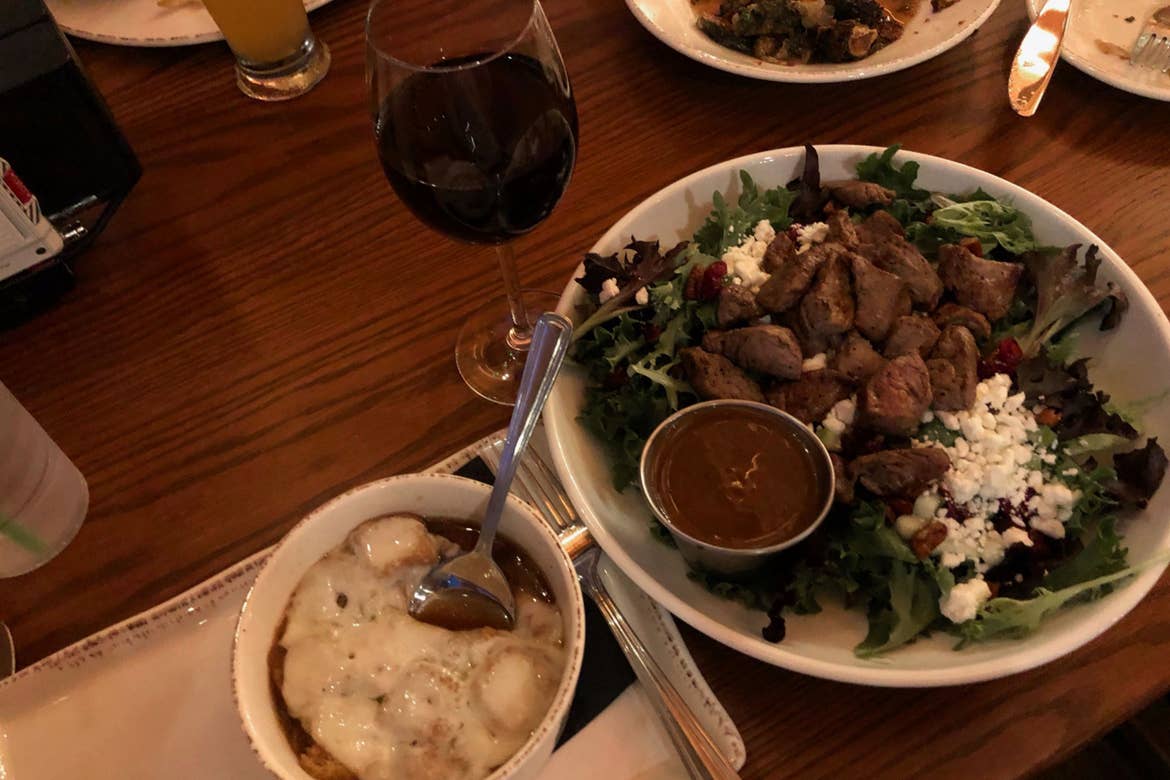 Pro tip: Just know that after dinner, you may have to wait in a long line to either take a shuttle bus or the lifts/gondolas back down. We didn't mind, but we were surprised to see the long line when we left the restaurant.

If you'd hate that kind of claustrophobic "get me off this mountaintop" feeling though, you might want to start heading down earlier than closing time.

I cooked most of my meals, but my work team dined out for breakfast at the Log Cabin Pancake House, which is right across from the resort.

They said it was very good, as we had expected after seeing very long lines out the door every single morning.


---
Need more hiking tips?
---
5. Spotting Wildlife
While we were waiting for our turn to head down and out of Anakeesta, we encountered ... a BLACK BEAR!!!

Yes, a real bear went RIGHT by us, scrambling up a tall tree and then literally hanging out for quite a long time as we enjoyed this up close and personal encounter (with lots of photos, of course).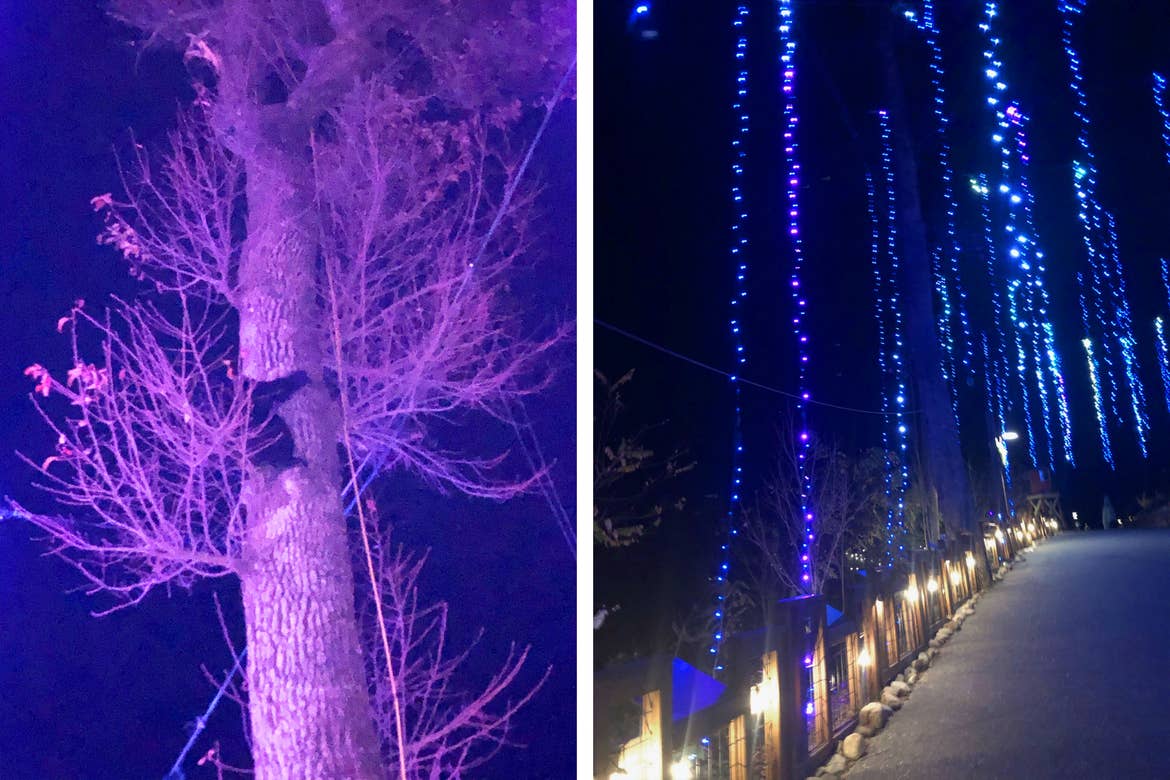 The Anakeesta staff informed us that they often come out at night as the crowds leave, foraging for food and lumbering around.

We were kind of surprised by how casual they seemed about it, but we LOVED our bear encounter (especially since it turned out well for us—you know—safety and not getting eaten-wise).

On another occasion, my work colleague and I saw more black bears on the hillside while we rode the chair lift up during broad daylight. They were just eating berries and enjoying the sunshine, doing bear stuff.

Gatlinburg visitors can also expect to spot white-tailed deer, chipmunks, wild turkeys and other animals in the Smoky Mountains.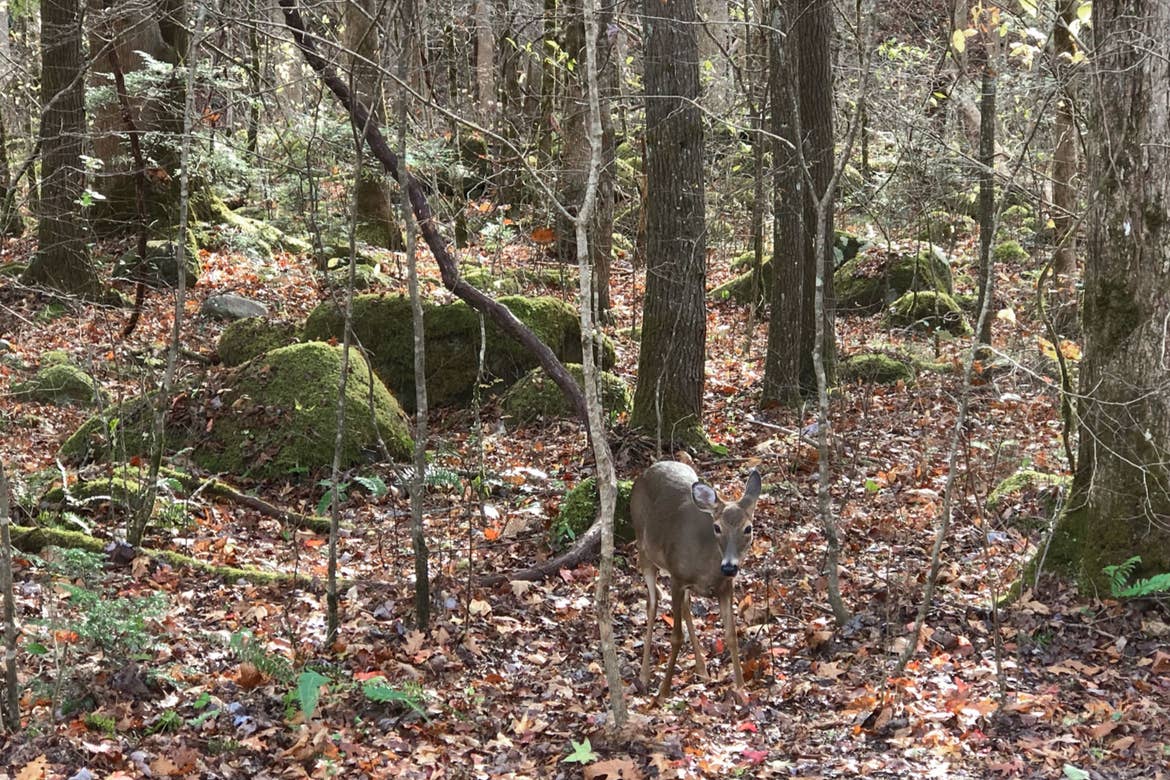 Look closely for one of Bambi's friends!

On a previous Tennessee trip to the popular Cades Cove section of the national park, I also saw lots of wild horses.

Just be aware, alert and careful: Never ever try to pet or get too close to a wild animal and read up on what to do if you come across a bear before you head out into nature.


6. Relaxing in Our Cozy Mountain Villa
After our bear encounter, we headed back to the resort and enjoyed some downtime. After working remotely and staying put in our houses for months, it was really fun just being somewhere else.

Our villa had two bedrooms (one with a king and one with two full beds), two full bathrooms, a full kitchen, dining room, living room with a fireplace, our own washer and dryer, and a gorgeous mountain view balcony.

The decor and design made you REALLY feel like you were in the Smoky Mountains, which is something I love and look for when I book accommodations.
I hate being in a cool, distinct destination and having my room feel like a blah, boring, basic "I could be anywhere" situation.

My husband's stance is, "It's just a place to put your head in a bed," but I really appreciated the wood beam and stone details and mountain lodge-like accents, such as an antler-like chandelier over the dining room table, and fox, deer and bear paintings on the walls.

Every morning, I made coffee in the villa kitchen, turned on the fireplace and sat out on the balcony watching the morning mist slowly burn off as the sun would rise.
In the evenings, I pretty much did the same each night, but with wine. I loved being able to hear the nearby creek's rushing water and getting to enjoy mountain views without even having to leave my villa.

(Getting cozy and watching Hallmark Channel Christmas movies on the living room and bedroom TVs was a great seasonal treat as well!)

Oh, and I also loved being able to do all my laundry before I headed home in my villa's washer and dryer.

I always like coming home with clean laundry in my suitcase, but this was especially a perk this time with dirty hiking gear and with COVID-19 cleanliness at top of mind.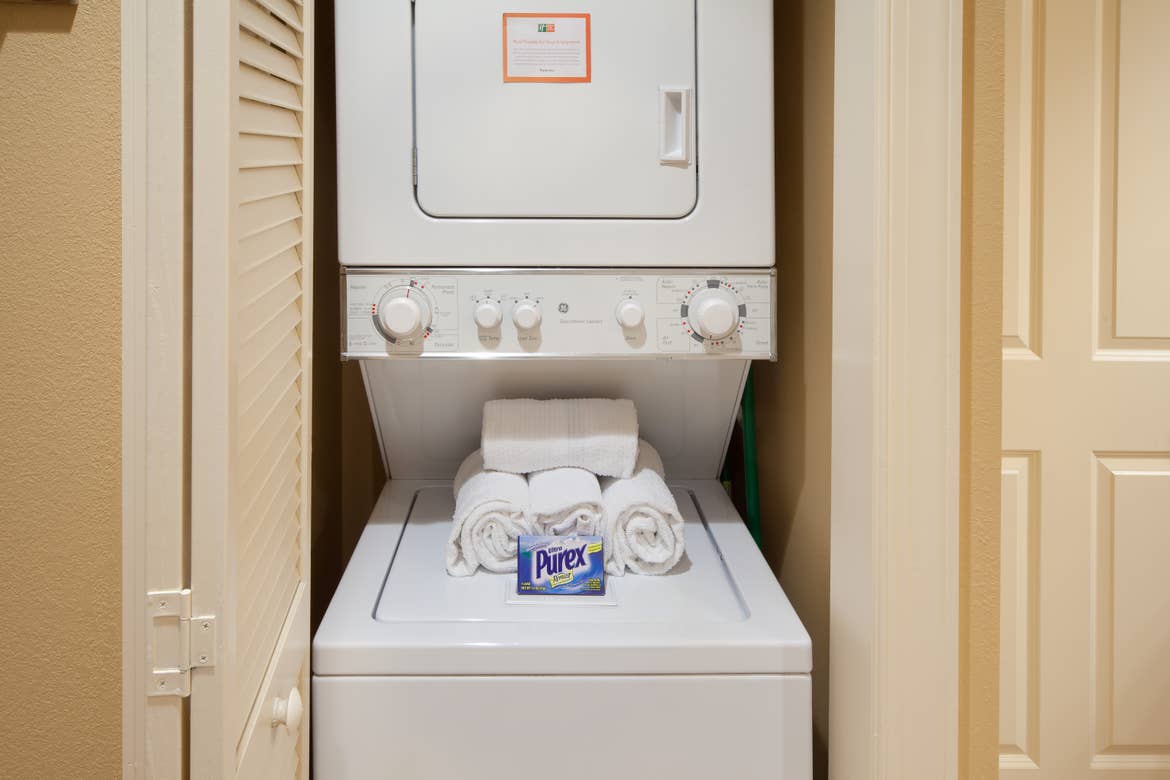 COVID-19 note: As part of our resort-wide Safe Travels program, the safety of our guests and team members is a priority.

I was both a guest and employee during this visit and I was 100% comfortable while seeing our program in action. Masks in common areas, hand sanitizer and a virtual check-in queue that put my mind at ease, as did the safety seal on my villa door when I arrived.

And while I still wiped down a few items and areas with travel Clorox wipes, my villa felt VERY clean.

Plus, you're in great hands with our Smoky Mountain team, led by award-winning Gatlinburg General Manager of the Year, Zach Rebert.


7. Enjoying Mountain Overlooks & Photo Ops
Speaking of mountain views, you don't have to hike or seek out nature trails to take in the surrounding Tennessee beauty.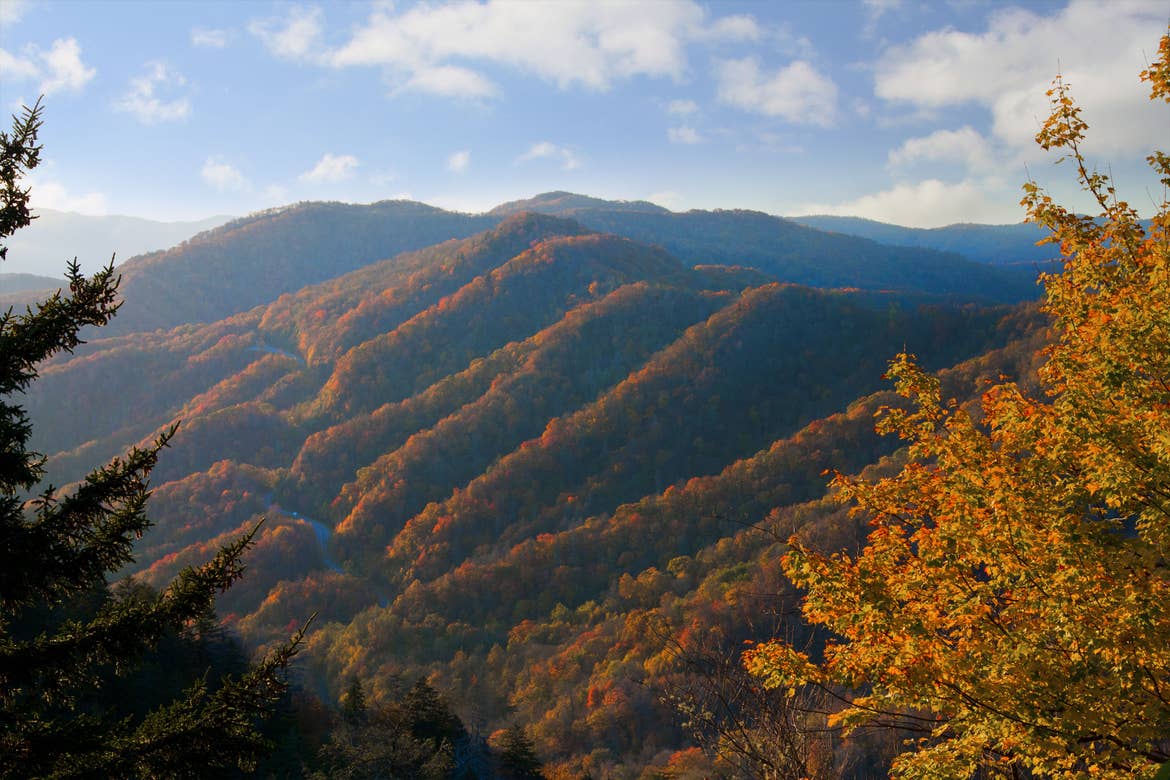 There's an amazing outlook right on the Gatlinburg Overpass, aptly named the Gatlinburg Scenic Overview, that you can just drive up to, park and check out.

It's great for vacation photos and gazing out at the beautiful scenery.

Another "must" in my book is pulling off (safely) to take a photo at the National Park entrance sign.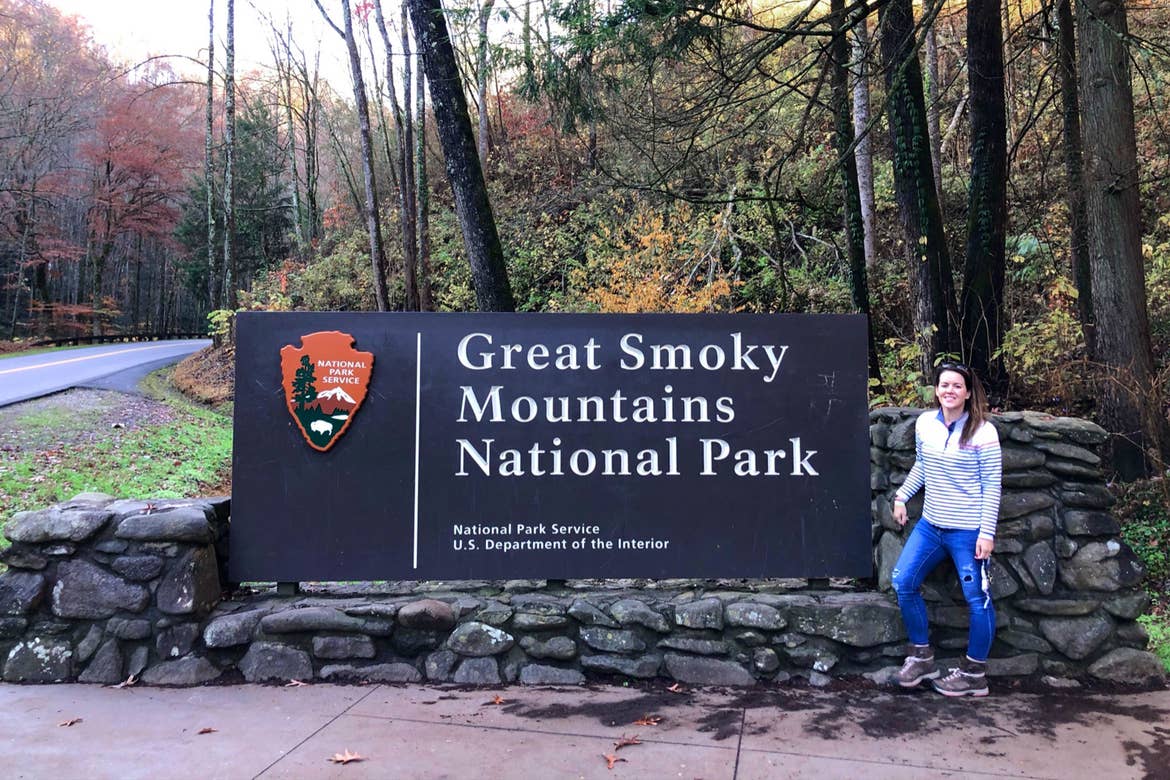 There are four or five parking spots and, typically, a few families waiting their turn to take a photo.

As a national park lover, I had to get this snap for my collection and travel memories, even though I don't have a passport stamp book.

Don't forget to take a picture with our Smoky Mountain Resort sign, too! While I haven't been to all of our 28 resorts yet, this is definitely my favorite entrance so far with the bears and babbling brook!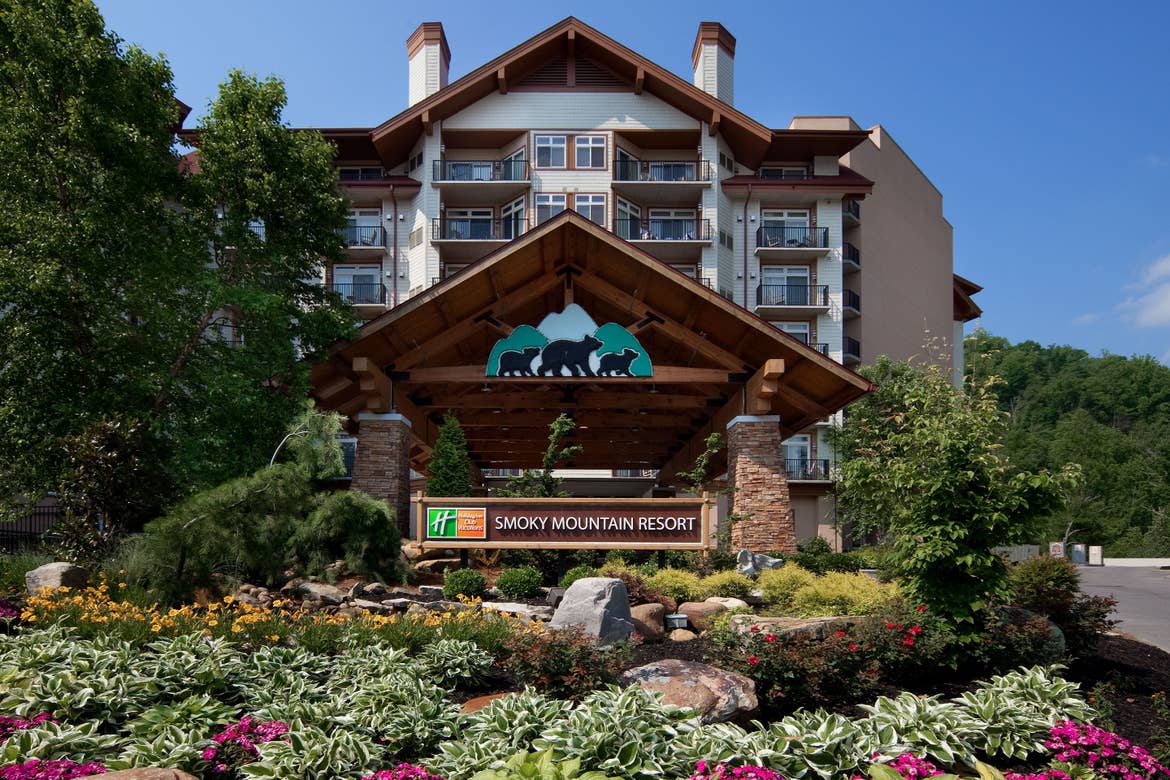 8. Visiting the Iconic Dollywood® Theme Park
My girlfriends left late Sunday afternoon to drive back home to Knoxville, but my flight home wasn't until Monday night.

So, I had some extra time for some solo traveling on my own.

(Reminder: This was my very first travel experience since COVID-19, and I honestly was very nervous about flying.)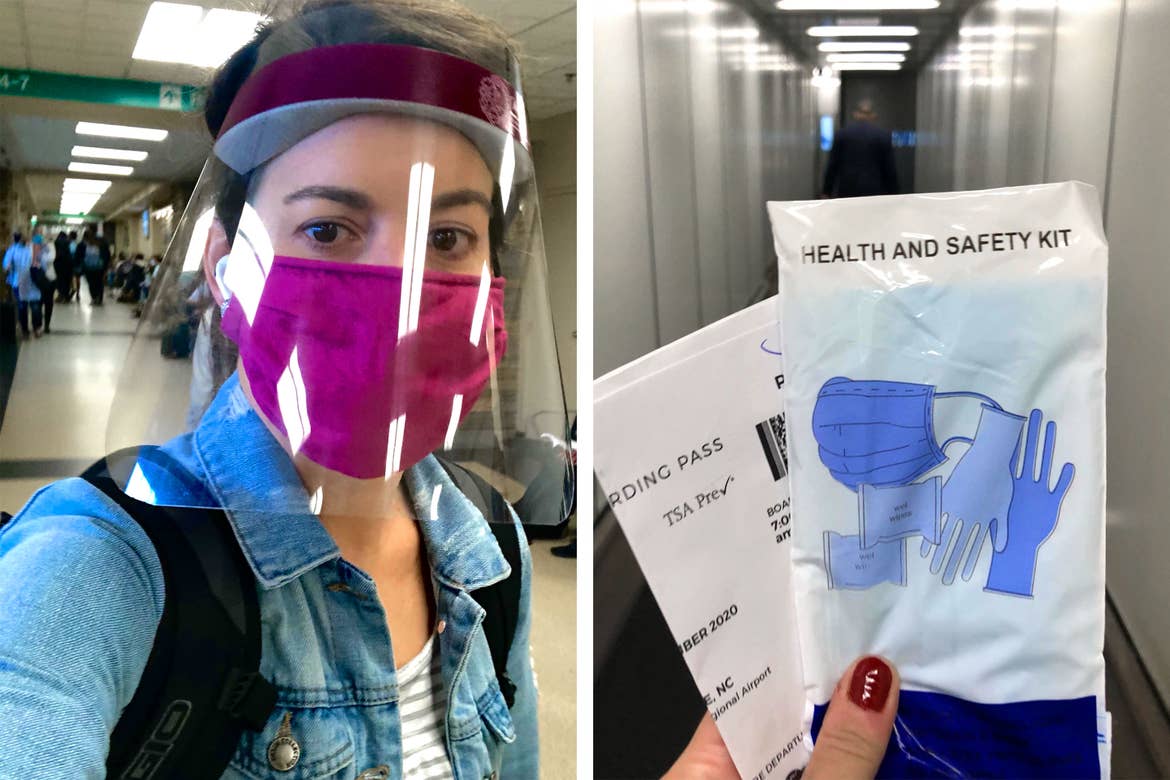 I ended up having a REALLY positive and reassuring experience, but it was more important to me to pick flights that were direct than flights that fit my "perfect itinerary."

So, I chose a direct return flight that left really late on Monday evening instead of taking a more convenient flight with connections. My POV: the less travel time, and the less time spent in airports, the better.

All that being said, I was on my own for Sunday night and all of Monday. Never one to miss out on maximizing time in a new, different city, I bid farewell to my friends, changed and headed out for my very first time at ... DOLLYWOOD!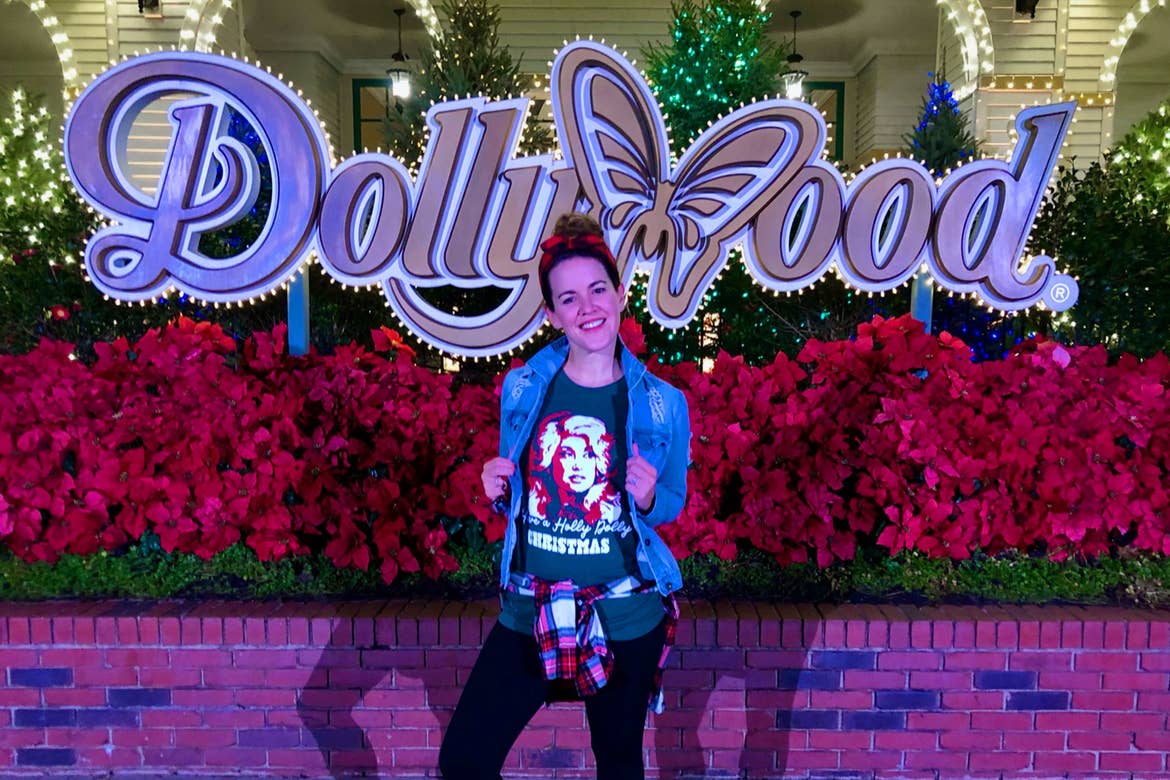 It took me just 19 minutes to drive to Dollywood from Smoky Mountain Resort, which made the solo adventure less daunting. So convenient! And no traffic.

And since I arrived around 6 p.m., they didn't even charge me for parking. Thank you, Dolly!

I'd been to Tennessee countless times for work but never seemed to be able to squeeze in a visit to Pigeon Forge.

I LOVE love love Dolly Parton and was like a giddy little kid, grinning and hugging myself with excitement and appreciation when I arrived.

(Since I had plans to share my honest opinions and reactions about Dollywood here on the Checking In blog and our Holiday Inn Club Vacations® social accounts, my admission was complimentary thanks to the PR team at Dollywood.)

Dollywood was decked out for its Smoky Mountain Christmas event, which was nothing short of breathtaking after dark.

They REALLY know how to celebrate with lights, music and even carolers. My hands-down favorite part was the 50-foot tree located in the Plaza at Wilderness Pass.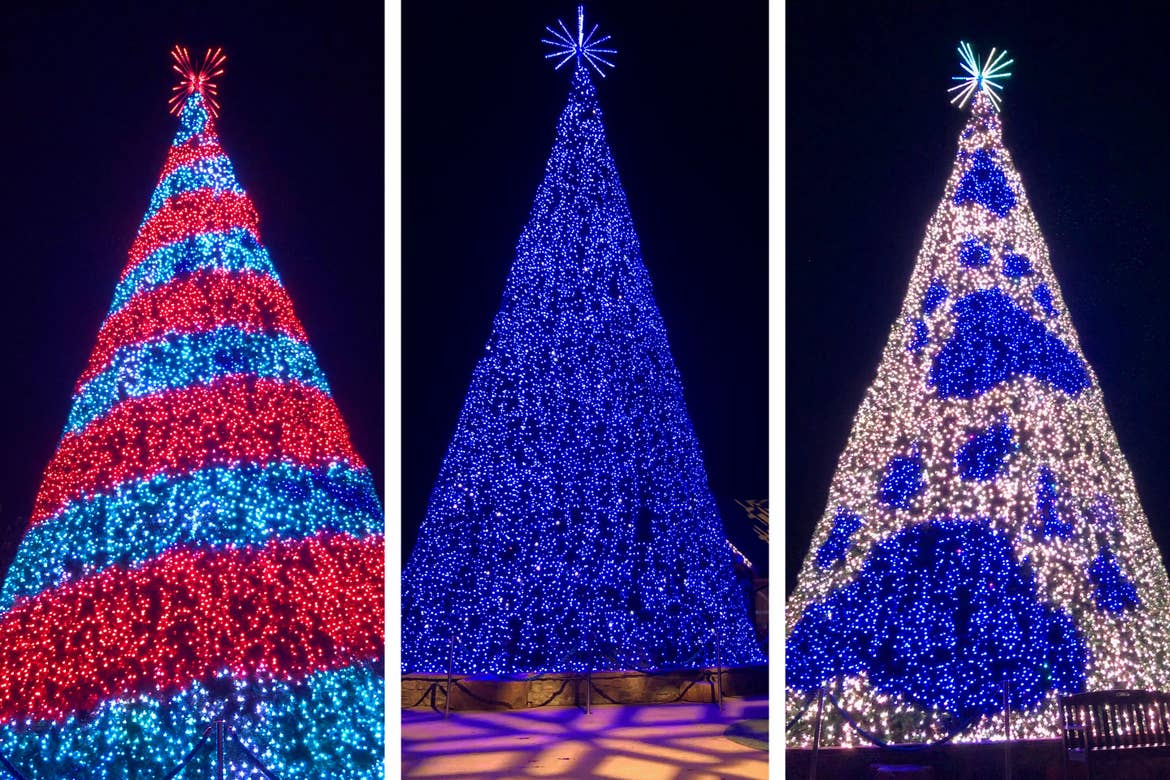 Every 20 minutes, there was a show during which the tree would come to life with LED lights and animations set and synchronized to music, all with a grand finale of (fake) SNOW!

The little show even features a popular Dolly Parton hit, Circle of Love, and sweet polar and black bear projections.

If this looks and sounds familiar, that's because this is the tree that was featured in the Hallmark Channel Christmas movie, Christmas at Dollywood! It was so good, I watched it twice.

Another favorite was the Northern Lights at Glacier Ridge. It was a stretch of a walk through a wooded area with a canopy overhead filled with thousands of lights and nature sounds.

It was just gorgeous and really filled me up with the spirit of the season.

I was also lucky enough to stroll by right as carolers started their show in front of the Robert F. Thomas Chapel (yes, this theme park hosts a non-denominational chapel with services for guests every Sunday).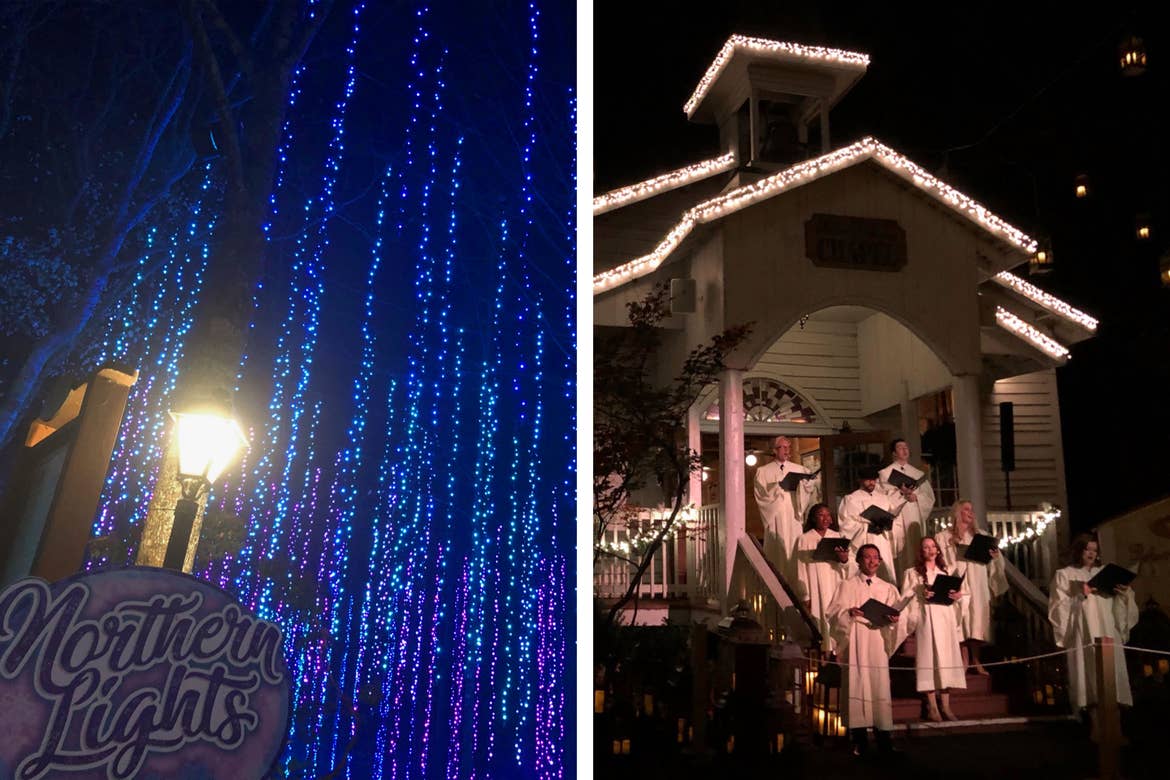 And while I didn't do any rides, no trip to Dollywood would be complete without a little shopping. There was so much Dolly and Smoky Mountain merchandise to choose from.

My travel tradition, though, is to always buy an ornament wherever I go, so my Christmas tree is full of vacation memories.

I would definitely go back!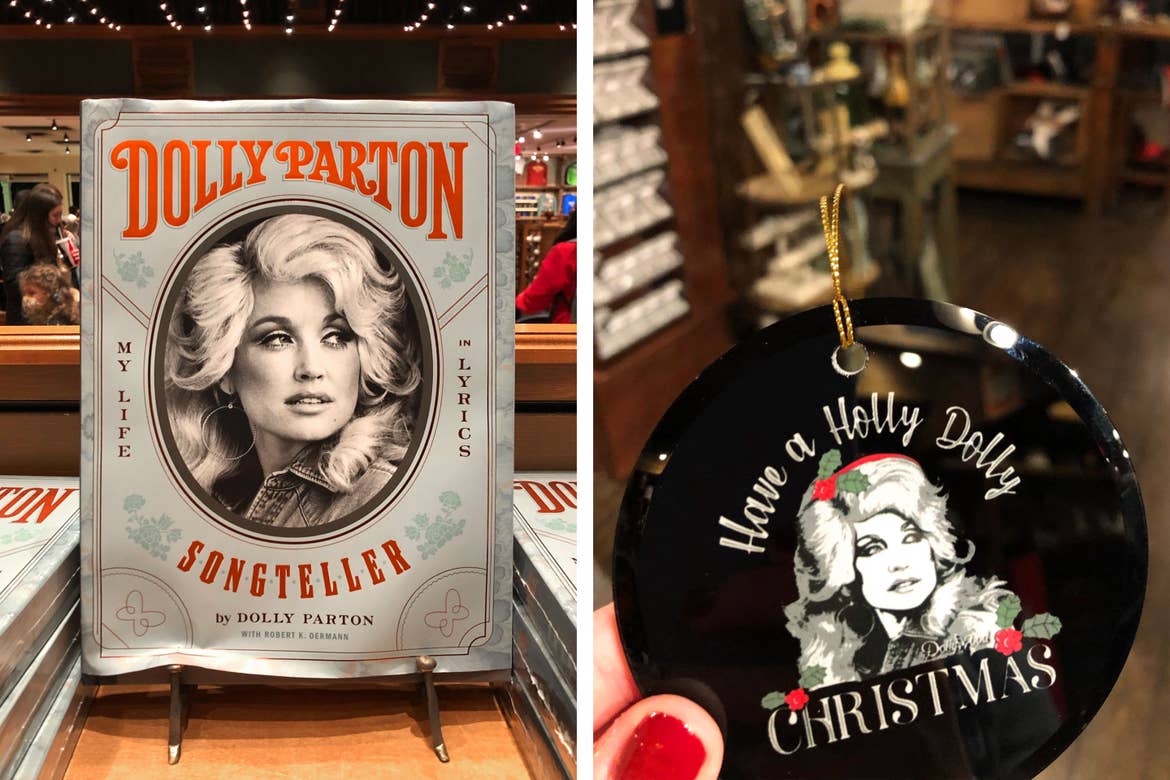 Beyond the theme park, Dollywood in Pigeon Forge also offers Splash Country (a water park), a resort, cabins and dinner shows (Dolly Parton's Stampede and Pirates Voyage).

And all just under 20 minutes from Smoky Mountain Resort!

COVID-19 note: I was so relieved and happy to see that Dollywood really took safety seriously.

I'd been back to Magic Kingdom and Epcot at home in Orlando, and Dollywood had just as many safety measures in place: pre-entry temperature checks, ample hand sanitizer stations, social distancing markers and safety signs all throughout the park.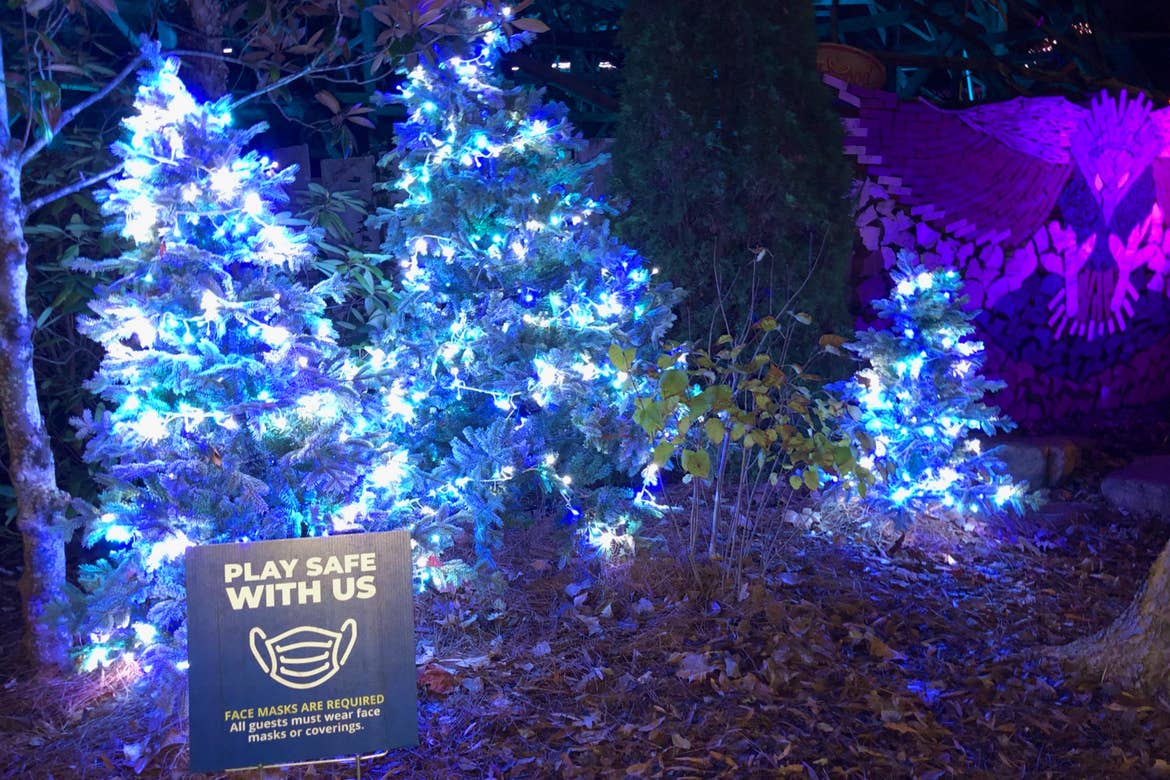 I felt very at ease. (Much, much more so than the crowded streets of downtown Gatlinburg, in fact.)


9. Exploring the Biltmore Estate
Remember how my flight home wasn't until Monday evening? Since I was flying home to Orlando direct out of the Asheville airport, I got up early and spent the day at the Biltmore Estate!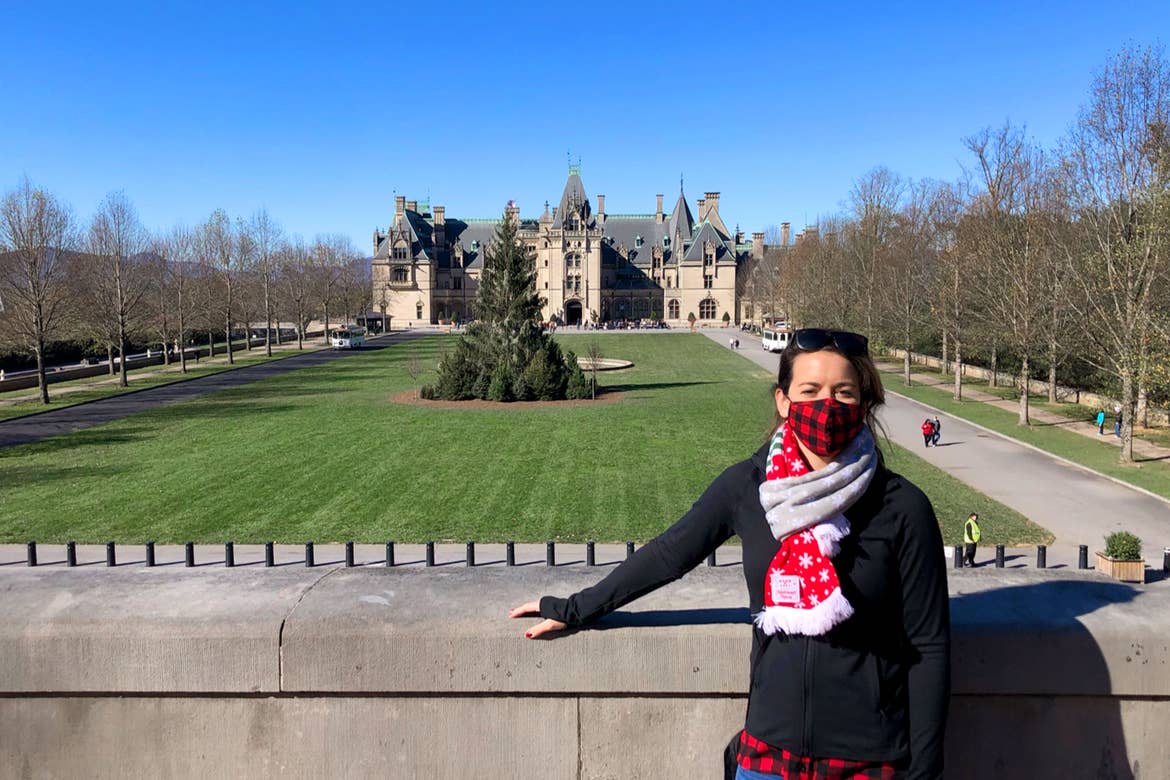 They, too, were celebrating the season with Christmas at Biltmore, which had lights, wreaths and hundreds of Christmas trees and Victorian-esque decor.

This was not my first time at the country's largest residence. I've been to the Biltmore before, several times actually, and I LOVE it.

Since I only had a few hours this time before heading to the airport, I took a quick walk through the estate, enjoyed lunch at Stable Cafe, did some window shopping and strolled through Antler Village, all in just a few hours.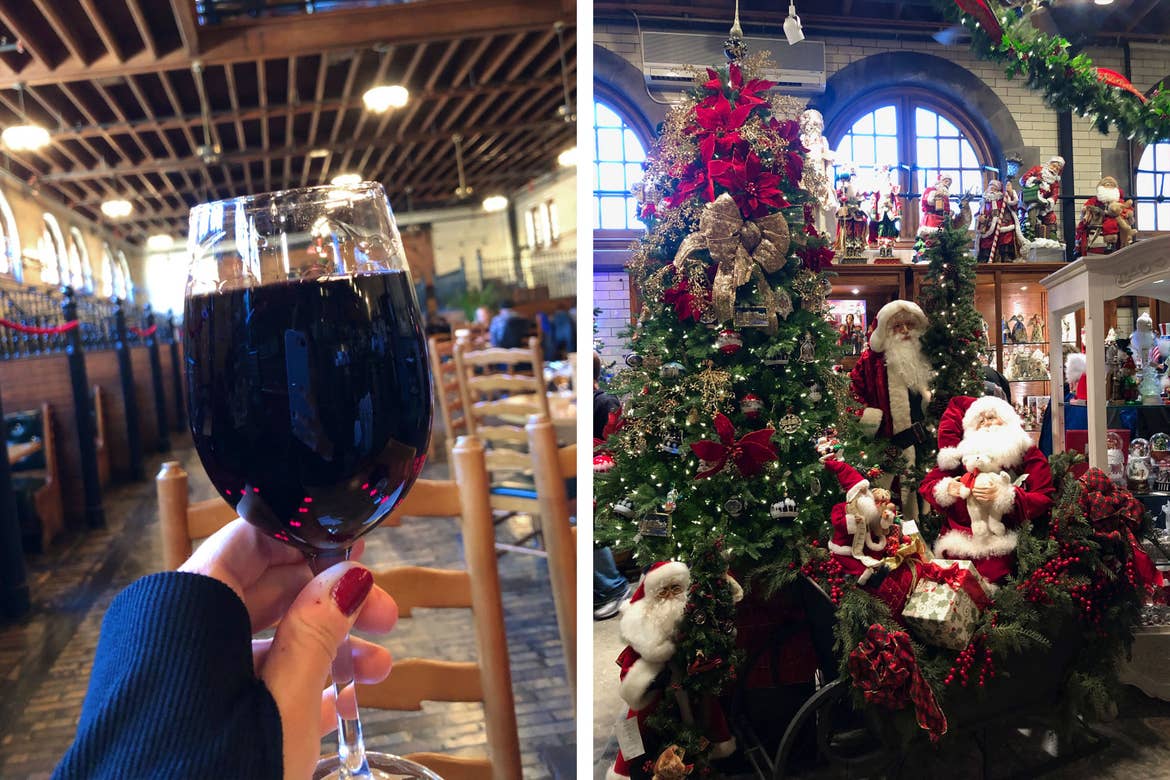 I definitely recommend taking more time if you're ever in the area. It only took me 90 minutes to drive from Gatlinburg to Asheville, while listening to music from our Great Outdoors Spotify vacation playlist.

It was a perfect day trip from Smoky Mountain Resort. Plus, the winding drive through the mountains is gorgeous.

Pro tip: Download the directions in case you lose cell signal. I lost my GPS at one point during the drive and got temporarily turned around until my service picked back up.

And while I didn't do the (awesome) wine tasting room this trip, I did buy some bottles of their Christmas wine—both white and red blend—to take home.

(They sell padded sleeves, so they won't break in your luggage. Just remember—you'll have to check your bag since liquids can't go in your carry-on.)

COVID-19 note: The Biltmore also got an A+ in my book for safety measures. Masks were required, they limited capacity and staggered estate tour entry times.

The restaurants kept every other table empty to allow ample space between diners, and staff reminded guests to stay and mind the social distancing markers.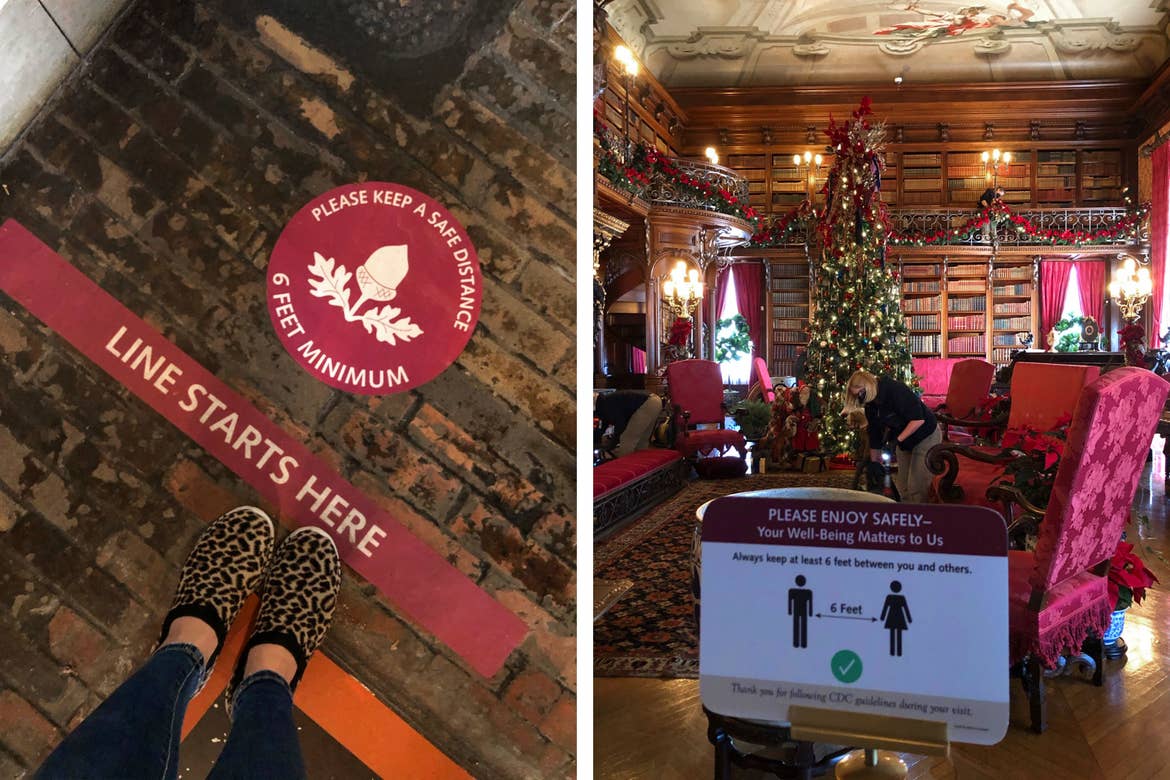 Heading Home
This trip was the first time I'd ever spent more than a few hours in Gatlinburg, and I really enjoyed the weekend.

From hiking and enjoying the top of Anakeesta to visiting attractions like Dollywood and the Biltmore, it was the perfect girls' getaway (and then some).

I truly hope you are able to enjoy a little change of scenery and safe reunion with your friends and family as well.

It made my heart happy to spend some simple quality time with some of my "friends for life."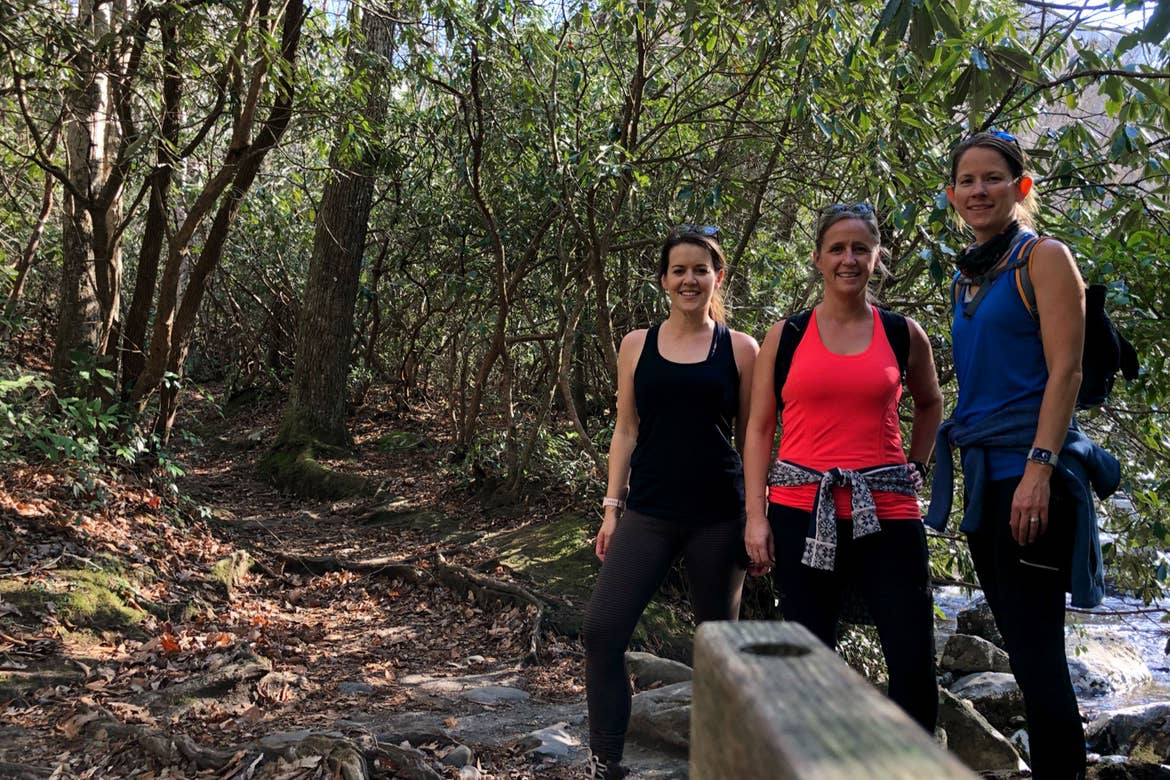 Oh—and by the way—the reason I was there for work was to shoot the lovely video below! I hope this gives you an even better glimpse into the fun that awaits you on your Gatlinburg girls' trip or family getaway.
Fall in Love with the Smokies
Make Smoky Mountain Resort your home for a family adventure filled with nearby nature, downtown excitement, an outdoor pool, indoor waterpark, firepits, spacious accommodations and new memories in the mountains.
So, pack your hiking boots, book online and enjoy your stay!


All information is subject to change. This article is a curated guide and is neither sponsored nor considered an official endorsement. Please be sure to check information directly with any/all tours, guides or companies for the most up-to-date and direct details.