Chris Harms
Chris is the guest engagement manager at our beautiful Hill Country Resort in Canyon Lake, Texas. Originally from Wisconsin, Chris is currently celebrating his second holiday season without snow on the ground. Throughout his life, he has always enjoyed traveling and trying new things. To date, he's been to over 30 different countries, where he's usually on the hunt for those unique, one-of-a-kind experiences.
I'm originally from Wisconsin, but in 2018, I traded my snow boots for cowboy boots and migrated to the gorgeous Texas Hill Country to join the Hill Country Resort team.

One thing I learned after the move? Canyon Lake, and even Texas Hill Country itself, is truly the ultimate location for everything in Central Texas.

Being an hour or so away from Austin and only 45 minutes from San Antonio, there's always something going on, especially during the holiday season!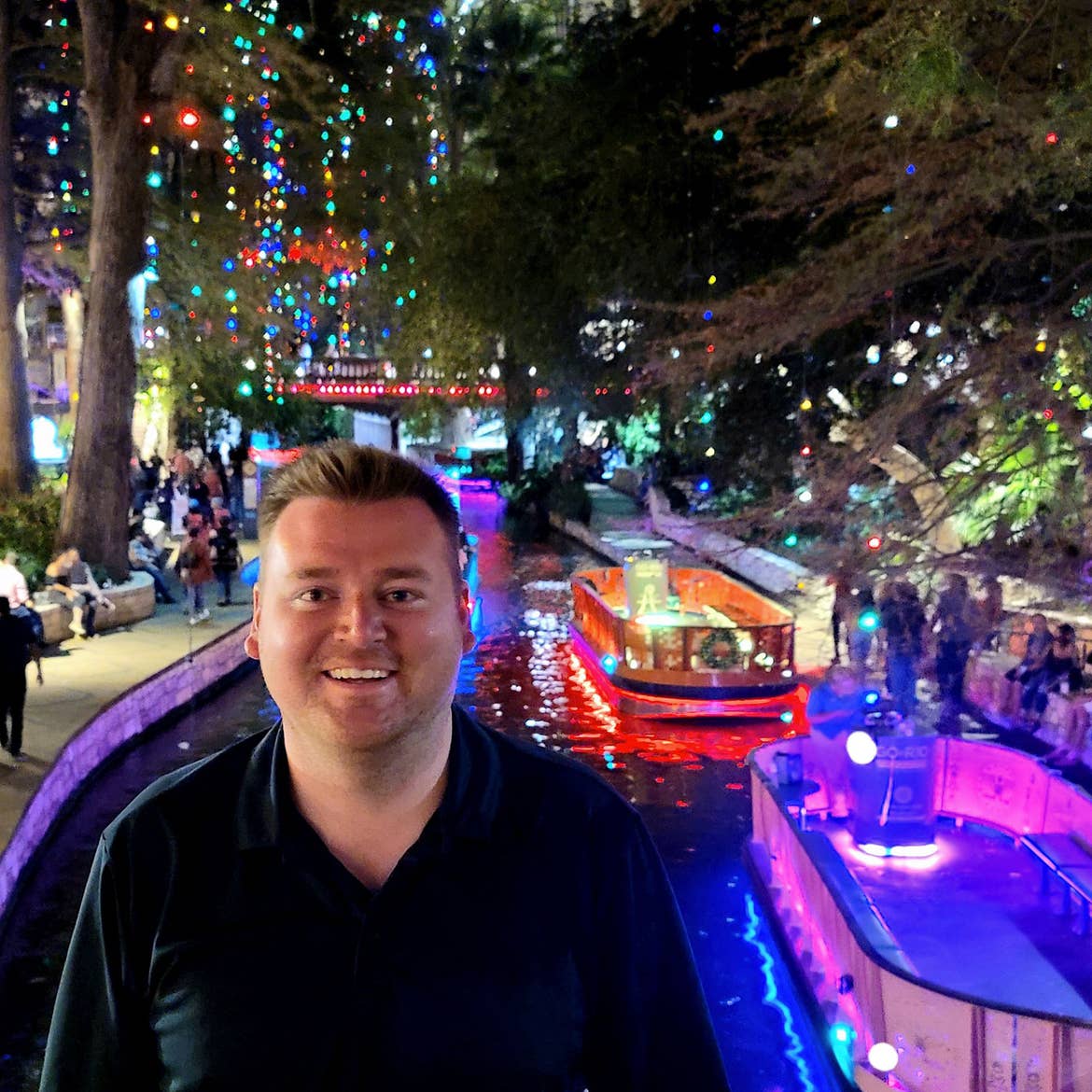 If your family is making winter travel plans in the area, or if you're a local looking for fun and festive activities, check out some of my top favorite things to do in Texas Hill Country during the holidays.

They say everything is bigger in Texas and that definitely includes how we celebrate Christmas!


1. Stroll Through Tower of the Americas & the San Antonio River Walk
The San Antonio River Walk is a must for anyone visiting Texas Hill Country for the holidays. Featuring over 100,000 lights draped over the San Antonio River, there's tons of pure holiday magic in the air.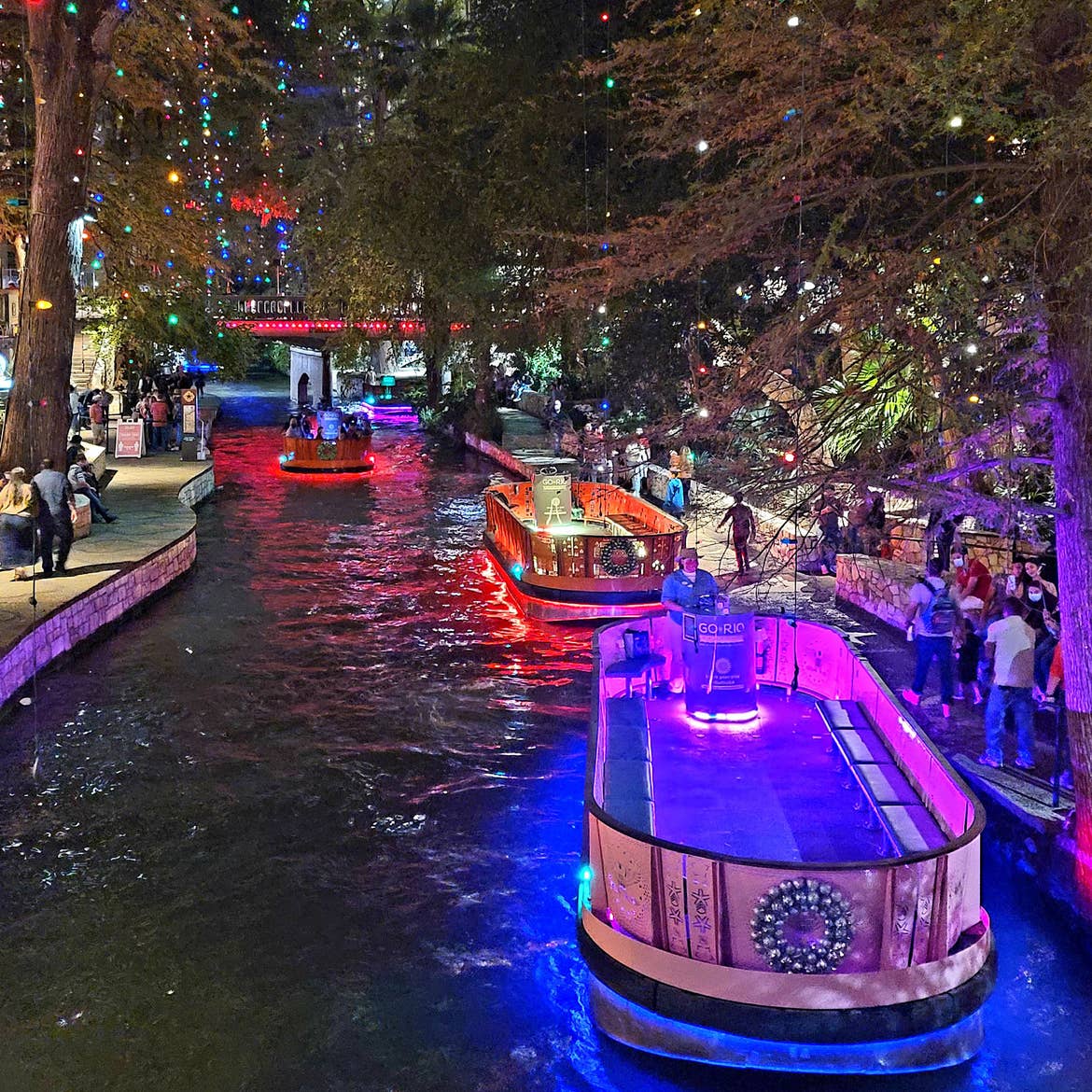 For those that haven't visited the city before, I'd recommend starting off the day at Tower of the Americas.

Built for the 1968 World's Fair, this starting location provides an easy escape from the downtown traffic, with easy access to the freeway, but also is within walking distance to the River Walk.

Tower of the Americas is also home to one of my favorite attractions in the city. Located at the top of the tower is the Flags Over Texas Observation Deck, which offers a 360-degree view of the city, over 700 feet in the air!

If time allows, definitely check out the "Skies Over Texas" 4D movie experience located at the base of the tower. It's included in the price of admission, and you'll get a glimpse into everything Texas has to offer during this interactive movie experience.

From Tower of the Americas, it's a quick walk over to the River Walk.

I'd actually recommend entering at the corner of Market and Alamo as you'll just be a short distance away from a GO RIO boat tour boarding location.

You truly can't visit the River Walk, especially during the holiday season, without taking a boat tour and seeing all the bright lights.

Be sure to get in line right at dusk, before the line gets too long, as there's typically a long wait for this activity.

After the boat tour, take a leisurely stroll along the River Walk, and you'll be surprised to see so many restaurants, stores, cultural experiences and the path itself decked out for the holidays.

Pro Tip: If you're staying with us at Hill Country Resort, you can pre-purchase your GO RIO River Cruises ticket at the front desk! The San Antonio River Walk is about an hour or so drive from the resort.


2. Take a Photo with Cowboy Kringle in Gruene, Texas
Located right on the shores of the Guadalupe River, Gruene is home to Texas' oldest dance hall and a number of different holiday surprises.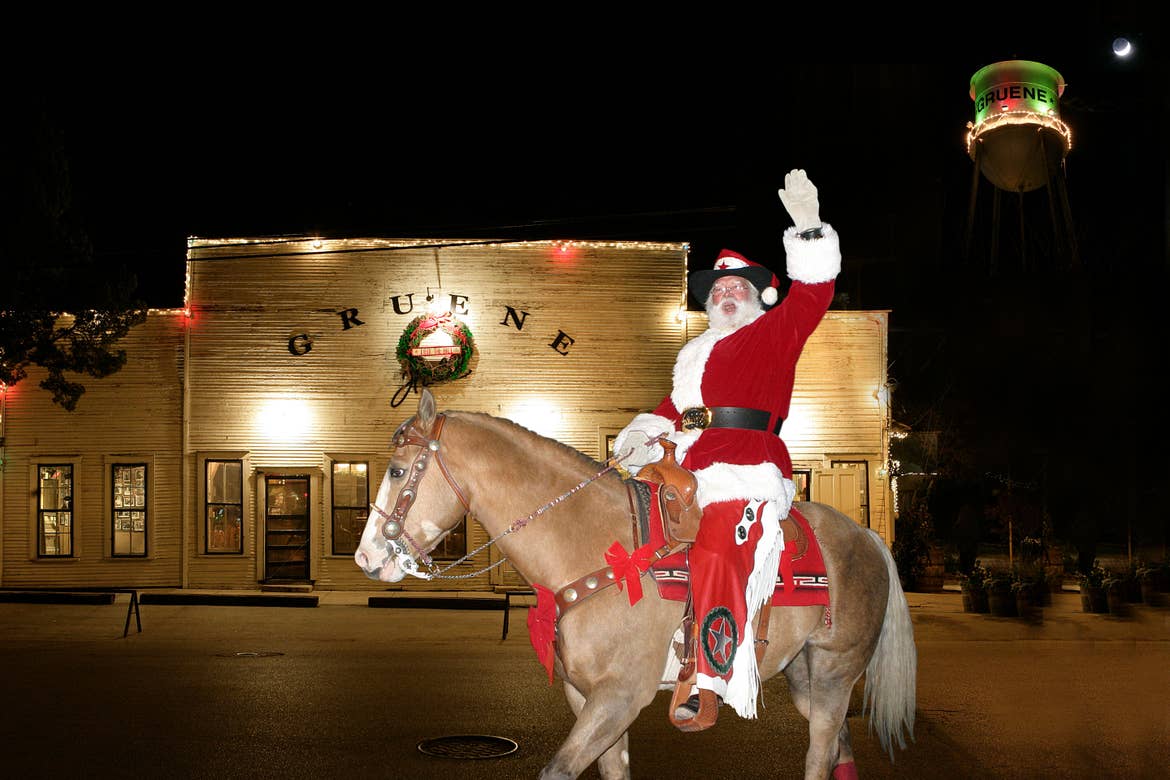 Photo courtesy of Gruene Historic District

Nothing is more Texas than getting your photo with Cowboy Kringle!

While most people know Chris Kringle, Cowboy Kringle is Gruene's very own special Santa who can be found around town throughout the holiday season.

Most notably, when he rides through town on horseback to officially kick off the season and flip the switch on all the town's holiday lights.

Gruene is also home to Gruene Christmas Market Days and Old Gruene Market Days where over 100 vendors can be found offering uniquely crafted items and special Texas food treats.

Both events are perfect for those (myself included) looking for that super special and unique holiday gift!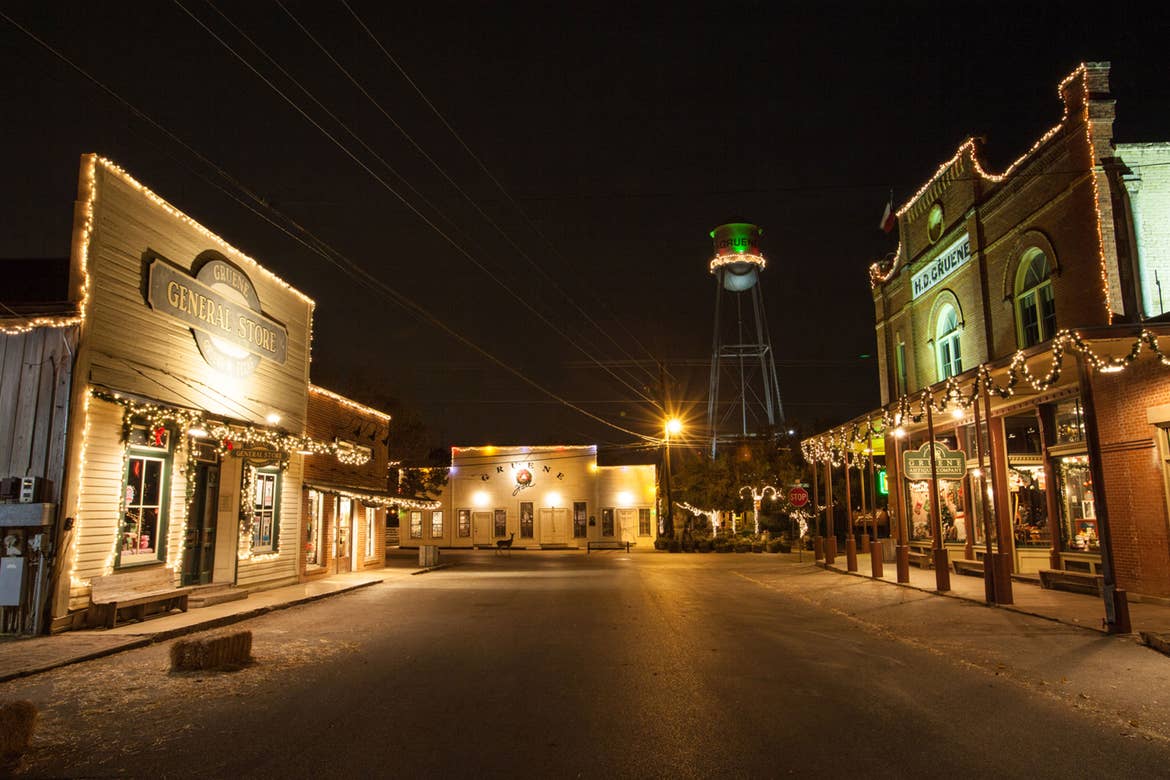 Photo courtesy of Gruene Historic District

When it's time to grab a bite to eat, I'd recommend The Gristmill, right in downtown Gruene. Be sure to check out their huge upside-down Christmas tree in the lobby, a tradition that has become quite famous in the area.


3. Grab a Fruitcake & Stollen from Naeglin's Bakery
First opened in 1868 — that's right 1868 — Naeglin's Bakery is the oldest bakery in all of Texas!

Located not too far from the resort in New Braunfels, Naegelin's is popular year-round but gets busier around the holidays because their famous fruitcake and stollen, a spiced sweet bread, makes an appearance on their shelves once again.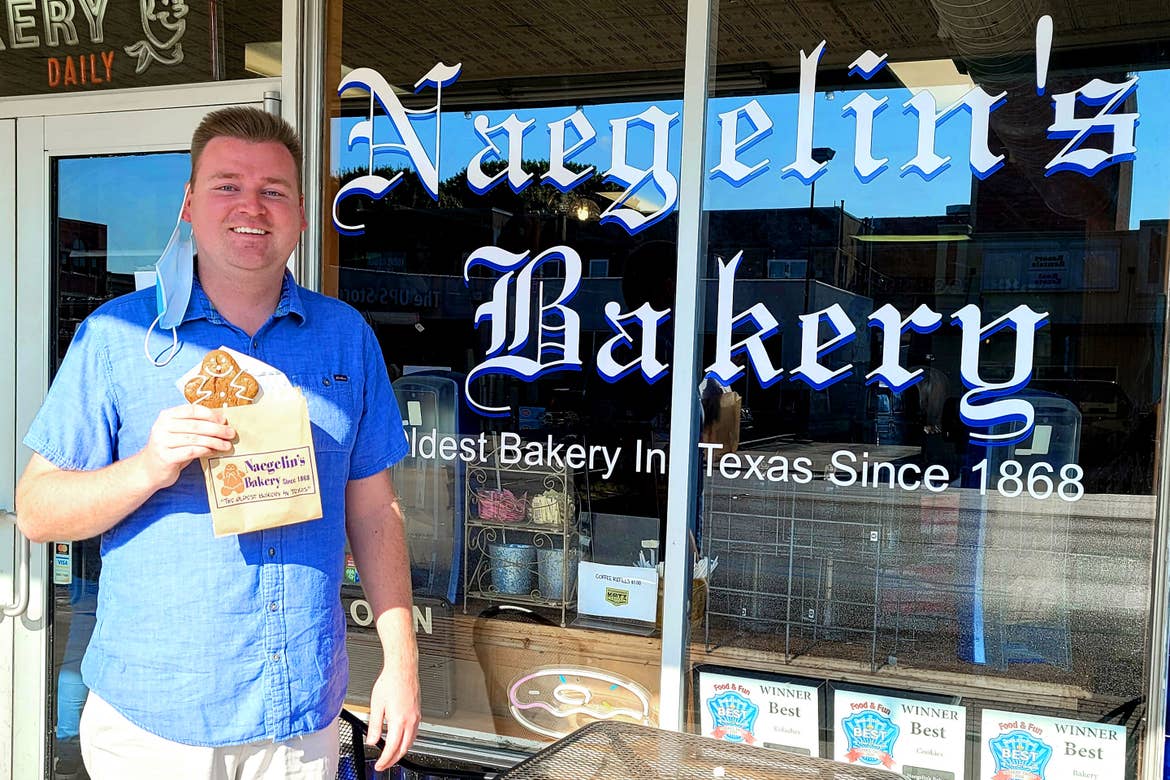 Besides its special holiday treats, the bakery is packed with a wide variety of items, many of which are still made with Mr. Naeglin's original recipes!

After your trip to the bakery, feel free to take a stroll downtown. The surrounding area is nicely decorated for the holidays and there's plenty of local shops and history to see, too.


4. Go Underground at Christmas at the Caverns
Already an awesome attraction not too far from our resort, Natural Bridge Caverns kicks it up a notch during the holiday season for "Christmas at the Caverns."

Naturally formed and discovered in March of 1960 by four college students, Natural Bridge Caverns offers guests a half-mile-long underground tour of the caverns, which are home to a variety of different stalagmites and stalactites.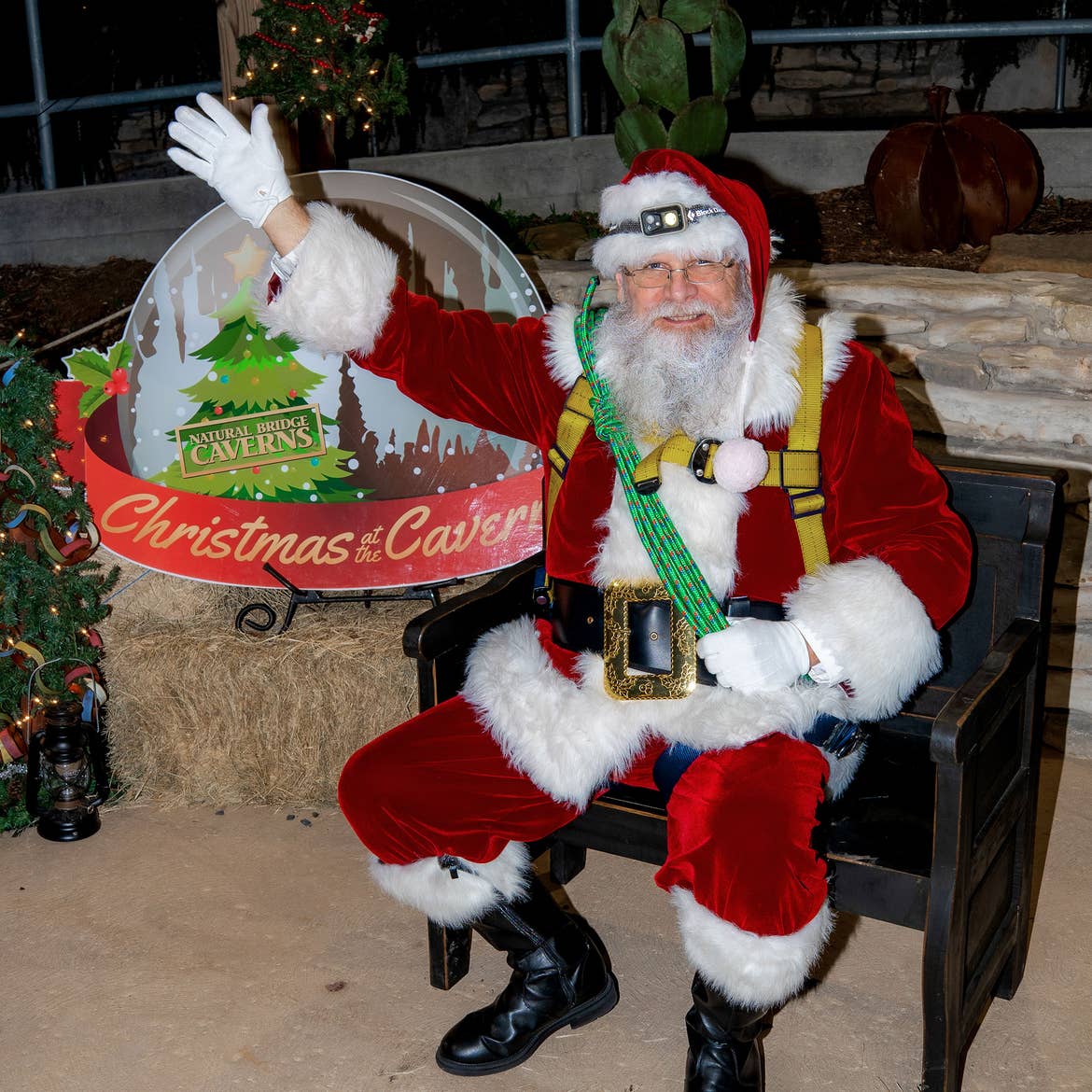 If you're brave enough, their Twisted Trails Zip Rails and Ropes Course is a great attraction for the older kids, while the Gem & Fossil Mining activity is perfect for the young ones and those looking to keep both their feet on the ground…

For the holidays, Christmas at the Caverns features Santa "Spelunker" Claus and creative holiday add-ons.

My personal favorite is their Trail of Lights walking tour, which is a 1/3-mile-long path decked out in holiday lights and their Christmas Campfire (which brings me back to winters in Wisconsin!).

You can even get all warm and toasty by purchasing s'mores supplies to roast over the open fire.

Maybe you're looking for even more adventure? Go next door and you'll find Natural Bridge Wildlife Ranch, which has an "African Safari Texas-Style."

It's a really unique experience as you drive through over 450 acres of Texas Hill Country, seeing dozens upon dozens of different animals.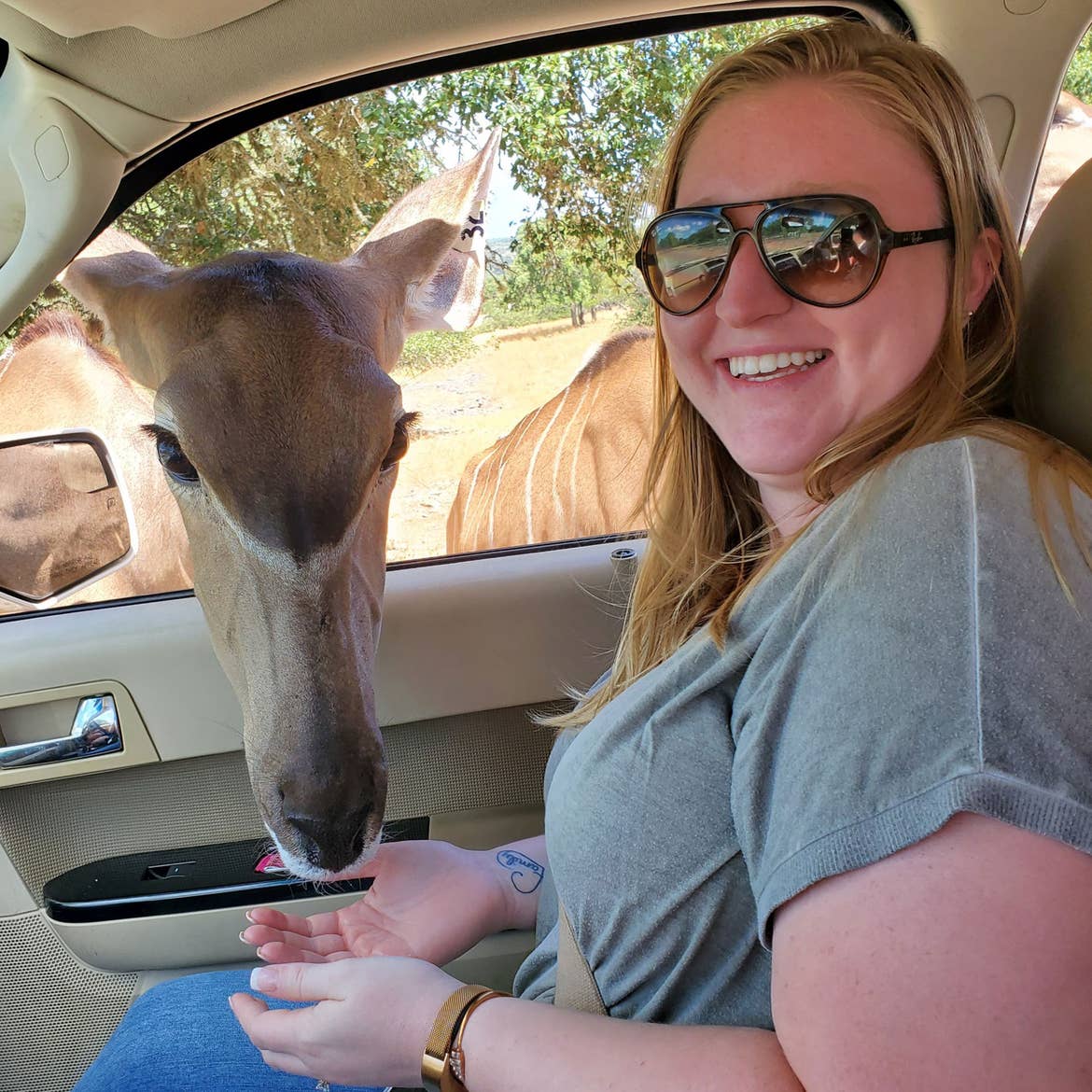 Kristen Connelly, assistant manager of guest engagement at Hill Country Resort, with the safari animals.

As you can see, you can really get up close and personal with the animals!

On your way out, be sure to stop and talk with one of the Wildlife Ranch's team members about their conversation efforts.

Pro Tip: You can also buy your tickets for this experience ahead of time with our front desk team members.


5. Sip on Hot Cocoa at Santa's Ranch
Santa's Ranch is a classic Texas Hill Country holiday experience where over 1.5 million lights come together to create a truly one-of-a-kind sight.

Growing up, I can remember visiting a variety of different holiday light displays, but nothing has compared to the authenticity of Santa's Ranch.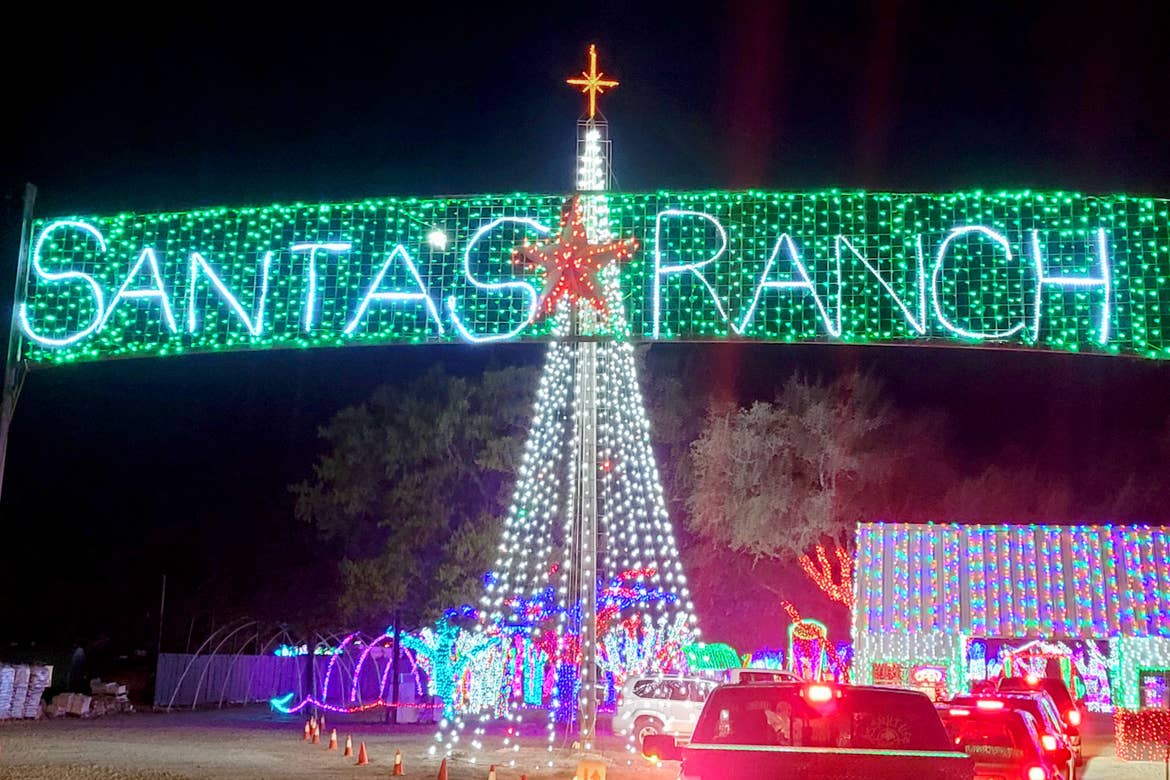 What really sets this experience apart is the personal feeling of the displays and setup of lights, many of which were created by the owners themselves!

If you plan on visiting, be sure to stop by the concession stand to grab some hot chocolate and kettle corn, which is made by a local schoolteacher.


6. Explore Sights & Sounds of Christmas
This is one of my teams' favorite holiday events in Texas Hill Country!

Typically taking place at a local park in San Marcos, this Christmas festival combines the fun and excitement of a carnival with the fun and excitement of the holiday season.

Featuring thousands of lights, multiple carnival rides and games, and plenty of different food options, this is truly a great opportunity for some good ole' family fun!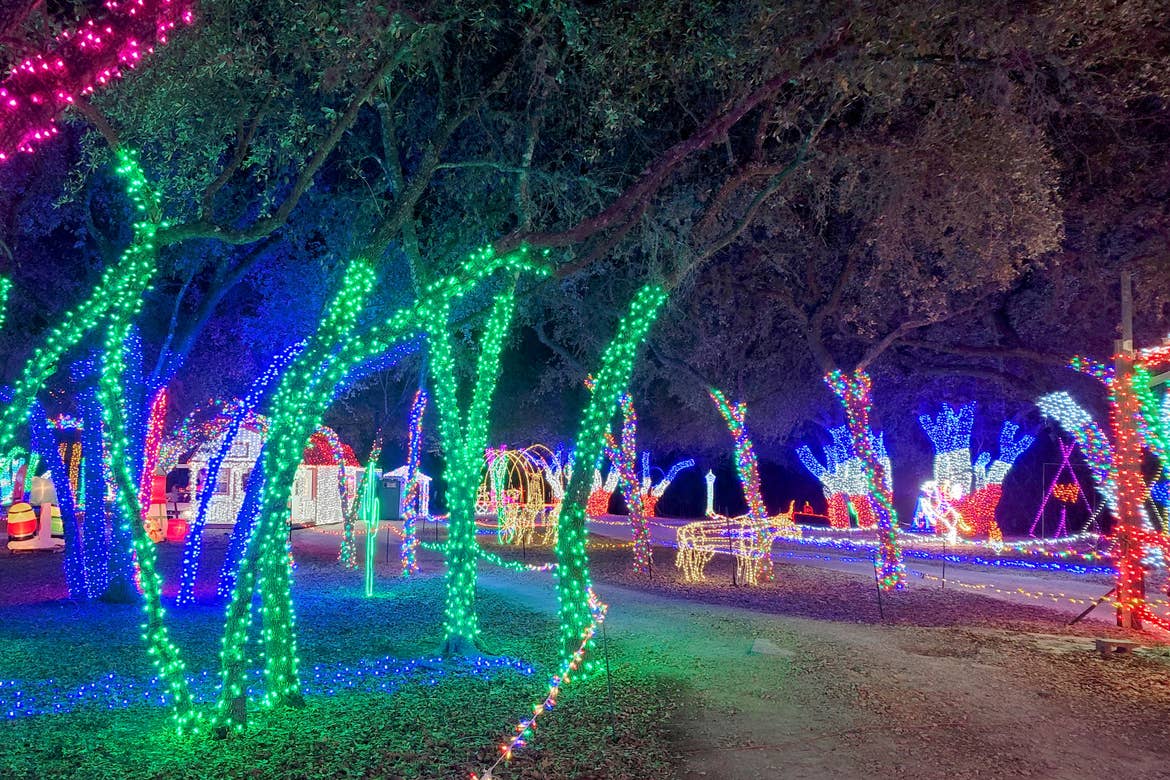 If you plan on attending in the future, be sure to check out the ice-skating rink, something I really hope I'll be able to do someday.

Ice skating rink in Texas? In 70-degree weather? Now that's some holiday magic!


7. Honorable Mention: Cozy Up at Hill Country Resort
If you really want to get into the holiday spirit during your stay with us at Hill Country Resort, pack cozy PJs, put on Christmas music, decorate your villa and whip up some fresh-baked sugar cookies in your villa's full kitchen.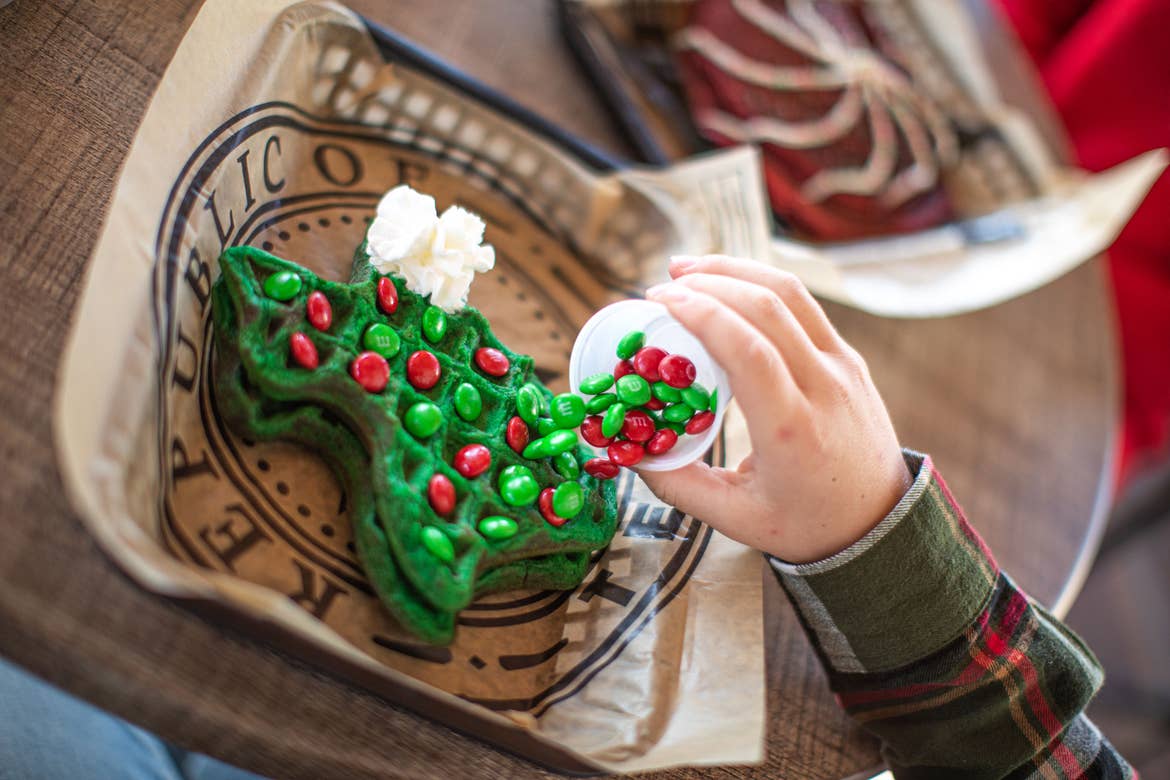 Since I've traded in my knit cap for a cowboy hat (remember, I'm from Wisconsin!), one thing I can tell you for sure is that the snow on the ground here in Texas Hill Country is most definitely fake (at least partially).

BUT — that doesn't stop us Texans from having a ton of holiday fun sans snow.

In my opinion, nothing beats taking a stroll through the River Walk and looking at all the holiday lights … while wearing a pair of shorts and a t-shirt.

Wishing you and yours happy holidays from Texas Hill Country!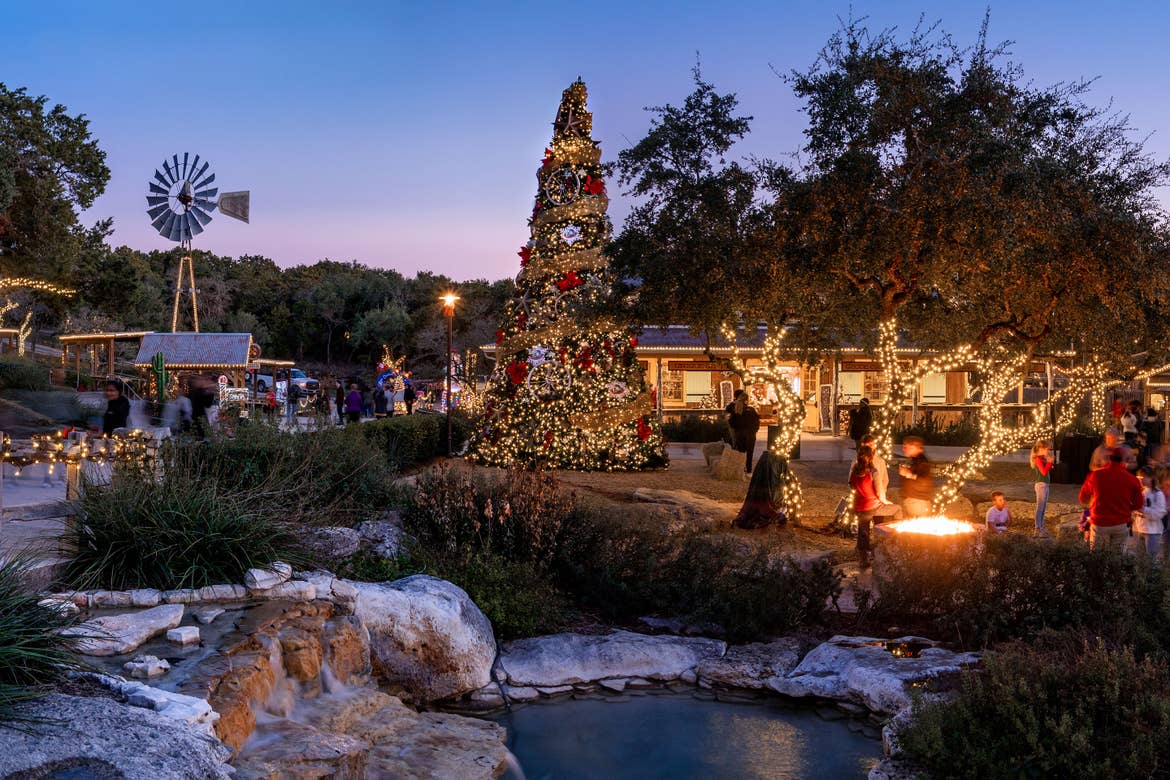 Photo courtesy of Natural Bridge Caverns


All information is subject to change. This article is a curated guide and is neither sponsored nor considered an official endorsement. Please be sure to check information directly with any/all tours, guides or companies for the most up-to-date and direct details.