Jennifer C. Harmon
Jenn is the Editor-in-Chief of the Checking In travel blog. She loves coffee, wine, writing, traveling, working with all of our amazing guest bloggers, and getting to tell our guests', owners' and team members' vacation stories. Jenn and her husband, Anthony, have mastered the art of the long weekend couples' getaway (sans kids). And while it's too hard to pick just one type of "favorite vacation," her three-way tie would be: a snowboarding trip, going to Hawaii or sailing with Disney Cruise Line.
There are so many new and different places I'm longing to cross off my travel bucket list, but a few very special places are always worth a repeat. And the sprawling Biltmore Estate in Asheville, North Carolina, is one such place I'll never get tired of revisiting.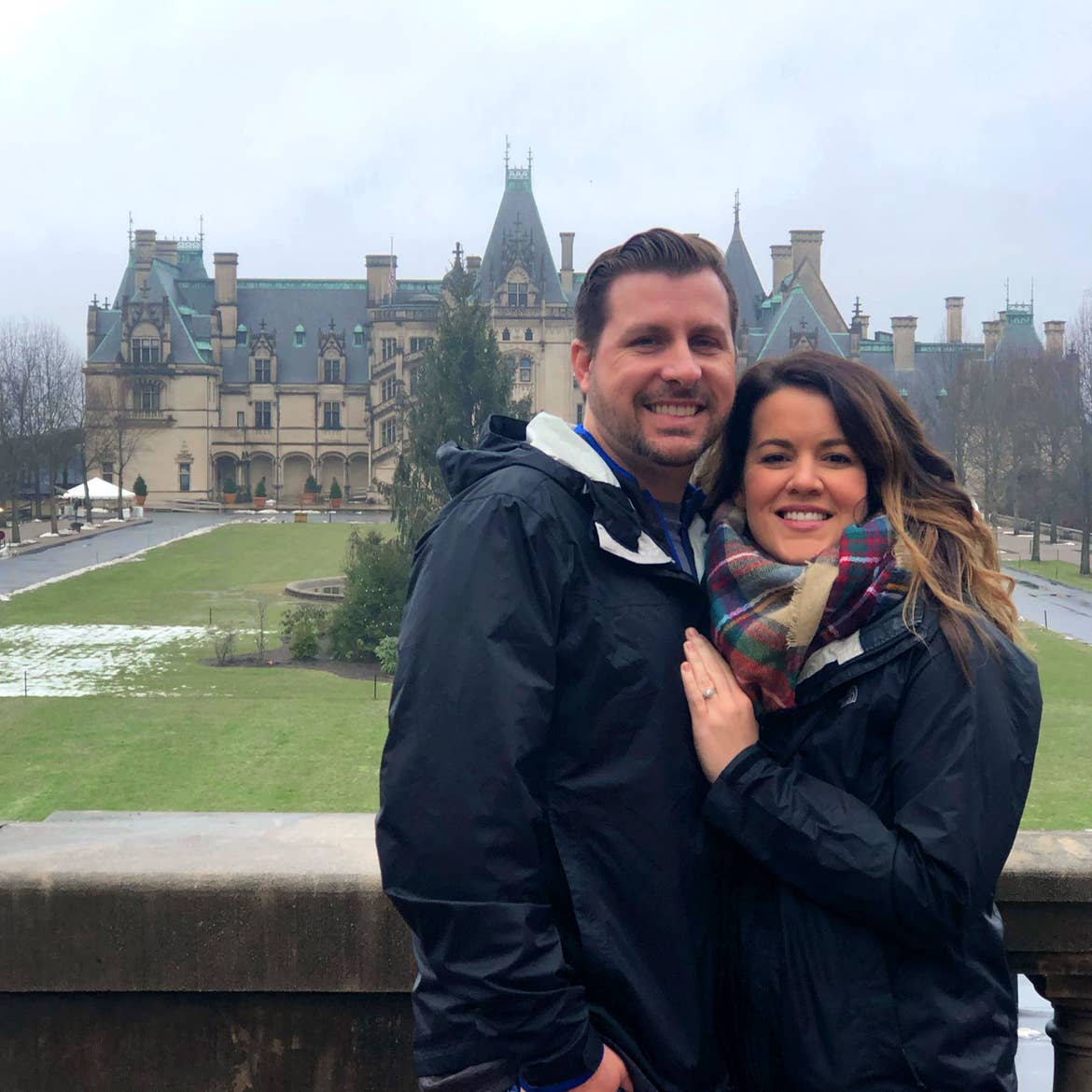 George Vanderbilt had this 250-room "country house" built back in the 1800s after falling in love with the Blue Ridge Mountain area. If you've ever wanted to pretend to be a commoner-turned-princess straight out of a Hallmark movie, this is totally the place to try out your curtsies and twirls. And even if you only have one day to spare on your Asheville vacation, I have a feeling you'll fall in love with the Biltmore, too.

With so much to do and see at this HUGE estate, I put together my top tips, must-see spots and even a full-day itinerary, so you can make the most of your Biltmore day. (Spoiler alert: the Christmas at Biltmore experience is a definite MUST!)


First Things First: What is the Biltmore?
The Biltmore Estate is a fascinating and beautiful place to explore. While George Vanderbilt started construction on this more-than-a-mansion in 1888, it took over six years to finish. Fun fact: He finally opened the doors to what's still considered the country's largest private residence to his friends and family in 1895 … on Christmas Eve!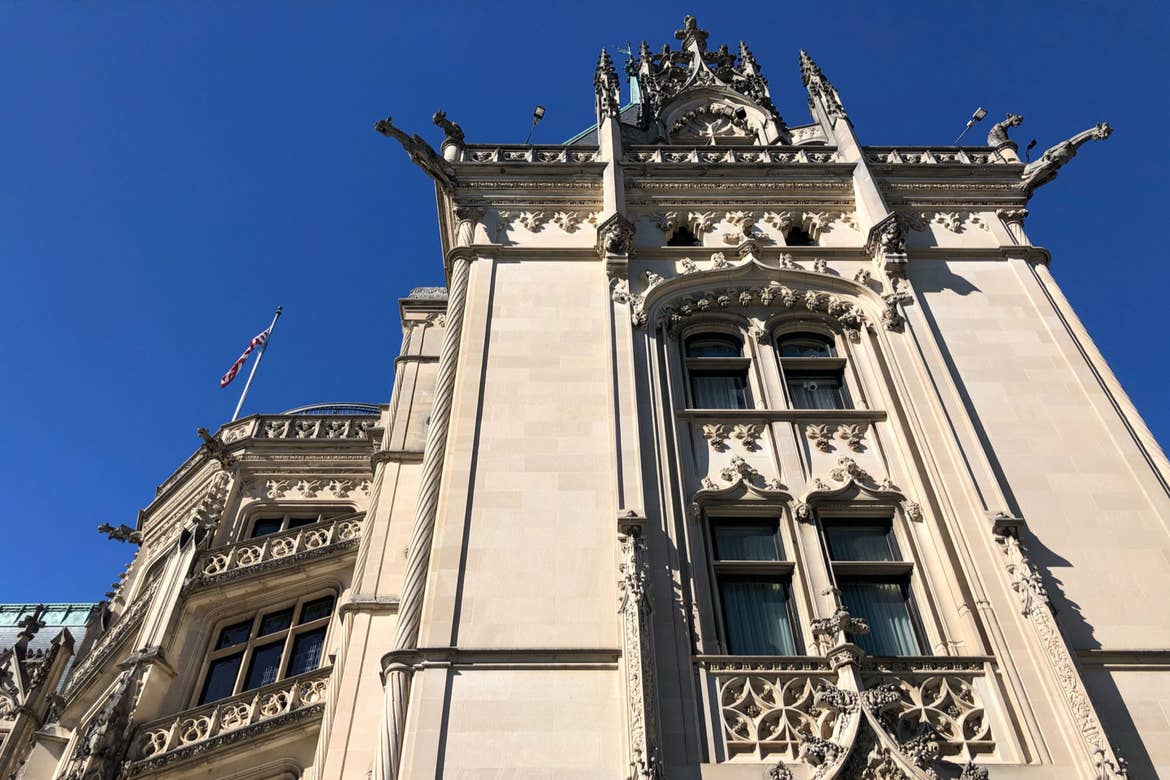 You can tour and learn all about the "house" that feels more like a castle and the grounds that feel more like a small town with your day ticket. But with 250 rooms, 65 fireplaces and 175,000 square feet of splendor … you might be wondering how the heck to tackle seeing it all and where to even start. And that's just the house.

The surrounding grounds spread across 8,000 acres with lush gardens, a greenhouse, a whole other section of the estate called Antler Hill Village, 15 places to eat and drink, a winery with a complimentary tasting room, shops, a spa, farmyard with animals, playground, hiking, biking, tours and craft demonstrations that will transport you to another time. Oh, and a very special Christmas at Biltmore experience. Phew!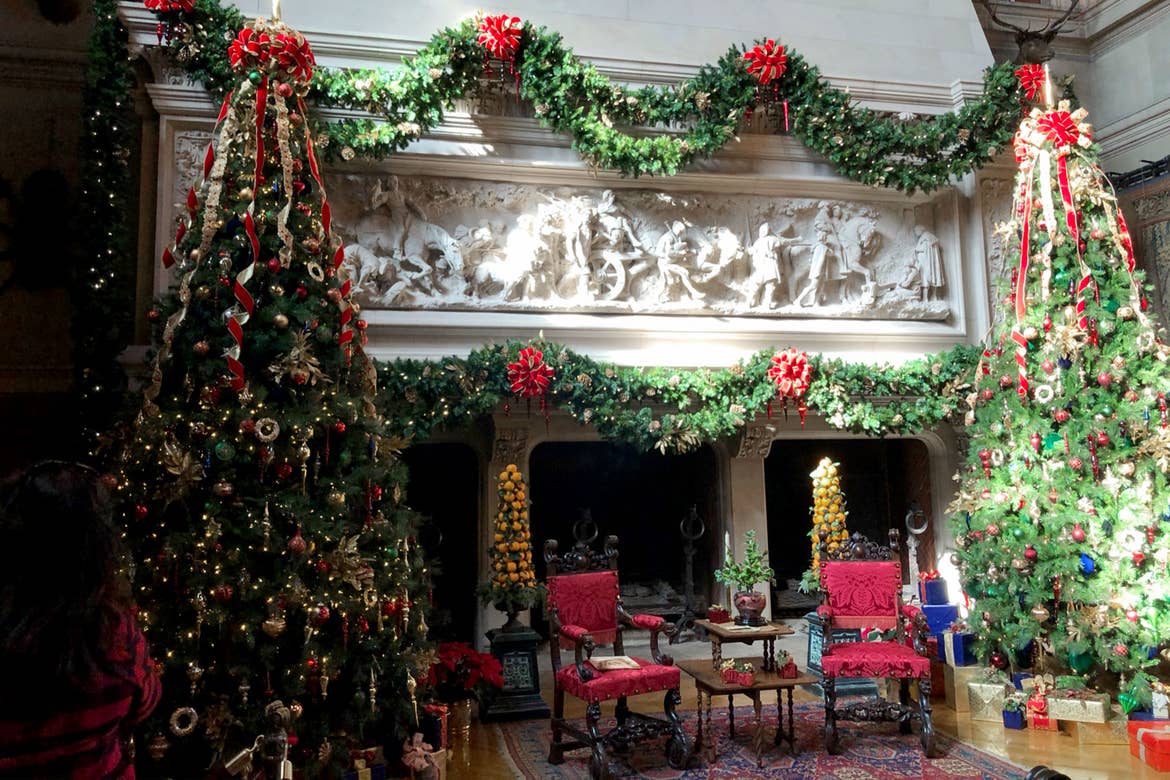 Planning Your Biltmore Estate Visit During Christmas & COVID-19
The Biltmore suggests two full days to experience America's largest residence. But if you've only got one chance to visit this gem, I'd argue you absolutely can do it all in one day IF you plan it all out with an itinerary … which I'm here to give you. It's what I consider to be the perfect plan of attack for a one-day visit ... all during the most Hallmark perfect time: Christmas at Biltmore!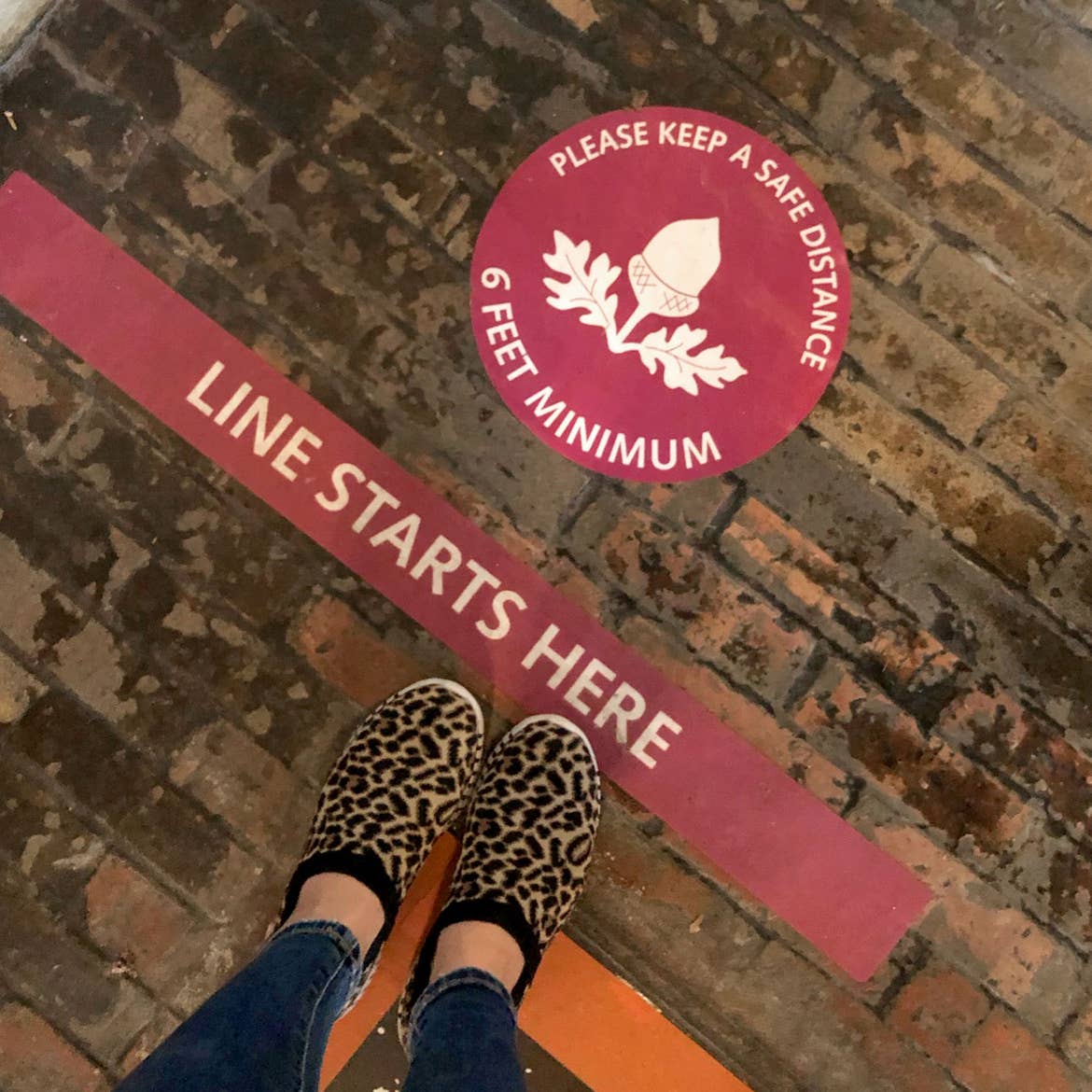 (Some say itinerary = not fun. But I say with a place this big, being spontaneous will likely mean missing a thing or two you might have really enjoyed.)

Oh, and yes, the Biltmore has fantastic safety measures in light of COVID-19, including mandatory face masks, hand sanitizer stations and, most importantly, reduced capacities with staggered entry times.


Before Your Visit to the Biltmore
Three to four weeks out from your visit, you should be logging onto the Biltmore website to:


Book your preferred day with the Candlelight Christmas Evenings ticket type. Starting at $114 per person, it is pricey, but this gives you a full day at the Biltmore in addition to nighttime access. (And you can use the daytime experience either before or after your nighttime entry.)



The Biltmore is usually only open until 5 p.m., but with the Biltmore Candlelight Christmas Evenings ticket, you get special, after-dark access to the house, which has bright lights, hundreds of Christmas decorations, live music and lit fireplaces. This unique, intimate look at the house (without bright sunlight) is 100% worth the extra fee.

And if you're visiting outside Christmastime, I recommend getting the Enhanced Experience ticket starting at $106 because it includes the audio tour (more on that below).



Pro Tip: Definitely choose the mobile ticket so you don't have to mess with will call or pick-up window lines and crowds.


Book your daytime house tour reservation time. Seriously, don't wait, especially nowadays with COVID-19 safety measures. (Limited capacity = fewer daily tickets sold = less chances of getting the day and time slots you want.)

Pro Tip: Book the 9:30 a.m. daytime house tour. Trust me—you'll thank me when you're one of the first into the house—and also, out of the house—with the rest of your day wide open to enjoy. (I don't recommend the 9 a.m. because the Biltmore grounds don't open until 8:30 and it can very well take 45-60 minutes to get in, park and walk.)


Book your nighttime Candlelight home entry ticket for well past dinner time, so you don't have to dine and sprint to make your reservation window. I find 8 p.m. to be pretty perfect.


Don't forget: This is a good time to book your dining reservations, too. The food is great, and it's convenient to stay on property once you're in. But the limited spots fill up quickly—again, especially in the COVID-19 world we're living in.

My reco? Grab a noon slot at Stable Cafe and a 6:15 p.m. at Cedric's or the Bistro. You'll see why a bit farther down.
One-Day Biltmore Itinerary
Arrive to the Biltmore Main Entrance by 8:30 a.m.
The Biltmore grounds open at 8:30. However, there are a lot of steps you'll need to take between entering the gate to getting to your first attraction.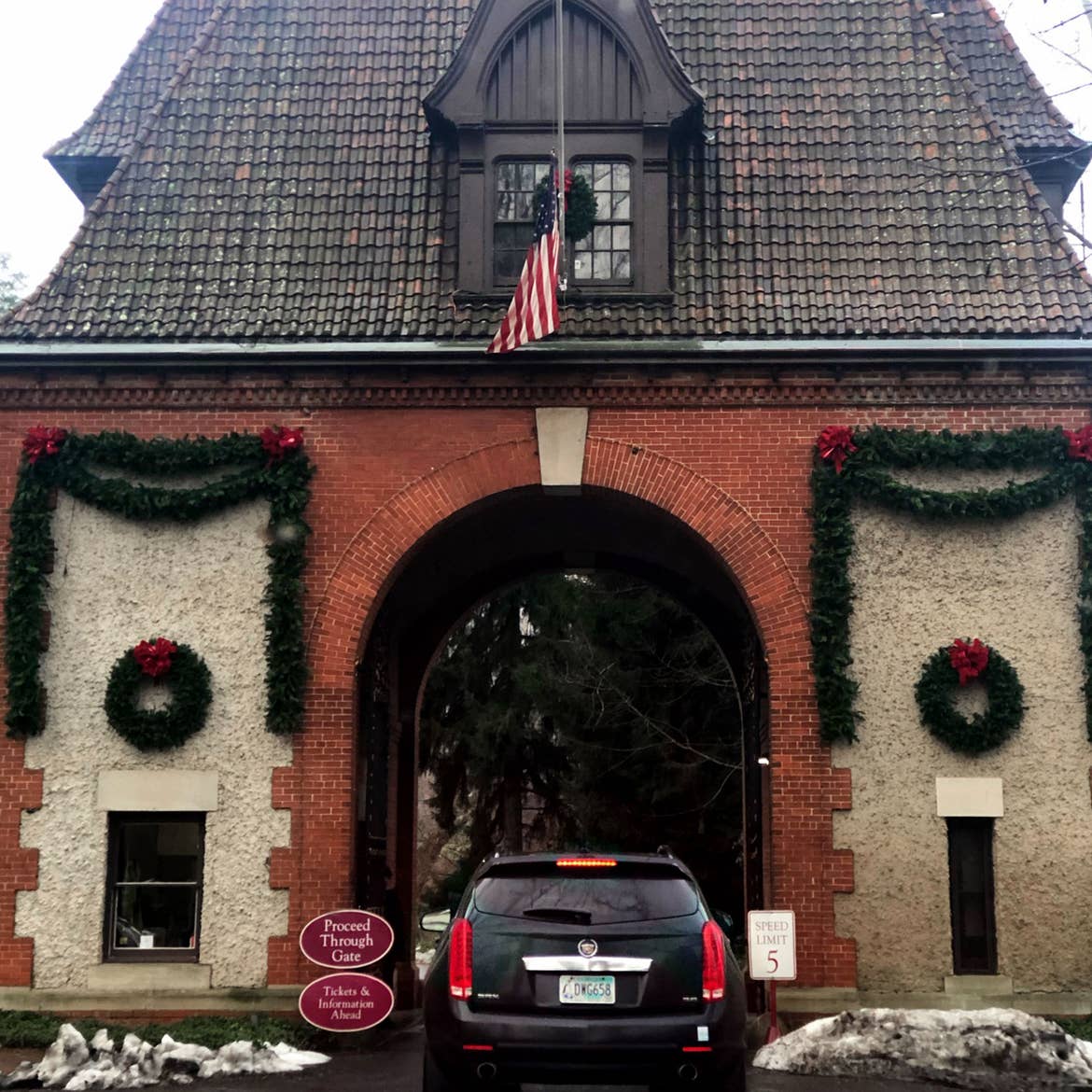 Believe it or not, it can actually take the better part of an hour just to enter, have your ticket scanned, drive, park, and walk or shuttle up to the house. (The Vanderbilts weren't messing around—this place really is HUGE.)

Pro Tip: Do not forget your face covering. You won't be admitted without it.


Do Your Daytime House Tour Entry at 9:30 a.m.
You'll wait outside in socially spaced-out queues based on your ticket's entry time till it's your turn to enter. Not much here has changed with COVID-19 other than there are fewer people in line and you're let into the house at once, and, of course, masks.

If it's your first time, I highly recommend the self-guided audio tour. You'll get a ton of rich and interesting history fed right into your headset while still having the control to speed ahead or slow down and soak up the bonus content. There's not much as far as signage, so if you want to know what you're looking at, get the audio.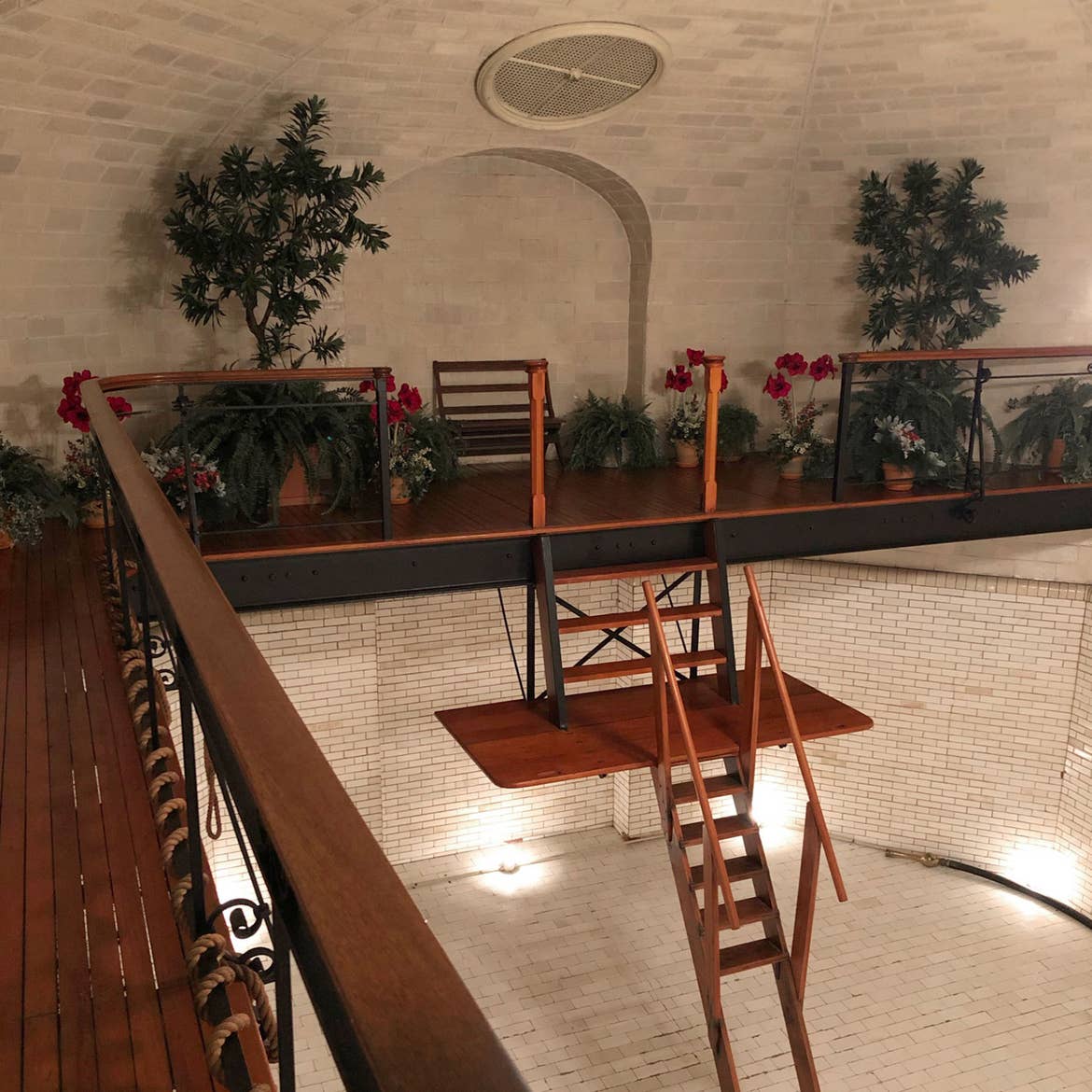 The infamous Biltmore indoor pool room (which now remains forever drained)

It takes about 2.5 hours to leisurely tour the entire house with audio. Whatever you do, don't skip the end—the indoor pool and bowling alley are some of the most interesting parts of the estate.


Have Lunch at the Stable Café at Noon
Remember that lunch reservation? And how I promised the early bird gets the worm? Well, the only thing more satisfying than popping out of your house tour and straight past the long, long lunch lines to your reserved table is the delicious food itself.

Stable Café is just steps away from the exit of the house tour, but far far FAR better food-wise than the quick-serve options in the outdoor courtyard.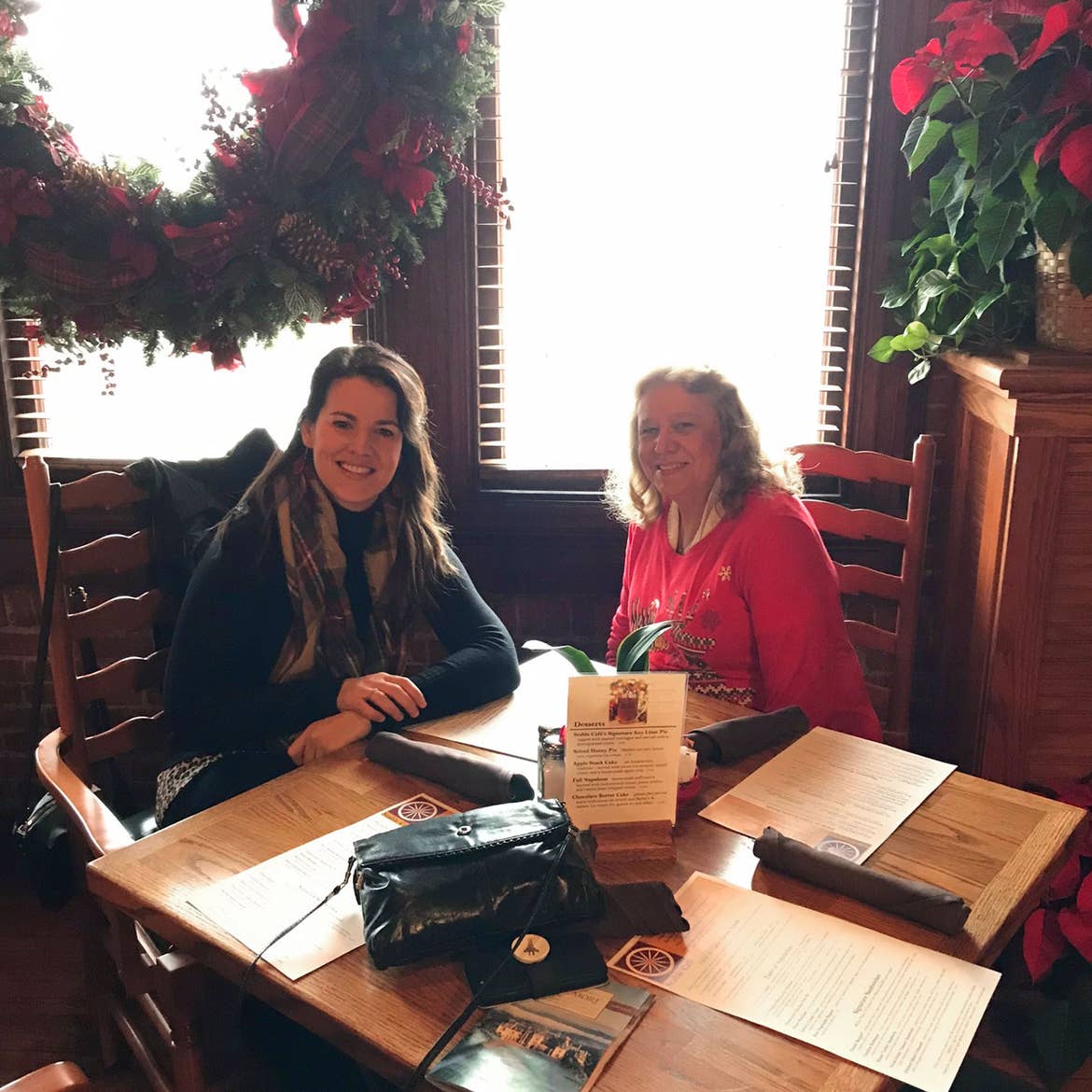 Jennifer and her mother-in-law, Isabel, at their favorite Stable Café table

It used to be—you guessed it—the old horse stable, and you can see how the booths are former stable stalls downstairs. My favorite meal? The pumpkin bisque, pear salad and a glass of the red Christmas at Biltmore wine. You're on vacation after all!

Pro Tip: If it's open, I highly recommend the upstairs dining room. There's a window on the far-right side that overlooks the Biltmore and it's just the perfect place to perch, eat and gaze out at the gargoyles and stonework. There's also an upstairs bathroom that's way less crowded than the main restroom downstairs.


Walk the Gardens & Conservatory After Lunch at ~1:15-ish
There are lovely views to be had on the outdoor patio and gardens. If you walk all the way down the garden paths, you'll find yourself at a full-blown greenhouse, the Biltmore Conservatory.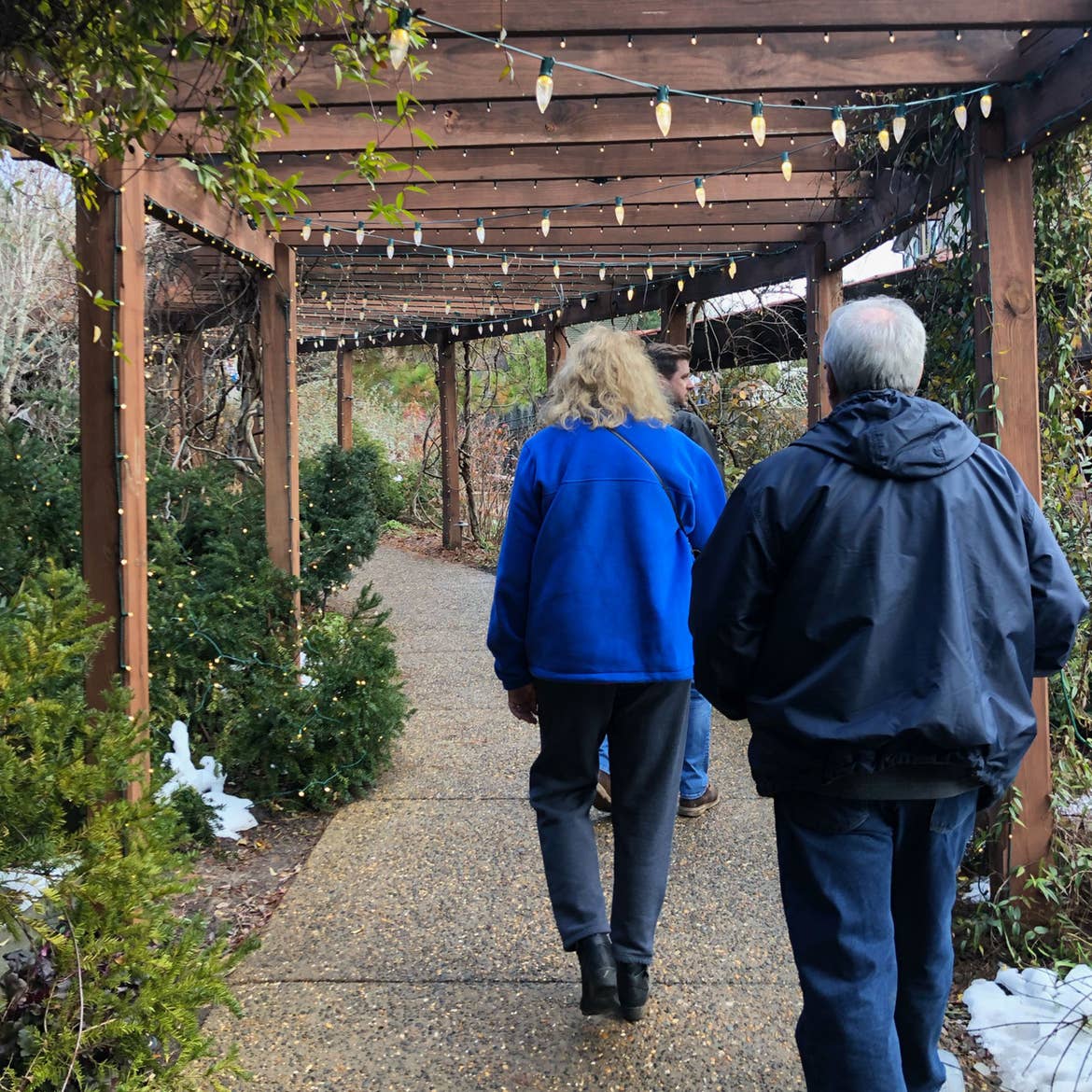 Inside, you'll see hundreds of plants and many orchids across several rooms and spaces. It is quite a muggy, warm environment, so be sure to loosen that scarf and strip off your coat before entering.

Not to be missed: the Giant Elephant Ear with 4- to 5-foot leaves. Guests with a green thumb will appreciate and enjoy the handiwork here and throughout the gardens with flower beds, ivy-covered terraces and pristine landscaping.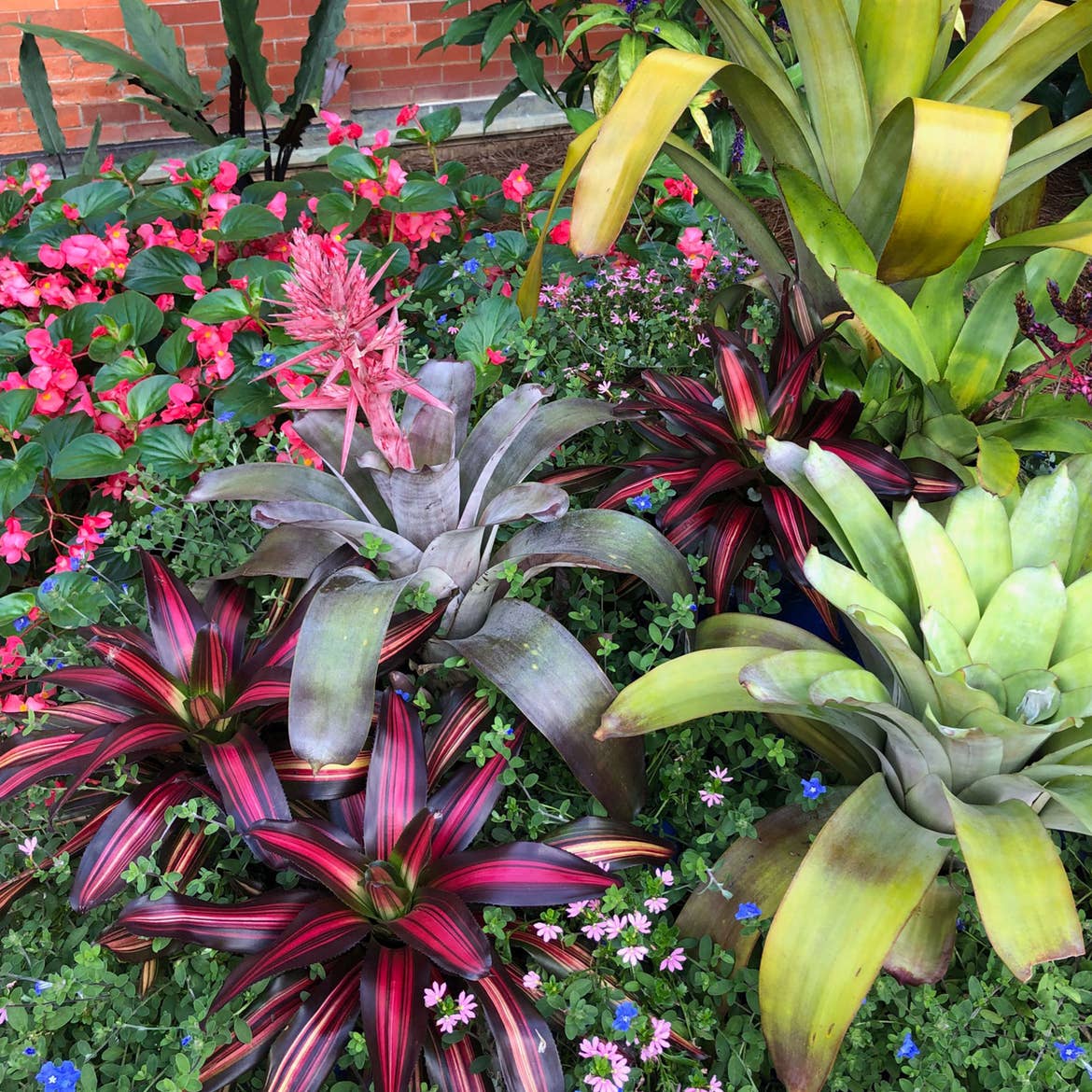 Pro Tip: There's a garden store with small snacks and its own parking spaces. If you decide you just have to have a big old planter, you can pull your car right up to lug it in.


Head to Antler Hill Village at ~2:30 p.m.
Make your way back toward the estate, and either drive or hop on the Biltmore Estate shuttle. It's about a 10- to 12-minute car ride from the estate parking lot to Antler Hill Village, and there is lots to see along the way: glimpses of Vanderbilt family member residences, horseback riding groups and views of the grounds all around you.



Heading to dinner and the winery at Antler Hill Village. (This photo was taken pre-COVID.)


MAKE YOUR WINE TASTING RESERVATION!!
Park, walk, do not stop, and go straight into the winery to make your complimentary wine tasting reservation. This is a new process. Pre COVID-19, the wine tasting room was first come first serve, and I'd never seen it be any longer than about a 45-minute line on a busy day.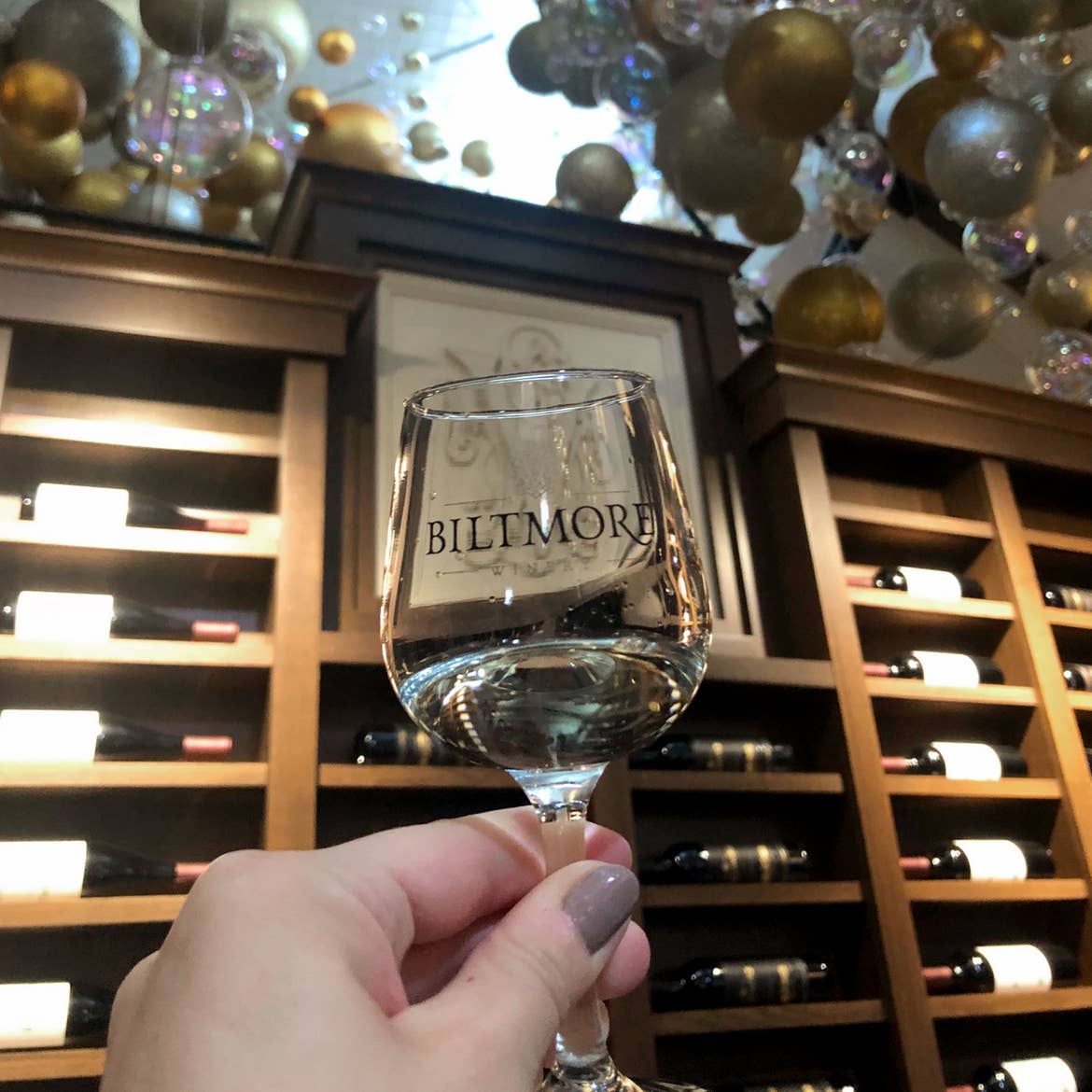 But now you must have a reservation, which you can't make until the day of, not in advance ... and in person, not online ... (insert Type A planner eye-roll here). I wouldn't change your whole day around making this reservation (they're open 11 a.m. to 8 p.m.), but I WOULD do this right when you get to Antler Hill Village.


Stroll the Village & Taste that Wine at ~3:30–5:30 p.m.
As you walk around, you'll find fountains, a little Vanderbilt museum, wine, restaurants, gifts, snacks, a barn and farmyard with goats, and a walk-thru area with craft demonstrations and blacksmith and farming exhibits.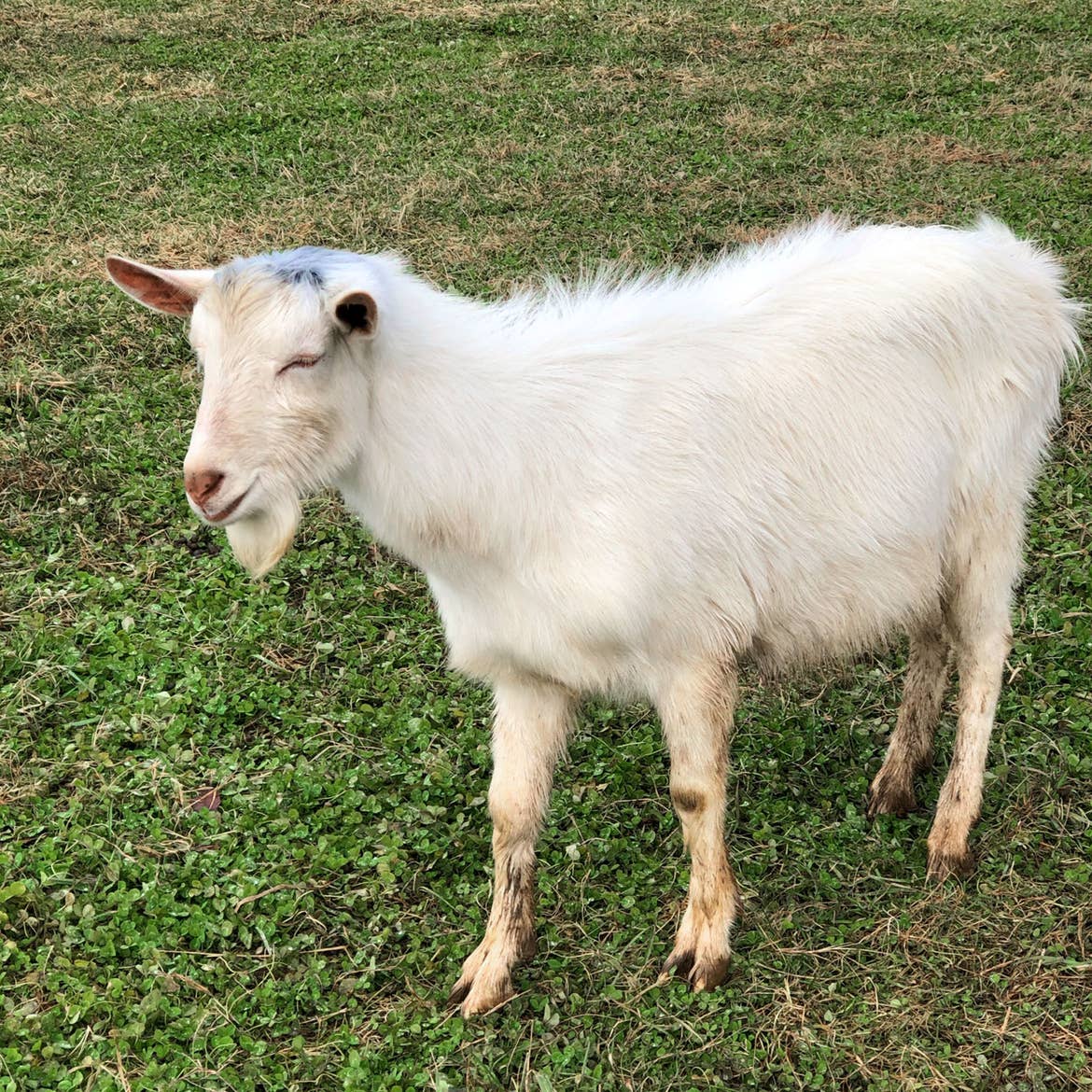 And at Christmastime (aka the BEST time to visit), there are Christmas music, lights and a place to meet SANTA!

(Keep in mind: The farmyard closes at 5 p.m., so if that's a must for your kiddos, be sure to head that way early on in your strolling time.)


Eat Dinner in Antler Hill Village at ~6:15 p.m.
Enjoy your second awesome meal of the day at one of a few different places—Cedric's Tavern, The Bistro, the Wine Bar (which has tapas and small bites) or Library Lounge. You really can't go wrong with any of them.

(By the way, all of the food served at the Biltmore follows a fresh "field-to-table" philosophy with lots of the produce and meats coming from either on property or local providers.)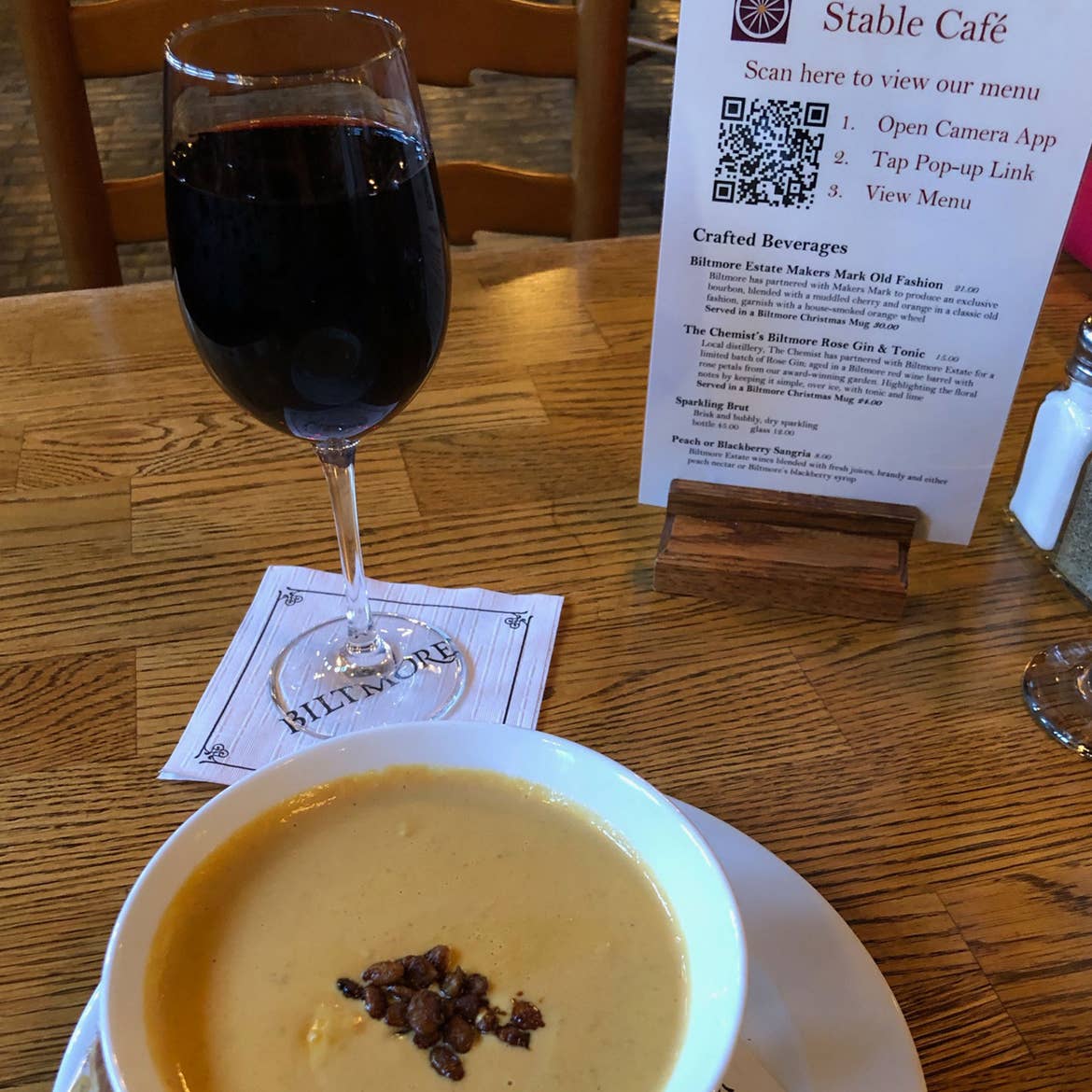 Just be sure to let your server know what time your nighttime tour entry tickets are for, so they can get you well fed and on your way on time. (And don't forget to account for the time it'll take to walk, drive, re-park and re-walk back up to the estate for your nighttime house entry reservation.)


Reenter the House for Your Nighttime Tour at ~8 p.m.
You'll have already soaked up all the history, so this second visit is really for the lights, live music, candlelight and ambiance. Definitely count the number of Christmas trees as you go, too.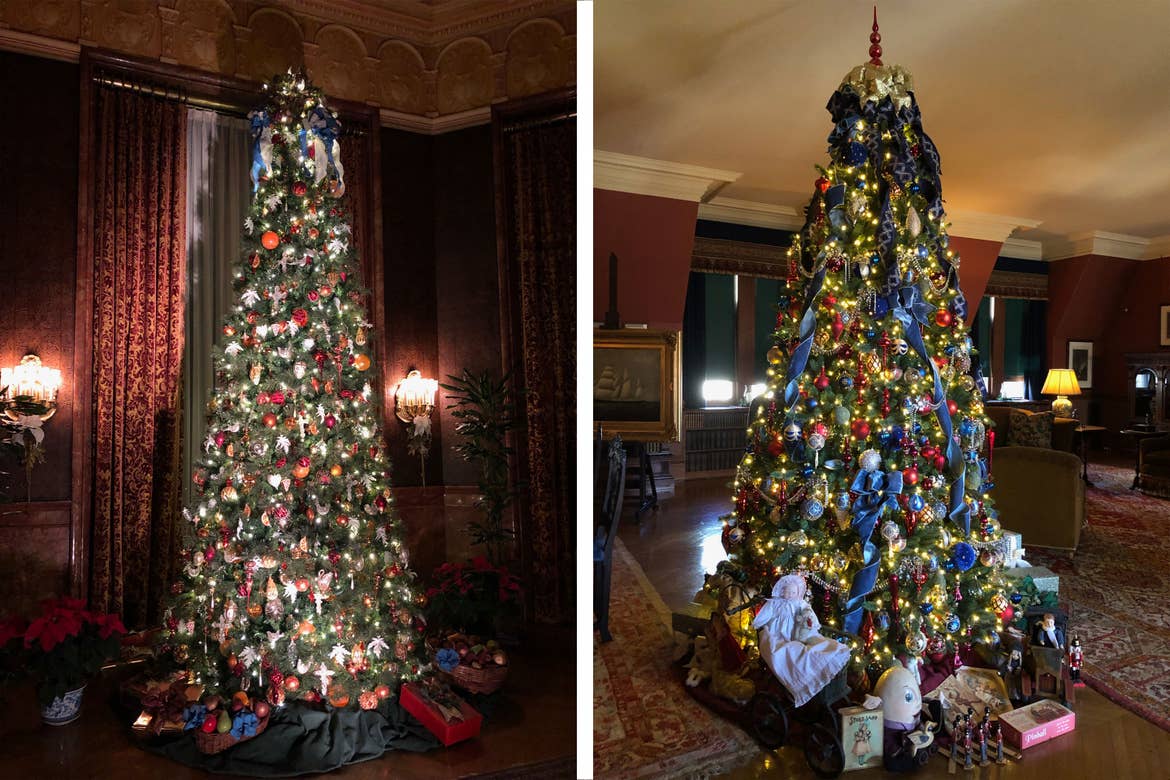 You'll see the house got a whole different vibe and festive feel at nighttime. Personally, I find you can really picture what it must have felt like to be a guest for the Biltmore Christmas party when I walk past the lions and up the stairs into the home after dark.

Pro Tip: I've personally found the nighttime crowds to be higher than daytime. During the day, you can kind of just wander and mosey through. At night, it feels like more of a slow-moving, one-way-only line once you step into the deeper parts of the tour, i.e., everything after the library and hallways. So, if you're antsy or claustrophobic, this might not be for you.


Warm Up & Shop till You Drop
Whew! It's been a go, go, go day and you might be feeling a bit tired by now. I promise, there are just a couple more things that are like the cherry on top of your perfect day.

Strolling through the grounds and gardens again but all lit up at night is really nice if you're up for another walk. But before you head out to the gardens, why not visit the food courtyard and warm up with a hot chocolate, mulled wine or—if you're all bundled up already—fresh, chilled craft beer on draft?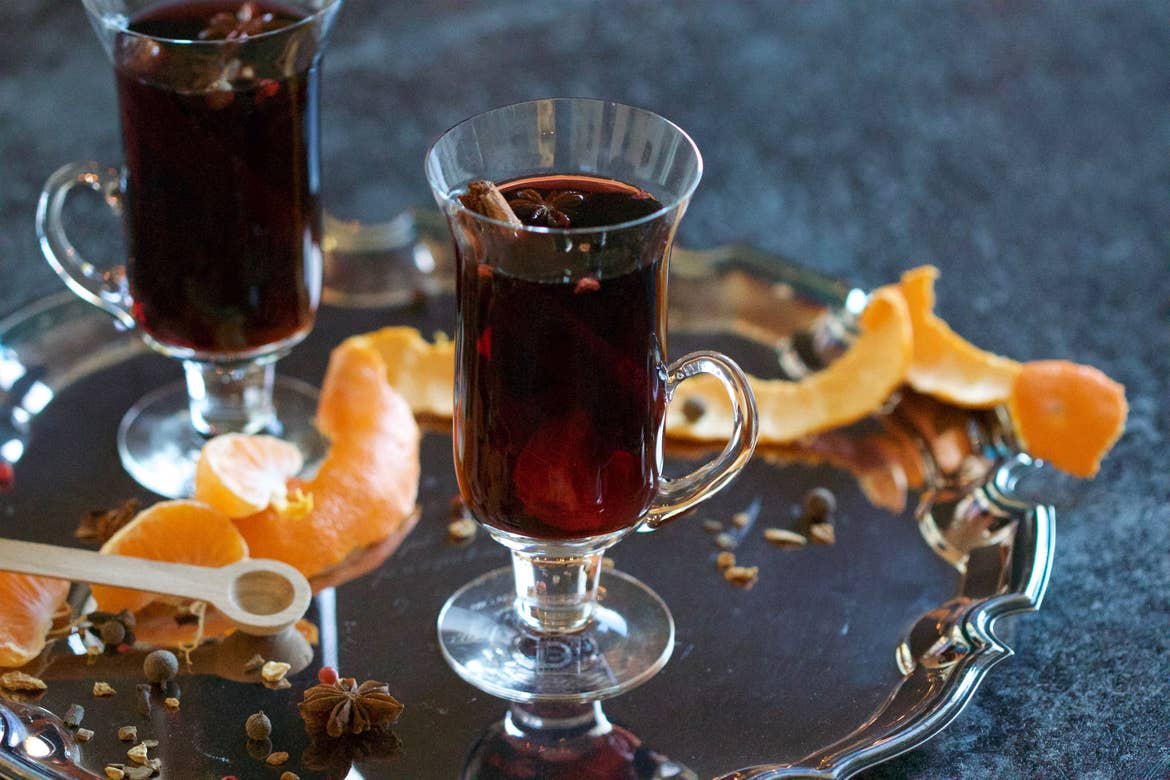 After your hot chocolate walk, the shops typically stay open later during Candlelight Evenings, so it's a great time to check them out at the end of your day for a few reasons:

So you don't have to carry bags around
So you can be sure of what you want if there were some shiny objects that caught your eye throughout the day
So you can maximize your daylight hours seeing the rest of the estate first
Just be sure to check when they close on your particular day's visit.

If you like shopping, it's a really fun experience. There's a toy store, bookstore and all-things-Christmas store, as well as a bigger overall gift shop. COVID-19 wise, for the three smaller specialty shops, you'll wait in a line outside until it's your turn to go in. They move really quickly though.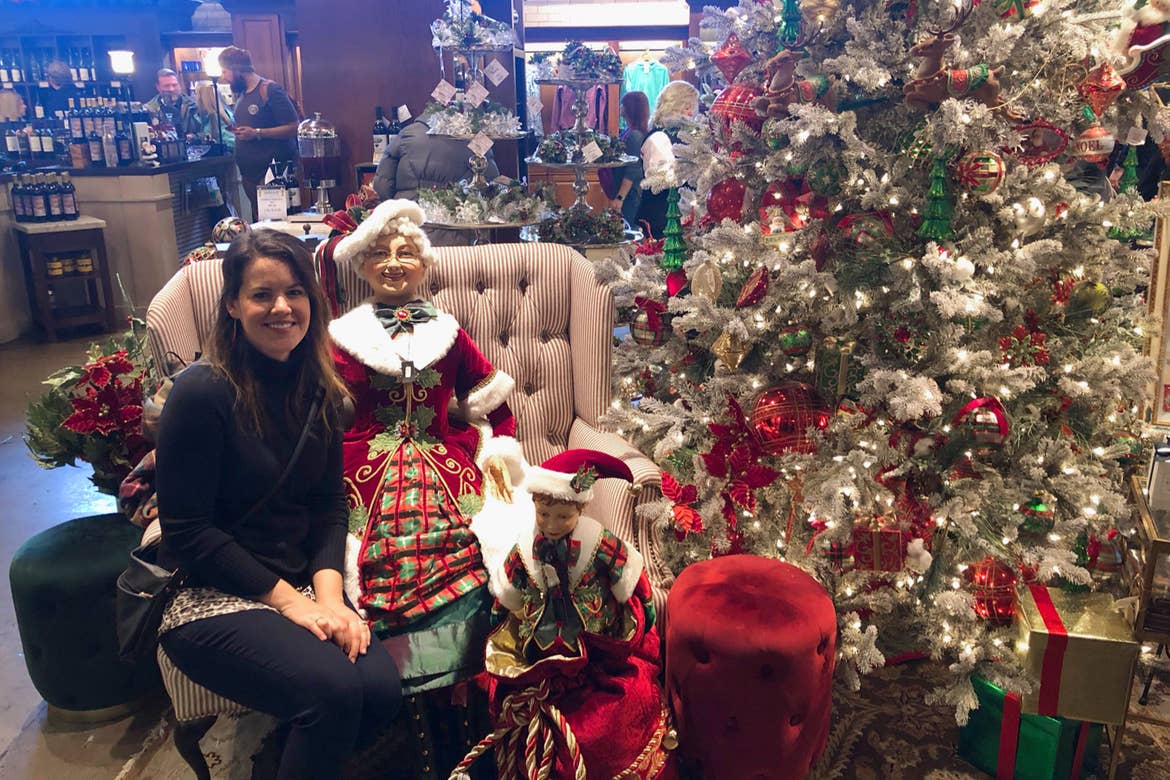 Pro Tip: I LOVE collecting Christmas ornaments on all our family vacations. That way, I'm not as tempted to buy random, impulse stuff (like magnets, mugs or shirts) since I have a "thing" to collect. Plus, when you unpack them and put them on your tree each year, you'll get to enjoy taking a trip down memory lane across all your travel treasures.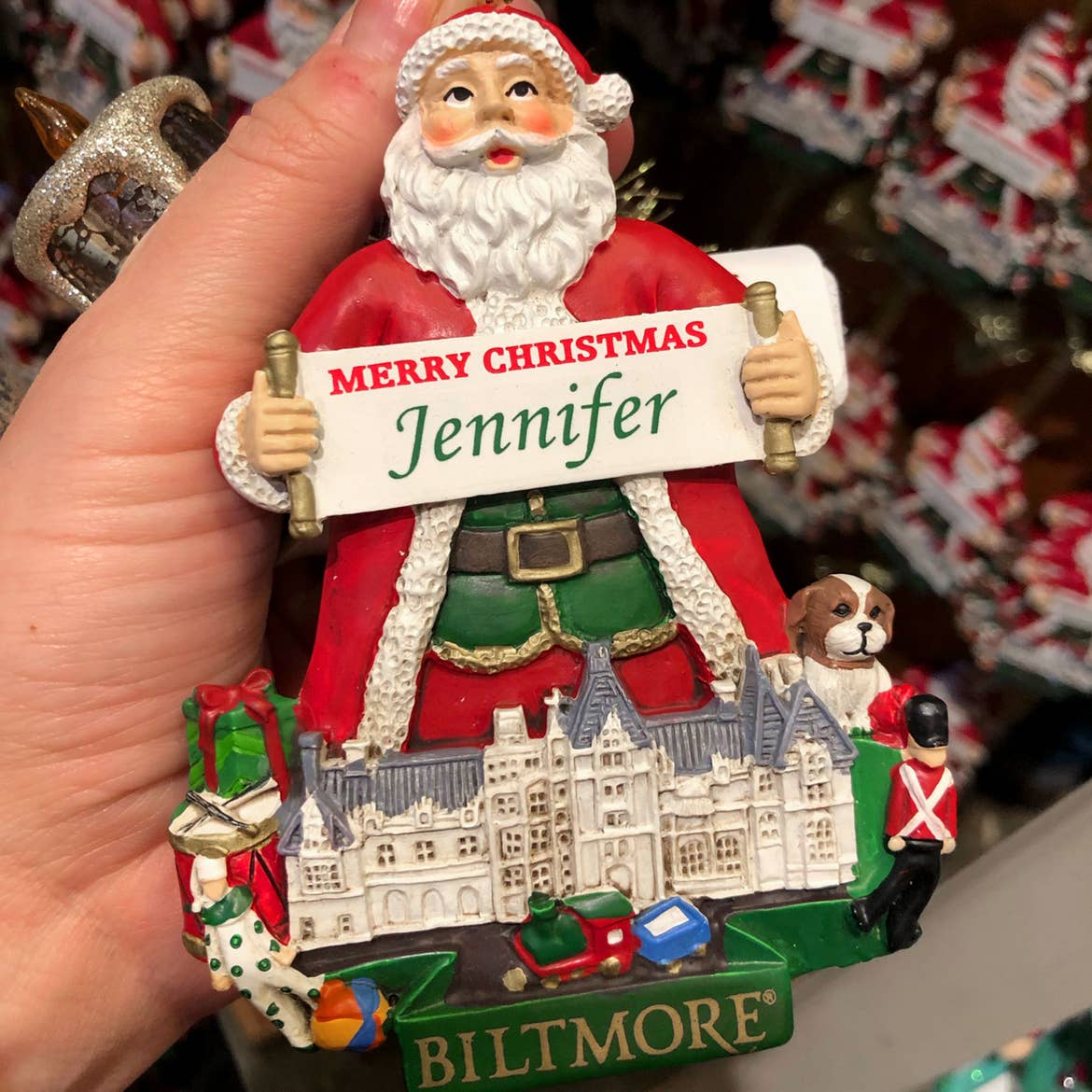 The Biltmore Christmas shop, A Christmas Past, has a wide array of ornaments to choose from, and they'll pack them up so you can get them all the way home in one piece.


One Last Christmas Tree Photo Before Bed
While the tree typically looks nothing like the marketing materials, it is nonetheless a "must" to get a photo of the tree lit up with the bright lights of the mansion behind it before you leave.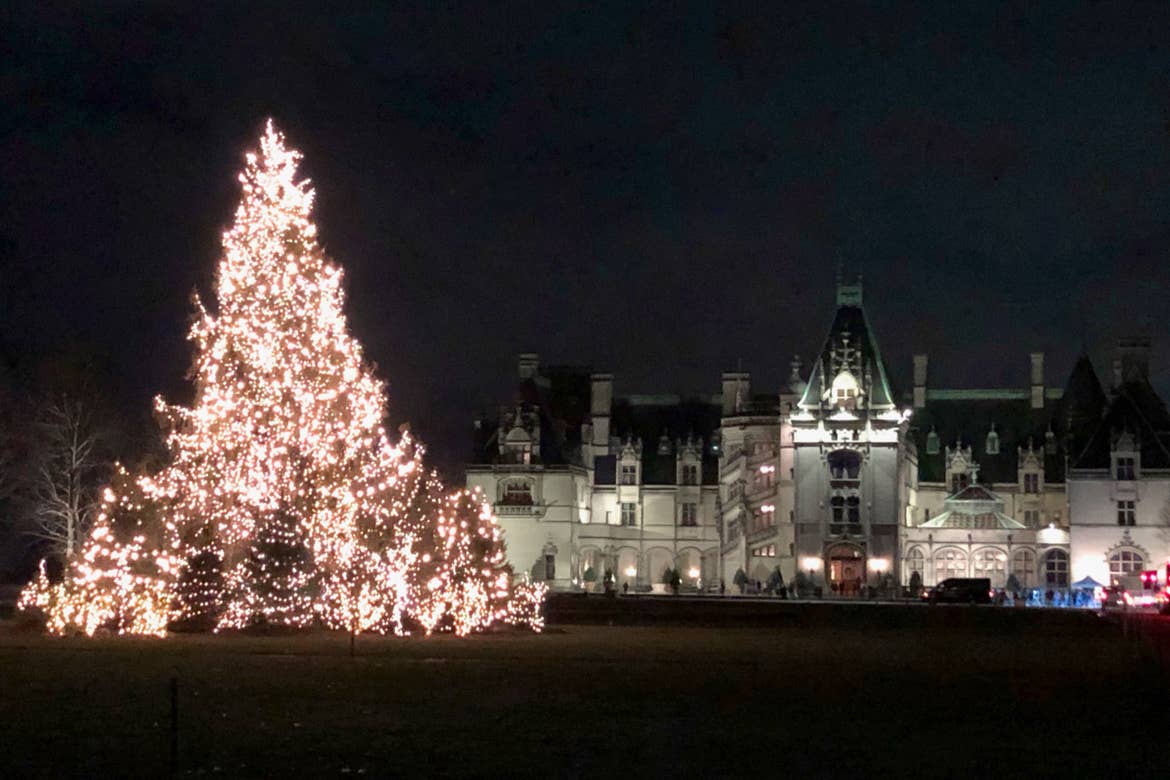 More Biltmore Tips for Your One-Day Visit
Right outside the estate:

Grab your morning cup of coffee at the Starbucks right outside the Biltmore entrance. It's as cute as can be. (Just be sure to finish your beverage before your tour as they won't allow that Peppermint Latte inside the house.)
If the kids are picky eaters, there's a castle-themed McDonald's right outside the entrance as well. It's like a mini-Biltmore with fries.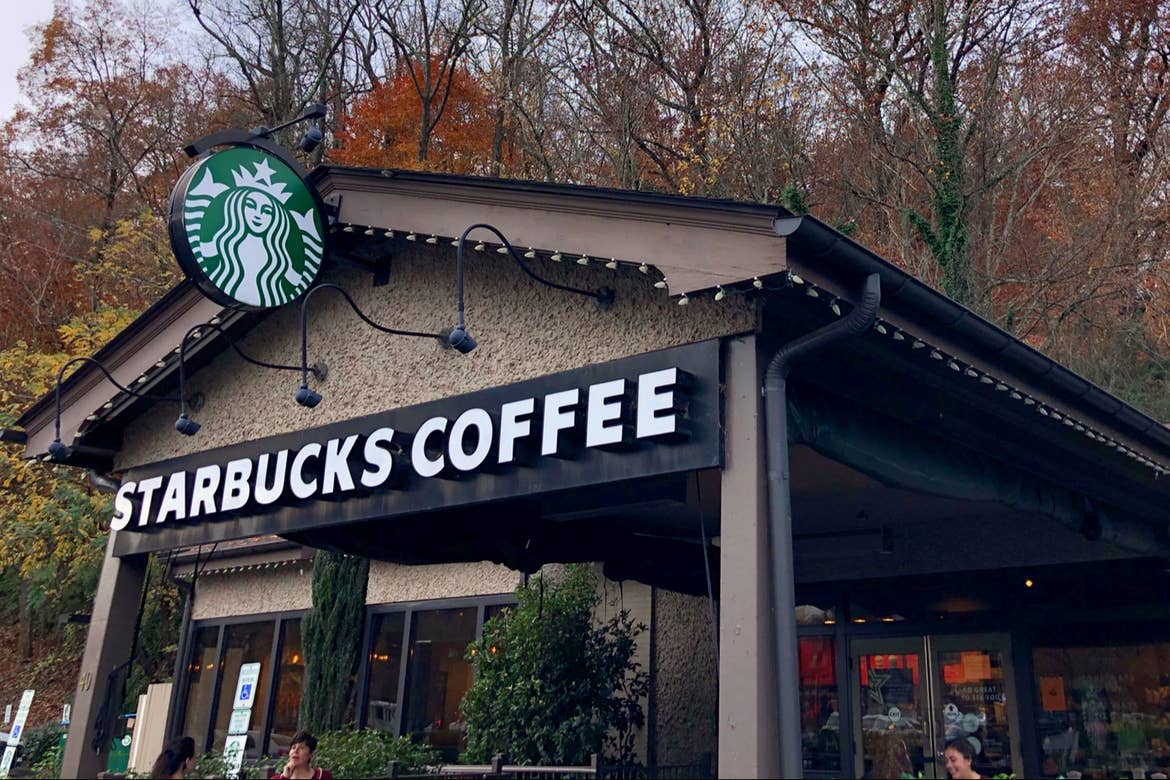 Not your first time visiting?
If you've been to the Biltmore before and don't need to see and do "all the things" again, consider a different tour. Many take a deeper dive into history or special topics.

I've done the one-hour Rooftop Tour and loved seeing an even higher-up view of the front lawn and a super-duper, close-up look at the detailed gargoyles perched way up high on the house. I also got to walk through Vanderbilt's private office, which was jam-packed with lots of interesting architectural details.

I've always wanted to do the Behind-the-Scenes Winery Tour & Tasting. Next time!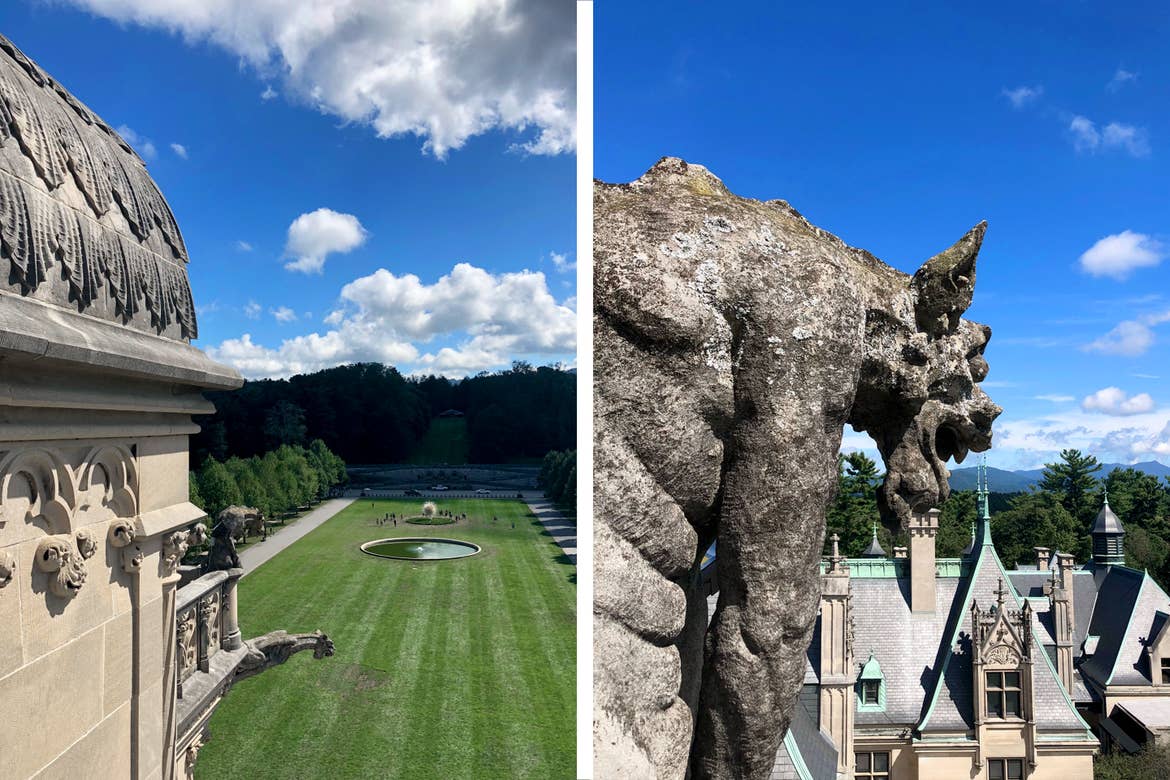 Or get active and go horseback riding or rent bikes! Remember, there are over 80 acres of beautiful Asheville countryside to explore when you're not inside touring the home or winery.
Plan your visit wisely:
Keep in mind: You can't drive through or go back in again without buying a full-price, full-day ticket. So really make the most of your time while you're inside.
You can, however, leave and reenter on the same day if you want to go home and rest or eat dinner off property before coming back for the lights. I've done both.
Need one last trinket?
There's a gift shop on the outside of the grounds to the left of the entrance. You don't need a ticket to visit this shop, and it's the PERFECT place to grab a few more gifts or souvenirs without having another day ticket. There are even a mini wine tasting counter and a place to buy bottles (and bubble wrap bottle protectors) to bring the magic home with you.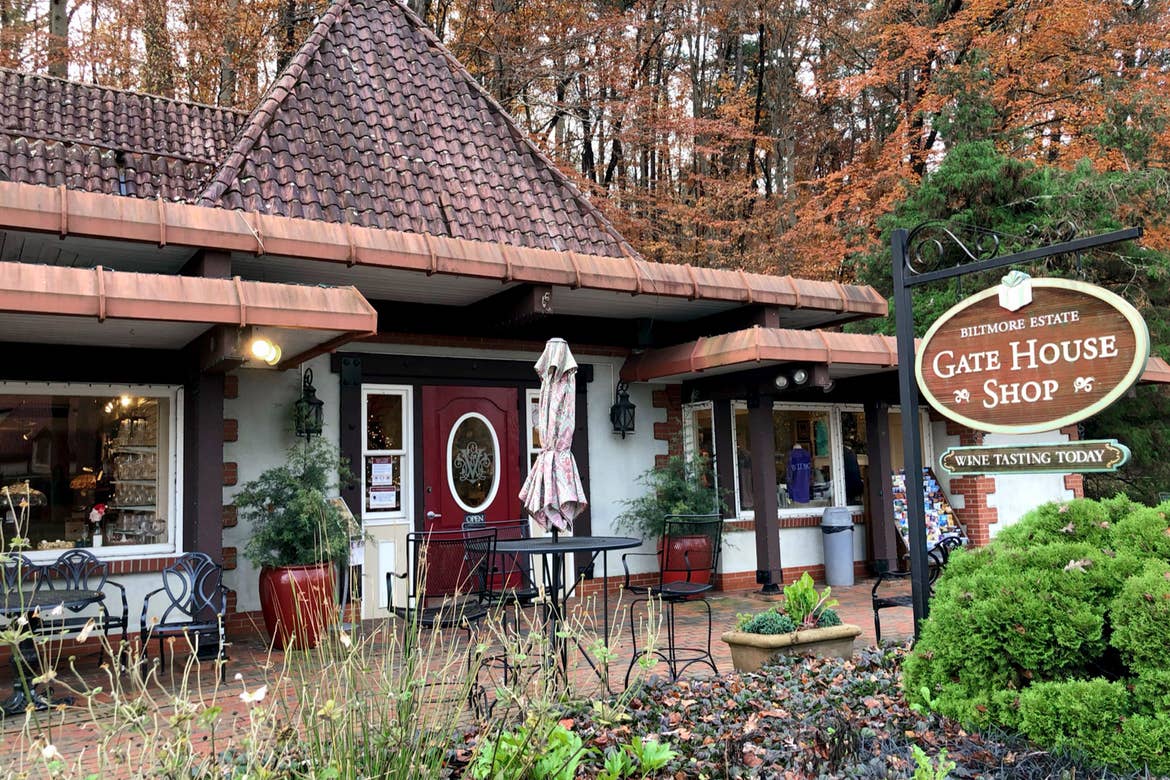 Looking for a place to stay?
You can stay on the Biltmore property at either Village Hotel, The Inn or Biltmore Cottages. Word to the money-wise: It's very pricey to stay on property. I'm sure it's very cool, but the frugal family woman in me has always come close to booking, but never pulled the trigger.
Located right outside of the Biltmore is Grand Bohemian Hotel. And much like the adjacent Starbucks and McDonald's, it's decorated to really feel like it's a part of the Biltmore "vibe" with castle-like accents and Christmas lights. While it's usually slightly less expensive than staying on the Biltmore Estate, it's not a bargain.
There are plenty of vacation homes available throughout the beautiful surrounding mountain towns, along with lots of traditional hotels in nearby downtown Asheville.
Last, but certainly not least, less than two hours away is our very own Smoky Mountain Resort. Located in Gatlinburg, it's the perfect home base if the Biltmore is just one of your many adventures in the Smoky Mountains. The resort is situated:

Right next to Great Smoky Mountains National Park
Steps away from Gatlinburg's downtown strip
Minutes away from popular Gatlinburg attractions (like the Gatlinburg SkyBridge, Anakeesta and Ripley's Believe It or Not)
Just 20 minutes from Pigeon Forge and Dollywood
About 1 hour and 45 minutes to the Biltmore Estate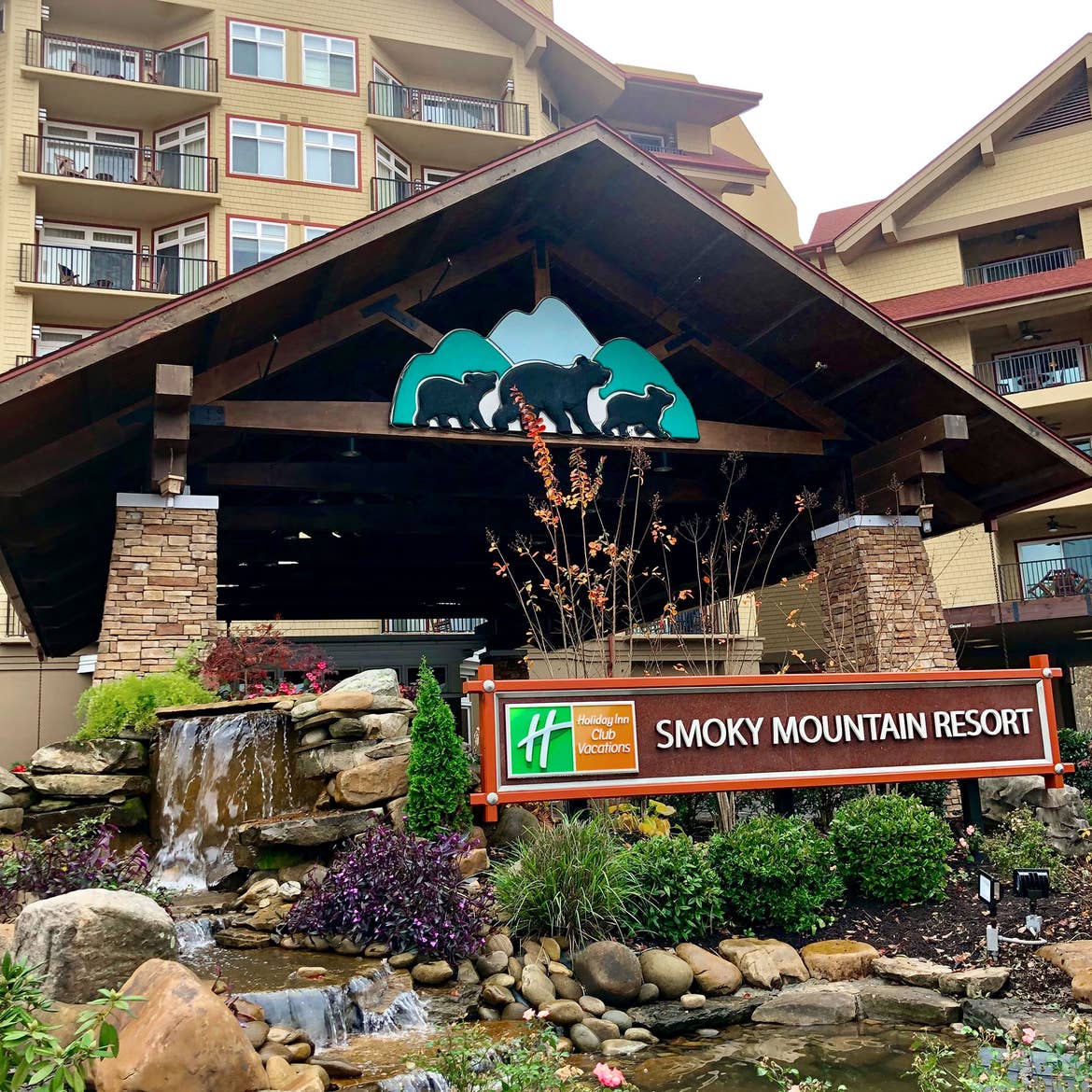 PS — that drive is GORGEOUS as it weaves and winds through the mountains, especially when the fall leaves are peaking with bright colors.

I visited the Biltmore last time I was at Smoky Mountain Resort and it was an easy peasy drive. Just make sure you download your route as there are a few bits of mountain stretch where you'll likely lose service.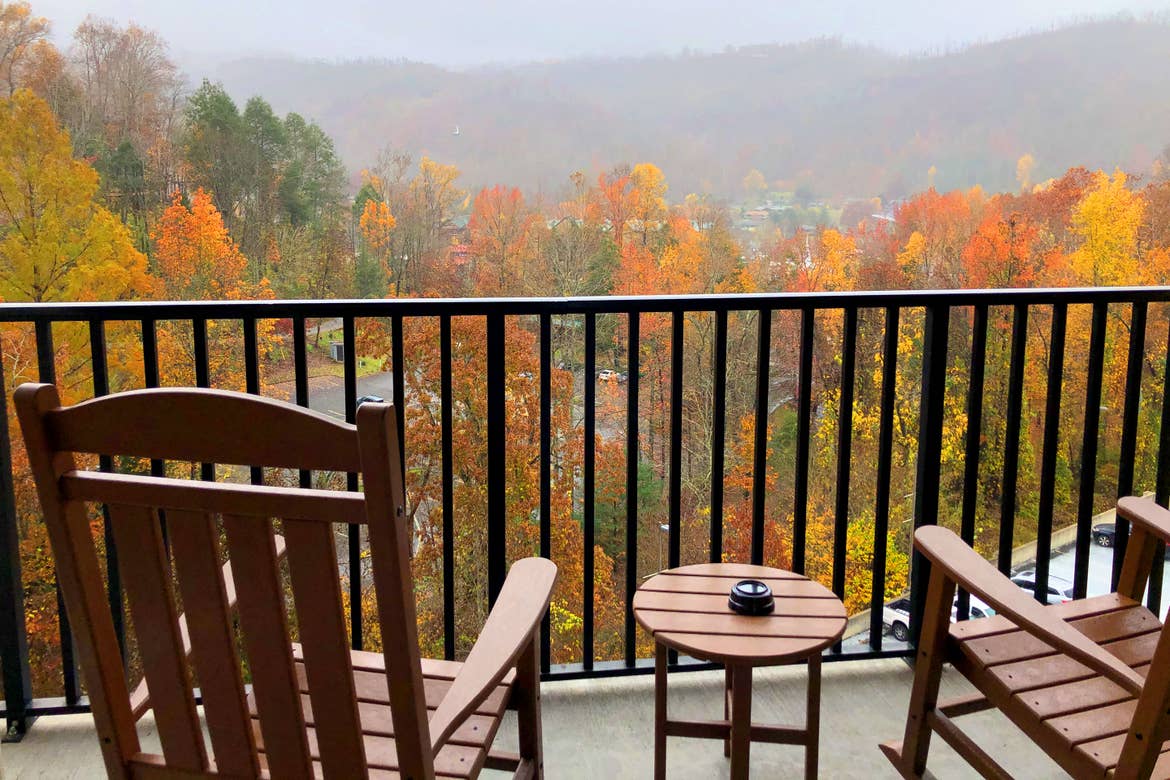 The mountain view from Jennifer's Smoky Mountain Resort villa

So, if you're wondering if the Biltmore Estate should be on your bucket list, wonder no more. It's a fantastic step back into history with tons of fun and modern things to do, eat and drink both inside and outdoors.

And if you've been worrying about fitting in all there is to do at the Biltmore Estate with just one vacation day, simply scroll up, read and/or print out my itinerary and follow along!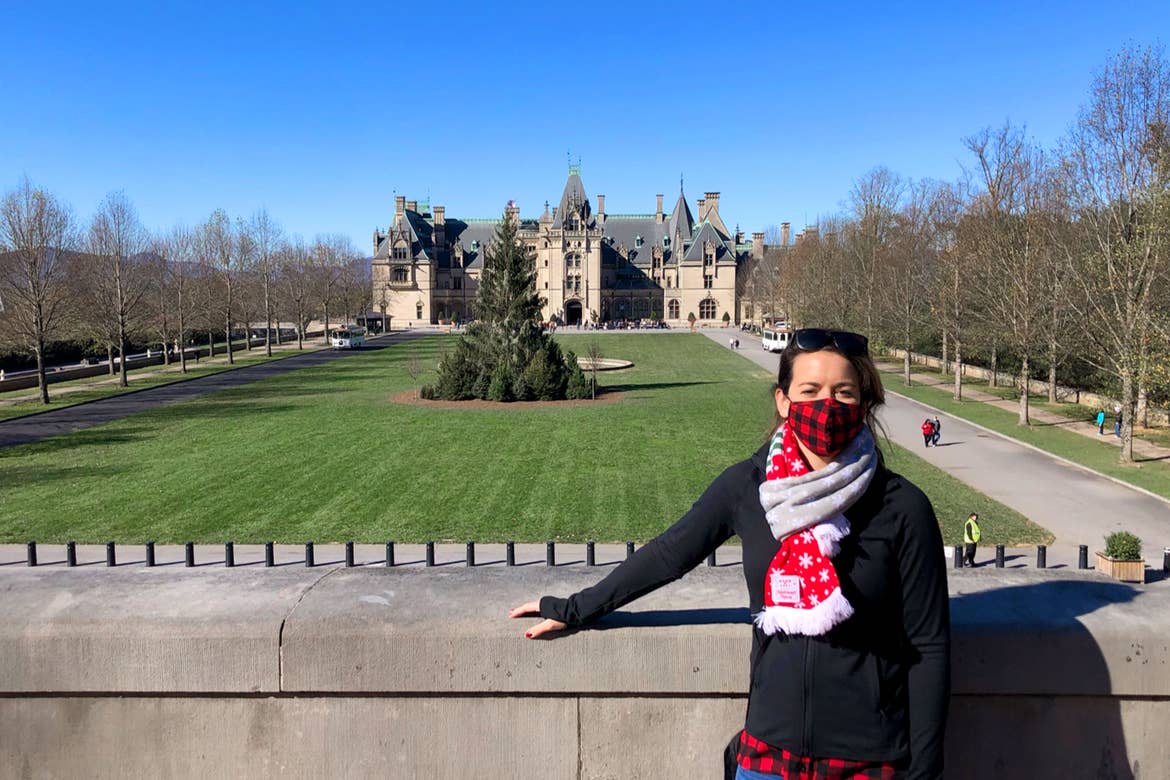 And I'll say it again—if you've ever wanted to step into what feels like a real-life Hallmark movie, just take a few steps on the front lawn leading up to the lit-up mansion with snowflakes falling, the outdoor tree all lit up, a nip in the air and your scarf bundled tight around your neck (and maybe even holding hands with your special someone?). You'll be feeling like you're starring in your very own dreamy Christmas movie.


All information is subject to change. This article is a curated guide and is neither sponsored nor considered an official endorsement. Please be sure to check information directly with any/all tours, guides or companies for the most up-to-date and direct details.