Becca Clark
Becca is a copywriter for Holiday Inn Club Vacations and Smoky Mountain enthusiast. Her first visit was when she was 10 years old and she's been obsessed ever since. Between family vacations, school trips, a honeymoon road trip and now visiting her parents, she's lost count of all the times she's visited the Gatlinburg and Pigeon Forge area. And you can most definitely count on her returning again and again.
Given the charm of the Smoky Mountains and hiking being a fun way to explore the outdoors, I know many people might be searching for the best places for hiking in Gatlinburg.

But in my experience, I would highly recommend using Gatlinburg as your home base and then venturing out of the town to see all the Smokies have to offer.

I happen to have quite the relationship with this part of Tennessee.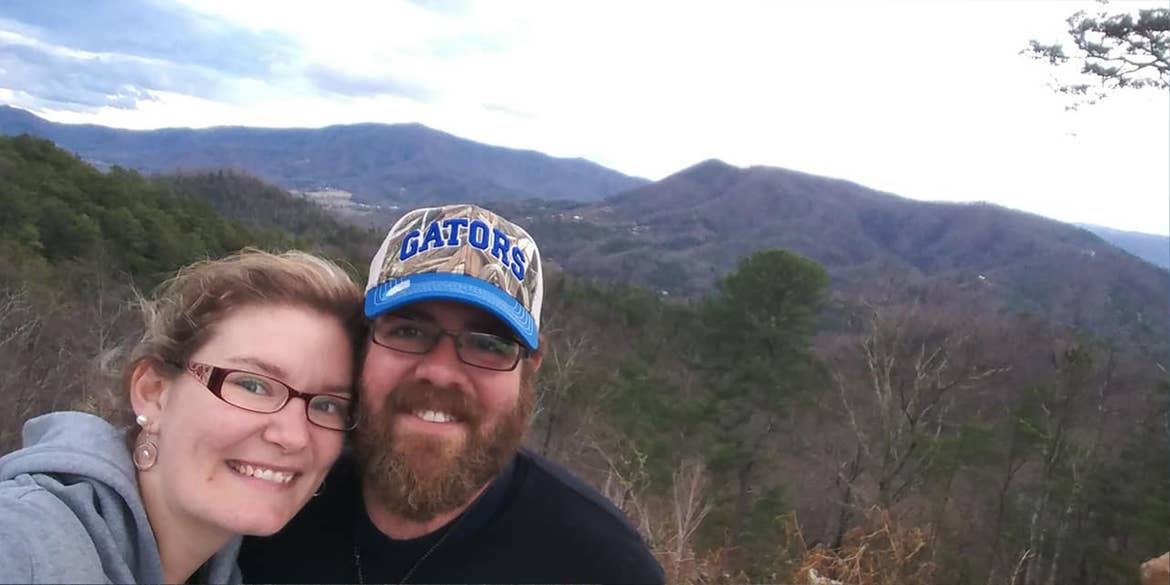 Enjoying the view on Foothills Parkway with my husband

I vacationed in Gatlinburg and Pigeon Forge almost every year for nearly two decades and my parents actually moved up to the region a few years ago, so my husband, my daughter and I get to visit multiple times a year.

As you can imagine, I've done my share of touristy things (hello, Dollywood®!), but I've also done a ton of hiking throughout the years.

And now I'm sharing my Smoky Mountain hiking knowledge with you in this guide!

Read on to learn everything you need to know about hiking in/near Gatlinburg, including the best trails, tips, places to eat after your adventures and great local attractions for your non-hiking days.


6 Best Hiking Trails Near Gatlinburg
First up, I'm going to count down 6 of the best places to hike in and near Gatlinburg, ending with my top favorite.


6. Rainbow Falls Trail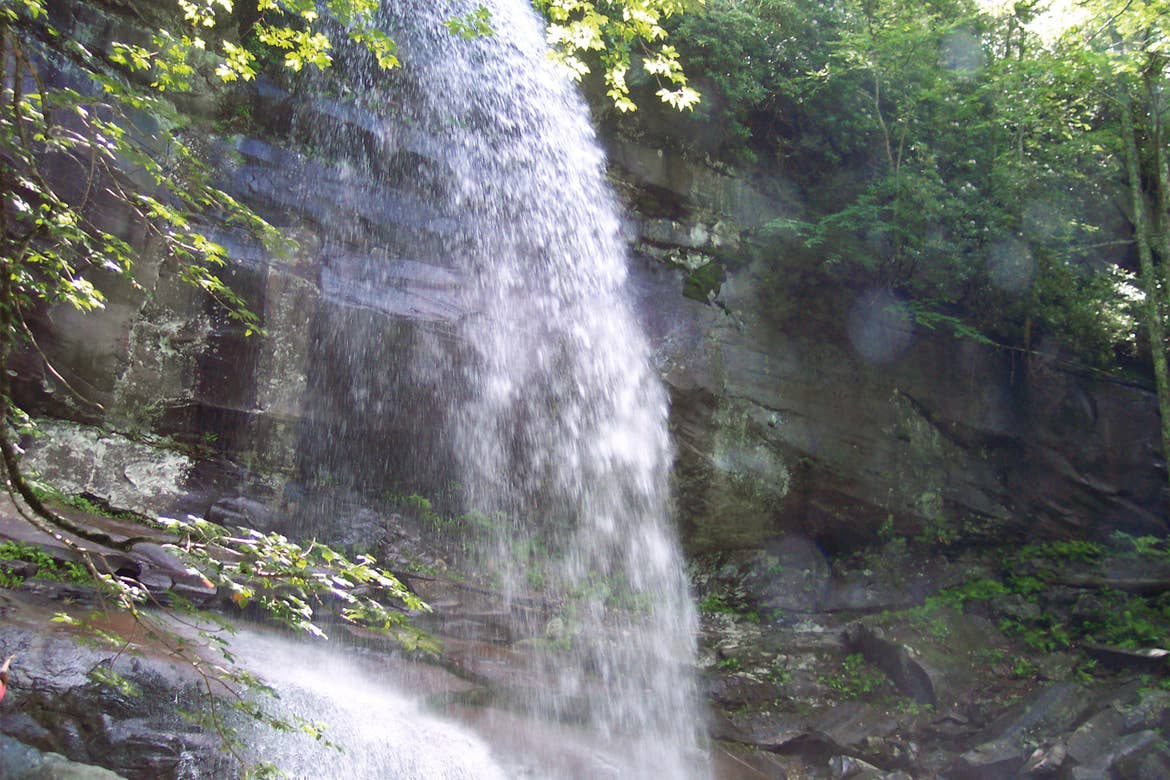 This is one of my top trails that just so happens to be less than 5 miles from Gatlinburg. It leads to a beautiful 80-foot waterfall, and it can be moderate to difficult depending on your fitness level.

You'll notice my favorite trails have waterfalls because, while I enjoy a good hike, I really enjoy having something to look forward to — and a waterfall is perfect for that!

Pro tip: If you're new to hiking, I'd recommend starting with an easy trail and working your way up to this one just to make sure you can actually walk the rest of your vacation!


Length
5.4 miles


Difficulty
Moderate to difficult


Approx. Time
3–5 hours


Location
Roaring Fork Motor Trail in Gatlinburg


Tips for Hiking Rainbow Falls Trail
The trail gains about 1,500 feet in elevation, so plan to take breaks and bring plenty of water.
5. Alum Cave Trail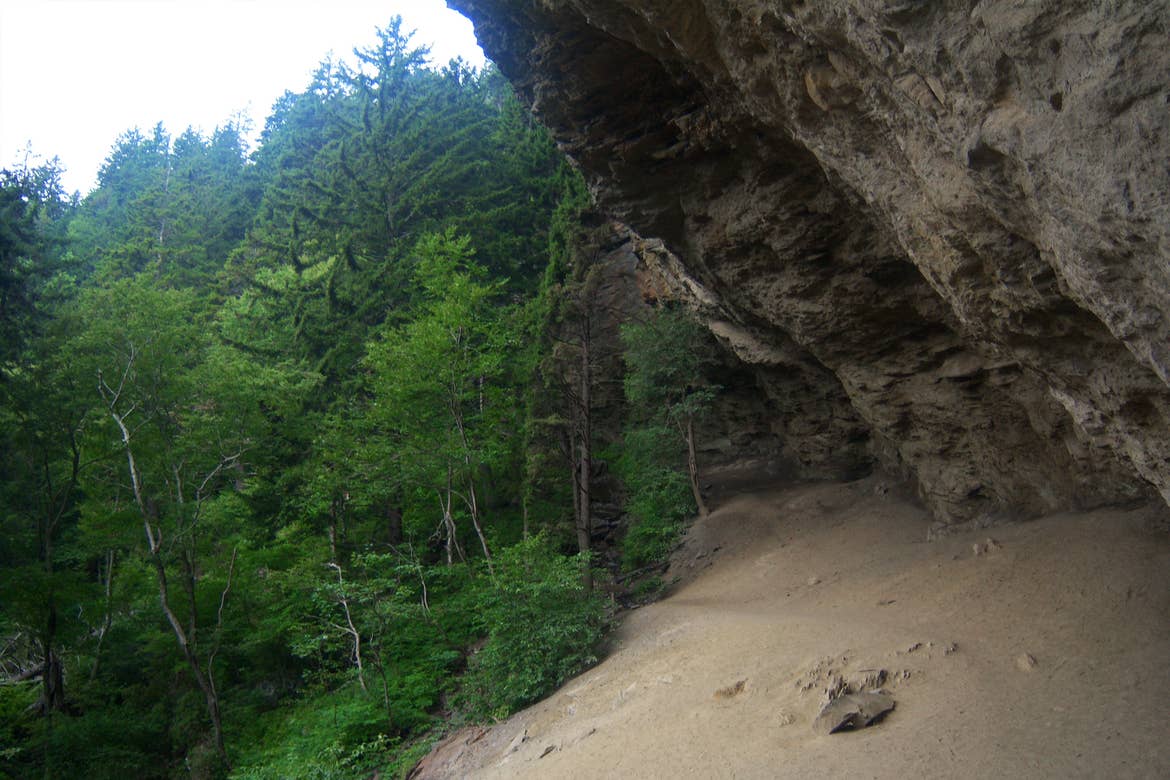 This trail is about 30 minutes from town, but it is so cool!

You'll get lots of opportunities for incredible mountain sights and this one "ends" in a concaved bluff. It's basically a cave wall with a partial roof but has lots of open space where you get to overlook much of the mountains.


Length
5 miles


Difficulty
Moderate


Approx. Time
3–4 hours


Location
Newfound Gap Road


Tips for Hiking Alum Cave Trail:
This one tends to be busy (it has two parking lots), so plan to arrive early to secure your space.
This trail also continues another 5 miles (one way) to the summit of Mt. Le Conte if you decide to keep going.
4. Spruce Flats Falls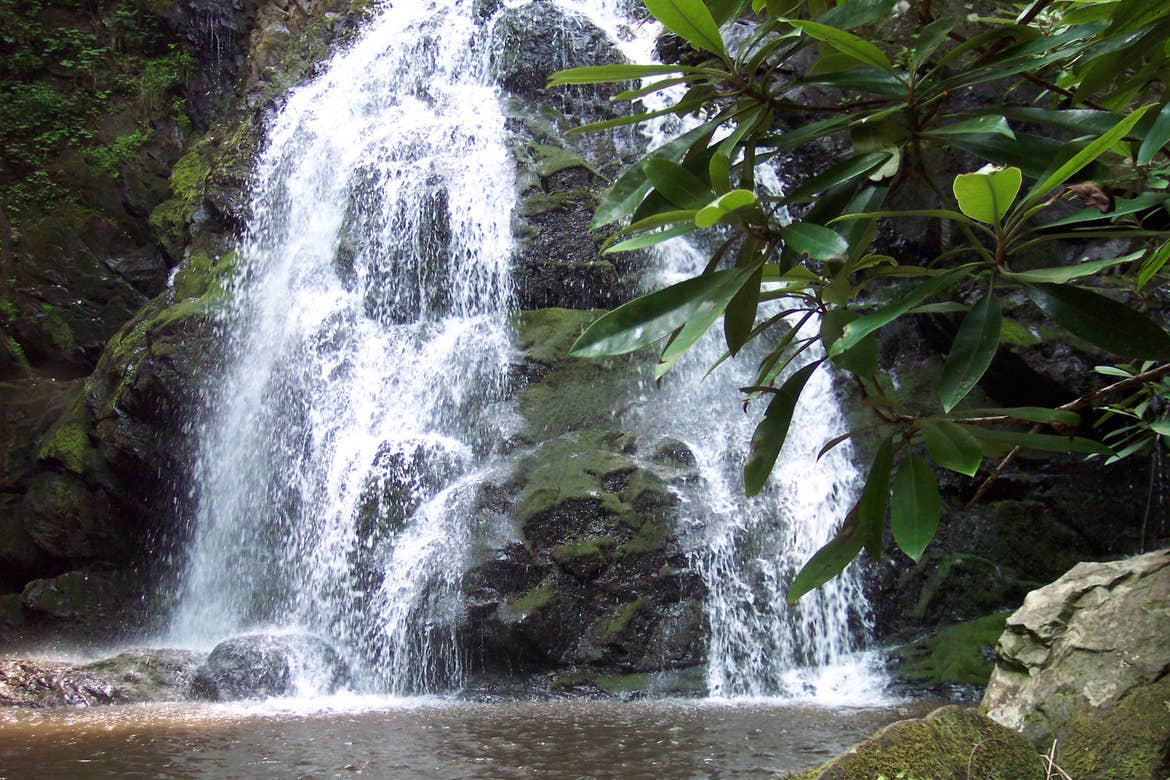 Spruce Flats Falls is a relatively easy (though moderate at times) hike to a beautiful waterfall.

It has four different tiers that cascade down into a giant pool and is, in my opinion, one of the most scenic waterfalls in the area, especially when the flowers bloom in spring.


Length
1.4 miles


Difficulty
Easy to moderate


Approx. Time
1 hour


Trail Name
Lumber Ridge Trailhead


Location
Tremont


Tips for Hiking Spruce Flats Falls:
Spruce Flats and Lynn Camp Prong (mentioned below) are accessible from the same parking lot, so consider bringing a picnic lunch and making a full day of it!
My husband and I brought our daughter on this hike when she was four months old. We put her in a carrier since the path isn't stroller friendly, so that's always an option if you're hiking with kids.
3. Lynn Camp Prong Cascades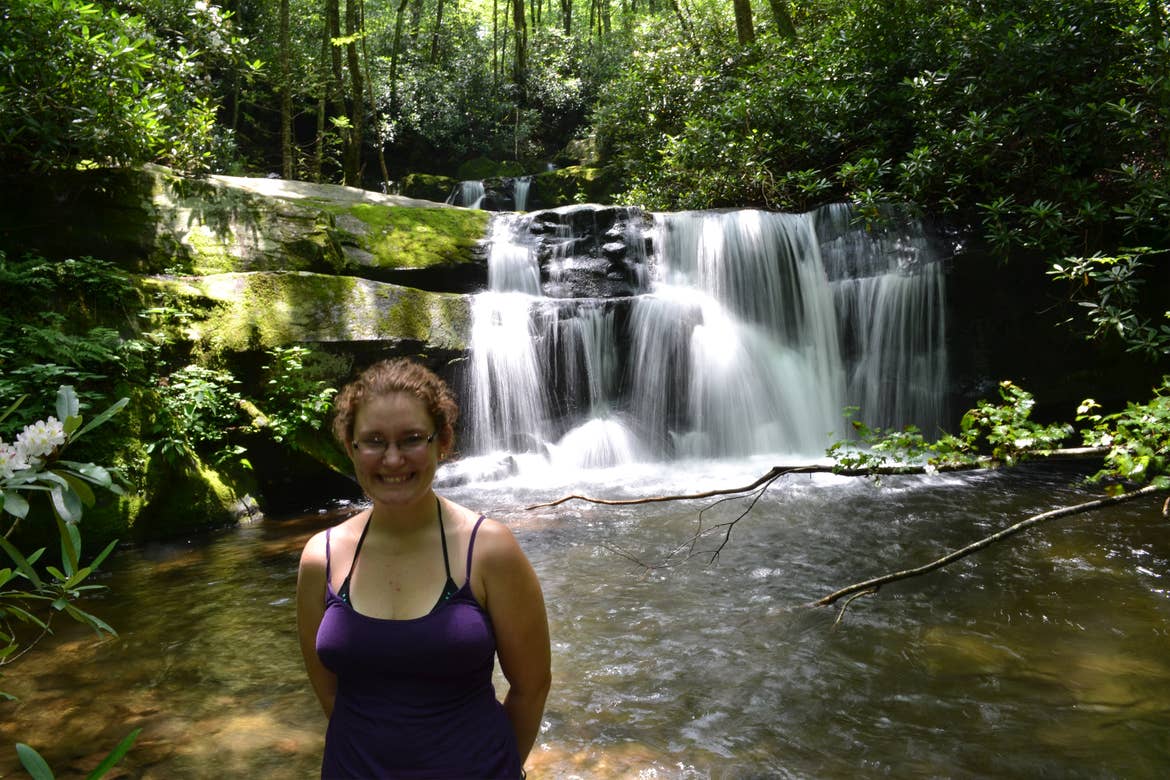 When you're ready to venture into the national park, a hike to Lynn Camp Prong Cascades is one of the first I'd recommend.

It's about an hour from town, but an easy hike and well worth it with a wide trail, several small waterfalls, and even a few benches to sit on and enjoy the views (which are especially great if you're visiting for a fall getaway to see the gorgeous foliage).


Length
1.3 miles


Difficulty
Easy


Approx. Time
1 hour


Trail Name
Middle Prong Trail


Location
Tremont


Tips for Hiking Lynn Camp Prong Cascades
After you reach the cascades, the trail continues for about 7 strenuous miles, so make sure you turn around accordingly.
2. Grotto Falls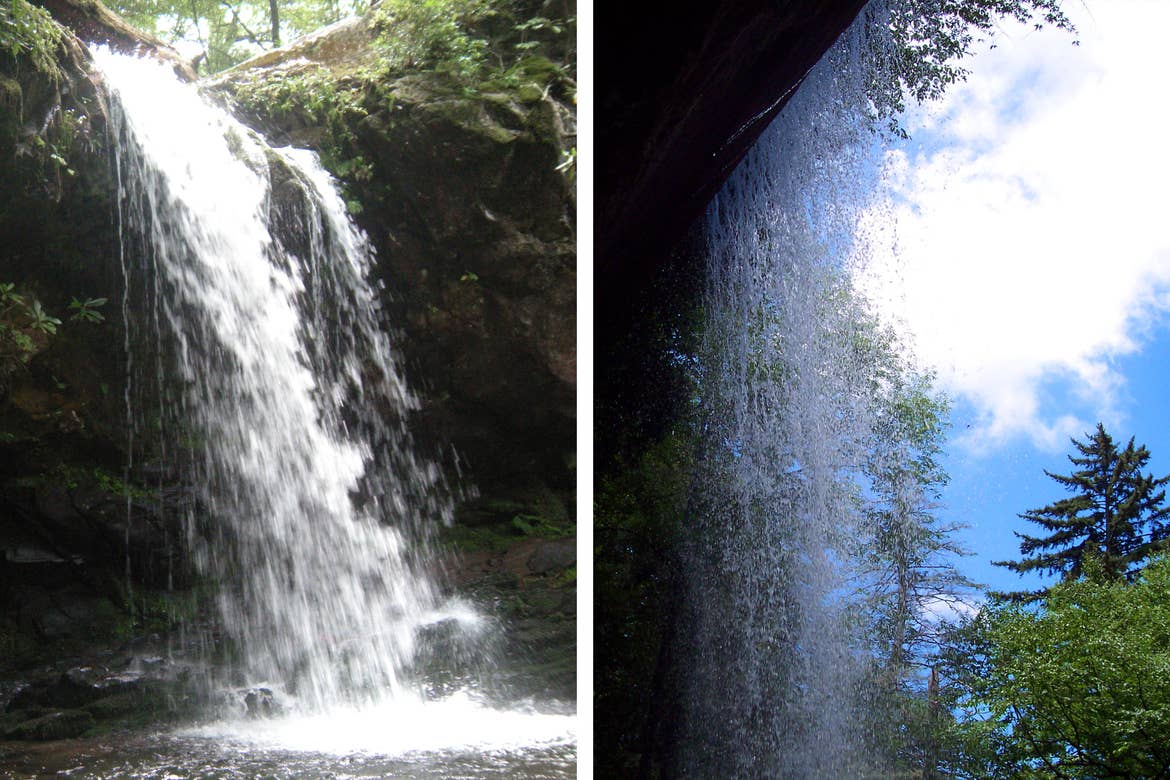 This trail is another top favorite of mine because it leads to 25-foot Grotto Falls. This is the only waterfall in the park that you can walk and stand behind, and it's one that kids will love.

The first time I did this waterfall I was 8, but it's a moderate hike, and you know your kids best (or if you'll be up for a piggyback ride if needed). It's also about 5 minutes from town, so that's a plus!


Length
2.6 miles


Difficulty
Moderate


Approx. Time
2–3 hours


Trail Name
Trillium Gap Trailhead


Location
Roaring Fork Motor Trail in Gatlinburg


Tips for Hiking Grotto Falls:
This trail tends to be busy (there's additional parking further up the road), so plan to arrive early to get a spot.
Part of Roaring Fork Motor Trail closes during the winter, so the only way to access this trail will be from Rainbow Falls trailhead, which adds another 3.4 miles to your trip.
1. Baskins Creek Trailhead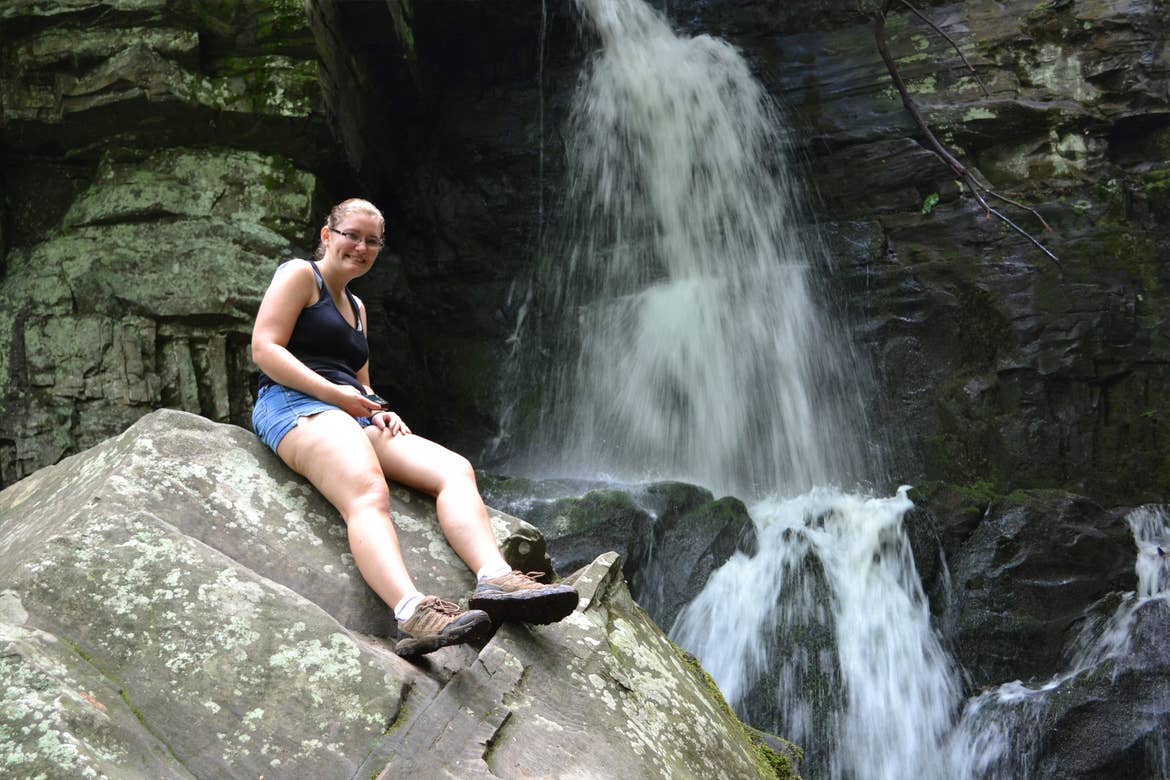 This hike is #1 on my list for a few reasons. First, it's so close to town! Not only is it less than 4 miles from downtown, but it's also a great intro hike.

And, even if you're an experienced hiker, this trail fits in great between other hikes, zip lining, white water rafting and checking out local Gatlinburg attractions.

Best of all (well, to me at least), it ends at a 40-foot, two-tier waterfall!


Length
3 miles


Difficulty
Easy


Approx. Time
2 hours


Location
Roaring Fork Motor Trail in Gatlinburg


Tips for Hiking Baskins Creek Trailhead
There are a few junctions along the trail that will lead you to other places, so bring a guidebook or notes to make sure you're going the right way. You likely won't have cell service, so keep that in mind!
---
Planning a Gatlinburg getaway? Check out these stories, too:
---
4 Tips for Hiking in Gatlinburg
I gave you some trail-specific tips and FYIs, but I have a few more recommendations for hiking in Gatlinburg, national parks and pretty much any other hiking adventure you have.


1. Wear comfortable shoes.
Comfortable and appropriate shoes are a must! Hiking shoes are best, but at least wear sneakers to protect your toes from tree roots and rocks. Speaking from experience — those hurt!


2. Bring LOTS of snacks and water.
Don't forget snacks and water (even if you don't have kids!). It's super helpful if you get tired or overheated.

And if you're hiking to a waterfall, it's a nice reward to enjoy before the trek back. If you don't want to carry them with you, you can always use a cooler in the car for when you make it back.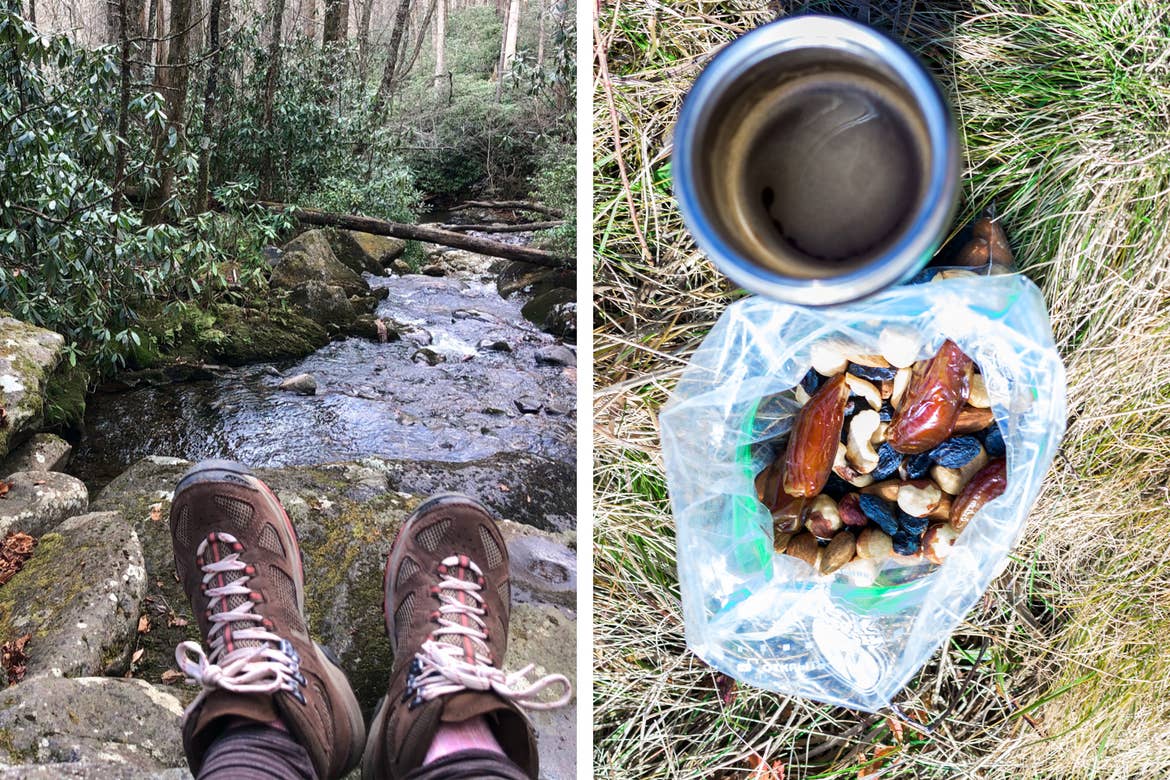 3. Get a guidebook.
Sugarlands Visitor Center sells them in its gift store, but you can find them at other places, too.

Guidebooks will have directions, detailed trail information and much more. It's how I found the waterfalls on my list!


4. Check out quieter pull-offs and trails.
As you drive through Smoky Mountains National Park, be on the lookout for the brown signs. These denote quiet walkways and trailheads throughout the park, and many have pull-offs.

These are also cool spots to walk around for a few minutes if you want to explore and stretch your legs.


3 Post-Hike Places to Eat Near Gatlinburg
After burning all those calories during your mountain trek, you might be hungry and ready to refuel. Lucky for you, there are a couple tasty places in town for post-hike eats that'll hit the spot.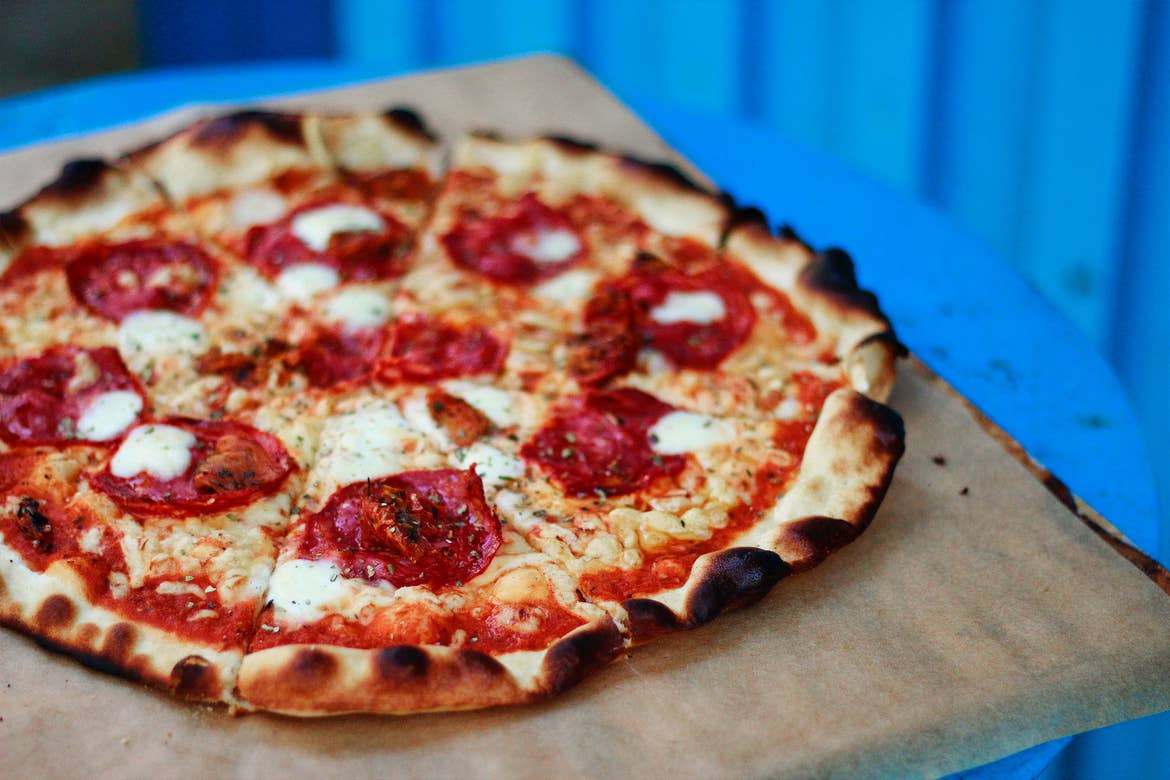 1. Big Daddy's Pizzeria
If you're like me, pizza is my absolute favorite food after an active day. Big Daddy's Pizzeria is just behind the Parkway and has ooey-gooey pizza and dessert that is to die for!

Plus, everything is made super fresh — like, they don't even have a freezer kind of fresh.


2. Loco Burro Fresh Mex Cantina
Another post-activity favorite of mine is any sort of tacos or fajitas. And if that's your jam, Loco Burro Fresh Mex Cantina is amazing.

It's kind of a hole-in-the-wall spot (like, I'm honestly not sure how my husband and I found it on our honeymoon), but don't let that fool you.

With tableside guacamole and a rooftop bar, do I even need to say more?


3. Dolly Parton's Stampede
Pigeon Forge also has a lot of the usual chain restaurants (along with another Big Daddy's Pizzeria), but if you're looking for a real treat, check out Dolly Parton's Stampede.

It's a southern-inspired dinner show, so you'll get entertainment and a filling meal all in one! I'm a huge Dolly fan, so I'm a little partial to hers, but there are other dinner shows, too.


3 Things to Do Near Gatlinburg for Non-Hiking Days
I always recommend checking out local attractions and even venturing out of town and taking day trips from Gatlinburg on your non-hiking days.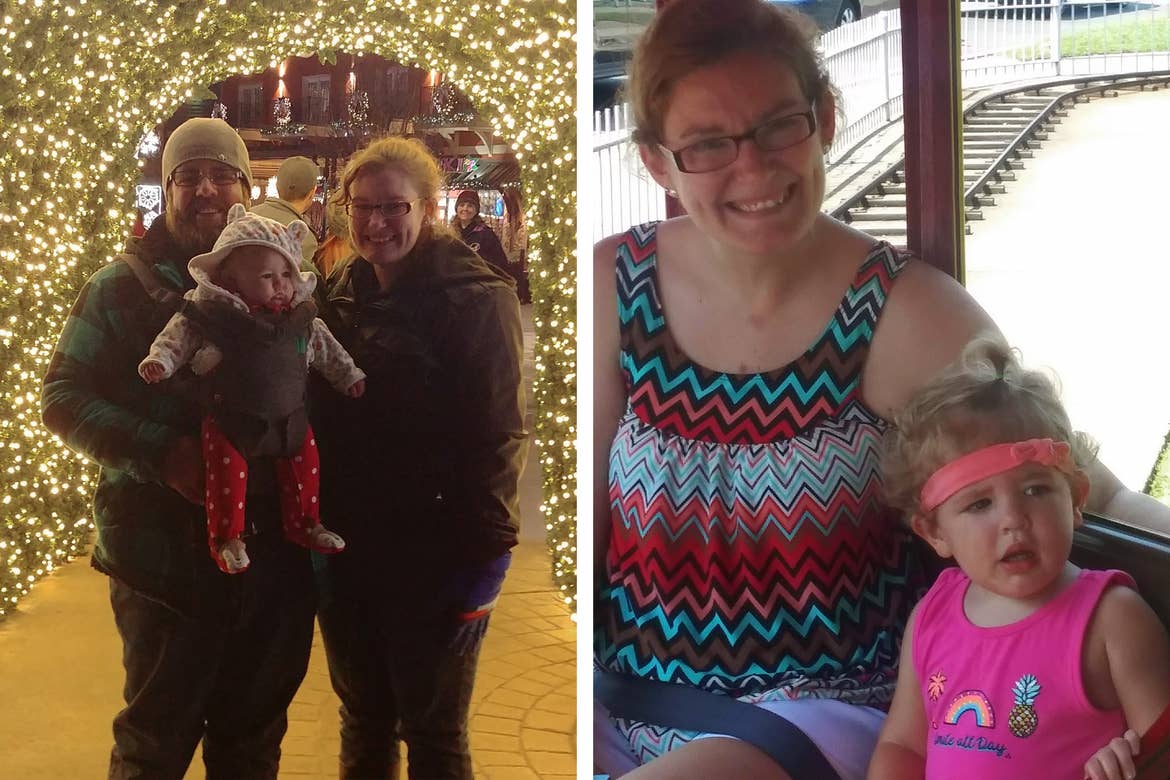 Enjoying holiday lights and sights at The Island (left) and a little train ride with my little one at The Track (right).

Here are a few of my favorites:


1. The Island
I'd highly recommend stopping by The Island. It's great for walking off dinner, checking out fun stores and grabbing dessert.

It's also got an area with rides for kids, and they have awesome decorations during the holidays.


2. The Track
The Track is great for kids to burn off energy. They've got go-karts, mini golf and an arcade for the big kids, plus a carousel, train and small rides for the littles. My daughter enjoys the rides, but I think she likes the arcade prizes the most!

It's also close to The Island, so it's easy enough to check out both if you want.


3. Ripley's Aquarium of the Smokies
Ripley's® Aquarium of the Smokies™ is right in the middle of Gatlinburg and makes for a great option if it's too rainy or chilly for a hike, or if you just want to enjoy something indoors.

Plus, with a walk-through shark tank, penguin area and more, what's not to love?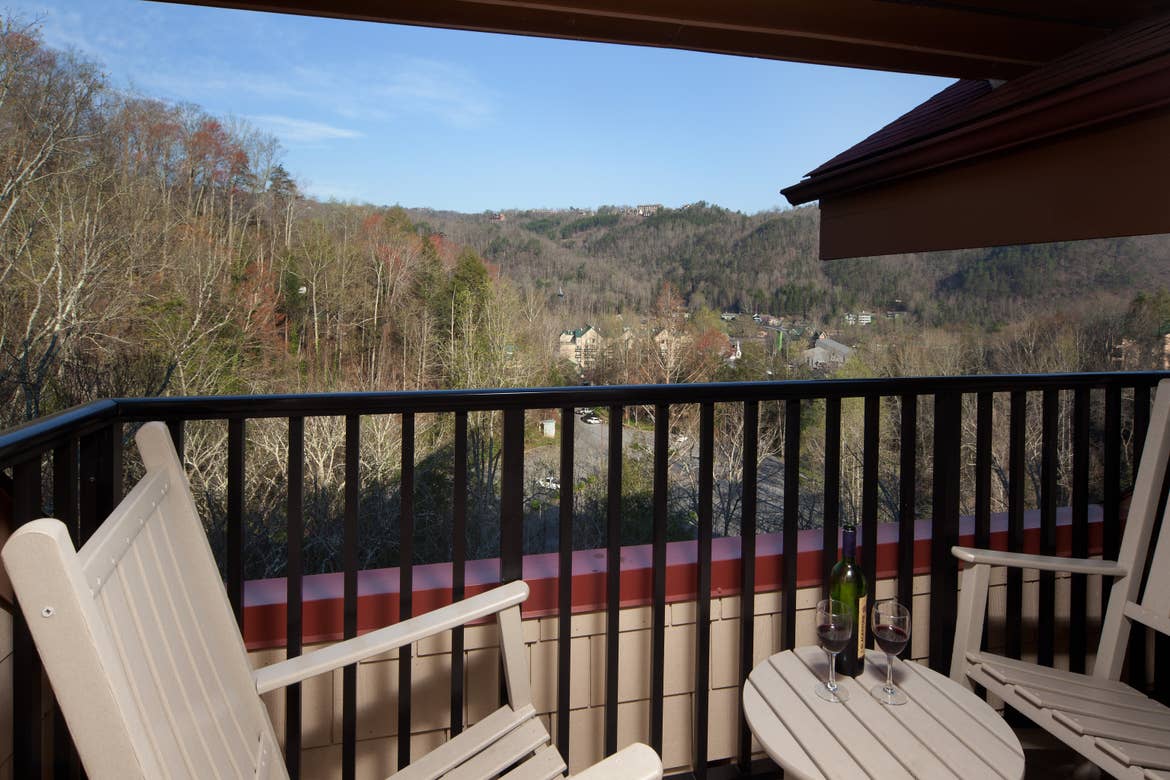 The balcony view from a villa at Smoky Mountain Resort.

Thinking of taking a Gatlinburg getaway? Our Smoky Mountain Resort is a great option for a home base.

You'll enjoy spacious villas with full kitchens (so you can eat home-cooked meals), fun amenities (like waterslides and hot tubs) and you're only 10 minutes away from some great waterfalls!

I hope my guide to hiking in Gatlinburg (and nearby) helps you plan your trip! With its great trails, yummy restaurants and places to play, there's so much I love about the Smoky Mountains.

And although I don't have a return date just yet, I'm thinking my daughter might enjoy some summer tubing down the river through the mountains…


All information is subject to change. This article is a curated guide and is neither sponsored nor considered an official endorsement. Please be sure to check information directly with any/all tours, guides or companies for the most up-to-date and direct details.