Jennifer C. Harmon
Jenn is the Editor-in-Chief of the Checking In travel blog. She loves coffee, wine, writing, traveling, working with all of our amazing guest bloggers, and getting to tell our guests', owners' and team members' vacation stories. Jenn and her husband, Anthony, have mastered the art of the long weekend couples' getaway (sans kids). And while it's too hard to pick just one type of "favorite vacation," her three-way tie would be: a snowboarding trip, going to Hawaii or sailing with Disney Cruise Line.
With 62 U.S. national parks in 29 states to choose from, there's so much to love about national park vacations.

My first visit to a national park was actually on a rare, non-Florida trip to Hawai'i, visiting Haleakalā National Park in Maui, as a teenager. Now that I'm older, I've thankfully gotten many more of these outdoor treasures "checked" off my list.

My favorite way of planning national park trips? Asking my friends and family for advice!

While there are tons of books, online reviews and planning websites "out there," nothing beats tried-and-true travel tips from people you trust.

That's why I asked our very own team of travel experts for their best national park tips for maximizing your time and experience during your outdoor adventure.

With 21 parks covered, we hope it's a helpful first step to checking your next national park off your list!


Acadia National Park in Maine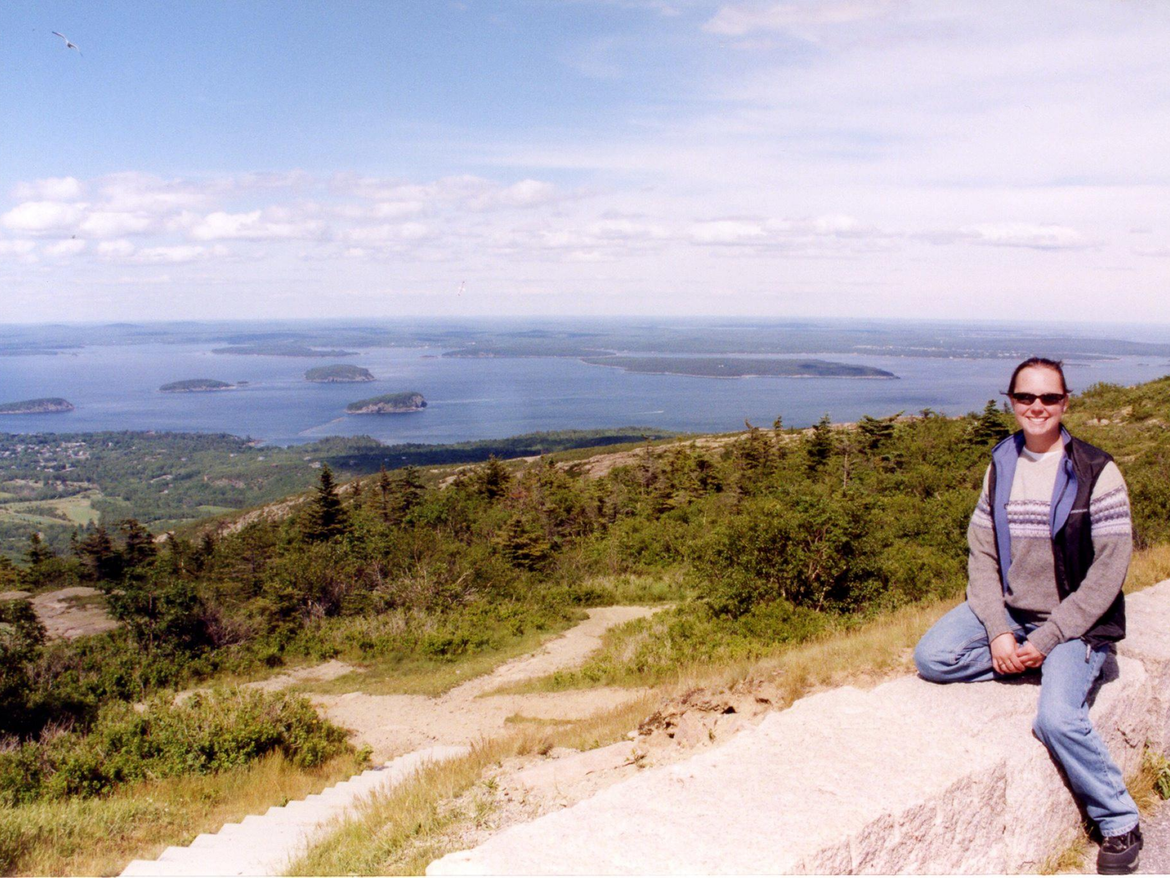 Sarah enjoying a motorcycle stop in Acadia National Park back in her teenage years

"When I toured this park as a teenager, I was actually on a motorcycle! I'd highly recommend this, as it was a gorgeous way to take in all of the sights that this park (and Bar Harbor, Maine) has to offer.

While we didn't hike in Acadia, it was my very first national park visit and I just remember being in awe of everything. The change in landscape was breathtaking and being so close to nature, especially while on a motorcycle, was nothing short of majestic." – Sarah Conroy, Checking In travel blog contributor


Arches National Park in Utah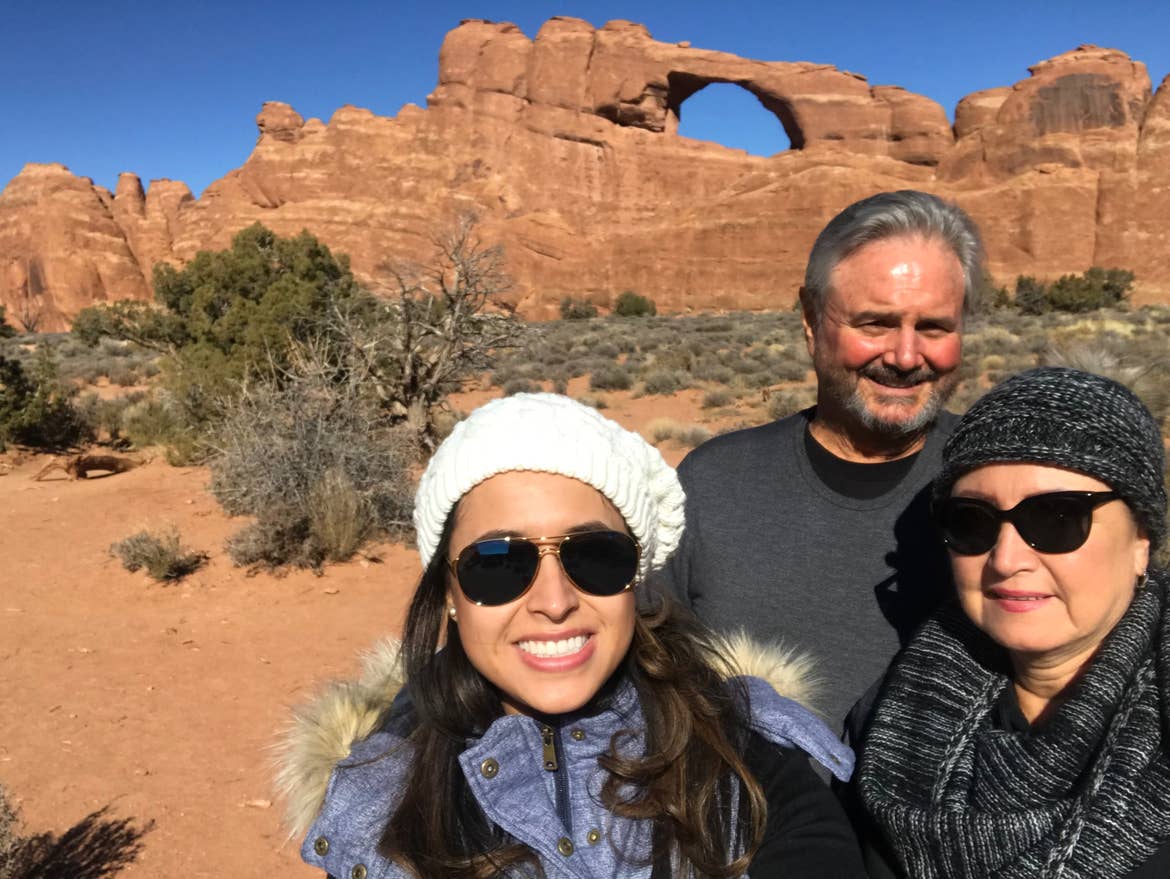 Andrea's family exploring Arches National Park

"The best, most breathtaking part of Arches National Park was getting to see the world-famous Delicate Arch at sunset! There was a moment when everyone got really quiet, and between the beauty of the sun setting and the silent stillness, it made me feel like I was part of a magical painting.

Keep in mind, it gets dark out there fast, so I'd recommend bringing a headlamp to light the way for the walk back.

To really get to see everything, I suggest spending at least a whole day at Arches National Park. (It can take a while to just enter the park with the morning and afternoon traffic, so try to arrive early.)

Plus, there's so much to see beyond Delicate Arches, including Devils Garden, Double Arch, Turret Arch, Landscape Arch, Balanced Rock and more." – Andrea Beltran, Graphic Designer, part of the Holiday Inn Club Vacations corporate family since 2017


Biscayne National Park in Florida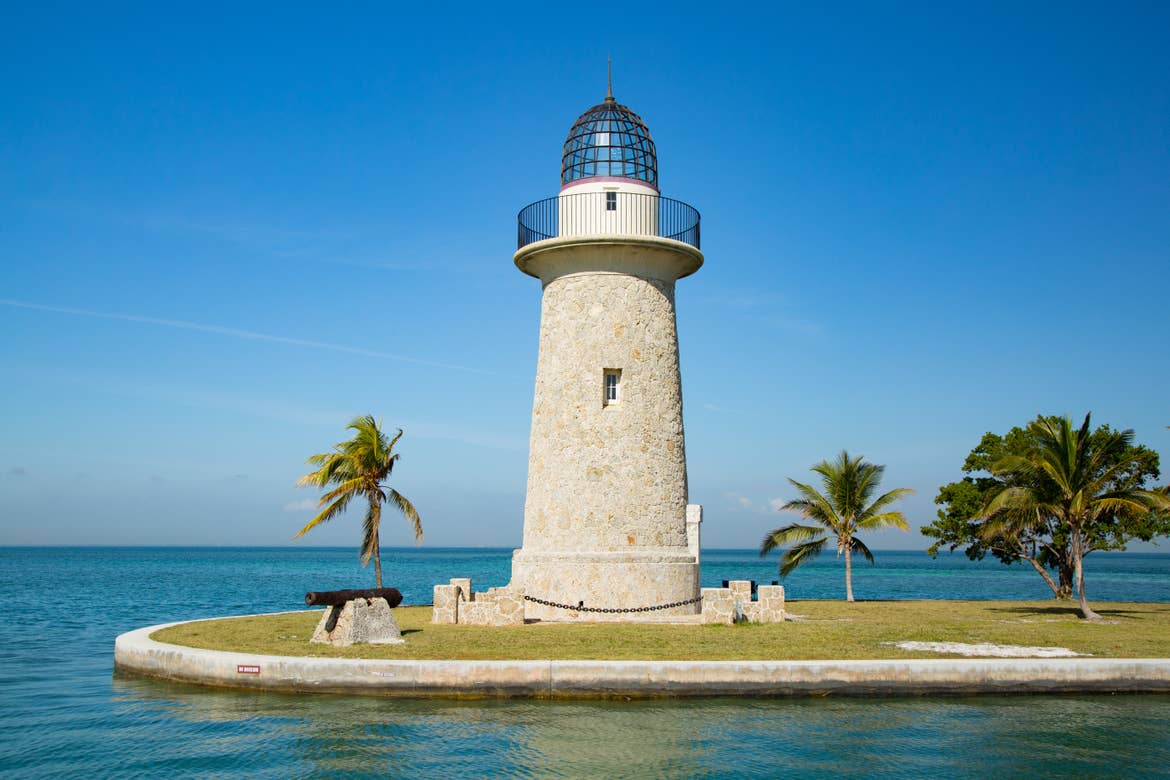 Boca Chita Lighthouse at Biscayne National Park

"Biscayne National Park is an underwater wonderland with some of its best sights lying beneath the waves. Growing up in Miami, my family spent many weekends frequenting this park's waters for great fishing and snorkeling by boat.

If you're looking for something a bit more guided, there are numerous eco-tour options that'll take you to some of the best snorkeling and fishing sites.

A word of wisdom: When you're out on the water, make sure you use plenty of sunscreen. The glare from the ocean and sun can lead to getting sunburned pretty quickly.

If you're planning on snorkeling, I'd recommend even wearing a water shirt for added sun protection." – Ben Henderson, Director of Brand Design, part of the Holiday Inn Club Vacations corporate family since 2008


Bryce Canyon National Park in Utah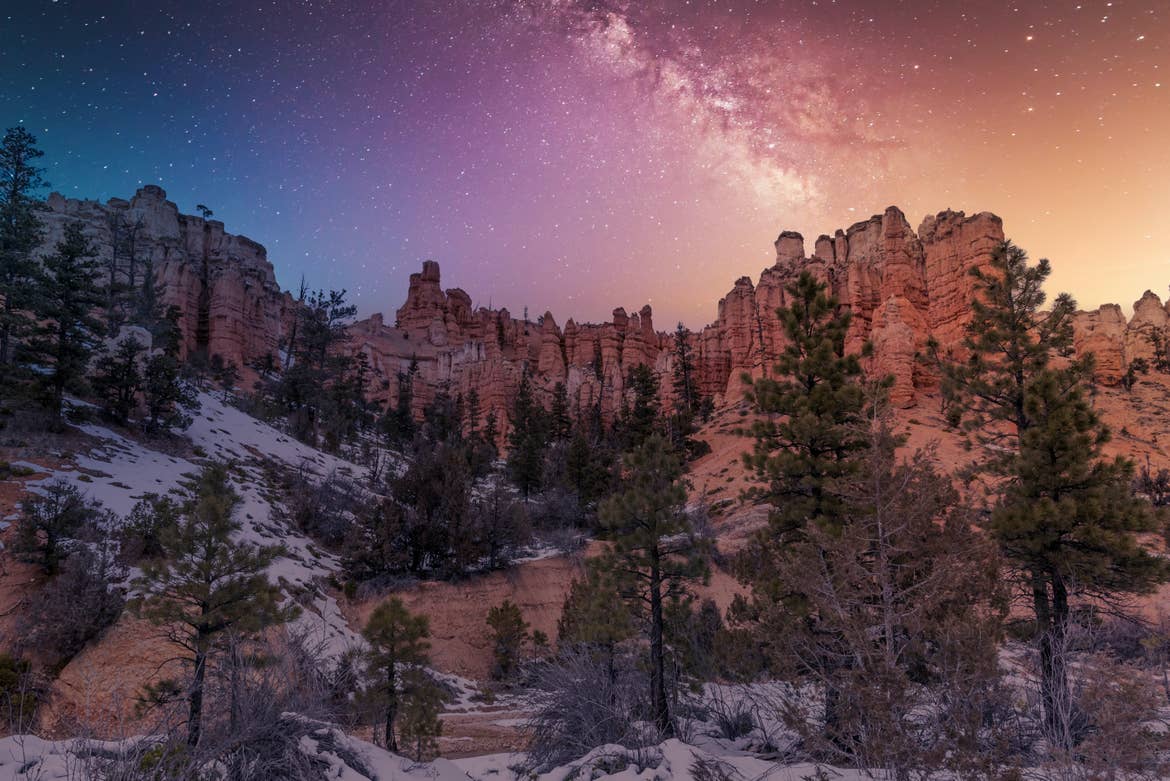 Colorful skies and twinkling stars at Bryce Canyon National Park

"What a beauty! My family and I went in November (right around Thanksgiving time) and while it wasn't too cold, you could see some snow and it was especially chilly at nighttime.

This park was where I took my very first hike. We did the Rim Trail, which was easy, and the Queens Garden Trail, which was more moderate.

I highly recommend wearing hiking boots and breaking those boots in before your hike. Also, bring plenty of water, protein snacks (like peanuts), sunscreen, sunglasses and a hat (even during cooler temperatures).

Although it was a little cold, I recommend packing lots of comfortable layers because you're likely going to be sweating no matter what the weather is. (Also, I saw some families struggling with strollers on the trails—I would not recommend!)" – Andrea Beltran


Canyonlands National Park in Utah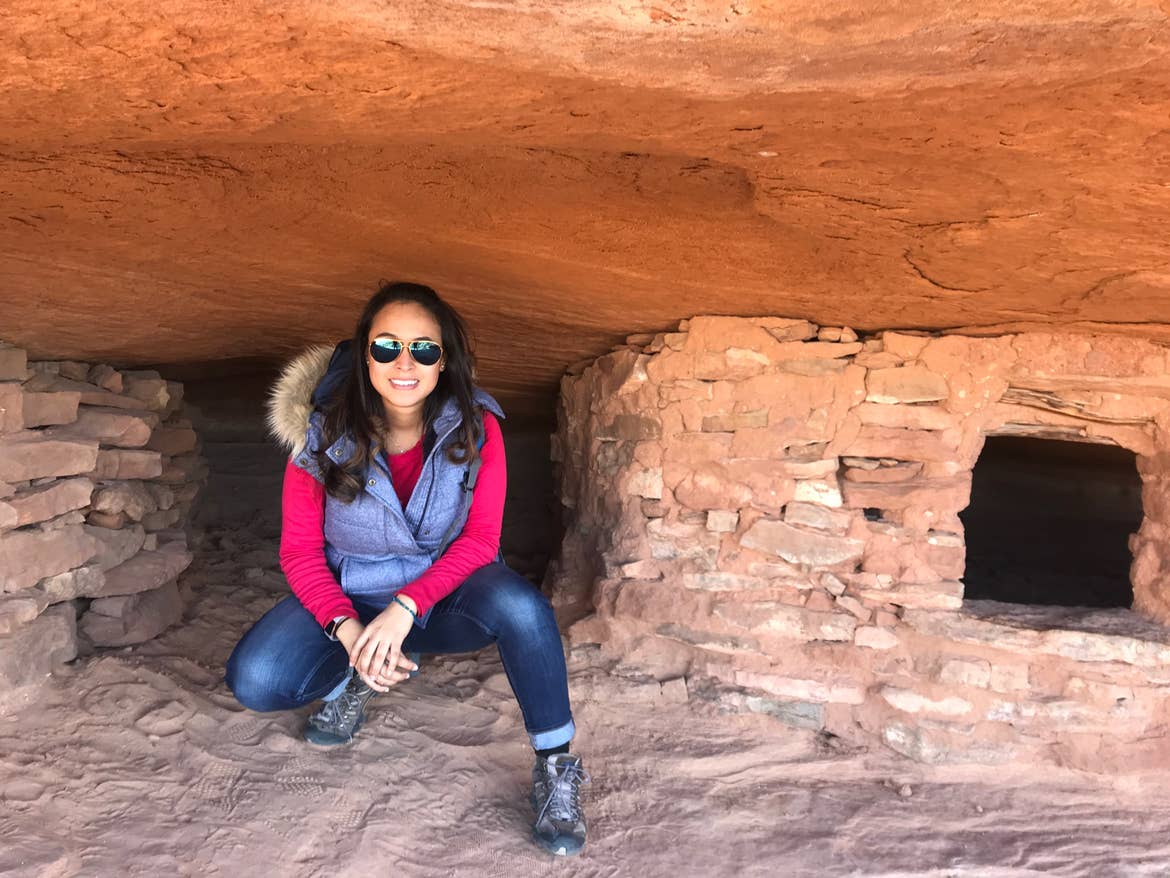 Andrea becoming one with the Canyonlands National Park landscape.

"This Utah national park is really big, so I recommend spending a few days here if you've got the time to really check it all out. It has a nice variety of hiking trails from easy, medium and difficult.

Consider bringing a portable charger/battery for some extra juice for your phone on the longer hikes, just in case." – Andrea Beltran


Capitol Reef National Park in Utah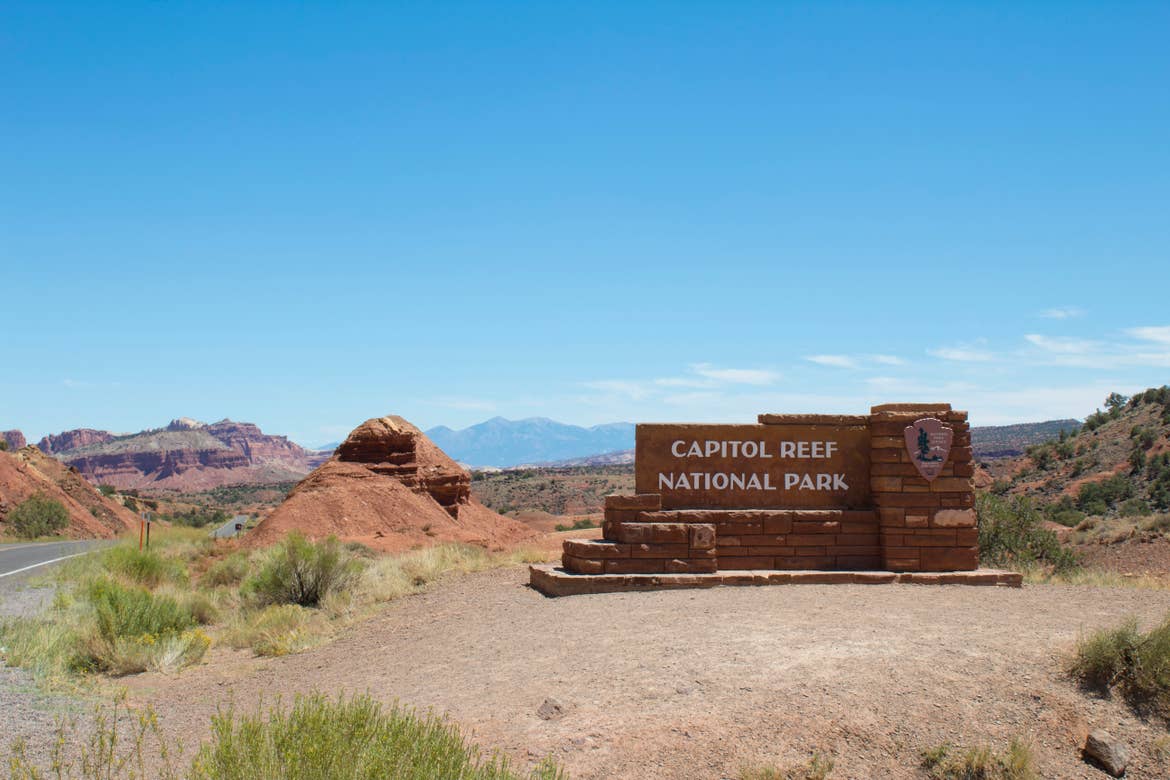 A welcoming view at Capitol Reef National Park

"What I loved about this park was that it didn't feel crowded. And the views from the top of the cliffs were stunning.

If you're hiking here, keep an eye out for petroglyphs (images carved or picked into surfaces of the surrounding rocks). It was really fun finding this 'rock art' while we walked." – Andrea Beltran


Dry Tortugas National Park in Florida

Fort Jefferson at Dry Tortugas National Park

"Besides bringing sunscreen and generously reapplying often, you'll definitely want to snorkel or dive around Fort Jefferson. It's simply amazing.

And if you like to fish, visit Loggerhead Key where the Coast Guard maintains the Loggerhead Lighthouse. This area offers some amazing catch and release of giant barracuda on the west side of the island." – Tom McCarthy, Manager of Brand Creative, part of the Holiday Inn Club Vacations corporate family since 2017


Everglades National Park in Florida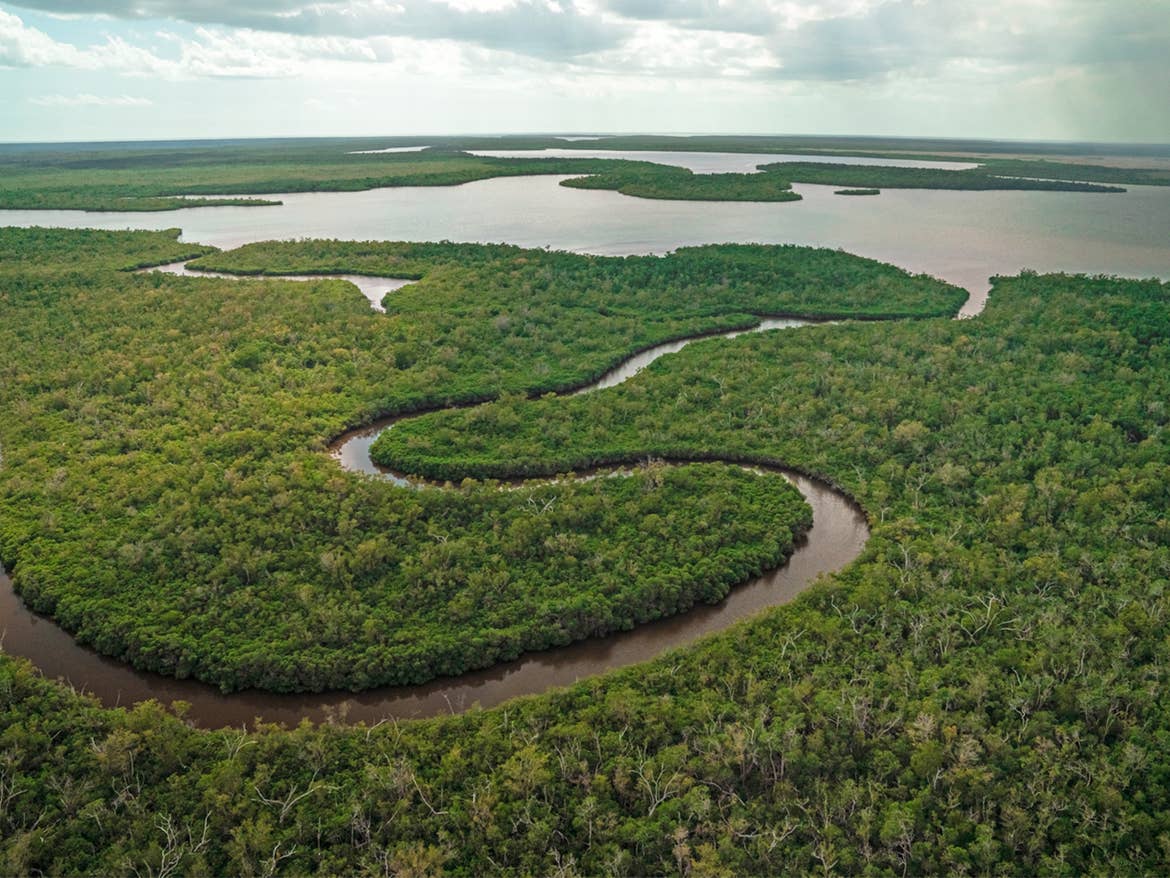 Photo courtesy of Everglades National Park

"As a Miami kid, we visited the Everglades fairly often for a quick weekend camping or boating trip. What makes the park so unique are the tall grass wetlands and wildlife sightings that are often best experienced out on the water.

If you keep an eye out, you may even spot some pink flamingos in the wild. (Seeing them is probably one of the coolest and most memorable wildlife experiences I've ever encountered in Everglades National Park!)

There are also numerous airboat outfitters that run daily, inexpensive eco-tours into the park. This is one of my favorite ways to see the park with the added thrill of some high-speed boating.

If you shy away from loud noises, bring earplugs for you and the kids as the propeller engines on the airboat can get pretty loud. Most outfitters will have ear protection, sometimes at an additional cost." – Ben Henderson


Grand Canyon National Park in Arizona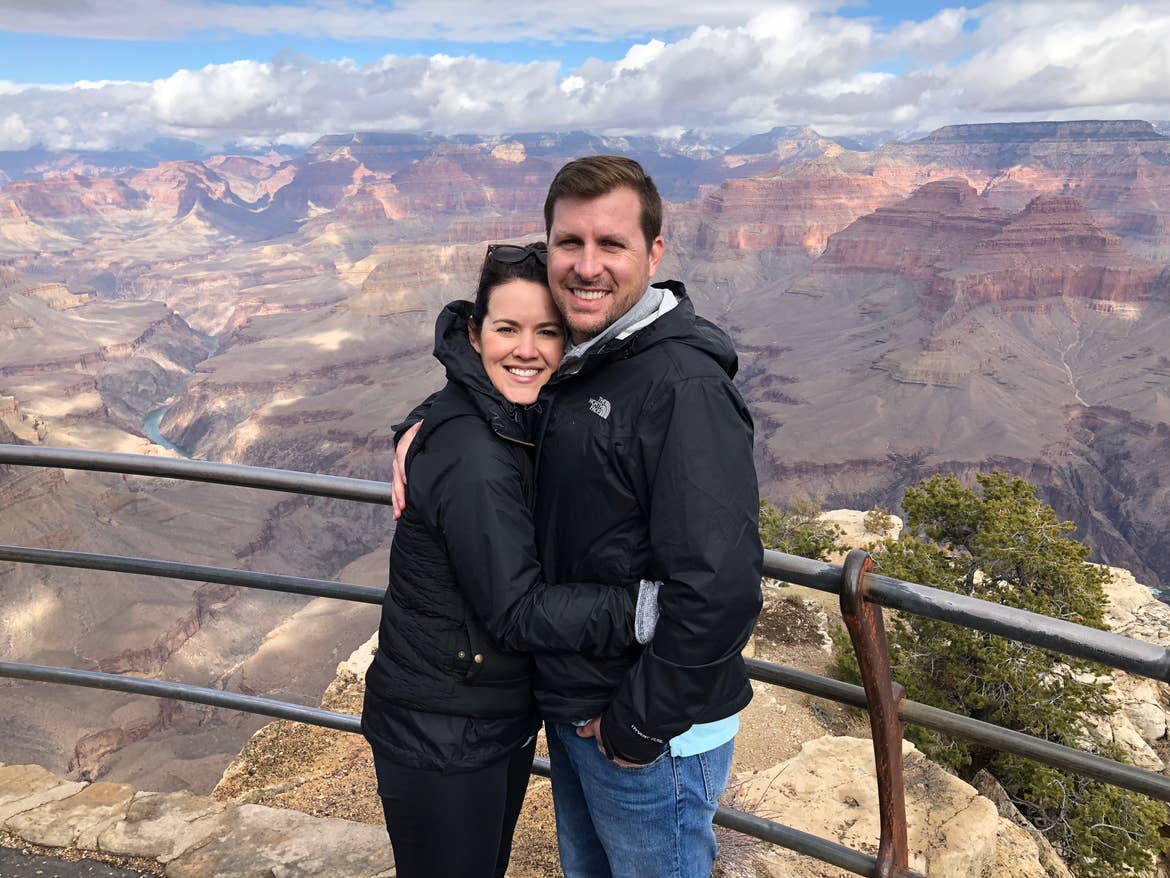 Jennifer and her husband, Anthony, enjoying the views at the Grand Canyon

"Don't be afraid to go during non-peak times! I was a little nervous about going off-season and not getting that quintessential, sun-hitting-the-red-rocks experience. But visiting the Grand Canyon in mid-February was awesome!

There were zero crowds, zero traffic jams, and no problem getting those picture-perfect photo ops without random strangers in the background. And while we did get perfectly clear views of the Grand Canyon's sunny red rocks all afternoon, it never got sticky, sweaty or hot.

The best part was in the early winter morning hours when there was thick fog with rainbows sitting low in the canyon, and before the sun burned through the clouds, there was still a light dusting of sparkling snowflakes everywhere you looked, which made it feel extra magical." – Jennifer C. Harmon, Director of Digital Content & Engagement, Editor-in-Chief of the Checking In blog, part of the Holiday Inn Club Vacations corporate family since 2019

"This is one of those places you just have to visit to really experience the definition of awesome! Even if just visiting for the day, bring your hiking shoes (and some water) and walk the rim. Just watch your step when taking those selfies!" – Tom McCarthy


Grand Teton National Park in Wyoming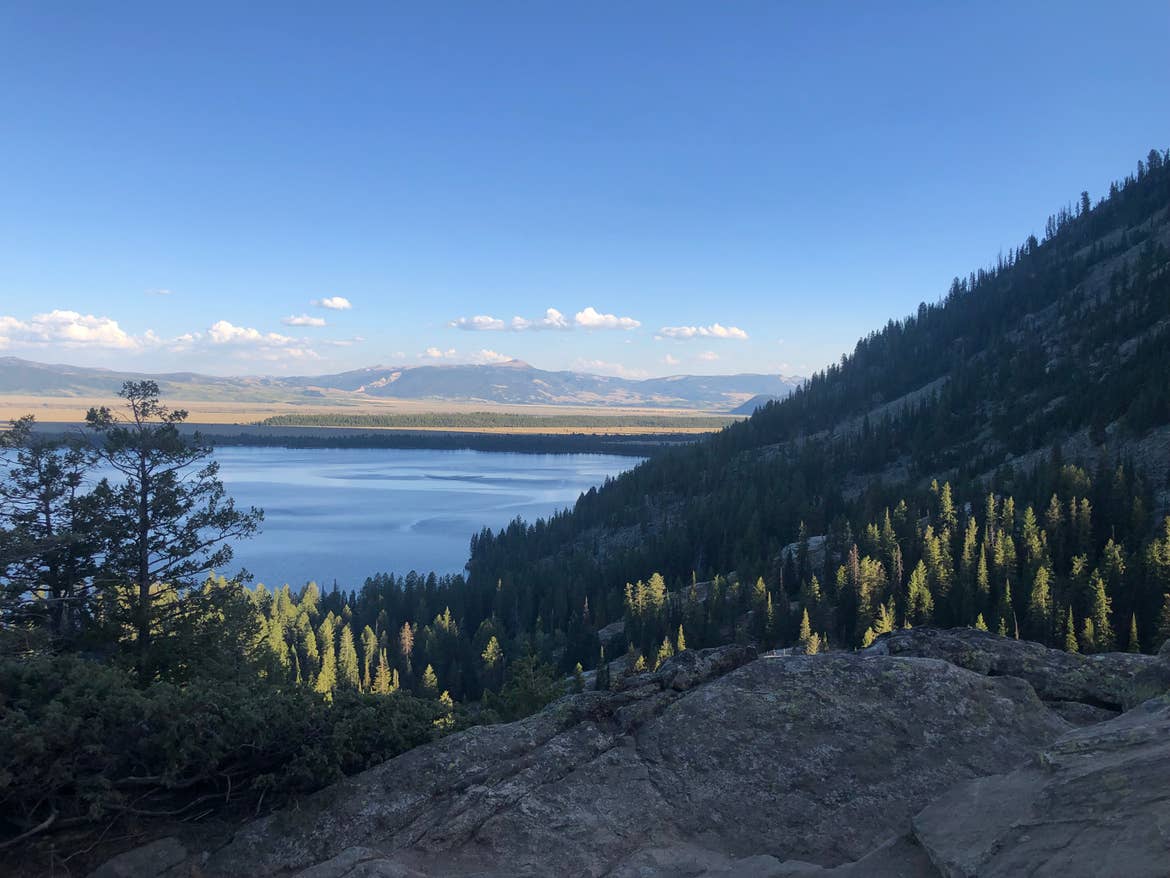 A view from Cascade Canyon Trail in Grand Teton National Park

"My number one piece of advice for Grand Teton is to do at least some of the Cascade Canyon Trail. You can make this hike as short as a gentle 0.5-mile walk filled with conifer-forests and waterfalls, or as long as a steep, mountainous 5+-mile trek.

And my number one piece of advice for Cascade Canyon itself is to save your legs for your hike! Taking the Jenny Lake shuttle boat will eliminate a 2.5-mile hike (both ways) to the start of Cascade Canyon trailhead.

Plus, the boat ride, which requires a small fee, is a beautiful, quick, and fun way to get around." – Jennifer C. Harmon

"Great weather is key with this park. If possible, avoid visiting on a cloudy day, as you may not be able to see the Teton Mountains.

If you're headed to Yellowstone, consider flying into Salt Lake City International Airport. Not only is it one of the closest, and most affordable, airport options in the area, but you can also plan a stop at Grand Teton as you drive up to Yellowstone Park; it's not a long detour and is a good single-day park." – Ashley Fraboni, Public Relations Specialist, part of the Holiday Inn Club Vacations corporate family since 2019


Great Smoky Mountains National Park in Tennessee & North Carolina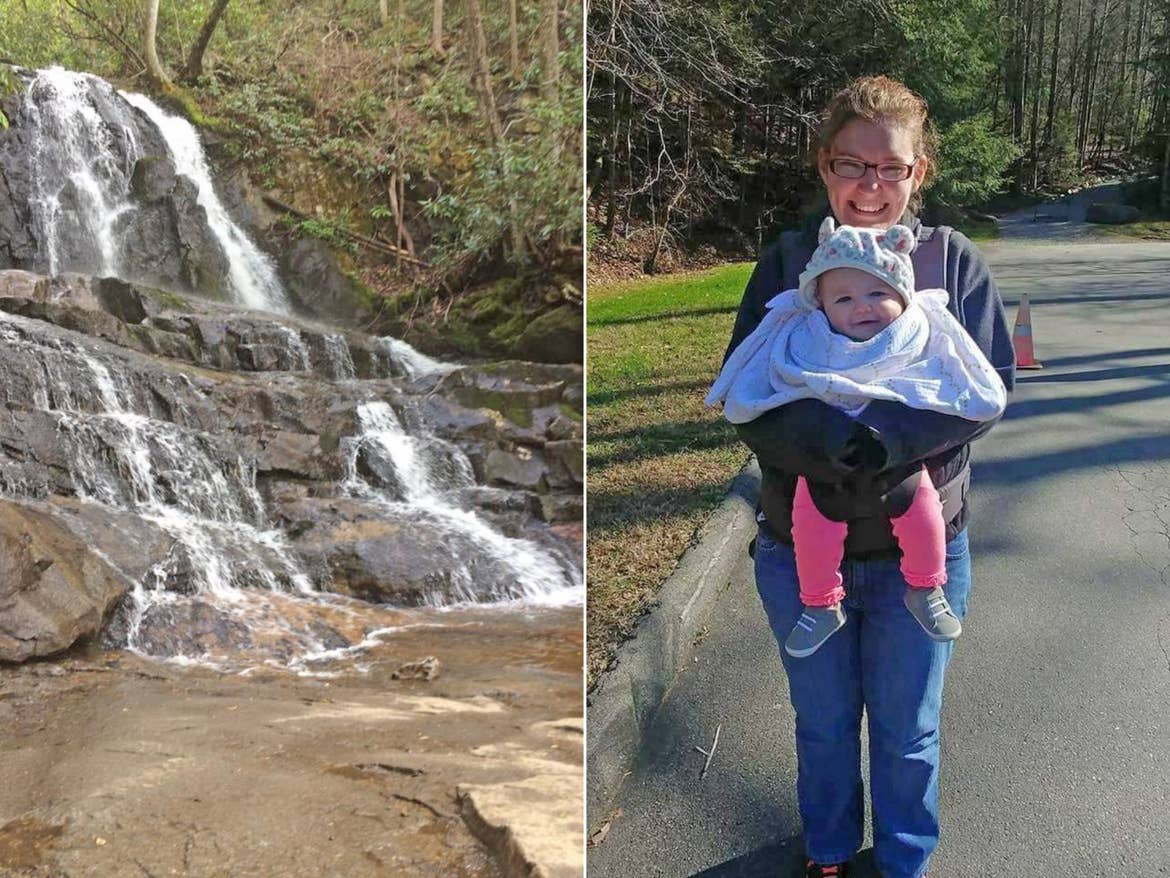 Becca hiking with her daughter Savannah

"Stop by the Sugarlands Visitor Center for a guidebook if you're wanting to hike the waterfalls. There's a ton of easy to moderate hikes that are well worth it, but not always the easiest to find and you won't always have GPS on your phone.

Also, bring drinks and a snack to enjoy once you get there. You'll want to relax and take it all in before the hike back to the car.

Don't be afraid to explore these hiking trails with kids! The Gatlinburg area is my favorite place to vacation and while I grew up going to Great Smoky Mountains National Parks many, many times, my favorite visit was in 2017, as it was the first time my husband and I took our (then) four-month-old daughter.

There were a lot of firsts during this trip, like taking Savannah on her very first waterfall hike. We put her in the baby carrier and took turns carrying her in 30-degree weather to Spruce Flats Falls. Great memory!"
– Becca Clark, Copywriter, part of the Holiday Inn Club Vacations corporate family since 2016 (Becca is also our resident Smoky Mountains expert!)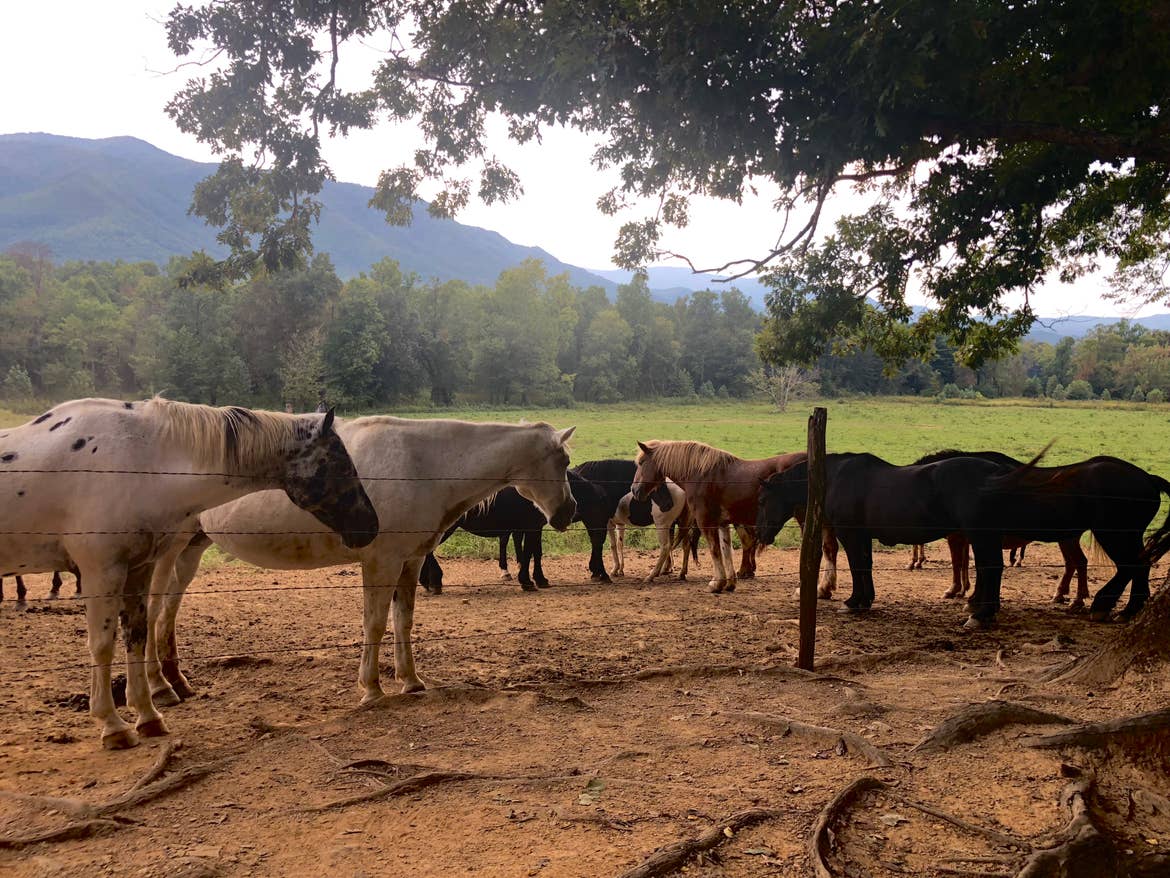 Some four-legged friends Jennifer found at Cades Cove

"If you're on the Tennessee side, check out Cades Cove and then sit back, relax and enjoy a great post-hike meal—and a great glass of wine—at nearby Dancing Bear Lodge's Appalachian Bistro." – Jennifer C. Harmon

"Since this park is located right outside the gates of our Smoky Mountain Resort, it was incredibly fast and easy to drive to it for a quick visit. There were numerous trails, many of them paved.

We did an easy 45-minute hike to a small, really pretty waterfall, and although we didn't see any local black bears, they are definitely popular in the area.

There were also a lot of other park visitors on the trails, but plenty of room to spread out, so we never felt unsafe." – Ben Henderson


Haleakalā National Park on Maui in Hawaiʻi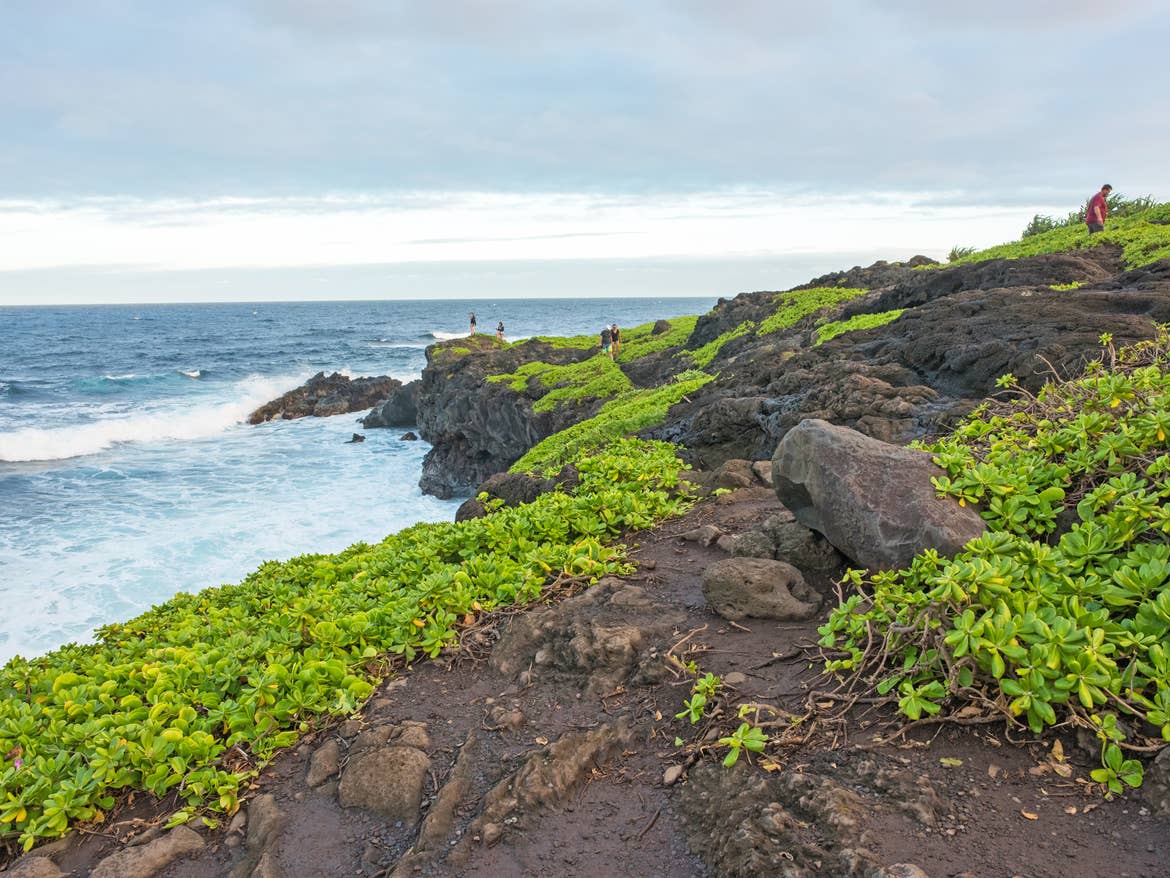 Photo courtesy of Michael Gordon / Shutterstock.com

"Get up early! No, seriously. Do it. Get up around 2 or 3 a.m. and go watch the sunrise. When else can you say you saw the sunrise from the top of a volcano?

And dress really warmly; the top of the crater before sunrise can get quite chilly. There are also several bike tours that will bus you up and let you ride down during sunrise. This is a must-see in Maui!" – Sarah Conroy

"You know that saying, "Life is a journey, not a destination?" That's especially fitting here, with having to take the infamously windy and cliff-hugging Hana Highway, aka the 'Road to Hana,' to parts of this national park.

In particular, the Kipahulu District part of the park is 12 miles past the town of Hana, so definitely plan for plenty of travel time to make sure you don't get stuck making this tricky drive back without daylight."
– Jennifer C. Harmon


Hawaiʻi Volcanoes National Park on "the Big Island" in Hawaiʻi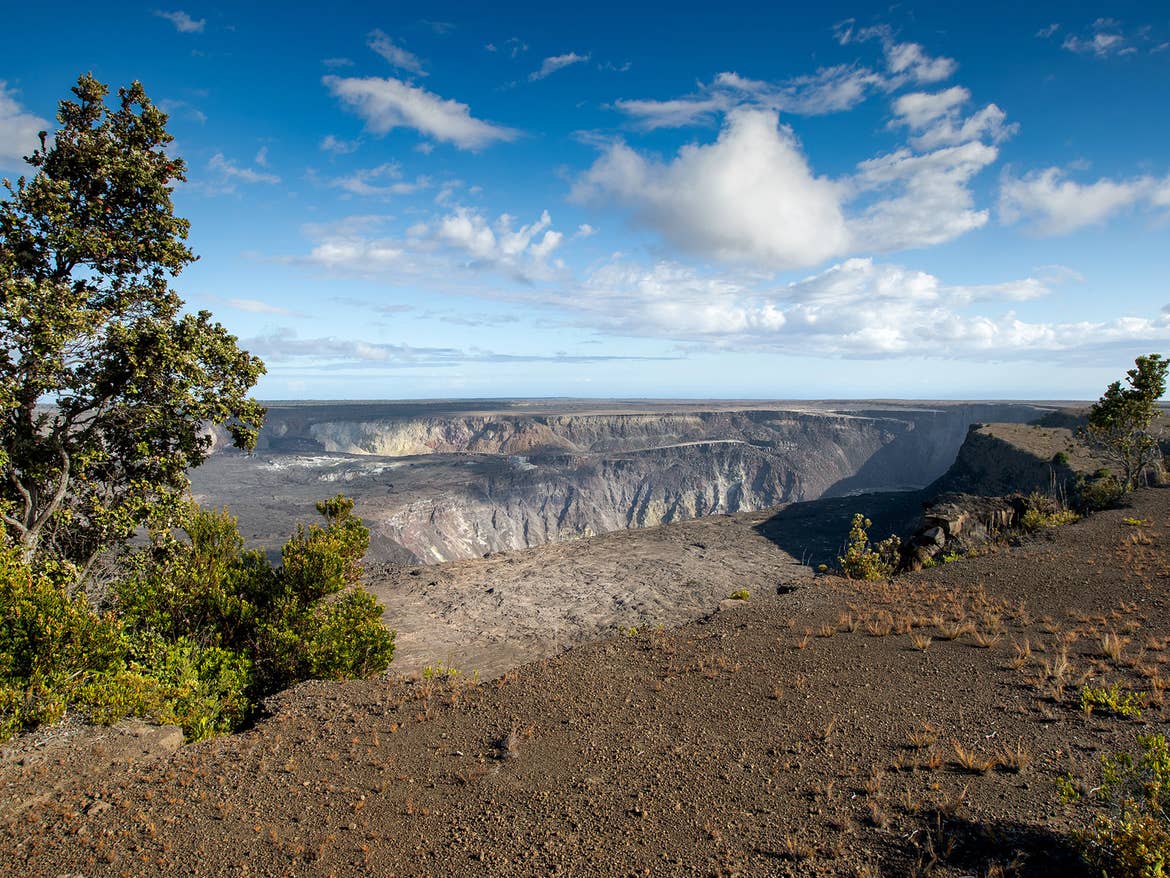 Photo courtesy of Hawaiʻi Volcanoes National Park

"Explore all the caves in this national park. My favorite part was the old lava tubes. The lighting is low, so I brought a small tripod to be able to set up and capture some of the beauty of the tubes.

If you can find one that easily packs in a bag, you'll find a tripod helpful on the rest of the island, too, as it'll let you break the mold away from your typical 'selfie' shots." – Sarah Conroy

"If you can, plan on driving into the park at nighttime. It literally took my breath away as we slowly started to see glowing red lava through the dark night sky ahead of us.

It was truly incredible—and kind of terrifying—to watch it get bigger and brighter as we approached, knowing that while it would be highly unlikely, it could just erupt at any moment.

Tip: Definitely stop in at Volcano House! It's the perfect spot to grab some drinks and dinner while watching the sunset over the Halema'uma'u Crater." – Jennifer C. Harmon


Mesa Verde National Park in Colorado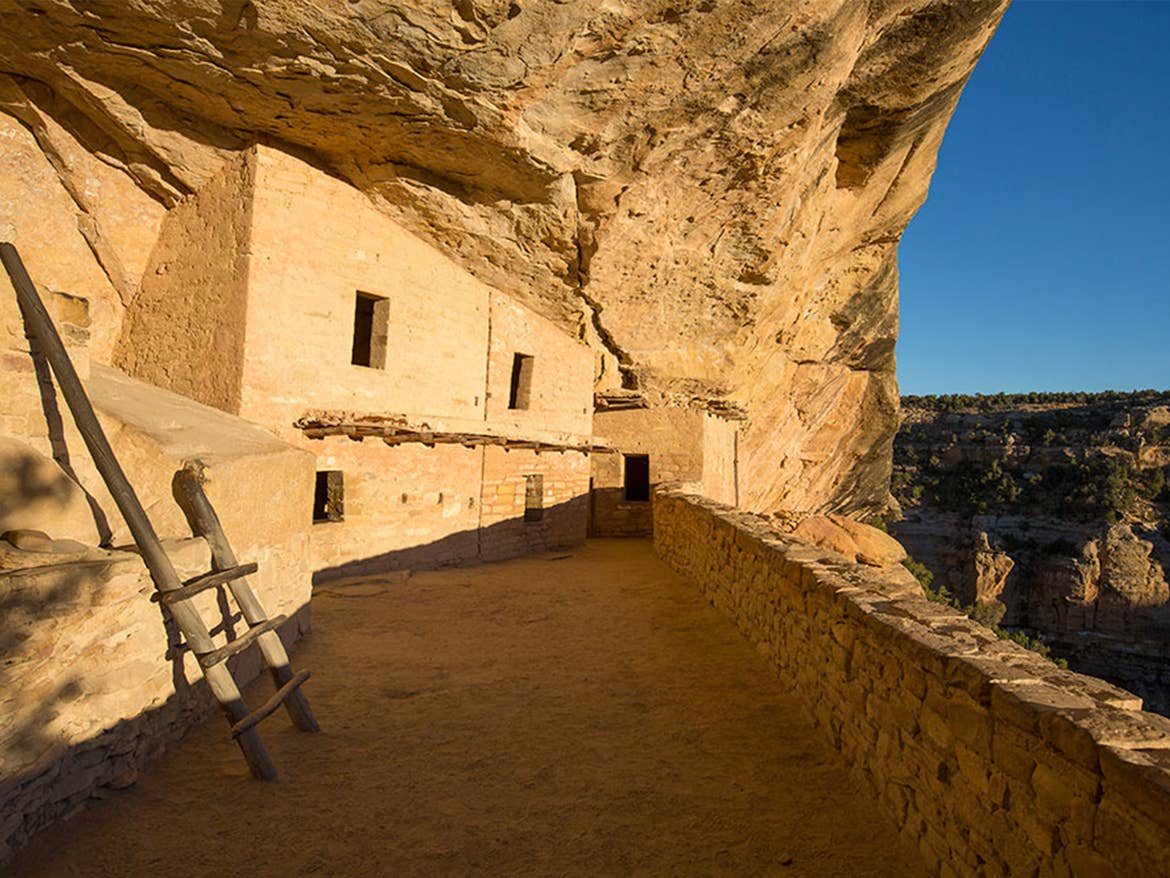 Photo courtesy of Mesa Verde County

"Step back in time and, in some sections, literally down ladders, as you check out ancient cliff dwellings carved right into the cliffsides.

When checking out the most popular part, Cliff Palace, wear your hiking shoes, and don't forget your sunglasses and sunscreen! That Colorado air is at a higher elevation and while the air is thin, the UV index can be strong." – Tom McCarthy


Meteor Crater National Park in Arizona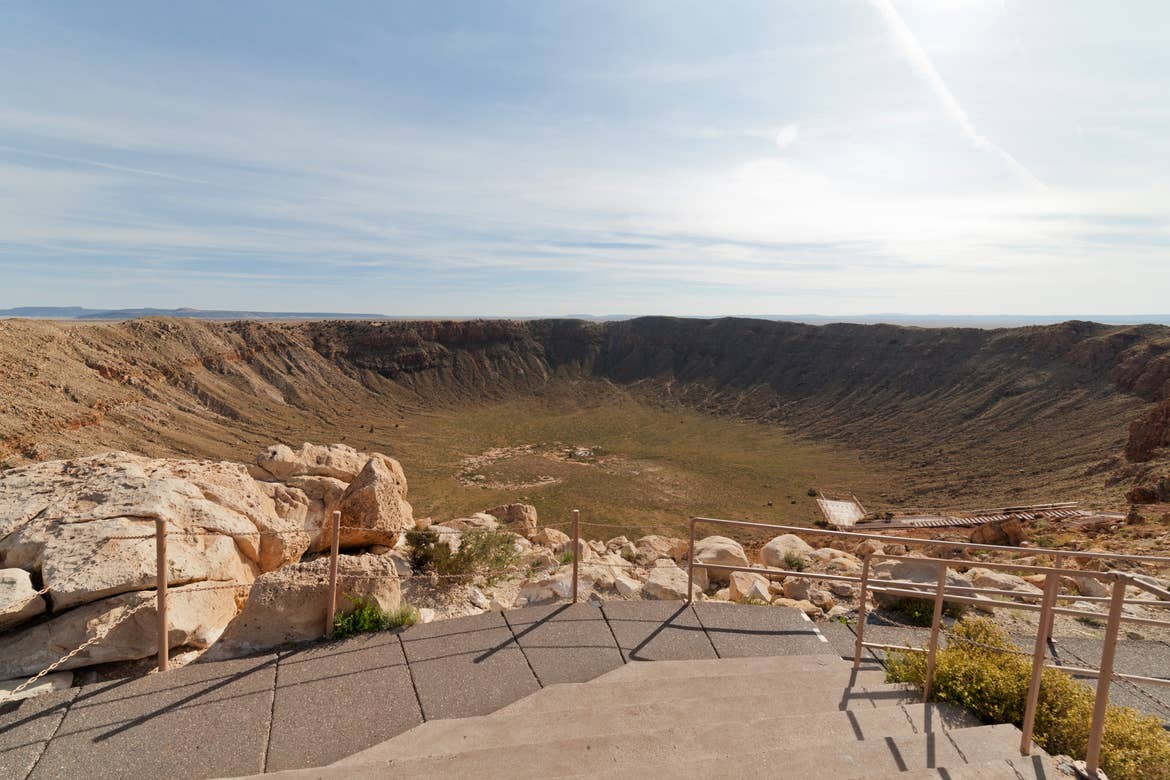 The Meteor Crater National Natural Landmark

"If you find yourself in the Winslow, Arizona, area, you're just a few short miles from Meteor Crater. And it will be the best $20 you ever spend!

You'll be surrounded by desert flatlands, and the immensity of the crater is breathtaking and almost unnerving as you stand on the rim and look out over this vast hole in the earth." – Tom McCarthy


Rocky Mountain National Park in Colorado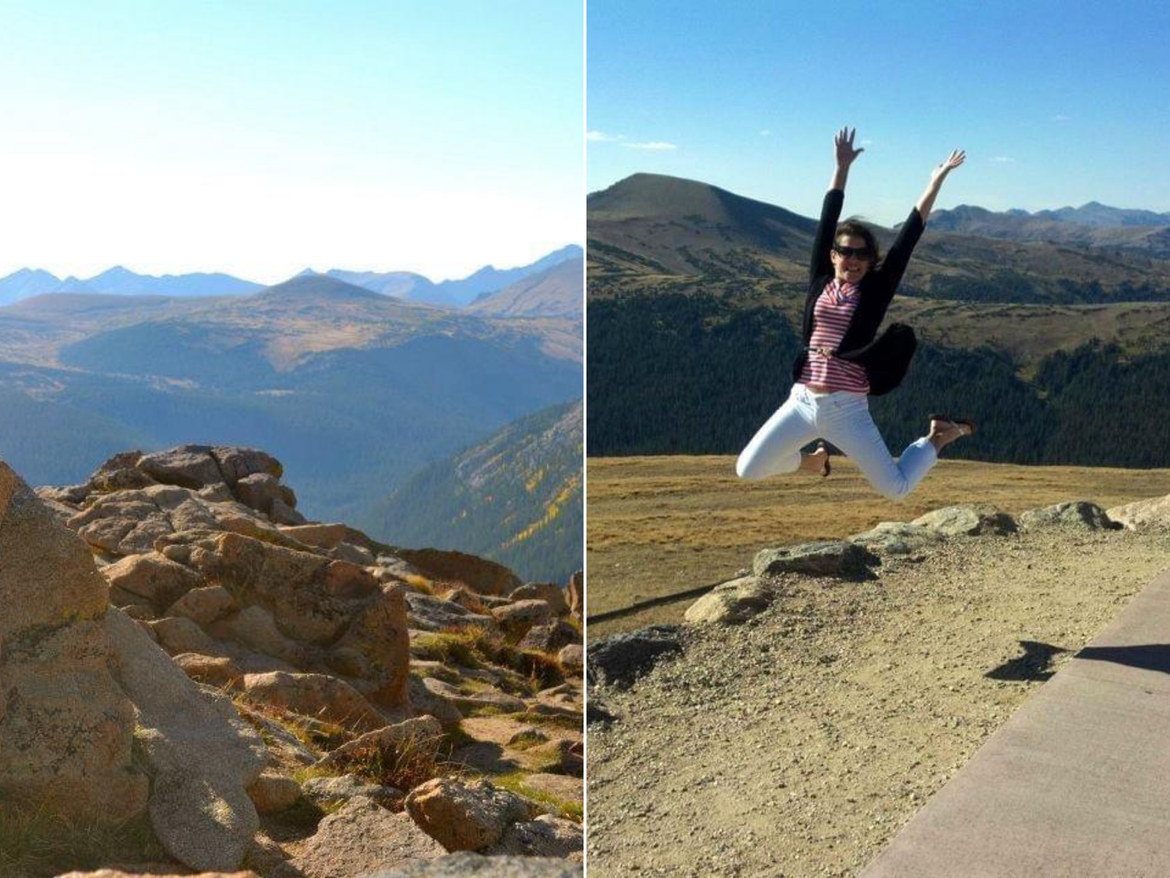 Jennifer jumping as high as the altitude in Rocky Mountain National Park

"I lived in Colorado for nearly 10 years, so I took a lot of friends and family members through Rocky Mountain National Park. An absolute "must" is seeing the Aspens during the fall.

While "primetime" Aspen leaf season varies from year to year (and can be fleeting based on temperatures), usually visiting from late August to mid/late September will mean getting to see these brilliant, yellowish-gold leaves at their peak. (Plus, keep an eye and ear out for bugling elk!)" – Jennifer C. Harmon

"There are several trails in and outside of Estes Park. A beautiful, short 1-mile trail around Lake Estes was the perfect distance for my (then) almost-two-year-old to be able to happily hike along.

My biggest tip: Don't let kids deter you from exploring. You may need to adapt the way you explore, but it doesn't mean you need to stop."
– Sarah Conroy


Redwoods National Park in California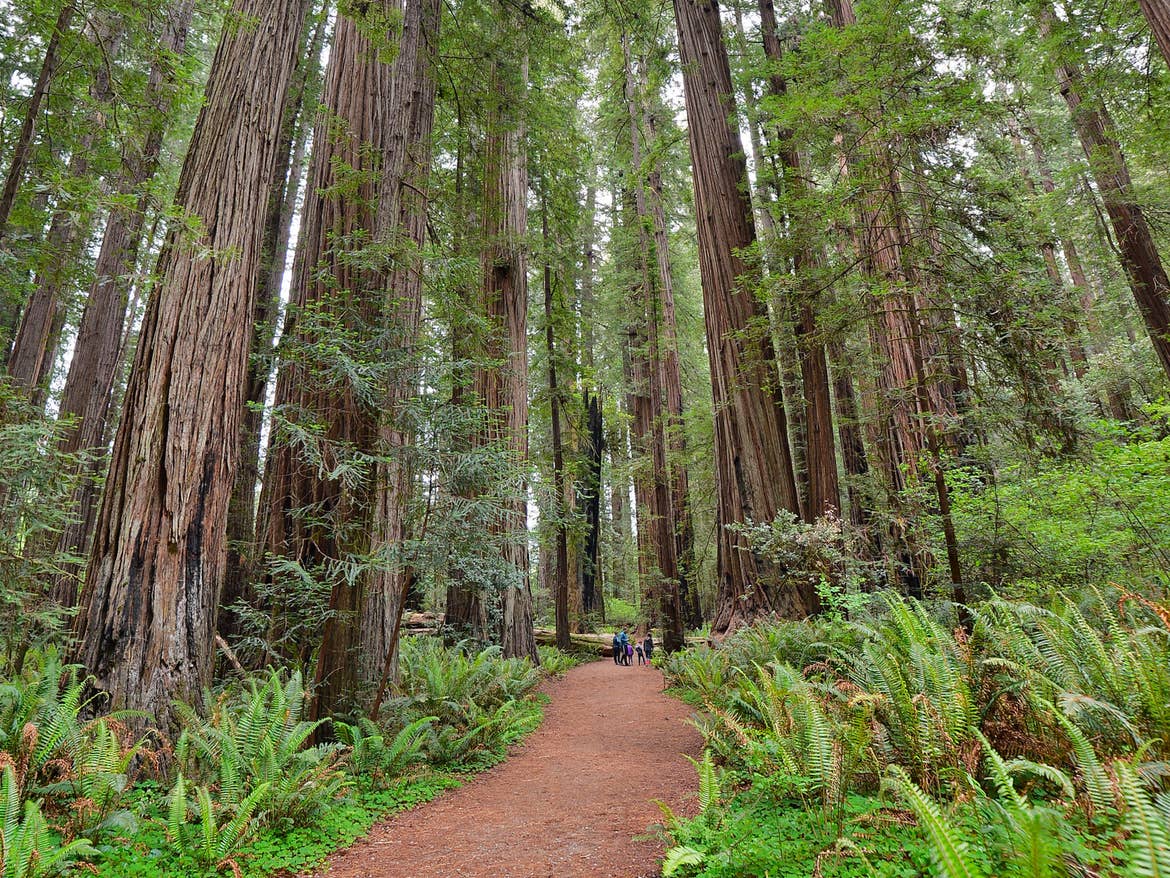 Photo courtesy of Redwood National and State Parks

"It's hard to walk through this forest of giants and not feel like a kid again! Growing up on the East Coast, I was fascinated to see how different the Pacific Ocean was.

There were countless lighthouses and scenic stops along the way leading up to our visit to the Redwoods National Park. The sheer size and scale of the forest was beyond belief. I'll never forget feeling so small in a world so wonderfully large.

At the park itself, there are numerous trails that wind beneath the towering canopy of redwood trees, which are well marked and easy to hike. The ground here can be fairly soft and slick, so be prepared to walk away with some muddy footwear and keep an eye out for animal tracks in the trail.

I was incredibly excited, and slightly terrified, to see a set of bear tracks on the trail when I was hiking. It was an amazing experience overall." – Ben Henderson


Virgin Islands National Park on St. John in the US Virgin Islands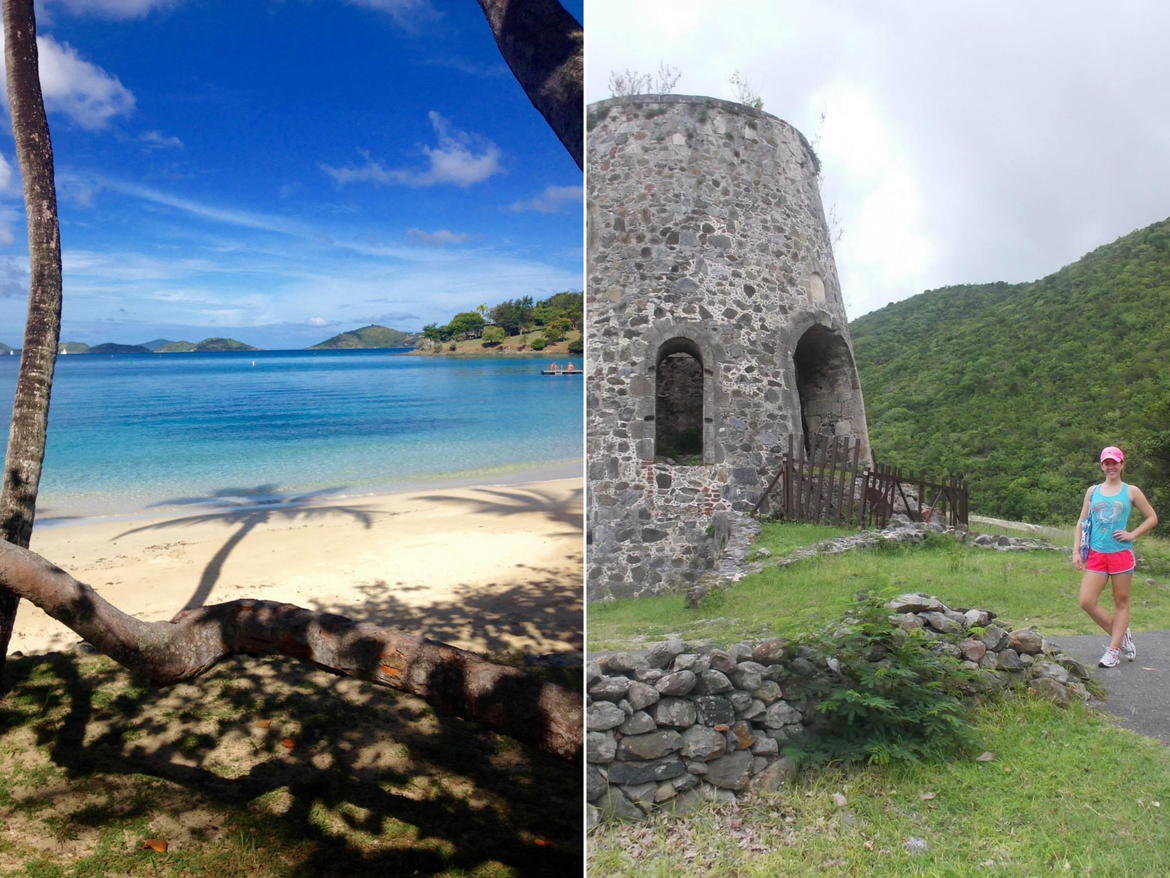 Jennifer exploring the historic sugar plantations of Virgin Islands National Park

"My husband and I went to St. John for a mini-moon weekend right after our 2014 wedding. We didn't plan much beyond staying at the romantic Caneel Bay Resort, so I'll admit: I didn't even realize there was a national park here until we stumbled upon it while driving around this U.S. Virgin Island.

But exploring the old sugar plantations, and the rich history behind them, was a highlight, as was getting to see a more 'tropical' national park." – Jennifer C. Harmon


Yellowstone National Park in Wyoming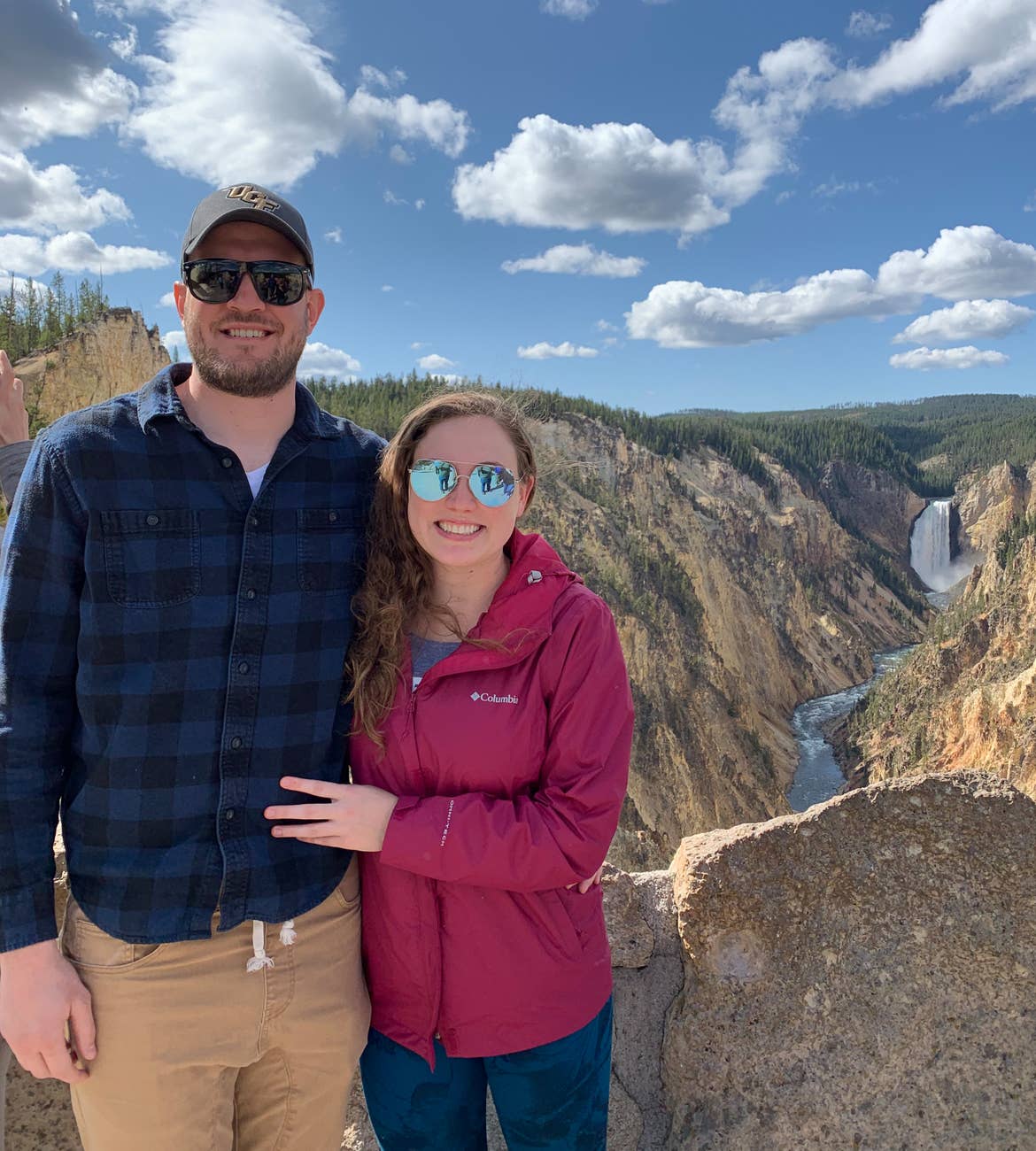 Ashley and her boyfriend at Artist's Point in Yellowstone National Park

"The best thing about Yellowstone is that there's something for everyone. All of the hallmark areas (Old Faithful, Grand Prismatic, Mammoth Hot Springs, Grand Canyon of Yellowstone) are easily accessible.

There are plenty of trails for hikers of all levels. Wildlife is everywhere. While we were eating a quiet picnic lunch near Yellowstone Lake, we even got to see one of my all-time favorite animals up close: an otter!"
– Ashley Fraboni

"Don't make the mistake of booking 4-5 nights at one hotel location like you'd normally do. This park is HUGE! Make the most of your days, and minimize time spent driving around, by booking several one-night hotel stays around the "Yellowstone Loop" or map perimeter of the park.

Plus, it's really fun staying at the wide variety of lodging options this way, from the legendary Old Faithful Lodge to rustic, bathroom-less cabins at Mammoth Hot Springs." – Jennifer C. Harmon


Yosemite National Park in California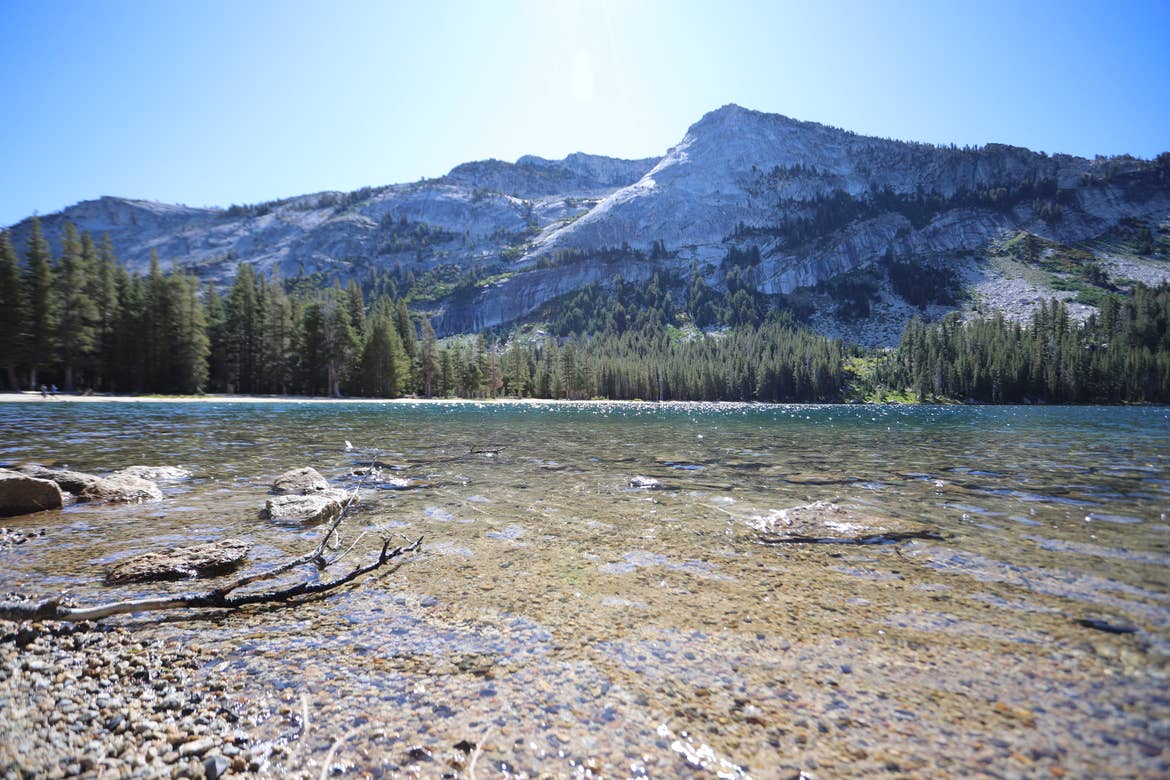 Meagan's view of Yosemite National Park (no filter needed!)

"I have lots of tips for this one:
Arrive early.
Stay late.
Visit on a weekday to avoid the crowds. If you're arriving by car, I suggest getting to the gate well before 9 a.m. to get in line for entry.
Before you go, be sure to take some time to research and become familiar with the park. Make a game plan for what you'd like to see while you're there.
I highly recommend visiting Glacier Point if you've never been. It's usually open May through November and the views are truly unforgettable.

My favorite part of our last Yosemite trip was getting to see the reactions on my fiancé's face each time we would stop at a new viewpoint.

Try getting there early in the day as the lines can last for up to 2 hours! We almost skipped out on it, but I'm so glad we didn't. It was well worth the long line!
Pro tip: If you're looking for a place to stay near one of the park entrances, we had a really great experience at the Rush Creek Lodge in Groveland, CA."
– Meagan Dawes, Account Coordinator, part of the Holiday Inn Club Vacations corporate family since 2018
Zion National Park in Utah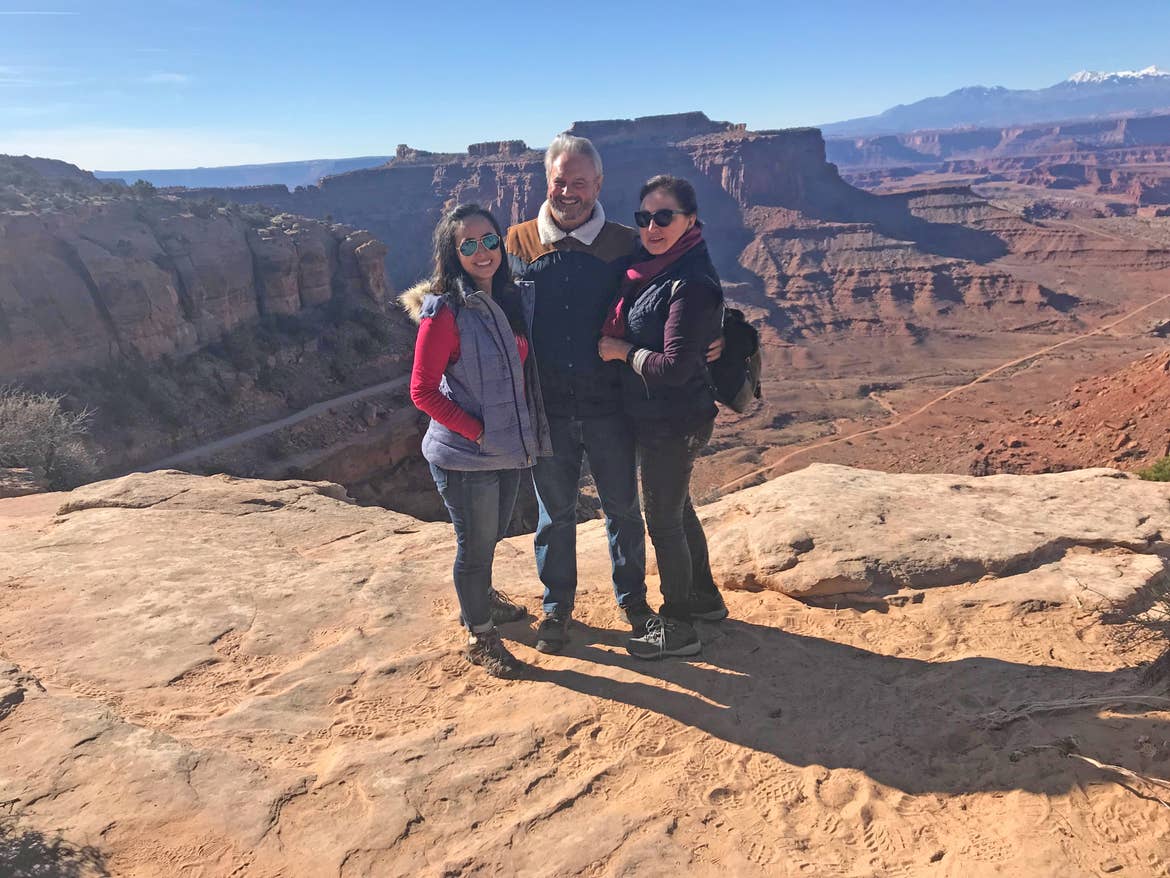 Andrea with her family at Zion National Park

"My family and I only passed through Zion, but we really enjoyed just driving and admiring the peaceful views from the car. My recommendation would be to take time to drive around and stop and explore by foot if your schedule allows.

During our Utah trip, my family stayed at Red Cliffs Lodge, which truly feels like it's dropped in the middle of nowhere (in a good way). It was like we were in a Western movie and at nighttime, the dark sky was lit up with clusters of shiny, little stars.

The cabins were small but perfect for our stay since we spent most of our time out exploring. My favorite part was being to hear the river at night while falling asleep."
– Andrea Beltran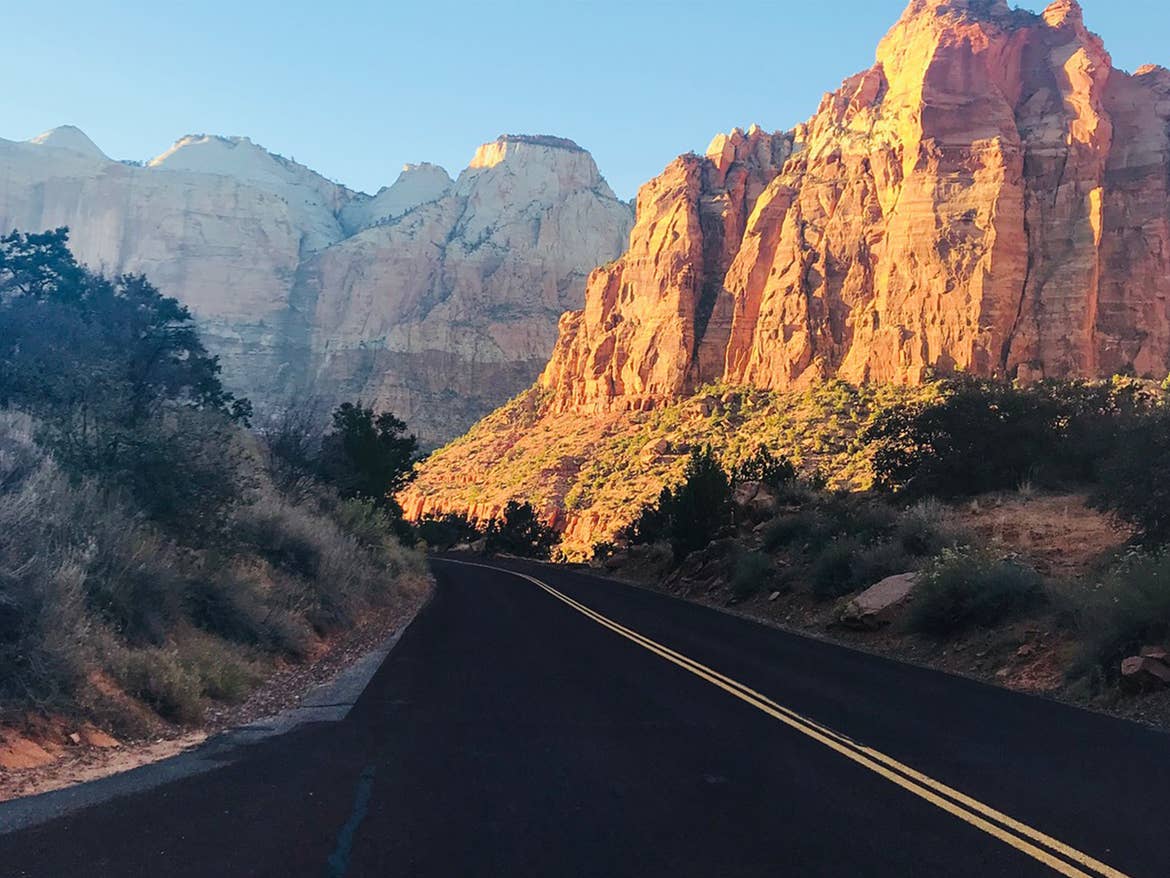 Andrea's view of Zion National Park from the road

Our team had a blast putting this advice together after having collectively visited over 30% of U.S. national parks! There's just so much to love about them.

Gorgeous views. Diverse landscapes. Sighting wildlife. Collecting national park passport book stamps. Outdoor family adventures. And enjoying protected, wide-open spaces and the freedom (and fresh air) of the great outdoors.

I personally love seeing how different and unique each park truly is. (Oh, and trail mix. Lots and lots of trail mix.)

With all this and more, there's no doubt a national park trip is a great way to make family memories, and we can't wait to hear how your next outdoor adventure goes. (Don't forget: You can share your vacation story with us.)

Until next time, safe travels and have fun out there!


Some national parks, or sections of national parks, may be currently closed due to COVID-19. All information is subject to change. This article is a curated guide and is neither sponsored nor considered an official endorsement. Please be sure to check information directly with any/all tours, guides or companies for the most up-to-date and direct details.