Erin Reed
As the Social Media Specialist at Holiday Inn Club Vacations, Erin is passionate about bringing important stories to life through social media, writing and theater. She was born and raised in Lexington, Kentucky, and studied Arts Administration at the University of Kentucky (Go Cats!). Currently residing in NYC, you'll most likely find her with friends and family, in a theater or at her church.
THE SHOW MUST GO ON — BROADWAY SHOWS ARE BACK IN NEW YORK CITY!

There's just nothing like sitting in a Broadway theater, as the lights go down and the music begins, the audience around you waiting in anticipation of the show that's about to start.

After a long year and a half of sitting in the dark, Broadway shows are finally back!



Hi, I'm Erin! Social media expert, NYC local and Broadway extraordinaire.

Oh, those words feel so good to write … Broadway shows are back(!) — with some already live and many coming soon in late summer through the fall.

As travel takes off again, and New York City reopens, you might be planning a trip to the Big Apple and a night at the theater — I mean, you have to!

I live in NYC and previously ran social media for a variety of Broadway shows. I'm also a self-described "grownup theater kid," and one of my biggest passions is helping people discover the magic of live theater.

NYC can be an overwhelming place, but I've got the insider tips to make your next (or first!) Broadway show a blast.

Read on for my expert advice, tips and answers to some commonly asked questions, including ticket price hacks, buying in advance, maximizing your visit, how to navigate NYC and more.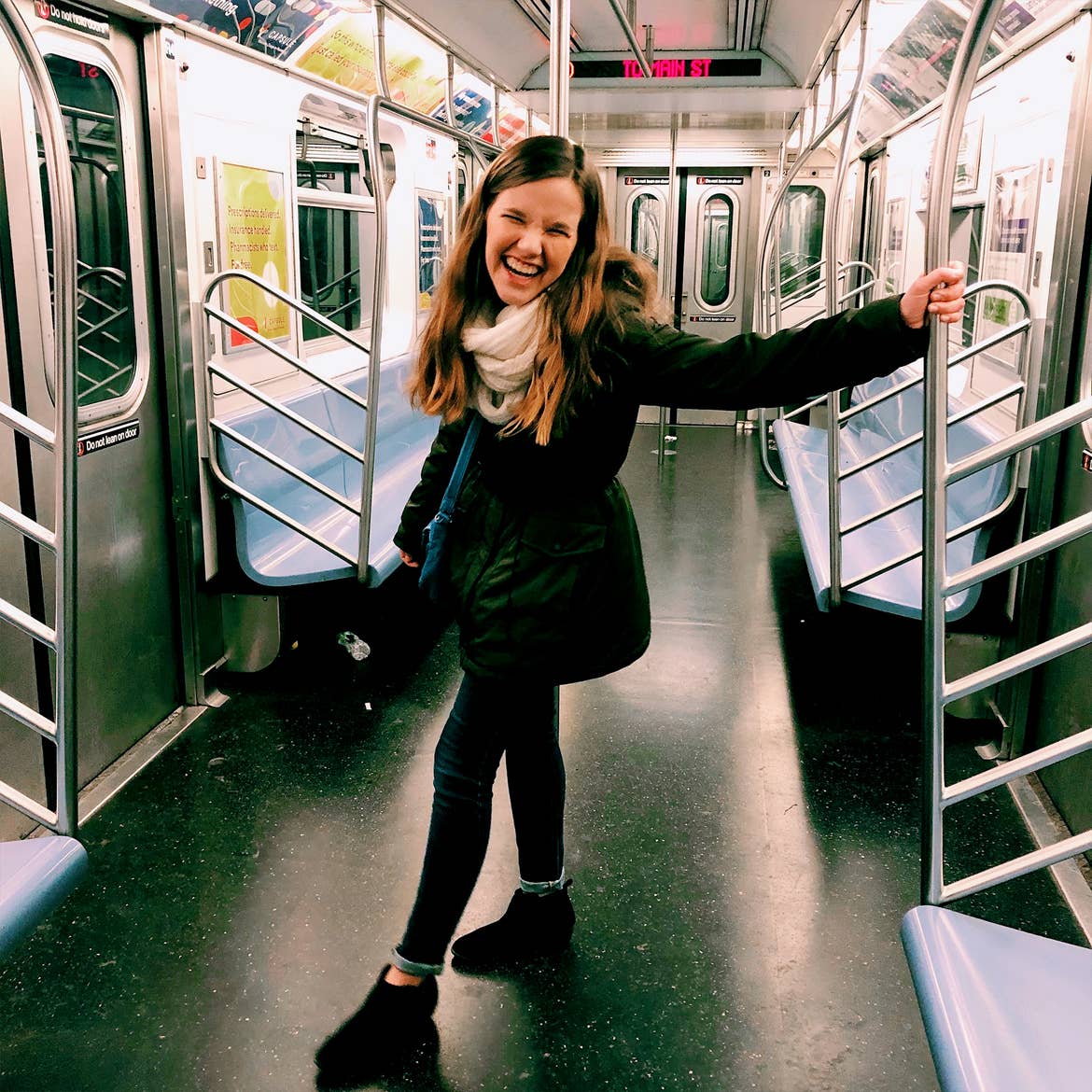 1. Where Can You Find Discounted Tickets for Broadway Shows?
Broadway doesn't have to be expensive! There are plenty of ways to access cheaper tickets and score deals to some of the best Broadway shows — and I'm listing some of those ways below.

Be sure to check out all the pages linked below, as individual sites will be continuously updated with the most recent information for their reopening dates and procedures.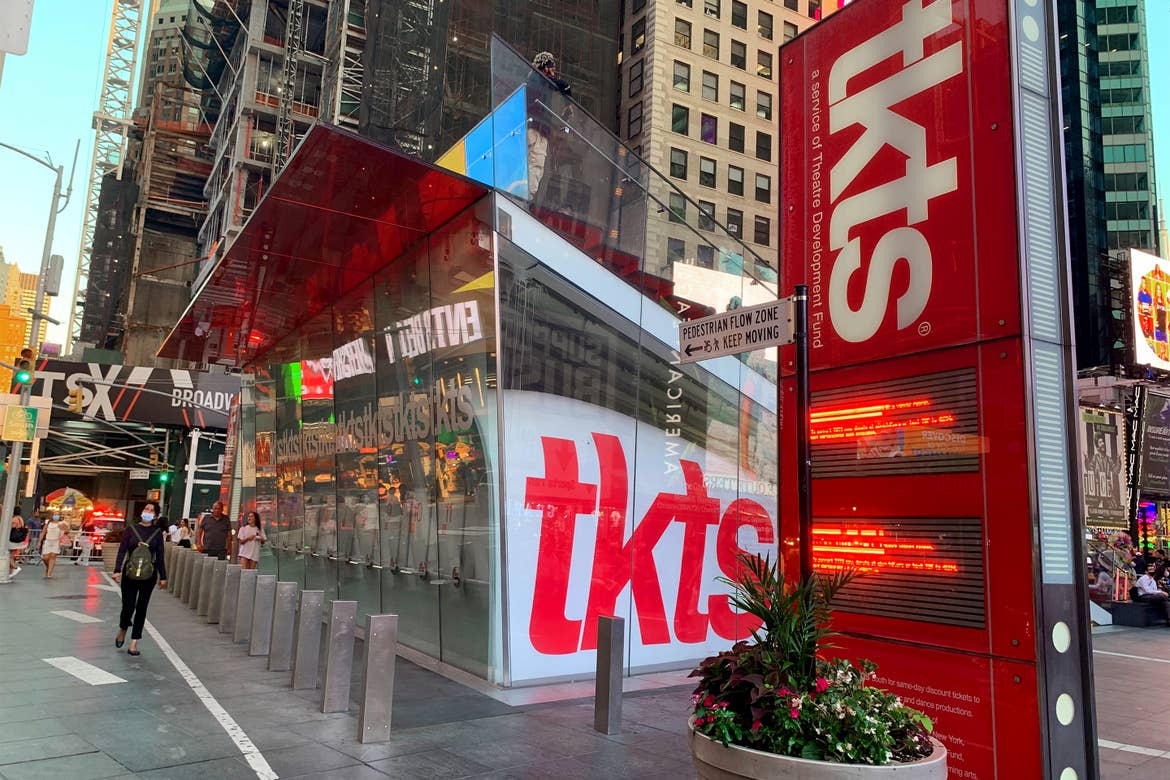 TKTS Booths
Throughout the city, TKTS booths have same-day tickets to Broadway shows at discounted rates. These are typically 20–50% off regular ticket prices.

To get the best deals, try to go early in the day, and you can always check real-time updates on the TKTS app. They have several locations, including:

Times Square: "under the red steps" in Father Duffy Square at Broadway and 47th Street
South Street Seaport: at 190 Front Street, at the corner of Front and John Streets
Lincoln Center: at 61 West 62nd Street in the David Rubenstein Atrium
Lotteries
Many Broadway shows have lotteries through websites like TodayTix, Broadway Direct and Lucky Seat. Some also have them through their own website or app, like the Hamilton app does.

These online lotteries typically open and close the day of, or day before, the scheduled performance.

You can find every show's lottery policies on the continuously updated Playbill page.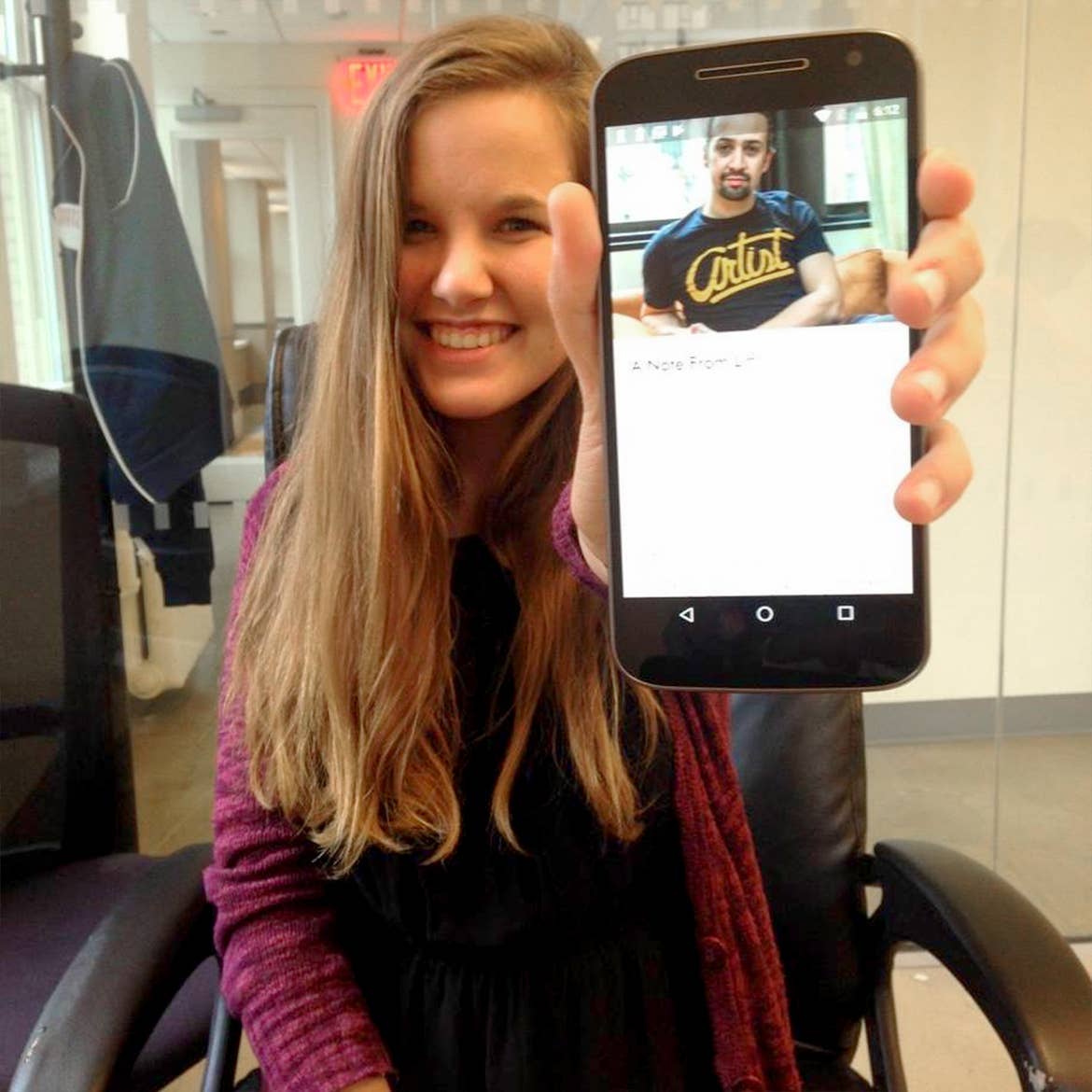 The Hamilton app is one of several ways to enter Broadway show lotteries.


Rush and Standing Room Tickets
This option requires a bit of time and planning, but it's how I've scored some great tickets at a very low price, including $40 tickets to The Book of Mormon and $38 tickets to Come From Away.

Many Broadway shows have a number of tickets set aside to sell at the box office on the day of the performance.

For those willing to get up a little early and stand in line until the box office opens — typically at 10 a.m. — the first select number of people in line can each purchase up to two tickets at a discounted rate.

The best time to arrive will depend on the show and can range from super early in the morning or as late as 9:30 a.m.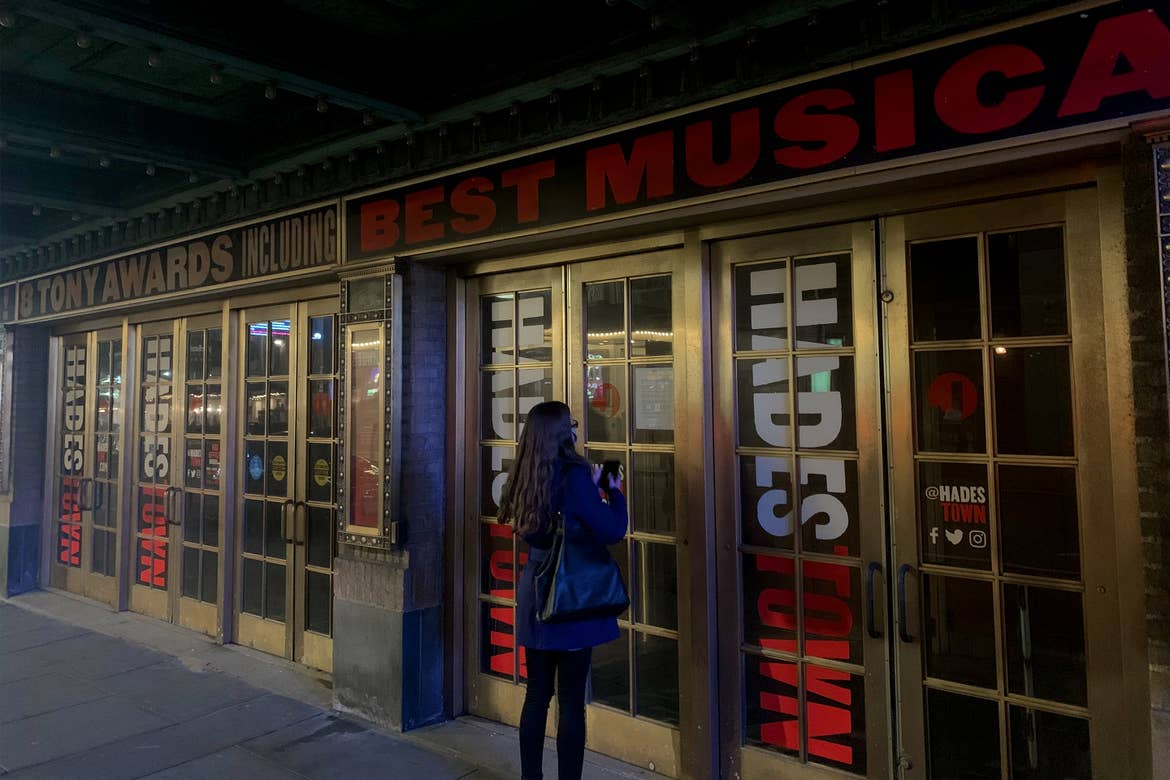 Standby and rush lines are another way to get discounted tickets.

To get an idea of when people typically begin to line up, try to ask the theater's box office staff.

Once they sell all these seated rush tickets, there may be the option to purchase standing room at the back of the theater.

You can find rush and standing room policies for specific Broadway shows on the same Playbill page.


2. Do You Need to Buy Tickets for Broadway Shows in Advance?
For those visiting New York City for a long weekend or who have a very specific show they really want to see, the safest — and really the only — way to ensure you get tickets is to get them in advance through the show's website or box office.

The methods above are amazing ways to get a good deal if you're willing to plan on the fly and be more spontaneous, but they're never guaranteed and will usually take up some of your vacation time on the day of the show.

Additionally, some of the bigger "Blockbuster hits" (think: Hamilton, Moulin Rouge, The Lion King) are less likely to be available through those methods.


3. How Can You Do 2 Broadway Shows in 1 Day?
If you're looking for a full day of Broadway fun, Wednesday and Saturday are the days for you!

On both of these days, many Broadway shows do two-show days, which means you can catch a matinee in the afternoon and a different show in the evening!

To do two shows in one day, you'll want to plan ahead. The Wednesday and Saturday matinees are typically at 2 p.m., with evening shows happening around 7 or 8 p.m.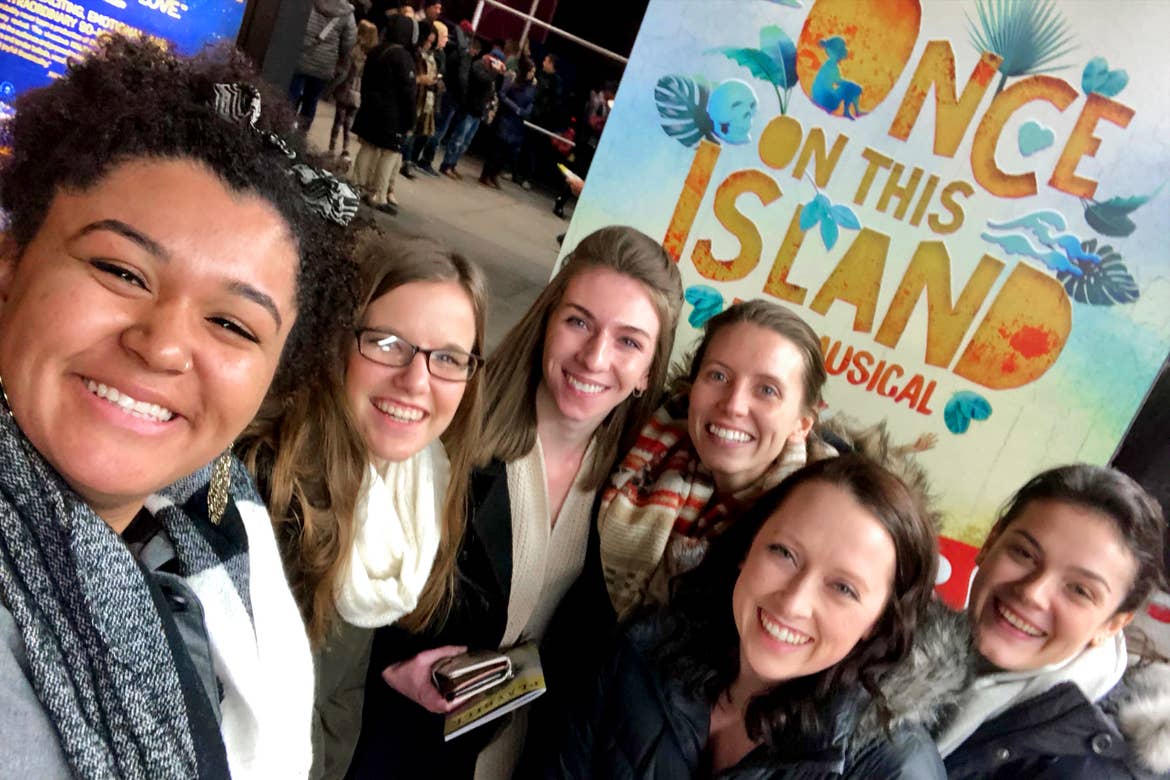 I love a good show with great friends!

The schedules usually allow you to have about 2.5 to 3 hours between shows, which is just enough time to grab dinner and freshen up at your hotel.

You'll want to check each individual show's website for the most up-to-date performance schedule and run-times to be sure though.

While a two-show day may be great fun for a couples' getaway or a friends' trip to the city, it could be a long day for families with littles, so think about what the best route is for your traveling family!


4. What restaurants are close to Broadway theaters in New York City?
There are so many great places to eat in New York City that I can't even begin to put together a full list, but here are just a few awesome options and recommendations I have.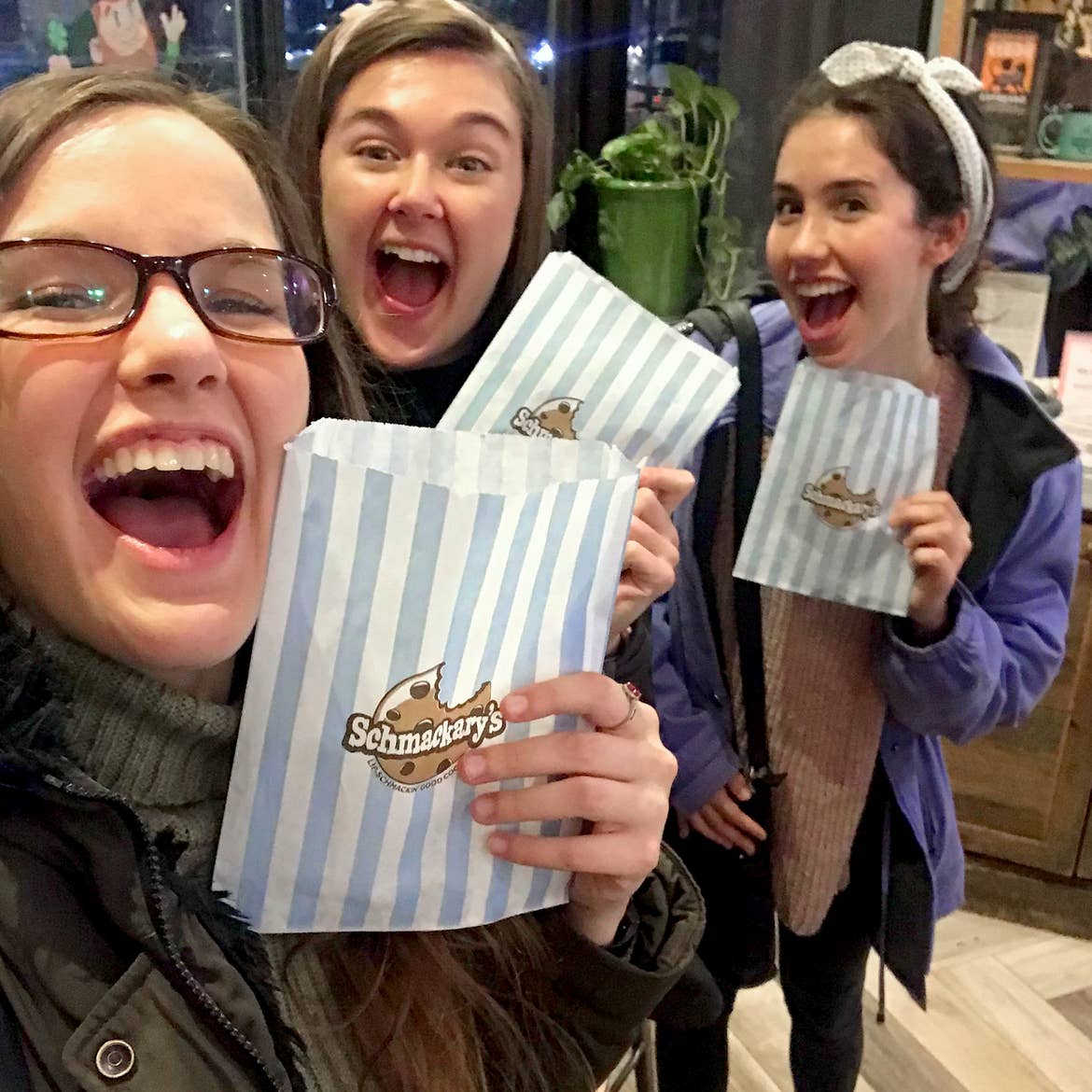 Schmakery's is just one of the MUST-visits during your NYC trip.


Hell's Kitchen
While there are tons of options in the Times Square area, if you have some time, your best bet is to head west to the nearby Hell's Kitchen neighborhood which is full of fun eats.


PizzArte
Of course, you've got to grab a slice or two while you're in New York City! PizzArte is a great spot to curb those pizza cravings and is near all the Broadway action.


Mom's Kitchen and Bar
For some American comfort food, Mom's Kitchen and Bar has you covered.

In nearby Hell's Kitchen, it's got something for everyone's taste buds (and some massive milkshakes, too)!


Los Tacos
If you're looking for what my Broadway office considered the best tacos around, head to Los Tacos #1 on West 43rd Street.

We may or may not have eaten lunch there multiple times a week on many occasions… whoops!

Note: Los Tacos is a quick, cheap and delicious spot … but it only has standing room, so it's not the best option to sit and let your feet rest from all the walking!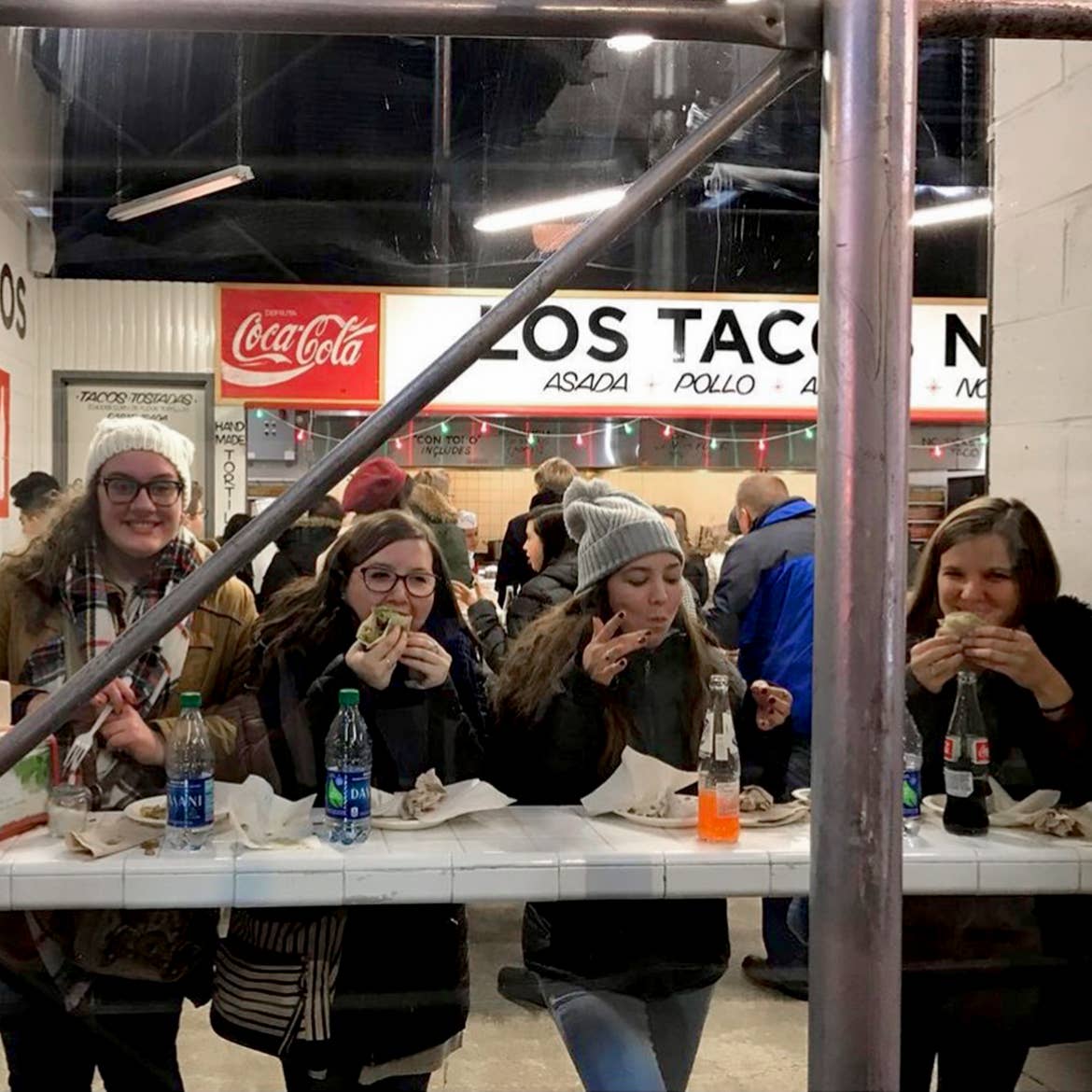 Empanada Mama
Another place that makes my mouth water just thinking about it is Empanada Mama on 9th Avenue.

Full of everything from chicken to veggies to chocolate, these empanadas are one of my go-to's in the area.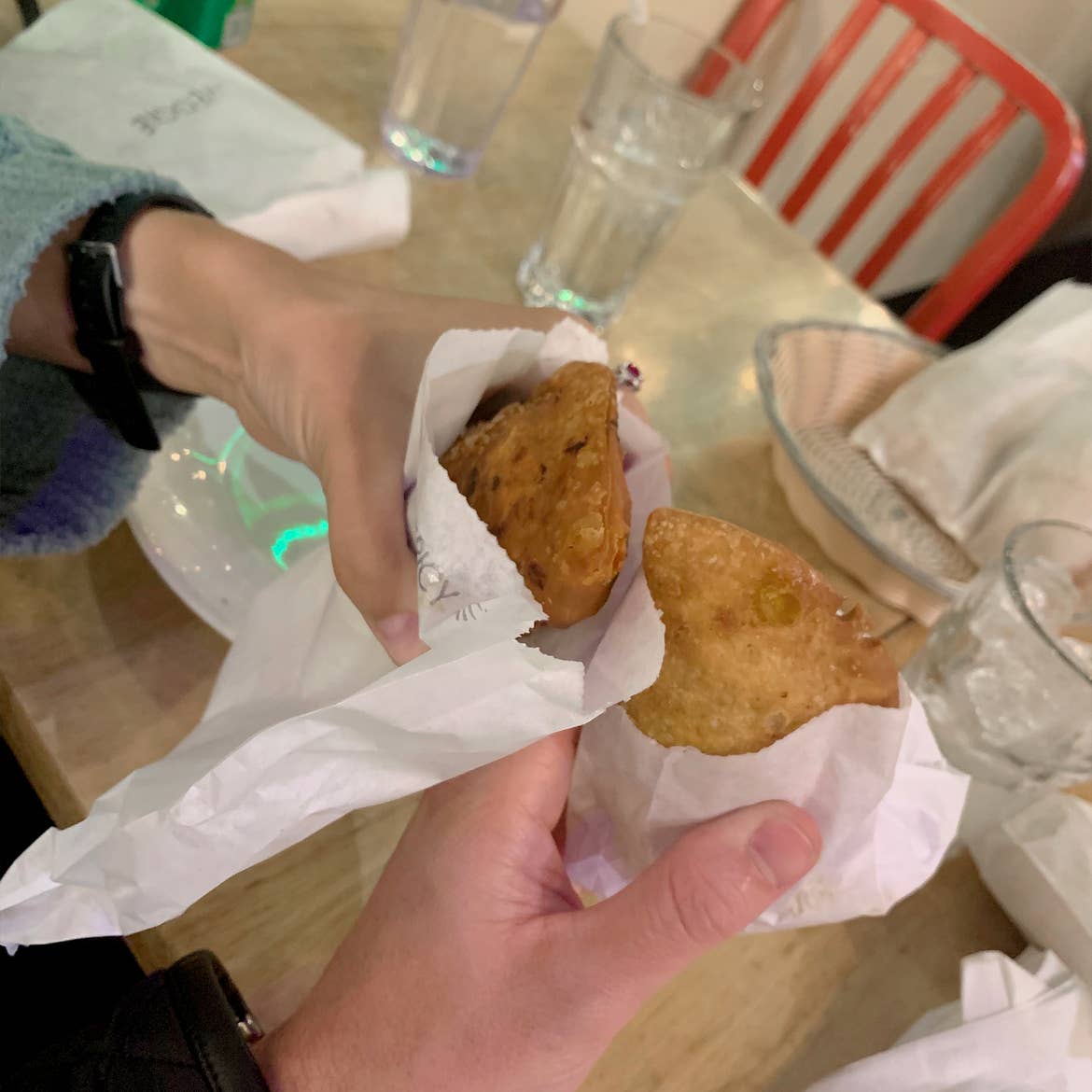 Schmackary's
If you're looking for a post-theater dessert for you and the kids, Schmackary's on West 45th Street has cookies you do not want to miss!


Magnolia Bakery
You can also head east and get something from Magnolia Bakery in Rockefeller Center. 10/10 would recommend its banana pudding.

Of course, there are thousands and thousands of restaurants in New York City, so ask around, investigate the map on your phone and then report back to me because I'm always looking for new New York City eats. 😜


5. Where should you stay in New York City to be close to Broadway theaters?
Similar to restaurants, there are a ton of hotels within walking distance of every Broadway theater, so you'll always have great options available.

The first time I ever visited NYC, I stayed at IHG's Crowne Plaza Times Square Manhattan and had a beautiful view of Times Square!

Also nearby are:

IHG's InterContinental New York Barclay
IHG's Holiday Inn Express Manhattan Times Square South
Kimpton Muse Hotel
Amongst many others!
And if you're considering really getting away from the city's hustle and bustle to a quieter setting, be sure to check out our Holiday Inn Club Vacations® Oak n' Spruce Resort!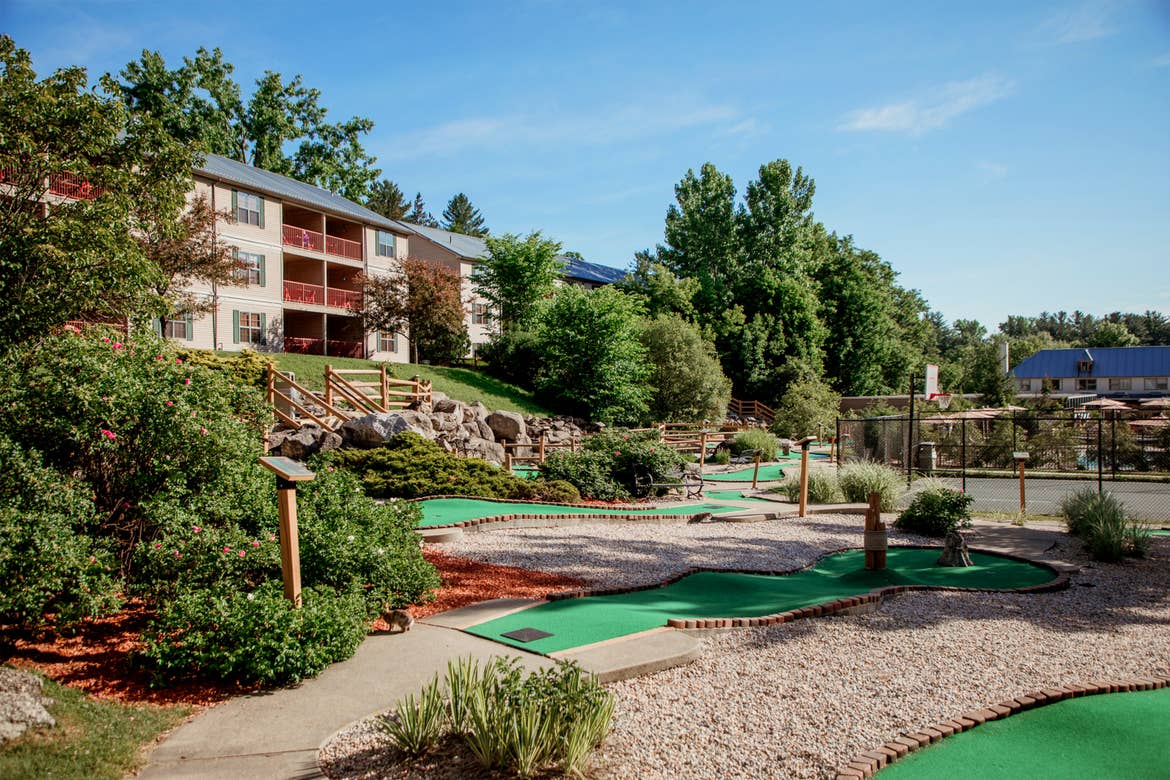 Mini golf, pools and a game room are just some of the cool things you'll find at Oak n' Spruce Resort.

Located about 3 hours away in the beautiful Berkshires, this New Englandy destination makes for an amazing fall getaway to see the leaves change colors or even a holiday vacation — AND it's close enough for a day trip to NYC!


6. What Train Should You Take to Get to Times Square / Midtown?
One of the most overwhelming parts of NYC is navigating the subway. The good news is that Broadway shows are easily accessible by nearly every train!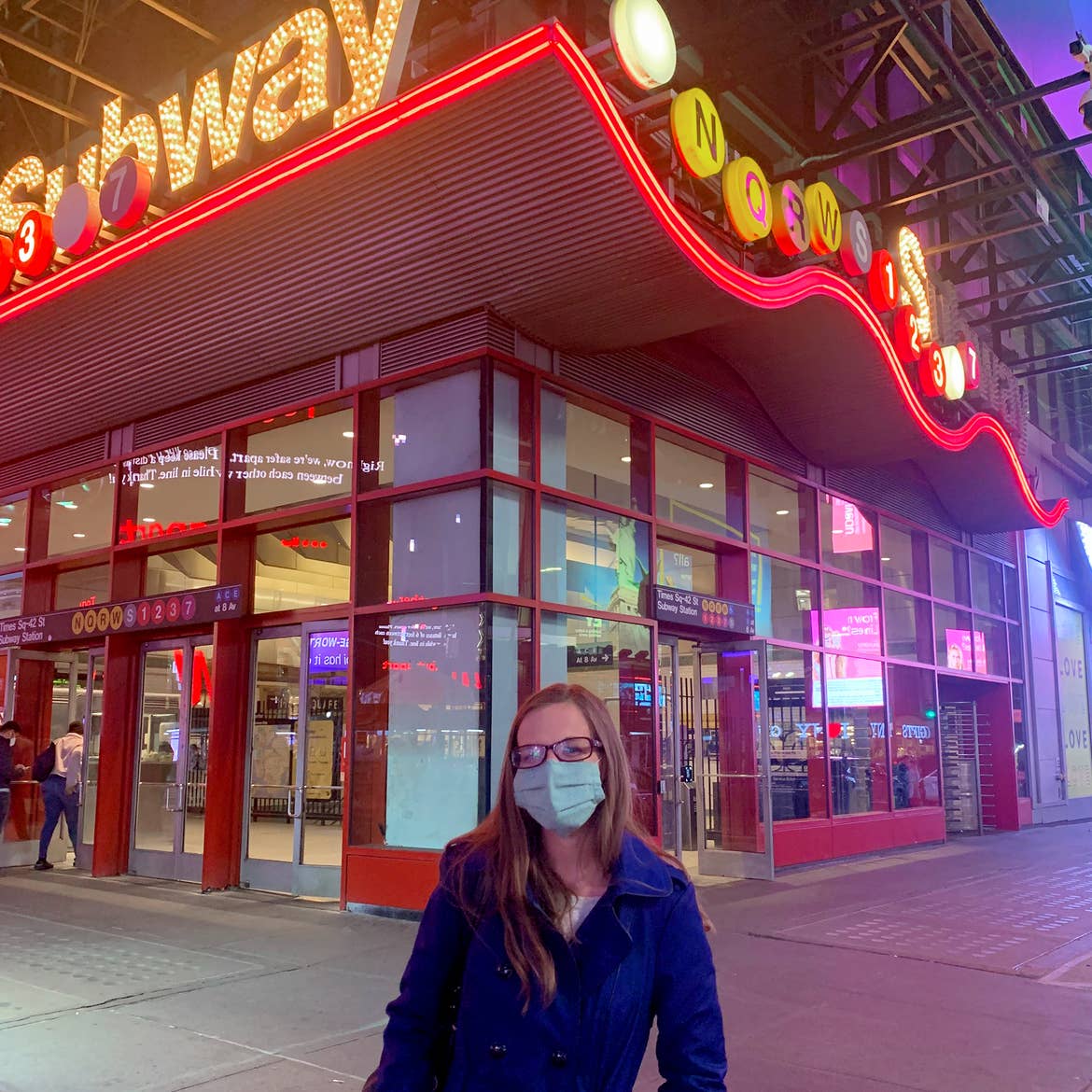 Here are some helpful subway lines to get to Broadway theaters:

To get to the Times Square station, you can take the N, Q, R, W, 1, 2, 3 and 7 trains
To get to 42nd Street Port Authority, you can take the A, C and E trains
To get to 42nd Street Bryant Park, you can take B, D, F and M trains
All of these trains will get you within walking distance of your show, so no matter where you're coming from, Broadway should be a quick subway trip away.

Pro Tip: Most navigation apps on your phone, like Google Maps, will give you subway maps and directions that make it easy to get around! My personal favorite city navigation app is Citymapper.


7. What Will Reopenings Look Like for Broadway Shows This Year?
Obviously after the last year and a half, things won't look exactly the same when Broadway comes back.

Teams are hard at work making sure that Broadway shows are the safest they can be when the curtain goes up!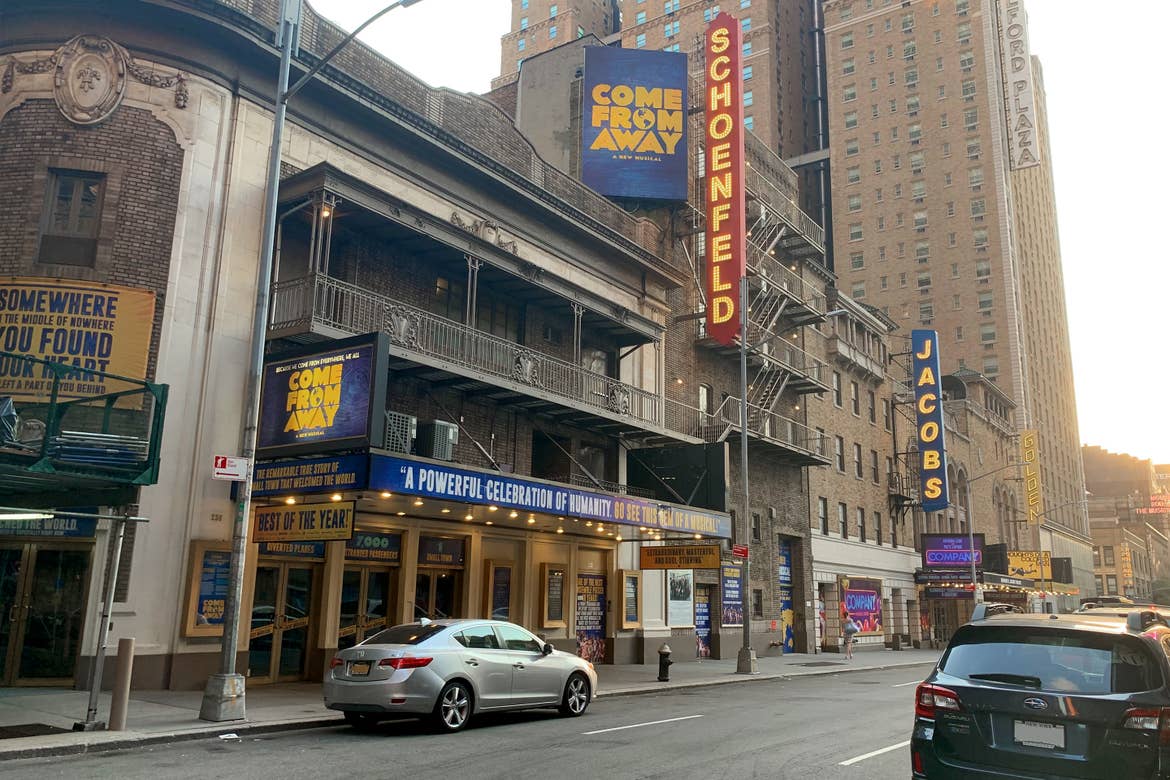 Because of this, be sure to check out all the safety protocols and refund/exchange policies that each show has when you're purchasing tickets. These will reflect the recommendations of the CDC and New York State.

Additionally, not all Broadway shows are coming back at once.

While Hamilton, Wicked and The Lion King are returning on September 14th, several shows will come back prior to that time and many after that date.

For the most up-to-date list on reopenings, check out this Playbill page.


8. Which Broadway Shows Should You See?
Broadway has something for everyone! From musicals to plays to Disney to Greek mythology, you're bound to find something you like. Here are a few of my top suggestions...


For young theater fans:
Disney's Aladdin
Disney's The Lion King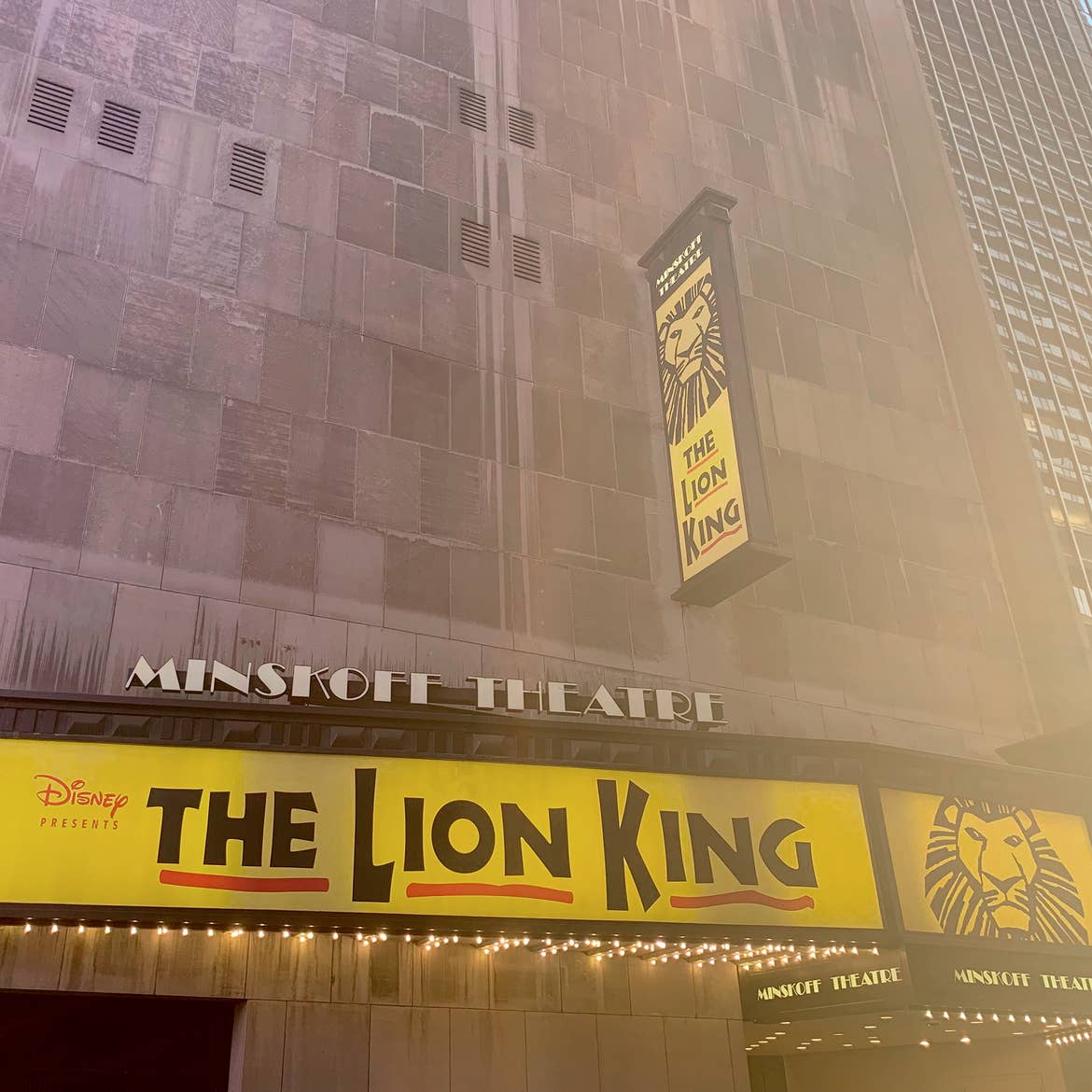 For middle schoolers and up:
Hamilton
Harry Potter and the Cursed Child
Wicked
Dear Evan Hansen
Ain't Too Proud


For teens:
Moulin Rouge
Six
Hadestown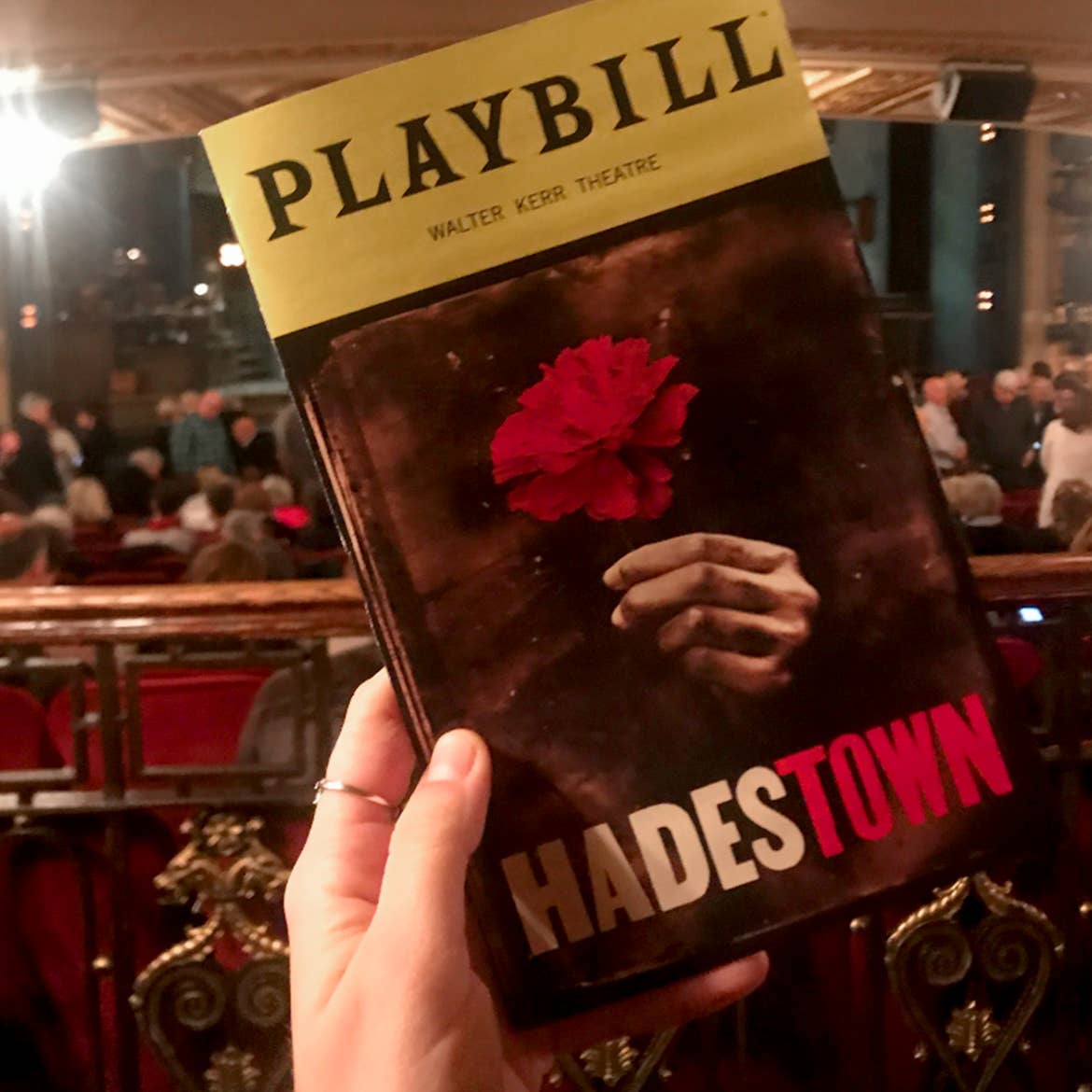 For adults:
Come From Away
The Book of Mormon
For an updated list of what shows are running, visit Playbill's ever-updating list.

And, of course, the kids' shows I mentioned above aren't just for the littles! Aladdin brings me incredible amounts of joy, and Ain't Too Proud is a crowd-pleaser no matter how old you are.

My biggest advice is simply to pick something that interests you. You never know what could become your new favorite show!


My Plans for Broadway's Reopening This Fall
I can't wait to be back in theaters this fall. My first visit back to Broadway will be to see my personal favorite show, Come From Away, on its reopening night!

Another show I'm extremely excited to see again is Freestyle Love Supreme, which recently announced its return to Broadway this fall after a limited engagement in 2019.

Also on my list of favorites: Hamilton and Hadestown.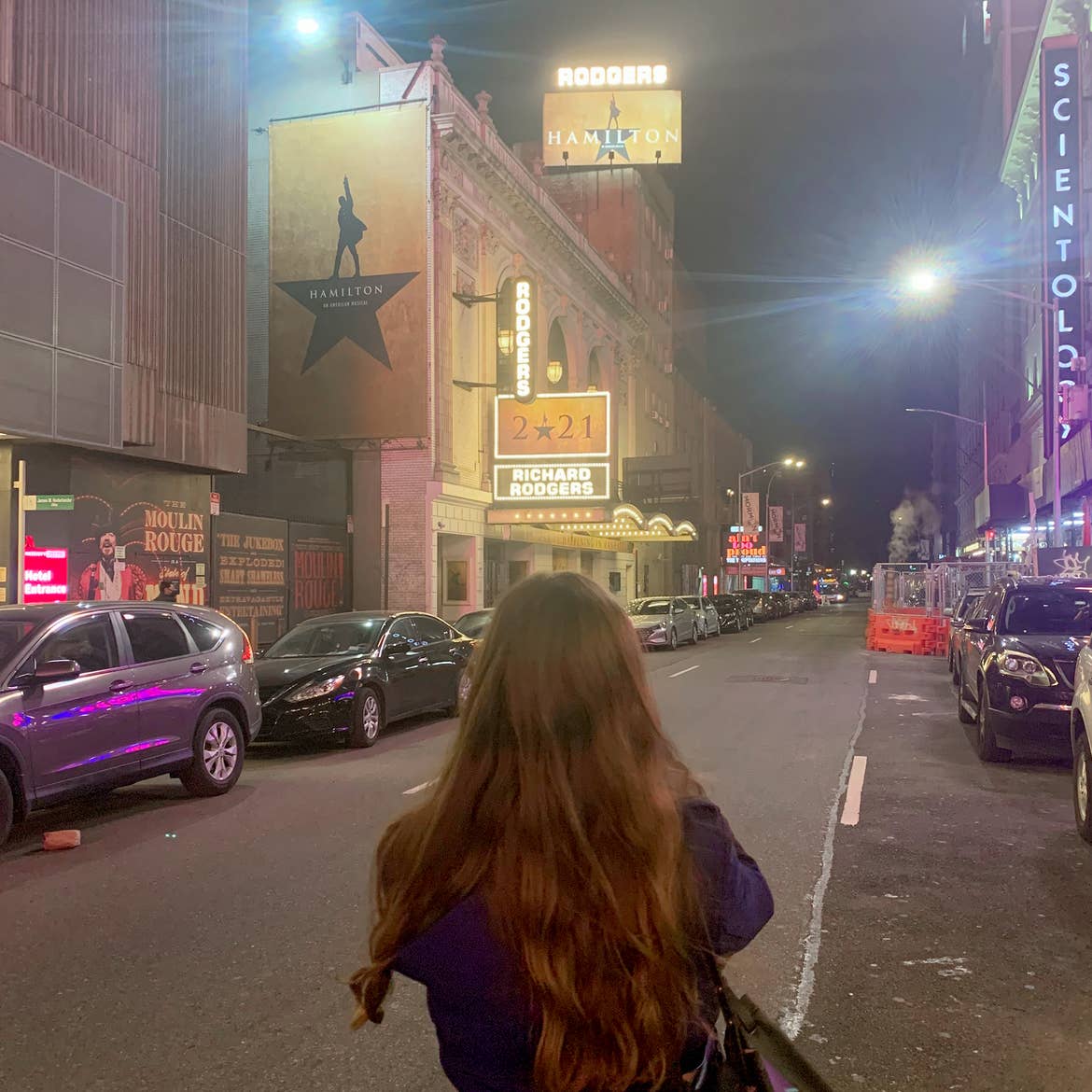 I'll never be able to sum up the magic of Broadway in one blog story, and my words would never do it justice anyways.

So instead of writing more, I'll simply tell you to click open a new tab and buy tickets to a Broadway show or two.

The performers, designers, marketers, ushers and so many more people who make theater happen have been waiting for this reopening for a VERY long time.

And I am certain the magic in the theaters this fall will be unlike anything you've seen before.

So book your flight and hotel, sit back, relax and enjoy the show!


All information is subject to change. This article is a curated guide and is neither sponsored nor considered an official endorsement. Please be sure to check information directly with any/all tours, guides or companies for the most up-to-date and direct details.