Jennifer C. Harmon
Jenn is the Editor-in-Chief of the Checking In travel blog. She loves coffee, wine, writing, traveling, working with all of our amazing guest bloggers, and getting to tell our guests', owners' and team members' vacation stories. Jenn and her husband, Anthony, have mastered the art of the long weekend couples' getaway (sans kids). And while it's too hard to pick just one type of "favorite vacation," her three-way tie would be: a snowboarding trip, going to Hawaii or sailing with Disney Cruise Line.
Nothing says vacation time like sunshine, piña coladas, long walks on the beach and … sweaty hands and hyperventilation?!

If you have travel anxiety, you're not alone. Sometimes just the mere thought of those TSA security check lines gets my heart rate spiking.

Thankfully, there are tons of tips and tricks for overcoming travel anxiety that can help you make your next getaway as easy and amazing (and callllllmmmmm) as possible!

Let's be real. As fun as vacations are when you get to your destination, the process of getting there and back home can include stressors and unknowns.

(And at the very least, flying during COVID-19 added a few more worries to the list there for a while.)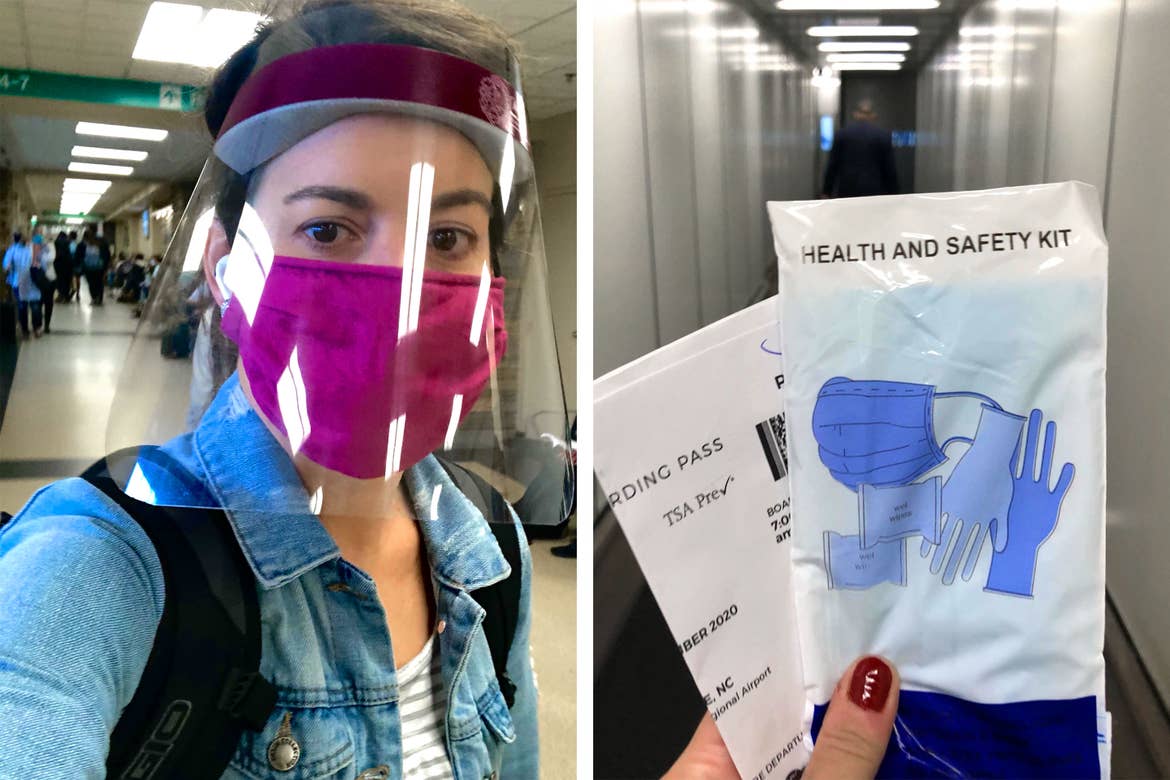 Will everything be in your control? No.

Will it all go perfectly? Probably not.

Are there ways to make it feel less stressful (and more enjoyable)? YES.

Can you still have lots of vacation fun and memories?! 100% absolutely!

Read on for 13 tips for overcoming travel anxiety.

Big, big disclaimer: Nothing in this article is intended to be a substitute for professional medical advice, diagnosis or treatment. I'm not a doctor. Just like all of our Checking In blogs, I'm just a real person sharing my real-life stories and what has worked best for me personally and anecdotally. Be sure to consult your doctor or a medical professional for health and medical advice and before starting anything new.


First of all: Identify Your Triggers
First things first before we get into the tips. If traveling causes you anxiety, ask yourself why. Or more specifically: Which parts? Are there patterns or parts of traveling that stress you out more than others?

It sounds basic, but if you really stop and think about it, you'll probably realize you're not nervous about the whole trip. Only parts of it.

Once you figure out which ones, you can come up with your game plan for travel Zen!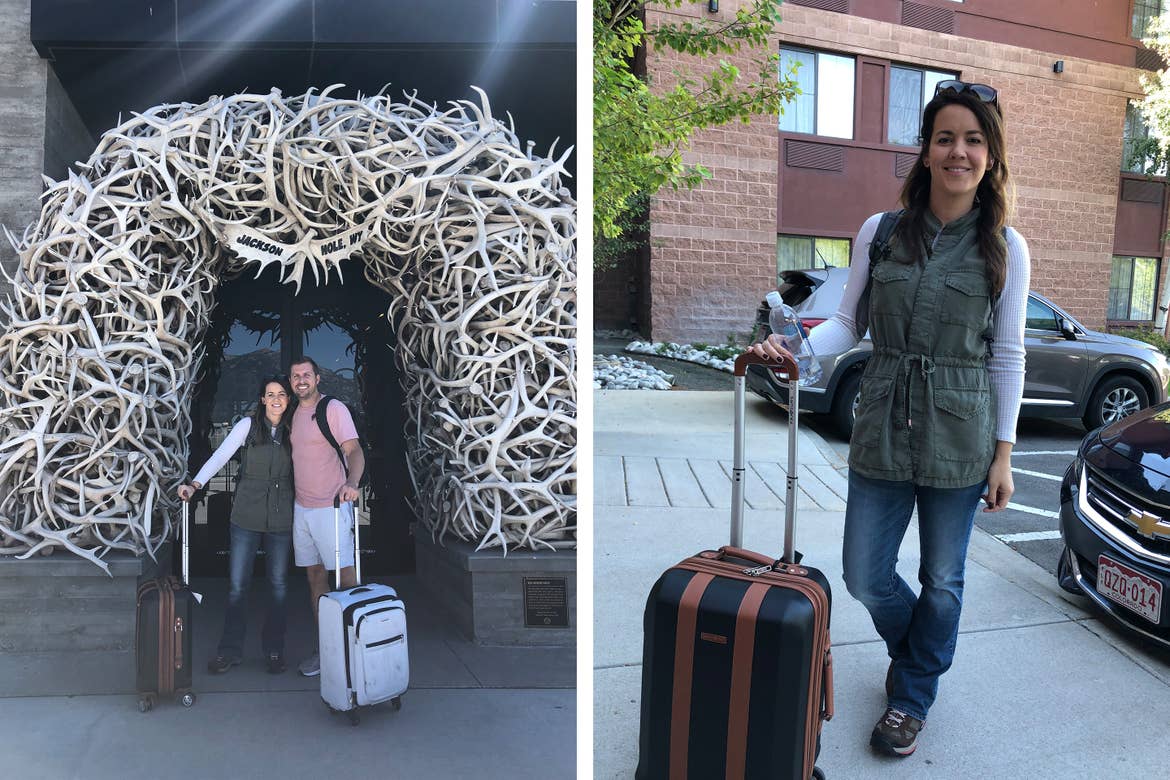 One of my travel stressors is wondering if all my baggage will arrive. Here I am happily arriving in Jackson Hole with ALL my bags, yay!


My Experience with Travel Anxiety
For me? I'm not scared of flying. It's the process of getting to the flying part that makes me panic.


Will there be traffic on the way to the airport?
Will the parking shuttle take forever?
Did I remember my carry-on?!
How long will it take to check my bag? And to get through security?
Will I be randomly chosen for extra screening?
Will TSA confiscate my favorite moisturizer because it's 3.5 oz versus the allowed 3.4 oz?
What if there's something wrong with my ticket when they scan it?
What if our flight is overbooked? Delayed? Canceled?!?!
Will my carry-on be too big for the sizer thingy?!
OMG, DID I REMEMBER TO UNPLUG THE IRON AT HOME?!
The moment I finally sit in my seat on the plane, with my correctly sized carry-on safely stored above me, my brain and body instantly melt into vacay mode and relaxation.

But for years, it got to the point where I was embarrassed to drive to the airport with coworkers because I'd get so worked up. And travel days swiftly became the only consistent times my husband and I would butt heads or bicker.

At worst, I'd have a full-blown, debilitating anxiety attack over something as silly as my checked bag coming out of the baggage carousel last.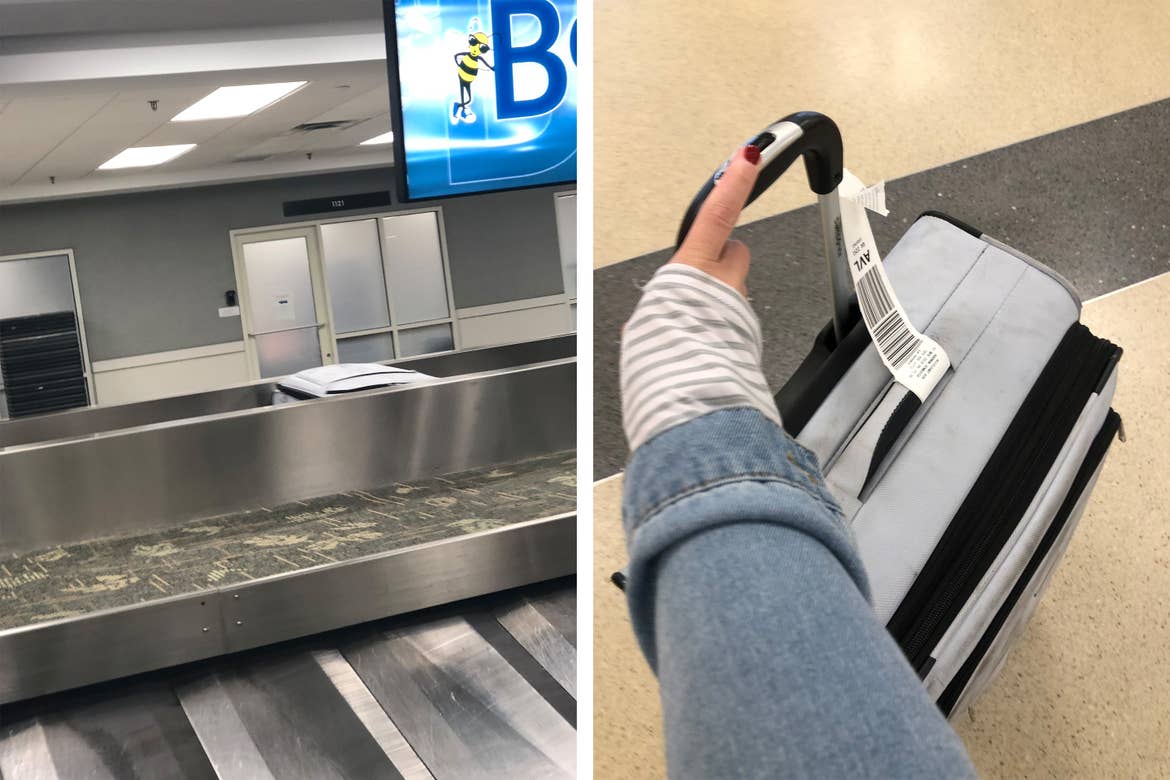 So, I focus on those pre-flight triggers — and how I can best remove those worries — for happier flight days. For myself and my fellow travelers.

(Sorry for what I said when I was hangry or airport-nervous, Darling Husband!)

Now, I know you might have other, possibly bigger travel anxieties than these, but I hope these tips will help you alleviate at least some of that anxiety you're experiencing, even if it's just a little bit.


13 Tips for Managing Travel Anxiety
Here's my tried-and-true advice for ways to overcome travel anxiety. Goal? Less stress and more FUN while on your precious out-of-office time off.


1. Plan for Plenty of Extra Time
If nothing else, this is my #1 tip: Plan on leaving early! Even earlier than that "two hours in advance" general airline recommendation if it puts your mind at ease.

There's nothing worse than racing against traffic, lines and the clock, all while wondering if you're going to make your flight, train or cruise line. And it's all mostly avoidable by adding in some buffer time.

And if you end up spending extra minutes at the airport, who cares? We're all so used to rushing, over-scheduling and maximizing every second of our days.

But there are worse things than spending 30-45 minutes at the airport in the day and age of smartphones. Enjoy a Starbucks. Read a good book. Shop for souvenirs. Catch up on work. It's ok to be early.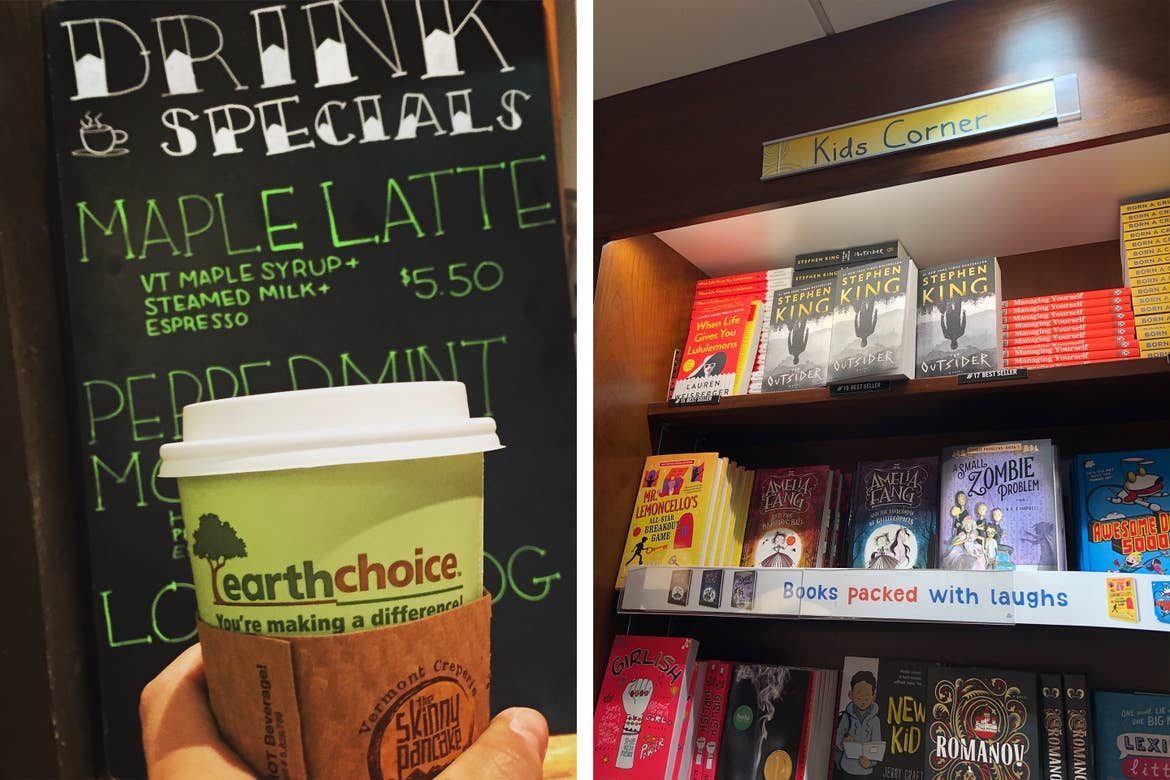 Pro Tip: A few days in advance of your flight, use Google Maps (or your GPS of choice) to check how long it'll take to get to the airport at the same time of day you'll be traveling to it.

It'll give you a better idea of your specific prep time. You never know with cities like LAX if a 30-minute drive could balloon to a 90-minute airport trek during rush hour.


2. Budget for Making Your Life Easier
I know this may not be possible for any/all travel budgets and families, but if you can save and swing it, I've personally found these shortcuts to be more than worth my money:


Joining TSA Pre-Check
This changed my life. Seriously!

Removing the "how long will security lines take?" factor was HUGE for me in terms of staying calm on travel days. (And my husband loves not having to fight about how early I want to leave for the airport anymore.)

Plus, the silly, small conveniences of not having to take your shoes off or take out and repack your liquids or laptops make the whole security process way less overwhelming.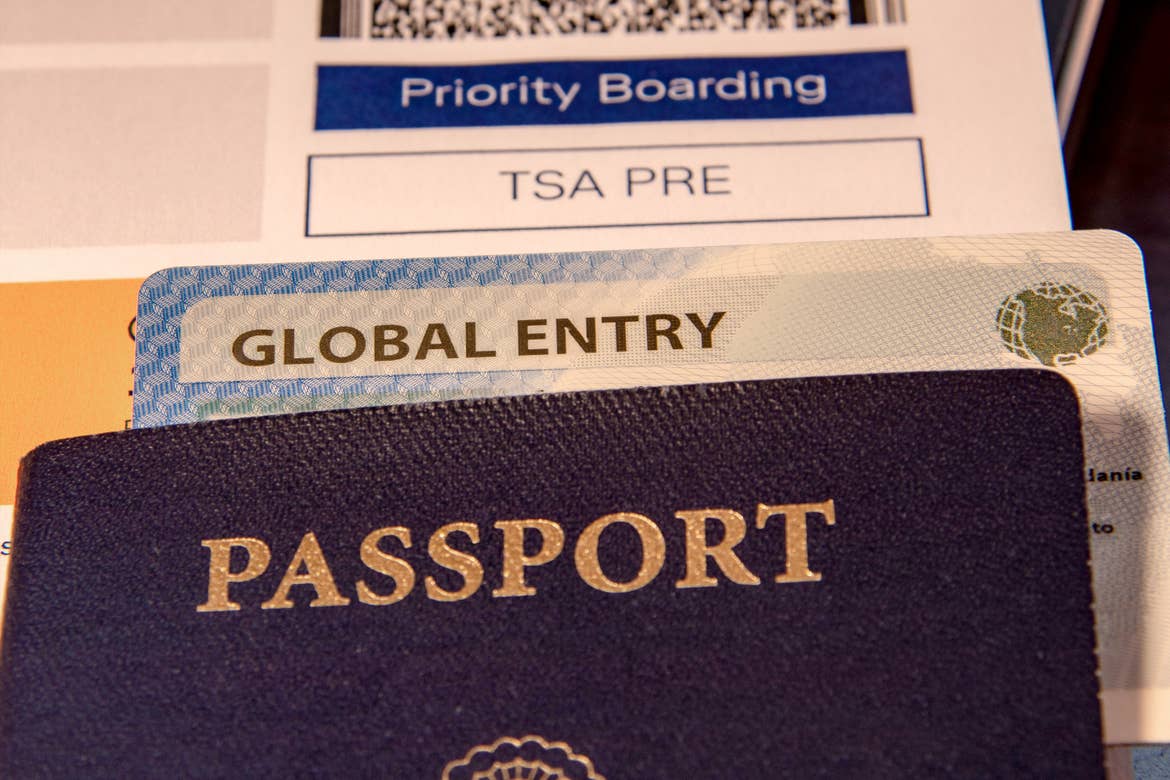 Self-parking at the airport
I could have never afforded it back in my 20s when I stretched every last penny on trips, but now I include parking right at the airport garage as part of my vacation budget.

Again, it just removes timing worries for me. I know I'm more in control than relying on an Uber, Lyft or off-site shuttle when I can just park and walk right into the airport.


Buying a travel-specific set of toiletries
Purchase toiletries specifically for travel and keep them set aside so you don't have to mess with packing up your whole bathroom or pouring shampoo into little plastic squeeze bottles each and every time you leave home.

I always have my favorite minis sitting in my travel bag ready to go to avoid that whole process.

Pro Tip: Don't cave and use them when you run out of face wash. They're JUST for travel!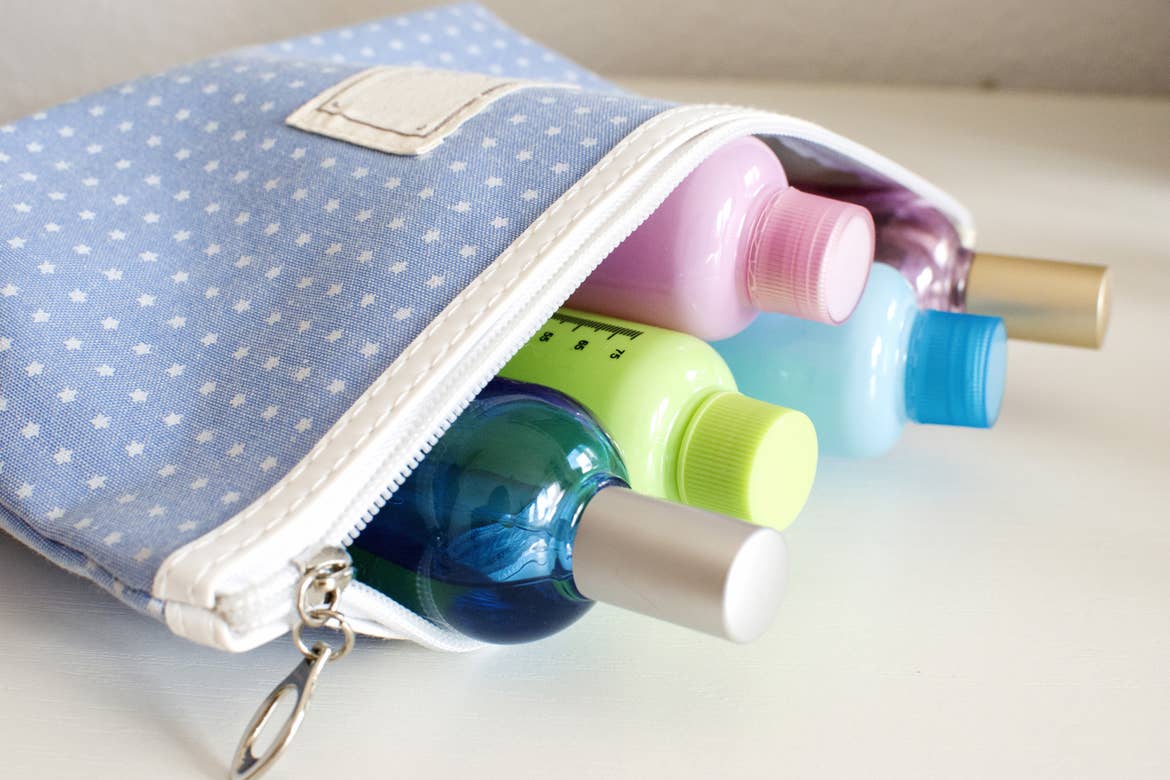 3. Avoid Booking Early Morning Flights If Your Schedule Allows
If you have travel anxiety, you're signing up for a sleepless night if you book a super early morning flight.

I used to wake up every hour on the hour in a panic, frantically checking the clock to see if it was time to leave for the airport.

Unless there's a REALLY compelling reason for it, or limited itinerary options, nowadays I don't book anything earlier than ~11:00 a.m., so I can sleep, have a peaceful morning with coffee, work out and avoid rushing.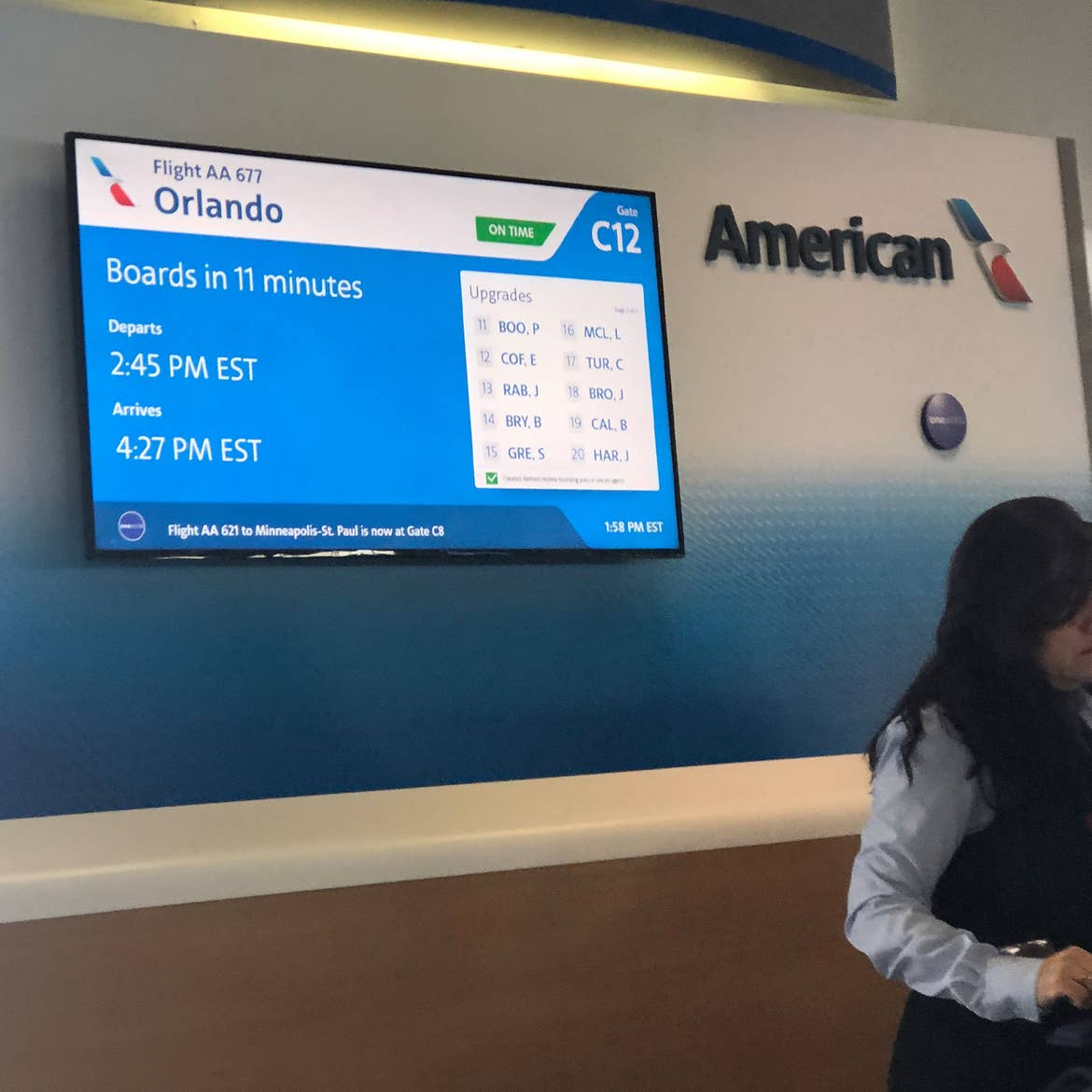 4. Pack in Advance
We've all done this. Racing to pack as you're running out the door leads to stress, crunched time and forgotten items at worst and some majorly mismatched, wrinkled vacay outfits at best.

Plan on packing well in advance, at least 1-2 days before your trip. Rule of thumb for me is the weekend prior because 1) I have time and 2) it's not too far in advance to have to repack with any major changes in weather forecast.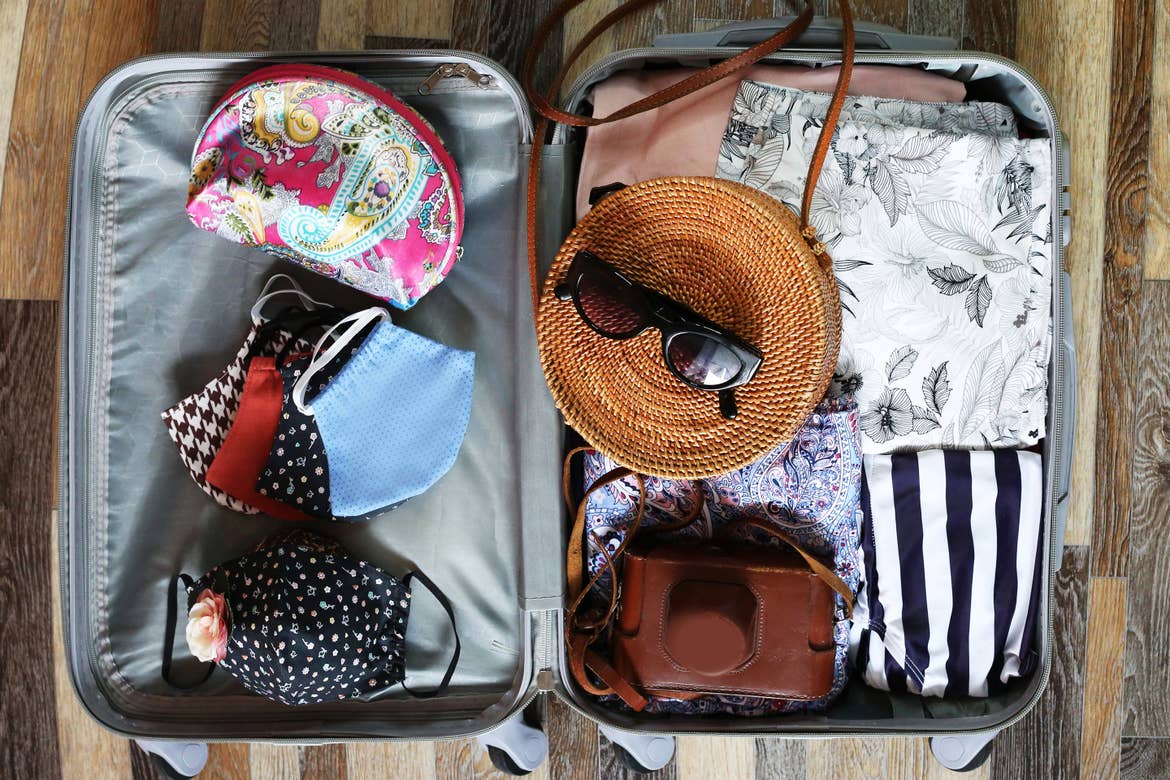 Helpful packing hacks:
Leave yourself a reminder to do any laundry the weekend before your trip.
Avoid wearing anything you want for your trip in the days prior so you don't have to redo laundry for that favorite go-to dress or pair of yoga pants.
Check your travel toiletries and hit up Target or Amazon the weekend prior to avoid last-minute errands.
Make a list of things you can't pack in advance, so the truly last-minute items don't get missed. That way, all you need to do is check off your highly used items on departure day. Think your prescriptions, laptop, wallet, phone and any special toiletries.
---
Looking for more packing advice?
---
5. Work in a Pre-Flight Workout
It's no secret that a solid 30+ minute workout can improve your mood and help keep your mind, body and spirit balanced.

So put those endorphins and increased serotonin levels to good use on travel days to get a jumpstart on anxiety management. It's like running (or biking, swimming or Zumba'ing) the nerves out before they build up!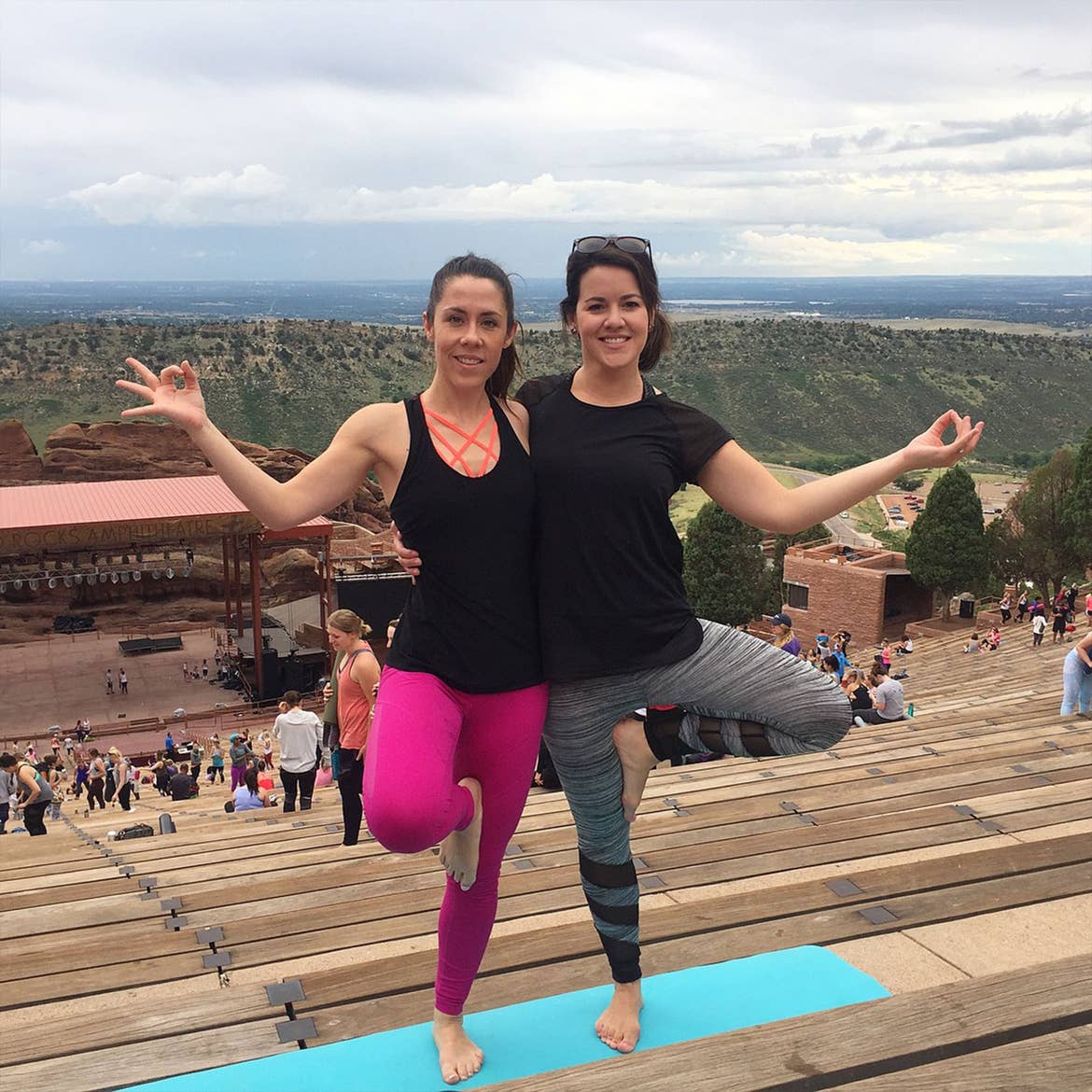 Sunrise yoga at Red Rocks in Colorado before flying back home to Florida

The payoff is great both before you leave home and while working out on vacation, so get your blood moving.

Plus, a yoga class or full body stretch session at home will keep your body feeling great later in the day on long flights and road trips or on cramped shuttle buses and subway trains.


6. Print Out Your Travel Plans
I know it sounds silly in a world of smartphones and QR code menus, but I always print out everything for my vacations and bring it in a little folder.

On a practical level, if your phone dies or gets lost/stolen, you've got a good, old-fashioned way to reference your important flight, rental car, hotel and excursion info.

And on an emotional level, it's a soothing exercise to print and hold all your plans in your hands.

It makes me feel like I'm not forgetting anything and prepared with all those tangible confirmation numbers and boarding/check-in times.


7. Do Your Destination Research
Study up on where you'll be staying and what you'll be doing. Nowadays, there are TONS of reviews, tips and even virtual resort tours online.

Knowing how the local subway works or what food options to expect will greatly minimize the time and energy spent on "what ifs."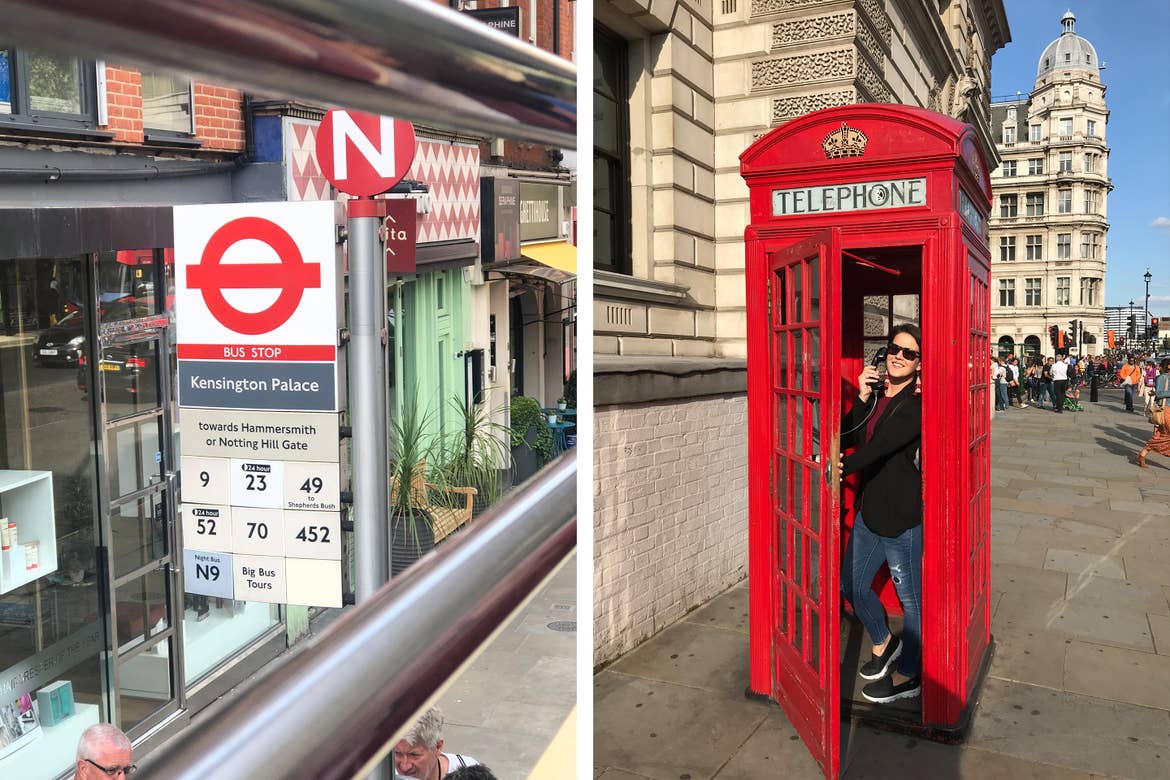 Exploring the bus routes, tube system and streets of London


8. Remind Yourself How Common Plan B (and Plans C & D) Are
About those "what ifs?" When something doesn't go according to plan, it's easy to panic and think worst-case scenario.

But canceled flights, lost bags and having to move reservations or activities around due to unforeseen delays are all SUPER COMMON. And there's always a solution.


If inclement weather grounds you in a layover city, hit the ground running on solutions. Your airline may offer a hotel voucher or free transportation for the night. If your final destination was close and it's safe to do so, rent a car and drive the rest of the way.
Stuck in a city you've never explored? Consider allowing fate to let you wanderlust through a new adventure. I got delayed for an entire day once out of LAX. I hopped in a rental car, drove to San Diego and checked a major bucket list item off by spending the "bonus day" at the San Diego Zoo! It ended up being an unplanned highlight of the entire trip!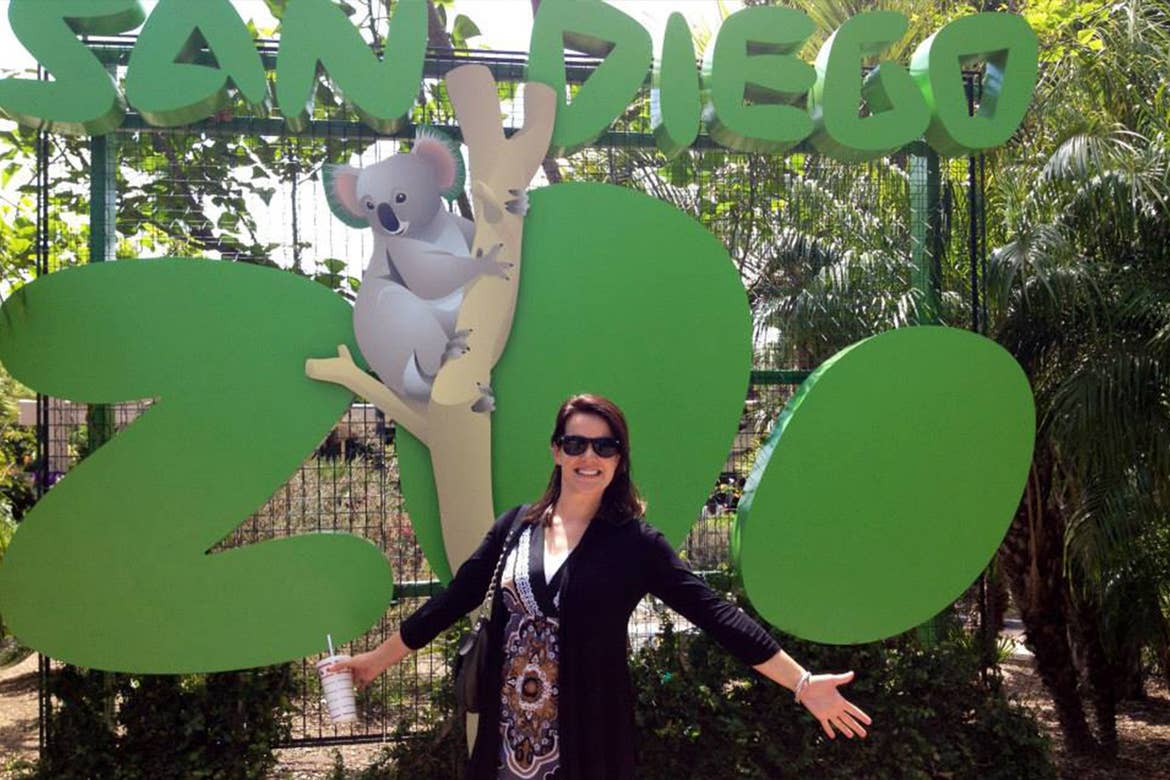 If you have trouble navigating your plan B options with spotty airport Wi-Fi or confusing scenarios, phone a friend! They can help guide you through what they're seeing from a desktop at home, and with a much clearer, less emotional outlook.
Faced with a rainy vacation day? Research online to see what veteran vacationers or local experts recommend as things to do when rainstorms hit your destination.
Pro Tip: If your bag is temporarily lost while you're away from home, do some deep breathing and look on the bright side.

Five words for you: mini shopping spree at Target! Make sure your airline pays up so you can hunker down with a few new items 'til your luggage re-emerges.


9. Visualize Your Trip and Picture It Going Well
It's easy to fall into the trap of imagining all the things that could go wrong. Try your best to picture what will go RIGHT.

The mind is a powerful thing. If you imagine your travel day going well, you might be able to put yourself in a calm and pleasant state of mind, which can manifest into a beautifully smooth day!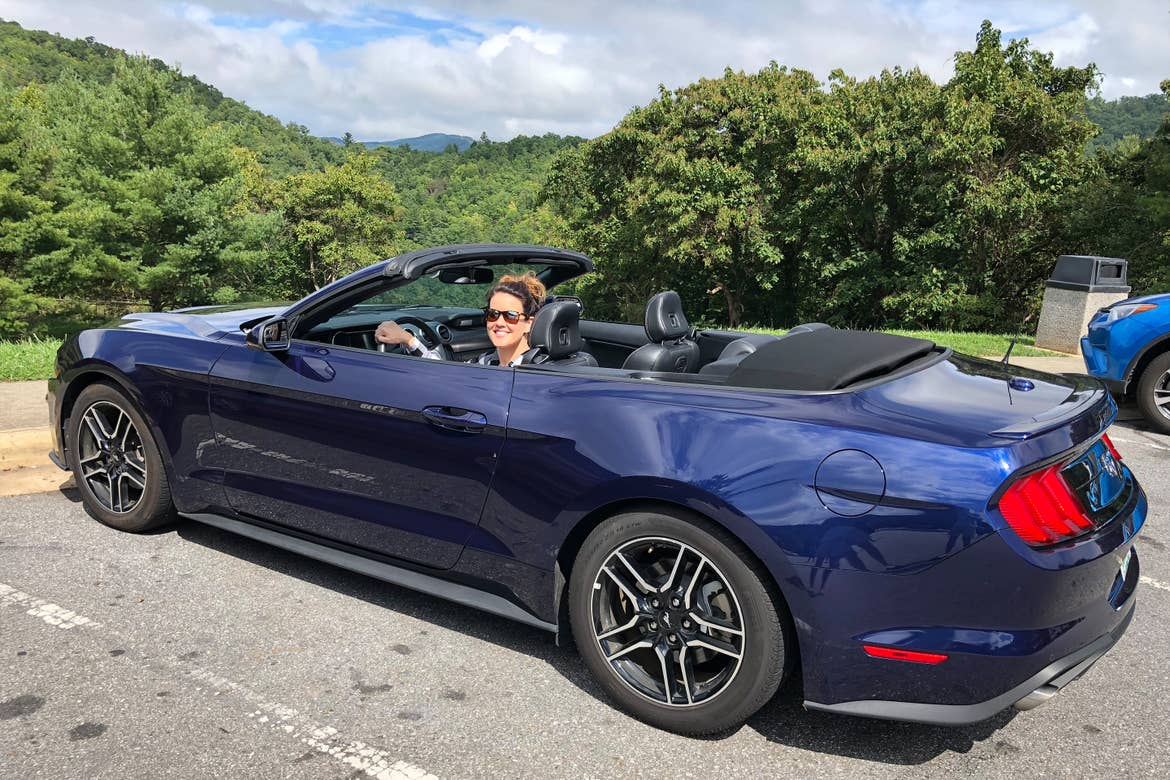 Driving through the Smoky Mountains in a surprise rental car upgrade – talk about a beautifully smooth travel day!

You know Glennon Doyle? Aka the massively popular author of the #1 best-selling book of the 2020 pandemic, Untamed? In her brand-new podcast, We Can Do Hard Things, she shared the idea of "What Is" versus "What If."

Instead of spending your energy on imagining negative "What Ifs," ground yourself in the real-time "What Is."

This frame of mind can help you move past "What if my flight's delayed?" to "What is true and factual right now is that so far, my flight status is happily 'on-time.'"

If you're scared your checked bag didn't make your tight connection, meditate and picture your bag coming out of the baggage claim at your final destination with the conveyor belt circling its way right into your luggage-lovin' arms.

Picture good weather. Picture on-time connections. And picture how much fun you'll have when you get to the beach, mountains or wherever it is you're headed!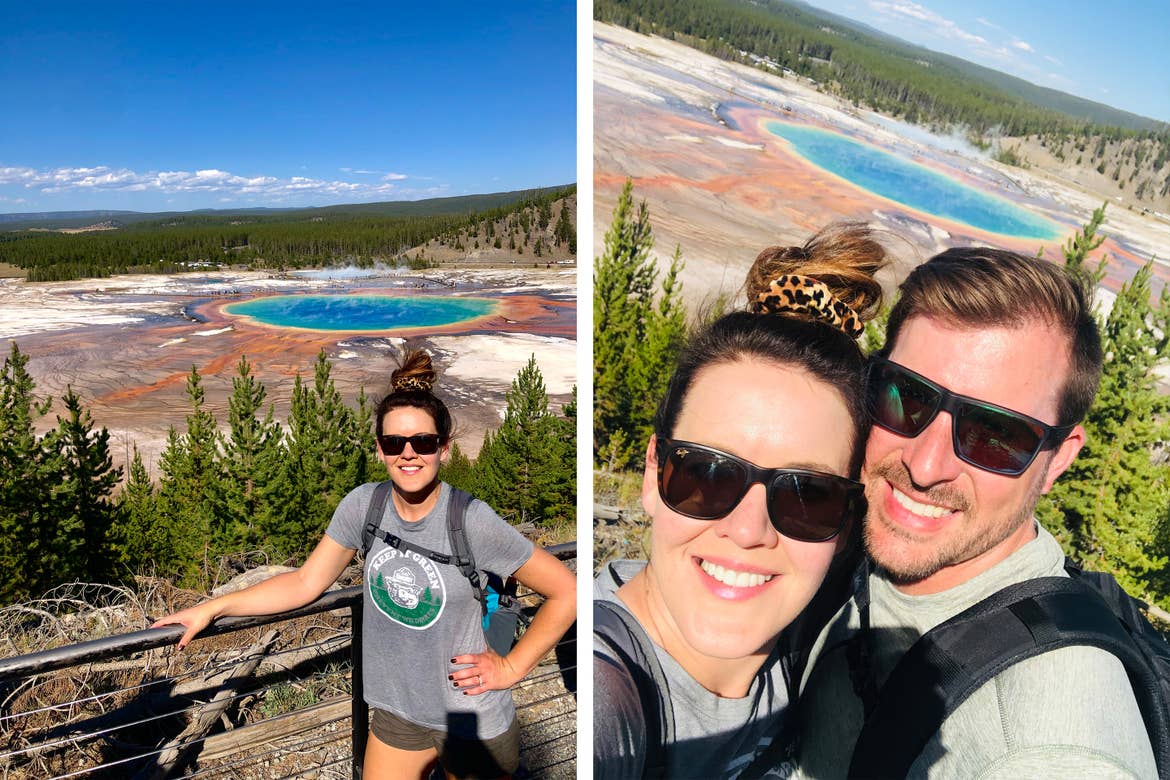 Enjoying sunshine and the Grand Prismatic at Yellowstone National Park


---
Need more travel tips?
---
10. Make a Soothing Travel Playlist
Music can be HUGELY helpful in staying calm in busy, noisy, crowded airports and loud, baby-filled airplanes alike.

There are thousands of great (and free!) playlists on Spotify, Pandora and Apple Music with titles like "Calm," "Spa" and "Relaxing." I find piano music or movie scores (basically anything without words or lyrics) to be especially soothing.

Pro Tip: Download your music albums or travel playlists before you leave home. That way, you can still listen to some calming tunes once you lose Wi-Fi and put your phone in airplane mode.

Pro Tip #2: Invest in some noise-canceling headphones! These are GAME CHANGERS.

It's like you can just tune out the whole world and all its "paging passenger so-and-so" and crying babies. I personally love my Apple AirPod Pros and cannot travel without them now!

(Just be sure to not tune SO far out that you miss any important announcements.)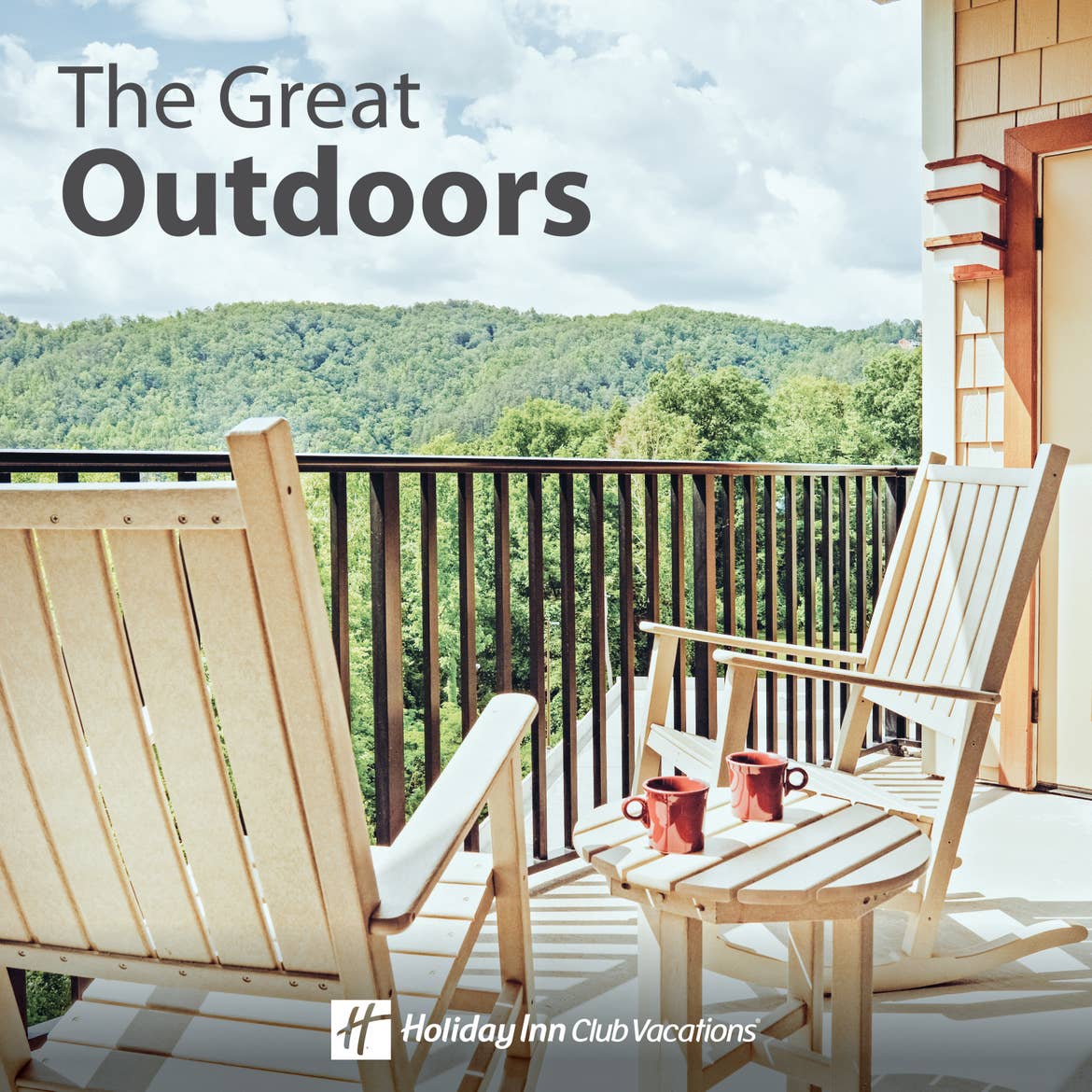 These 5 Spotify playlists can help get you in that I'm-on-vacation state-of-mind.


11. Find Helpful Distractions
Same as with music, one of the best ways to get your mind off travel anxiety is to occupy it with something else!

In addition to listening to music, try staying busy with:


Chatting with your travel companion(s). Whether it's a buddy, spouse or family member, sit with someone who can keep you engaged in conversation and lend you some comfort.
Crossword or Sudoku puzzles
A magazine or book you've been saving and looking forward to reading on vacation
Movies and TV shows, via your in-flight entertainment or personal electronic devices. (Just don't forget your headphones or AirPods!)
Knitting or crocheting
SNACKS!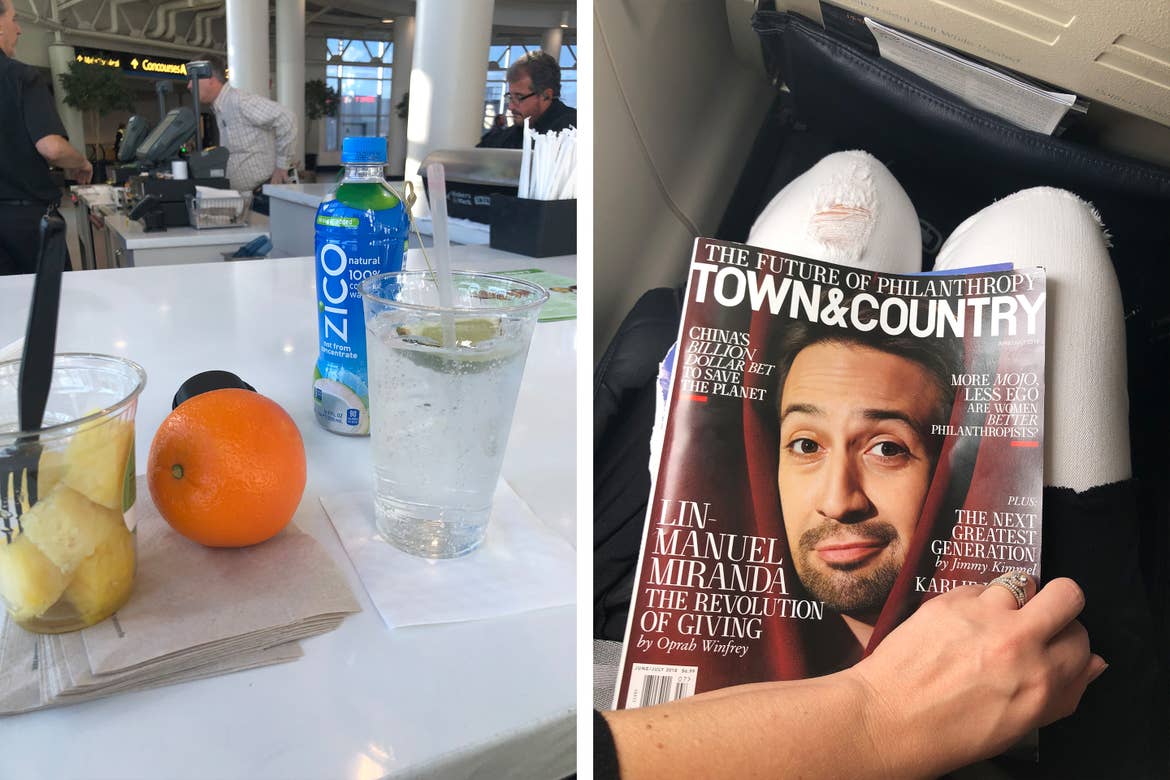 Pro Tip: Consider skipping the airport bar and avoiding alcohol. I know, I know. While it might seem like a good idea for chilling out, it's a depressant and could end up making you feel groggy, cranky, too tipsy and/or just worse.


12. Talk to Your Doctor
Editor's Note: The following is the blogger's personal opinions and anecdotal experiences. It should not be considered in any way, shape or form to be medical advice.

Consider talking to your doctor. Full-blown anxiety attacks – and the cortisol, adrenaline and increased heart rates that can come from perceived fight-or-flight stress – can take a sharp toll on both your mental and physical well-being.

Only you can decide if you feel you might need to explore medicinal or therapeutic ways to help calm severe levels of travel anxiety.

Personally, after many years of struggling to handle travel anxiety, I worked with my doctor to find the right prescription for an as-needed (aka not daily) anxiety medicine that greatly helps take the edge off of airport days for me.

Whatever you do, do not try anything — even over-the-counter supplements or gummies — without talking to your doctor first.


13. Research & Stay at Accommodations That Make You Feel Comfortable
Do your homework, read online reviews and choose accommodations that make you feel safe and confident.

A hotel or resort that truly feels like a home away from home makes a world of difference when you're, well, away from home.

Nowadays, our IHG-backed Safe Travels program can help put your mind at ease in terms of cleaning, sanitization and social distancing.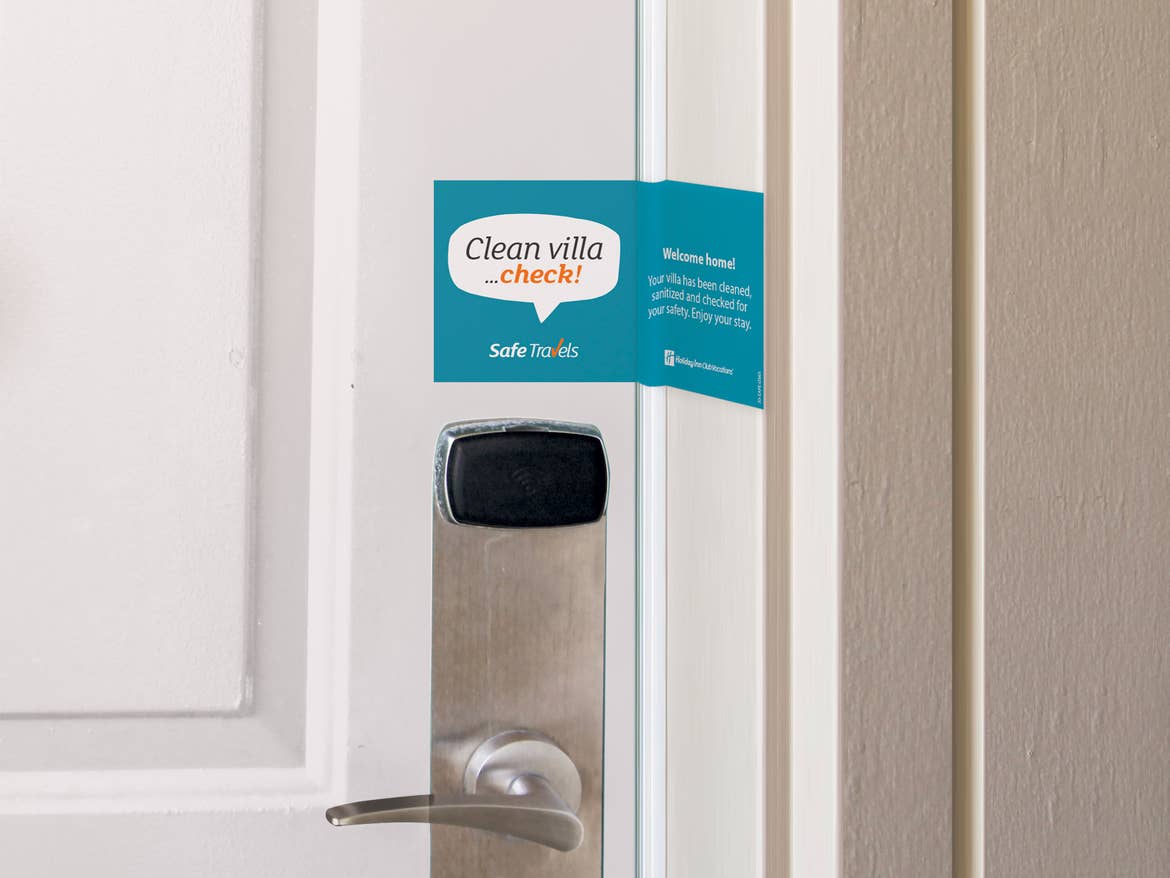 And regardless of COVID-19, it really helps to have a nice and quiet place to retreat to during your vacations.

Our full kitchens, in-villa and on-site laundry and roomy floorplans with plenty of space to spread out are always a warm welcome when you step foot into your villa at any of our 28 resorts.

If you have travel anxiety, hopefully this was helpful for you! It might take some trial and error, and some tips might work better for you than others.

And while it might not resolve overnight, applying this advice and finding what works best for you can bring happier flights and travel days to your upcoming getaways!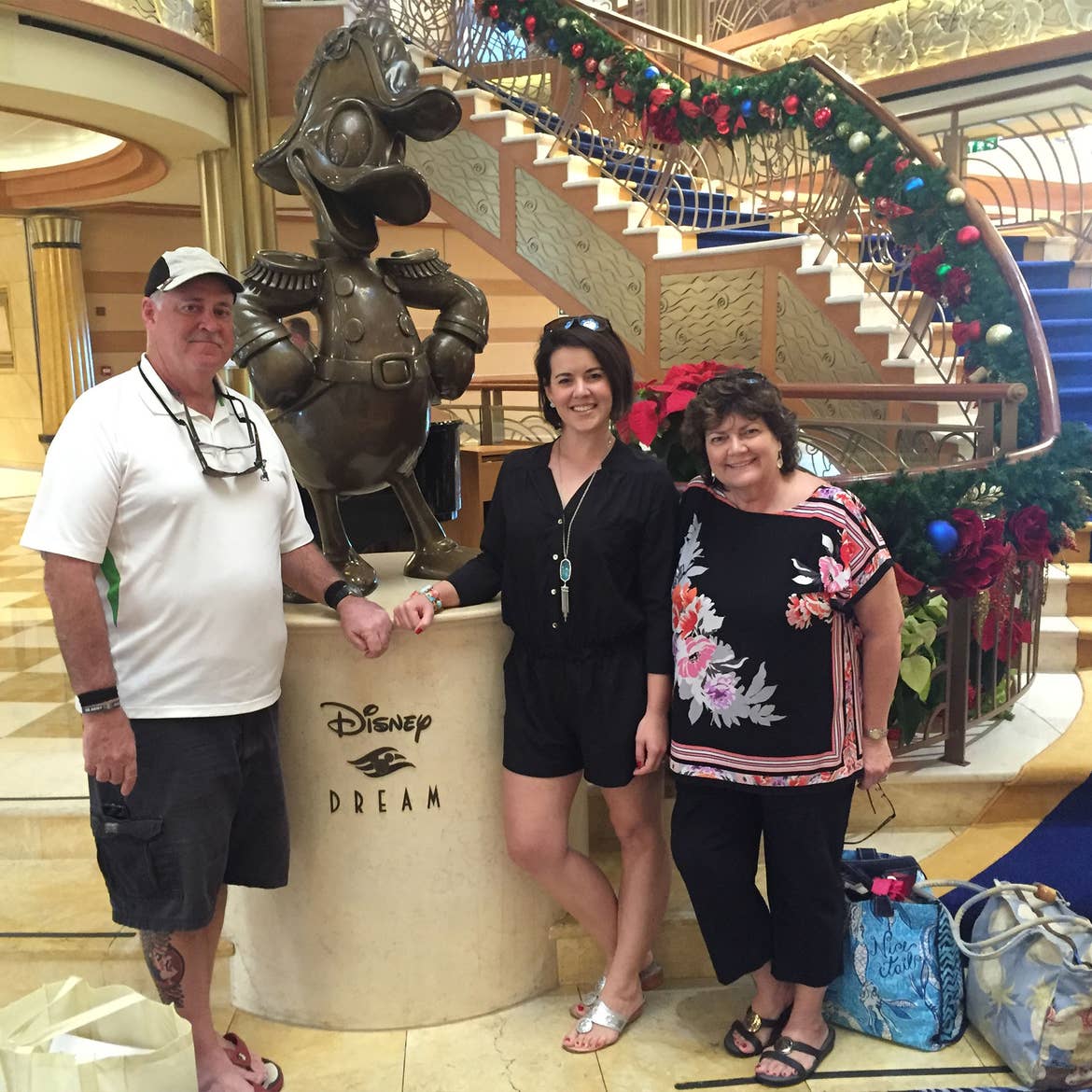 My parents and me successfully arriving for our "dream" voyage with Disney Cruise Line.

Did we miss a valuable tip? Share your story with us!


The tips in this article are based on the blogger's personal opinions and anecdotal experiences. Nothing in this article is intended to be a substitute for professional medical advice, diagnosis or treatment.

Be sure to consult your doctor or a medical professional for health and medical advice and before starting anything new.

All information is subject to change. This article is a curated guide and is neither sponsored nor considered an official endorsement. Please be sure to check information directly with any/all tours, guides or companies for the most up-to-date and direct details.