Jessica Sanchez
Jessica is a writer, photographer and social media strategist for The Jetsetting Family. Three years ago, she sold most of her stuff and took her family on a full-time adventure around the world. In two years, she visited more than 40 countries with her husband and two young children, working with dozens of brands in the travel and hospitality industry. She now calls Florida home and is always ready for the next big adventure!
Instagram
Facebook
Pinterest
YouTube
Website
Our family has traveled to over 40 countries, but most recently, the pandemic made us realize the excitement of exploring places here in the USA.

This past year, we've really grown a new appreciation for how vast and beautiful our own country is.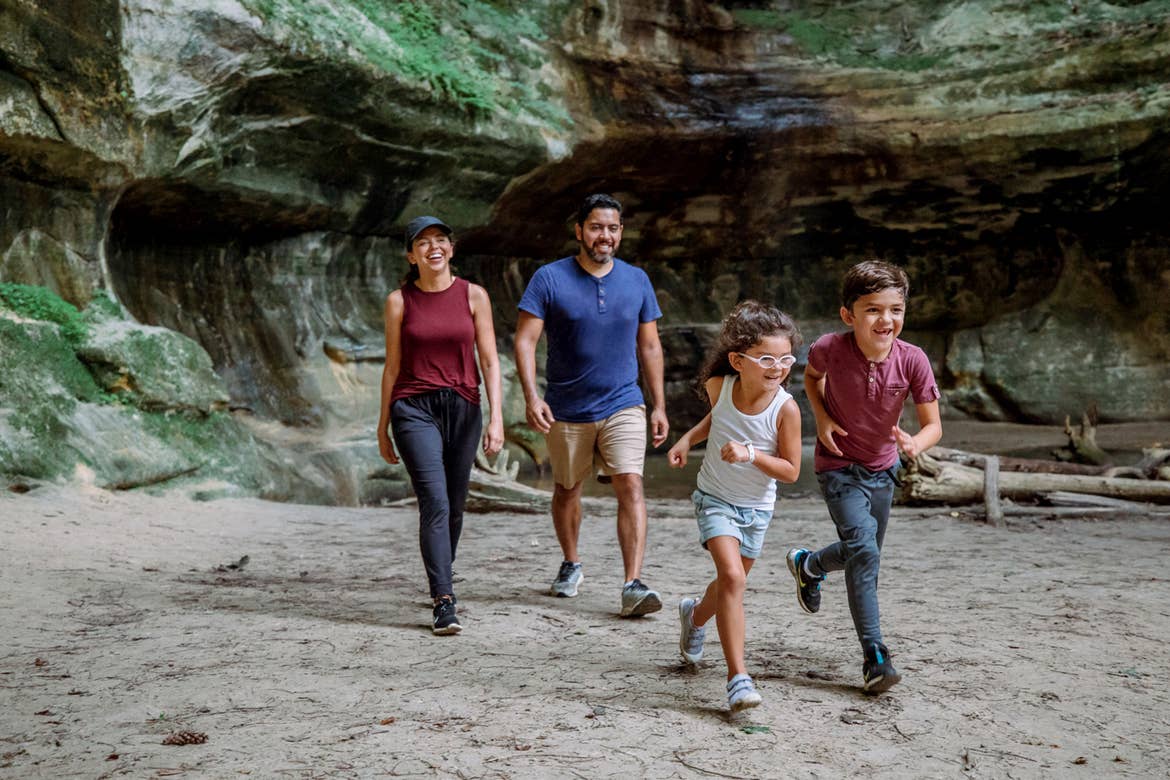 Meet our family! Jessica (me), Rodrigo (my husband), Nora (5) and Santiago (8).

We were especially excited for our family getaway near Chicago. Having the opportunity to see Illinois and stay at Fox River Resort was truly wonderful!

We arrived in Chicago after spending a month in Hawaii, and we were immediately in awe of the beautiful city.

The history-rich sights and architecture lining the Chicago River made it hard not to fall in love with it quickly.

Below, I'm sharing some of the fun things we did in Chicago and more about our nearby getaway in Sheridan, Illinois.


Fun Things to Do in Chicago
We only had a couple of days to spend in Chicago before heading to Sheridan (about 90 minutes away), so we planned on making the most of them with a jam-packed schedule.

Here are some of our favorite things we got to do during our two days in Chicago!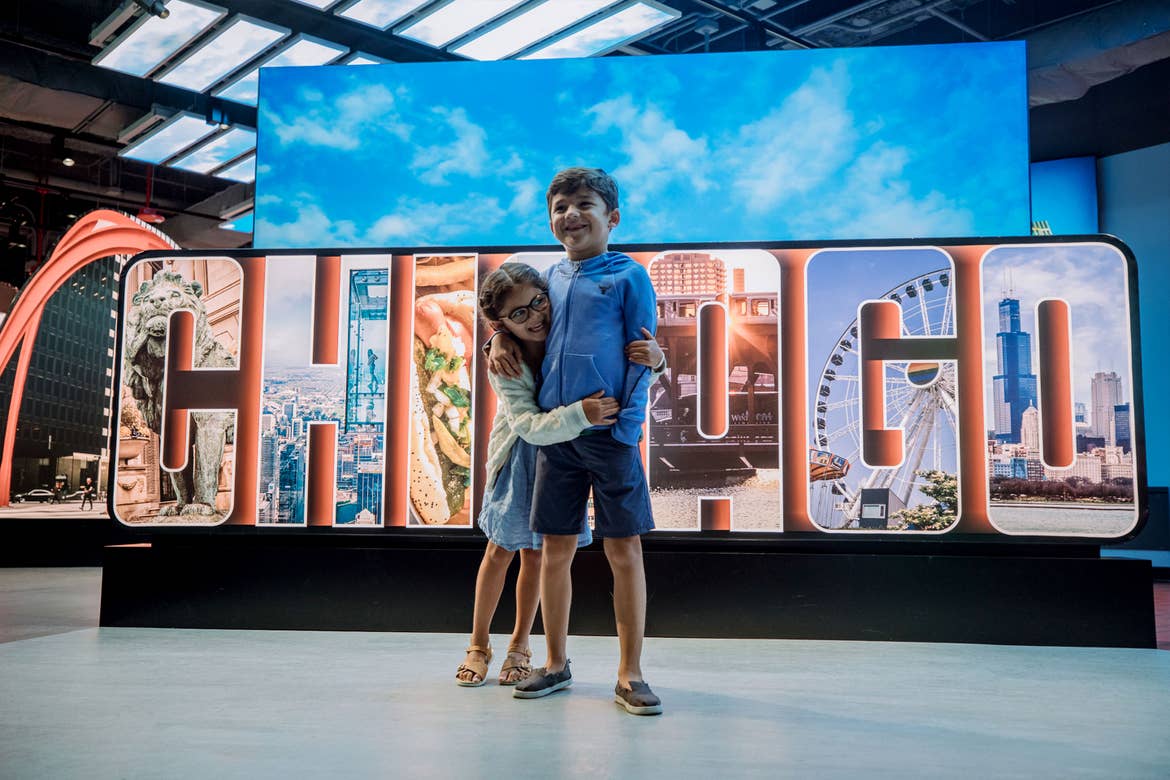 SkyDeck Chicago
Our first stop was the SkyDeck at Willis Tower, where we stood 103 floors above the city and admired a sweeping vista of four states: Wisconsin, Illinois, Indiana and Michigan.

If you're scared of heights, be prepared for an adrenaline rush as you stand on a glass-bottom floor with panoramic views.

While the lookout is the highlight of the SkyDeck, there was also an exhibition at the bottom of the tower that you walk through to access the elevator.

We thought that was a treat as well. The interactive area teaches you about Chicago's history in a creative and fun way that our whole family enjoyed.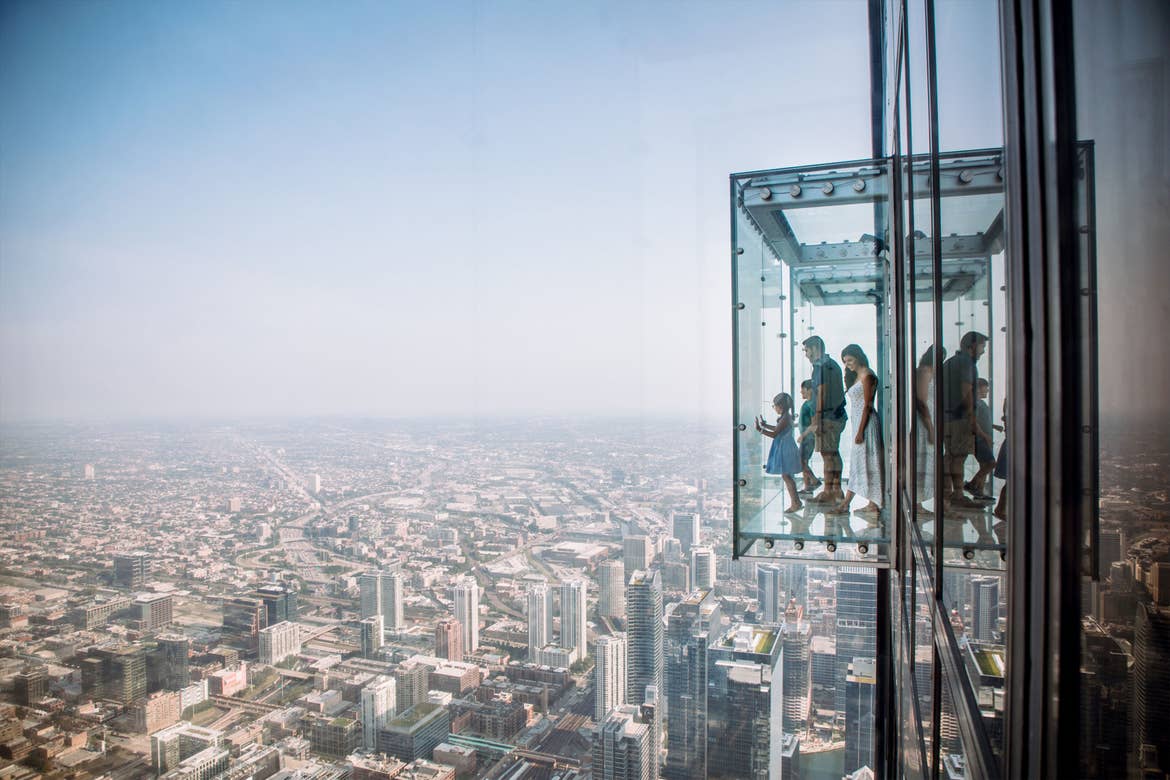 Navy Pier
Navy Pier is a must-see attraction on the Lake Michigan shoreline, as it has something fun for all ages.

Whether you just want to walk around and grab a churro while soaking up the Chicago skyline or try out one of their many rides, it's one stop we didn't want to miss.

We loved riding the Ferris wheel and getting a different vantage point of the city.

And the kids loved the spinning teacups that reminded them of the rides at Walt Disney World® Theme Parks.

From the pier, you can also book a scenic boat ride or attend one of the many events hosted there (such as live music or movies).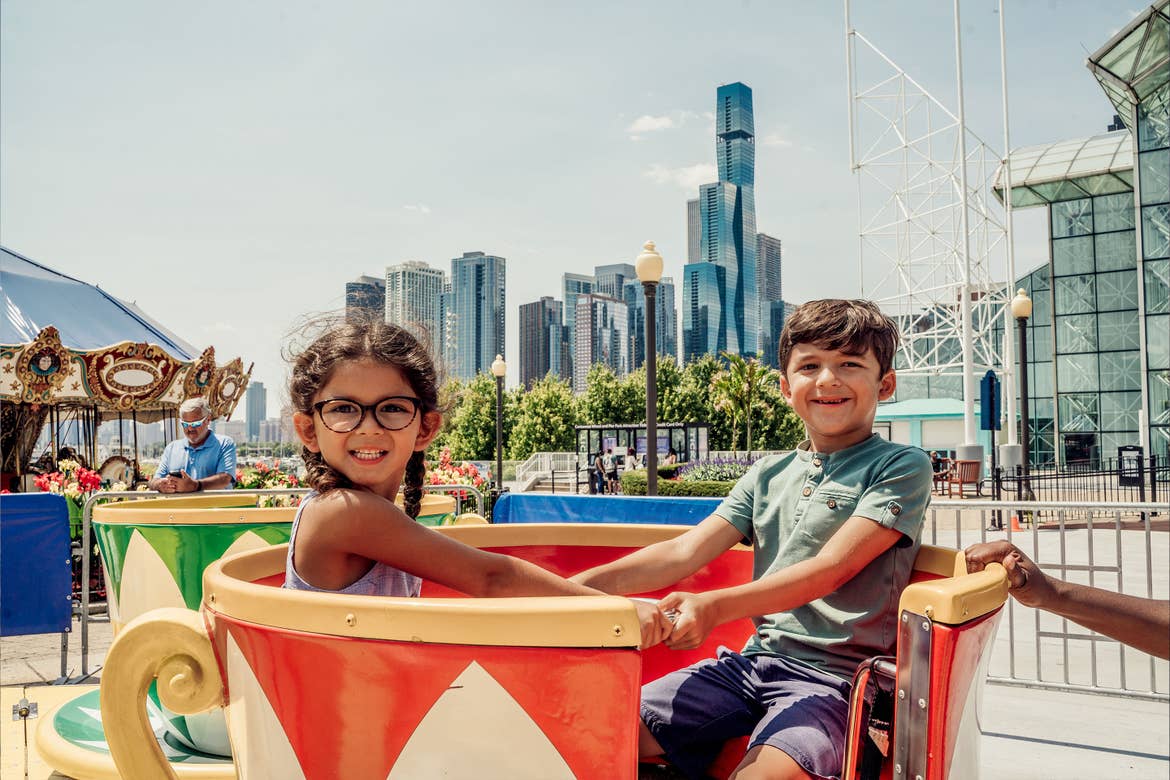 Millennium Park
Millennium Park is best known for "The Bean," more officially known as Cloud Gate.

It's a famous sculpture designed by Sir Anish Kapoor and constructed in 2006. And it's one of the most photographed parts of the city that offers a unique reflection of the skyline.

Within steps of The Bean is also the Millennium Park Crown Fountain, a large splash pad for kids to run and play.

If you plan on spending time at Millennium Park (outside the winter), don't forget to bring the little ones' swimsuits to cool down and splash around!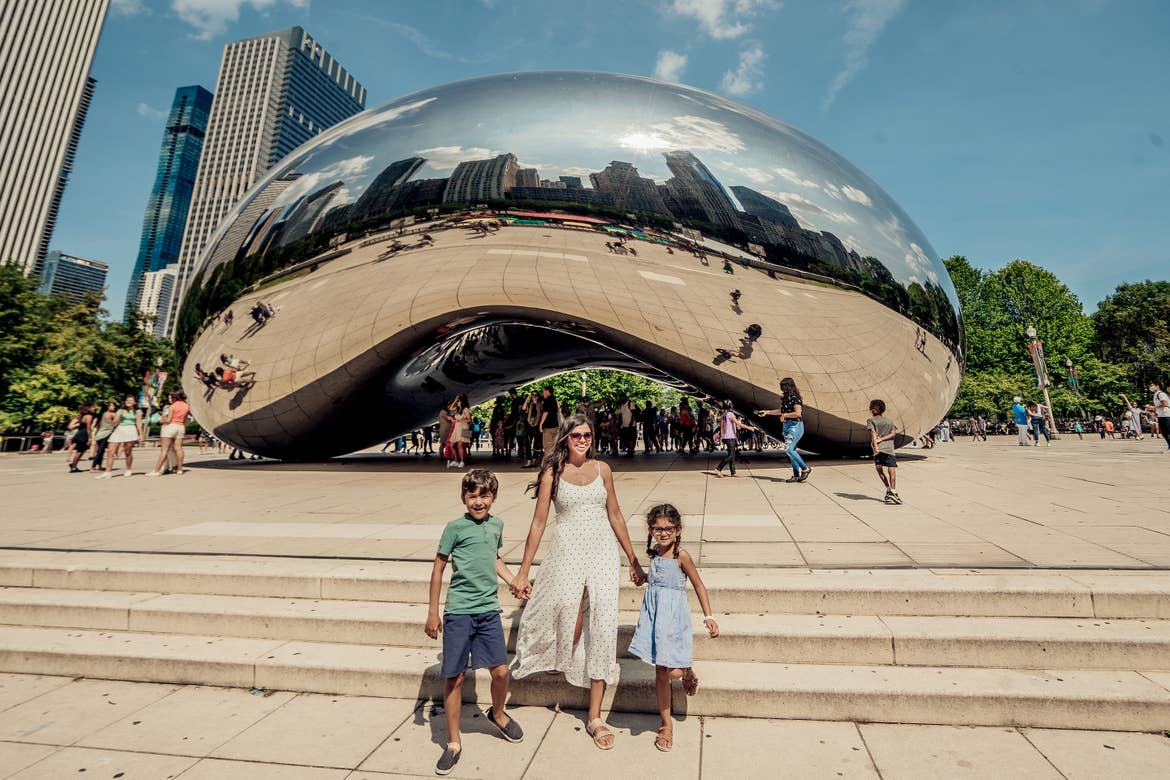 Chicago Architecture Boat Tour
This tour was an absolute highlight for our whole family.

We opted to go on the 75-minute Shoreline Sightseeing tour that left near sunset, and we loved our journey down the Chicago River.

We learned about the history of Chicago and the tragic circumstances of the Great Chicago Fire, which led to such an impressive feat of urban planning over the past 100 years.

The kids sipped on (non-alcoholic) Shirley Temples and played "I Spy" as we soaked up countless facts and stories about Chicago's past, present and future.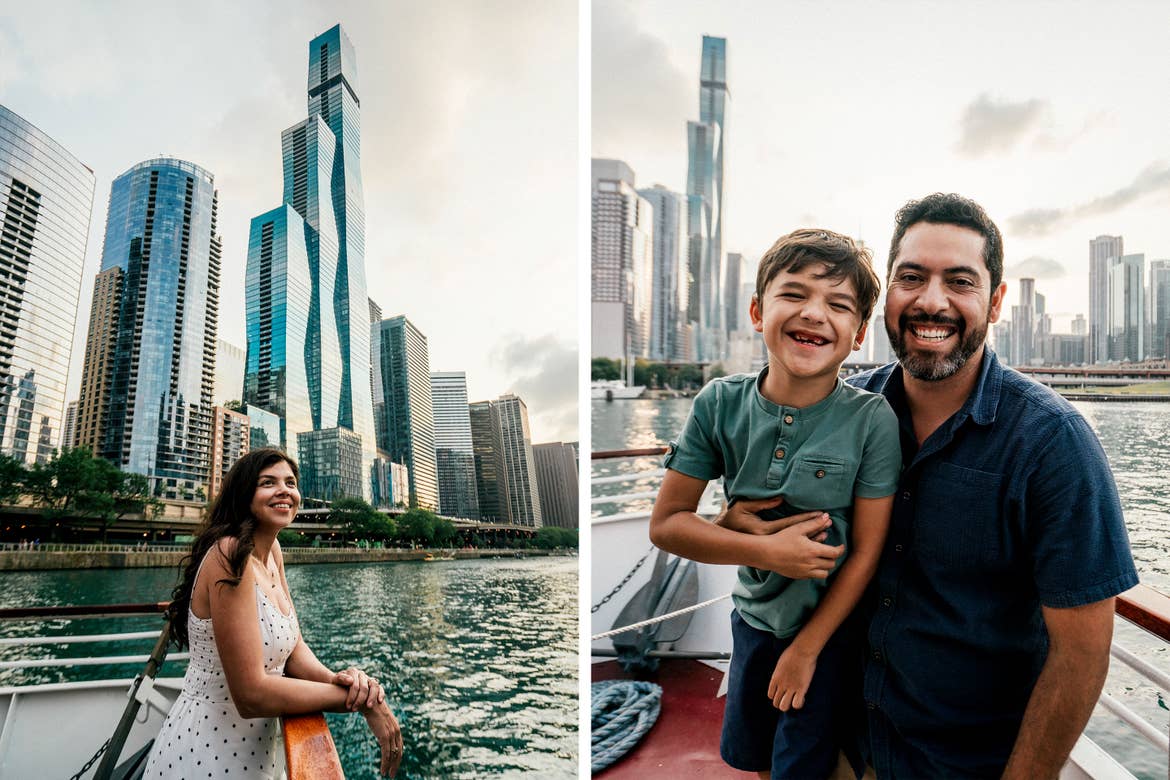 ---
Get Ready for Your Midwestern Adventure
---
Our Getaway at Fox River Resort, Right Near Chicago
After two days in the city, we couldn't wait to start the second part of our getaway at Fox River Resort.

This Midwest family resort is located in Sheridan, Illinois, which is about a 1.5-hour drive from downtown Chicago.

We loved that its location outside of the city allowed us to see the countryside. We quickly went from a bustling metropolitan area to beautiful rows of cornfields.

The kids couldn't wait to get to the resort and check out their new home for the week.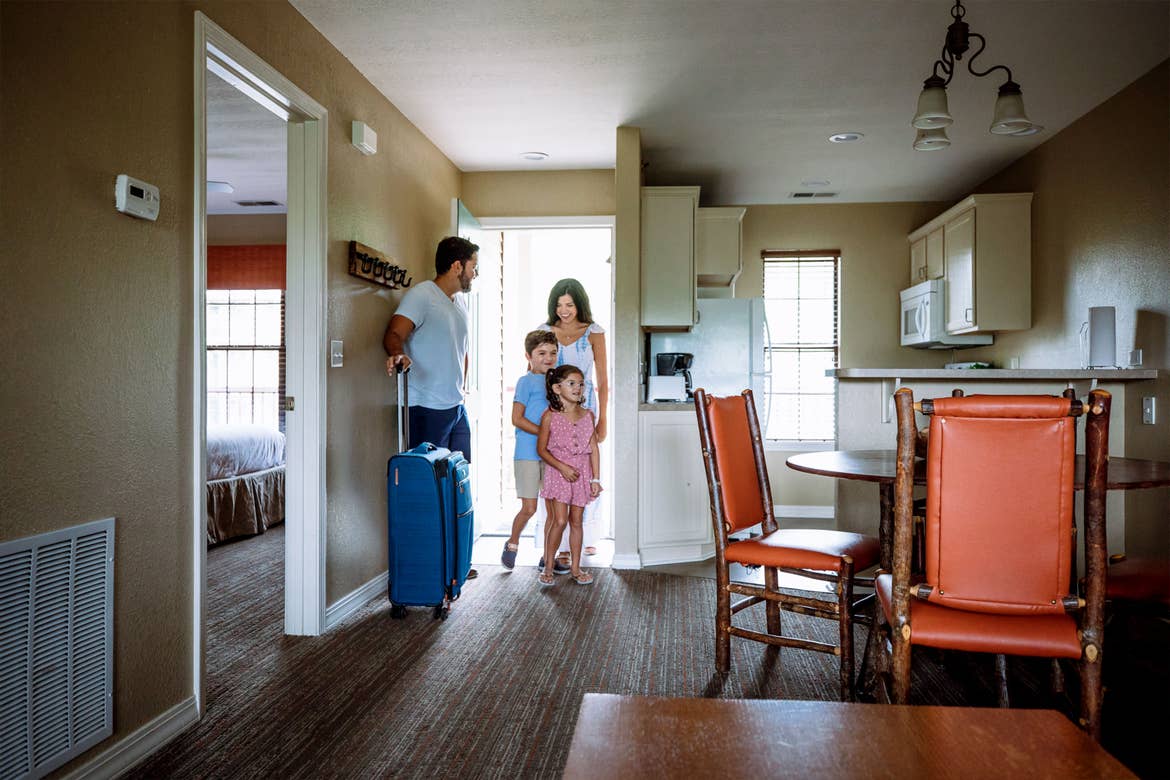 The two-bedroom Presidential Suite at Fox River Resort


Our Villa at Fox River Resort
We stayed in a two-bedroom Presidential Suite — and it definitely felt spacious.

We had everything our family of four could need, such as:
A large kitchen
2 bedrooms
2 bathrooms
A living room
And a washer and dryer
We absolutely loved that we could prepare meals for our family in the kitchen as that always makes us feel more at home while on the road.

As much as we wanted to relax and enjoy our villa, though, the kids only gave us about 5 minutes to settle in before they wanted to check out all the activities!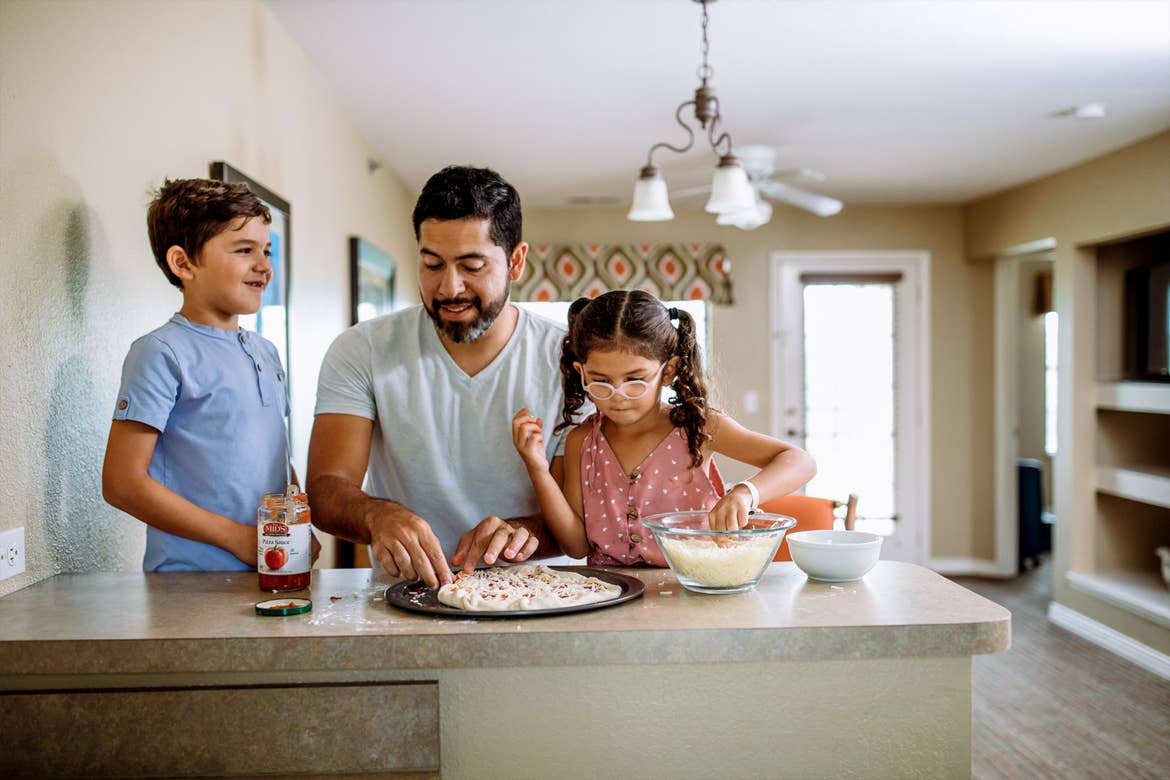 Fox River Resort Activities
There were so many fun things to do at Fox River Resort! Here are some of our family's top favorites from our stay.


Horseback Riding
Horseback riding was our first activity at the resort, and we were thrilled to be back on a saddle. Our son, Santi, joined us for a trail ride along the scenic Fox River.

Nora, our youngest, was too small for the trail ride (you have to be at least 8 years old and 48" tall), but the resort team made sure to include her in a special activity, so she didn't feel left out.

She got to paint a horse using her hands (with non-toxic paint), and she gave the horses treats when we returned! She was thrilled and loved the experience.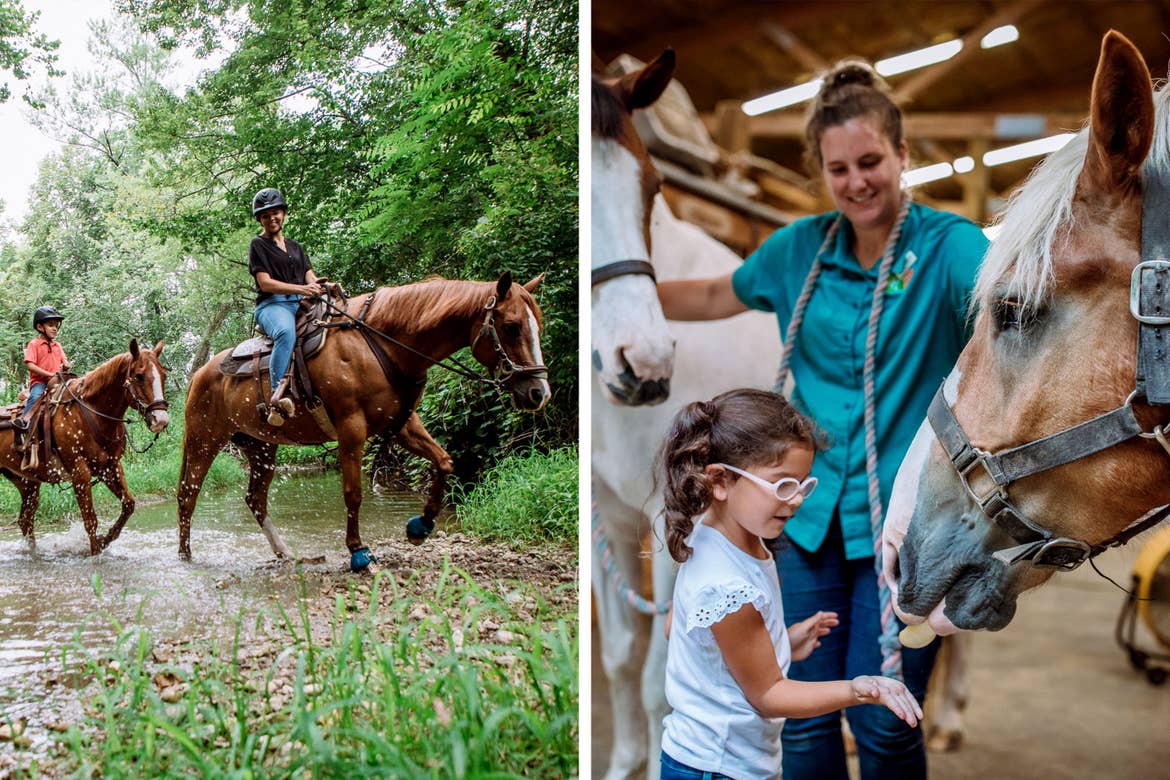 Horsing around at Fox River Resort


Mini Golf, Arcade & Pools
If there's one thing our family loves, it's some competition.

We grabbed our free clubs and balls from the Activity Center and played 18 holes of mini golf.

It was such a fun activity for all four of us that we went back multiple times throughout our stay!

We also found that the best way to cool down during this summer vacation was hitting up the arcade! (It was right next to the desk where you return your mini golf balls and clubs.)

There's an outdoor pool right next to the Activity Center where we got to splash around for a few hours, too.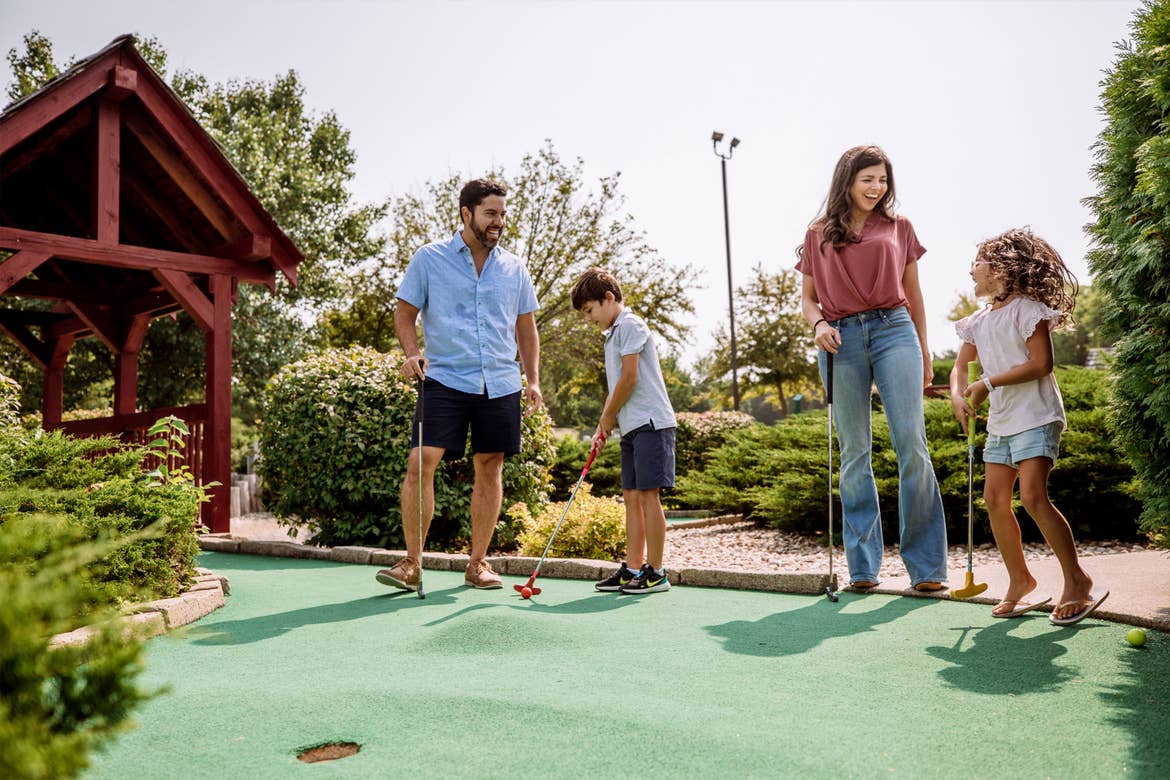 Playing a round on the 18-hole mini golf course at Fox River Resort


Pirate's Cay™ Indoor Water Park
We continued our vacation with a stop at Pirate's Cay™ Indoor Water Park, which is conveniently right on the resort grounds!

As a 31,000-square-foot space with a retractable roof, the climate controls kept the water at the perfect temperature.

The waterpark features a children's splash park area with a massive tipping water bucket, an assortment of waterslides and tube slides, and a lazy river.

Honestly, the kids couldn't decide whether they wanted to stand under the water bucket and get splashed all day or go on as many waterslides as they possibly could.

Overall, Pirate's Cay is an activity that you really don't want to miss, as it'll keep the whole family happy and entertained.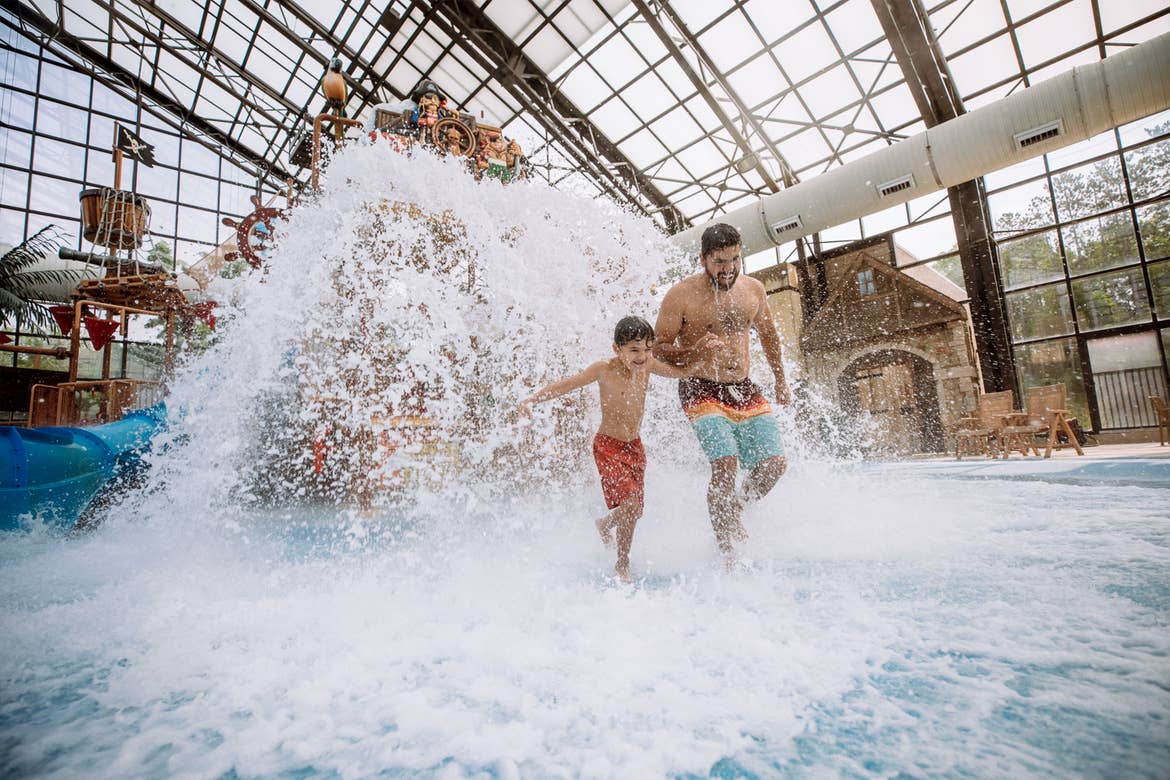 Splashing around at Fox River Resort's Pirate's Cay Indoor Water Park


Local Things to Do Near Fox River Resort
It was hard to leave the resort, but our family was ready for hiking adventures, so we also ventured out to the nearby state park.


Starved Rock State Park
We can never seem to go on a trip without squeezing in a hike.

After a short 30-minute drive from the resort, we arrived at Starved Rock State Park to explore its hiking trails and find a waterfall.

We opted to check out St. Louis Canyon Falls, which has waterfalls that are a shocking 80 feet high!

There were two trail options that could lead us to the falls:
A 1.5-mile trail starting at the visitor center
A shorter 0.6-mile hike from the St. Louis Canyon car park
While we normally love long family hikes, we opted for the shorter route, so we could beat the rain.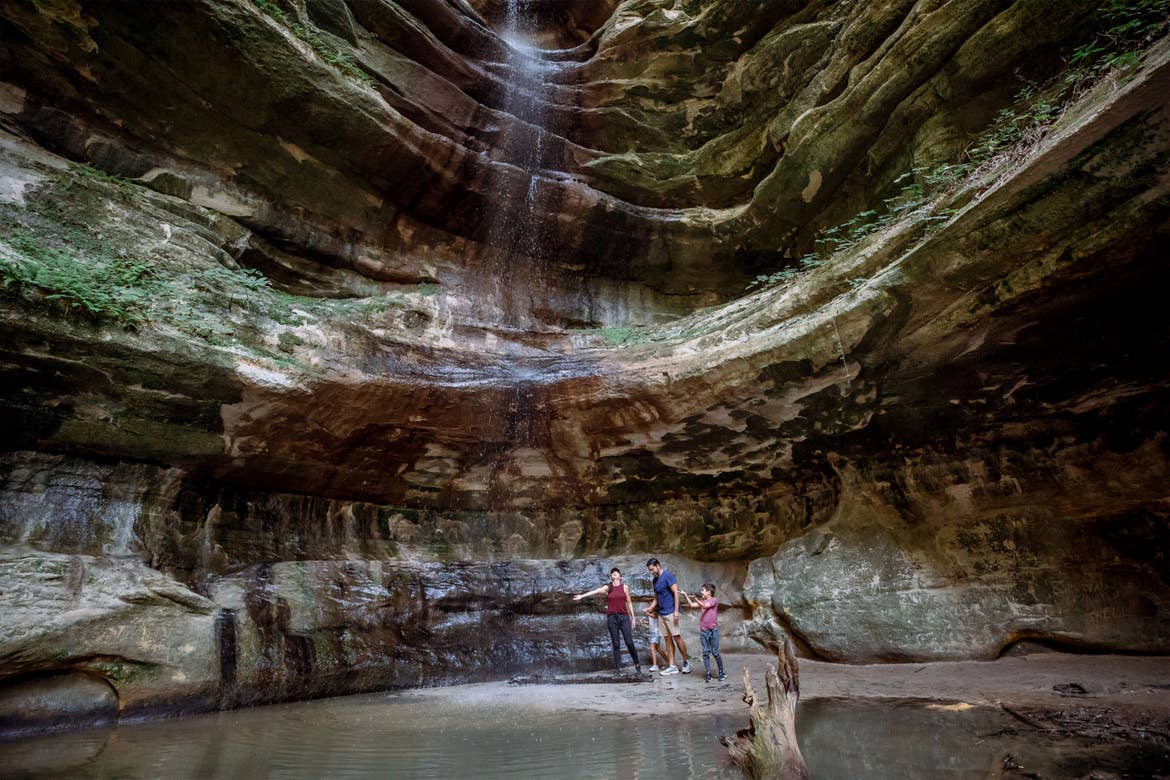 Starved Rock State Park


Mill Street & Lodi Tap House
After our hike, we enjoyed dining in the Mill Street restaurant area in nearby Utica, Illinois. It was a cute little road with several dining options.

We chose Lodi Tap House and loved its selection of food and drinks to finish off our day.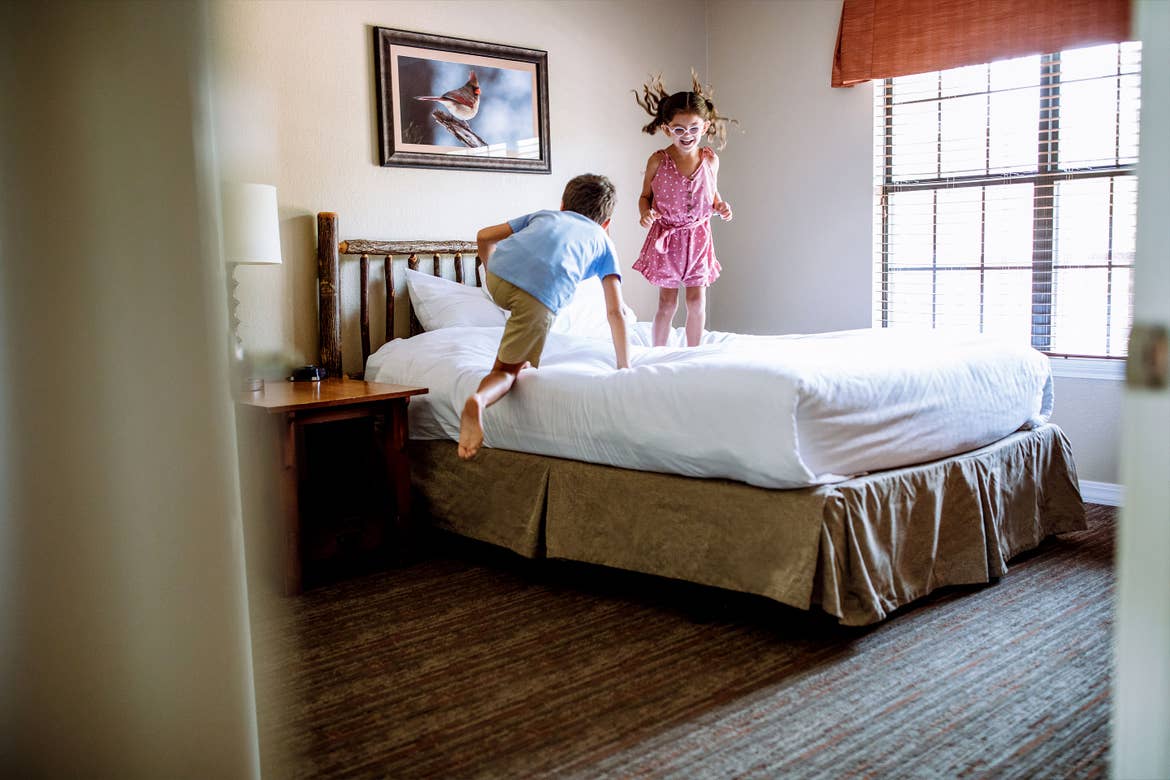 Ultimately, we had an amazing time both in the city and during our getaway right near Chicago at Fox River Resort!

We loved being able to see different sides of the beautiful state of Illinois.

The city gave us the fast-paced hustle and bustle with beautiful architecture, while Sheridan and Fox River Resort allowed us to experience life in the Illinois countryside.

Having a variety of amenities made filling each day with something new easy and stress-free.

We're grateful to have made some awesome memories at this Midwest family resort, and we look forward to coming back sometime soon!


Our guest bloggers are compensated for their writing contributions and honest opinions.

All information is subject to change. This article is a curated guide and is neither sponsored nor considered an official endorsement. Please be sure to check information directly with any/all tours, guides or companies for the most up-to-date and direct details.