Krystin Godfrey
Krystin Godfrey is a wife, mom of 4 and lifestyle blogger who's on a mission to help other moms live, love and teach their children with joy! When she's not homeschooling or playing chauffeur to her 4 kids, you can find her planning her next vacation or hunting for her new "favorite" restaurant. Over the years, the Godfreys have built a life they love by letting faith be their guide and they want to help other families do the same!
Instagram
Facebook
Twitter
Pinterest
Website
With summer right around the corner, you might be starting to plan your next big, sunny fun family vacation.

Today, I'm SO excited to share with you all about how to choose the best summer resort for your getaway — and it's all based on the best summer family vacation we've ever taken at Orange Lake Resort in Orlando!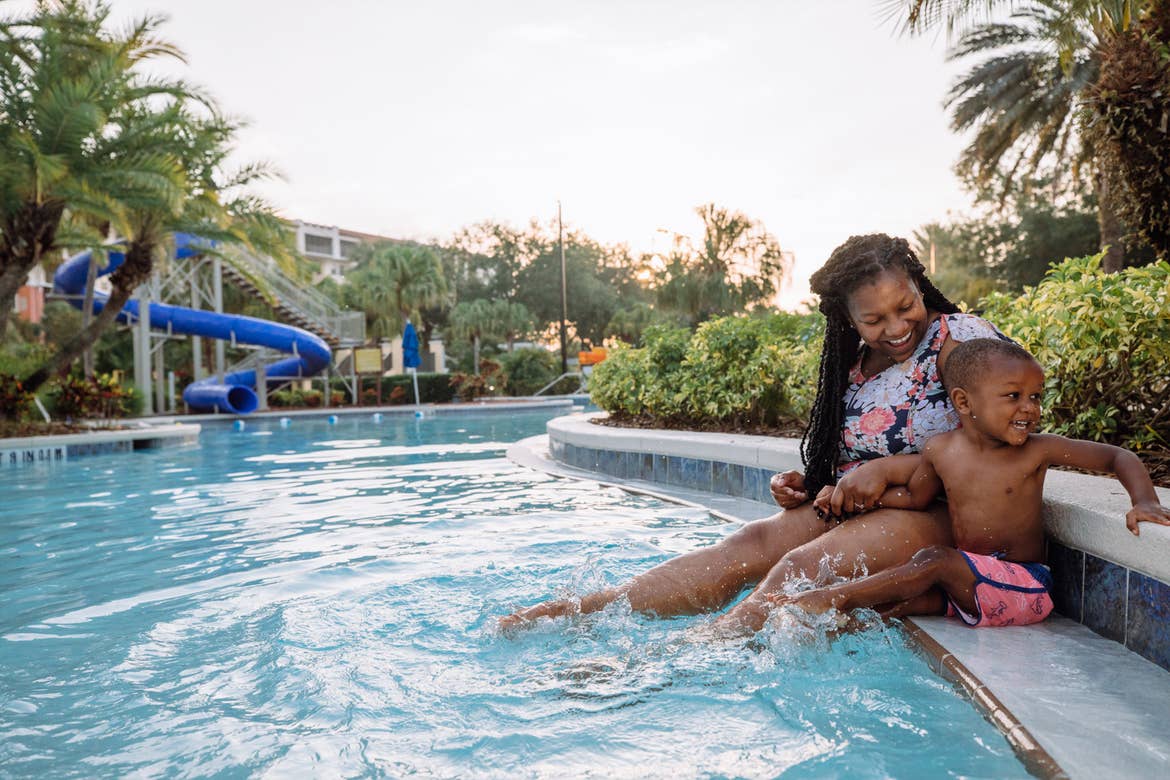 The zero-entry pool in River Island makes it feel like a little tropical getaway in the middle of Orlando.

We're hardcore Disney fans and take family road trips from Alabama to Orlando as often as we can. Birthdays, baby announcements, big celebrations — you name it — we are headed to our Happy Place.

But with so many hotels and resorts to choose from, sometimes it's hard to find one that has all the things we're looking for in a vacation spot.


About Our Orlando Family Vacation
We're a home-schooling, road-tripping family of 6 hailing from Birmingham, Alabama, and we're always on the hunt for our next adventure … especially if it involves Walt Disney World® Theme Parks.

I first discovered Orange Lake because of its proximity to Disney World. Once I checked out the amenities and activity schedule for this summer, I realized it would be much more than a place to just lay our heads after leaving Disney for the day…

For this trip, it was me, my husband Phillip and our four little ones, Sabria (12), Joshua (4), Judah (2) and Creed (1.) We also decided to bring my aunt along for her very first trip to Disney World!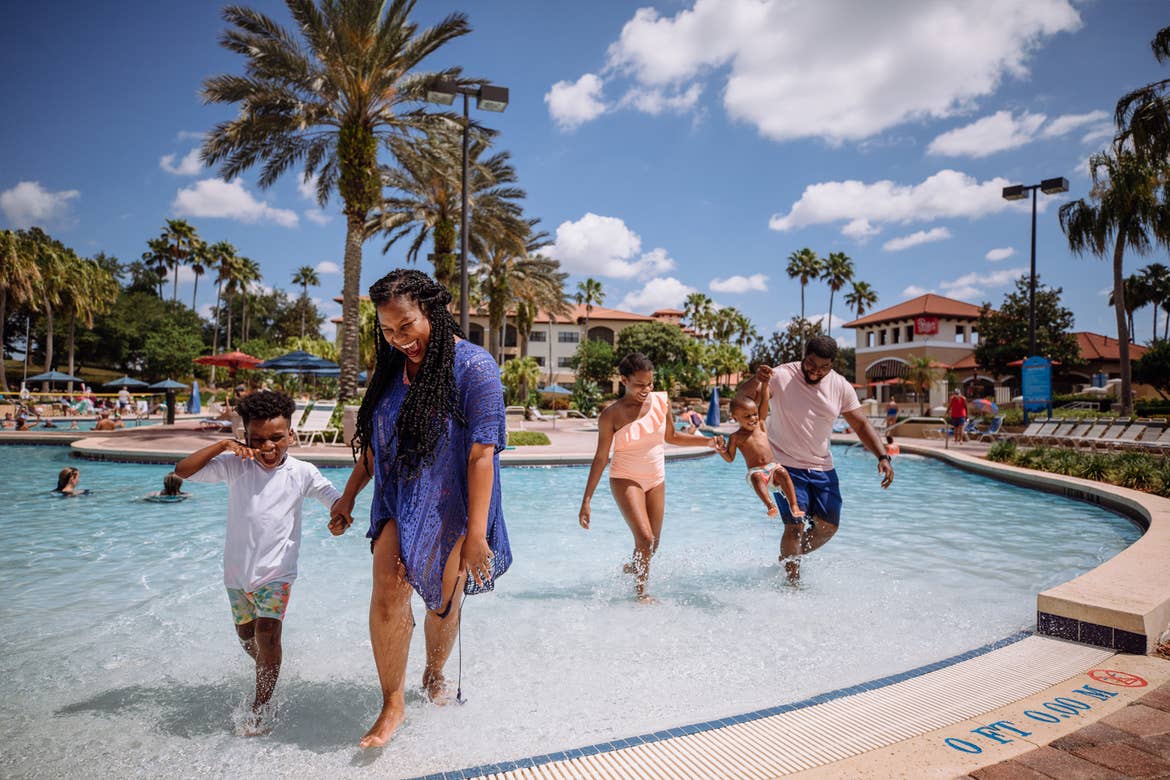 The zero-entry pool in River Island at Orange Lake Resort

We were really excited to have another adult to help with the kids. We had never taken a trip with a babysitter, but I started dreaming of mini date nights after the kids went to bed … seriously, the possibilities were endless!

And even though I do tons of research on any place we visit, honestly, I was still surprised at just how awesome Orange Lake was and how many things there would be for our family to enjoy.


5 Things to Look for in a Summer Resort
If you're on the hunt for the perfect place to stay for your next trip, here are 5 things to look for in a summer resort based on our recent (amazing) Orlando vacation.


1. Proximity to Attractions
When you're searching for somewhere to stay, use a GPS (like Google Maps) to see how many miles and minutes it is to the top local attractions you want to do.

The short drive to all 4 Disney World parks made our visit even more enjoyable because we didn't have to spend time in Orlando traffic or wake up earlier than we had to.

The resort is so close, in fact, it's located right behind Disney's Animal Kingdom® Theme Park. Our family easily grabbed tickets and coveted park reservations and spent a safe, magical day at our happy place.

We even got to attempt to recreate our Disney World baby announcement from 2019 with our now 1-year-old baby. The retake didn't turn out nearly as polished as the original (because KIDS haha), but still — such sweet memories!

We're excited that we have finally found our new favorite place to stay for every trip to see the Mouse.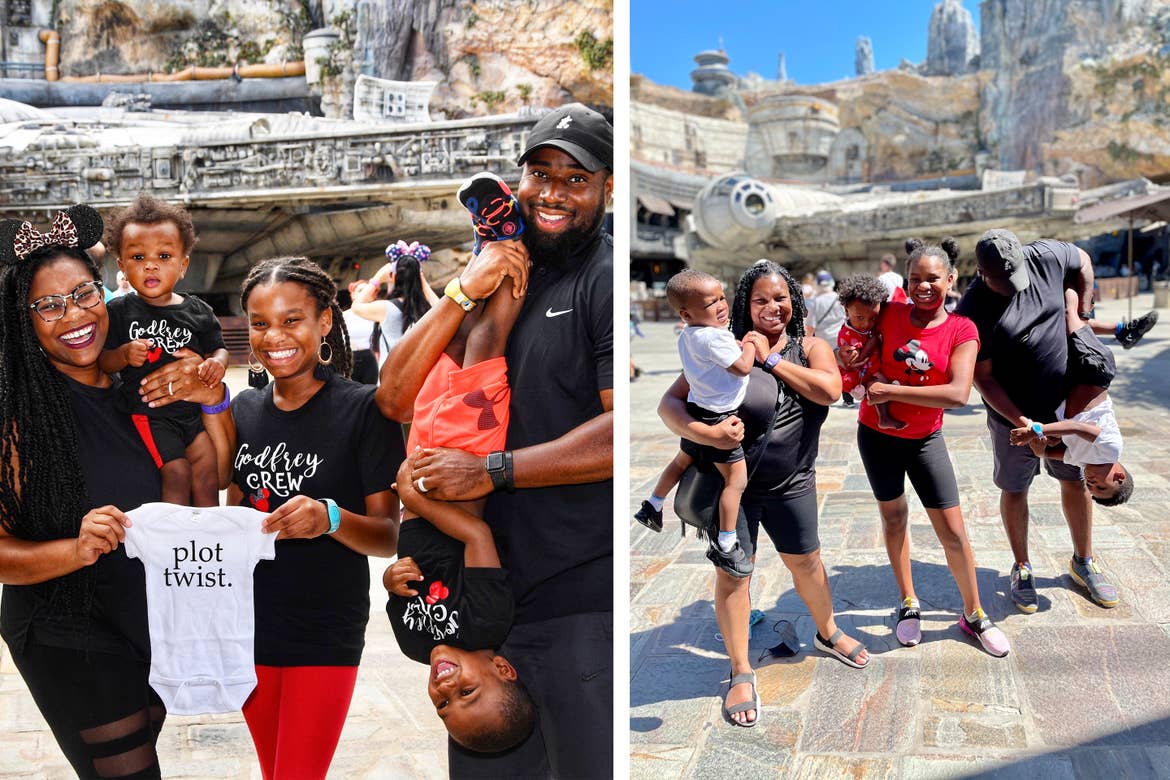 How it started (2019) vs how it's going (2021)


2. Amenities Galore!
If you decide you don't want to leave your summer resort during your vacation, make sure there's more than enough to do on the property.

At Orange Lake, you could spend an entire vacation just exploring the amenities and expansive grounds! It has 4 villages that stretch over 1,450 acres.

With a lazy river, 7 pools, jet skis, mini golf, arcades and more — Orange Lake Resort had EVERYTHING we could have imagined for our summer family vacation.

The resort is also home to award-winning golf courses: two 18-hole and two 9-hole courses. Phillip loves golf, but I've never actually played!

We were excited for me to play my very first round of golf ever and took the opportunity to try something brand-new.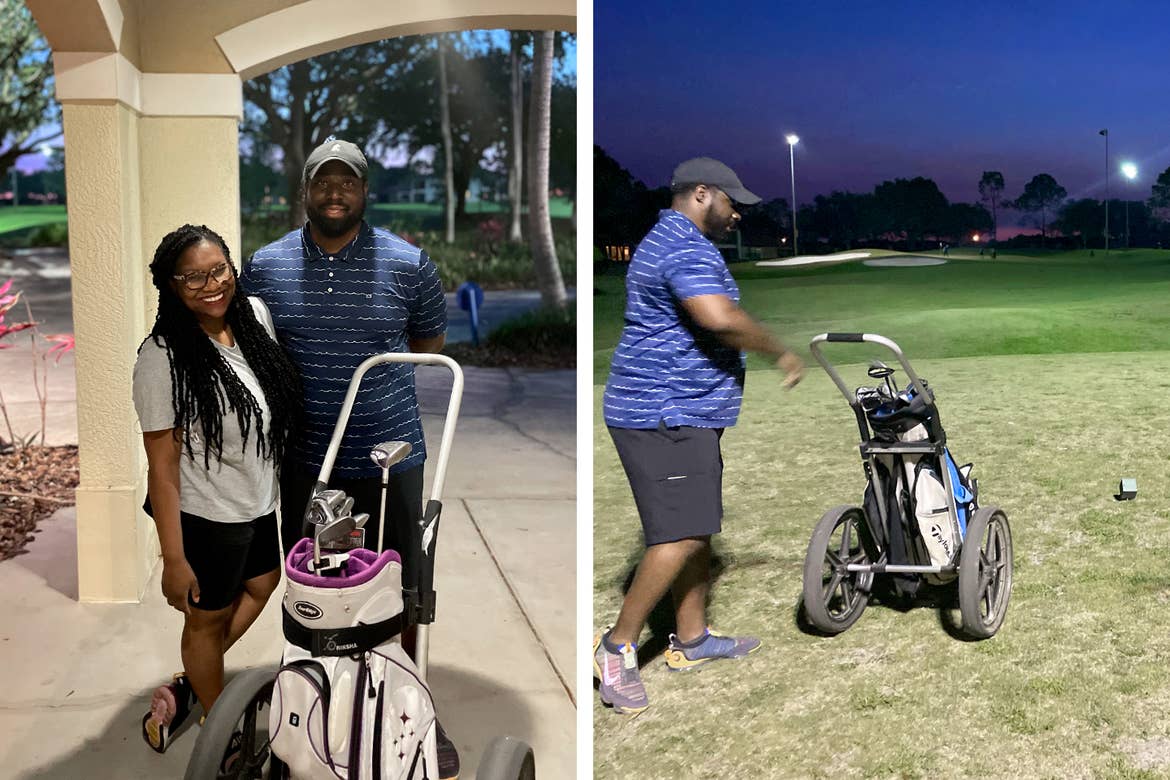 Legends Walk in North Village is a 9-hole, par-3 walking course that lights up at night.

We played at Legends Walk on the lighted 9-hole walking course, located just behind our villa in North Village.

If you don't have clubs with you, you can rent clubs and purchase golf balls for a nominal fee. And if you need a little help perfecting your swing, the golf club offers on-site classes and clinics.

The course was well-lit, immaculate and easy to navigate. I really enjoyed playing golf for the first time, and I'll never forget that I got to do it on our first visit to Orange Lake Resort.

Our family also had a blast playing mini golf! The resort has Putt-Putt® and mini golf courses (yes, there's a difference) on property.

We chose the Island Golf mini golf course in River Island. Our whole crew had a great time playing, and I appreciated that there were child-sized clubs that were perfect for our 2- and 4-year-old boys!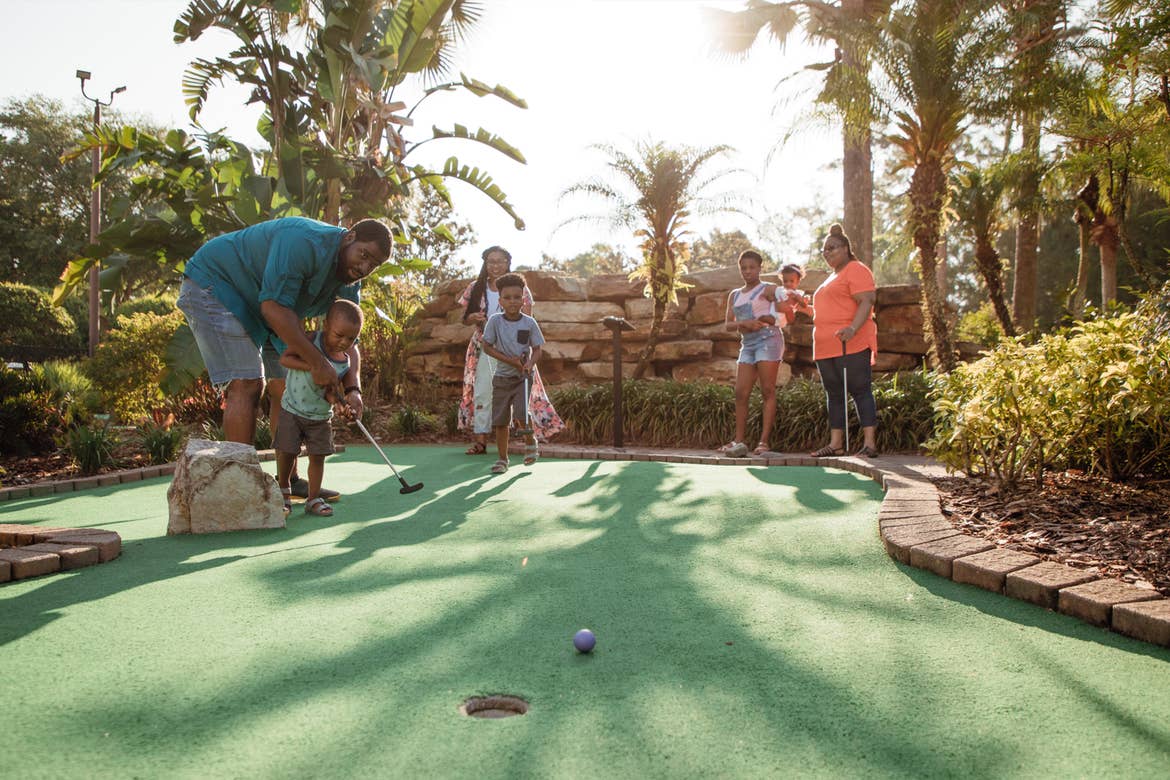 At Island Golf, you can do 18 holes for $8, 36 holes for $12 or play however much you want with the 7-day pass.


3. Special Summer-Only Activities
If you're looking for the ultimate summer experience for your family, research resorts that have special offerings that only happen in the summertime.

Every week, the Fun Team at Orange Lake releases an activities and amenities schedule that details all the weekly happenings at the resort — and there are always SO many things to choose from.


Tie-Dying T-Shirts
Making tie-dye shirts is one of the activities offered daily at the West Village pavilion. All of us had a blast choosing our colors and dyeing our shirts.

When we were done, the Fun Team bagged them up for us with instructions on how to wash and set the dye after we got back to our villas. They even had disposable aprons available and gave us gloves to keep our hands and clothes clean and safe.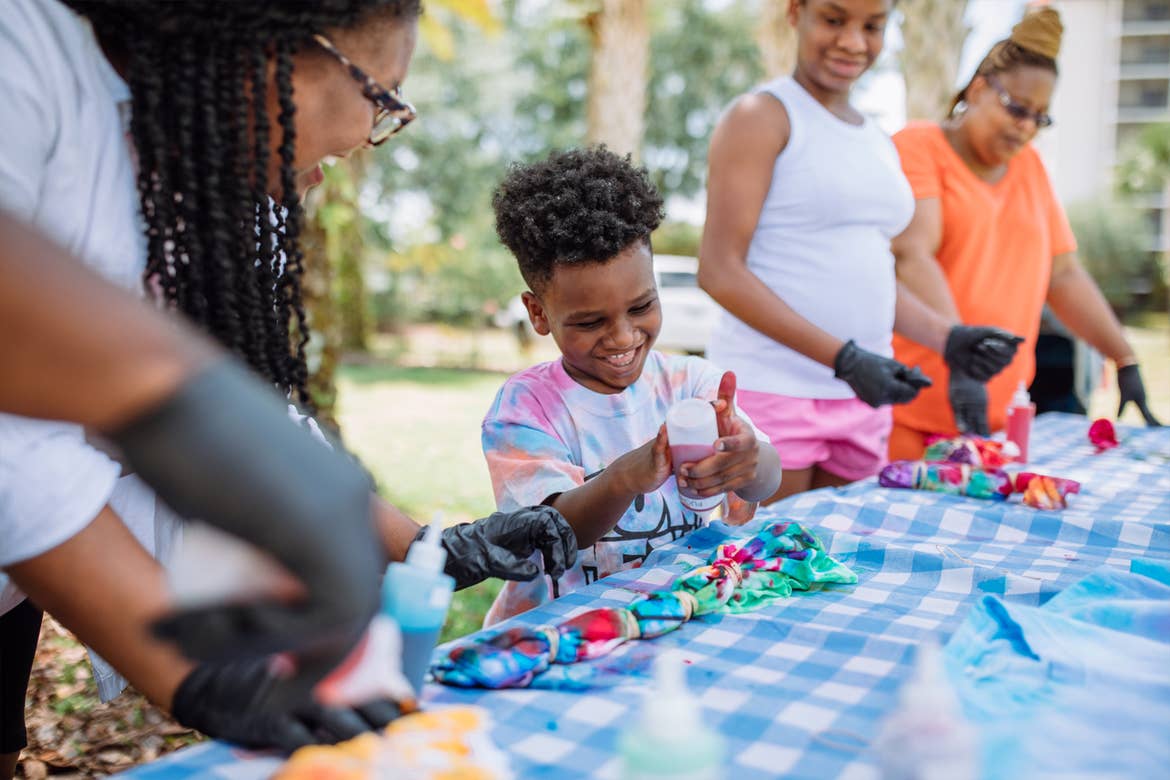 The shirts make great souvenirs to remember your trip when (or if?) you go back home.


Snow Cones
Snow cones are always a family favorite, and the kids were very excited that they could get them at the resort.

I'm pretty sure we lost count of how many snow cones my 4-year-old downed, but hey — we are on vacation, right? I love seeing my kids enjoying fun vacation treats we don't get to have as often at home.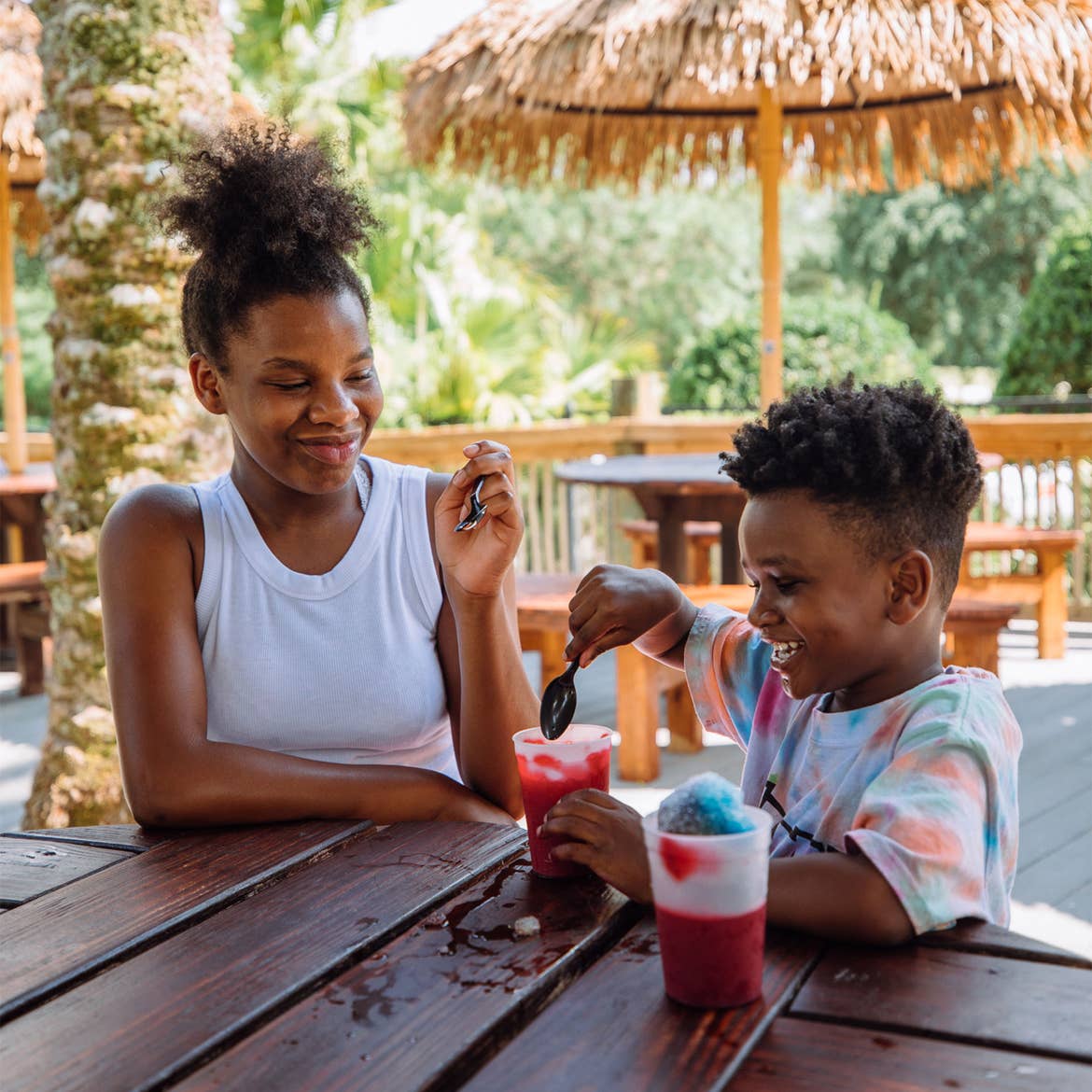 Nothing beats an ice-cold snow cone on a hot summer vacay day.


Poolside Games
Bingo by the pool was another special summer offering and one that my aunt was very excited about. We grabbed some cool drinks, parked the kids in their stroller with snacks and a view of the pool, and played a couple rounds of bingo.

They have other poolside games going on like water balloon tosses, too. Fun games like these help to mix it up and keep the kids (and the adults!) entertained and are definitely a plus when picking a resort.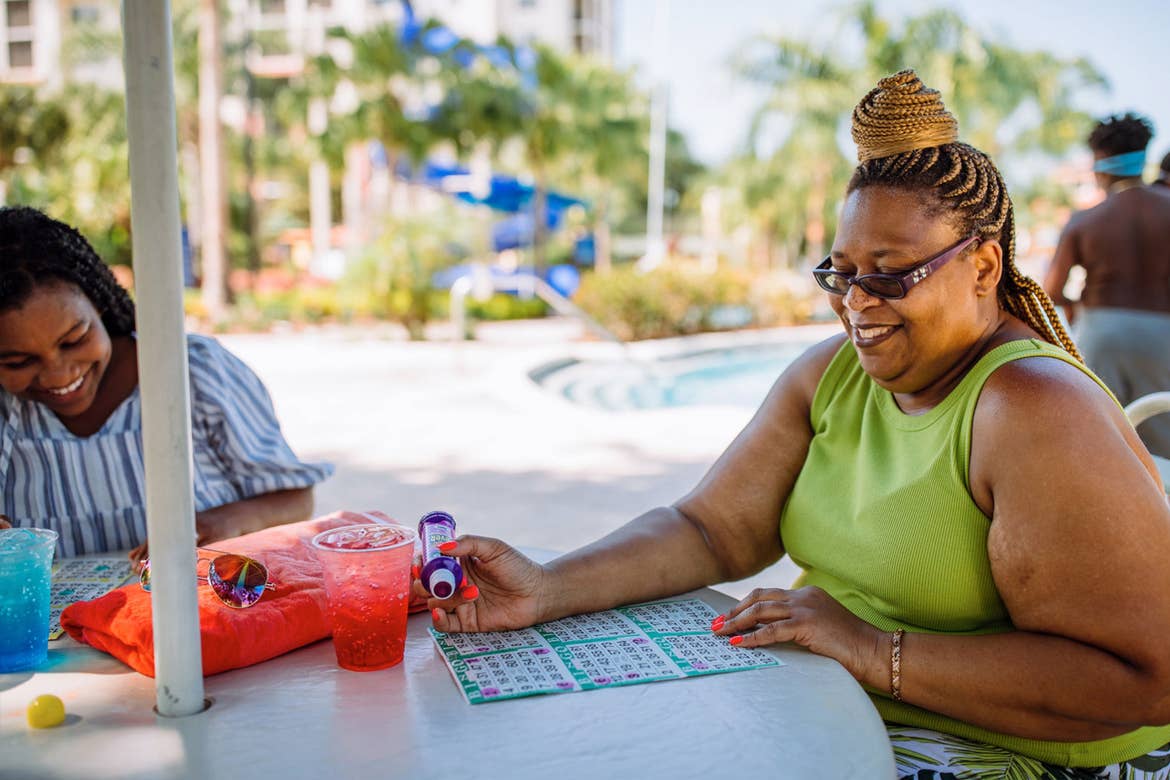 Be sure to grab a fruity tropical drink B4 poolside Bingo in River Island!


Outdoor Movie Nights
My personal favorite summer activity at the resort, hands down, was Movies Under the Stars.

We all enjoyed hanging out by the pool with our snacks, and I was super pumped it was actually one of my favorite movies, The Devil Wears Prada. My kids were probably most excited they got to stay up past bedtime.

All of us agreed that Movies Under the Stars was one of our favorite parts of the trip. It's special activities like these that create those great summer memories your family won't forget.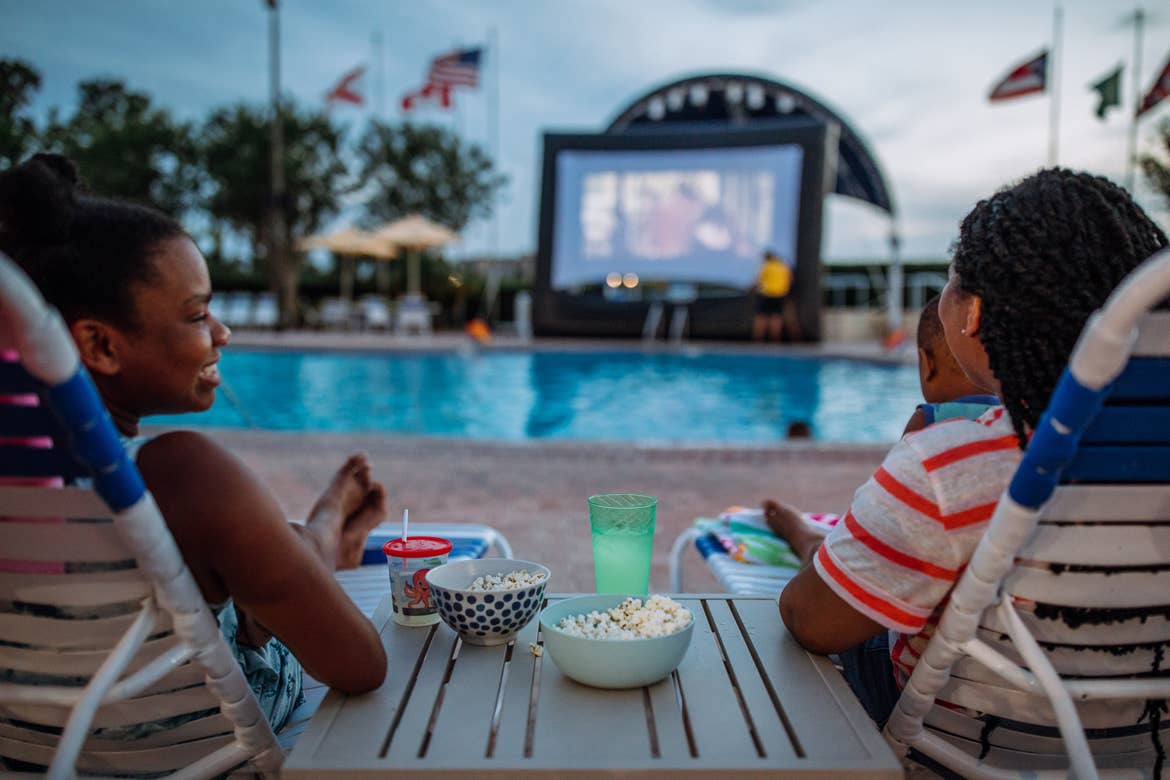 Enjoying popcorn and a poolside flick at Water's Edge Beach Club in West Village


4. The Pools … so many POOLS!
It's not a summer vacation without lots and lots of pool time! Be sure to think about your kids' ages and consider what kind of pools (and fun in the sun) you want in a summer resort.

Our family has already decided that on our next trip to Orange Lake, we'll be spending a few days pool-hopping from village to village. We want to explore every pool on property!


Kid-Friendly Pools & Water Features
We spent most of our days at Splash Lagoon Pool in North Village. My favorite feature was the kiddie pool, which was less than a foot deep all the way around.

My 1-, 2- and 4-year-olds aren't strong swimmers yet, but they were all able to explore this pool freely since it was so shallow. They also loved playing in the interactive fountain.

We visited Dollar Tree located just outside the resort's front gate and bought sand buckets and pool toys, too. They spent lots of time sharing these and playing with the other kids at the resort.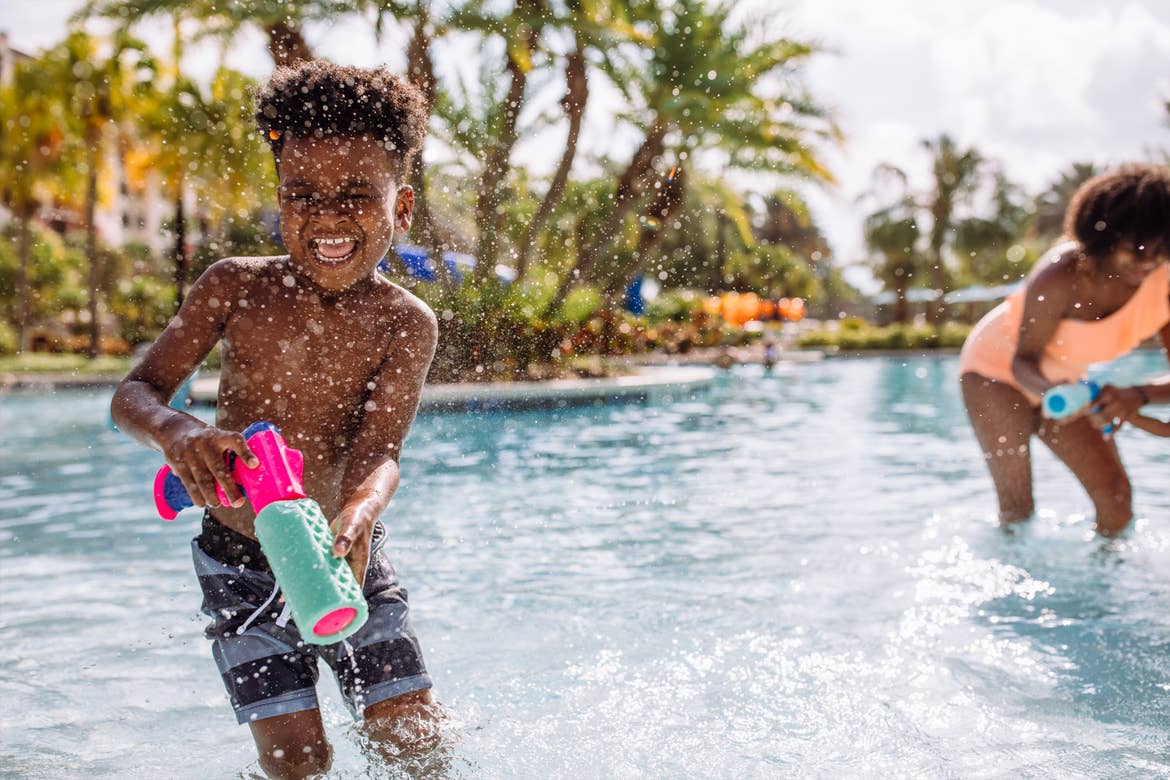 Swimming, splashing and spraying each other (and the camera) at the pools in River Island


Poolside Cabanas
One highlight of our pool time was renting a covered cabana for the entire day, which you can do at Water's Edge in West Village, Splash Lagoon in North Village or River Island.

We reserved a cabana in North Village and were surprised at just how nice it was! It was spacious with a table and chairs for seating inside and a couple lounge chairs outside.

There was a fan and TV that we used for the kids' favorite cartoons, and we were able to take nice, cool breaks in between our dips in the pool.

With cabana rentals, you also get complimentary snacks and water bottles that you can keep cool in the mini-fridge. This was definitely something we plan to do again on future trips to Orange Lake Resort.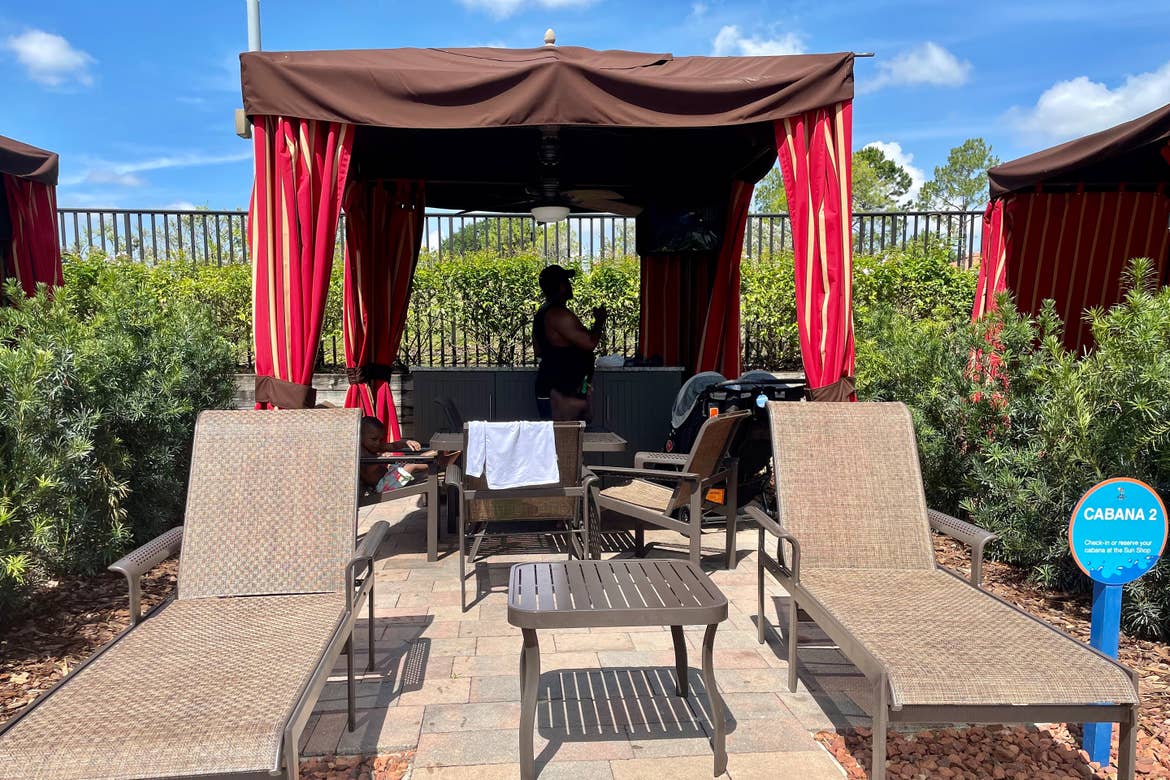 Poolside cabanas are a must in the summertime — they come with perks like a mini-fridge, TV, snacks and water!


Lazy River
And I can't forget to mention the lazy river in River Island! Because the Godfreys LOVE a lazy river!

It was so peaceful and scenic. My 2-year-old even fell asleep in my lap while we were floating around. They have smaller inflatables for children, too, so my 4-year-old was excited to get to ride on his very own float.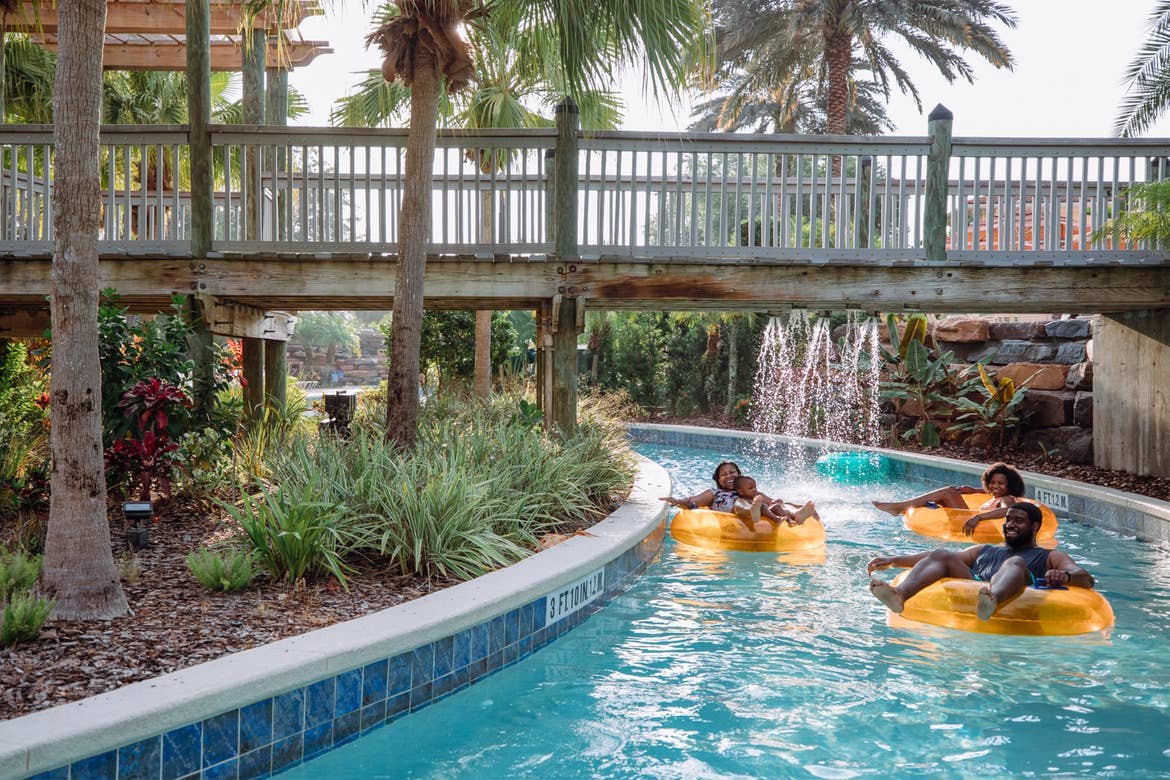 Doing laps on the lazy river in River Island at Orange Lake Resort


5. Cook in or dine out?
One of the things we loved about staying in a villa at Orange Lake is that we had a full kitchen where we could cook our own meals on vacation.

This is a huge perk for families, so you don't have to dine out for every single meal (and break the bank). BUT, when you do want to venture out for food, pick a summer resort that has on-site dining options, too.

At Orange Lake, there are 8 restaurants on property. Every day, we ate a quick breakfast in our villa, and then alternated cooking and dining out.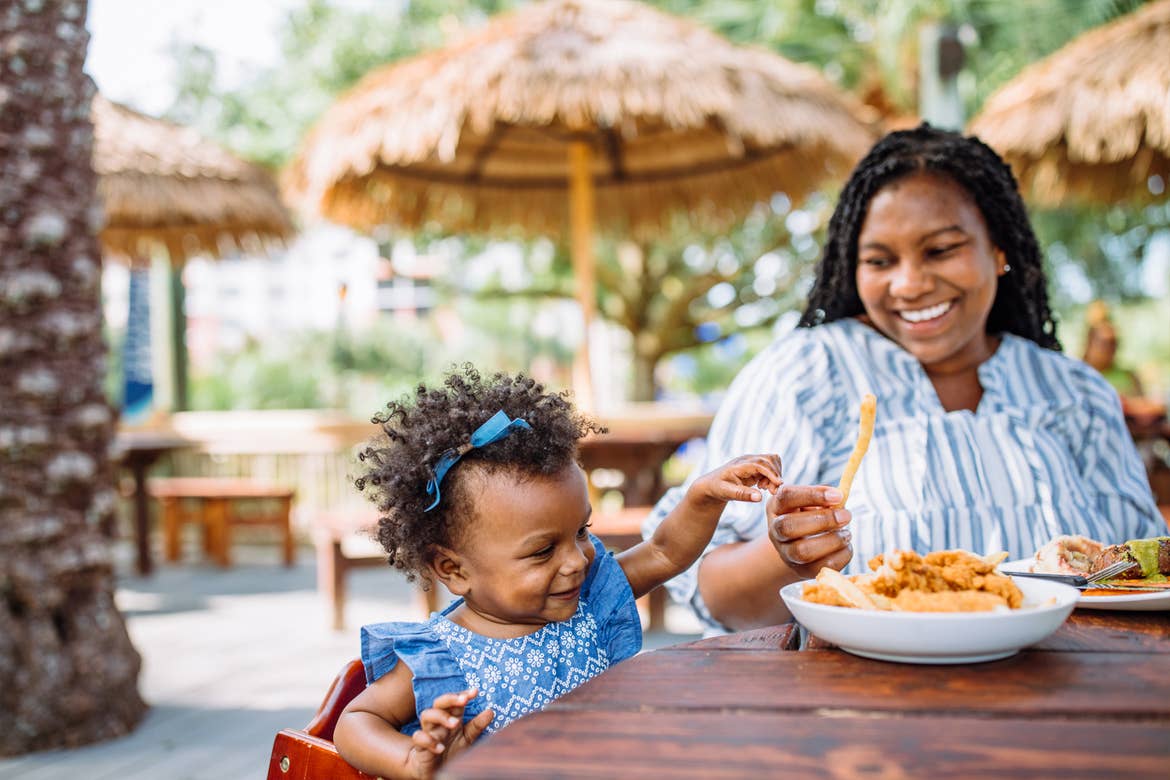 Tradewinds offers outside dining with a view just steps from the pool in River Island.

Our favorite restaurant on property was Tradewinds Bar & Grill in River Island. My husband's Shrimp Alfredo was fantastic, and my Surf & Turf with chimichurri sauce was one of the best dishes I've ever had! And the kids loved their meals as well.

I personally really enjoy outdoor dining, and Tradewinds Bar & Grill has a beautiful patio with a water view. It was perfect!

We also frequented Currents Café, which houses both the ice cream shop and a Starbucks. We grabbed ice cream, ate it on the patio and they even gave our sweet baby girl a cone to nibble on!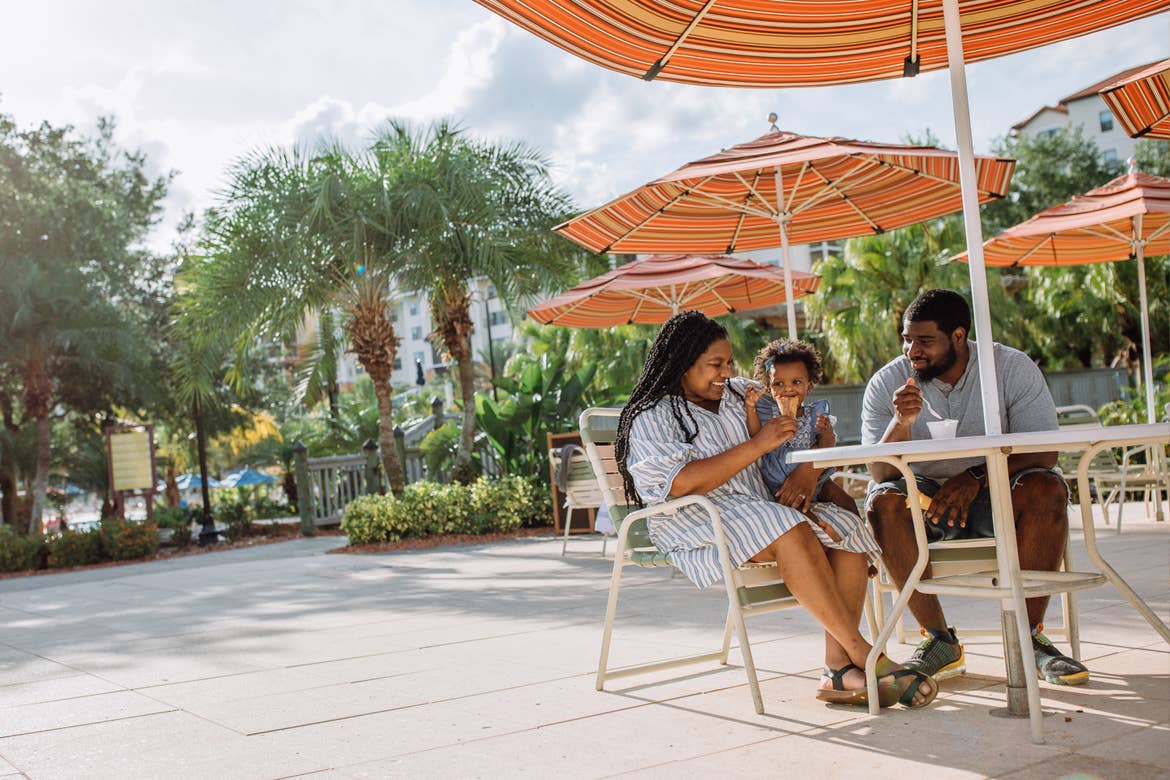 6. Plenty of Space in Your Room/Villa
Our spacious three-bedroom villa in North Village was the perfect home base for our summer family vacation and gave us all the comforts of home and more.

We had a full kitchen, laundry room and covered patio with a view of Legends Walk golf course all at our villa.

Cribs and highchairs were even complimentary upon request. They provided a crib for Baby Creed, which fit perfectly in one of our bedrooms, and highchairs for both her and Judah.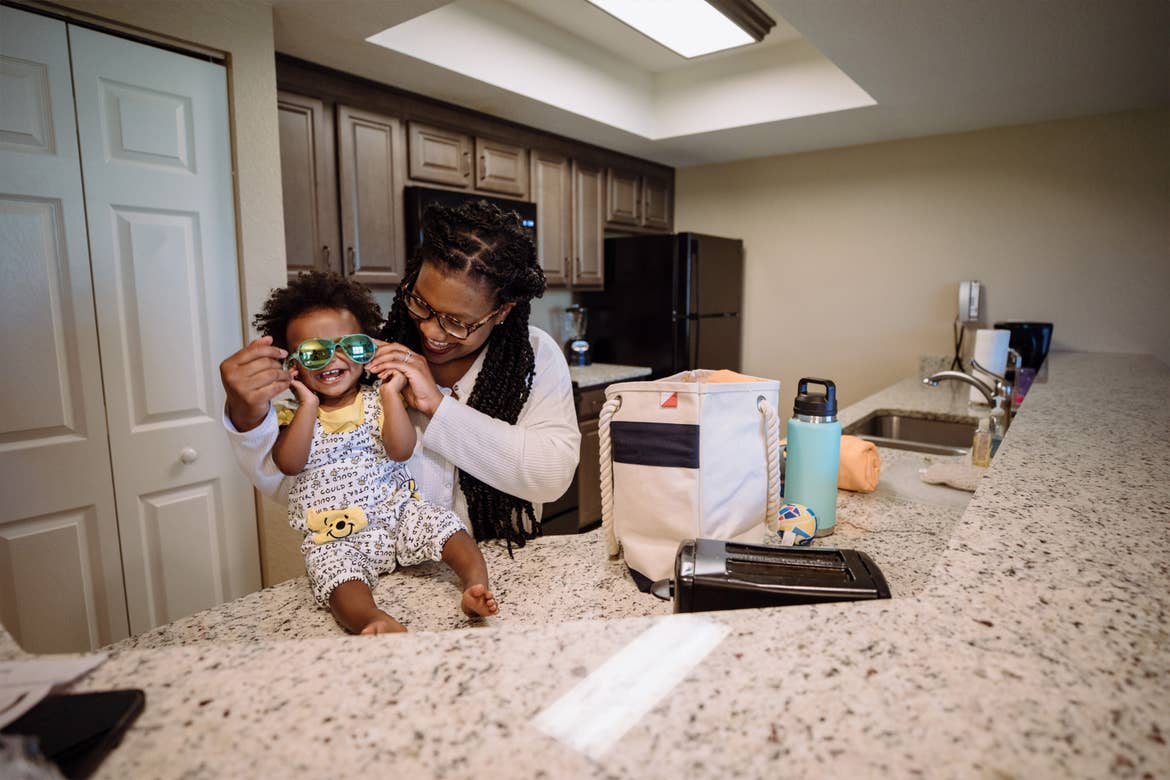 Getting ready for the day in our villa's full kitchen in North Village

And with a large family, having a washer and dryer is always a lifesaver. We were able to pack light knowing we'd have the opportunity to wash a load of laundry whenever we needed.

I also made sure all our laundry was clean before we checked out of the resort. So, once we got home, I was able to unpack and put things straight in our closets. For me, this was a game-changer!


Our Favorite Parts of Our Summer Vacation
When you start researching a summer resort, think about what you and each member of your family would absolutely love to do on your summer vacation. Write a list and see if you can find a place that covers it all (or mostly everything).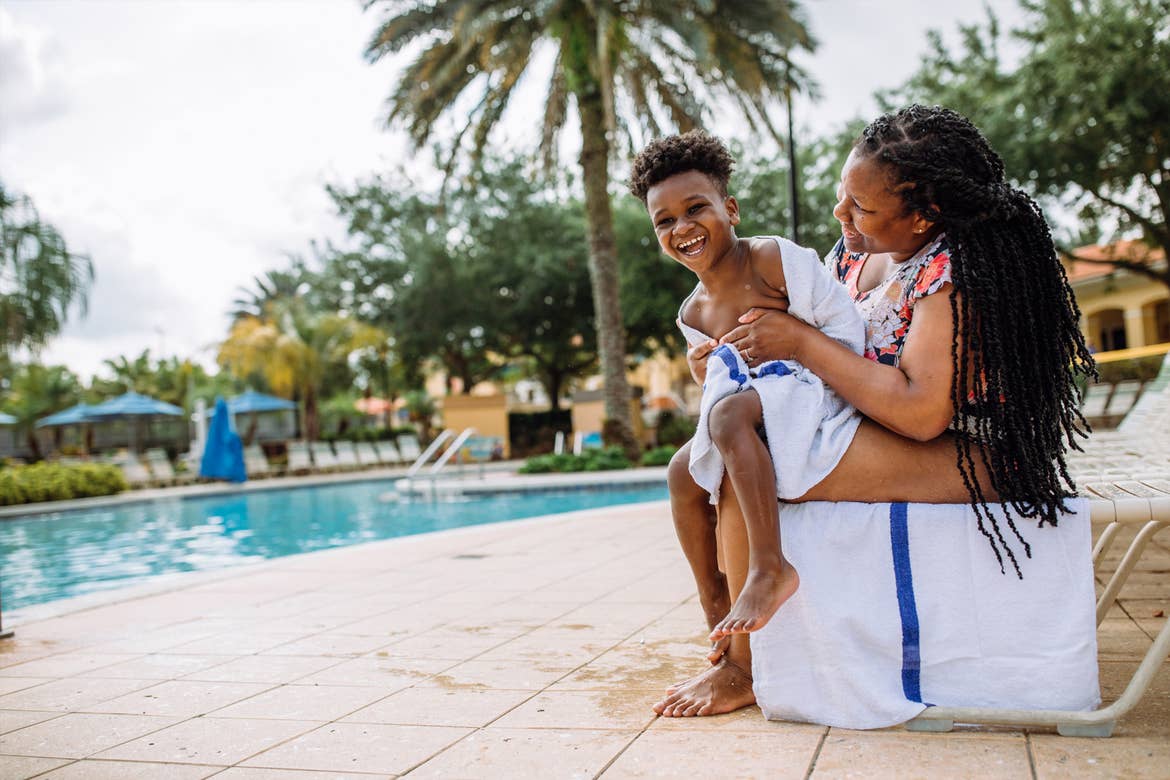 We got to do so much during this getaway, and we all had different favorites.

My aunt is a gameshow QUEEN! She loved poolside bingo just as much as she enjoyed her first trip to Disney World.
Baby Creed enjoyed so many "firsts" — first ice cream cone, first dip in the pool and her first of many Godfrey family trips to Orlando!
Judah and Joshua fell in love with the pools and splash pads at the resort.
Sabria's favorite was going down the waterslides in North Village over and over again.
Personally, I think I was created to live the cabana life! I will definitely be fitting in more than one cabana day on our next trip.
And Phillip loved getting to play a round of golf. Ok … I really enjoyed our golf date night, too!
We were really happy to kick off our summer with a family vacation at Orange Lake. And with so many amenities and activities to enjoy, we're already planning a return visit to experience the fun again.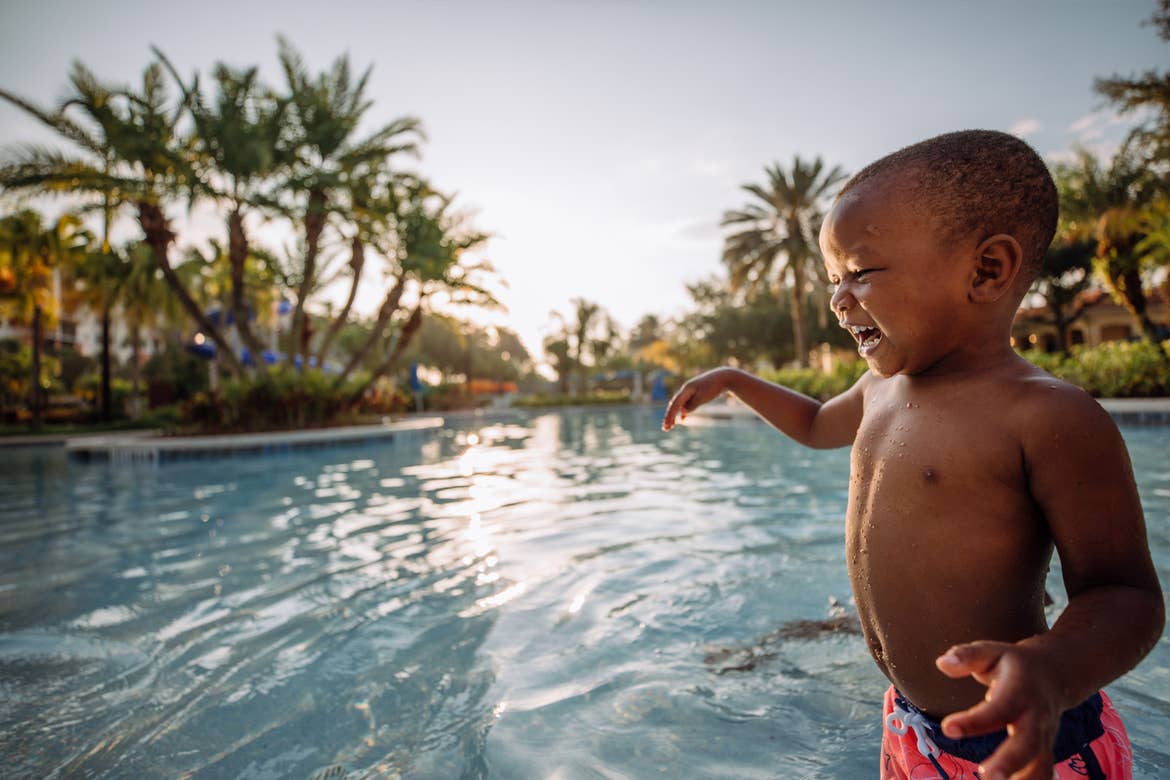 If you're planning your summer family vacation now or sometime soon, I hope this recap of our stay helped you decide what you're looking for in a summer resort for your own getaway.

And if you're headed to Orlando, you won't go wrong with a family vacation at Orange Lake Resort. Can't wait to be back for our next trip!


Our guest bloggers are compensated for their writing contributions and honest opinions.

All information is subject to change. This article is a curated guide and is neither sponsored nor considered an official endorsement. Please be sure to check information directly with any/all tours, guides or companies for the most up-to-date and direct details.