Ben Henderson & Andrew Burns
Ben and Andrew are both part of our Corporate Brand team at Holiday Inn Club Vacations. Ben is our Director of Brand Design and in his downtime, you'll often find him with a sketchbook in hand and a guitar within reach. Whether he's hiking, biking or even kayaking, seeking new adventures is his "happy place." Andrew is one of our Design Managers who enjoys working on new, exciting projects that bring ideas to life. Outside of design, you'll find him cooking up something delicious on the grill, traveling the country and spending quality family time with his wife and two boys going to Orlando theme parks, having Friday movie nights and catching fish on the lake.
If you step inside (or even just walk past) our brand-new New Orleans Resort, you'll notice a big, beautiful piece of artwork that's very hard to miss.

Right there on the lobby walls, there's a hand-painted New Orleans mural that brings the city's unique history and stories to life with vibrant colors, exciting animations and quintessential jazz music.

It's bursting with NOLA culture, and it's been getting a lot of "holy-moly-wow-that's-so-cool" reactions from guests since the resort opened in December 2020. You really have to see it for yourself in person to truly appreciate its beauty (and take a selfie with Louis Armstrong or maybe an iconic riverboat?).

In the meantime, if you're wondering how this new piece of NOLA came to life, we're here to tell you all about it, from our behind-the-scenes inspiration to the award-winning muralist, Mila Sketch.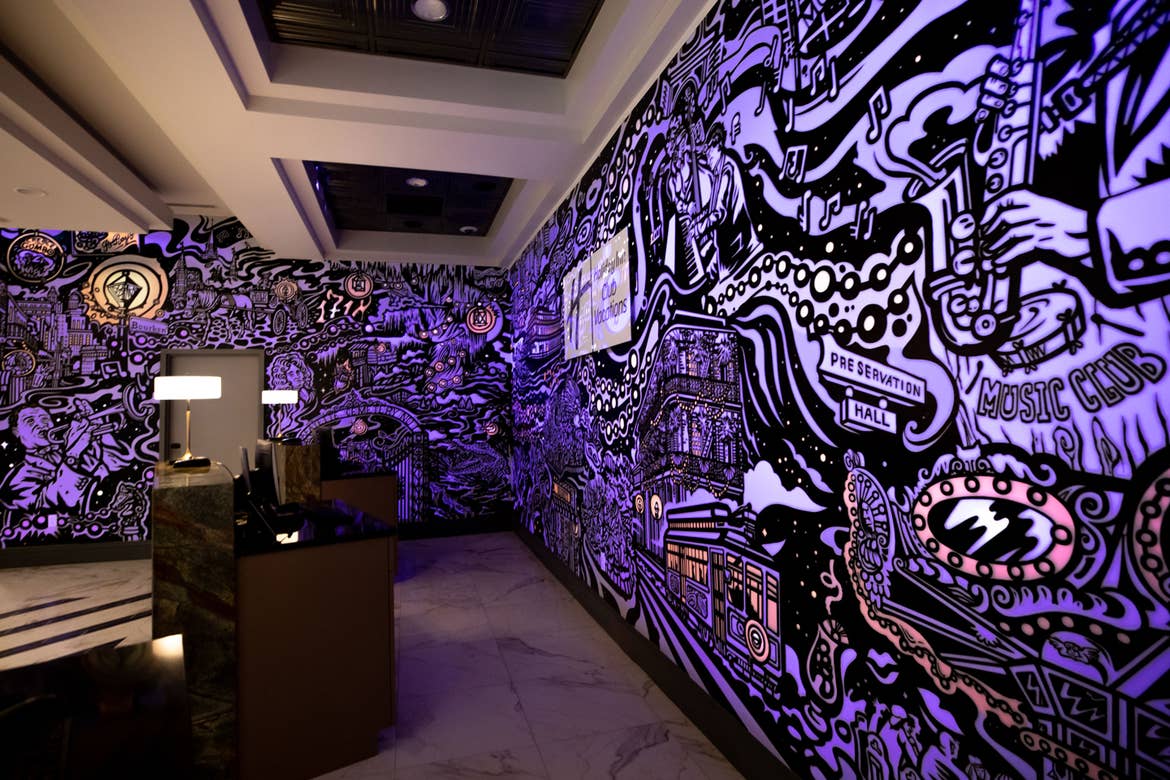 Meet the Team Behind the Mural
Hi, we're Ben Henderson and Andrew Burns—the lead designers who worked on bringing the mural (and its animation projections) together.

After working on this special project for nearly a year, we're thrilled to finally share this mural with our Club members, owners, guests, locals and travelers passing by for a peek from the street.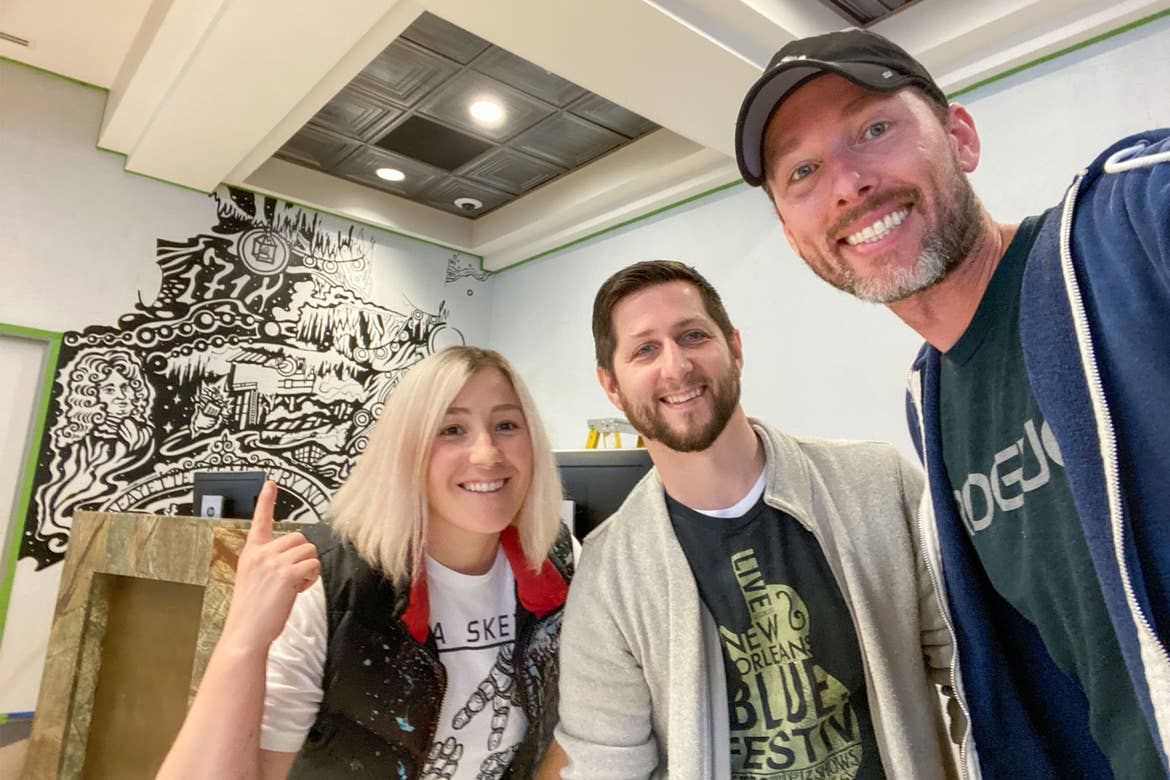 Guest artist Mila Sketch, Andrew and Ben during the early stages of the mural creation


Let's start from the top. What exactly is this mural?
Ben: The whole mural spans across about 40 feet, covers 350 square feet of wall space, and it takes eight projectors to illuminate the entire thing with color and animations.

We've taken a little bit of the culture, sights and sounds that everyone has come to love about the Big Easy, and we brought it all into our lobby (as well as throughout our resort's interior design) to welcome guests with an amazing, new projection show.


Andrew: The mural is actually a combination of a few different mediums. It was hand-painted in black and white, and then we added a technology called projection mapping to give it color, animations and sound.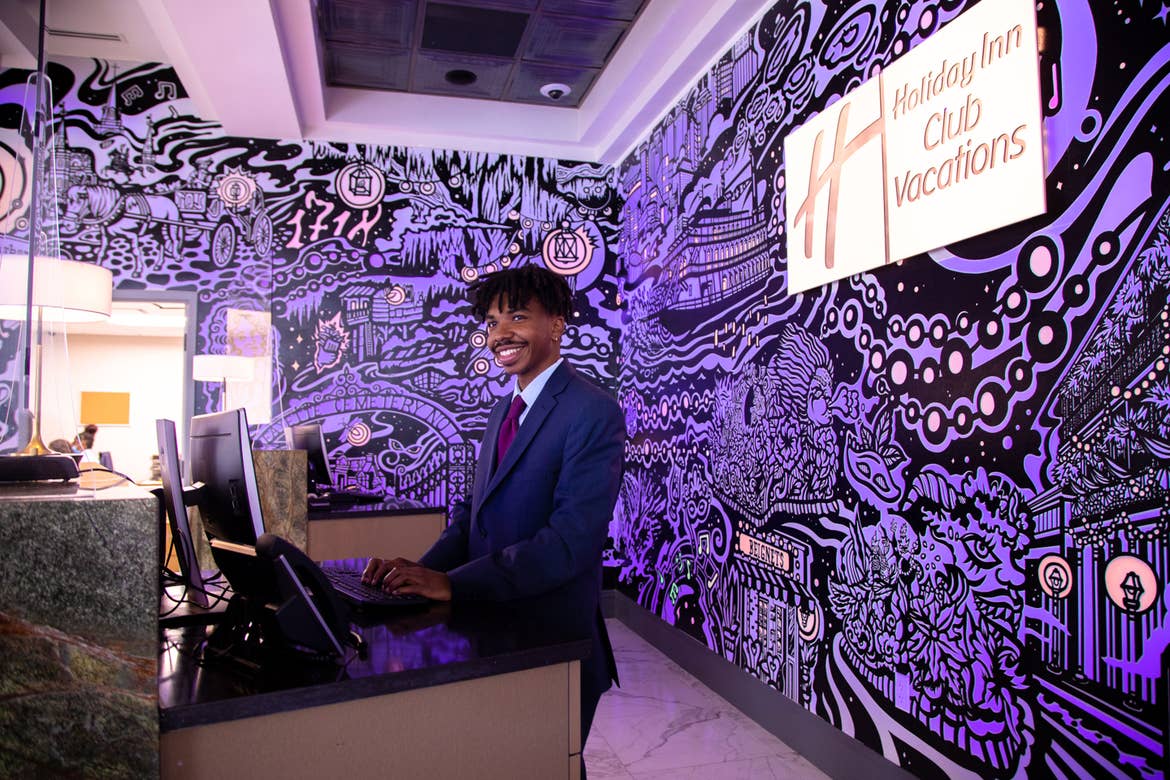 Altogether, the mural, projections and jazz music combine to make it a real live show. The full 3-minute-long mural show with lights, animations and music actually plays every day at the top of every hour from 1–11 p.m.


Where is this New Orleans mural located?
Ben: It's in our resort lobby, right at our check-in area and next to our soon-to-be-opening Maritime Bar & Lounge. It can be clearly seen by all guests arriving at the resort whether they're coming in for the first time or coming back from a day exploring the city.

With large archway windows surrounding our lobby space, you can even see it if you're walking past the resort from the sidewalk outside.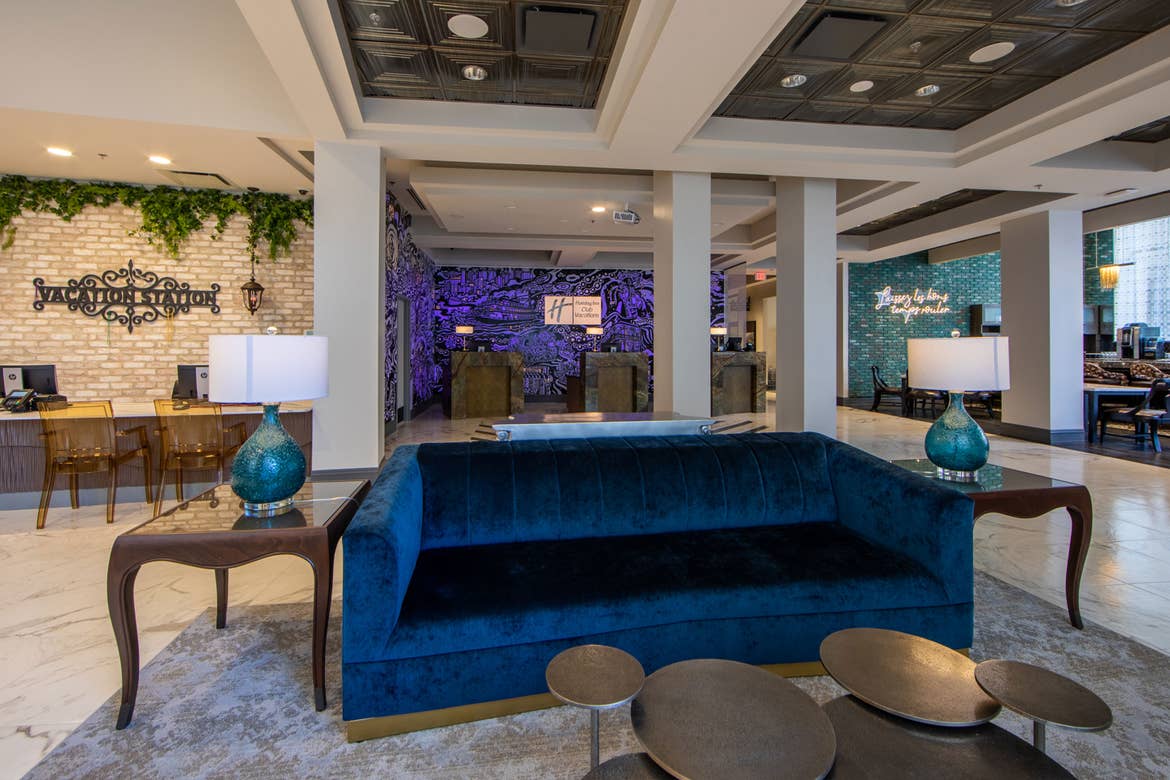 The New Orleans Resort lobby area


What was the inspiration behind the mural?
Ben: New Orleans is rich with artwork and sculptures throughout the city, created by both visiting and local artists alike. We wanted to be part of the special NOLA art community.

Mixing traditional, hand-painted artwork with projection mapping felt like a great way to create something truly unique that infused seamlessly into the local atmosphere.


Tell us about the artist who hand-painted the mural.
Andrew: The highly talented, award-winning artist, Mila Sketch, hand-painted the mural across a two-week timeframe.

Mila has a passion for New Orleans and truly appreciates the local music, cuisine and culture the city has to offer (so much so that she even honeymooned in NOLA!). Her passion for the area really comes through in the thoughtfulness and details she's brought to the piece.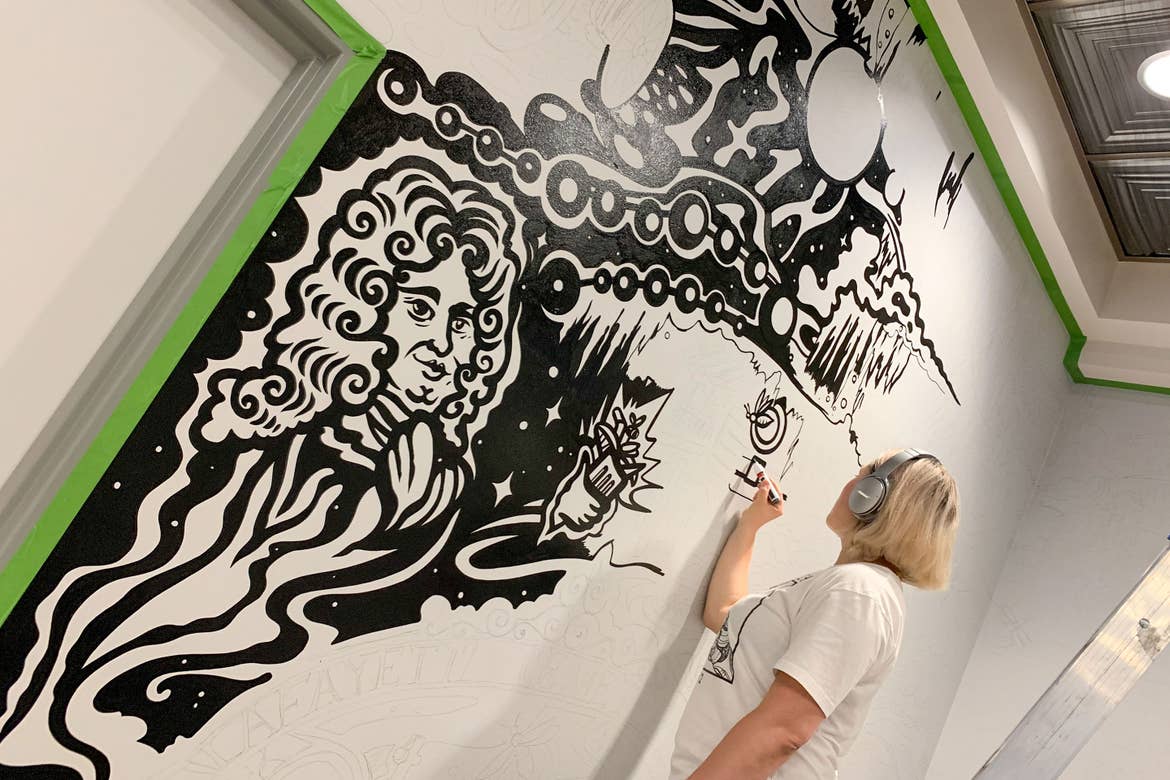 When we asked her about her creation, Mila responded, "I want guests to be surprised and entertained when they see the mural ... I'm very proud to have my work here and very honored to see my mural in this historical building. It's a part of history, and now a part of the building's future, too."


How did you come up with the different scenes in the New Orleans mural?
Ben: New Orleans has so many iconic landmarks and experiences; honestly, it was hard to decide where to start. We knew we had to nod to some of the city's well-known and unique cuisine, like beignets, po-boys and gumbo.

And we also wanted to incorporate one of the oldest and spookiest cemeteries in the country, legendary jazz musical greats like Louis Armstrong and, of course, the world-famous Mardi Gras celebration!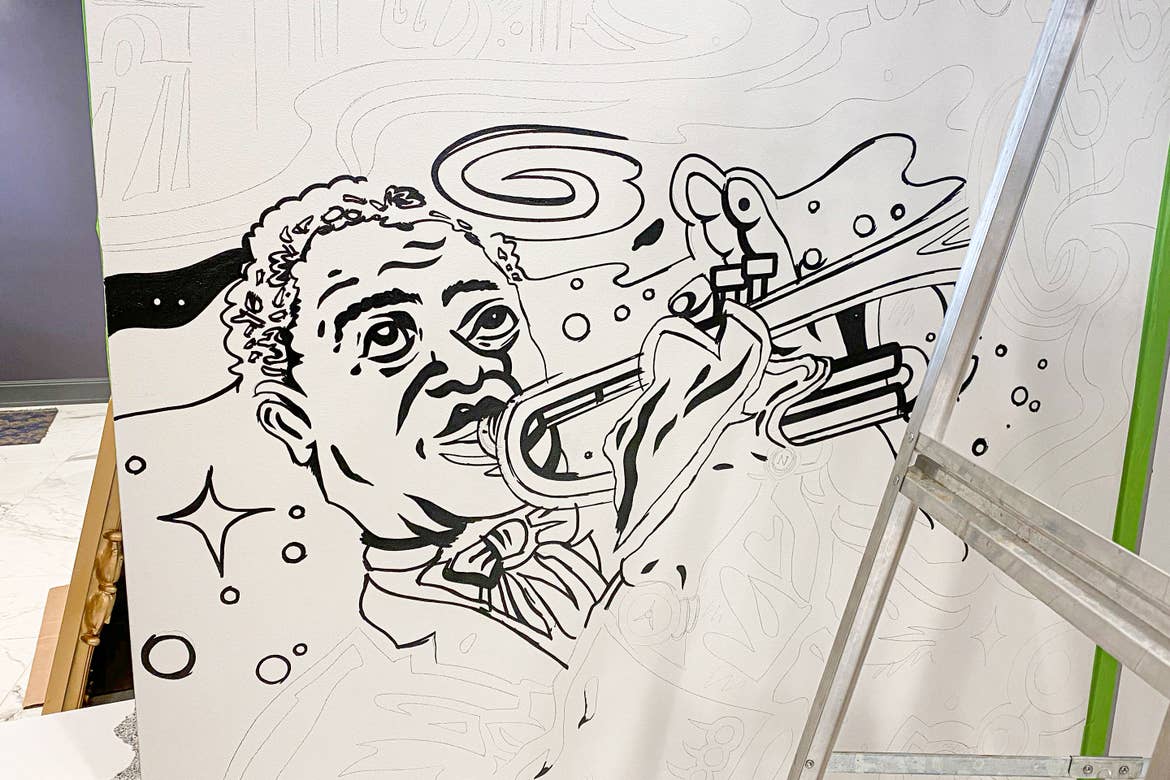 Andrew: A crowd favorite so far is the iconic riverboat steaming along with the city skyline in the background. Overall, each vignette on the wall comes together to tell the larger story of what New Orleans is all about.


Mila: "I tried to show the whole scene of New Orleans through the mural and the details you'll find on the wall from food to local music … it's a lot of characters and elements mixed together, kind of like gumbo."


So, how did it all come together? What was the process like?
Ben: We started with a question: How can we take a literal wall in our resort lobby and really do something special that guests will enjoy when they step into our first city destination property?

After a few initial ideas, we landed on creating a custom mural that had the potential to infuse projection mapping technology. We brainstormed countless (and I mean countless) illustrations with Mila, fine-tuning, redrawing and adjusting until finally, all the pieces fell right into place.

From there, we asked her to really dig in, and she did just that. She painted the entire mural by hand in our lobby for over two weeks, like Andrew mentioned.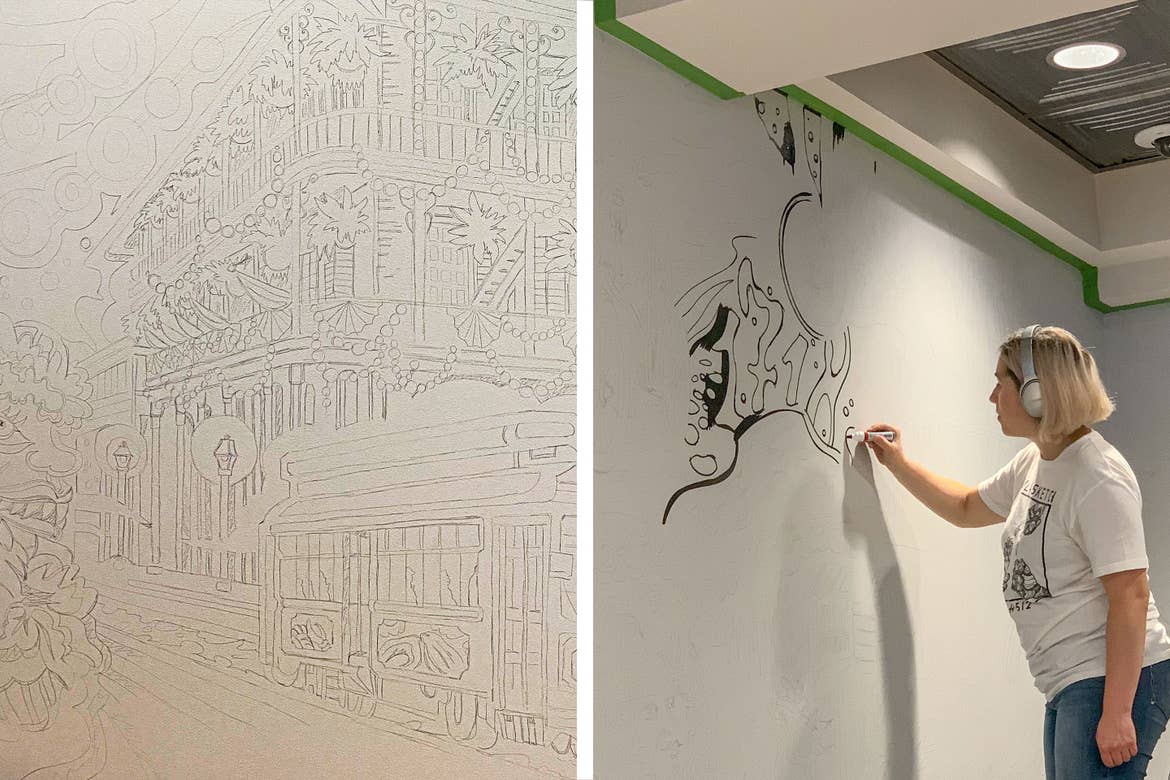 Andrew: Once the artwork was complete and in place, we moved to the next stage, which started with, "Now how do we bring it to life?"

We knew it wouldn't be easy to simultaneously projection map the entire wall using eight synchronized projectors, directional sound cues and a precisely timed presentation. Phew!

Once we carefully curated all the content and transitions with our projection mapping partner over the span of a couple months, we installed all the parts and pieces at the resort and voila! We were off and running.


What is one of the coolest things about the mural?
Ben: Really the coolest part of this installation is how we fuse art and technology together to tell a truly unique story. It demonstrates the passion and dedication we, as a brand, have for innovation.

To ensure we got the technology right, we worked with Kevin Zevchik from Zanim8tion, a well-established creative company that specializes in projection mapping.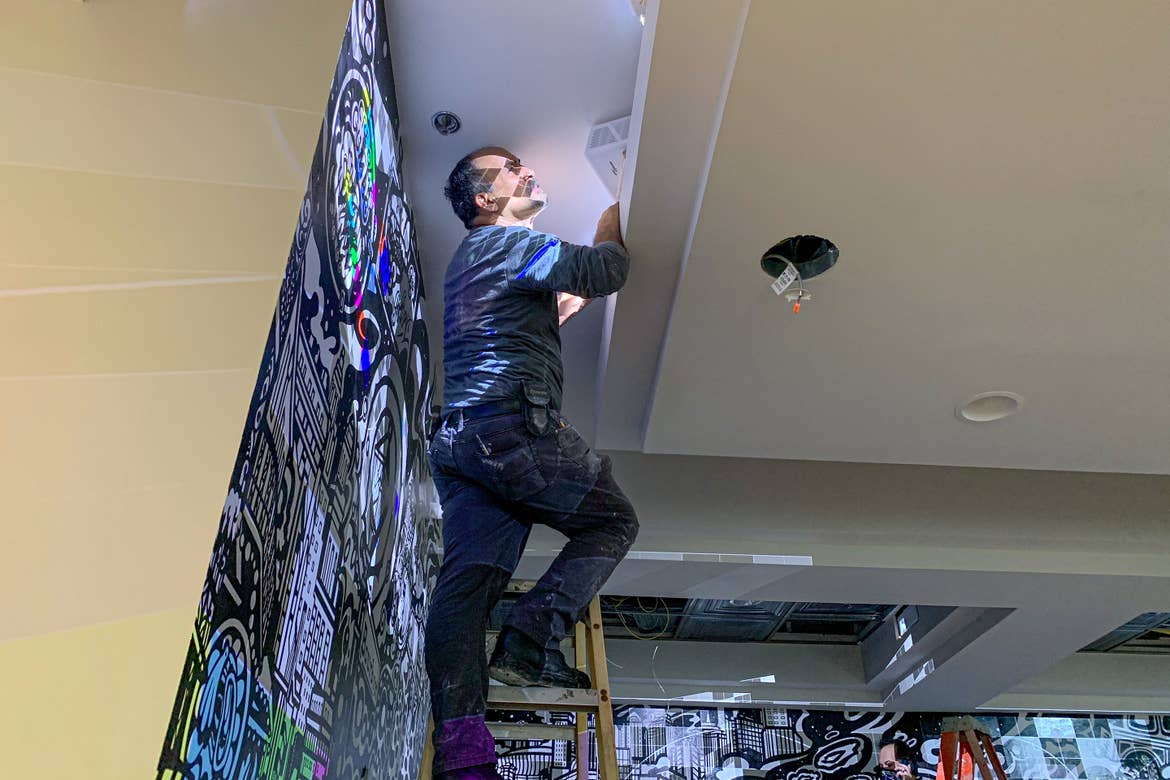 When we asked Kevin about the project, he said, "When Holiday Inn Club Vacations® came to us about the New Orleans mural, we were all very excited because this is another way to show projection mapping at its fullest and really bring out the creativity that we could show inside this...

When you're projecting onto something more intimate and a lot more creative [like this], that's what got everybody in our office really excited about doing this, because we got to show our—pun intended—flying colors."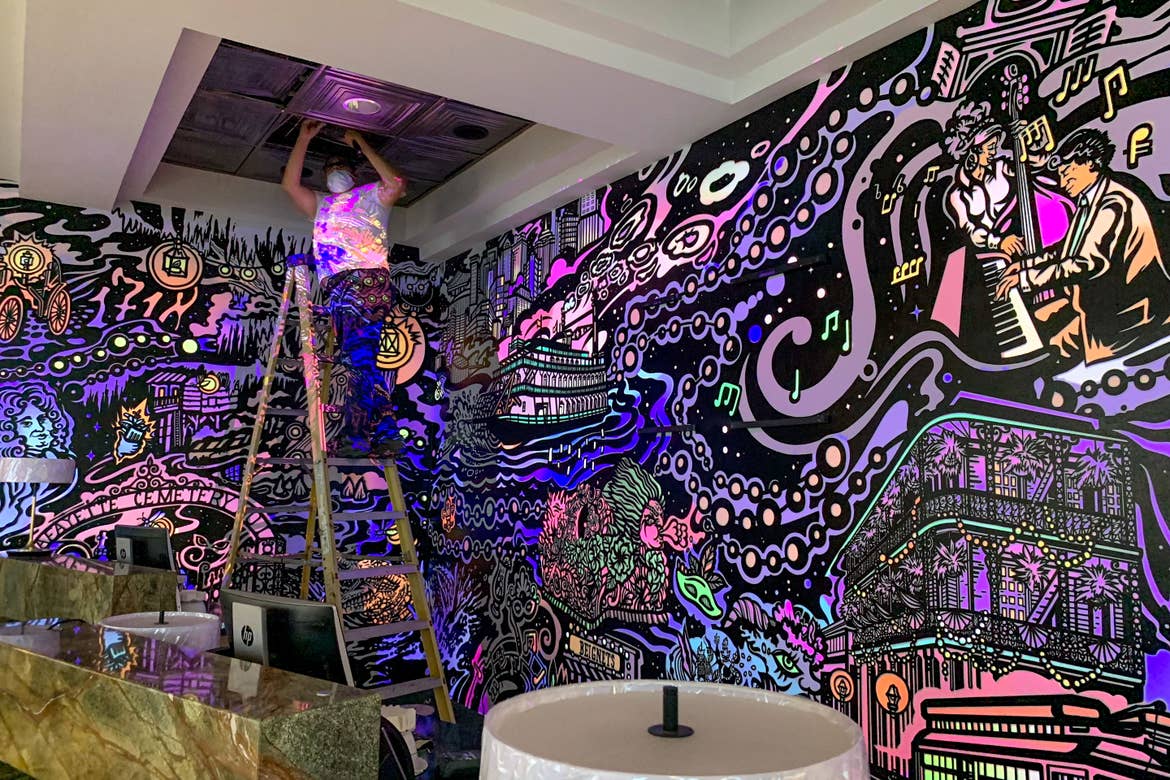 Is there anything hidden in the mural?
Ben: We actually did hide several Easter eggs within the mural. I won't give too much away, but see if you can spot all the spooky, hidden eyes or the date 1718 (which is when New Orleans was founded). Happy hunting!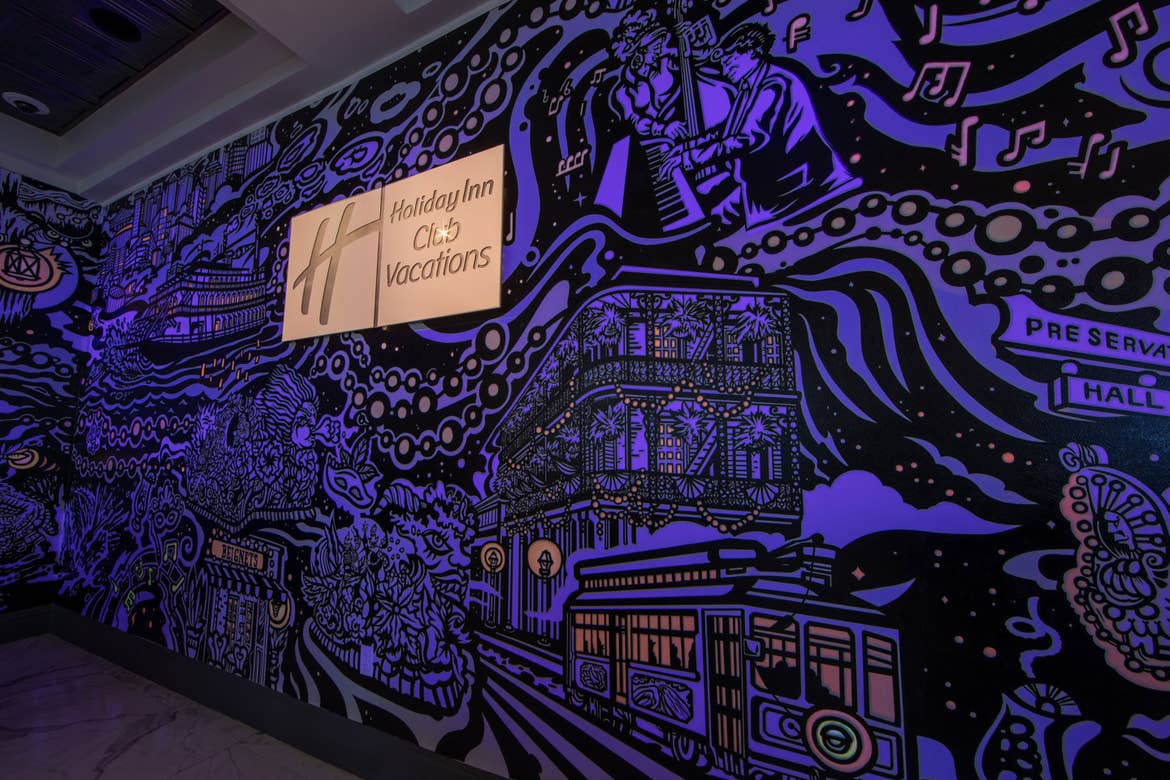 How do you feel about the mural now that it's completed?
Ben: It's always incredibly exciting to have the opportunity to truly push our creativity and launch something new and amazing at our resorts. Seeing the finished product and looking back on the journey feels so rewarding to have been part of it.


Andrew: This has been one of the most creative and innovative opportunities I've experienced at Holiday Inn Club Vacations. I'm excited and proud to have been part of creating this special New Orleans artwork.

The purpose of the mural was to give our guests a moment of surprise and delight as they enter the lobby, and I truly believe it's doing just that!
Watch the mural come to life!
You've read all about it. Now get even more behind-the-scenes glimpses at how this remarkable mural came together, and see how the finished animations look! (It's really best experienced in person though, wink wink.)
Along with the New Orleans Resort mural show, there are so many other exciting things about our resort and our new home in the Big Easy. We've got villas with full kitchens so you can cook your own meals, along with living spaces for the whole family to spread out.

We've got the Maritime Bar & Lounge (opening in 2021) where you'll be able to get a taste of NOLA-inspired cocktails (Sazerac, anyone?). We also have a fitness center, laundry facility, Marketplace, valet parking and even a rooftop dipping pool and terrace for some (ahhh) rest and relaxation time.

Plus, the resort is located right within walking distance of plenty of adults-only things to do and kid-friendly activities for families.

If you're ready to let the good times roll, come see the beauty of the New Orleans mural, our resort and the Crescent City for yourself and book your Big Easy stay today!

We can't wait to welcome you to our newest resort, with a mural show and a smile.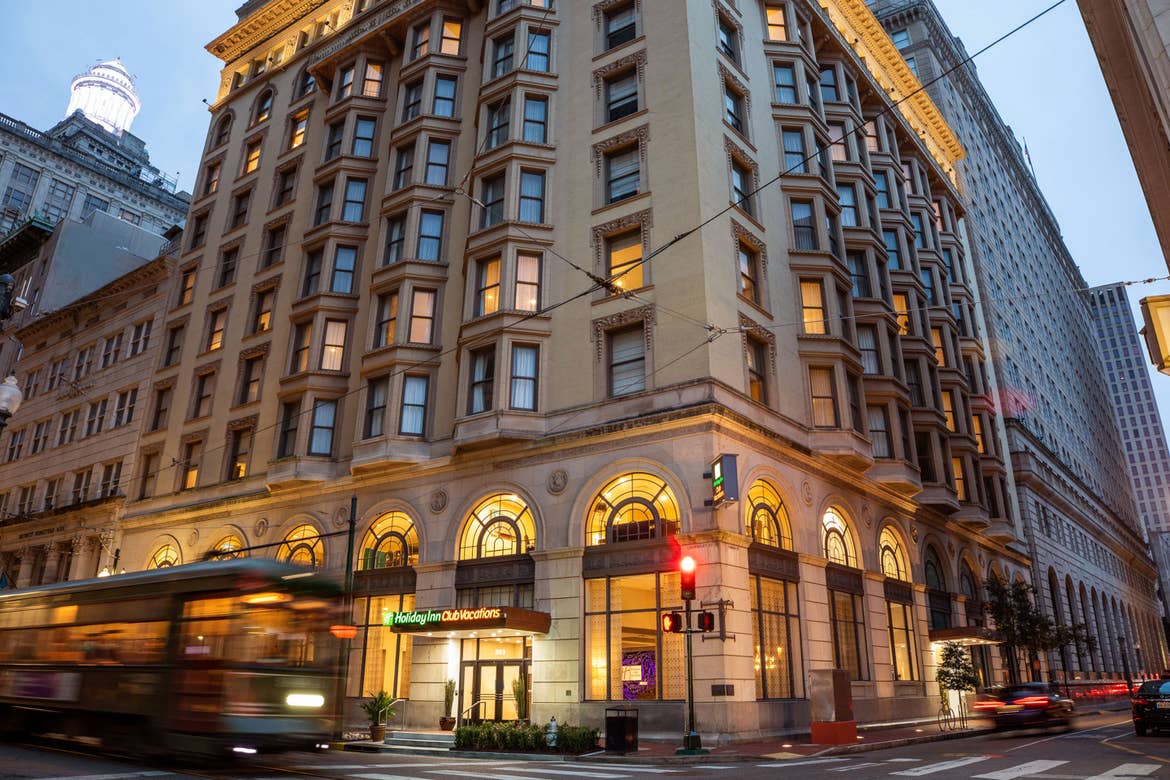 All information is subject to change. This article is a curated guide and is neither sponsored nor considered an official endorsement. Please be sure to check information directly with any/all tours, guides or companies for the most up-to-date and direct details.

At of the time of this story's publication:
The city of New Orleans is currently following Modified Phase 2 restrictions, which allow restaurants, museums, zoos, retail stores and aquariums to be open at 50% capacity. The city is also following temporary Mardi Gras restrictions between Feb. 12 through Feb. 17, which require all bars to cease operations and prohibits the sale of alcohol through drive-thru, curbside or take-out services. Social distancing and masks are required in public throughout Louisiana and the City of New Orleans.