Sally Butan
Sally Butan is a photographer and blogger who's raising three super fun children, while trying to give them the absolute best experiences possible. She and her husband, Kevin, love traveling and want to pass along the adventurous spirit they have into their little ones. Over the years, they've learned to enjoy the present with those around them and recognize the blessings they have in life.
Instagram
Facebook
Twitter
YouTube
Website
If you're planning a New Orleans family vacation (like we recently did), you may be asking yourself: Is New Orleans kid-friendly?

As a family with three kids, we weren't sure if we could really enjoy this city with our little ones. We knew NOLA was a popular destination for adults, but what about our kids?

We were definitely up for family adventures, especially since we were going for New Year's Eve, and I'm happy to say: It was AMAZING! There was plenty of fun, kid-friendly things to do in New Orleans, and I'm here to tell you all about them and how it all went.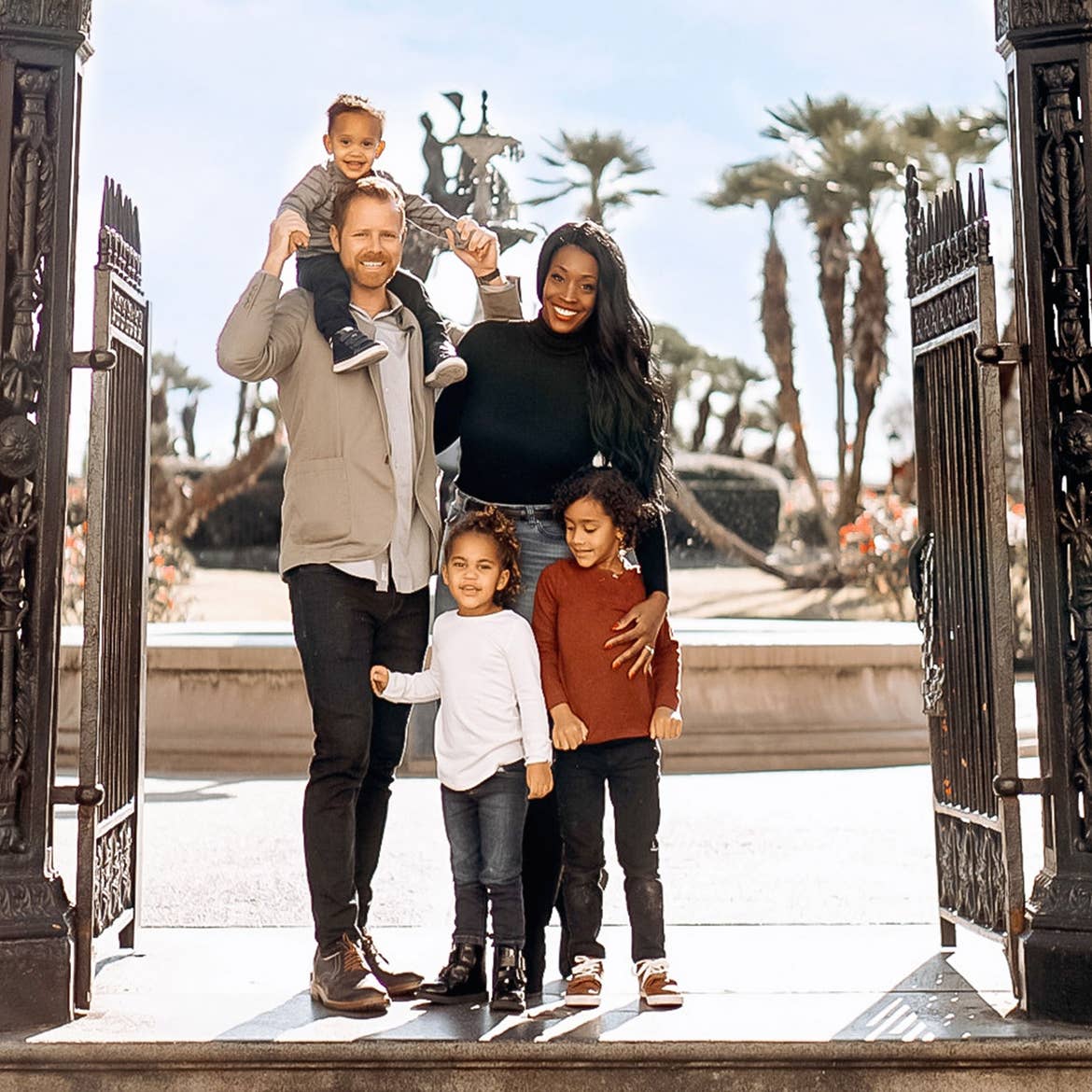 Hi! We're the Butan Clan, a family of five from South Florida.


Why did we choose New Orleans?
Besides the excitement of visiting New Orleans for the very first time with our kids, my husband, Kevin, and I were looking for a lot from our vacation. We wanted to:


Spend New Year's Eve at a hotel or resort overlooking the action of a large city
Watch the party but not be in the middle of it with our small children, Alex (5), Alissa (3) and Alston (1)
Find a ton of family-friendly activities to experience with our kids...
... while also being able to carve out some couple's time just for us (we wanted to bring Grandma BeeBee along to happily babysit the littles)
NOLA felt like the right place to get a little bit of everything, with our home base being our (big and beautiful villa!) at New Orleans Resort, just a block off Bourbon Street.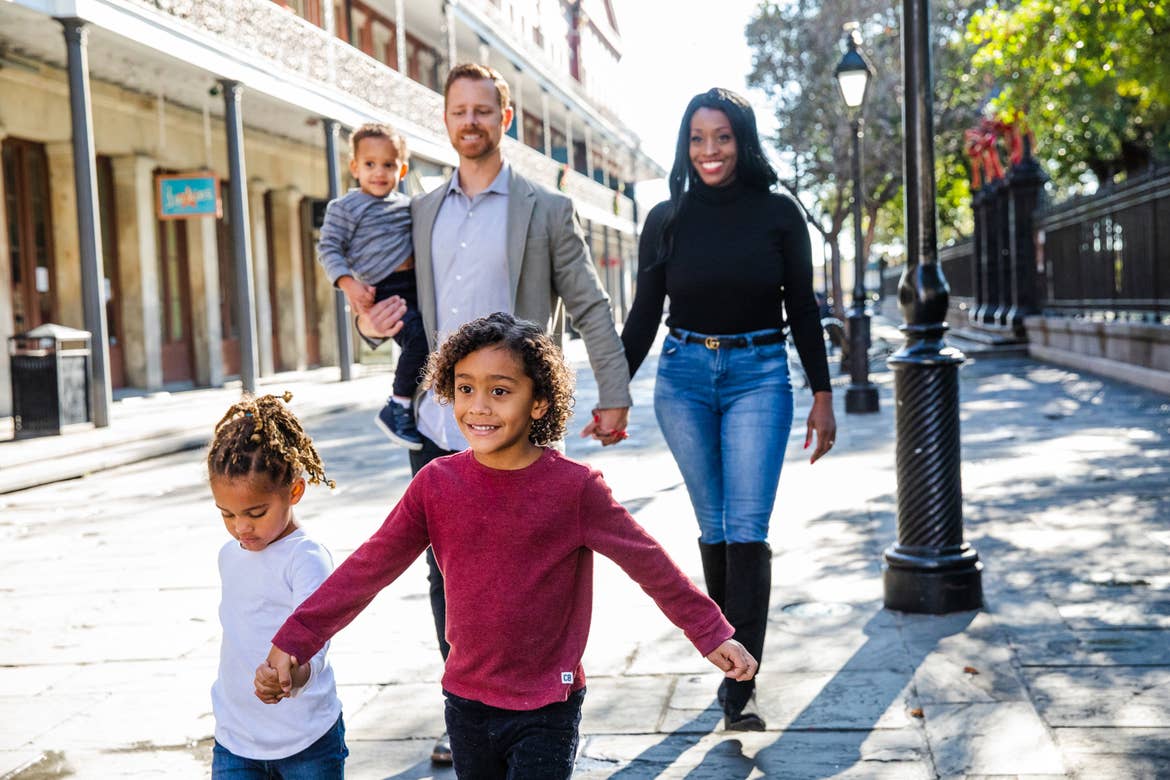 Is New Orleans kid-friendly?
New Orleans has the image of being an adult party town and that's what we knew about it with Bourbon Street and Mardi Gras. But let me tell you: We were blown away by all the fun activities we did with the kids.

We had a full list of fun, kid-friendly things to do in New Orleans, and we couldn't even hit them all over the week we spent there! We have so many left to do on our next trip back.


8 Best Kid-Friendly Things to Do in New Orleans
1. Stroll through the parade floats at Mardi Gras World
Here, you can walk through a large warehouse and see all the past Mardi Gras floats, masks, beads and more. Super spacious for kids to run around and super colorful. Everyone in our family was impressed with the size of the characters we saw.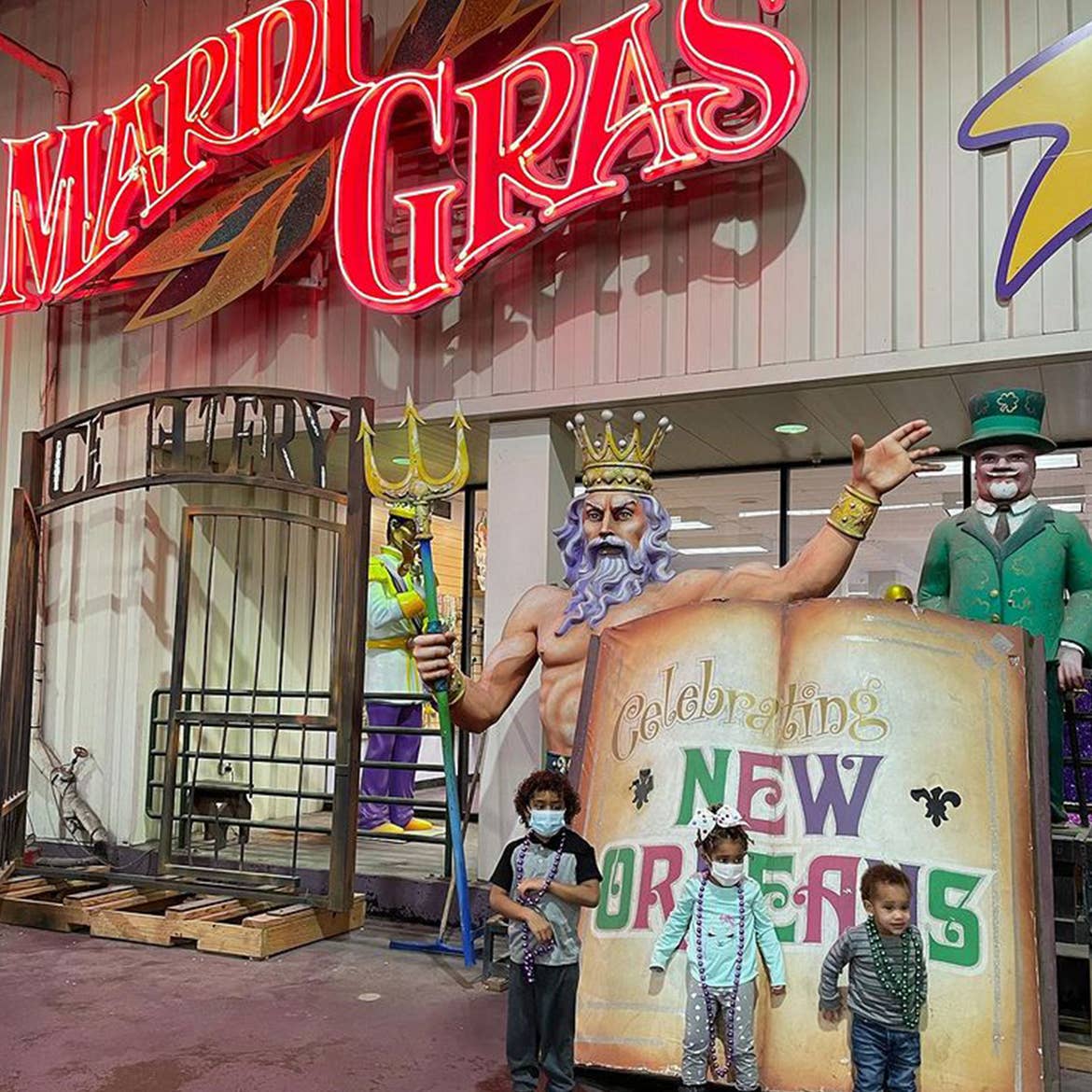 2. Walk around Jackson Square
This is a historic part of the French Quarter filled with so much hustle and bustle. You'll see historical architecture and all the action on the streets, including art exhibits, performers and jazz.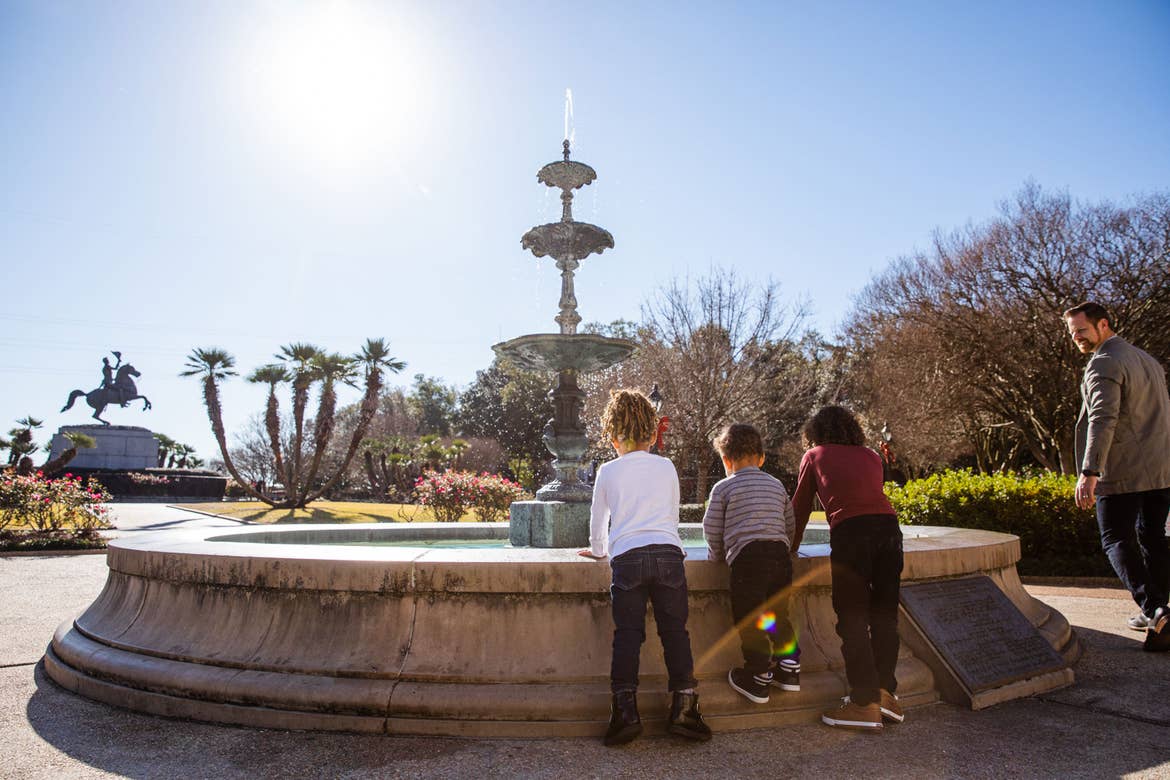 3. Sight-see on a relaxing carriage ride
Ride a mule-drawn carriage through the French Quarter and hear about the amazing history of this area, which includes famous figures, ghosts and mystery. It's awesome to hear the stories of all that happened here!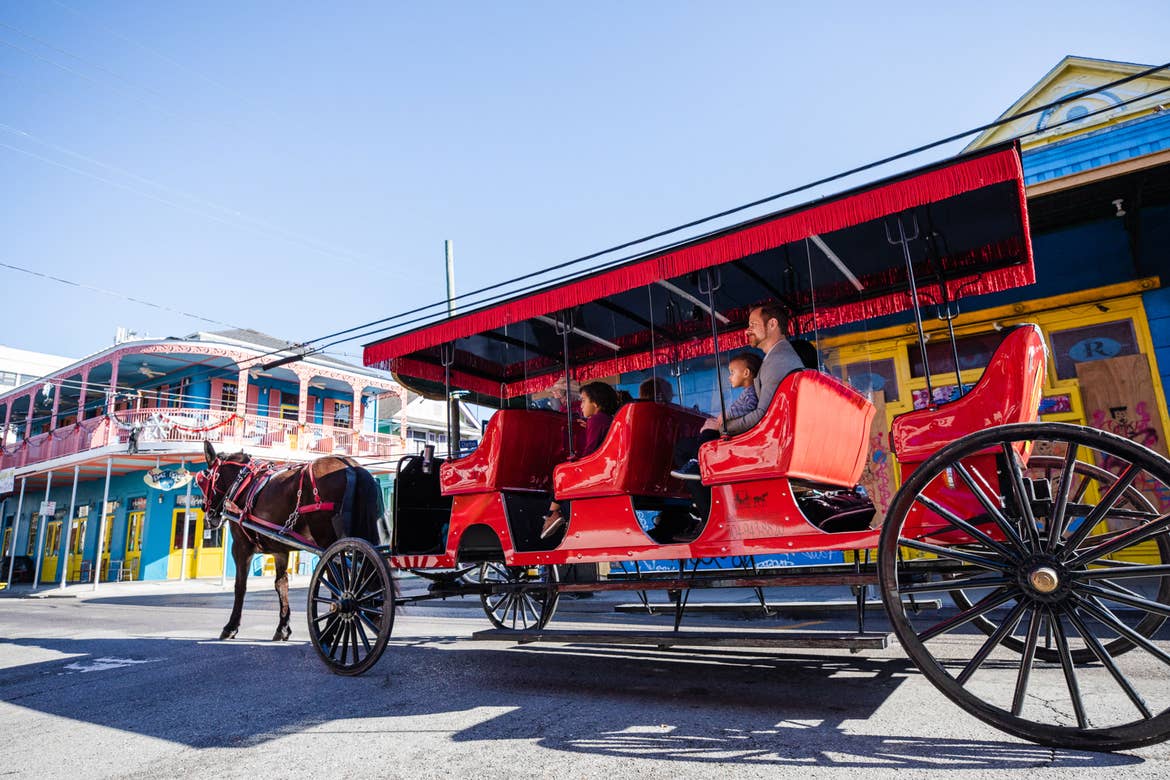 We chose Royal Carriages New Orleans for our carriage tour.


4. Take a steamboat ride on the Mississippi River
Book a ride on a large steamboat that goes up and down the Mississippi River. You'll see the area beyond the city and learn even more history. Not to mention you can have lunch and listen to a local jazz band while on board.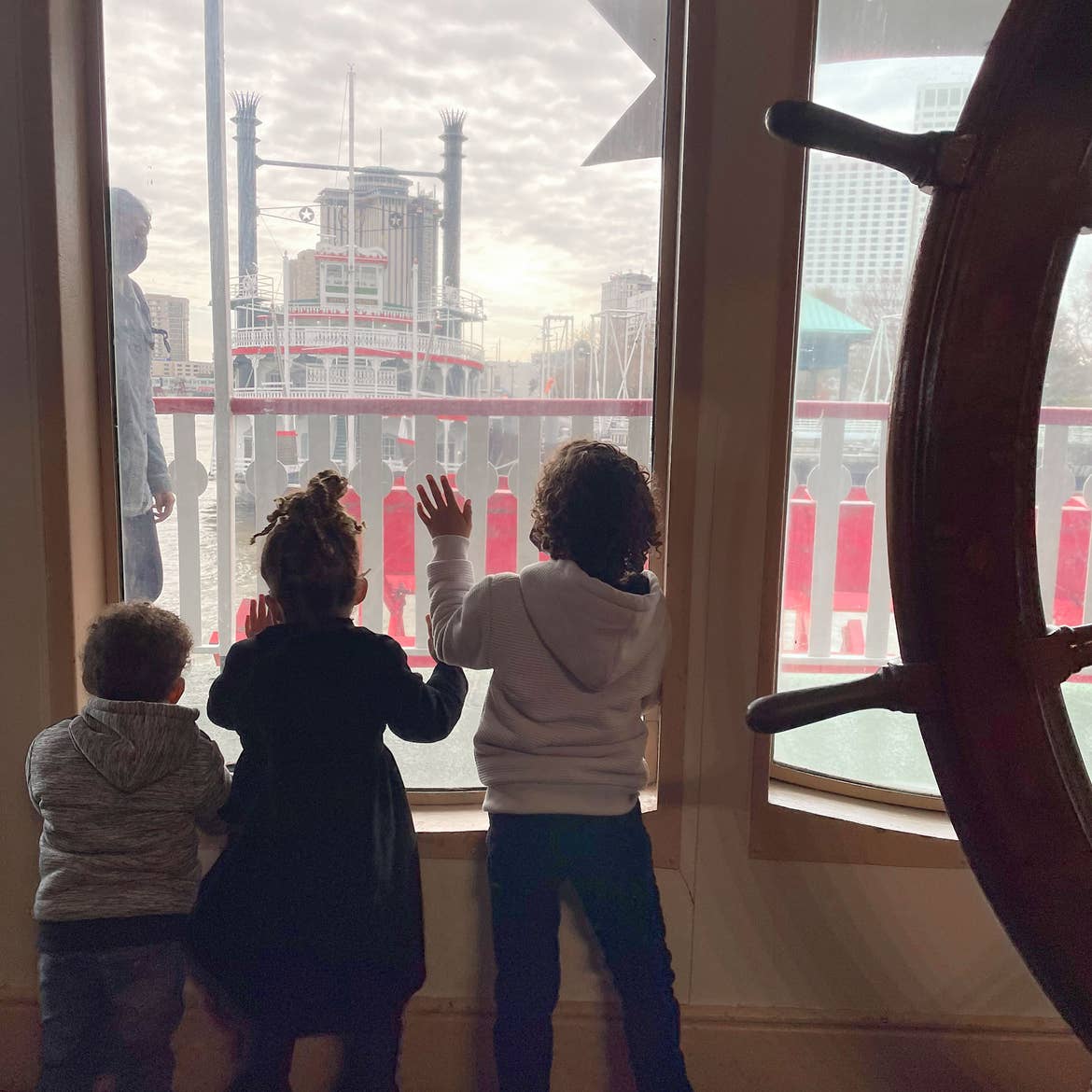 The kids on Steamboat Natchez.


5. Beignets, beignets, beignets!
Once we had our first, we had to have them every day. There are many cafés that serve these powder sugar pastries, and you can even learn how to make beignets on your own!

If you're on the search for the best place to find these sweet treats, we recommend Café Beignet and Café Du Monde. Be careful though—you will get covered in powdered sugar and possibly get addicted!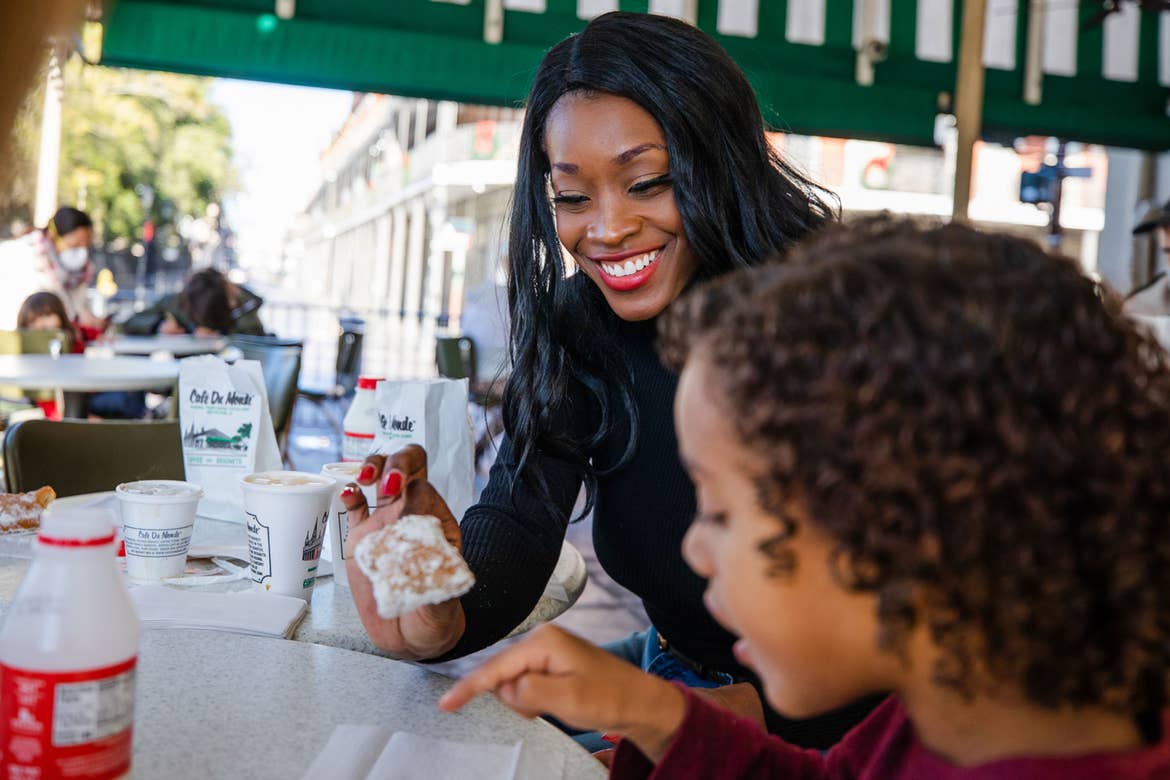 6. Get your fill of New Orleans cuisine!
Did you know that Creole- and Cajun-style foods are different? There are so many local restaurants that will leave you wanting to move to NOLA just for the local cuisine.

We used Google Maps and chose places with high ratings, and we were never disappointed. Some of our favorite restaurants were the Creole House, Palace Café and Original French Market.

It was so awesome to try a new local restaurant each day, each one with its own beautiful views, architecture or history. During the whole trip, Kevin fell in love with shrimp and grits!


7. Plan a date night out—without the kids
Ok, now this one isn't exactly a "kid-friendly" thing to do, but parents need to have fun, too! So after full days of walking, the kids were very tired, and we took full advantage. When they went down for the night, Kevin and I stole away for a drink and dessert while Grandma BeeBee watched the kids.

We walked Bourbon Street to see all the revelry and settled in at Carousel Bar, which was quiet and elegant. It's a beautiful bar in a historic hotel, and we loved their very strong drinks ... then again, every drink in New Orleans is strong!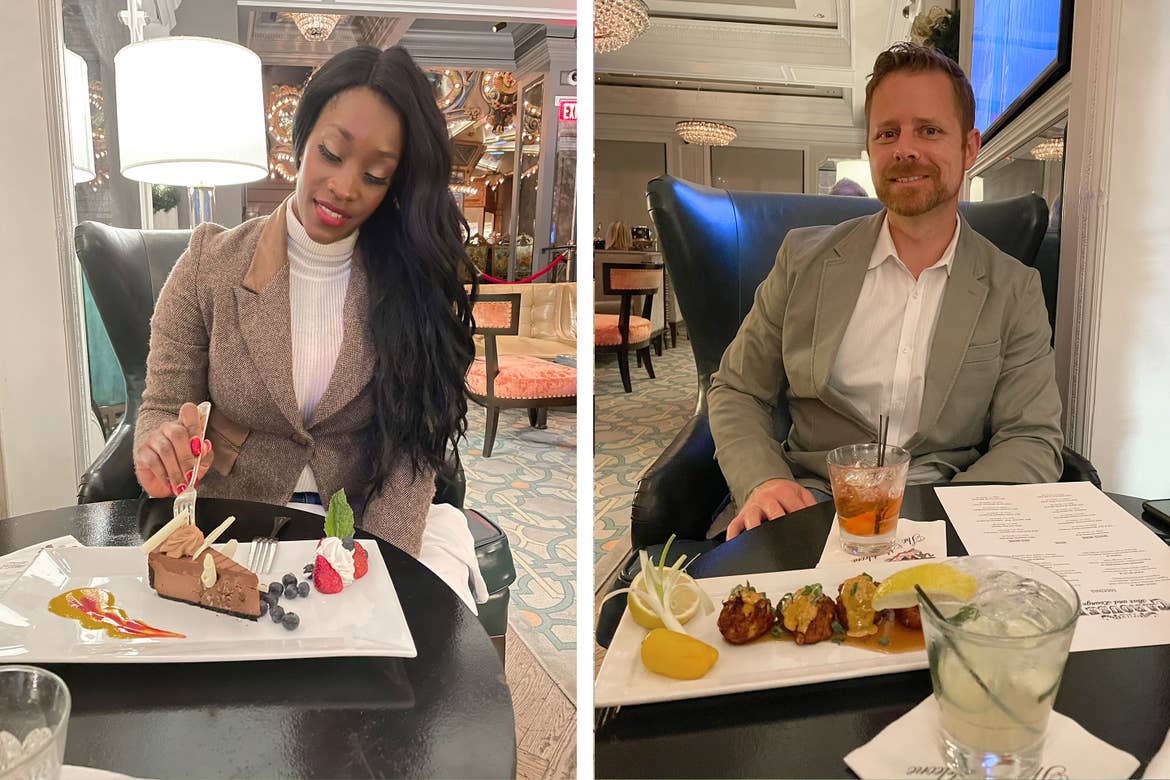 Because of COVID-19, the bar itself was only serving drinks to-go versus sitting down, but we still got to soak up the ambiance, décor and our parents-night-out cocktails.


8. Take a bus tour of the city
We thought we had seen all there was to offer around the French Quarter, but after a tour of the entire city, we realized we only scratched the surface.

We got picked up by a private shuttle bus with only two other small groups and took an amazing 2.5-hour tour that took us to all the most important historic sites in New Orleans. We booked through the site GetYourGuide.com and chose the New Orleans Luxury Bus Tour.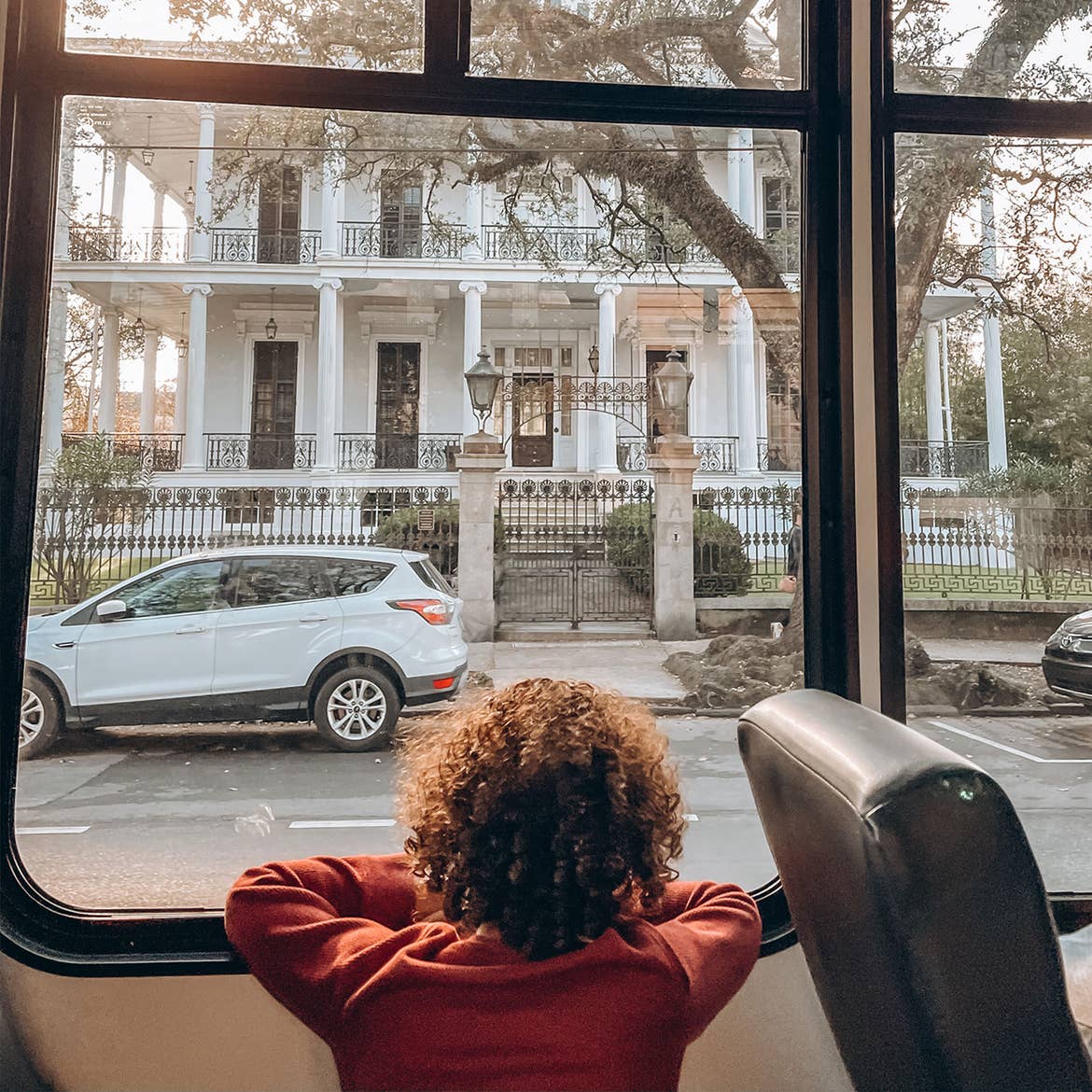 There is so much to see outside of the French Quarter: mansions in the Garden District and Audubon Park, Magazine Street, City Park, Lake Pontchartrain, historic cemeteries, Lower Ninth Ward, just so much. And we learned a lot about New Orleans history up through Hurricane Katrina.

We only wish we had done the tour sooner to then be able to see more of those sites.


Does New Orleans feel safe?
As a family, safety is always important, and we would not have traveled unless we felt safe. We couldn't believe how responsible everyone was across the city. Everywhere we went people were masked.

Now, this is a city that attracts tourists from all over, and we visited during one of their busiest times (New Year's). Almost everyone was wearing masks outside around the city. It was amazing to see people being responsible and following CDC COVID-19 protocols.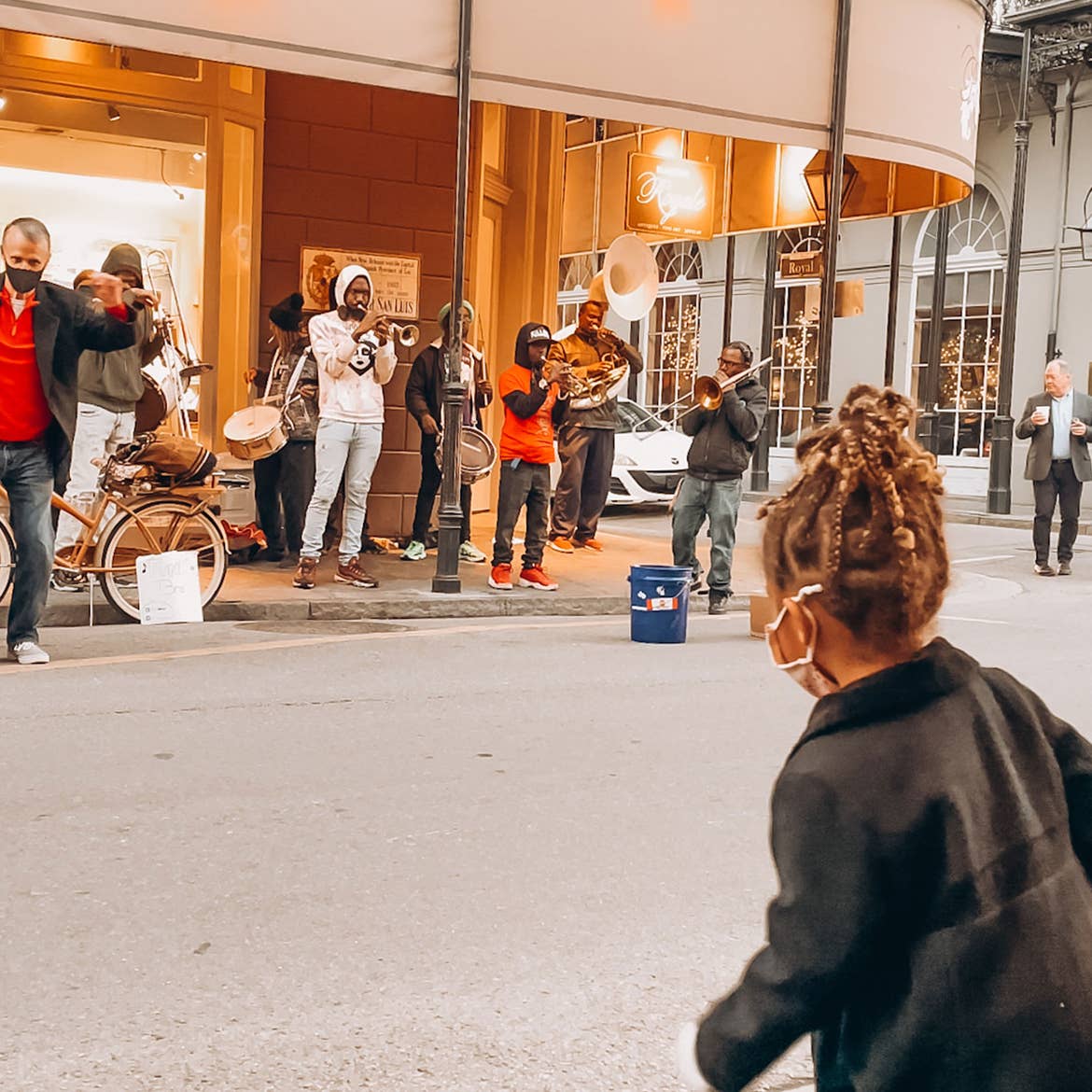 We never felt our safety was compromised from going to local restaurants and shops to getting on public transportation. Restaurants spaced out their tables, people kept their distance on the street and the streetcars had their windows down. We traveled with our family of six, and everyone stayed healthy!

Back at the resort, we knew of the Holiday Inn Club Vacations® Safe Travels program, where the resorts take measures to sanitize and keep everything and everyone spread out. As a big family, we look for those sanitization protocols to make us feel safe, and we felt very reassured with the Safe Travels program.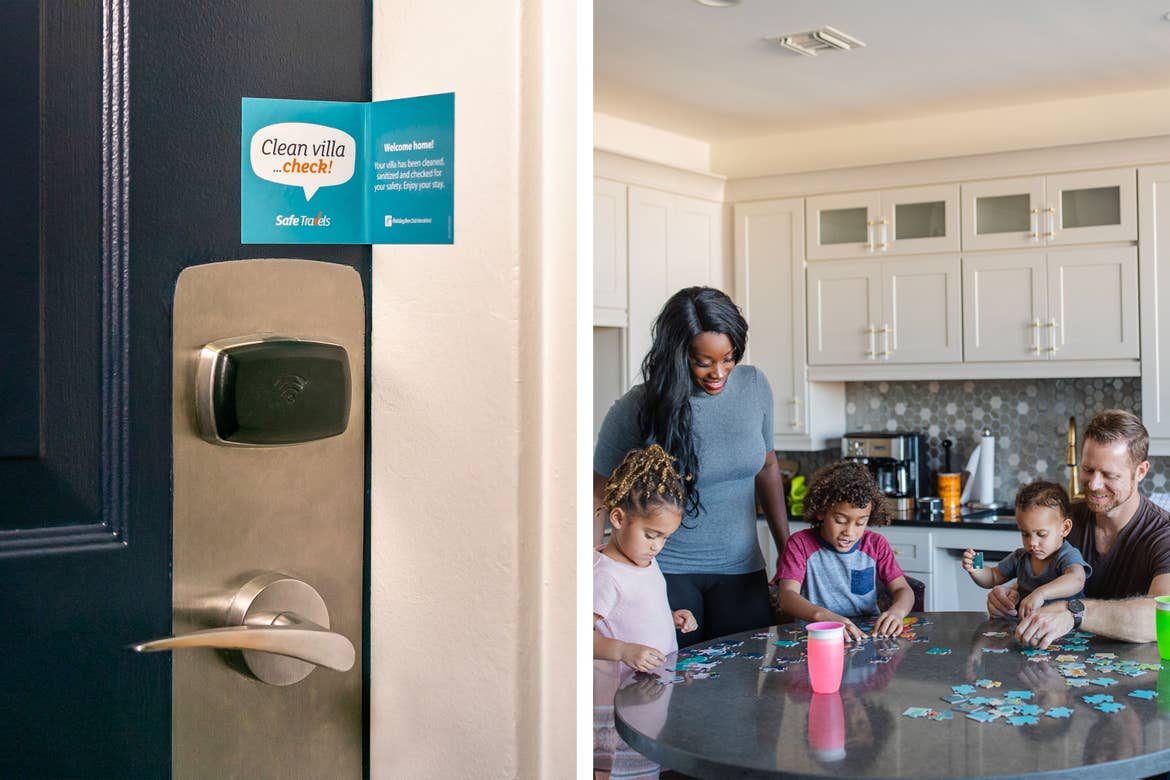 Our room was sanitized with a sticker seal on the door. They had signs throughout the resort reminding people to keep their social distance in the elevators and amenities. And check-in was super easy with their virtual queue (to limit the number of people in the lobby), and the staff was all masked and very helpful.


Flying to New Orleans During COVID-19
We had not flown since the pandemic started last spring, but after doing a little research about flying during COVID-19, we found that airlines are doing a lot to keep passengers super safe.

Most planes have HEPA filters that trap over 99% of particulates and new safety measures, so we were not worried about the risk of flying. We masked everybody up, packed our hand sanitizers and wipes, and flew into NOLA from Fort Lauderdale on Spirit Airlines. We were very comfortable with the safety measures they had in place.

The New Orleans airport was also so easy to get around and it was very beautiful, too.


Should you rent a car in New Orleans?
We decided not to get a rental car and it was the best decision for us. The resort location is really close to everything and there is so much to do within a five-, 10- or 15-minute walk.

When we needed to venture farther than walking distance, it was so easy to hop on a nearby streetcar (similar to a trolley) or get picked up by a shuttle bus. (The streetcar picks up about four minutes from the resort's lobby doors.)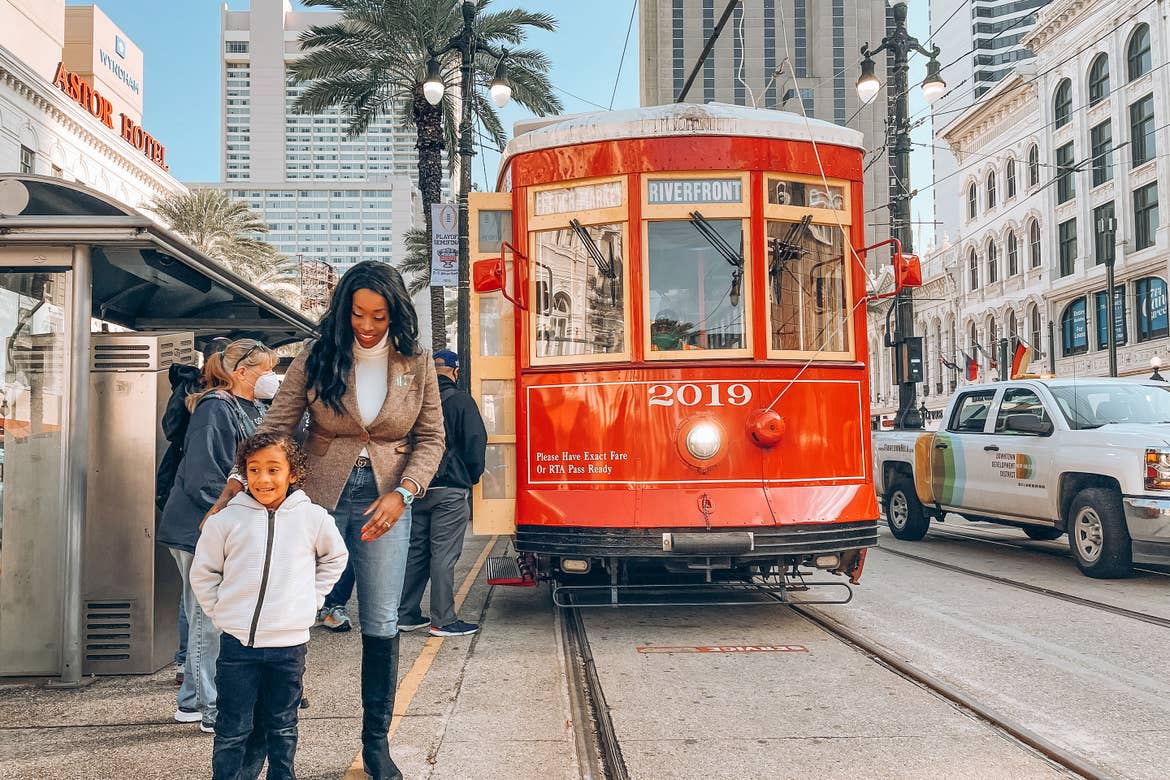 The only part of our journey we did have to specially pre-book was a car service to take us from the airport to the resort. (The normal airport shuttle stopped running during COVID-19, and we couldn't find an Uber that would be big enough with three car seats.)

After some shopping around and getting initial high quotes (like $500+), we found a super professional and courteous company called Limousine Livery. They were willing to provide three car seats, and they even upgraded our vehicles free of charge, so we were comfortable.

Bonus: The driver waited for us at the airport with a sign with our names on it. Made us feel like celebrities! We would definitely book them again as the service was so customer-focused.


Our Stay at New Orleans Resort
This was actually our second stay with Holiday Inn Club Vacations as we visited Orange Lake Resort in Orlando back in October and loved it. After having a great experience there, we knew spending NYE at the brand-new New Orleans Resort was going to be amazing!


Historic Landmark
When we arrived at the resort, Kevin, who is really into history and architecture, loved the fact that the resort building is on the National Register of Historic Places and was the city's first skyscraper!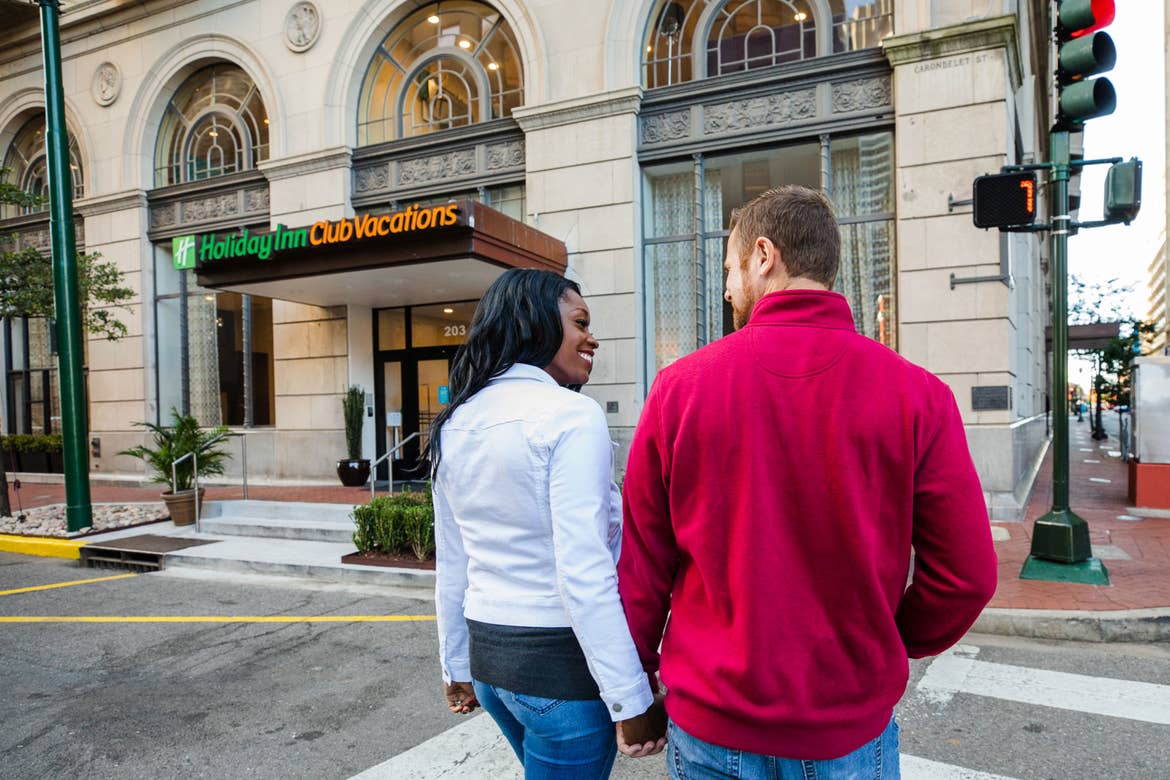 Central Location
The building is 11 stories and one block from the historic French Quarter. We could see that the resort's perfect central location made so many things within walking distance, and we were happy to see we had made the right choice in regard to no rental car!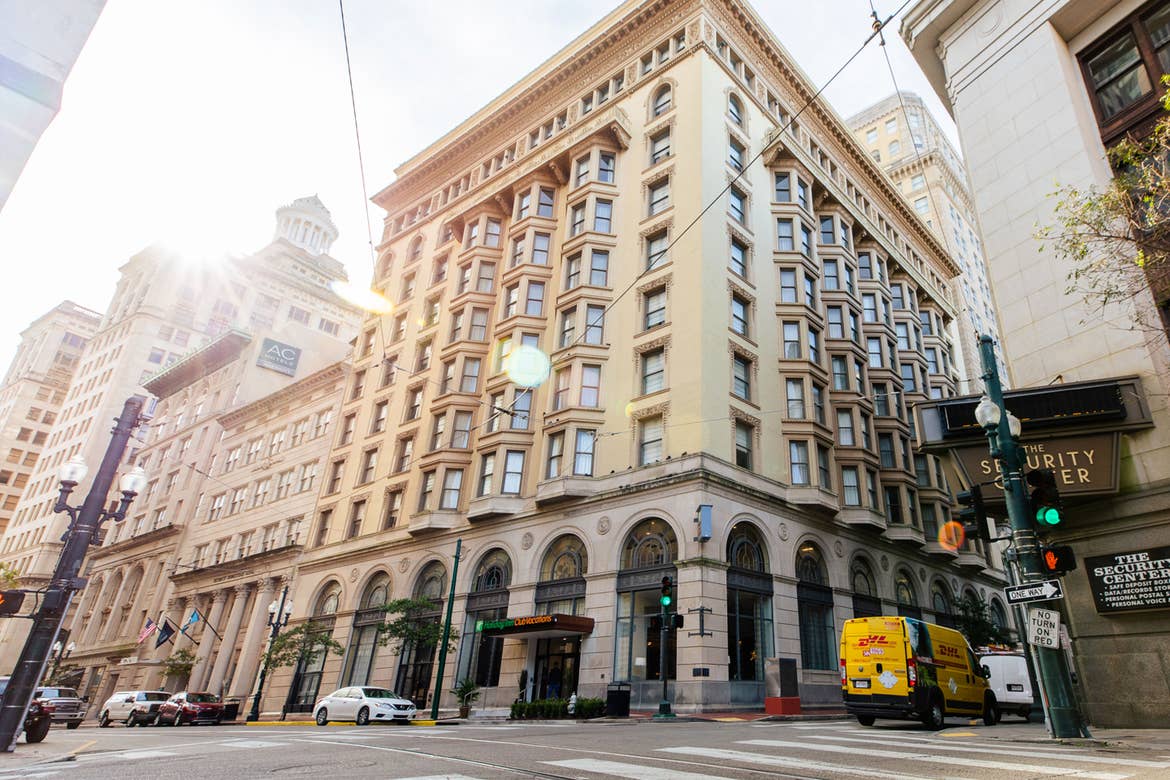 We loved getting to soak up the experience of walking around, enjoying all the sights and sounds of the city and stumbling upon jazz bands—all without parking, car seats or GPS'ing around. There are so many restaurants and shops within a 10-minute walk, and many activities, such as Mardi Gras World and bus tours, will actually pick you up by shuttle.


Lobby Mural Show
Upon arriving at the resort, we thought the lobby was very cool. The custom-made mural on the wall is beautiful as it displays the culture and history of New Orleans in an updated way with colorful lights and music animated together.

It really is unique and so amazing to watch. The kids loved the bright lights and colors, and it was so big, they could all find a spot for themselves to watch the mini show. The lobby and all the décor really combined the history of New Orleans with an updated, modern feel.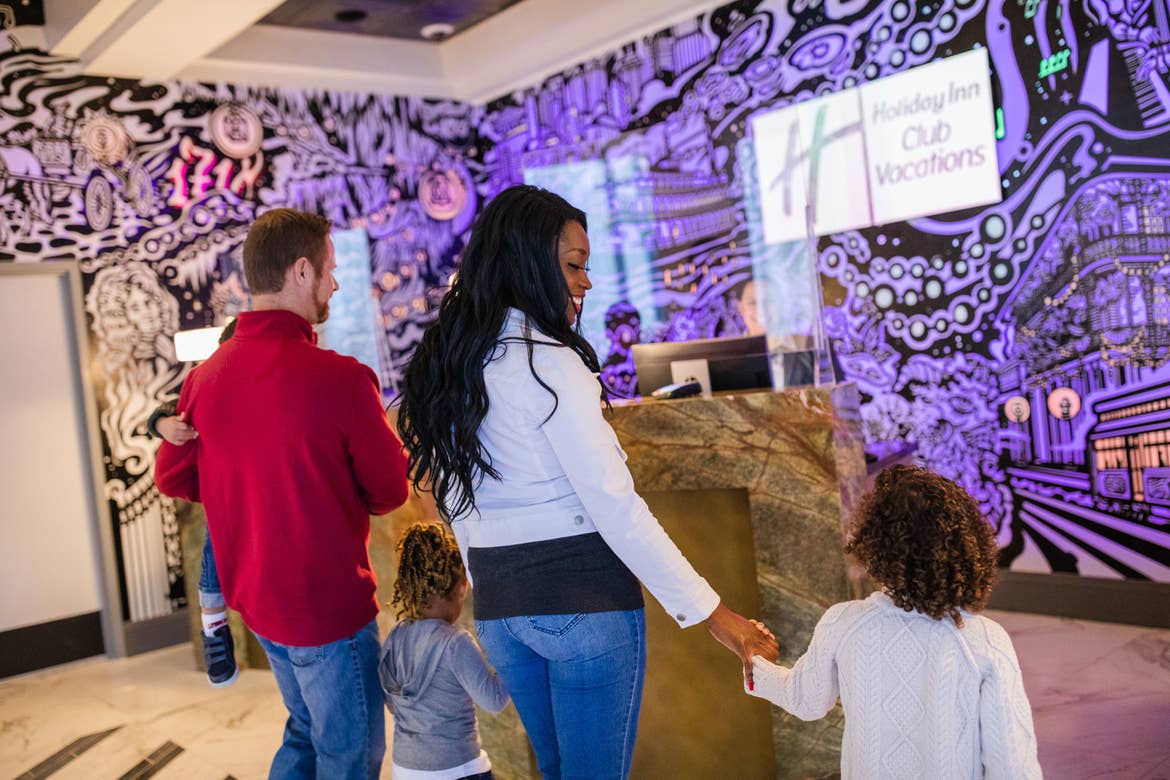 Fitness Center, Laundry & Dipping Pool
We definitely took advantage of the other 11th floor amenities, such as the laundry facilities (free to use) and the fitness center. Kevin likes to get in a workout while on vacation, and it was so convenient to throw a load of laundry in and workout between the cycles.

Not to mention you can take a break and get some fresh air out on the rooftop pool area. The rooftop terrace was perfect for relaxing and enjoying drinks as you take in the high-rise views and cool breeze. The kids really loved the rooftop dipping pool, too!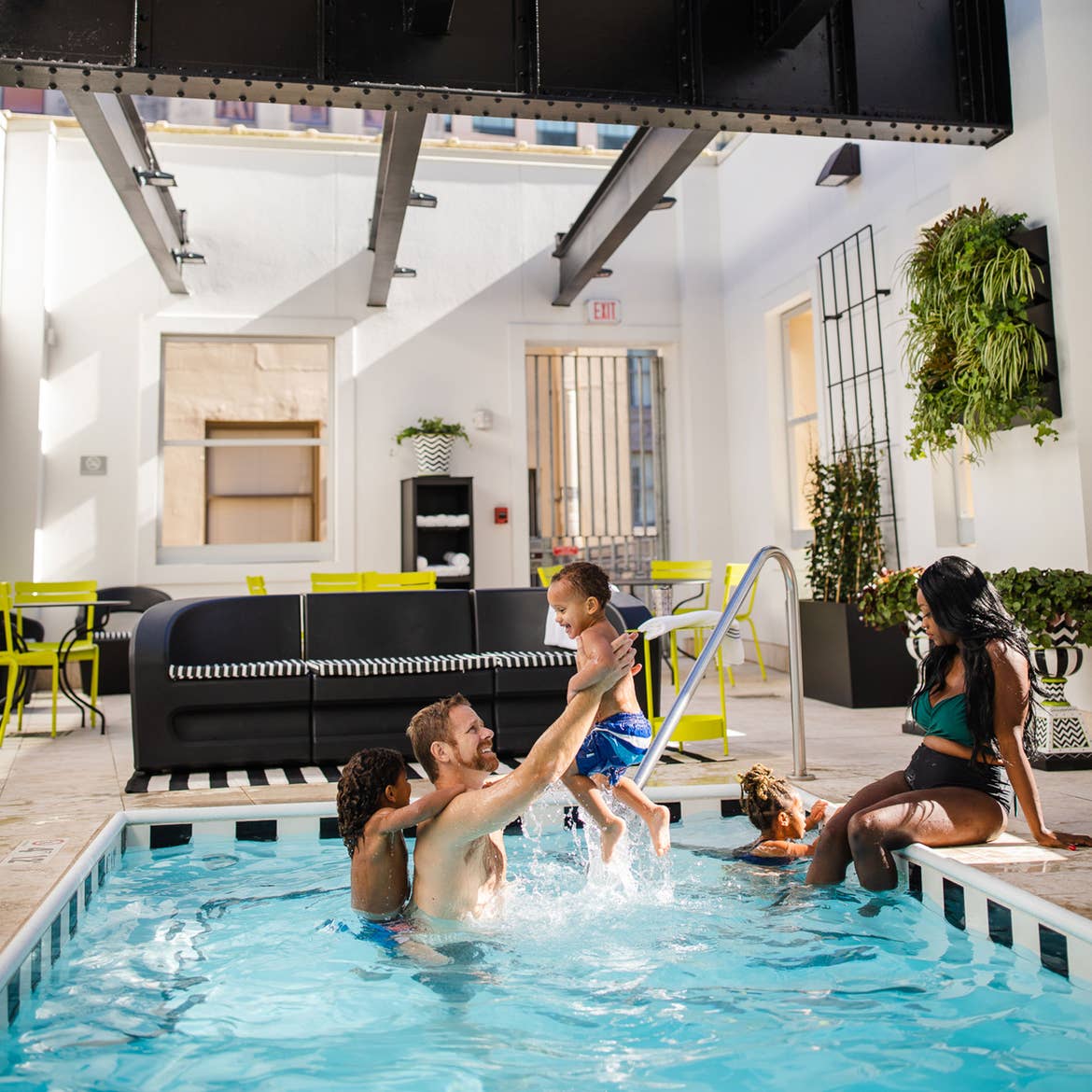 Lobby Bar
The Maritime Bar was not open due to COVID-19 regulations, but it fits right into the New Orleans culture. You can sip on drinks pretty much right in the lobby and see all the people coming and going.


Our Villa at New Orleans Resort
For our family of five, staying somewhere for a week is a long time, and we couldn't have been more comfortable in our villa. Walking into the room was like opening a new package with the sticker seal.

The villa was newly renovated, very spacious and clean. We felt like we were staying in a new, high-rise condo with the Signature Collection villa.

It had modern décor with accents that reflected New Orleans with purple couches and instead of shower tiles, these really cool brass coins. It had an open concept kitchen and living room area with two bedrooms and two bathrooms. It was so nice to have the kids sleeping in their own room.
Not to mention the full kitchen was so perfect for us. With three little ones, someone always wants to eat. We were able to stock a full-sized fridge with groceries and restaurant leftovers. We took total advantage of the kitchen and cooked our meals, mostly breakfast and a few lunches and dinners.

We literally felt right at home. The only difference was the amazing view we had of the city. All rooms had huge windows overlooking NOLA and the French Quarter. It was so beautiful at night to see the city lights and then, because of New Year's, we got to see an amazing firework show across the city.

Kevin's mom also stayed in a one-bedroom deluxe Signature Collection villa that was super spacious, too. Her view of the city was spectacular with corner windows to see from two sides of the building. You could even watch ships going by on the Mississippi River.

It was so nice to have Beebee there, and every morning she would walk down the hall to our room to cook the kids breakfast. (Did we mention how wonderful it is to bring a grandparent on trips?!)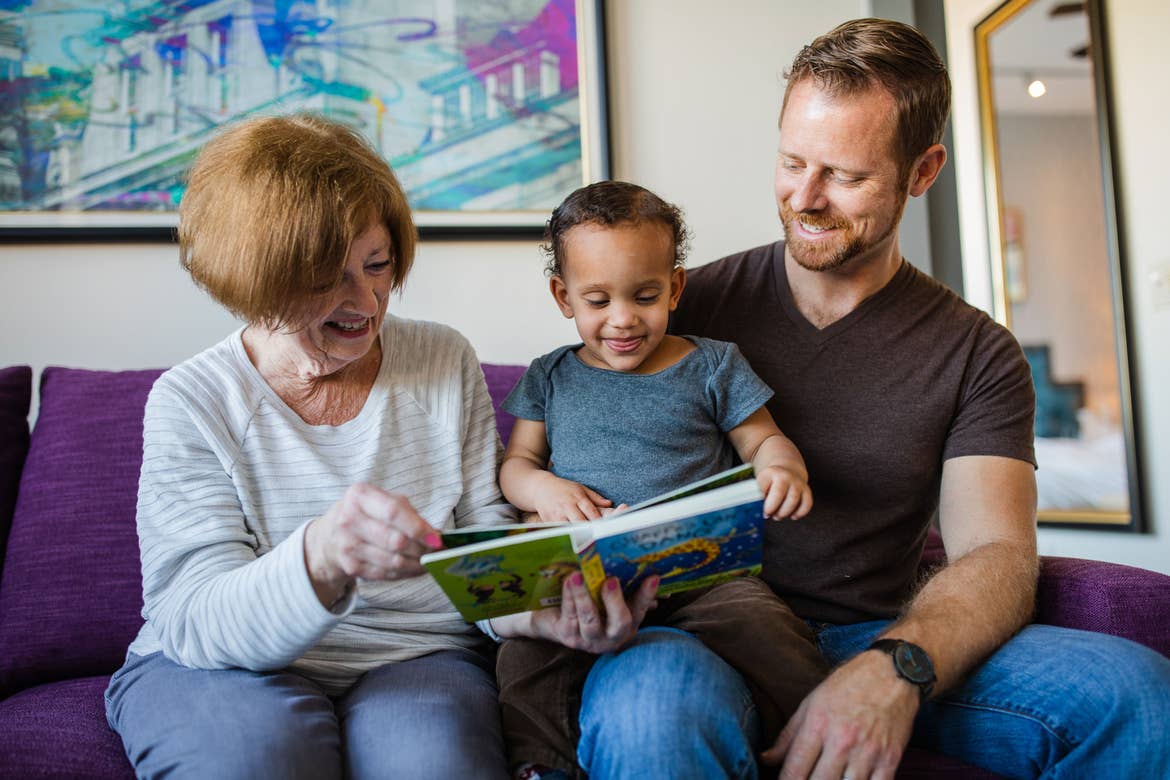 3 Reasons We'll Be Back to New Orleans
We made so many incredible memories together as a family … and ringing in 2021 in this brand-new resort was an experience we won't soon forget.

We've already been thinking about our next trip! Here are three reasons why we'll be back for another family vacation in New Orleans:


We fell in love with the food, history, sights and atmosphere of NOLA! Though we saw so much, we realized there is so much more to see.
Our spacious villa was so comfortable for our large family, and that is key for us on a long stay. Also, we really felt like we were staying at a posh, high-rise condo overlooking the city.
Every day was a little adventure where we found a new site or part of the city to explore. And there were so many fun, kid-friendly things to do in New Orleans.

We love new experiences for our children, and this urban city provided a unique environment where they were learning every day and experiencing so much. That is memorable!
So, is New Orleans kid-friendly, you ask? I'd say DEFINITELY! We already have a list for next time: Louis Armstrong Park, Commander's Palace, WWII Museum, Aquarium of the Americas, Insectarium, a plantation tour, more time at city park and the list goes on and on … We can't wait to go back!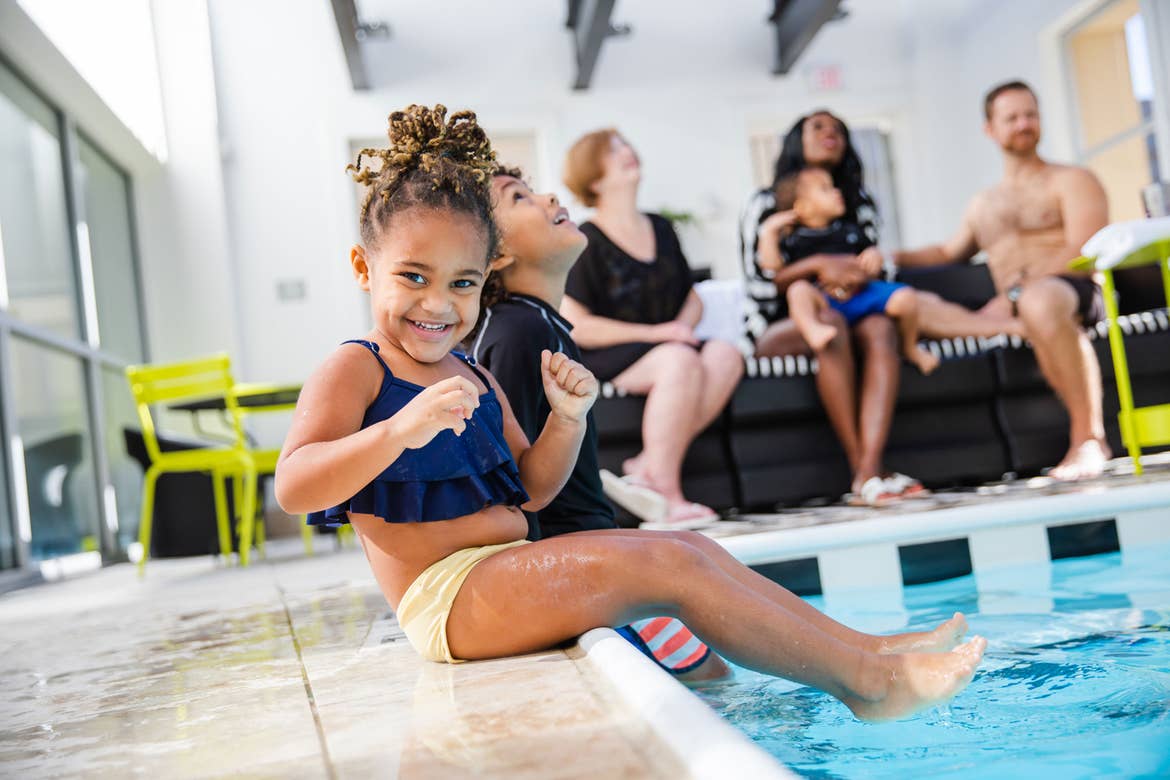 Our guest bloggers are compensated for their writing contributions and honest opinions.

All information is subject to change. This article is a curated guide and is neither sponsored nor considered an official endorsement. Please be sure to check information directly with any/all tours, guides or companies for the most up-to-date and direct details.

At of the time of this story's publication:
The city of New Orleans is currently following Modified Phase 2 restrictions, which allow restaurants, museums, zoos, retail stores and aquariums to be open at 50% capacity. The city is also following temporary Mardi Gras restrictions between Feb. 12 through Feb. 17, which require all bars to cease operations and prohibits the sale of alcohol through drive-thru, curbside or take-out services. Social distancing and masks are required in public throughout Louisiana and the City of New Orleans.