Jennifer C. Harmon
Jenn is the Editor-in-Chief of the Checking In travel blog. She loves coffee, wine, writing, traveling, working with all of our amazing guest bloggers, and getting to tell our guests', owners' and team members' vacation stories. Jenn and her husband, Anthony, have mastered the art of the long weekend couples' getaway (sans kids). And while it's too hard to pick just one type of "favorite vacation," her three-way tie would be: a snowboarding trip, going to Hawaii or sailing with Disney Cruise Line.
If you're not familiar with beignets, you're in for a real treat. Literally.

As part of our larger-than-life, week-long virtual Mardi Gras celebrations (and as we continue to celebrate our brand-new New Orleans Resort), we just had to talk about and show you how to make beignets.

Download our recipe card and read on for some expert "how-to" tips that'll make your beignet-making as easy as possible.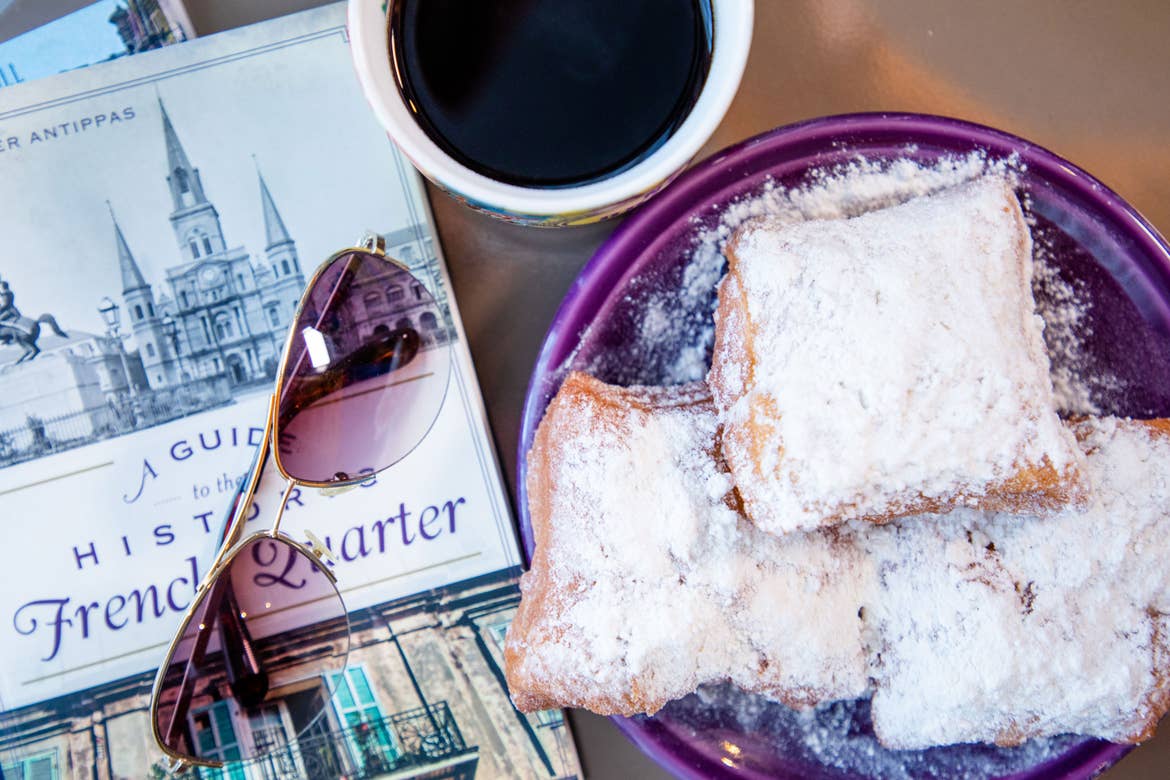 Beign- … what?
First things first:

How do you say "beignet?" It's pronounced ben-yay. (Yay!)

What is a beignet? It's a sweet pastry made of fresh, fried dough topped with mounds and mounds of white powdered sugar. (Yum!)

Café Beignet (one of THE best places to try these) further explains: "These golden squares, usually dusted with powdered confectioner's sugar, can best be described as a cross between a French pastry and an American doughnut. In New Orleans, beignets are enjoyed at breakfast, for dessert, or any time for a special treat. Bon Appetit!"

How do you make beignets? That's what we're serving up today. Whether you make them at home, whip them up in your villa kitchen at our New Orleans Resort, or you leave the cooking up to the beignet café masters, your taste buds will thank you for trying this French Quarter pâte à choux pastry classic. So, grab a cup of coffee—or better yet, a café au lait—and read on.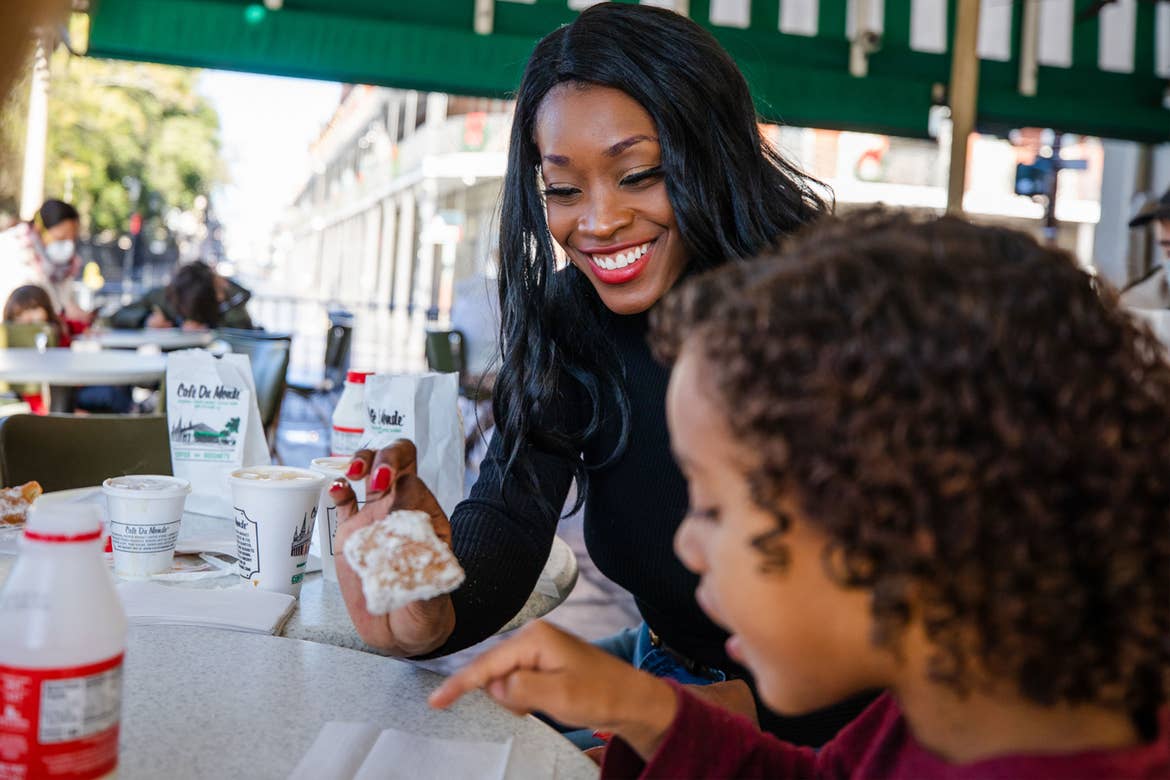 Sally, of @thebutanclan, and her family enjoying beignets at the Café du Monde French Quarter location


My History with Beignets
Luckily, I got to try my first beignet longgggg before I ever stepped foot in New Orleans. When I was a kid, my mom would make beignets as a super special weekend breakfast about once a year. It was messy. It was involved. It was oily. And it was … delicious.

My parents spent some time living in Baton Rouge, Louisiana, before they had us kids. During that time, they'd often drive the 90 minutes or so into New Orleans, where my dad discovered a love of hot sauces, shrimp etouffee and the spicier-the-better side of Cajon Creole cooking.

My mom's sweet tooth led her to frequent Café Du Monde. She loved their beignets so much that she bought the boxed mix and learned how to make them at home as a rare, surprise treat.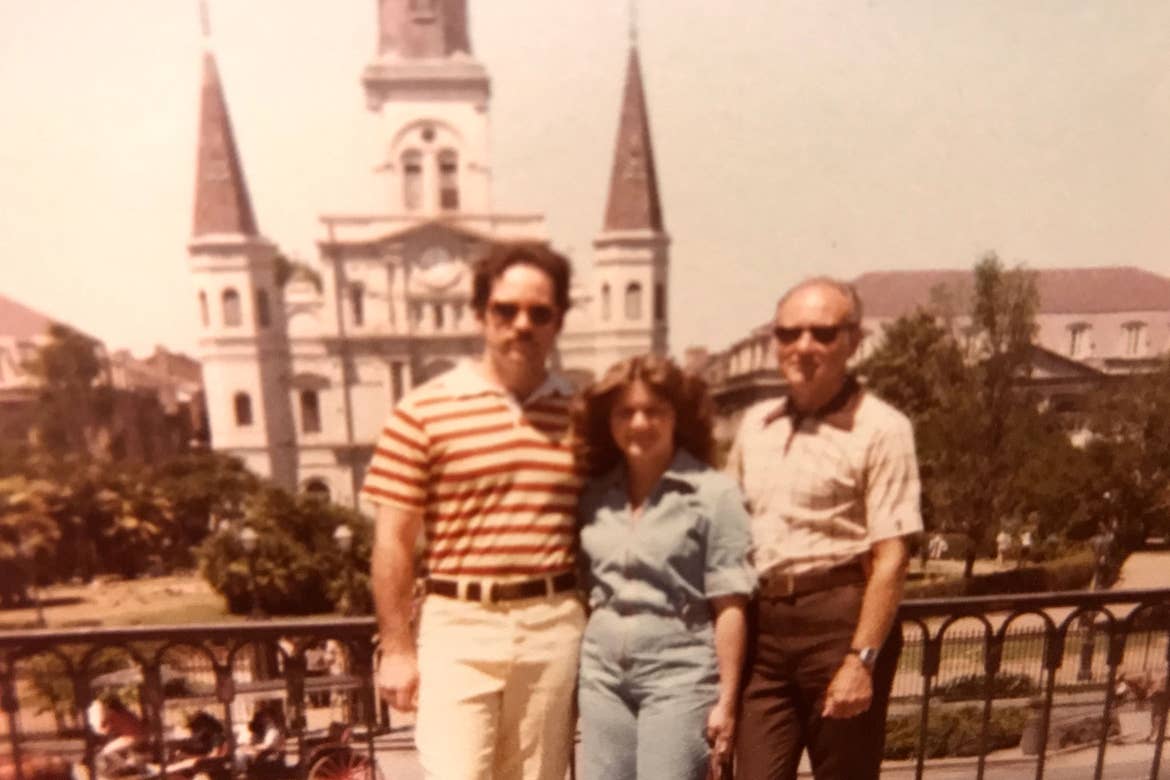 Jennifer's mom, dad and late granddad visiting Jackson Square in the 70s.

Once my brother and I were in the picture, we both learned early on that: 1) beignet mornings were the BEST and 2) inhaling while your mouth's near that pile of confectioner's sugar is a rookie mistake! Be cautious: You'll choke and cough on that fluffy stuff as it poofs and puffs everywhere. (All worth it though.)


How to Enjoy Beignets
Eating and enjoying beignets is easy. Truth be told, there are probably a million different ways to enjoy a beignet—chocolate drizzles, baked versus fried, the many non-New Orleans cafés that offer these worldwide, etc. But in my opinion, there are three ways in general to experience the joy of beignets:


Bake them from scratch.
Skip ahead to the good parts and make them by using a boxed mix.
Go to New Orleans and try one at a café! Even with origins tracing back to Rome and France, nowadays NOLA is widely considered THE city to get the best ones. In fact, the beignet is the official doughnut of the state of Louisiana, so if you're gonna get one, get one HERE!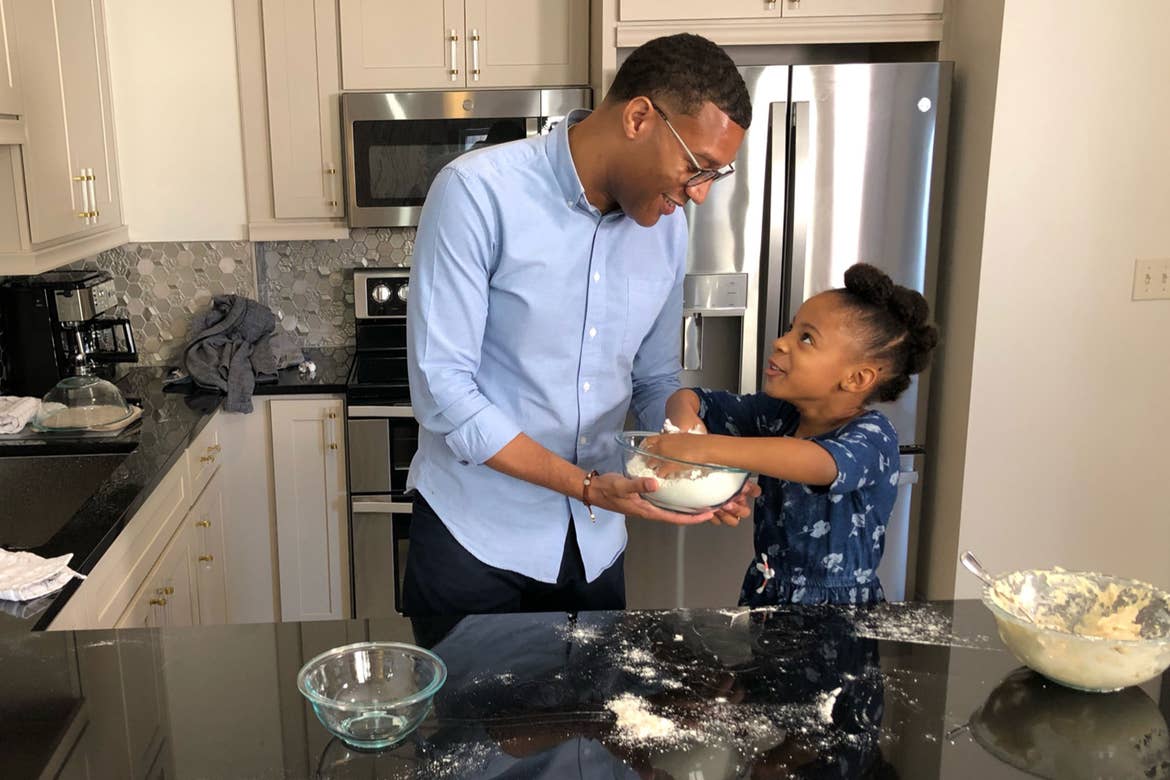 Making beignets with the Café Beignet mix in a Signature Collection villa at New Orleans Resort

No matter which way you choose, be sure to enjoy them right away as they're best when they're piping hot and fresh.


1. Making beignets from scratch versus a mix
If you'd rather not rely on a mix, there's not a ton of additional work to make beignets from scratch. But you will need additional time and to be patient, as the dough will need to chill for 24 hours. Quite the buzzkill to your spontaneous baking vibes, I know!

If that doesn't bother you, you'll need active dry yeast, white sugar, salt, eggs and milk, and from there, the recipe just picks up right where it would if you had started with a premade beignet mix. (See below.)

Personally? I'd recommend saving yourself the groceries and time and starting with the mix. But if you do want to go the distance, here are a few highly rated from-scratch recipes from Allrecipes, Tasty and Jo Cooks. (Whenever I Google search for a new recipe, I check out the stars and review comments before picking one that just feels right.)

I especially like the Jo Cooks recipe as it's got an option for baking your beignets in the oven versus frying them in oil, for a slightly healthier and less splattery version.


Want to see how it's done?
Check out how the experts at Café Beignet make their magic and get inspired to whip up a batch of these puffy and powdery pastries on your own!
2. How to make beignets with a mix
Okay, here's the good stuff you came here for. How to make beignets! (With zero shame in using the jumpstart approach of a box of mix from the professionals.)

Even though I grew up with Café Du Monde mix beignet, I've discovered a love for Café Beignet during my recent work trips to NOLA, so we're using their mix in this recipe.

Note: A one-pound box of Café Beignet mix will make about 24 two-inch square beignets. Download our recipe card or follow along below.


Ingredients:
2 cups of beignet mix from Café Beignet
7 ounces of water
3 tablespoons of flour (with a little extra on hand for your dough rolling surface)
Cooking oil
Sifted powdered sugar
Café Beignet mix can be purchased in several ways:

Via their online gift shop or in person at one of their four NOLA locations
At the infamous French Quarter market shop, Central Grocery, on Decatur
By calling or writing Café Beignet to place an order at (504)-524-5530 or at Café Beignet 334-B Royal Street New Orleans, LA 70130
Or, if you're staying with us at our New Orleans Resort, simply stop in to our Marketplace on the first floor and pick up a box or two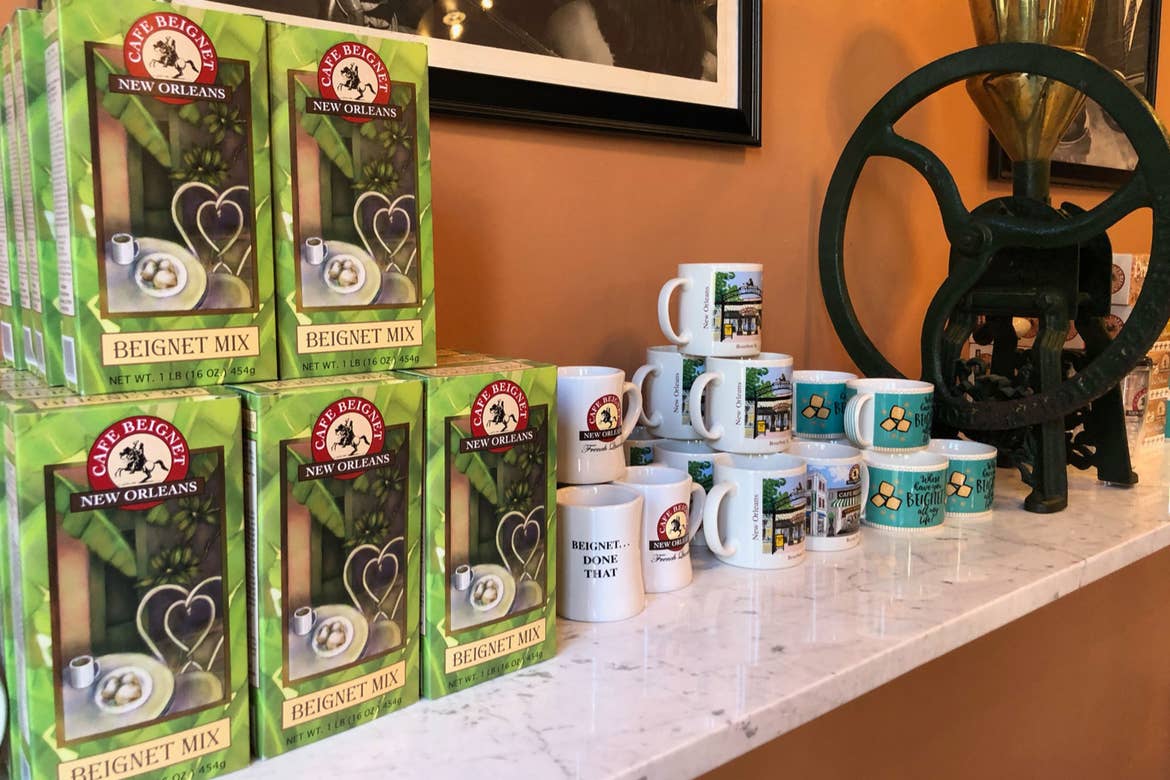 Beignet Mix and more at the Café Beignet Canal Street location


What you'll need:
A large bowl
A big spoon to stir with
A knife
A measuring cup
A tablespoon
Either an electric skillet or a deep, heavy-bottomed pot or pan with a cooking thermometer
Tongs or a metal pancake or doughnut flipper
A plate with paper towels (to set the beignets on when they come out of the oil)
Directions as provided by Café Beignet:
Add your water to the beignet mix in a large bowl.
Stir until the mixture is uniform and fairly stiff.
Add enough flour to prevent dough from sticking.
Let the dough rise for at least 15 minutes (this is important!).
Roll dough until it's 1/8" thick.
Cut the dough into 2 ¼" squares (these are your beignets!).
Using an electric skillet, add 2" of oil and heat until oil is 370 degrees.
(If you're using a heavy-bottom large pot or pan, be sure to use a cooking thermometer to reach and maintain 370 degrees, with enough oil to cover the bottom.)
CAREFULLY add beignets and fry until a light, golden brown.
Turn and repeat. Cooking time is usually just under 2 minutes per batch.
Carefully remove your beignets and drain oil or blot on a plate of paper towels.
Sprinkle on as much powdered sugar as you'd like while the beignets are still hot.
Serve right away! Beignets are best served fresh and hot immediately.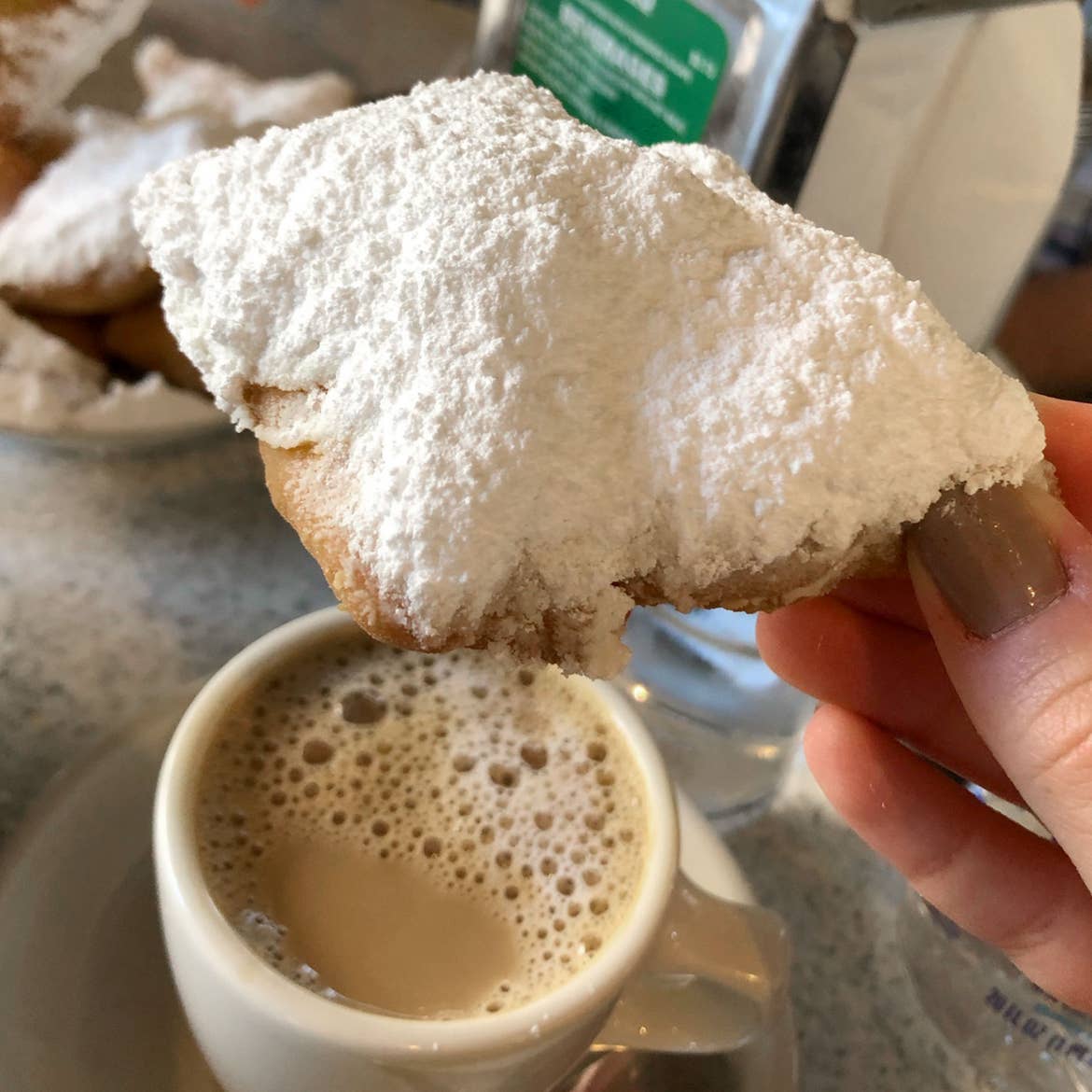 And … ENJOY!!! Preferably with a steaming hot cup of chicory coffee or café au lait.


Tips for Making Beignets
Here are some tried-and-true tips for beignet-making success:


A bunch of online recipes say: It's super important to keep your temperature consistent at 370 degrees F. That's why it's highly recommended to use a cooking thermometer with your pot/pan if you're not using an electric skillet, to ensure your oil temperature is maintained throughout your beignet frying.


Jennifer says: Be careful! These are truly easy and fun to make, but hot oil means you need to be mindful to not splatter or have young children involved in the frying part of this recipe. Make sure you gently add your little puffs of dough to the oil versus plopping or throwing them in and keep an eye on that oil the entire time, especially if baking as a family with young kiddos.


Donna Shay, general manager of Café Beignet, says: "I always use our mix so the only tip I will leave you with otherwise is to be sure to let the dough rest before rolling out and frying."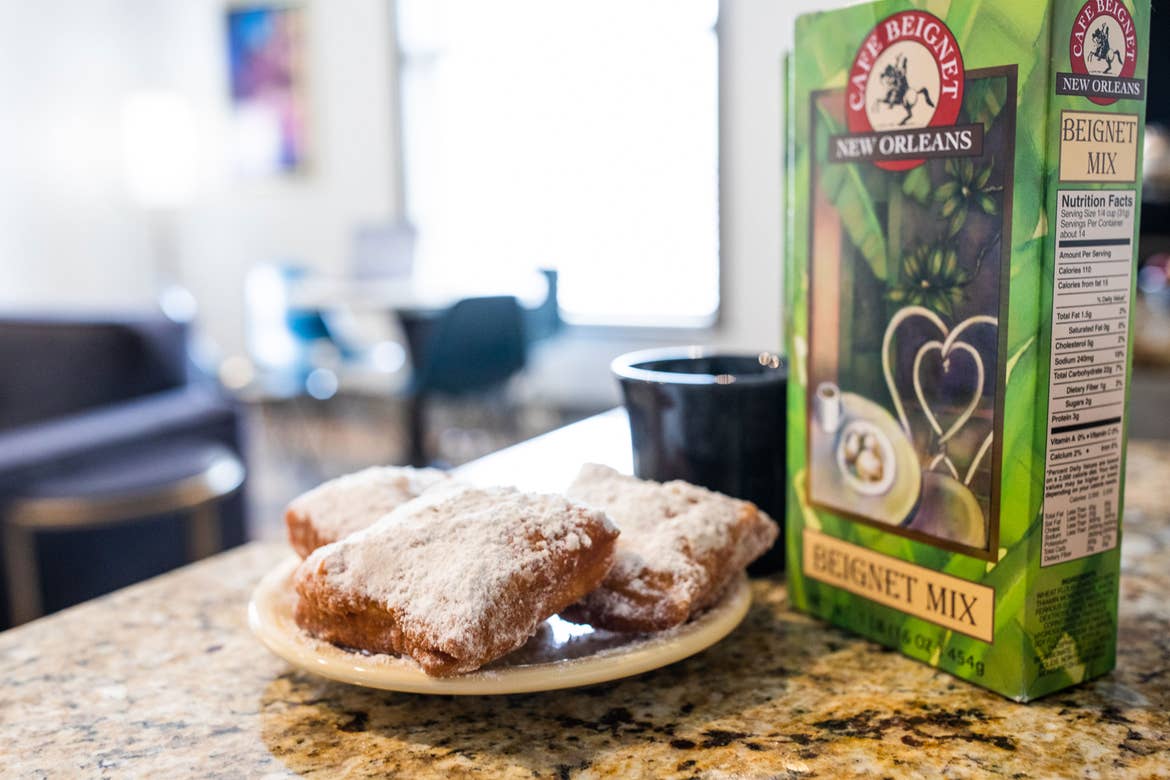 Café Du Monde's tips page says:

"Do not overmix the dough. You will have tough beignets if you overmix the dough."
"Be sure to use plenty of flour."
"Don't add too many pieces at once to the oil or else the oil temperature will drop, and your beignets will fry up flat. They will not puff up."



Jennifer's mom says: "I've always used the recipe on the back of the Café Du Monde box. My only other tip would be to use a wire pastry flipper if you've got one. I still use my mom's old wire doughnut flipper, but I don't think they even make those anymore! If not, try tongs."


Jennifer says: Pick a day when you've got plenty of time to cook, enjoy and then … clean up. Beignet making can be a messy affair. And make sure to dispose of your hot oil properly. Don't ever, ever pour it down the drain or pour it into your trash while it's hot. (It'll melt your bag and maybe even your bin.) Instead, let it cool down in a safe space, store it in a container, seal it up really good and get rid of it with the rest of your kitchen garbage.
Pro Tip: If you want to serve your beignets up like a legit NOLA local, plate them in sets of three. It's a New Orleans historical tradition! Donna, general manager of Café Beignet, shared: "It's historically a predominantly Catholic city. So everything's done in threes here because of the deep Catholic and NOLA culture. We only sell beignet orders in sets of threes because it's a reflection of the Holy Trinity. Other locals consider the 'cooking Holy Trinity' here to be onion, celery and bell peppers. It's a whole threes thing here."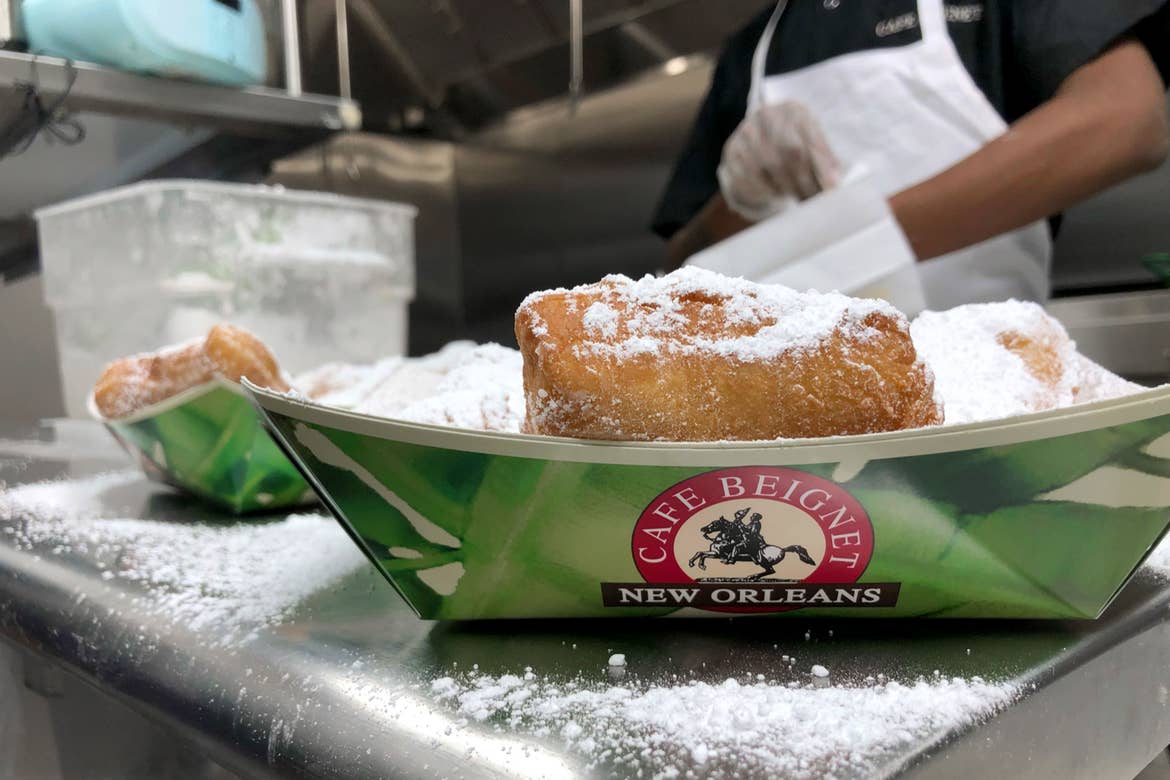 3. Beignet cafés in New Orleans
Not into cooking or up for a morning mess? Just stroll through NOLA to get a sweet batch of beignets from the experts!


Café du Monde
I was in my 30s the first time I visited the Big Easy on a couples' trip, and I insisted that the VERY first thing we did was to try a beignet. And since my mom and every tourist book, website and guide said to go to Café Du Monde, that's exactly what we did.

Digging into a big plate of fresh, hot beignets and café au laits (strong chicory coffee with lots of steamed milk) at their French Quarter location was the perfect kick-off to our first day of sightseeing.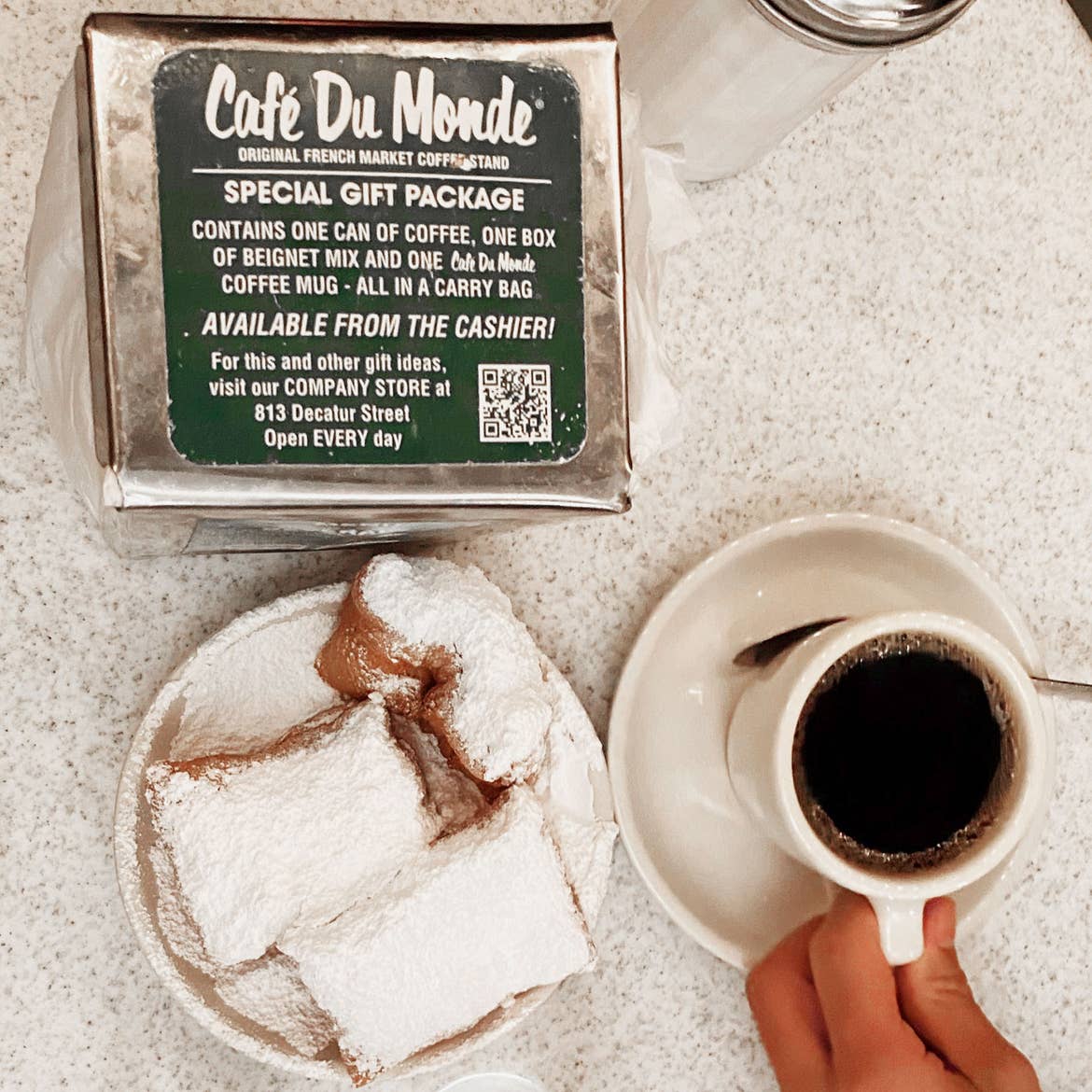 Café Beignet
My favorite place to get a beignet in New Orleans now that I've been a few times? Café Beignet. They've got four locations at Canal Street, Bourbon Street, Royal Street and on Decatur. Each is charming, staffed with friendly faces, and the beignets are oh-my-gosssssshhhhh-so-so-so good.

Their cafés have got a bit less of that crowded, touristy vibe while being no less legit when it comes to their pastries. I won't even say they're a hidden gem as it's no secret that they are truly one of the best beignet cafés in the city. They know how to make a mean beignet.

And bonus: That Canal Street location? Not only is it their newest café, but that location is a just a quick 5-minute walk from our very own New Orleans Resort. Winning!



The Café Beignet Canal Street location is located at 622 Canal Street and is open Thursdays – Mondays from 8am – 3pm.

And there you have it! If you've got a sweet tooth, welcome to your new favorite treat. If you're craving some legit local cuisine in New Orleans, a beignet tops the list. And if you love baking or cooking in your villa kitchen or at home, print out the recipe card and say "Bon Appetite" when your pillowy little squares of sugar are completed.

We'd love to see what you've cooked up. Share your beignet creations or New Orleans Resort travel adventures with us by tagging @hiclubvcations on Instagram with the hashtag #TakeMeToNola. (Just make sure your profile is set to public so we can see your culinary creations!)


All information is subject to change. This article is a curated guide and is neither sponsored nor considered an official endorsement. Please be sure to check information directly with any/all tours, guides or companies for the most up-to-date and direct details.

At of the time of this story's publication:
New Orleans Safe Reopening Phase 2 is allowing restaurants, museums, zoos, retail stores and aquariums to be open at 50% capacity. Alcoholic beverage sales are allowed to be served with food sales at restaurants and via to-go service at restaurants, bars and event venues. Social distancing and masks are required in public throughout Louisiana and the City of New Orleans.