Jennifer C. Harmon
Jenn is the Editor-in-Chief of the Checking In travel blog. She loves coffee, wine, writing, traveling, working with all of our amazing guest bloggers, and getting to tell our guests', owners' and team members' vacation stories. Jenn and her husband, Anthony, have mastered the art of the long weekend couples' getaway (sans kids). And while it's too hard to pick just one type of "favorite vacation," her three-way tie would be: a snowboarding trip, going to Hawaii or sailing with Disney Cruise Line.
Did you hear our big, Big Easy news? We recently opened the doors to our newest resort in New Orleans, which just so happens to be our very first city destination. We couldn't be more excited to welcome our Club members and guests to our new "home" in NOLA.

Other things we're excited about? There's so much to look forward to between our beautiful, historic building itself to the vibrant, colorful city surrounding it. This little list is just the tip of the iceberg when it comes to the many things to do in New Orleans that we're really looking forward to, so let's let the good times roll and get right into it!


At Our New New Orleans Resort
1. Location, location, location
We're the new kid on the block … and just one block away from Bourbon Street and all the historic charm of the French Quarter. When you step out of our lobby doors, you'll find yourself right on Carondelet Street's streetcar line in the heart of downtown New Orleans.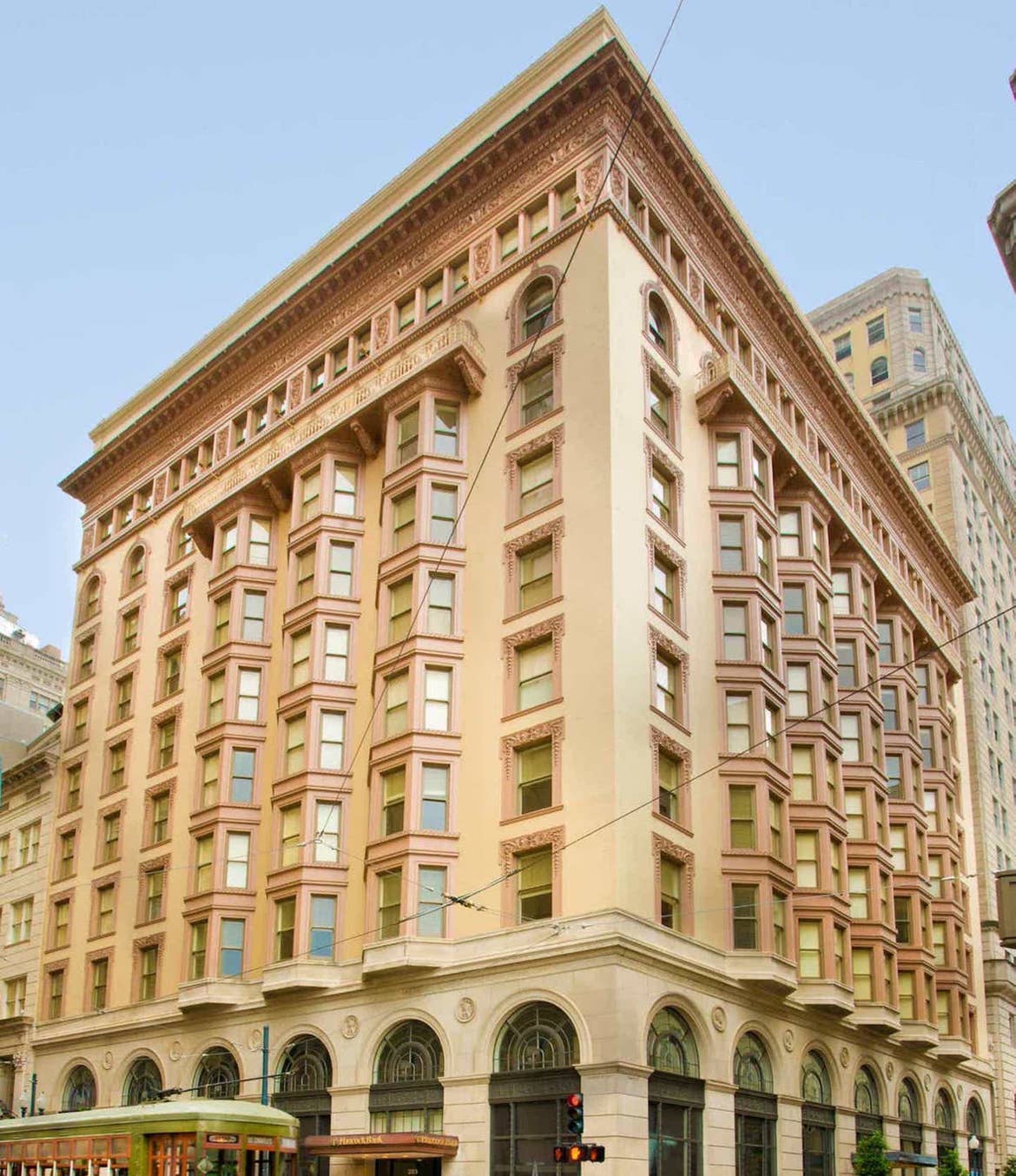 Like walking? Take a quick 15-minute (ish) stroll from our doorstep over to Jackson Square. Look one way to see the quintessential St. Louis Cathedral. Turn around and you're right across from the riverfront with the perfect view of steamboats passing by.

If you'd prefer to be whisked away versus walking, it's just a quick (and fun) streetcar ride over to the Garden District where you'll find restaurants, shops, walking tours, and historic cemeteries and mansions.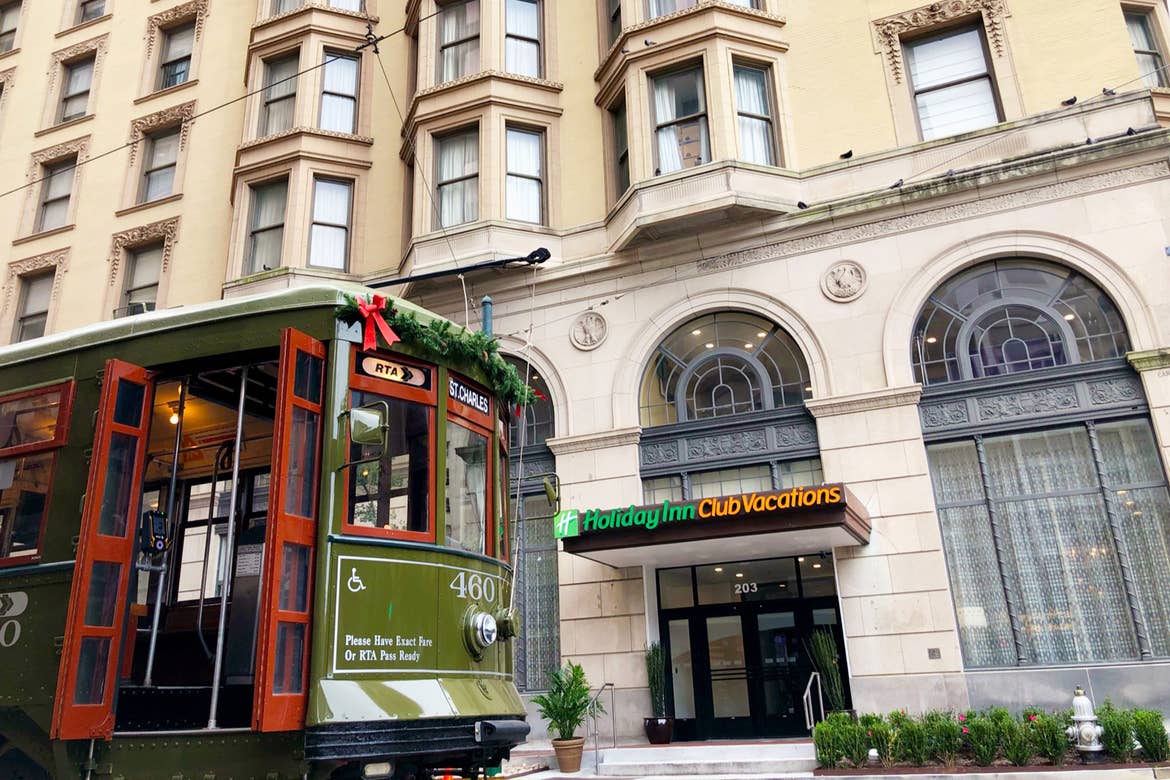 (By the way, New Orleans celebrities include Sandra Bullock, John Goodman, Eli and Peyton Manning, Harry Connick Jr., Emeril LaGasse, the NOLA-born-and-raised Southern Belle Reese Witherspoon and more. You can see many of their houses on a Garden District walking tour!)

And of course, there's Bourbon Street. A hop, skip and jump or two will get you right over to bars, oyster cafes and music.


2. Being a historic landmark in the Crescent City
When you arrive at our building, take a look to the right of our main lobby doors and you'll find a very legit, copper National Register of Historic Places sign. That's because our newest resort, which has 11 floors, was built in 1893 and was the city's very first skyscraper.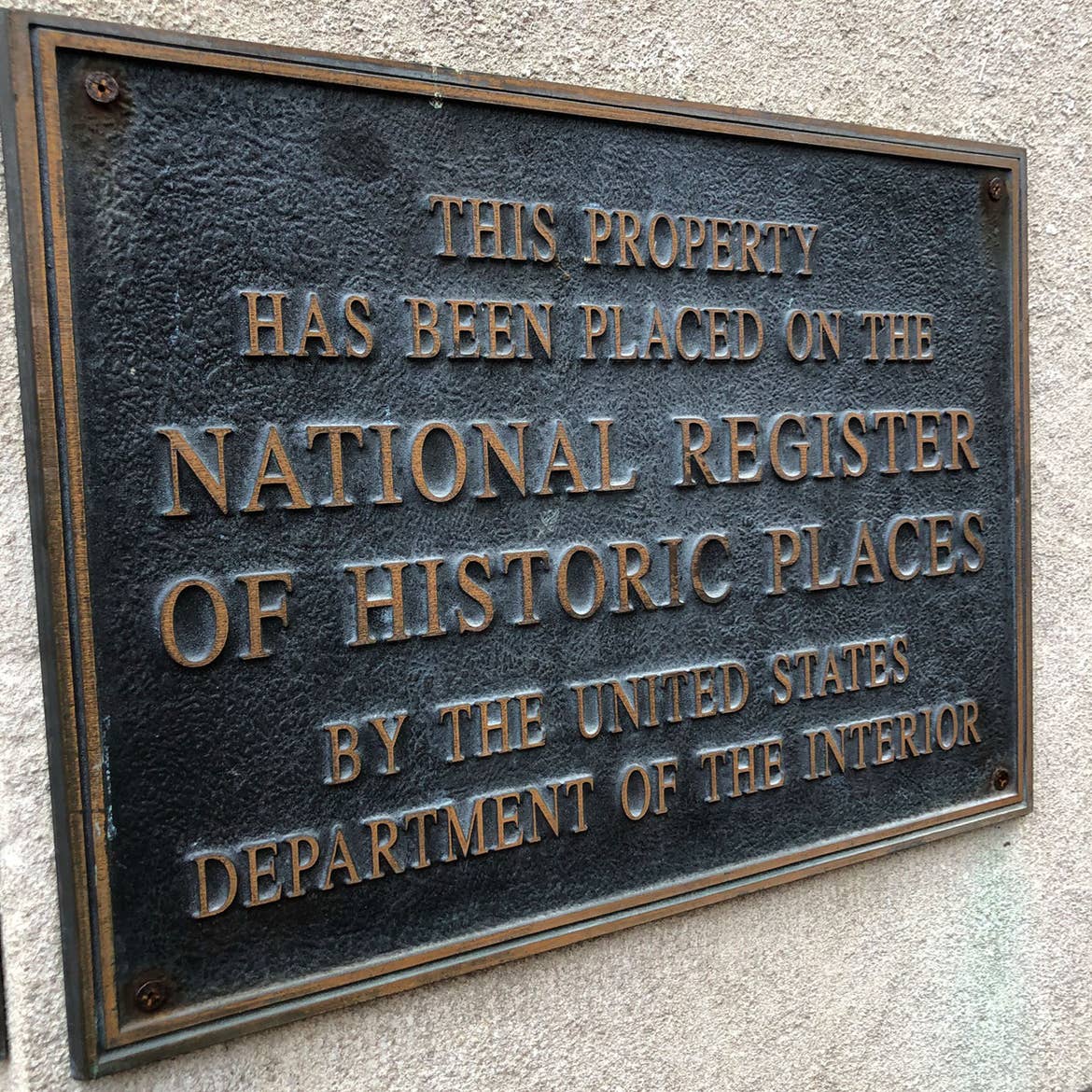 Stone rosettes and leaves. Original glass. An urban façade. Authentically NOLA cast concrete accents. Intricate details across every inch. While the inside of the building is completely new and renovated with modern allure … the exterior? I'm super proud to know that we're a literal part of the rich history of New Orleans itself.


3. Newly renovated villas
Again, even though the exterior and building itself are historic, the inside is all new. Each of our 105 villas is modern, with all the comforts of home. I don't know about you, but I've stayed in New Orleans hotels before and they're typically dark and cramped.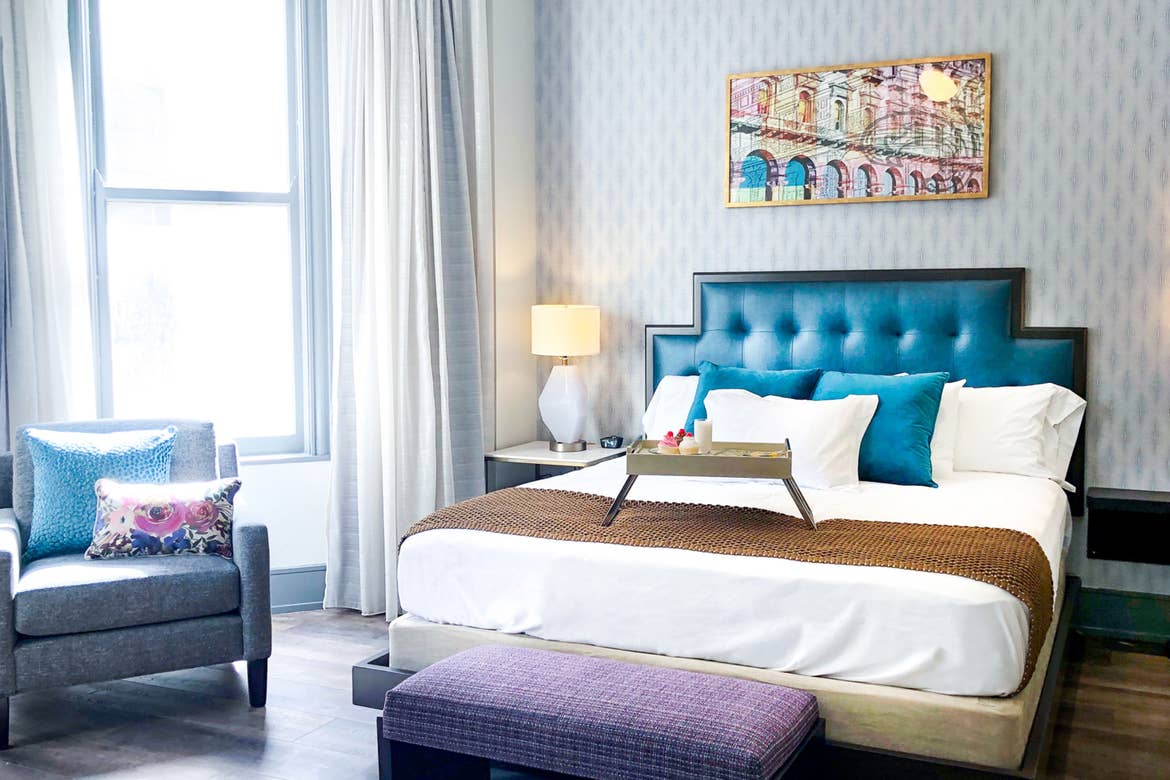 A New Orleans Resort Signature Collection villa

Between various one- and two-bedroom villa layouts, there are a lot of options for your travel party size. My husband and I are looking forward to staying in a one-bedroom, and we're super excited to share that The Butan Clan will be ringing in New Year's Eve at our resort in a larger two-bedroom villa that's fit to sleep their family of five.

These villas have got so much room to spread out, too. Full kitchens to cook up a family meal or store your delicious leftovers. Lots of living room and dining space for quality time together and separate bedroom spaces to retreat to and relax in. Enough bathroom space to really spread out and get everyone ready for their days (and bedtimes).

And it's all really light, bright and the interior design is decorated in ways that are colorful, without feeling too crazy. Like, you'll know you're in New Orleans without feeling like you're in the middle of a Mardi Gras float. See what I mean?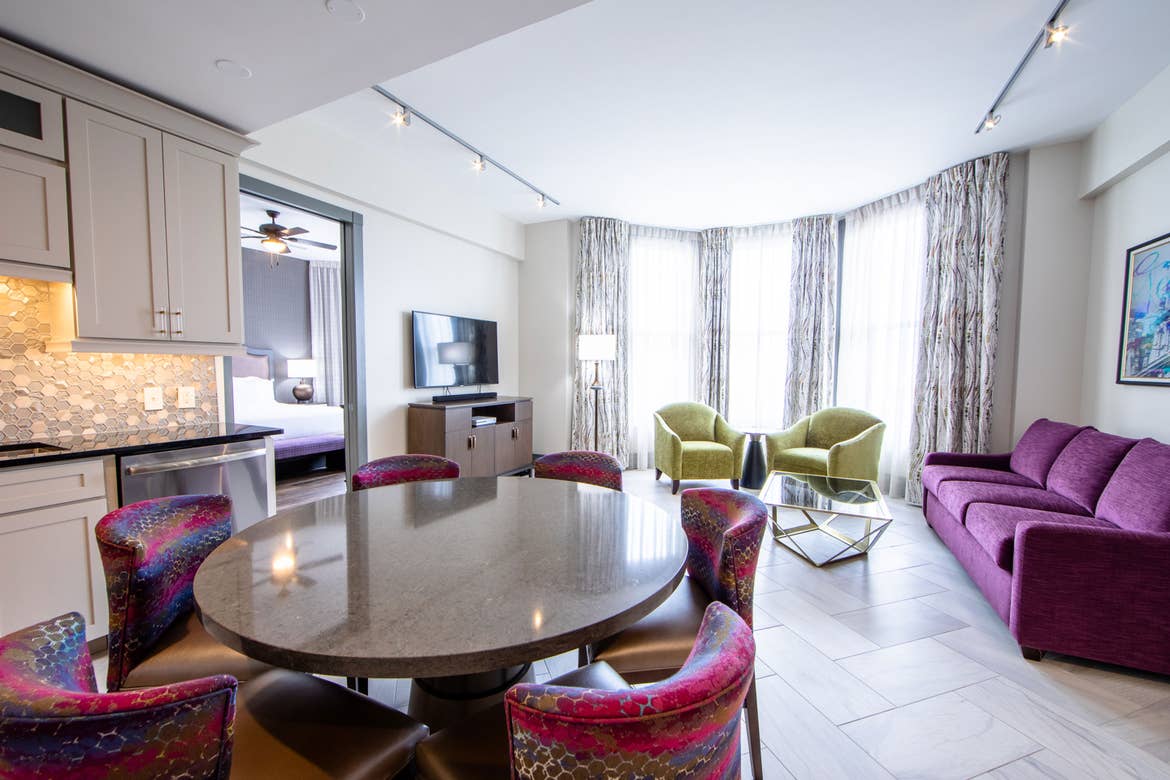 A New Orleans Resort Signature Collection villa


4. Luxurious NOLA Signature Collection villas
Okay, okay I know—more villas. But this one really deserves its own "thing" because the Signature Collection villas at New Orleans Resort are truly a parade-stopper.

If you're not familiar with our Signature Collection villas, they're like our regular villas but next level beautiful—fancier fixtures and finishes, luxurious details and even more space to spread out. We've got them in our Cape Canaveral, Galveston, Gatlinburg, Marco Island, Myrtle Beach, Orlando, Scottsdale, Vegas and Williamsburg resort destinations.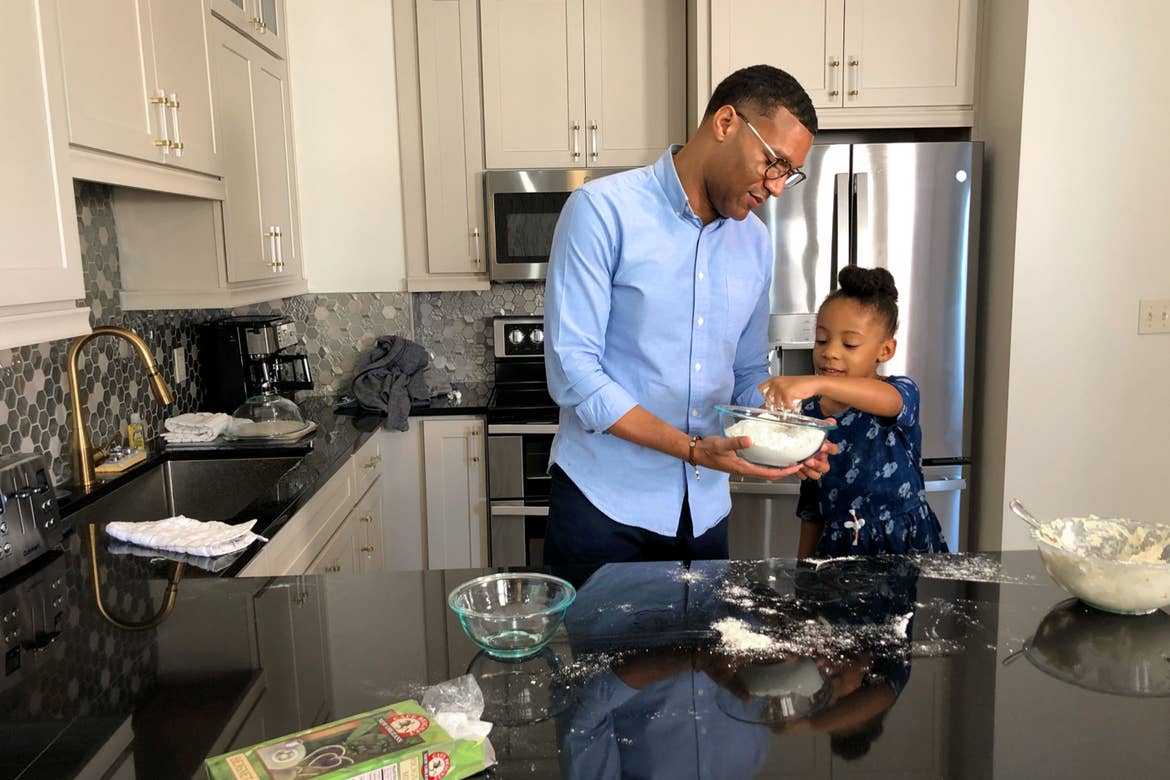 A New Orleans Resort Signature Collection villa

But what really sets them apart in NOLA are the city views and the close-to-everything city location itself. Want to feel like a celebrity? Book one of these bad boys.


5. That stunning lobby mural
The first time I saw our lobby mural come to life, it took my breath away. What looks like a black and white display is actually a fully immersive projection mural.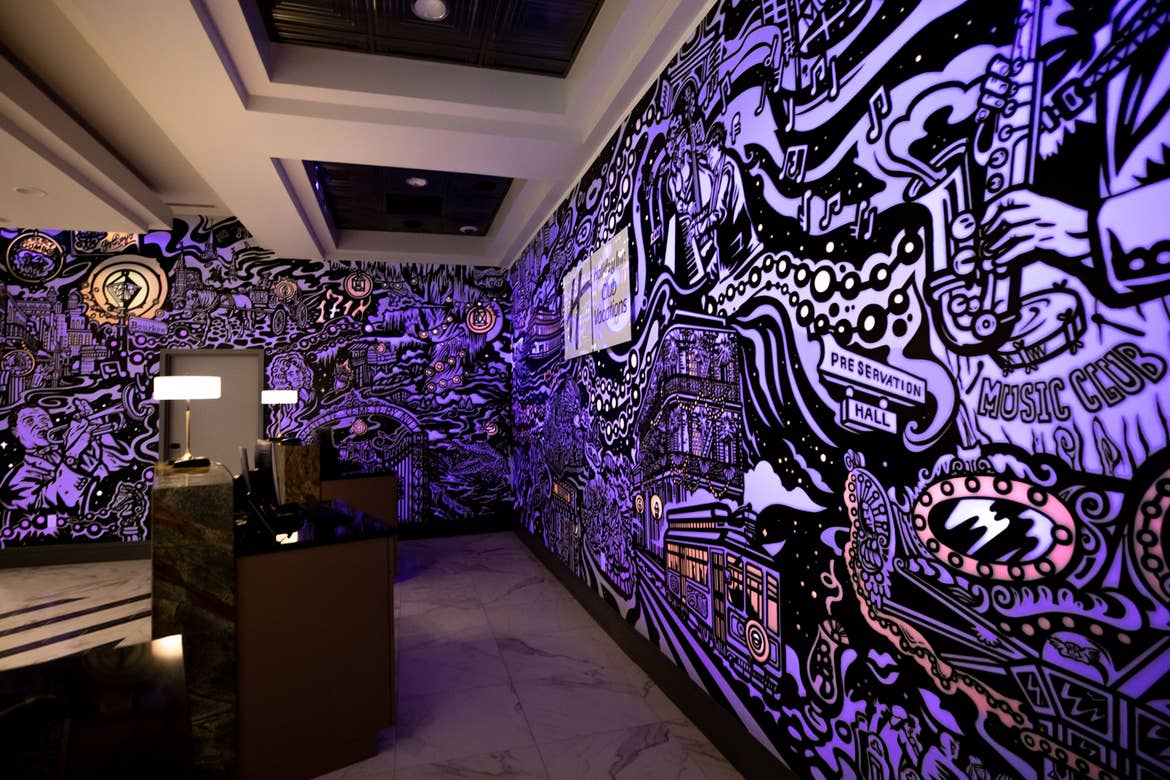 That means that throughout the day (and night), it'll project colorful animations—sequenced with jazzy music—across the mural. It'll bring vibrant movement and motion to the NOLA scenes on the wall, which include a Canal Street streetcar, Mardi Gras floats, an alligator in the bayou, Louie Armstrong on his trumpet, Musical Legends Park and more.

You can enjoy this little "show" when you check-in or as you stroll through the lobby after a fun day of exploring. You really have to see it in person to truly know what I mean, so come on over 😉.


6. Other oh-so-convenient resort amenities
Speaking of the lobby … as you're checking in or wandering around on your first night, you might have that oh (insert bad word here) moment when you realize you forgot your toothbrush. I get it. I forget to pack something on every. single. trip. And I travel a lot.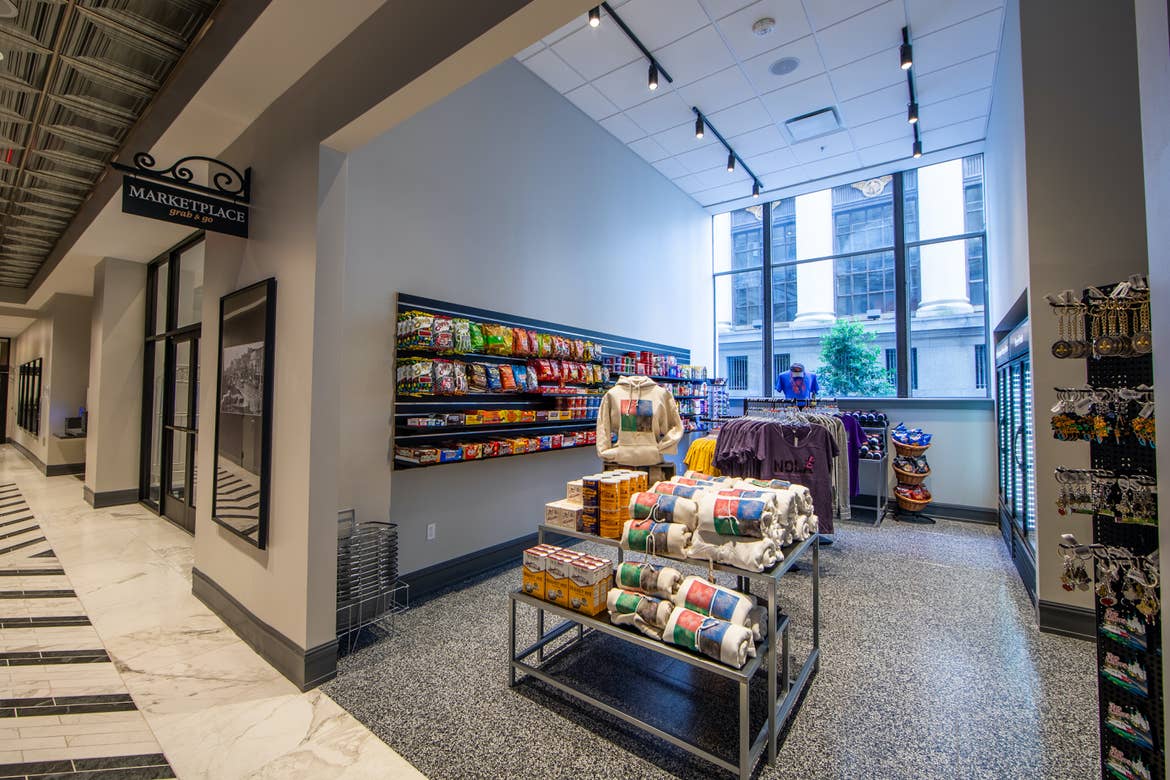 If you do this too, you'll be happy to know we'll have a Marketplace in our lobby, which includes lots of helpful stuff like toothpaste, toiletries and light grocery offerings, and also fun things like t-shirts, souvenirs and Tervis® Tumblers.

Now I know New Orleans is world-renowned for its rich food and flavorful treats, like gumbo, etouffee, beignets and lots and lots of butter. So should you start to feel lethargic and wondering how to exercise on your vacation, zip up to the 11th floor and squeeze a workout in at our fitness center between all your treats and snacks.


7. A rooftop dipping pool & terrace
Does vacation = swimming pool to you (or your kids)? We've got a small dipping pool up on the roof. Yes, a pool. Up on the roof. It's even heated. Swimming at the top of a NOLA skyscraper feels like a pretty cool 2021 vacation bucket list item if I've ever heard one…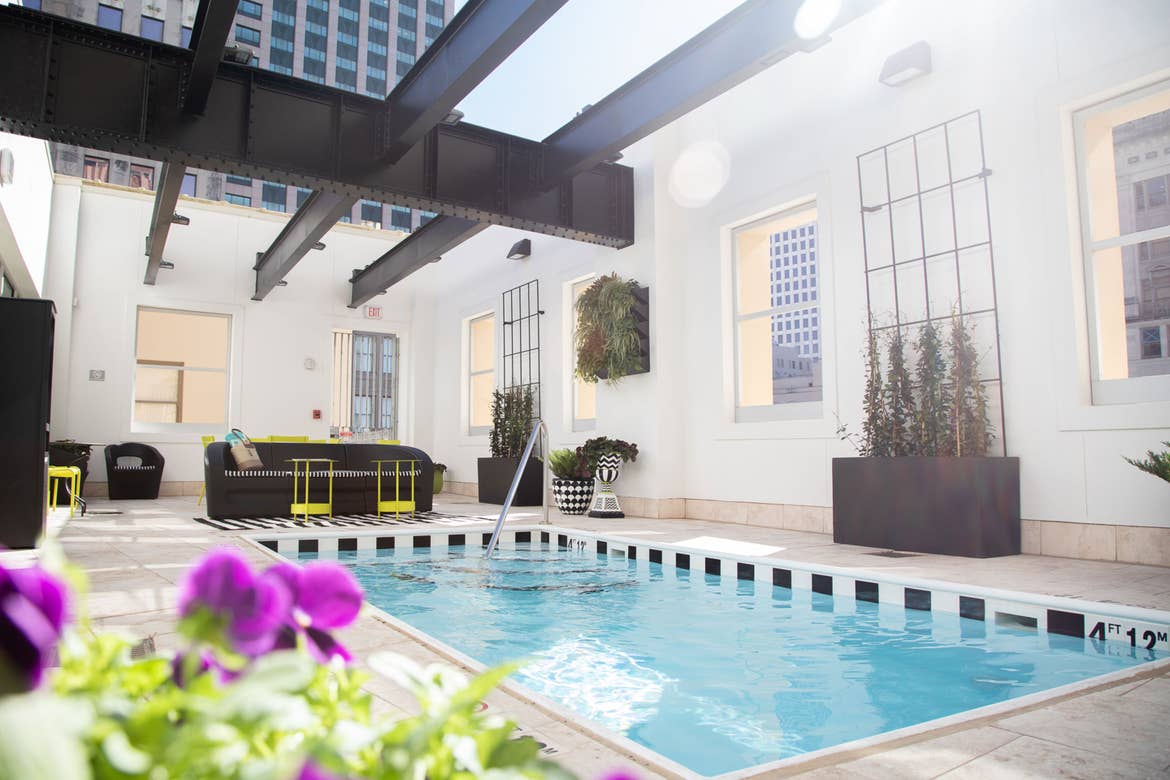 Want to catch a beautiful New Orleans sunset from 11 stories high? Head to our rooftop terrace and watch that Louisiana sun sink below the riverfront and skyline.


8. Those views though
This one deserves its own "number," too. The views from our resort are epic.

Depending on where in the resort you are, you may spot the Roosevelt Hotel, home of the official NOLA cocktail, the Sazerac. Take a look to your right, and you'll see those classic steamboats I mentioned out as little dots on the river.

And if you're staying with us for a little holiday vacation at Christmastime, you can see the holiday lights and Christmas trees of nearby hotels and shops lighting up the night sky with merry brightness.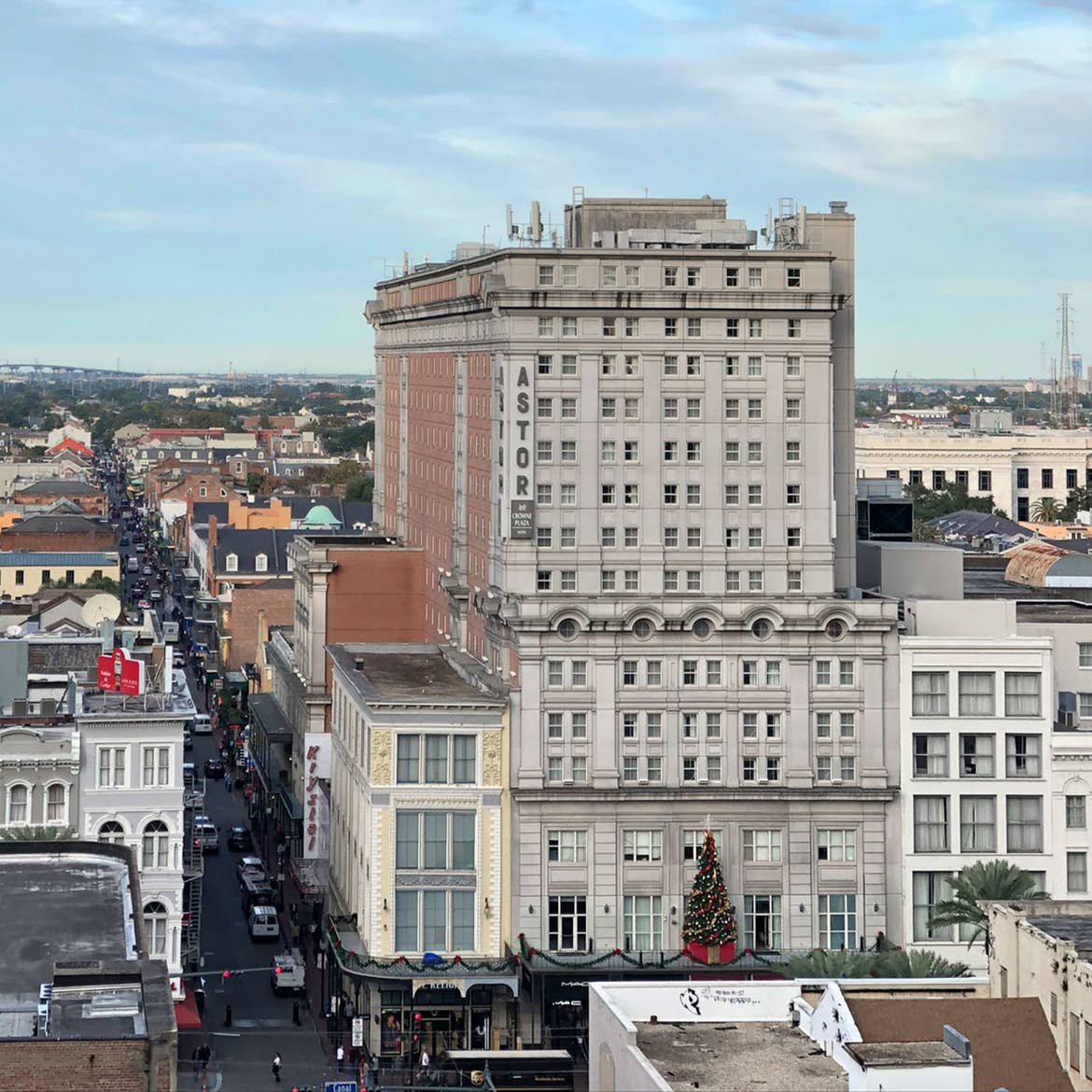 My personal favorite? Look through that original, historic glass out to the skyline of the city and see Bourbon Street's neon lights burst with color as the sun sets.


9. The Maritime Bar & Lounge
About that Sazerac? It's actually considered to be America's (and even the world's) first mixed cocktail. But you don't even have to leave the resort to give this whiskey-and-bitters drink a try. Just head to our lobby and you'll find the Maritime Bar & Lounge.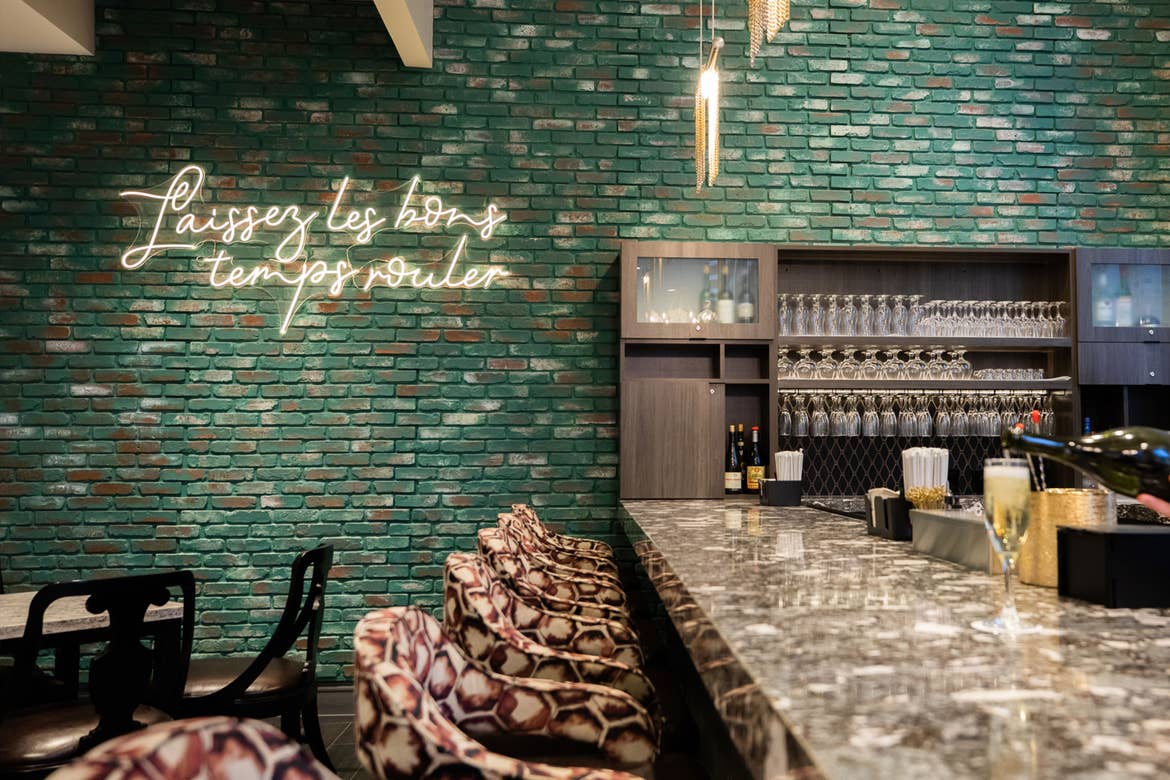 Editor's Note: The Maritime Bar is not open yet, but is expected to be serving up drinks in 2021.

It's called the Maritime Bar & Lounge because that was the original name of our building and, again, we absolutely love the whole historic thing we've got going on at our first urban destination.

So sit back, relax, order your favorite drink or try a new one. Whether it's a nightcap or your first drink of many for a fun night out on the town, it's definitely going to be a cool, fun spot to grab a signature New Orleans spirit.


10. Our new resort team family
Our resort team out in New Orleans is led by our general manager, Mike Larose. He was born and raised in NOLA and knows, well, pretty much everything about it, just like many of our super knowledgable team members at New Orleans Resort. When I first met Mike, my very first question was, "Where should I go to eat?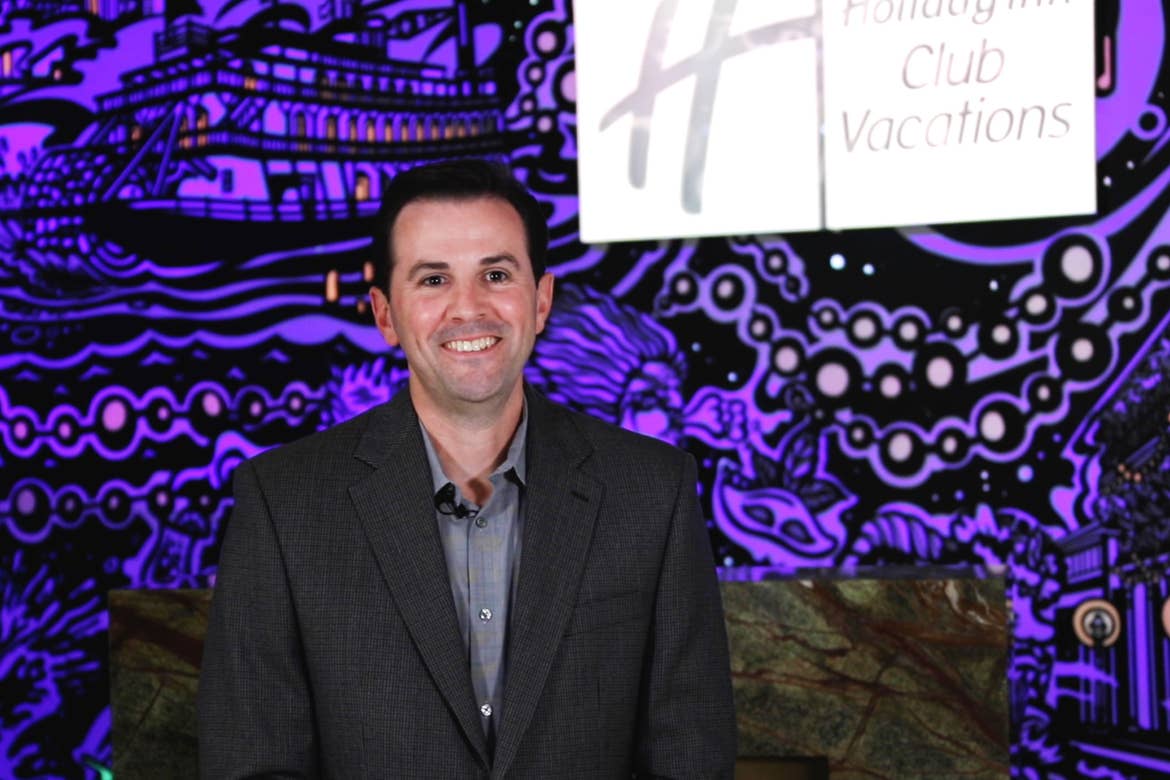 Mike Larose, General Manager of our new New Orleans Resort

Mike rattled off a ton of places to check out and none of them disappointed. (I loved the turtle soup and fresh-baked bread at nearby Mr. B's especially.) His favorite? GW Fins for seafood.

Mike and the resort team are ready to welcome you and your family and help you with whatever you might need during your stay. (That includes implementing our thorough Safe Travels program that we've got in place at all of our resorts to make sure you—and our team—are all staying as safe and healthy as possible.)

As for the "fun" part of your stay, our team is also chockful of local expertise, tips and advice on how best to see—and eat your way around—their hometown.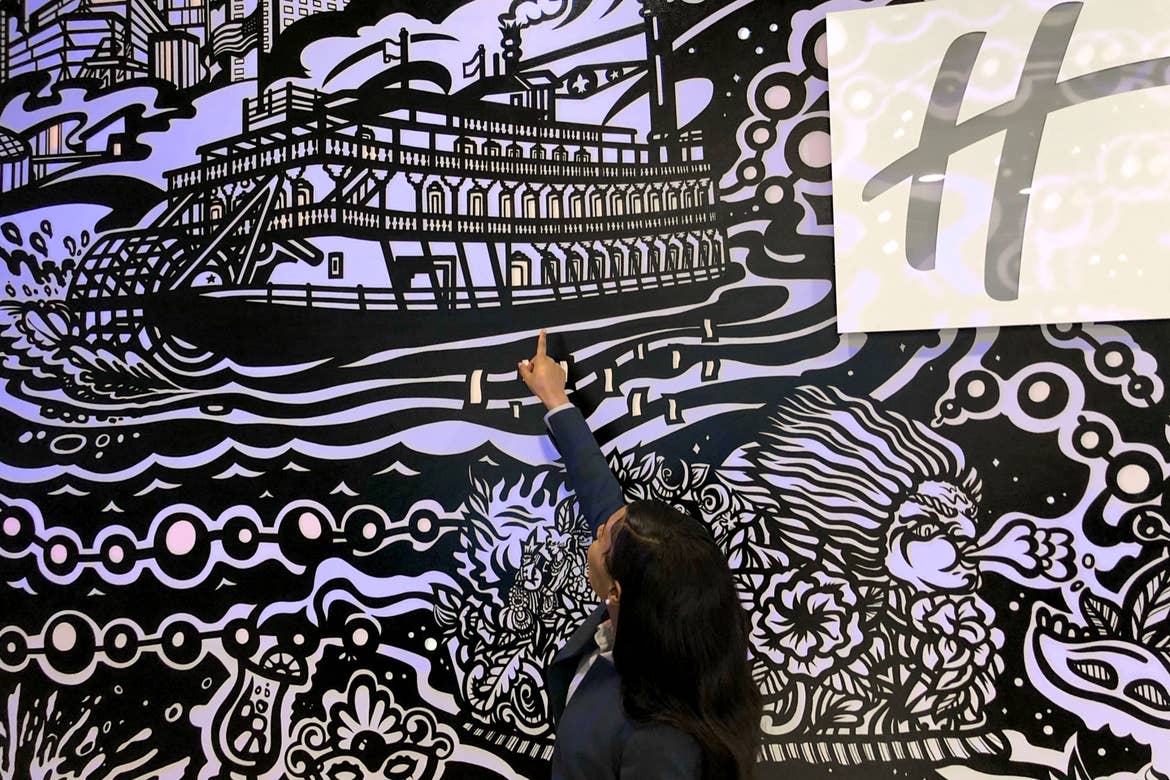 Alexis, a front desk team member, pointing out her favorite part of the amazing lobby mural


Things to Do in New Orleans
Speaking of seeing the town … there are many things to do in New Orleans, even with the "new normal" safety measures and phases that come with traveling during COVID-19 these days. Just be sure to double-check your plans "before you go" as reopenings and capacities continue to evolve and change.
11. Beignets & café au lait
The very first thing I did on my very first trip to NOLA was try a beignet with a café au lait. And then when I went a second time for a work visit to check out our new resort, I made our whole team do the same.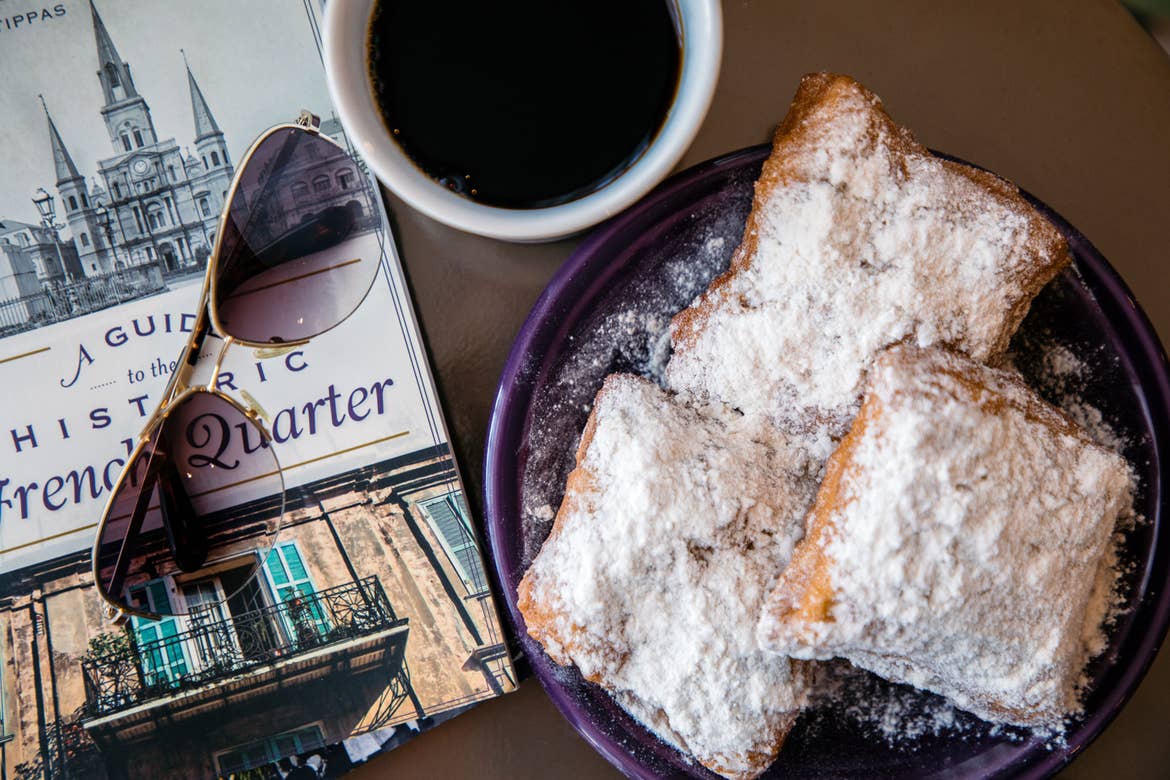 If you're not familiar, a beignet is a New Orleans pastry made of warm dough and topped with layers and layers of white powdered sugar.

I don't have a big sweet tooth, but a fresh, warm beignet is pretty much the best baked good experience I've ever had. And the NOLA coffee is very strong chicory topped heavily with steamed milk to make it an "au lait."

You can learn how to make beignets on your own, or you can find them at a number of places in the Big Easy. Two of the most popular cafes to give them a try are Café Beignet and Café Du Monde.

Both are incredibly close to our New Orleans Resort at the brand-new Café Beignet Canal Street location and Cafe Du Monde French Market, along with additional locations sprinkled throughout the city.

So feel free to wake up, roll out of bed and walk over to grab this super sweet breakfast to start your day. (It took me just 5 minutes to walk to the Café Beignet on Canal from our resort lobby.)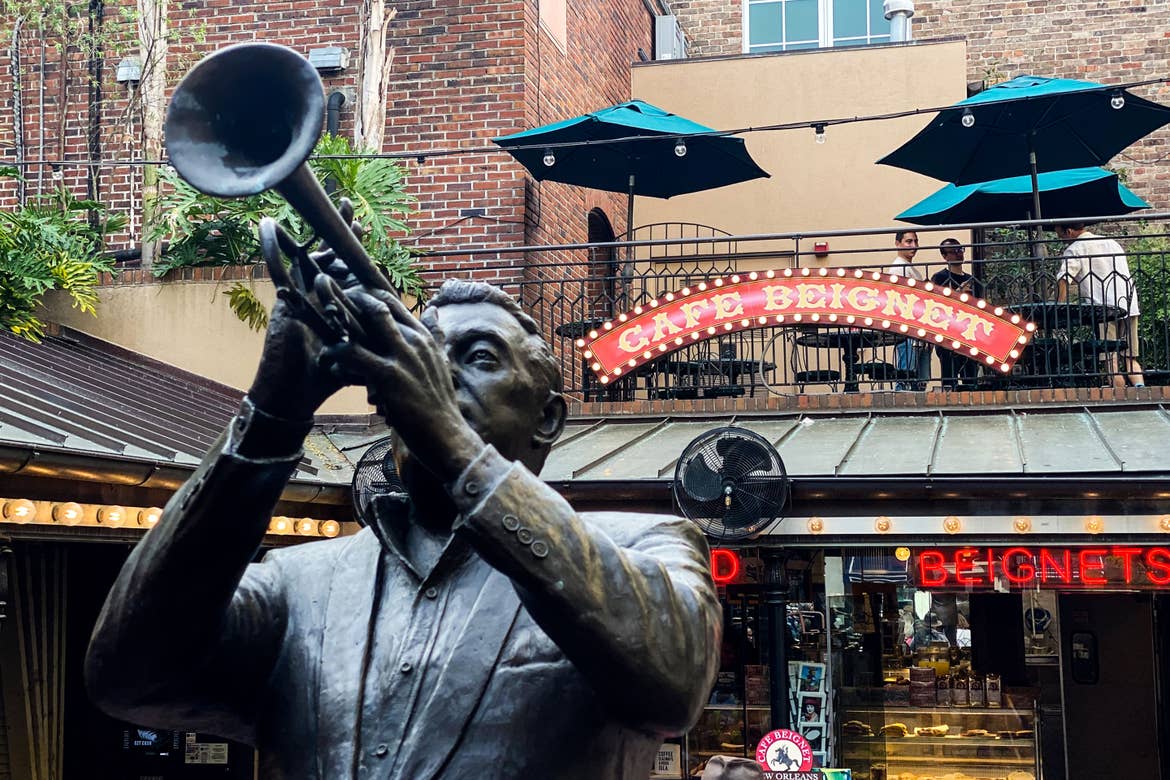 12. Rich history & tours
There are a ton of cool walking tours to see the history and culture of the Crescent City. You won't find a lack of topics and styles, including ghost tours in the French Quarter and walking tours through the Garden District, St. Louis Cemetery No. 1 and more.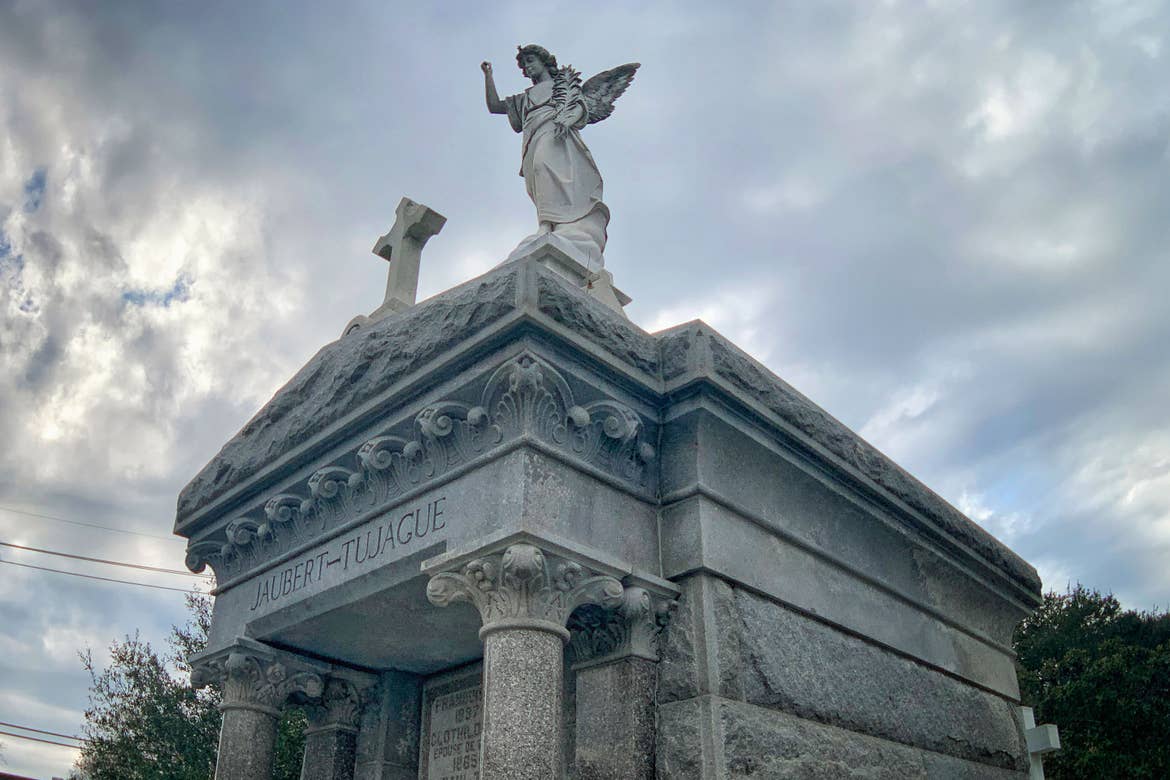 St. Louis Cemetery No. 1

Especially these days with traveling during COVID-19, you can really take advantage of self-guided options, too. Free Tours by Foot and GPS My City offer downloadable walking tours, and you'll typically find paper maps to walk yourself through the popular New Orleans cemeteries. (Just look up every once in a while, to avoid walking into a stone monument. Yes, I did that…)


13. Take a classic steamboat ride
Just a 10-or-so minute walk from our resort, you'll find New Orleans offers four classic riverboats and steamboats available for daily cruises up and down the Mississippi River: Steamboat Natchez, Riverboat City of New Orleans, Paddlewheeler Creole Queen and Riverboat Louis Armstrong. (The Riverboat Louis Armstrong is not currently running though.)

Each offers a little something different, so check out their websites or ask our resort team for recommendations.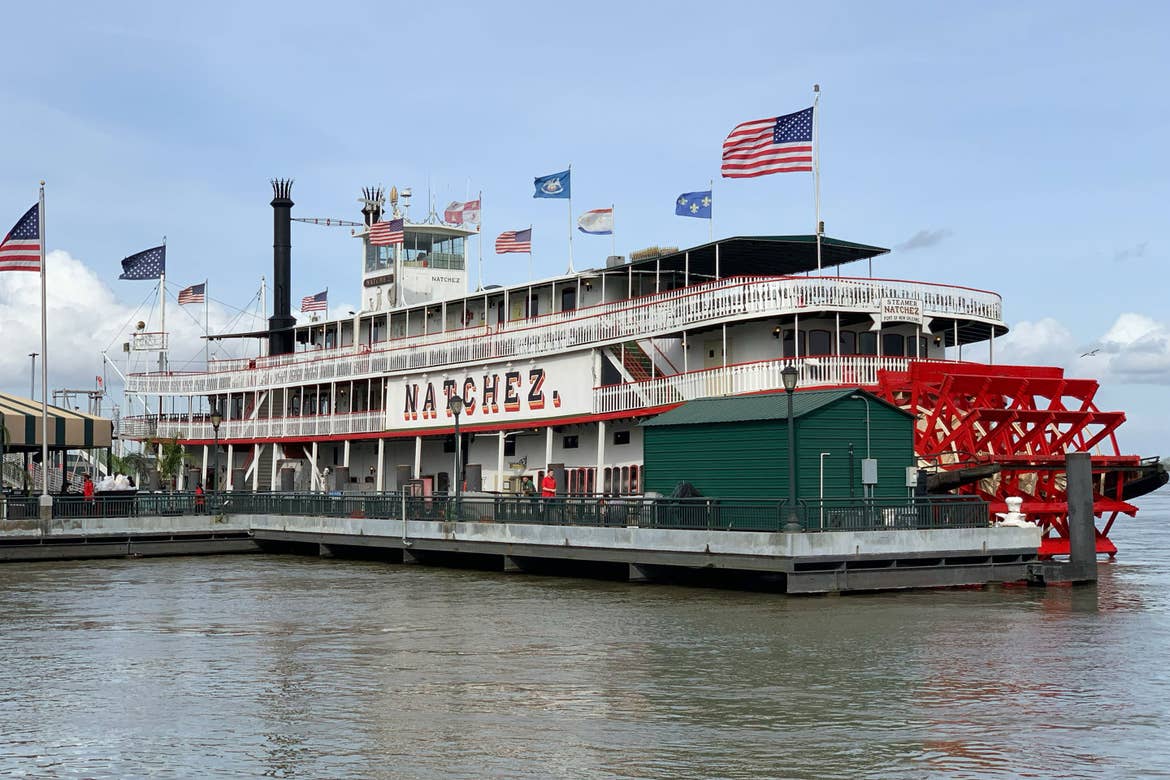 14. Jackson Square & St. Louis Cathedral
I've mentioned this a few times already, but here's what you'll actually find and see here: the St. Louis Cathedral (a beautiful and historic landmark in New Orleans), The Presbytere and Cabildo (Louisiana State Museums), and the Pontalba Apartments, which are the oldest apartment buildings in the country, that feature shops, galleries and restaurants.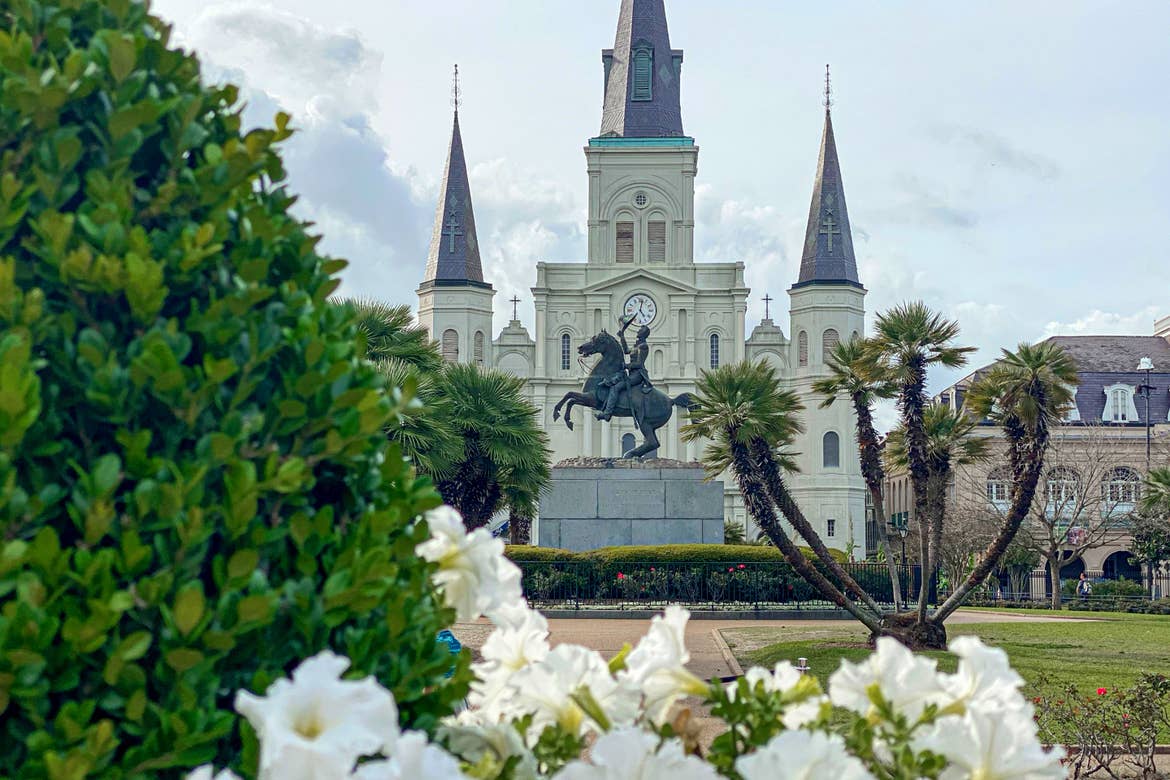 Plus, there are typically old-fashioned horse carriage ride operators at Jackson Square, which offer a really cool way to see the surrounding French Quarter area.


15. More about those museums
There are lots of learning opportunities and interesting museums in New Orleans. (If you're doing virtual school or homeschooling this year, this is a really great place to take schoolwork on the road.)

The most popular, number one ranked museum of the city is The National World War II Museum with exhibits that highlight global history in intimate ways.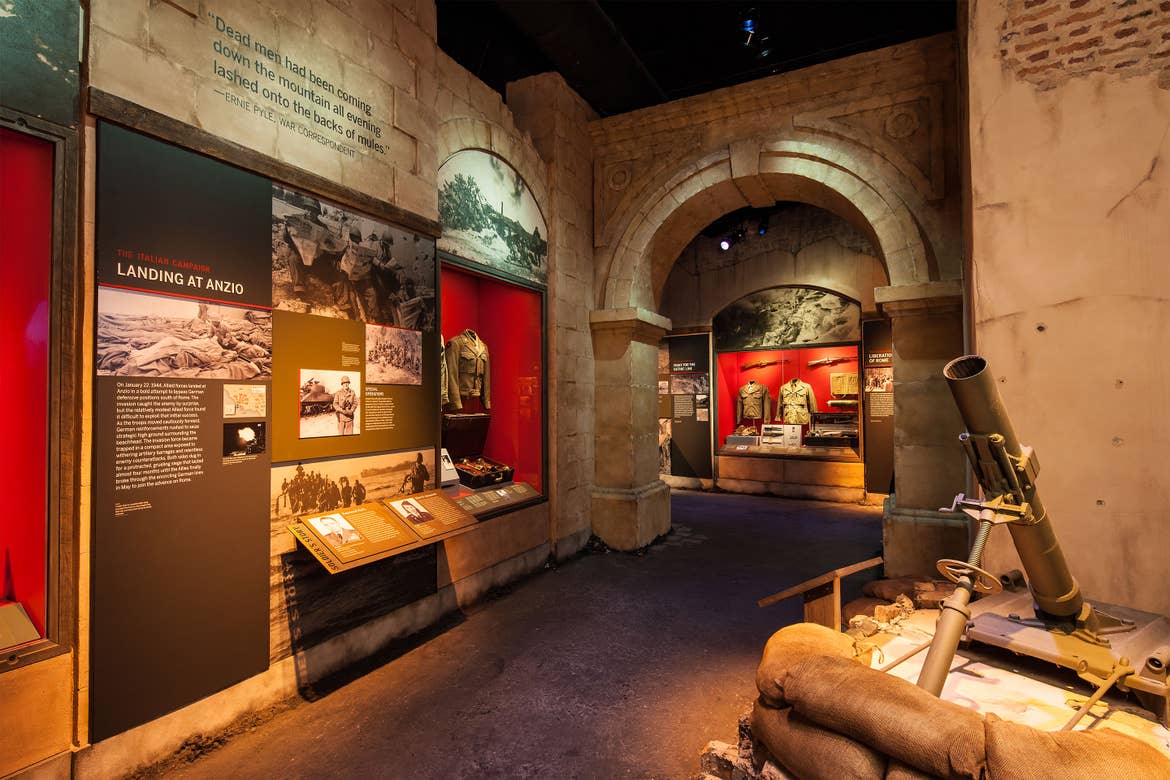 Photo courtesy of The National WWII Museum

You could also easily spend several hours checking out the colorful and cultural art pieces at New Orleans Museum of Art. And pro tip: Not many people know about this hidden gem, but nearby our resort, The French Quarter Museum Association offers a cool overview of cultural attractions.

Even though the Mardi Gras parade is canceled for 2021, there are still many Mardi Gras celebrations to be had this year. Year-round, you can actually visit Mardi Gras World which is a museum filled with floats, parade memorabilia, masks, beads and more. It's a must-see for sure.

A few other popular museum options include The Historic New Orleans Collection, Southern Food & Beverage Museum, Herman-Grima House and the New Orleans Historic Voodoo Museum (ooooohhhhh).


16. FOOD!
Even if you did NOTHING else, eating "all the things" in New Orleans is one of the main draws to this destination. NOLA is known for spicy, Cajun dishes and rich, buttery meals, including gumbo, etouffee, turtle soup, oysters, po-boys, crawfish, jambalaya, and yes, those sweet, pillowy beignets.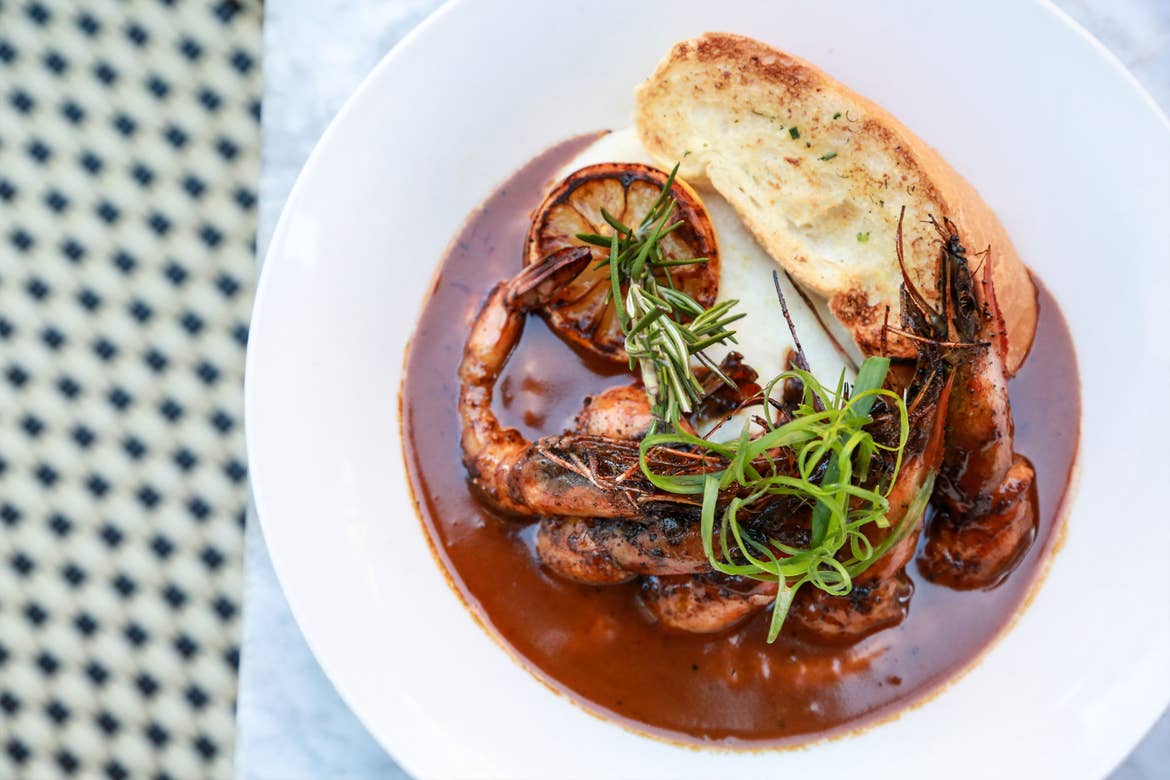 Photo courtesy of Tableau, taken by Randy Schmidt

You can't go wrong with the classic New Orleans cuisine offered throughout the nearby French Quarter. Hot spots throughout the city include Palace Café, Johnny's Po-boys, Tableau, Brennan's (home of the banana foster), Arnaud's, Mr. B's Bistro, Central Grocery (famous for its muffulettas) and oyster bars.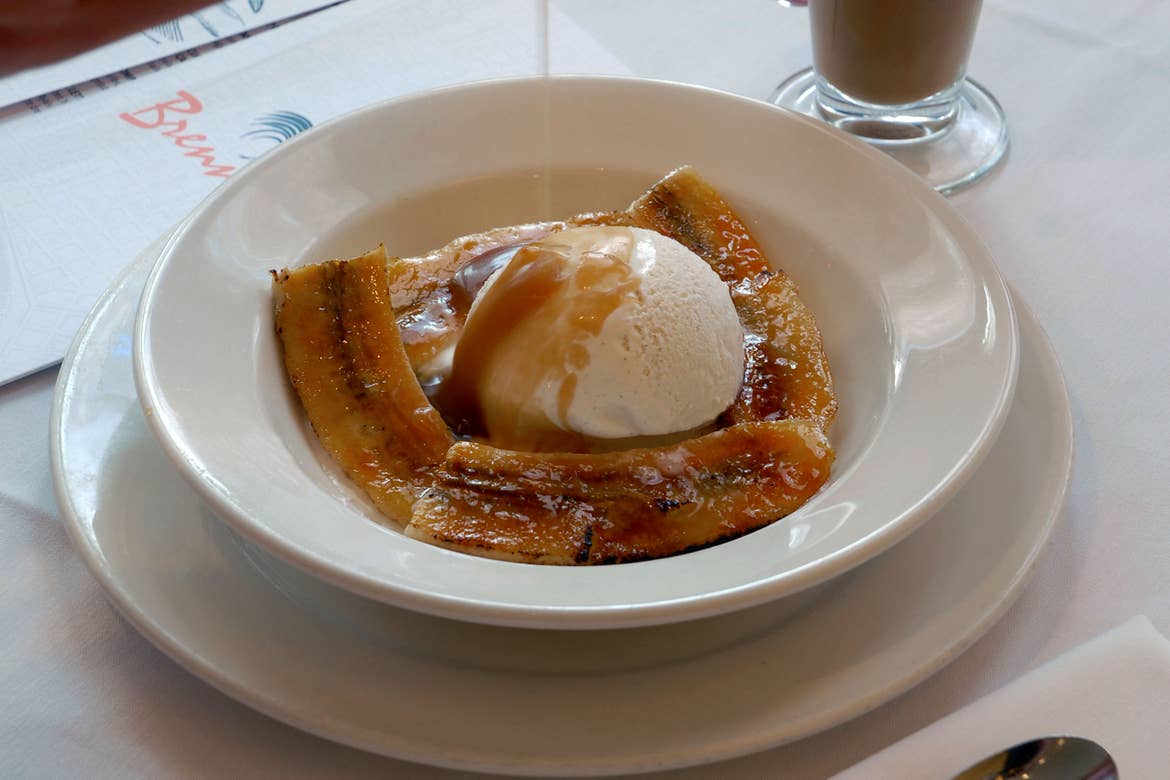 Photo courtesy of Brennan's

A newer, lesser-known culinary delight is Gris Gris on the outskirts of the Garden District with outdoor patio seating and two levels of dining room and bar space. (Get the chicken and dumplings. You won't be sorry.) And if you want a great Bloody Mary, try Ruby's Red Slipper, just a few blocks down.

Two rival oyster bars are right on Bourbon Street: Felix's Oyster Bar and Acme Oyster Bar. Both are delicious. Both are very casual with hustle, bustle waitstaff and no frills or fancy décor. Both typically have long lines underneath their neon signs, out the doors and down the streets. And both offer a mean oyster remoulade.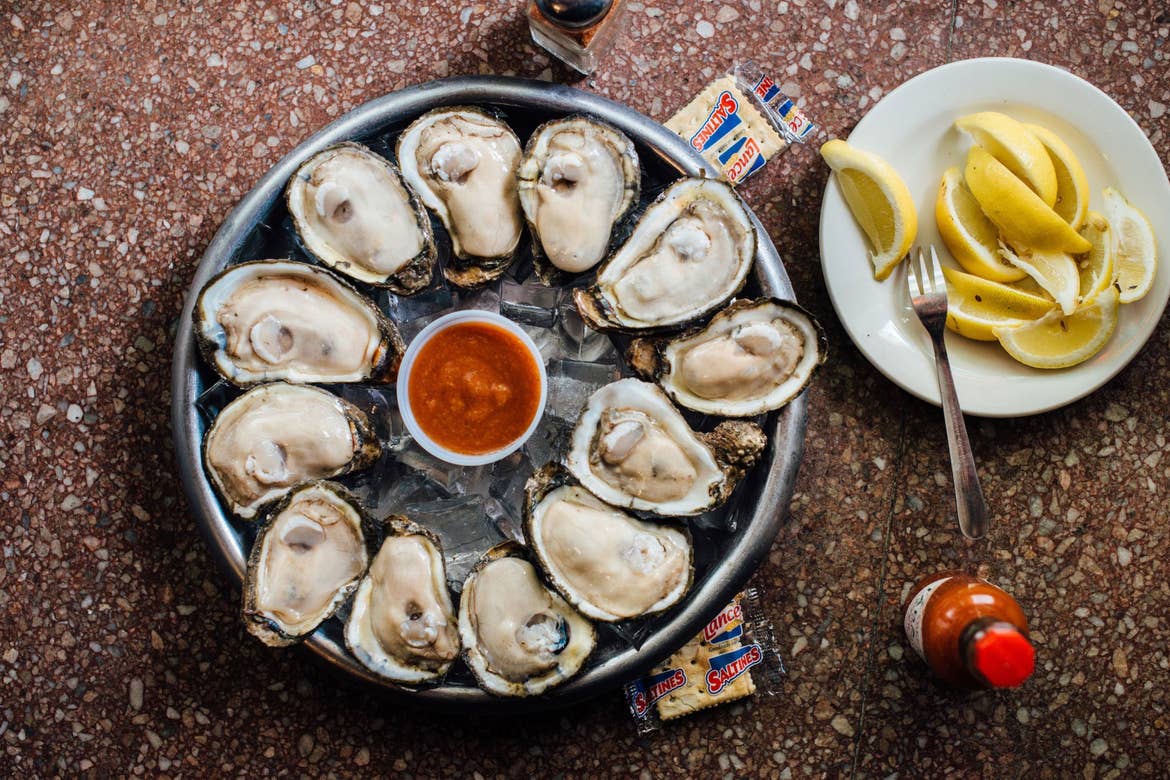 Photo courtesy of Felix's Restaurant & Oyster Bar - French Quarter

My personal favorite New Orleans restaurant experience is the legendary Commander's Palace Sunday Jazz Brunch. The food is amazing, but a classic jazz trio or quartet plays songs tableside throughout your (long, multi-course) meal.

It's so fun and special, and definitely a great family-friendly way to hear New Orleans jazz music outside of a bar setting.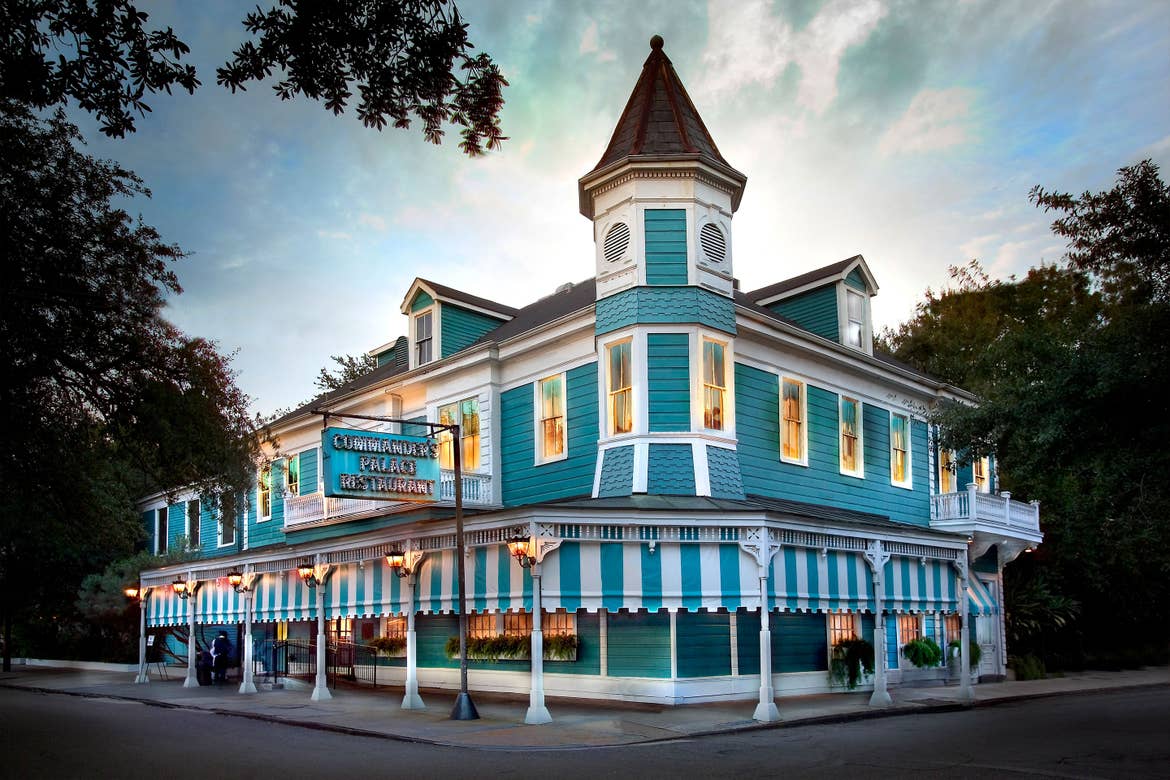 Photo courtesy of Commander's Palace

2020 Bonus: There are plenty of open-air patios and courtyards for outdoor dining.


17. JAZZ!
New Orleans is just as well-known for its jazz music as it is for its food. Legendary trumpet player Louis Armstrong started out here, after all! Nearly everywhere you walk in NOLA, you'll hear the sounds of jazz filling the air.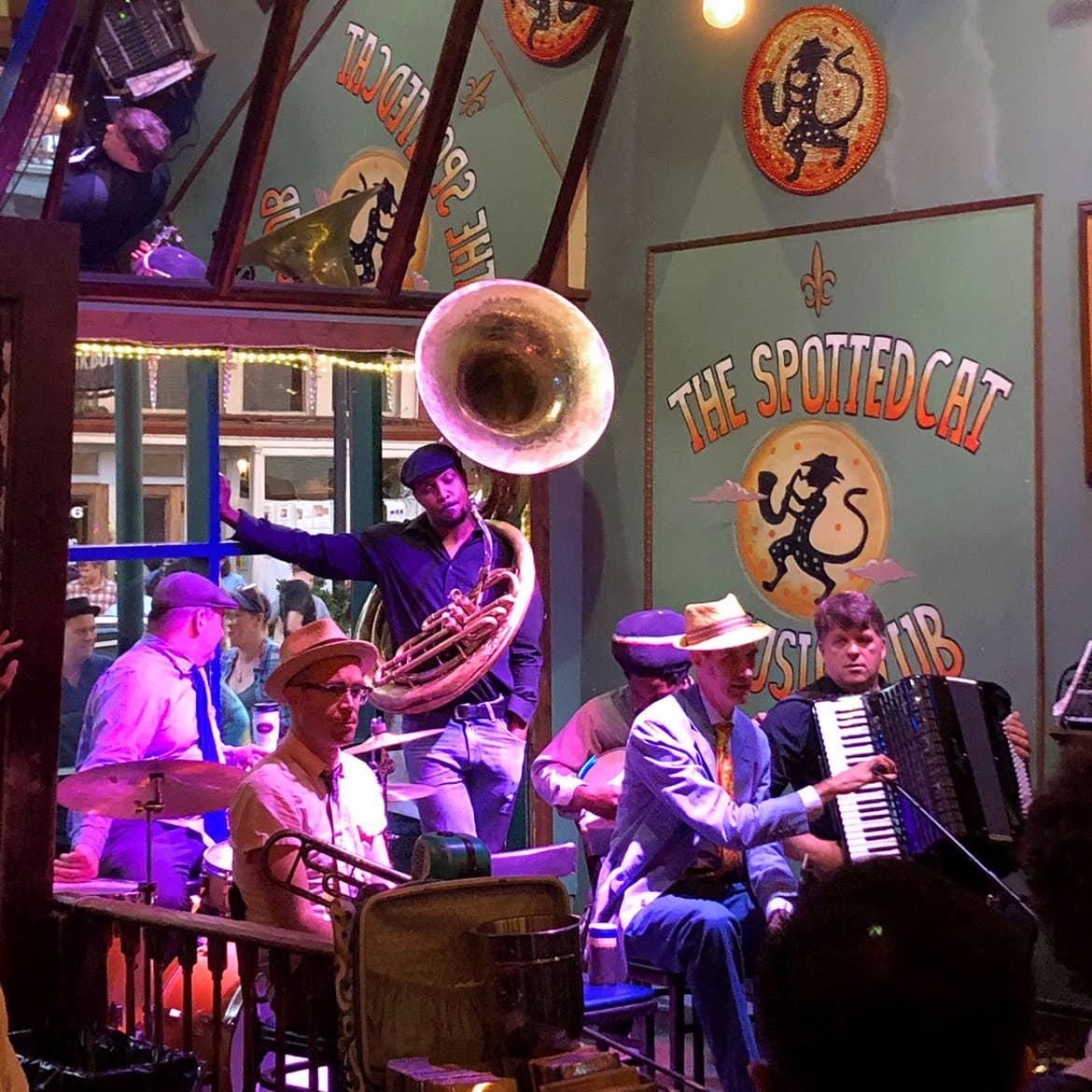 Photo courtesy of Jennifer C. Harmon from a 2018 vacation


18. DRINKS!
Need I say more? NOLA is quite the boisterous town of drinks, cocktails and spirits. From the bright, neon green (nearly lethal) "hand grenade" drinks at Tropical Isle Bayou Club to a more refined Pimm's Cup at Napoleon House, or even just a good ole' spicy Bloody Mary garnished with shrimp or crawfish, you will not lack for a good time with a drink in hand here.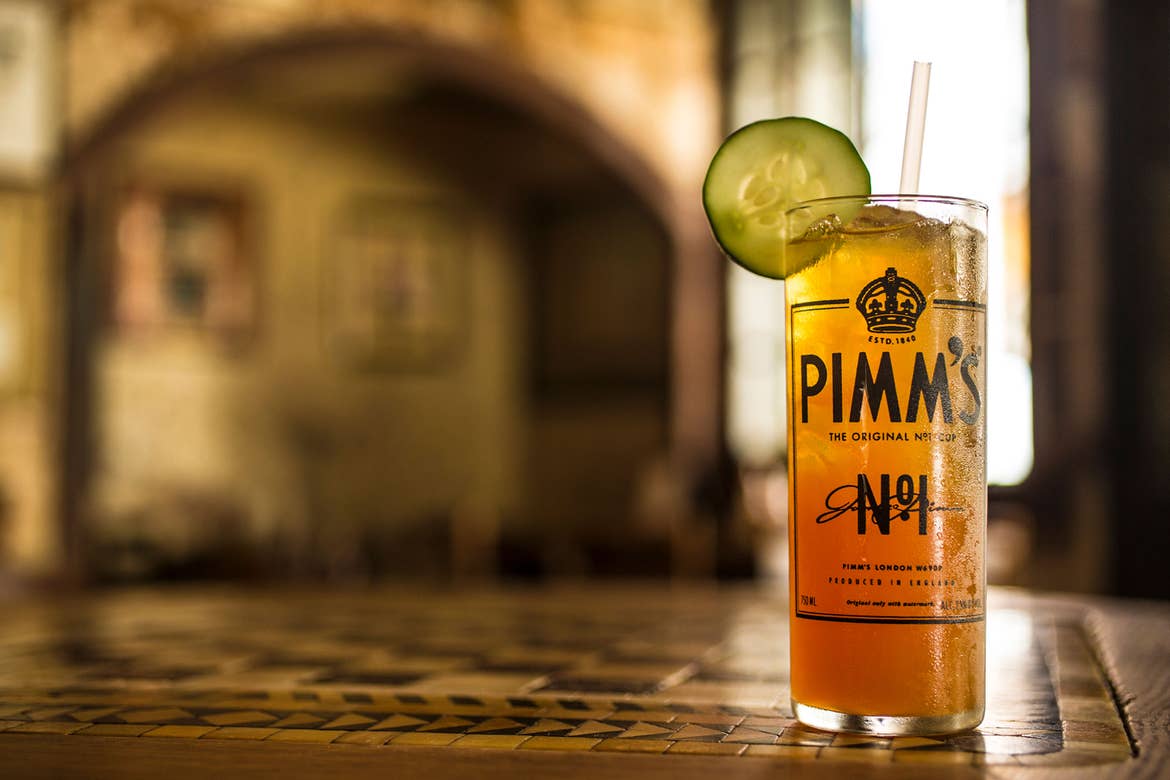 Photo courtesy of Napoleon House

The Carousel Bar even features a slowly revolving (aptly named) carousel bar with bright shining carnival lights that's worth a peek in to at least see, even if you can't squeeze into a coveted bar stool.

And of course—shameless plug—you'll remember we'll be boasting our own new Maritime Bar & Lounge at our resort. Coming soon!

Oh, and by the way, New Orleans is unique (like Vegas) in that the city allows you to walk around with open drinks. Many bars offer to-go drinks, accordingly.


19. Kid-friendly things to do in New Orleans
Yes, there are lots of drinks to be had and you can party late into the night on Bourbon Street. But NOLA is a fun, historical and attraction-filled place, too.

You might not think of New Orleans as a family vacation destination, but you'd be wrong. (Sorry, not sorry.)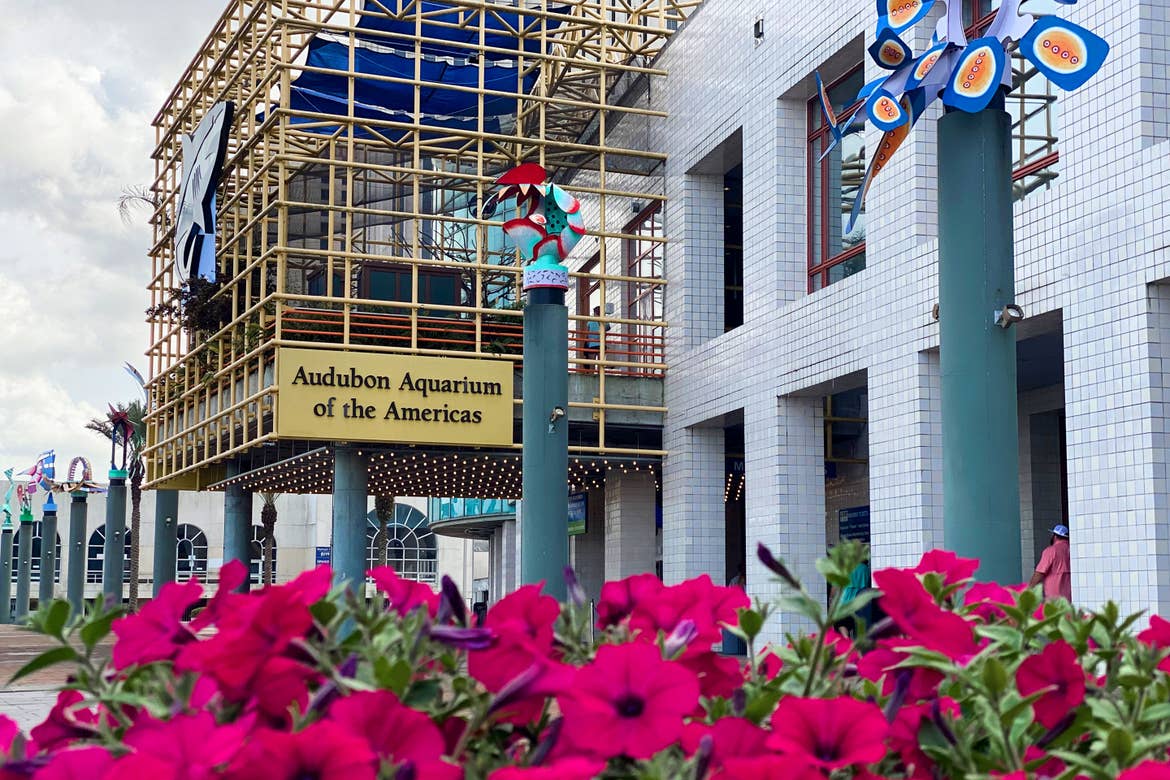 There are plenty of kid-friendly things to do in New Orleans and some you can add to your itinerary include New Orleans City Park, Sydney and Walda Besthoff Sculpture Garden, Audubon Zoo and Audubon Aquarium of the Americas, just to name a few.


20. New Orleans events & festivities
Okay, maybe not this year … but we can't wait to experience all the events and festivals that New Orleans has to offer in the coming years.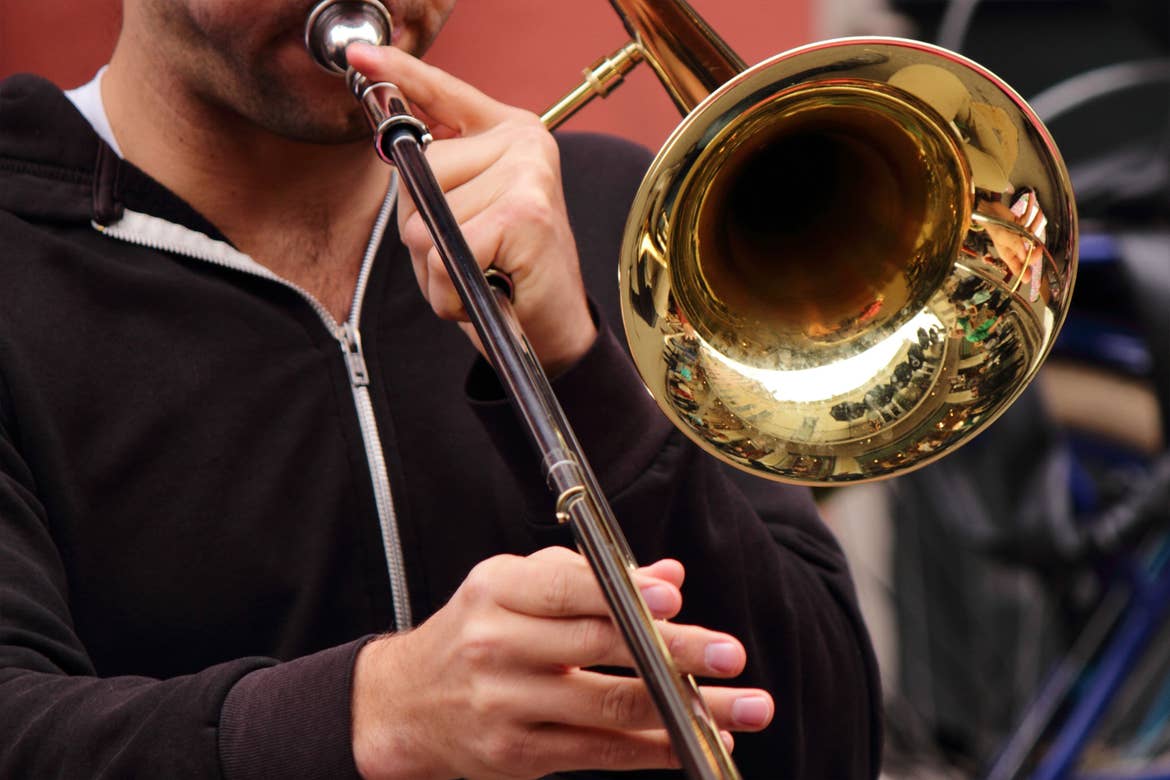 Mardi Gras is obviously THE event of the year here. For 2021, the parade has been canceled for COVID-19 safety reasons, but there IS still Mardi Gras. The city would never let this special occasion pass without celebration and the mayor is even crowd-sourcing new and different ways to still party (safely) this March.

Other popular annual events include Jazz Fest (currently set for April 22–May 2, 2021), Gumbo Fest, Beignet Fest, Po-boy Fest, Creole Tomato Fest, Greek Fest and French Quarter Fest. Seriously, there's a whole lotta "Fests," many revolving around food.


21. Bourbon Street
Last but not least, I leave you with Bourbon Street. You already know it's just one block away from our newest resort and that it's THE place to let the good times roll.

Dinner at Galatoire's is a NOLA rite of passage as are those oyster bars (Felix's and Acme). Grabbing drinks at Old Absinthe House and Napoleon House are also both musts. And Lafitte's Blacksmith Shop Bar is the oldest bar on Bourbon Street, having been around since the 1700s.




Pro tip: Just keep in mind that Bourbon Street is not kid-friendly, even in broad daylight. Keep this hot spot on your grown-up list and stick to other parts of the French Quarter for your family strolls.

When you've had your fun, walk back to our home away from home and snuggle in for a sound night's sleep.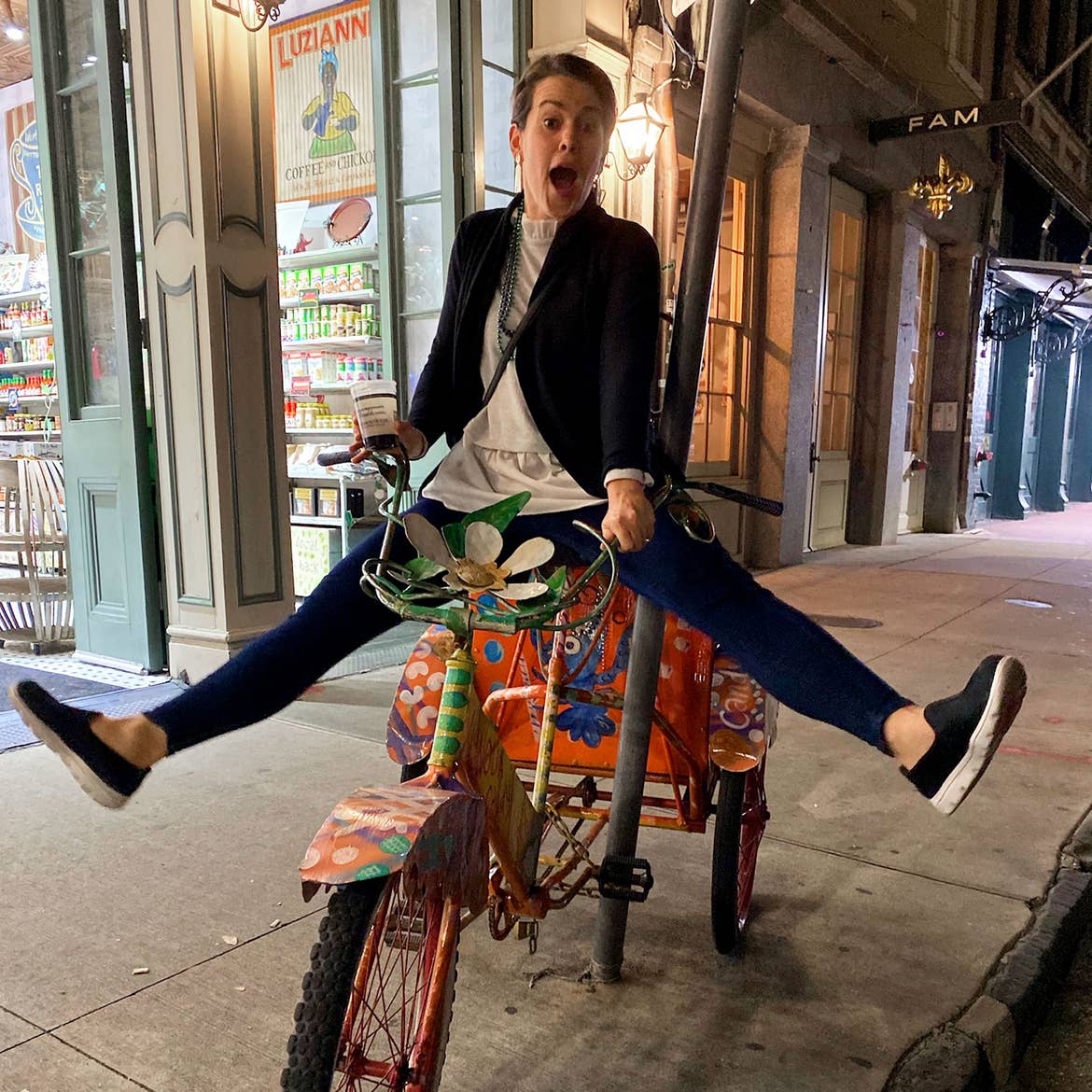 Photo taken prior to COVID-19

See? I told you there was SO much to look forward to and be excited about. Wishing our New Orleans Resort a happy opening day and you some Safe Travels in the near future!


All information is subject to change. This article is a curated guide and is neither sponsored nor considered an official endorsement. Please be sure to check information directly with any/all tours, guides or companies for the most up-to-date and direct details.

Updated as of 1/22/2021:
New Orleans is following Modified Phase 1, which allows restaurants, museums, zoos, retail stores and aquariums to be open at 25% capacity. Between 8 a.m. and 11 p.m., alcoholic beverage sales are permitted with food sales at restaurants, via to-go service at restaurants, bars and breweries, and through outdoor seating at bars. Social distancing and masks are required in public throughout Louisiana and the City of New Orleans, and public gatherings are not permitted at this time beyond individuals with members of their own immediate household.