Lauren Layne & Anthony LeDonne
Lauren Layne is the New York Times best-selling author of romantic fiction. Her books have sold millions of copies and were featured in Oprah Magazine, Publishers Weekly, Glamour, The Wall Street Journal and Inside Edition. Lauren's high school sweetheart, Anthony LeDonne, is an NYC-based comedian, writer, actor, chef and award-winning photographer. He also hosts the POAT Podcast every week, where he discusses topics like why restaurants push the window seat, how not to get divorced when both spouses work from home, and why people quit social media. Together, they have a black and orange Pomeranian, Bailey, who is about 3x "too big" for her breed at 15 lbs. and refuses to acknowledge she's technically elderly. Her hobbies include chicken treats, barking at her kibble for not being chicken treats and nervous toots when it rains.
Lauren's Website
Anthony's Website
Thinking about taking a New Orleans vacation, but not sure where to stay? We're here to help!

While we've been to nearly every state in the U.S. (we're coming for you, Alaska!), New Orleans, Louisiana, remains one of our favorite places to visit.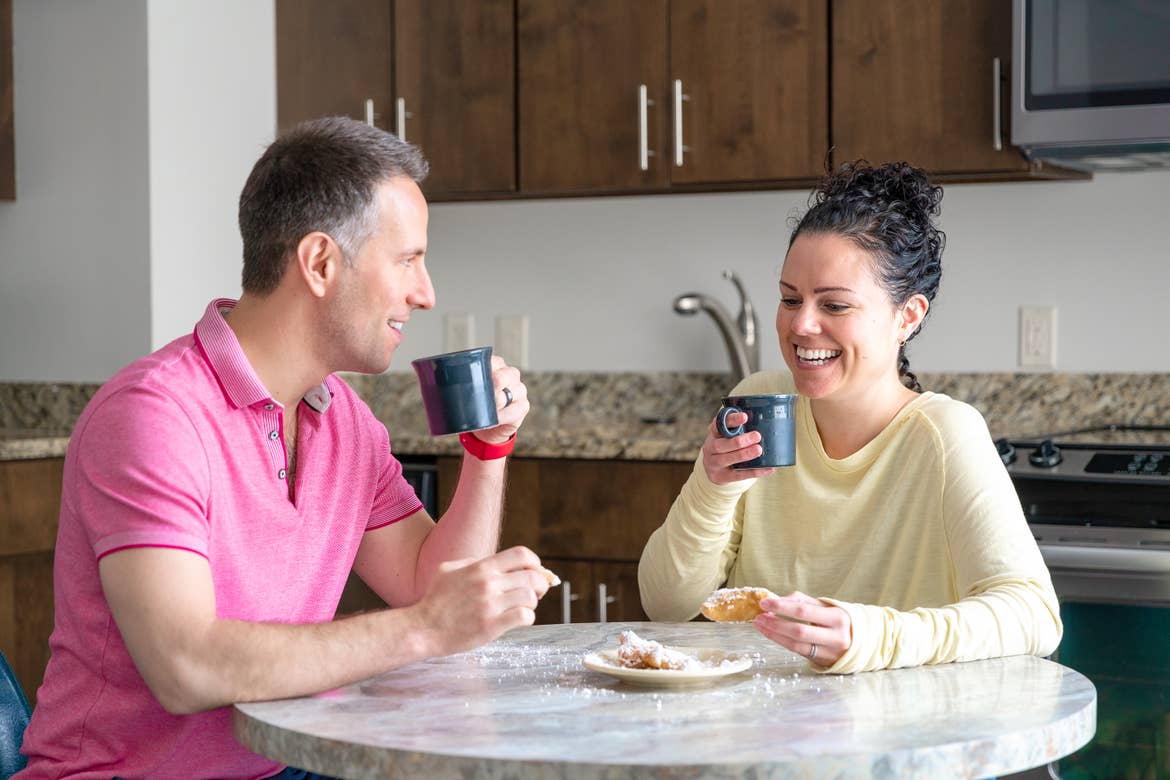 Hi, we're Lauren & Anthony, a 30s-something couple with no kids — unless you count our diva Pomeranian, which we do!

We've taken several New Orleans vacations, always staying at different hotels, trying to find our "home away from home" in the Big Easy, and we're so excited that we've finally found it at Holiday Inn Club Vacations® New Orleans Resort!

If you're anything like us, you may be thinking that a spacious villa with a full-size kitchen sounds a lot better than a tiny hotel room — and you'd be right!

But the resort offers multiple types of one-bedrooms, so which one should you choose? The standard villa or the Signature Collection villa?

The short version: We tried out both! (We were serious about finding our "home!")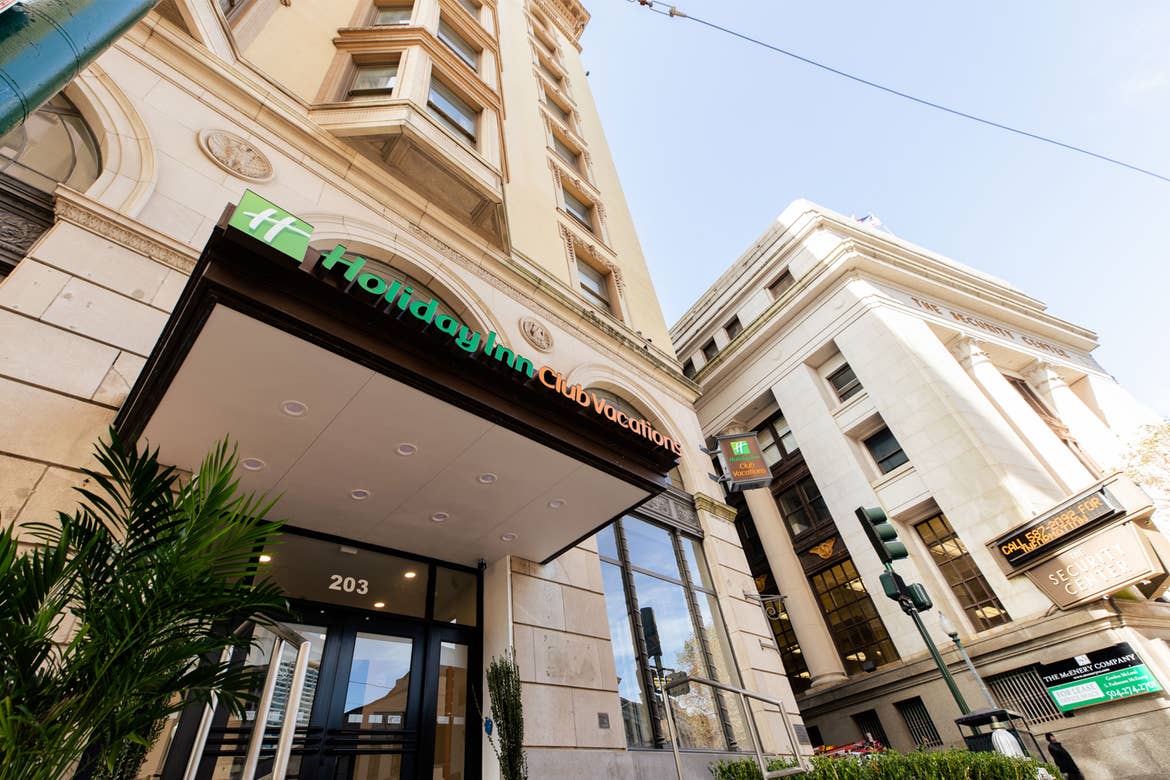 Deciding on a room type, sight-unseen, can be stressful, even with website photos, so we've taken a bit of the guesswork out of it for you.

After literally booking two nights in each, we gave them both a spin and … they're both incredible and a huge improvement over the cramped hotel rooms of our past visits.

Below you'll find our "his and hers" assessments of each — but no matter which you choose, there are so many exciting features at New Orleans Resort and we're confident you'll have a great time.


The Standard One-Bedroom Villa
To get a feel for what we're describing below (and to see it for yourself virtually), definitely check out this handy-dandy virtual tour of the standard one-bedroom villa.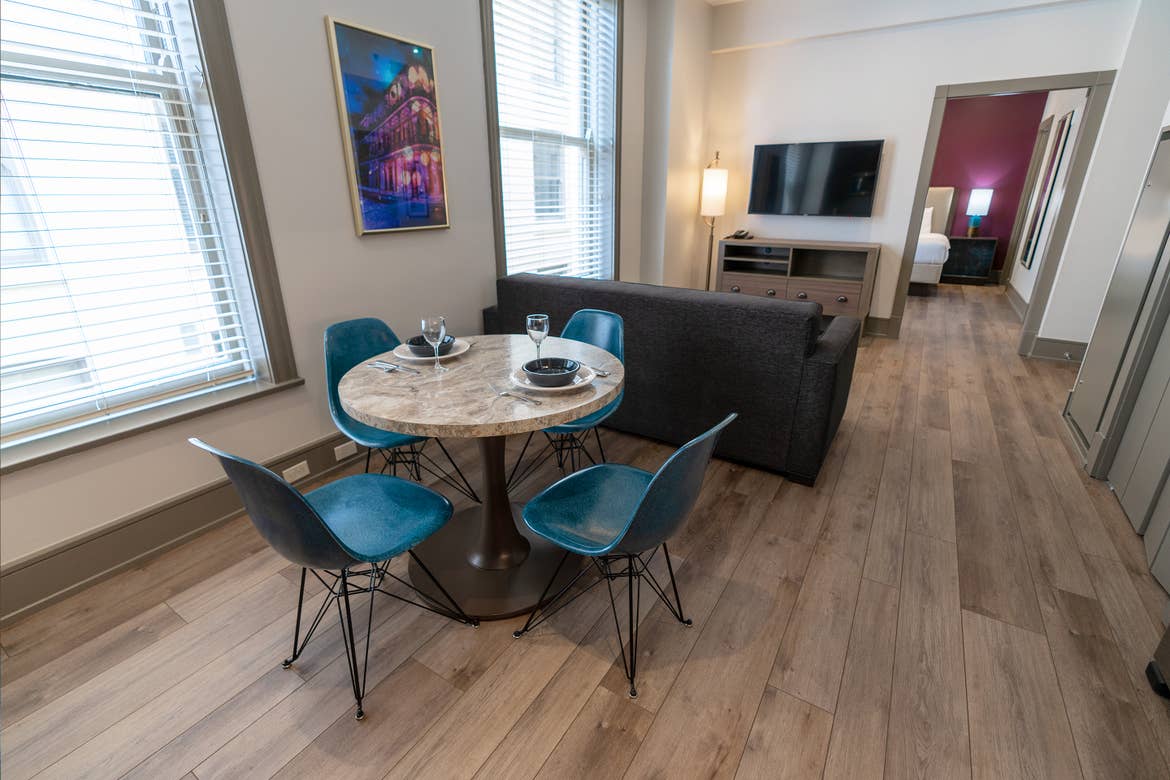 Our First Impressions
Lauren: Walking into the standard villa for the first time after an early morning travel day, I had three thoughts:

That is some mighty fine A/C doing its job
Oooh, hardwood floors instead of creepy carpet
This place is huge!
I was expecting a little kitchenette tucked next to a seating area but was pleasantly surprised to find a full kitchen/dining area, plus a living room space. And that's before you even get to the bedroom.

It should also be noted that the bedroom was wonderfully decorated — no ugly bedspread here! Traveling always zaps my energy a little, and I love a chance to "recharge" when I first get to a resort. This was the perfect place for that.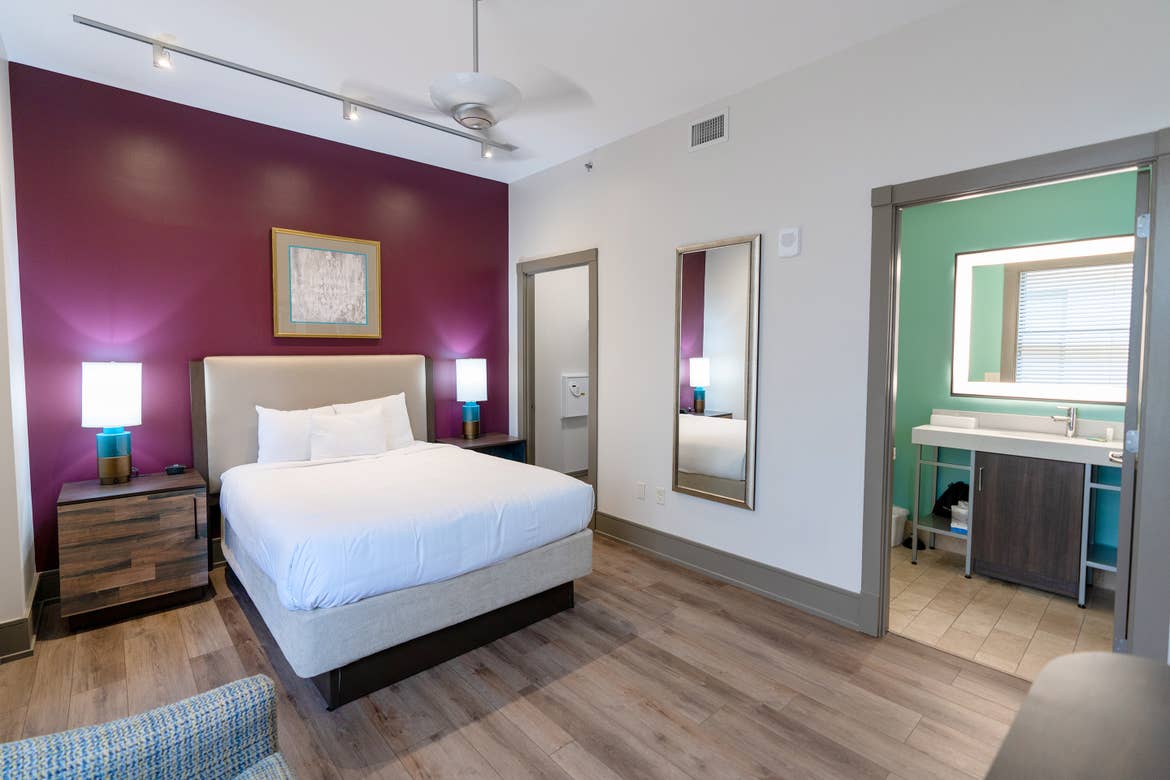 That sense of coming back to a comfortable "home away from home" never got old. Every time we got back to the resort after a long day of exploring New Orleans (ok fine, eating), this felt like our own little oasis to kick up our feet and relax.

Anthony: My first thought walking into the standard villa was, "Oh, thank God." It was a relief to see such a wide-open floorplan with plenty of light and zero street noise. I could seriously live in this place.

Granted, I'm coming from a tiny Manhattan apartment, so a large closet would feel like a palace. But the standard villa felt like a place I could really relax in.

Since I'm the family chef, I tend to notice the kitchen first. I was surprised to see a full-size kitchen with a ceramic top range (for easy clean-up), an oven and a full fridge to stash leftovers (read: wine).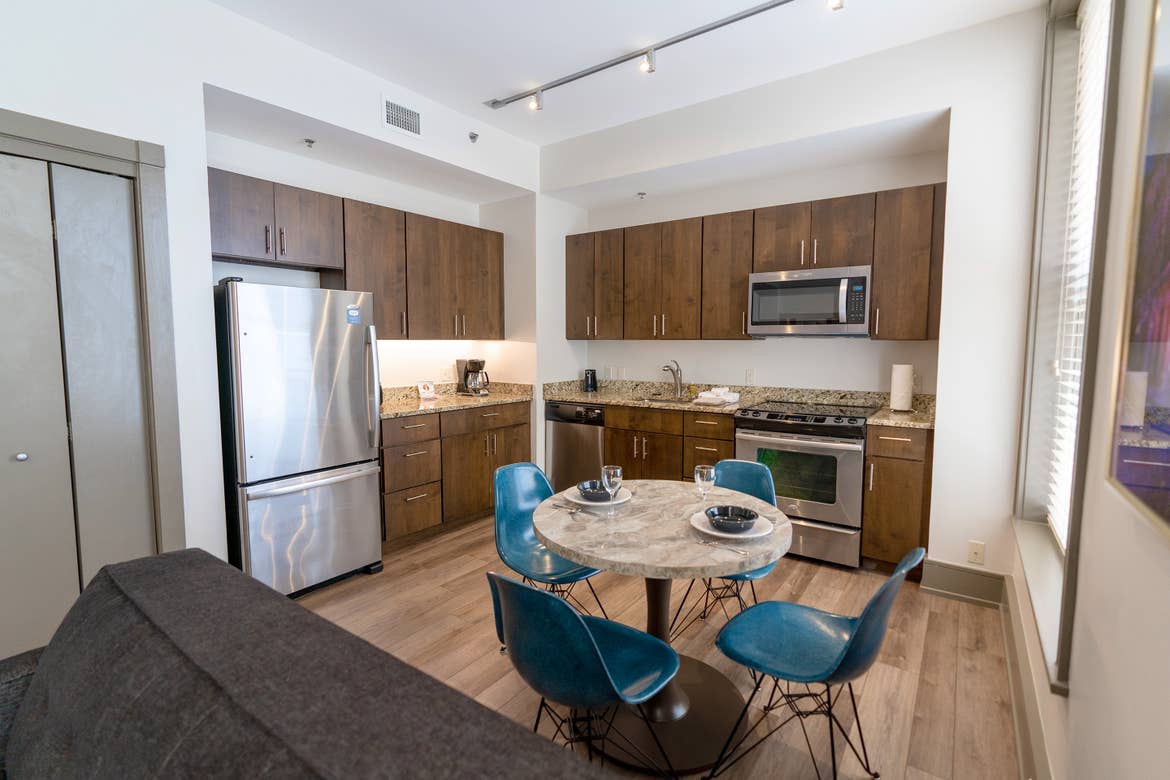 The automatic ice maker in the freezer was a nice touch, too. When you're about to mix a pregame cocktail or nightcap in your room, the last thing you want is to have to run up three flights of stairs to the nearest ice machine.

The shower was also nicer than I expected. I loved the doorless design. It's way more elegant than the is-this-plastic-or-vinyl? beige curtain I'm used to when I travel.


Our Favorite Features
Lauren: I'm a sucker for a walk-in closet, and the one in this villa was bigger than my closet at home, so I definitely took note of that.

But my favorite feature was simply how comfortable the space was. As we mentioned, we've been to NOLA a bunch of times, and while we love it, it can be a bit, well, humid, with lots of walking around.

I can't stress enough how pleasant it was to have such a clean, spacious place to retreat to instead of the cramped, dark hotel rooms we're used to.

Oh, and while the bed was a queen instead of our preferred king, it was insanely comfortable!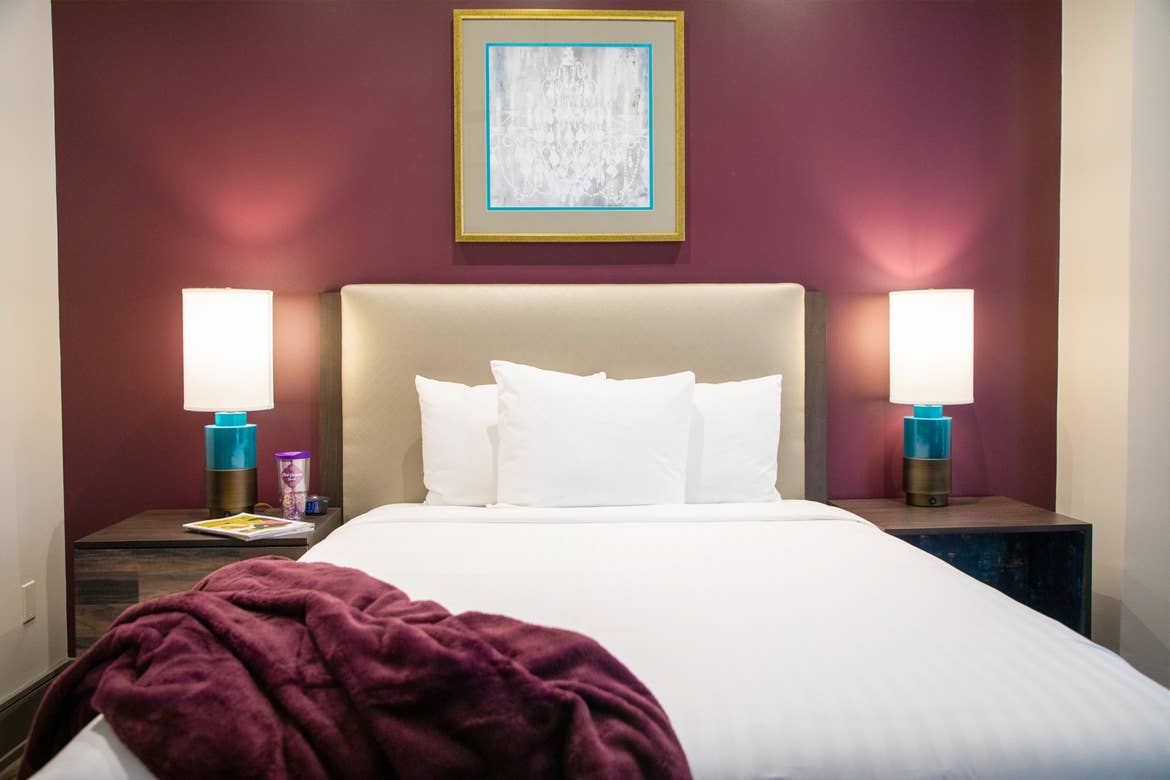 Anthony: Ok, so Lauren stole my favorite feature: the walk-in closet. I like hanging up my clothes, and storing our suitcases out of sight makes it feel less like a temporary space and more like a home…

Which is my actual favorite feature. The standard villa felt like a home. After a big lunch or night out, it's nice to kick back, relax and enjoy some peace and quiet.


Our Verdict
If you're looking for a clean, modern place to serve as a delightfully comfortable "home base" after exploring the beautiful French Quarter — with ample space to relax on the couch, maybe heat up your leftovers from Domenica or enjoy your beignets from Café Beignet — look no further than the standard villa.

We couldn't think of a single thing we wanted that this room didn't have (though, we wouldn't have minded a king bed…).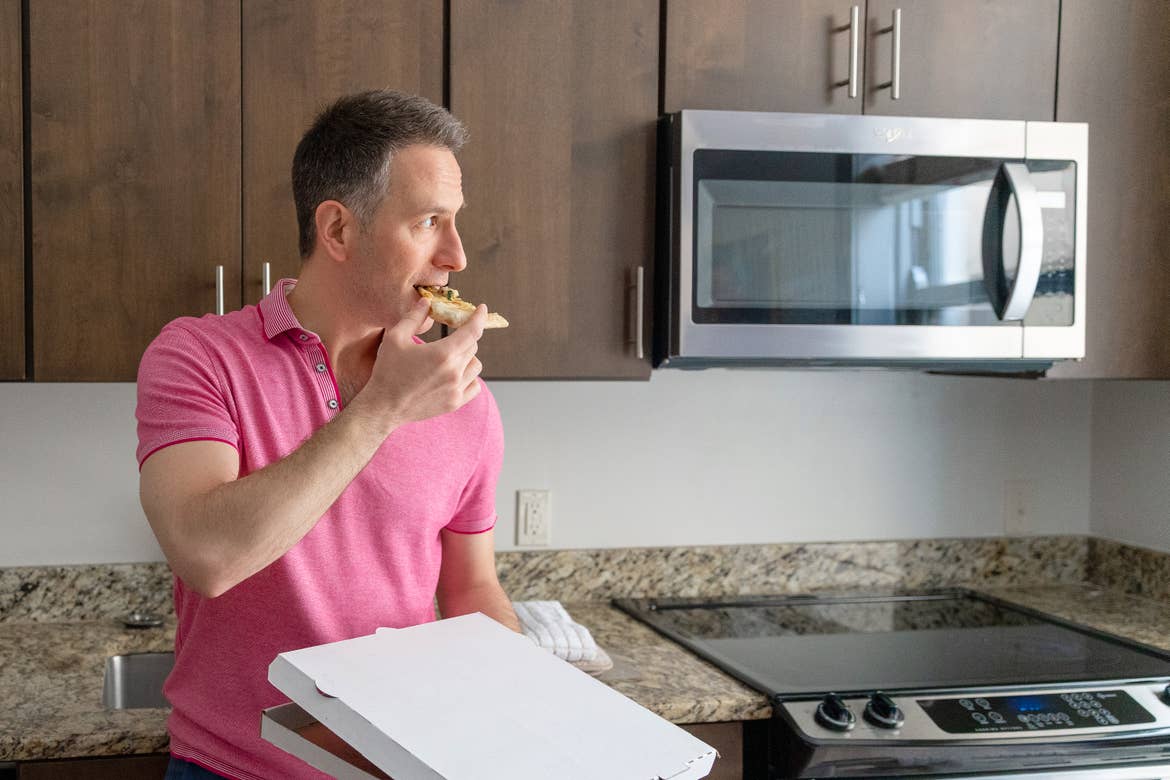 The One-Bedroom Signature Collection Villa
Again, read our (highly caffeinated) recap below and then take advantage of the virtual villa tour to see this beauty for yourself and look before you book.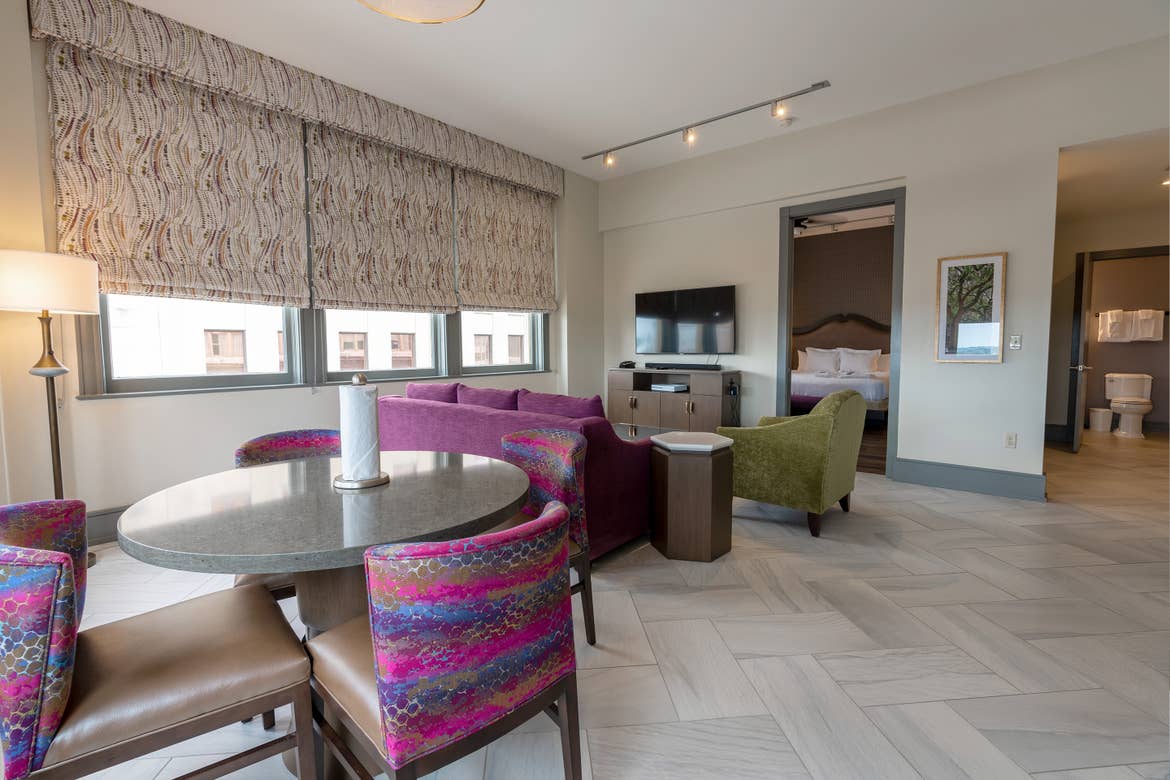 Our First Impressions
Lauren: Now, I'll be honest — after two nights of being thoroughly impressed by the standard villa, I went into our room-switch a tiny bit skeptical, thinking, "How much different can the Signature Collection villa really be…?"

Well, let me just say, upon entering, my mouth dropped open. Simply put, the Signature Collection villa is a wow experience.

If the standard villa is your "home away from home," this is your "better-than-home" vacation accommodations.

Everything — from the kitchen appliances to the fancy water awaiting us in the fridge (sparkling and still!) to the furniture and bathroom amenities — was a step up from the standard villa.

It was also bigger, with room for a king bed (yay!) and a bright, open living space with plenty of windows and natural light.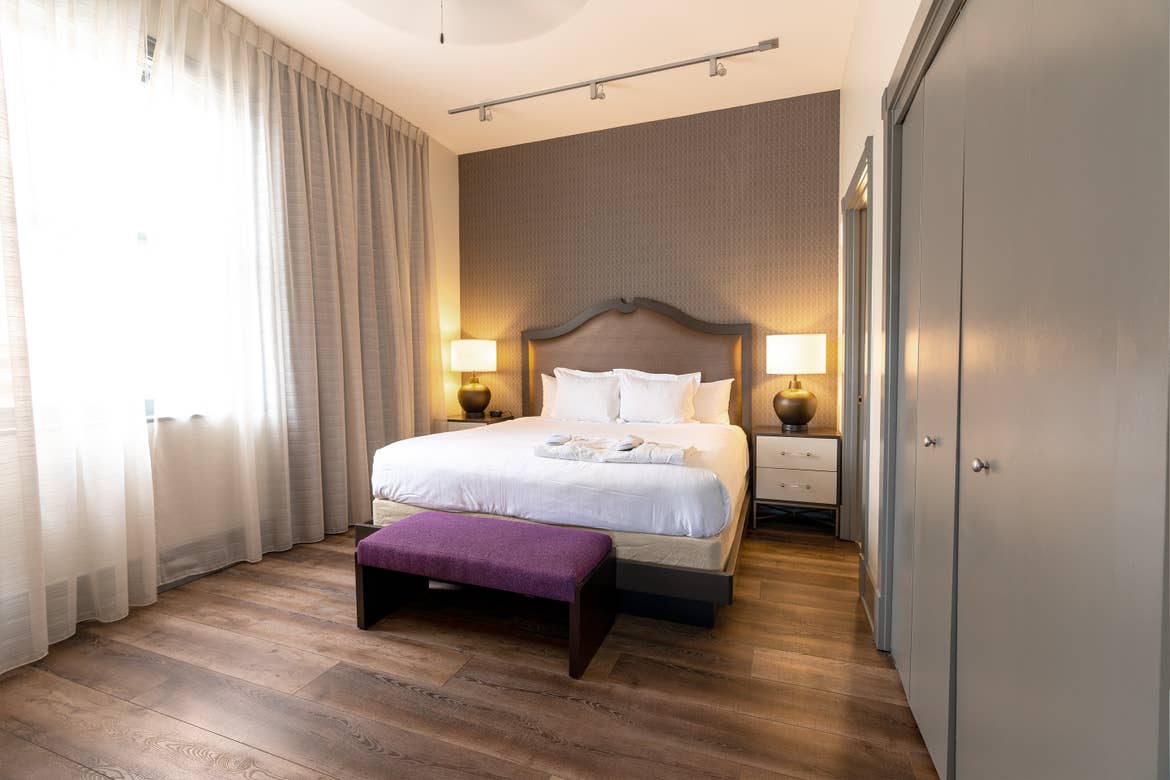 Anthony: We're moving here, right? This is our home now?

Coming from such a wonderful experience in the standard villa, I was prepared for a nominal increase in size and quality. I was wrong. Everything is nicer.

The kitchen, the sink, the fridge, and … is that an espresso machine?? I wasn't even tired, and I pulled an espresso for myself. Just because I could.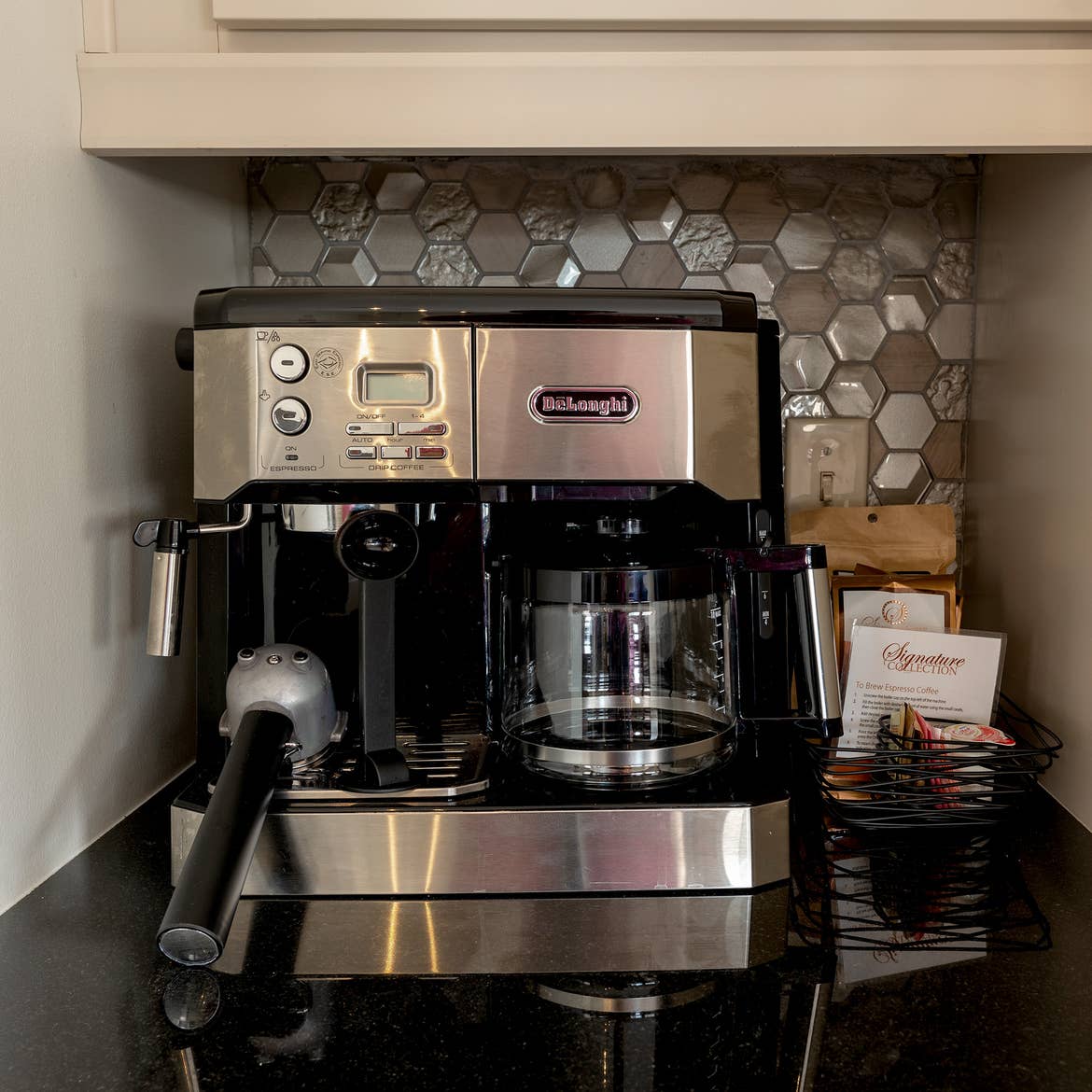 The Signature Collection villa is a place I could spend a lot of time in. When I need to work while traveling, I like having separate spaces to get work done and to relax.

This villa has plenty of room for both. The breakfast table is large enough for four people to comfortably work (or play) on laptops.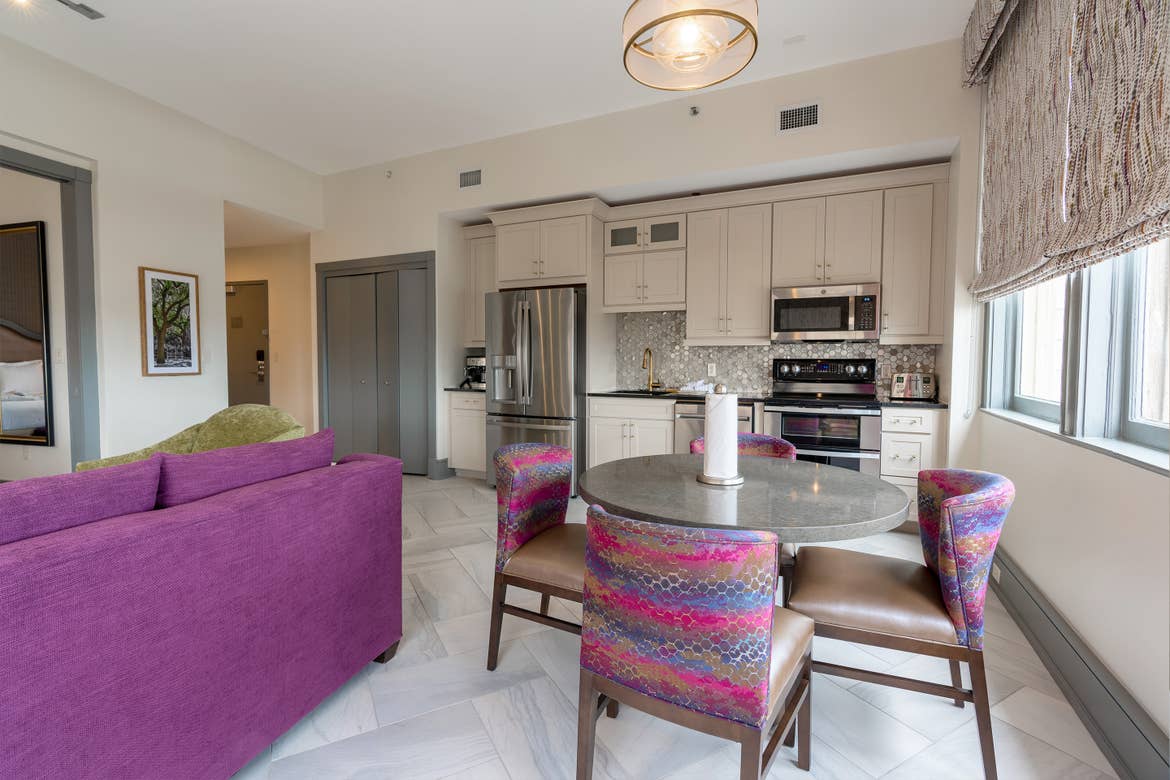 And … are those electrical outlets on the baseboard near the table? Yes, yes they are. Nice touch!


Our Favorite Features
Lauren: I love the sheer specialness of the Signature Collection villa.

From sipping morning espresso (in fancy espresso cups, no less) from bed in comfy robes…

To enjoying evening cocktails in the living room while overlooking Bourbon Street…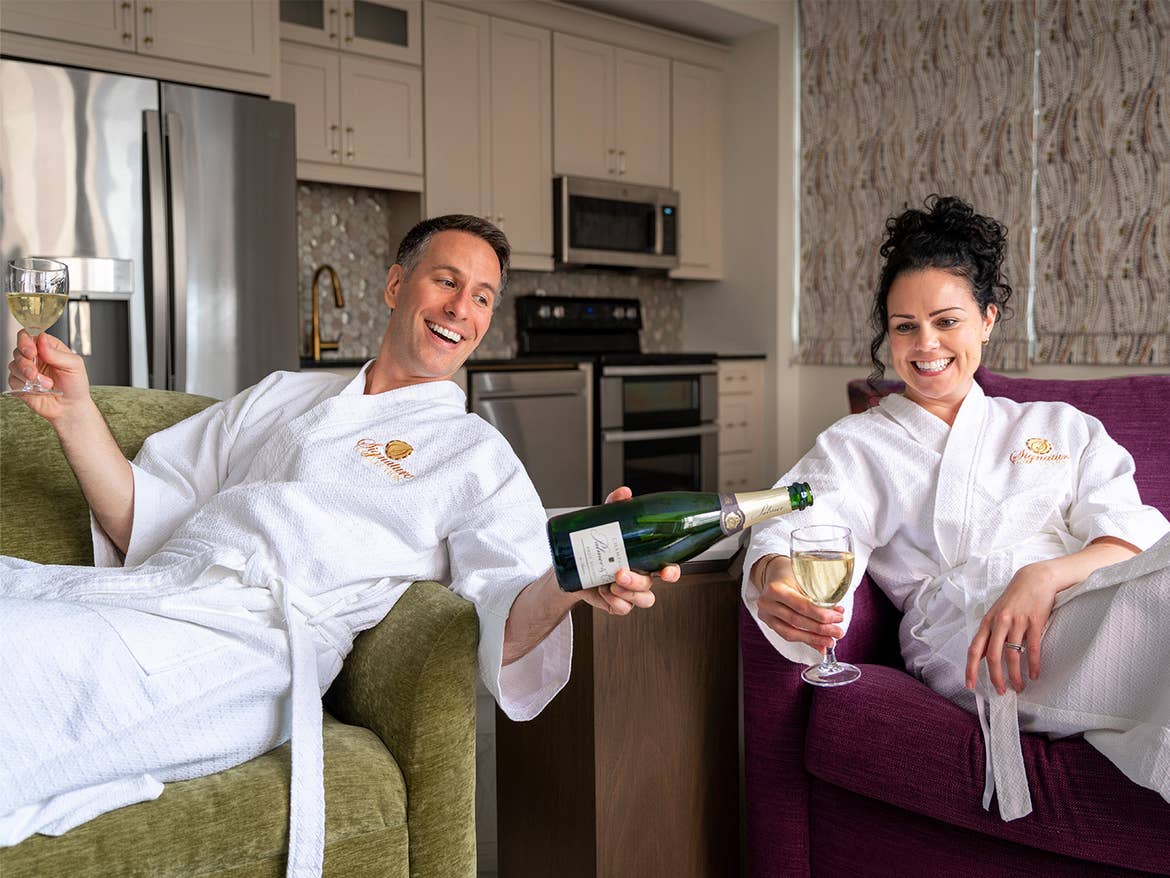 And even a spontaneous movie night after we wanted a break from the bustling New Orleans "scene…"

This felt like the sort of wonderful vacation you remember long after returning home.

Anthony: I'm a sucker for a comfortable bed and, while both beds were comfortable, I especially loved the size of the Signature Collection's king.

My second favorite thing might just be the view. There's something about that view of Bourbon Street first thing in the morning while you sip your coffee (or espresso) that just gets me.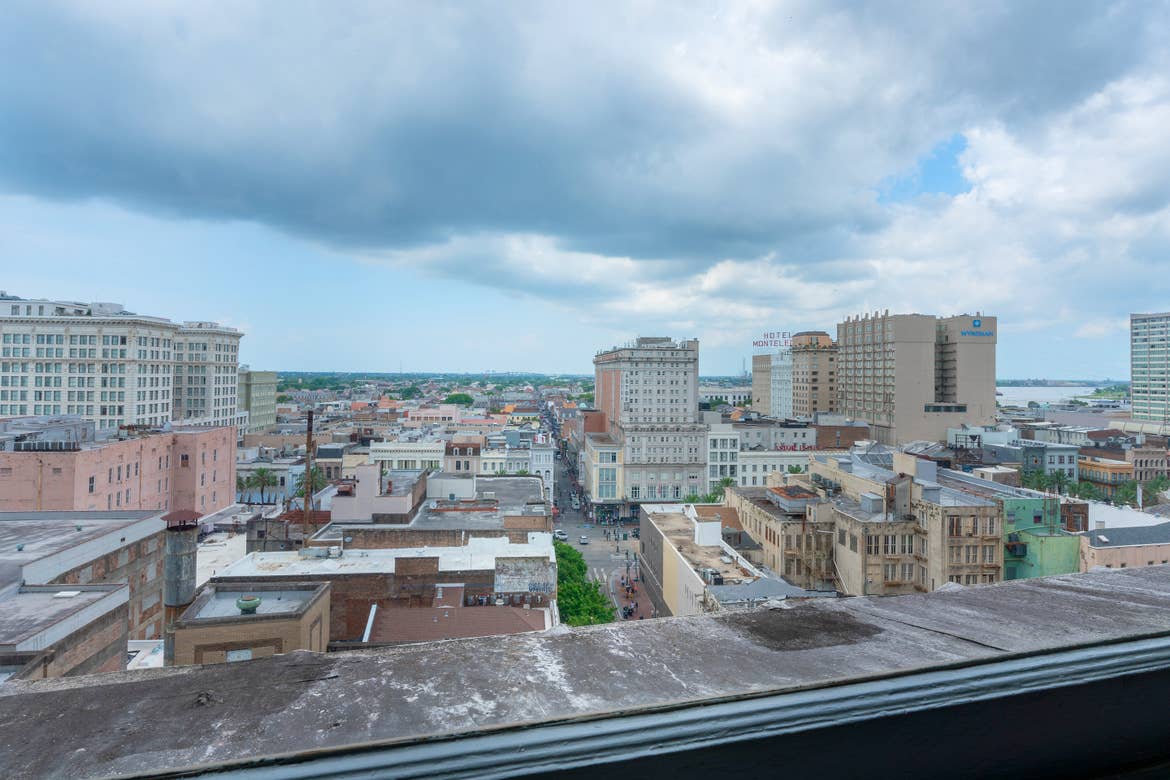 It's like the alleyway behind a theater: You see them wheeling stuff in and out, resupplying, cleaning up, and you know later that night, there's going to be a big show.

I could've stared out that window all morning, had I not needed to pull another espresso.


Our Verdict
If you're in NOLA for a special occasion (like a birthday or Mardi Gras!), a romantic getaway or simply want to treat yourself, your kids or your family to "nice things," you will NOT be disappointed by the Signature Collection villa.

And if you're planning to cook your own meals during your vacation, while the kitchen in the standard villa is fully functional, the Signature Collection kitchen is pretty stunning!

Those little added touches, like the wine locker, the cocktail shaker and even the automatic ice dispenser in the fridge door, made it awfully hard for us to even want to leave the room!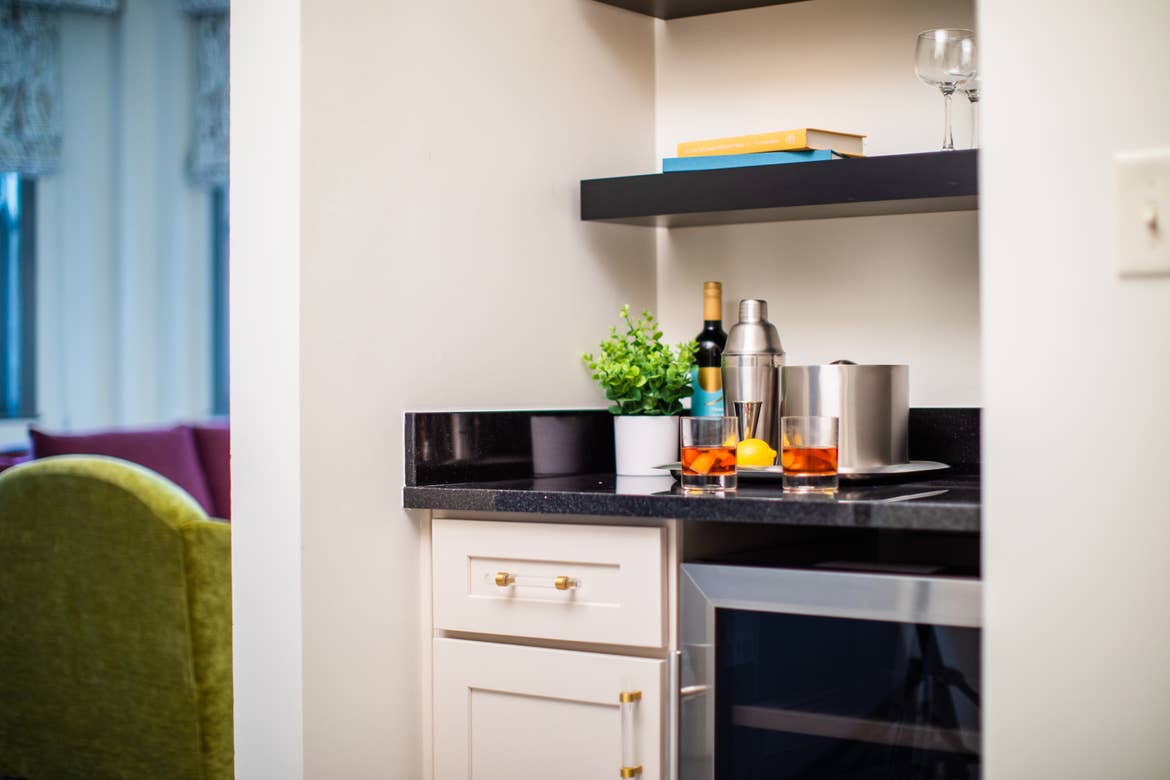 So, Which Villa Should You Choose? Decisions, Decisions…
In case you couldn't tell by our gushing, we had an amazing time at New Orleans Resort, and we're really confident you can't go wrong staying here, regardless of which villa you choose.

If you're trying to decide if the Signature Collection villa is worth the extra money: Yes. Yes, it is. We were truly blown away.

That said, we also wouldn't hesitate to stay in the standard villa again, as we had an amazing time in that one as well.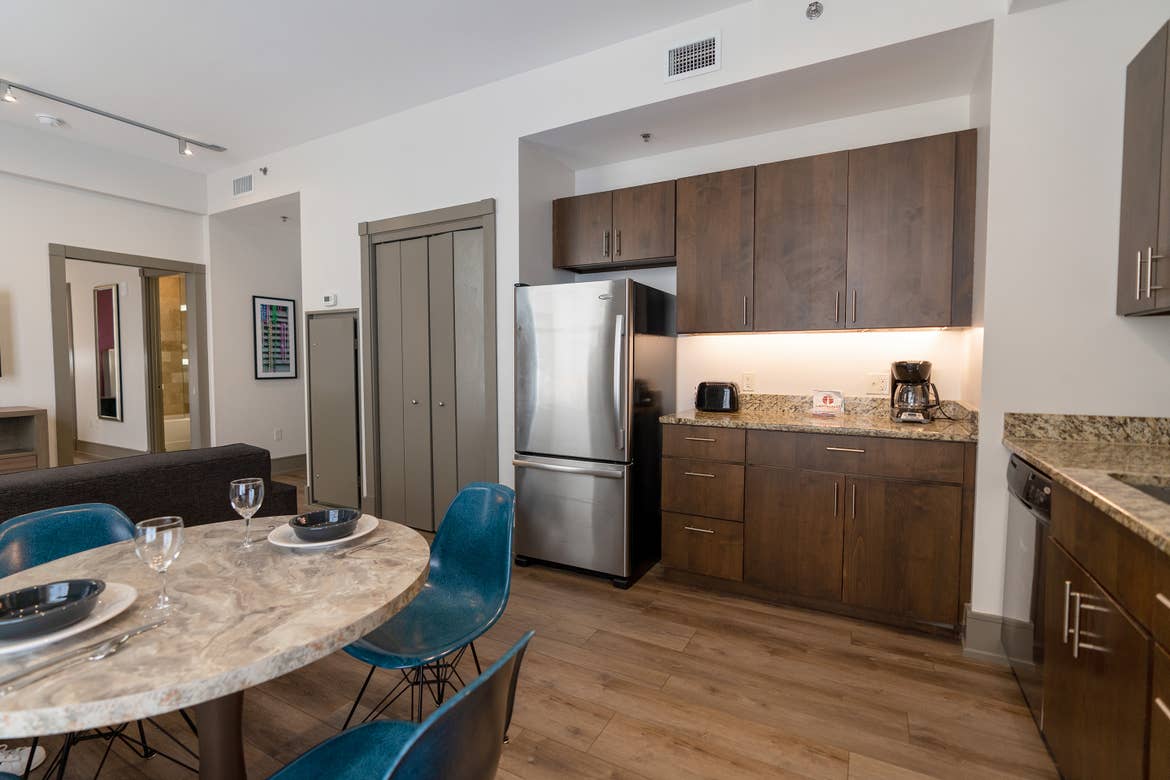 If we were trying to decide where to stay, it would come down to this: How much time are we planning to spend at the resort?

If we've got a busy New Orleans itinerary and just want a comfortable place to relax at the end of a long day — and maybe indulge in leftovers the next morning — the standard villa is where it's at.

For a pampered, more luxurious vacation stay? We won't hesitate to splurge on the Signature Collection!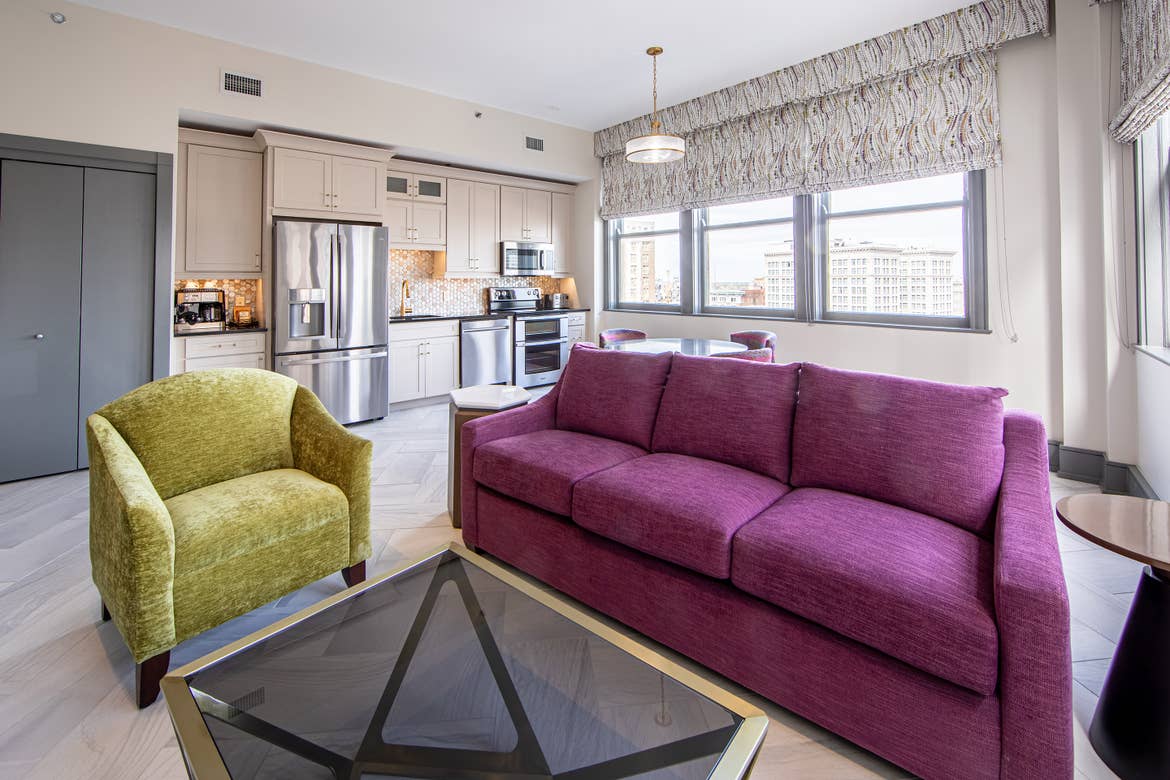 And let's not forget: The whole resort itself was stunning, too. We were greeted with a bright, interactive "lobby mural show," and there was a Marketplace with snacks and souvenirs, a rooftop lounge and dipping pool, laundry machines on-site and more.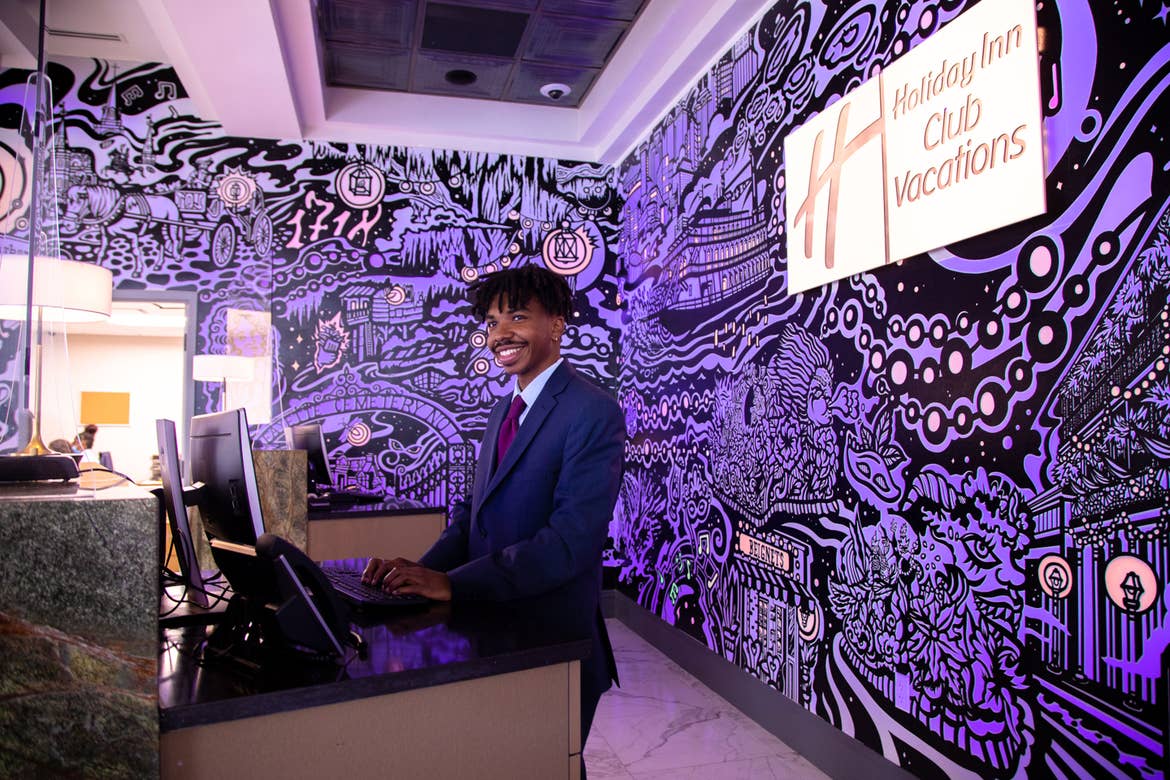 Take it from a couple who's spent a lot of time exploring NOLA: New Orleans Resort is truly an exceptional experience and the best place to call "home" while enjoying this incredible city.


Our guest bloggers are compensated for their writing contributions and honest opinions.

All information is subject to change. This article is a curated guide and is neither sponsored nor considered an official endorsement. Please be sure to check information directly with any/all tours, guides or companies for the most up-to-date and direct details.