Jennifer C. Harmon
Jenn is the Editor-in-Chief of the Checking In travel blog. She loves coffee, wine, writing, traveling, working with all of our amazing guest bloggers, and getting to tell our guests', owners' and team members' vacation stories. Jenn and her husband, Anthony, have mastered the art of the long weekend couples' getaway (sans kids). And while it's too hard to pick just one type of "favorite vacation," her three-way tie would be: a snowboarding trip, going to Hawaii or sailing with Disney Cruise Line.
I don't know about you, but I'm still processing the fact that it's even NOVEMBER. (How?!)

If you're a little behind on the whole, "The holidays are here" thing, we've got your back.

Check out this quick and easy holiday gift guide full of ideas for anyone on your list who loves TRAVELING — or maybe even for an upcoming trip of your own? (Family travel is our area of expertise after all.)

Plus, these gift ideas are all tried, true and tested thanks to our editorial (and extended) team of travelers.

Play some Christmas music, try the travel "blardigan" (an Instagram favorite) on for size, sip on a peppermint latte, and get your shopping on!


For the Eco-Friendly Traveler
Pair their passion for protecting our Planet Earth with their wanderlusting ways with these eco-friendly gifts and stocking stuffers.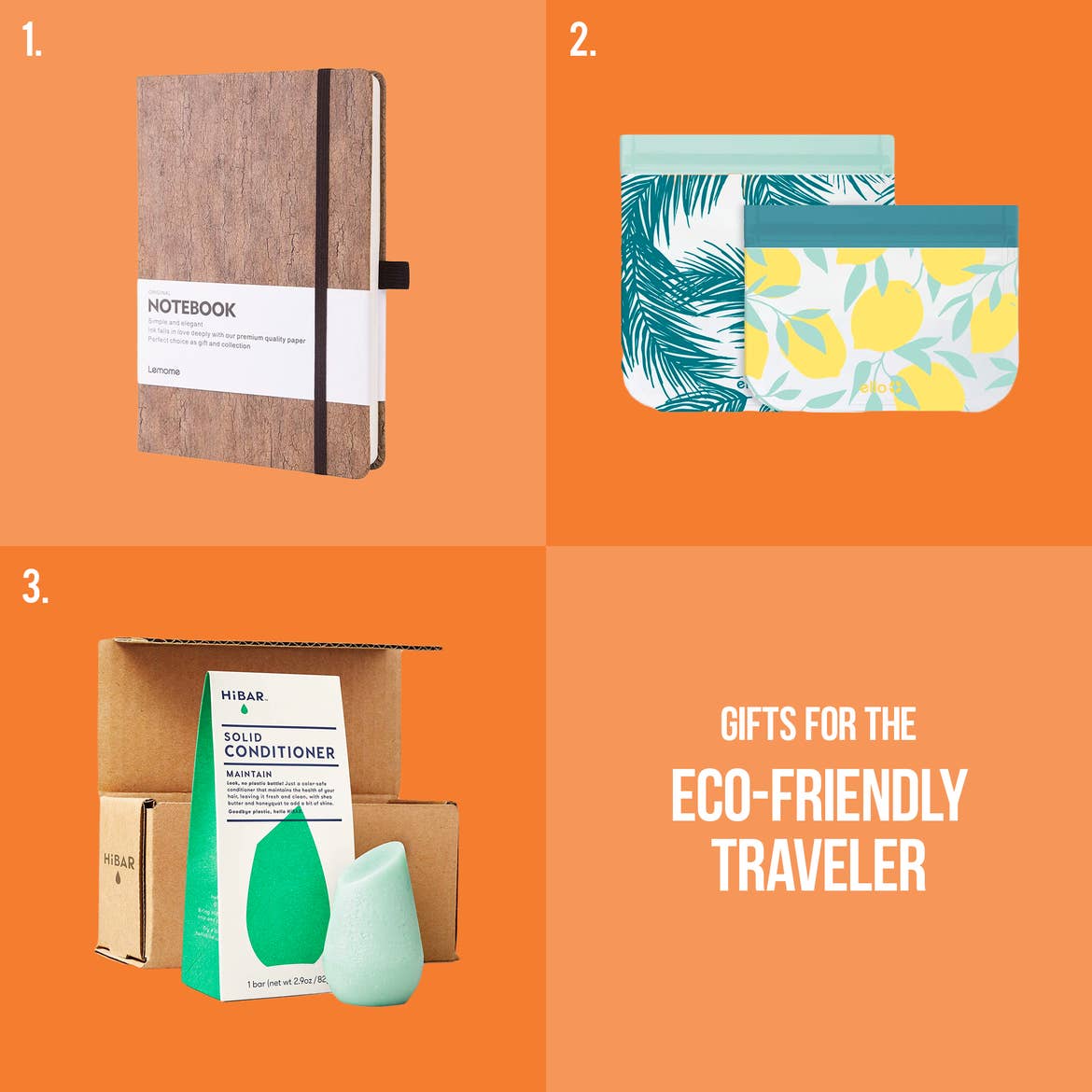 1. Natural Cork Notepad / 2. Ello Reusable Storage Bags / 3. HiBar Shampoo and Conditioner Bars


1. Natural Cork Notebook
Nicole, Digital Media Designer, says: "Inspiration can be anywhere, and it's great to jot ideas, memories during travels or doodles in this Natural Cork Notebook."

SHOP IT HERE


2. Ello Reusable Storage Bags
Nicole also says: "These reusable storage bags are great for snacks, carrying toiletries through TSA or protecting items you bring home from travels. This cute pattern with palm leaves and lemons makes my day and carrying the next item MUCH more easily..."

SHOP IT HERE


3. HiBar Shampoo and Conditioner Bars
Nicole, our trusted eco-warrior, says: "This is my FAVORITE swap of all time! These shampoo and conditioner bars are better for the planet and much easier to transport."

SHOP IT HERE

Also consider: Booking a trip at Tahoe Ridge Resort for fresh-air hiking trails, amazing views and lots of summit-tastic photos. Get pro tips on where to hike in Tahoe from Renee of @reneeroaming.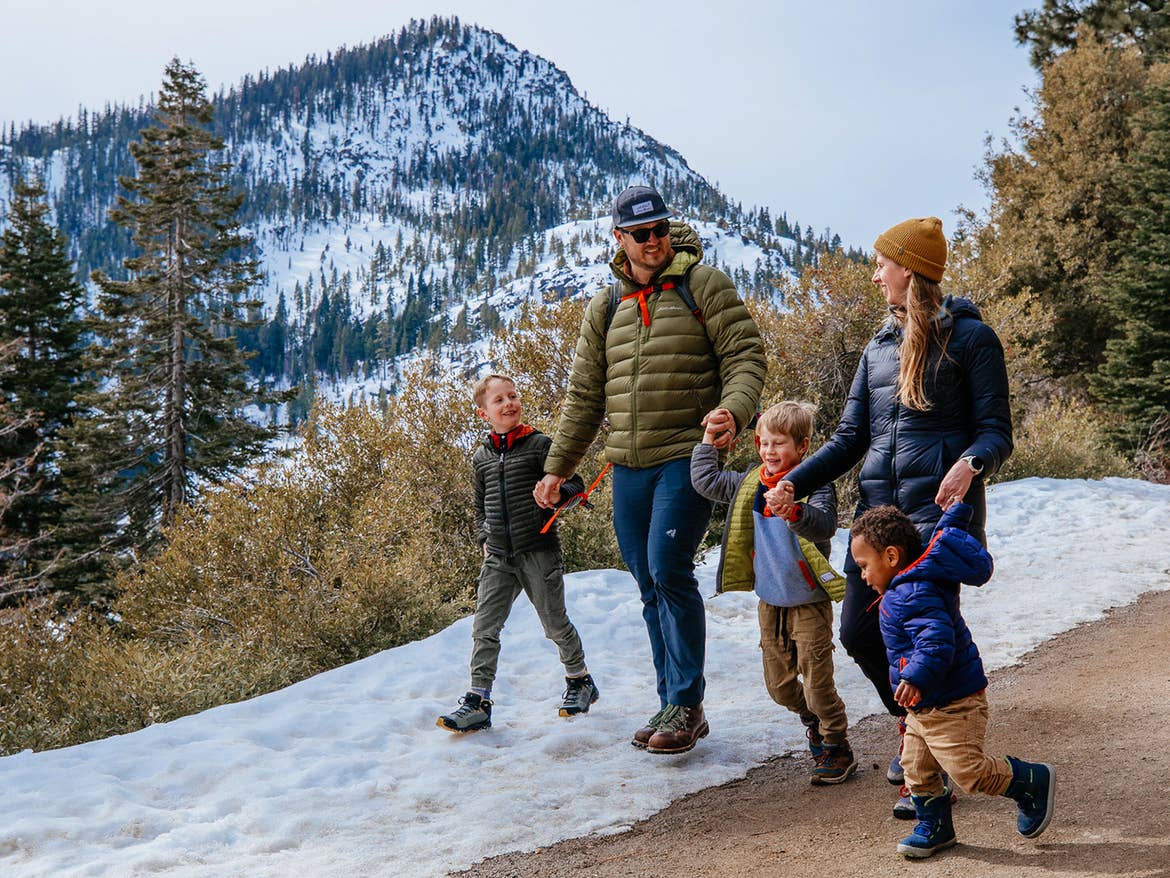 Andrea (of @hikingtheglobewithkids) and her family exploring Lake Tahoe during their stay at Tahoe Ridge Resort


For the "Pack-for-the-Whole-Family" Leader of the Pack
There's typically the "one" in every family that packs for everyonnnnnnnnnne.

If this isn't you, put these on your list for your "someone special."

If this is you: We see you. We appreciate you. We applaud you. Gift these to yourself. They'll be the gifts that keep on giving every time you pack everyone up for your next adventure. 😉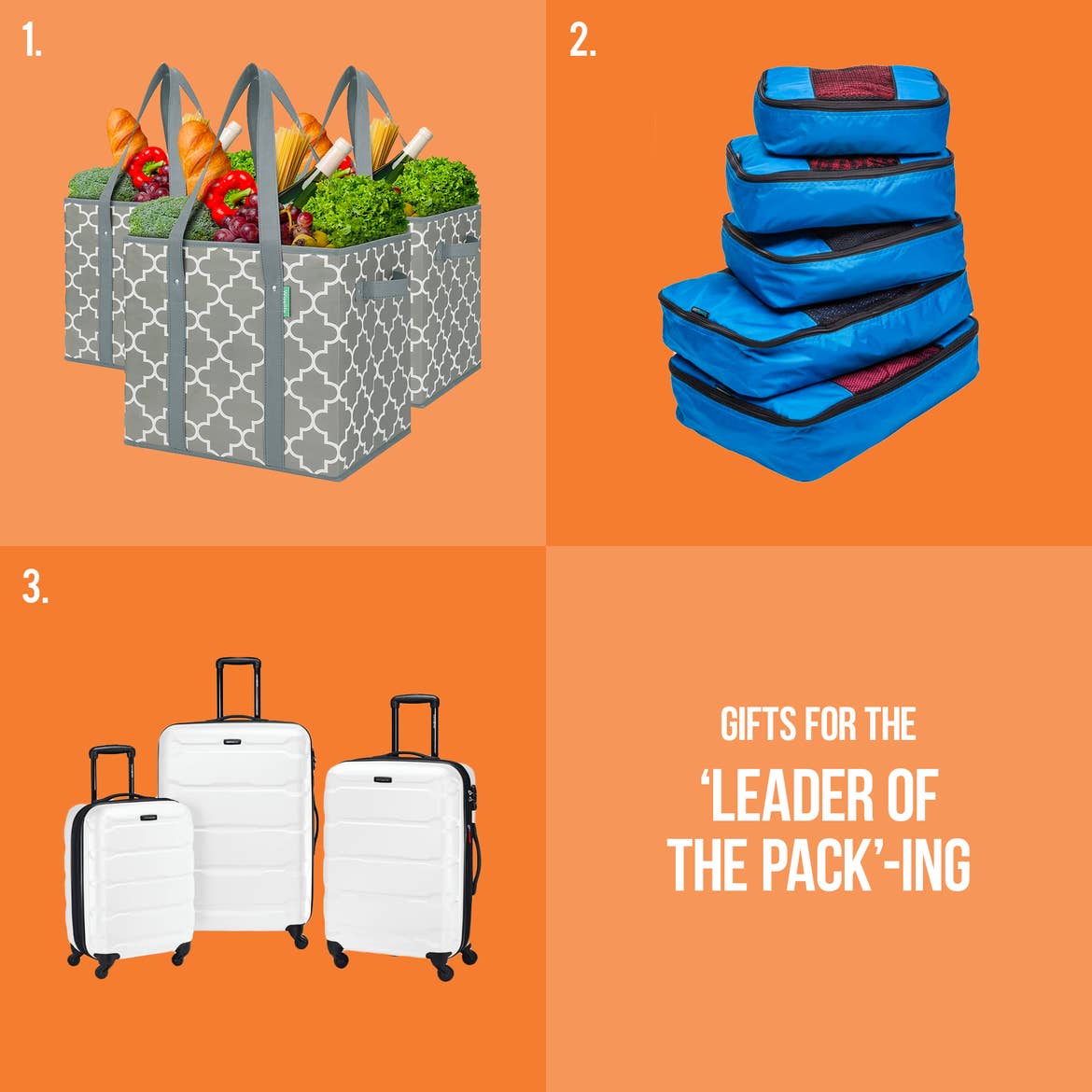 1. WISELIFE 3-Pack Reusable Grocery Bags / 2. Set of TravelWise Luggage Packing Cubes / 3. Samsonite Luggage Set


1. WISELIFE 3-Pack Reusable Grocery Bags
Ashley, Corporate Communications Manager, says: "We are obsessed with these reusable grocery bags. We mainly use them for groceries, but they are a must if you're traveling somewhere and expect to go grocery shopping or carry a lot of food items.

We can usually fit our entire grocery trip in just these three bags (wayyyyy easier to cart upstairs than 20 plastic bags).

Plus, they can also be used as bins, so if you're on a road trip, they're a great place to store snacks, toys or other items."

SHOP IT HERE


2. Set of TravelWise Luggage Packing Cubes
Amanda of @amandanall says: "I have THREE sets of these luggage packing cubes! They've never broken (knock on wood) and are good sizes for me and my family of four.

They withstand some major packing, too. They squash down your clothes so you can fit more into your suitcase. Makes it easy to organize everything and unpack once you arrive at your destination!"

SHOP IT HERE


3. Samsonite Luggage Set
Ok, so this is my own personal holiday gift idea (and packing tip!). I know that Away suitcases are super popular and 'all the rage,' but I've always been a Samsonite girl.

Samsonite luggage is reliable, durable, well-made and lasts a really long time for the price.

And once I switched over to the hard-shell side of packing, I'll never go back to soft suitcases. (You can cram SO much more in there!)

Samsonite sets are in that sweet spot of "not overpriced" but not "cheap" (aka they won't just fall apart on you after a few trips). And the 14,000+ positive Amazon ratings and reviews don't hurt!

I typically buy a cute color to easily find my bags, even when just carrying on. (Plus, it's fun!)

While I can't vouch for this exact set, it IS on my own Christmas wishlist after countless trips with my trusty black and tan Samsonite carry-on.

I can't wait to have a full "set" – feels like an "adulting" thing to have, no?

SHOP IT HERE

Also consider: Packing up for a warm-weather getaway to Orange Lake Resort this winter. Get more pro packing tips for the whole family from Mia of @greyslittlecloset.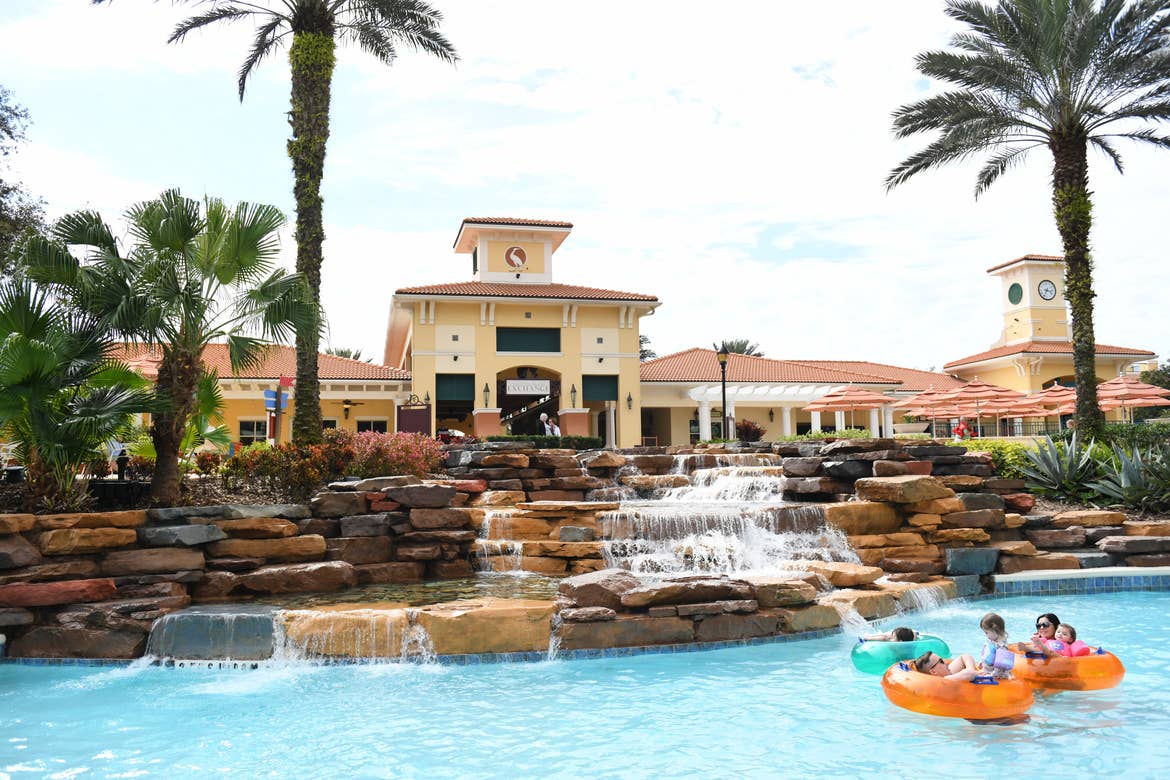 Mia of @greyslittlecloset and her family lounging on the lazy river in River Island at Orange Lake Resort


For the "Gotta-Have-It" Gadget Guy or Gal
When you've got a gadget lover in your life, you know that their craving for having "all the things" comes along on vacation, too. (Sigh.)

Rest assured though: There's no crazy portable foot massagers or complicated doohickies here.

These ideas are actually pretty darn useful and cool…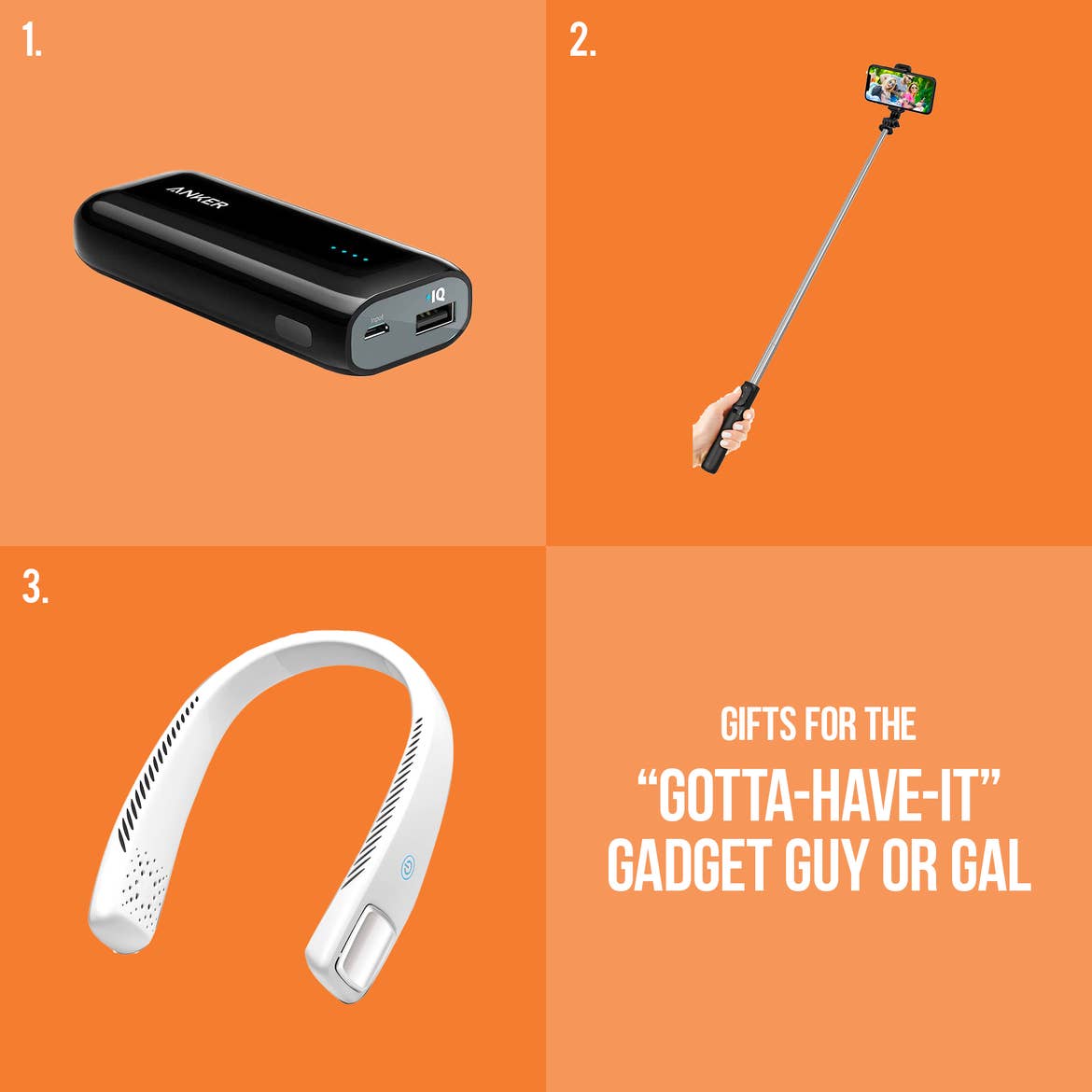 1. Ultra-Compact & High-Speed Portable Charger / 2. Extendable Selfie Stick / 3. Portable & Hands-Free Neck Fan


1. Ultra-Compact & High-Speed Portable Charger
Erin, Social Media Specialist, says: "This is my fave portable phone charger! This thing gives my phone a full charge from near dead at least a couple of times and charges QUICKLY.

It was my essential in college when I'd travel to NYC since you're typically out from morning to night and there aren't a lot of outlets available anywhere!"

SHOP IT HERE


2. Extendable Selfie Stick
Tori, Senior Copywriter & Editorial Specialist, says: "One thing I bring with me on allllll our vacations, both big and small, is this selfie stick … especially because I don't like having to bother people to take our pictures.

It reallyyyyyy came in handy for our recent trip to Yellowstone and Grand Teton National Parks when we were hiking and there was no one around."

SHOP IT HERE


3. Portable & Hands-Free Neck Fan
Tori also says: "I saw a friend with this portable neck fan, and I've been really wanting one ever since!!

I live in Florida, so it's not exactly a 'travel' necessity for me — it's an overall, I-need-this-every-day necessity. 😂

But I feel like this would really come in handy for summer travels (especially for visiting Orlando theme parks during peak warm-weather times) or as a 'cool' holiday gift (pun very much intended)."

SHOP IT HERE

Also consider: Putting these handy-dandy gadgets to good use on a trip to our mega-popular Smoky Mountain Resort in Gatlinburg. They'll help you soak up all that mountain getaway goodness in comfort and style.

Get tips on how to have the perfect Gatlinburg girls weekend and find out where to go hiking for your reading enjoyment.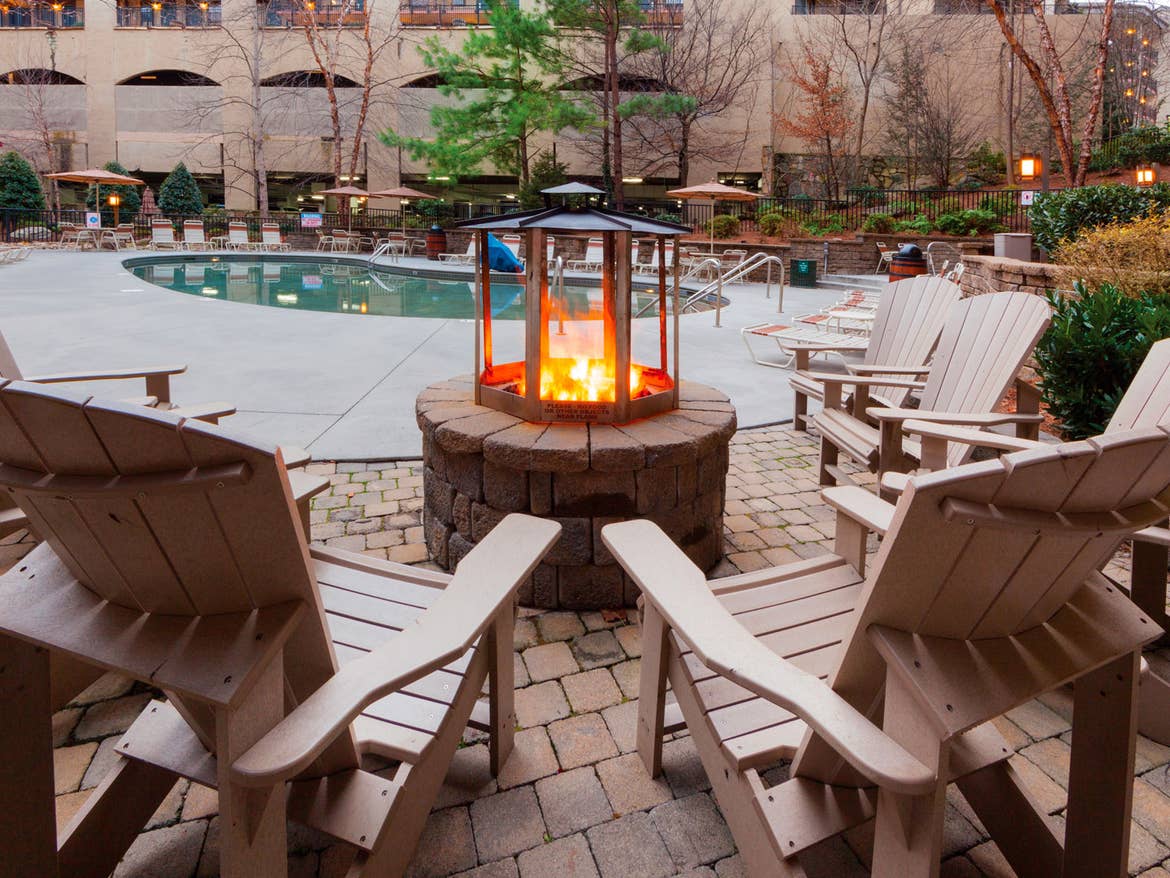 The cozy firepit area at Smoky Mountain Resort, where fuzzy blankets are a requirement
---
Want to Give the Gift of Travel That'll Last Year After Year?
---
For the "If-My-Pet-Can't-Go, I'm-Not-Going" Dog Lover
I recently took my 6-month-old puppy on not one but TWO trips, one of which required four flights. (Yes, we're crazy, and yes, we all survived.)

Each of these items was worth its weight – and the price – in GOLD!

If you're traveling or flying with your dingo this holiday season or in the new year, do NOT skip over these lifesavers.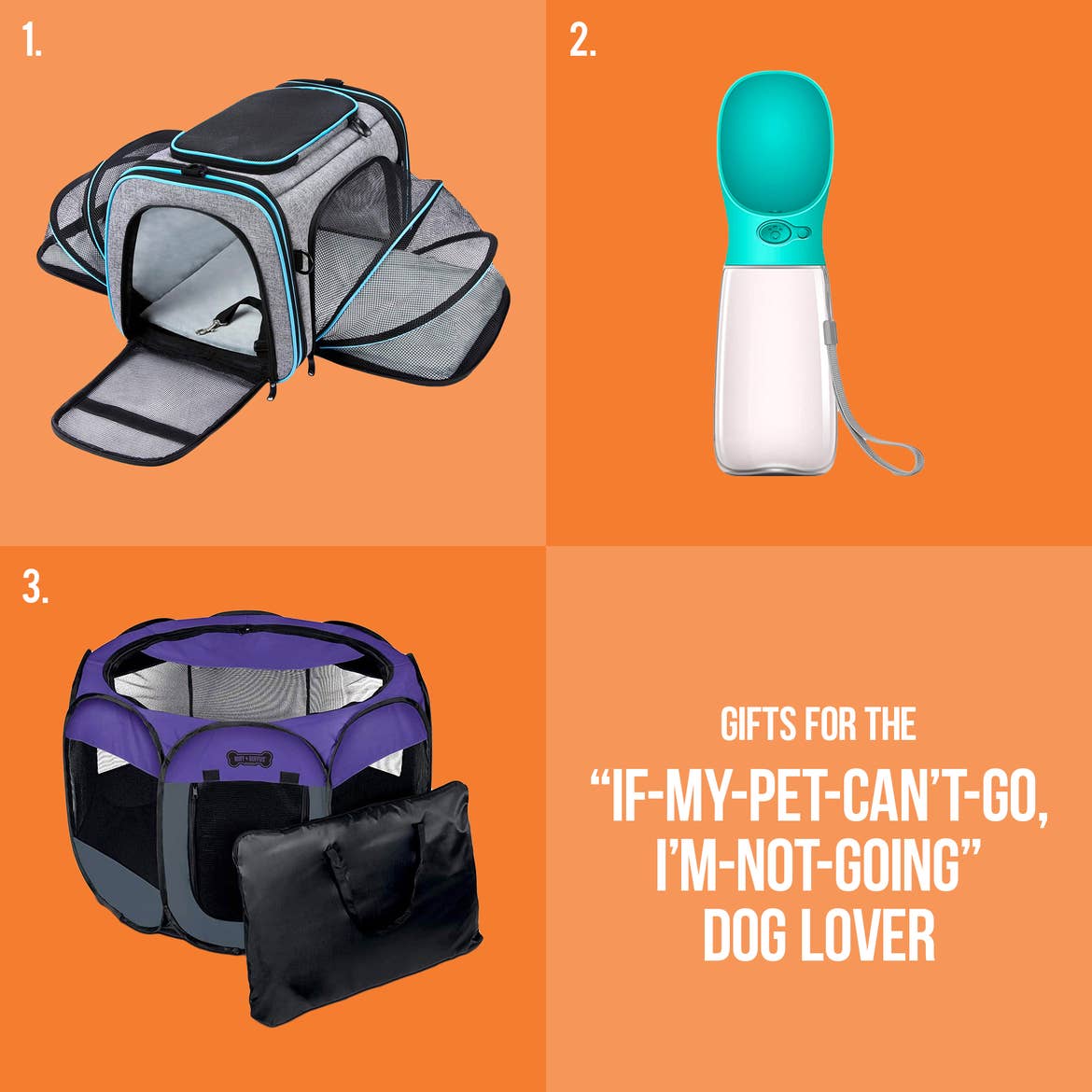 1. TSA Approved Expandable Dog Carry-On Carrier / 2. Portable Water Dispenser / 3. Portable Pet Playpen


1. TSA Approved Expandable Dog Carry-On Carrier
The key here is that while this dog carry-on carrier technically meets airline sizing requirements (yes, it fits inside the gate's sizer thingy) … it EXPANDS!!!

My pup is only 10 pounds, but I didn't want him to feel scrunched and claustrophobic on our flights.

With the exception of take-off and landing, for safety reasons, we unzipped the mesh expansions for him to get up, walk around and stretch. No one said a thing about it, and he was (mostly) content.

SHOP IT HERE


2. Portable Water Dispenser
This handy-dandy dog water bottle worked perfectly for flights, rental car rides, hikes and more.

What I love about it the most is the button that lets water out and into the drinkable "bowl."

If your pup doesn't drink all the water? The button lets the water back IN the container instead of having to waste and dump it out. Genius!

(This is also an "Amazon Best Seller" with a 5-star rating and whopping 20,000+ reviews.)

SHOP IT HERE


3. Portable Pet Playpen
For dogs that are crate-trained, you mayyyyy be wondering how the heck to tackle a pet-friendly hotel if you can't bring a crate with you on a road trip.

My husband and I were a bit stumped on what we were going to do post-flight in our hotel room until I stumbled upon this portable playpen on Amazon.

It pops up and zips closed with mesh walls for breathability, but the key is that it ALSO folds up COMPLETELY flat.

I placed this on the bottom of my carry-on, and it took up zero room while providing peace of mind for where our nugget would sleep while we were on vacay.

SHOP IT HERE

Also consider: Planning a visit to our Apple Mountain Resort in the beautiful Blue Ridge Mountains of Northern Georgia.

The best part in my Dog Mama opinion? If you're a Club Member, this is one of our pet-friendly resorts with a $125 non-refundable pet fee collected at check-in.

My puppy LOVED staying with us in one of the Presidential Suites, running around the rolling greens of the resort grounds and checking out all there is to do in Clarkesville, Georgia.

(Service animals are permitted without fee.)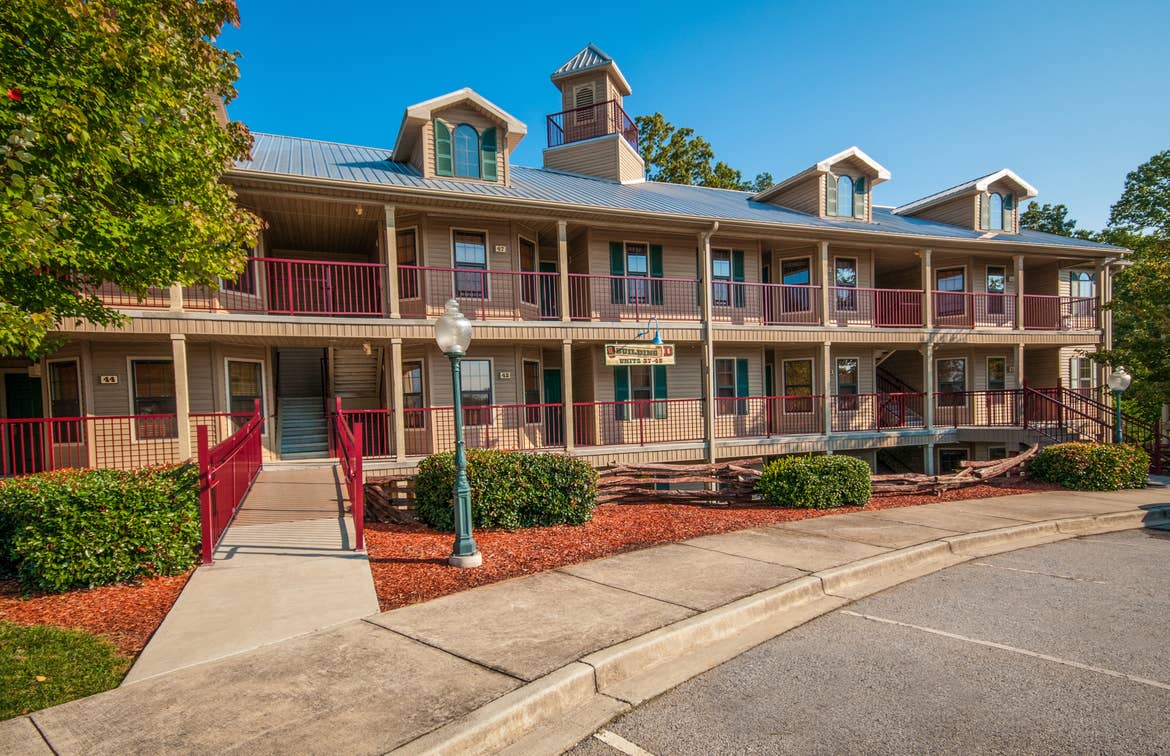 The beautifully charming Apple Mountain Resort in Clarkesville, Georgia


For the Type-A Organized Traveler
Having a place for all your important items to "live" when you're away from home is clutch, as are these great stocking stuffer and under-the-tree hints.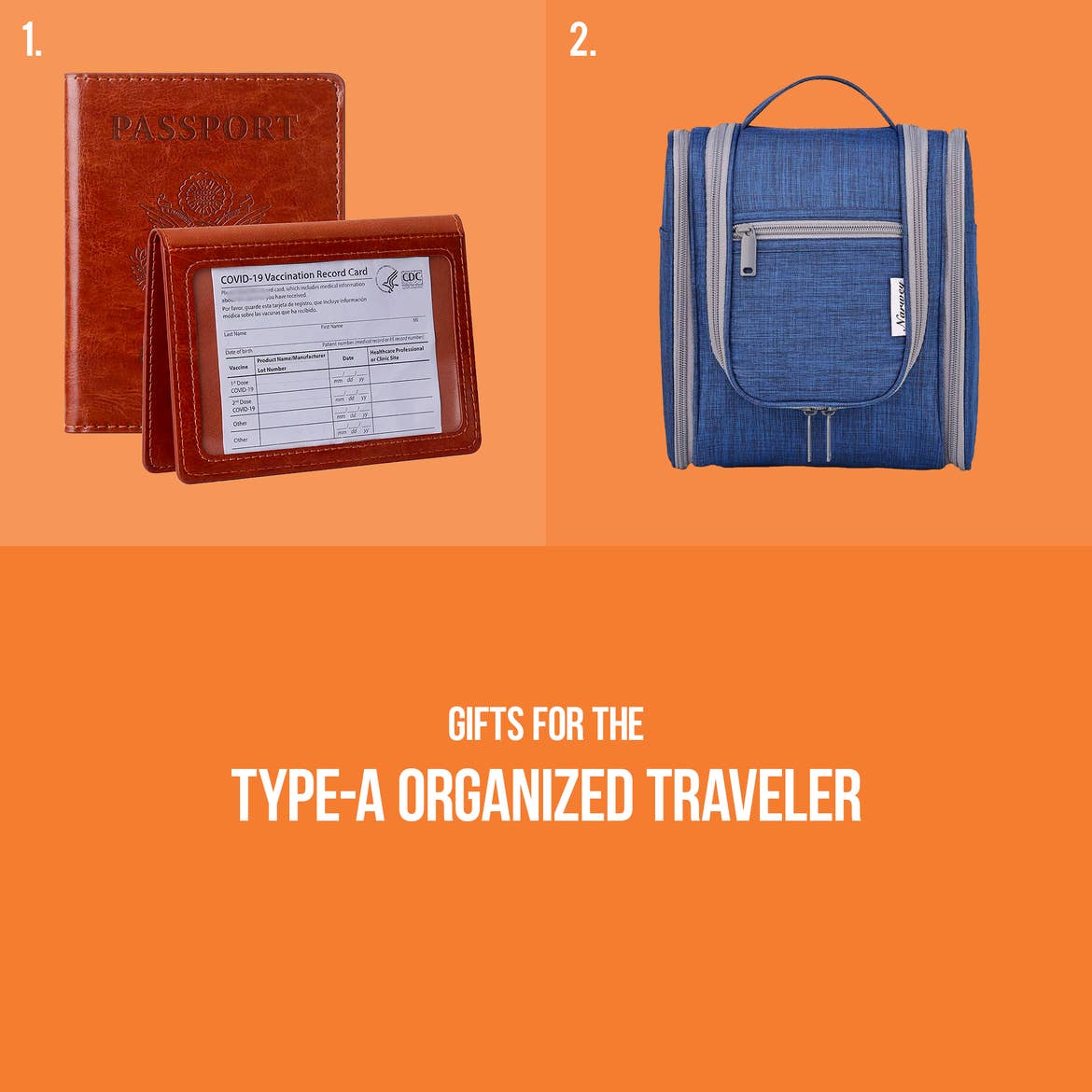 1. TIGARI Passport Protector / 2. Hanging Travel Toiletry Organizer


1. TIGARI Passport Protector
Kristen, Project Coordination Specialist, says: "The Passport wallet was convenient, even prior to the addition of the sleeve for your vaccination card.

It's comforting to have everything in one secure product, protected from the elements, that is super easy to use and grab out of your bag.

When visiting locations with metro transportation, it's also useful for holding metro cards."

SHOP IT HERE


2. Hanging Travel Toiletry Organizer
Kristen also says: "Whether you're the book-at-the-last-minute or plan-your-accommodations-months-in-advance type, the toiletry organizer is a blessing.

It can hang on a hook in the shower or on the back of the bathroom door, and you don't have to unpack every time."

SHOP IT HERE

Also consider: Organizing an adventurous trip to one of our seven Texas resorts.

There's so much to choose from with tubing, nightlife and wine tasting in Hill Country or horseback riding, boating, waterpark fun and more at Villages Resort.

See what family fun awaits your crew in the Lonestar State.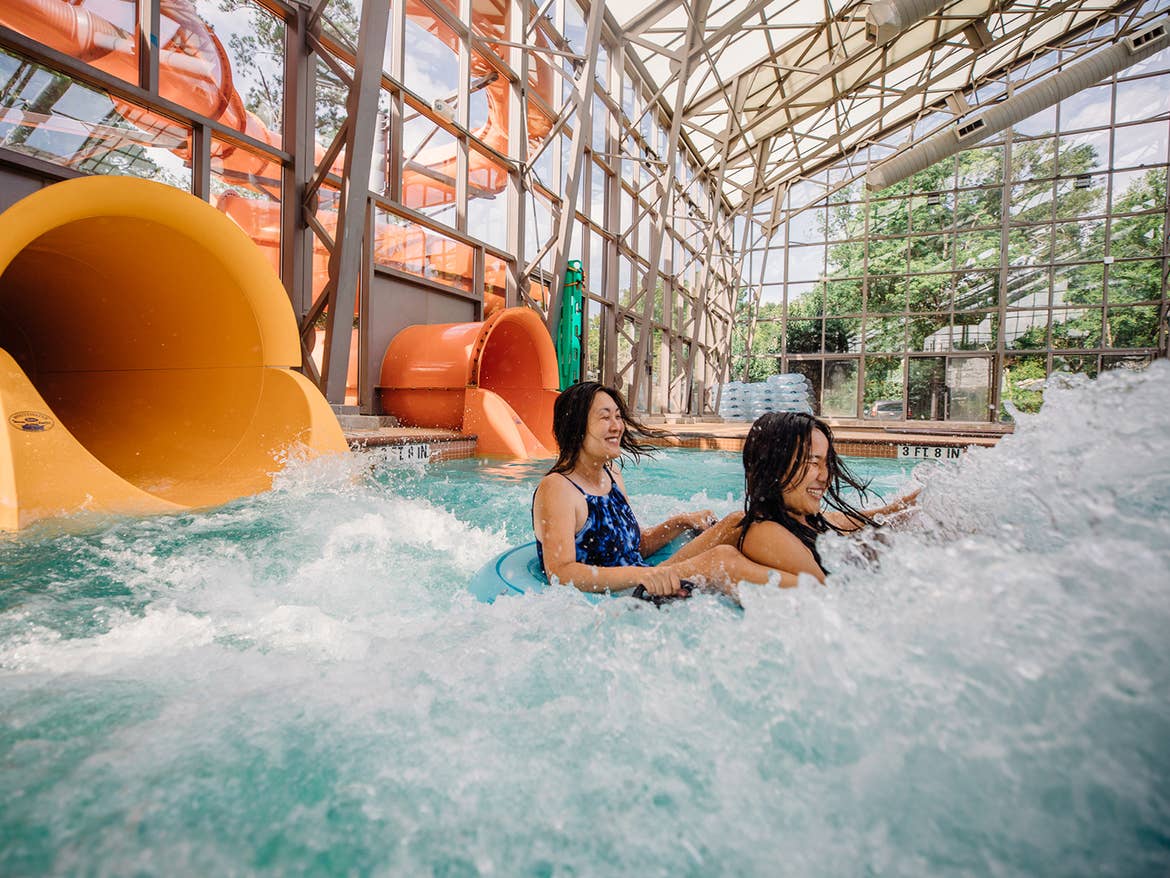 Lauren of @limbylim and her daughter splashing it up at Waterpark at The Villages at Villages Resort


For the Traveling-with-Kids Superhumans
After having traveled with a 6-month-old puppy (see above), I have a MAJORLY renewed respect for real human parents that pack, fly and vacation with kiddos. (Cheers to you, superhumans!)

For the ones in your life that could use some kid- and travel-friendly gifts this season, read on.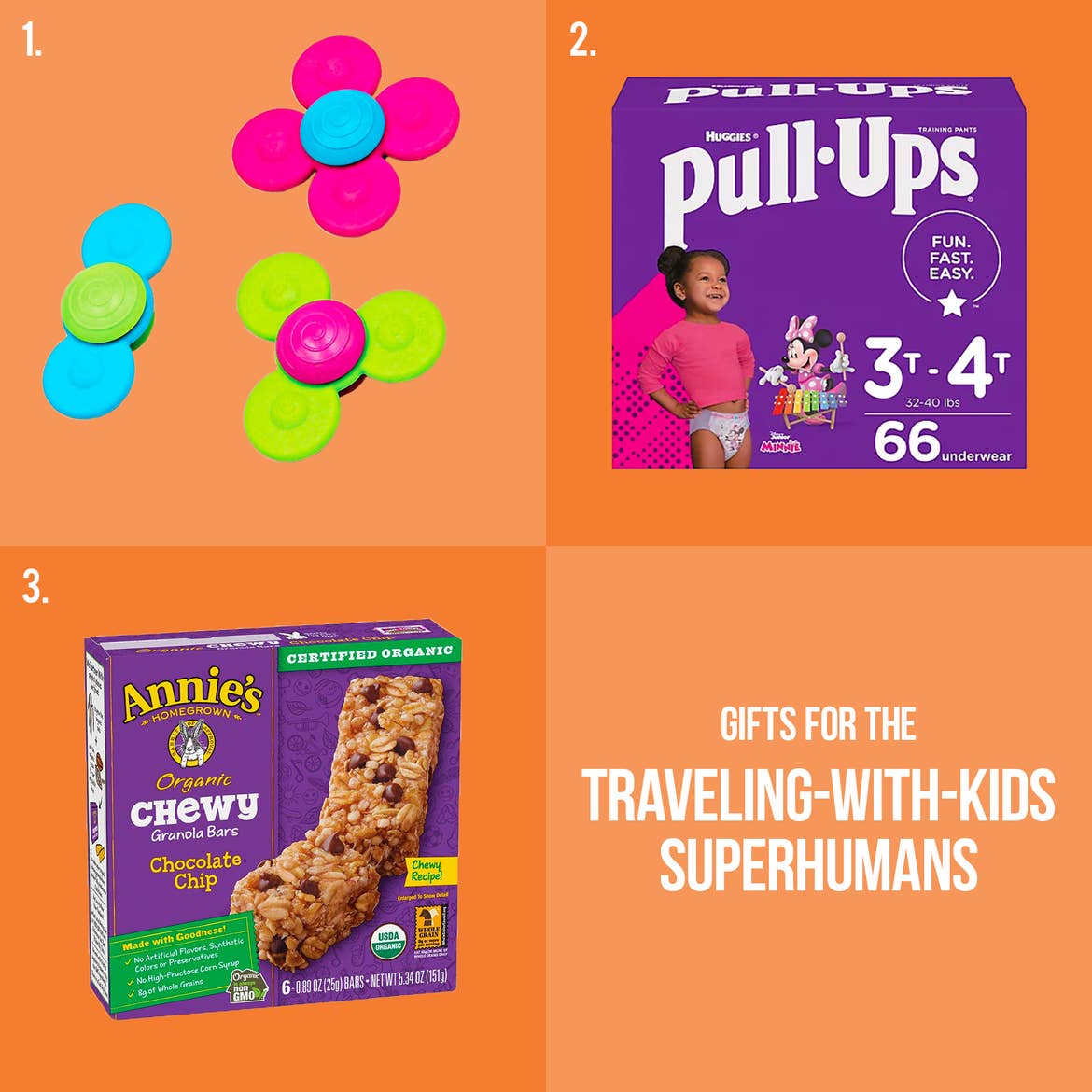 1. Whirly Squigz / 2. Pull-Ups / 3. Granola Bars


1. Whirly Squigz
Mia, mom of four from @greyslittlecloset, recommends Whirly Squigz, amongst other go-to's, as a pint-sized traveler pro tip.

Mia says: "The week before we travel, I stock up on new activities and books that I know will keep my kids busy on the plane. It's so fun to surprise them by packing these items in their carry-on bags the night before our trip."

SHOP IT HERE

Other items on her list? Kanoodle, a Spirograph Travel Set and Crayola Color Wonder Mess-Free Coloring Kits.


2. Pull-Ups
Sure, maybe not the most glamorous holiday gift but these can get expensive, especially when considering an overall travel budget.

So, this gesture might be mega-welcomed for soon-to-be travelers with toddlers!

Raff, mama of 3 from @raffinee, shared some great potty-training travel tips and recommends packing the Pull-Ups even if your toddlers are mid- or recently post-potty training.

Raff says: "If you have long travel days, it's definitely worth it to put them in Pull-Ups. They won't regress after using them again for just one travel day."

And for overnights? Raff says: "…we decided to use Pull-Ups here again as a 'just in case' since the kids weren't in their own beds, and we wanted to be careful."

SHOP IT HERE

(Plus, if you're heading to Walt Disney World® Theme Parks, you can find Mickey Mouse, Minnie Mouse and even Buzz Lightyear night-time protection Pull-Ups for that little extra-magical touch.)


3. Granola Bars (and All the Snacks!)
Again, not the most "glamorous" gift, but still uber-helpful for any parents' travel prep.

Consider throwing in some snacks with bigger, more exciting gifts to help get kids (and Mom and Dad) ready for flying, RV and road trips and basically just avoid "hangry times" on upcoming vacations.

Brenda, mother of five from @she_plusfive, says: "Our kids have a lot of fun coloring and reading while in the car (on road trips) and, of course, the ultimate favorite thing that we all enjoy — snacking!

I typically like to pack our own organic snacks from home, like apples, granola bars, string cheese, nuts and premade sandwiches, so very seldom do we have to stop to eat."

SHOP IT HERE

Also consider: Trekking out to our Scottsdale Resort in sunny Arizona.

Jessica, adventure-loving mom to five kids from @bring_the_kids, recapped all the active and outdoor fun there is to be had at and around the resort.

If you've never been to AZ, may we suggest adding it to your 2022 New Year's travel plans?!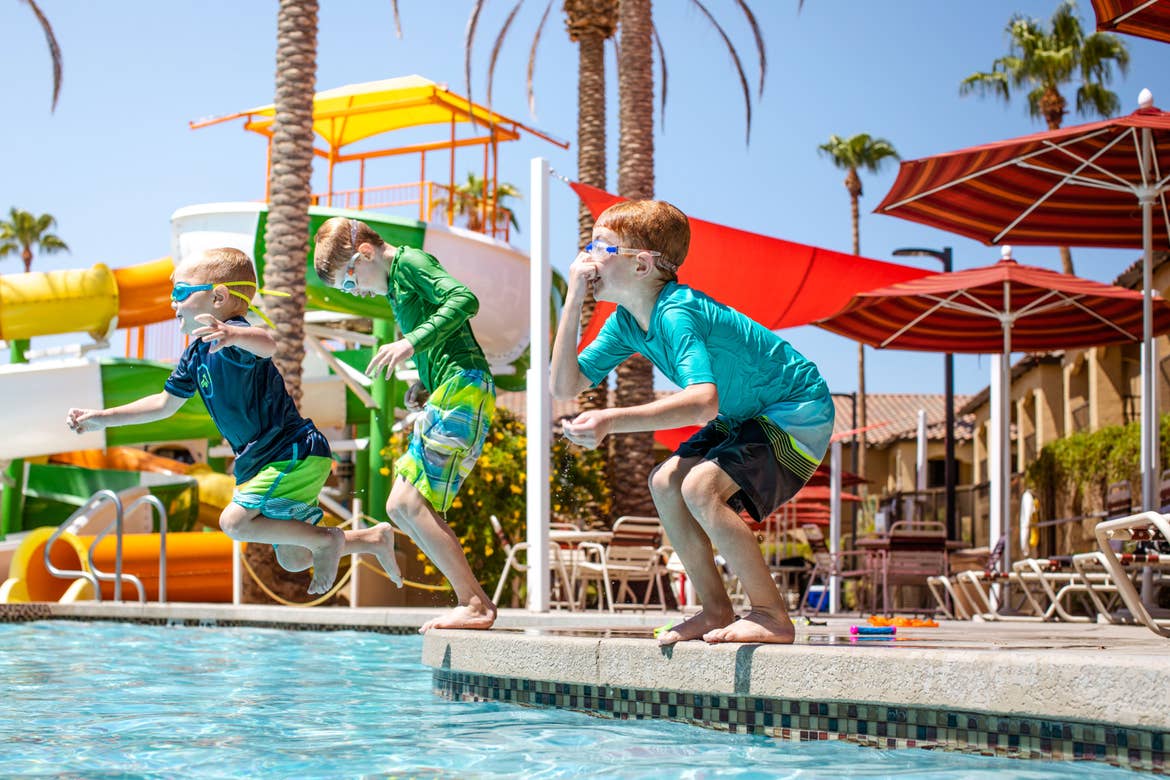 Jessica's boys (of @bring_the_kids) soaking up all the pool time at Splash Canyon at Scottsdale Resort


For Those Last-Minute, Travel-Themed Stocking Stuffers
These tiny gift ideas will pack a big punch and are sure to put a bigggg smile on your giftee's face.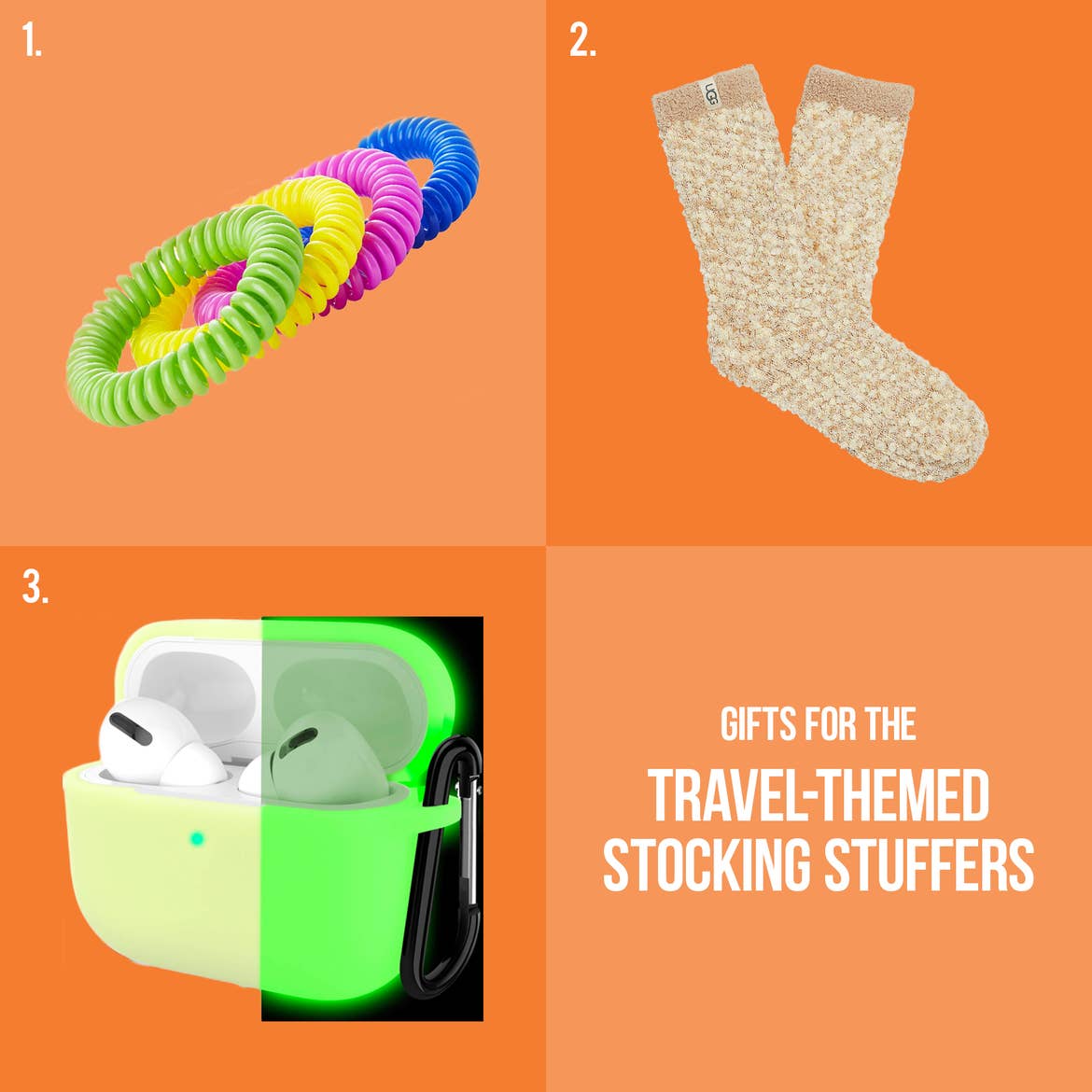 1. Mosquito Repellent Wristbands / 2. Cozy Chenille Socks / 3. AirPod Pro Compatible Case


1. Mosquito Repellent Wristbands
Jaycie, Project Coordination Specialist, says: "I love these mosquito repellent wristbands. They are key for travel to areas with a mosquito problem.

I definitely can tell the difference when I wear one versus when I don't! Also, the people around me tend to get bitten while I haven't felt anything.

I figured they were worth a try, and I really like them."

SHOP IT HERE


2. Cozy Chenille Socks
This is another one from my own personal vault of travel essentials. I ALWAYS pack at least one, if not more, pairs of "cozy socks" when I travel. They're great for planes and walking across hotel room floors alike.

If you loved UGGs in the early 2000s, throw these into your "personal item" bag and try these on for a dash of nostalgia and a WHOLE lot of cuddly, cozy warmth.

SHOP IT HERE


3. Super Affordable AirPod Pro Compatible Case
Tori says: "My sister loves this AirPod Pros case. It's not only small enough for a stocking, it's also glow-in-the-dark.

You can find it easily in your purse, carry-on or backpack, and it has a carabiner so you can clip it to your keys or bag."

SHOP IT HERE


BONUS IDEA: Travel-Sized Hand Sanitizers
Need we say more?

SHOP IT HERE

Also consider: Tacking a very special experience onto your next vacation.

We just unveiled our brand-new VIP Experiences, which are a variety of curated and fully guided travel events and activities — with allllllllll the work of planning, well, planned out for you.

And while you must be a qualified member* to enjoy these special events, for right now, you should definitely read all about them to see what's in store for 2022.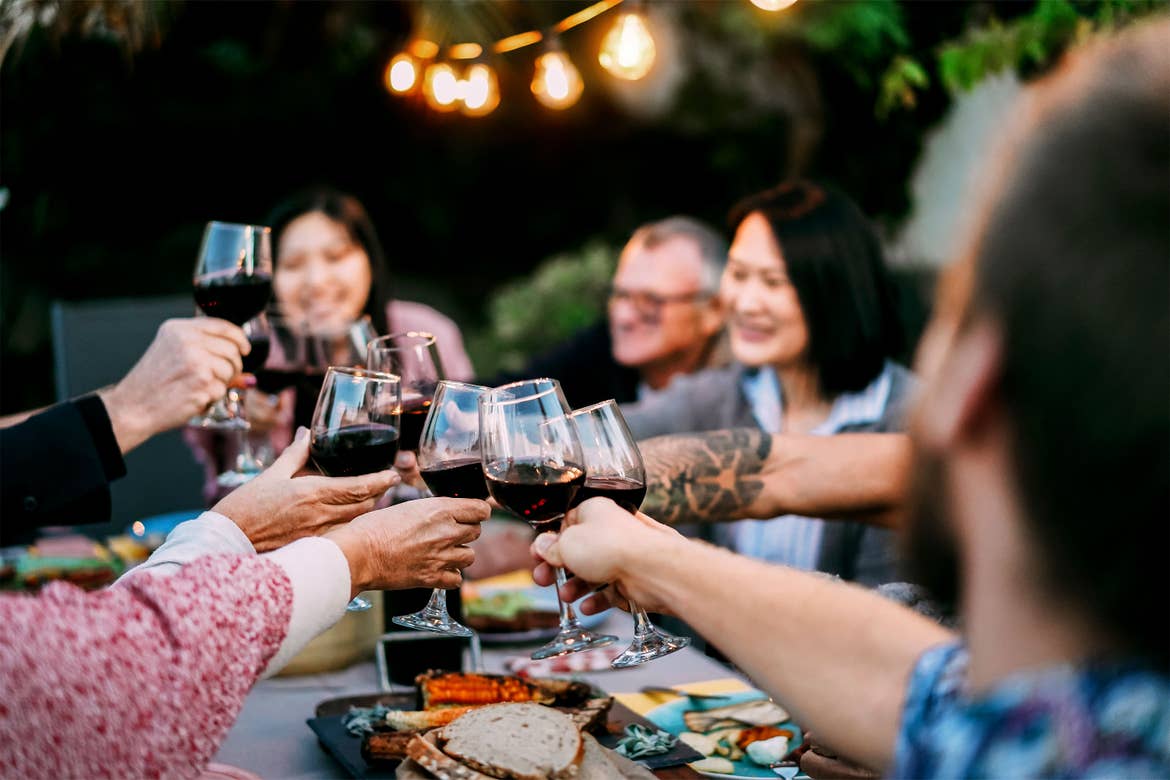 Upcoming VIP Experience for Club members: Taste of Gatlinburg, Near Smoky Mountain Resort

Happy shopping, friends! May all the Black Friday and Cyber Monday deals be with you!

Stay safe, healthy and happy this holiday season, and as always, we're wishing you "Safe Travels" now and all year long come 2022!


All information is subject to change. This article is a curated guide and is neither sponsored nor considered an official endorsement. Please be sure to check information directly with any/all tours, guides or companies for the most up-to-date and direct details.