Jessica Averett
Jessica Averett is an adventure-loving mom to five kids. She and her family have a serious case of wanderlust and are constantly exploring to find the best travel experiences for families. You can follow her writing and adventures at Bring The Kids, where she shares how to get outside and live an adventurous, travel-filled life with kids in tow.
Instagram
Facebook
Pinterest
Website
As a child, each year I eagerly looked forward to our annual family ski trip. My parents would load my brothers and me up in the car, and we'd drive through the night to meet up with all our cousins at our favorite ski resort.

Those days were filled with lots of hot cocoa, snowball fights and M&M's on the chairlift. Grandma would always feed us big bowls of chili topped with mountains of cheese, and we'd race through the trees having the time of our lives together.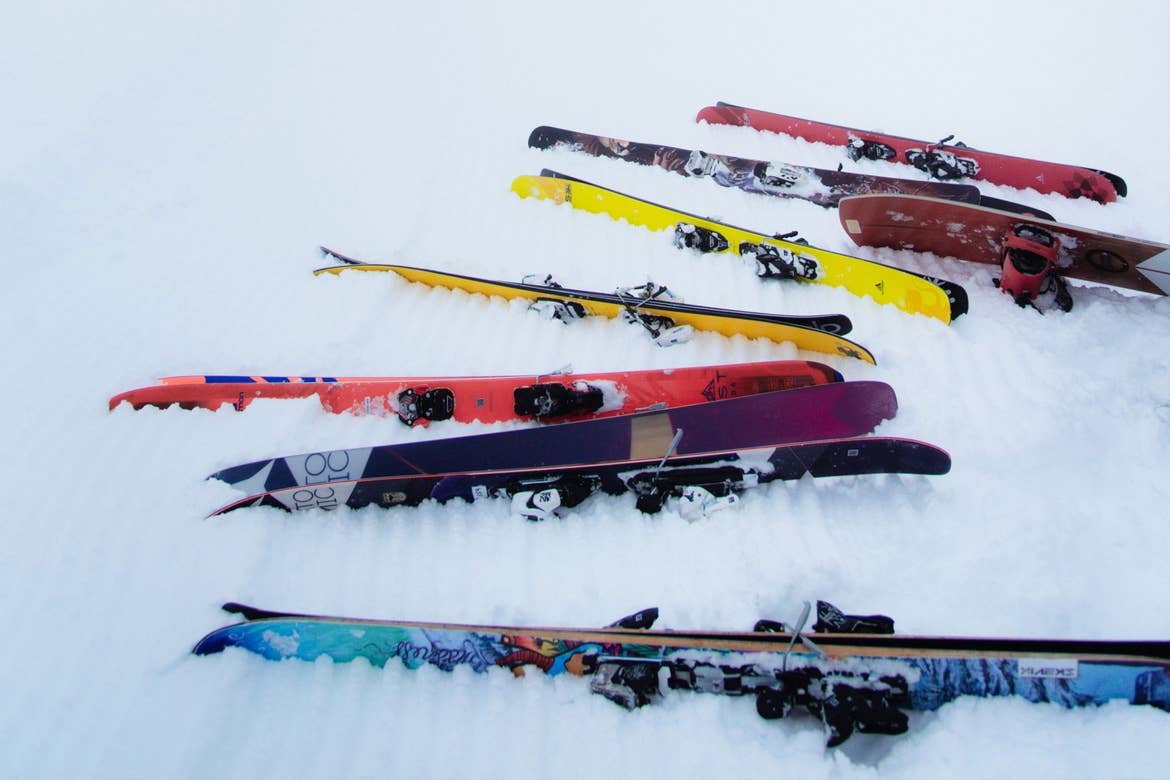 Naturally, as a parent, I also eagerly looked forward to creating the same sort of memories for my own children. I wanted them to love skiing as much as I did, but more importantly, I wanted them to have great memories of spending time together.

Thankfully, I think that we've mostly achieved that success. This year will be our 12th year of taking our kids on family ski trips, and I can honestly say that it's our most anticipated family experience of the year.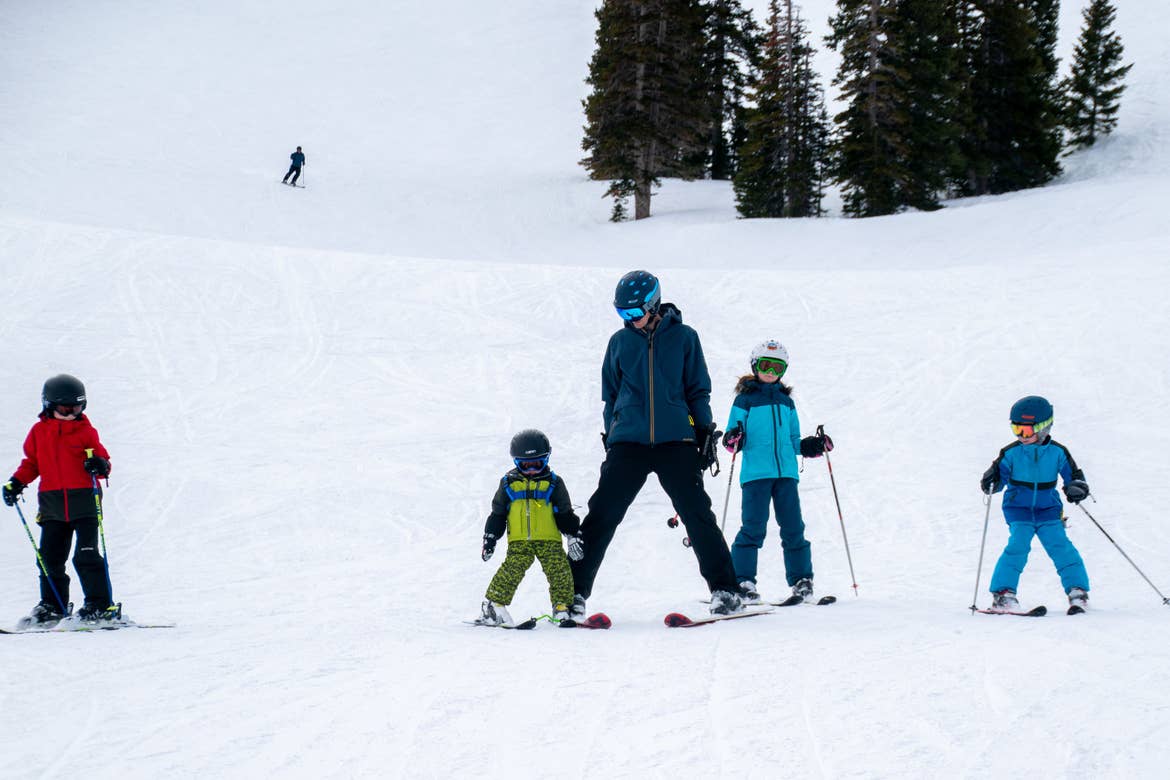 Planning your first family ski trip can feel very overwhelming, especially if you're new to the sport. Even the gear alone can feel intimidating (and pricey).

So I'm sharing some tips to get you on the right path while planning your first family ski trip. It's well worth the effort!


1. Choose your resort carefully
The most important thing you need to consider when planning your first family ski trip is where to ski. If everyone in your family is new to skiing, I highly recommend going to a small resort where you'll find fewer crowds and likely lower prices.

If your kids are just starting out, but you're a seasoned skier, choose a resort that has quick access to the terrain that you want to ski from the beginner hill and ski school drop-off.

That will allow you time to ski with your kids, as well as easy access to ski your favorite runs at the same time. (Or at least with minimal time spent going back and forth.)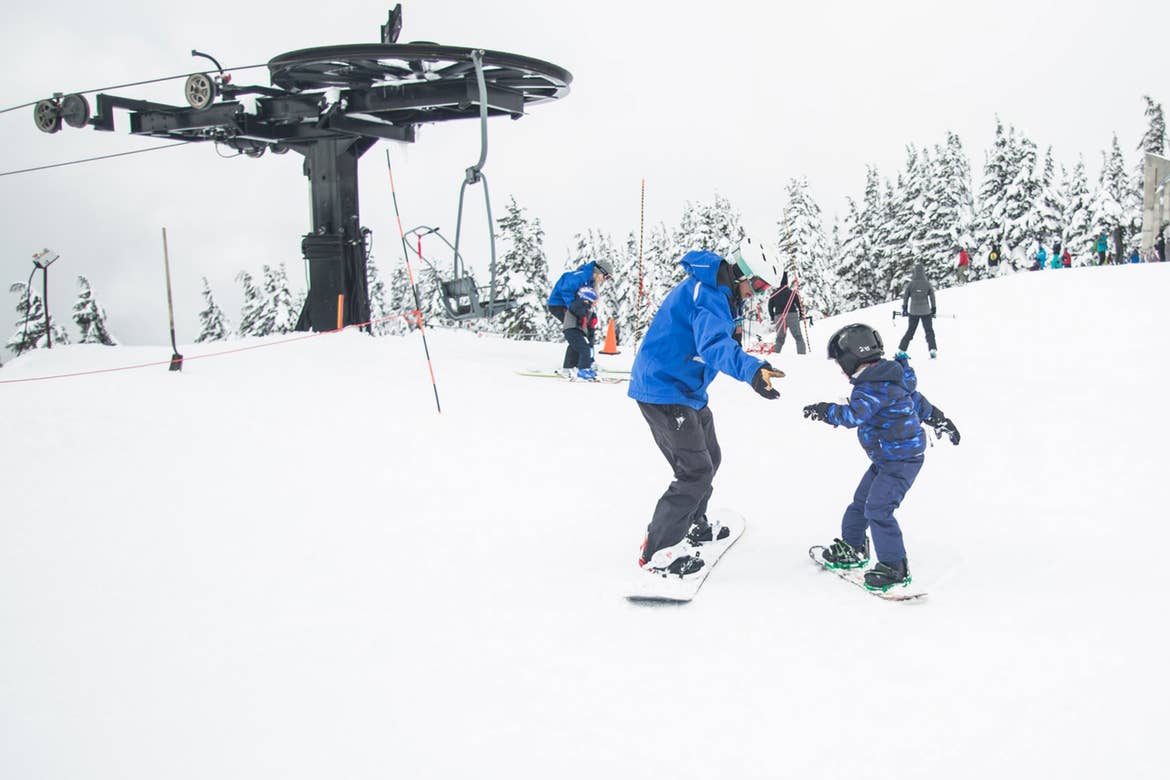 It's also important to factor in 1) how far you need to travel to get to the ski hill from the airport and 2) how far your resort or accommodations are from where you'll be skiing.

Many ski resorts are in remote mountain areas, making them a major trek from the airport (several Colorado resorts are a 3- to 4-hour drive from the airport).

For some places with the quickest access to the ski hill from the airport, I recommend Salt Lake City, Lake Tahoe and Vermont.
If you're new to skiing, know that ski school and first chairlift times are often early in the morning. It's preferable that drive time to and from where you'll be skiing is minimal.

You likely won't want to be getting the kids up at the crack of dawn, or to make a long (and sometimes cold and wet) drive back "home" at the end of your snow days.
Pro tip: If it's available and affordable for your family's budget, ski-in/ski-out accommodations are the BEST. This means you can typically walk right out of your resort and hop on a chairlift to start your ski day.

You also don't have to pack up the car with gear, drive and fight to find a parking spot and schlepp all your gear across a parking lot twice a day. (Example: Tahoe Ridge Resort has a direct connection to Heavenly Resort via its Skier Express gondola.)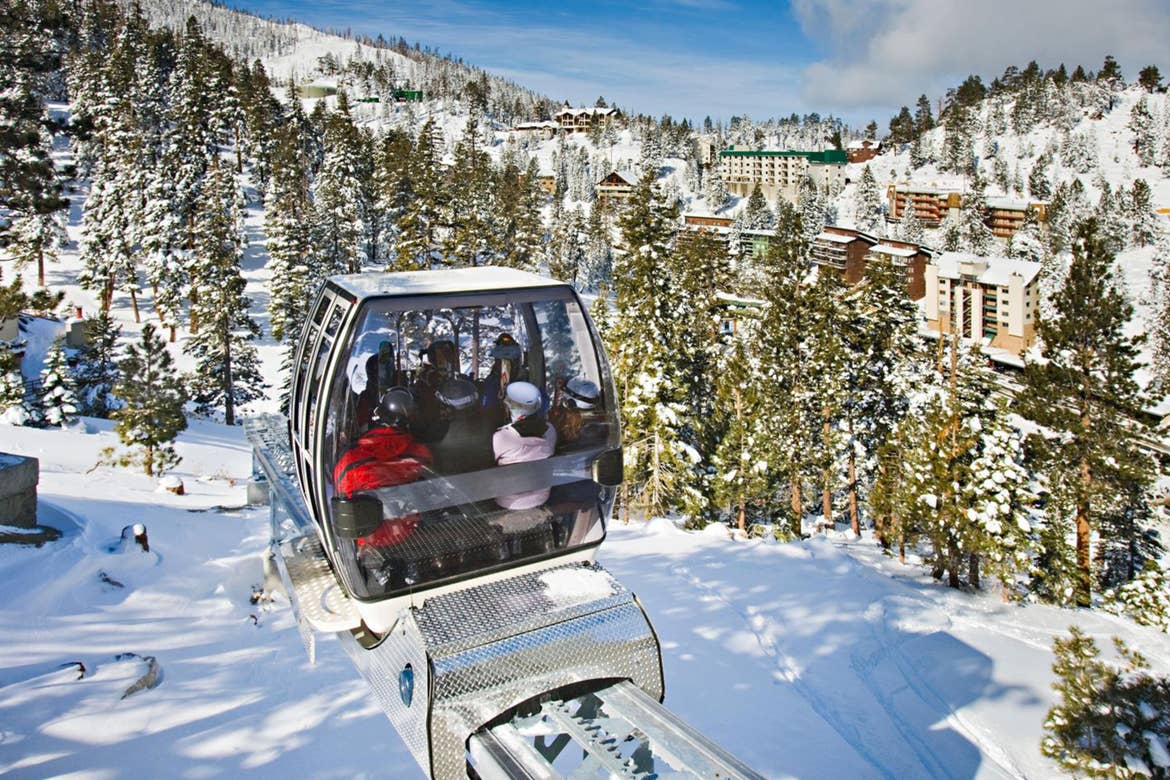 Skier Express at Tahoe Ridge Resort. Photo courtesy of IHG®
2. Purchase your lift tickets as soon as possible
Gone are the days where you could casually stroll up to the ticket window and grab your lift ticket when you arrive at the ski resort.

Due to extra precautions to prevent the spread of COVID-19, most ski resorts will stop selling lift tickets at the resort and instead offer up fully online ticketing systems.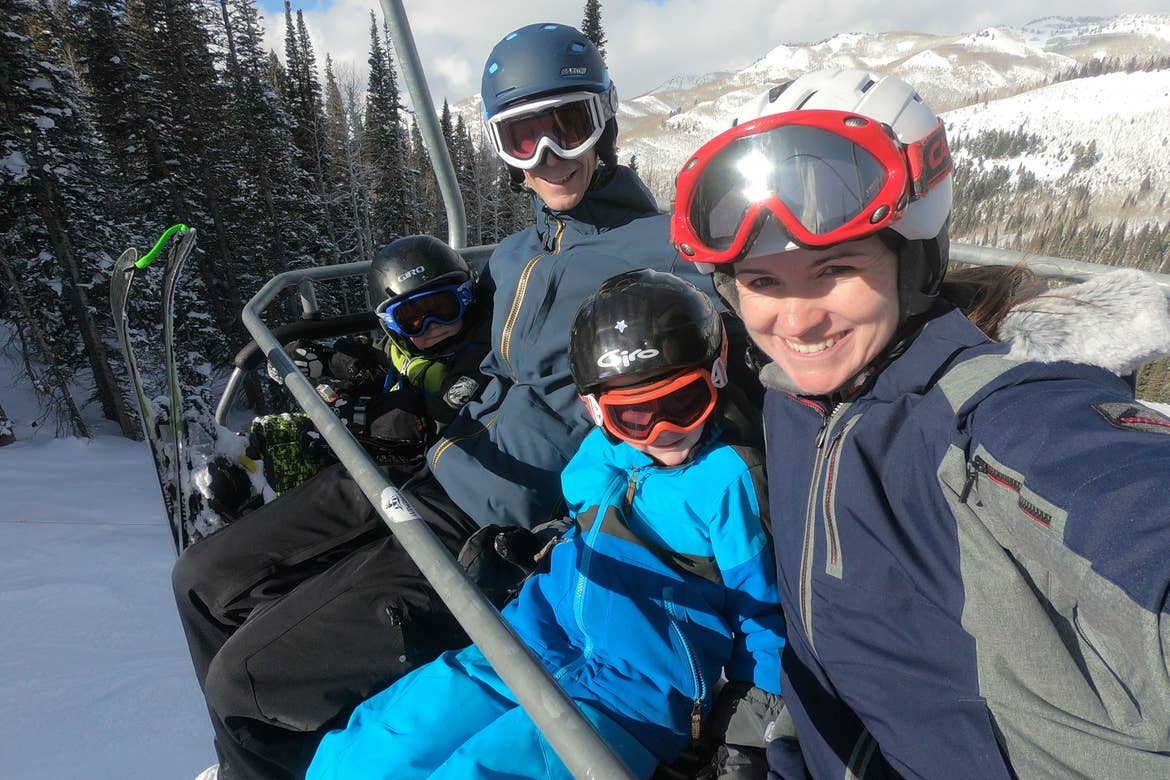 Taking it one step further, many resorts will only sell a limited number of tickets for each day during the 2020-21 ski season.

If you've got a specific date you want to ski, especially if it's around a holiday or spring break, make sure you reserve your tickets well in advance.


3. Reserve a spot in ski school
If you want your first family ski trip to go as smoothly as possible, I highly recommend putting the kids into ski school.

While there are people who successfully teach their own kids how to ski, putting your kids in school will make the trip much less stressful for you as a parent, and it will help your kids get a strong foundation to build on for the rest of their skiing adventures.

Ski school prices can range anywhere from $100-400 per day for group lessons, so I always recommend spending the first two days of a ski trip with the kids in school, and then spending the rest of the time skiing together as a family.

Once your kids get the fundamentals (like "pizza wedges") down, it's easy to continue "practicing" from there.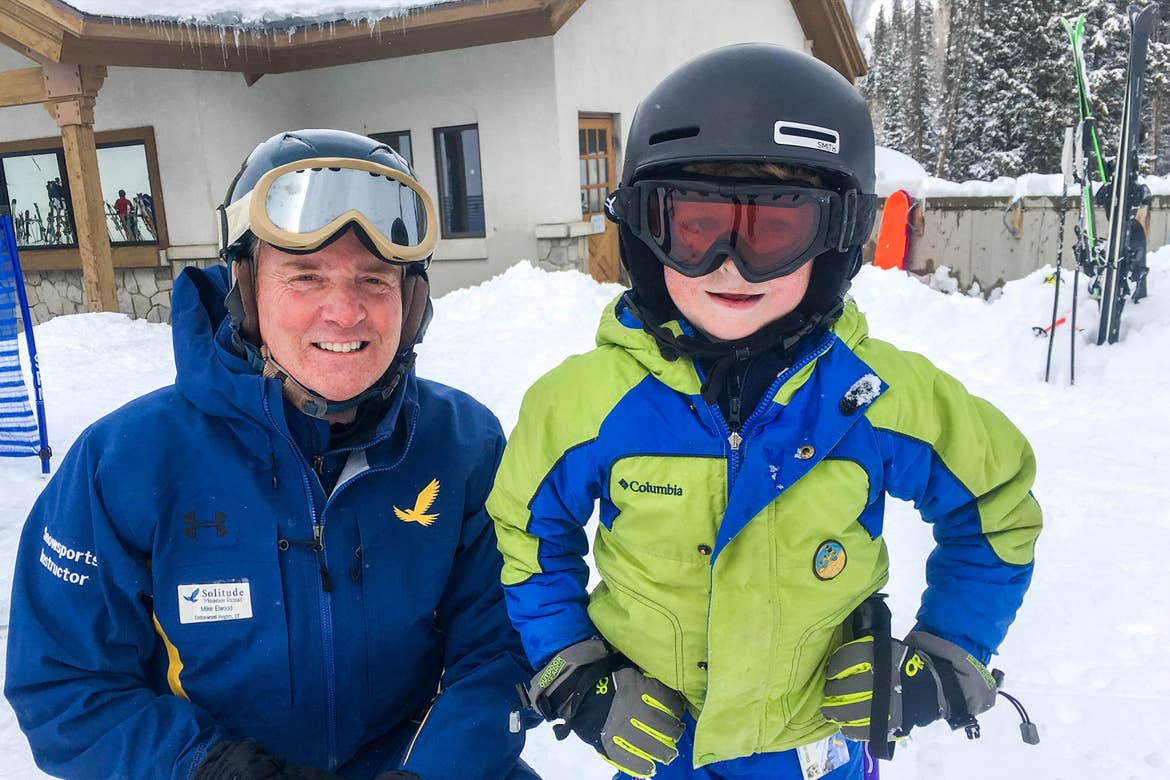 Also, if you're new to skiing or haven't been on the slopes in a while, definitely plan on taking a lesson yourself.

Not only will it help you improve your skills much faster than you could on your own, but it will also help prepare you for helping and skiing with your kids once they're done with school.

Nearly all ski schools have limited capacity to ensure the instructors can safely and successfully give each student attention, and some sell out very quickly at peak times. Plan on booking your ski school dates as soon as you purchase your lift tickets.

Pro tip: Some lessons include a day lift ticket, so check with the school before you purchase your lift tickets.


4. Rent your ski gear in advance
To get on the ski hill, you're going to need ski boots, skis, poles and a helmet for everyone in your family, all of which can be easily rented at any ski shop.

While it's tempting to just grab them right before you hit the slopes in the morning, it's much better to rent your ski gear and pick it up in advance.

Not only will you be avoiding the early morning rush (and long lines or wait times) at the ski shop, but you'll also give yourself a chance to get used to your gear before you hit the slopes.

(Most rental shops do not charge more for picking gear up the afternoon before your rental.)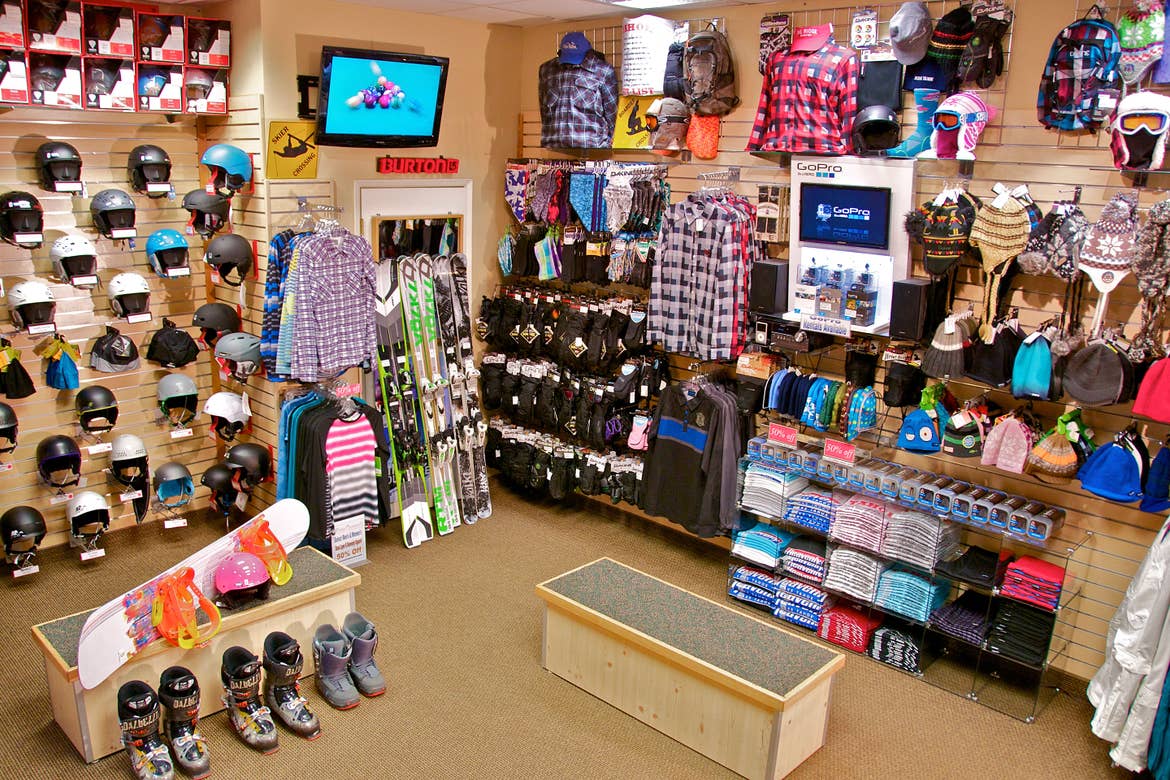 The Resort Sports Ski Shop and Marketplace at Tahoe Ridge Resort

This is especially useful if you're skiing with kids who have never skied before. Ski gear is notoriously awkward and having some time to get used to it before you start gliding around the snow is priceless.

Have your kids spend 30 minutes or so just learning how to walk in their ski boots. As they get better at walking, have them practice walking in their ski boots while holding their own skis and poles.

Pro tip: The easiest way to have kids carry their own skis is to have them stick their arms out in front of them while an adult places their skis directly on top of their arms. Then tell them to hug their skis to their body.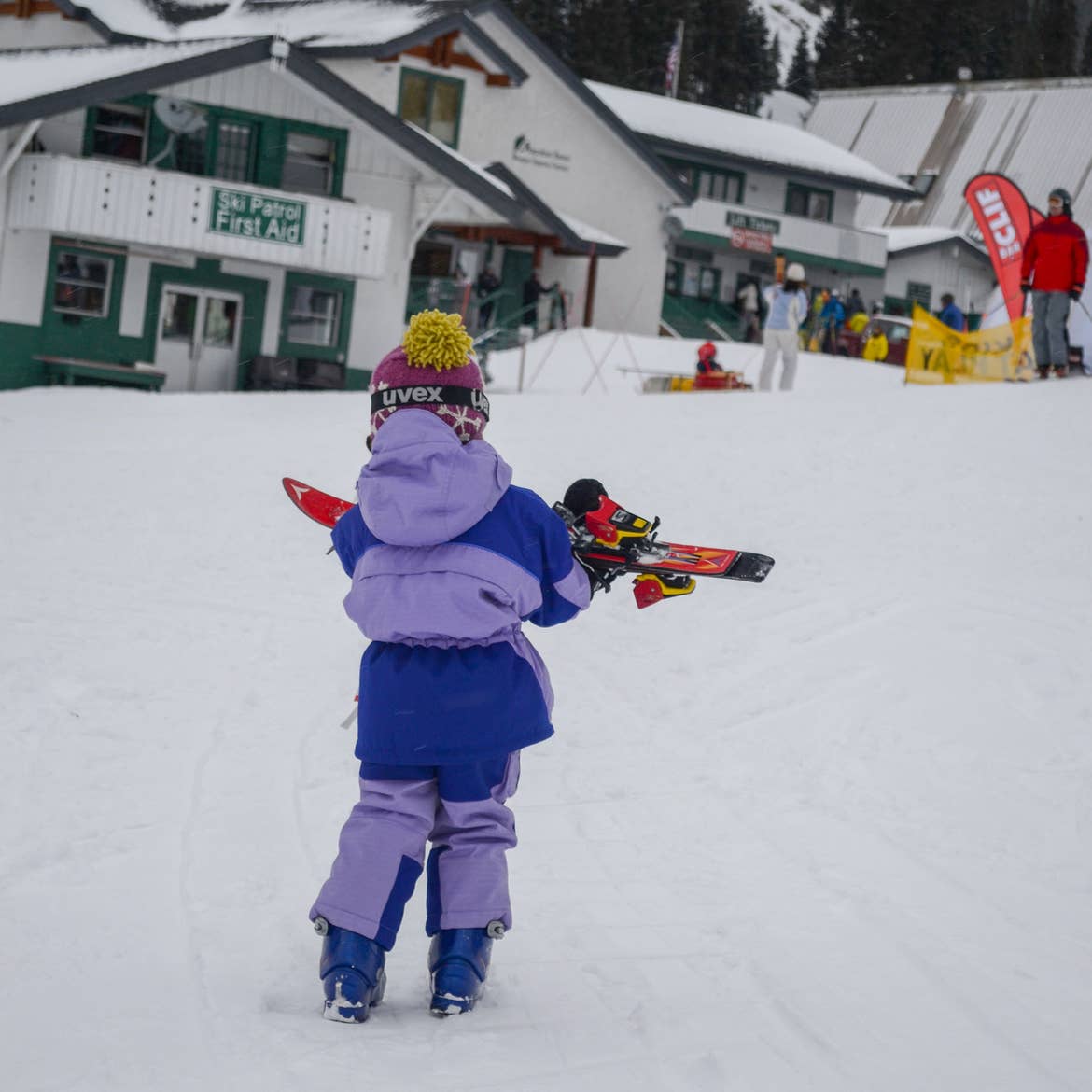 5. Dress in layers
Although a positive attitude goes a long way, one of the biggest indicators of how much you'll enjoy your family ski trip is what you wear.

No, I'm not talking about designer fashion, but rather dressing so that your body stays at a comfortable temperature while you're skiing.

Nothing is worse than being cold or wet while you're trying to enjoy a fun family ski day up in a beautiful mountain setting.

Dressing in layers is always the best plan, and here's the guide I follow with our family:
Base layers: These go under your clothes and are meant to help regulate temperatures and wick moisture away from your body. There are many options for both wool and synthetic base layers, but as a hard rule, base layers should never be made of cotton.

Some of my favorite brands include Iksplor, Shred Dog and L.L. Bean.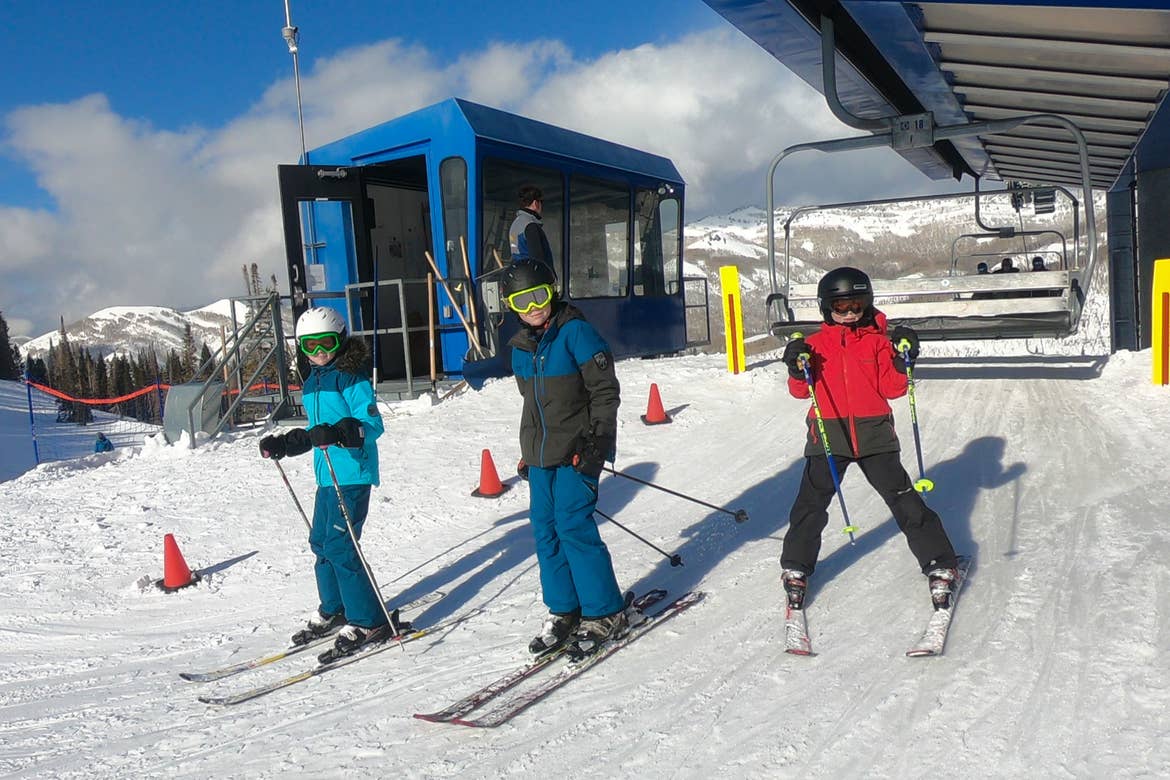 Wool socks: We always wear wool socks while skiing and stick to just one pair to avoid foot discomfort and blisters. I have the best luck with Merino wool socks that are designed for skiing, so you get extra cushioning where it matters most.

These don't need to cost an arm and a leg; you can find many options on Amazon.
Mid-layer: Wear this on top of your base layers to keep you warm while you're out skiing. On extra cold days, my kids wear a thick fleece as a mid-layer, and on warm days they skip a mid-layer altogether.

Remember, you need to dress for how cold it will be at the TOP of the mountain you are skiing on, so it's ok if you feel a little too warm at the bottom (just unzip your coat a bit so you don't sweat).
Outerwear: Outerwear is what protects you from the elements and includes the most critical pieces of your ski clothing. These are mittens, snow pants and a coat, and they should all be waterproof, especially the mittens.

(I've tested out a bunch of kids mittens and gloves to try to find the best ones.)

If you're worried about cost or if your family will like skiing enough to invest in outerwear, consider asking to borrow these items from friends or family, or checking online for used apparel via Facebook Marketplace or other secondhand sources.
Headwear: While you're skiing, you'll always want to wear a helmet for safety, but the rest of the time, plan on having a beanie to keep your head warm.

Also, make sure you get a pair of good goggles to keep your face warm and help you see better while you're skiing.

Face masks are always a good idea to keep your face warm and protected from the elements, but in 2020-21, they'll be a requirement at most resorts.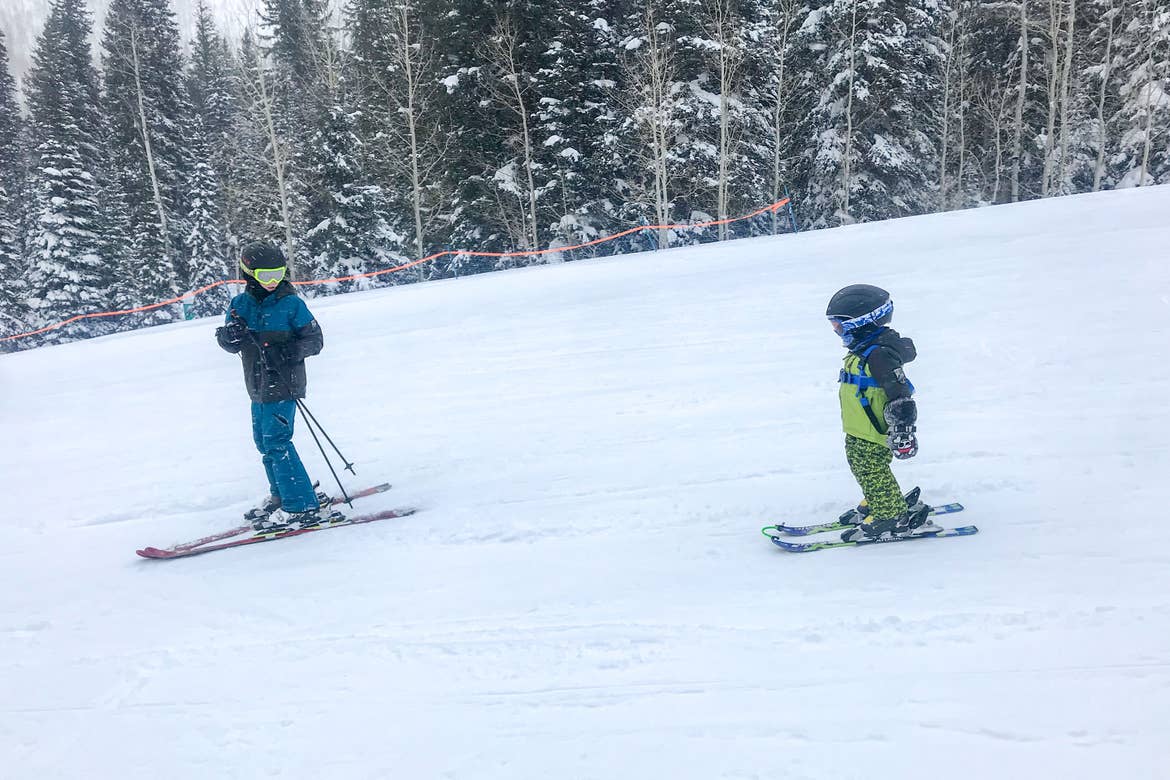 Other odds and ends:

If you're planning a ski trip for 2020 or 2021, be sure to tuck a few disposable face masks in your pockets for when you're walking through resorts, ski shops or for lunch or apres-ski dining.

While you'll want to be sure to be ready for COVID-19 safety measures on and off the slopes, you likely won't want to use the same warm (potentially wet or sweaty) face mask that you've been using all day.
If you're going to an especially cold destination, consider bringing some hand warmers along. They're a great way to keep your fingers toasty inside your gloves.

They even make toe warmers, but be warned that they can be really uncomfortable inside your ski boots.
6. Plan ahead for a successful first day
The first day of skiing on your trip will set the tone for the rest of your vacation. Head to bed early the night before, so that everyone is well-rested and you can get an early start to the day.

Here are our top tips for a successful first day of skiing as a family: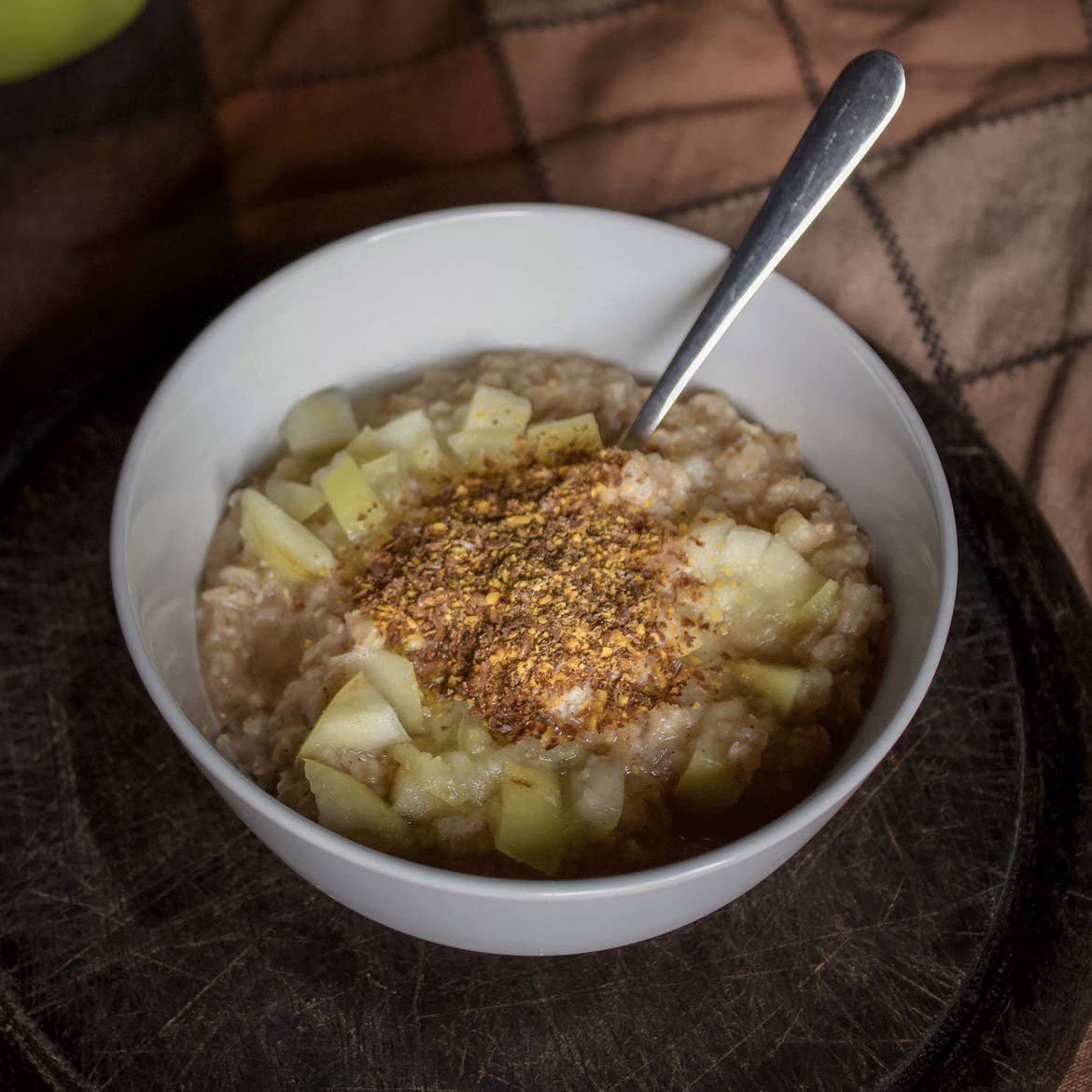 Eat a good breakfast: Plan for a well-rounded breakfast that will give you plenty of energy until lunch. Our go-to ski breakfast is a big bowl of oatmeal topped with fruit and nuts with a protein smoothie on the side.
Stash some treats in your pocket: At some point during the day, one of your kids is going to need a bit of an energy boost, as will you.

As an active family, we always go on family hikes and ski trips with some treats to help reward our kids after a good hike or ski run and encourage them to keep up the good work. M&M's and Tic Tacs are our favorite ski treats.
Get to the ski hill early: Remember how I mentioned it's ideal to stay close to the ski resort? This is why.

Plan on getting to the ski hill about 60-90 minutes before you plan to start skiing, or in advance of ski school starting. It will likely take 30 minutes (or more) for everyone to get dressed in their ski gear and boots, and bathroom breaks will take about three times as long as normal when you're wearing all your ski gear and layers.
Take plenty of hot chocolate breaks: These are great for kids and adults alike and are especially important during your first day of skiing.

Taking a few breaks during the day will help your body more gradually adjust to the altitude, as well as giving your legs a much-needed break.
Talk to the ski instructors: To get the most out of ski school at the end of the day, talk with the ski instructors about how things went. Specifically, make sure to ask them what ski runs to ski next, and what skills need the most work.

That way, when you're out skiing as a family, you ski on the best trails and don't go somewhere too difficult.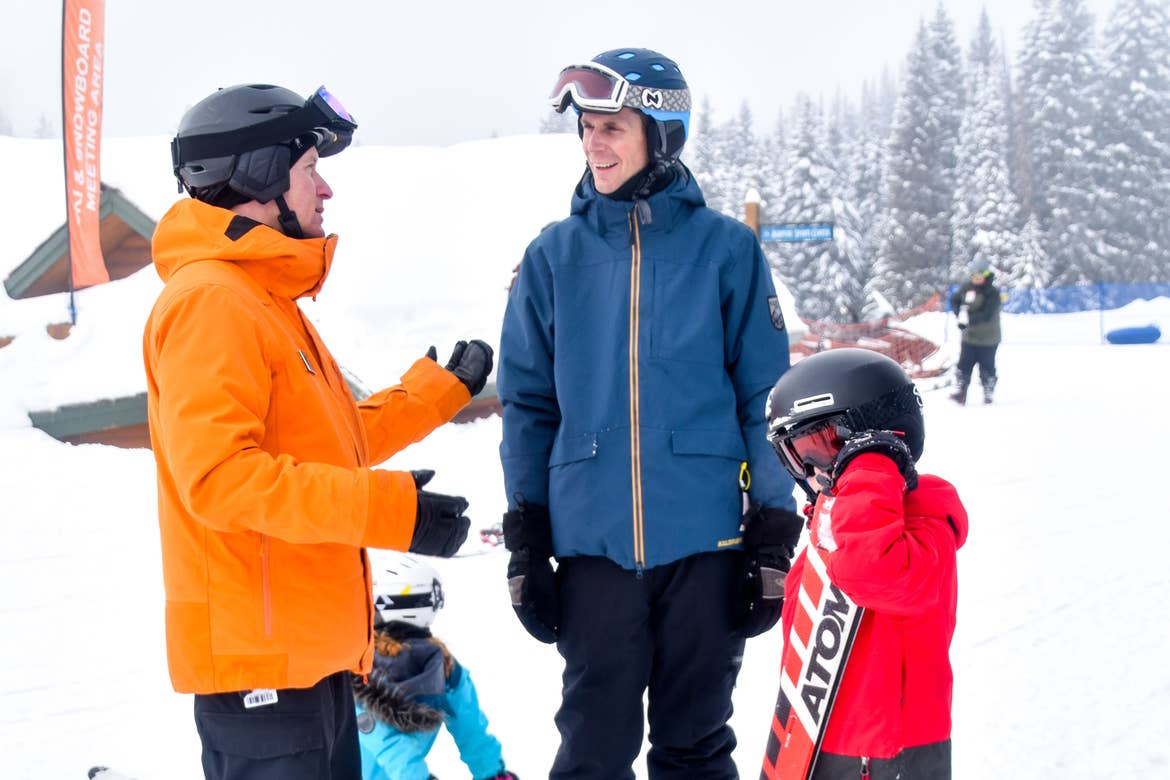 End the day by skiing as a family: If everyone is in ski school for the day, plan on ending each day by skiing together as a family.

Even if you're just going down the beginner hill together, it's a great way to reconnect and laugh with one another, and as an added bonus, everyone can show off the new skills they learned during the day.
Break for family photos: It's 100% worth it to put your gloves on and take them off to snap those snowy family vacation photos. Especially if this is a family "first."

Just be sure to keep your camera in an inside pocket of your jacket so the cold air doesn't drain its battery. (Most phones and point-and-shoot cameras typically only last a few hours when exposed to extreme cold, so bundle it into one of your warmer layers.)
Finish off with a treat: We are big fans of rewarding our kids for hard work and good attitudes. At the beginning of the day, we choose a treat and if everyone is still trying their best to ski and be happy, we enjoy it together when we finish skiing.

Our family tradition is to find a fire, smush together around it and share the best dessert we can find.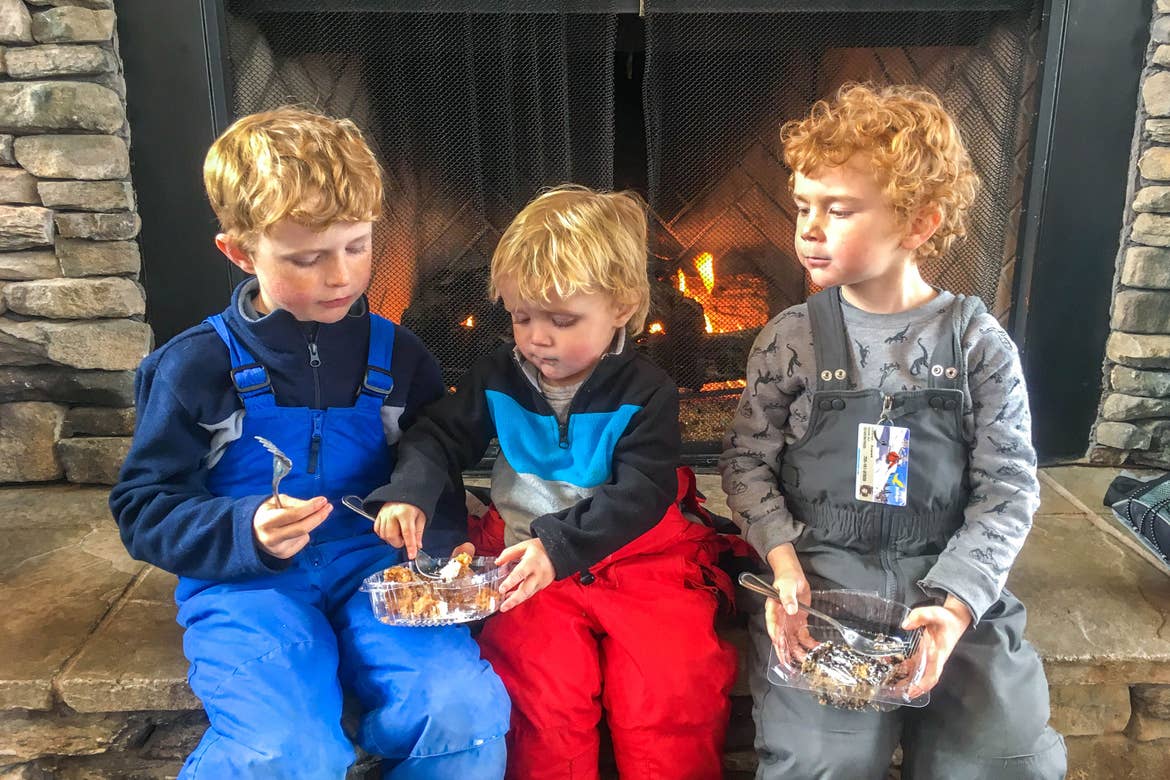 7. Plan some activities in addition to skiing
It's tempting to ski every day of your vacation, but that's usually too much skiing, especially for your first trip. Your legs—and your kids—will likely get pretty tired out.

I recommend skiing about 50-70% of your trip and planning other winter activities on the days you aren't skiing.

Most ski towns have sledding, ice skating, sleigh rides and snowshoeing, which are all great ways to enjoy winter in the mountains, without being on the ski hill.

Last winter, I took my daughter on a dog sled ride, and she said it was the coolest thing she's ever done in the snow.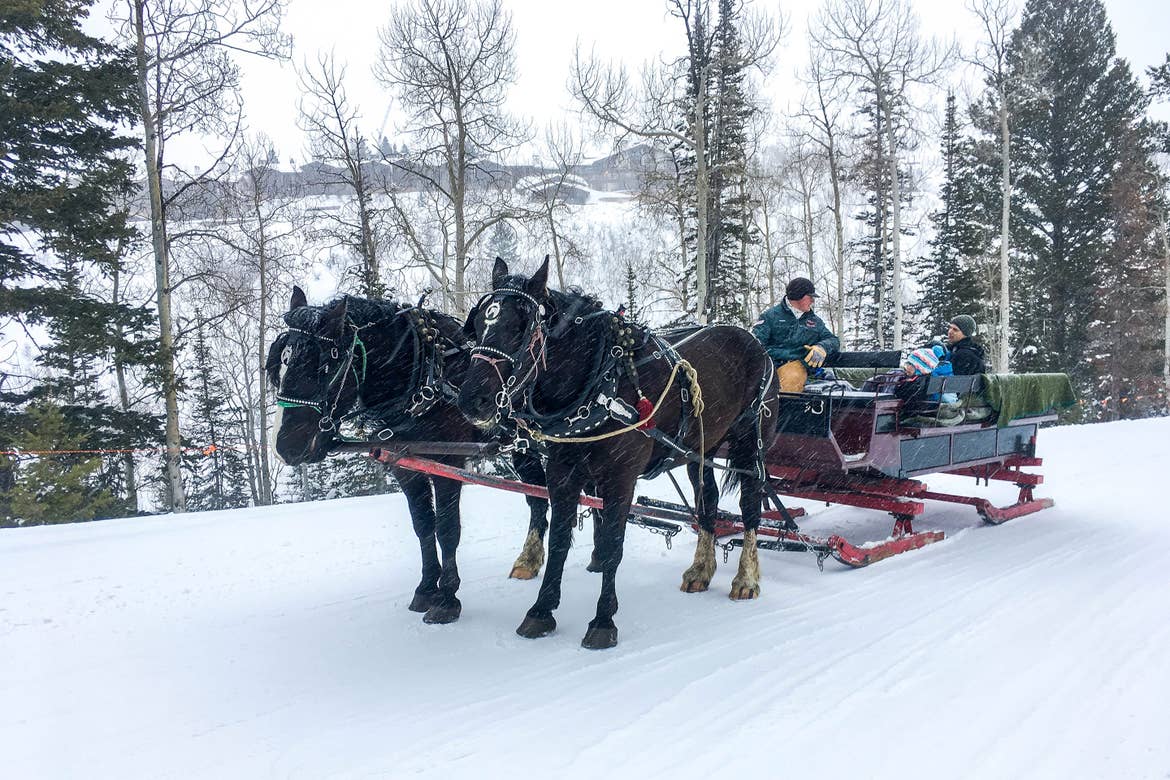 A ski trip is a great chance to really soak up winter in the mountains, but thinking beyond the ski hill can give you a well-rounded and more memorable vacation.

Even just taking the time to soak in your resort hot tub is a great way to relax and soothe your muscles.


8. Take care of your body
Once you arrive at your ski resort destination, the most important thing you need to do is take care of your body. While often overlooked, altitude sickness can create serious problems for skiers who are not used to the higher elevation of the mountains.

Here are a few ways to prevent altitude sickness and help keep your body healthy during your ski vacation:
Don't ski on your first day of arrival at a new destination. Take a day or two to acclimate to the new altitude.
Drink plenty of water. Many people get dehydrated while skiing, since they forget to drink water when they're cold! Staying hydrated will help you avoid altitude sickness and have more energy while you ski.
Get plenty of sleep. Skiing will push the limits of what your body is used to, so plan on an extra 1-2 hours of sleep every night to help your body recover.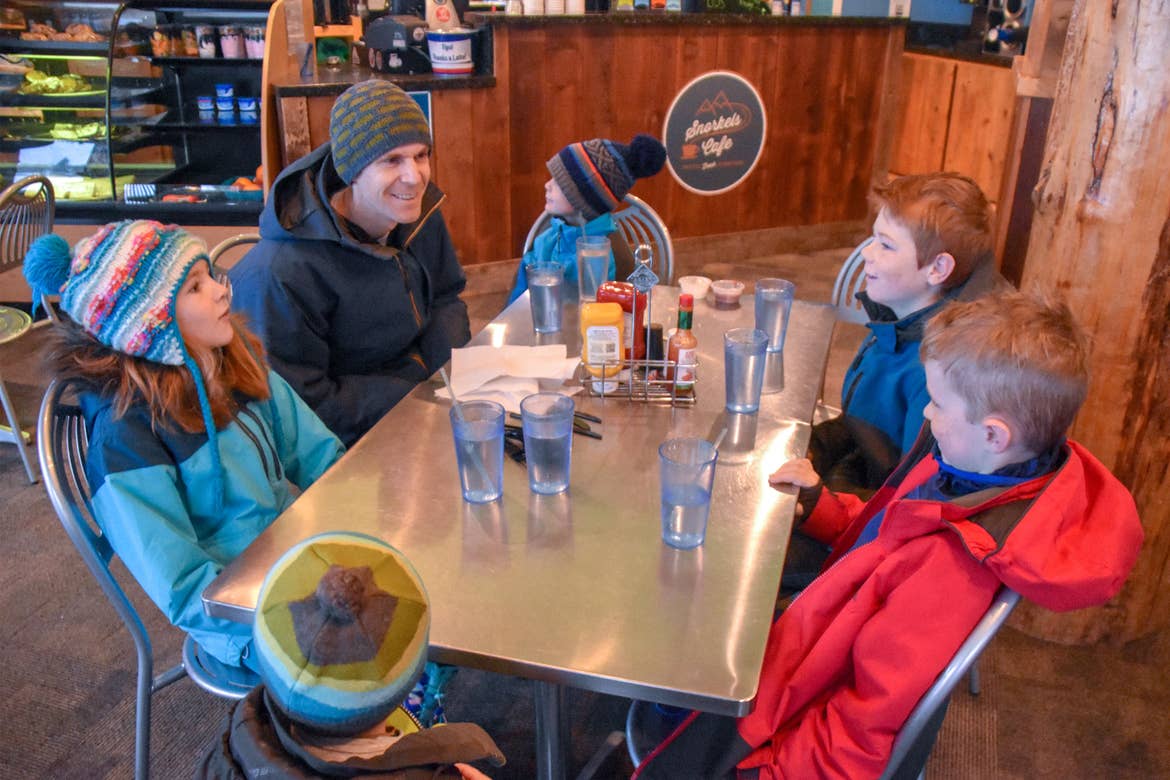 At the end of the day, the best advice I can give to anyone planning a family ski trip is to remember to have fun.

It's easy to get caught up in the complexities of itineraries and ski gear, but remember that the goal of a family ski trip is to create wonderful memories, and to do that, you need to be present and enjoy the journey.

If you're looking for places to stay with plenty of skiing fun, consider these Holiday Inn Club Vacations® ski destinations:
Tahoe Ridge Resort

Approx. 5.4 miles from Heavenly Mountain
The resort's Skier Express provides ski-in/ski-out access to Heavenly Mountain's Stagecoach Chairlift (just make sure you already have your lift passes to take advantage of this perk)
There's also a convenient on-site ski shop for gear and rentals

David Walley's Resort

Approx. 17.1 miles from Heavenly Mountain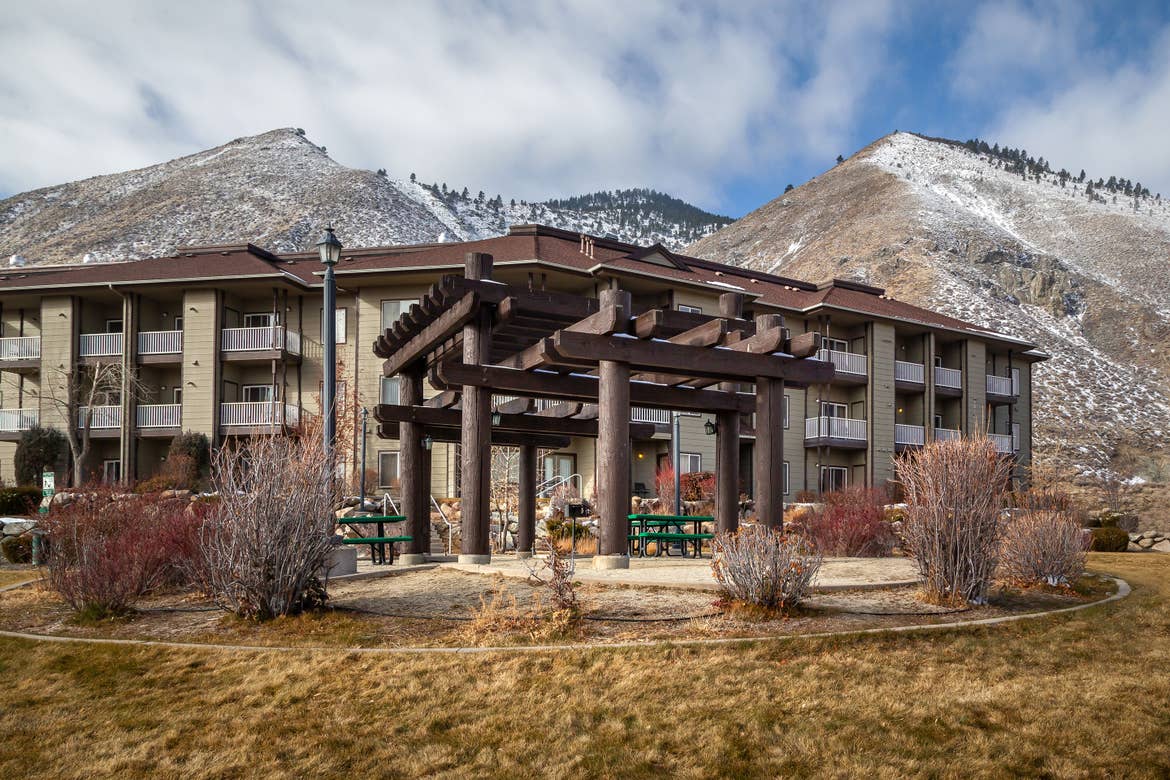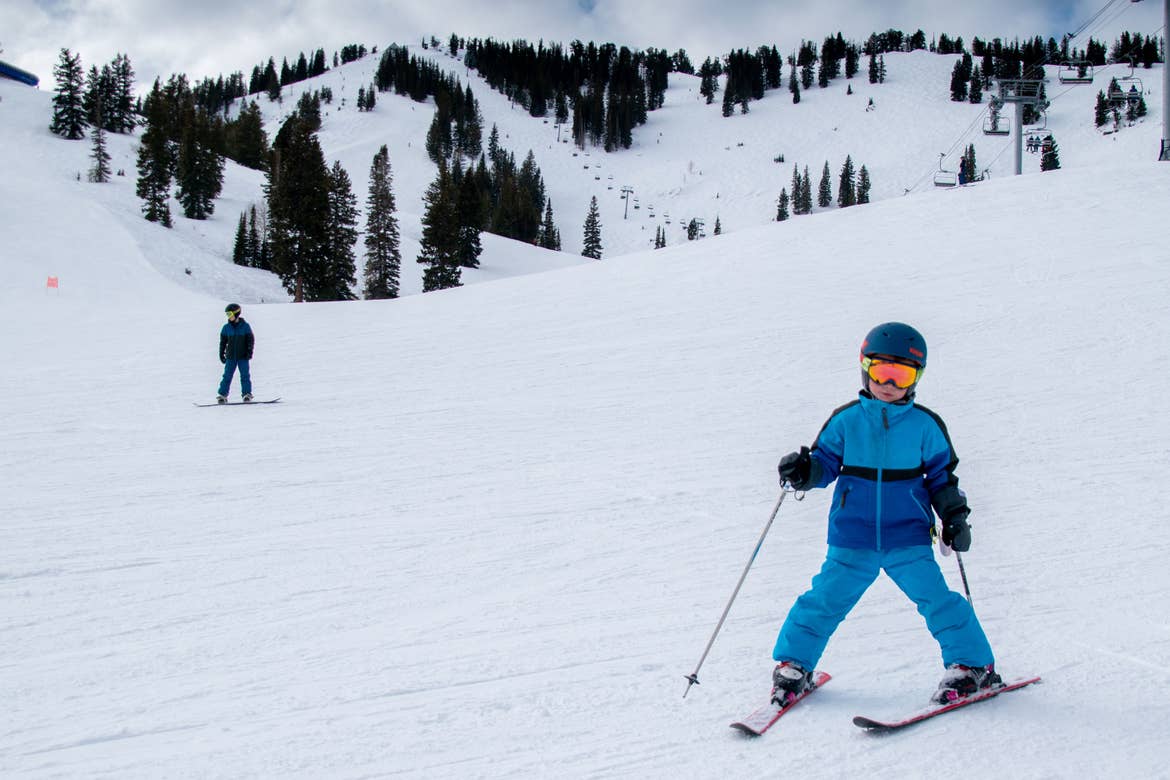 And if you need even more ski tips to get you beyond your first day, be sure to check out Skiing Kids, a blog where I share all our best tips and tricks on how to successfully ski with kids.

Happy skiing!


Our guest bloggers are compensated for their writing contributions and honest opinions.

All information is subject to change. This article is a curated guide and is neither sponsored nor considered an official endorsement. Please be sure to check information directly with any/all tours, guides or companies for the most up-to-date and direct details.