Tom Bermas
Tom is a Manager of Resort Operations Support at Holiday Inn Club Vacations, where he just celebrated his 10-year anniversary! Since 2004, he's worked in the travel industry and holds degrees in Business Management, Hospitality Management and Culinary Arts (he's definitely a foodie). When Tom's not working, you'll find him with his fiancé, Josh, off on adventures in the Orlando area. From theme park escapades to new restaurants to local events, they're always up for a fun time. Add their 2 dogs and 2 cats, and you could say they have a mini zoo on their hands.
The Orlando area is absolutely a-buzz this spooky Halloween season, and there's no better place to find the most fun (and chilling) experiences than Halloween Horror Nights™.

I consider myself an unashamed and self-proclaimed theme park enthusiast — as well as a scary movie junkie…

So while some say the winter holiday season is the most wonderful time of year, I may have to differ with them!

With my above credentials, it should come as no surprise that Halloween Horror Nights at Universal Orlando™ Resort is one of my absolute favorite events of the year.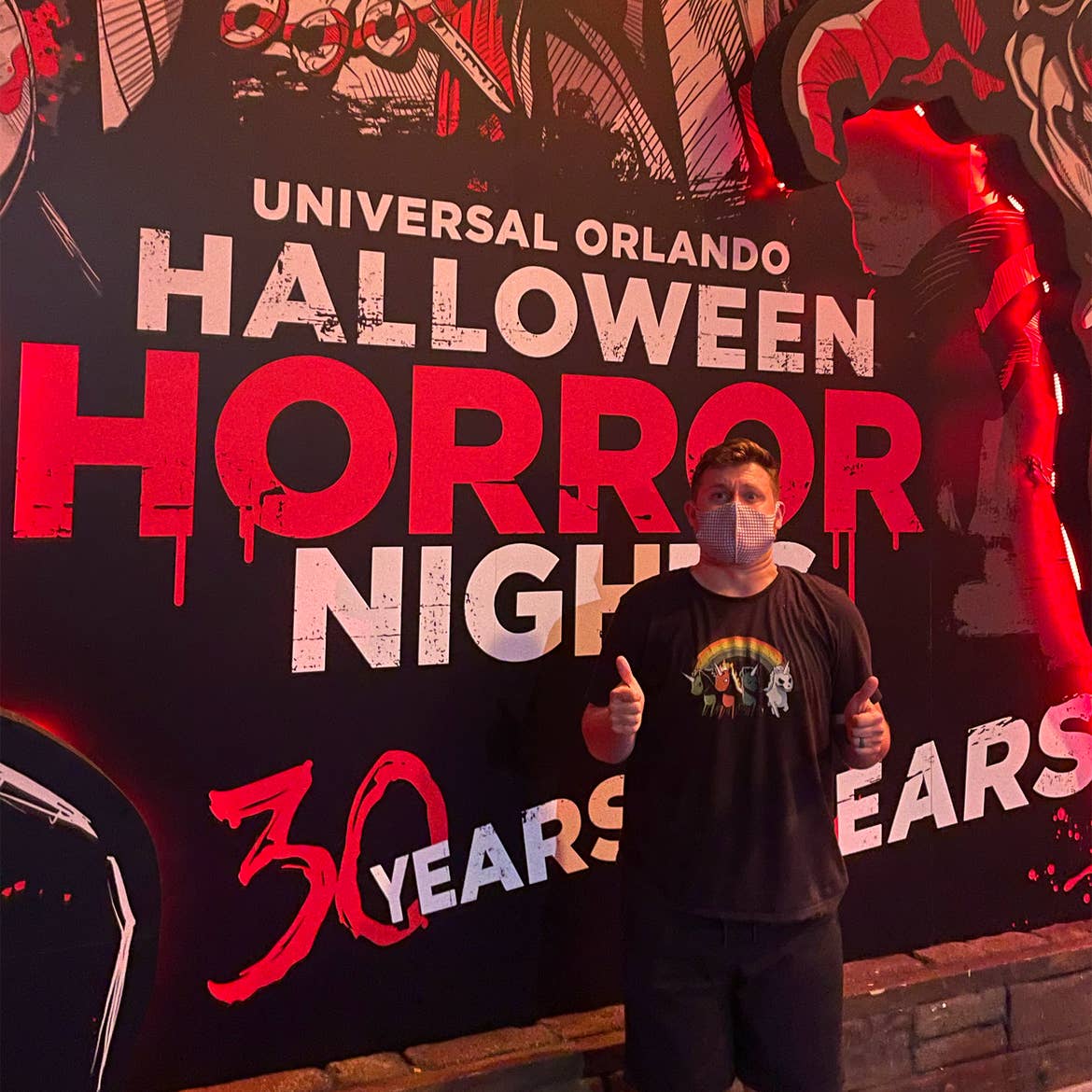 Hi, I'm Tom — Resort Operations Manager by day, Fear-Loving Fanatic by night.

Where else can you find some of the spookiest haunted houses, terrifyingly tantalizing food and drinks and world-class performances that'll send chills down your spine?

If you're considering a visit to this Orlando theme park, I have your guide to this year's Halloween Horror Nights!

Below I'm reviewing the event's haunted houses, food offerings and attractions, as well as giving you tips to help make your trip frightfully fantastic.


What is Halloween Horror Nights?
Each year, Universal Orlando hosts a several-week-long event filled with spine-chilling entertainment.

During certain nights in September and October, the park closes to everyone except Halloween Horror Nights ticket holders, and it's transformed into a nightmarishly fun environment with incredible scenes, sounds, lights and frights.

Its staples include thrilling haunted houses, creepy characters and freaky foods and beverages — all delightful for the fear-loving enthusiast.

Who knows what's lurking around every corner…? I'm always excited to find out!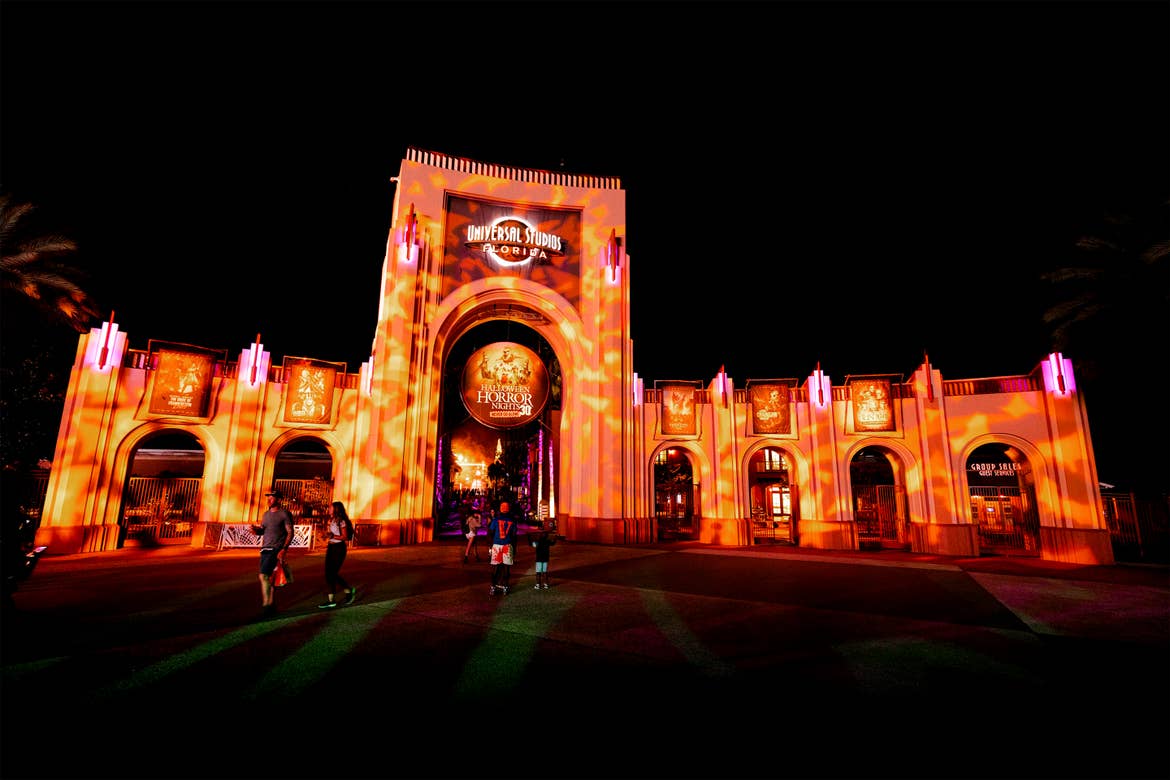 Photo courtesy of Universal Orlando Resort™


When is Halloween Horror Nights Running This Year?
Halloween Horror Nights is running select nights between Sept. 3–Oct. 31, usually Wednesdays through Sundays, with some exceptions. (Check the official calendar for exact days.)

The event starts around 6:30 p.m. (doors open earlier) and ends around 1 a.m. in September and 2 a.m. in October.


What You NEED to Do & See at Halloween Horror Nights This Year
Now, you might be wondering what to expect this year — especially since this event didn't happen last year due to COVID-19.

Here's my recap of Halloween Horror Nights and some things you will NOT want to miss.


Haunted Houses
The houses are SOOO good this year. With so many incredible themes, my horror-movie-loving heart was absolutely bursting!

The haunted houses include:
Beetlejuice
Netflix's Haunting of Hill House
The Texas Chainsaw Massacre
Universal Monsters: The Bride of Frankenstein Lives
Halloween Horror Nights Icons: Captured
Welcome to Scarey: Horror in the Heartland
Case Files Unearthed: Legendary Truth — my personal favorite
The Wicked Growth: Realm of the Pumpkin
Puppet Theatre: Captive Audience
Revenge of the Tooth Fairy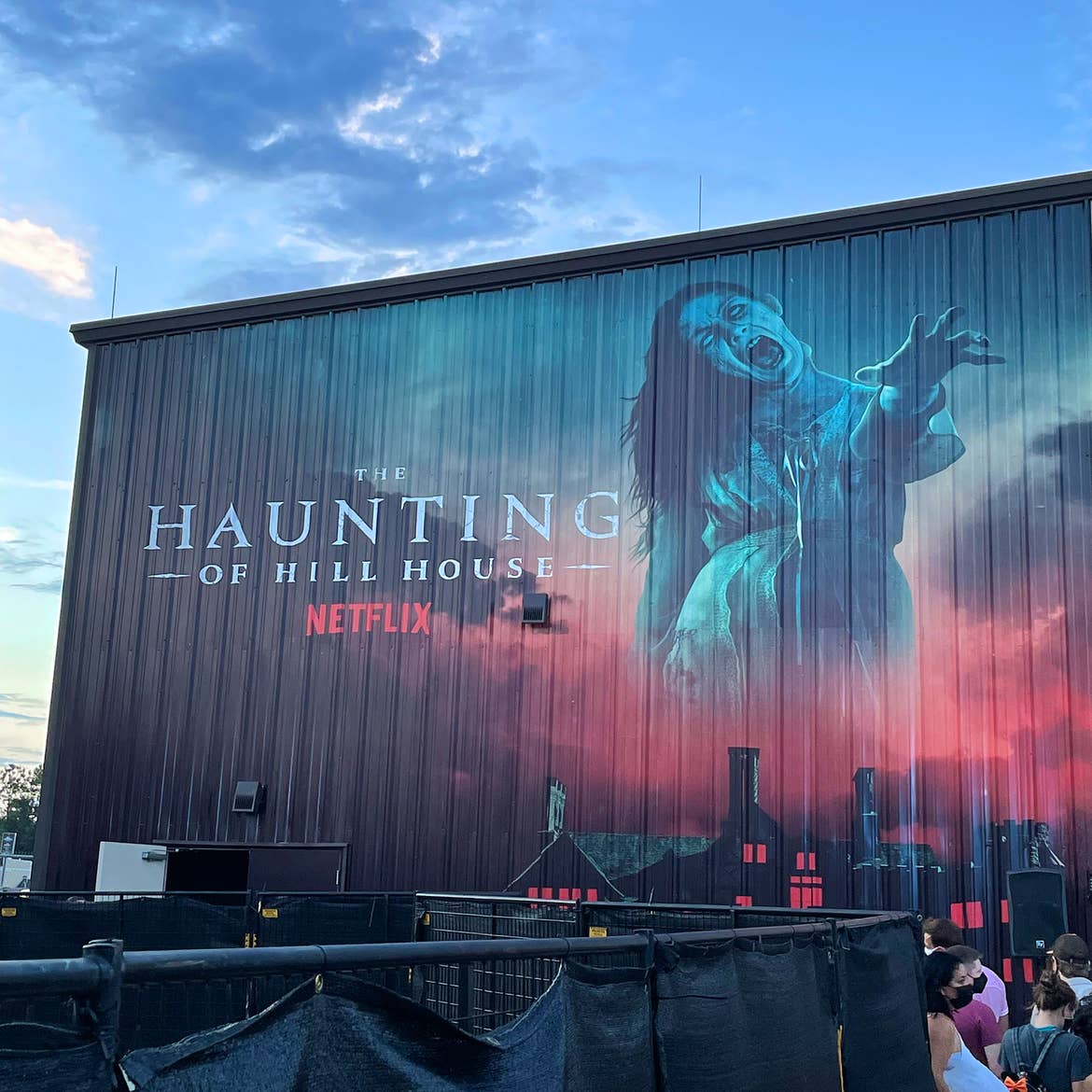 The Haunting of Hill House Haunted House

You'll be in awe of the incredibly elaborate set designs, well-timed sound effects and creepily familiar characters from these favorite franchises...

…in between screaming as a monster jumps out from behind that curtain, that is.

Walking into the threshold of each of these houses will truly transport you; one moment you're in line and the next you're in a Lovecraftian New York City overrun with zombie-like citizens.

Speaking of which, Case Files Unearthed: Legendary Truth is by far my favorite house this year. Who doesn't love a great Cthulhu experience?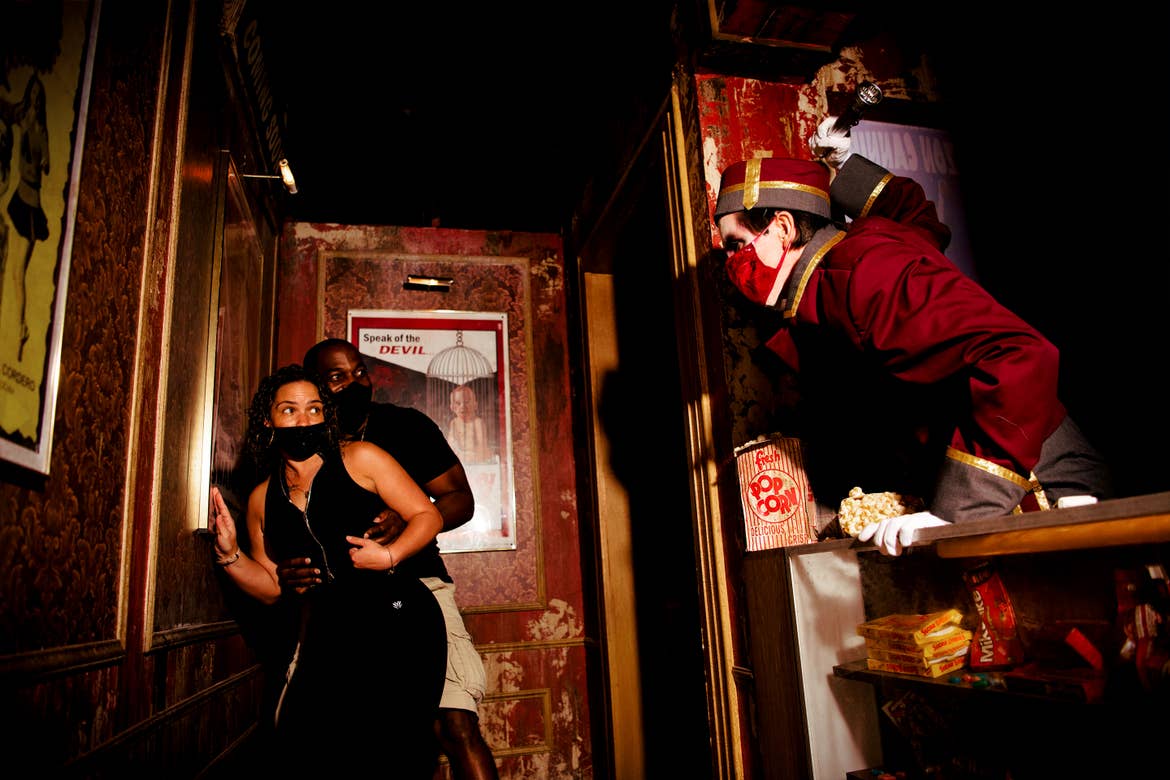 Halloween Horror Nights Icons: Captured Haunted House. Photo courtesy of Universal Orlando Resort™.

Pro Tip: Make sure you bring a mask for the houses.

Right now, Universal Orlando guests don't need to wear masks outdoors if they're fully vaccinated, but all guests are required to wear them indoors.

Editor's Note: Keep in mind that safety guidelines are ever-evolving and may change (or may have changed) since this story's publication. Be sure to check the theme park's website before you go for the latest information.


Food Booths and Green Lights and Themed Treats, Oh My!
One of our favorite elements of Halloween Horror Nights is all the themed, event-exclusive food and beverage offerings. And every year they get more creative!


Must-Try Foods
The classic and ever-popular Pizza Fries are absolutely worth the wait, but don't forget its newer companion in the form of a fall classic: Smore's Fries.

These are made with sweet potato fries, melty chocolate, marshmallows and graham cracker crumble. It's a sweet and savory duo that'll give you goosebumps and full bellies.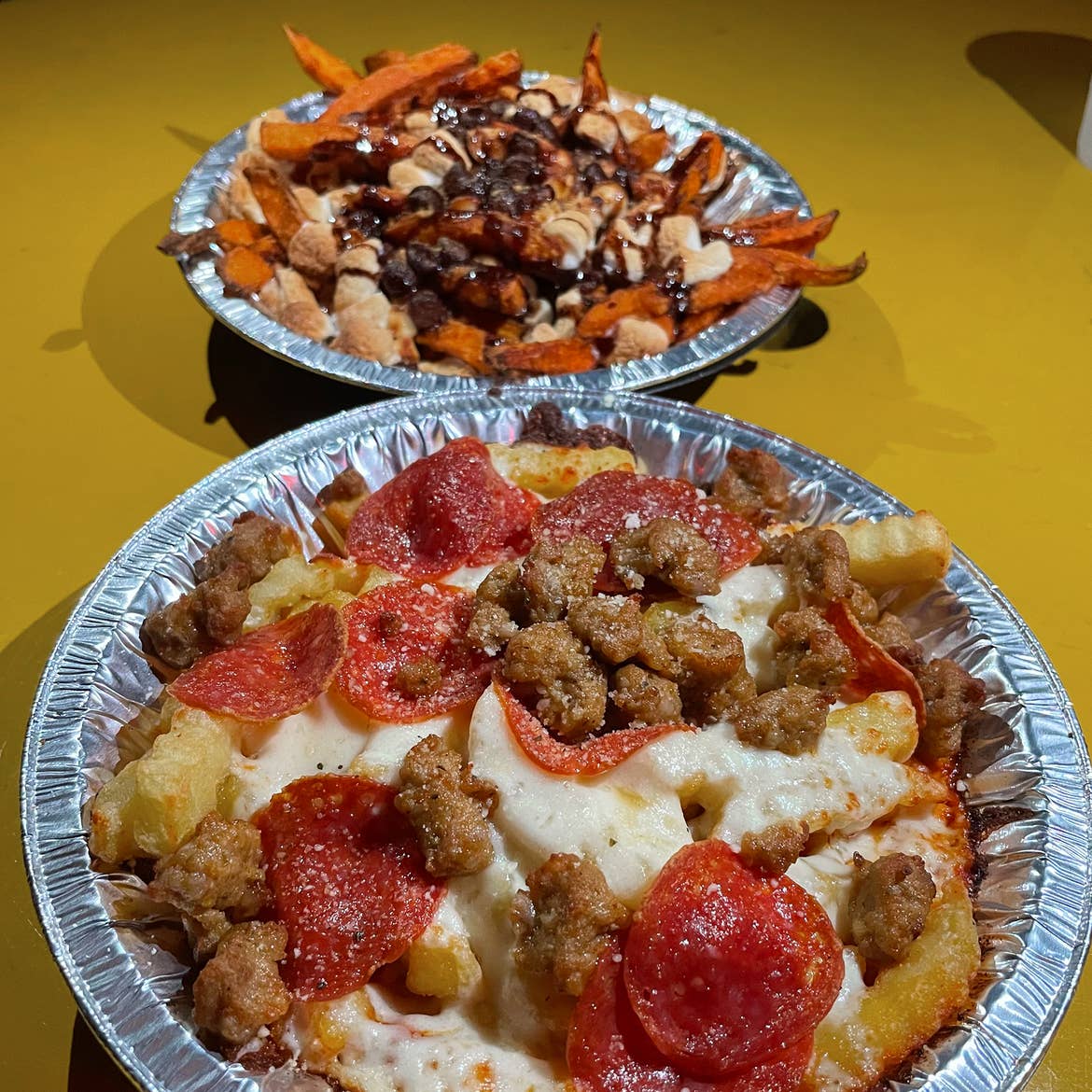 The Pizza Fries (front) and Smore's Fries (back) from Kidzone Pizza Co.

We tried several other new and soon-to-be favorites as well, like:
Jack'd Donut Slider
No "Chance" in Hell PB&J
Monte Cristo Waffle Fries
Jack's Old Fashioned Jack and Coke®
Blood and Guts Twisted Frank
I know some of these don't sound very appetizing, but they definitely deliver a frightfully flavorful experience!

Pro Tip: If you can wait a bit past your typical meal timeframes, the lines at all the food booths will be significantly shorter after 9 p.m.

Consider grabbing some smaller treats in the beginning and the more popular items later in the night.

This'll also give you a much-needed break from all the scares in the middle of the event.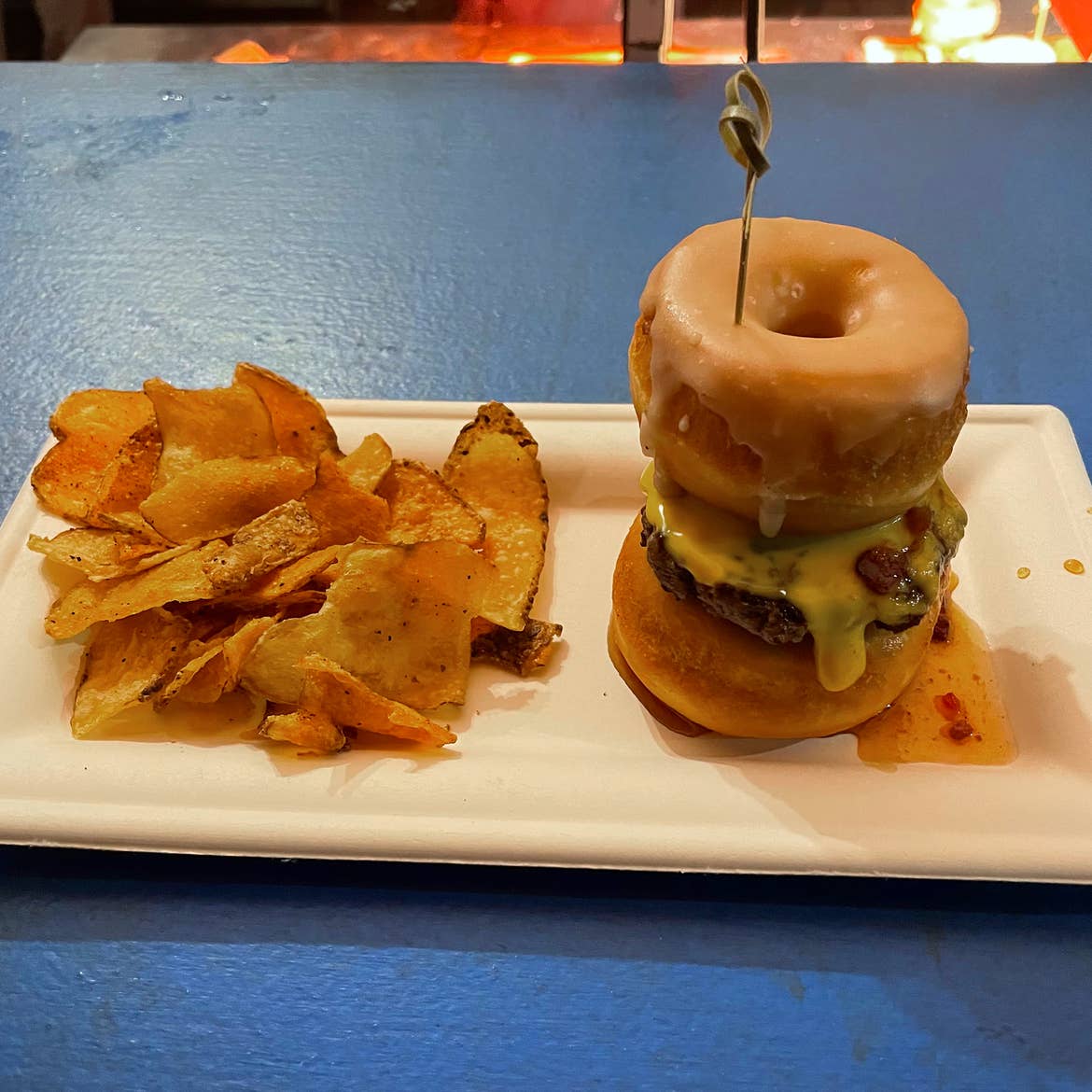 Jack'd Donut Slider from Jack's Place & Carnival Courtyard


Adult Beverages
For those wishing to indulge in an adult beverage or two, look for the kiosks with the green-lit menu boards.

These are the primary bar locations for the evening and feature their top signature cocktails for the event!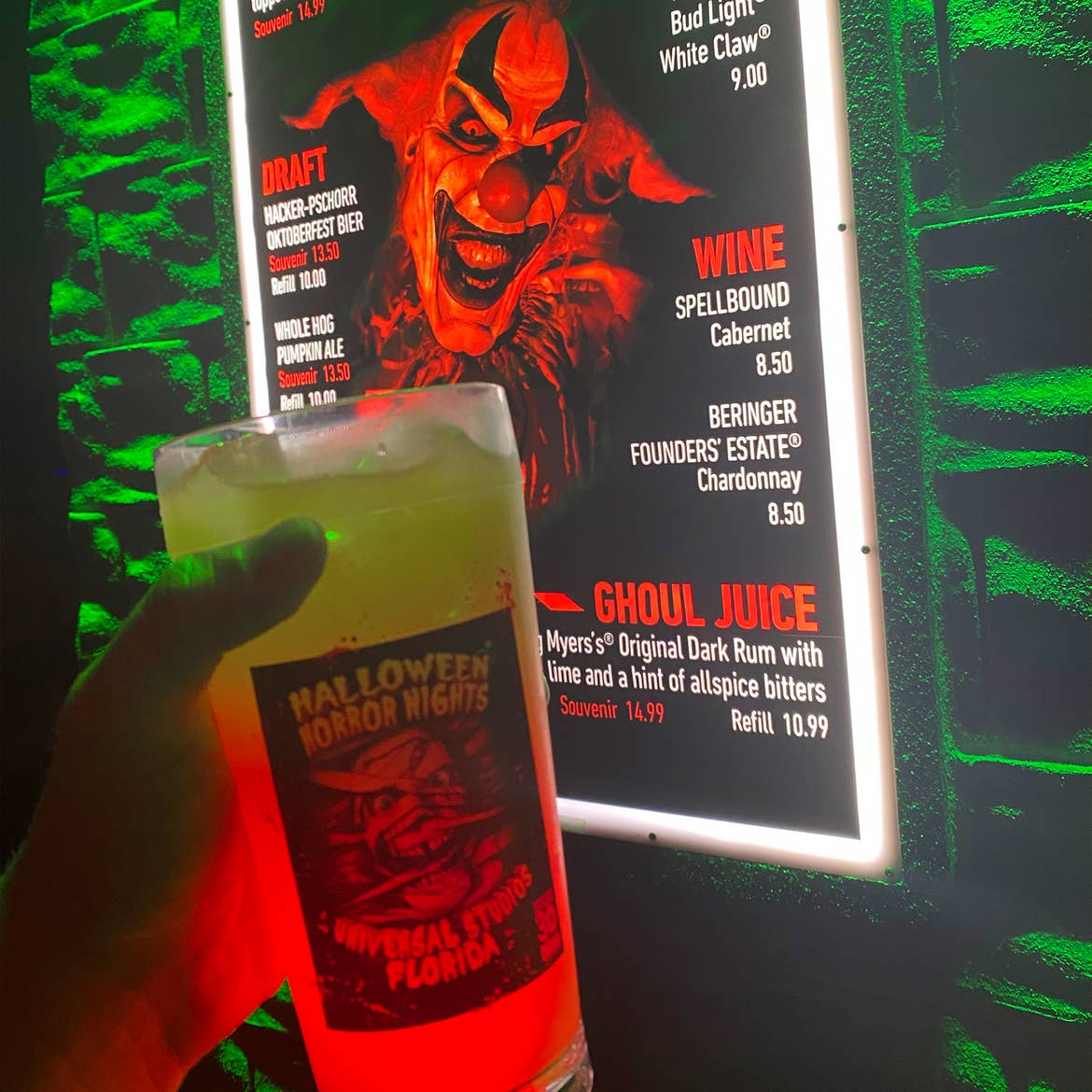 Ghoul Juice, in a souvenir cup, from Battery Park Drink Station


Scary Shows
They have two shows this year and each of them is worth a watch, from the mind-blowing contortionist and actors, to the eerie water and lights show at the center lagoon…

Watching these shows will not only keep you experiencing the bone-chilling scares, but they'll also give you an opportunity to sit and let your feet rest for a spell.

Pro Tip: Make sure you show up to the shows at least 45 minutes in advance. They fill up VERY fast and the earlier you arrive, the better — and the closer your seats will be...

Although, you may not want to be too close to the frights. 😉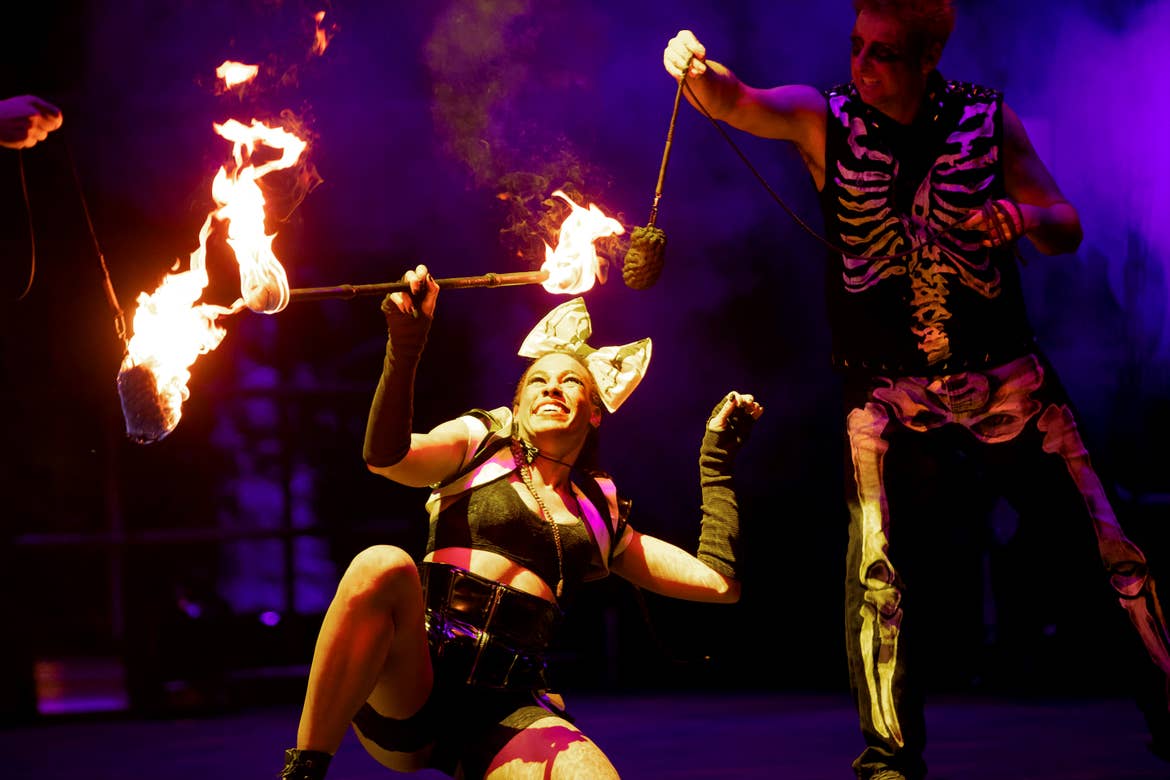 Halloween Nightmare Fuel. Photo courtesy of Universal Orlando Resort™.


Tips for Planning Your Halloween Horror Nights Visit
Now that you know what Halloween Horror Nights is and what you NEED to do while you're there, let me tell you how to get the most out of it.


Never Go Alone!
The tagline for this year's Halloween Horror Nights is "Never Go Alone," which is fitting because I know I always have the best time at these events surrounded by friends.

Sharing in the fear is the source of some of the greatest memories we all have together and, even outside of the spooky season, we're often recounting the funniest frights or our favorite themed culinary delights.

This event makes the perfect friends' getaway activity or adults-only night with your significant other, so take advantage of that time together!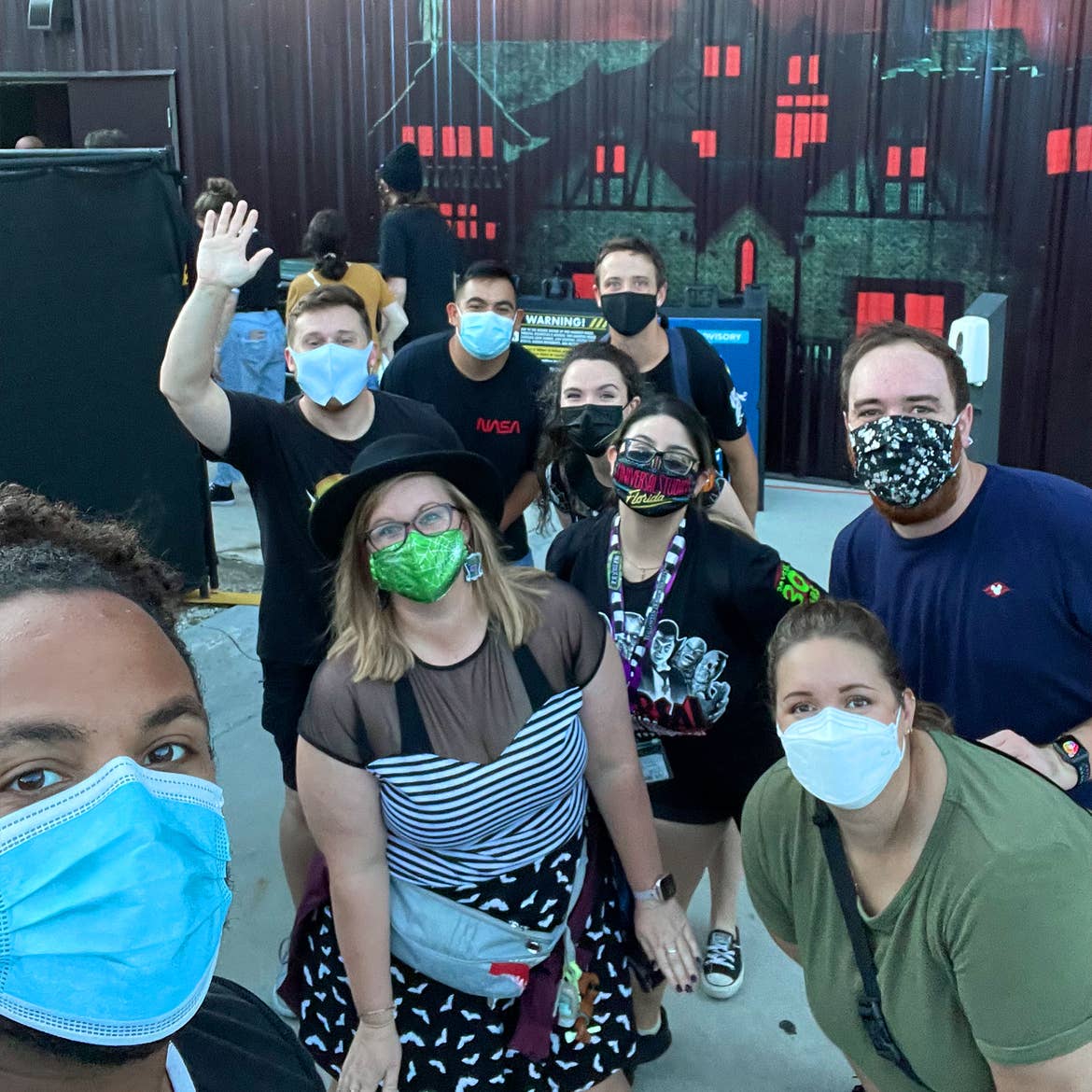 My crew getting ready for all the creepy crawlies waiting for us in the next house...


Should You Bring Kids to Halloween Horror Nights?
Universal Orlando says that Halloween Horror Nights is not recommended for kids under 13.

Depending on their scare tolerance, your kids may not fully appreciate all that this event has to offer.

The scare actors are generally great at gauging responses, and I've seen them turn down their chilling demeanor if they notice younger guests getting too scared…

But the costumes themselves can be nightmarish, so I would recommend being very mindful and consider if they would have fun before purchasing your tickets.

Personally, I would follow Universal Orlando's recommendation about not bringing children under 13 years old. Being an uncle and having friends with children in the 7–12 years old range, I know this event would be far too scary for them!

Instead, consider LEGOLAND Florida's Brick-or-Treat event instead, which is a MUCH more kid-friendly experience.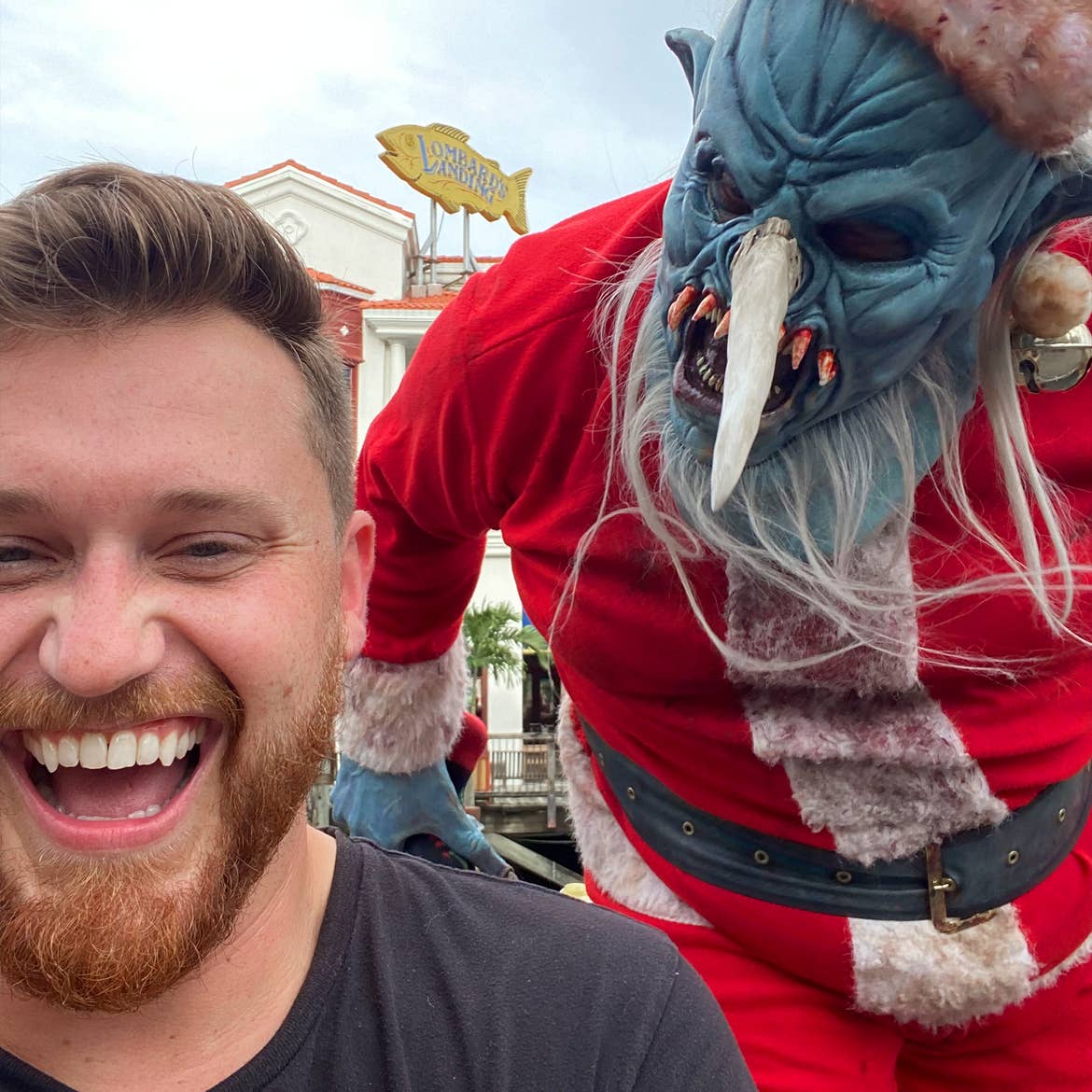 Smilin' with Demon Santa!


Stay and Scream is Totally Worth It!
If possible, try to be there as early as you can. It's great if you have park admission tickets for earlier that day, but you can also upgrade with a "Stay and Scream" ticket.

Universal Studios will close around 5 p.m. before the Halloween Horror Nights event, which allows them time to get the park ready for all the upcoming frights.

If you're there before 5 p.m. and you have a Halloween Horror Nights ticket for that evening, you'll be ushered into one of the "Stay and Scream" areas in the park.

There, you'll get to wait while the Universal team prepares for everything.

The best part about this is that they often grant the "Stay and Screamers" early access to the haunted houses, so you might be able to squeeze in one or even two houses before they start letting guests in at the gate, which is VERY cool.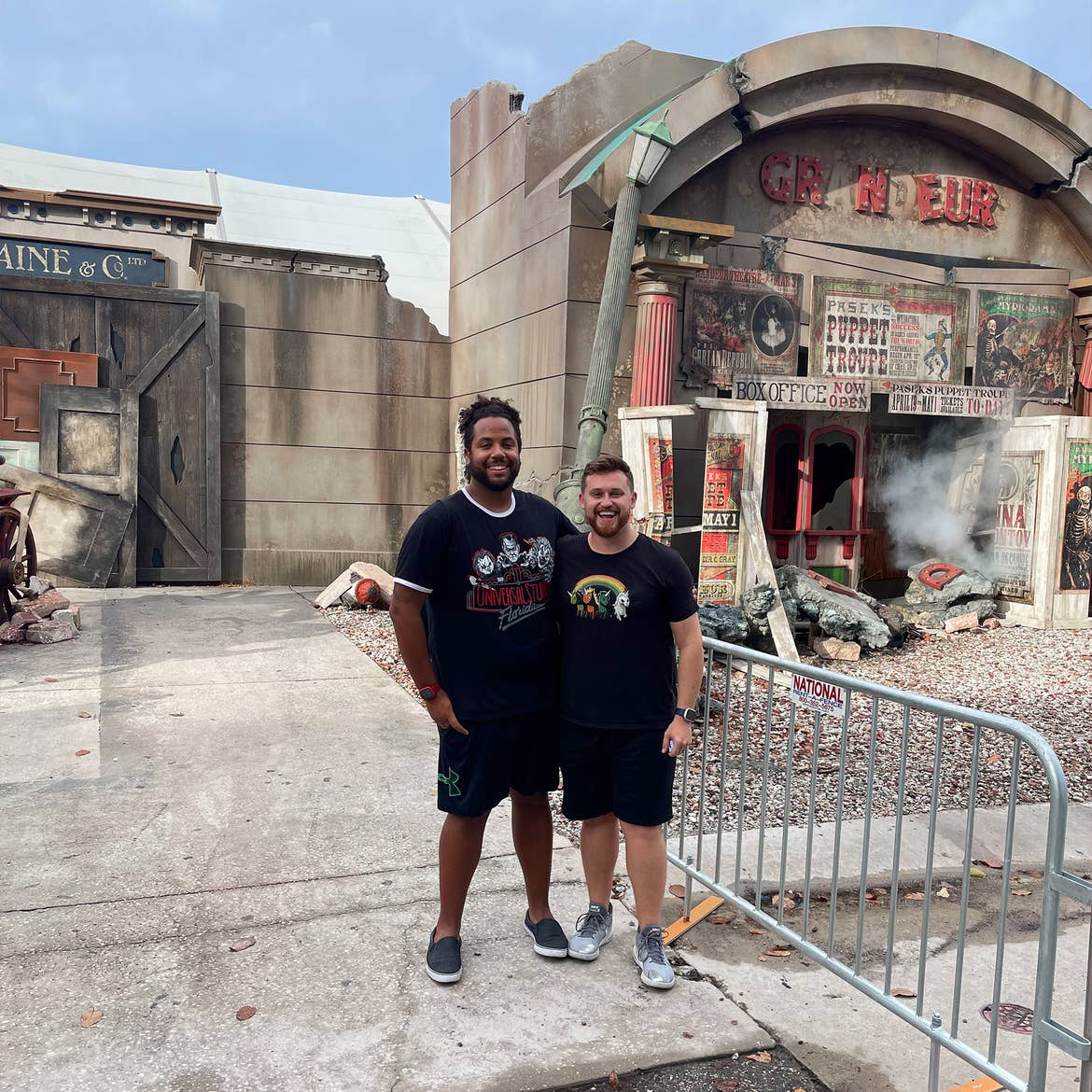 Puppet Theatre: Captive Audience Haunted House

My fiancé and I were literally the FIRST people to walk into the Puppet Theatre House when we went this year . . . and those scare actors saw us coming from a mile away.

Let's just say I don't think I've ever had so many jump scares in my life — and I couldn't be happier!


See All the Scare Zones
Remember when I said, "Never Go Alone?" Well, I meant it.

The Scare Zones that are scattered throughout a majority of this huge theme park are some of the best-themed frights you'll find anywhere.

At each one, there are:
Lights, sound effects and music
Well-themed and over-the-top décor
Scare actors who seem to have an uncanny knack for finding the most scared individuals
And MASSIVE amounts of fog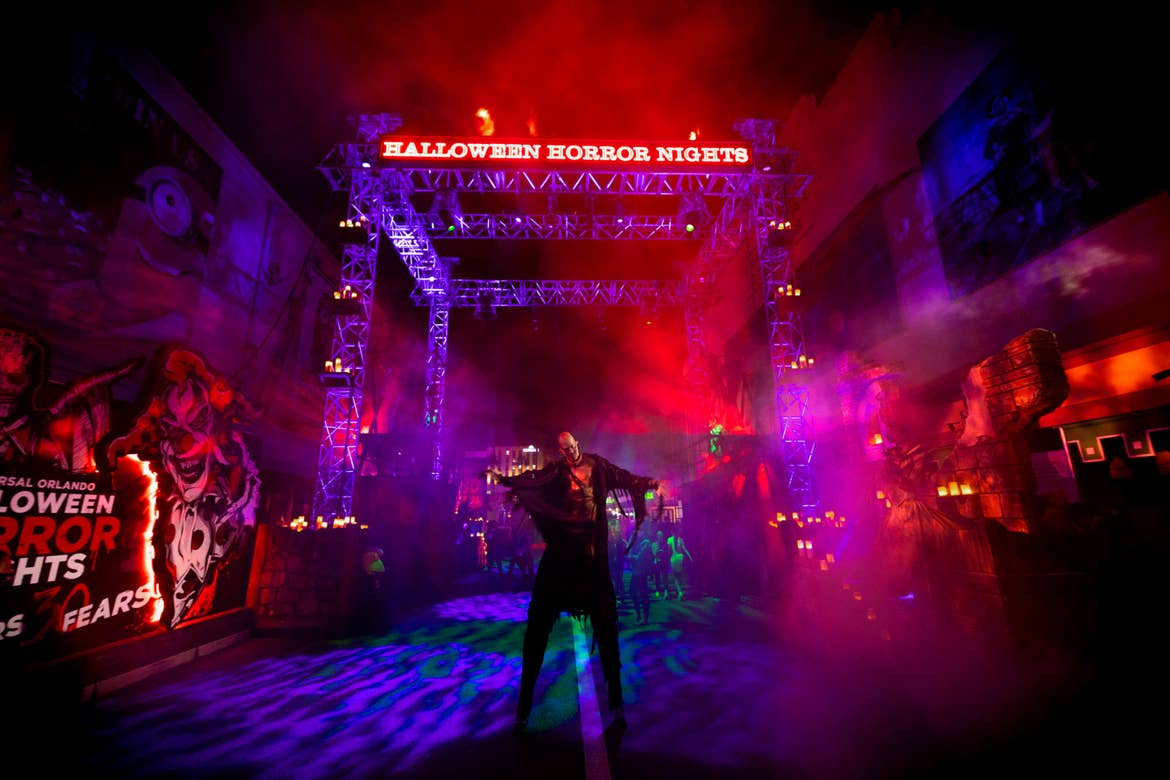 30 Years, 30 Fears Scare Zone. Photo courtesy of Universal Orlando Resort™.

Between all that, your heart will skip a beat (or several) as you cling to your nearest companion in hopes you don't get selected for the next scare.

This is all for fun and you have nothing to truly fear!

Scare Actors cannot and will not touch Universal guests throughout the event — they will however pose for photos if you ask them nicely!


Don't Forget the Regular Attractions!
Throughout the evening, Universal Studios' regular rides will continue to operate, which is incredible!

And it may be an excellent opportunity to hop onto a ride you couldn't get on earlier that day due to long wait times.

We were the first to walk through Diagon Alley that evening (again, "Stay and Scream" is TOTALLY worth it), and I have never seen it so empty in my 6 years living in Florida!


The Wizarding World of Harry Potter — Diagon Alley


Find a Good Place to Stay Nearby
Whether you're a local or you're in town for a fun Orlando vacation, you might need a place to crash after your late night at Universal Orlando.

Especially for visitors planning to stay to the end (at 2 a.m.!), it's so convenient to pick a resort that's close to Orlando's theme parks.

If you're staying at our Orange Lake or Orlando Breeze Resorts, it's about a 45-minute drive (with moderate traffic) to Universal Orlando — so plan accordingly.

Both resorts make a great home base where you can rest up for your big night with pools, hot tubs and other fun activities.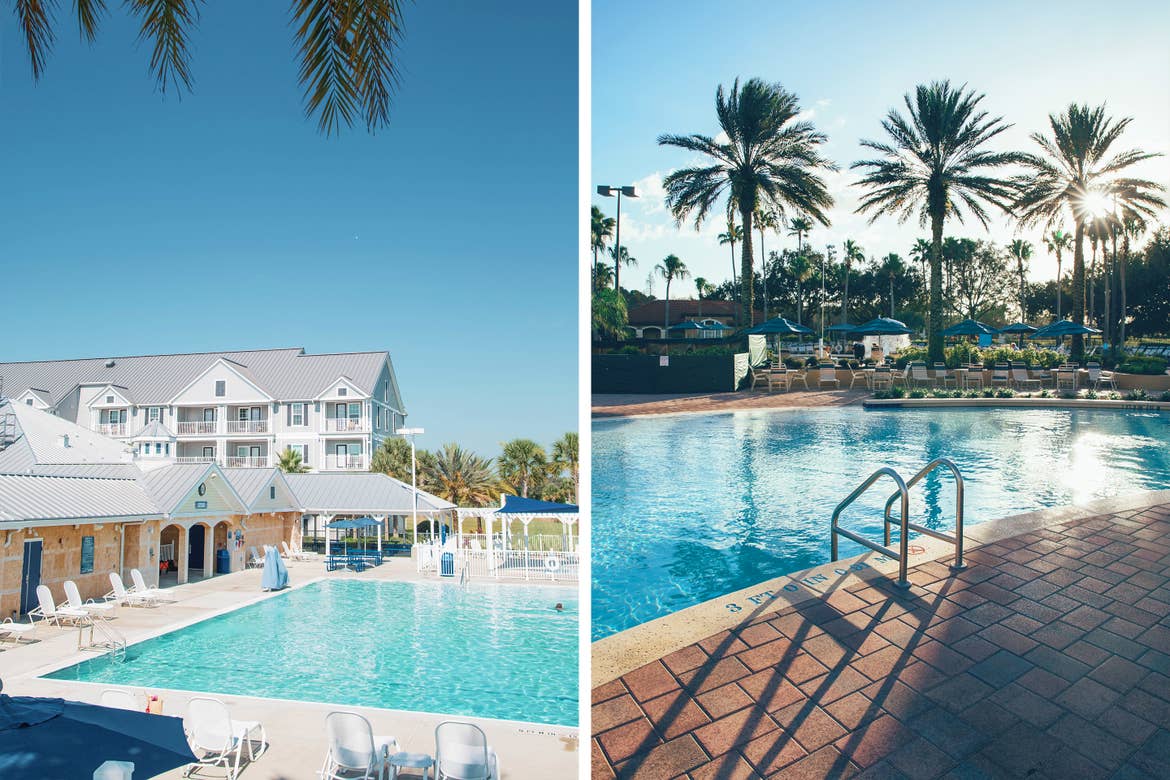 Before getting spOoky, take a swim at Orlando Breeze Resort (left) or Orange Lake Resort (right).

As I said, Universal Orlando's Halloween Horror Nights is an awesome experience unlike any other for horror and theme park fans. And it's one of Orlando's best theme park events of the year!

If you can withstand fun scares (and a little bit of costume and stage gore), this experience should definitely be at the top of your list during this spooky season!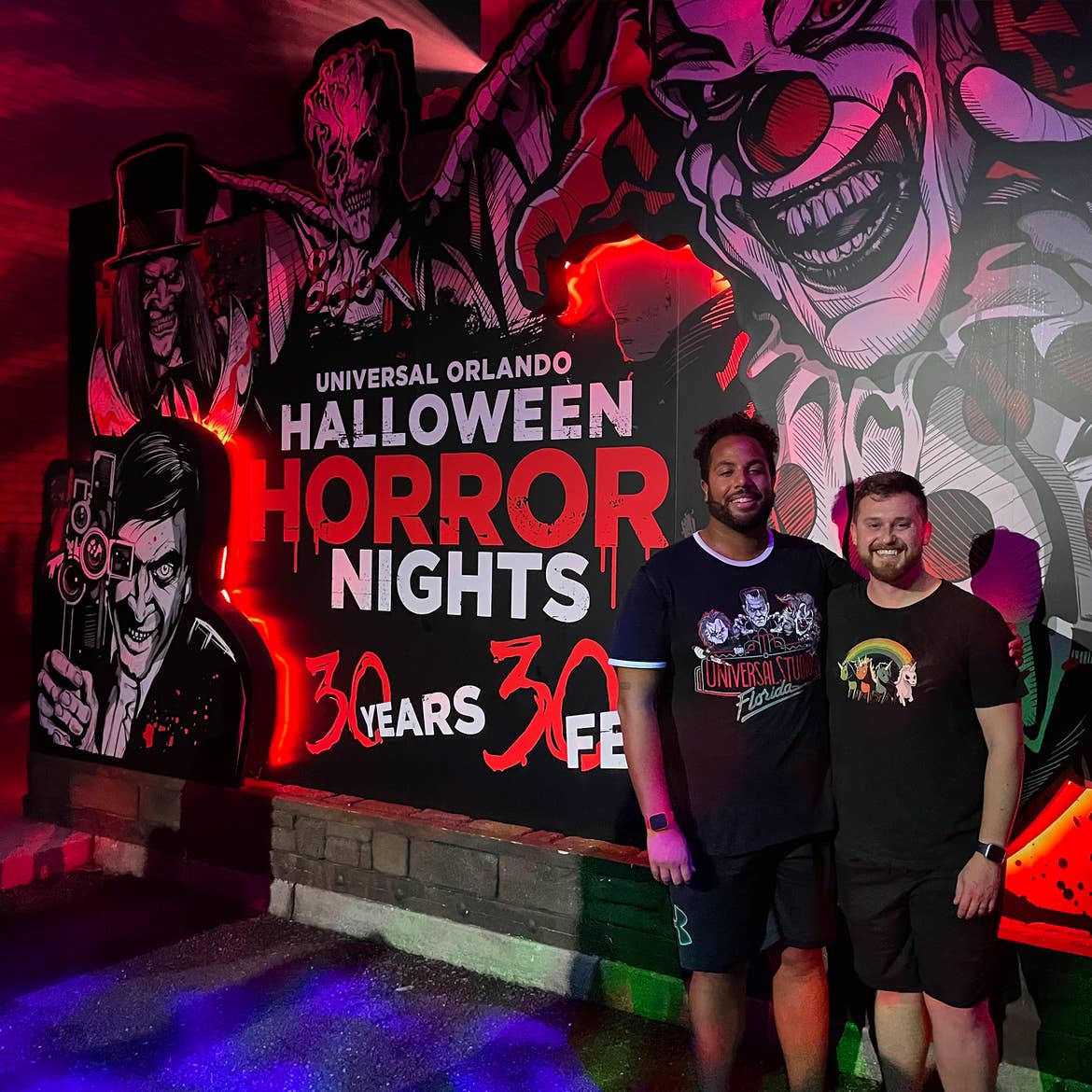 Hope you have a scary good time!


All information is subject to change. This article is a curated guide and is neither sponsored nor considered an official endorsement. Please be sure to check information directly with any/all tours, guides or companies for the most up-to-date and direct details.