Rona Gindin
Rona is a travel writer who explores the world, yet she's most at home enjoying Orlando's natural, quirky and cultural attractions.
Website
Those people on your holiday vacation with you? Look them in the eye, remember to adore them, and cherish this chance to be together.

It might sound obvious, sure, but this is spot-on advice from Holiday Inn Club Vacations® members and social media followers.

When asked how they make the most of their holiday getaways, the post's Facebook and Instagram comments went wildly warm and fuzzy.

More than 60 enthusiastic travelers talked almost exclusively about togetherness and treasuring that togetherness.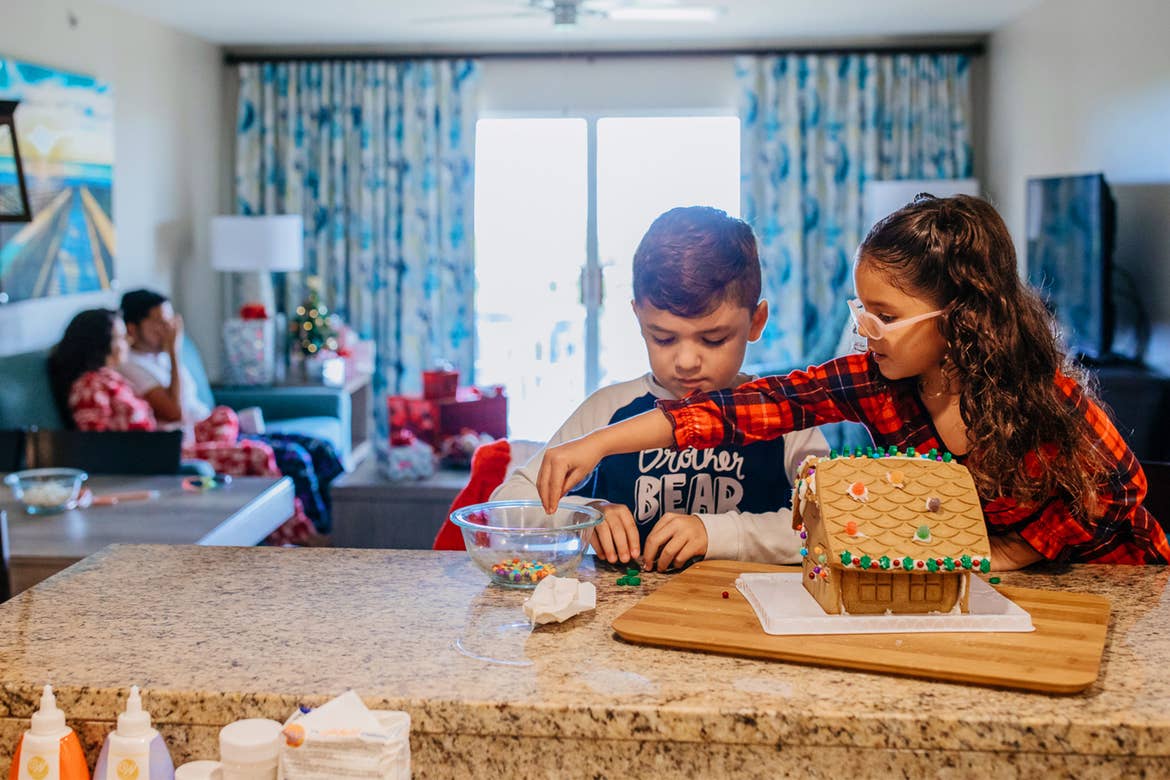 Jessica's kids (from @thejetsettingfamily) making holiday magic in their Signature Collection villa at Cape Canaveral Beach Resort

With furnished living rooms, full kitchens, often fireplaces and/or balconies … we know each villa is ideal for the joys of reconnecting in a relaxed setting.

Still, we'd expected mentions of gingerbread and peppermint, pine scents and eggnog.

(To be fair, hot cocoa makes a few appearances, because, well: hot cocoa.)

We curated all these responses into 7 tips that will hopefully help you have the best holiday vacation yet.


1. Bring Your Holiday Traditions … or Seek Out New Ones
Leave the heavy work behind, such as hauling firs into your villa, but do pack along a portable holiday pleasure or two.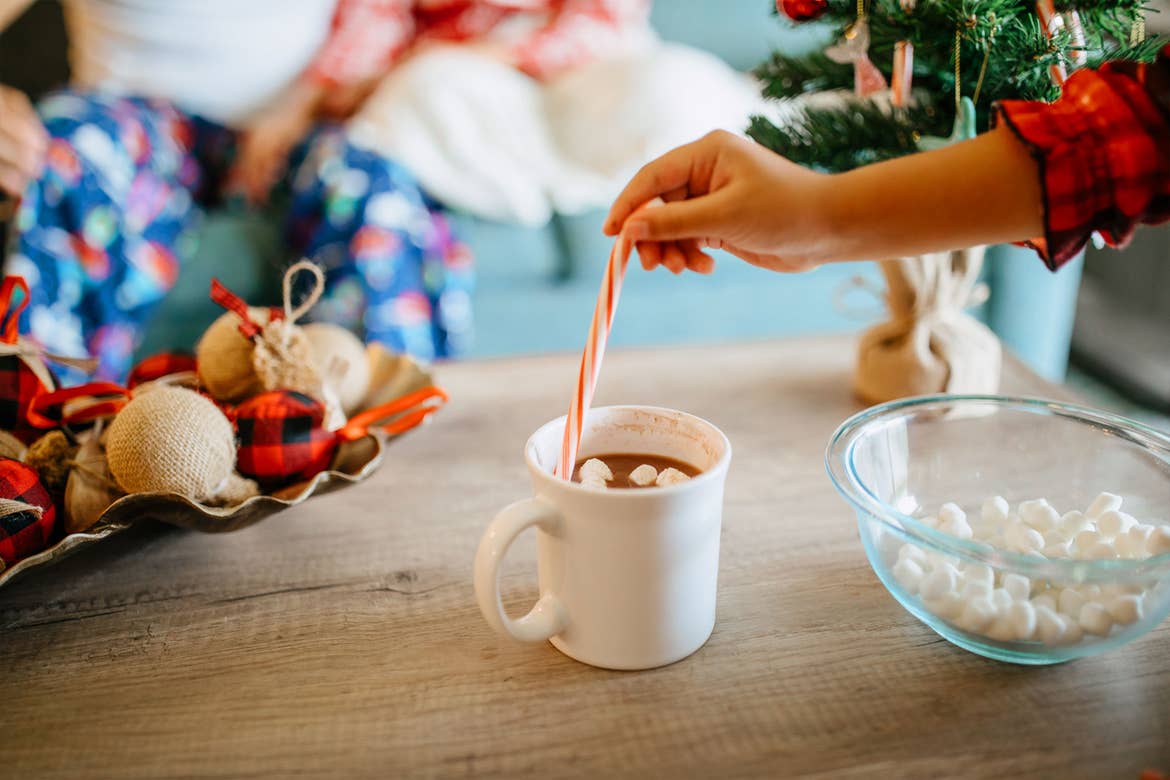 "If you are a family that is visited by an Elf on a Shelf, stick the elves in the suitcase to have them make a surprise appearance on vacation! Our kids were shocked and loved it when 'Red' popped up in Orlando on our holiday getaway!" – Mandy F.M.
Or, pack even lighter.

Instead, feast your eyes, ears and taste buds on the holiday decorations, music, meals and snacks offered in restaurants, in downtown hubs and within attractions near your resort.


"We love holiday vacations because of the decorations, the pictures, the walking and sightseeing in places that we would not have noticed or thought to check out without any decorations. Also, the food. Holidays have seasonal treats or foods to try. It is an amazing time to travel, and it makes you feel very positive." – Fannie Marie T.


"For us, there's nothing like staying at the [Orlando area's] Orange Lake Resort and going to Walt Disney World® Theme Parks with all the holiday decorations and eating their sweet treats!" – Keri C-M.
2. Choose a Location That's Best for Your Bunch
With Holiday Inn Club Vacations resorts spread across the United States, you can custom design your vacation weather and seek out sun, snow or a place that's bound to have only a bit of nip in the air.

We saw that Instagram followers were keen on Arizona…


"Enjoy all the little moments; they really are the big ones! Nothing is better than going to Scottsdale Resort!! 🌵🎄" – @jules1091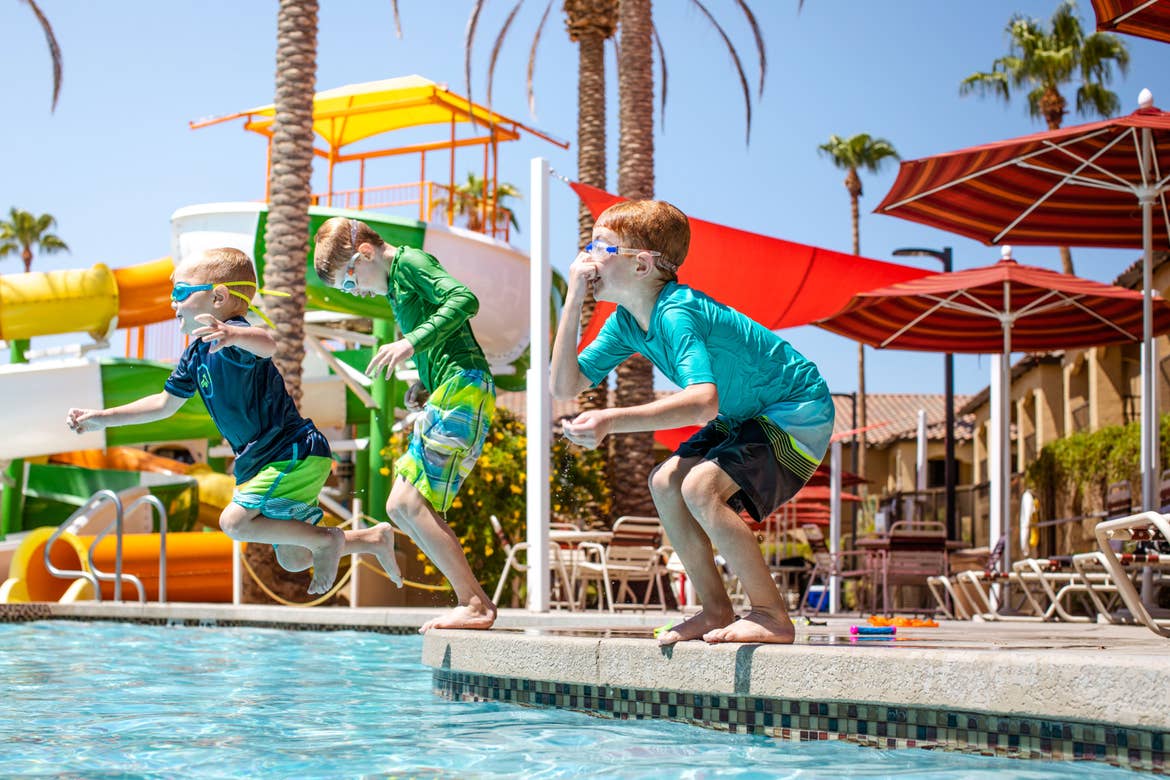 Jessica's kids (from @bring_the_kids) having a blast at Splash Canyon at Scottsdale Resort

Other warm-weather seekers are Florida fanatics…


"Go to Holiday Inn Club Vacations, book a few days or a couple weeks for Christmas at Cape Canaveral Beach Resort, pack a swimsuit, some running shoes, a hoodie, Christmas jammies, champagne and hot chocolate. Enjoy beautiful sunrises over the beach with mimosas, a hot tub, long walks on the beach, s'mores and hot chocolate parties — and relax. I already booked mine for Christmas! 🎁🏝🍾🥂☕️"🎄– @becgreen1960


"After having to rebook our holiday three times due to the pandemic, we can't wait to arrive at Orange Lake Resort, kick back, switch off the emails and be completely present in the moment making memories with our children to treasure for a lifetime." – Lyndsey G.
Oh, but the classic holiday sweaters and snowfalls have such appeal as well…


"I love to go anywhere cold during the holidays, taking the time out to create new memories with the family and keep old family traditions alive." – Quinada R.


"Definitely take more time to sit back and relax and enjoy quality time with the family without the hustle and bustle of the holiday season at home. We've done the colder locales so that we can warm up by a nice fire and get out and play in any snow that does fall." – Ryan S.
And then there are those seeking a taste of winter without a full-on freeze...


"We enjoy the Smoky Mountains at Christmas, lights and the chill in the air and even snow sometimes... " – Sharon P.
3. Go with the Flow
Club members and social followers used this phrase again and again. In other words, say no to stress!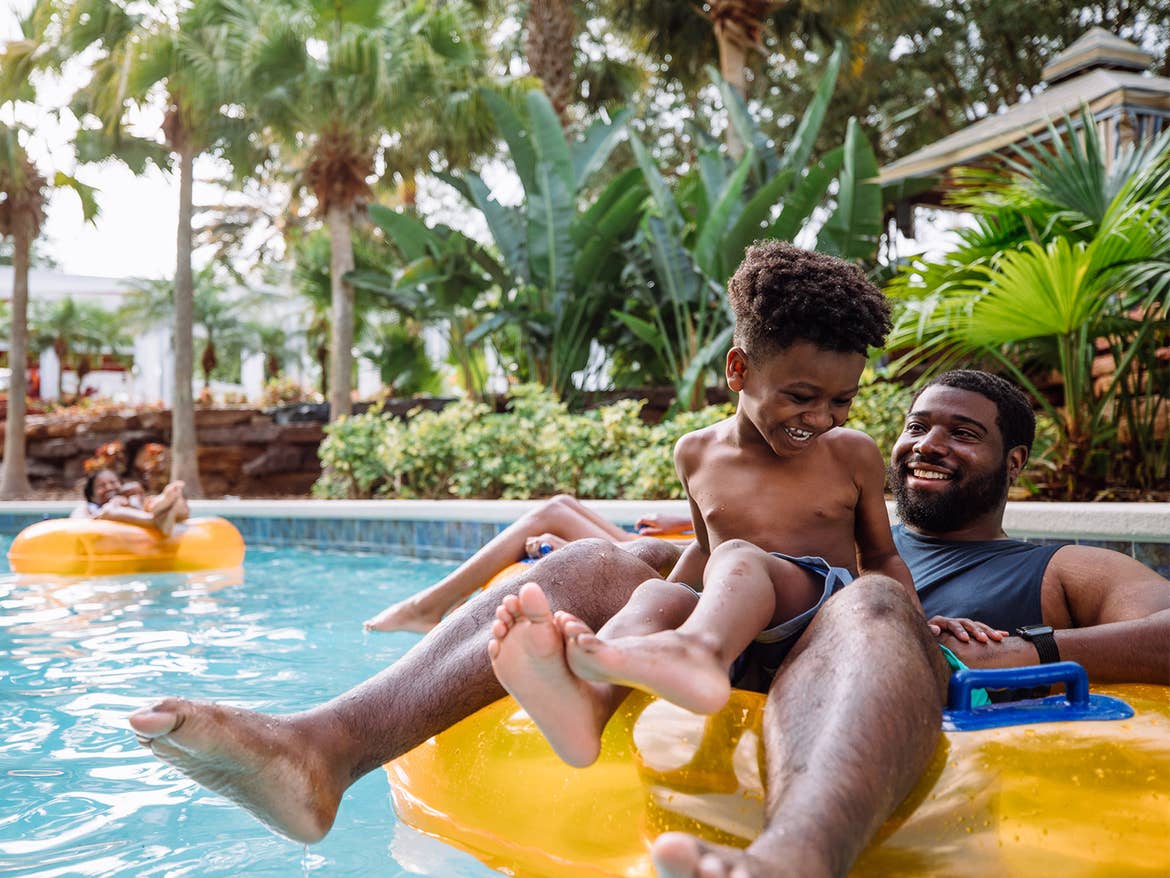 Krystin and her family (from @growingupgodfrey) going with the flow on the lazy river at Orange Lake Resort


"Relax and go with the flow." – Jennifer G.


"Above all, especially in these times, be kind. Staff is sparse and overworked, guests are stressed and looking to just get away and relax. Go with the flow, enjoy making the most beautiful memories you can in this year when a break from it 'all' is most vital to our mental health..." – Laurie S.M


"Sleep in, go with the flow, play board games. 🔥" – @ljlewis24


"Well, after waiting so long for borders to open and to have our lifetime holiday at Christmas, my only tip this year is to sit back, breathe the air, relax, have fun and make the most of every second! The next holiday is not promised and life is too short to stress. If you've forgotten something, you can always buy a replacement." – Kathryn R.


"Take the time to make memories. Don't stick to a schedule!" – @mandi42


"Just go with the flow and enjoy! I'm coming in February to Orange Lake for four weeks. Can't wait to just enjoy the resort and bask in the sun and enjoy our porch. Relax!" – Joan B.G.
---
Ready to Warm Up to Winter? Start Planning:
---
4. Ok, Plan, Just Not Too Much
Of course, being fluid doesn't mean it's a crime to schedule activities at all. Just try not to overcommit.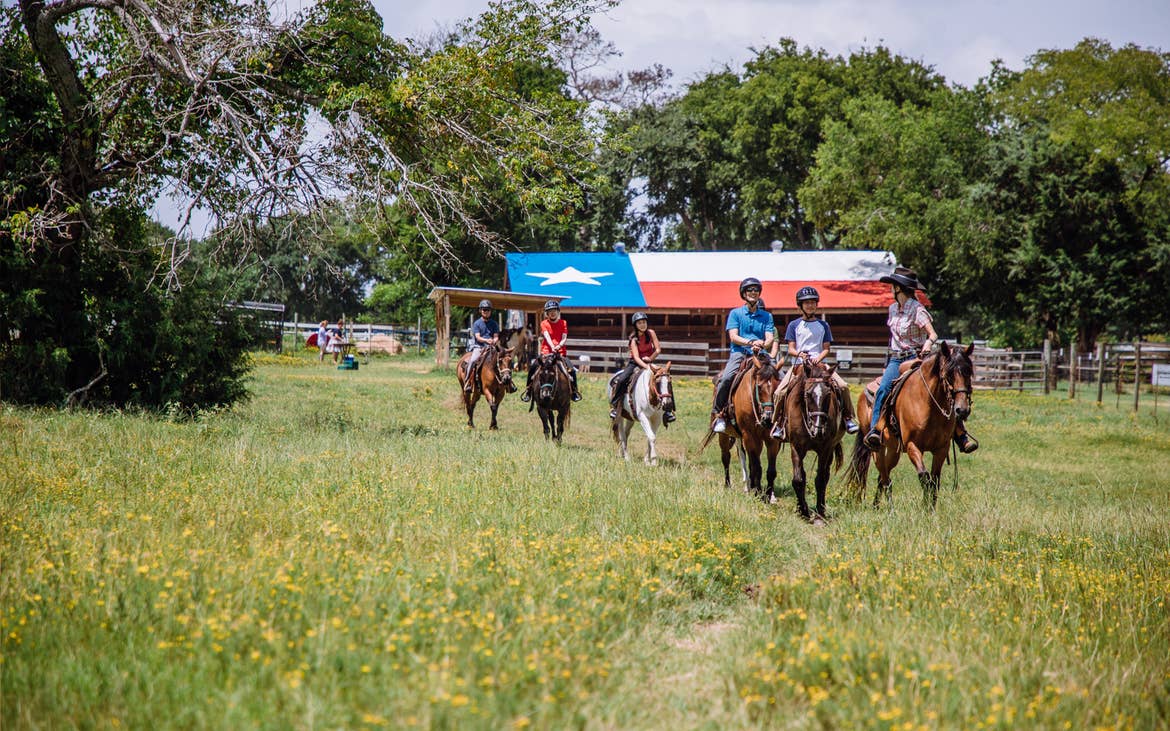 Lauren and her family (from @limbylim) taking in all the nature on a horseback ride at Villages Resort


"Plan/schedule one or two activities but allow for spontaneity the rest of the time. You will get some great memories from both." – Patty C.C.


"Planning/scheduling — I always like to collect a list of things I would potentially like to do, but I only identify a few things that I absolutely have to do. If I'm staying for five days, it's only two or three things I absolutely want to do. If I'm staying for eight days, maybe I'll pull out four things. This way, I don't have to have every day jam-packed. I don't want to feel like I need a vacation from my vacation." – Tracy S.
You might want to stall off all those zen moments for after the holidays.


"The best holiday vacations are those taken after the holidays to help escape the stress we put on ourselves from them. This way the extended family gets the hustle and bustle and the [immediate] family gets quality relaxing and engaging time together! " – Yvette M.
5. Pencil in Playtime
Whether taking a break from the theme parks, pool or slopes, up your game time!

Board games are a portable way to make that happen.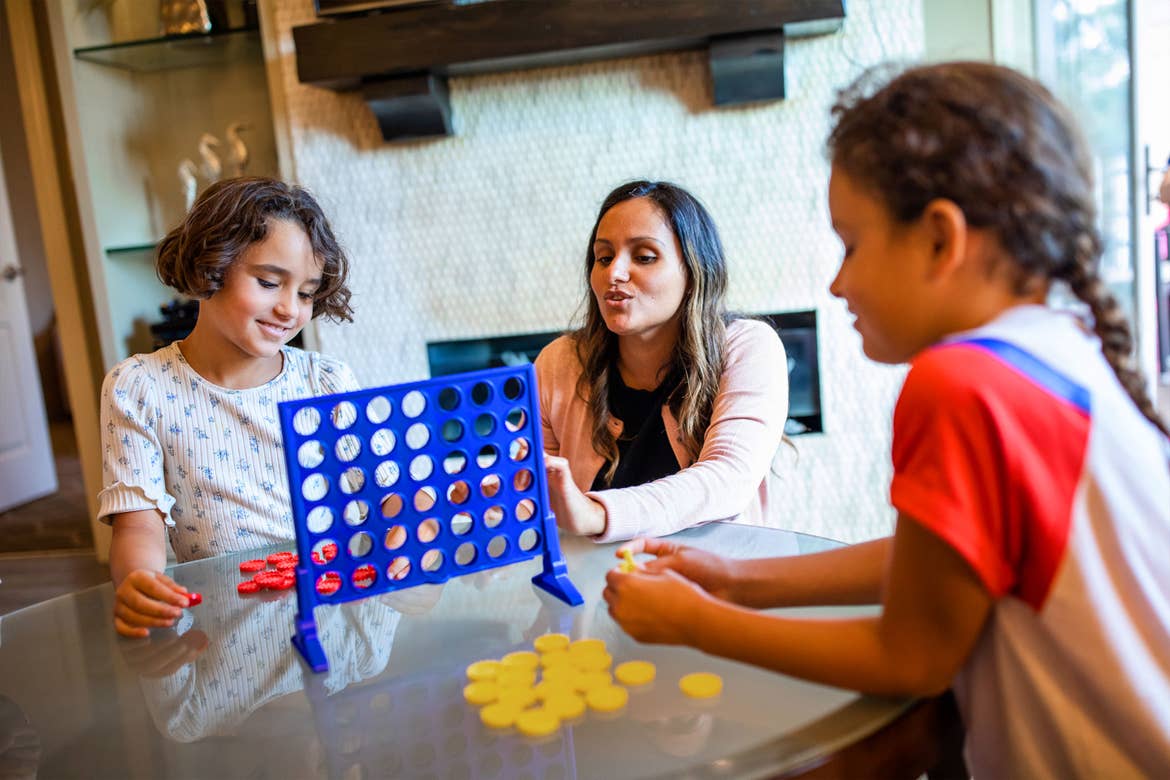 Brenda (from @she_plusfive) "connecting" with her kids in their Signature Collection villa at South Beach Resort


"Welcome family and friends, enjoy time spent outside playing in the snow, and end the day with a glass of gin or wine in your PJs, having fun playing board games in front of the chimney!" – Martine C.


"Try to have 'downtime' to play family games, make memories and take lots of pics!" – @bsprenkle
6. Enjoy One Another More Than the Material Things
This is the simplest advice, and surely one of the most important.

Gather with your favorite people and then be mindful: Conscientiously appreciate being on a holiday break with these hand-chosen companions.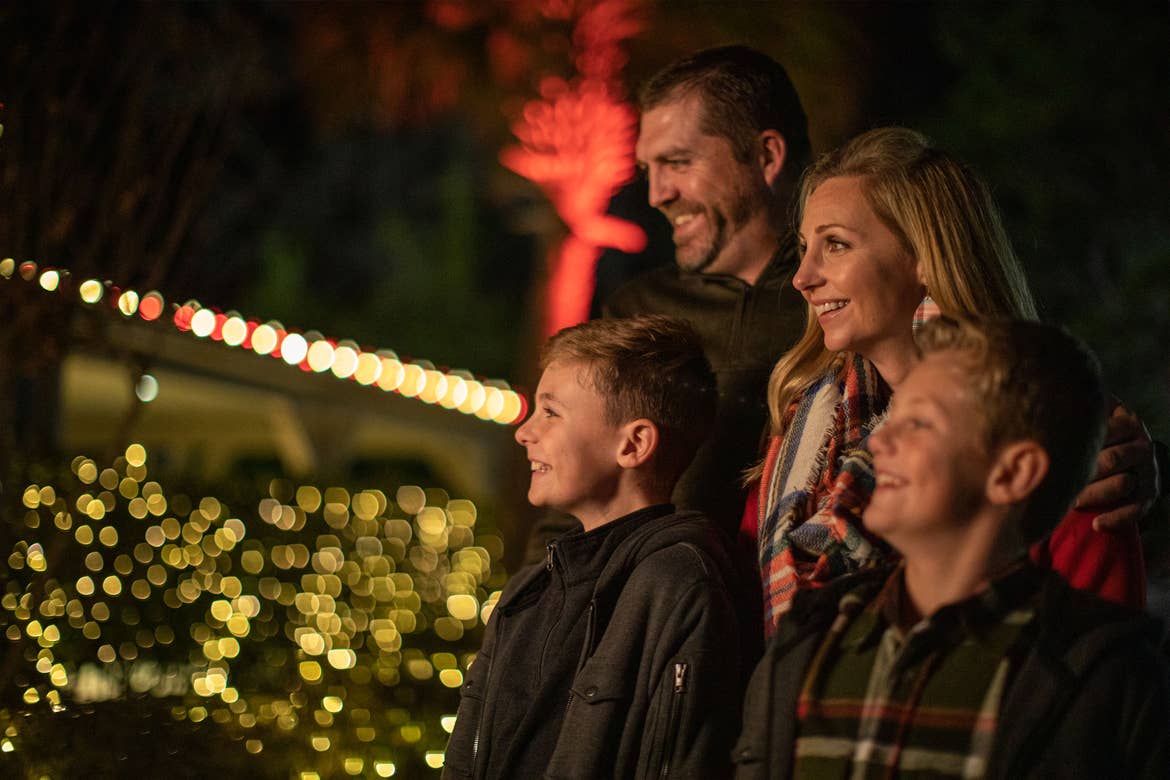 Amanda (from @amandanall) enjoying all the bright lights with her family at Villages Resort


"The best holidays with my girls have been spent traveling for Christmas. I am able to focus on what matters, more than what's expected. It ends up costing me less money than buying material things. We have a poetry contest on Christmas Eve on vacation that wraps up our year in review. Always good for a laugh." – Carrie G.


"Focus holiday travel on experiences versus material things. Those toys will lose their appeal quickly; the experiences/memories will last a lifetime!" – Kerri C.R.


"Holiday travel tip: Remember, it's not about the gifts, it's about the time spent together. You may forget who got what as presents, but you don't forget travel experiences!" – Tina C-S.


"Making memories is more important than having 'stuff' … enjoy the moments you can together! " – Martha M.F.
7. Unplug!
The first step toward mindfully enjoying one another's company is human interaction. Try to shut off the TV and all smartphones, tablets and laptops for a while.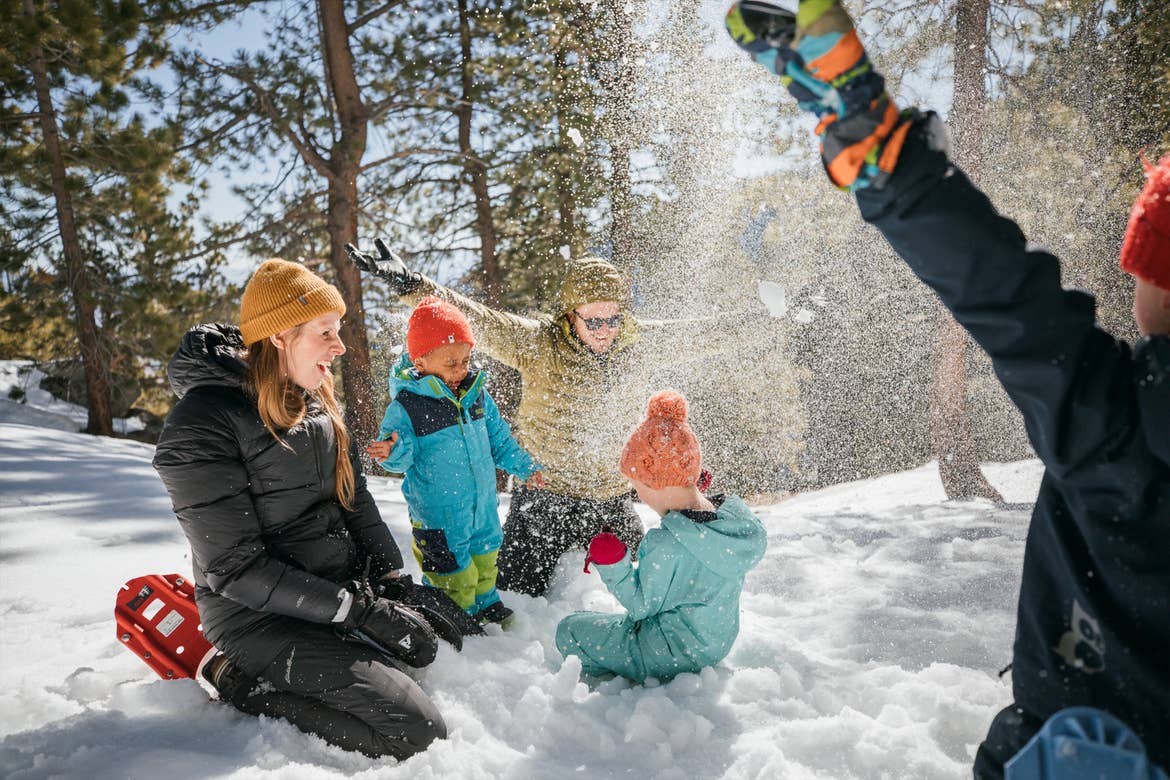 Andrea and her family (from @hikingtheglobewithkids) having snow-filled fun during their vacation at Tahoe Ridge Resort


"These three 'Ns' are forbidden on our vacations: 1. News — just turn it off. 2. Netflix — you can watch TV all day at home. 3. Nonsense — the outside world is non-existent the whole week." – Steven W.


"No work allowed! Keep the laptops at home! 😸"– Ginny G.
We could go on sharing tips for your holiday vacations, but we'll leave with this great, practical list:


"Be sure and pack snacks from home and buy a beverage and/or sandwich. Also, pack a change of clothing and sweaters in your carry-on. Airline travel can have delays and cancelations. And remember those earphones for programs on the seatbacks." – Lynn C.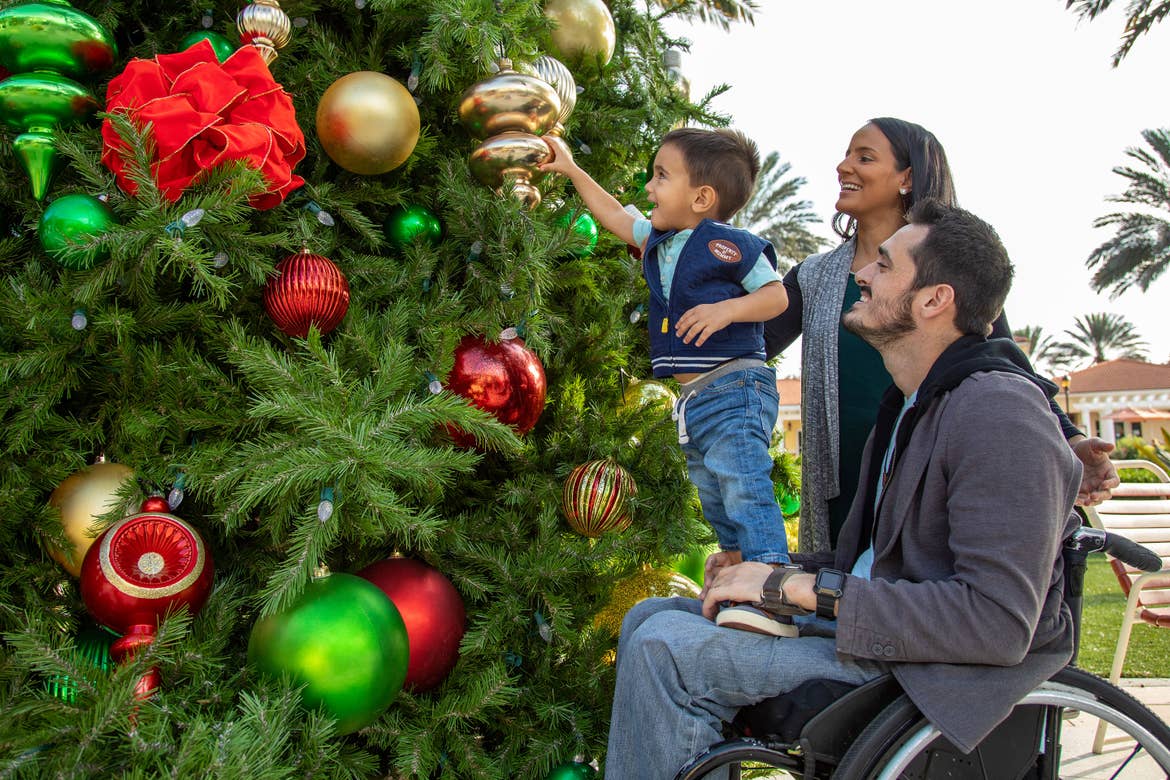 Danny and his family (from @accessiblevacations) spending quality time together at Orange Lake Resort

Revved up about winding down for your winter retreat? That's what a holiday vacation is all about!

You can get inspiration for your next getaway by following us on Instagram and Facebook.

Wherever you go next, we hope you get to escape your everyday lives and spend that ever-precious time together.

Happy Holidays!


Our guest bloggers are compensated for their writing contributions and honest opinions.

All information is subject to change. This article is a curated guide and is neither sponsored nor considered an official endorsement. Please be sure to check information directly with any/all tours, guides or companies for the most up-to-date and direct details.