Brenda Rivera Stearns
Dedicated mother of five, home educator, social media influencer and content creator. Brenda Stearns is the heart behind @she_plusfive where she inspires women worldwide by sharing honest stories that make motherhood relatable, authentic and beautiful.
Instagram
Facebook
YouTube
TikTok
My husband, Isaiah, and I try to plan family vacations at least two to three times a year. It's important for us to get out of the daily routine and create new memories together by visiting fresh places and discovering the world around us. This year, however, we did our best to stay home and limit our travels.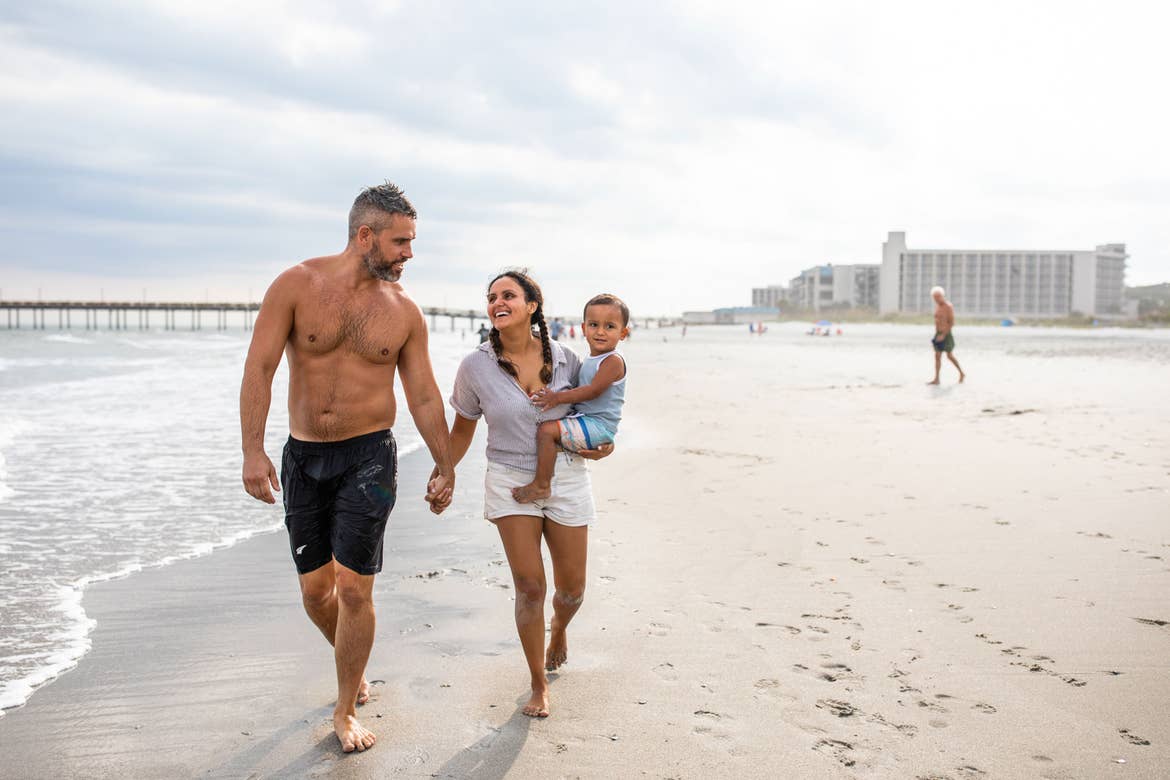 Living in Ohio, we don't really get to experience an authentic "beach vacation," so when the opportunity arose to take a trip to Myrtle Beach for the first time, we were all extremely excited!

We've heard wonderful things about Myrtle Beach, but we've never had the opportunity to visit that part of South Carolina before. I was mostly looking forward to seeing the ocean, playing in the sand, visiting the town and having fun with my family.

If you're planning a Myrtle Beach vacation sometime soon, read on to find out how we planned our trip, where we stayed and all the incredible things we did on our beach vacation.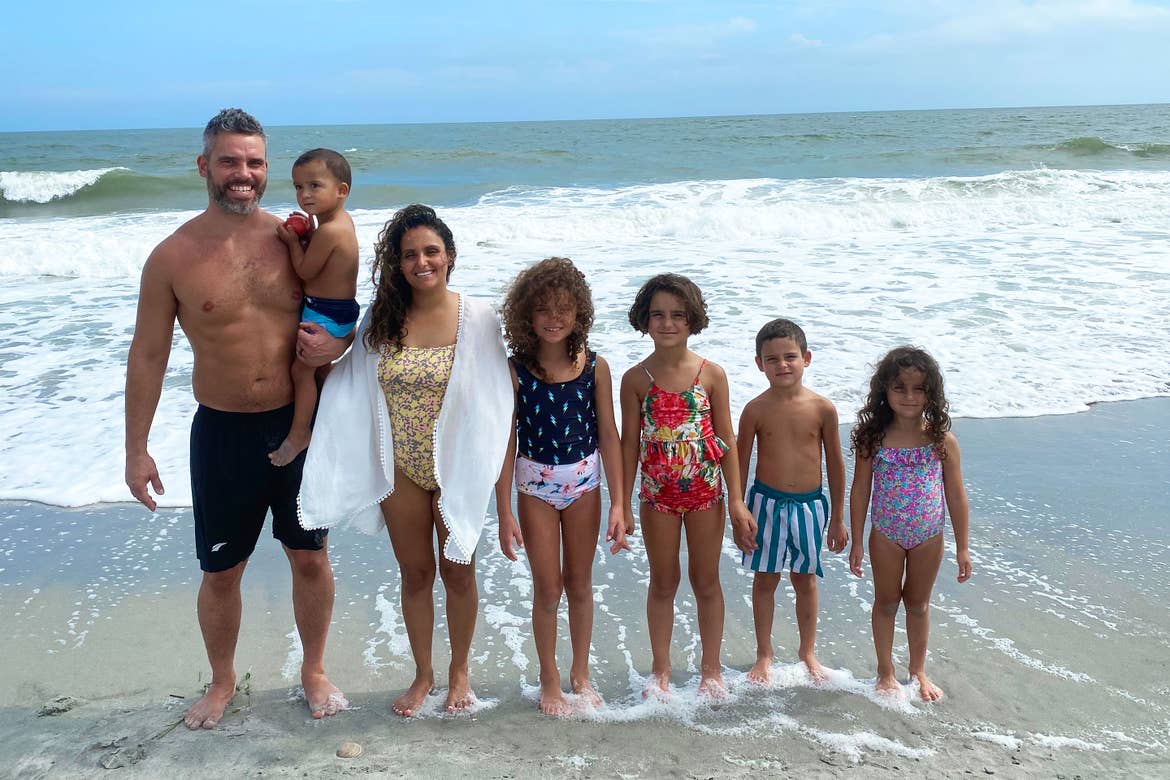 Planning Our Road Trip to Myrtle Beach
We decided to take a family road trip to Myrtle Beach instead of flying because we really wanted to enjoy the ride and make memories along the way. From Ohio, the road trip was about 10 hours long, and we split it into two days. We drove five hours the first day, stopped at a hotel to rest, and continued on the following day to our final destination.

We're a big family of seven, and you may be surprised to learn that our five children actually love road trips and they do exceptionally well in the car. We kept them busy and happy with simple and entertaining activities.

Our kids have a lot of fun coloring and reading while in the car and, of course, the ultimate favorite thing that we all enjoy—snacking! I typically like to pack our own organic snacks from home, like apples, granola bars, string cheese, nuts and premade sandwiches, so very seldom do we stop to eat.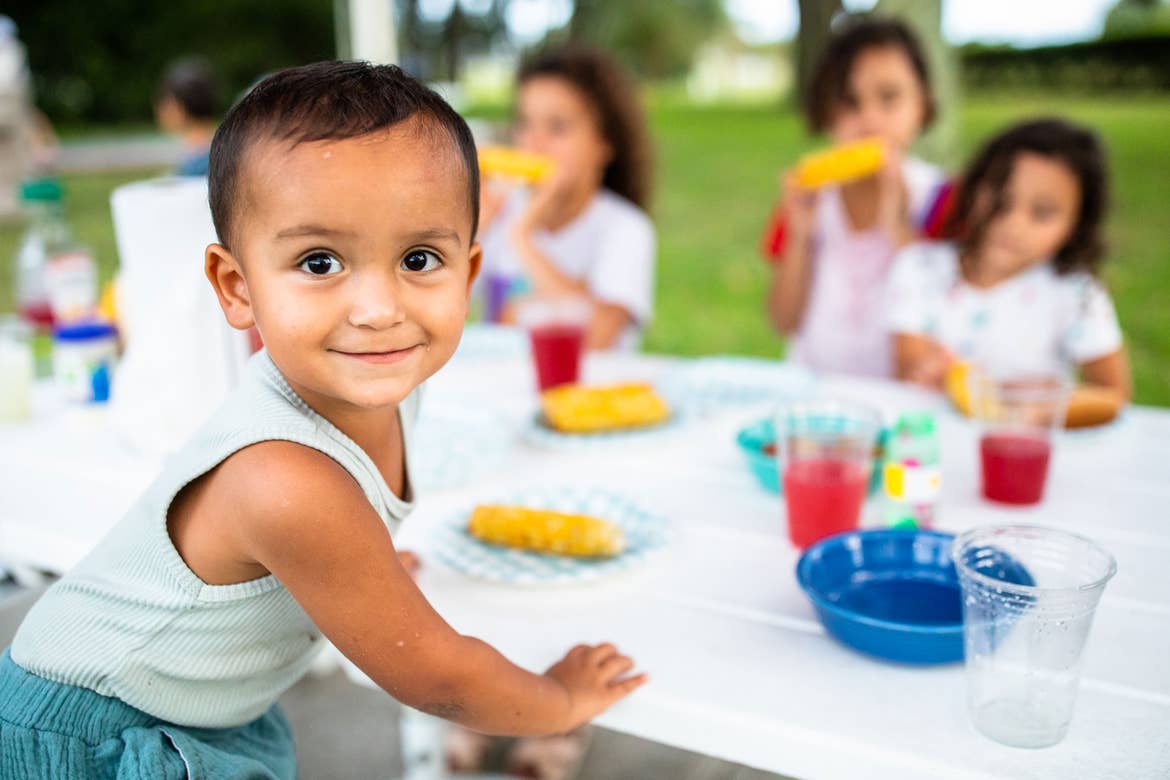 As we drove to our destination, passing through Ohio, Virginia and West Virginia, we enjoyed some fascinating scenery. Our way there was absolutely gorgeous with stunning mountains, hills and valleys. Hands down, looking out the window was our favorite entertainment; after all, it's not every day we get to soak in those beautiful views.


Where to Stay in Myrtle Beach
Our stay at South Beach Resort was absolutely amazing! Once we arrived, we noticed the resort is situated on a huge property that offers a lot of comfort and privacy. And there are tons of fun things to do at the resort, too. We visited the pools every day, and the kids especially loved Splash Cove, which was like a big water playground with slides, spouts and a lazy river.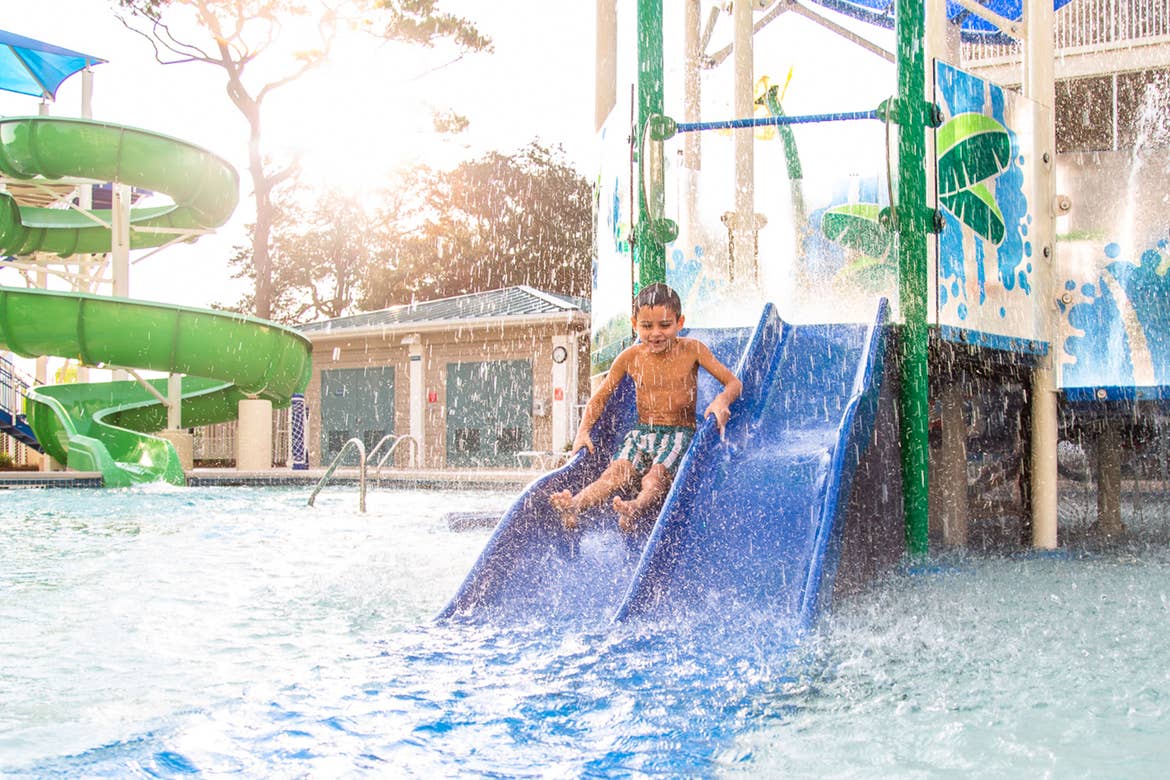 Of course, the very first thing we did when we arrived to Myrtle Beach was go to the ocean. South Beach Resort was within walking distance to the soft, warm sand, and it had a private pool at its oceanfront beach club. It was so convenient, and we were able to take full advantage of the ocean and pool as often as we possibly wanted.

Aside from the beach and pools, the kids had a blast on the resort's playground. It was a good size and had a lot of different activities, such as rock climbing, slides and monkey bars, for them to play and interact with. Perfect for when we wanted the kids to burn out some energy.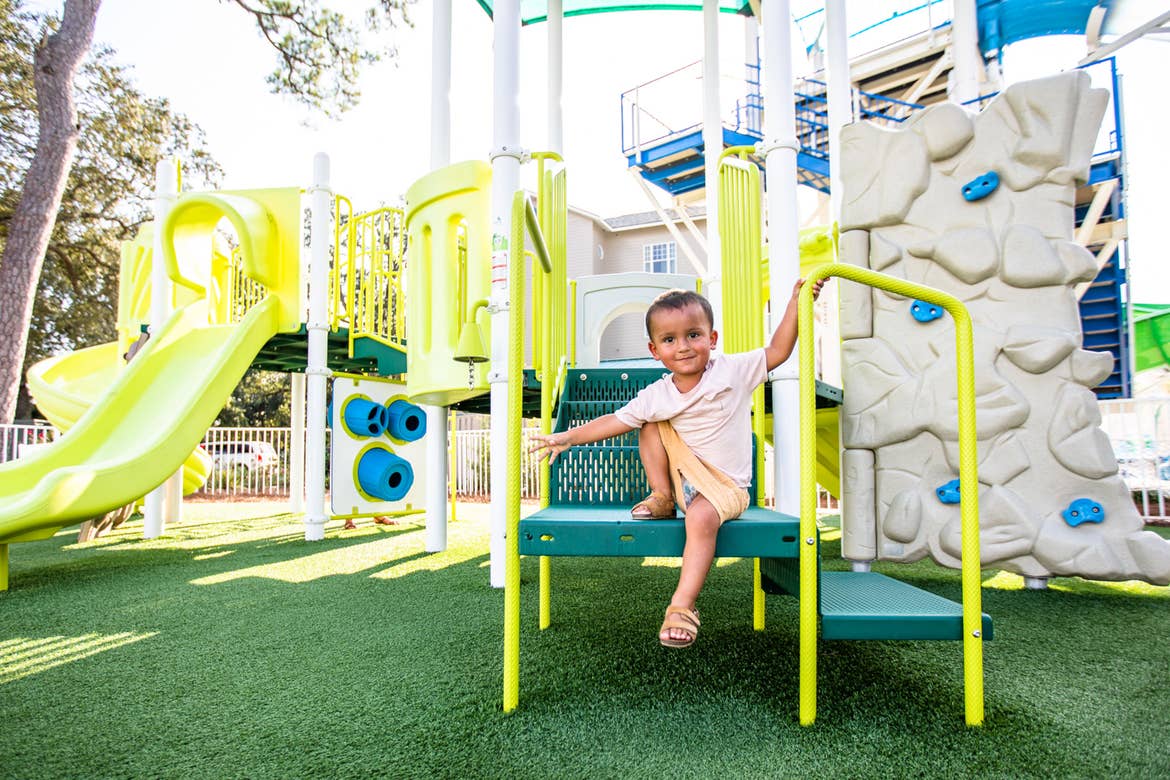 One night, after a full day of adventures, we also enjoyed a fun, cozy time by the fire making and eating s'mores.

In terms of what it was like to stay at a resort during COVID-19, South Beach Resort definitely gave us peace of mind the entire time. The resort has its Safe Travels program, which included having hand sanitizing stations everywhere throughout the resort and closing the pools for an hour every afternoon to sanitize them. The staff also wore masks, and they went above and beyond to make everyone feel safe and stay healthy.


Our Villa at South Beach Resort
We stayed in a super spacious two-bedroom Signature Collection villa that accommodated our family of seven comfortably. We had a full-size kitchen, which allowed us to cook meals in our villa and they even provided all the cooking essentials. We filled the fridge with our own organic groceries, but also ordered delivery a couple times to keep it fun and interesting for the kids.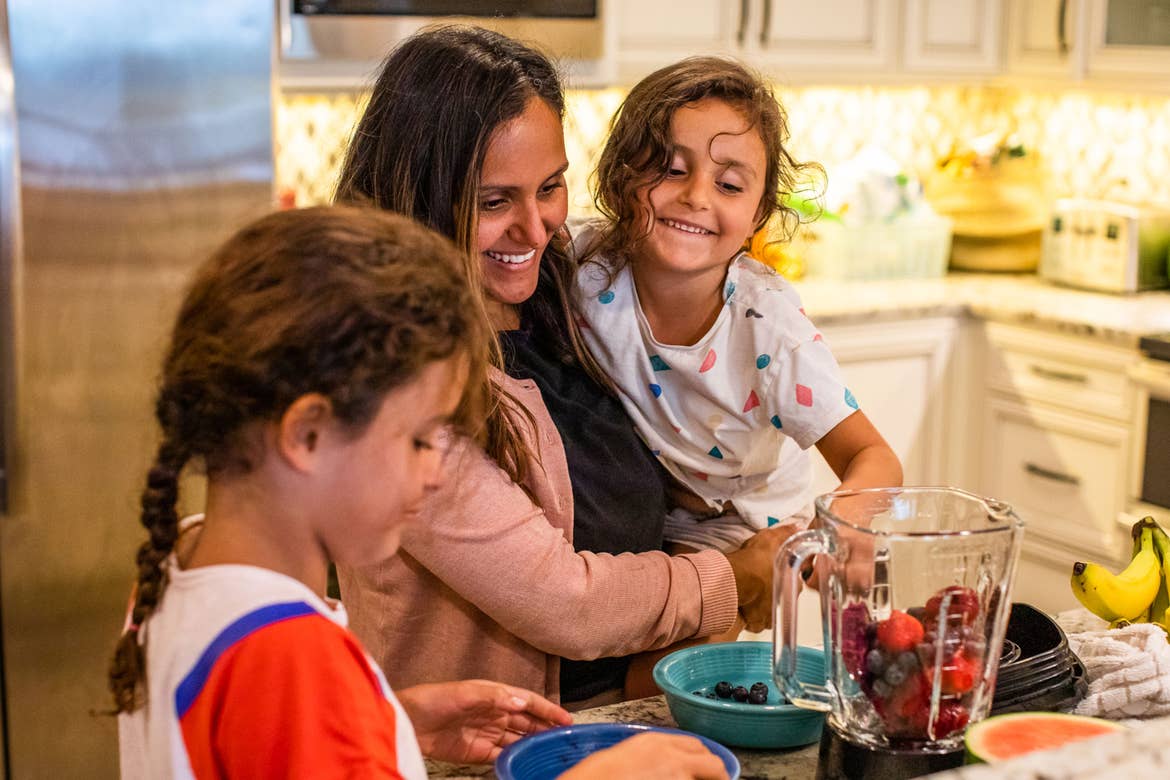 The resort and our villa were perfect for our family on this trip especially because we were taking a schoolcation. To keep up with our homeschool schedule, we did schoolwork in the villa on Friday, Monday and Tuesday, and the rest of the time was spent exploring and even doing some "hands-on" learning as we hiked and visited the beach.

It was nice to use the dining room as a separate area for all our schoolwork. Isaiah was also working remotely on vacation and was able to enjoy the quiet, private balcony (and the pool view) to finish his work on his laptop. The Wi-Fi connection at the resort was great and didn't give us any trouble at all.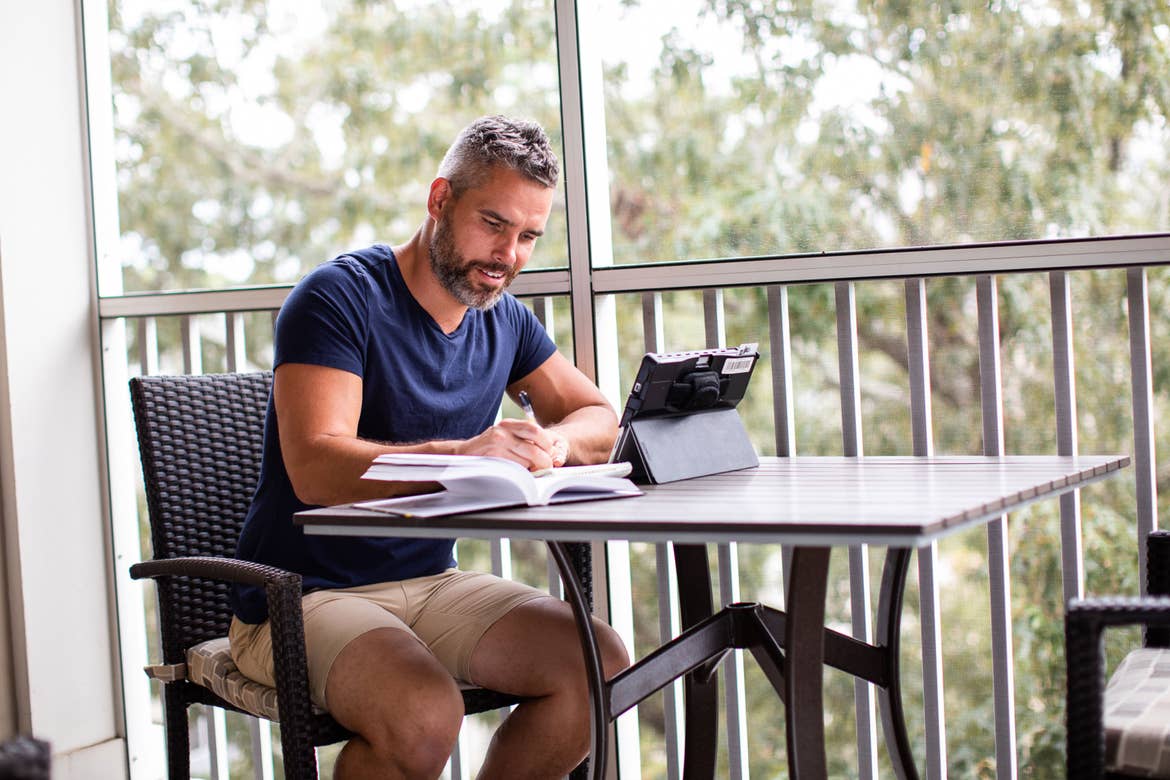 One of my favorite things about the villa was the washer and dryer, which made it very convenient for us and helped us pack light for our vacation. With our family of seven, space was limited in our 12-passenger rental van, so I would say a washer and dryer are a must when packing for a longer cross-country trip with your family.

Overall, we were very impressed at how easy it was to take our little schoolcation, enjoy the different amenities the resort had to offer and have peace of mind safety-wise.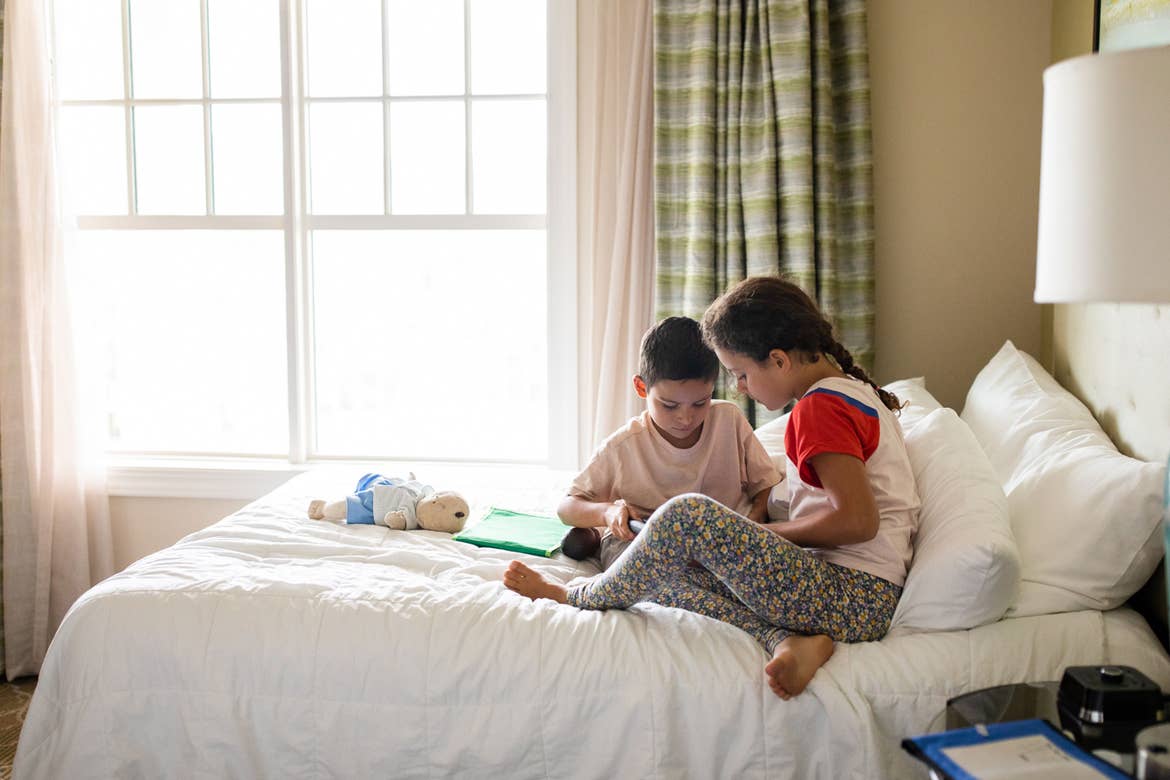 Family-Friendly Things to Do in Myrtle Beach
Since this was our first time in the area, we wanted to try out all the fun things this place had to offer. I noticed the town was clean and lovely, and people were very friendly, respecting social distancing and wearing masks when appropriate. The city offers so many great restaurants and entertainment, it was hard to choose what to do and where to eat! But here are some of our favorites.
1. The Beaches & Pawleys Island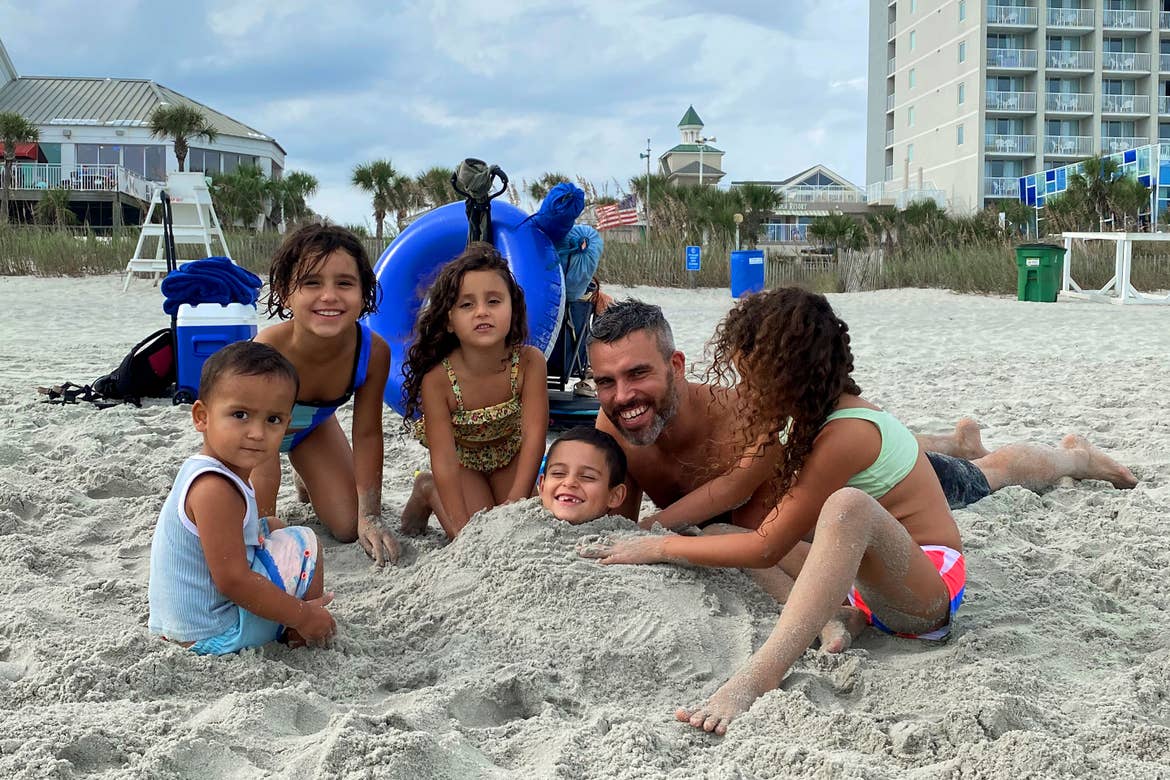 Like I mentioned, our very first stop was to the beach. Some of our absolute favorite memories from our trip to Myrtle Beach included playing with the kids in the warm sand, and splashing and swimming in the ocean.

Pro Tip: The beaches are huge in Myrtle Beach, and if you go early in the day, you get the whole beach for yourself. 😉

One of the coolest beaches we got to explore was Pawleys Island. This barrier island had gorgeous sand dunes, and at the southern tip of the shore, there were waves coming from different directions, which created a shallow pool that made it so much fun for the kids and me. We blew bubbles, collected seashells, played in the sand and swam in the ocean until our hearts were full. Definitely one of my most memorable experiences.


2. Myrtle Beach Boardwalk & Promenade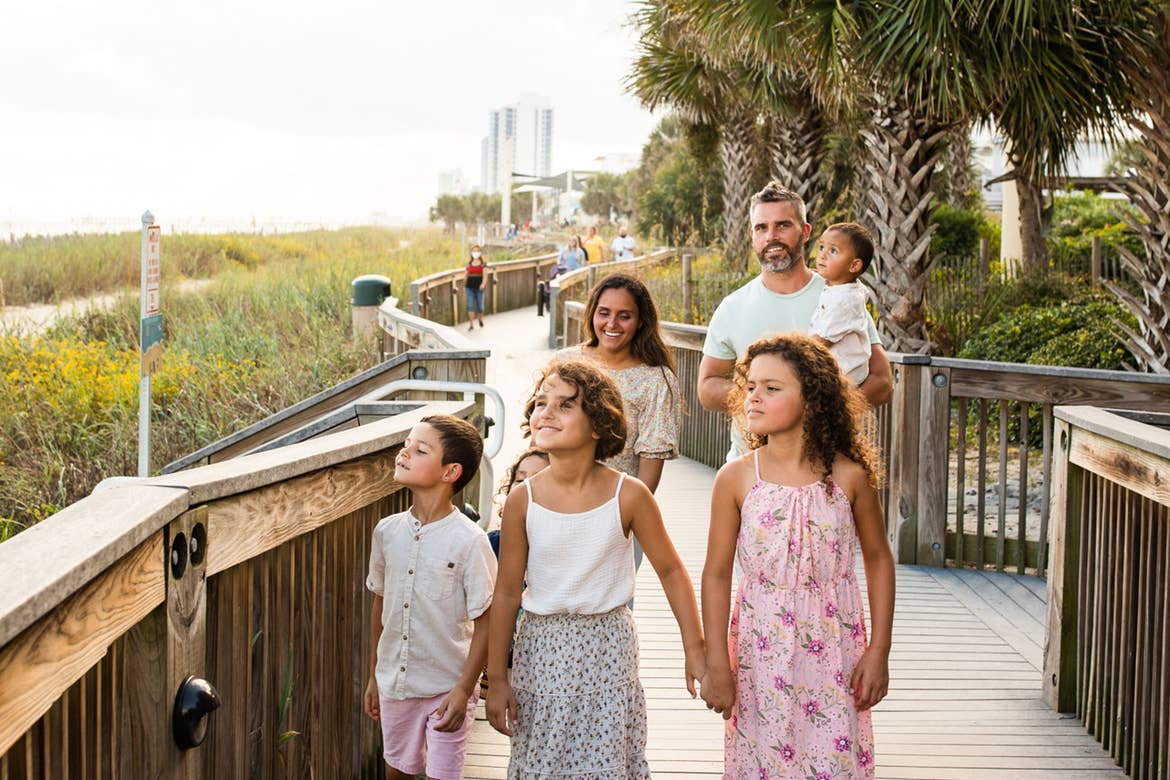 Aside from the soft sand and sunshine, we really had a wonderful time visiting the Myrtle Beach Boardwalk and Promenade. We ate on the pier at Pier 14 Restaurant, and the view on the boardwalk was beautiful.


3. Dolphin Cruise


One of our favorite activities we did together was the amazing boat ride across the ocean that we all got to experience for the first time. Even though we didn't get to see any dolphins, it was exciting, slightly nerve-wracking and overall fun!

We booked our cruise with Voyager Deep Sea Fishing and Dolphin Cruises, and it was about three hours long. On our way back to the dock, we did experience some pretty heavy waves and rain that made the kids feel a bit scared. Thankfully, it passed within 20 minutes and we reassured the kids we were safe the entire time.

After that, the kids felt more comfortable to walk around the boat and look into the ocean. Even though it wasn't what the kids expected, I think we made the best of it, and it's definitely an experience we will never forget!


4. Myrtle Beach State Park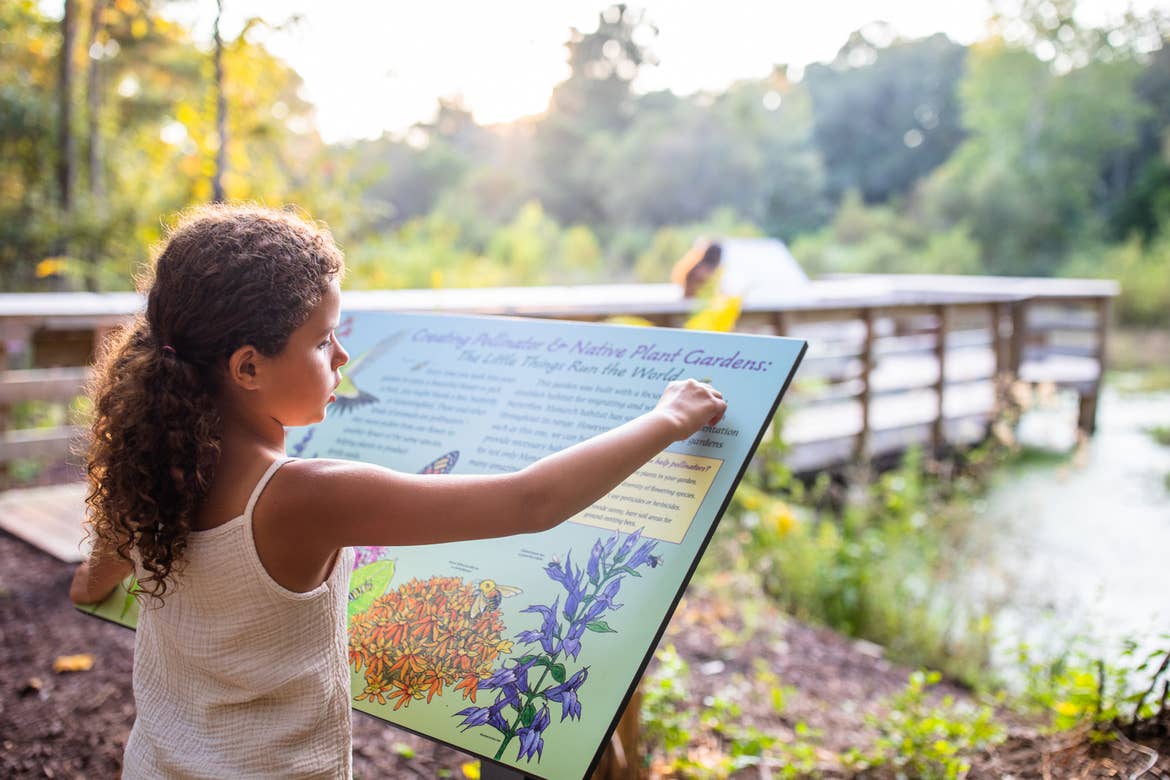 We took a family hike through Myrtle Beach State Park; it was a really nice day and the weather was great. We ventured out and spent some time wandering around on the nature trails. The kids' favorite part was looking for frogs at the pond, and the older girls had fun going from post to post, reading and learning all the fun facts about wild birds and native animals.


5. Splash Cove & Resort Pools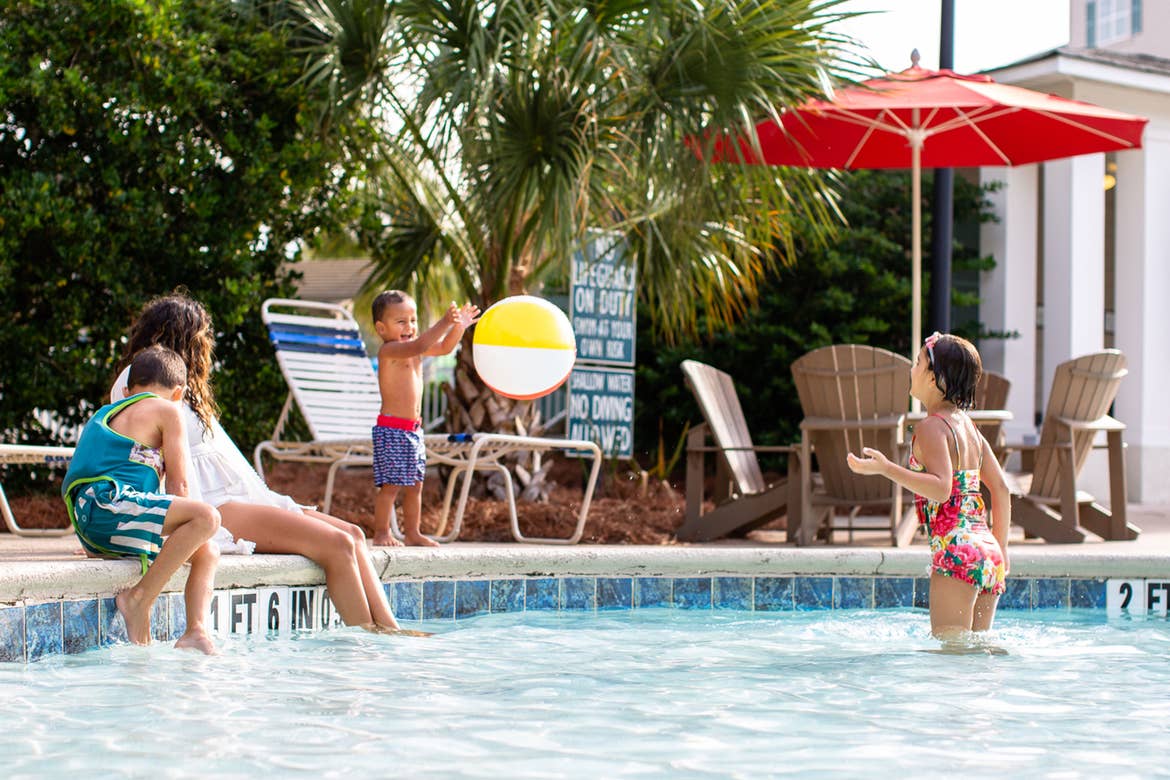 We also highly enjoyed swimming in the resort's three fun, outdoor pools, as well as floating on its lazy river and zipping down the waterslides and playing in the water features at Splash Cove.


Advice for Planning a Trip to Myrtle Beach
I can definitely say with confidence that I wouldn't change anything about our trip because it was both fun and peaceful; everything felt just right. Here's some of my advice for other families planning a trip to Myrtle Beach:
If you live on the East Coast, definitely take a family road trip (instead of flying) because the views are absolutely gorgeous and it's something you and your family won't want to miss.


Book a resort with a full kitchen, so you can cook your own meals and save money. (And spend that money on exploring the town. 😉)


Most importantly though, I would say to be present as you enjoy quality time with your family. Yes, we got schoolwork done and, yes, mom and dad worked here and there a bit. But definitely carve out some intentional family vacation time, too. Maybe even schedule some time away from social media, which can so easily distract us and pull us away from truly enjoying a well-deserved vacation.
As always, it's important to make the best of every day and continue to create wonderful memories with your loved ones, moments that will soon become our yesterdays. And what better way to remember your relaxing trip to Myrtle Beach than with a warm smile of reminiscence?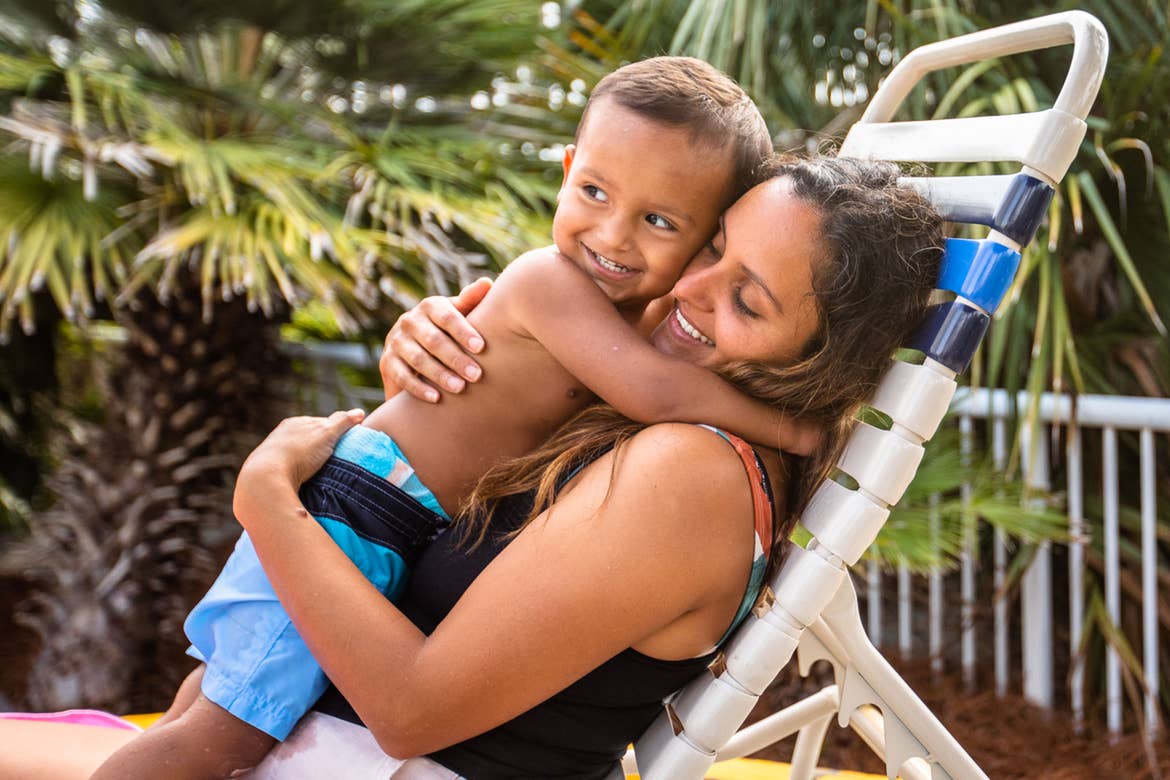 Our guest bloggers are compensated for their writing contributions and honest opinions.

All information is subject to change. This article is a curated guide and is neither sponsored nor considered an official endorsement. Please be sure to check information directly with any/all tours, guides or companies for the most up-to-date and direct details.