Brianna Steele
Brianna is the motherhood and travel blogger behind The Adventures of a Twin Mom, based out of Charleston, SC. When she's not with her husband or boy/girl twins, she's pursuing one of her passions: traveling (48 countries and counting), interior design, organizing or watching reality TV!
Instagram
Facebook
Pinterest
Website
Download Beach Packing List
Download Walt Disney World Packing List
If someone asks me for a good place to vacation with kids … Myrtle Beach, South Carolina, is always in my top three! I grew up going there every summer, so I remember what it's like as a kid, and it's even better as a mom.

There are SO many fun things to do in Myrtle Beach during the summer for family members of all ages. I'm pretty sure you won't ever get bored … there's always a new show to see, a new restaurant to try or a new adventure to go on.

Since we're frequent tourists of this exciting beach town, I thought I'd share my list of the top 12 family-fun Myrtle Beach activities to do in the summertime!


1. The Beach (of course)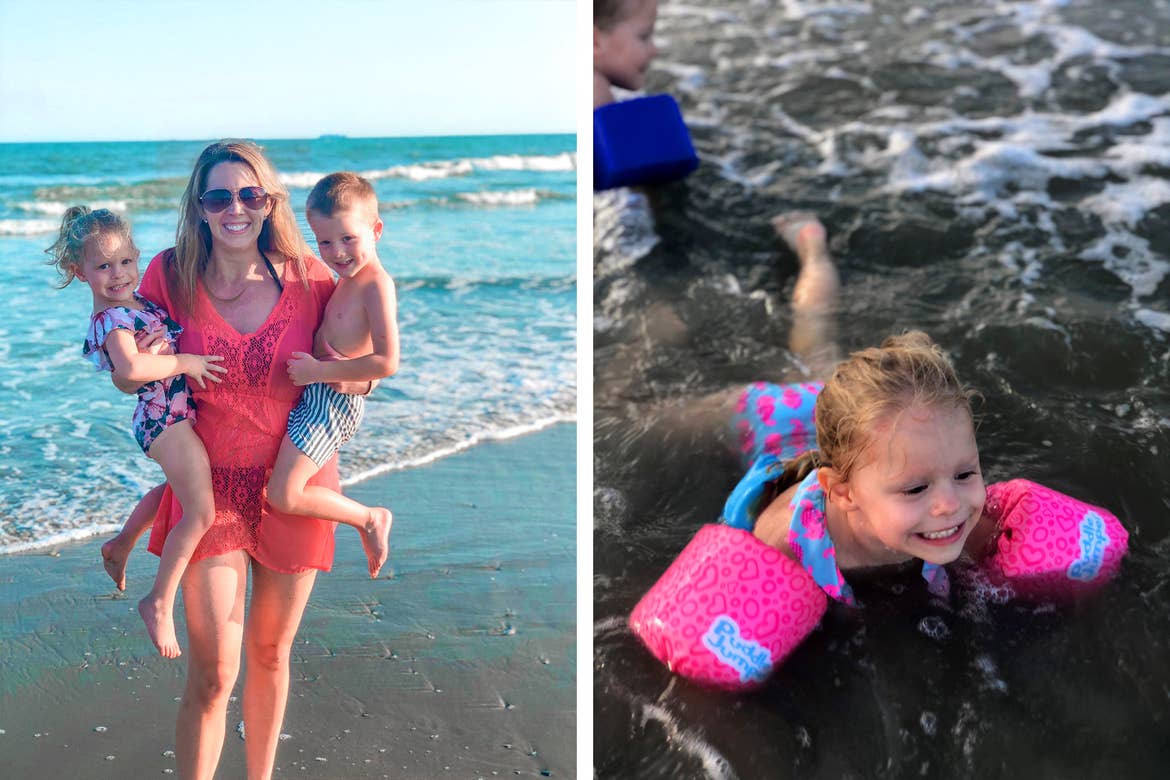 I can't not include this on the list! Most people come here to go to the beach, right?

The beach itself is beautiful with a long beachfront. The waves are usually on the calm side, the sand is perfect for building sandcastles, and it's usually pretty busy, so there are always things to look at.

Pro tip: Before your vacation, use my beach packing checklist to make sure you have everything you need for an amazing, stress-free beach trip.


2. See Ocean Wonders at Ripley's Aquarium of Myrtle Beach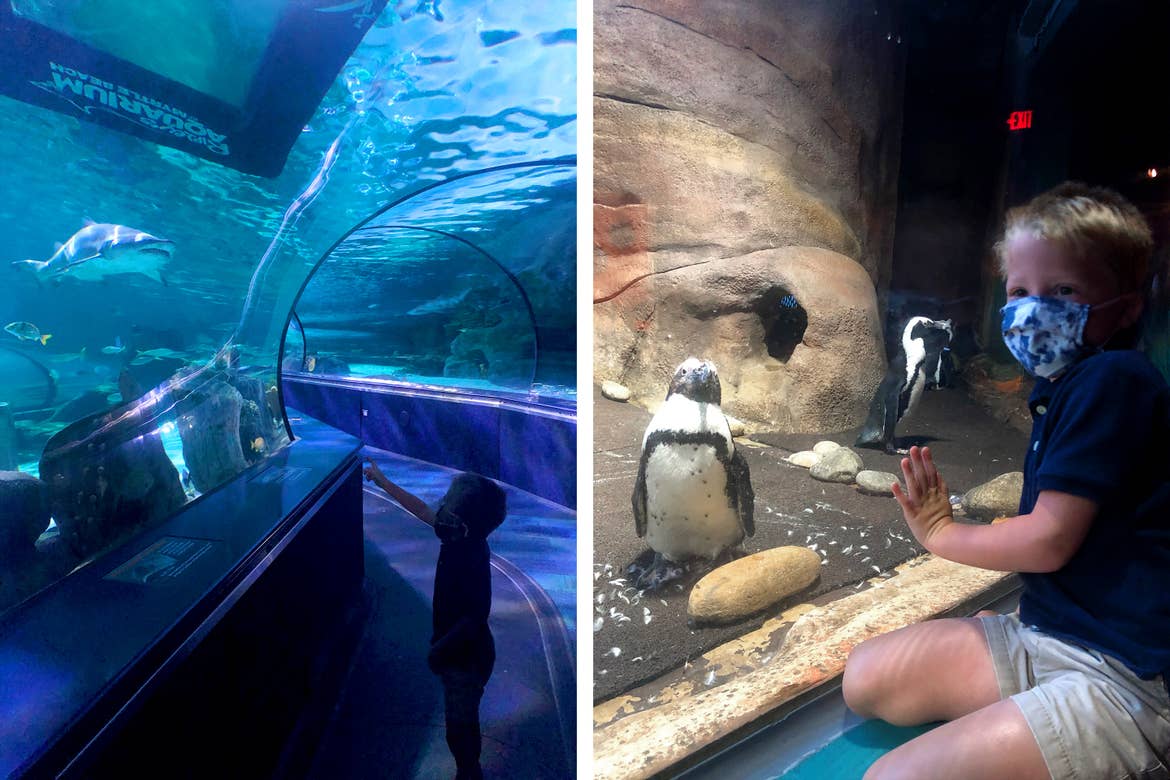 This is a must every single time we come to Myrtle Beach. Ripley's Aquarium® of Myrtle Beach is one of the best aquariums I've ever been to!

It has tons of exhibits for all ages, and it just opened a new penguin one that I had to drag my family away from … it was that cool!

It also has an area where you can get your picture taken with a mermaid — I still have to do this every time, even as an adult. 😉


3. Entertain the Whole Family with a Show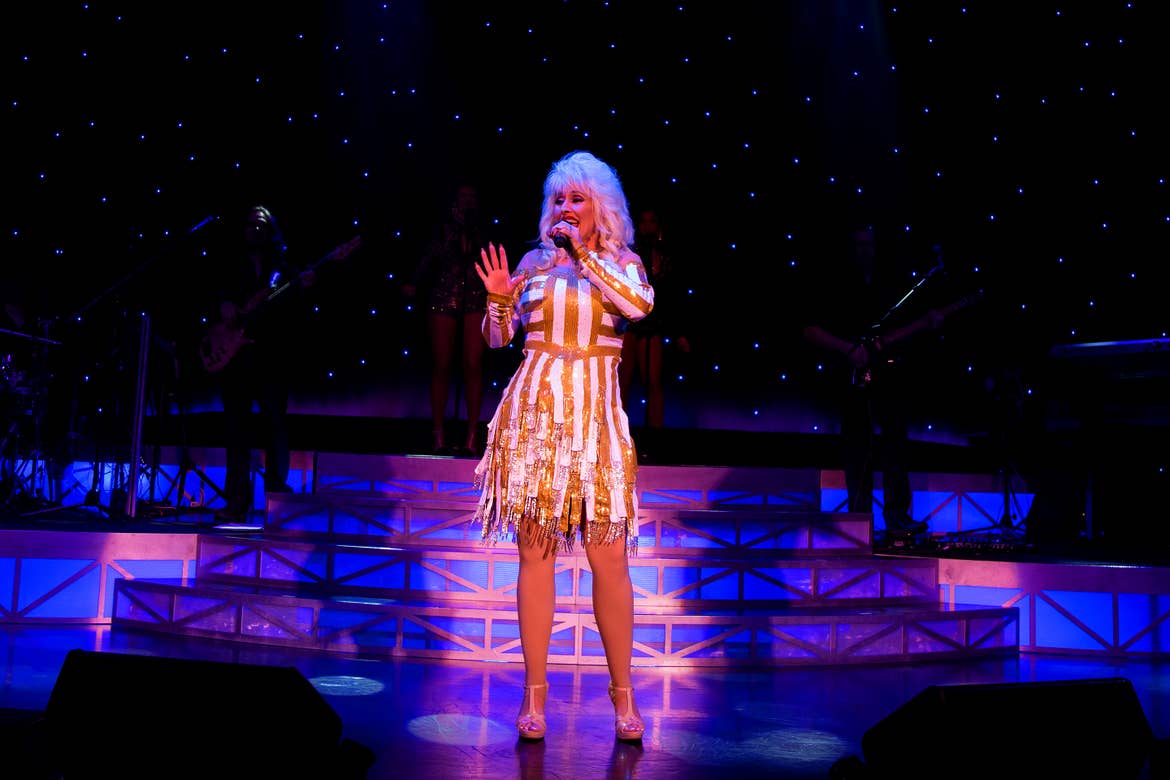 Photo courtesy of Legends in Concert – Myrtle Beach

There are tons of shows for everyone in Myrtle Beach. From dinner shows like the Pirates Voyage and Medieval Times to The Carolina Opry and Legends in Concert, this city has it all.

I remember going to Legends in Concert (where you can see tribute acts like Dolly Parton and Elvis) when I was younger and absolutely loved it! The music was great, and they made the singers look so much like the real-life celebrities.

We're looking forward to taking our family to the Pirates Voyage later in the summer.

Pro tip: Make sure you reserve tickets for these shows in advance because they do sell out.


4. Take the Kiddos to Savannah's Playground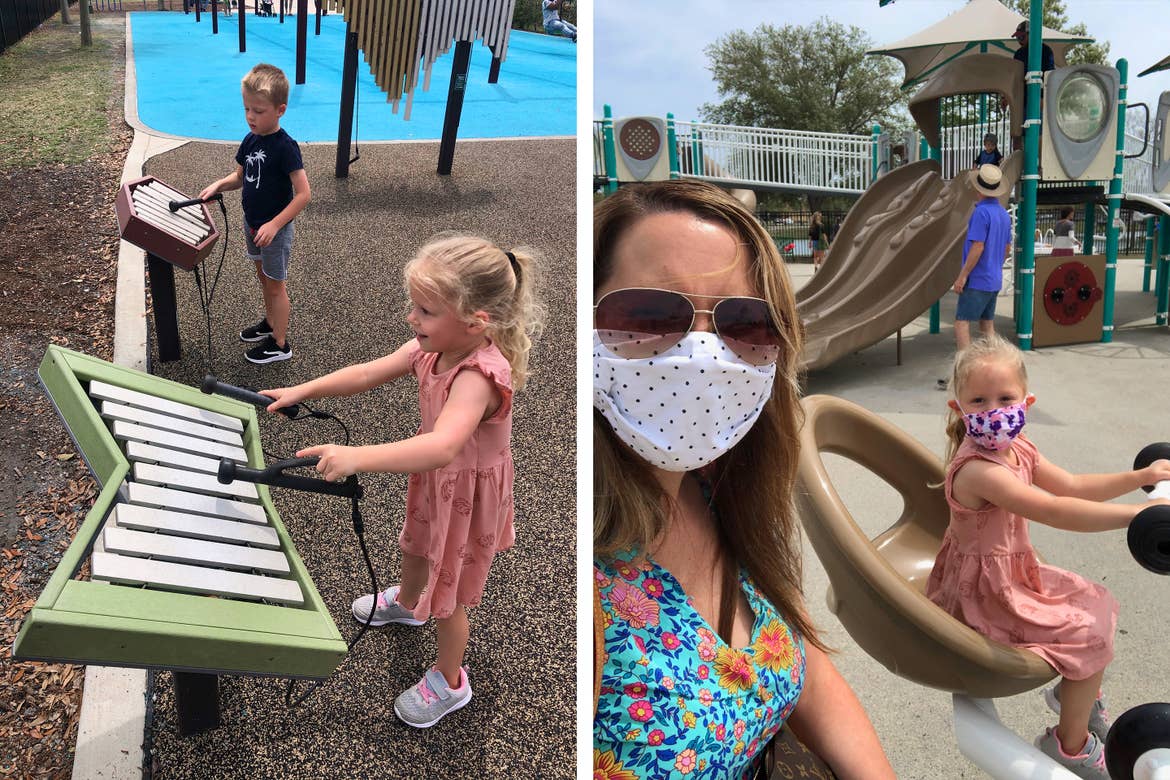 You can find a whole map of Savannah's Playground on its website — it's that big.

Savannah's Playground is the nicest one I've ever seen. It's an enabling playground, which means it's ADA-approved (if anyone in your party is traveling with disabilities) and designed to provide children of all abilities the opportunity to play.

It has interactive, early childhood and school-age playgrounds, a musical park, ropes and zip-lining area, swing sets and a trail around the pond!

We love it here — it's always one of the first stops we make when we get into town.

If you're looking for more fun playgrounds, the outdoor shopping areas usually have one and many of the resorts do, too.

We recently stayed at South Beach Resort and it had a really fun playground (along with lots of other great activities for kids) if you're staying there!



5. Hollywood Wax Museum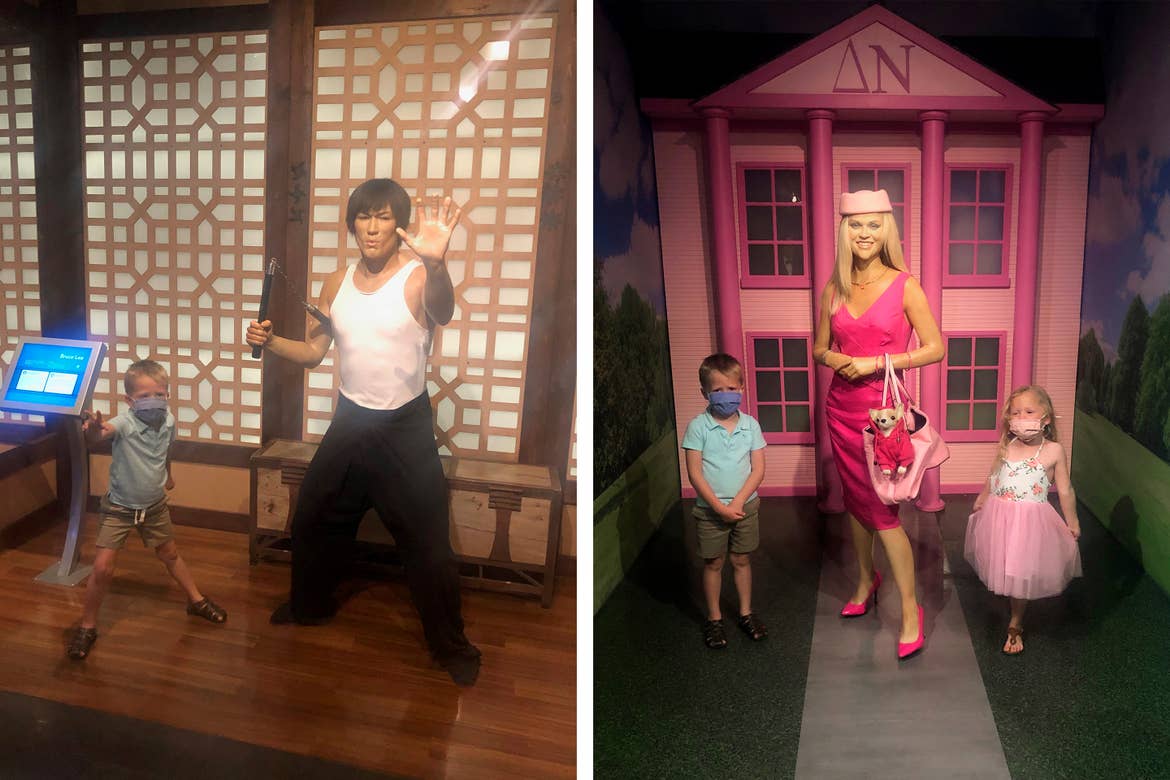 The kids were so excited to "meet" Hollywood stars (like Bruce Lee and Reese Witherspoon)!

I had no idea what to expect from this place on our first visit, but oh my goodness, it's fun!! We've already been twice.

It has hundreds of celebrities made from wax that you can take photos with. Each person has a backdrop setting, some with accessories you can wear and music playing.

Even not knowing who all the people are, my kids thought it was the coolest place! Plus, it has a mirror maze downstairs that's perfect to do with kids.

Pro tip: Make sure your phone is fully charged because you will take a lot of photos with the celebrities.


6. Go Shopping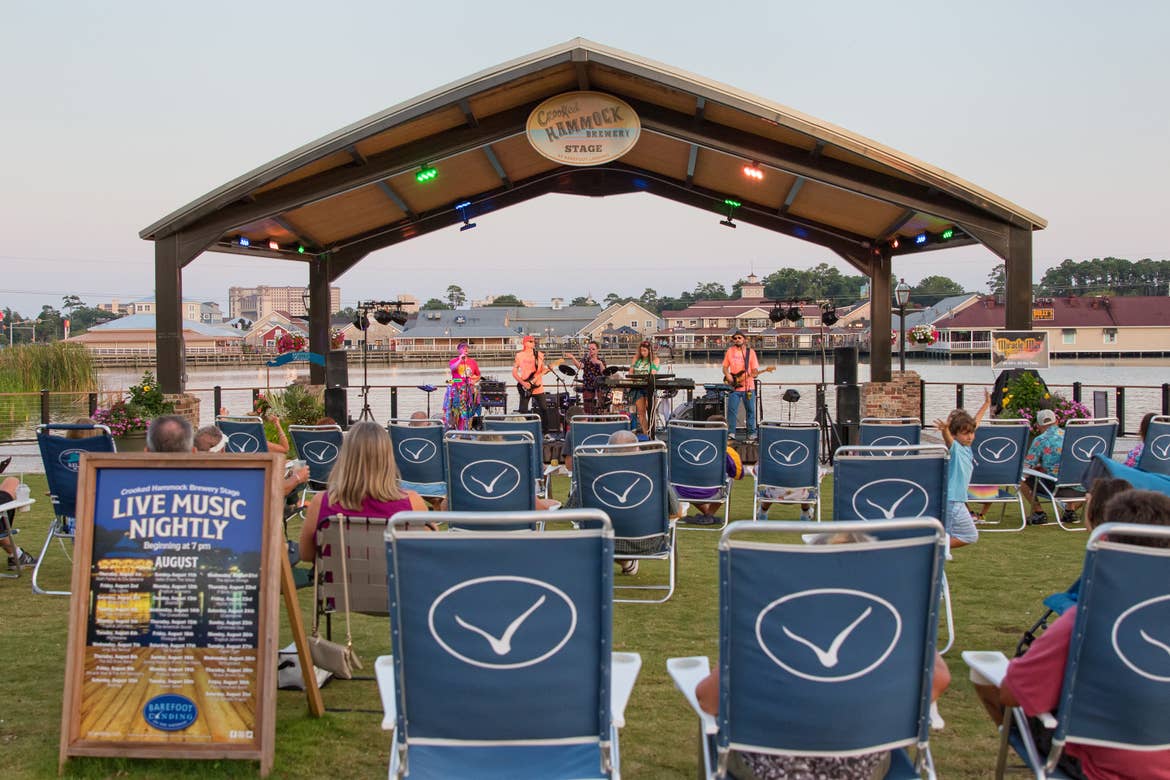 Photo courtesy of Barefoot Landing

If you love shopping on vacation, Myrtle Beach has plenty of big-name stores and unique boutiques.

Broadway at the Beach itself has over 350 acres of shops, along with popular attractions (like WonderWorks; more on that below) and yummy restaurants.

When we come here, we always head straight to Ron Jon Surf Shop. It has such a large selection, and it's fun to look at everything. And we stop at IT'SUGAR and Build-A-Bear Workshop … both are entertaining for the whole family!

If you visit, I'd recommend going to Klig's Kites, too … its selection is unbelievable! I've been buying kites from there since I was a little girl.

Myrtle Beach also has Barefoot Landing, which offers its own variety of unique shops, restaurants and attractions on the intercoastal. If you go there, make sure you walk around the boardwalks to watch the alligators swim.

Aside from those two spots, you can also shop at Tanger Outlet and the millions of beach and surf shops.


7. Splash the Day Away at Your Resort's Pool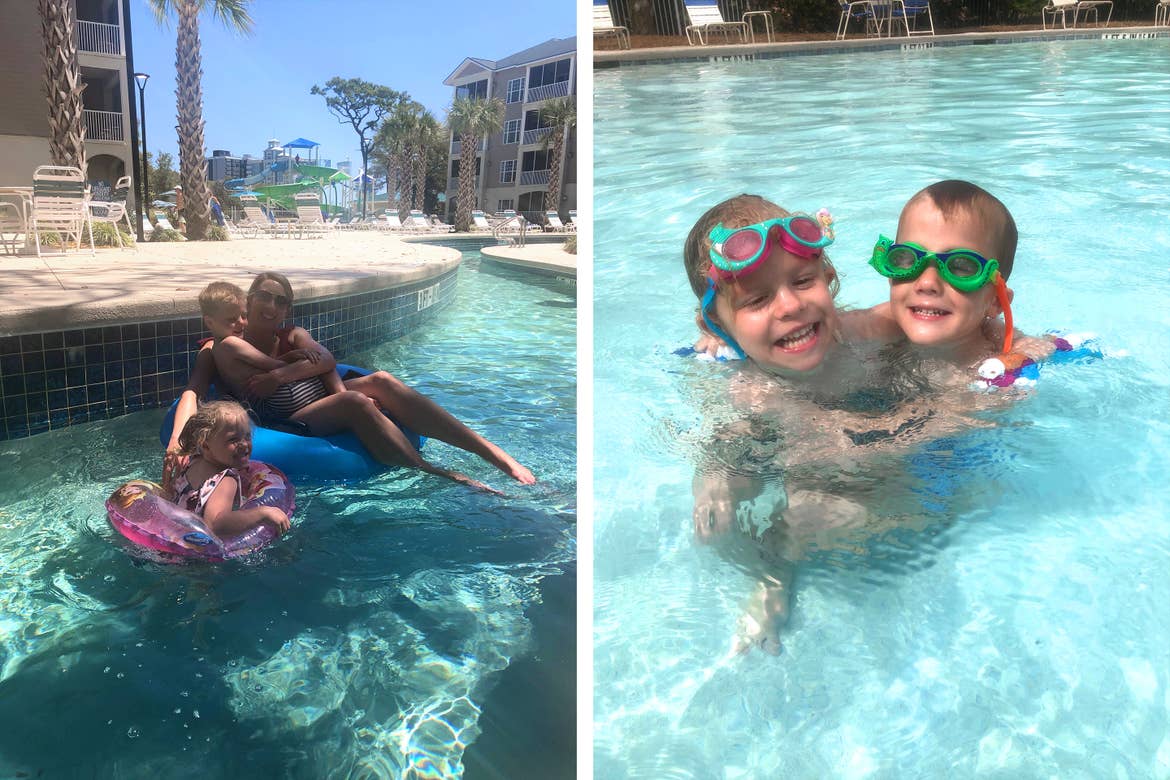 Getting in plenty of pool time, slide time and lazy river time at South Beach Resort.

During our most recent vacation at South Beach Resort, we could've spent our entire trip at the pool; it had the coolest design!

With its zero-entry access, lazy river and the waterslides at Splash Cove, my whole family loved the pools there! I mean, who doesn't want to spend time splashing at the pool while you're on vacation at the beach, right?

Plus, this summer, all Holiday Inn Club Vacations® resorts have some awesome, seasonal activities like poolside games, outdoor movie nights, tie-dying and more.

It's pretty awesome when you have plenty of fun things to do beyond the beach when you're on vacation!


8. Rockin' Jump Trampoline Park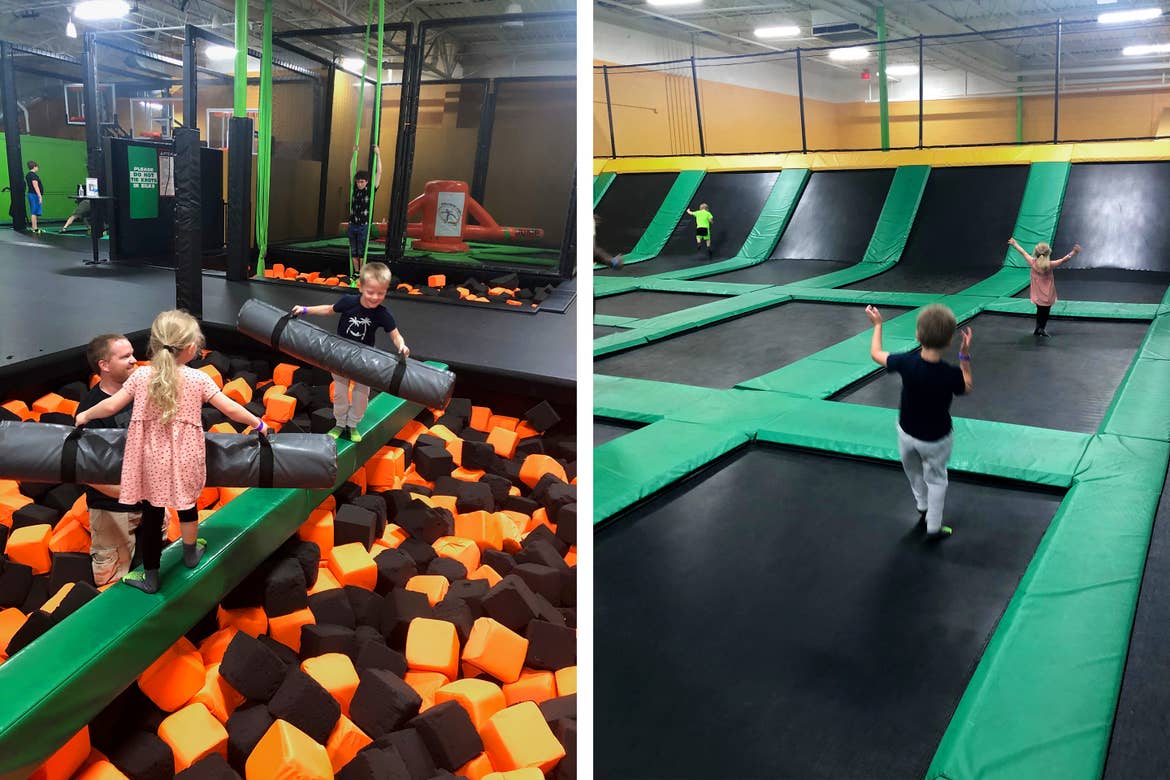 This trampoline park is one of the best things for families to do in Myrtle Beach! We spent a couple of hours here on our recent trip and had the best time.

It's a great place to get some energy out of your kiddos and a fun way for adults to get active on vacation.

It has an open jump area, a ninja challenge (with rope climbing and monkey bars), a traverse wall (where you free climb across the wall), a stunt bag arena (where you can do flips and tricks), a slam-dunk zone, X-beam and several more. It's a blast!


9. The Track Family Fun Park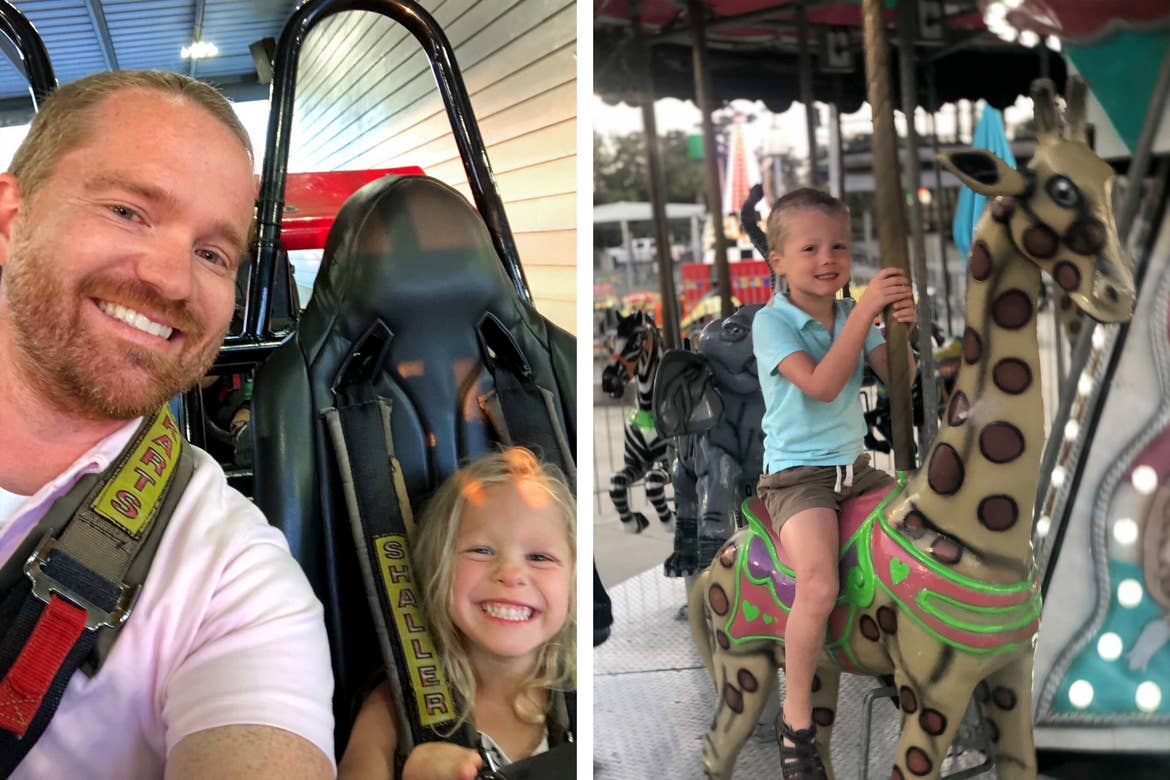 This place definitely lives up to its name ... It has a huge go-kart track, roller coaster rides (for big kids and little ones), thrill zones and arcade games!

Our 4-year-old kiddos really enjoyed riding the go-karts with us and the little kid zone was perfect for them! Plan to spend a few hours here because there is a lot to do.


10. Check Out the Food Scene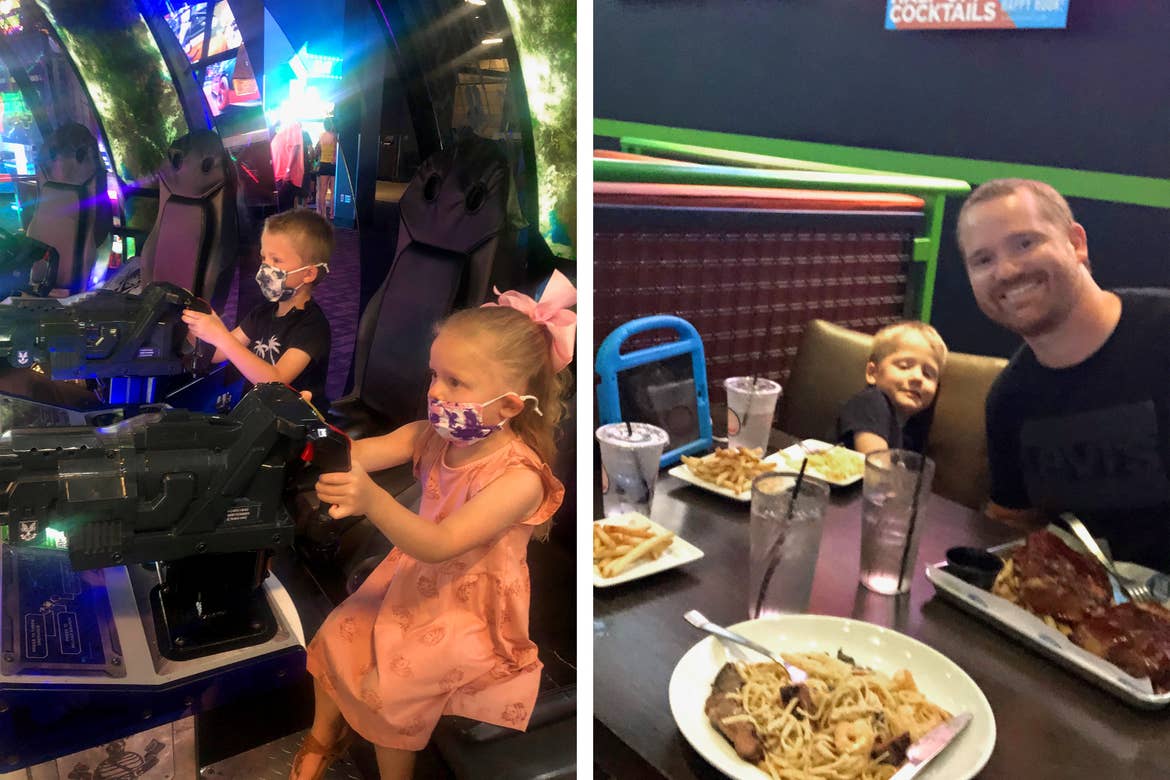 Dinner is way more fun with a side of winning at Dave & Buster's.

Being a foodie, I think Myrtle Beach has some amazing restaurants. Here are a few of our family's favorite places:

We always go to Dave & Buster's because not only is the food delicious, but you can also play in the arcade while you wait for your meal.
For breakfast, we love Johnny D's Waffle and Bakery; the Belgian waffles are incredible!
As for my family's favorite casual seafood restaurant, check out Bimini's Oyster Bar.
11. Turn Your World Upside Down at WonderWorks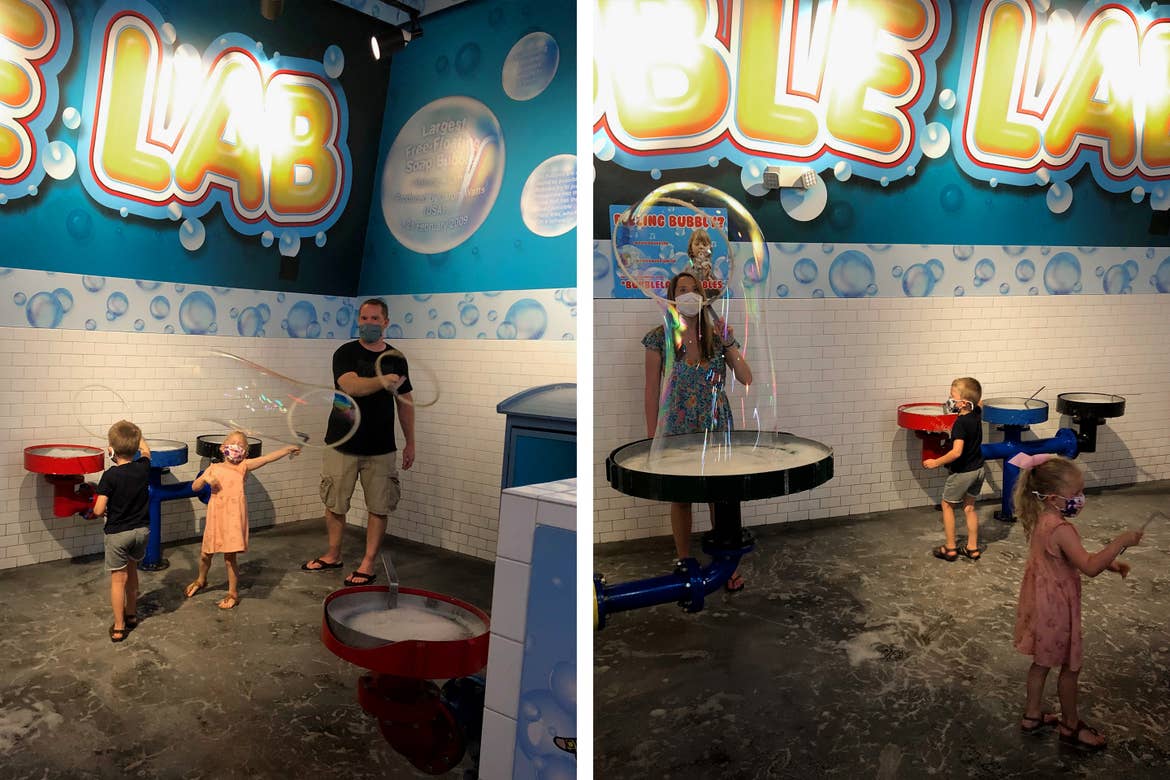 Oh, don't mind us — we're just busy making bubbles bigger than our BODIES!

My kids were totally amazed the minute we pulled up to WonderWorks — it's a building upside down! I'm pretty sure both of their mouths dropped open and they continued to drop as we walked through this place.

They call it an amusement park for the minds. The (100+) hands-on exhibits are so entertaining and educational, but still allow everyone to use their imagination. It's hard to even describe because I've never seen anything like it, but it's a must-see!

From a Space Discovery Zone and an Imagination Lab to the Physical Challenge Zone and a Glow-in-the-Dark Ropes Course, you can choose whatever adventures you're up for.

I have to admit, my favorite section was the Bubble Lab, where you can create massive bubbles, blow them through a bubble sheet or make one big enough for you to fit inside! My family could've stayed in there all day … it was so relaxing and incredible.

(They also have a WonderWorks in Orlando. If you're vacationing there this summer, it makes a great rainy-day activity.)


12. Play a Friendly Game of Mini Golf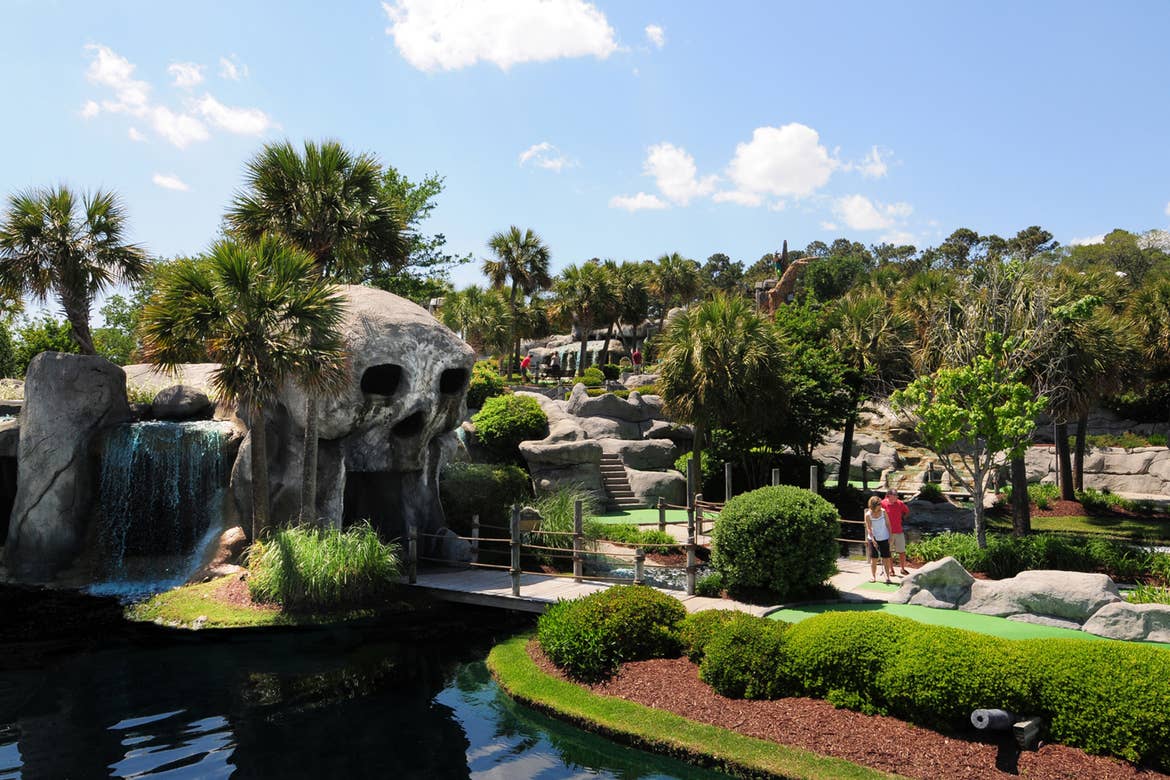 Photo courtesy of Captain Hook's Adventure Golf

You can't take a drive through Myrtle Beach without seeing several mini golf courses (and real golf courses, too) — they are everywhere. It's actually the Mini Golf Capital of the World!

If your family loves to play, you could do a different one every day for 2 weeks and still not repeat a course. It's endless and so much fun!

I recommend checking out Mt. Atlanticus Miniature Golf and Captain Hook's Adventure Golf … the decorations at both are incredible!

My dad has been golfing at all the different courses in Myrtle Beach since before I was born, and his favorites are World Tour and Kings North.


More About Our Stay at South Beach Resort
We stayed at South Beach Resort for our most recent Myrtle Beach vacation, and it was perfect for our family for so many reasons! Here's just a few...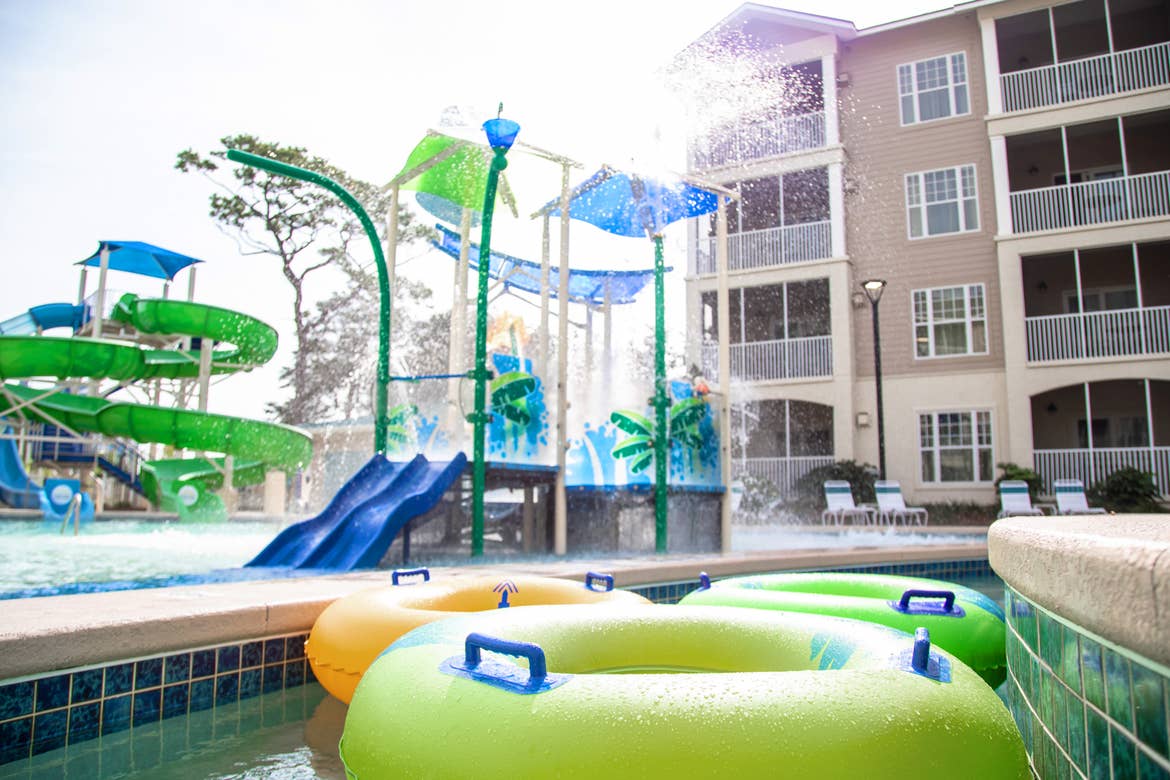 Splash Cove at South Beach Resort


We reserved a two-bedroom villa and we loved that we had tons of space to spread out … my husband and I had our own bedroom suite and so did our kids.
The full kitchen was incredible and having a washer and dryer was a major perk!
I've stayed in many resorts in Myrtle Beach, and there's no doubt that South Beach Resort has the coolest pool (and lazy river) I've ever seen. My kiddos didn't want to ever leave the water.
As a mom, I also really appreciate the measures the resort has taken to keep our family safe and healthy on vacation. Make sure to check out the Safe Travels program that Holiday Inn Club Vacations offers; it's one of the best safety programs I've experienced over this past year.
I could go on and on, but I think it's safe to say South Beach Resort is our new go-to resort. I hope this guide helps you plan your Myrtle Beach vacation, especially if it's your first time in this fun destination!

I promise, you will never get bored in this city … there are so many things to do in Myrtle Beach, you'll definitely need to come back for more (just like us!).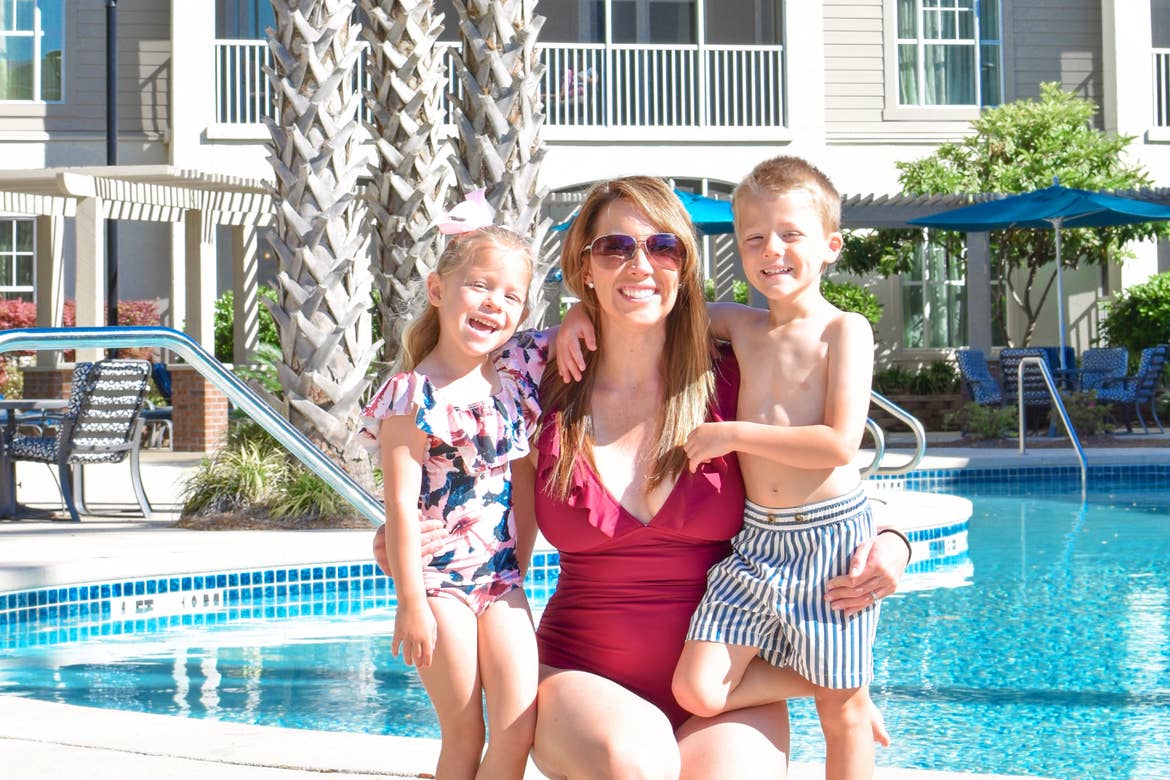 Our guest bloggers are compensated for their writing contributions and honest opinions.

All information is subject to change. This article is a curated guide and is neither sponsored nor considered an official endorsement. Please be sure to check information directly with any/all tours, guides or companies for the most up-to-date and direct details.