Brenda Rivera Stearns
Dedicated mother of five, home educator, social media influencer and content creator. Brenda Stearns is the heart behind @she_plusfive where she inspires women worldwide by sharing honest stories that make motherhood relatable, authentic and beautiful.
Instagram
Facebook
YouTube
TikTok
I know many of you are new to the world of homeschooling and virtual learning this year.

And while it has been one full of challenges and "new normals," as a homeschooling mama, I can promise you this: Remote learning is a 2020 silver lining!

Combining traveling with schoolwork is an amazing way to keep your kids learning while exploring new places and experiences. Win/win!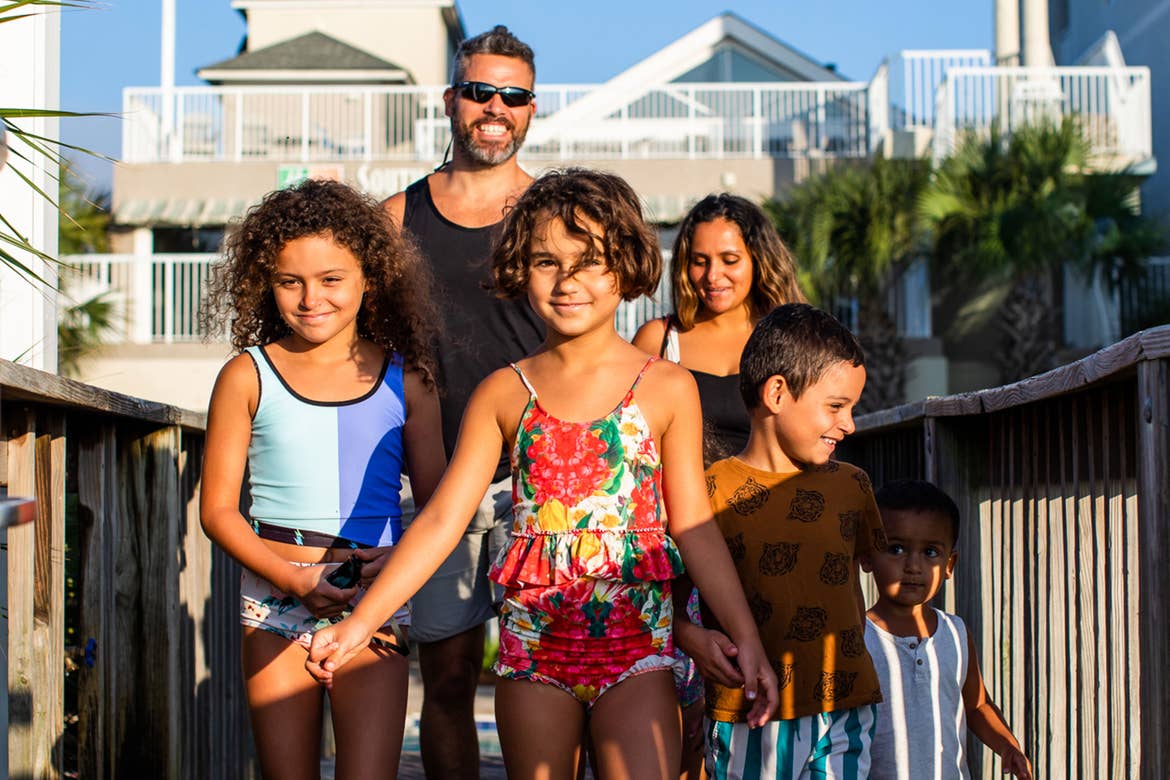 Hi, I'm Brenda, a 33-year-old mother of five beautiful children: Victoria (9), Veronica (8), Samuel (6), Vanessa (5) and Benjamin (2).

We're a homeschooling family and we love spending time together, learning from each other, going on family trips and discovering the world around us.

Read on for some tips on how to take a schoolcation, as well as a recap of the most recent one we took at South Beach Resort in Myrtle Beach, South Carolina!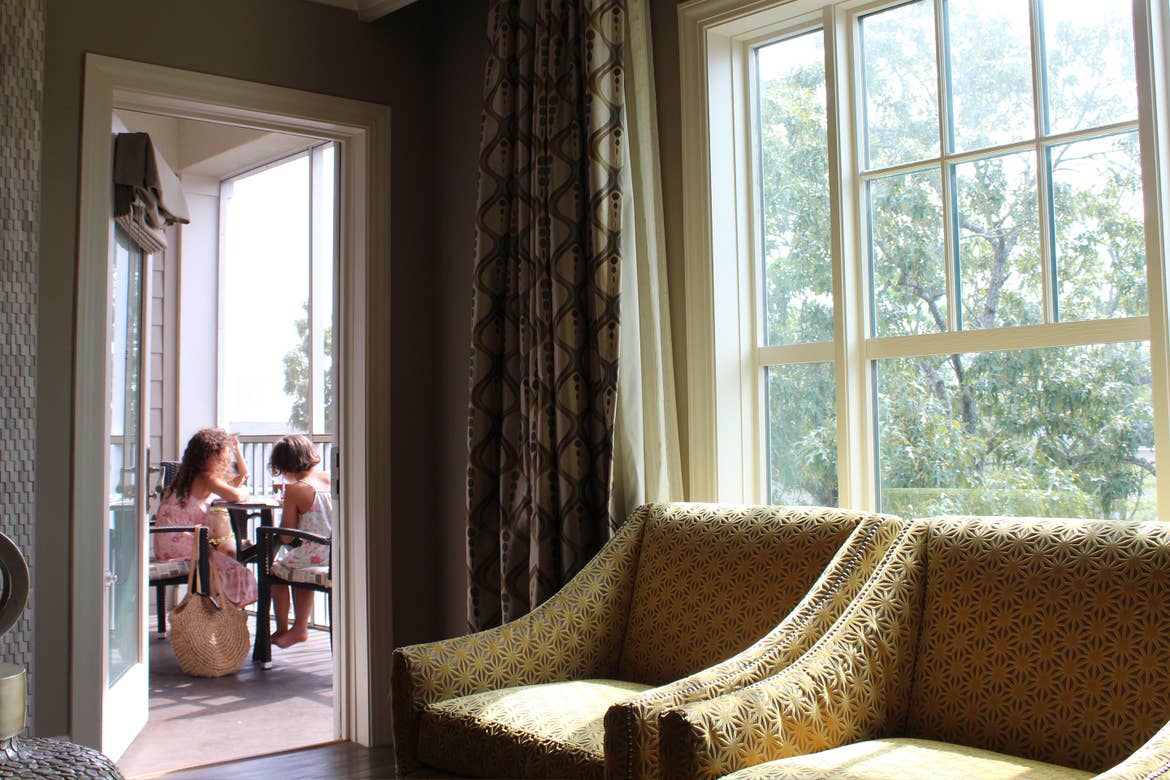 How to Approach Homeschooling
As a homeschooling family, we have so much freedom to go on road trips and vacations, without compromising our schoolwork. I am currently homeschooling four of my children, and we have a very relaxed, child-led approach with education.

Victoria is in fourth grade and is caring, passionate and very nurturing.

Veronica is currently in third grade and is my little artist who also loves to read and explore nature.

Samuel is a HIGH-ENERGY first-grader, full of sweetness and charisma.

And Vanessa has a deep love for bunnies and all baby animals as our very caring and docile Pre-K kiddo.

While Benjamin isn't "in school" yet, he's the family clown and loves to make us all laugh.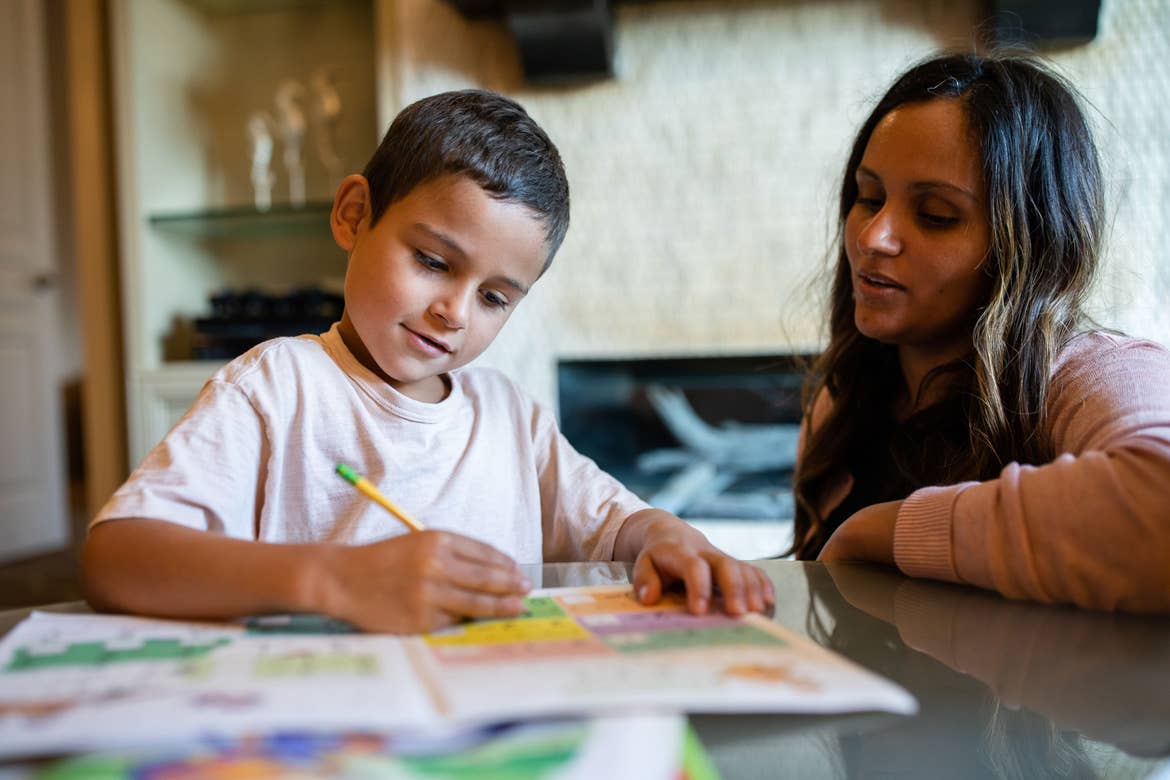 I like to focus our energy on their individual strengths and encourage them where they struggle, all while keeping the core subjects intertwined in everything we do.


How to Plan a Schoolcation
We recently spent a week at South Beach Resort in Myrtle Beach, South Carolina.

Planning a trip one month into the school year might sound a bit crazy, but seeing as this year meant few changes in our daily routine with dad working from home, we figured it would be nice to get a change of scenery and have an exciting beach vacation to look forward to and enjoy as a family.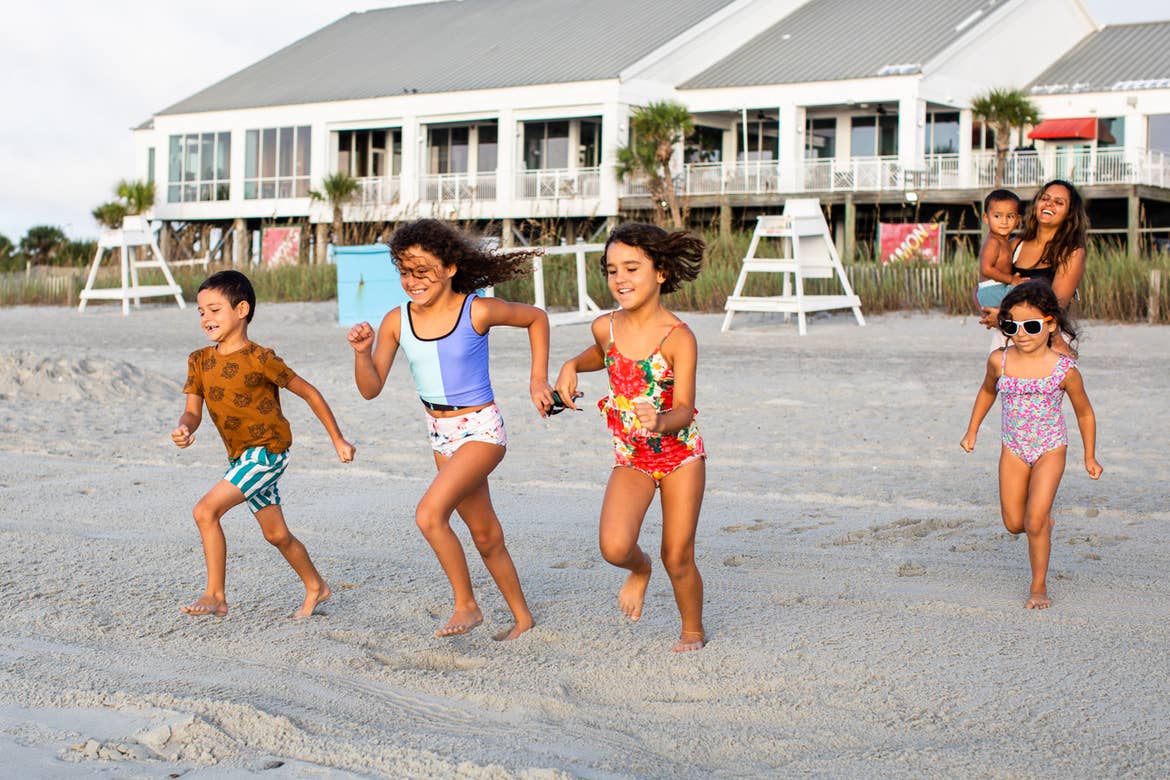 Beyond the actual trip planning itself, I prepped their schooling by:

Packing their journal notebooks, some supplemental math worksheets and a workbook for each child. We use the Good and the Beautiful Curriculum for all our school-age kiddos, so I brought their language arts workbooks. For Vanessa, I also brought along a write/wipe practice workbook for lettering and writing.
We also brought some of their favorite learning toys, coloring books, crayons and puzzles. These included nature- or animal-themed coloring books, a USA map puzzle, Montessori-inspired wooden toys and play-pretend wooden toys from their dollhouse.
I always like to include the children in our plans for homeschool travels before we head out. This way, they know what is expected of them ahead of time and what our priorities look like when we are away from home.
Our goal was to tackle at least an hour or two of homeschool work during the weekdays for the little ones and three to four hours for the older girls, and then spend the rest of the time having fun and exploring.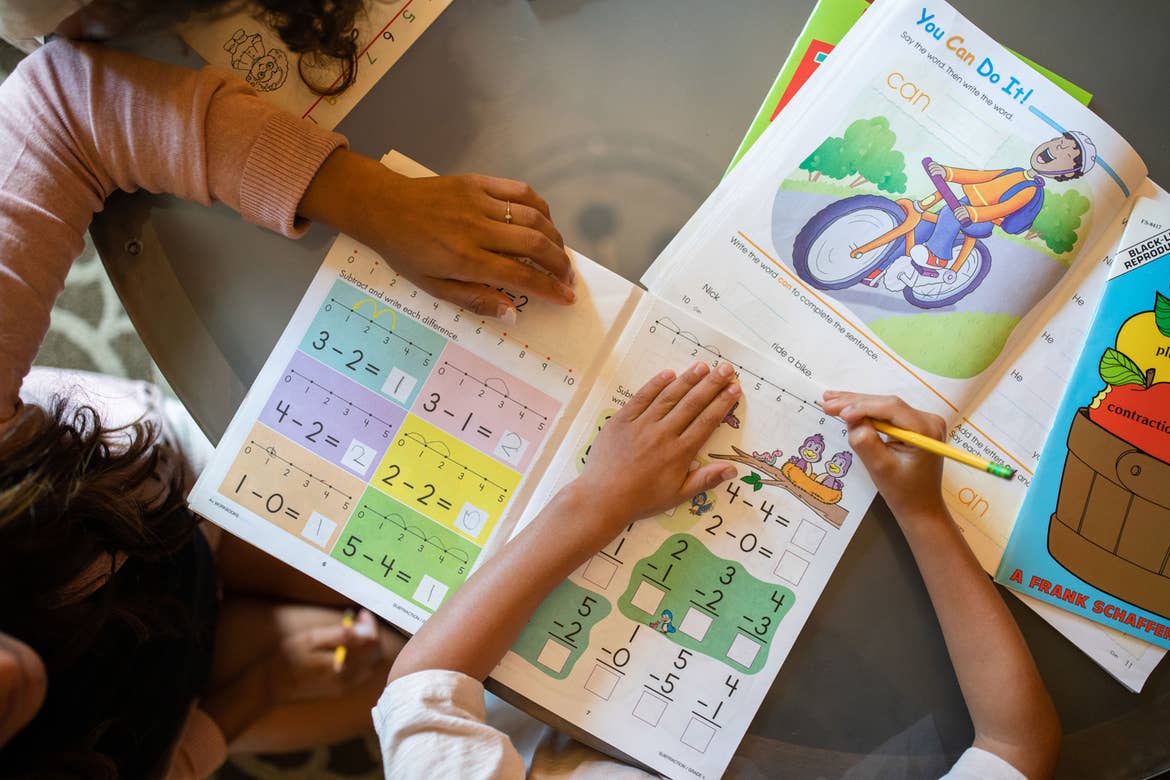 Now, my family chose South Beach Resort because we'd never been to the area before, and we really wanted to get our toes in the sand at Myrtle Beach.

One of my top schoolcation tips is to look for a resort like this one that has roomy villas, strong WiFi and amazing amenities (like pools!).


Splitting Travel & School Days
We drove from Ohio to Myrtle Beach, which is about an 11-hour trip! Very ambitious for a family of seven for sure.

We split our family road trip adventure into two days, stopping halfway to rest. When we arrived at the resort on a late Thursday afternoon, we let the kids relax, get settled and just have fun exploring.

Homeschool work was done on Friday, Monday and Tuesday.

Because my husband has been working remotely for some time now due to COVID-19, he was able to work while traveling and we took full advantage of the time he spent on his laptop at the resort to get our homeschool done.

It worked perfectly because my youngest, Benjamin, took his nap at that time, too!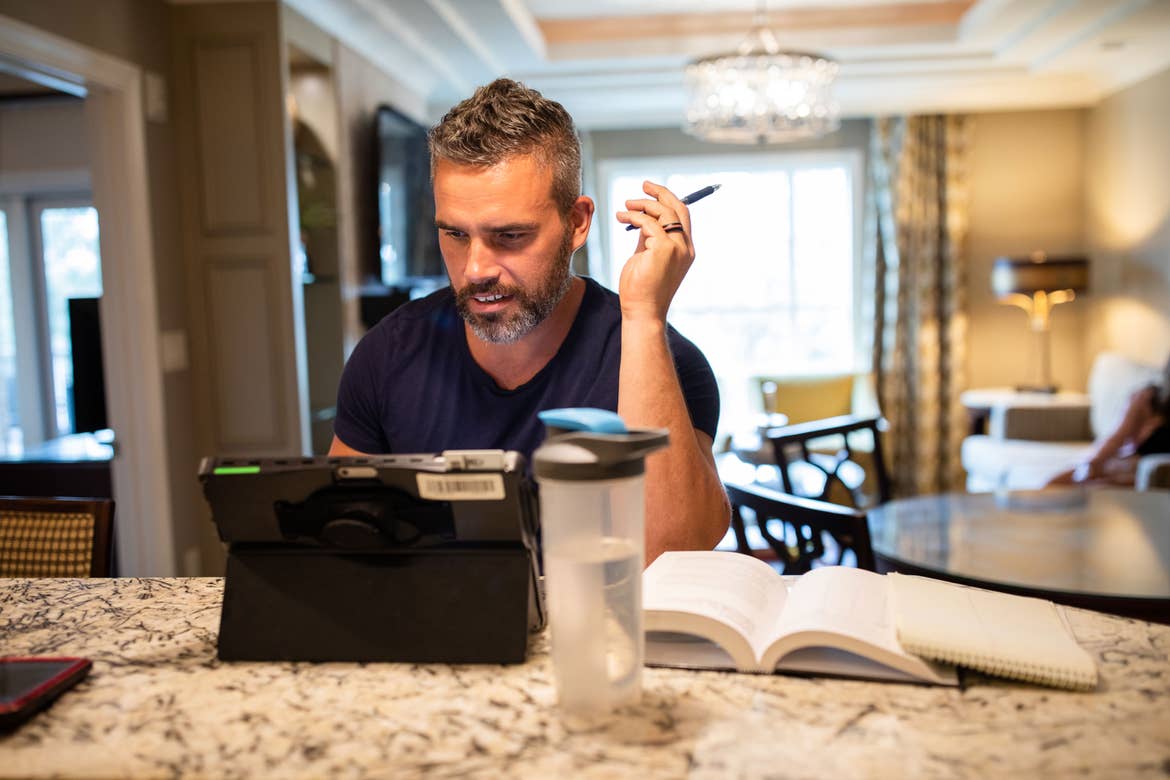 The rest of the time, we let their imaginations run free!

The kids might not have realized it, but they were learning even as they played on the beach and explored local hiking trails.

While collecting seashells, we had them count using addition and subtraction.
While at the beach, they observed how the waves and the tide changed throughout the day.
While hiking, we learned about native plants and animals.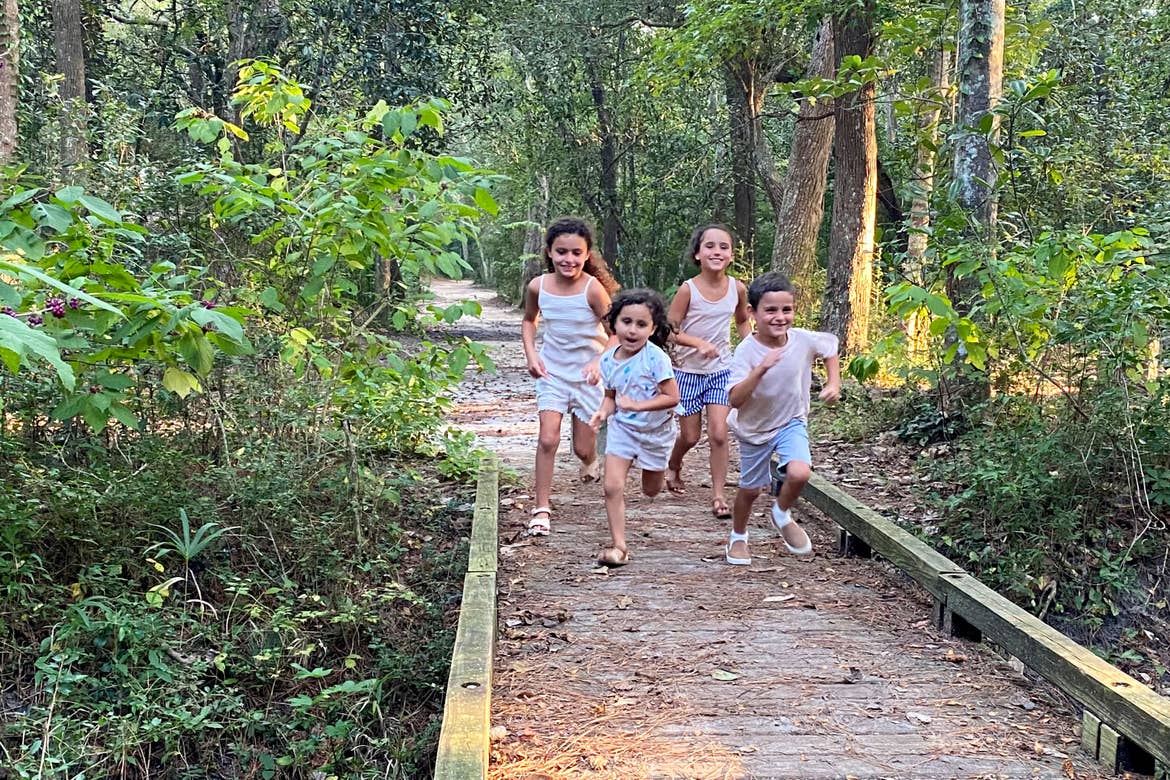 That's definitely my favorite part about taking a schoolcation: They are constantly learning!

And I'm always on the lookout for those "teachable moments." Once you start looking for them, you'll see they're everywhere.


Setting Up Spaces for Schoolwork
At South Beach Resort, we stayed in a two-bedroom, two-bathroom villa.

It had a full kitchen with a standard-size refrigerator, open living room area and a dining room. (We also had a washer and dryer unit in the villa, which was very convenient.)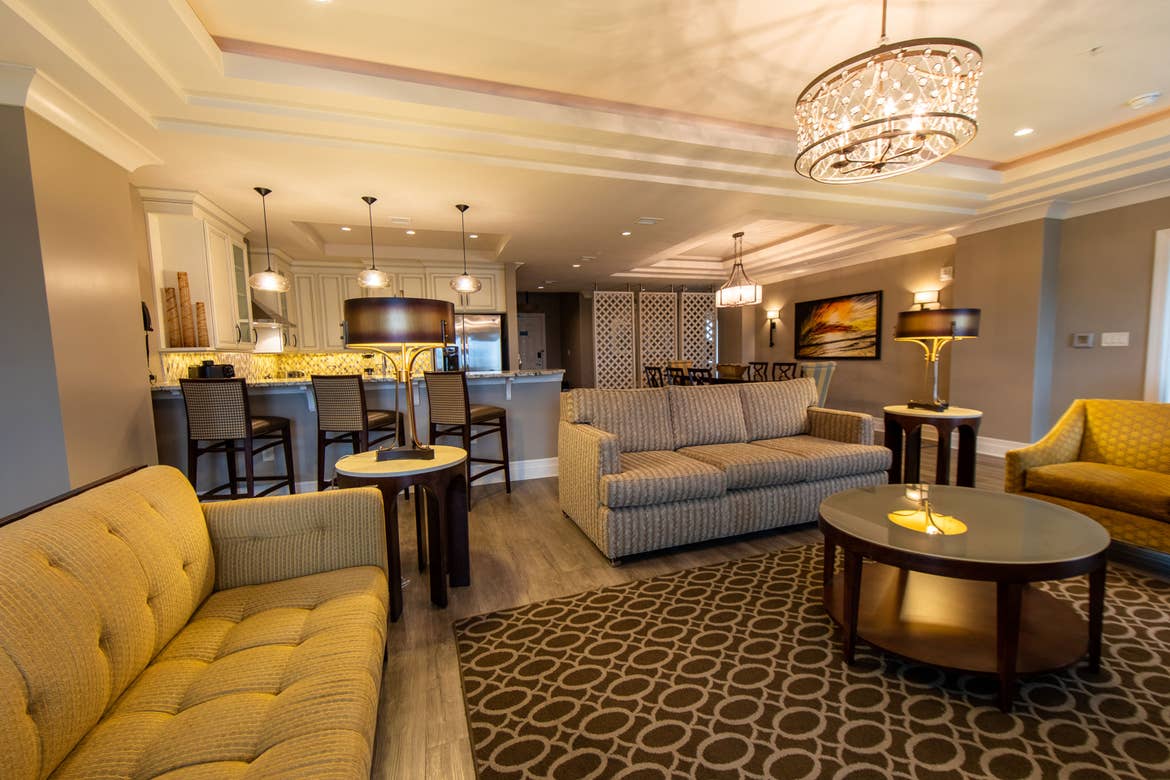 For homeschooling, the children did most of their schoolwork at the dining room table together (similar to how we learn together at home). This allowed me to be present with all of them at once and help where needed.

Victoria and Veronica did some of their individual journaling in the enclosed patio when they wanted some more quiet time.

If any of the children finished their schoolwork before our allotted time, they went straight to their bedrooms to have intentional play or to work on their coloring books.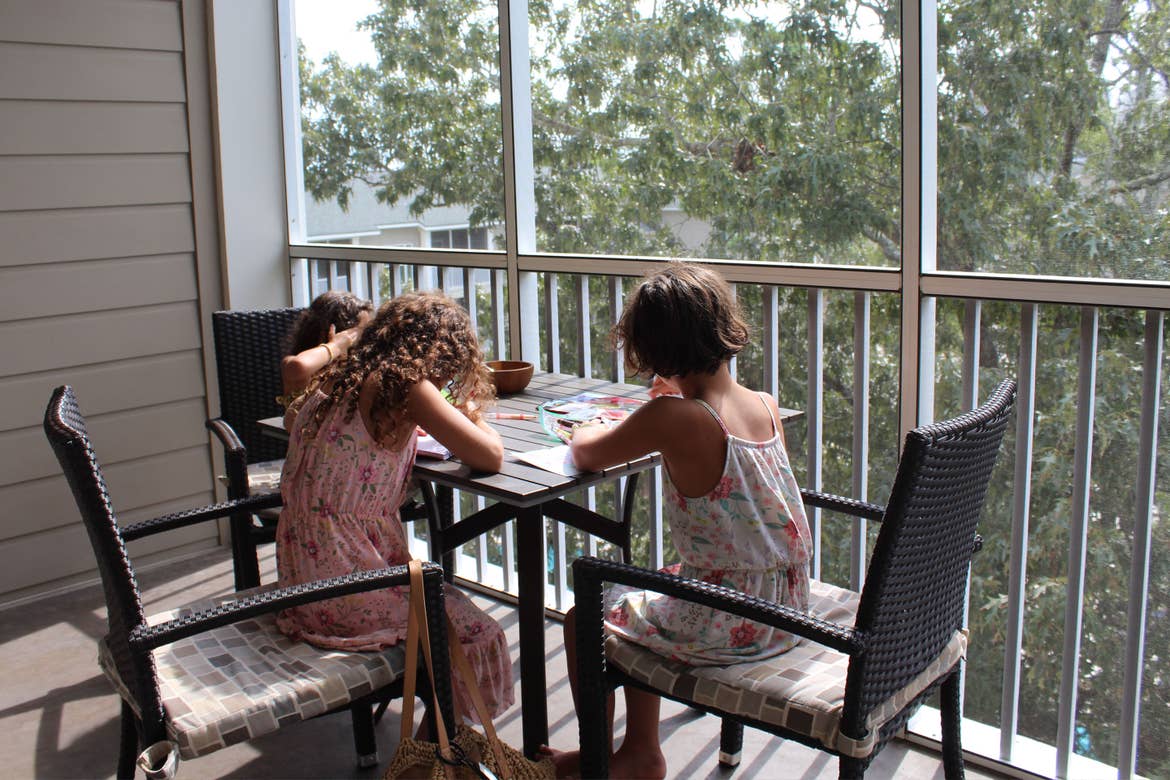 My husband, Isaiah, did all of his work at the kitchen counter. It was nice having him around. I think the kids really enjoy seeing their dad and knowing he was nearby, and Isaiah liked it, too!

Isaiah says, "It honestly just felt like being at home. I work around the kids while they're doing schoolwork usually, so having them close by was not a concern. (Although with two bedrooms and lots of space to spread out, I definitely had the option of moving to a more private, quiet space for phone calls.)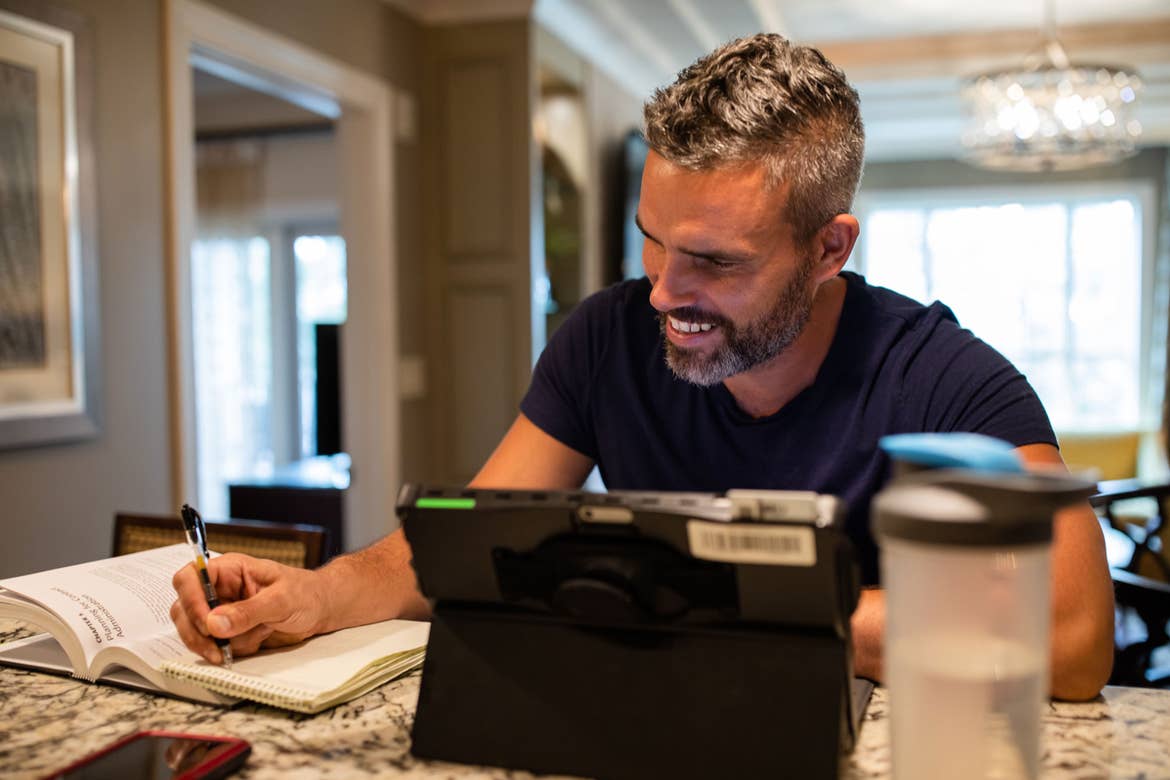 The resort's WiFi was excellent. I did not experience any internet issues or interruption of service. And being so close to the beach and having the pool right outside the window was much more enjoyable than just being at home.

The change in scenery and warm environment were very helpful in keeping me motivated and focused to finish my work so I could spend the rest of my day enjoying the resort and the beach with my family."


Meal Planning & Lunch Breaks
We like to eat fresh, organic meals, so since we had a full kitchen with a refrigerator, we bought most of our groceries the day we arrived and cooked our meals for the weekdays.

During the weekend, we ordered takeout to make it more fun since that's something we don't often do at home.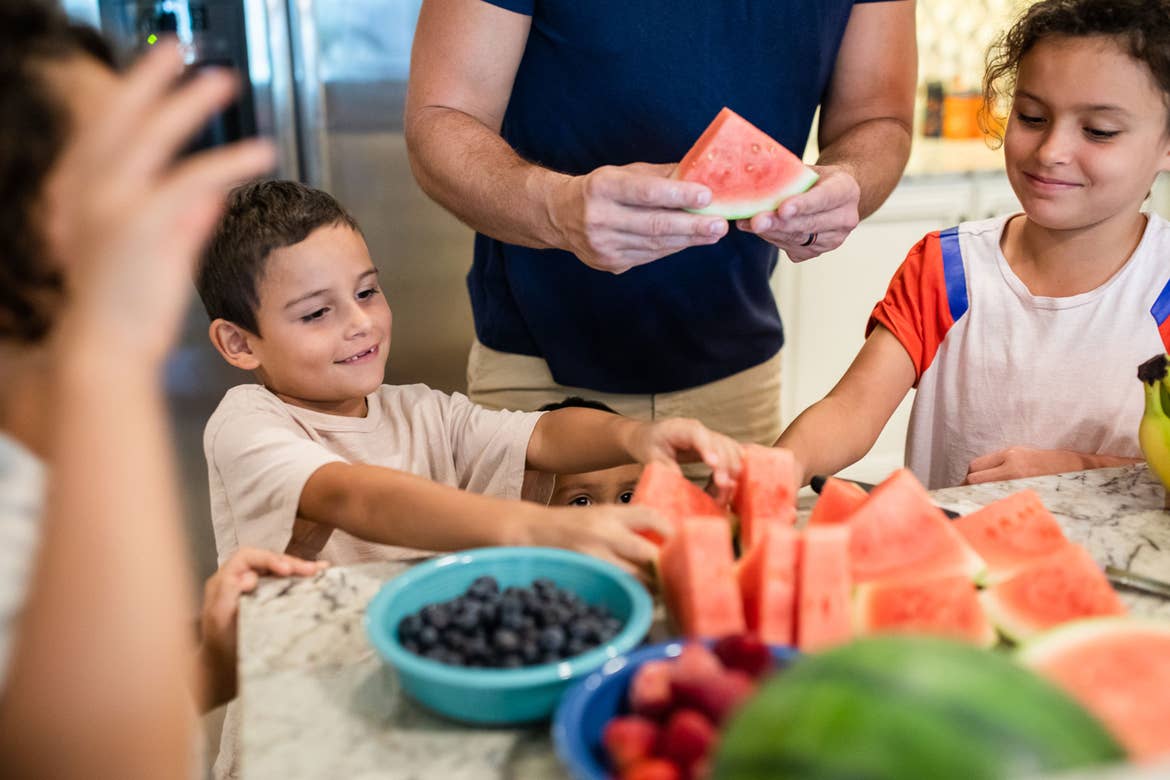 The kids love raw fruits and veggies as snacks, so I also made sure to have plenty of those, along with some granola bars and string cheese, in hand while we did schoolwork. Yum!


Staying Safe
This was our first trip since COVID-19, and we felt very safe. The resort was clean, and they closed the pools from 3–4 p.m. to sanitize them every day.

There was limited contact, all staff was required to wear a mask and visitors were also required to wear a face-covering at all indoor spaces. Kids, however, were not required to wear any face coverings.

Overall, the Safe Travels program made us feel very comfortable during our stay at South Beach Resort.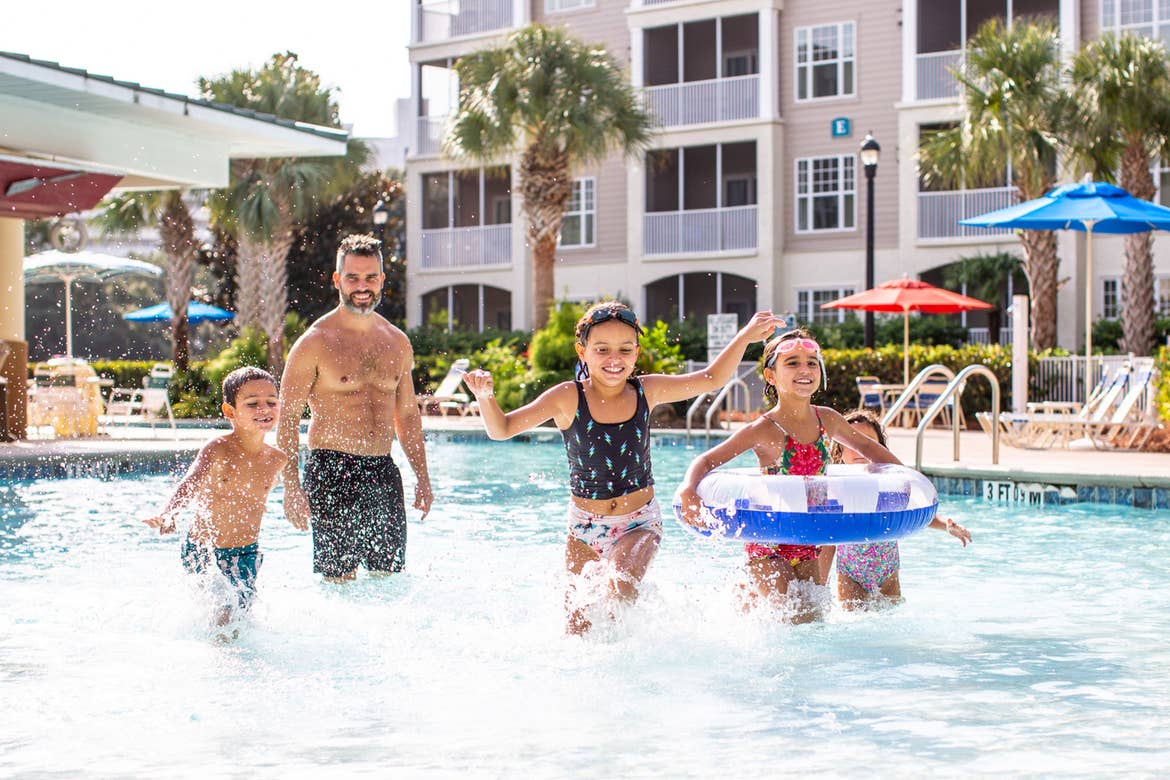 Making Time for FUN!
Our main focus for taking this family trip was to create new memories and experience new things together, all while staying on track with our homeschool curriculum (and dad's work), so we didn't have to play catch-up on "all the things" when we got home.

We balanced our days so that 80% of our time was spent being outdoors, enjoying the resort amenities and exploring the area.

When school and work were done for the day, we always made our way to the pool. The kids loved floating in the lazy river with Isaiah while I sunbathed in the nearby lounging chairs.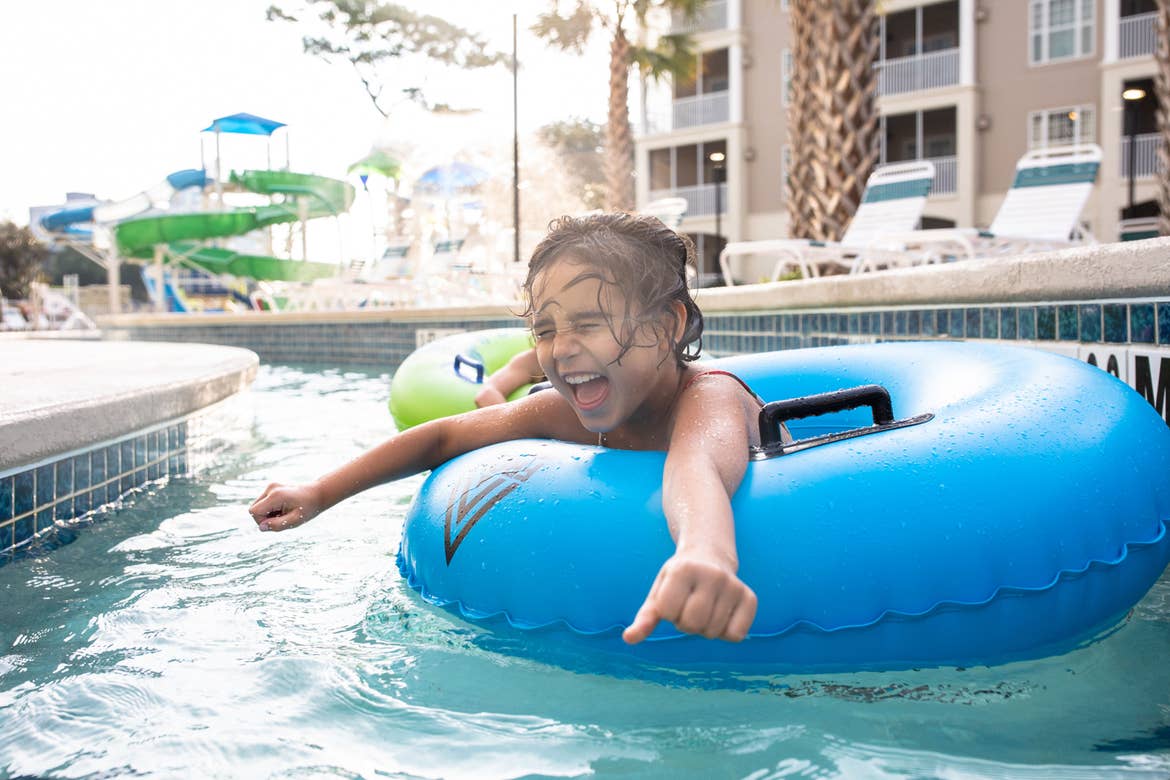 The resort had four pools to choose from (both indoor and outdoor), so it was fun and interesting going to a new pool each day.

Not to mention the beach was literally right across the street! We absolutely loved the direct beach access!! Isaiah and the kids enjoyed looking for shells, and I stayed with Benjamin sunbathing and going in the water.


The Power of the Family Vacation
Taking this trip really helped me realize how powerful a change in scenery, and quality family time, can be. We all felt reenergized, recharged and motivated (especially after being homebound for so much of 2020).

We experienced so many of the fun things to do in Myrtle Beach and created a lot of new memories.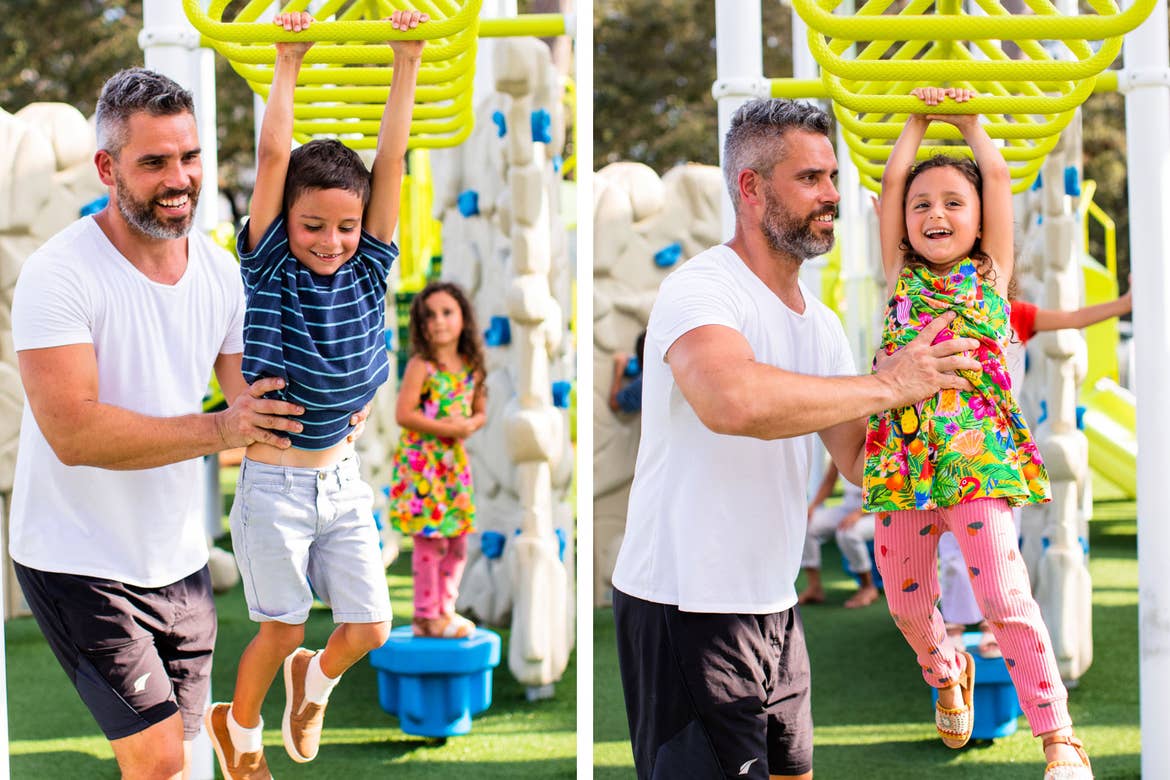 Together, we:

Designed fun tie-dye shirts for each of us while at the resort with its special activities team
Made s'mores and snuggled up by a bonfire next to the pool area one night
Swam in the pools to our heart's desire after schoolwork was done each day
Played on the resort playground
Swam in the ocean! It was amazing having the beach.
Went on a dolphin cruise, which was also our first time on a boat as a family
Visited Pawleys Island
Found shark teeth in the sand
Collected lots of seashells


It was truly a relaxing yet fun experience.

Seeing my children enjoying the trip, taking in their surroundings in this new destination and diving into the world around them was very satisfying and probably the most rewarding thing about going on this schoolcation.

This experience really brought us closer together as a family and made us appreciate the opportunities that life brings our way.

I hope this guide helped you figure out how to take your own schoolcation!

We would definitely recommend it and are already looking forward to another school/work vacation before the end of school next year.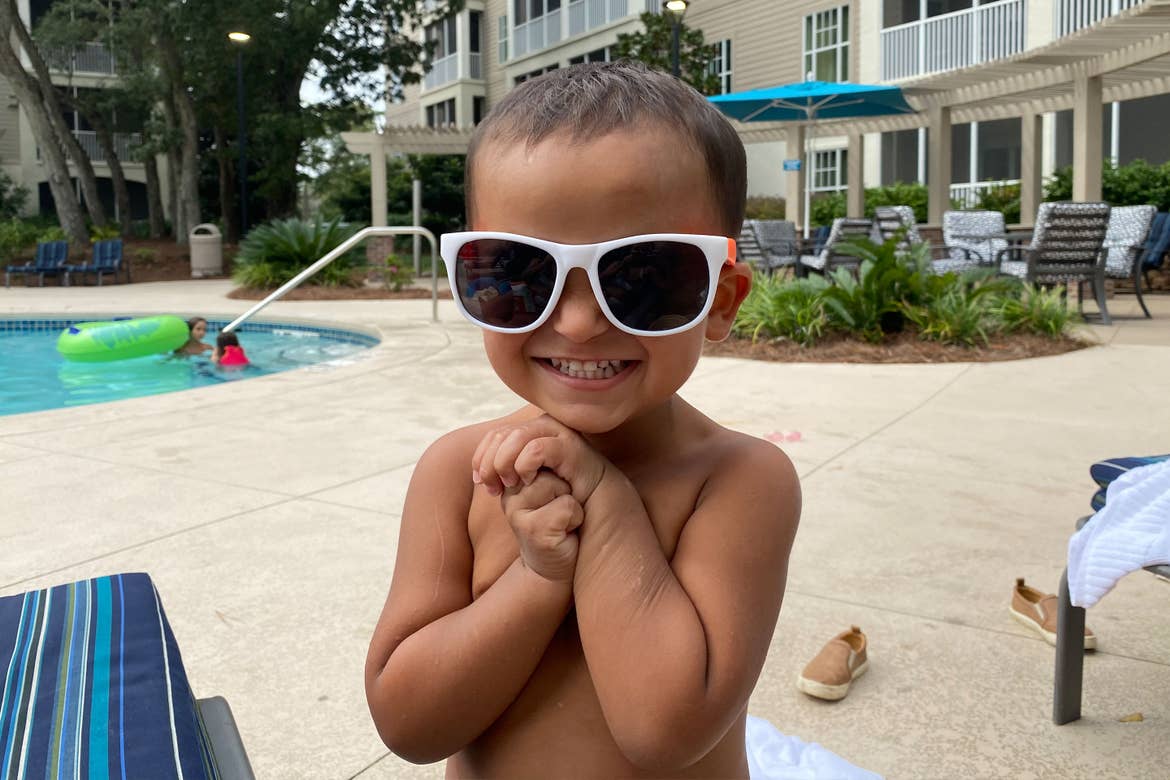 Our guest bloggers are compensated for their writing contributions and honest opinions.

All information is subject to change. This article is a curated guide and is neither sponsored nor considered an official endorsement. Please be sure to check information directly with any/all tours, guides or companies for the most up-to-date and direct details.